Fond of some unusually DIY funky flip flops and can't find it on any footwear store? No need to worry at all as we have brought for you so many brilliantly funky ideas for transforming your old boring flip flops in less expensive ways and with spending very little time over this activity. These 12 DIY Fun & Funky Flip Flops Ideas are so trendy and interesting to try alone, you will want to invite your friends for this weekend to enjoy doing this as a fun creative activity.
All these DIY fun and funky ideas for flip flops are different from each other and are perfect for different occasions. Whether they are picnics, evening parties, you are all set to move out of the house. If you like to do the ribbon flower making, you should definitely try making the DIY flower flip flops where you can make ribbon flowers and paste stick them on to your flip flops. The pictures also show transforming flip flops with some latest crafting materials which are wood beads, here a combination of wood and red beads is joined and passed through the flip flop straps.
In the same way, you can also use only the flat wooden beads and stick them on the straps. Buttons can also be used to decorate instead of the wooden beads. One of the trendiest fabrics being used for the footwear these days is the denim jeans which are not only being used for the footwear but also for the bags and pouches. Rubber flip flops are also a common trend. Duct tapes are also doing great in this business.
Why not try these DIY fun and funky flip flop ideas amazing and cool ideas this weekend with your friends and add glamour and fashion to your footwear collection.
Flower Flip Flops: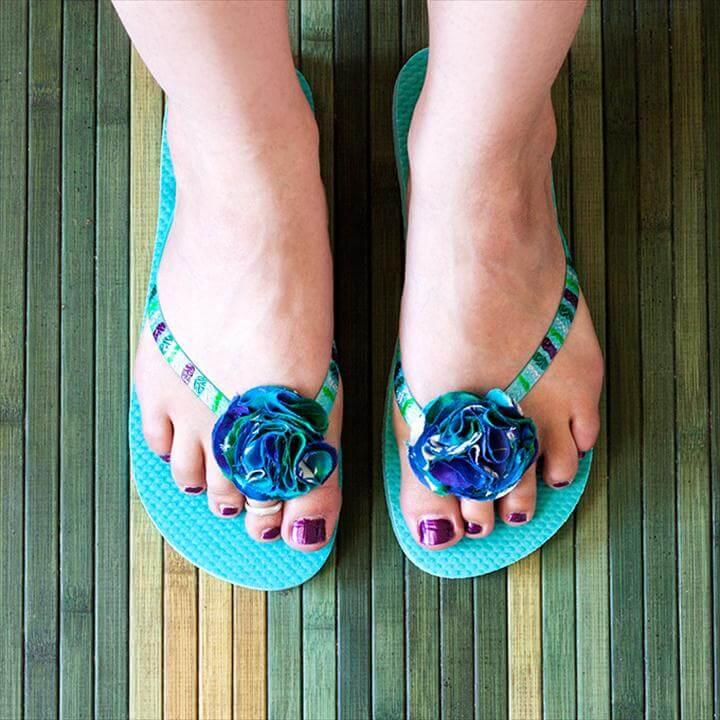 Give your simple and plain flip flops a lovely makeover using the cotton fabric lying around. You need to cut strips to glue them over the flip flops and then make flowers to use at the center. Also, you would need a little felt to hold the flowers together. You can do this makeover with any color of the flip flops and the fabric. Details here!
Image: adventures-in-making
Wood Red Beads Embellish

Flip Flops: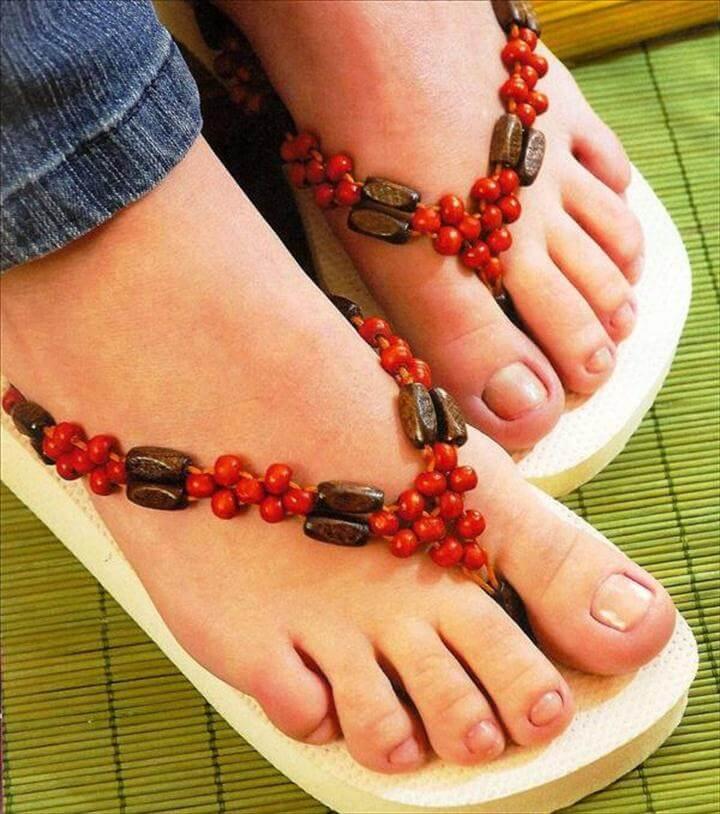 Make your feet feel the most beautiful while wearing these wood red beads embellished flip flops. You need cords, red round beads, and some big stone beads to make these flip flops of your slippers. This home-styled pair of the flip flops is really going to look awesome and cool for your summer fashion. Check out the details right here!
Image: diy-enthusiasts
Beaded Flip Flops

: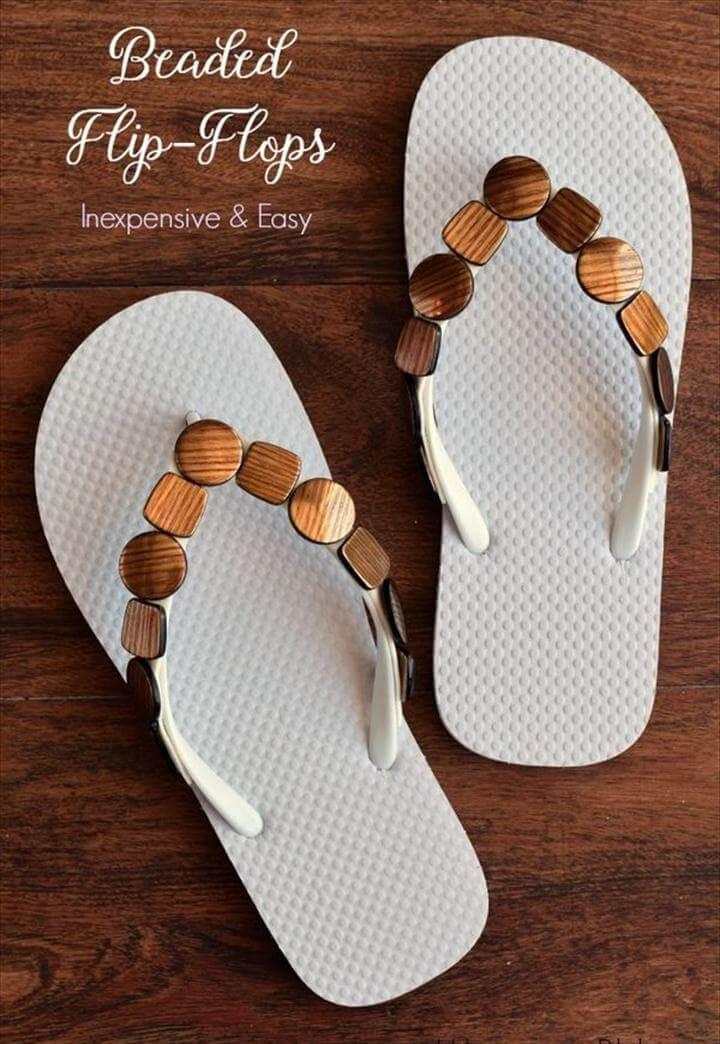 Make your simple and boring looking beaded flip flops look super glam up for the summers. Here is the idea of these beaded flip flops to easily get your hands on. So grab the simple pair of the flip flops, some scotch, and the flat beads in brown color in the shape of round and squares. You can choose the colors of beads per your personal choice. Details here!
Image: ithappensinablink
Button Flip Flops: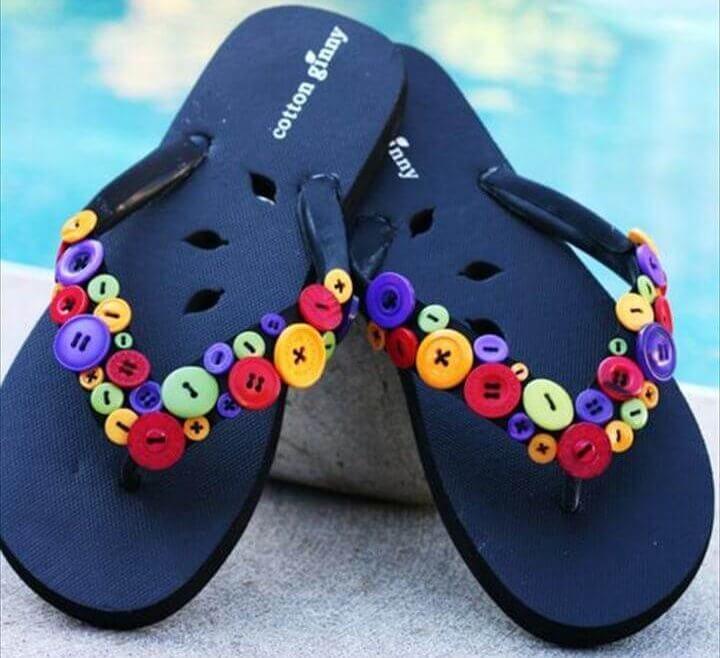 Give your feet the comfiest feel with the flip flops but also make them look cute with some makeover. Grab some fabric and cut out the straps of the size of the flip flop straps, and then sew up colorful buttons on this fabric v strap. When the buttons are done glue up this strap over the flip flops and it is going to look so chic and fun. Complete details here!
Image: typepad
Jeans Flip Flops: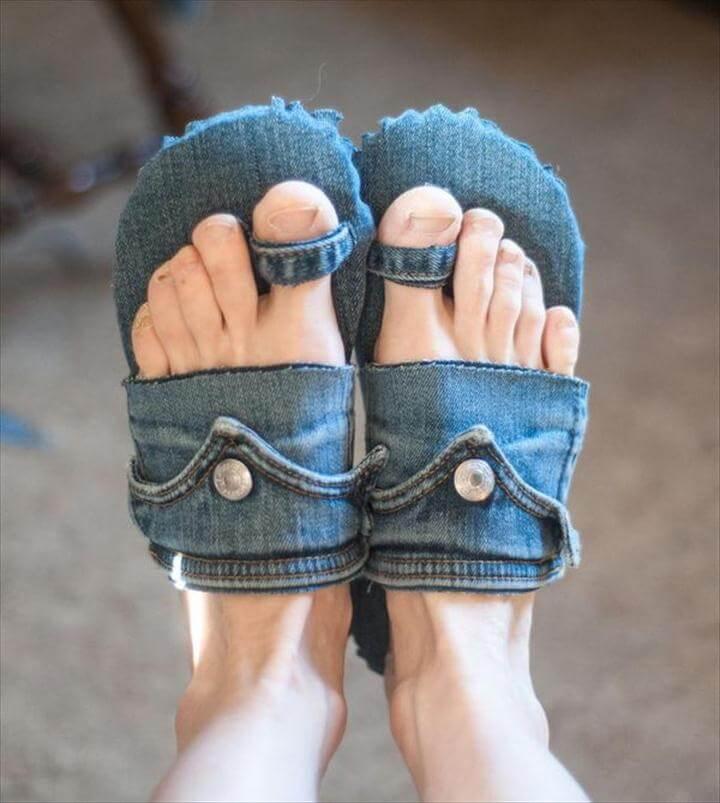 If you have your old jeans lying around that you want to know what to do with then these jeans flip flops idea is for you. Yes from the sole base of the flip flops to the straps you can cover it all with the cutout and custom pieces of the old jeans of yours. These restyled flip flops would be comfy and cool to wear at the summer home. Details here!
Image: how-to-recycle.blogspot
Green Rubber Flip Flop: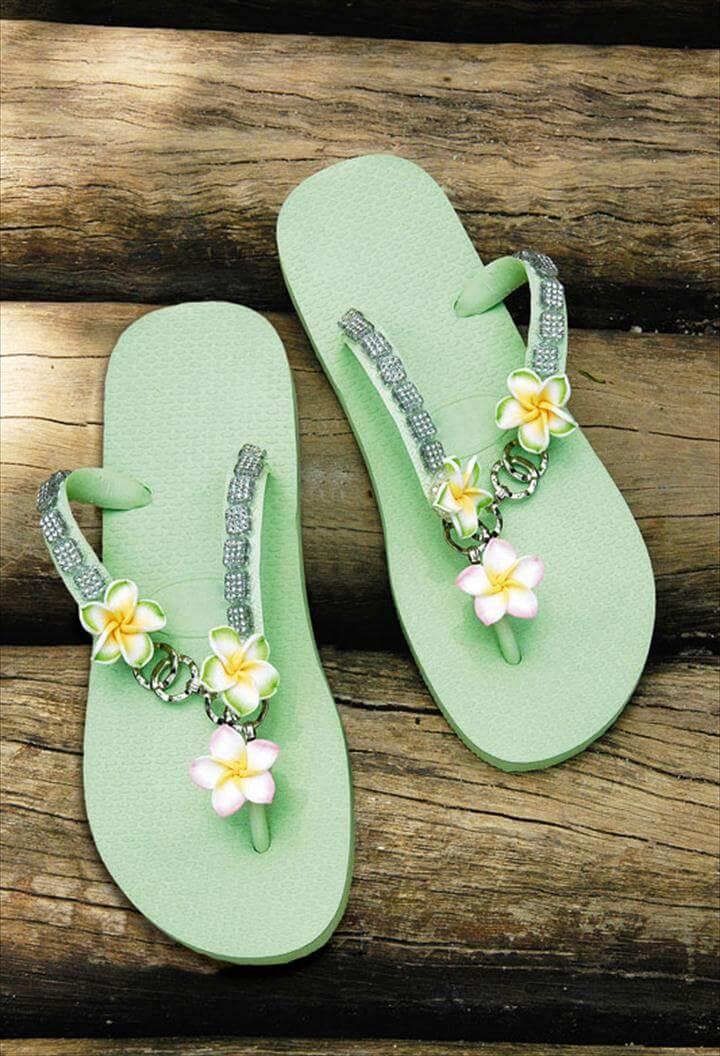 Make the most of your free time by getting your hands on these green rubber flip flops. They are super easy and fun to decorate on your own. You need faux flowers and beads to make this lovely green rubber flip flop pair. You can customize your flip flops with the choice of colors, flowers, and beads. Details here!
Image: pinterest, diy-enthusiasts
Cloth Flip Flops – Sling Sandals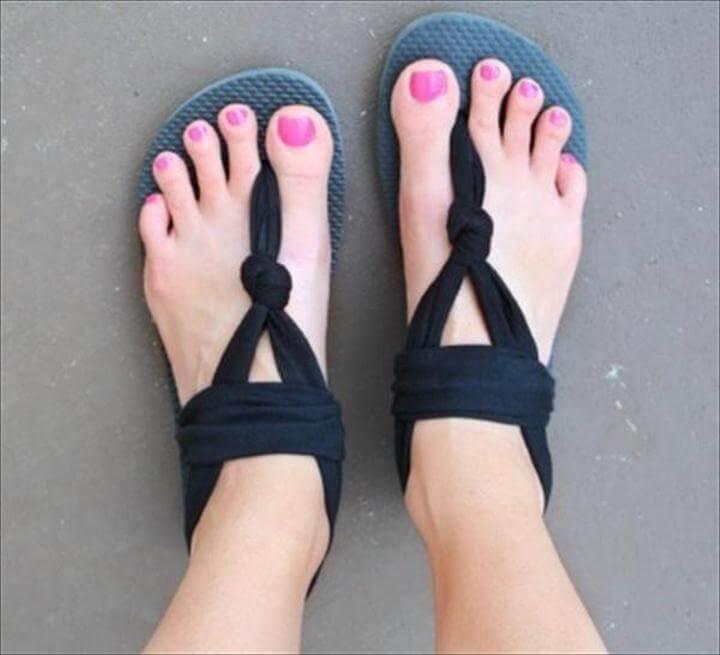 Now you can renew your favorite slippers are home just like these cloth flip flops sling sandals have been done. You need a pair of flip flops and the stretchy knit fabric in black to shape up these amazing cloth flip flops. You need to cut the strips out of the flip flop cloth and then create the lovely slings with some easy twisting and knotted technique. More details here!
Image: downhomeinspiration
Duct Tape Embellished Flip Flops
: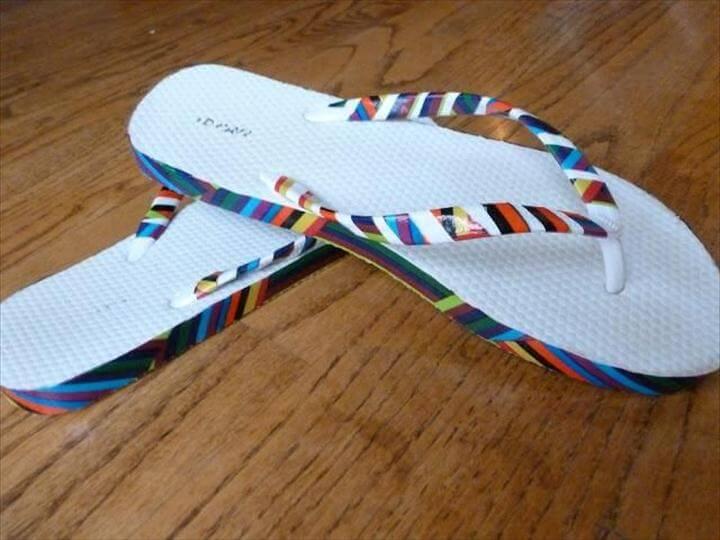 This is the easiest idea to embellish your flip flops in the easiest and the fun way. Using the duct tape and a pair of white flip flops you can easily create these gorgeous and cool looking pairs of flip flops. So grab some duct tape that is colorful and pretty in design. Wrap the tape around the flip flop straps and put some over the edges of the sole too. Get more details here!
Image: designimprovised
American Flag Flip Flops

: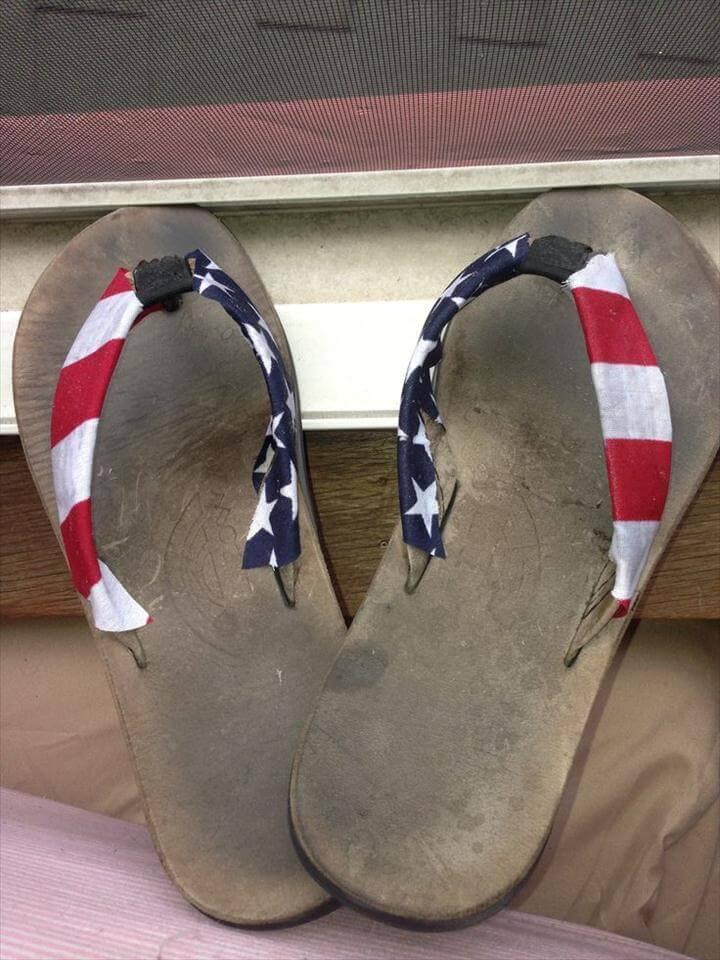 Make your independent day look more funky and fun with this lovely American flap flip flops. So you can grab some flag-inspired fabric to use it over your flip flops and make it look super gorgeous and fun. All you need to do is just cover the straps of the flip flops with the fabric cut strips using the glue. You can check out the details here!
Image: artsycraftsymom, pinterest
Flip Flop Ideas With Beads

: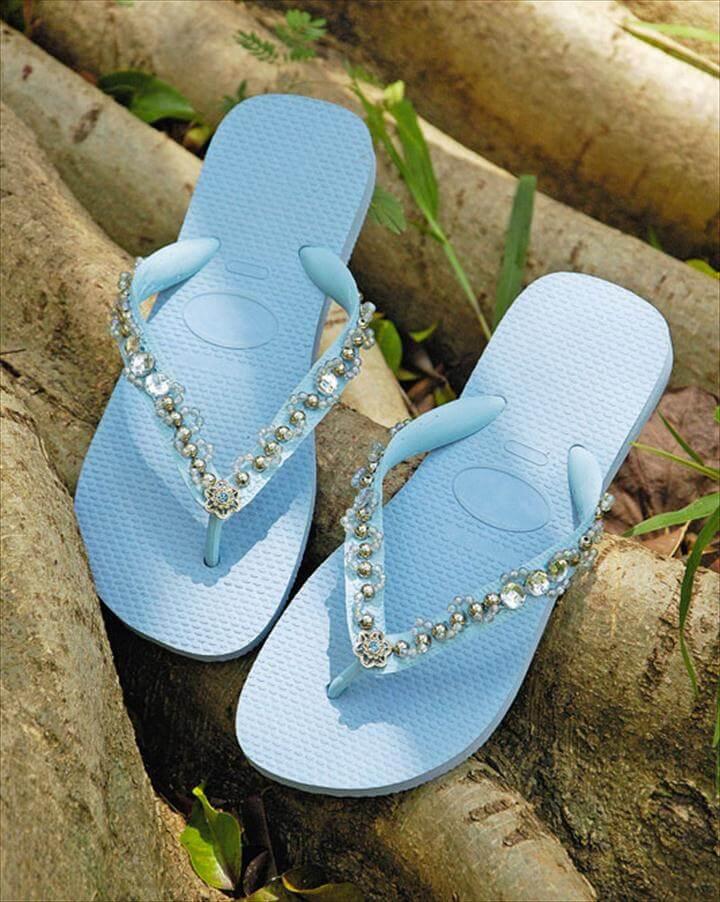 Make your flip flops look the cutest with these and fun ideas of the flip flop makeover. All you need to do is grab a bunch of the crystals, beads, and the studs and some glue. Decorate your flip flop straps with these beads and they are ready to rock your comfy dress up for the summer. Check out the details here!
Image: pinterest, crystalandglassbeads
Rain Bow Flip Flops

: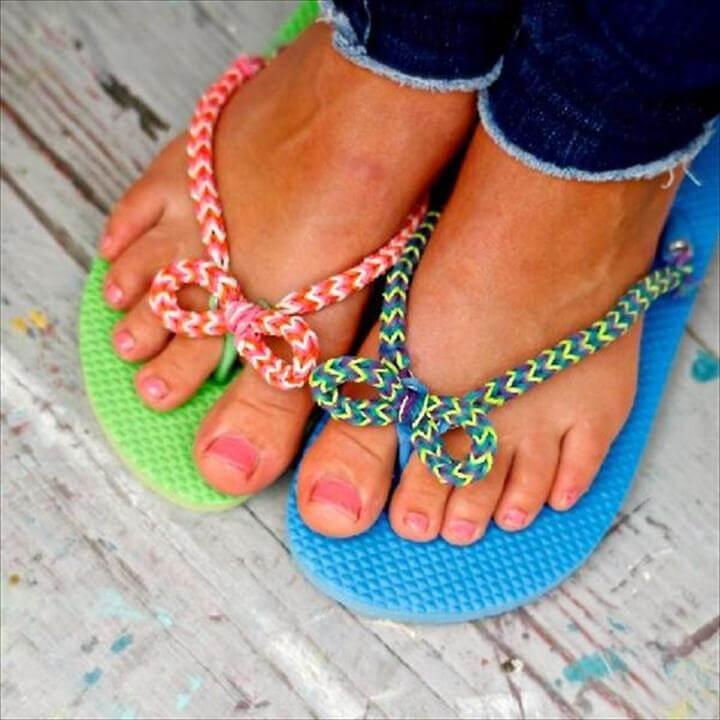 Make yourself ready for the summers with a pair of lovely flip flops and these rainbow flip flops are the best. You need a rainbow loom and a pair of flip flops to do this lovely project. Just cut out the straps of the flip flops and instead of them use the cords cut out from the rainbow loom and your flip flops are ready. Details here!
Image: debisdesigndiary
Zipper DIY Flip Flop

: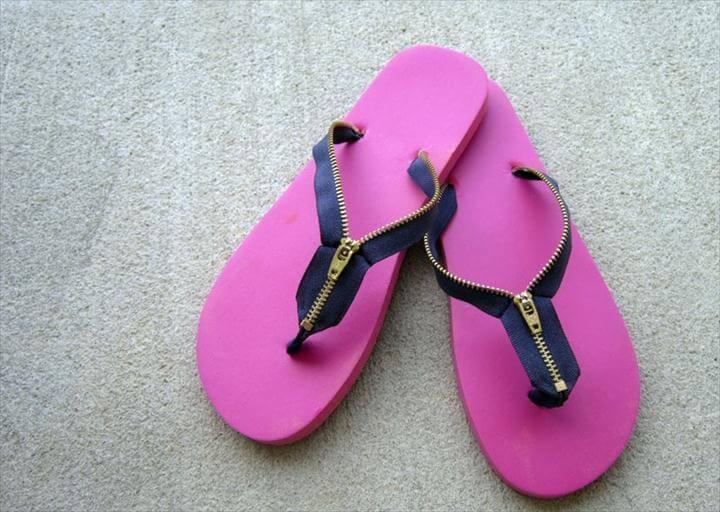 Make yourself this lovely and unique zipper DIY flip flop. The lovely flip flop straps have been replaced with a pair of the zipper. Half-open the zipper where it makes a perfect fit for your feet and gets the zipper handle stuck there. You can make it stuck there using glue or stitches. Check out more details here!
Image: pinterest