The wedding season is almost here. Its time to craft something to gift. Why not make 15 DIY Wedding Mason Jars Tutorials before the invitations come up. I'm sure like me; the wedding gift is the first concern. So here is to those like me, prepare some mason jars for the gifting purpose. There is definitely something magical about the jars that we can do a lot of things with them if we are looking forward to giving someone these jars, as a present.
The first is the DIY snowy mason jars which are the method through an extraordinary interesting method. These are made with the Thermo pole balls to create a snowy look. The Thermo pole is glued on the jars and then the red and green ribbons are tied to give a Christmas look to these unusual gifts for the fall is almost here and what can be better than this. I am sure you definitely have collected the small river stones at least once in your life from the beach tour you had.
It's time to utilize those river stones, grab them, paint them in your favorite color and glue them to the jars to make some amazing beach inspired centerpiece as this would be a unique wedding gift to a friend or family. When the weddings are in summer, you would probably prefer to give some summer touch o them and for that purpose, we have brought for you the idea of making decorating mason jars with summer luminaries. One of my personal favorites is the gold glittered mason jars, a perfect gift at a wedding. Just put some glue on your jars and sprinkle the glitter of your desired color on to it. To add more beauty to them put in them some fresh seasonal flowers.
Similarly, you can also create some rust wedding jars by altering the methods a little bit. Just take help from the spray paints and some paper made stencils for this purpose like you can see here. Leaving a heart-shaped space color the rest of the jar with the spray paint and attaches a wish card to the top of the jar and you are all set.
Also, play with some glittered and plain colored ribbons in order to create some amazing DIY wedding gift. If you are looking forward to decorating the tables at the wedding venue, nothing is best then the numbered jars. Color the jars simply and write the table numbers on to them and put these adorable masterpieces on every table and brace yourself to receive a huge amount of appreciation for your efforts.
All these lovely DIY jars are dedicated to the wedding season. There can be nothing more presentable than these little monsters. They can do wonders for you.
Snowy Mason Jar: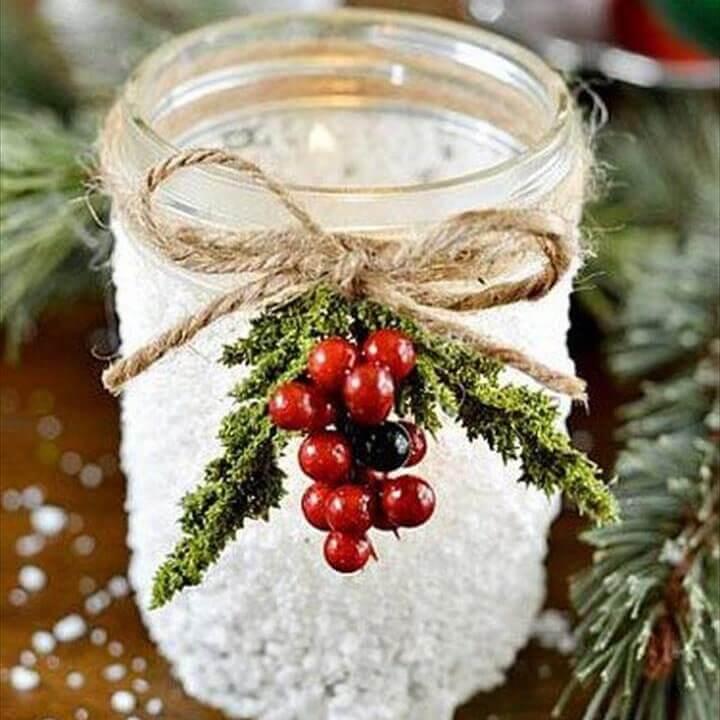 If there is a wedding in the family in the winters then make these snowy mason jars to decorate your wedding tables. This is an easy and cheap project to do in just a few hours. Grab a mason jar and apply decoupage all over. The Epsom salt would give the jar the perfect snowy look. Decorate the jar with twine and cherries.
Image: decoart
Beach Inspired Mason Jar Centerpiece

: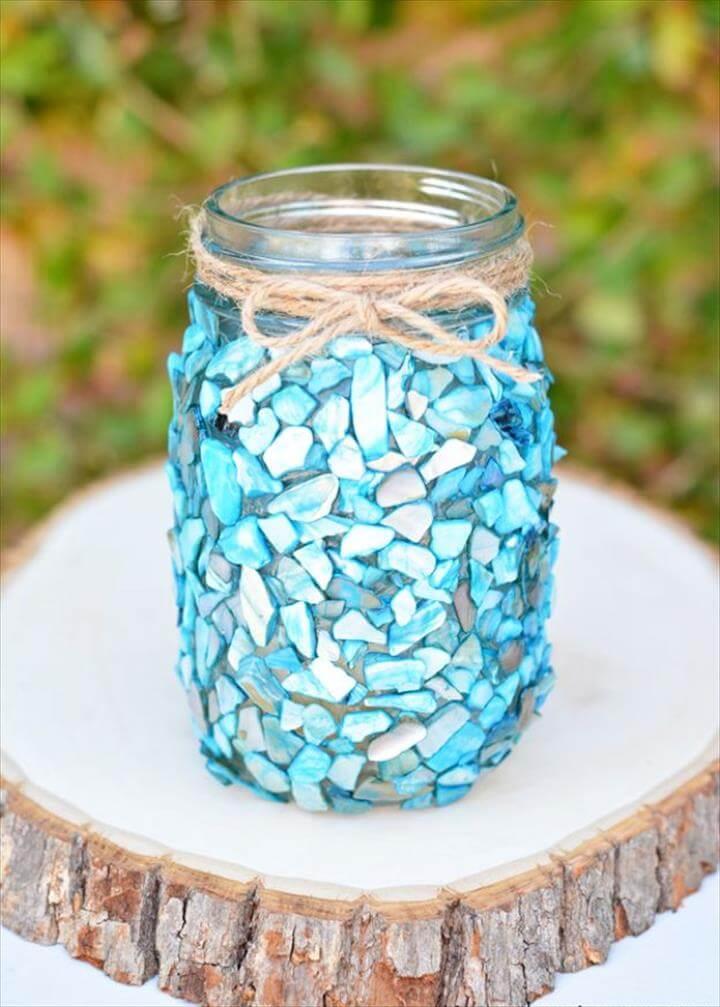 Make your wedding tables look the gorgeous and fun for the summer with this beach-inspired Mason jar centerpiece. Grab your mason jar and apply blue seashell pieces all over the jar. Place this jar over a wooden slice and also tie some twine to make the jar look super interesting and fun. More details here!
Image: apumpkinandaprincess
Summer Mason Jar Luminaries In Jars

: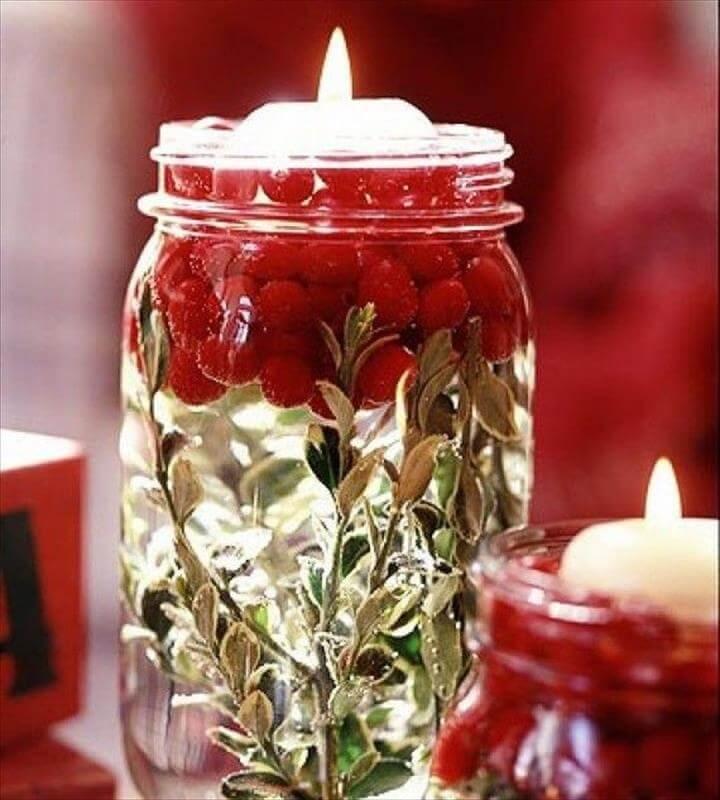 Make your summer evenings be so much fun and joyful with these summer Mason jar luminaries. These scented luminaries are super easy and cheap to make with your favorite mason jars. You need lime and lemon slices, rosemary spring, candles, and water to put in the jars and let them release romantic light and smell. Details here!
Image: alittleclaireification
Gold Glitter Mason Jar

: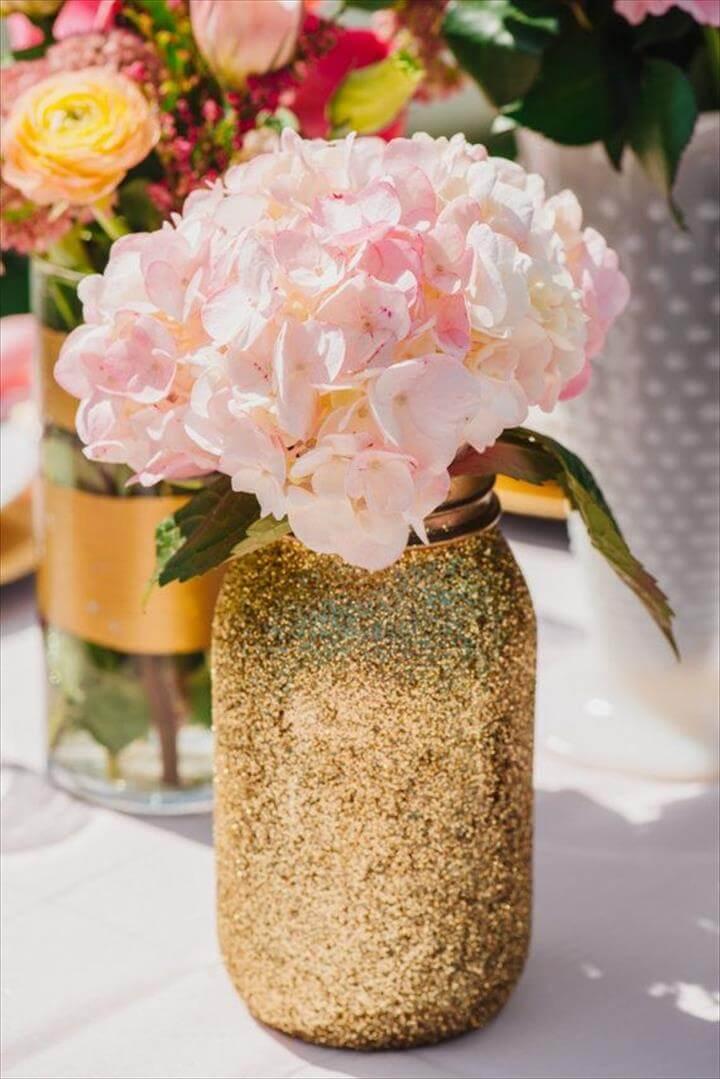 Save some money on the wedding with this lovely gold glitter Mason jar décor for your tables. Get the mason jars and spray paint them in gold. Then layer up the jar with the mode podge and pour the gold glitter all over the Mason jar. This pretty gold glitter Mason jar would make a lovely centerpiece for your wedding décor.
Image: annsbridalbargains
Rustic Wedding Table Centerpieces

: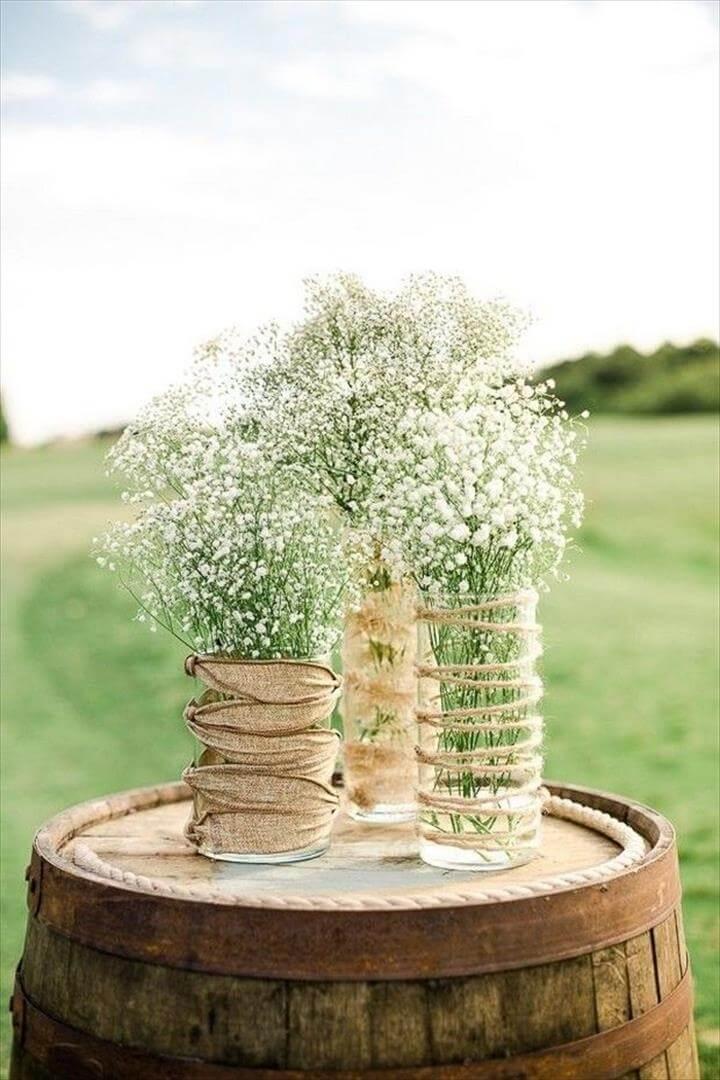 If you are willing to work on a rustic table décor theme for your wedding then here is the idea of this pretty rustic wedding table centerpiece. You need some glass vases and for the décor, you need jute twine and the burlap.  You can hold any of your favorite flowers in these rusticated wedding table centerpieces. Details here!
Image: rusticweddingchic
Glitter Dipped Mason Jars

: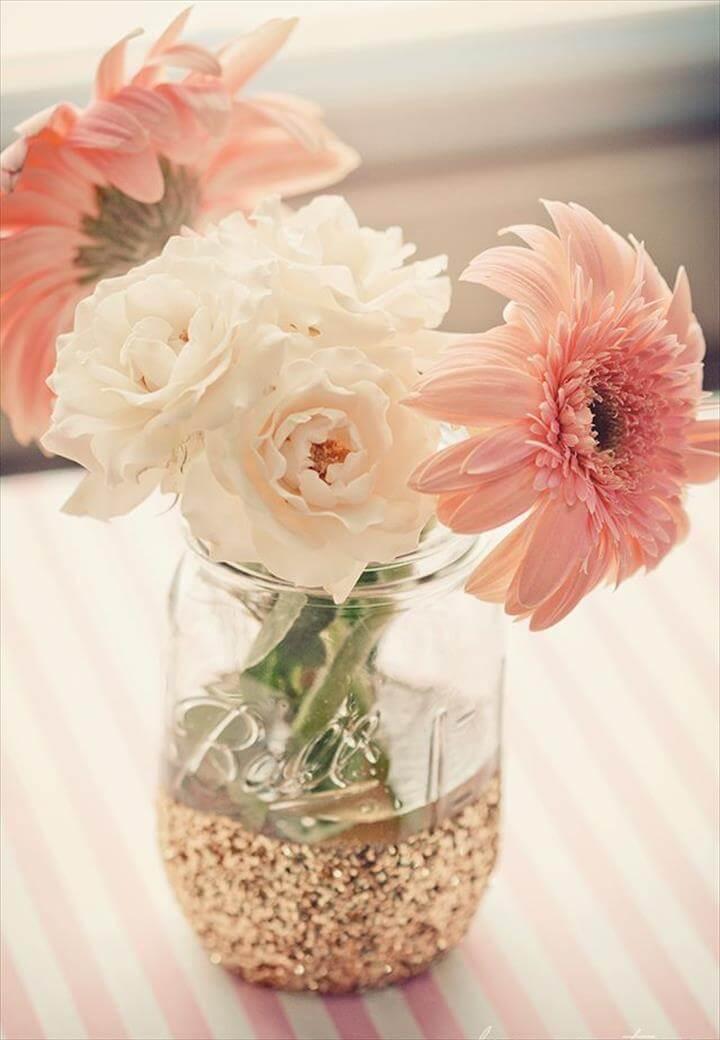 Give your guest tables the perfect decorative look for the wedding with this glitter dipped mason jars. You need mason jars to be glued with the glitter at the bottom of it. Hold your flowers in these glittery mason jars and your perfect table centerpieces are ready to spark up your wedding décor. Details here!
Image: jessiedaye
Pink Bow Glitter Mason Jar With Striped Ribbon

: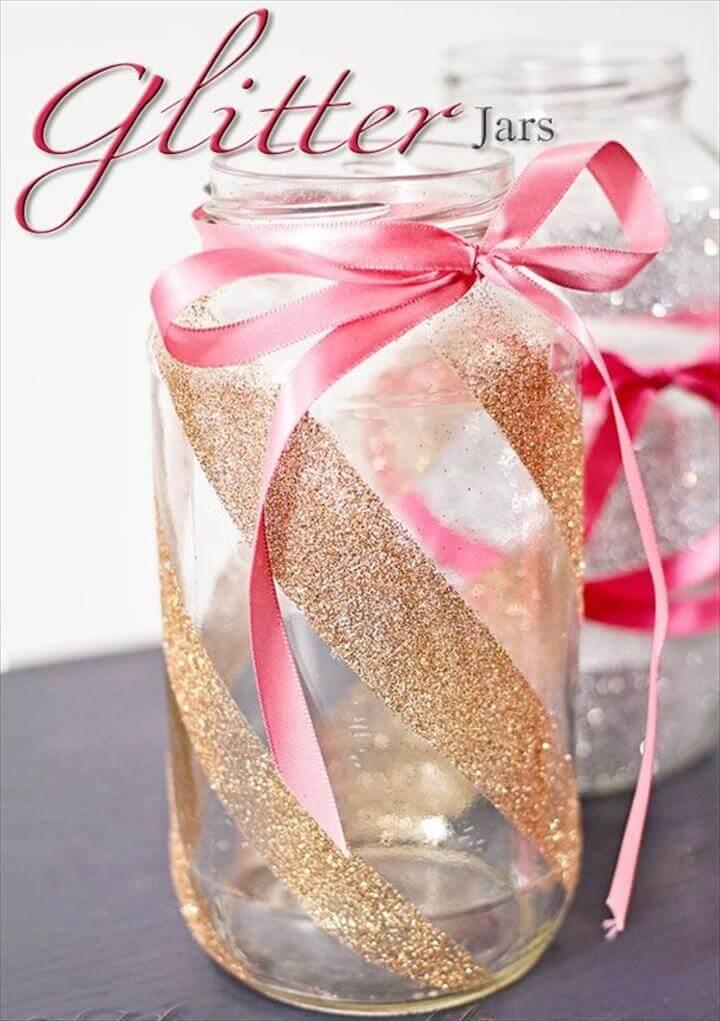 You can make the easy and totally wedding-worthy Mason jar vases for the décor of your big day. Grab the mason jars and create the pretty gold glitter strips all over the jar with the help of the painter's tape. Lastly, add a pink ribbon bow on the top of the jar and it's ready to be a part of your wedding table décor.
Image: kleinworthco
Twine Covered Mason Jars

: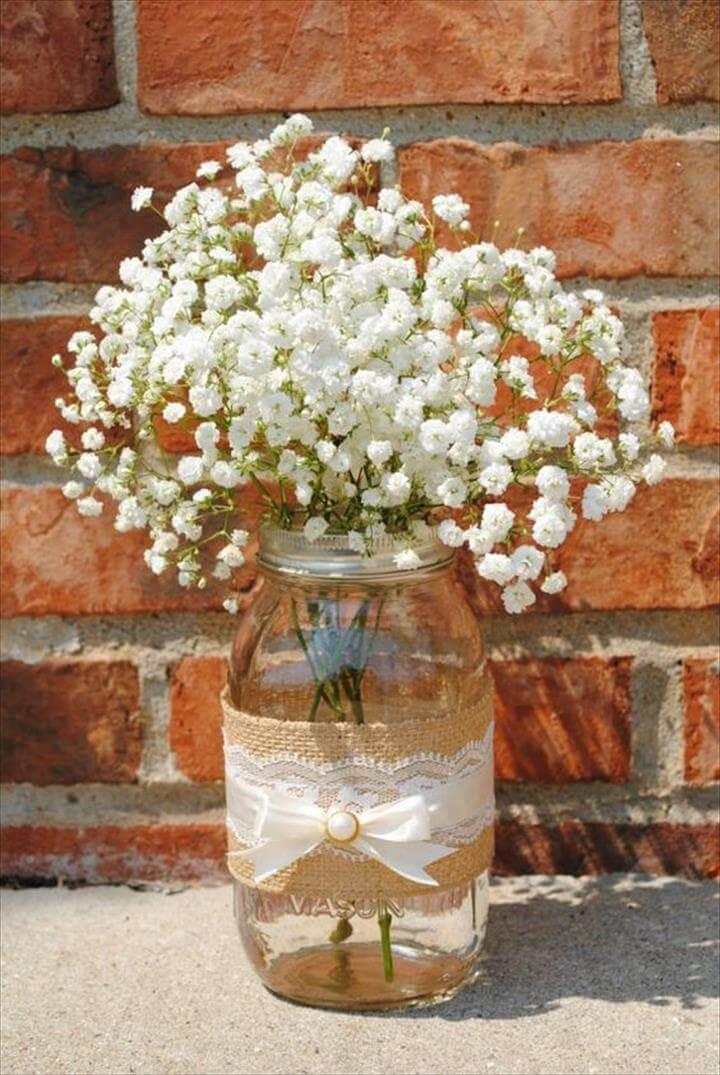 Working on a rustic theme for your wedding décor? If yes then get your hands on these twine covered mason jars to use as the table décor pieces. So grab some burlap piece to wrap it around the center of the Mason jar and embellish it more with the lace and the ribbon. Lastly, hold your favorite flowers and your vases are ready.
Image: bviewfromthefridge
Quart Size Mason Jar Centerpiece: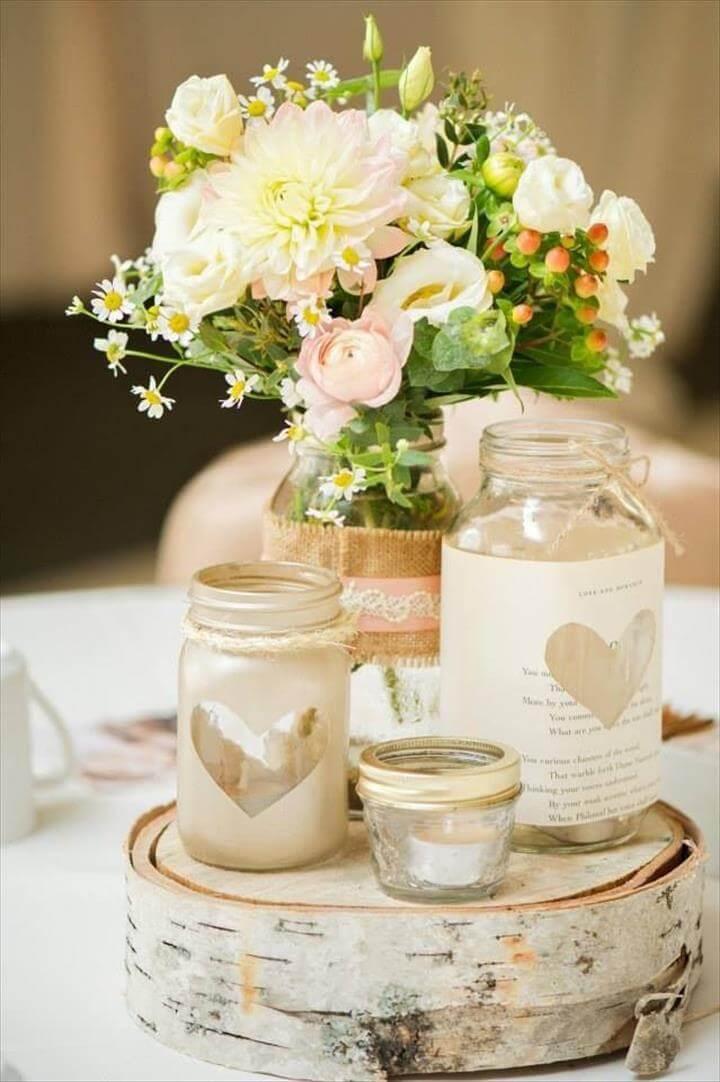 You can make the most beautiful centerpiece for your wedding and that too using the mason jars of a variety of sizes. You can do multiple decorative works on the jars. Like painting the jar with the heart shapes, old book pages, twine, and the burlap pieces. You can check out the details right here!
Image: yourhomebasedmom
Burlap Heart Mason Jar: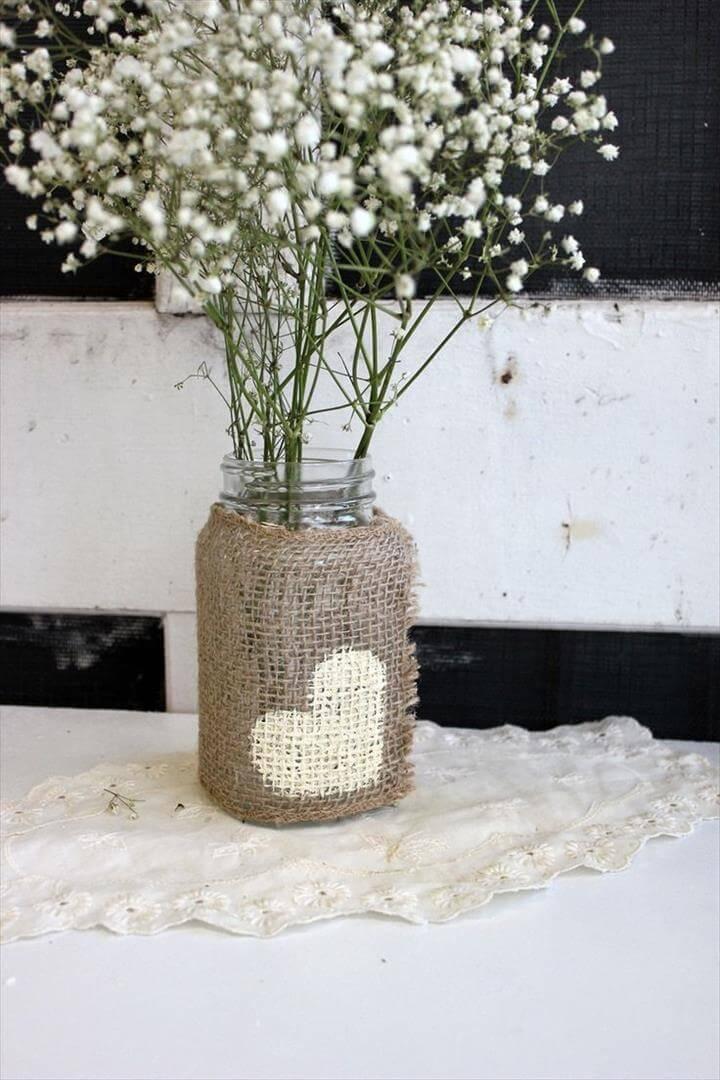 Rustic is the most heartwarming theme for wedding décor. You can make this lovely burlap heart Mason jar vases for your wedding tables. Grab a mason jar and some burlap wrap that completely covers the jar. Paint a heart on the burlap to make it look super interesting and decorative. Details here!
Image: masonjarcraftsblog
Silver Glitter Mason Jars – Winter Decor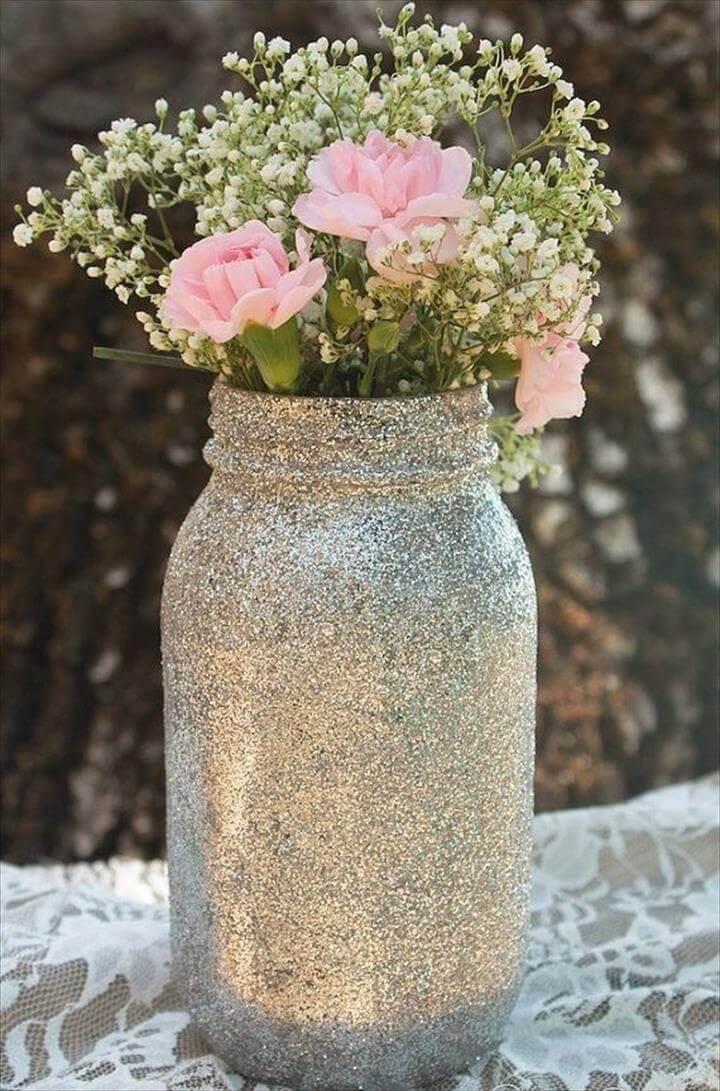 Make your silver wedding them get spruced up with this silver glitter Mason jar winter décor project. Just spray paint your mason jars with the silver and then load the whole jar with the silver glitter. You can create these pretty silver glitter mason jars for all the guest tables for the wedding and that too at cheaper rates.
Image: thegirlcreative
Glitter Mason Jar: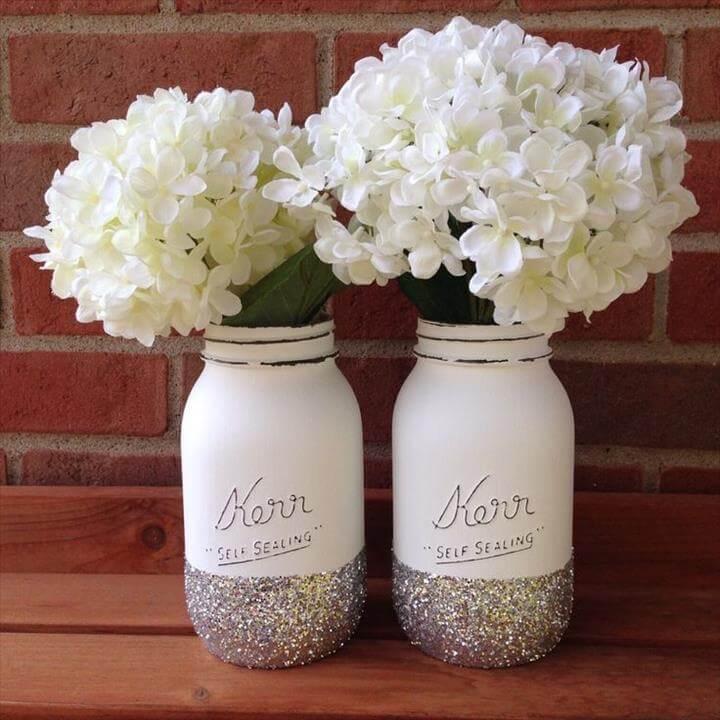 White is the most elegant and chic theme for a winter or even a summer wedding. Here is the idea of this glitter mason jar to work on and bring some cost-efficient beauty to the wedding décor. Just paint up your mason jars in white and then dip the jars in silver glitter for the gorgeous table decors. Details here!
Image: makeityelloh
Wedding Table Number & Centerpiece With Mason Jar: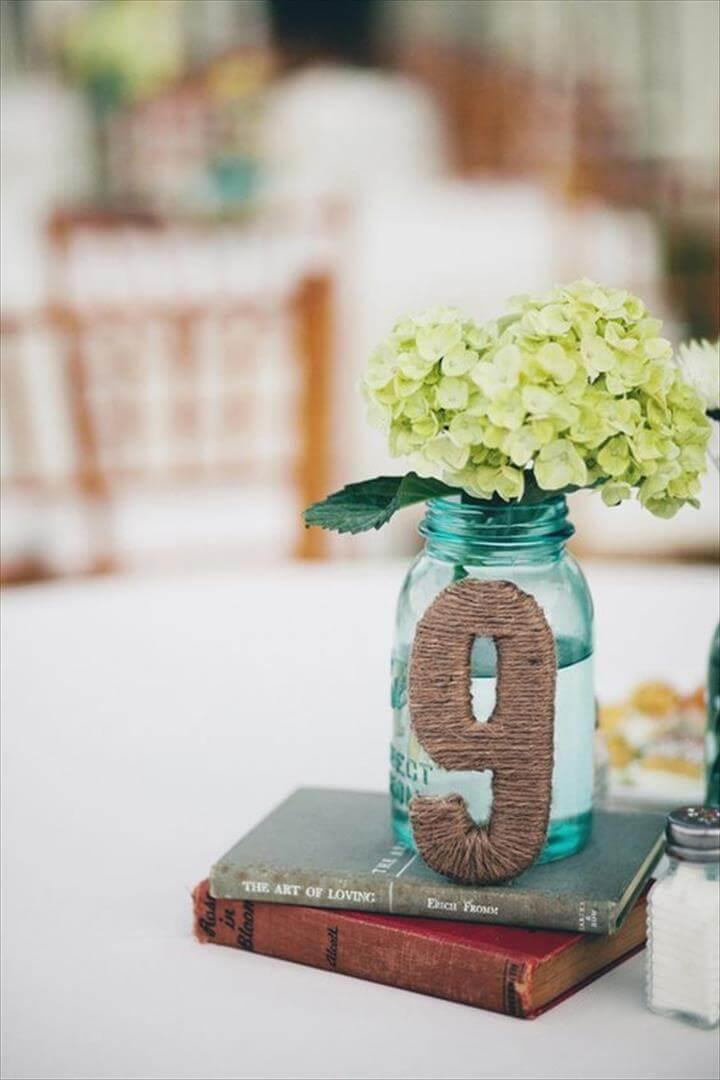 Table numbers make it easy for the guests to get their tables and seats easily. So you can use that number in a decorative manner and thus getting two in one benefit. Just get the numbers of wood or the cardboard and wrap them up with the twine rope. Glue these numbers to the mason jars and your wedding number and centerpiece is ready. Get the two in one décor idea here!
Image: alittleclaireification
Burlap Mason Jar Centerpiece: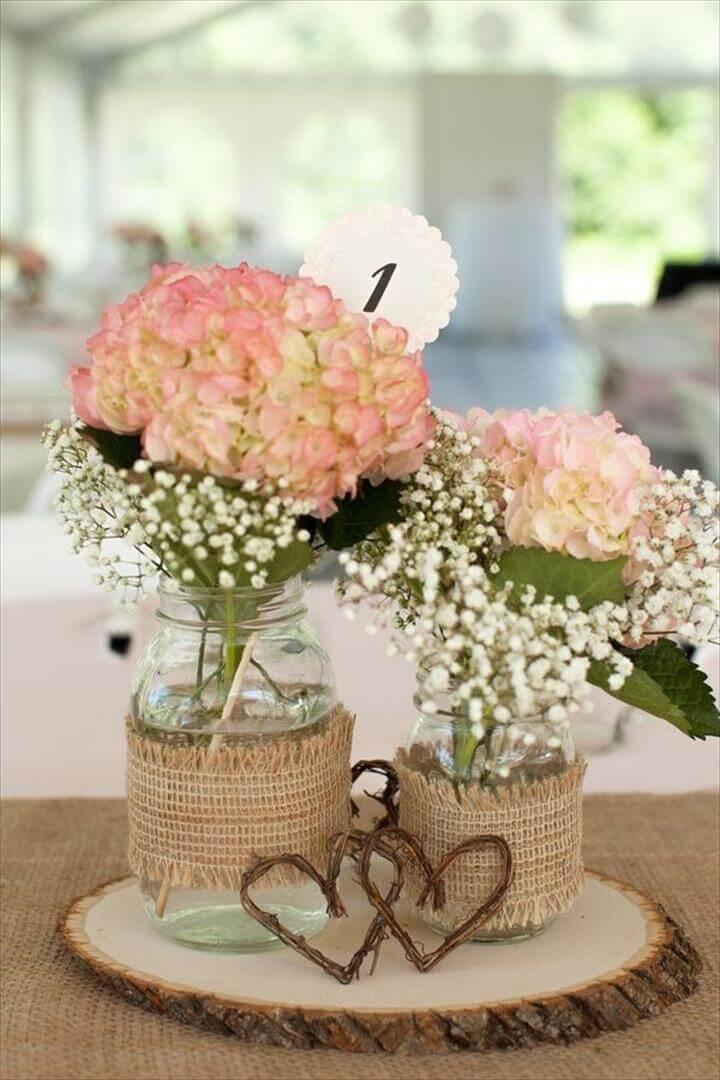 Give your rustic wedding décor a pretty boost up with this burlap Mason jar centerpiece. The centerpiece is easy and fun to make with a mason jar being wrapped up with the burlap pieces and place these rustic floral mason jars on a wooden slice. You can add more beauty by personalizing the jars with more embellishing items.
Image: consumercrafts
Gold Glitter Mason Jar – Pale Pink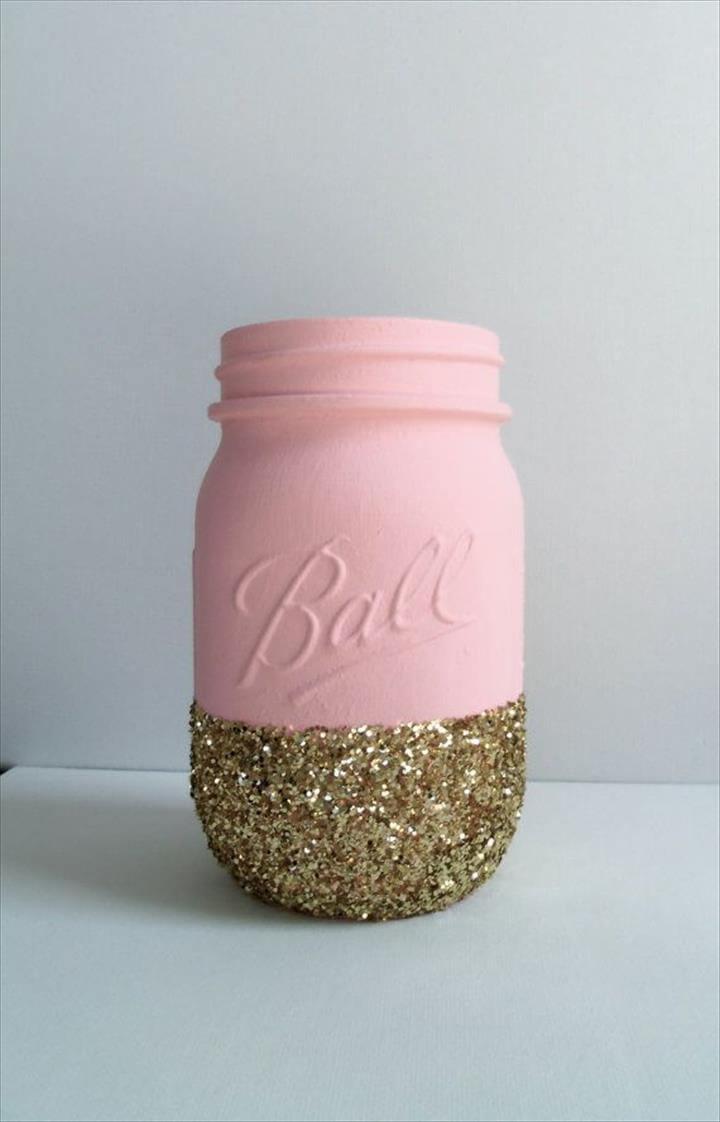 Save money over the décor department of your wedding with this lovely gold glitter Mason jar project. Yes, you can use this pretty gold glitter and pink Mason jar as the perfect table décor for the wedding. All you need is paint the jars in pale pink and then dip them in the glitter. Check out more details here!
Image: kastyles