If you are a fan, you are also supposed to be conscious of the mug that you drink your coffee in. because according to a survey, coffee lovers are more likely to be choosy about their drinking mugs than any of the other categories of people. Here are 16 Delightful DIY Coffee Mugs For Morning for you. So get ready for this amusing ride towards better mugs for your favorite drink.
If you want to be a little classy, try writing some classy texts on your mugs. You can change plain white colored mugs into something creative by dipping half of them into the paint as you can see over here. And if you want your mugs to be a little vibrant and funky, use colorful markers to make them look sparkly and attractive. This is one of the latest ideas of doing creativity with coffee mugs and it's watercolor based. Dip your mug into watercolor in order to get some abstract design that looks likes marble. These are hand-painted black and white mugs which are so elegant and simple. A DIY heart coffee mug like this is all that you need for your morning coffee; it can do wonders as nothing else can do for you. Now, this one is a decorative monogram mug with a multi-color effect.
Let's now consider making some of the DIY customized coffee mugs with funny texts over them. If you are a lady of the house, try making some for you by writing these funny lines over it. They look cool and relevant that you will only want to use them for drinking your coffee. Or you can also make one for yourself and one for the man in the house for the 'his and her' combination. Try some painted ceramic mugs and painted quotes mugs and some geometric painted mugs too for adding into your coffee mugs collection. Don't forget to make some mugs for special occasions such as father's day, mother's day, etc.
All these ideas are so simple, so let's transform at least some if not all of your coffee mugs this weekend.
High Classy DIY Painted Coffee Mugs: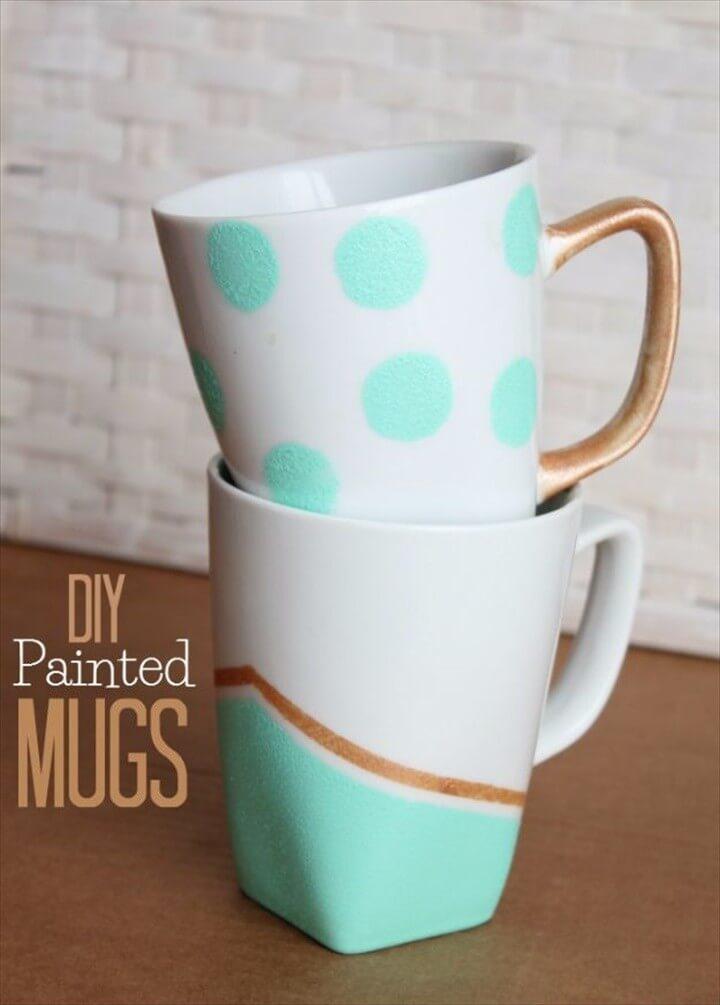 Make your simple and plain mugs look super beautiful and fun for the summer morning coffee hours. Here is the idea of making these high classy DIY painted coffee mugs. Using the Martha Stewart paint in your desired hues you can paint anything on your mugs. From dots, lines, and blocks you can paint your mugs with any pattern and design.
Image: madetobeamomma
Paint Dipped Mugs

: DIY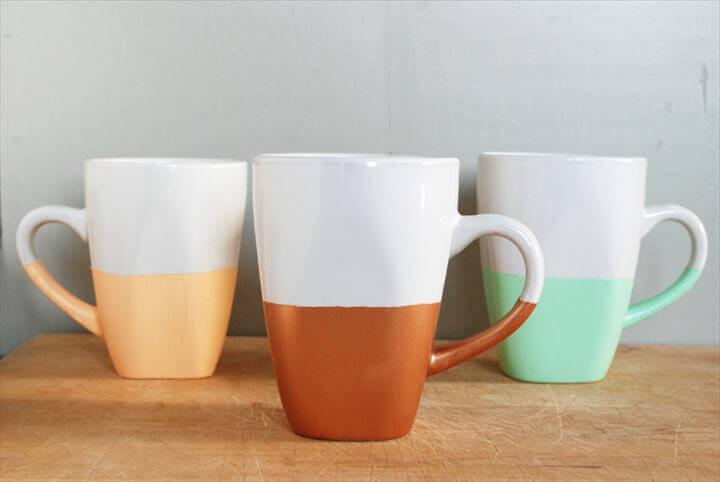 This paint-dipped mug is an easy way to make your plain white mugs to look super pretty and fun. Just grab the paint in your favorite colors and then dip your mugs half in that paint and let them dry. You can do it with all the coffee mugs of your family members and surprise them up. Details here!
Image: themerrythought
Brightly Sharpie Mugs: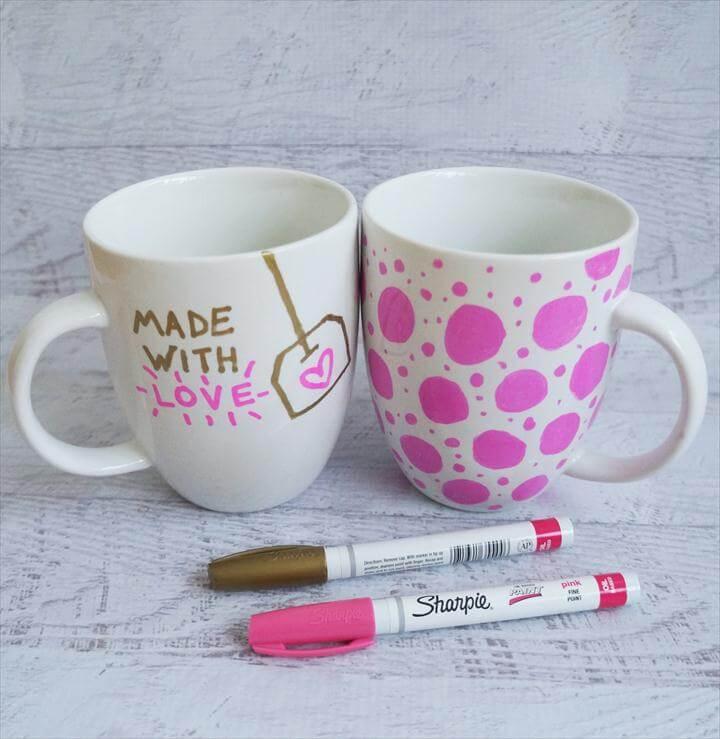 Make your coffee mugs look the most personalized items for your coffee hours with this idea of the bright sharpie mugs. Just take white mugs from your kitchen and grab the sharpie markers in your favorite colors. Start drawing your favorite pattern and the design on the mugs and bake the mugs once they are dry. Check out details here!
Image: popsugar
Watercolor Coffee Mug – Marble Mug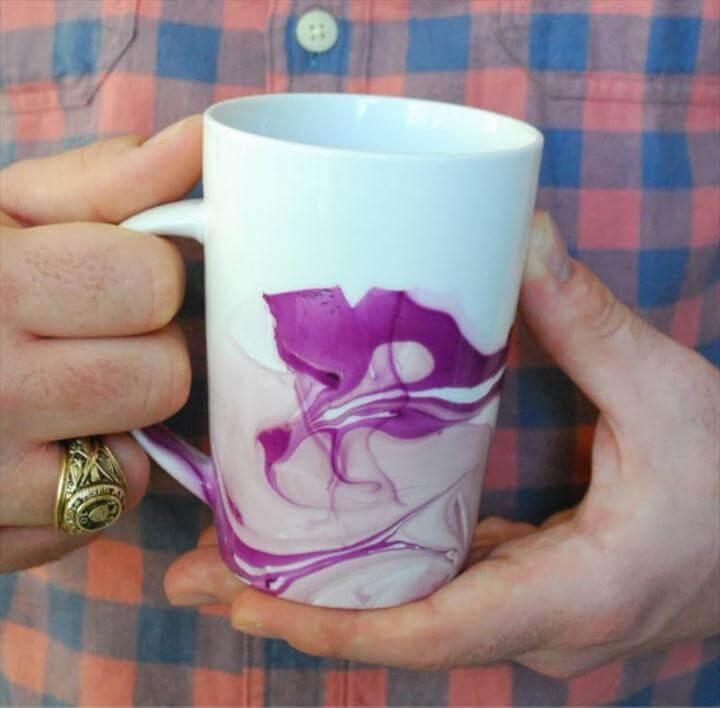 The mugs with marbled designing are super expensive but you can DIY the cheap ones at home. Here is this adorable watercolor coffee mug idea to do easily and totally at the cost of zero at home. Just grab a tub of water and drop your favorite two nail polish colors in the tub. Then dip your mug inside and let it get the entire nail paint pattern on it.
Image: youtube
Hand-Painted Black & White Mug

: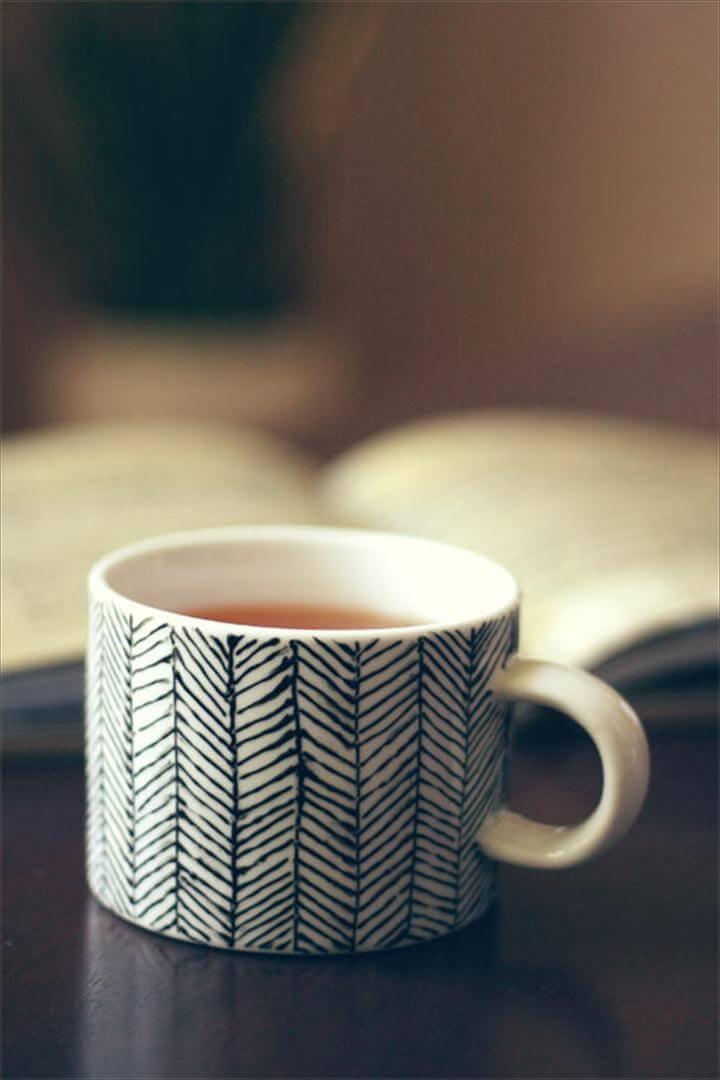 We love coffee and adore our coffee mugs and now you are going to love them more with these hand-painted black and white mugs. So all you need is a white mug and the porcelain outliner to do this black and white mug. You can create any of your favorite patterns and the design on the mug for the custom look.
Image: witandwhistle
Heart Coffee Mug With State: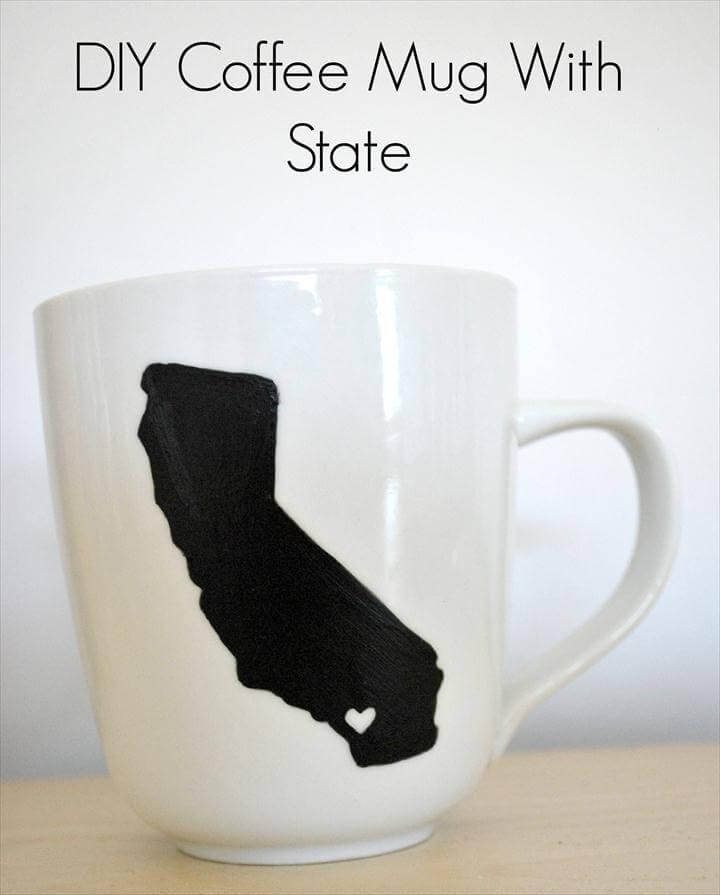 There are so many ways to funk up your plain and boring coffee mugs and here is the heart coffee mug with the state. Draw your state on the coffee mug using the template and then fill it up using the chalkboard paint. This state design on your mug would really make it look interesting and cool as a gift too. Details here!
Image: artzycreations
Decorative Monogram Coffee Mug: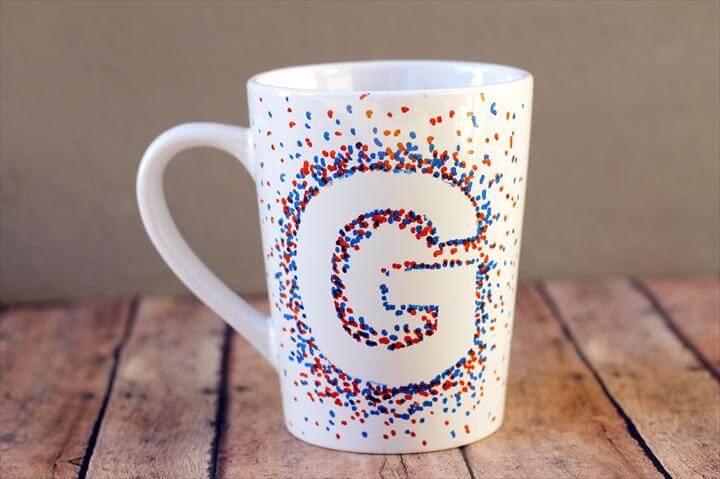 You can make your coffee mugs look so cute and totally personalized with this decorative monogram coffee mug. Using the template of your name initial you can create a colorful monogram on the coffee mug. You can customize so many mugs with the respective letters to use them as gifts for the family and the friends.
Image: sarahinthesuburbs
Funny & Custom Coffee Mugs: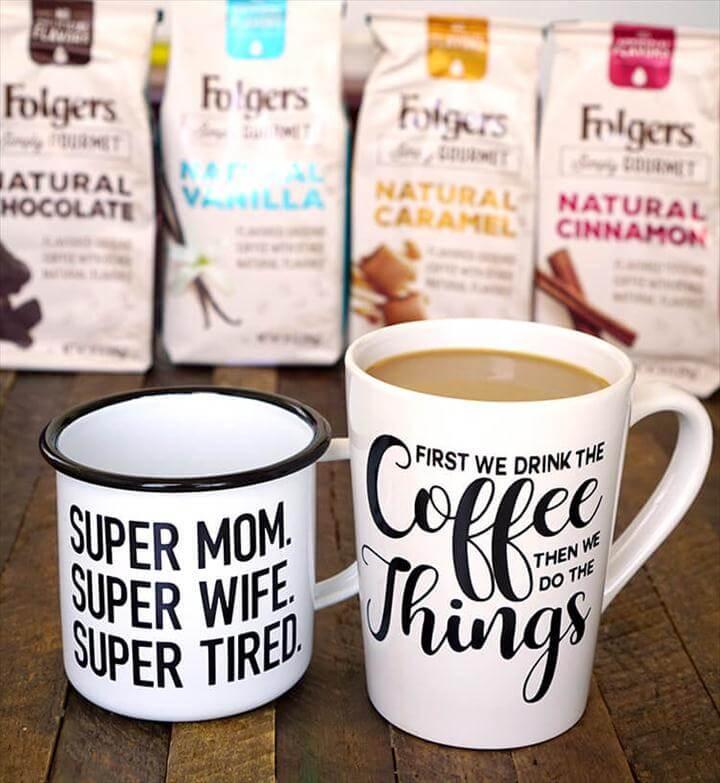 You can make these funny and custom coffee mugs to use as the prettiest gifts ever. Just grab your white mugs from the dollar store and then add some fun quotes and wishes to them using the vinyl. This is the cheapest way to make the pretty coffee mugs for family and friends. Check out the detailed tutorial here!
Image: happinessishomemade.net
Painted Quote Mugs

: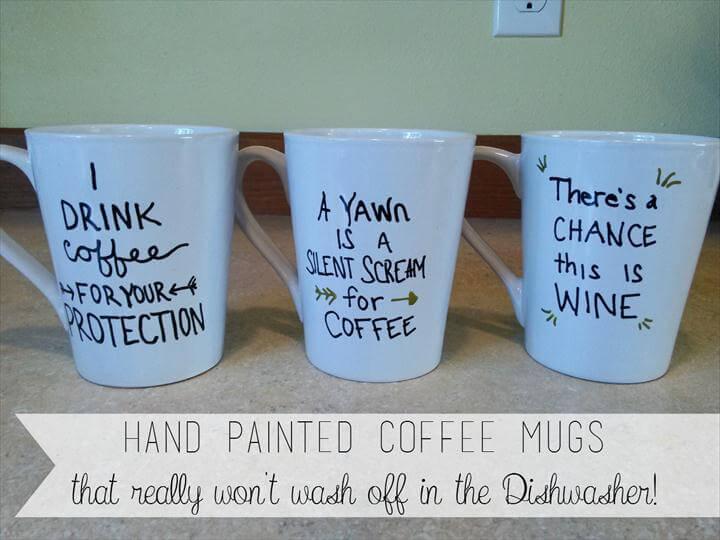 Many of us are in love with coffee to the level of craziness. You can make these painted quote mugs to show your immense love for the coffee addiction. Just grab the white coffee mugs and then draw your favorite coffee quotes on the mugs to later write them off with the paint markers. These quoted mugs would make the best gifts.
Image: thecolbertclan
His – Her Sharpie Mug: DIY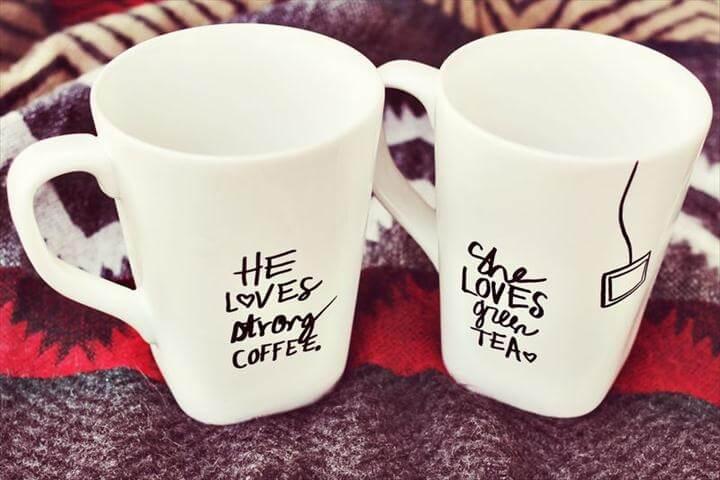 Make your mornings more beautiful and fun with the handwritten His-Her sharpie mugs.  These DIY mugs are super easy to do at home using the black sharpie markers to write your favorite His-Her quotes on the mugs. Bake the mugs after writing up your stuff and your mugs are ready. You can use these mugs as a cute gift for the couple too.
Image: abeautifulmess
DIY Black & Gold Mug Set: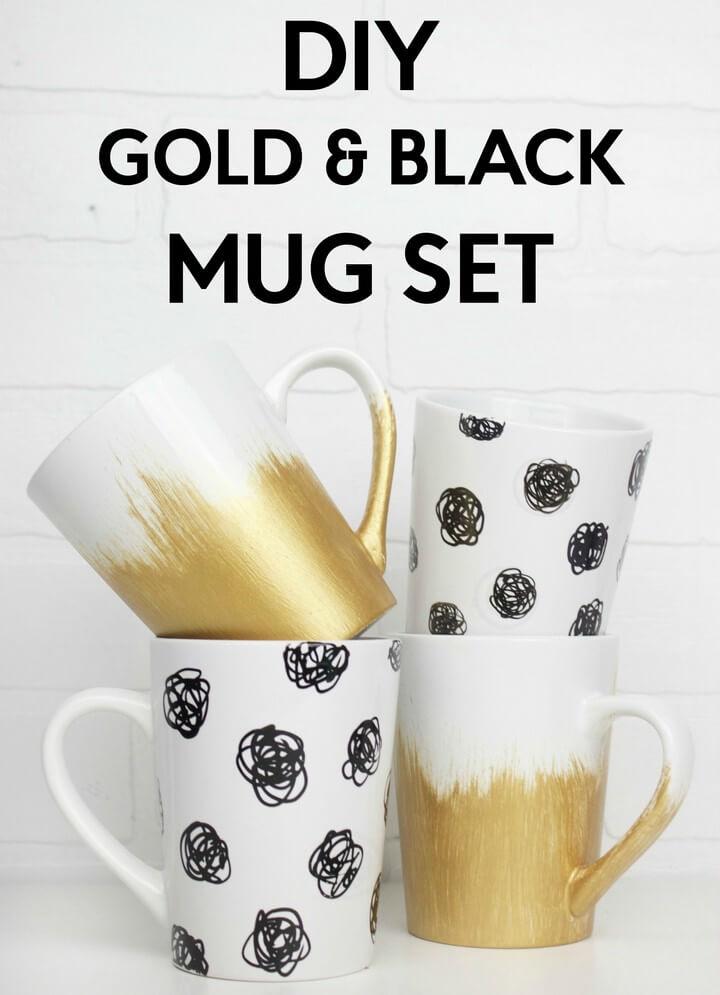 It's time to give your mugs the pretty makeover and here is the DIY black and gold mug set project to inspire you. You need to paint markers to create some random designs and patterns on one pair of mugs. Then grab some gold paint and brush it up over the other pair. These mugs would make lovely gift ideas!
Image: alittlecraftinyourday
Painted Ceramic Mugs

: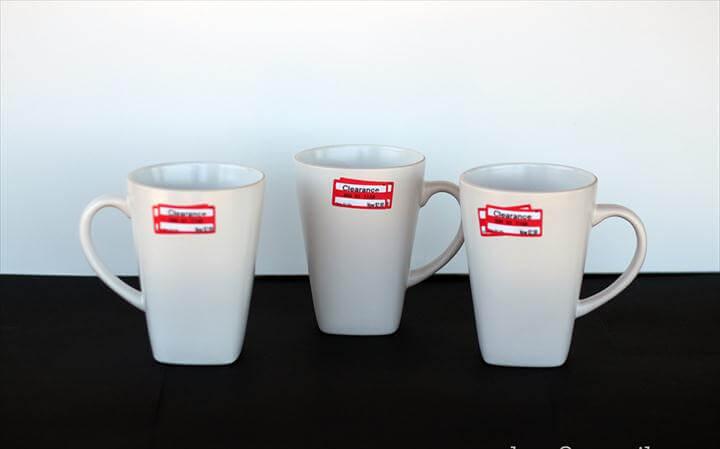 Make your plain mugs look the most beautiful with some paintwork on them. Here is the idea of getting your ceramic mugs painted and that too in a cute, fun, and easy way. The pretty mugs have been painted with Martha Stewart glass paint and the stencils to look so chic and unique. You can give away these mugs as lovely gifts too.
Image: number-2-pencil
Painted Quote Mugs: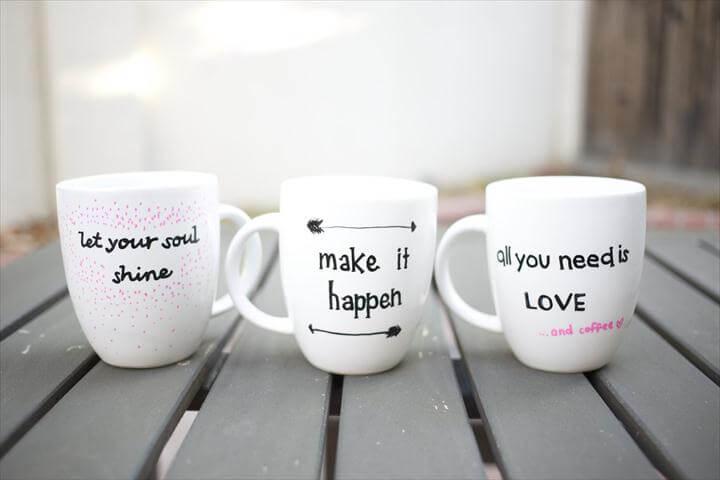 Now you make the personalized mugs at home and here is this easy project of the painted quote mugs to do at home. You need your quotes in prints and the graphite pencils to get the quotes transferred on the mugs. Then grab the sharpie markers to write of the quotes and then decorate it up with bright color shaper dots all over.
Image: popsugar
Geometric Decorated Mug

: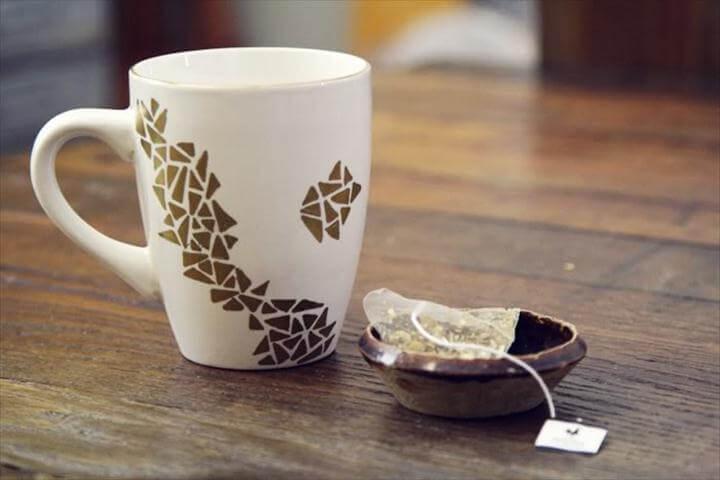 Show your drawing skills with the mugs with this project of the geometric decorated mug idea. Using a golden paint marker you can decorate your mugs with a pretty geometric shape pattern in arch style. You can replace this geometric design with any of your favorite designs or pattern for a custom look.
Image: ohhellofriendblog
Father's Day Coffee Mug: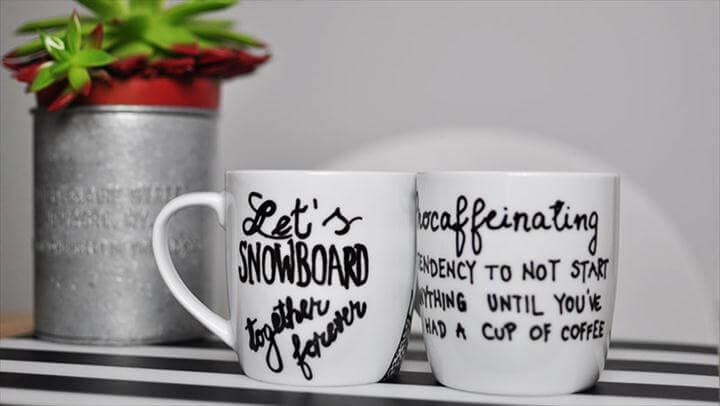 You can make the best father's day gift with this project of the father's day coffee mug. You can draw the best father day quotes on your mugs using the pencil and then paint it up with the markers and your mugs are done. You can use this idea to create cheap yet the most heartwarming gifts for everyone around.
Image: youtube
Sharpie Coffee Mugs: Mother's Day Gift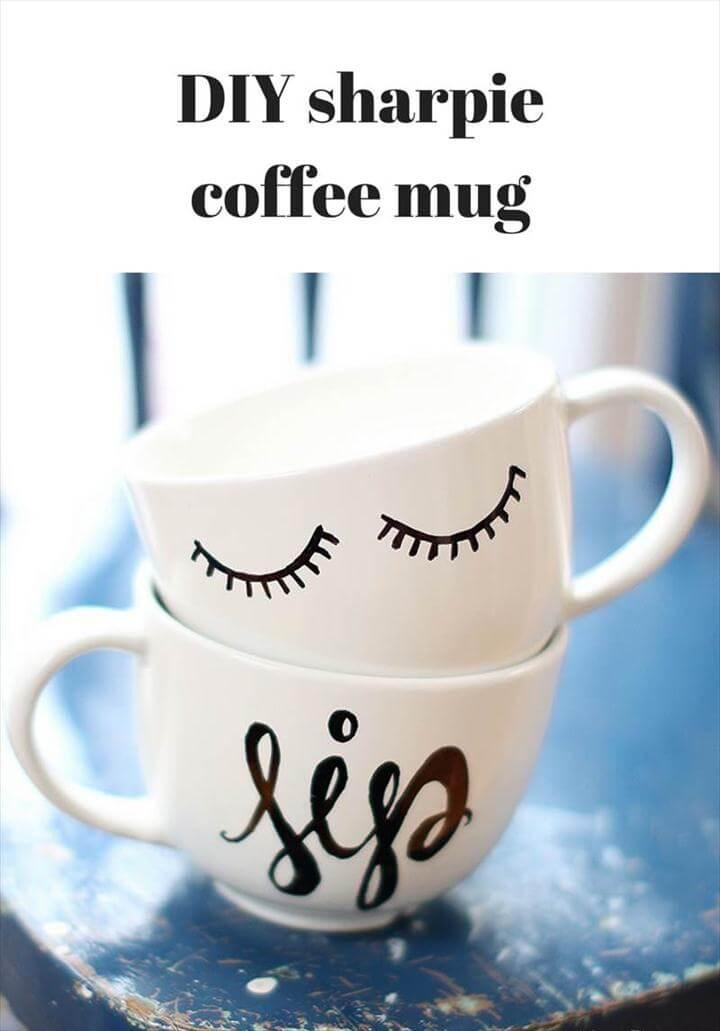 Make your mother this easy and cute sharpie coffee mug for the best mother's day gift.  You need some lovely mother day quotes to draw on your mugs using paper and pencil. Then you can paint up this quote using the markers and once it's dry you can surprise your mother with this lovely and cute gift.
Image: creativebug