As we all know that the heart shape is used to be linked with Valentine's Day always as it denotes love. We have discussed a lot of time about crafting that we can do for valentine's day and here again we will share with you 18 Best DIY Heart Ideas About Valentine Day exciting idea for this special day but this time the ideas are only based on the heart shape.
We will share with you a lot of different and full of fun ideas for the coming Valentine's Day and all of them are based on the heart theme. The first project that we have here is a DIY beautiful heart headband that you can make yourself easily. These ideas will surely help you in order to make your preparations beforehand so you don't have to rush at the eleventh hour.
The second project that you will see over here is a heart-shaped red-colored pillow that can be made easily with some simple sewing steps that you can learn from the tutorial attached here in the link given below the picture. Next, we have the cutest and adorable of all the projects that we present to you here, it's a lace cut into heart-shaped and pasted on to a plain t-shirt and looks spectacular. Also, grab any of our jeans to make it suitable for Valentine's Day by making mini hearts on to it with the help of fabric color and stencil. It's time for adding some valentine touch to your shoe collection and for that you can just simply add a heart on to the top portion of your shoe like you can see over here, the rest of the details can be found inside the link given below.
Next, we have yet another wardrobe crafting and this idea will help you in making a simple heart on to your sweater with the cross stitch pattern. Similarly, you can also bring some valentine touch to your jewelry by making some heart-shaped rings and much more. Next, we have some patchwork ideas where you can simply paste a heart patch on the t-shirt elbow. DIY String heart can be another spark to this Valentine's Day and can decorate your walls like never before for this special occasion. As far as decoration is concerned you can also grab some of the wrapping papers and make a giant heart out of it as you can see over here.
Next, we have an idea to make Danish heart baskets for you to give yourself a treat this Valentine's Day. The next project is something unique and these are heart hand warmers that are not only super easy but also a way too cute to handle. Besides this, we have some other exciting fun ideas like a leather heart keyring which looks super classy and you can gift your special one this valentine. Last we have an embroidery wall hanging idea for you based on the valentine's day theme.
Share this idea with your friends also so that they can also make some special things for this Valentine's Day.
Heart Headband: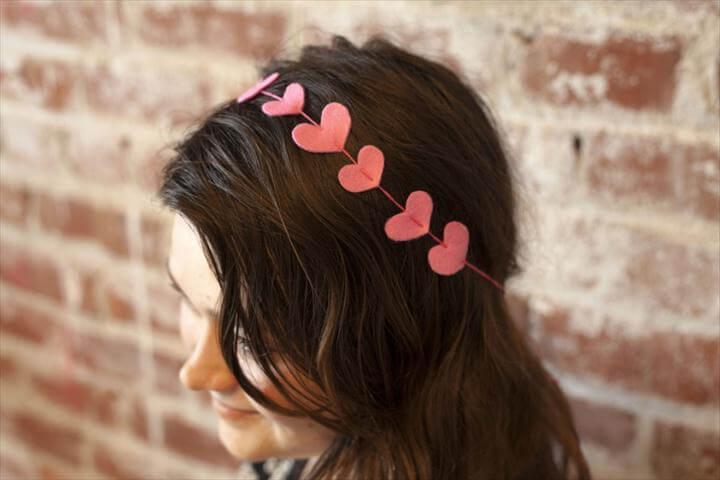 You can look most elegant yet girlish on the valentine with this lovely heart headband. You can use pink or red felt to make this perfect heart headband on your own. Just cut out small size hearts from your felt and stitch them together using a matching thread and the needle. This gorgeous heart headband would make a lovely gift too.
Image: creativebug
Heart Pillow: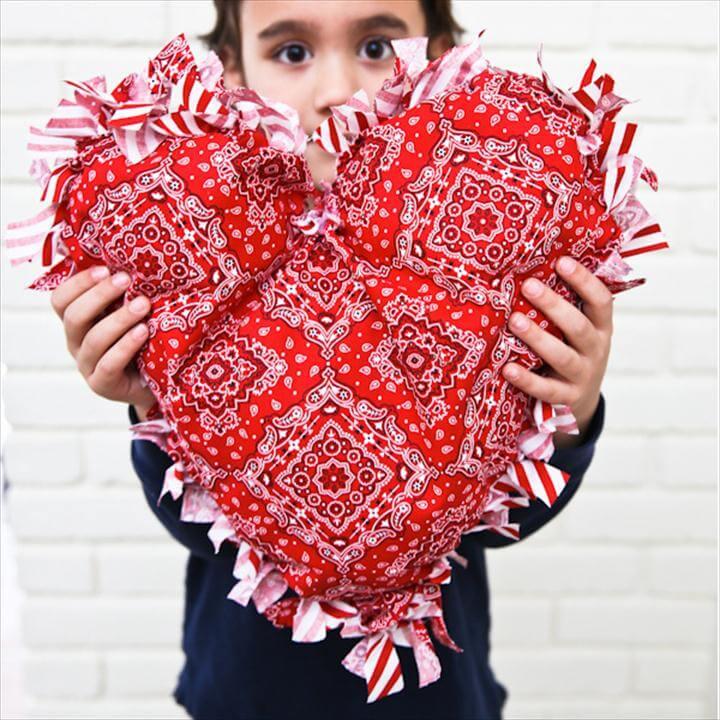 Here is the idea of making this heart pillow with your kids and create a cute little gift for them. You need a red fabric to shape up the pillow using a tracer heart of the cardboard. Cut and sew your heart and fill it with cotton balls or loose pillow filling. You can make such heart pillows as the perfect valentine's day gift for anyone.
Image: danabueno
Lace Heart Tshirt: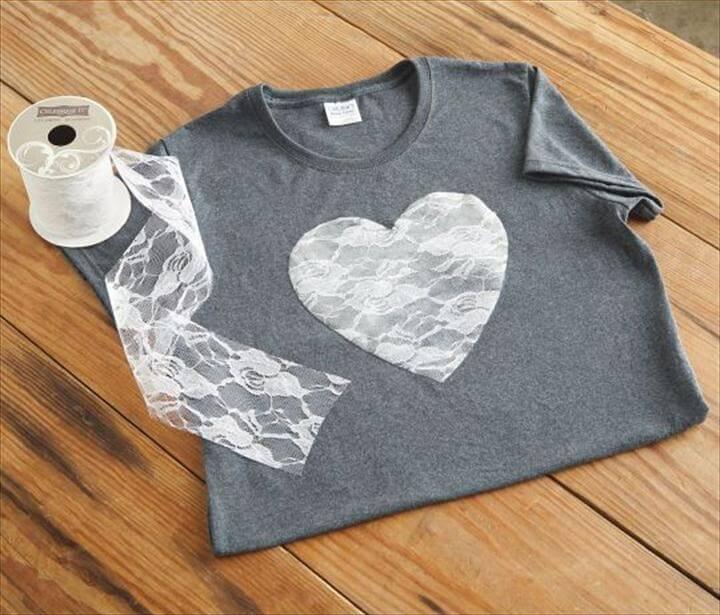 Heart projects trend around valentine's day and you can take part in this trend too. Making this lovely lace heart T-shirt would be a great idea to indulge in some heart fun for the valentine. Just get white lace to trace and cut a heart out of it. Then sew up this lace heart at the front center of your plain t-shirt and it's done. Follow the easy details and instructions here!
Image: doityourselfdivas
Heart Patterned Jeans: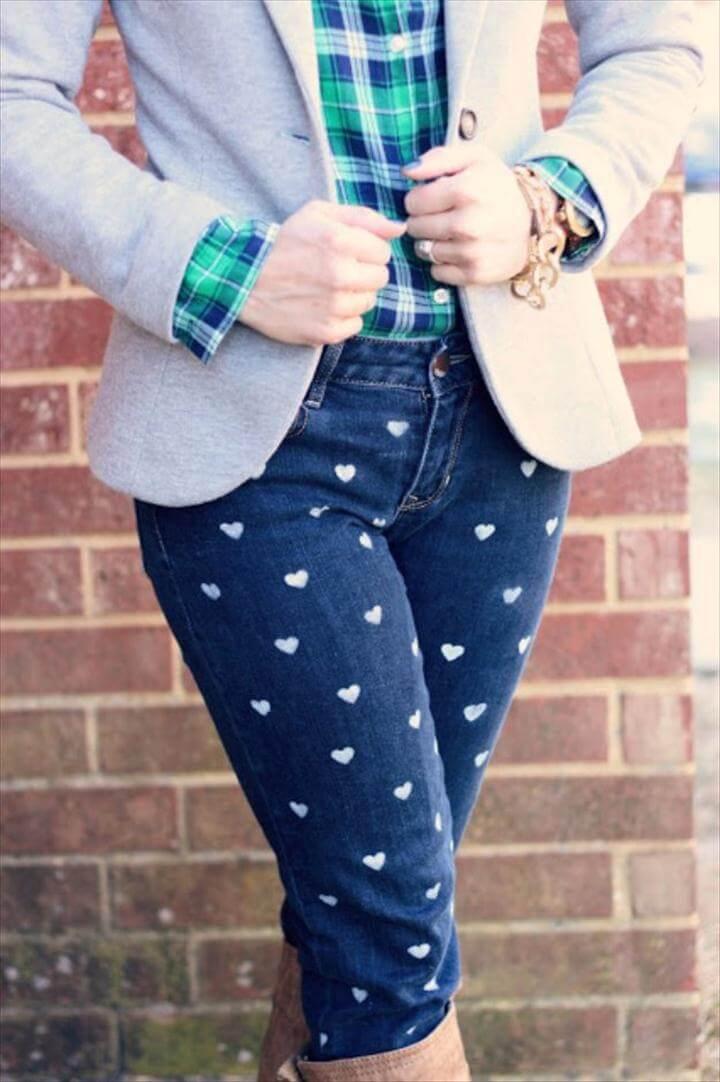 If you plan to wear your favorite jeans for the valentine then make them ready for valentine's day with this idea of the heart patterned jeans. Just get your hands on the fabric paint in white and a heart punch to create the lovely white hearts all over the jeans. You can use this technique on your shirts and tops too. Details here!
Image: prettylifegirls
Heart Embellished Flats – Shoe Clip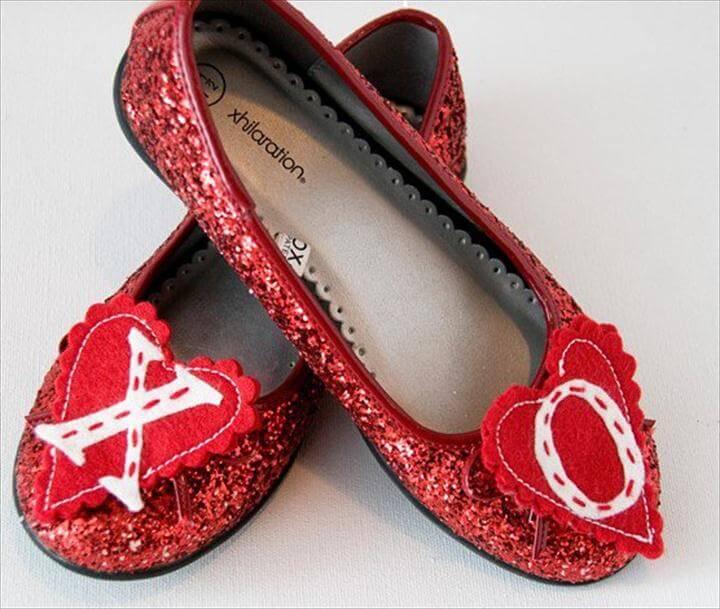 Valentine day is the love day to share hugs and kisses. So look great to celebrate this fun day with this heart embellished pair of the flats having handmade shoe clips. So get your hands on red felt to make the hearts and then some fabric scrap to make the letters X and O for the hearts and glue them over the shoe tops.
Image: polkadotchair
Heart Print Sweater Tshirt – Cross Stitch Heart Sweater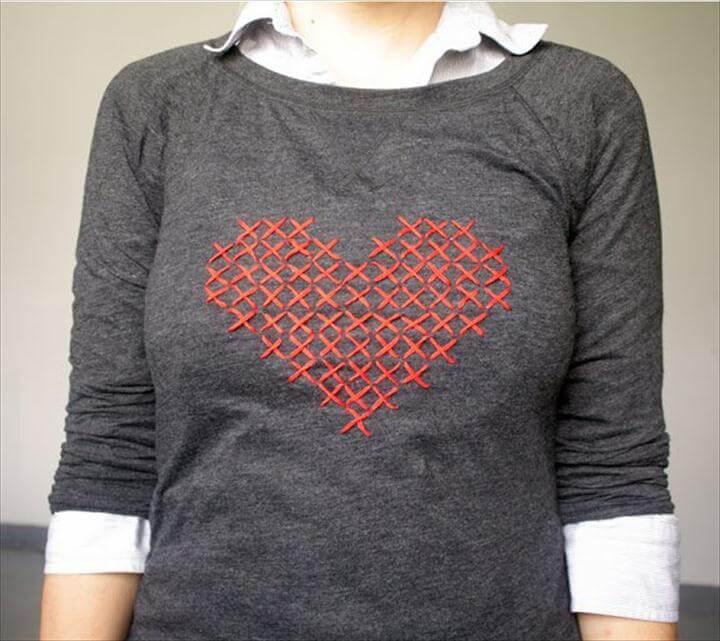 If you can work with the needle then you must get your hands on this heart print sweater T-shirt. Using the red embroidery floss a traced heart on a paper you can create this lovely red on your sweater. The cross stitch pattern really makes the sweater look so awesome and cool for the valentine. Details are here!
Image: uberchicforcheap
Heart-Shaped Rings: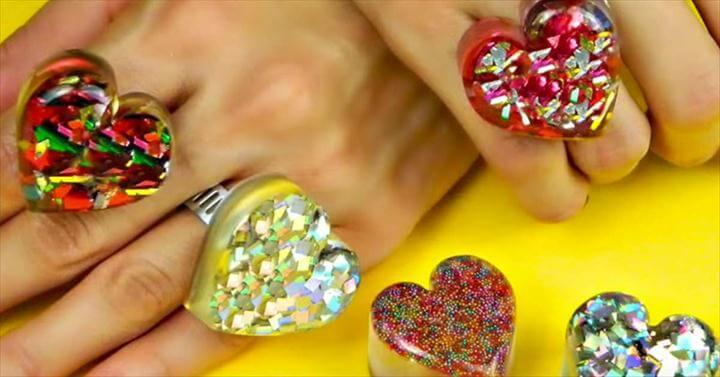 A valentine's day look is incomplete without some lovely rings in the fingers and now you can make some on your own. Yes, here is the idea of creating these lovely heart-shaped rings to adorn in your hands and to use them as gifts too. The pretty heart rings are made out of the resin and the glitter and you can have the video tutorial right here!
Image: diyprojectsforteens
Sequin Heart Elbow Patch: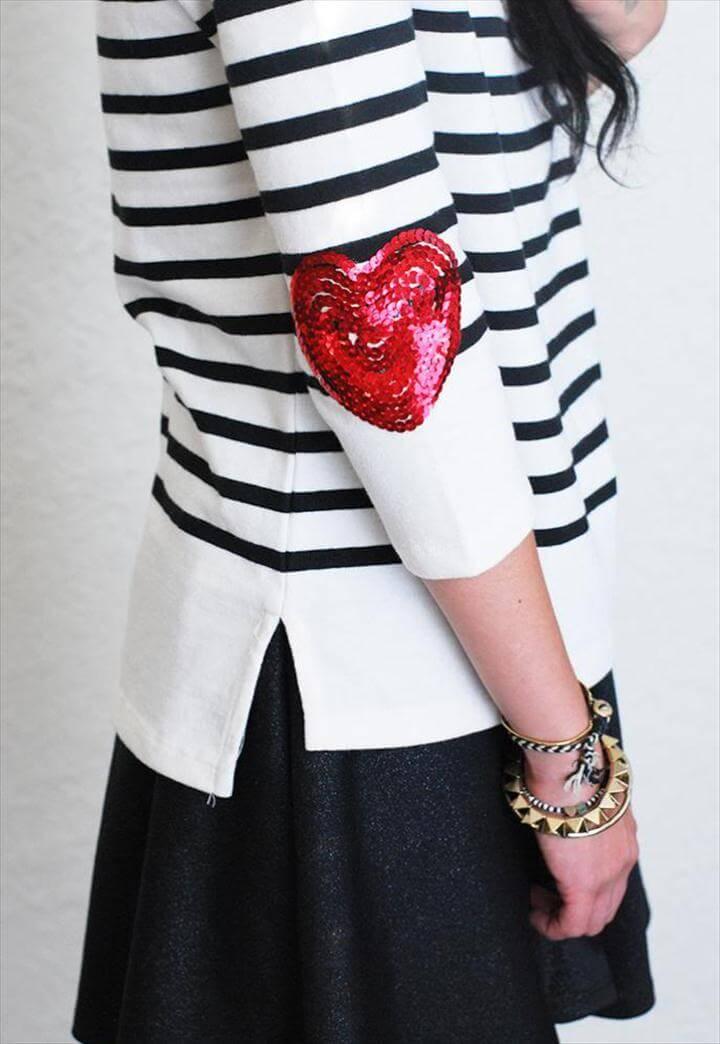 Bring back the fashion of the elbow patches with this lovely sequin heart elbow patch. Even if you do not want to wear a red dress on the valentine this cute sequin heart elbow patch is the best thing to create on your dress and adorn it for the day. You need red heart sequin trim and the paper heart template to work up this lovely elbow patch.
Image: howtoinstructions
String Heart: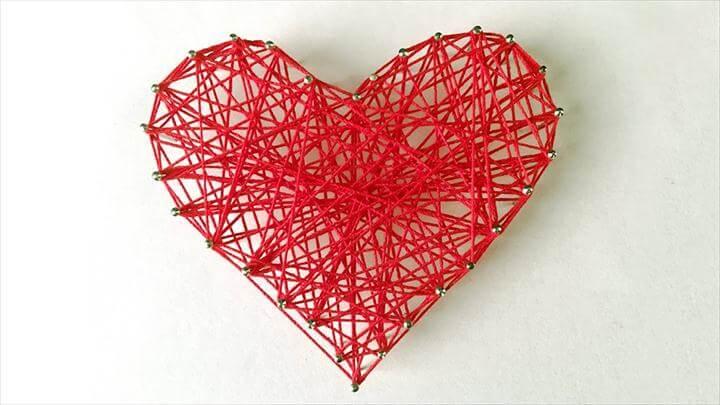 Make the weekend around the valentine full of love and fun by working up this lovely string heart art with your kids at home. You need a canvass, a lot of nails to create the heart shape on the canvas, and then red yarn to string up this heart shape in a cute random pattern. Follow the tutorial details of the idea here!
Image: youtube
Felt Heart Elbow Patch: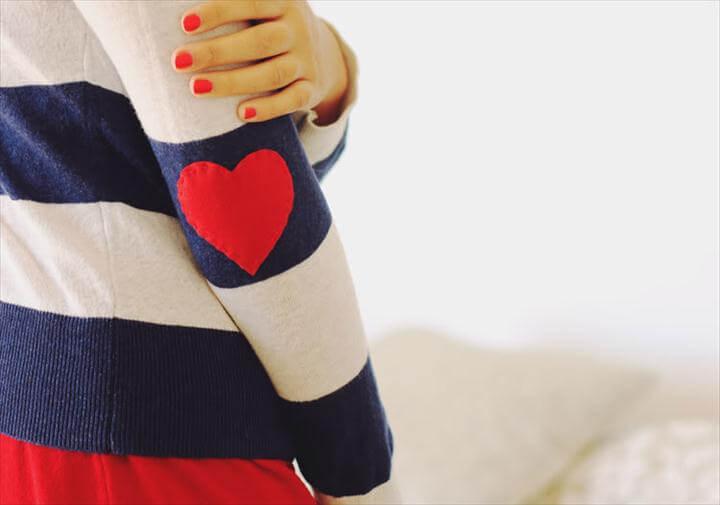 Make your boring and simple valentine's day sweater look awesome and cute with this added felt heart elbow patch. Just cut a cute mini heart shape out of the felt and then stitch it up on the elbow of your sweater and you got the perfect dress ready for the valentine. Grab more details of this easy project here!
Image: archive.org
Gift Wrapping Paper Heart: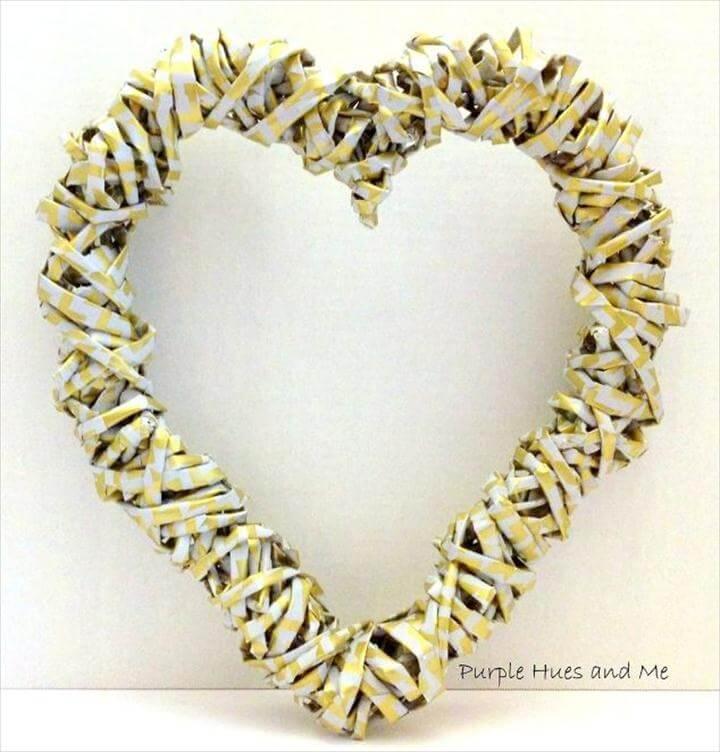 Make the perfect décor for your valentine's day celebrations with this gift wrapping paper heart idea. This cute heart is unique and totally untraditional to make and adorn in your home décor. To create a heart out some wire first. Then roll the gift wrap paper to make thin tubes in a bunch. Finally use these tubes to wrap that wire heart in multiple layers and your wall art for the valentine is ready.
Image: hometalk
Weaving Danish Heart Baskets For Jul: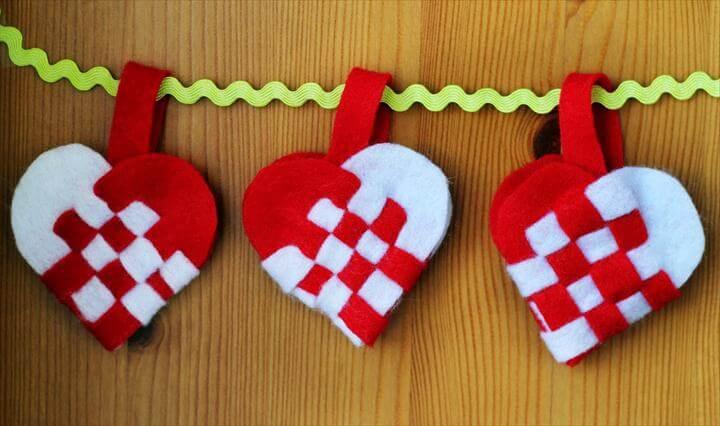 Bring some fun to the Christmas décor this time with these weaving heart baskets for Jul. You need to cut out oval shapes from the felt with cuts in the center and then weave these pieces together from around and through to create a lovely heart shape. Hang these over the mantles as the perfect piece of décor. Learn to make then perfectly right here!
Image: radmegan
Heart Hand Warmers: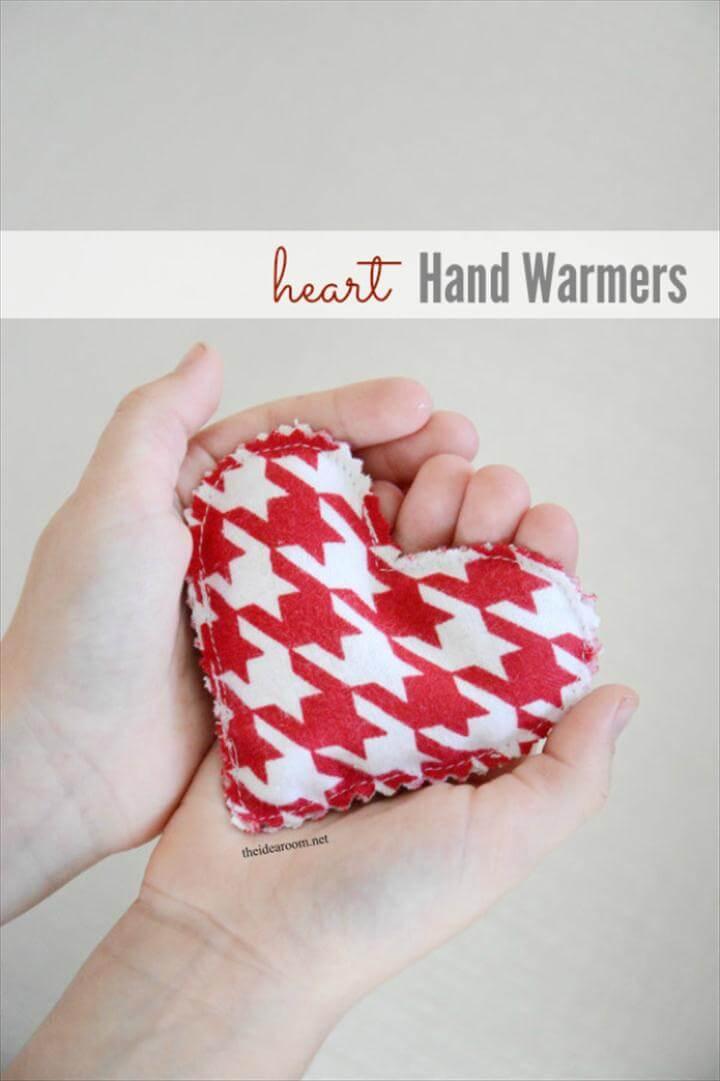 Valentine's day is always in the colder weather so making the heart projects can winter-inspired just like these heart hand warmers. Make two hearts from your favorite printed fabric and sew them together with a little opening to put in some rice. Add handmade gift tags to these heart hand warmers and you got perfect valentine's day gifts ready.
Image: theidearoom.net
Heart Sweater: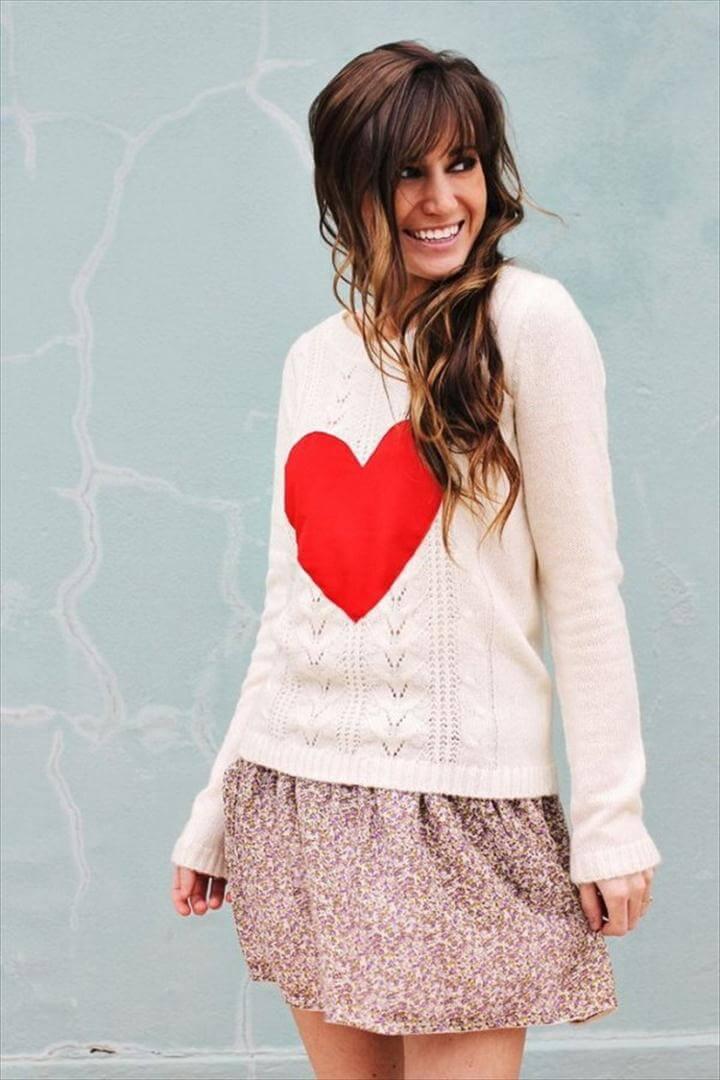 Make your plain and boring sweater look perfect with this easy and fun project of the heart sweater. Yes, you can take some red fabric or grab the red felt. Cut out a heart and then sew it up over the chest of your sweater. The heart addition would really make the sweaters look stunning and cool. Details here!
Image: typepad
Funny & Romantic Gentleman Heart: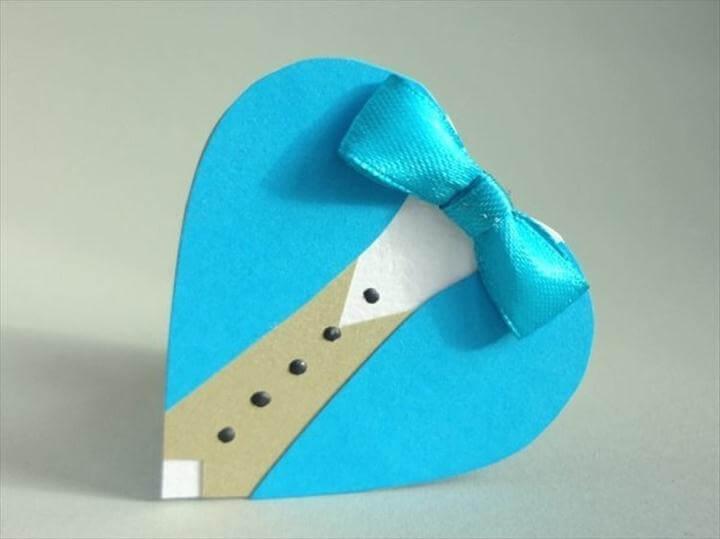 Go creative and fun this valentine's day to make something quirky and cool just like this funny and romantic gentleman's heart. So grab the paper in blue, white, and gold to create the hearts and a little paper baskets. The front of the heart is shaped up like a man suit with a basket in the center and complete heart at the back. You can fill the basket with chocolate, candies, or any other gift.
Image: diy-is-fun
Fabric Heart: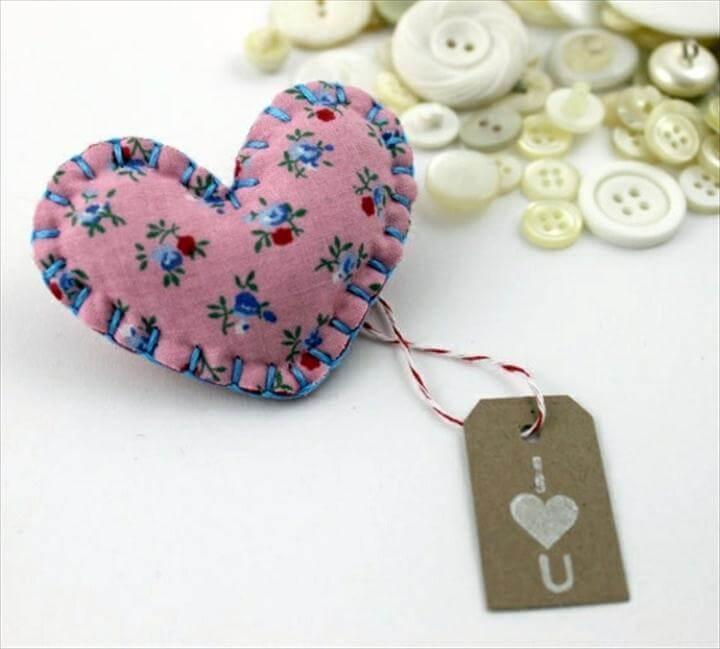 Having a lot of fabric stash lying around? This valentine's day you can bust it all with the idea of this fabric heart. Yes, you can make the cute and colorful fabric hearts with filling and use them as cute gifts for your dear and near ones. Attach to these hearts some handwritten I Love You tags and the gifts are ready to give away.
Image: avso.org
Leather Heart Keyring: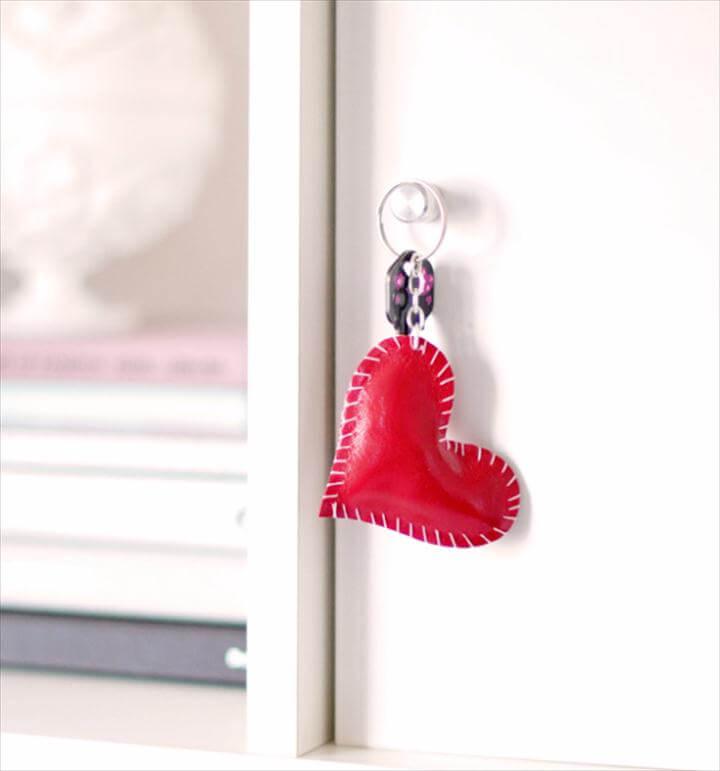 Want something cute, fun, and functional for a valentine's day gift idea? How about this leather heart keyring project? Yes, these cute mini leather hearts with key rings would make lovely and useable gifts for everyone around. So cut out two hearts from the red leather and stitch them together with white yarn with a little stuffing. Add the key chains and your cute gifts are ready.
Image: lovemaegan
Embroidery Wall Hanging – Embroidery Hoops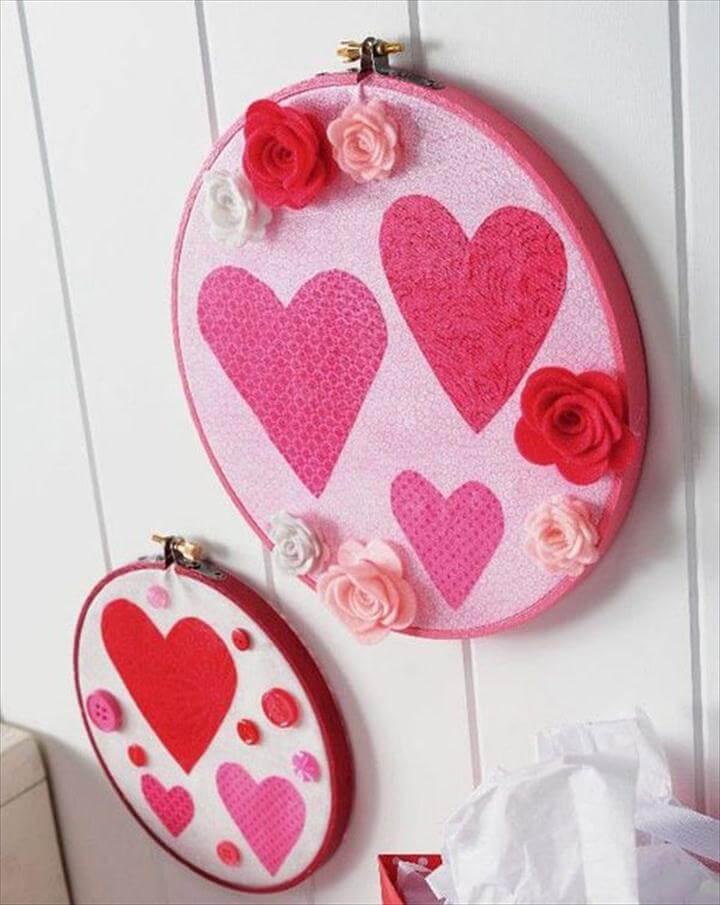 Make your walls look ready for the valentine and this embroidery wall hanging is the perfect project to work on. Using the fabric scrap, paint hues in red and pink, and some colorful flowers you can easily create these cute and fun wall arts for the celebration of love on valentine's day. Complete details here!
Image: theidearoom.net