There are plenty of hats like fedoras, baseball caps, beanies, or flat caps. To choose the right one, consider the color, quality, attire, and season.
Choosing the right hat can be easier said than done. With several types of hats available for all seasons of the year, it is natural to get confused.
Some hats can be seasonal, and some can even be worn every season. Most men tend to go hatless because they can not figure out which hat to wear at what season or what function. It seems like you have endless possibilities.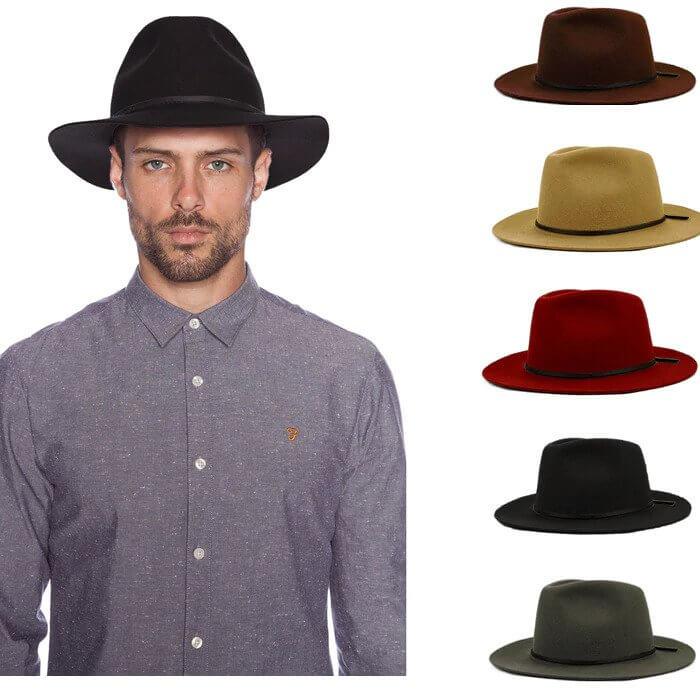 and choosing the right hat can be tricky.
But don't you worry. In this article, we will talk about the most popular hats and give you some tips and tricks that will help you choose the right hats for the right season.
How To Pull Off A Fedora?
A fedora holds more historical significance than other types of hats and deserves special recognition.
We have all seen fedoras mostly in pictures and scenes that have people wearing fancy attire—indicating that it is something of a high caliber. Like every other attire, the fashion trend of the fedora has been somewhat changed from its origin.
The last time we saw the famous fedora was during the prohibition era of America. Back then, it closely resembled gangsters. But this style also became obsolete over time.
The fedora may look out of style, but when worn right, you can certainly pull off a classic look.
Fedoras are hats with a soft brim and indented crown in the front. The crown can be a teardrop crown or a diamond crown. It is also pinched in the front.
The first thing you need to ensure is the size. You would want a snug fit that can be tilted to one side. A large fedora will ruin the attire and make it uncomfortable to wear.
Once you get the size right, you need to choose the right set of clothes. You can not pull off a fedora with a simple t-shirt and jeans. You would look better with tailored trousers and a Cuban collar shirt. This helps you stand out from the regular suited crowds.
The fedora was a fan favorite during the golden ages of Hollywood, and although it is not part of mainstream fashion, it still has a classic appeal.
How To Pull Off A Baseball Cap?
The baseball cap defines jocks and baseball lovers all around. The baseball cap was created in 1860. The manufacturers created the cap to protect the eyes from the sun's harmful UV rays, but this cap quickly became a sports icon.
During these 150 plus years, the baseball cap, apart from sports, has also been a part of the hip-hop industry and is now beloved by Instagram influencers and hype-beasts.
The standard baseball cap is usually made of leather or wool and can be worn with literally any outfit. You can wear this American Icon with casual outfits or even with blazers and an oxford T-shirt.
You can also pull off a more street look with a snapback baseball cap and a hoodie or an overshirt. Although many people prefer wearing the cap backward, we encourage wearing it facing forward, and honestly, it looks much better this way.
The Hip-hop industry has further revolutionized the baseball cap. Famous rappers Jay-Z, Wiz Khalifa, Drake, and even performers of the new era have all performed wearing these caps, making it seem like a staple in the rap game.
How To Pull Off A Beanie?
Beanies are basically headwears for cold weather. Winter is a tricky time for hats and caps alike, but the beanie somehow can squeeze into the list of acceptable headgears.
Beanies are only suitable for winter wear, but even then, choosing the right one can be difficult. Some beanies can be oversized for starters, and it may look like you are carrying turds in your hat. Then there are some with pom-poms at the end, and we really urge you not to wear one.
But beanies can make you look good, but you have to consider a few small details.
If you have a round or square face, then avoid long sack-like beanies. Do not always pull it over your ears. Slide it a little back off your face to give your face a more elevated shape.
Beanies are best if you have a long face. Then you can try out a turn back cuff with striped details or contrasting colors. You can try out the cuffed beanie look that has been widely used by hip hop artists all around.
You can also try the elegant fisher beanie or try out the bobble hat for the cold weather. But be sure not to choose one with a large pom-pom or ones with vivid and bright colors.
Add oversized baggy beanies, peaked beanies, and novelty beanies to your not to wear list. Beanies are somewhat easier to make, so if you have the experience, try to make one that perfectly fits you.
Choose darker colors like black, grey, or navy blue and mix them up with a dark shaded overcoat or a flannel suit.
How To Pull Off A Bucket Hat?
In the past few seasons, we have all seen a few retro comebacks. Even popular music videos are trying to make videos with a hip 80s vibe in them.
With the resurrection of the retro scene, the bucket hat has also made a reappearance. The bucket hat was never a status or fashion icon, but it has been in and out of style for decades. Like every other hat, this one was also happily accepted by hip-hop royalty.
The bucket hat originated in the early 19s, and it was created to protect Irish fishermen from the rain. This was even used in the Vietnam War to save the soldier's necks.
The bucket hat came into the fashion scene with the uprising of the Mod movement back in the 60s.
The bucket hat is an all-around brimmed hat, and it is just that. It does not have any hidden flair. It is simple and can be worn with even simpler outfits. You really do not have to try it on with a bright tracksuit.
Bucket hats are summer wear. You can match one with simple light colored t-shirts. Add canvas trainers and chino shorts to the mix, and you are ready to rock a relaxing yet festive look. The idea is to be as simple as you can. There really is no other way to pull off a bucket hat. So don't exaggerate the look and keep it simple.
How To Pull Off A Panama Hat?
Another summer wear to make our list is the Panama hat, and this one is probably the most tricky one to pull off. But remember, since it is a summer hat, you will have to go with simple attire. Do not try to go overboard.
But if you can pull it off, then kudos to you! The Panama hat is an elegant touch to your summer wear. You can try it both with formal and straightforward wear, but you have to consider some things like all the other hats.
Panama hats also come in different sizes, and different sizes suit different faces. You would not look good if you have a round face and wear a large brimmed Panama hat. Large hats are better for more large defined faces, and smaller ones are better for small faces.
If you have a round or square face, then choose a hat with a narrow band. This makes your face look sharper and your hat taller. You can also experiment a little with Panama hats. The most common ones are cream-colored, but you should sometimes look beyond it.
Wear one that is not too loose or too tight, and do not go for the cheap ones since they wrinkle easily.
How To Pull Off A Flat Cap?
In 2013, the TV series Peaky Blinders rose to the popularity charts for its fantastic plot, characters, drama, and overall portrayal of the mafia. One other thing rose to extreme popularity along with the series, and that is the flat cap.
The flat cap has always been an iconic English hat worn for generations. From cab drivers to actual gangsters, this iconic English fashion piece has its fair share of history.
The flat cap is an extremely versatile hat and probably the most versatile one on our list. You can go for a simple casual, or smart formal look. It all depends on you.
The flat cap is mostly winter wear, but you can also wear the linen ones in summer. Choose a dark grey or navy hat and pull it off with a nice casual look consisting of a bomber jacket, a simple T-shirt, and jeans. You can get more creative if you want to since the flat cap is basically the baseball cap's English cousin and goes with just about anything.
Be updated with the latest winter fashion trends to get more inspiration about flat caps.
Final Thoughts
Hats really are not that tricky. Of course, you have to know a few things about different hats and match them with the right attire and occasion, but once you have pulled it off, you will certainly stand out from the crowd since most men prefer to go hatless. Hopefully, our guide has provided you with the necessary information on how to pull off the right hat. So try out a couple of these combinations and see which one suits your persona the best.