If you're anything like us, you take multiple photos every day. And if you're anything like us, most of those photos end up languishing in digital storage, barely remembered. Isn't it a shame how many of our best pics rarely see the light of day? Photos can tell the story of our life's adventures and triumphs – which is part of the reason why we're driven to take so many.
If you've been thinking about ways to give your best photos a new life, there's one that's often overlooked: transforming them into unique decor and lifestyle features. In this article we'll explore 15 amazing ways to use photo images in every part of your life – giving you the chance to tell captivating visual stories at home and beyond.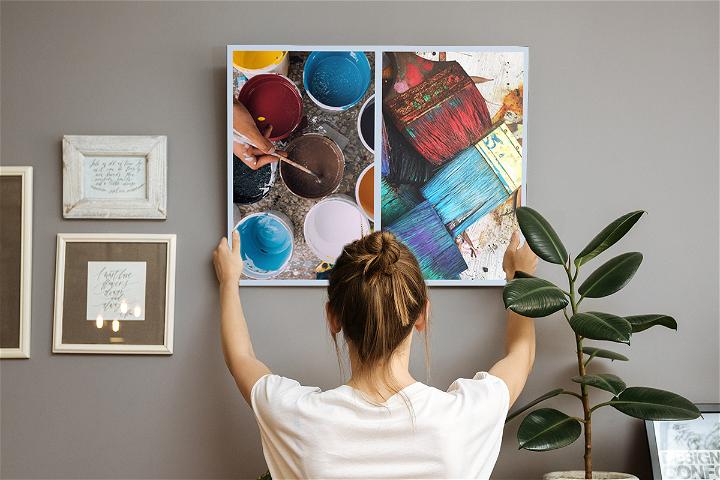 1. Don't Be Afraid to Use Personal Photos
Personalized interior decor features work best when they feel, well, genuinely personal – when they reflect an individual identity you won't see anywhere else. And what could be more appropriate than your own photos, representing your most cherished memories? Creating wall art displays with personal photos is one of the easiest (and most affordable – see end of article for more!) ways to spruce up any home.
2. And Add Some Abstract Art Too
There's no need to spend a fortune in an art gallery. Abstract art is a fairly broad concept – for example, if you're a dab hand at photography, try macro shooting. Close-up shots of nature can make extremely powerful wall art – and no mass-produced reproduction of a famous piece of abstract art can compete with an image you took yourself. (Note: you can even macro shooting with your smartphone, though you might need a special lens.)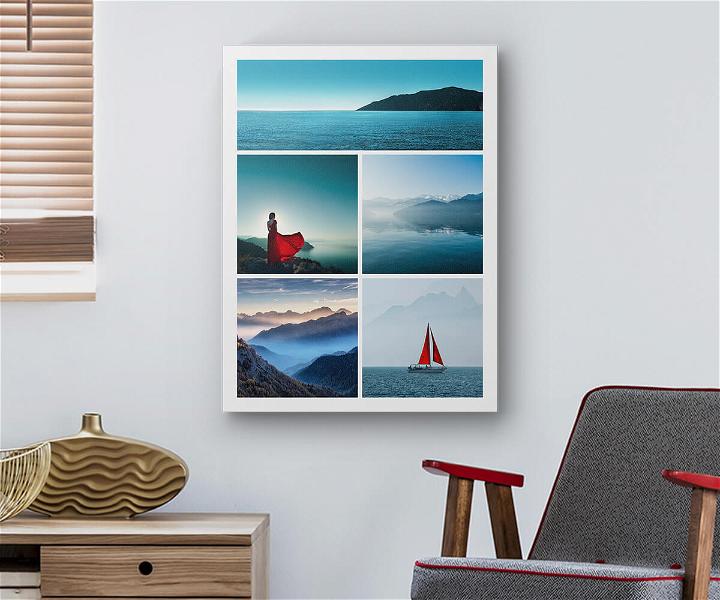 3. Display a Single Statement Print
It's one of the easiest and most impactful decor solutions – placing a single extra-large print in the middle of an otherwise bare wall. Standing alone like that, your print will serve as a focal point of the whole room. Of course, this means you need to put a bit of thought into your choice of image so that it's really worth looking at! So choosing an image which has a personally meaningful story behind it is key here.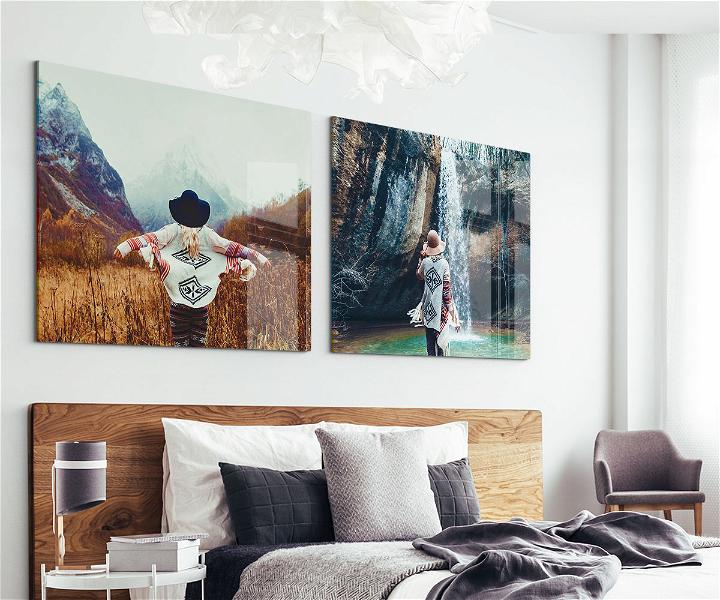 4. Pair Up Your Photos
If you have two pictures you love, it can be hard to decide which one deserves to be displayed on your wall. Well, there's a perfect solution to this problem! Try displaying both of them alongside one another on the wall, printed in identical formats – for example, as two framed photos or canvas prints. Done right, this can get them working together to form a cohesive and effective whole.
5. Create a Wall Art Cluster
One statement print in the middle of a wall or two photos paired together will bring symmetry and classical elegance to a room. But what if you prefer more informal, intuitive designs? Try arranging your photos in a freestyle wall art cluster. Just make sure that all the prints are unified by a common theme and/or color palette, and don't forget to leave 3-6 inches of free space between your prints so they have room to breathe.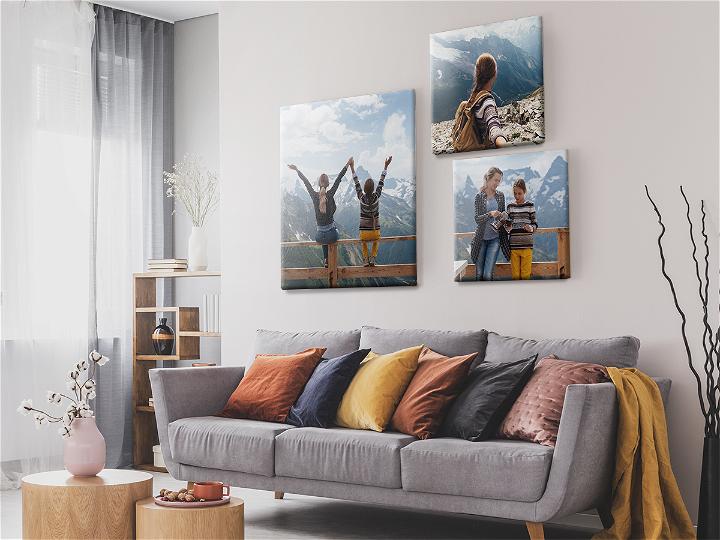 6. Design a Gallery Wall
Even if you're a wall decoration novice, you've probably heard of gallery walls. This classic wall art solution has been popular for decades now and is still a go-to for many interior designers. Putting together an eclectic collection of different print formats alongside found objects and knickknacks is bound to transform an empty wall into a bold design statement.
7. Or Go for a Gallery Corner
If you like the idea of a gallery wall but want to try a slightly different approach, consider a gallery corner. Based on the same basic principle – a freestyle arrangement of various prints and other decor features – gallery corners spread across two adjoining walls rather than staying on just one. This is a quirky, effective decor option for those looking to present their photos in a fresh way.
8. Experiment with Geometric Shapes
Print formats tend to come in rectangular or square shapes. But these days it's easy to find round and triangular frames that will transform a classic photo print into a striking design feature. Geometric prints will work best in a modern decor scheme.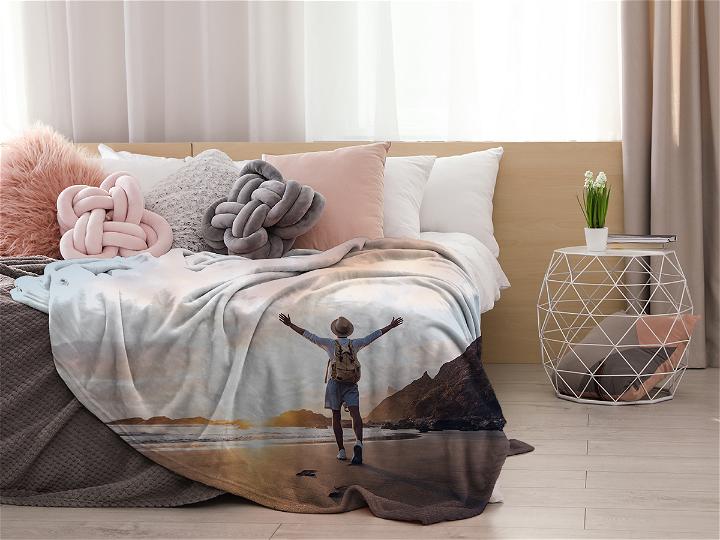 9. Get a Collection of Personalized Textiles
Personalized home textiles come in a range of formats – many print providers offer custom rugs, photo pillows and personalized blankets that come printed with the picture of your choice. And these days fabrics can be printed in the same high definition and vibrant colors as more traditional print formats.
10. Experiment with Miniature Photo Blocks
These little blocks of glass (usually acrylic glass) personalized with photos are a relatively new addition to the custom printing market. Photo blocks might be small but they can work as impactful visual accents in a room. You can display them on any horizontal surface and they look great arranged in groups – rows, stacks, or just loose clusters.
11. Explore Photo Tiles
This quirky print format has been quickly gaining fans among professional decorators and enthusiastic amateurs alike. Photo tiles come in different shapes and sizes, but we really liked the format available at CanvasDiscount.com – their 8×8" tiles are equipped with an ingenious magnetic+adhesive hanging system that lets you fix them on the wall in seconds. And they can be pulled off again at will, making them perfect for decorating a rented apartment – or any home where you want to freshen up the decor on a regular basis.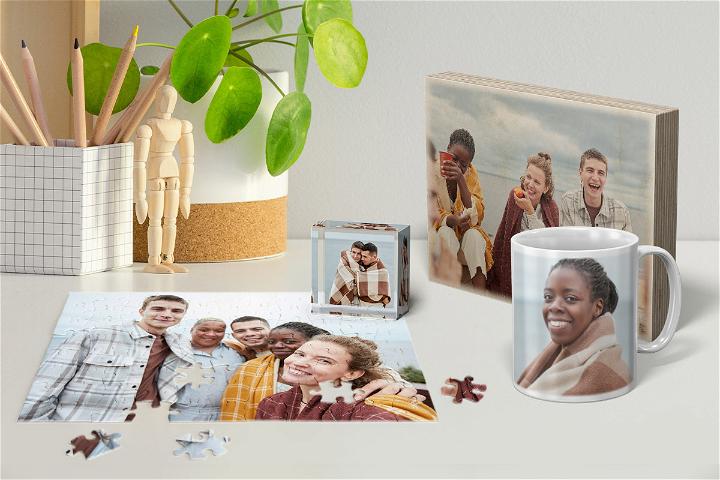 12. Get Arty with Photo Puzzles
A perfect decor feature for fans of tabletop games – once you've completed a jigsaw puzzle, you can of course take it apart to enjoy again, but you can also use the puzzle as wall art. Hanging an assembled photo puzzle on the wall isn't difficult – you can simply stick it to a piece of sturdy cardboard that you attach to the wall using double-sided tape, putty, or hanging strips.
13. Add Some Photo Mugs
Mugs might not seem like natural design features, but a photo mug printed with a striking image can really have an impact. You can use your personal photos, but digital designs can be wonderfully effective too – if your kids are of a creative bent, try scanning their drawings and getting them printed on mugs. Guaranteed one-of-a-kind tableware!
14. Design Photo Books
There are some beautiful photo books available online – and, unlike with a traditional photo album, they let you experiment with a choice of different creative backgrounds on each page. A well-designed photo book provides an immersive experience that will get you reliving happy memories every time you look through it.
15. Consider Practical Printed Gifts
How about a tote bag with a full area print of an inspirational quote? Or a beautifully printed mouse pad that brings some style to the home office environment? A lot of small practical items come with an outsized character and bring a pop of style even to mundane activities like grocery shopping or sending emails!
Decorate and Save 25% on Personalized Prints
We hope our recommendations have given you some good ideas. But we're not done helping you out yet! We've teamed up with one of the leading custom print providers in the country – CanvasDiscount.com – to give you a whopping 25% OFF all orders above $50.
Interested? Then head straight to CanvasDiscount.com, use code DIYTOMAKE25 and save money on your future DIY projects!