Home is heaven on earth for every one of us who is lucky to have one. There is an instant sense of relief felt when we enter our homes after a long tiring day. And the fact cannot be denied that a home décor really contributes to making a four-wall space call home. It is the relaxing ambiance of the home that makes us crave to return our home no matter wherever we are. The colors, the kind of items we use in our home décor, and the theme of the home styling really add to make our homes the comfiest space we ever dreamt of.
Here we have brought to you these 27 DIY décor ideas for the home which are going to boost up your imagination regarding your home styling. Because it is the small decorative and styling details that make big impacts to make your spaces look perfect and whimsy. For example, you can add a lovely wooden sign to your spring walls, a starfish, and a driftwood frame for your summer tables and the rustic wooden two ladder shelf for the winter entrance setting. From making pretty and textured planter pots to create washi tape valance there are so many ways to bring some eye-catching appeal and beauty to the homey spaces. To know more such lovely ideas and more you can browse this bunch of the home décor ideas right below.
Bloom Floral Wall Art: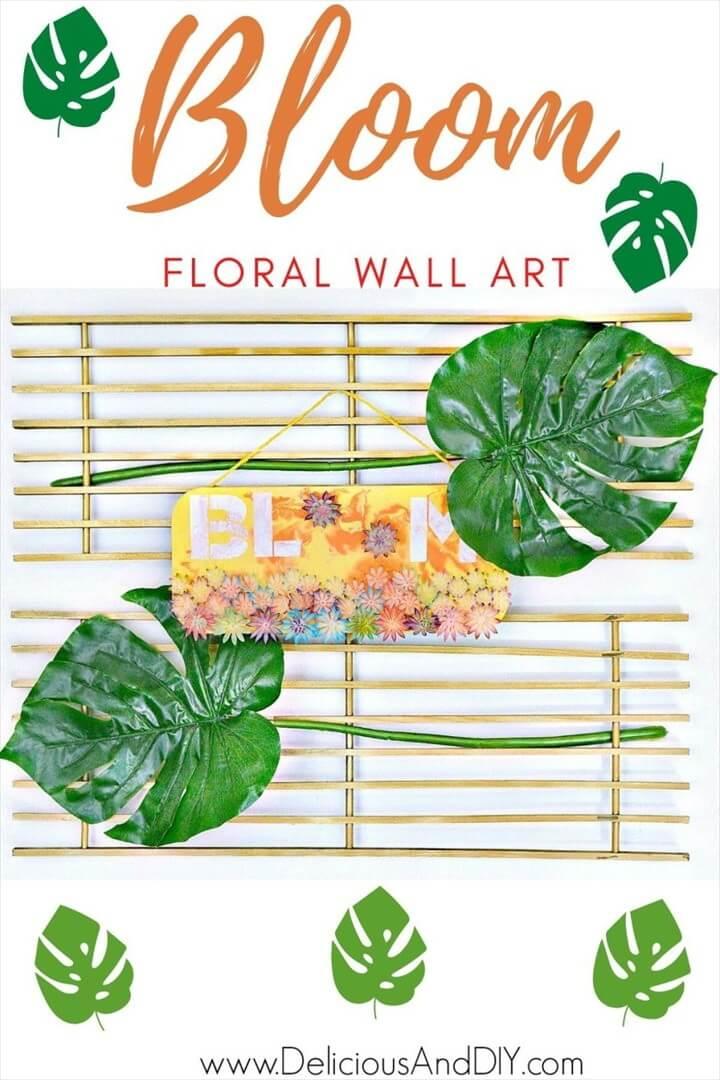 Make your homes perfect for the spring with this gorgeous bloom floral wall art. Wooden wall art has been painted and stenciled with word BLOOM. Then it has been decorated with colorful faux succulents flowers at the bottom. It has been hung over the walls between two giant green leaves to look just so fantastic and cool. Follow the step by step details here!
Tutorial: deliciousanddiy
Creating A Baby Nook With Cult Furniture: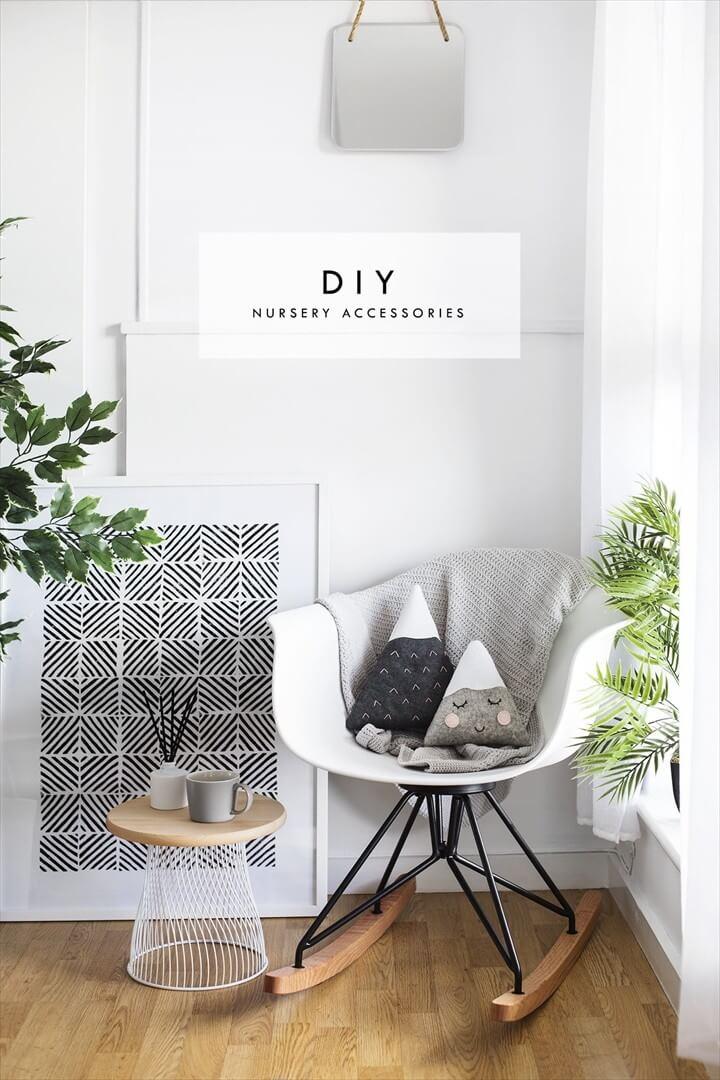 Arranging a baby room is one of the hardest and interesting tasks for the parents. Here is the idea of creating a baby book with cult furniture in the bedroom and give it a more chic and modern look. There is a gorgeous and stylish chair from the cult furniture with handmade triangle pillows. A side table is also made using the white stained bin and a wooden round. Check out more here!
Tutorial: thelovelydrawer
Creative and Chic DIY Nightstands: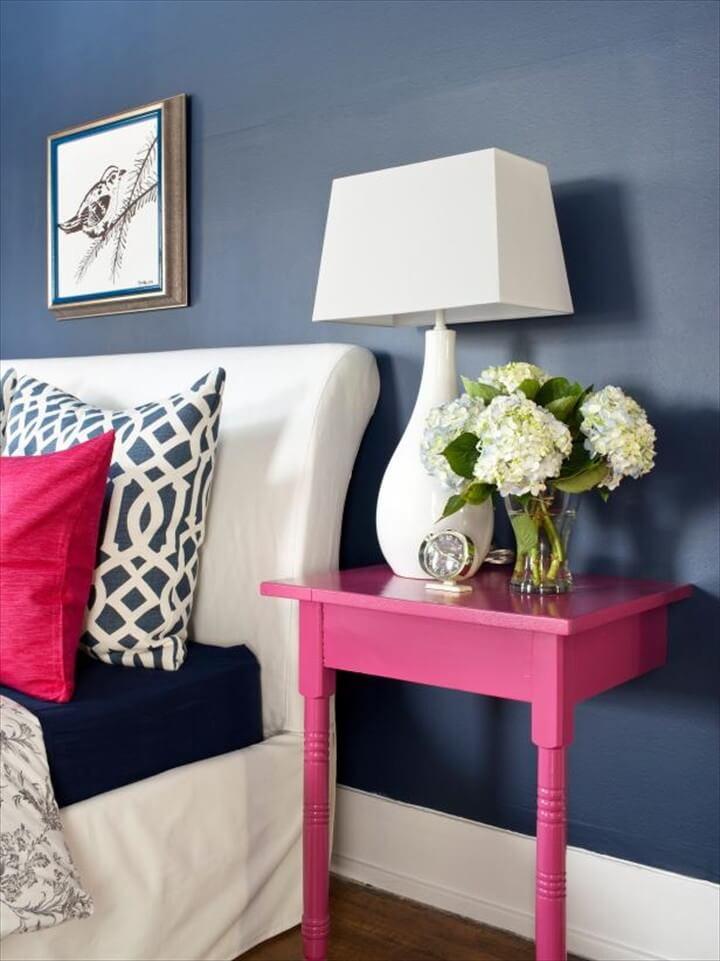 Here is this creative and chic DIY nightstand to save space and money in your bedroom décor. The two-legged nightstand is painted in pink to grab an instant eye-catching appeal in the bedroom. This nightstand is made out of an old four leggy table by cutting it into halves, painting, and installing on the wall. Check out the tutorial here!
Tutorial: hgtv
DIY Clay Fridge Magnets: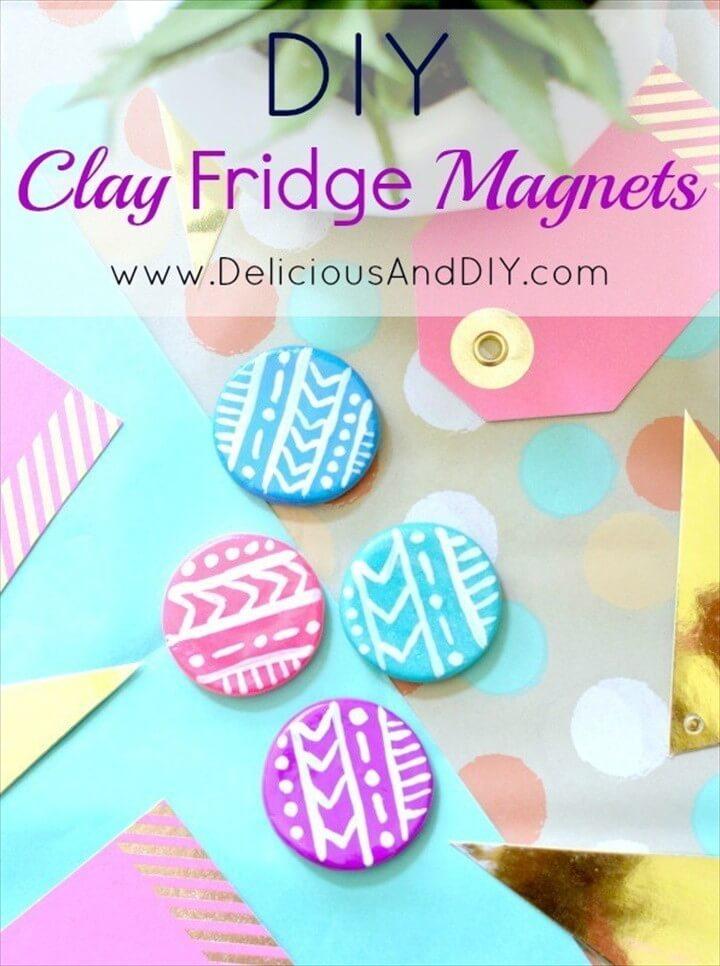 Bring some colorful vibes in your kitchen with these pretty DIY clay fridge magnets. The magnets are super cheap and ayes to make at home out of the clay. So grab the clay and form round shaped magnets. Paint them with bold base color and then funk it with some custom designing in white. You can make as many as you want. Details here!
Tutorial: deliciousanddiy
DIY Floral Plate Chargers: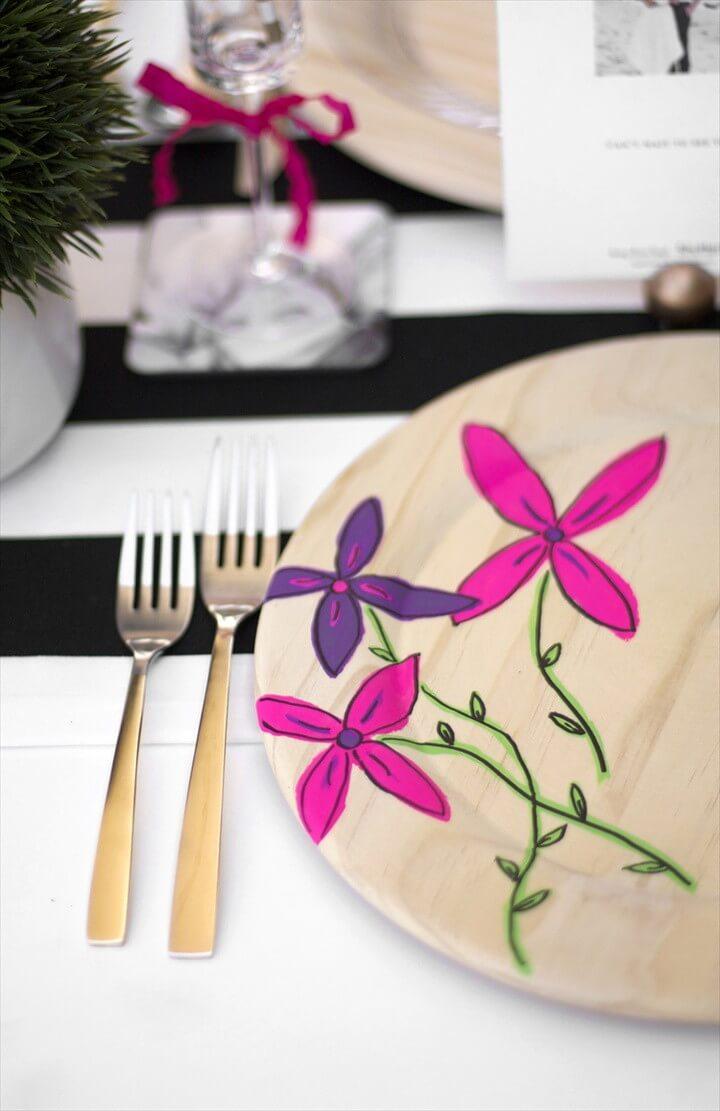 Make your summer dinner table décor more fun and cool with these DIY floral plate chargers. So get your hands on the wooden plate chargers first. Then create some gorgeous floral designs on the one side and fill it up with bright paint hues and the black sharpie outline. These are really going to make an oozing appeal on your tables. Details here!
Tutorial: kristimurphy
DIY Frame Shelves: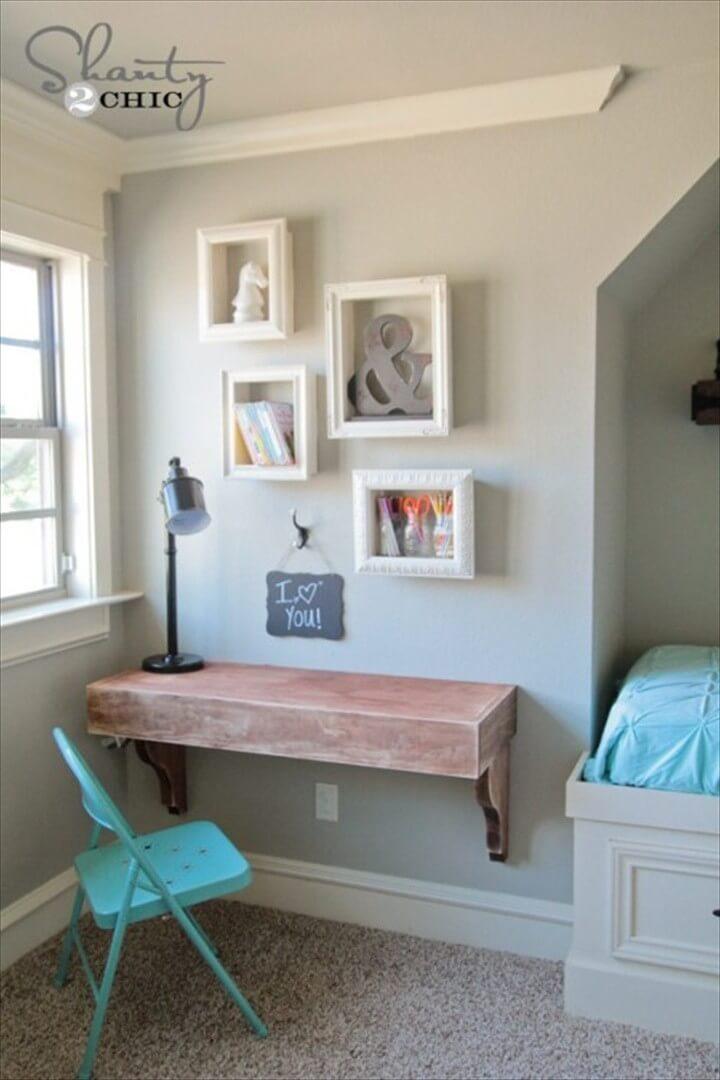 If the space over your wall mounted desk is empty then make these super chic and stylish DIY frame shelves to stylishly fill it up. You would need to make wooden boxes and top them off with the regular frames.  Paint up these handmade frame shelves and you have got your gorgeous and quirky shelves ready to adorn your walls with.
Tutorial: shanty-2-chic
DIY Hanging Grill Tool Display Sign: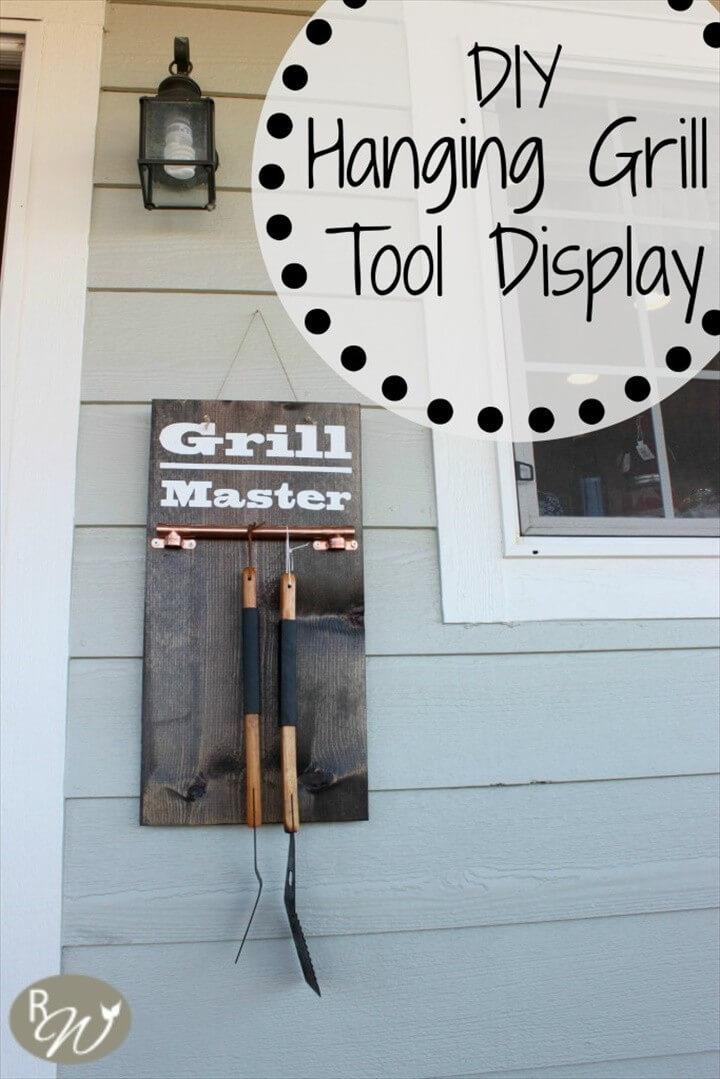 If you are looking for a gift idea for your grill loving friend then make this DIY hanging grill tool display sign for him/her. The thing you would be in need is a wooden board in giant size, a metal pipe with brackets, grilling tools, and the silhouette to stencil up the words Grill Master on the signboard. Check out the tutorial with instructions here!
Tutorial: therusticwillow
DIY Light: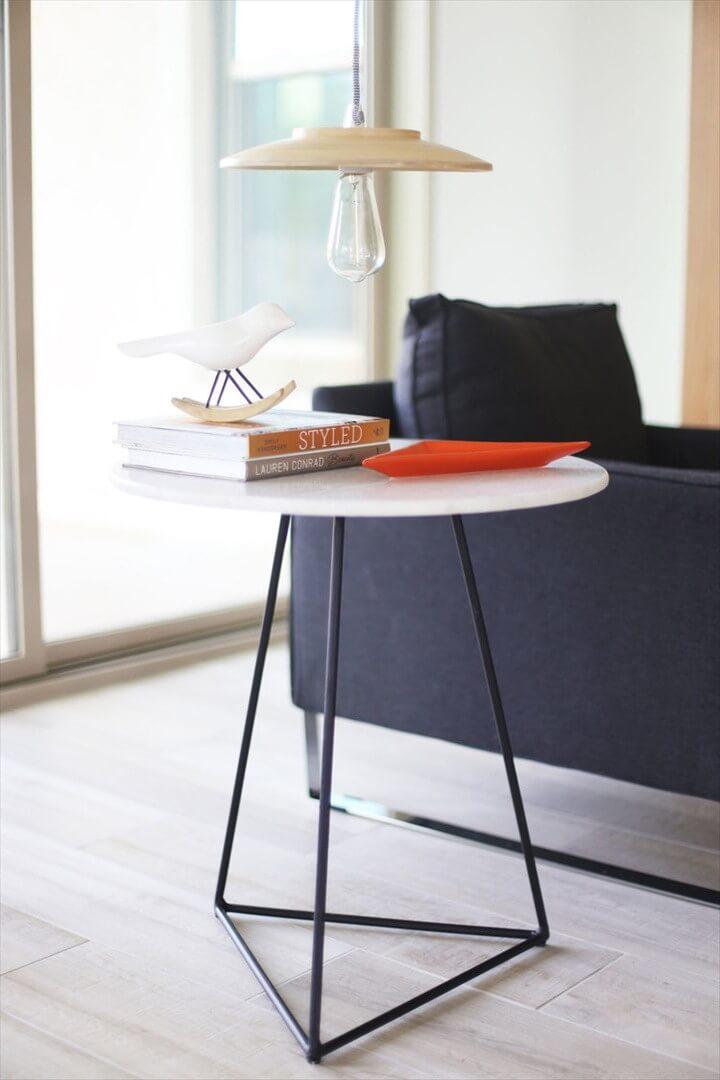 Bring some more modern style and beauty to your living room with this pretty DIY light pendant project. The idea is actually an IKEA hack and you can do it in just five minutes. All you need is a serving bowl from IKEA and use it in your pendant light to install it up with a touch chic appeal. You can install these fun lights in any area of the house. Details here!
Tutorial: kristimurphy
DIY Phone Charging Station: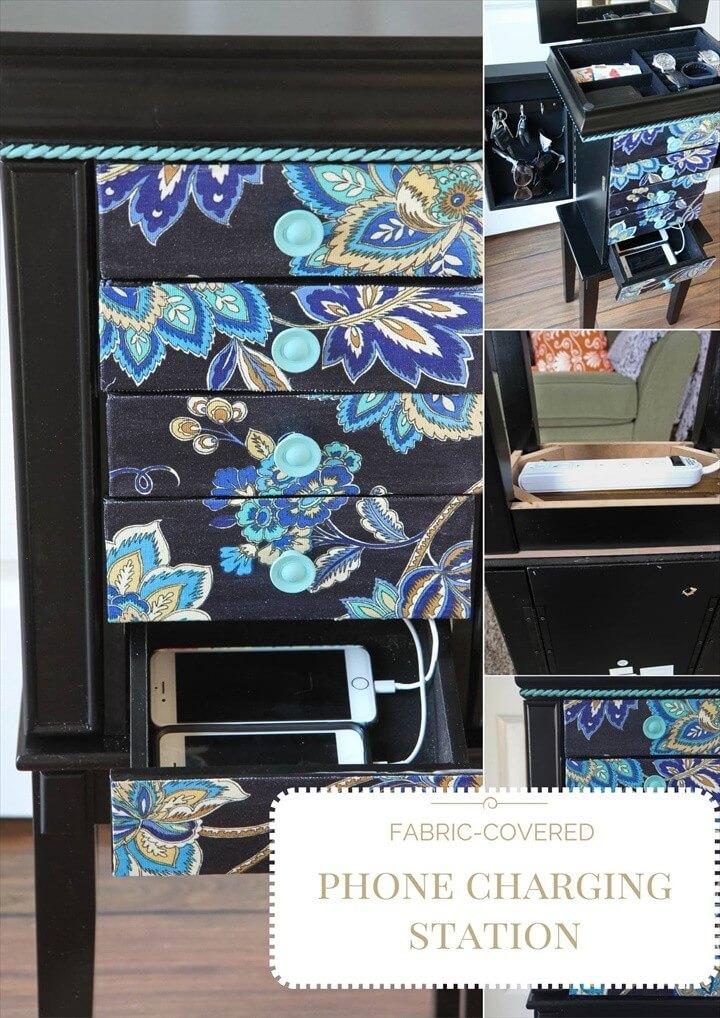 Here is how you can super simply and nicely get a charging station in your spaces. This old jewelry armoire has been turned into a pretty organizing and charging station with a makeover. Yes, the drawers of it have been made to look so gorgeous with a nice printed fabric. You can use upper drawers to organize your stuff and the lower ones to charge your phones. Details here!
Tutorial: momadvice
DIY Pillows From Placemats: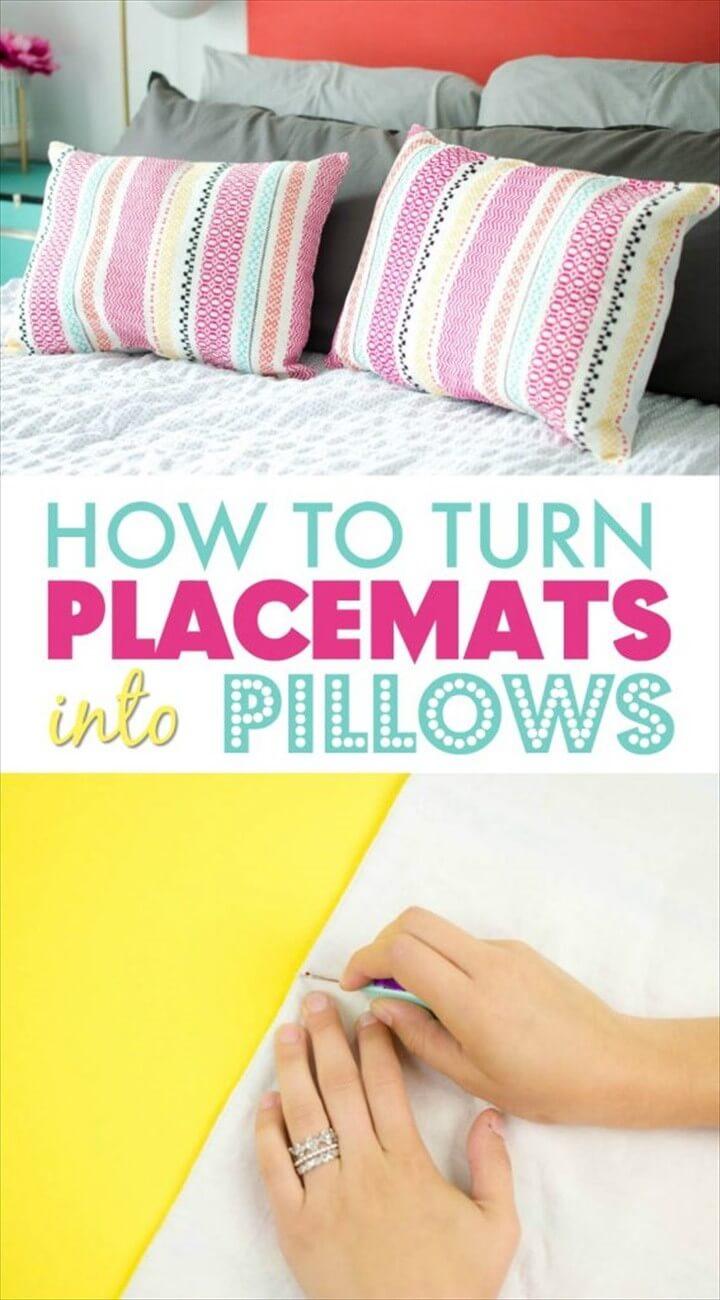 Give your bedrooms a fun addition of décor and cute vibes with these lovely DIY pillows from the placemats. So get placemats, ripper, filling and the hand needling items to easily make these super cute yet simple pillows. You can make this pretty pair of pillows for your guest room too. Follow the easy tutorial here!
Tutorial: alittlecraftinyourday
DIY Textured Dollar Store Pots: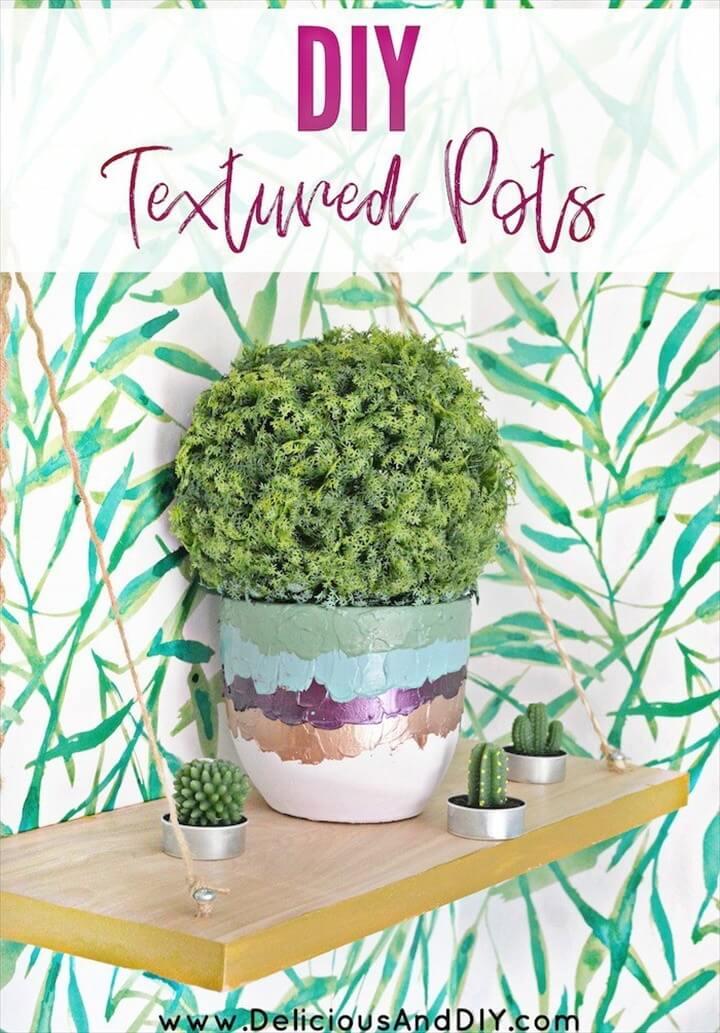 The dollar store-bought simple and cheap pots can be made to look stunning and gorgeous with some DIY work. Here are these DIY textured dollar store pots to catch some pretty décor vibes on your shelves. The pots have been painted in thick coats using the palette knife and a bunch of pretty deco art paint hues. You can follow the details of this cute idea here!
Tutorial: deliciousanddiy
Driftwood Art with a Starfish: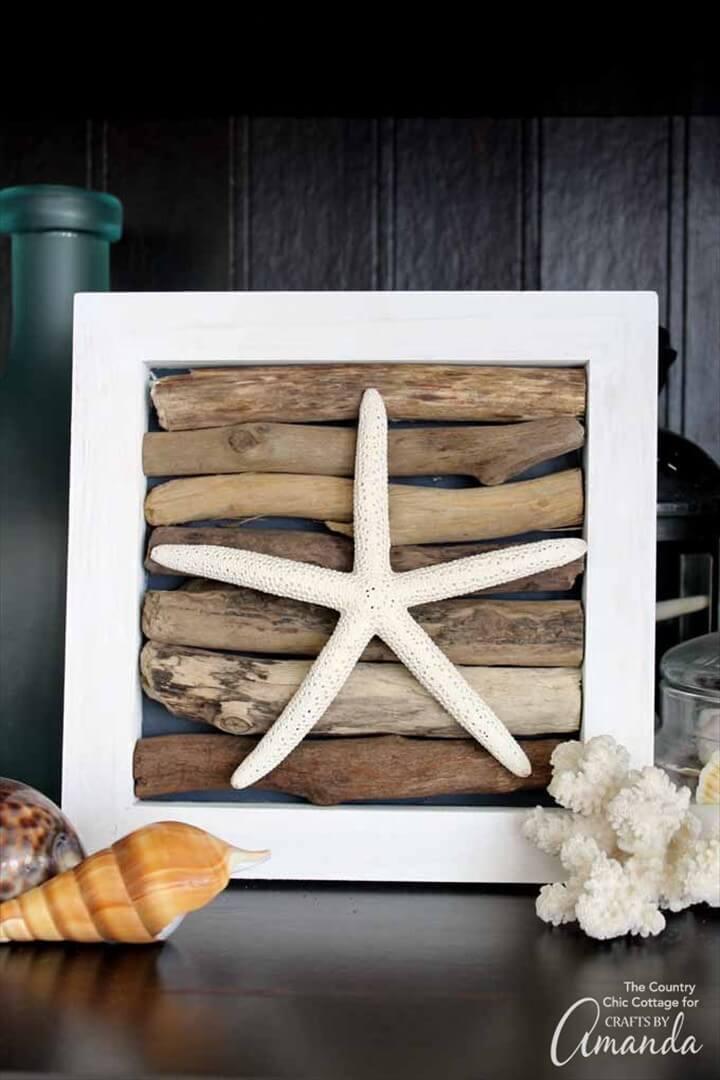 Let your summer home look super cute and beachy with this driftwood art with the starfish. So take a white painted frame and glue some wooden driftwood pieces in its center. Then add a white painted starfish in the center and your perfectly cute beach and sea-inspired table display art. Follow it here for more details!
Tutorial: craftsbyamanda
Free Printable Chore Chart: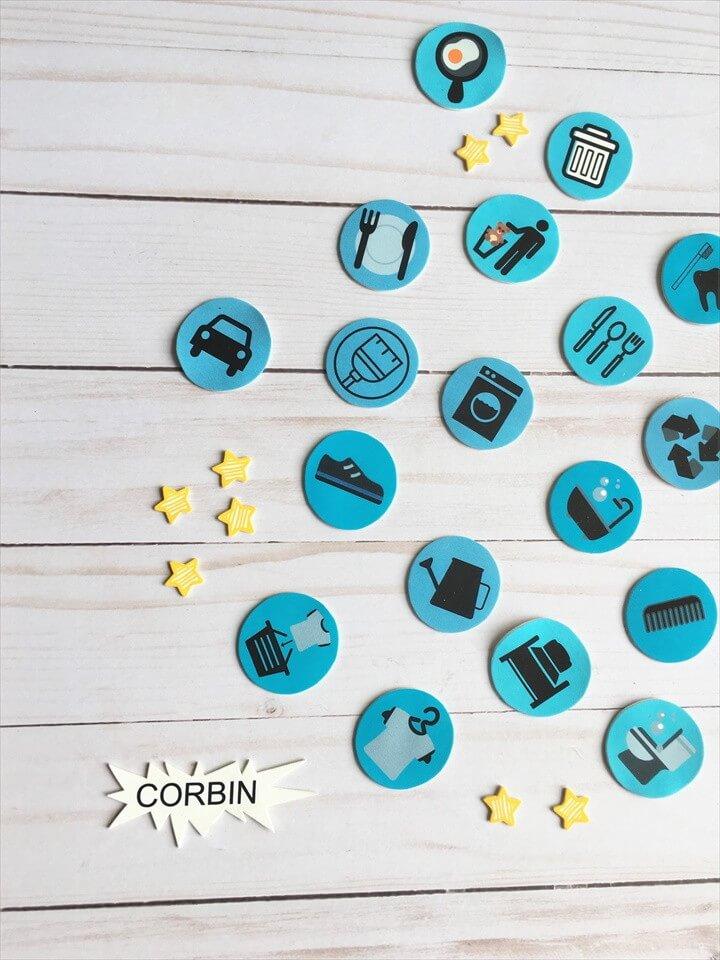 This free printable chore chart is the best idea to develop the home chore skills in your kids. The magnetic shrink dinks have been used to make this pretty chore chart. Who performs more chores mentioned on this chart get more star points. You can get the free printable for these chores right on the link here!
Tutorial: makingthingsisawesome
French Rustic Country Tablescape Using Thrift Store Items: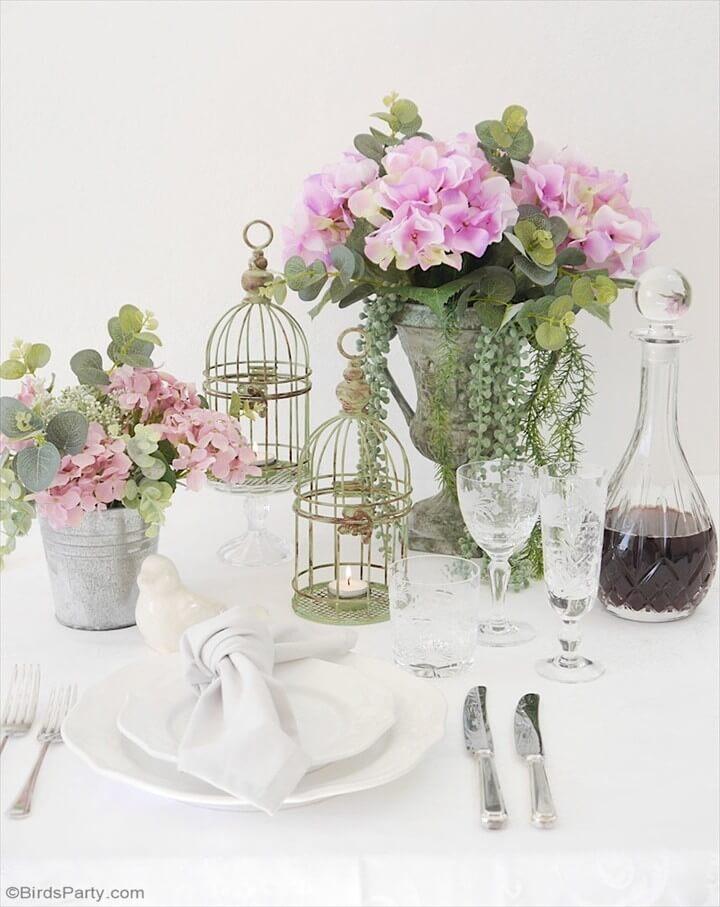 Decorate your outdoor summer table with this French rustic country tablescape and that too using the thrift store items. This gorgeous and heartwarming rustic country décor is achieved with thrifty items like bird cages, faux birds, hydrangeas, glass lanterns and so much more. To get the complete details of this inexpensive yet enchanting table setting project follow it all here.
Tutorial: blog.birdsparty
How To DIY Cat House Makeover: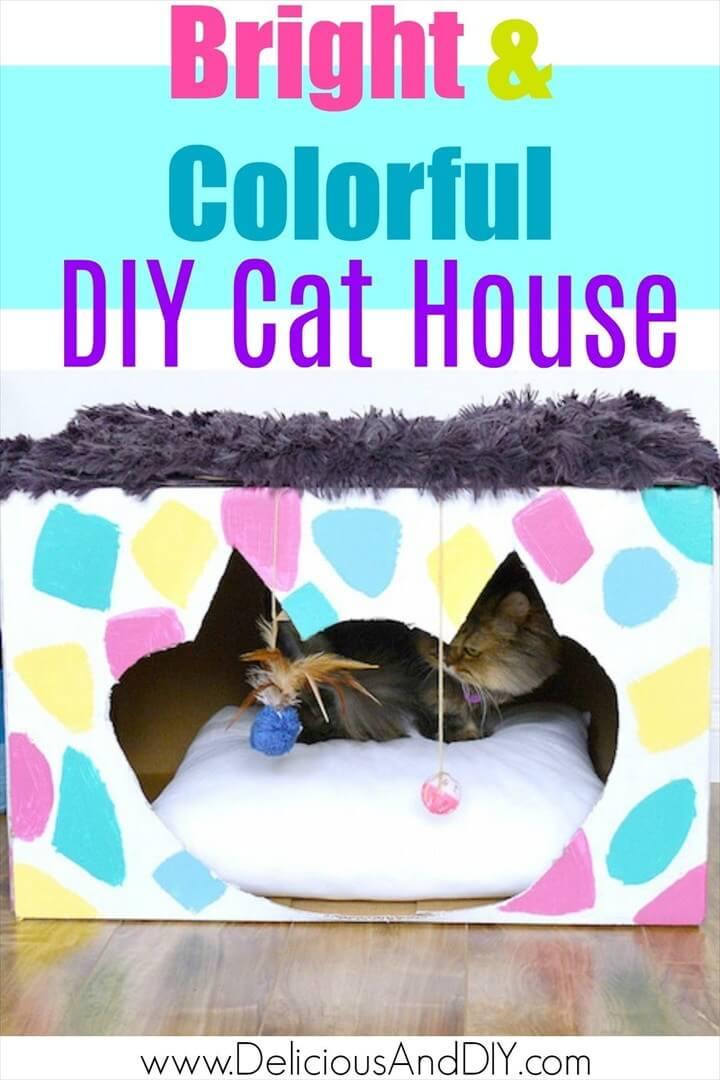 Here is the gorgeous DIY cat house to make easily on your own and give your furry fellow a comfy and stylish space to live in. A big cardboard box with a big cat face cut out has been used as the cat house. Later it has been painted in white and with colorful paint strokes for a chic and cute look. Add some pom pom hanging toys and a furry mat on the top and the lovely cat house is ready. Details here!
Tutorial: deliciousanddiy
How To Make A Copper Garland With Cricut: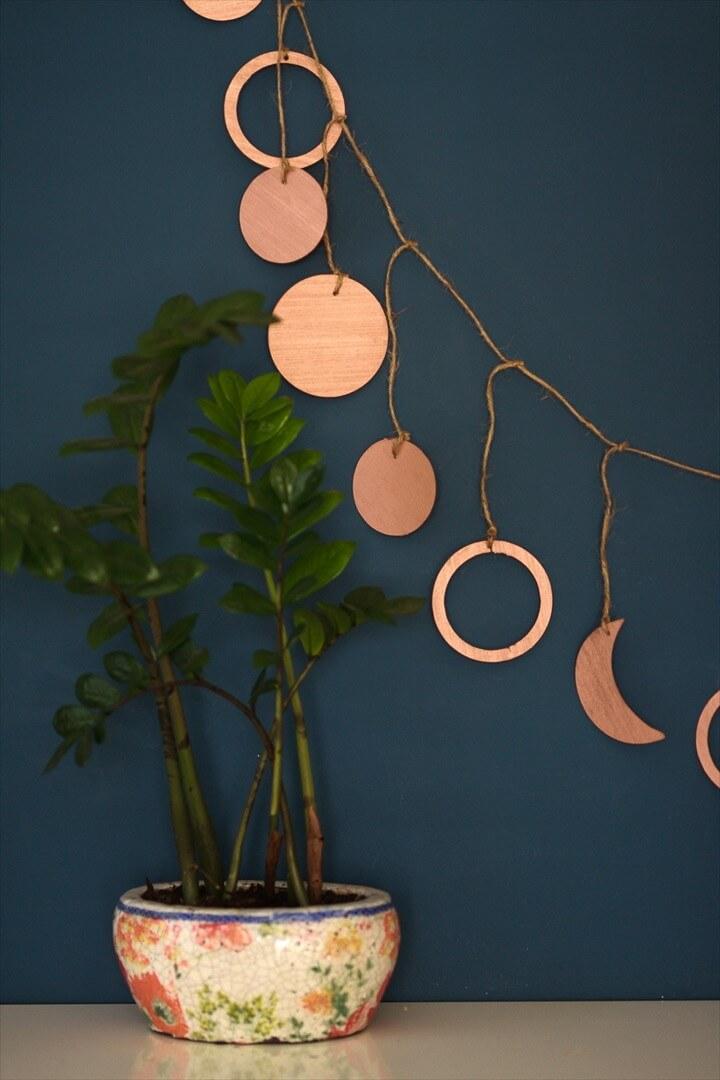 Bring some intimacy to your walls with this gorgeous copper garland with a circuit. The garland has pretty copper rings and the different shapes of the moon to turn out just so full of cute appeal. You need to print out the shapes on a thin wooden sheet and then cut them out. Pain these shapes in copper and holes to pass them through the string and your garland is ready.
Tutorial: jestcafe
How to Make a DIY Statement Pillow on a Budget: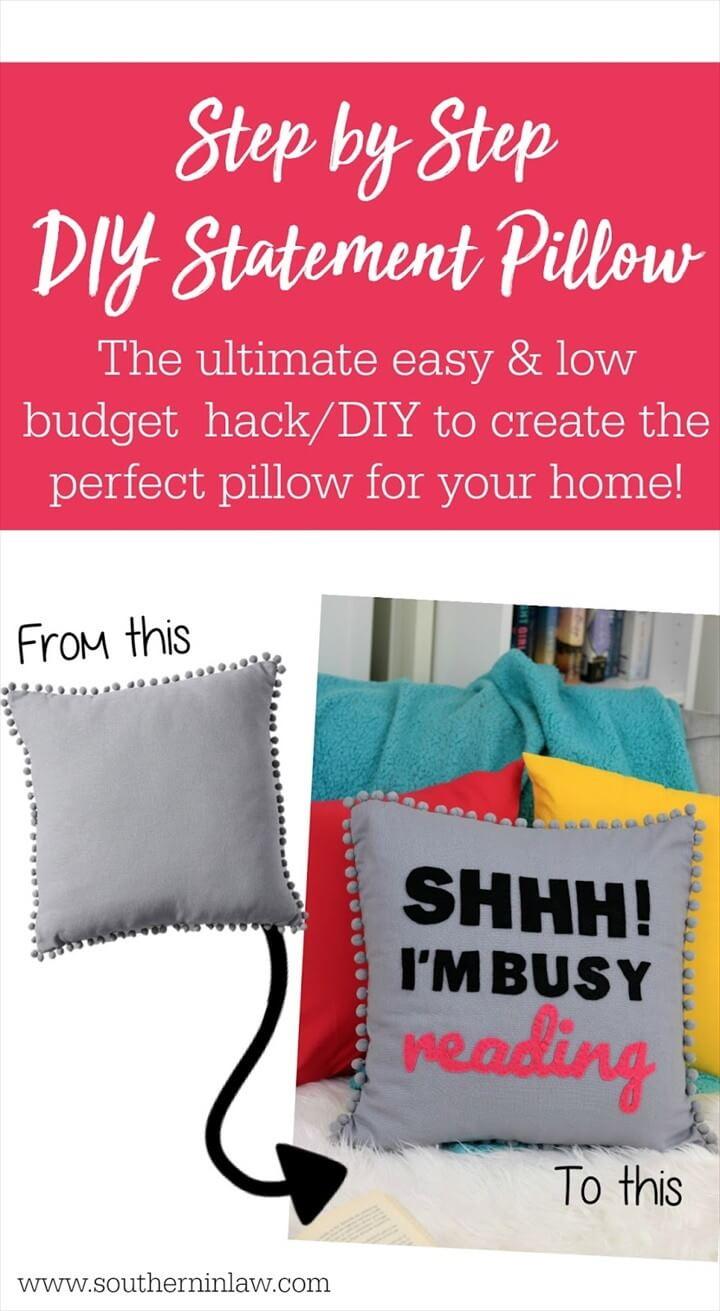 Make your simple and plain pillows look super stylish and full of statements with an easy idea on a budget. Yes using the felt and the paper stencils you can add some fun words or texts to your pillows and make them look super quirky and cool. This pillow says Sssshhhh I am Reading and it really turns out fantastic. Follow the details here!
Tutorial: southerninlaw
Make Your Own Tile Coasters: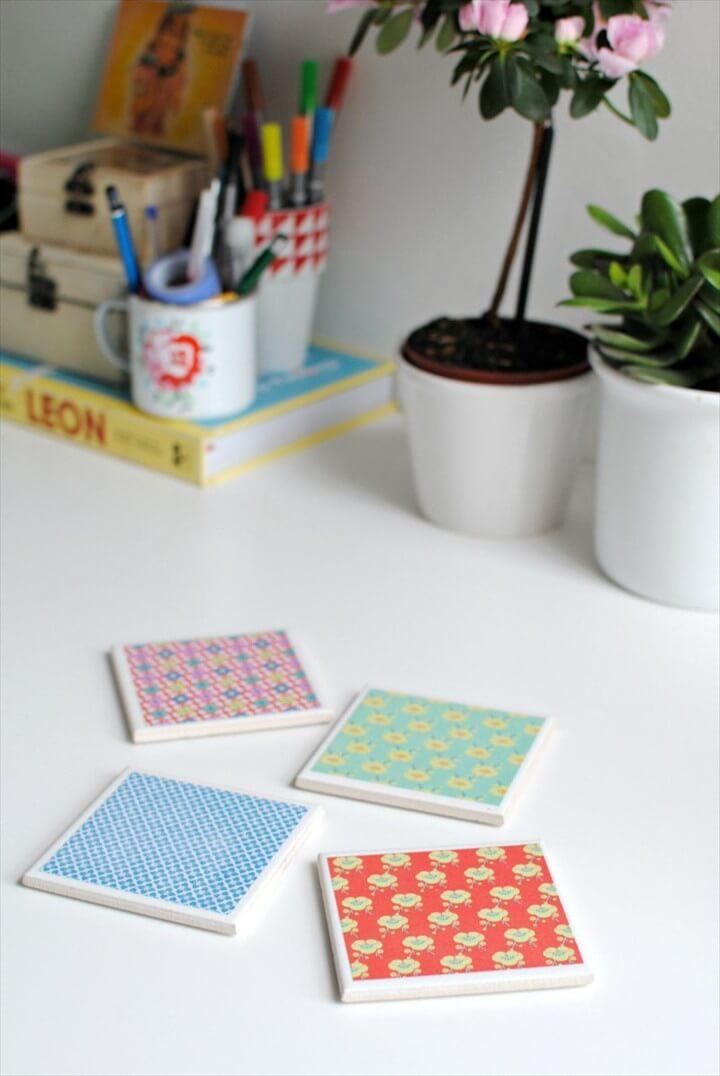 These gorgeous, colorful and textured coasters are so damn easy and fun to make at home. So get the small size white tiles and then add scrapbook squares to them using the mode podge. Thus so nice and easily you will get your pretty set of the coasters ready. A pack of these tile coasters would make a great gift idea too. Details here!
Tutorial: burkatron
Modcloth Inspired Plant Candy: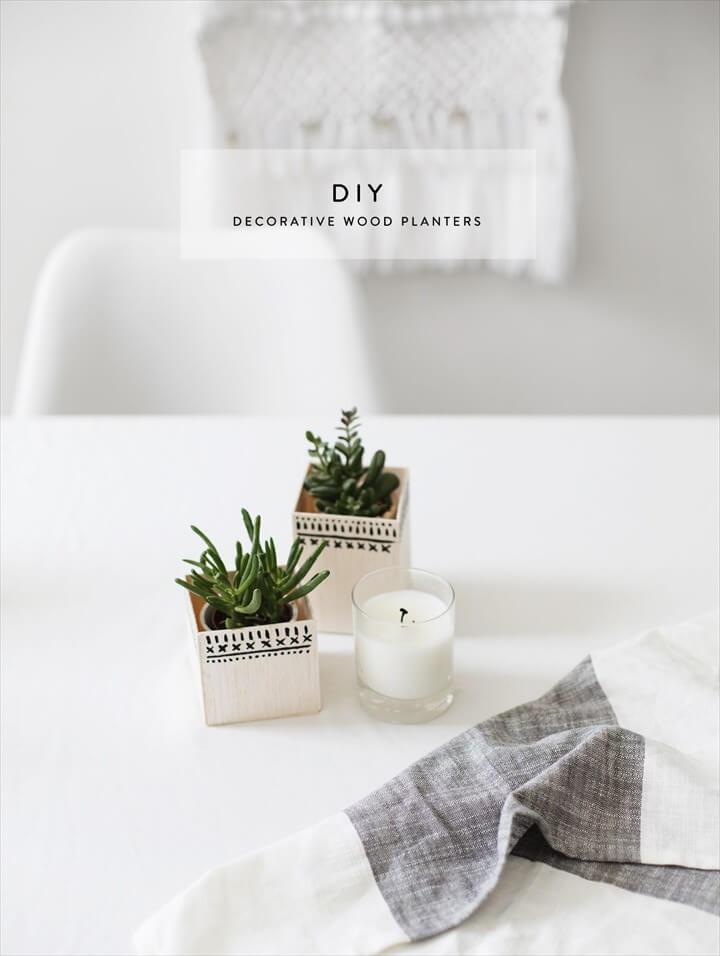 This mini ModCloth inspired plant candy idea is the perfect project to bring the overloaded dose of cuteness to your spaces. Using the balsa wood pieces and the glue you can shape up these cute mini planter boxes to hold the tiny succulents inside. Before gluing the balsa wood pieces have been designed with the sharpie marker. Follow the details here!
Tutorial: thelovelydrawer
Outdoor DIY Serving Tray Makeover: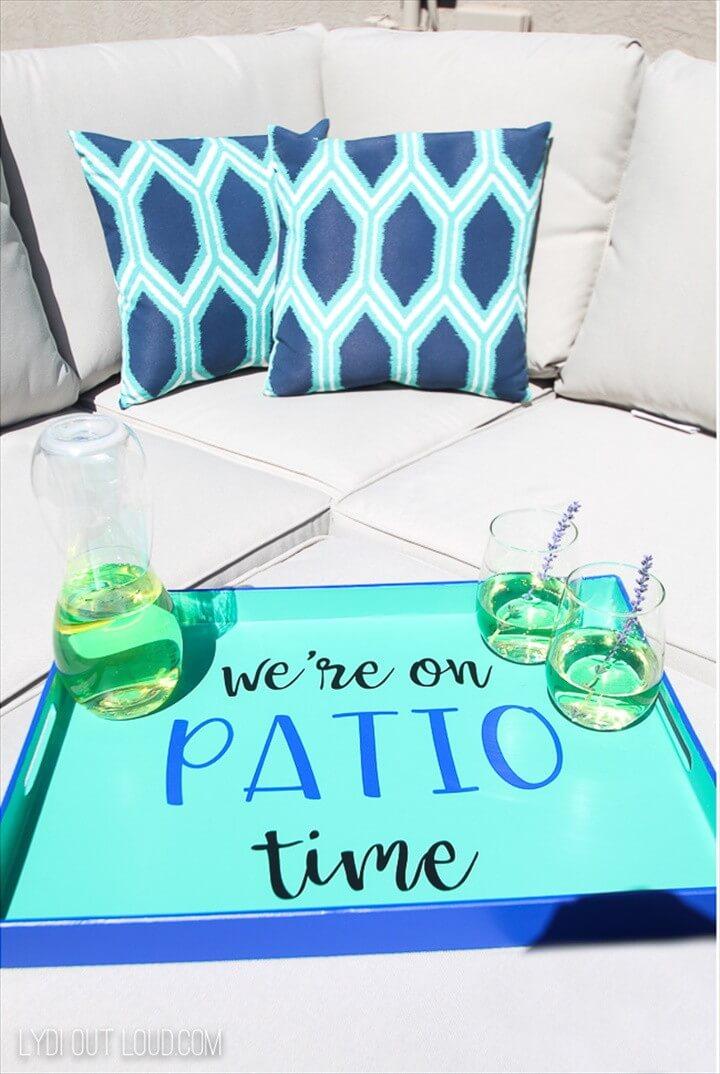 Summers are for outdoor fun with family and friends and some yummy drinks on the table. Now serve your drinks in this gorgeous outdoor DIY serving tray makeover. Yes, grab your old tray and paint it in aqua green, blue, and the dew colors with the saying We are on Patio Time in the center. Follow the details of the idea here!
Tutorial: lydioutloud
Quirky 2 Ladder Shelving In The Entry: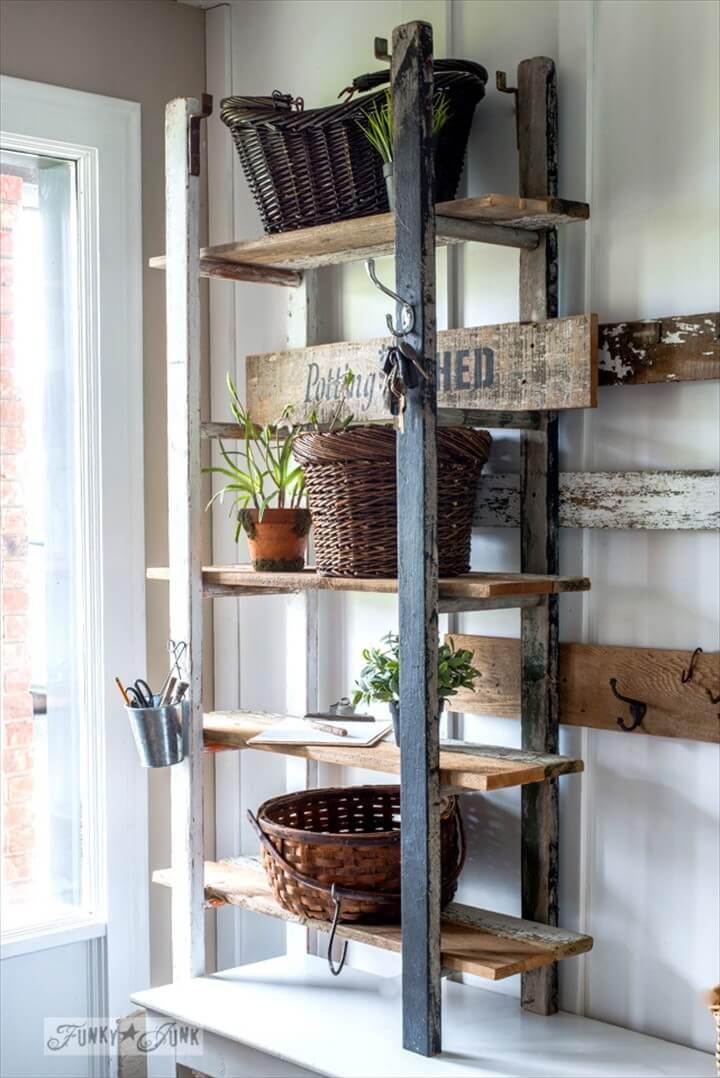 It's time to give your entrance the best of the looks with this quirky 2 ladder shelving in the entry. So get your hands on two old ladders and get 5 wooden boards to place between the steps of both ladders and get and instant shelving unit. The top second board does hold anything but says Potting Shed with a drawn pot in the center to look just so interesting. Details here!
Tutorial: funkyjunkinteriors
Scrap Wood Frames: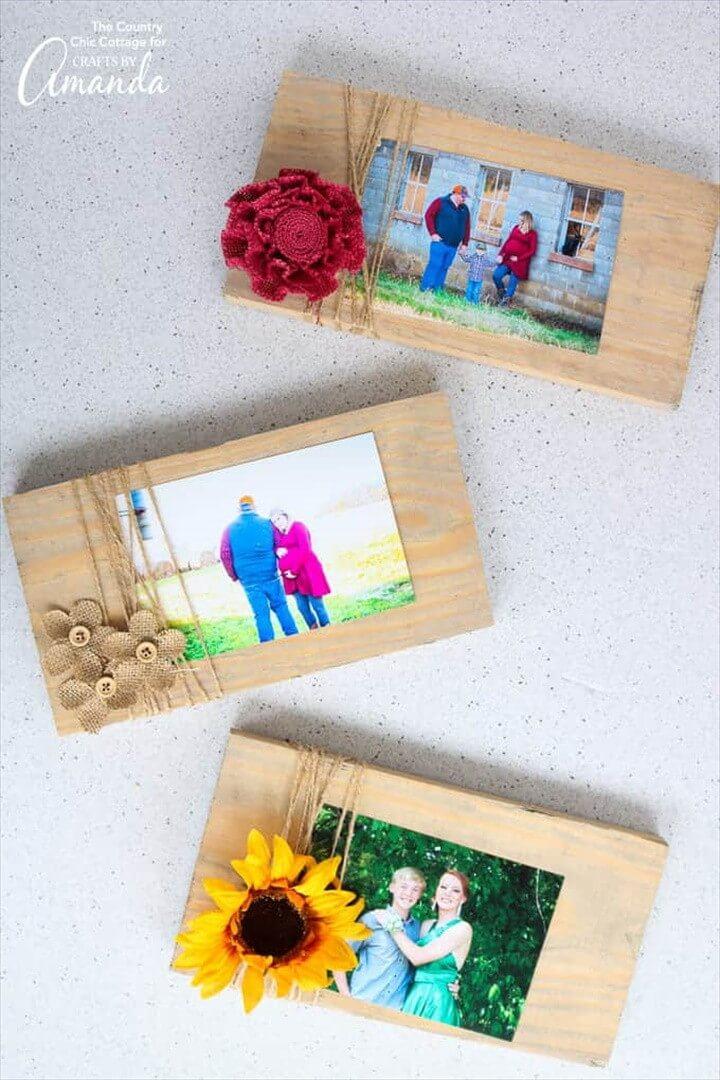 You can make the most out of the wooden scrap pieces by making some fun family photo frames out of it. The wooden pieces have been stained in wooden texture and then glued with the pretty family pictures. Decorate these wood frames more with the burlap flowers and the twine and they are ready to give away as gifts or get displayed on walls. Details here!
Tutorial: craftsbyamanda
Simple Cactus Themed Baby Shower: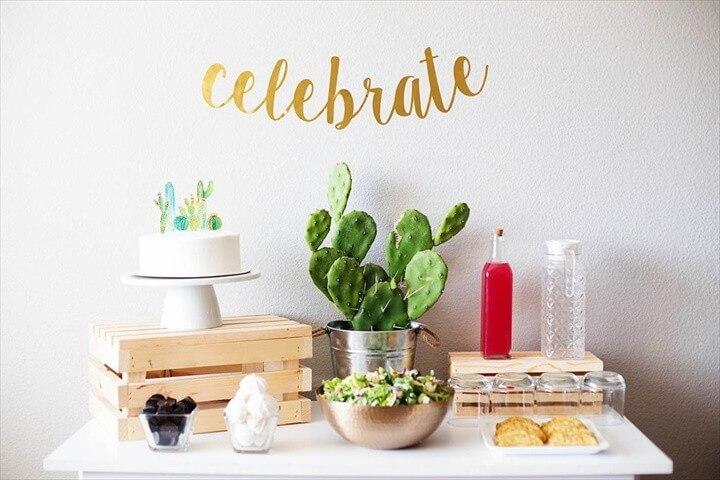 You can arrange a party at home with the fun and cool theme of the cactus themed. Here is the idea of a cactus baby theme shower where the table centerpieces are cactus, the banner has cactus images and the cake has cactus toppers. The cactus theme can be followed for any other party in the house too. Follow the pretty details of the idea here!
Tutorial: allforthememories
The Perfect Paints for Skin Tones: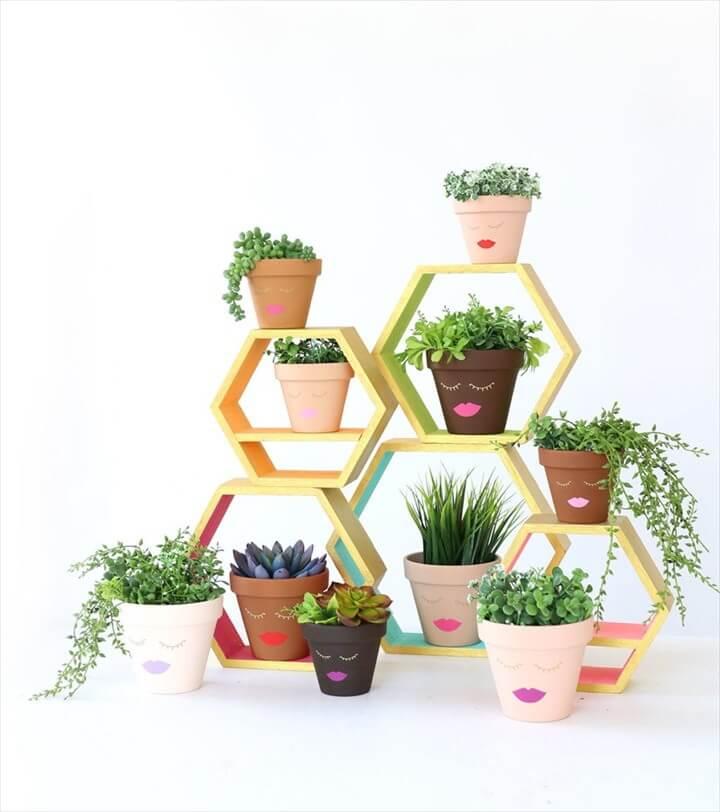 This is going to be the most creative and fun idea to brighten up your summer décor. So get your hands on this perfect paint for skin tones and bring so much quirkiness to your places. The terracotta pots have been painted in all the shades of the human color found around the world with gold vinyl lashes and the vinyl lips. Hold your plants in these gorgeous skin tone planters and display them in wooden hexagon shelves. Details here!
Tutorial: damasklove
Washi Tape Window Valance: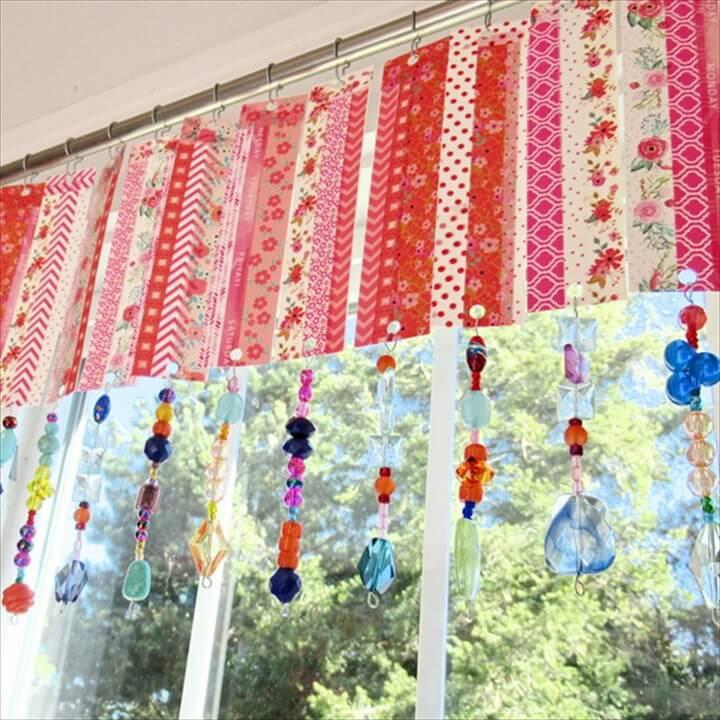 If you are a crafty person then you must have a lot of rolls of the washi tapes. So make the most out of your washi tape and create this gorgeous and colorful window valance. Using the cardstock strips, colorful and designed washi tapes and the collection of gems and beads would lead to this gorgeous valance for your window or the nursery room. Details here!
Tutorial: whimziville
Watercolor Jewelry Dish:

Let your kids make some pretty gifts for you and the other lovely ladies in their life with the idea of this watercolor jewelry dish. So make cute round shaped boxes with lid using the air dry clay and paint it up with the watercolors to look interesting and fun. This cute jewelry dish is fun to have and store the jewelry inside. Details here!
Tutorial: thehomesteady
Whimsical Canopy Tent or Reading Nook: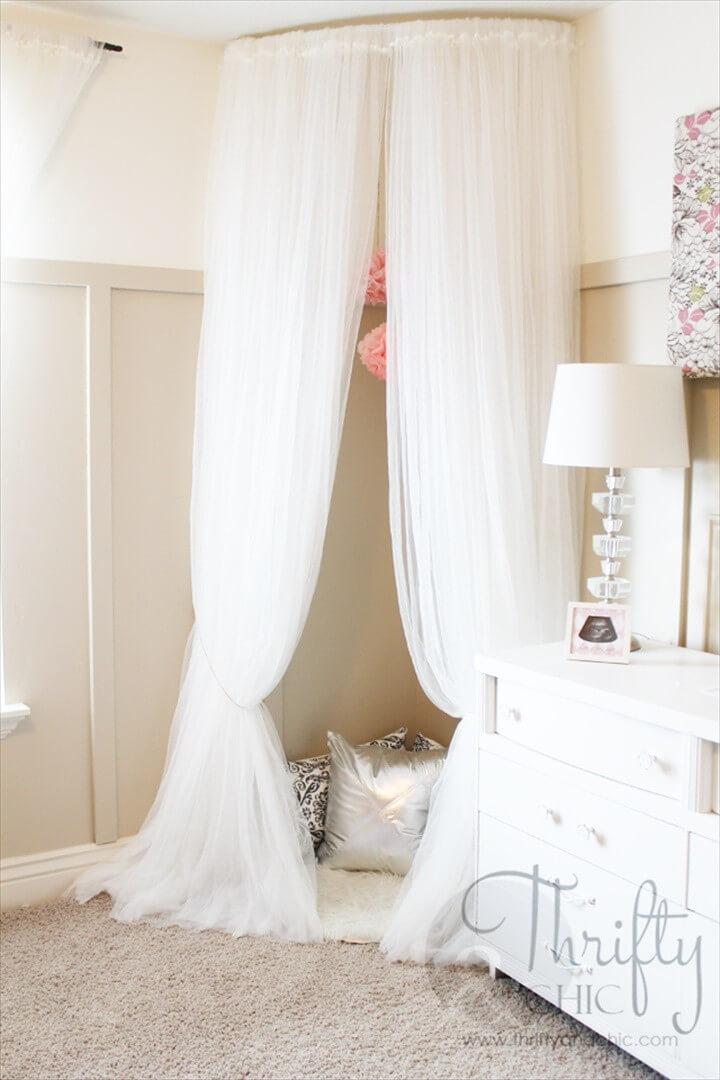 Make yourself this whimsical canopy tent or the reading nook to spend some Me time in your room. The reading nook is made out of the lace curtains, tissue pom poms, a round-shaped faux furry rug, and the cute and funky pillows. This reading nook is also a great idea to install in your girl's room as it is so princess-sassy. Details here!
Tutorial: thriftyandchic