When you are running out of space inside your house, you might start considering converting your garage. After all, a garage isn't reserved for cars only – it can serve multiple other functions! The only limitation is its size and the amount of money you are willing to spend.
But first, you should ask yourself what your house needs the most at the moment. Is it more living space where you can spend time with your family? Or maybe you need somewhere to store your belongings? That question is really important because it will help you make proper design choices and serve as a guide in what you may need to buy while converting your garage.
Next, you should determine what your budget is. If it's limited, make a detailed list of things that have to be bought and compare their prices in multiple stores. Some of them might have sales on the items you need, which will be extremely beneficial to your wallet.
What if you weren't able to come up with any interesting ideas for converting your garage? Don't worry! We came up with plenty of exciting garage conversion ideas that you can take into consideration!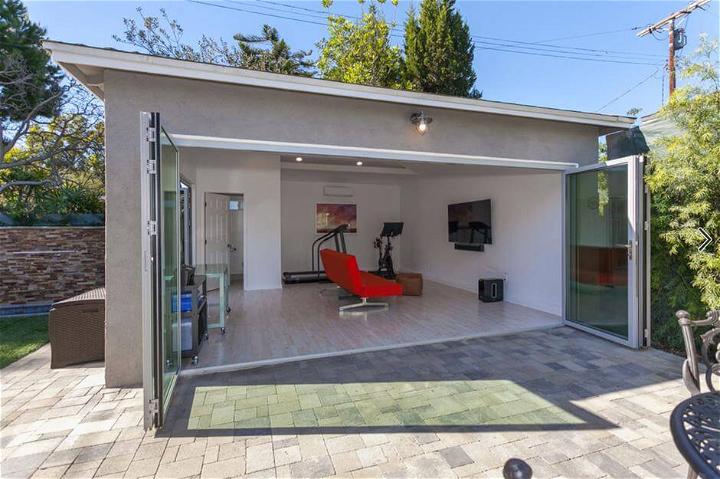 Turn It Into a Spacious Storage Room!
It's probably one of the best options to go for when converting a garage. If it's in good shape, an average garage can serve as a great storage room since you can fit a large number of items in there without any major difficulties. The only thing you need is a good storage system, such as the one available at www.garagedoornation.com!
A storage system usually consists of many containers that come in various shapes and sizes so that you can adjust it to your needs. The containers can be installed on the ceiling or the walls. It all depends on the amount of space that's available in your garage and your individual needs.
What About a New Home Office?
If you want some space away from your family where you can focus on your work, you can convert your garage into a home office! However, to make it cozier, you'd probably have to invest in more significant changes, such as covering the concrete floor with an epoxy coating and rollout mats.
Moreover, make sure that you're comfortable with the air temperature in the garage. If it's too cold for your liking, you should buy an electric heater. On the other hand, if it gets too warm, you should think about getting an air conditioner.
A Quiet Home Gym!
Are you running out of space for your gym equipment? Think about converting your garage into a home gym! A stationary bike or a treadmill will fit in there without any issues, and as a result, you will be able to enjoy more living space in your home.
Garages turned into such gyms are an excellent solution for families with kids. You don't have to worry about your children getting hurt while fiddling with the equipment, and you can fully focus on exercising.
Maybe an Art Studio?
When either you or one of your family members is really into painting, you should seriously consider turning your garage into an art studio! It can add to your house's living space if you choose to move all of your painting-related resources into the garage. On top of that, you can surprise someone you care about with something they will love!
However, to make this work, you will probably have to invest in the garage's interior design. Painters usually work in spaces that bring about feelings of comfort and safety. If the garage feels claustrophobic and doesn't have proper, warm lighting, it might end up being a huge bummer instead of a functional studio.
Conclusion
Many garage conversion ideas might seem costly, but they are necessary if you want your house to be more valuable. On top of adding to the living space available to the house's occupants, they can turn an old garage into something modern and exciting. Sometimes all you have to do is make some purchases related to its interior design and cover the concrete floor with something more welcoming.
Moreover, planning and carrying out a garage conversion is something that you will probably find really satisfying. If you have already worked on your house, you probably know that feeling of satisfaction related to taking care of a place you call home!
Finally, it can help you work on your ability to come up with tasteful design choices. A garage is usually a place with low lighting, full of various boxes and dust. If you manage to turn it into something that's the complete opposite of that, you should feel proud of yourself! It isn't an easy task, but it is totally doable if you have the right attitude.