The kitchen is the heart of many homes. It's the room with the most traffic throughout the day and where most families congregate. However, it can also be the room that tells your home's age and can become run down quite quickly.
Fortunately, you can modernise your home without breaking the bank. Here are a few tips on how to refresh your kitchen when you are on a budget.
Paint the cabinets
If you already have wooden cabinets, you're in luck! Wood is one of the best materials to paint, treat and refresh. Coloured cabinets can look old and out of style. Repaint your cabinets in a deep blue or opt for a more neutral palette. Paint is a cheap and cheerful way to upcycle your kitchen.
Paint your kitchen walls in a lighter colour to brighten the space and make it look larger. A lighter-hued paint will reflect light and hide any scratches, dings, dents and old cabinets.
If your cabinet doors are damaged, consider sanding them down or replacing them altogether. You could also paint your appliances with liquid stainless steel to add a metal texture to your kitchen. Please be aware that different devices require different types of stainless-steel paint. Or, if upcycling and DIY isn't your strong suit, hide your appliances in the cupboard. Besides, no one wants to see toaster crumbs all over their worktops anyways.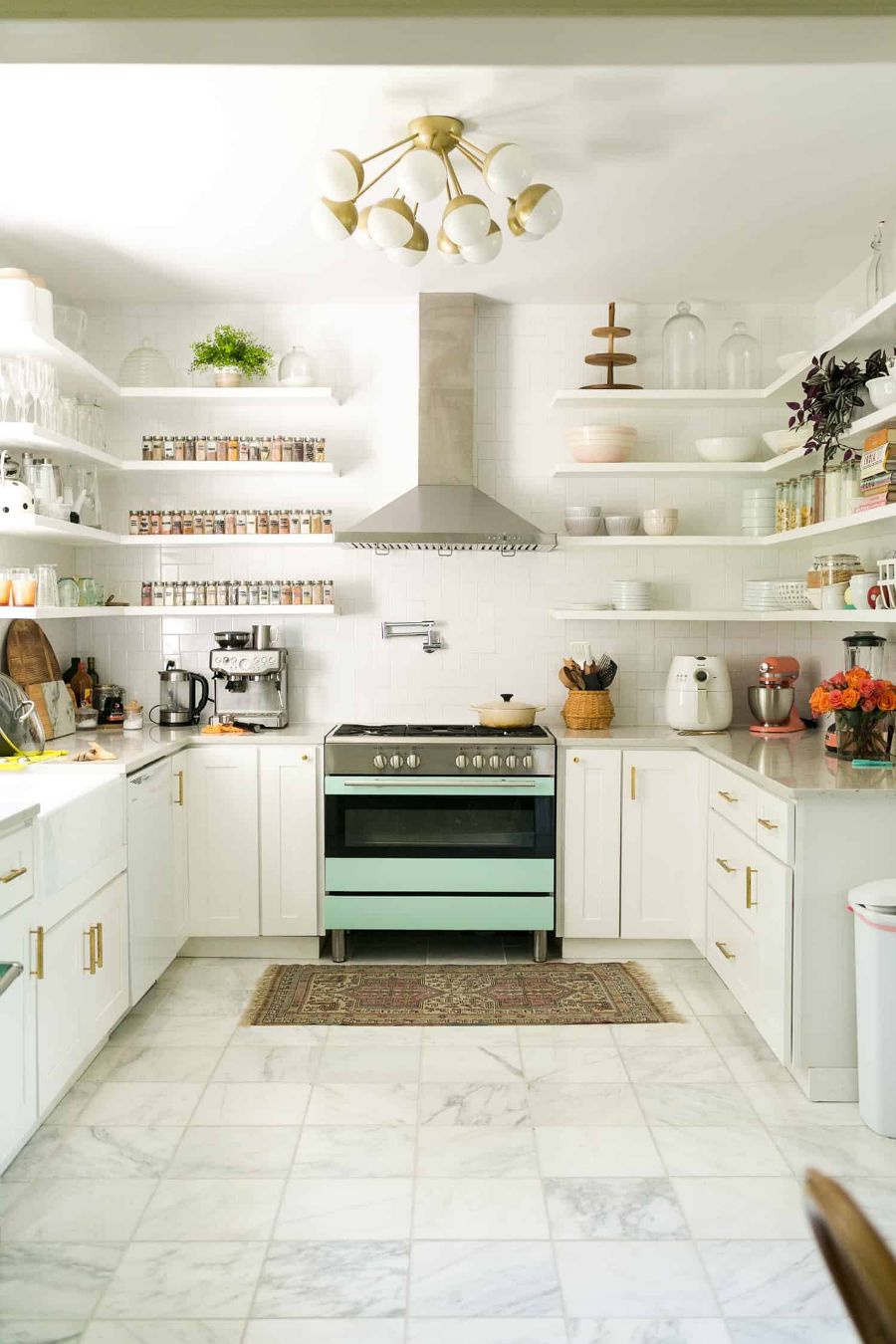 Fitted kitchens
Getting a facelift for your kitchen is one of the best value ways to transform your kitchen completely. Update your outdated cabinets and install a newly fitted kitchen this year. 
For an industrial feel, go for wooden countertops and black metal finishings. Thick butcher style surfaces require minimal maintenance and can be sanded down in the future.
Invest in a few cabinet organisers to fit around and below the plumbing pipes, waste disposers, and other obstacles beneath the sink. Bespoke storage can help you to keep your kitchen clutter and dirt free.
Consider using luxury tile vinyl to save a few extra pennies. They look exactly like stone and ceramic styles, but they are much easier to cut and install. Peel, stick, and use a bit of grouting on the bevels side for a professional finish.
You can also use peel and stick backsplash tiles for a fraction of the cost. Stick over any grubby existing tiles and boost the value of your home.
Lighting
A kitchen needs to be light and airy – not dark and gloomy. Invest in lighting solutions to brighten up space and help it appear more modern. Add LED light strips on top of the cupboards or go for hanging light fixtures in various shapes, sizes, and styles for an ultra-chic feel. LEDs save the most energy, last a long time, and can be easily added to any space.