The dining room is one of the most critical rooms in the house. It's a place where family and friends gather to share meals, conversations, and memories. However, it is also one of the most ignored. Too often, the dining room is left to collect dust and become a catch-all for everything from spare coats to unused furniture. This should not be the case in the one place where you and your family should feel the most comfortable. The first impression should be good when you host your friends or family in your home. Investing in tasteful decoration is one way to ensure your dining room looks its best. This doesn't have to be expensive, but it should be something that makes the room feel warm and inviting. Here are seven simple ideas for tastefully decorated dining rooms.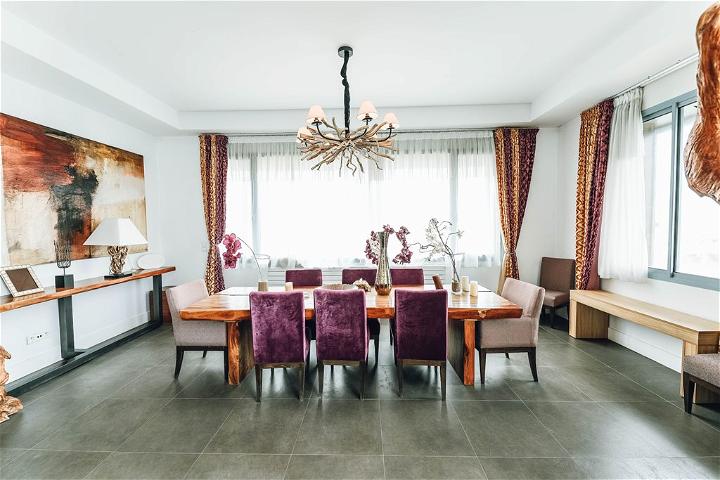 Invest in a Drinks Display Cabinet
If you enjoy entertainment, then a drinks display cabinet is a must-have for your dining room. Consider a home bar drinks display cabinet that is both stylish and functional. It will give you a place to store your favorite wine bottles, liquor, and mixers. Plus, it will add a touch of elegance to your space.
They come in various designs, so you can find one that fits the style of your dining room. Choose a cabinet with clean lines and a sleek finish for a more modern space. For a traditional dining room, opt for an ornate wood cabinet.
Get Rid of Clutter
The first step to creating a tastefully decorated dining room is to get rid of the clutter. This means removing any unnecessary furniture, decorations, or knick-knacks. Creating a sophisticated and inviting space will be difficult if your dining room feels cramped and cluttered. Instead, focus on a few key pieces that will make a statement.
If you have too much furniture, try removing some chairs or sideboards. If you have too many decorations, choose a few favorite pieces and store the rest. In general, less is more when decorating a dining room.
Start with the Walls
The walls are one of the most important aspects of a tastefully decorated dining room. The color and style of your walls will set the tone for the entire space. Consider using rich, earthy tones if you want a warm and inviting space. Opt for neutral colors or statement wallpaper for a more formal dining room.
You can add some personality to your walls with artwork but keep it tasteful. Choose a few favorite pieces that compliment the style of your dining room. Avoid hanging too many pictures or using garish and busy frames.
Choose the Right Furniture
The type of furniture you choose will depend on your dining room style. You'll want to choose elegant and sophisticated pieces if you have a formal dining room. You can choose more relaxed and comfortable furniture for a more casual space.
When choosing furniture for your dining room, be sure to consider the scale of the space. You don't want pieces that are too big or too small. Instead, opt for pieces that are the perfect size for the room. Also, leave enough space for people to move around comfortably.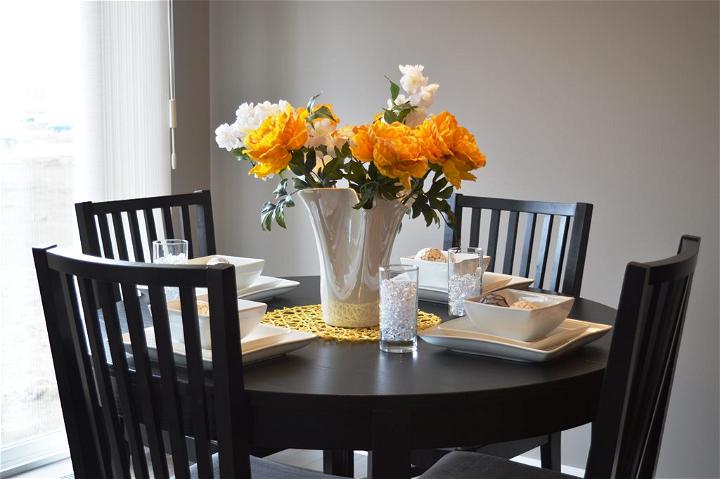 Set the Table
The table is where you and your guests will share meals and conversations. It's important to choose a table that is both stylish and functional. When choosing a table, consider the size of your dining room. You don't want a table that is too big or too small.
Another important consideration is the shape of the table. You might want a rectangular or oval-shaped table with a large dining room. A round or square table might be a better option for a smaller space.
Use Accessories to Pull the Look Together
Once you have the big pieces, it's time to accessorize. This is where you can let your style shine through. Choose a few favorite pieces and use them to pull the look of your dining room together. Some great accessory options for a dining room include vases, candles, and picture frames.
Generally, you want to keep the accessories to a minimum. Too many pieces can make a room feel cluttered and busy. Instead, choose a few favorite items and use them to create a cohesive look.
Add Some Greenery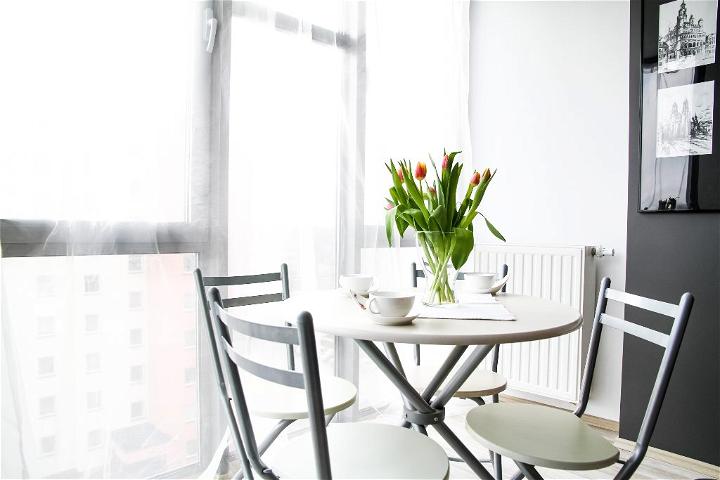 Greenery is a great way to add some life to your dining room. Plants can help purify the air and make the space feel more inviting. If you don't have a green thumb, consider using faux plants or flowers. Fiddle leaf figs are an excellent option for a dining room. They are large enough to make a statement but don't require much maintenance.
The key to creating a stylish dining room is to make it your own. Choose pieces that reflect your style and create a space you and your guests will enjoy. With a little bit of effort, you can create a dining room that is both stylish and functional.