Our vehicle tires inevitably wear out at some point, so we have to dispose of them to make room for the newer ones. Although the old tires lose their value as a vehicle component, they don't become obsolete. With little creativity, time, and effort, these things can be used to create amazingly useful objects!
So, before throwing the used tires away or leaving them in your yard to collect dust, take a look at the ways they can be utilized.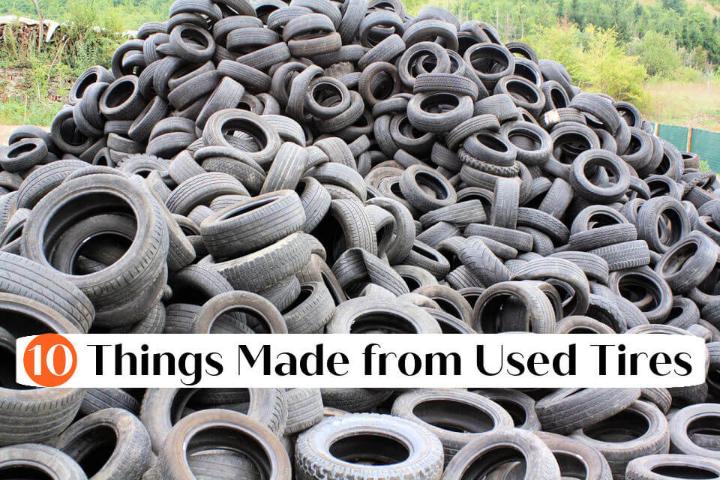 We're going to list 10 things made from used tires that are impressively beneficial. You're going to be surprised at how easily they can be made. So, let's get creative!
1. Tire Planters
Make your gardens more efficient using old tires at the cost of nothing! They can serve as beautiful and effective plant holders. All you have to do is fill them up with fertile soil and plant your trees there.
This way, your plants will be propped up. What's more, the rubber will absorb a lot of heat to protect your precious flora. For saving up space, you can even hang them up!
2. Bike Stand
Old tires can make a fully functional bike stands. Just bury a couple of them half-way into the ground close to each other, and voila, you've got yourself an amazing bike stand that will securely hold your bicycles! It's a cost-effective and nifty way of creating a space to park bikes.
3. Tire Swing
You're likely to be familiar with old-fashioned tire swings. Chances are, you already had one growing up! So, you know that they make incredibly thrilling and fun-filled swinging seats. Making one is quite simple, really. All you have to do is hang up a sturdy tire using a durable rope, and that's it! Your kids will love you for it!
4. Footwear
There is no doubt that tires are remarkably durable even after years of use. You can get an idea of the durability of these things in our trail grappler vs duratrac article. They are pretty flexible as well, so with some effort, you can turn the scraps of a tire into beautiful and stylish footwear that is eco-friendly too!
5. Tire Chair
Why throw the used tires away when you can turn them into beautiful and comfortable chairs? Using your creativity and craftsmanship, you can fill your garden or living room with stylish seats made out of rubber tires. Don't like how black makes them so boring? You can always repaint them with lively colors!
6. Tire Table
Are you fond of those elegant coffee tables that enhance the environment of the living rooms? Now, you can build one for you without spending a fortune if you've got an old tire. It's as easy as placing a glass on top of it! If you feel fancy, you can even redesign the table to increase the elegancy.
7. Playground Climbers
The seemingly useless tires can be used to build safe playground climbers for your kids. You can set them upright in your yard to make your children engage in a fun-filled activity!
8. Obstacle Course
Obstacle courses in your backyard will give your kids and the entire family an opportunity to exercise while having loads of fun. The best way to build them is by using fat vehicle tires that you were just thinking of throwing away.
9. Garden Stairs
Smartly placed tires can work as stairs that you can step on to safely reach your garden that's built on the propped up ground. They will prevent you from slipping down, and the best thing is, you won't have to spend any money!
10. Hanging Lights
Now, this might come as a surprise, but the dull-looking tires can be crafted into attractive light covers. Grab your scissors and use your creativity to create beautiful patterns on the outer layer of the tire. Then fill the inner part with a light source and hang it up on your preferred location.
Of course, the actual process will be a bit trickier than that, but you get the gist. These light covers are sure to serve as impressive decorative elements.
Final Words
There you have it, folks, the 10 things made from used tires. Next time you look at the used tires, think of ways of recycling them instead of getting rid of them. The possibilities are endless when you get creative with these things.