Gardeners know there is no end to the tools they need to complete specific jobs in their gardens. Whilst it is easy to get bogged down in a variety of tools, it is also important to acquire the basics.
The top five tools that every gardener needs is itemized below; these allow most gardening functions to go ahead with ease. Without these five tools, any gardener would struggle.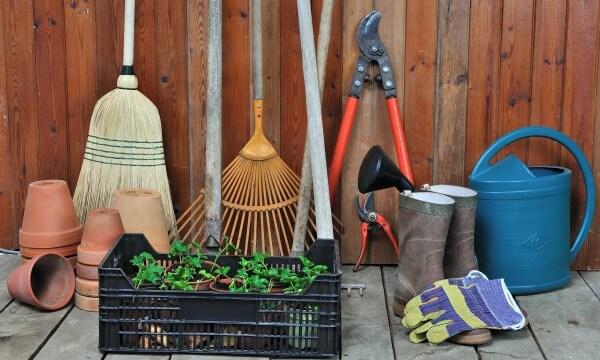 1) Cordless Lawn Mower
Cordless lawn mowers are a brilliant addition to any gardener's tool shed. As technology continues to advance, batteries can now power cordless mowers, not just gas. This removes the additional worries one has to contend with when they use a gas-powered lawn mower, the smell when it is in use and it reduces the amount emissions emitted.
Not only are cordless mowers considered a greener way to tackle your lawn, they are safer too. By removing the need for a cord or cable to connect to electric mains, the many accidents associated with this are minimized. Some readers may believe that a cordless lawn mower is only valuable if you have a large lawn area. However, it is a good choice regardless of the size of your lawn.
Cordless models are proven to be more lightweight, as compared to corded models. They run much smoother and quietly when in use. They also allow for a lot more manoeuvrability whilst using them, helping the user get those hard to reach spots with minimal effort.
2) Grass Strimmer
Avid gardeners are especially keen on owning a grass strimmer from a reputable brand. This tool allows the user to see to those final finishing touches in their gardens. They are especially useful for those with large gardens or gardens that have many sections, such as lawn to paving or decking areas.
Many gardeners favour the cordless strimmer, as this allows them to move up and down their garden freely with no restrictions. The cordless versions are still as powerful as their corded countertypes, but like the cordless lawn mower they run at a quieter rate.
Nevertheless, corded strimmer is usually much easier and cheaper to secure and use. They require a lot less maintenance and upon purchasing a cordless strimmer one forfeits the need to keep on charging the tool. These are better for gardeners with smaller lawn areas.
3) Electric Hedge Trimmer
Electric hedge trimmers are the smartest way to tend to unruly bushes and hedges. By choosing an electric hedge trimmer, one can reduce their carbon emissions, allowing for a cheaper, quieter experience.
This tool comes both corded or cordless. As previously discussed the user will have to decide which is the right fit for them. If safety is the highest priority, choose a cordless model. If speed and reliability are more important, choose a corded model.
They are usually very lightweight machines; this makes them easier to manoeuvre and reduces fatigue. Whilst some may worry about the battery life of the product, electric hedge trimmers have evolved tremendous amounts since their first models.
4) Leaf Blower
Leaf blowers have removed the achy feeling of raking up leaves in your garden for good. Not only do they speed up this process ten-fold, but they also make the overall experience comfortable and pain-free.
Leaf blowers can come in gas, electric, or battery powered models. Gas-powered leaf blowers are a great tool due to their additional power and ease of movement when in use. Unfortunately, they are heavier than other models and much noisier too.
Electric leaf blowers are good for those gardeners that have a lot of outside power points. Whilst they run very quietly and have a strong blowing power, they are quite inconvenient for a larger garden. The batter powered leaf blowers iron out this issue, but their battery will need recharging if you have a large garden to tend to. Both the electrical or battery leaf blowers are much lighter and generate a lot less noise than the gas alternative.
5) Pressure Washer
Every gardener really appreciates a pressure washer, they are brilliant tools to have and can be used for a myriad of tasks. These tools are easy to transport, use, and take up very little storage space too.
Pressure washing is a great way to clean up your front garden, increasing your curb appeal. They are especially useful to gardeners with a lot of brickwork or paving on their grounds. Pressure washers can cut through dirt and grime very easily leaving all stone shiny and fresh looking.
Not only do they revive your outside areas, but they can also help remove unwanted weeds too. Many gardeners have been known to use a pressure washer to help them remove pesky weeds in between paving slabs.
Final Thoughts
These top five tools that every gardener needs in their shed helps one to provide a basis of care to their garden. These tools allow for the best results to be seen in their gardens, they are the staple of a gardeners must have tools. There are many more that could be added to the list, but to start off on the right track one must ensure that they invest in these five tools at least.