Keeping kids indoors is one of the challenges that parents face during winter. They cannot let kids run around and have outdoor activities because of the snow and ice.
At the same time, it is not easy to make children stay in one place without something occupying their minds. That is why it is necessary to consider craft ideas to keep them busy during the winter season. Plus, this activity stimulates their creativity at the same time.
There are various reasons why it is an excellent idea to give the children craft activities. Here the benefits of occupying your kids with art and craft during the cold season.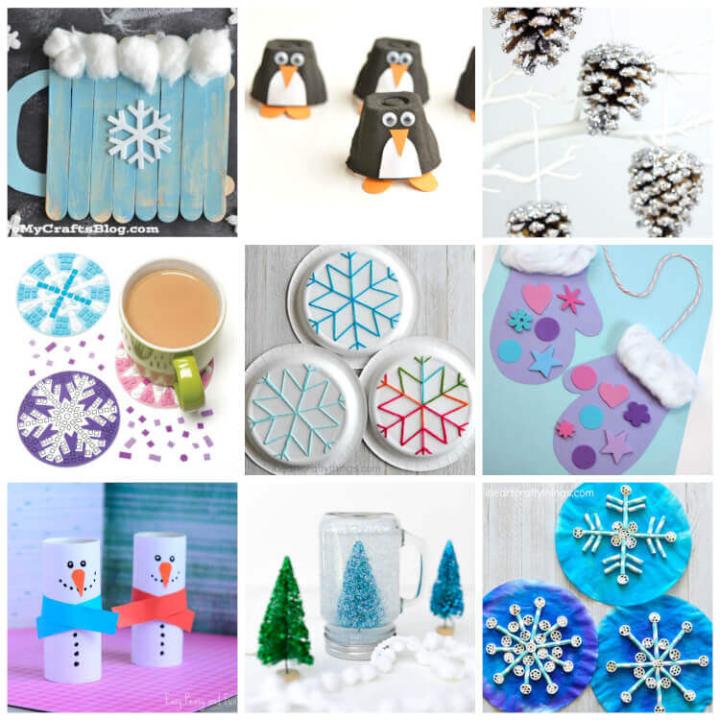 Coordination and Motor Skills
Your child will have to use both hands when working on their art and craft. That helps them to concentrate, leading to improved motor skills and bilateral coordination.
Also, other activities like cutting with scissors require total concentration. This is great for developing good skills at an early age.
Self-Expression
As you interact with your kids, you allow them to learn how to express themselves. It is also an excellent way of strengthening the bond between you.
Working together and discussing the project allows your children to express their likes and ideas and see you as someone they can have fun with and create cool new things. Through asking questions and making comments about the craft ideas, you get to know each other better.
Concentration
When your kids are busy, they will have no time to think about going outside. Occupying the children allows them to remain indoors without feeling bored.
That is why you need to develop craft ideas that are not only occupying but also interesting for them. You must find craft ideas together so that you choose something they also find exciting.
Doing a project they like, encourages concentration levels to stay high for the duration of the project. This is great for their cognitive development.
How to Choose the Right Project for Your Child
One of the things to consider when choosing the activities is the age of the child. For young children, it is vital to choose activities that you can complete in one sitting.
Older children can carry out activities that take even a week to complete. It is important to prepare everything you need for a certain activity and leave the child to complete the project.
If you have children of grade one and above, they can prepare the materials for themselves. That will increase their imagination and creativity. It will also make the exercise more interesting.
A Guide to Successful Art and Craft at Home with Kids
Before you begin your project, it is essential to know how best to prepare for it. These are the steps you need to ensure successful art and craft activities with your kids.
1. Plan
The first thing you need is to plan what you want to do with the children. Make sure you have a date and time of the activity and that the children know about it. If you are a busy mother, consider doing quick and simple activities that do not take a lot of your time.
Things like drawing, coloring, painting, and decorating small items may not take a lot of time. It would also help if you considered activities that you can guide your child and let them finish the project. That will give you time to do something else.
All you need is to explain what to do so that your child will get the right product.
2. Have the Right Tools
After identifying what you need to do, the other thing is to keep everything you need for the project ready. List everything that you need to complete the project so that you do not forget anything. You may need scissors if you have anything to cut or a painting bowl and colors, among others.
When you have everything ready your child can enjoy the crafting without moving around to get stuff, they can sit peacefully and work on their project.
When they have everything with them, they will concentrate on it. You may also need a glue gun, depending on what your craft involves.
There are several types of glue guns to fit your child's needs and the craft ideas that you have. Your child would need parental guidance with a glue gun since the glue is extremely hot and they could get hurt.
3. Make Enough Space for the Project
When you know what you need to do, you also need to prepare the space before the time you agreed to begin the project. As you choose the space ensure it is where there is no distraction.
It could be in a room, a space at the corner of your sunroom. Older kids will find it easier to paint as they stand while older ones would like to sit.
Thus, you should prepare the space depending on the age of your child. Choose an activity that fits in the space that you have.
Craft Activities for Your Children
There are countless activities that you can do with your children. It all depends on the age, interest, and availability of tools. Here are some examples of what you can do with your kids to occupy them during winter.
1. Egg Carton Penguins
The egg carton penguins are not complex, and you can make them use any material you have.
Here is what you'll need:
Glue
Black paint,
Egg carton
White and orange paper, and
Googly eyes
Once you have everything you need, trim the cups from the egg carton and use the cup for the body. Use the orange paper to cut out the feet and the beak.
The white paper should be used for the belly. You need to paint the egg carton black using black paint and leave it to dry.
Fix the white belly on the bump from the egg carton to give you a penguin belly. Use the glue to put the beak in place as well as the eyes.
You need to fold the feet and glue them to the inside of the egg carton cup. If you look at what you have created, it should be a perfect penguin.
2. Painting
Another great idea that you can adopt for your kid is to have printed pictures of different items to paint. All that you need is to have the printed pictures and either crayons or a bowl and paint.
You also need some paintbrushes. Or if you want to get a little more fun and messier, you can let them do finger painting. Just make sure all the floors and furniture are covered with plastic.
Depending on the picture, let the child imagine the true colors of the item to apply the right color paint. For instance, if you want kids to paint a picture of a human being, they should paint the right hair color.
They should also use different colors for outfits, depending on their imagination. Different kids will have different imaginations, and that should come out as they paint.
Or you can let them express their creativity and ideas and let them paint any color they want; pink hair is so trendy right now. It's all about having fun.
Also, cutting pictures and gluing them on plain paper can be great craft ideas for the children. It all depends on what you guide them to do. The options are endless!
Make sure your child is having a fun winter although it's cold outside. You can use crafting to bond with your children or let them do it on their own if something else requires your attention. Not only do they spend time doing something fun and creative, but they also develop cognitive skills and self-expression.