Everything has an expiry date so are the shoes. There comes a time when our lovely shoe pairs are so old and dirty that we decide to replace them with new ones. But even on the purchase of the new ones, the old shoes and sneakers are there, burdening the shoe racks and cupboard cabinets. So here we have some really cool suggestions for you all to breathe a new life into your beloved sneakers or trainers and use them again with the same love. With a little effort and some crafting material, you can give an awesome makeover to your shoes and sneakers.
Don't worry if you are not a regular crafting person because this is no complicated technique involved in these shoe re-styling ideas. So please Find 28 unique DIY shoe designs and shoe painting ideas to make your old shoes look beautiful. . Grab your old and worn-out shoes, some lovely colored paint, and the paint box to start this interesting makeover session. You can paint your favorite cartoon images like Tom and Jerry, flowery patterns, or glitter them up for a sparking touch. Wearing these lovely restyled shoes or sneakers with your regular dress-up would really add a cool factor to your personality. So hurry up to browse the ideas and see them all, select the one you liked the most, and get it started.
1. DIY Glitter Shoes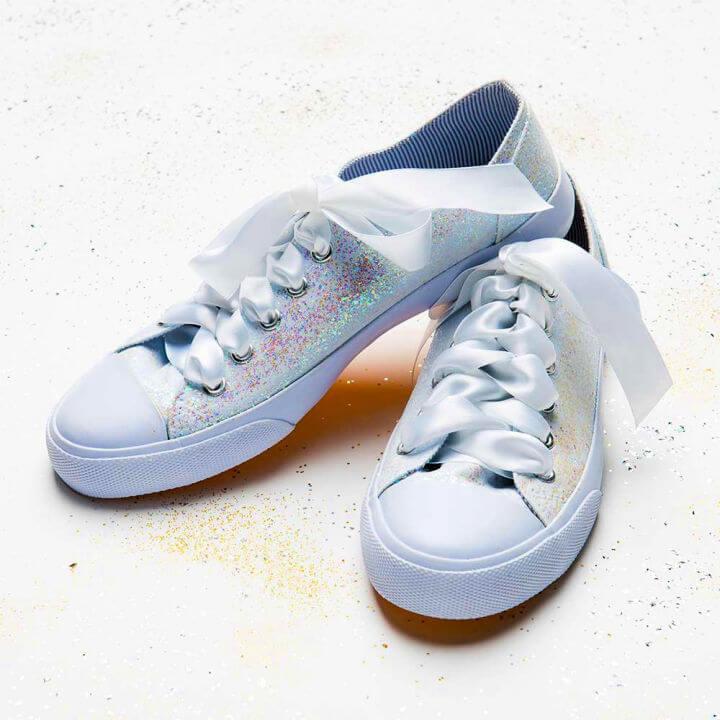 Retouch and reclaim your old white sneakers with glitters and lace creation. To renew these shoes, you don't require expert-level skills. Use your beginner-level skills to make your old shoes new. Before applying the glitter spray on the shoes, read out all the instructions write on the bottle. So, you can save your shoes from unwanted and inappropriate results. plaidonline
2. Shoe Makeover Using Spray Paint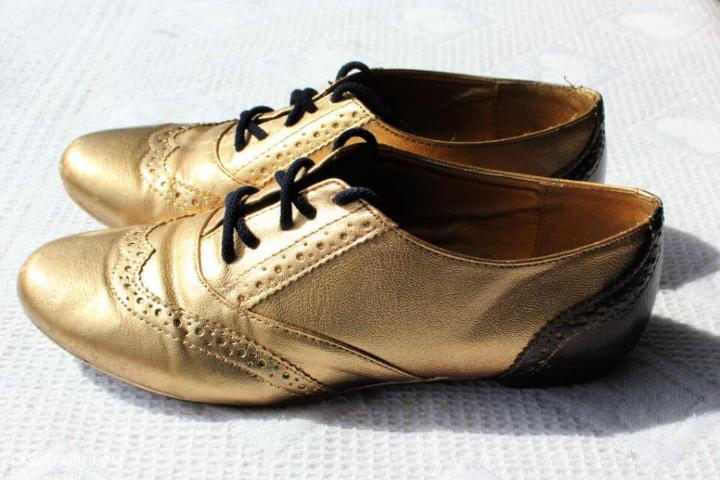 Want to change your overall dressing look? If yes, consider the shoe makeover for your old brown pair of shoes. You don't need to buy a new spray for this makeover. Reuse your craft store supplies and spray paints for this purpose. Enjoy a better day with completely new-looking shoes only with a simple spray! cassiefairy
3. Bright DIY Shoe Design Makeover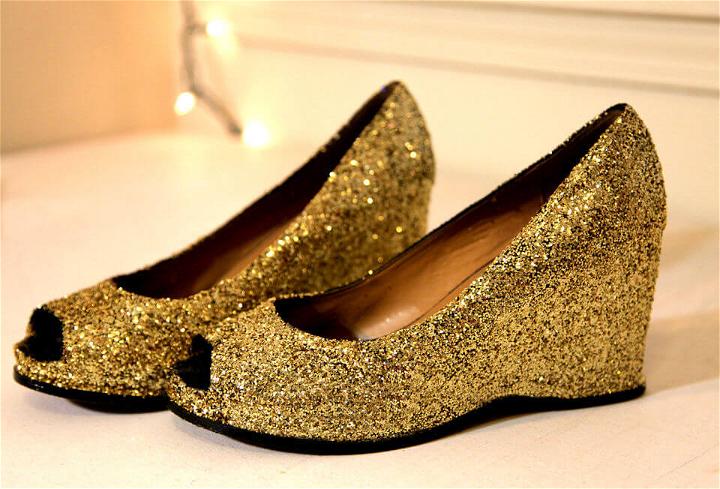 Change the overall look of your black toe wedges with glittery paint spray. There is no need to throw away the old wedge. All you need to do is sitting back and enjoy having a new pair of party shoes. Before applying the glitter or spray on the shoes, clean them appropriately. Apply the mod podge on both pieces of shoes and sprinkle the glitter on them. Wait until the glitter dried completely before wearing. whenindoubtwear
4. DIY Leopard Print Shoes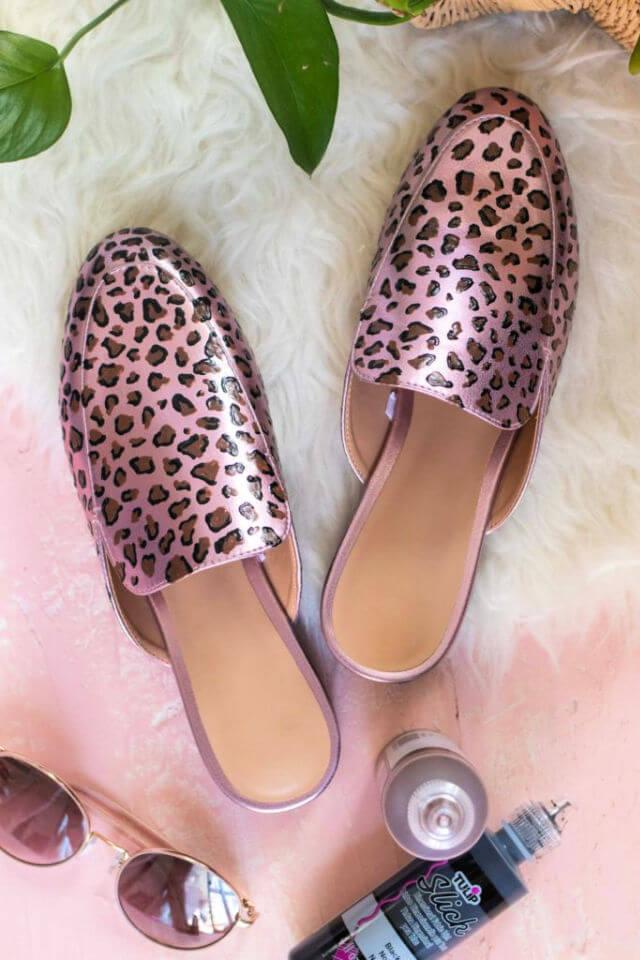 Most of the time, a little change makes a big difference in the overall look. Recreate an old pair of shoes with DIY leopards' patterns. Create these patterns and design on each shoe in different sizes to get an attractive look. Once you have done painting and creating the leopard patterns on the shoes, you would love to wear them with casual dresses. clubcrafted
5. Handmade Embroidery Shoes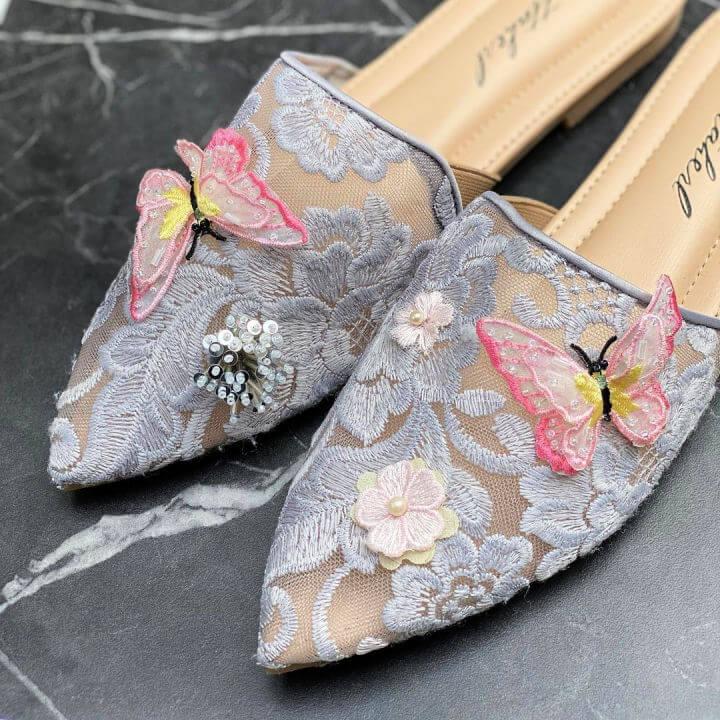 Use embroidery flosses and craft supplies to makeover your old causal shoes. Redo the overall look of your net shoes with faux butterflies and flowers. You can create these butterflies using colorful net fabric. Add more drama to these shoes with sequins and gems. Enjoy wearing makeover shoes with party wardrobes.
Watch This Video: Custom Wedding Shoes (Easy DIY) – DIY Shoes Makeover Ideas (03 Minutes 02 Seconds)
6. Halloween Spooky Sneakers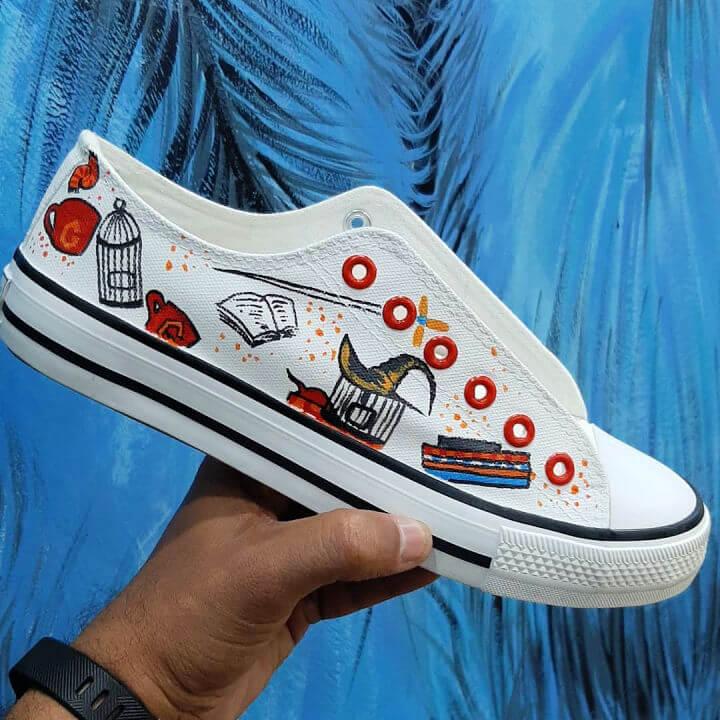 Complete your Halloween costumes with these stylish and trendy DIY shoe makeovers. Use a different color of paints and colors to make the characters related to a spooky night on the shoes. You can do this makeover more efficiently by creating the sketches with a pencil on the shoes before filling them with paints. Use acrylic paints to fill the sketches and patterns for smooth finishing and look.
7. Decoupage Your Leather Boots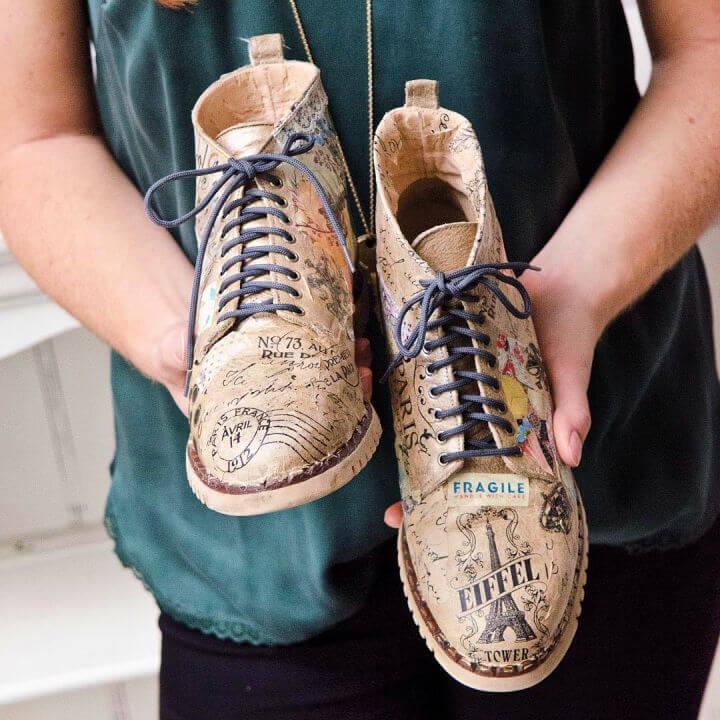 Decoupage your old leather boots with different patterns and paper formats. For a quick makeover, leather boots, use ready-made stickers for applying on the shoes. Make an adventurous pattern with Eiffel tower and tickets on the leather boots. Add a more dramatic look to your shoes with decoupage stickers and letter stencils.
8. Upcycled Sustainable Sneakers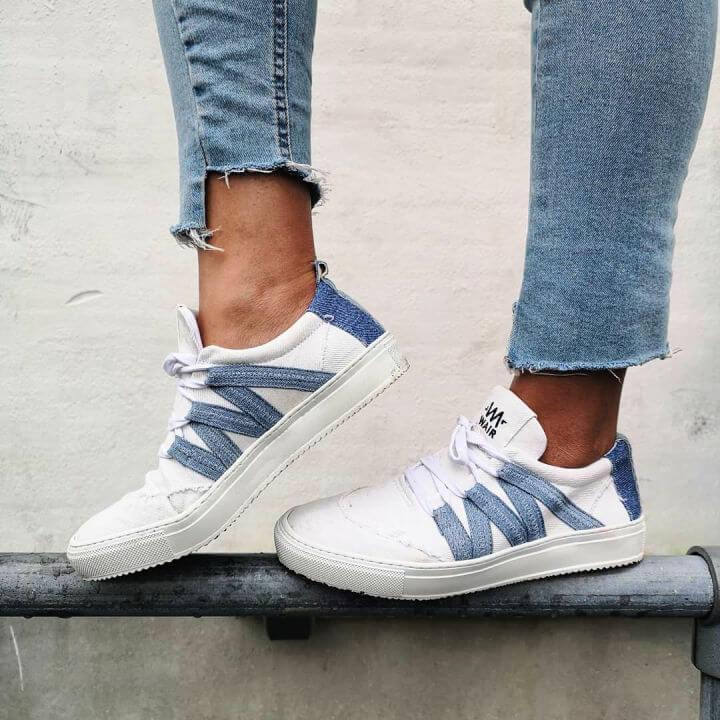 Reuse and upcycle your old pair of sneakers with craft store supplies and items. You can create a new look for your sneakers with white paint spray and by changing straps. Reuse your old denim jeans for making the straps on the sneakers. Attach these strips with the laces using mod podge or sew them for firm finishing. Rock your party with a new and versatile look.
9. Red and Gold Shoes for Chinese New Year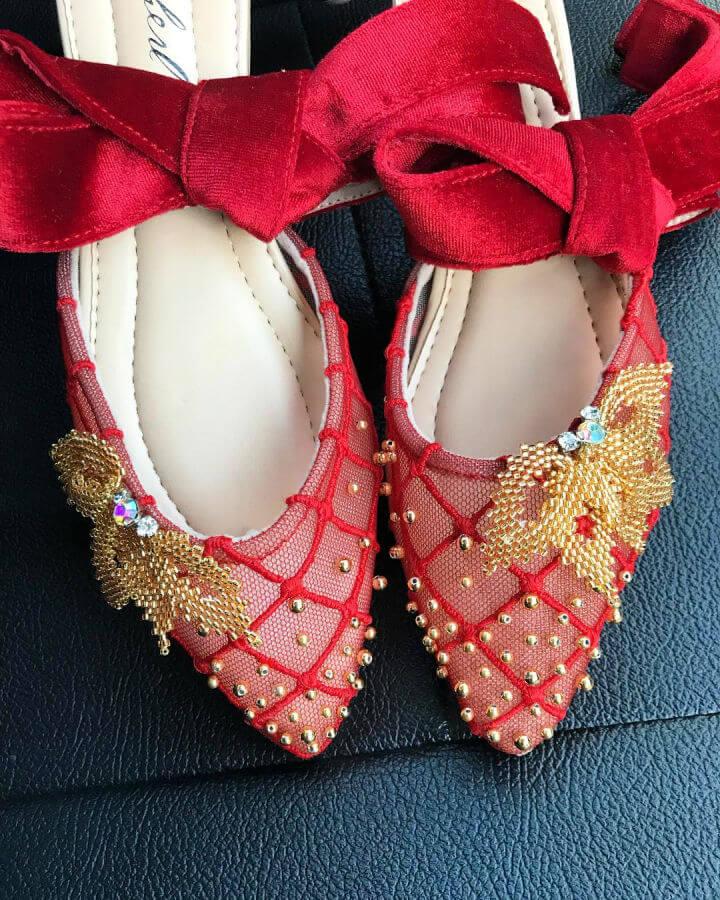 Create a new pair of shoes for Chinese year celebrations by reusing your old shoes. Use red net fabric for this purpose. All you need to do is wrapping the net all around the shoe's edges. Add a macrame pattern yarn on the top of the shoes with a simple knotting pattern. Use red ribbons for the strips and tying a bow on the shoes. You can also add sequins and gems to this makeover shoes using glue.
10. Star Wars Sneakers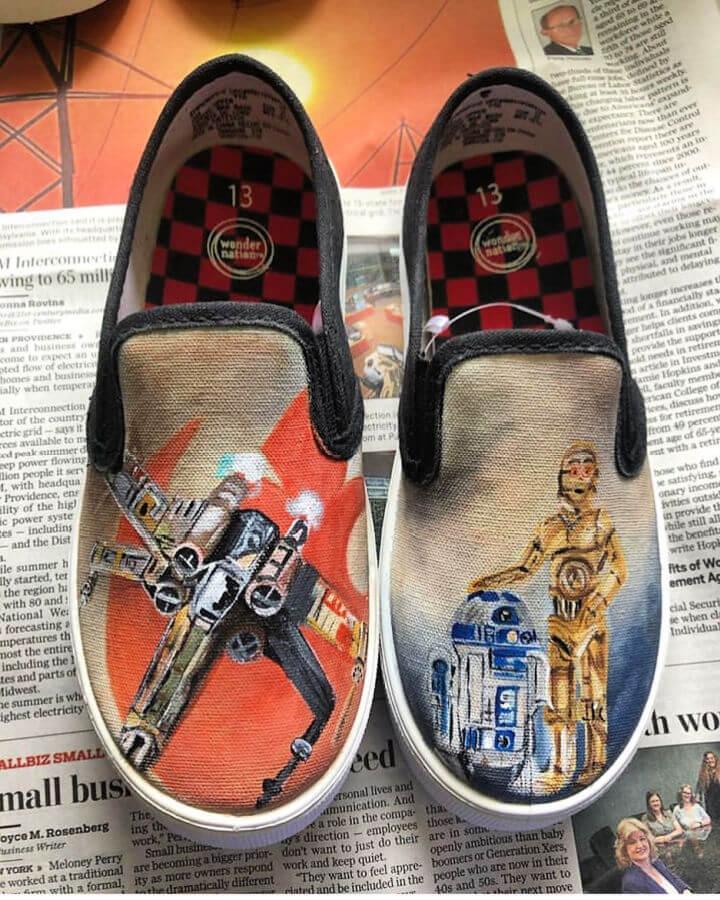 You can makeover your child's sneakers with their favorite Star Wars character. Make or recreate shoes for surprising your kid on his birthday. For this, paint the shoes white and light orange colors paint sprays. To make the character pattern on the shoes, download it from the internet and paint on both pairs. Get these makeover shoes an elegant end look with black paint on the sides.
11. DIY Custom Sneaker's Design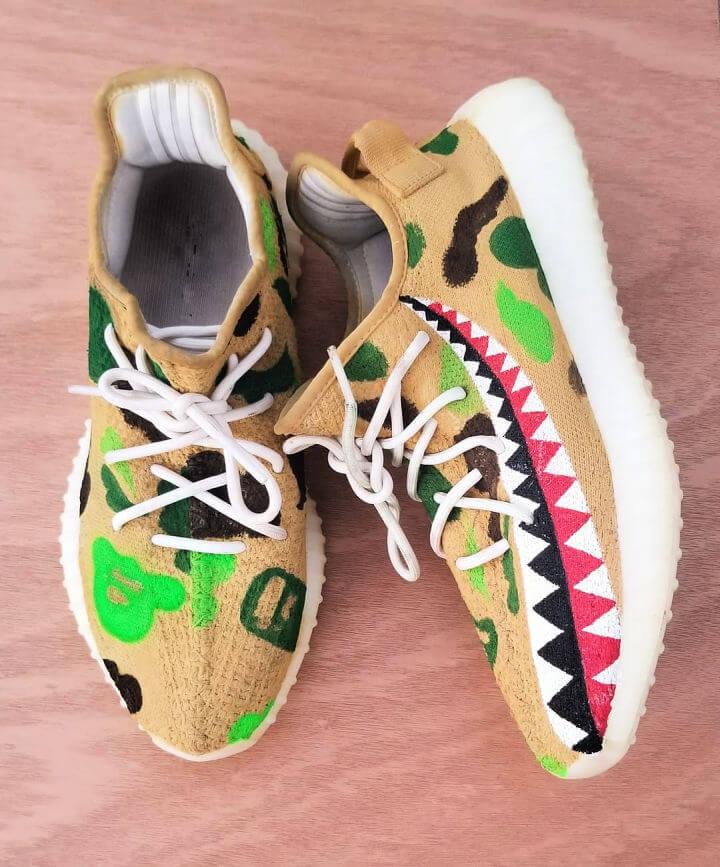 Customize your old sneakers for the Christmas celebration to wear them with a specific costume. These customized shoes are the ideal and perfect option for dressing up with a winter wardrobe. Paint the pair of shoes with skin color spray. After painting, create different sizes of toddling patterns on the shoes with green and white paint. Add a wavy layer of red and black paint on the sides to make them classy.
12. Transfer Me Sheets On Your Old Shoes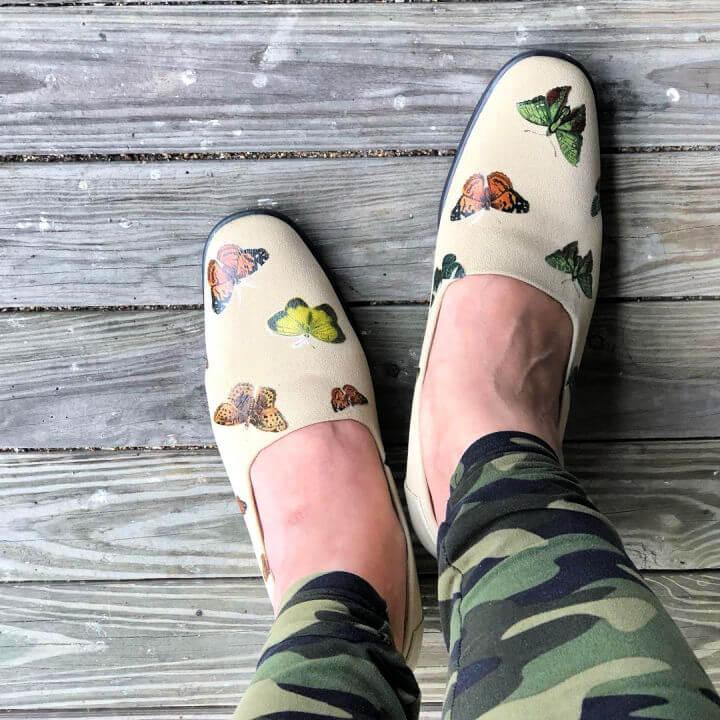 Get a new look of your shoes with a transfer me sheet. You would love to wear these shoes with formal dresses at the party and event gatherings. It's easy to DIY the shoes with a transfer sheet. Additionally, you can use this sheet for recreating and makeover both male and female shoes. Clean the shoes appropriately before applying the sheet.
13. Sky Painting Shoes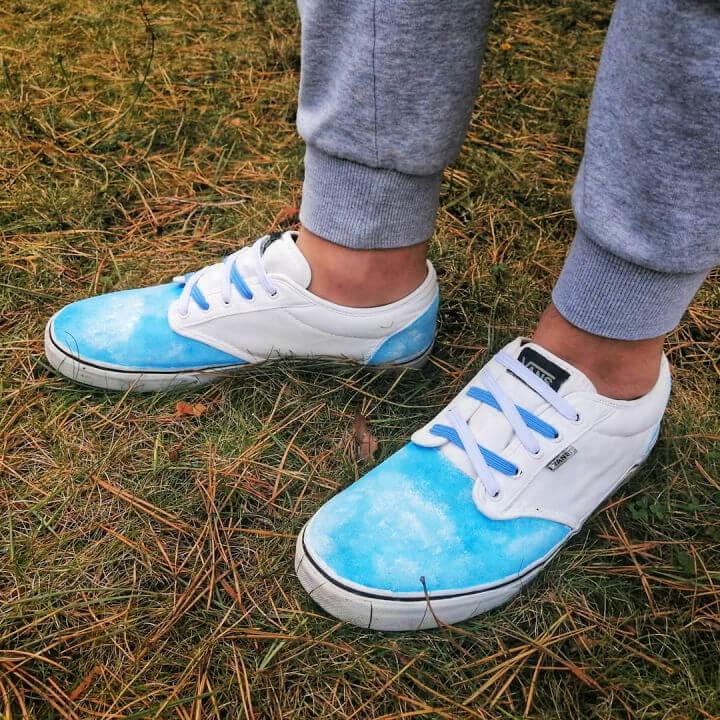 Add a beach theme look in your shoes with light blue and white painting. These pair of shoes are perfect to wear on beach parties and daytime functions. For this, you don't need to buy new shoes. You can makeover your old pair of shoes. Paint the shoes with white paint first and then apply the light blue paint on them. Additionally, paint the laces in white and blue combinations to make them more attractive.
14. Hand Painted Dueling Octopus Shoes

Summer holidays are the perfect time to polish and use your crafting skills. In these holidays, recreate your old shoes with handmade octopus paintings on them. You can create octopus on the shoes with acrylic paints and brushes. Once you have done creating the patterns, color them with red, blue, and yellow colors. Enjoy wearing these animal-character shoes with all kinds of party dresses.
15. Ombre Sneaker Makeover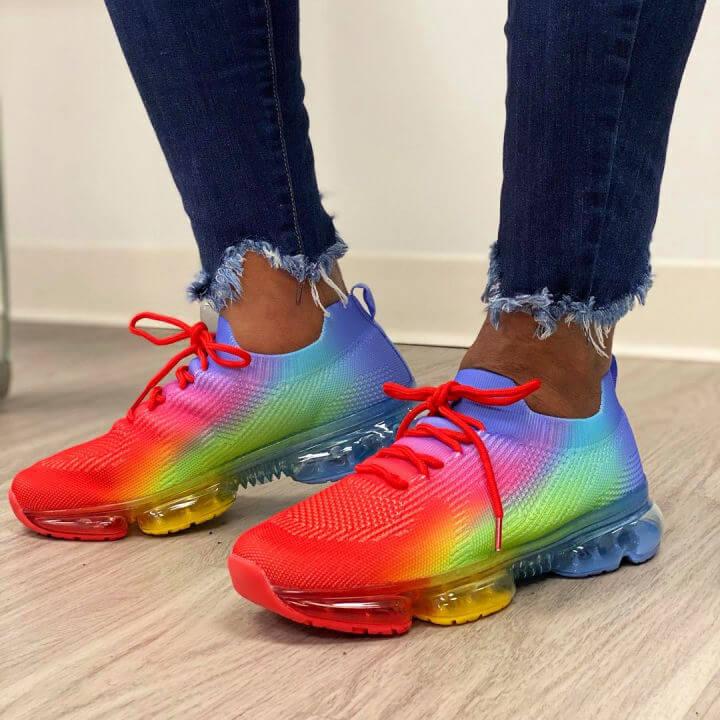 For a pop and DJ party, nothing would better than wearing these ombre-style sneakers. You can recreate your old pair of shoes only with red, blue, orange and green paints. For the appropriate application of paints, download the ombre pattern and start DIY your shoes in the right way. Wear these colorful sneakers and have fun all night!
16. Shoe Embroidery Design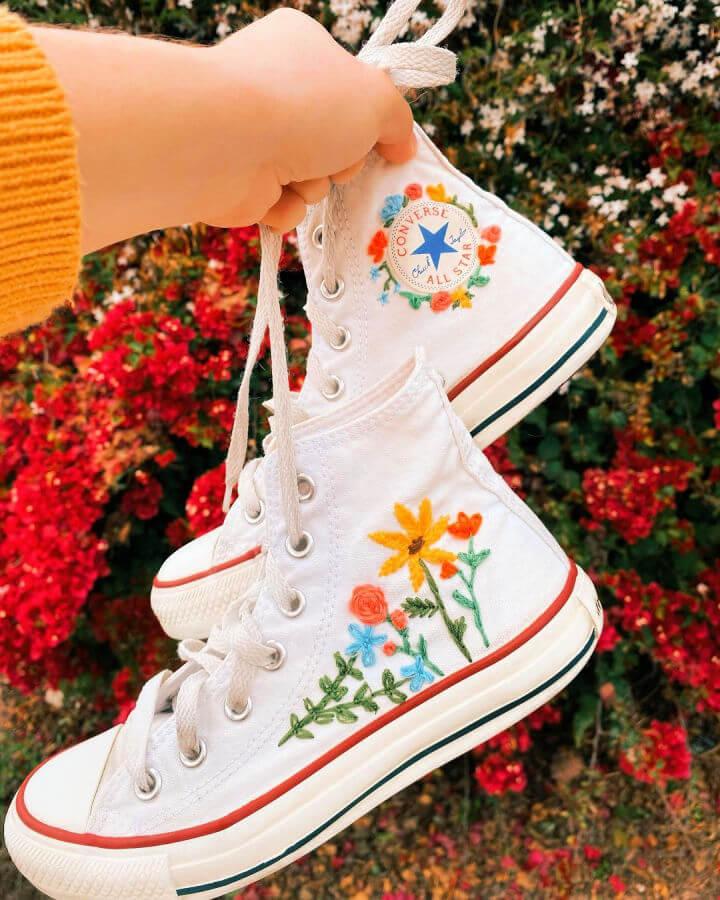 Are you a crochet and embroidery crafter? If yes, use your skills and passion to makeover your sneakers attractively. It's easy to embroidery the sneakers with yarn and colorful cords. Not only the flowers pattern, but you can also make other patterns on the shoes with embroidery floss and threads. You would love and enjoy wearing these elegant pairs of shoes with your own creativity.
17. Newly Created Hero Shoes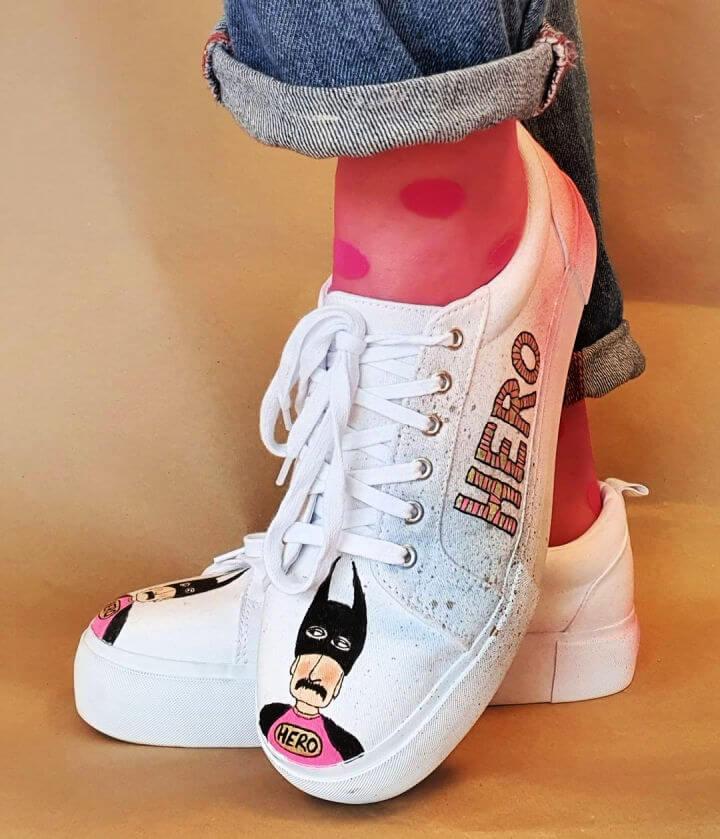 Want to add a hero-style overall look to your costume? Get this trendy and stylish look with a DIY makeover of your shoes. Use letter stencils for creating the "Hero" letter on the side of the shoes. Add a classier look to your shoes by creating the batman sketch on the front side. These customized and good-looking shoes are dreamier for teenage boys or kids.
18. Tulle Bow Shoe Makeover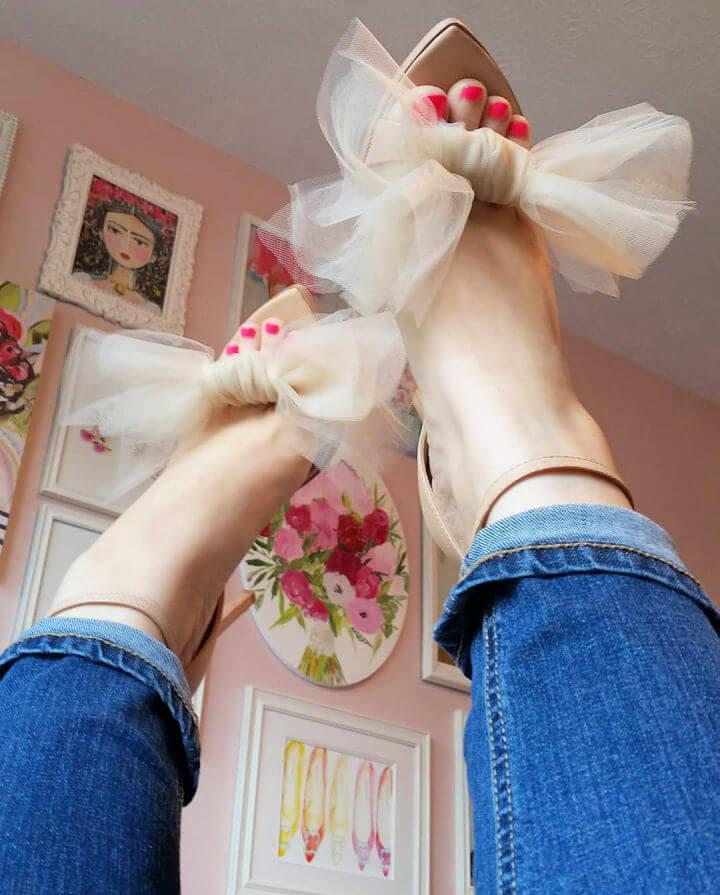 Looking for a new style heel to your wardrobe? Recreate your old heels with a simple tulle bow. You can make this bow efficiently with easily available craft store supplies. A piece of net fabric is the whole thing requires to complete this DIY project. You can choose the net of your choice and color to get a new look. The only thing you need to do is tying the bow on the front panel of your heels.
19. Purple and Blue Fade Custom Shoes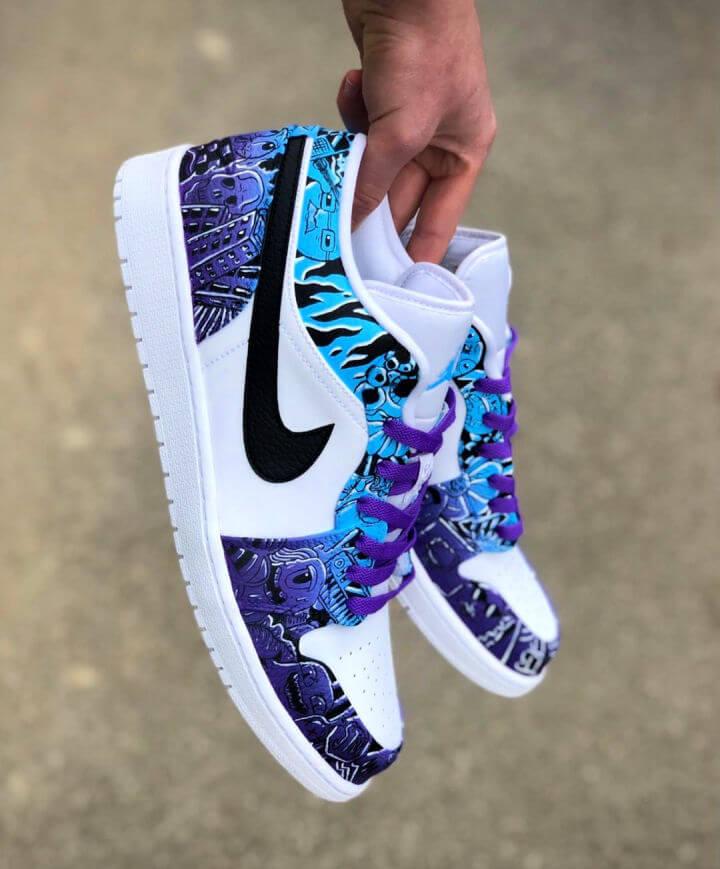 Purple and blue colors are the main combinations that use to create attractive doodling patterns on the shoes. You can redo your old pair of shoes. Use paint spray and painting brushes for creating these purple and blue patterns on the sneakers. Instead of making the characters on the shoes, you can only paint the shoes with specified colors on the sides and front panel. Paint the laces also with purple spray.
20. Cloudy Colors Sneakers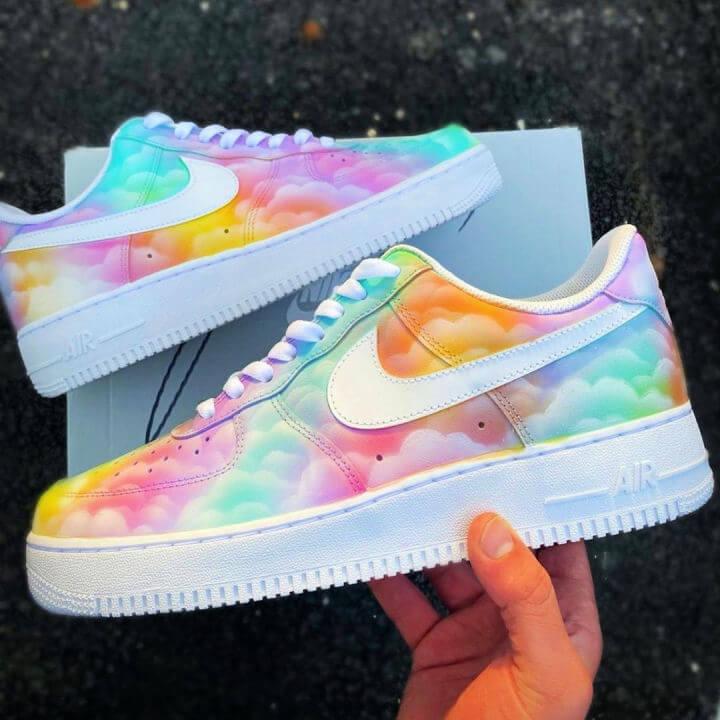 Add more rainbow colors and patterns to your sneakers with soft paints. Recreate your old pair of shoes with white, blue, light pink, and sky-blue colors to make them more attractive. Not only the old shoes, but you can also makeover your new shoes with these cloudy paints. It will make your sneakers look more vibrant and worthy of wearing.
21. Custom Calvin Klein Sneaker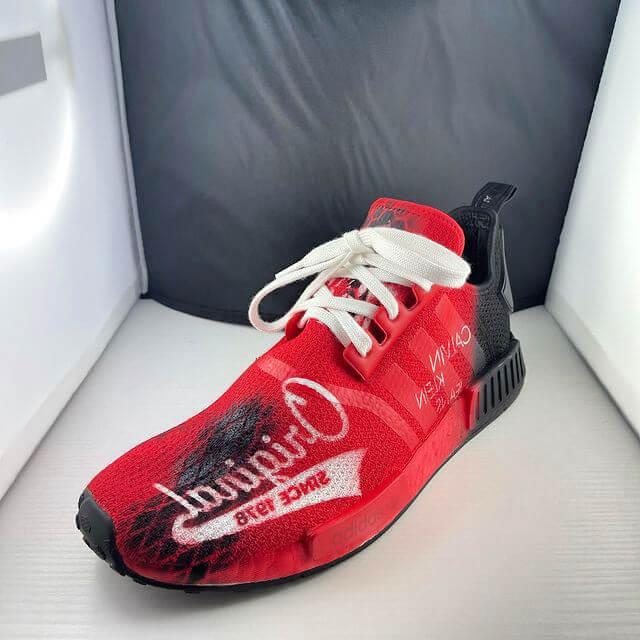 Do you want to get a new look at Calvin Klein sneakers? Get it with the vibrant color of paints and sketches. You can customize your new pair of shoes greatly with this DIY makeover. Use a net template for customized paint spray on the sneakers. While painting the shoes, don't cover the logos and letters on them. Calvin Klein logo and letters will make your shoes elegant.
22. Wedding Custom Shoes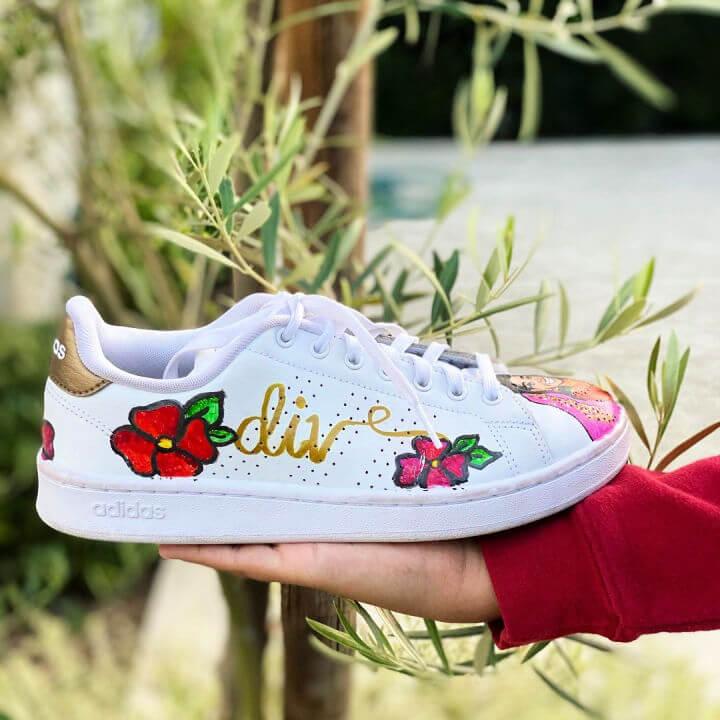 Wearing sneakers on wedding days is in trend and looks stylish. You can customize these shoes for your wedding day by yourself using craft paint and brushes. However, try to keep the shoes elegant and classy. So, you can wear these sneakers with a bridal dress. Create a bridal character, flowers, and quoted letter on the shoes.
23. Customized Shoes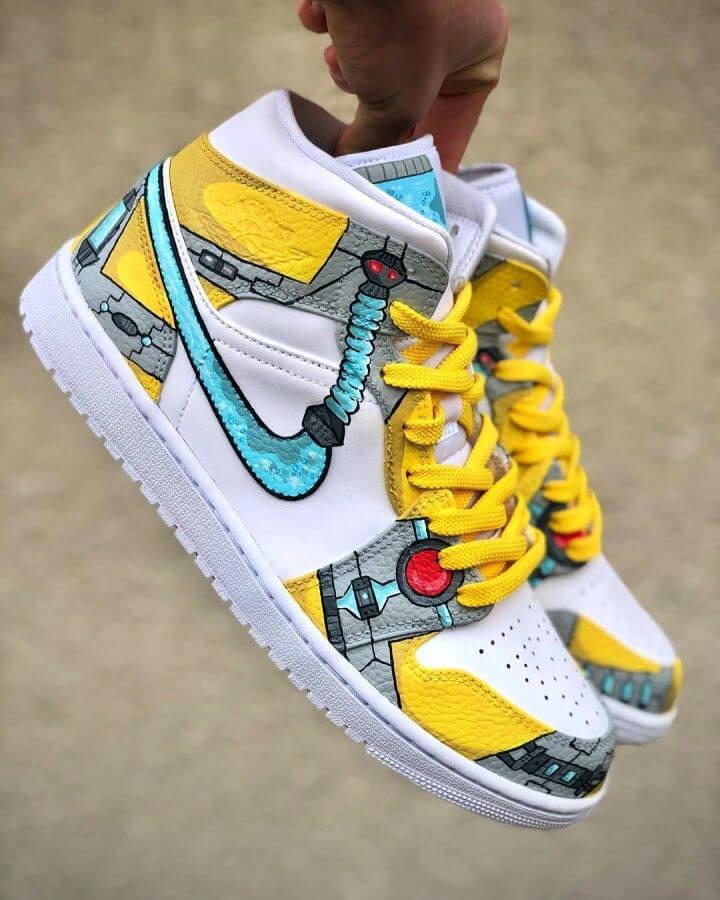 Customize your party sneakers creatively and attractively with robot theme paints and sketches. Use grey, yellow and blue paints for customizing these pair of shoes. To work on these shoes, download the pattern or template. So, you can paint and create the sketches appropriately on the shoes. Enjoy customizing and wearing new style sneakers with a specific costume!
24. Miami Vibes Shoes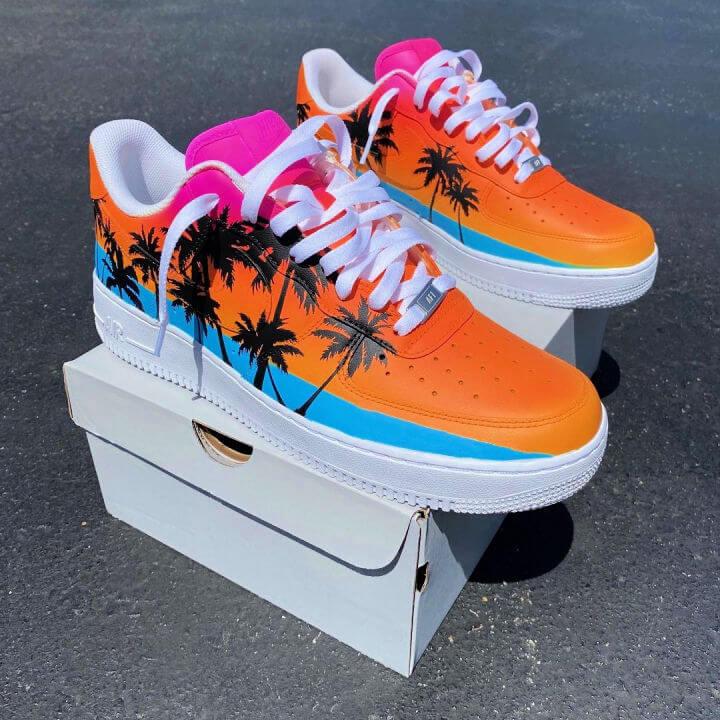 Want to get the Miami vibes in a real-life? If yes, create these Miami-style sneakers to wear in your routine. You would love painting and drawing the beach trees on the shoes. Use orange and blue paints for foreground shoe painting. Additionally, make the trees on the pair of shoes with black paint and soft brushes.
25. Florida Custom Shoes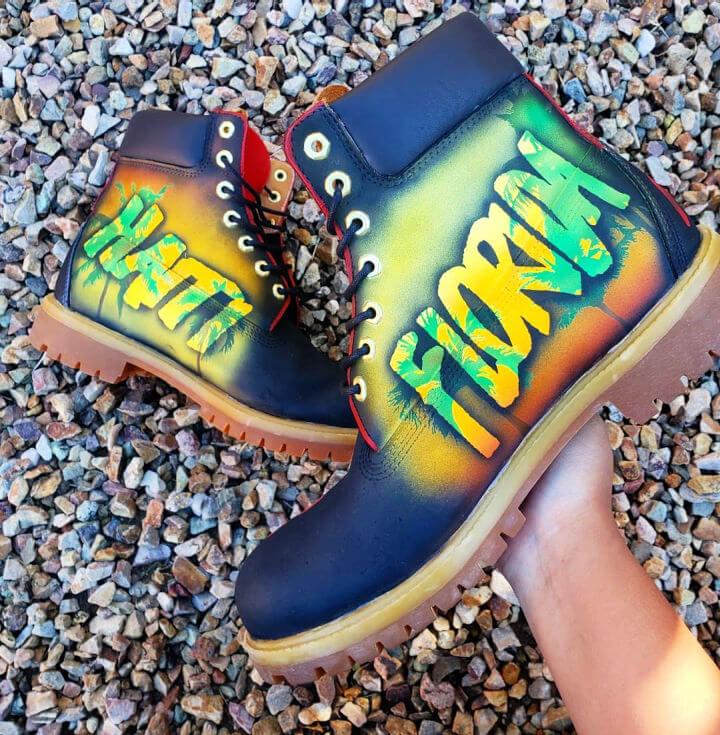 Complete your theme party look with this trending style of Florida sneakers. Create or customize these Florida-style sneakers by yourself with craft paints. You can paint shoes with spray in blue, green and black colors. Use stylish letter stencils for writing Florida. Later, paint them with yellow and green combination colors.
26. Beauty And The Beast Belle Shoes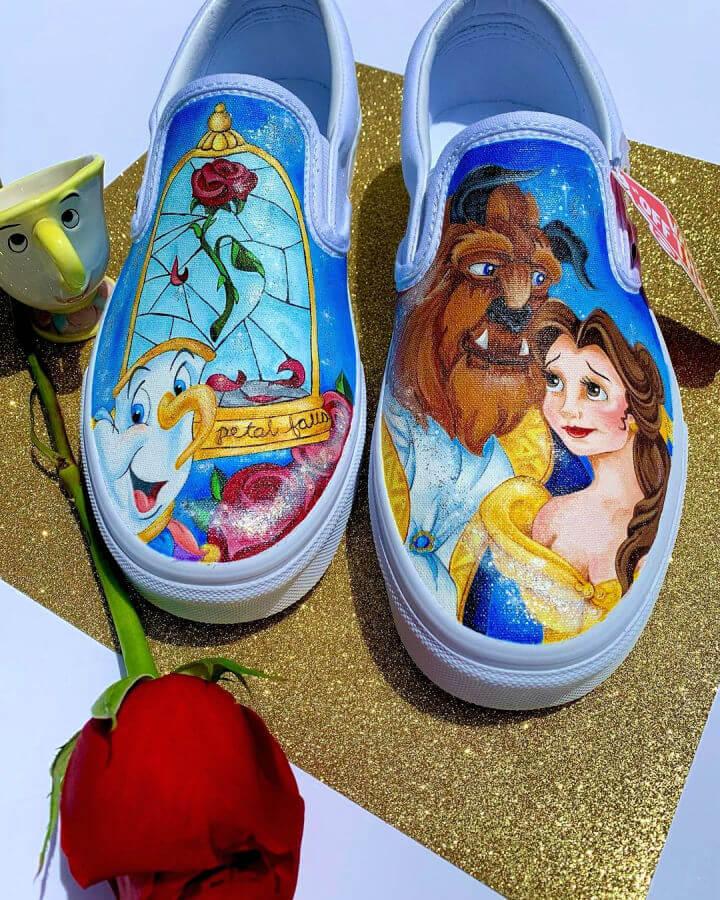 Are you looking for a "beauty and beast" inspired look for your next party? If yes, create them yourself with DIY paint sprays and templates. If you are not a pro in painting the characters and sketches, make them using printable patterns. Customize these sneakers for your little angel on her next birthday. She would surely love wearing these shoes with her Cinderella costume.
27. DIY Valentine Shoe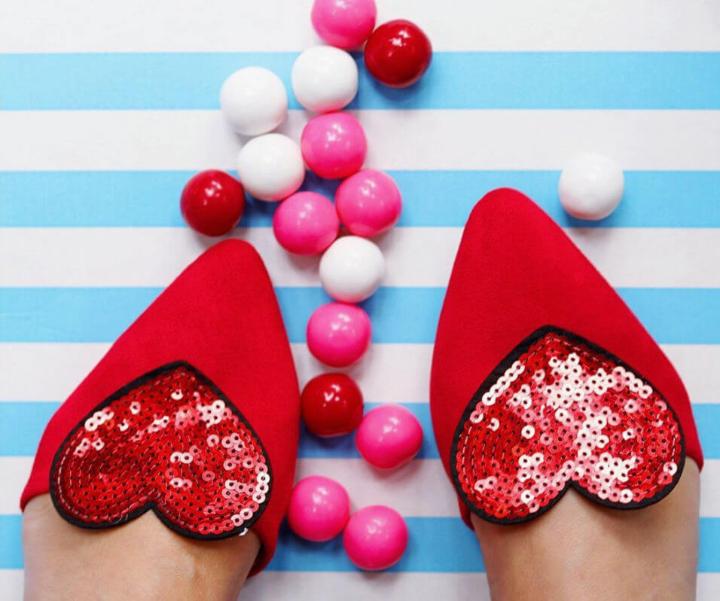 Enjoy your Valentine's Day with this classy pair of shoes. There is no need to buy the new shoes for themed customization on this special day. You can makeover your red shoes using a sequins-laced heart. The only thing you need to do is applying this sequin heart to the shoes with glue. That's all. You can recreate your shoes look with this pattern even at the last moment.
28. Shoe Painting Makeover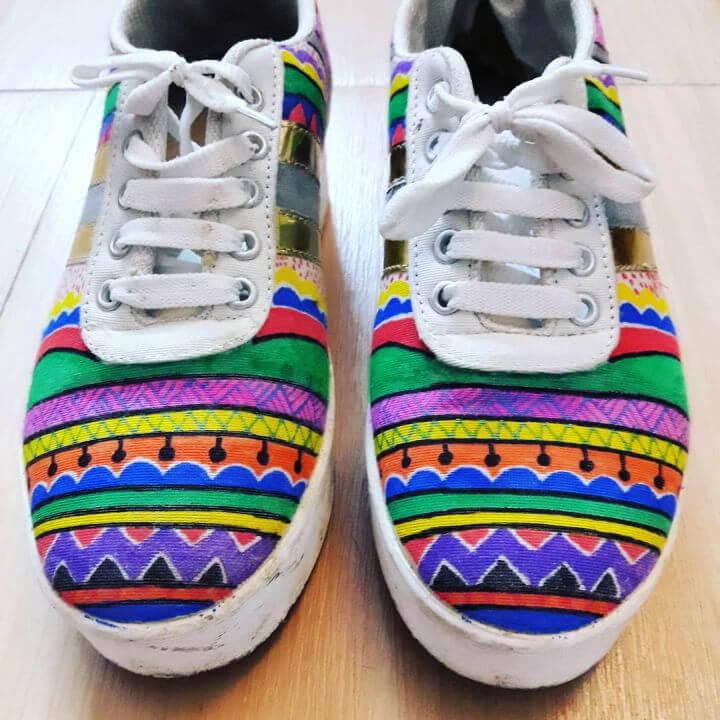 Paint your old shoes with vibrant colors and themes to get a new look. Excitingly! It's really easy to DIY this shoe pattern. You can paint the shoes in stripped-pattern using acrylic paints. This shoe makeover is the perfect option for the kid's color day. Create these shoes for your kids and excite them in no time.