There's something truly magical about sipping a steaming cup of coffee in the fresh morning air, surrounded by nature's symphony. It's a feeling that warms the soul and sets the tone for a beautiful day ahead. But why limit this experience to just your indoor kitchen? Let's bring that enchantment outdoors!
In this article, we'll explore some delightful DIY coffee station decor ideas that will not only elevate your outdoor space but also fill it with the comforting aroma of freshly brewed coffee.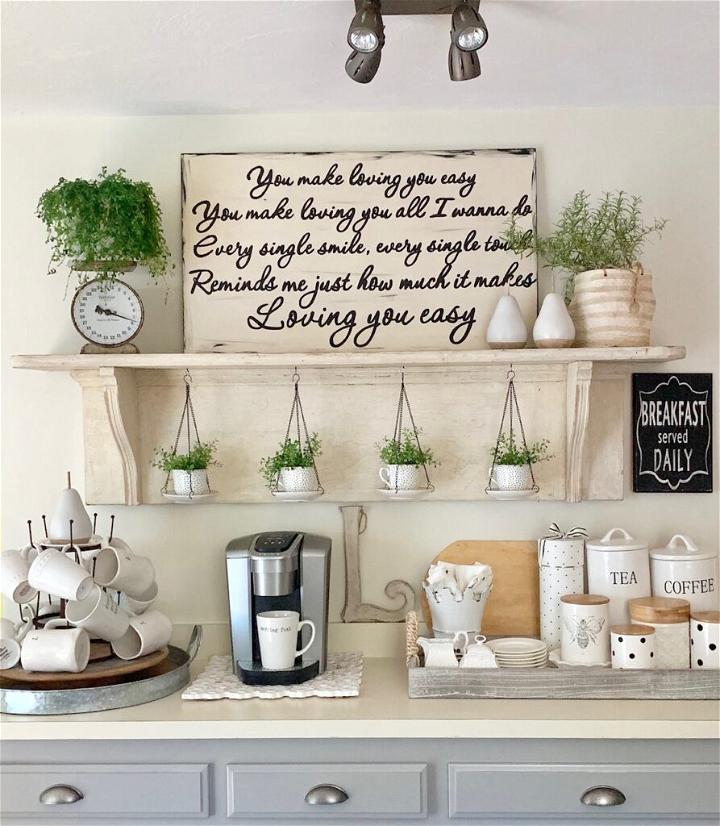 1. The Rustic Charm of Pallet Wood
There's something inherently appealing about the rustic charm of pallet wood. It's affordable, eco-friendly, and versatile. Begin by repurposing some wooden pallets into a charming coffee station. Sand them down for a smooth finish and paint them in a color that complements your outdoor aesthetic.
Attach hooks for mugs, a shelf for coffee essentials, and voilà! You've created a rustic coffee haven right in your backyard.
2. Vintage Finds and Treasures
Hunting for vintage pieces at flea markets and thrift stores can be an exhilarating experience. These treasures hold stories of the past and can infuse your outdoor coffee station with character. Consider an antique dresser or an old window frame as a backdrop.
Add some weathered metal accents, like a vintage coffee sign or a well-worn watering can for a touch of nostalgia. The juxtaposition of old and new will create a captivating coffee oasis.
3. Whimsical Garden Nooks
If you're blessed with a lush garden, why not blend your love for coffee with your love for nature? Create a whimsical coffee nook amidst your flowers and shrubs.
Hanging a rustic wooden swing with a built-in coffee table for a cozy, secluded spot or looking for the perfect outdoor furniture to go with your morning coffee is the perfect blend. Don't forget to include some climbing vines, fairy lights, and soft cushions for an enchanting coffee time escape.
4. DIY Concrete Countertops
For a more modern and sleek look, consider crafting your own concrete countertops. This project might seem daunting, but it's incredibly rewarding. Pour and mold your own concrete slabs to fit your outdoor space.
Once they've cured, you can stain or paint them in any shade you desire. Add a minimalist coffee station set up with stainless steel appliances and sleek coffee mugs for a chic, industrial look.
5. Upcycled Barrels and Crates
Wine barrels and wooden crates have endless potential when it comes to DIY coffee station decor. Turn a wine barrel on its side, cut out a space for a sink or an ice bucket, and add a wooden top. It's the perfect blend of rustic and functional.
For a more compact setup, stack wooden crates to create a coffee station with multiple levels for storage and display. These upcycled pieces can be stained or painted to match your outdoor decor.
6. Herb Garden Coffee Corner
Combining your love for coffee and herbs is a delightful way to infuse your outdoor space with natural beauty and fragrance. Set up your coffee station amidst a thriving herb garden. Use reclaimed wooden planks to build a simple countertop and surround it with aromatic herbs like mint, lavender, and rosemary.
Not only will you have fresh herbs for garnishing your coffee creations, but you'll also enjoy the soothing scent of herbs as you sip your morning brew.
7. The Power of Paint
Never underestimate the transformative power of paint. Give your existing outdoor furniture a fresh lease of life by painting it in vibrant, coffee-themed colors. Think coffee brown, creamy latte, or espresso black.
You can also add stenciled coffee-inspired designs to your table and chairs for that extra touch of charm. Don't forget to seal the paint for added durability, especially if your coffee station is exposed to the elements.
In conclusion, transforming your outdoor space into a coffee lover's paradise is a creative endeavor filled with endless possibilities. Whether you prefer rustic, vintage, modern, or whimsical aesthetics, there's a DIY coffee station decor idea to suit your taste.
By infusing your outdoor space with the warmth and aroma of freshly brewed coffee, you'll create a haven of relaxation and inspiration.