Spider solitaire, a beloved card game that has captivated players for generations, has found a new home on mobile devices. Thanks to the ever-growing world of mobile gaming, enthusiasts can now enjoy endless Spidey card fun anytime, anywhere. In this article, we will explore five exceptional mobile apps that offer an immersive and delightful Spider solitaire experience.
Spider Solitaire – Unwind Media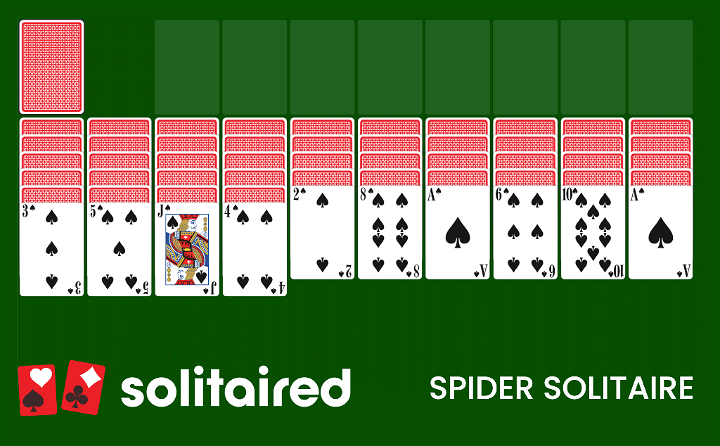 Spider Solitaire on Solitaired stands out as a remarkable place that brings Spider Solitaire and an extensive range of other solitaire games to your fingertips. With its sleek and user-friendly interface, navigating through the app is a breeze. Catering to players of all skill levels, you are offered multiple game modes, including easy, medium, and hard, ensuring a suitable challenge for everyone. If you find yourself in a sticky situation, the app provides a handy hint feature to assist you. Available on mobile devices, UnwindMedia grants you access to a world of Solitaire enjoyment.
With a staggering collection of over 500 solitaire games, their website is a true solitaire enthusiast's dream. Among the plethora of options, Spider Solitaire takes the spotlight with various versions available, including 1-suit, 2-suit, and 4-suit variations.
Adding a touch of personalization to your gameplay experience, you can customize custom decks!
Spider Solitaire by MobilityWare
One of the most popular and well-designed Spider solitaire apps available, Spider Solitaire by MobilityWare offers a sleek and intuitive interface, making it easy for players to jump right into the game. The app provides multiple difficulty levels, allowing players to choose their preferred challenge. With customizable card backs, backgrounds, and even the option to play in portrait or landscape mode, this app offers a personalized and immersive Spider solitaire experience.
Spider Solitaire by Brainium Studios
For players who prefer a more visually appealing and relaxing gaming experience, Spider Solitaire by Brainium Studios is a perfect choice. The app features stunning graphics and soothing sound effects, creating a tranquil atmosphere as you play. It offers various game modes, including one-suit, two-suit, and four-suit Spider solitaire, catering to players of different skill levels. With daily challenges and the ability to track your statistics, this app keeps you engaged and motivated to improve your skills.
Spider Solitaire by SNG Games
Solitaire: Spider by SNG Games offers a unique twist to the traditional Spider solitaire gameplay. In addition to the classic rules, this app introduces power-ups and special abilities that enhance the gaming experience. Collect coins to unlock power-ups such as undo, reveal hidden cards, and shuffle the deck, allowing you to overcome challenging situations. With its engaging mechanics and vibrant visuals, this app is a refreshing take on the Spider solitaire genre. Unfortunately, it doesn't support iOS platform.
Spider Solitaire Zynga
Zynga, a renowned name in the world of mobile gaming, brings its expertise to the realm of solitaire with Zynga Solitaire. This app offers a refreshing and modern take on the classic card game, providing a visually appealing interface and seamless gameplay. The app also offers daily challenges, tournaments, and multiplayer options, allowing you to compete against friends or other players worldwide. Whether you're looking for a quick game or a longer gaming session, here'll find an engaging and enjoyable solitaire experience.
Overall
Spider solitaire has stood the test of time, and these five mobile apps bring the classic game to the digital realm, providing an enjoyable and immersive experience on your smartphone or tablet. Whether you prefer a traditional approach or enjoy modern twists, these apps offer a range of features and customization options to cater to your preferences. So, grab your mobile device, download one of these fantastic Spider solitaire apps, and embark on a journey of endless Spidey card fun wherever you go!