Knowing the skill of crocheting can pave your way in the styling and fashion field for your own self. You can almost crochet all the stuff like scarves, shawls, cowls, caps, and much more and present yourself as a fashionista even in winters. The icing on the cake is that all this crochet-ranged stuff would save a huge amount of money because they rest on market racks with rich pricey tags. And we are here to provide you all kinds of help in this regard, from ongoing patterns, designs to crochet tutorials for your favorite crochet piece. Today we have collected some top-notch shawl patterns for you to try in your next idol pursuit and give yourself a stylish wrap-up over your jeans and tops.
So check out these 25 free crochet shawl patterns, coming with a variety of styles, designs, and patterns to let you make some delightful selections to flaunt this winter. The shawl can be wrapped around in multiple interesting ways, so it's like the shawls' bonus quality making you live elegant and classy every time. Either you are a teacher, an office person, a college student, or just a housewife, you all can style up your personality with these gorgeous shawl patterns by crocheting them on your own with your favorite color combinations.
We have brought this 100 free crochet shawl patterns collection that will be a big surprise for crochet fans and fashion followers.
1. Crochet Kaleidoscope Shawl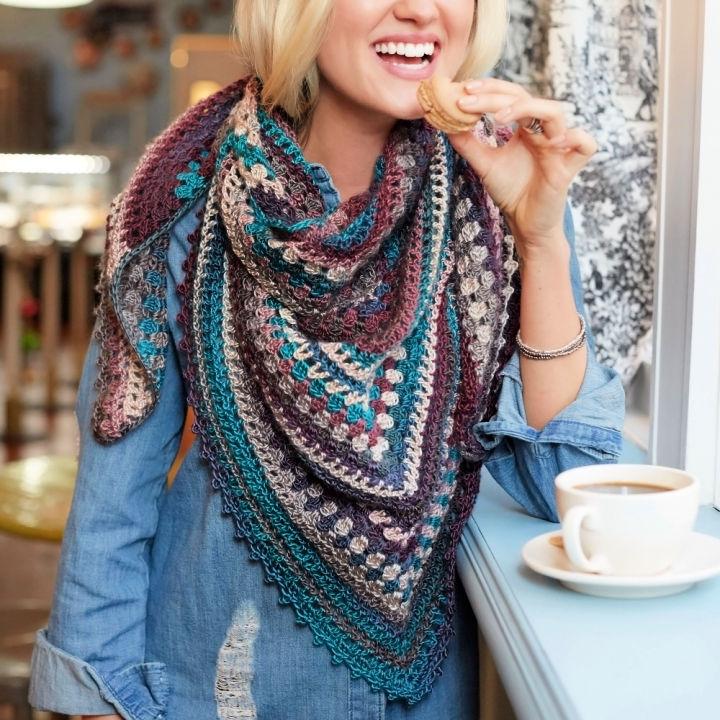 Craft this super easy and adorable shawl for you and your friend to gift in this winter season. Even if you are a beginner crochet crafter, you would love to make this shawl with a free pattern and all the stitches details. This beautiful shawl presents the red heart boutique remarkably. You can choose the shade of your choice to craft this crochet piece for your winter wardrobe. yarnspirations
2. Crochet Loretta Shawl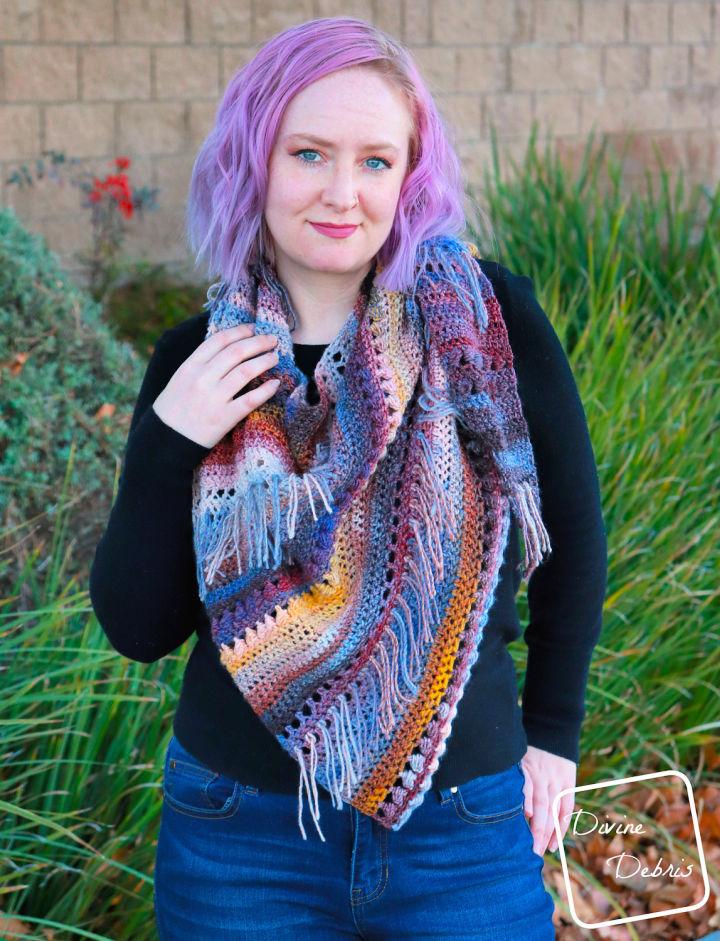 How's your winter going? Get more excitement and warmness in this season with this crochet Loretta shawl. It may look tricky to craft this shawl. But you can create it effortlessly with a free pattern. Moreover, use a 5.00mm crochet hook and worsted weight yarn to make this shawl. This Loretta shawl pattern involves the chain, stitch, single crochet, and half double crochet stitches to DIY this adorable shawl! divinedebris
3. Free Crochet Denim Shawl Pattern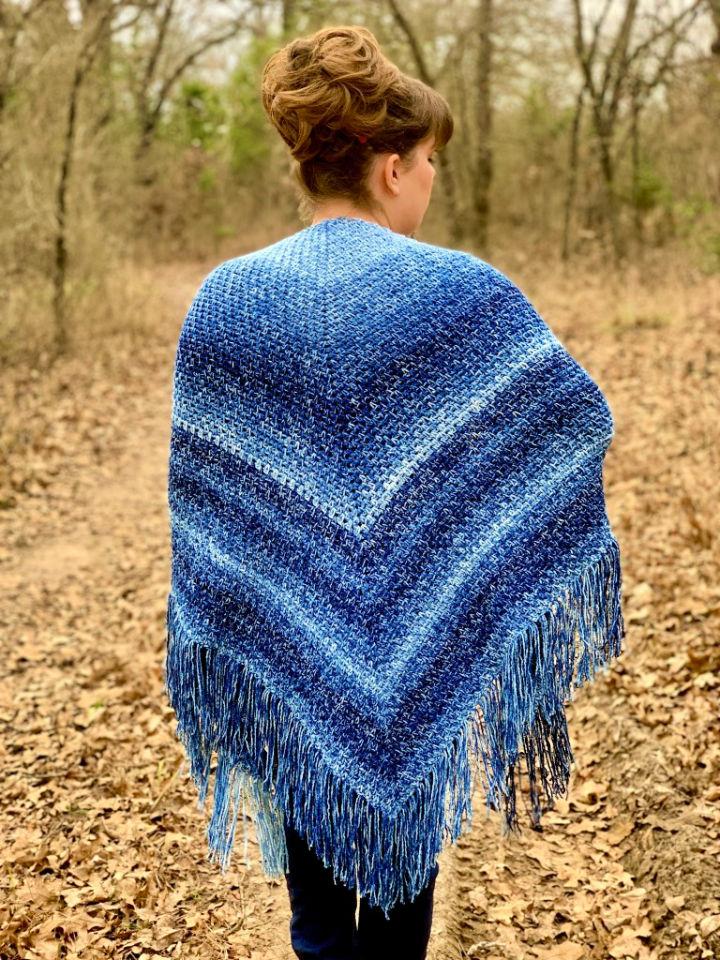 Doesn't this shawl look pretty and super cute? Excitingly! You can create this denim crochet shawl by yourself by getting help from a free pattern and a drawn format. Use ombre yarn of Lion brand to make this shawl. The main reason for considering this yarn is its acrylic properties. You would love to see the end and smoothly blend crochet product. You can make this shawl in different sizes by increasing and decreasing the strands of the crochet cord. Craft it and get a different fringe look.. okiegirlblingnthings
4. Hawthorne Tonal Crochet Shawl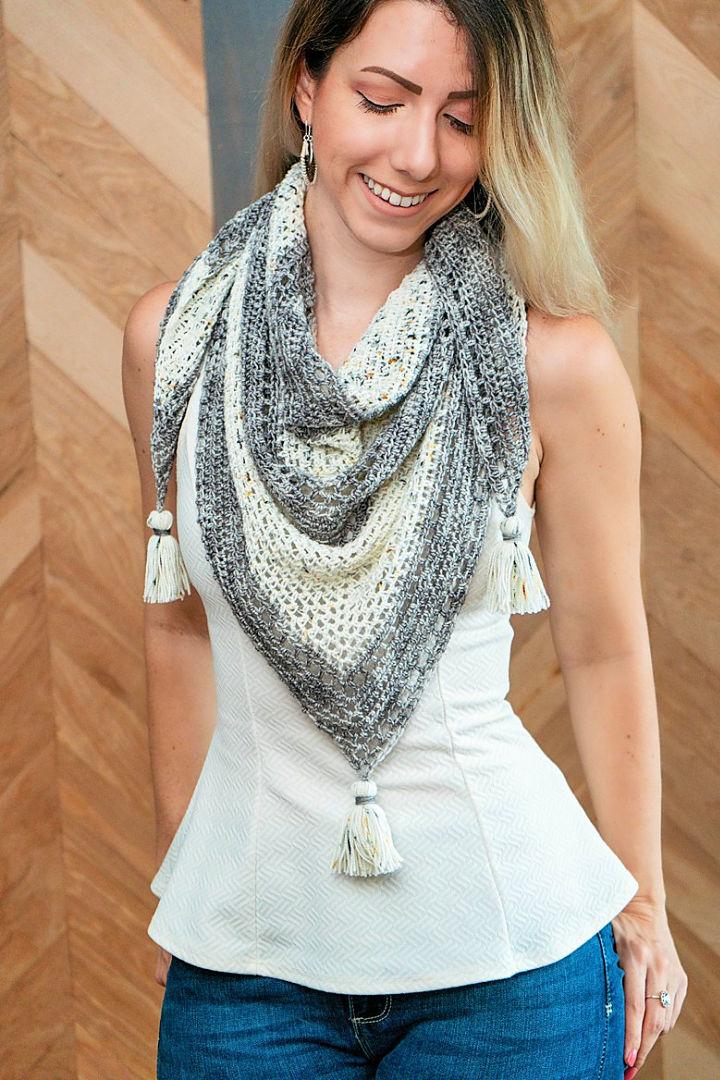 If you are looking for a relaxing and comfortable winter shawl, this Hawthorne tonal shawl is an ideal option for you. Create this shawl by yourself using two or three colors of yarn. If you are new to craft projects, you can go with a single-color crochet thread. Use fingering weight yarn to make this super comfortable and lightweight crochet shawl. brianakdesigns
5. Crochet Triangle Shawl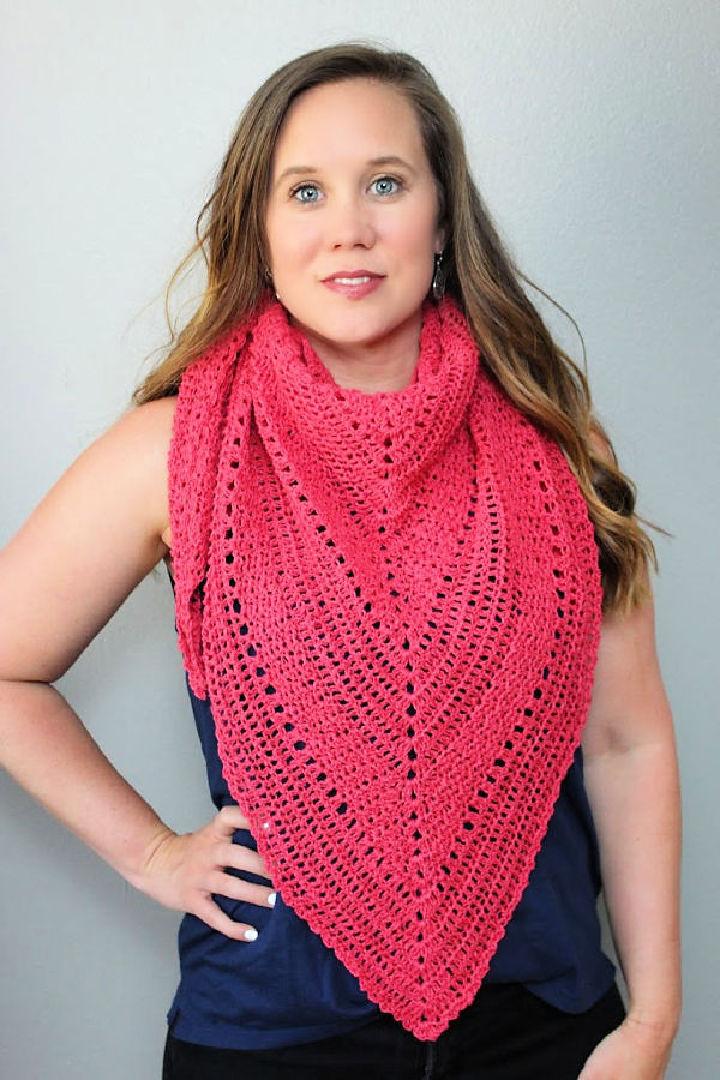 Craft this triangle crochet pattern shawl to dress up with a casual and formal winter wardrobe. You would love to layer this shawl over any dress. Moreover, you can wear it as a scarf around your neck or a shawl on your shoulders. It requires beginner-level craft skills and a 4.00mm crochet hook to customize this triangle shawl in the desired size. twobrothersblankets
Watch This Video: Crochet Pocket Shawl Step By Step Tutorial – Easy Crochet Pattern – Crochet Shawl (14 Minutes 09 Seconds)
6. Beginner One Skein Crochet Shawl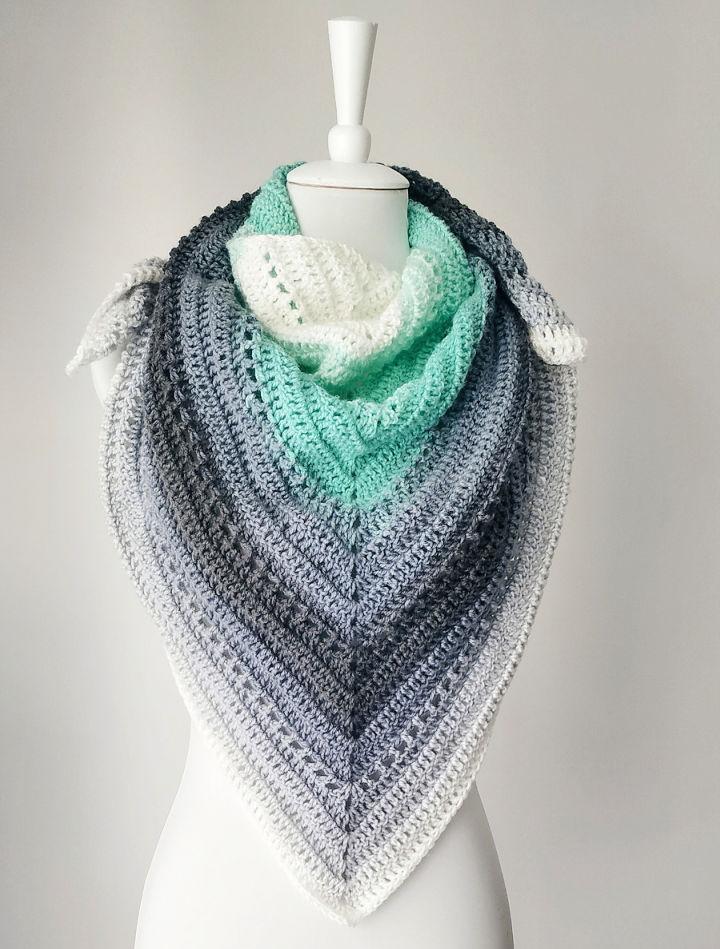 Looking for a gorgeous one-skein crochet shawl? Consider this beginner-level crochet shawl with a free pattern. Luckily! It requires only one skein to finish this versatile wrap. Use lion brand yarn in neutral or vibrant colors according to your desire to make this shawl. Furthermore, it requires a 5.0mm crochet hook and 10 cm gauge to make this shoulder wrap. littlethings
7. Crochet Tri Pocket Shawl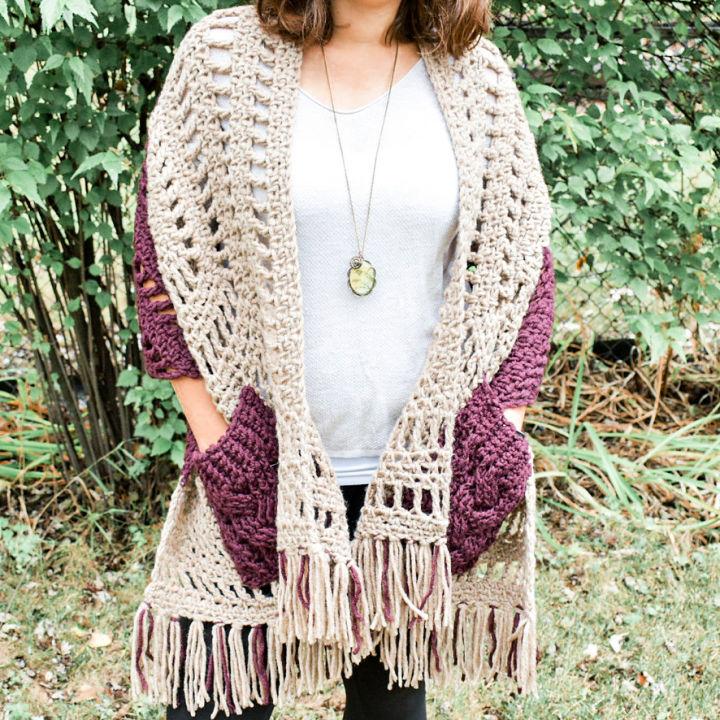 Create this beautiful and modern style tri pocket shawl effortlessly with a free pattern. You can customize this shawl in different colors and combinations to match your outfit. Use wool spun yarn and an 8.00mm crochet hook to make this tri pocket wrap. Give this shawl a more attractive look by changing the color of pockets from the base yarn color. apurposeandastitch
8. Crochet Seeing Stripes Shawl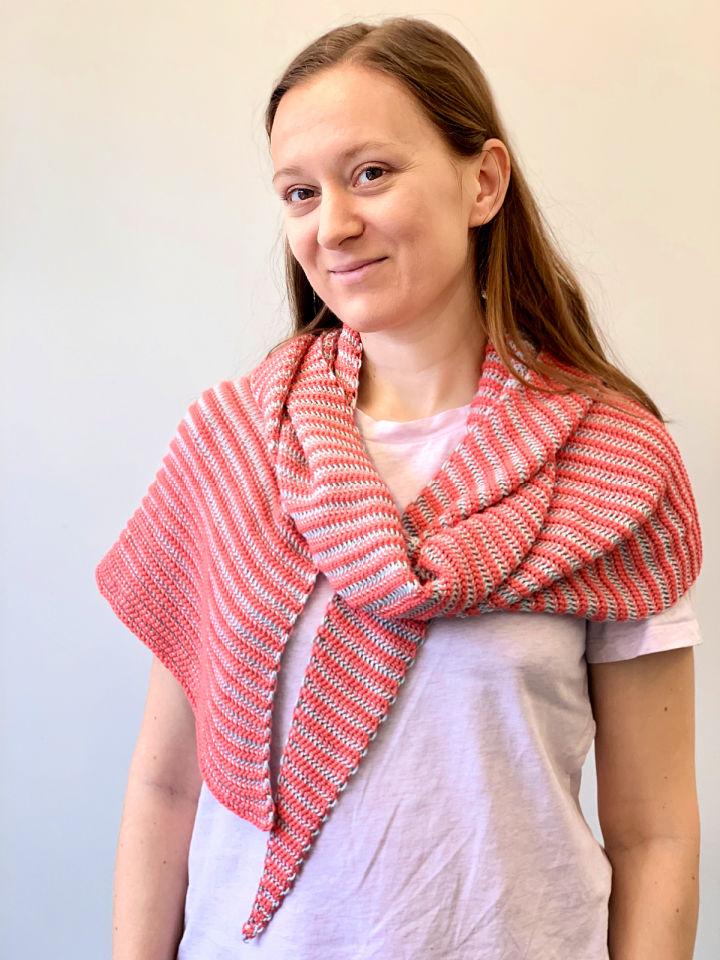 Make this stylish and worth-wearing seeing stripes triangle shawl using a free pattern and details about the chain and Tunisian crochet techniques. Use a double-ended crochet hook and cotton yarn to create these seeing stripes wrap. You can DIY this shawl for your friend on her birthday. The creation of this shawl requires intermediate crochet skills. exquisitecrochet
9. Crochet Bonic Shawl Pattern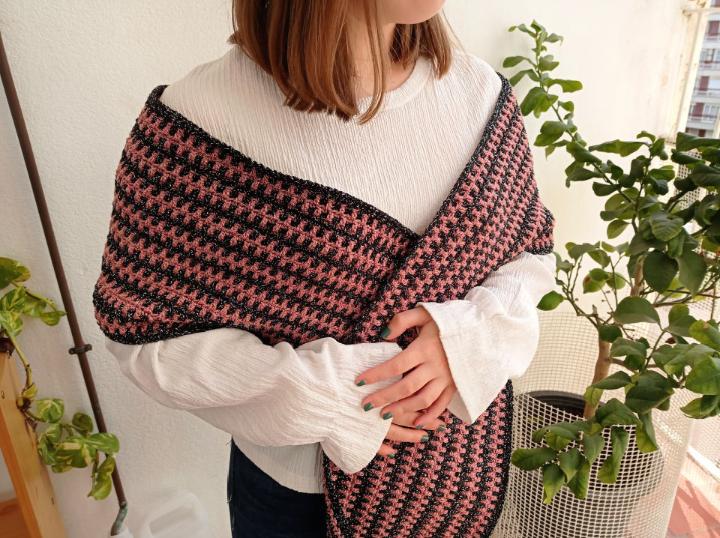 Bionic shawl wrap looks more attractive and elegant even for teenage girls. You can create this shawl by using the US crochet terminology and a 4.00mm crochet hook. Additionally, use a 550m gauge with a free pattern to work on this adorable winter wrap. Utilize the yarn leftover from your craft store or buy new DK yarn from a store to make this Bonic shawl. ravelry
10. Crochet Aurora Shawl Pattern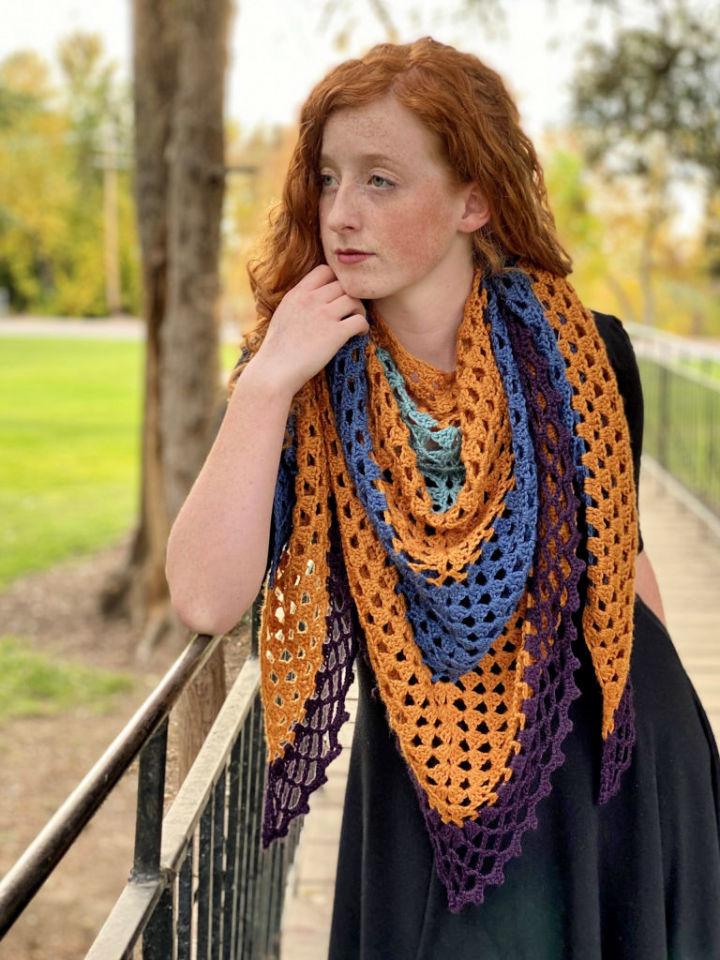 Triangle shawls are still in trend. You can create these versatile and aesthetic-looking wraps to add to your winter wardrobe using the crochet-free pattern. This Aurora shawl can wear around the neck as a scarf or on your shoulders. Aurora shawl involves the granny squares that are easy to crochet. You can work on each granny square separately for ease of work. Use gloss DK yarn to make this wrap shawl. denimade
11. How to Crochet Rangeley Shawl Free Pattern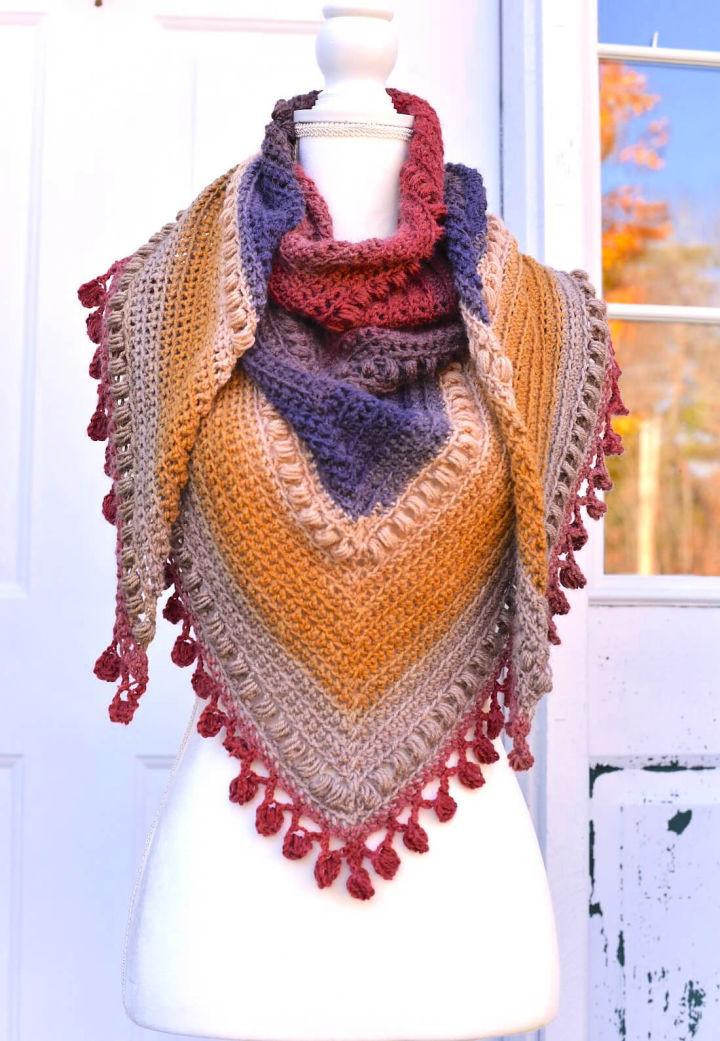 No doubt, shawls are the main accessories to make the winter wardrobe more stylish and comfier. If you are a crochet lover and crafter, you can create the crochet Rangeley shawl by yourself. It would be easier for you to work on this patterned wrap by getting all the tutorials' details. Use lightweight acrylic yarn in centaur color and a 6.00mm crochet hook to make this Rangeley shawl. zamiguz
12. Crochet Ferris Wheel Granny Square Shawl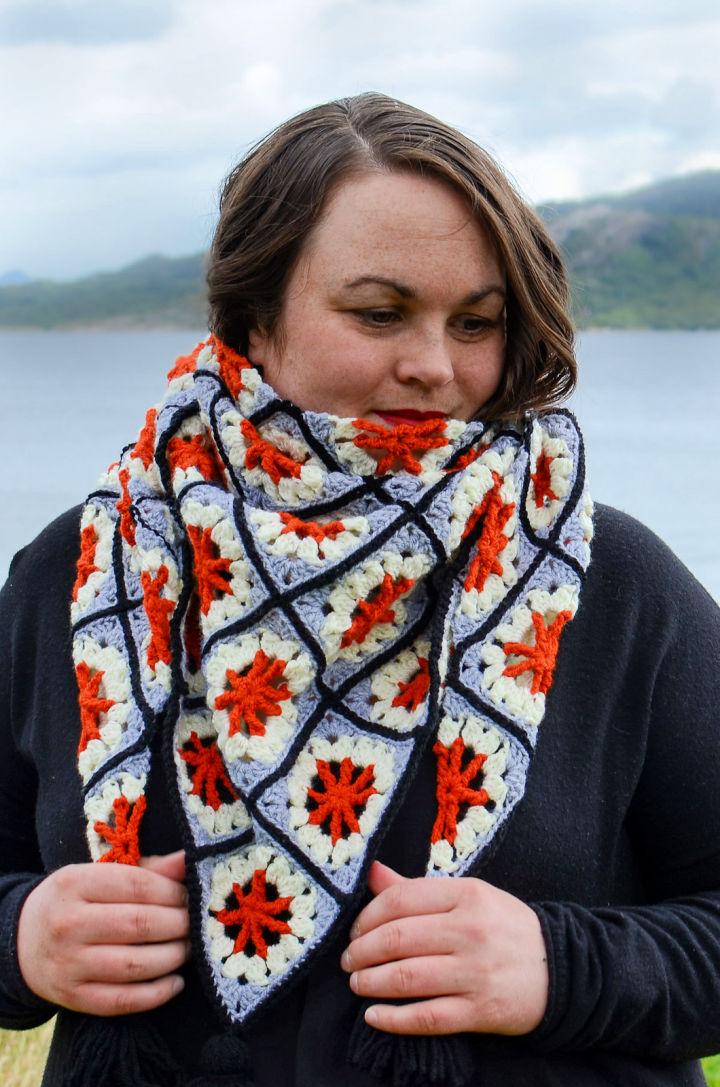 Use medium yarn and a 6.00mm crochet hook to make this Ferris wheel granny square shawl with a free pattern. You can utilize your favorite colors to DIY this crochet wrap. Moreover, use the brand lion crochet cord for this project. Not only for the winter, but this shawl is also suitable for fall to keep you cozy. joyofmotion
13. Crochet Park Lane Shawl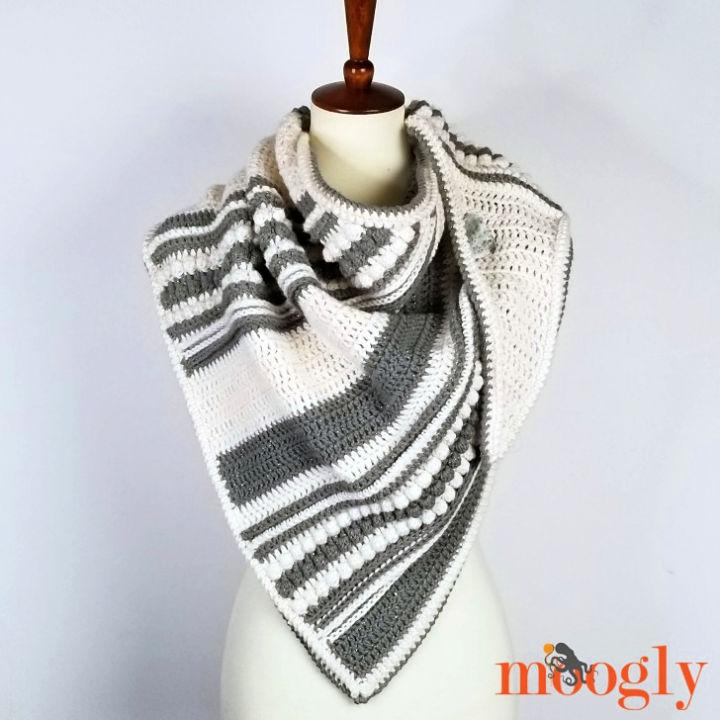 Get a statement and bold look with this park lane crochet shawl. Create this adorable winter wrap using the free pattern and worsted weight yarn. You would love to wear the chunky, comfortable, and bulky shoulders wrap. Use a 5.5mm crochet hook and US crochet terminology to make this winter wrap.  This shawl is an ideal option to wear in the winter and Autumn season. moogly
14. Crochet Bernat Starlette Shawl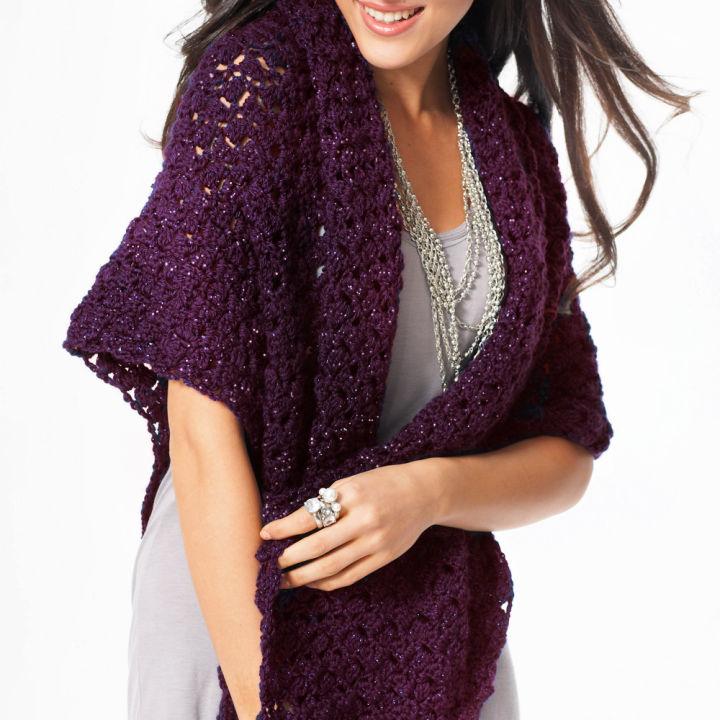 Crochet is a fun-loving and productive craft activity. Use this craft to enhance the winter wardrobe collection endlessly. You can create a versatile and warm Bernat starlet shawl using the lovely color of Bernat satin yarn. Craft this shimmery and shiny shawl to wear with your winter party outfit stunningly. You would love to showcase your crochet skills to others by making this shawl for your friends and family members. yarnspirations
15. Crochet Tropical Hut Shawl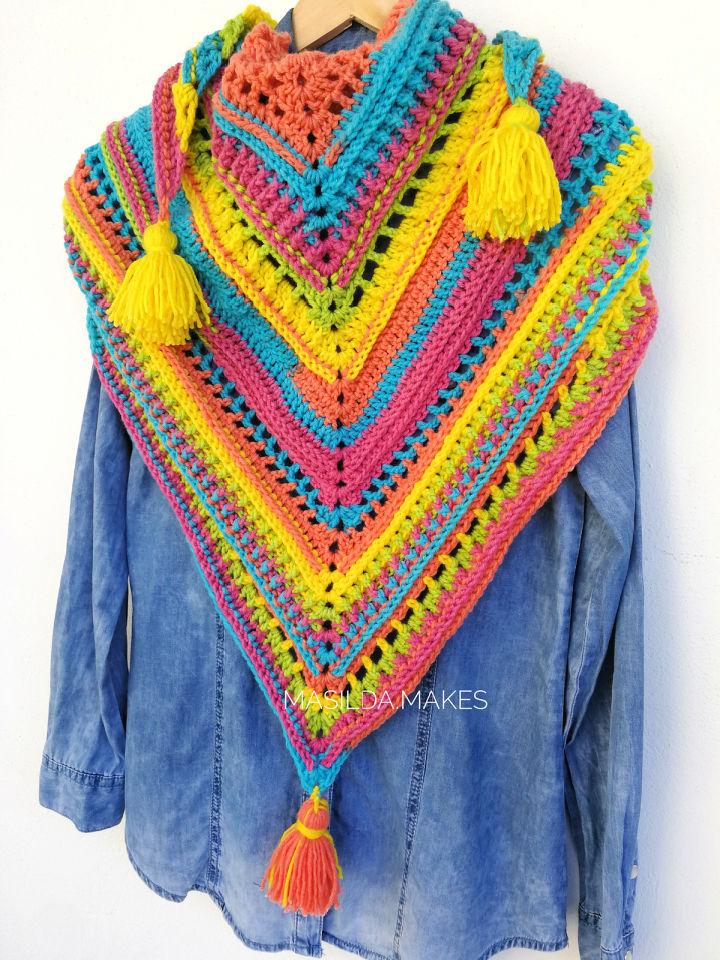 Tropical hut shawl doesn't require the gauge and crochet yarn. You can make this shawl using your favorite brand, floss and hooks. Moreover, you need to work on several repetitions to make this colorful and elegant shawl. Before starting crafting this wrap, measure the required size. So, you can choose the skeins according to the size. ravelry
16. Crochet Trellis Shawl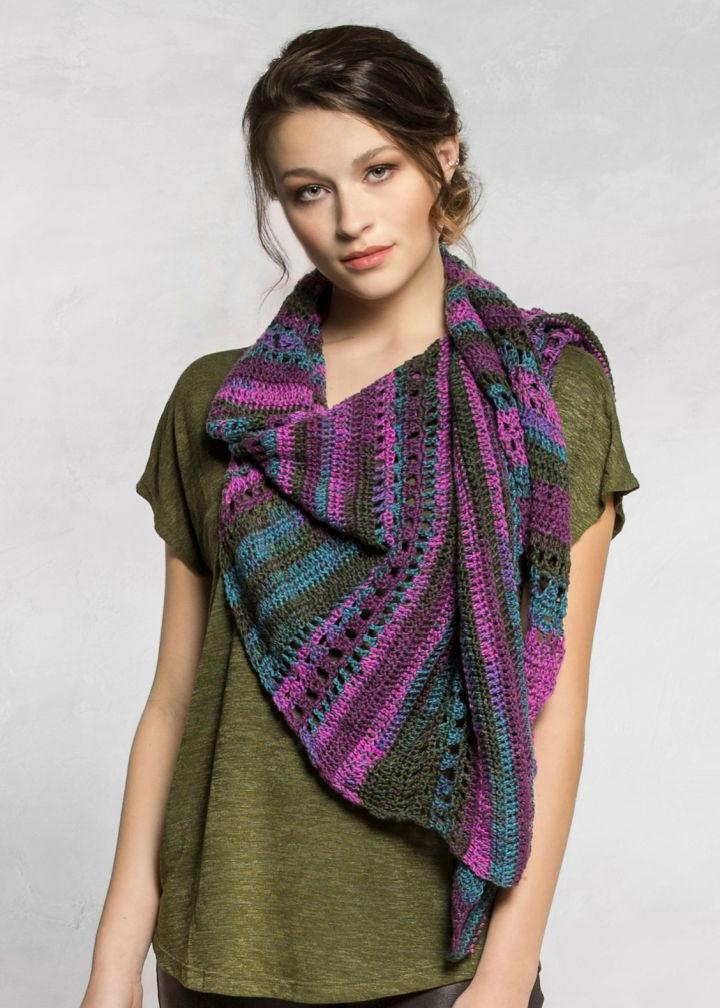 Trellis shawl looks more elegant and stylish to wear in the winter and spring season. The best thing about this shawl is that you can also wear it efficiently in midseason. Use a 5.5mm crochet hook and 4cm gauge to make this super comfortable wrap. You can customize this patterned shawl in different colors and combinations according to the season's requirements. premieryarns
17. Crochet Marielle Lace Shawl Pattern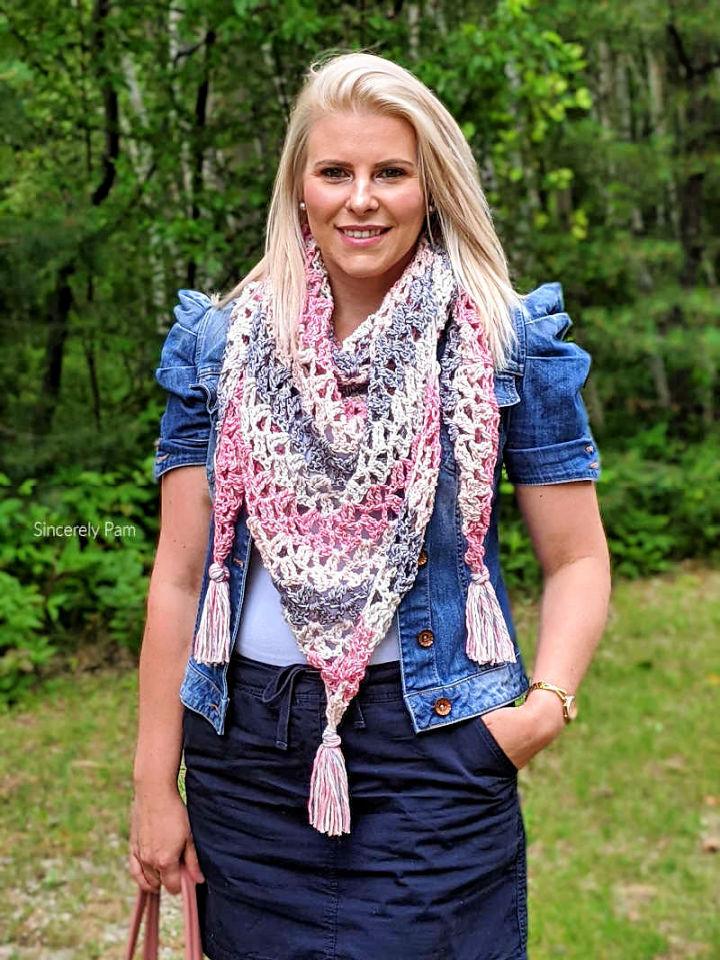 Basically, the Marielle lace shawl pattern is for scarves and wraps. But you can also crochet the shawl with this format. Create this shawl super quickly and effortlessly with the help of a free pattern and galaxy DK yarn. Teenage and little girls would love wearing this handcrafted wrap shawl with a casual shirt and jeans. sincerelypam
18. Crochet Lace Triangle Shawl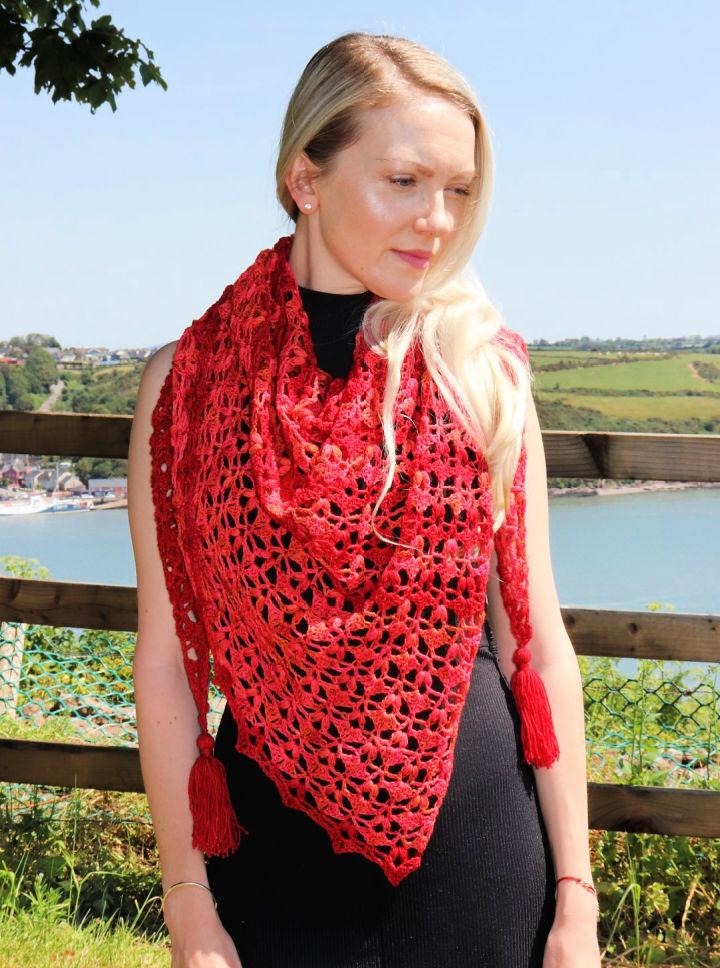 Create a lace triangle Rua shawl with a free pattern and tutorial guidelines. This red color wrap involves the puff and shell stitches. You would love crafting and seeing the textured finishing of this crochet shawl. Use a 4.5mm crochet hook and yarn cake to make this lace shawl with a free drape at the end. anniedesigncrochet
19. Crochet Tulip Petal Shawl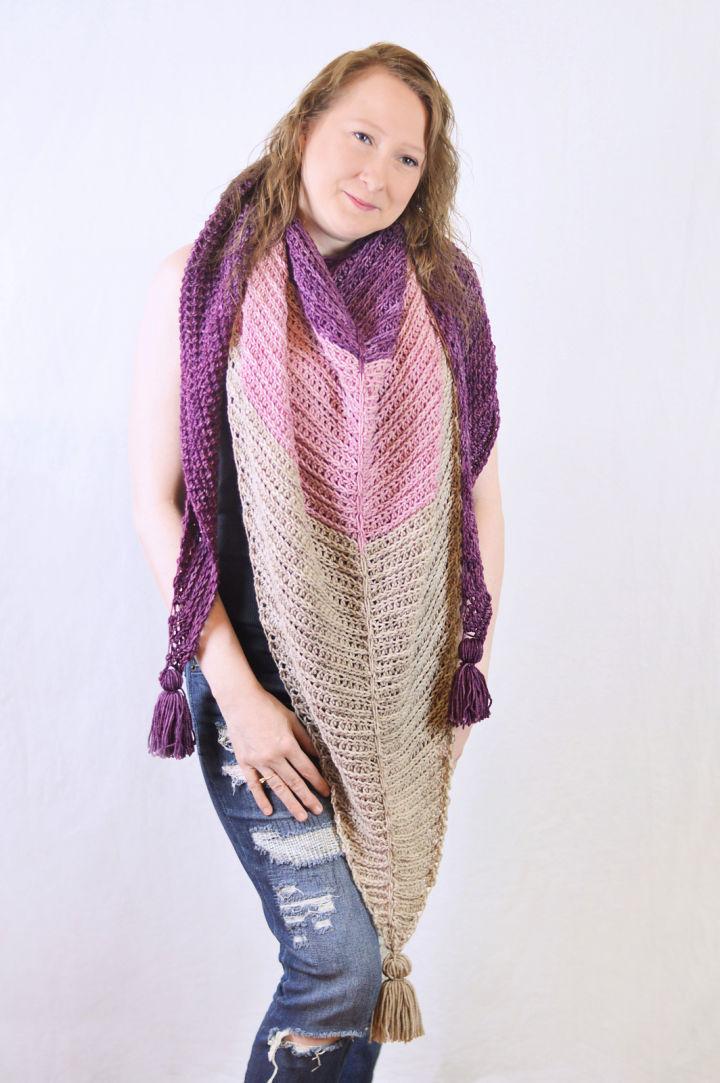 Want to get the natural colors and flowers in your DIY shawl? Create this attractive and enchanting Tulip crochet shawl with lightweight DK yarn and a 6.00mm crochet hook. If you are familiar with chain and basic crochet stitches, it will be easier to work on this patterned shawl. Give this shawl an embellishing look by adding the tassels if you desired. allfreecrochet
20. Crochet Step Shawl Pattern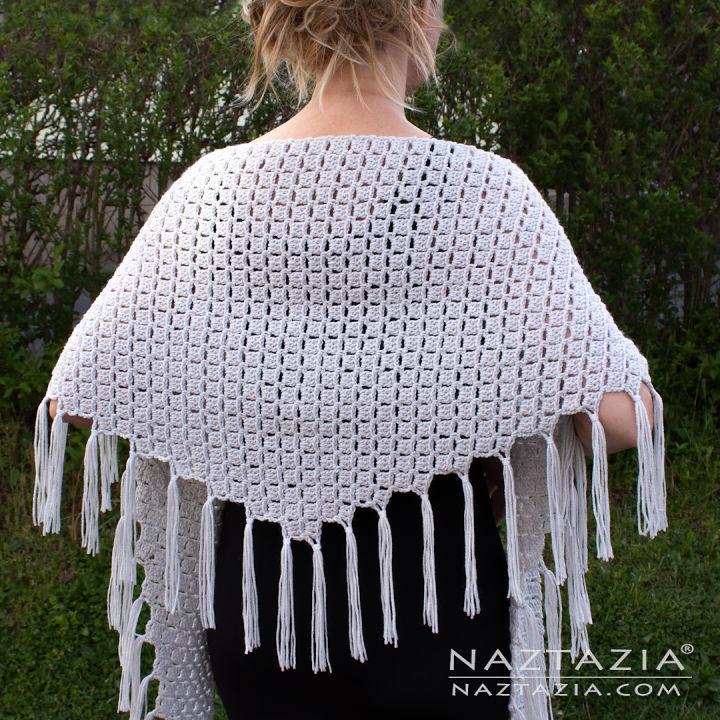 Are you looking for a nice and quick crochet shawl? Create this step crochet shawl with a free pattern and all the guidelines. It involves side-by-side work in increasing and decreasing crochet format. Additionally, this wrap is an ideal option to wear with casual and party dresses. Use DK lightweight yarn to make this shawl adorably. This yarn will give a light and relaxing look. Therefore, you can gift it to your friend looking for a lightweight and 100% comfortable winter shawl. naztazia
21. Crochet Beginner Triangle Shawl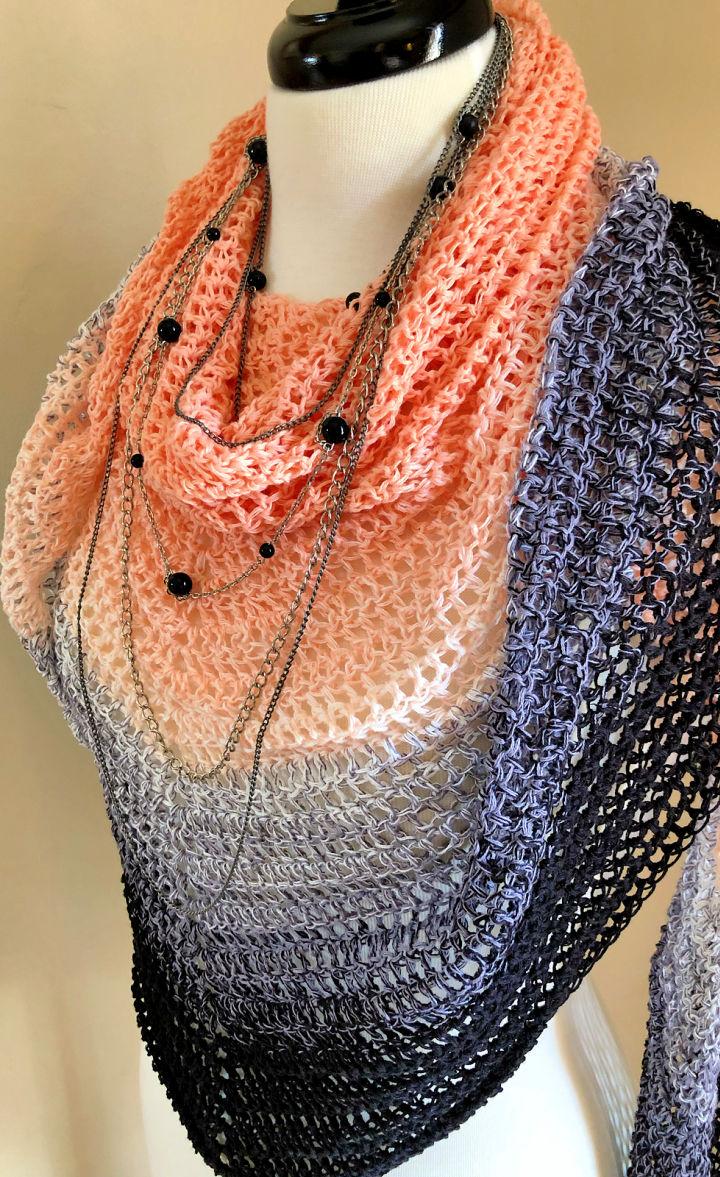 Let other people know about your crochet craft by creating this easy-to-make crochet triangle shawl. Working on this craft project would be an ideal option for beginners to practice their crochet skills. Once you have started creating one or two-row stitches, you will complete this shawl effortlessly. Use a warm and worsted weight yarn to make this wrap comfier to wear in winter. patternprincess
22. Crochet Forget Me Not Shawl Pattern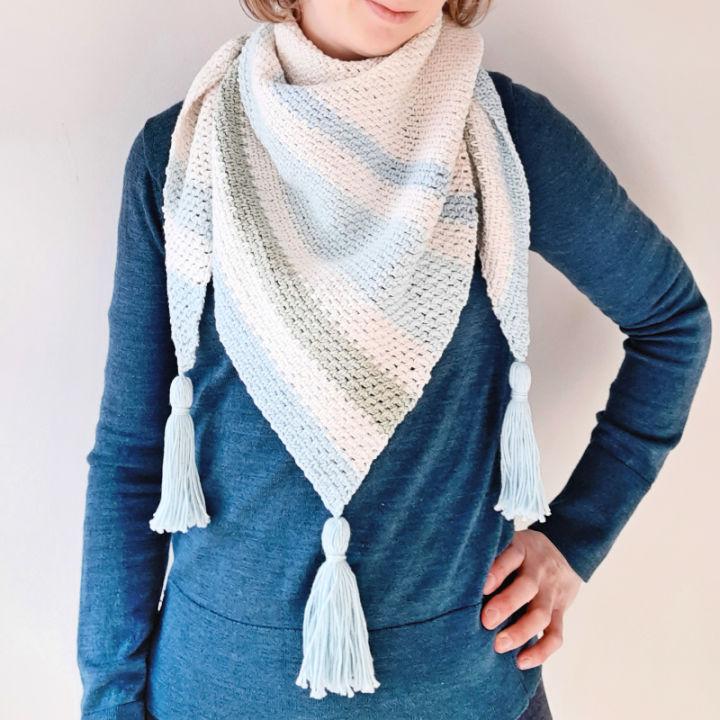 Want to add more precious items and accessories to your winter or spring wardrobe? "Forgot me not" crochet shawl will be the best option. Create this shawl with pale blue shade yarn to give this wrap a complete and romantic finishing. Craft it for you and your mother. She would love and adore this fabulous gift from your side. Excitingly! This wrap involves only two-row repeat stitches. So, the beginners can work on it proficiently. nedandmimi
23. Crochet Classical Attitude Shawl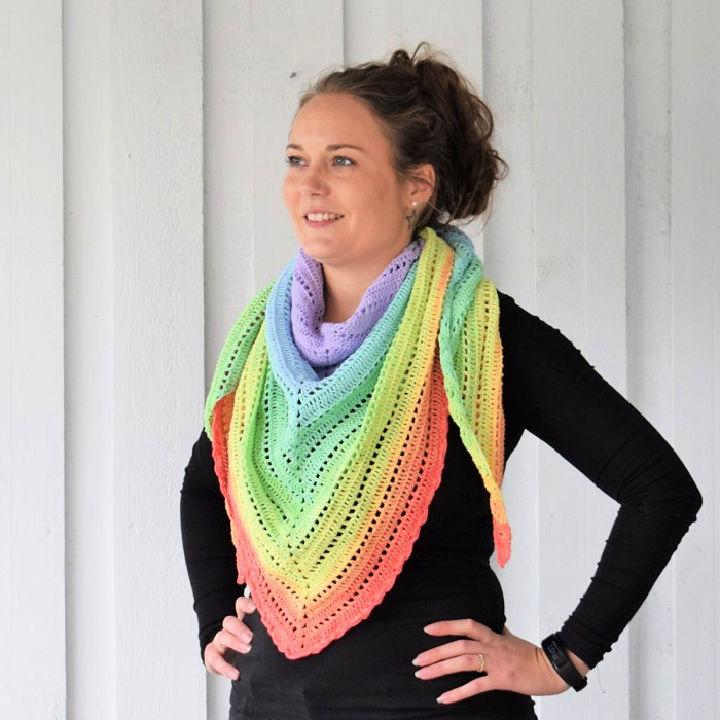 Craft this elegant and simply beautiful "classical attitude shawl" using twirl cotton yarn. You can get this crochet twirl cord easily from craft stores. The best thing about this supply is that you can get it in different colors and combinations. Even this shawl crochet with a free and easy-to-make format, you would love wearing it on any outfit to complete your attire. hobbii
24. Crochet Valentina Shawl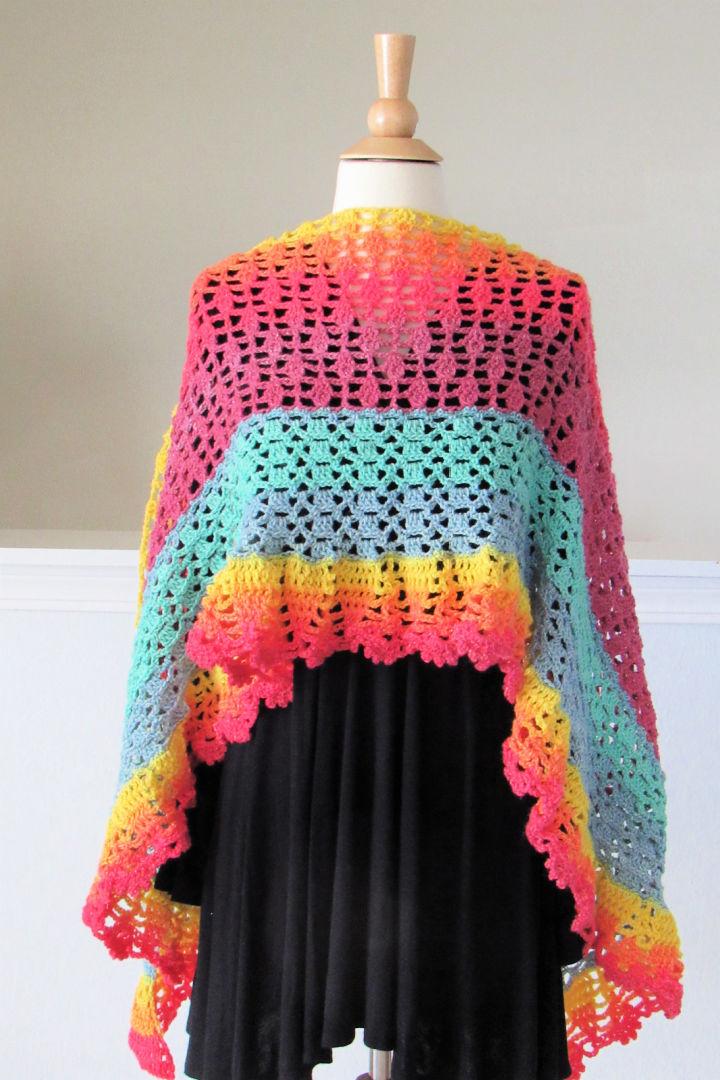 In the beginning, crafting and creating this lacy shawl may look difficult to beginners. But you would love and have fun working on this mesmerizing patterned shawl. You can make this striking winter wrap for you and your friend to celebrate friendship day happily. People would love and flatter on this shawl because of its bright or vibrant colors. However, you can also go with neutral tones and combinations. crochetdreamz
25. Crochet Peasy Posy Shawl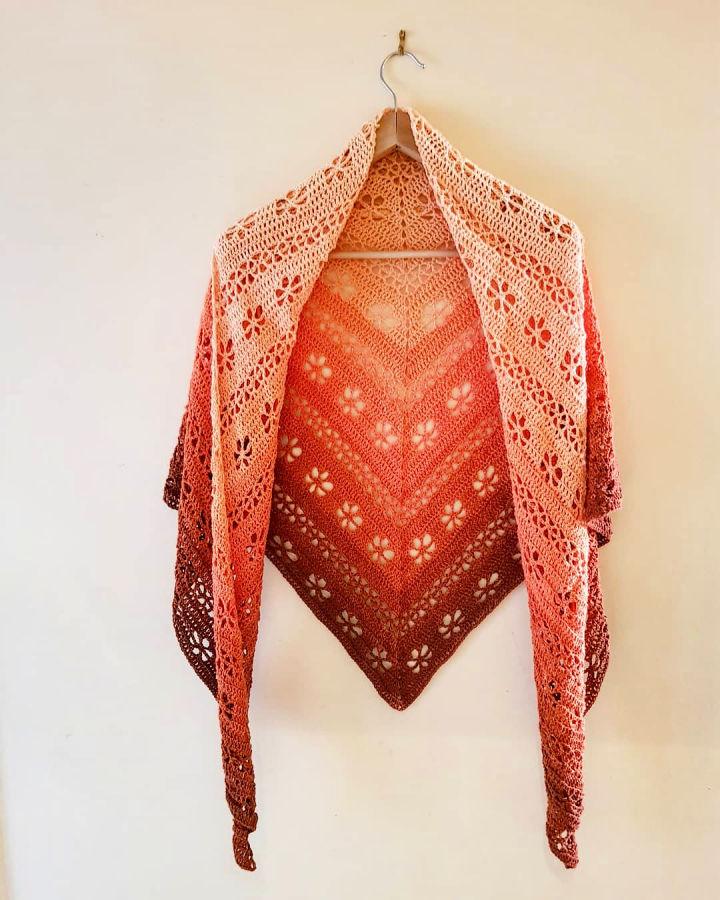 Create this quick and easy triangle crochet shawl having flowers and latticework in it. Use US terminology and crochet hook of specified size to get your hands on this elegant and modern style triangle winter wrap. Moreover, working on this shawl involves single crochet, double half crochet, and slip stitches. So, it's efficient even for beginners to this versatile crochet shawl. thecrochetfix