This is so embarrassing when your guests want to spend some time in the garden, but you avoid this because you don't have any seating items in that area. Such awkward situations would surely let you hear some bad remarks and unpleasant compliments, so it would be better to have proper seating setups in your garden before the above-mentioned nightmare comes true. A bench is the best item of unusual backyard ideas with the most perfect and suitable seating project. And with pallet wood, you gain these projects just for the sake of your hard work and handy skills without spending a penny, because pallet wood comes free from the dumpsters, shipping area, or you can buy it from the stores in few cents. And on top of that, it is very easy and friendly to work with pallet wood.
We have rounded up these 25 DIY wooden pallet bench plans for outdoor as some free yet humble suggestions from our side to furnish well and well embellish your green spaces. Pallet wood comes in skid forms; these skids can be dismantled into pallet planks and pallet slats, which further would be used to furnish these gorgeous and intricately trimmed pallet benches. Benches with traditional design, benches without armrests, and benches without backrests have been included in the list to let you enjoy a wide range of ideas. So built the right one from the following ideas that compliment your garden decor and make your guests visit your garden with a sense of pride.
Overcome your garden bench issues with these 75 DIY outdoor bench plans & ideas that will first win your heart with their elegant and superior designs.
1. DIY Pallet Bench for Garden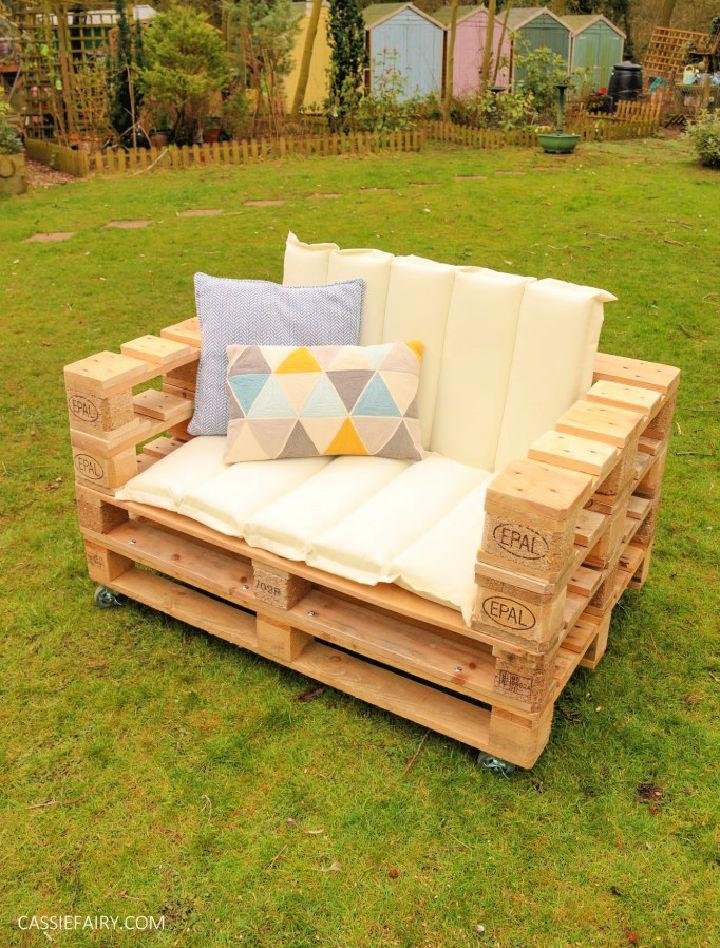 Give a new look to your garden with this stylish and super affordable pallet bench. For creating this bench, use the shipping pallets from your craft store. The only thing you need to do is cutting and adjusting all the pallets in a bench pattern. You can adjust them with screws and nails. However, it would also be effective to arrange all the pallets without any drilling supplies! manomano
2. How to Make a Pallet Bench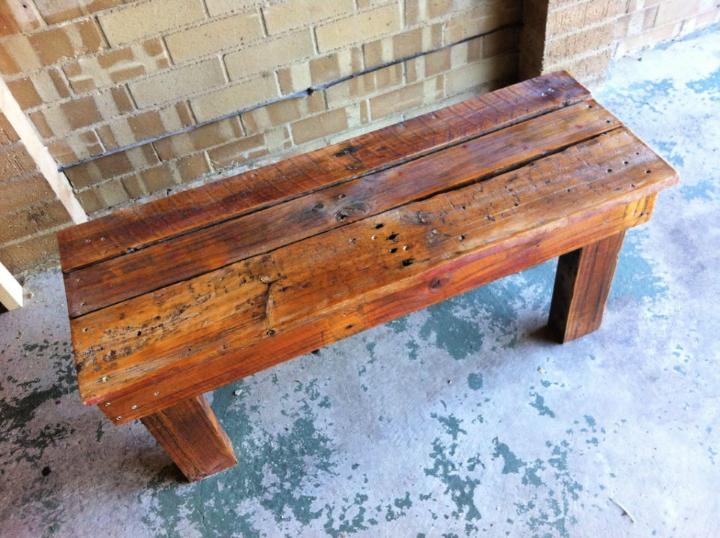 Add a rustic décor look to your patio and outdoor with this customized bench. You can use the wood scrap, blocks, and pallets available in your supplies to make this bench. The only thing you need to do is crafting the pallets in a bench shape. The best thing is that you can create it according to the specific measurements and space needs. So, you can adjust it anywhere you want easily! instructables
3. Build a Pallet Love Seat Bench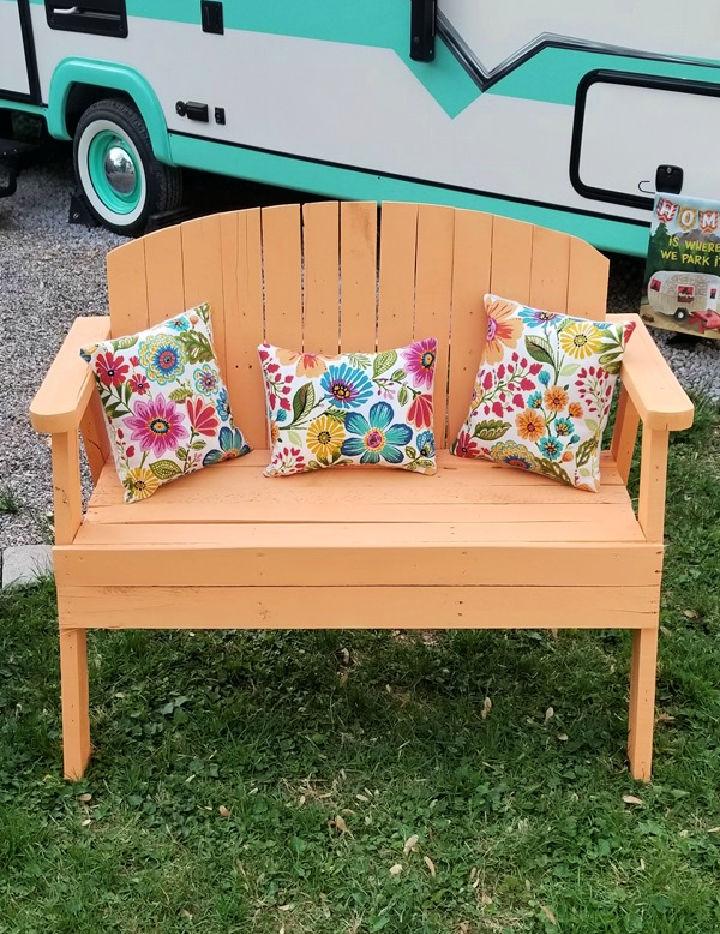 Create this pallet love seat bench using wooden pallets from craft supplies. If you don't have this basic supply in your store, you can buy the pallets at affordable rates from the store. This bench would be a great addition to your patio DIY furniture. Additionally, you would love to enjoy your family gatherings while sitting on your patio on this handmade pallet bench. Excitingly! You can create this bench also for the kid's area. myrepurposedlife
4. How to Build a Pallet Outdoor Bench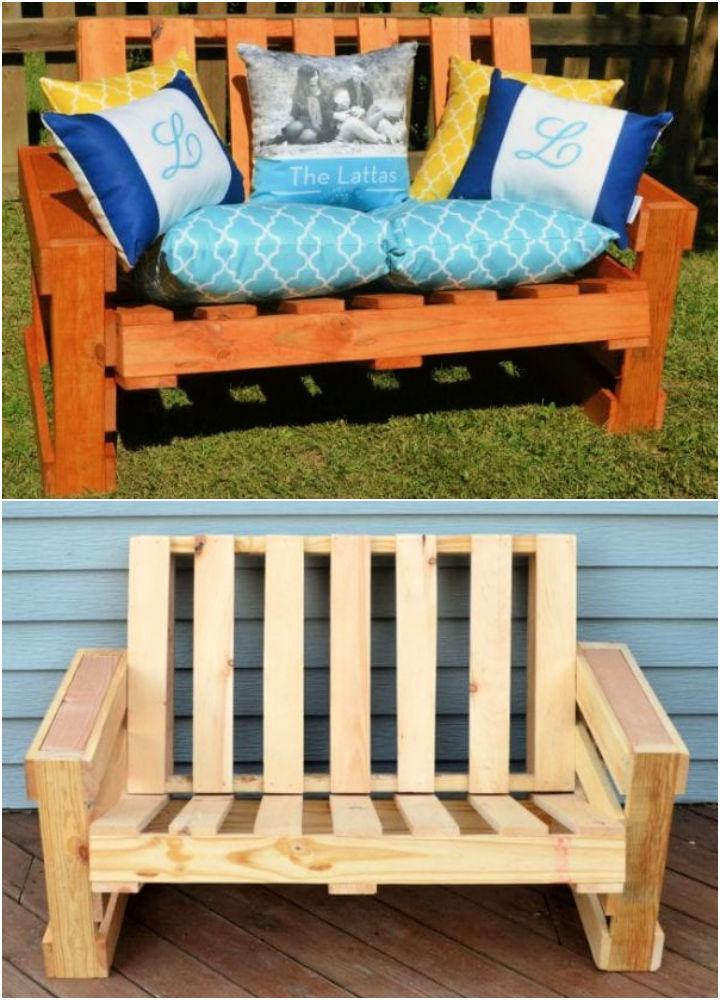 Nothing would be more loving and relaxing than creating a pallet bench to spend your weekend like a pro crafter. Create this new style and good-looking pallet bench with useless shipping pallets and wood scrap from the craft store. If you are familiar with working on wood-crafting projects, you would surely love to make this bench. Moreover, you can make this bench more comfortable to sit with upholstery couches. remodelaholic
5. Pallet Seating Bench with Hidden Storage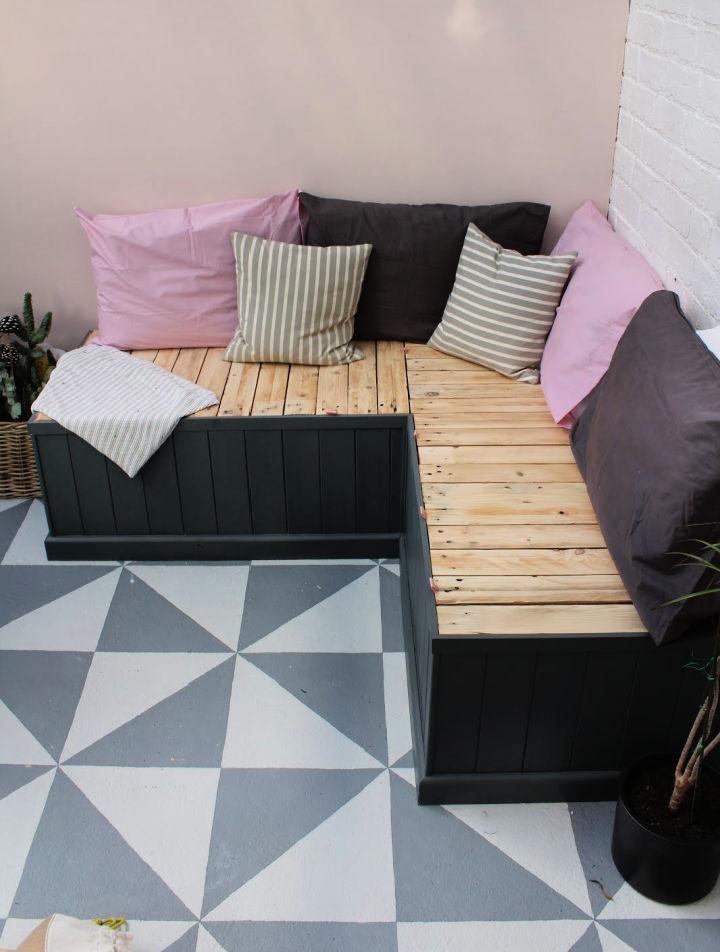 Do you want a productive bench for your small space? If yes, you surely have to work on this DIY pallet bench project with hidden storage space. You can create this bench effortlessly and most affordably with all upcycled supplies. Moreover, you can use the same pallets and wood scrap for making the storage blocks inside this pallet bench. Use this storage space to place all your important stuff in an organized way. kezzabet
Watch This Video: DIY Modern Pallet Bench – DIY Build – DIY Pallet Bench (05 Minutes 38 Seconds)
6. DIY Pallet Potting Bench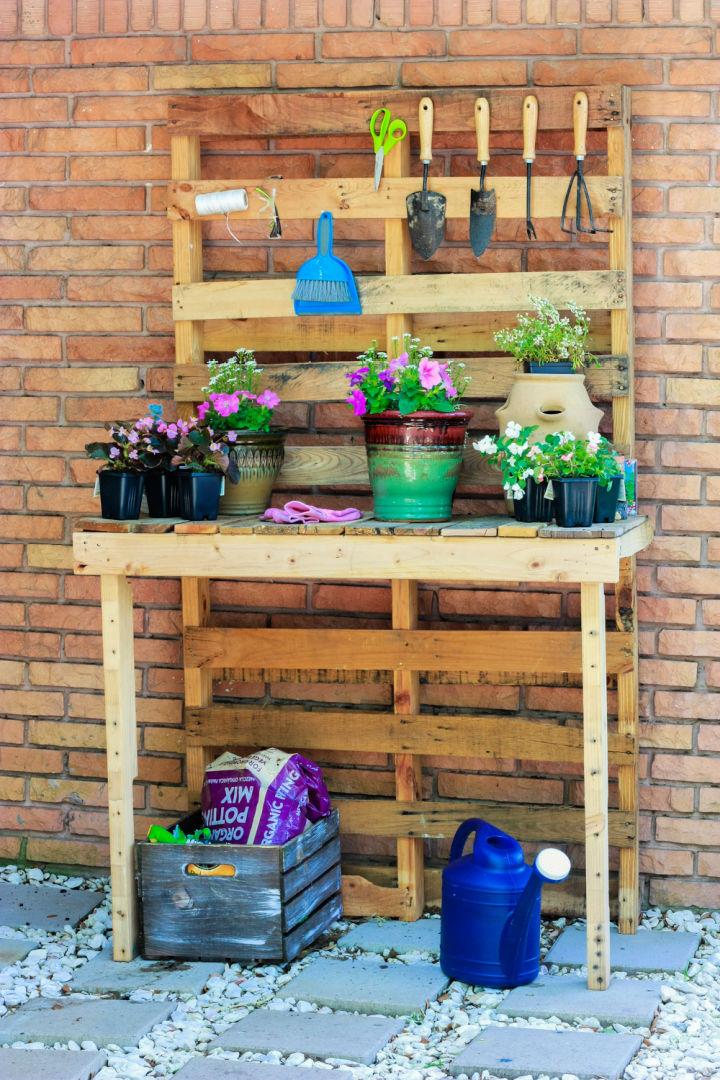 Make a DIY potting bench in your garden with wooden pallets for your kids, as well as gardening purposes. You can make this bench effortlessly with affordable and recycled supplies. The only thing you need to do is creating a structure or template of this bench for ease of your work. Additionally, it would be easier for you to work on a structured bench. However, if you are a pro crafter, do it in whatever way you want it. Embellish this potting bench with gardening pots and tools. amber oliver
7. Pallet Wood Bench Plan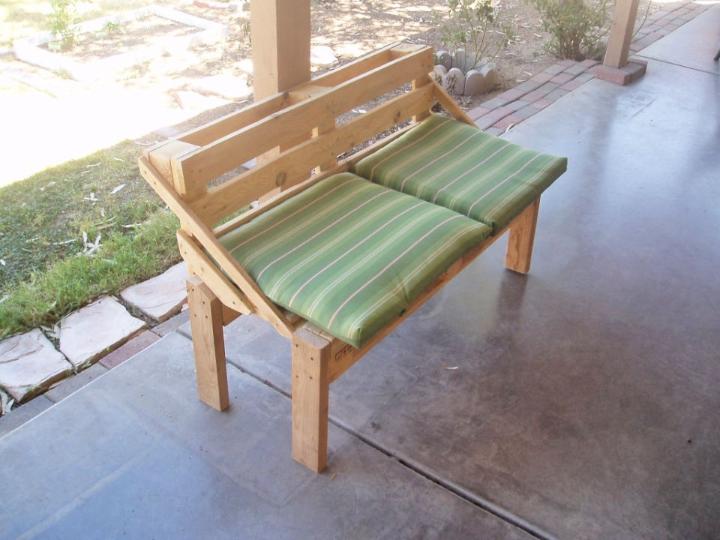 Utilize your small sitting place in the garden and patio more creatively by making this wooden pallet bench for it. The only main thing or supply you require is shipping or upcycled pallets from your store to make this bench. You can make this bench in your desired design and size according to material and space specifications. Moreover, you would surely love decorating this customized pallet bench with upholstery couches and padding. instructables
8. Upcycled Chair Bench for Backyard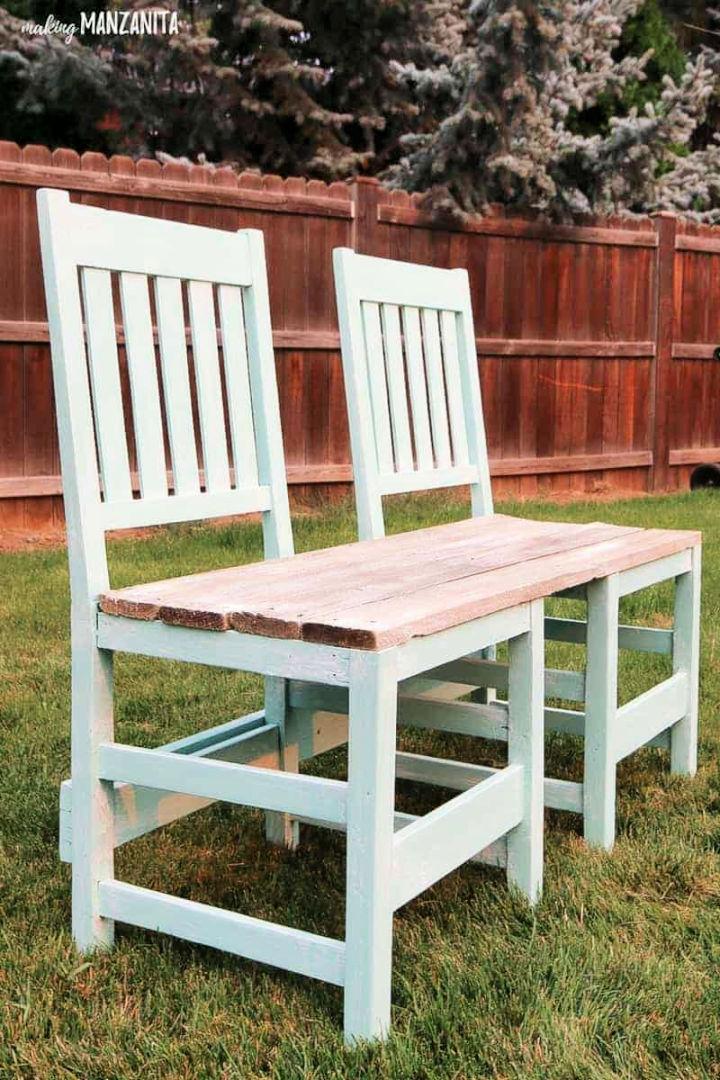 Reuse the old chairs infrastructures wooden pallets to make these new style benches for the garden and outdoor. The best thing is that you can create these sitting chair benches completely with pallets and wood scrap. So, if you don't have old chair leggings, you can craft them with pallets efficiently. Make this chair bench more realistic and stylish with combination paints or wood staining! makingmanzanita
9. Cable Spool Pallet Bench Plan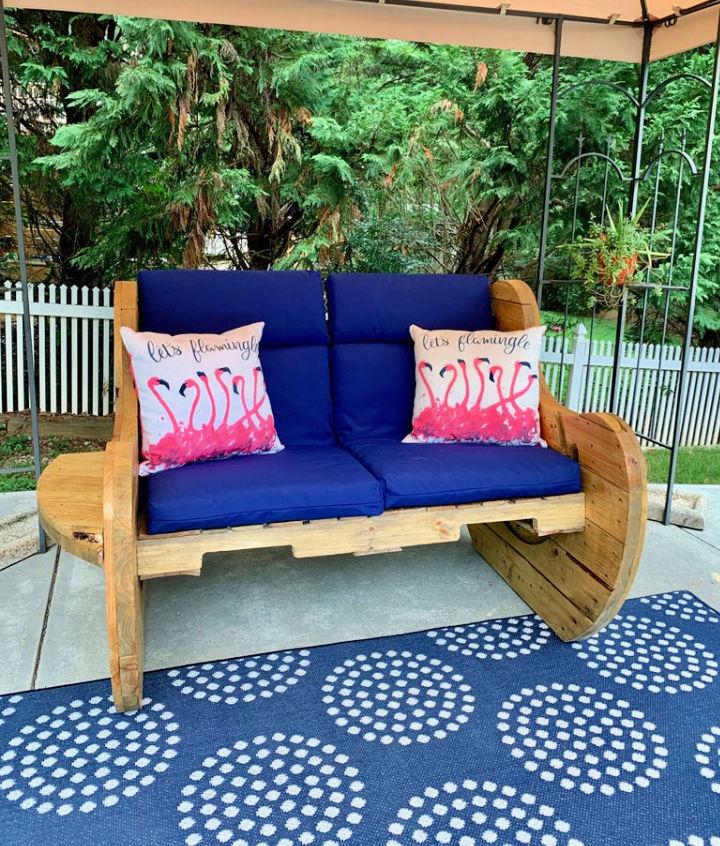 DIY this cable spool pallet bench plan for indoor and outdoor furniture with wooden pallets and scrap. You can make this spool bench effortlessly with the help of a pattern. Moreover, if you are new to wood-crafting projects, you can get help from master tutorials and guidelines. You can craft this project also for the kids and living room. This bench will give your space a farmhouse décor looks in no time and effort. instructables
10. Make a Pallet Wood Bench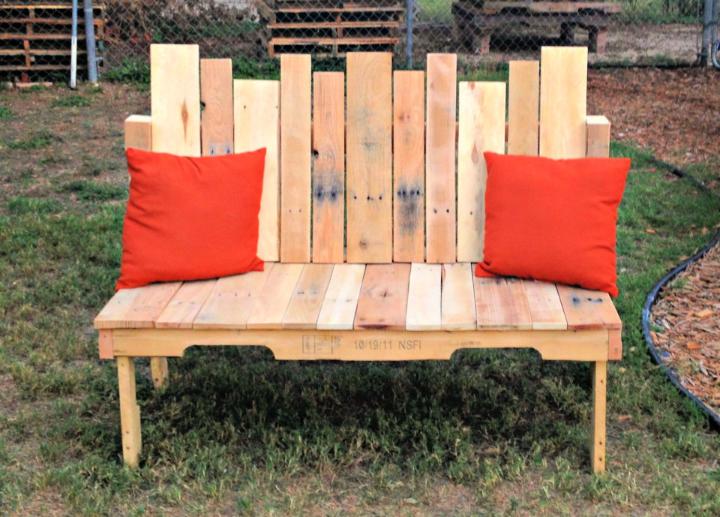 Make a pallet wood bench for the garden and outdoor. So, you can sit with your family and enjoy gossiping with one another comfortably. Create this bench with wood pallets and blocks from the craft store. You don't need to use any tool while working on this craft project. Luckily! You can adjust all the wooden pallets in a bench pattern to make this handmade furniture for indoor and outdoor decoration and sitting purposes. upcycledugly
11. Homemade Pallet Bench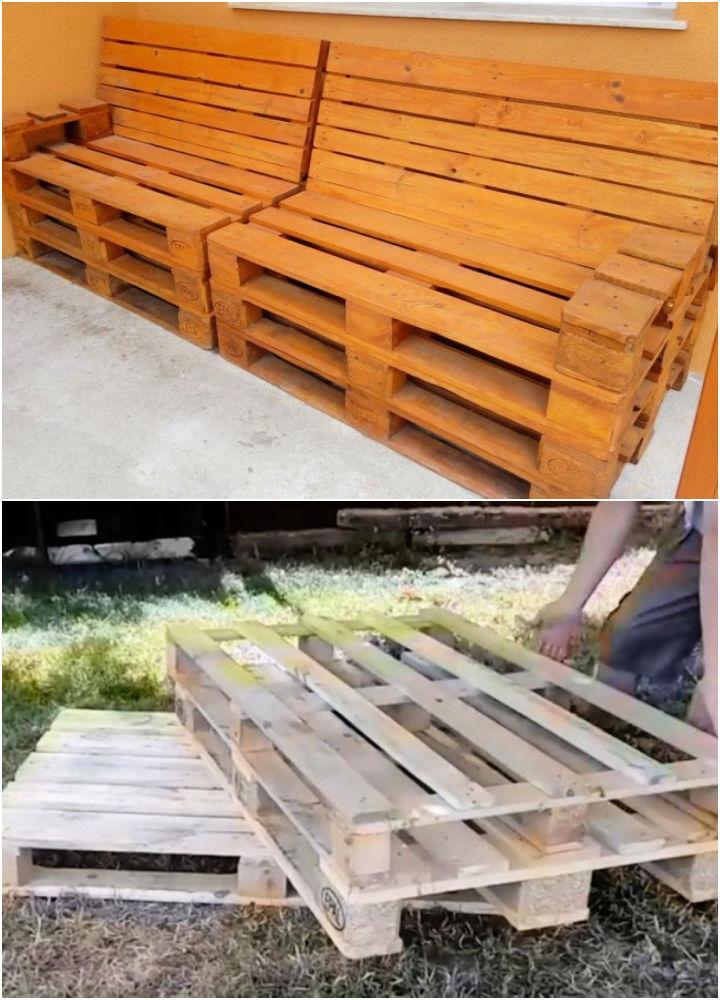 Makeover patio and outdoor sitting area with this pallet bench. You can create this bench in measured size and dimensions according to your space needs and requirements. Not only for patio, but you can also make these benches for your home bar and event décor without stepping out of your budget. It's up to you to decorate these benches with upholstery or use them directly. However, couches will make these pallet benches more comfortable to sit on. cleverly
12. Make Your Own Pallet Bench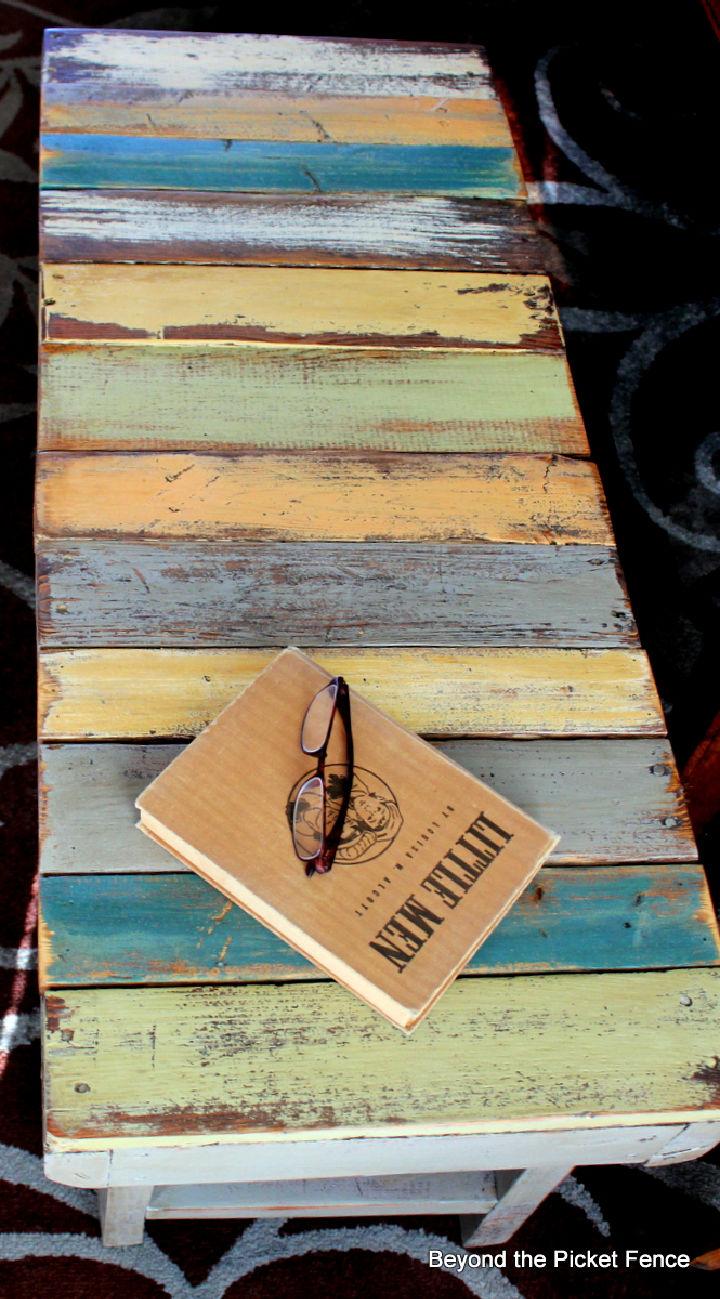 Make your own pallet bench to utilize the garden and patio space more productively. For this, you can reuse the shipping wooden pallets from your craft store. However, you can also go with new pallets at affordable rates. Enjoy crafting this pallet bench and placing it outdoor. With this pallet bench, you would have a great and comfortable place to sit with your family and enjoy gossiping with them. beyondthepicket
13. DIY Pallet Coffee Table and Bench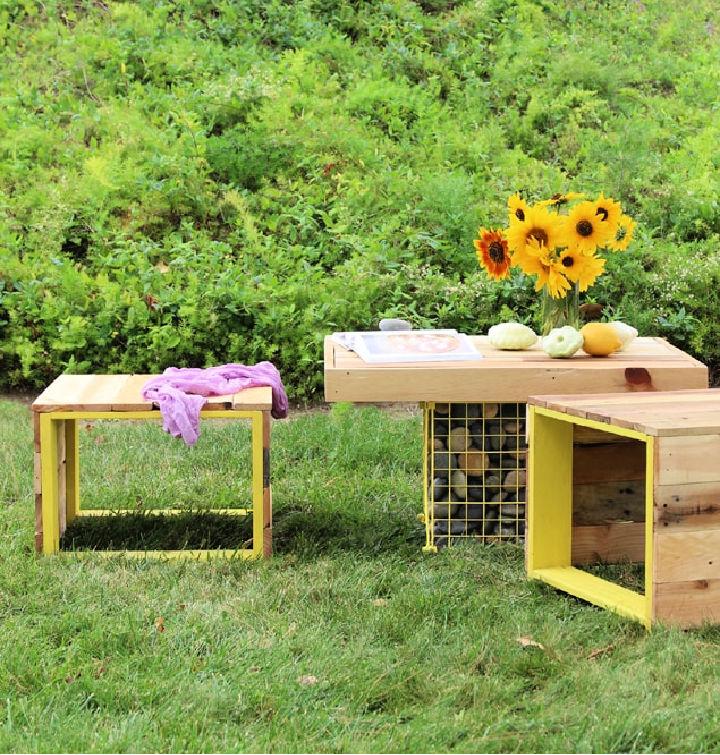 Create a new coffee and tea party place in your home garden with this wooden pallet bench. You would love to work on this craft project to give a new look to your garden. Moreover, you can get the DIY furniture for the patio and garden affordably with this pallet coffee bench. Make this bench more mesmerizing by creating a similar pallet chair bench for sitting around this coffee bench. You can utilize the bottom space of this bench for placing pebbles and other stuff for decoration purposes. apieceofrainbow
14. Pallet Bench Seat for Garden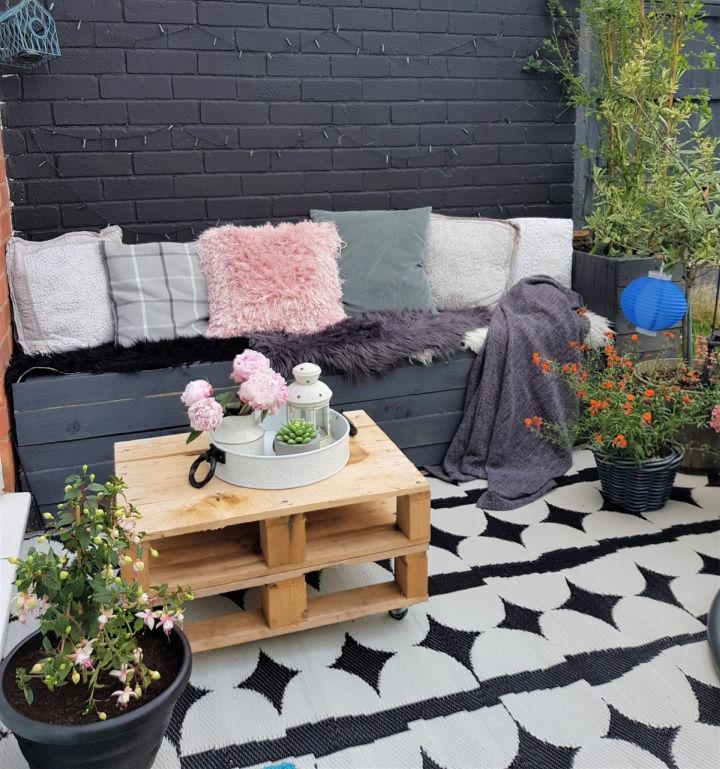 Make this quick and super easy pallet bench and planter for your garden with affordable supplies. The best thing about this table is that you can create it according to your space and size specifications with wooden pallets. Moreover, you can give a new and dreamier look to your garden with this super adorable bench. You can make this bench more mesmerizing with wood staining. However, you would also love the rustic décor look of this bench on your patio. Additionally, you can assemble the wheels on the down edges of this table to move it comfortably. verymeinteriors
15. Making An Outdoor Pallet Wood Bench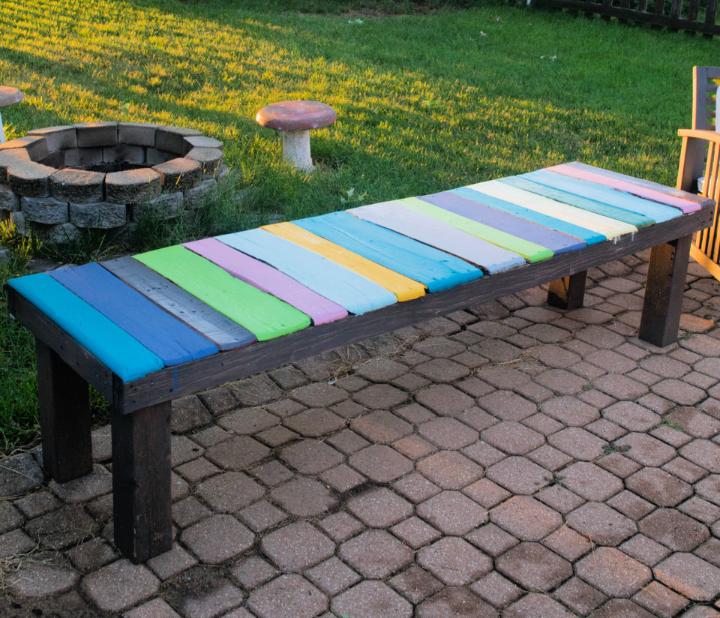 Create this versatile and super stylish pallet bench for the home garden and outdoor sitting within your budget and supplies. Use the wooden pallets and scrap from the craft store to make this new style pallet bench. You would love to add this table to your patio around a fireplace. In this way, you can get more sitting space without stepping out of your budget efficiently. Make this bench more attractive with colorful paints in combination. ourhousenowahome
16. Potting Bench Using Two Pallets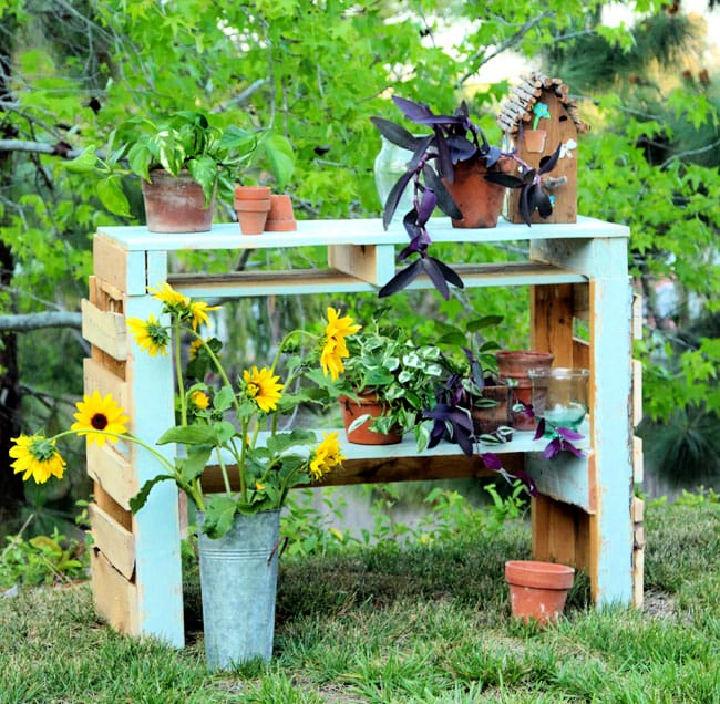 Make this two-tier potting bench with wooden pallets for the garden and outdoor décor. You can make this pallet bench effortlessly and affordably with pallet scrap and blocks from the craft store. Additionally, you can work on this project to make a playing space for your kids in the garden. Embellish or décor this pallet potting bench with terracotta pots and planting tools. In this way, you can encourage yourself to garden with ease. apieceofrainbow
17. DIY Pallet Garden Bench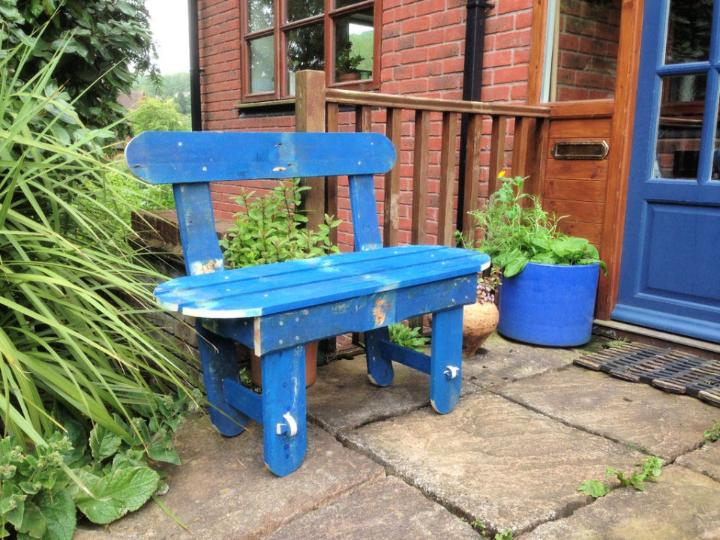 Uplift your garden look and décor with this DIY pallet bench. Create this bench effortlessly with wooden pallets and colorful paints. It's not necessary to paint this bench. However, you can also go with wood staining to give a rustic look to this DIY bench. You can make it with wooden pallets, as well as blocks according to available supplies. Moreover, a blocked bench would be more long-lasting than pallets. But if you are looking for an affordable option, go for the pallet garden bench. You can make the seat frame of this bench according to your supplies. instructables
18. Pallet Into an Outdoor Patio Bench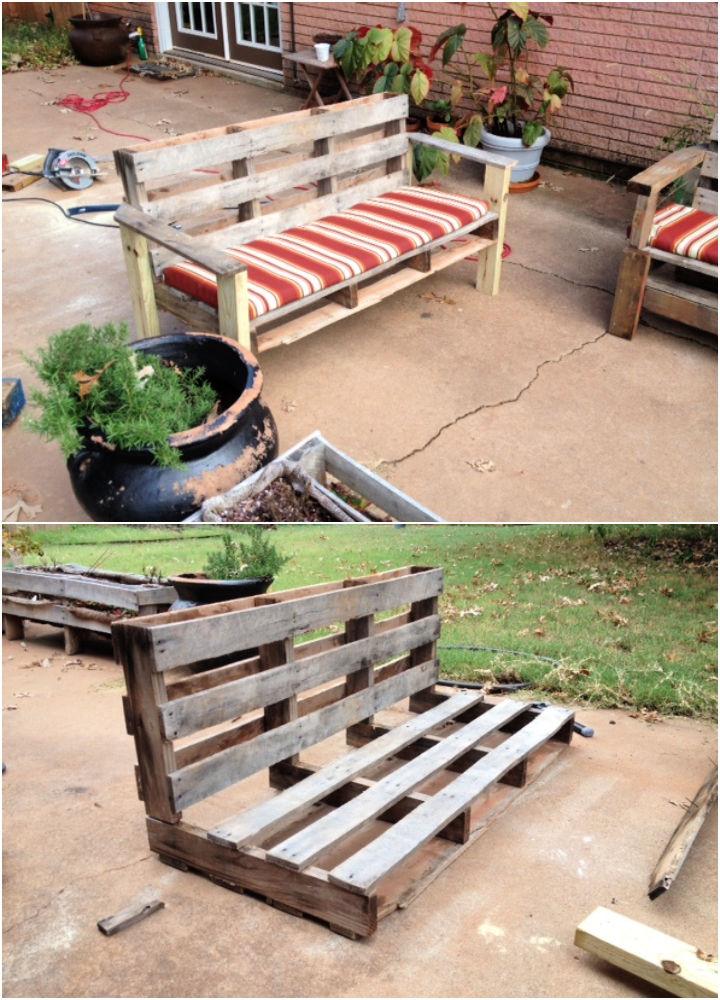 Turn out the useless and upcycled wooden pallets into a beautiful and productive bench for the patio. For this, you don't require excessive supplies and materials. You can go with already available supplies and scrap from your craft store. The best thing about this table is that you can customize it according to your space needs and measurements. Make this bench more comfortable to sit with padding and couches. rkblack
19. Create a Pallet Bench with Free Plans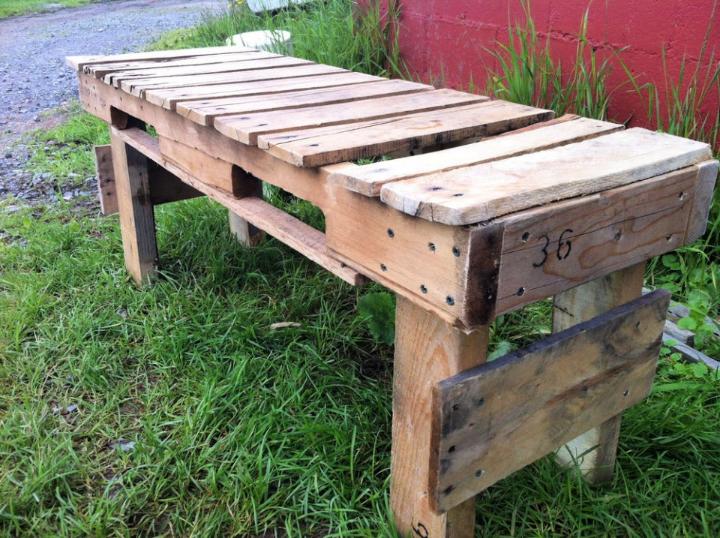 Create a pallet bench for outdoor sitting most affordably with a simple structure. Make this bench using wooden scrap and pallets from your shipping supplies. You can work on this craft project to add new DIY furniture décor to your garden. Excitingly! You can reuse old table legging and infrastructure also to make this bench. For this, use the wooden pallets in whatever way you want to make this bench. You can keep this bench in the same form or paint it with a wood stain. It's all up to your needs. betterfarm
20. Wooden Pallet Bench with Planters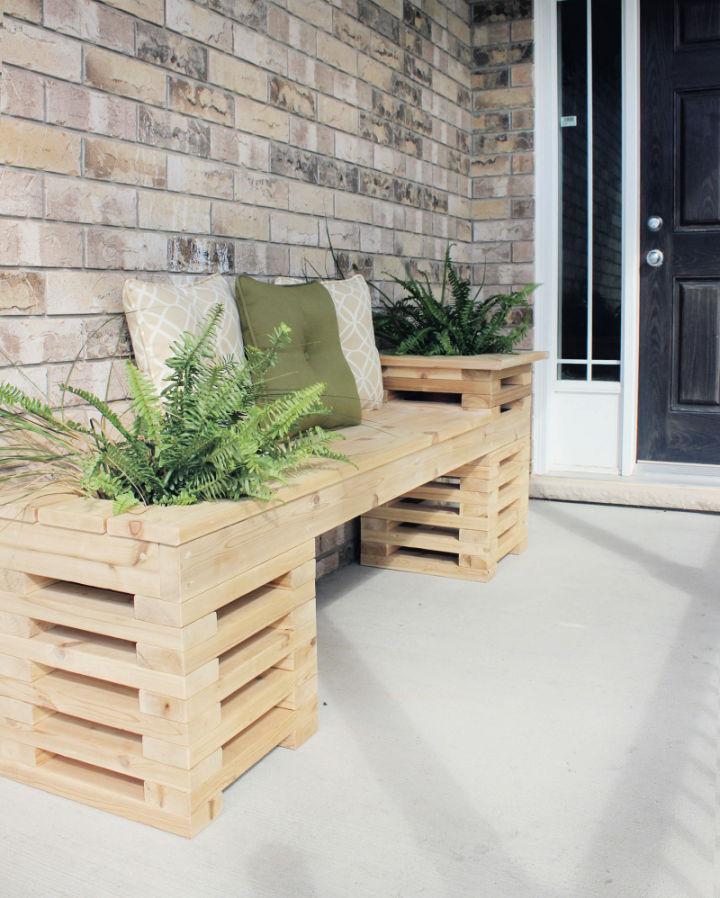 Make this wooden pallet bench with planters to decorate your garden in a new style. You can utilize the wooden pallets and blocks from the craft supplies to get your hands on this versatile bench. The best thing about this bench is its diversity. Now, you can use the same space for sitting and planting the flowers with ease by having this pallet bench in your garden. brittanystager
21. DIY Corner Pallet Bench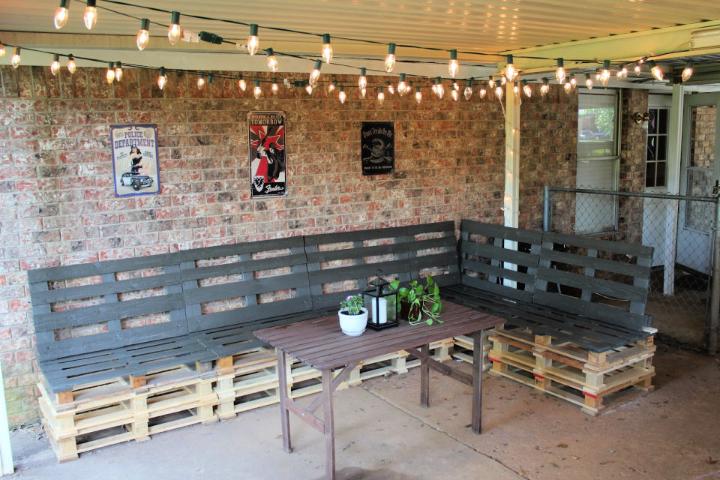 Enjoy your outdoor sitting and gatherings in the Spring season by creating this versatile pallet bench. Not only the one table, but you can make a complete corner for a larger sitting space with the same supplies and materials. The best thing about this table is that you can use it even without upholstery stylishly and comfortably. thesassysparrow
22. Building a Pallet Bench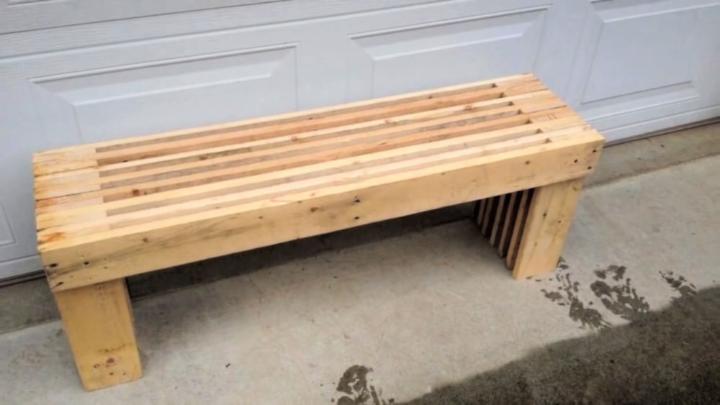 Build this tiny pallet bench with wood blocks and pallet scraps. You can make this bench more stylish with the help of tutorials and guidelines. In this way, you can get your hands on this DIY pallet bench smoothly and like a pro. The only thing you need to do is assembling the blocks or pallets in a bench pattern on old table leggings to make this pallet bench. You would love to place this bench in your garden and patio to enjoy a new sitting space. youtube
23. How to Make a Bench from Reclaimed Pallets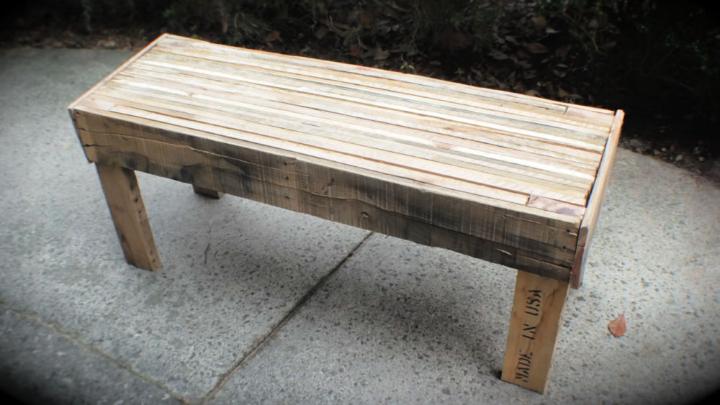 Reuse the reclaimed shipping pallets to create this versatile and most affordable bench. You can use this bench for multiple purposes. However, the home garden and patio are the best areas to place this bench like a pro. You can enjoy the cold evenings of Winter on this bench around the fireplace in your garden. One more thing, this bench cannot hold more weight due to reclaimed pallets. youtube
24. DIY Bench from Two Pallets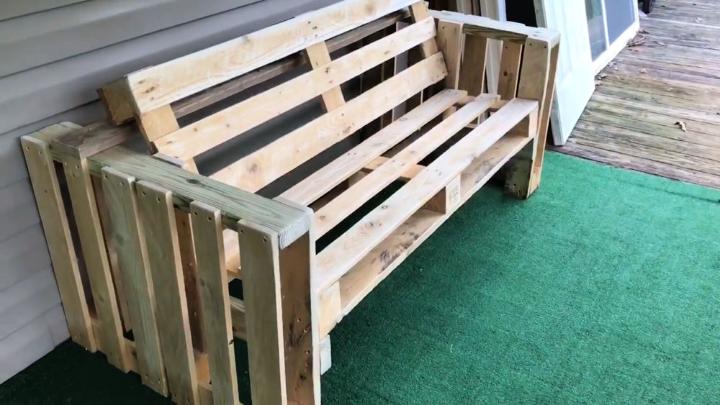 Use two pallets from your shipping supplies to make this super stylish and affordable bench. You can place this bench inspiringly in your patio or garden area to get more sitting places. The main reason for using the two pallets is creating the back and side support of this bench. However, if you are new to wood-crafting projects, you can also go with a single pallet bench for your ease. youtube
25. Outdoor Bench from Pallets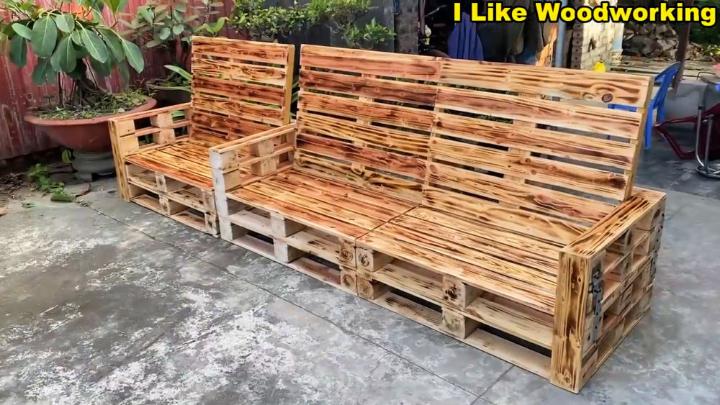 Give a new look to your outdoor décor with this super stylish and adorable DIY pallet bench. Make this bench effortlessly with a large collection of wooden pallets. Even you don't have a large collection, and you can go with a minimum to make this pallet bench according to your needs and supplies. Additionally, you can use the same pallets for creating the back support of this bench. So, you can enjoy sitting on this customized bench more comfortably and easily. You can use this bench with or without upholstery padding according to your desire. youtube