If you love spending time outdoors, you might want to make your patio or backyard more comfortable and inviting with pallet outdoor furniture. Pallets are cheap, versatile and easy to work with, and you can create amazing pieces of furniture with them. Whether you need a cozy seat, a coffee table, a potting bench or a lounge, you can find 30 easy DIY pallet outdoor furniture ideas and designs below to inspire you.
One of the best things about pallet outdoor furniture is that you can customize it to fit your space and style. You can paint it any color you like and add cushions, pillows, rugs and accessories to make it more cozy and personal. You can also combine different pallets to create different shapes and sizes of furniture. For example, you can stack pallets to make a sofa or a daybed or use them as a base for a dining table or a bench. All you need to do is find some pallets from places like barns, fields, or the old building.
Another great thing about pallet outdoor furniture is that it is eco-friendly and durable. By using pallets, you are saving them from going to waste and giving them a new life. Pallets are made of strong wood that can withstand outdoor conditions and last for years. You can also treat them with sealants or stains to protect them from moisture and insects. Pallet outdoor furniture is not only beautiful and functional but also good for the environment.
1. Low Budget Pallet Outdoor Lounge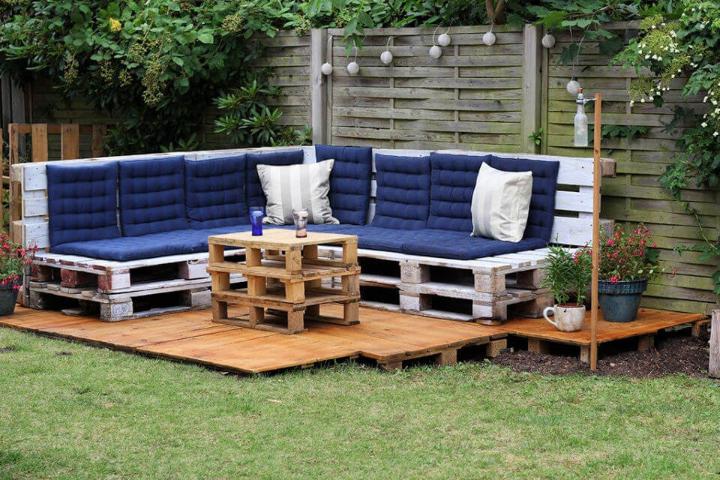 Do you want to create a new sitting place in your courtyard? If yes, this pallet lounger is an ideal option to work and create. Reuse and recycle the shipping wooden pallets for creating these lounge settings outdoor. It would be the most budget-friendly and time-friendly option for you. According to your specifications, you can either make the lounge floor using pallets or not. However, you can do these settings even without flooring. So, make this DIY pallet outdoor lounge in whatever way you would like to do. instructables
2. Portable Folding Pallet Bar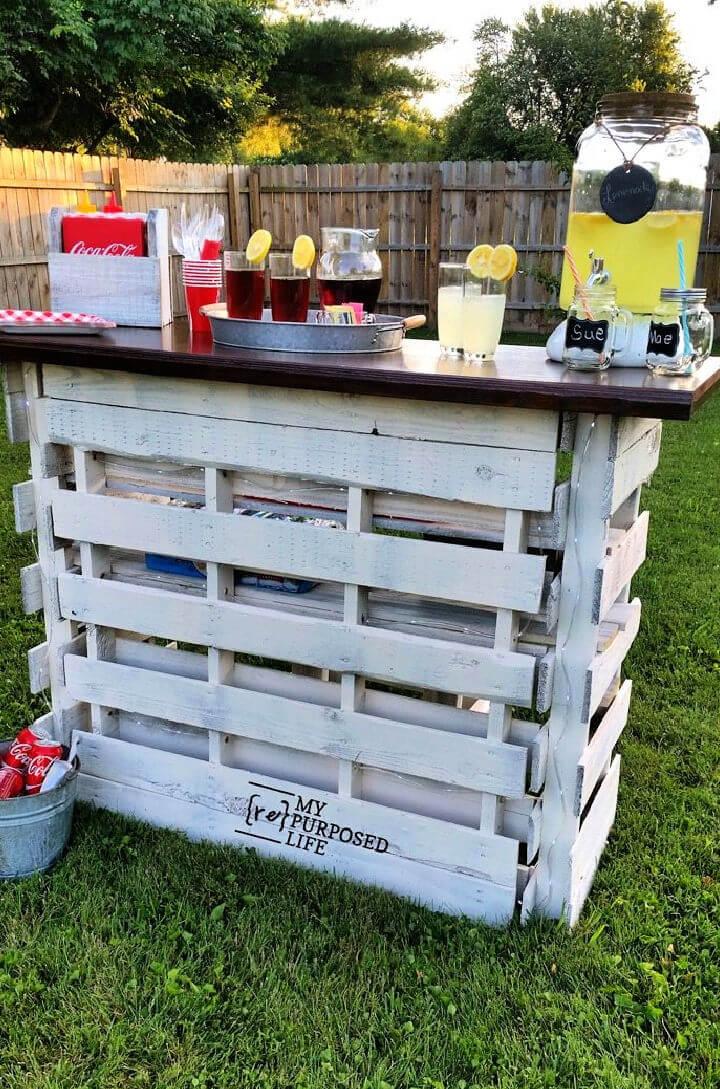 No doubt, everyone has pallet bars and scrap in their thrift store. It's time to utilize those bars creatively and productively. Create this foldable and portable pallet bar in your garden for the party item's placements. You can make this bar for storing things in your garden or while camping in a space-friendly manner. Apart from this, the foldable pallet bar is an ideal option for a food stall. myrepurposedlife
3. Sensory Plant Pallet Mud Kitchen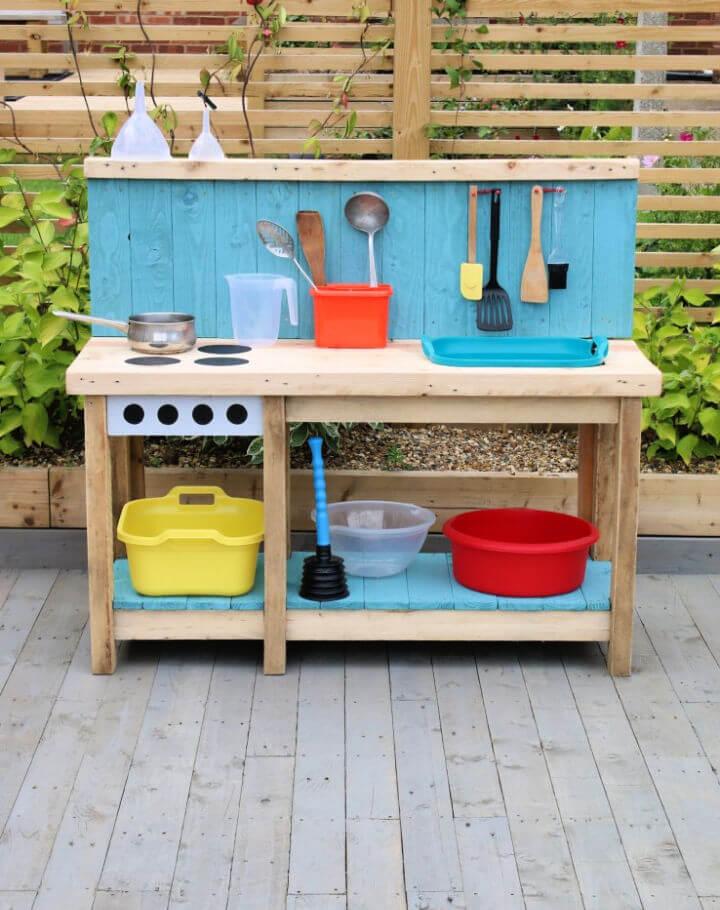 Reuse the wooden pallets creatively for sourcing fun projects for your kids. In these summer holidays, provide your kids with some handy tools and DIY craft items for playing and enjoying in your garden.. Create a beautiful and effortless outdoor kitchen for the kids outdoor. Make this pallet kitchen more fascinating with vibrant color paint. The kids would love playing and creating mud art in this kitchen. cassiefairy
4. DIY Pallet Picnic Table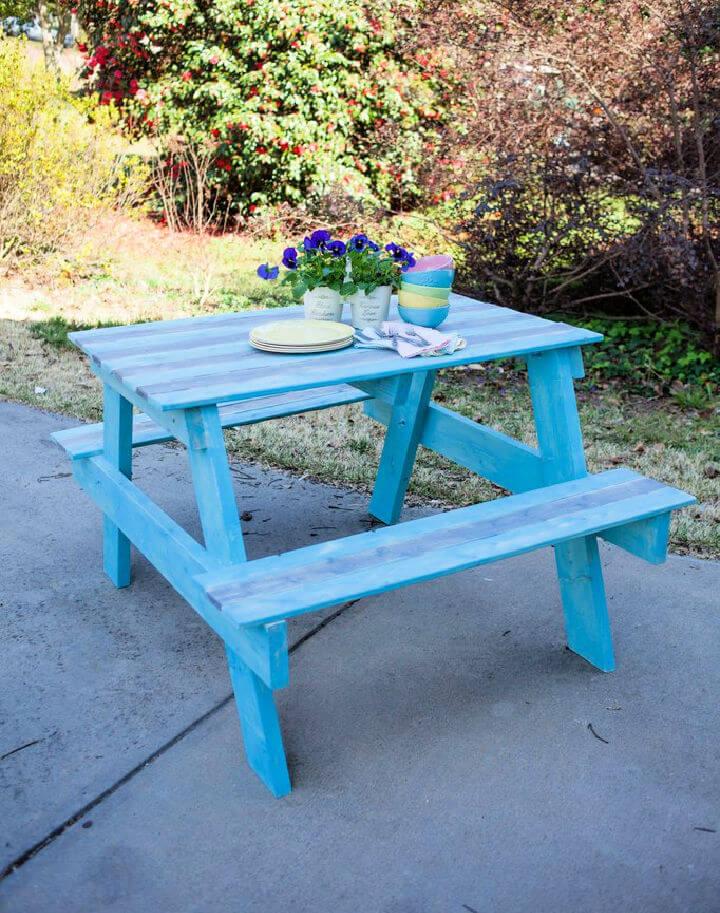 Looking for inspiration to create a stylish sitting plan for a picnic? Make this trendy and affordable picnic table in the garden using upcycled pallets and craft supplies. Entertain your outdoor activities by involving yourself in the customization of this table. You can make this table only by using the pallets and wood-craft supplies. Get the tutorials and guidelines online if you are working on this DIY for the first time. craftboxgirls
5. Pallet Popcorn Stand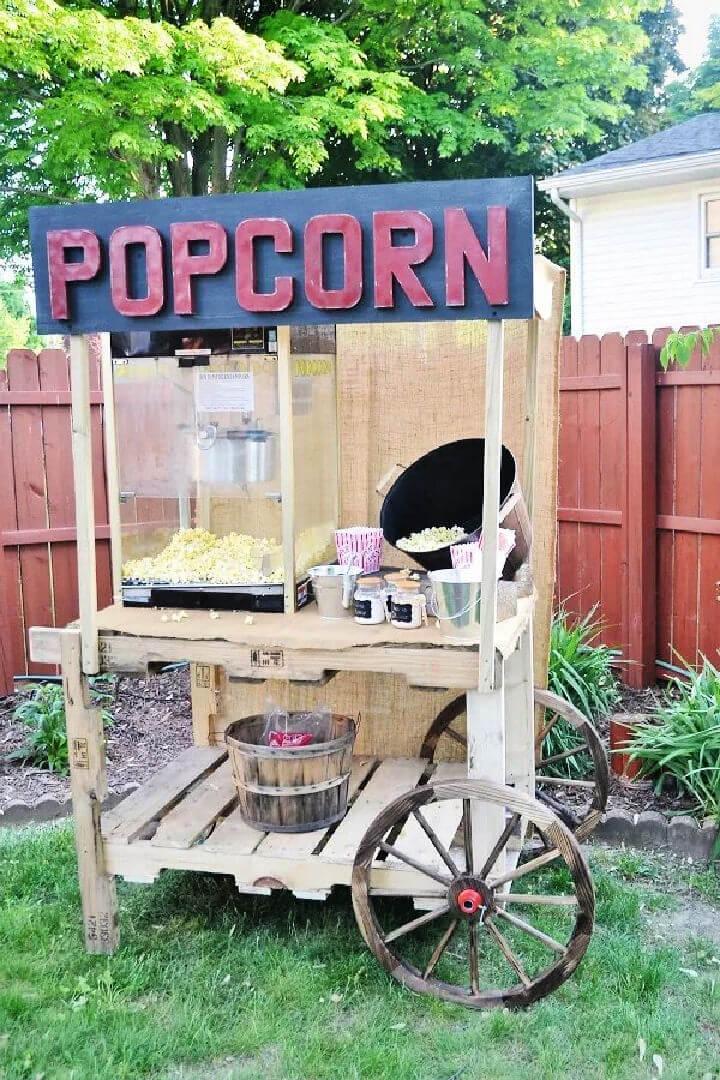 Decorate your events and theme parties by yourself instead of hiring expensive designers. The best thing about decorating the parties by yourself is that you can do everything according to your specifications. Create this popcorn stall using wood pallets for your graduation or birthday party affordably. All you need to make this pallet popcorn stall is wood scrap and store-bought wheels. Create it and entertain everyone with good food and creativity at your party. hometalk
Watch This Video: DIY Sofa Bed – How to Build a Modern Pallet Sofa Bed 2021 – Pallet Outdoor Furniture (08 Minutes 31 Seconds)
6. DIY Outdoor Pallet Sofa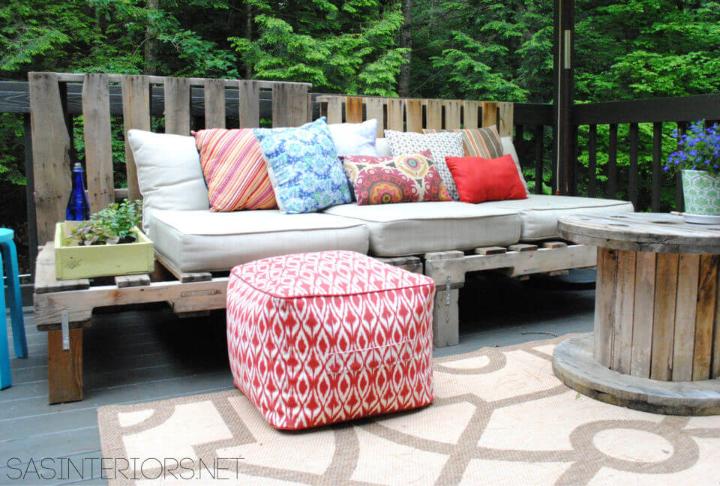 Well, everyone desires to sit, enjoying, and spending his evenings with family members in the garden. Make a desirable and dreamy sitting place on the patio by creating a wooden pallet sofa. Keep this wooden pallet sofa in natural rusty color or paint it with a specified color. Make this sofa a little bit cozier with old cushions and sofa seats. jennaburger
7. DIY Pallet End Table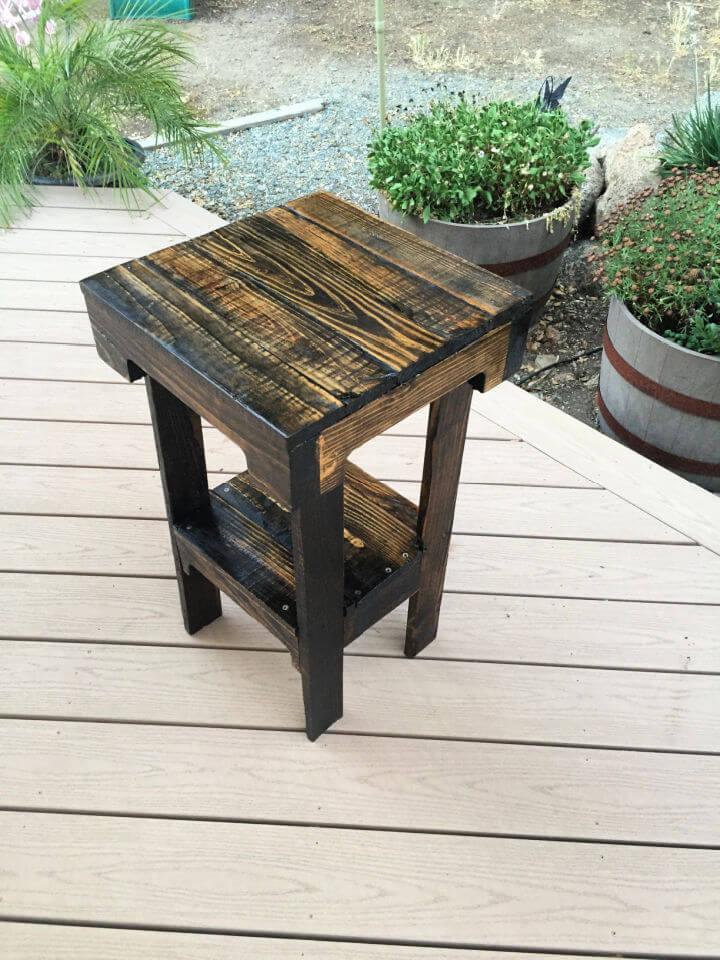 Add a farmhouse-style interior look to your home with wooden pallet end tables. Create these tables yourself with recyclable wood pallets and scrap instead of buying. For creating this end table, you can get the guidelines from tutorials. If you are new to wood crafting, make this table using only one pallet. Make this pallet end table more stylish with black wood stain. pinspiredtodiy
8. Stained Tiered Pallet Wood Deck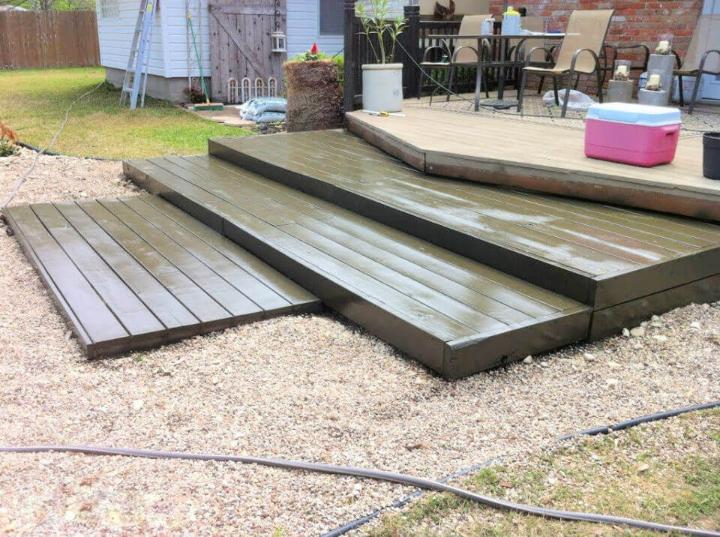 We all know that getting the event decoration services from a designer may cost us more than our budget. Get rid of this worry and create something new or unique for your event with recyclable supplies. Create a deck within your cost and supplies using wooden pallets for your next event. Apart from creating a deck for an event, you can make it next to your outdoor lounge to get a relishing overall look. remodelaholic
9. Stencil Fabric Patio Chairs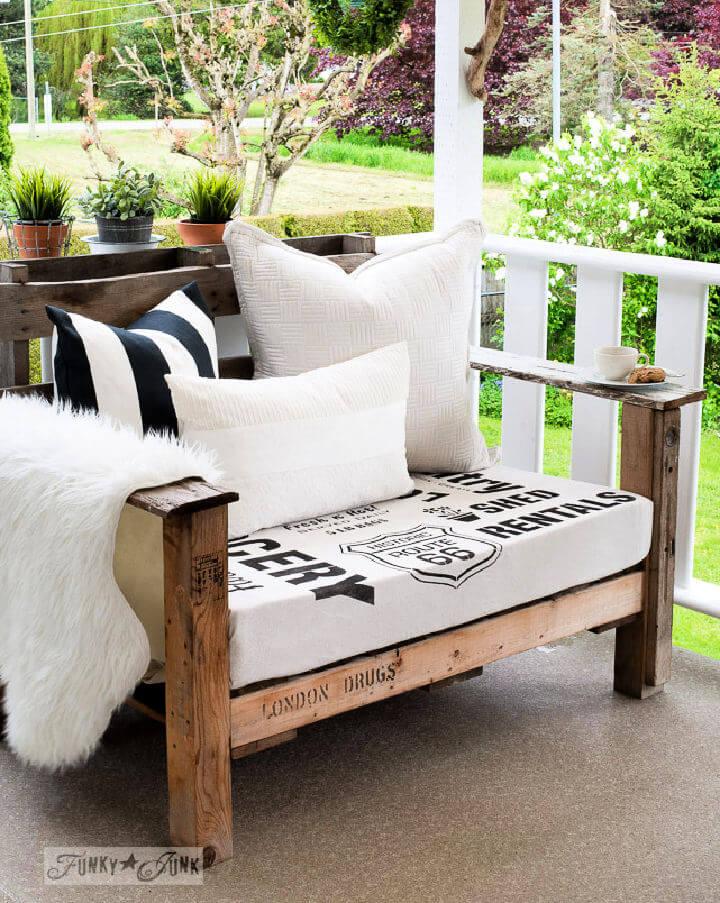 Get rid of a bore and outdated patio with this new wooden pallet outdoor furniture with stenciled clothes. Collect these pallets from your thrift store supplies or buy them from a craft store. Make these pieces of furniture more creative and modern with stenciled words on the pallets. Use stenciled clothes for cushioning and comfy seating items on this DIY furniture. funkyjunkinteriors
10. Outdoor Pallet Table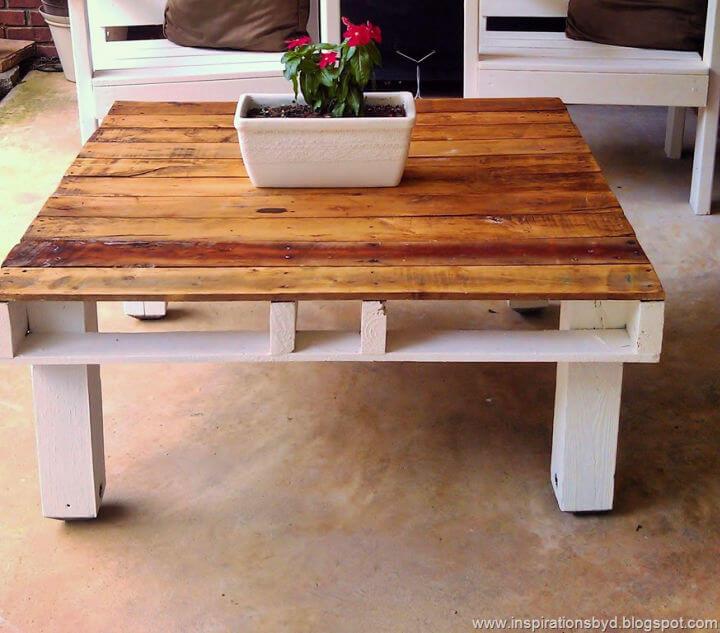 Pallets are the most affordable and creative way of making furniture items. Use the pallet DIY ideas. Pallets are the most affordable and creative way of making furniture items. Use the pallet DIY ideas for creating something unique and different for your indoor and outdoor makeover. Design a new style pallet table for your garden and patio using wooden pallets. You can reuse an old wooden table frame for legging this new pallet table. Otherwise, make the structure also using pallet wood. Get a smooth and finishing look at this table with white paint and a wood-stain tabletop. inspirations
11. Build an Outdoor Pallet Furniture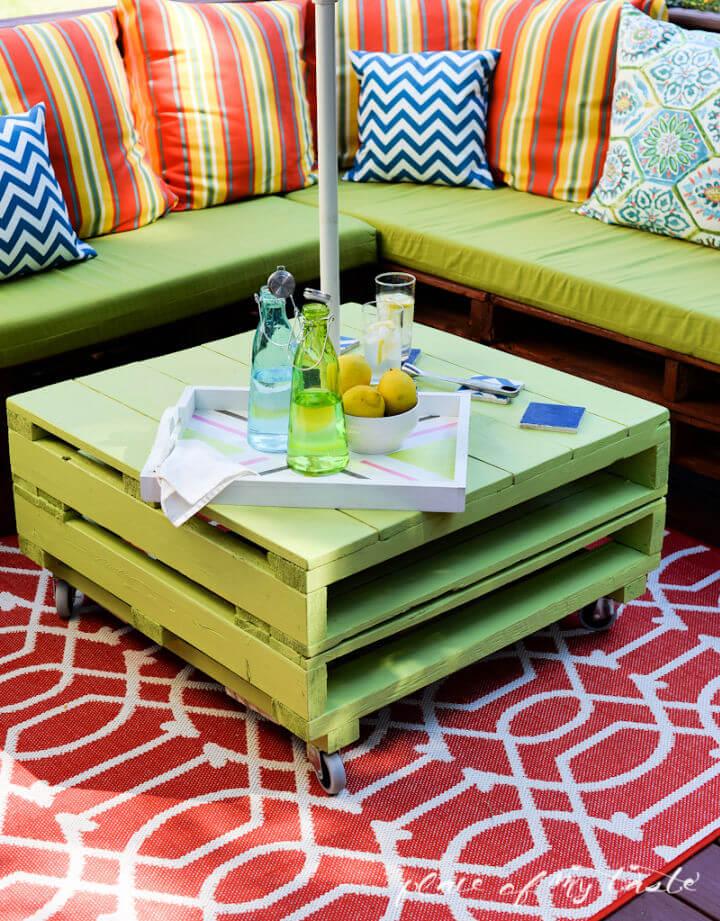 Get a new look on your patio with DIY pallet outdoor furniture craft and ideas. It would be easier for you to maintain and clean the deck for a long-time with this pallet furniture. Additionally, you can create a new style interior look of your garden within your budget by reusing wooden pallets. While making the pallet table on the patio, use smaller pallets than sofas to save more space. placeofmytaste
12. DIY Pallet Outdoor Sofa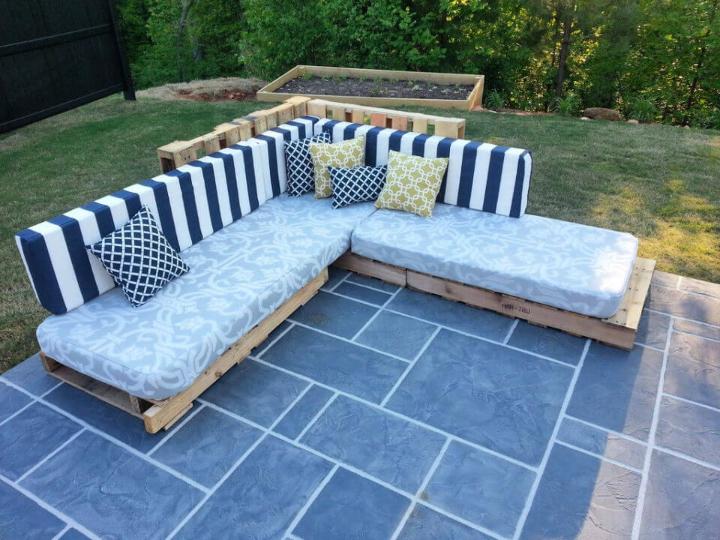 Reclaim useless and old wooden pallets for creating a new sofa in your garden. You can get a versatile and comfortable sitting plan outdoor with this pallet sofa in an affordable manner. Before start making the sofa, specify the length and width of the cushions. So, you can adjust them on the pallet sofa later effortlessly. This DIY pallet sofa is an ideal and suitable option for bonfires, family gatherings, and parties. instructables
13. Light-up Outdoor Bar Using Pallets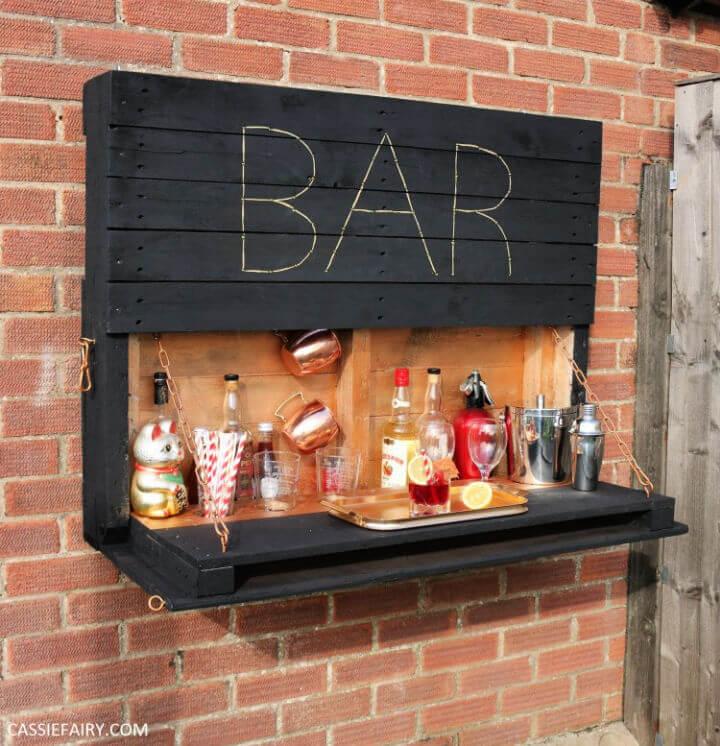 Lighten and brighten up your outdoor gatherings and parties innovatively with this light-up outdoor bar using pallets. This pallet par is a handy and support option for organizing drinks and beer bottles for your party. All you need to do is drilling and adjusting the pallets with the wall for placing bar items. Use LED lights for brightening and lightening the "BAR" stencils. You can reuse this bar pallet again and again for the whole year at different outdoor parties. cassiefairy
14. Outdoor Pallet Couch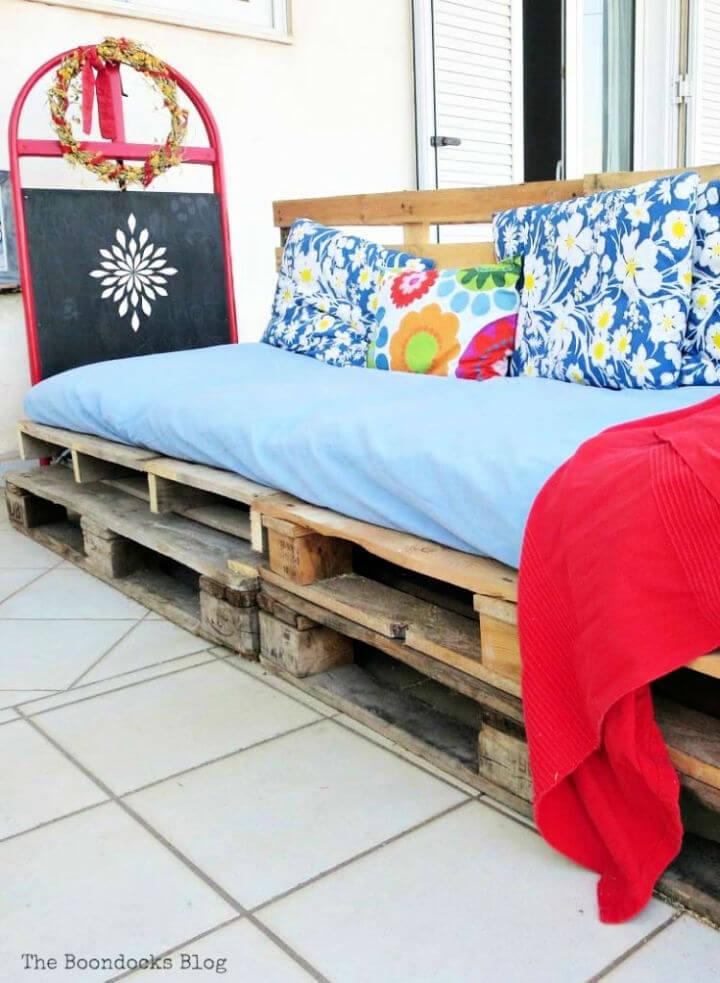 Create this pallet couch without using any tools and drilling supplies. All you need to complete this DIY pallet outdoor furniture idea is recyclable wooden pallets. Arrange them in specified length and width to get a couch shape sitting outdoor. Get comfortable sitting support with couches and pillows. You can tie the pallets with cotton rope or arrange them without using any nails and support. theboondocks
15. Mobile Pallet Coffee Table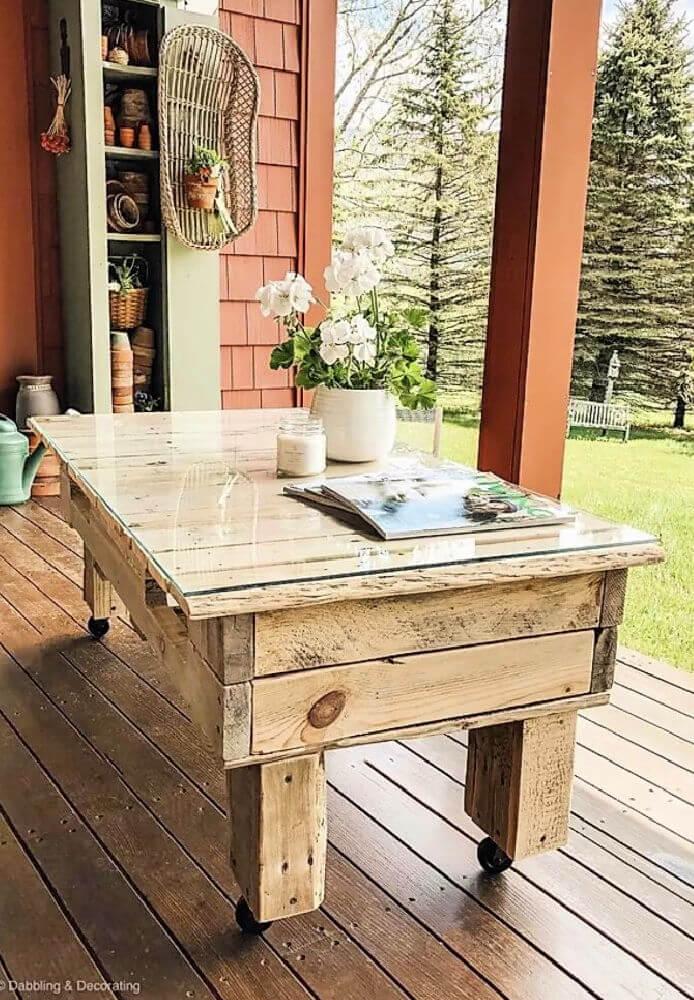 Move your coffee table wherever you want to sit and enjoy your coffee with family members! Create this easy-to-make and DIY mobile coffee table with wooden pallets and scrap. The creation method of this table is the same as the simple wooden pallet table. However, wheels are the only items that make this table unique and more friendly than others. Place this table on a patio or garden wherever you would like to do. hometalk
16. Pallet Bench for Garden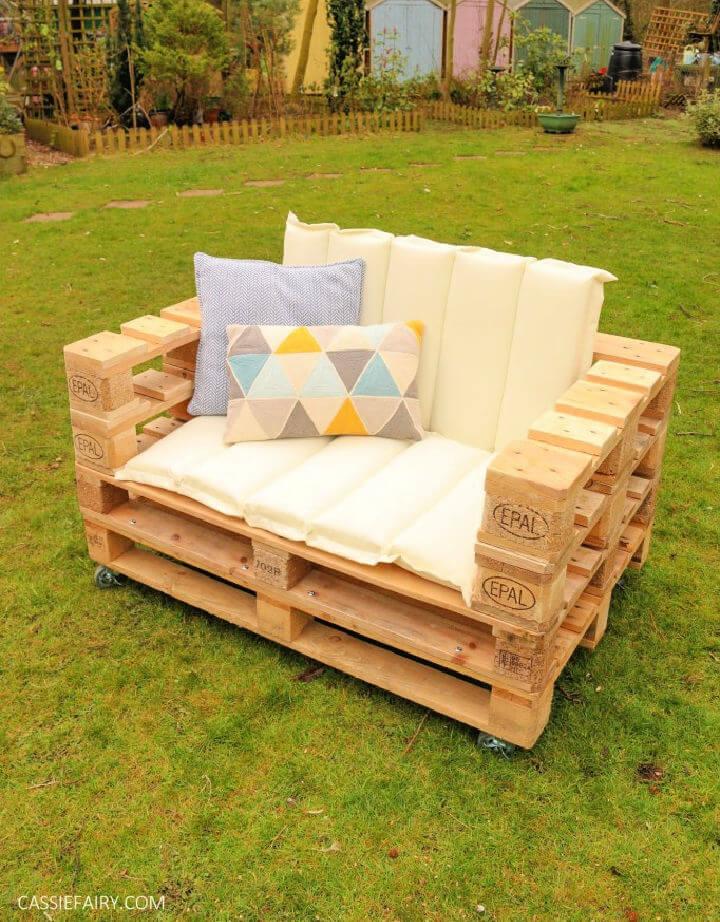 Enjoy a burst of sunshine and sunset while sitting in your garden on a comfortable bench. Make this beautiful and versatile pallet bench at home with simple DIY steps and guidelines. Use pallet blocks and rays for customizing this bench in your desired size and pattern for your garden sitting arrangement. You can make this bench movable with wheels. Involve your friend also for making this table in less time and with more fun. cassiefairy
17. Pallet Garden Potting Bench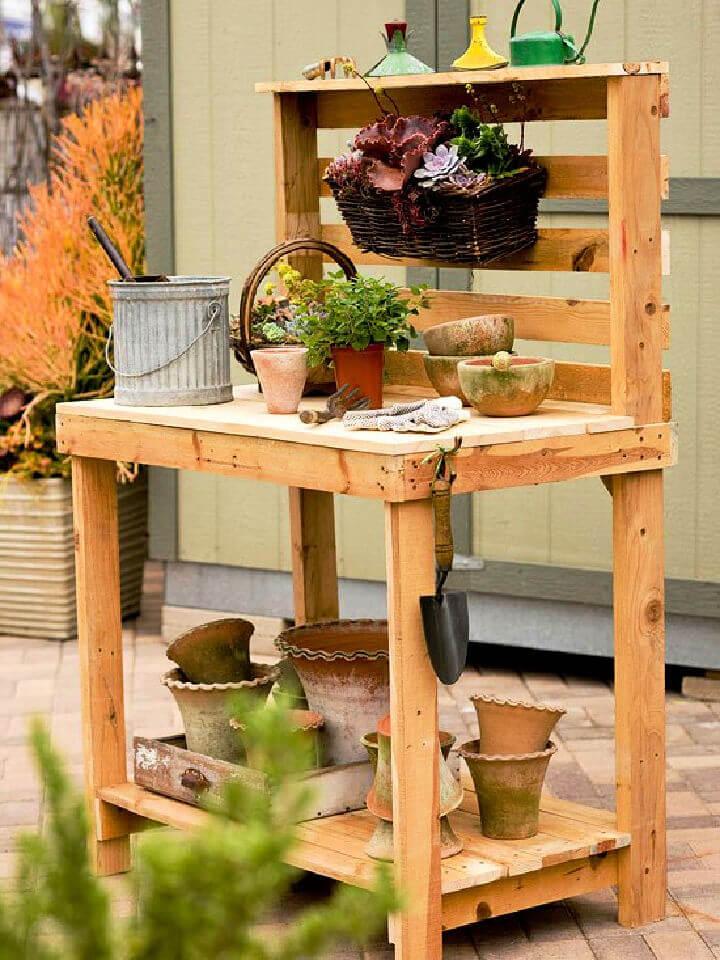 Arrange your pots and garden items creatively and stylishly with this potting pallet bench. Create this potting bench yourself by reclaiming and wooden pallets and scraps. A higher potting bench is suitable for planting pots and placing plants. You can make this bench mobile with casters. Paint the created or DIY pallet potting bench for a smooth and rustic end look. bhg
18. Build a Pallet Day Bed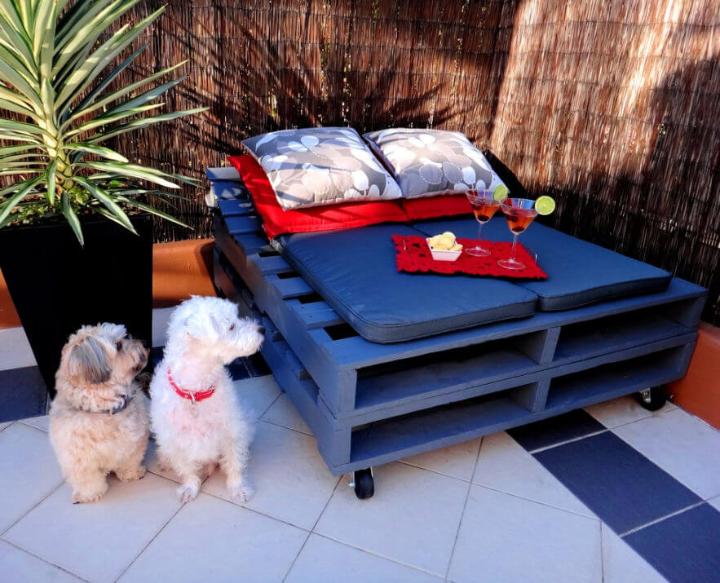 Get a quick nap in your garden while seeing the sunset after a hectic routine on an innovative day bed. Create this day bed by yourself with wooden pallets and the coolest steps instead of buying. All you need to do is arranging the pallets and blocks in specified positions and glue them. Once you have created the pallet bed, make it more tempting with colorful cushions and a mattress. frecklesandfluff
19. Paracord Laced Pallet Hanging Chair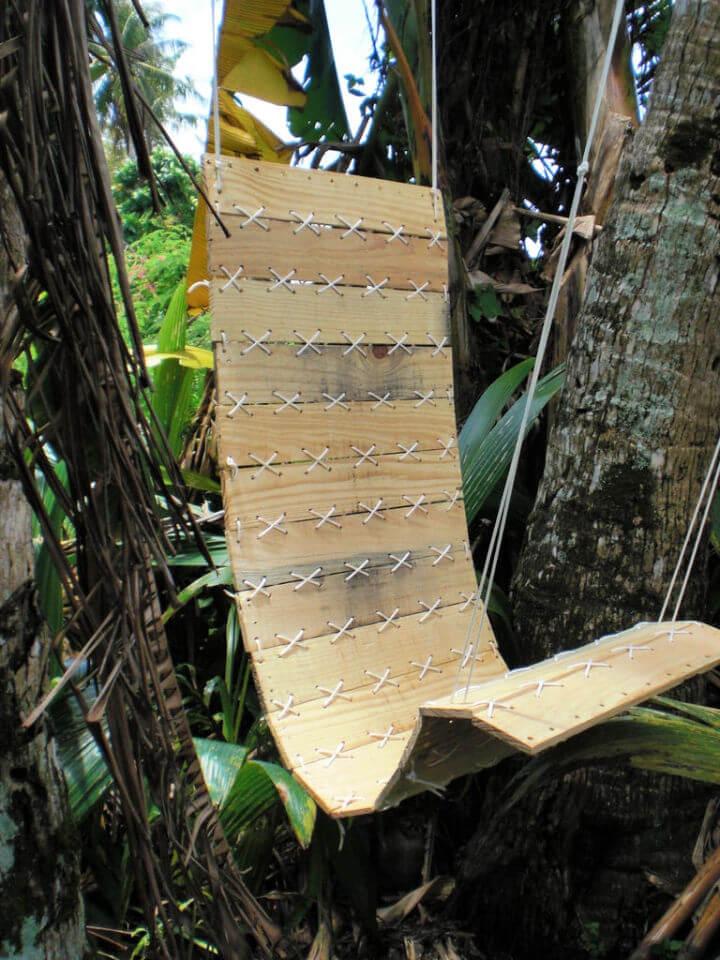 Enjoy your summer holidays in full swing with this paracord-laced hanging pallet chair. It's easier to make and hang this chair in your garden using wood store and craft supplies. Fewer wooden pallets and paracord items are all things required to complete this DIY furniture craft. After choosing the pallets, you need to drill the holes for paracord lacing. Once you have created the paracord chair, hang it on the rod support with a strong rope. instructables
20. DIY Outdoor Pallet Couch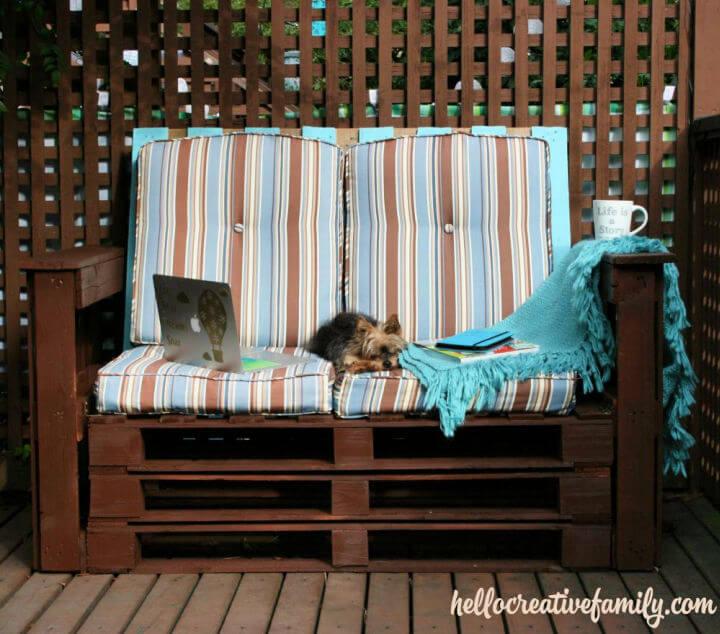 On this weekend, create a couch for sitting in your garden and for the patio. Enjoy your winter season while sitting in the sunshine and having your cup of tea on this couch. Use wooden pallets of the same size or width to create a comfortable and smooth sitting couch. Get a comfier look and sitting option in the form of this couch by placing the warm couches and macrame blanket on it. hellocreativefamily
21. Outdoor Pallet Furniture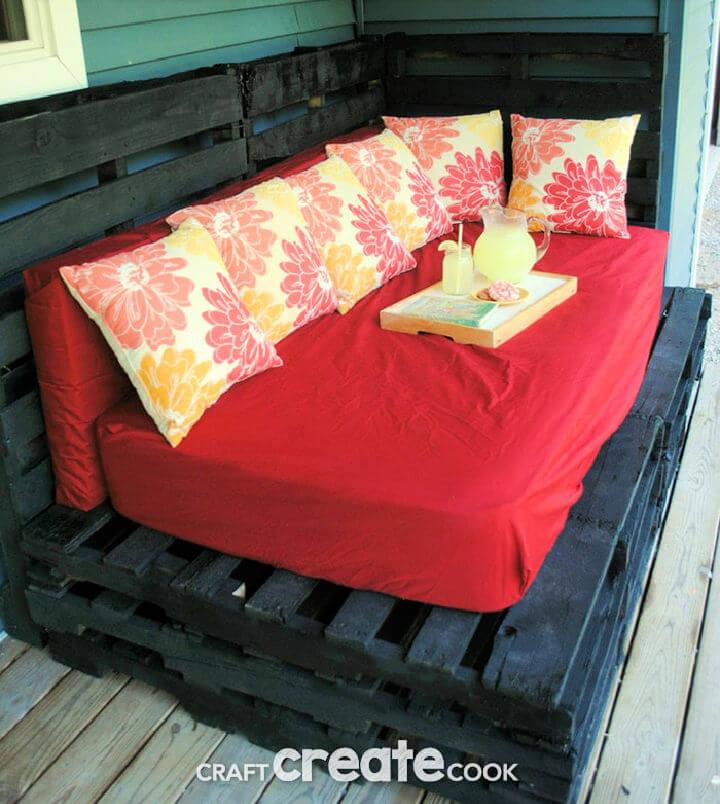 Pallet furniture is an innovative and affordable way to redo or makeover your deck or garden. Moreover, you would surely love to use your creativity to make something new for your use and ease. Create these couches and outdoor furniture using wooden pallets. Get the natural and fascinated overall look of the wooden pallet furniture with your choice of paint color. craftcreatecook
22. Pallet Lemonade Stand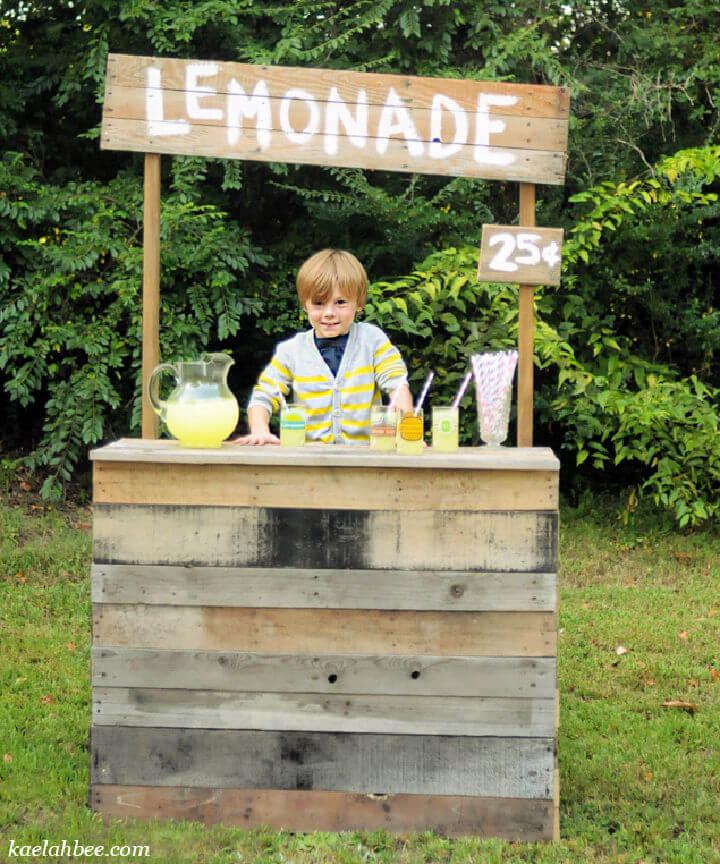 Style up your garden for the kids with this lemonade stand using wooden pallets. You'll surprise knowing that this stand will cost you nothing but fewer wooden pallets. Create this fascinating stand for your kid's birthday party. You can frame and style up this lemonade stand in whatever way you would like to do with paints and stenciled letters. thecluelessgirl
23. Pallet Gardening Table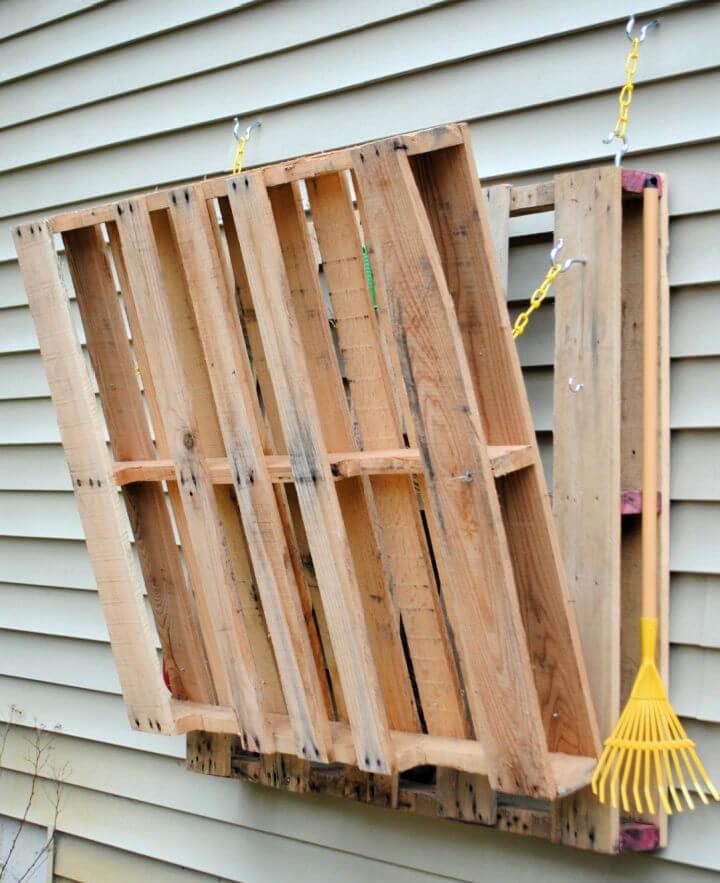 Create a hanging pallet gardening table for placing pots and other well-organized items. Make this table using only using pallets and hinge straps. It would be easier for you to plant in pots even while having less space in the garden. Additionally, you can fold this table whenever you wouldn't want to use it. jennaburger
24. DIY Wood Pallet Rocking Chair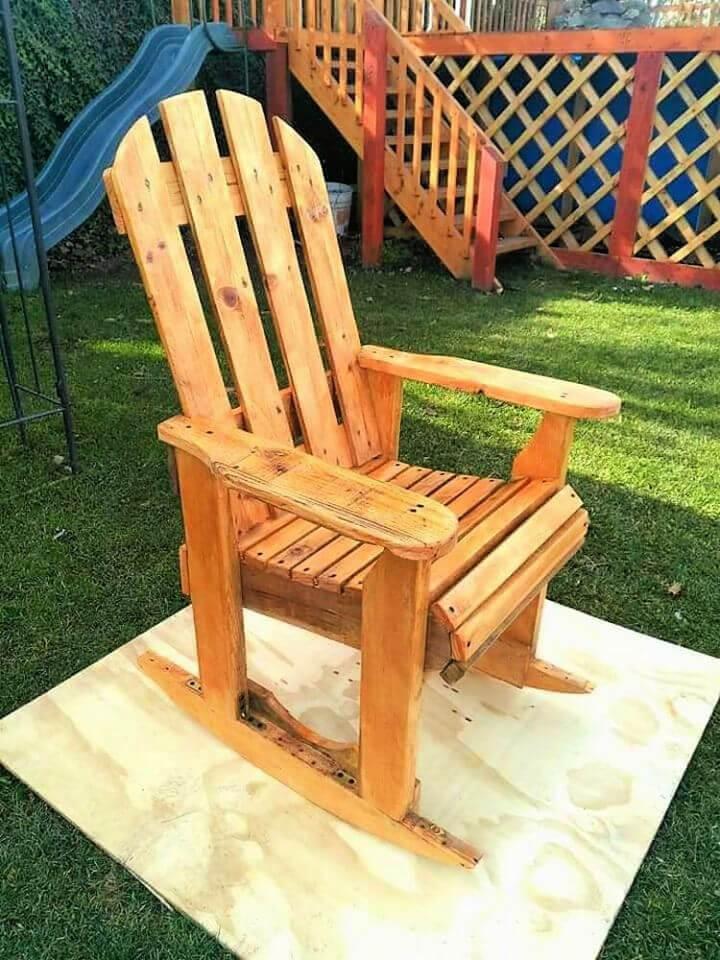 While redoing and makeover the outdoor areas, the basic consideration is comfortable sitting. You can embellish and make your outdoor sitting plans more comfortable by crafting the wooden pallet furniture like a rocking chair by yourself. Get a stylish chair artwork design using pallets for the affordable end product. So, create this rocking chair for the outdoor and garden to get an elegant or classy furniture look. palletswooden
25. Outdoor Patio Furniture from Pallets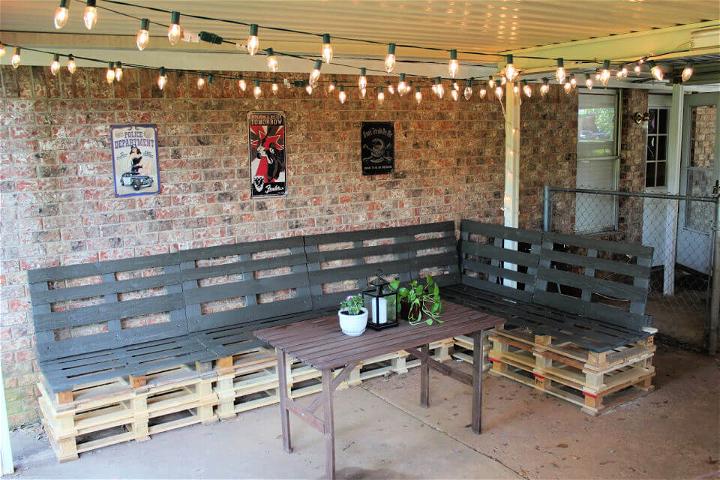 No wonder, patio and garden are the most fascinated places for sitting and enjoying gossips with your family members. Redo or makeover the deck looks with wood pallet furniture affordably or stylishly. Reuse and reclaim pallets of different sizes and colors for making the tables and chairs to get an item of a complete furniture set on the patio. Enjoy a beautiful day out with your friends and family members! thesassysparrow
26. Pallet Adirondack Chair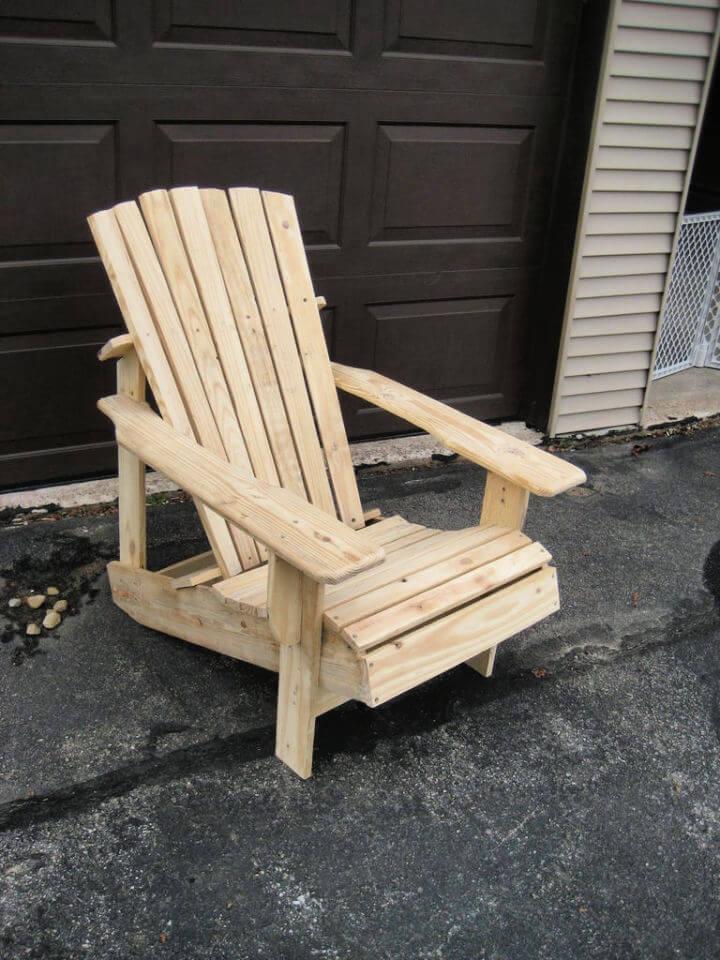 Bring more fun and creativity to the board this weekend by creating this Adirondack chair with reclaimed pallets. Well, it's easier to shape and reuse pallets in different projects. But the type and size of pallets may vary for each project. So, choose pallets based on the project's specifications and needs. Creating an Adirondack chair requires intermediate wood-crafting skills. Make it more worth working and fun-loving by involving your friends in this project. instructables
27. Wine Rack from a Wood Pallet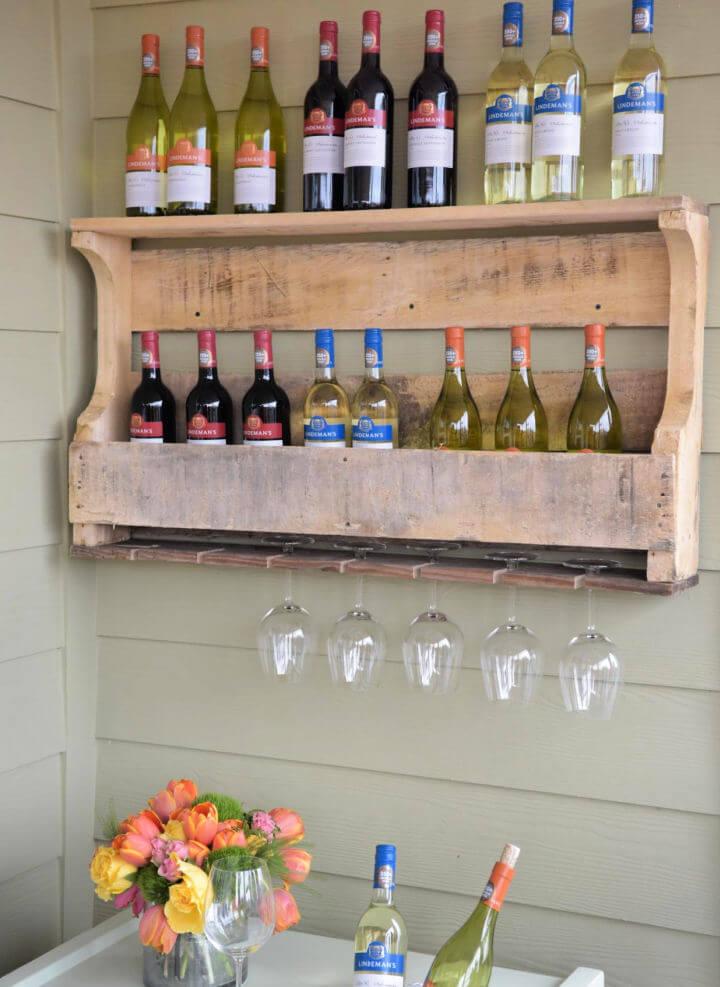 Get a bar-style wine rack for placing beer bottles and hanging glass in your kitchen with pallets. It's easier, even for a beginner create the pallet rack due to easy cutting and pallet adjustment. Create this pallet bar for your outdoor event and also the patio. Drill the holes and grids in the pallets for glass placement after accurate measurements. hgtv
28. Outdoor Dining Table from Pallet Wood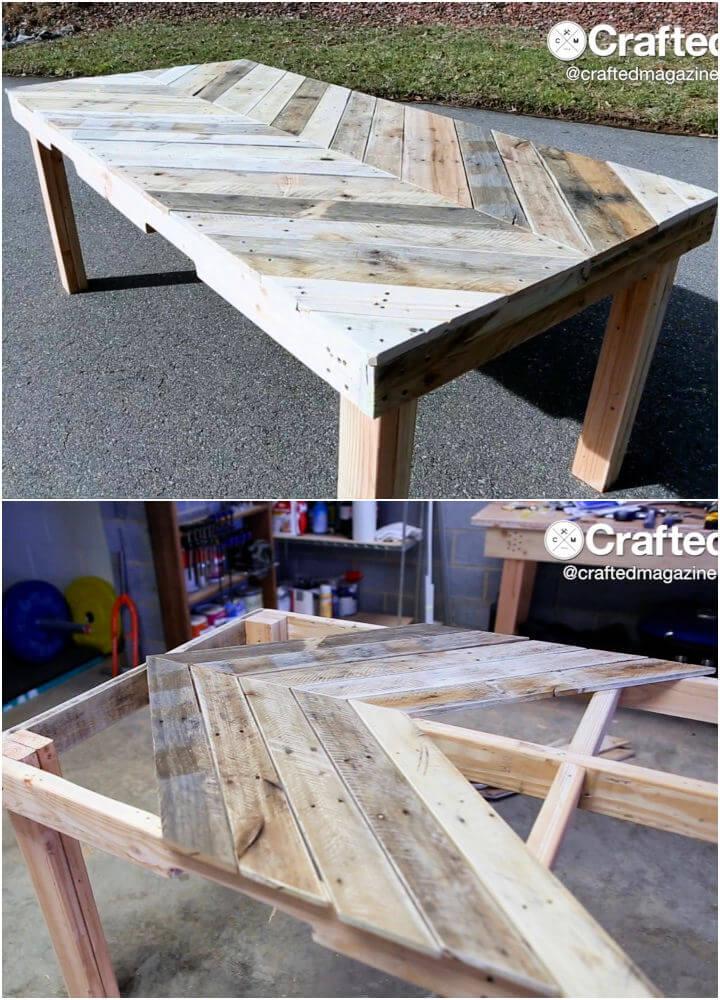 Enjoy your outdoor dinners and parties affordably and creatively with this space-saving pallet dining table. Reclaim the wood pallets from your thrift store to make this outdoor dining table. You can use an old table frame or stand to create this new style table. However, you can also make the legging structure and top of the dining table using pallets and scraps effortlessly. craftedworkshop
29. Pallet Wood Patio Chair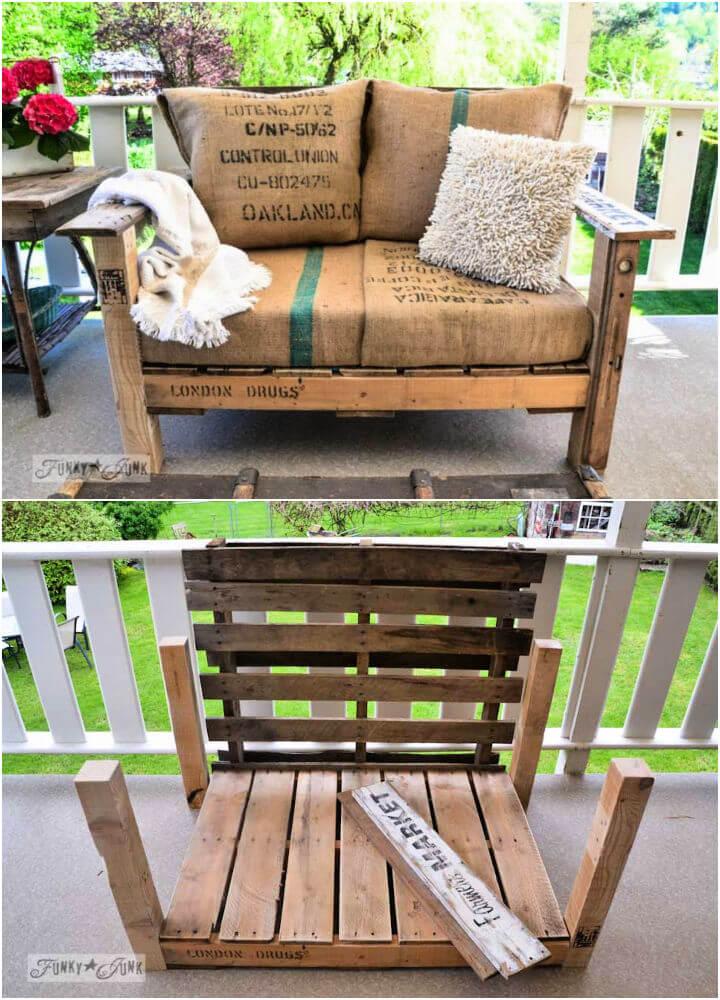 Add a farmhouse-style pallet chair on the patio or in the garden with reclaimed pallets and lumber. Create this chair using wood crafting tools and supplies effortlessly and within your budget. Keep the overall look of this chair rustic to make it more realistic. Make this pallet chair comfier with couches and padded upholstery. funkyjunkinteriors
30. Outdoor DIY Pallet Bench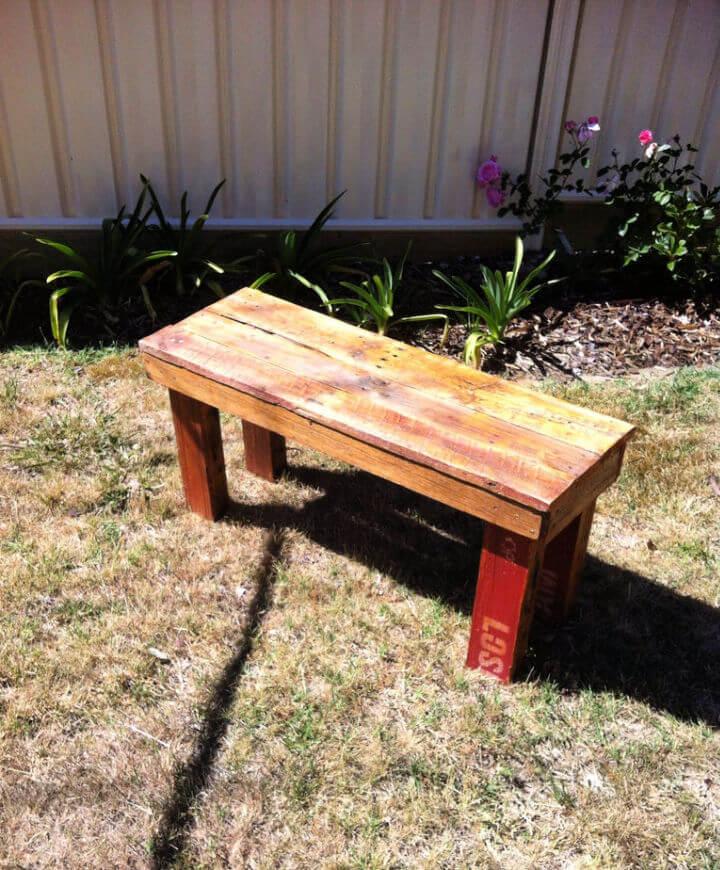 Involve yourself in crafting projects and DIY to spend your holidays productively. Create this pallet bench for garden and outdoor sitting with wooden scrap and timber. Creating this pallet bench is the best way to reclaim and recycle the old pallets. It would cost you nothing but requires only fewer tools. Make it and enjoy sitting in your garden inexpensively! instructables