You surely belong to the same planet as we, if you have a bulk of books at your home that you really don't need now. Have you ever thought of doing some creativity with your books instead of throwing them away? I guess not yet, so here are some amazingly funny, inspirational, authentic, and cute ideas about what extremely creative you could possibly do with your old books. So be ready to see some crazy stuff made with your very own old books.
Have a look at this gorgeous vintage book lamp made easily in no time so enjoy reading your new books tonight in the light of this old book lamp. Follow this DIY tutorial to make a lovely elegant clutch. It's so fancy with a hardcover and base. This bird wall art is also a real one of a kind masterpiece. This is a huge bed made with old books only. These are some really unique ideas with some tempting pictures that you will definitely want to give them a try. Grab some pages from your old books and make this book page wreath with them. place a little mirror in the center, the pages will then serve as a frame. This floor lamp looks a bit creepy but it's fit for the kid's room.
These are some other book sheets crafted in a way to make this beautiful feather. This is one storage box made with an old book. Keep your phone and keys safe and protected and avoid misplacing them every time. This is some unusual old book display which is of course very precious for the book lovers so try making this eye-catching masterpiece for once. These picture frame shelves are also worth a try and some effort as they are incredible for a display purpose. This is a funny old book Christmas tree that you will want to try with the old books near Christmas. One of our personal favorites of all these ideas is this secret bookmaking. It's a hidden box made with an old book but no one can ever guess. If you are a sewing fan and want a storage box for your sewing stuff lets to make this one out of an old book and keep your material safe and protected.
Here are some pretty old book flowers for you to decorate on a bookshelf. This is an incredible but a little effort demanding job, and it's a gorgeous old book drawer. Make this beautiful thing and you are all set to give your study room a look beyond imagination. Look at these old book pages, folded together to make a heart. Place it on your bookshelf in front for the purpose of decoration. These are some picture frames made with old books and they are very interesting and symbolic.
All these 20 Best Ideas About Old Books incredible and latest ideas are so overwhelming that you cannot resist trying them soon. Grab all your old books today only and show all your creativity to the world. Keep your minds and hearts open to everything new and get the latest and trendy ideas every now and then from our websites, the links to which are below.
Vintage Book Lamp: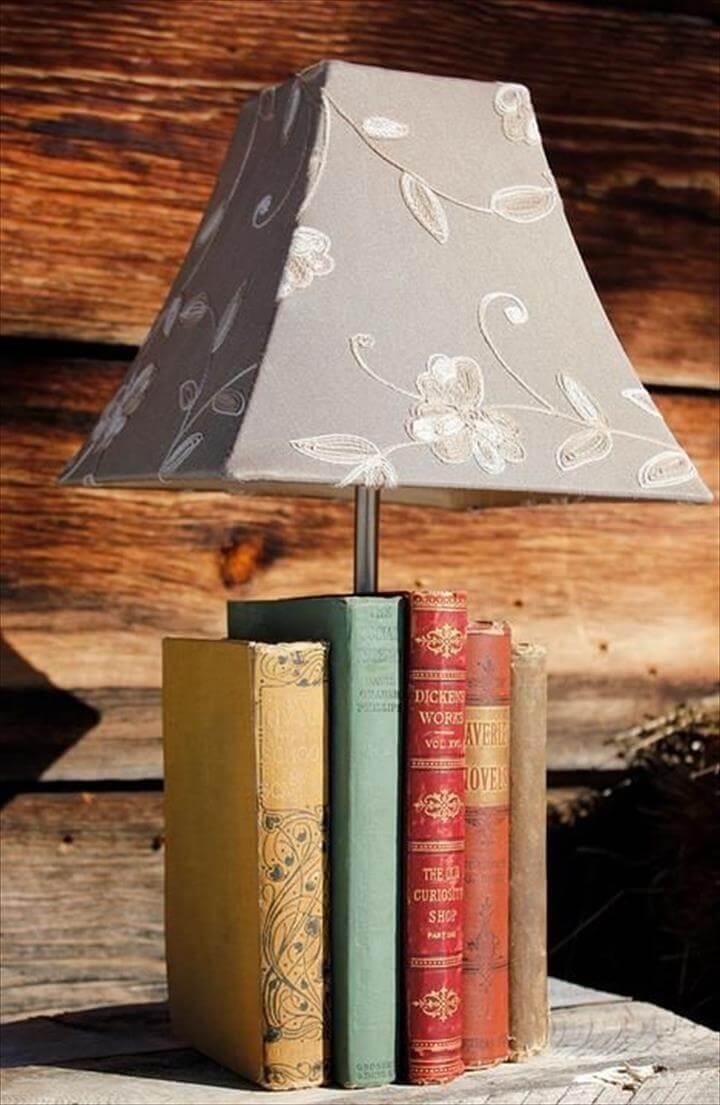 Make the most out of your vintage books with this idea of the vintage book lamp. All your need to do is drill hole in three books at the same place. This hole would let the wire of the lamp pass through and get the lamp connected to the switchboard. This vintage book lamp is literally going to lighten up your bedroom décor.
Image: instructables
Book Clutch DIY Tutorial

: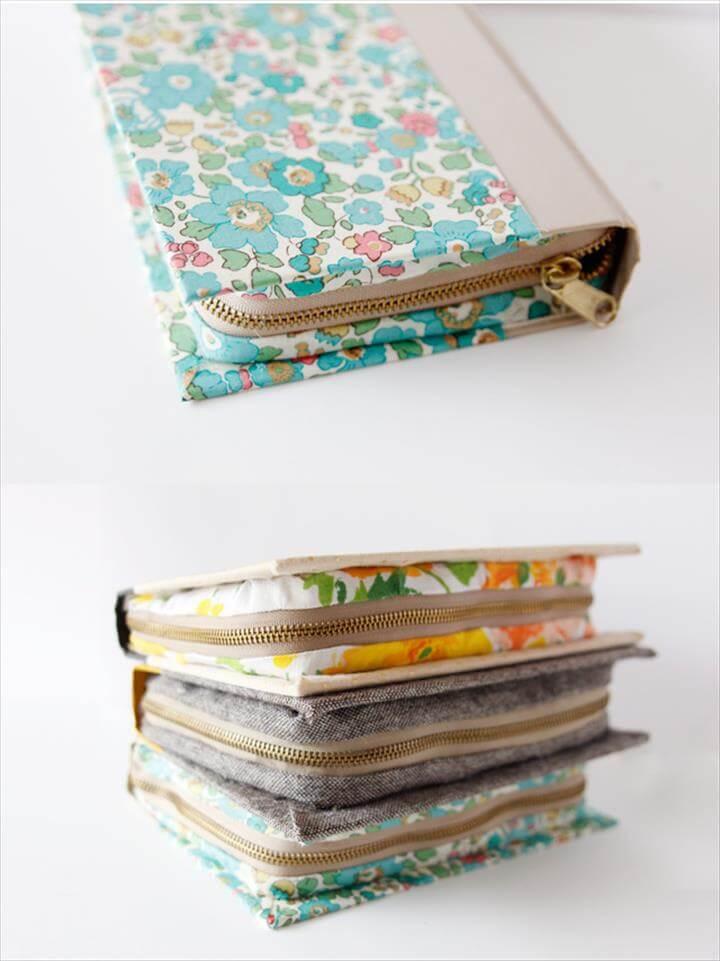 Clutches are the favorites of the ladies and now you can make this super-creative book clutches with an easy tutorial. Yes, using the hardcover of the books these lovely clutches have been yielded. Further, you need some colorful fabric scrap pieces and the copper zipper. You can use these handmade clutches as lovely gift ideas too. See the rest of the details right here!
Image: seekatesew
Bird Wall Art

: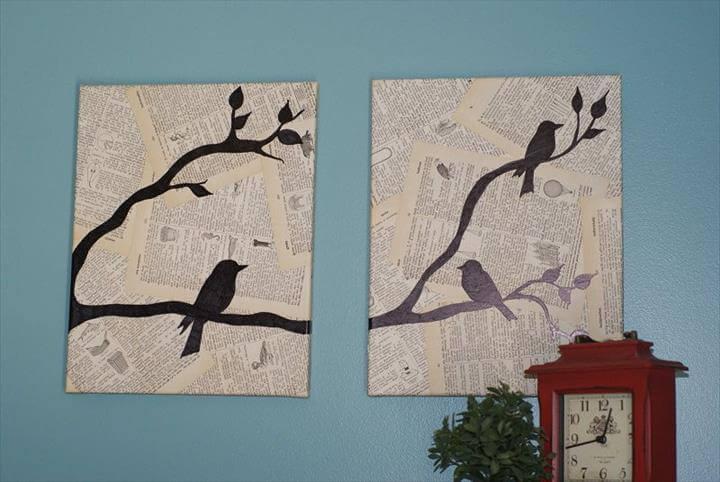 Image: diyncrafts
Bed Made Of Books At Anthropologie

: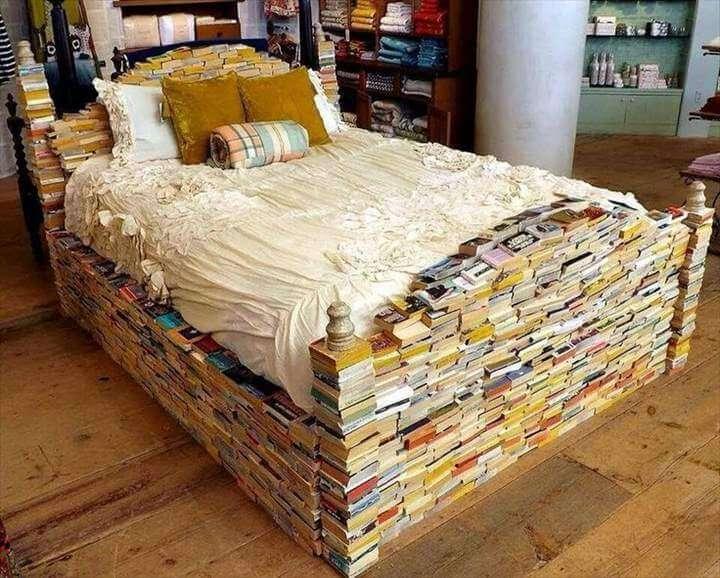 The book lovers are going to fall in love with this idea of the book bed. So the hoard of the old books that they have can be used to build this totally unique bed. From the platform, footrest, and the headboard all are made out of the books. To know more about this interesting and fun idea get the details here!
Image: thoughloversbelostloveshallnot.blogspot
Book Page Wreath: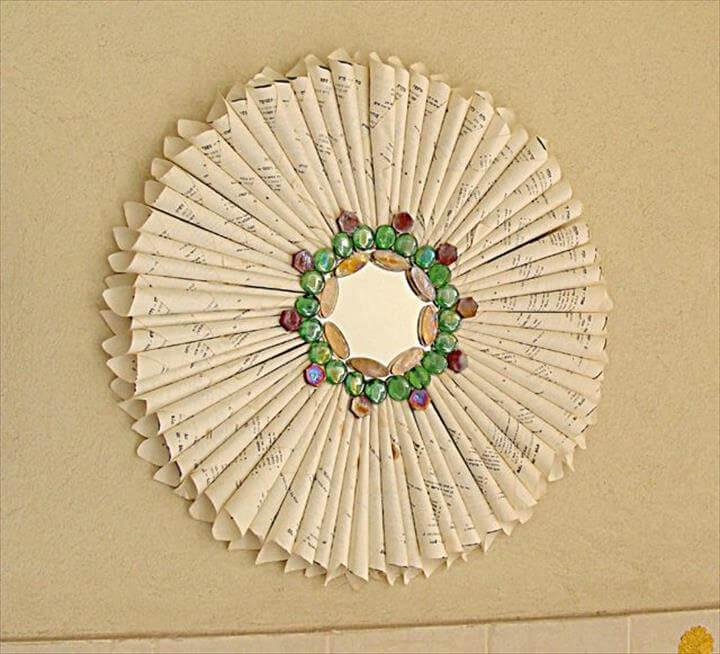 Do not worry if you are short on money and need a wreath to set on your walls. This easy and totally cost-free book page wreath is the best thing to make in this situation. Just treat out the pages from your old books and make cones out of them. Glue the cones to a cardboard square to form the wreath. The center of the wreath is decorated with a mirror and some colorful gemstones.
Image: ne-nasil.net
Floor Lamp

: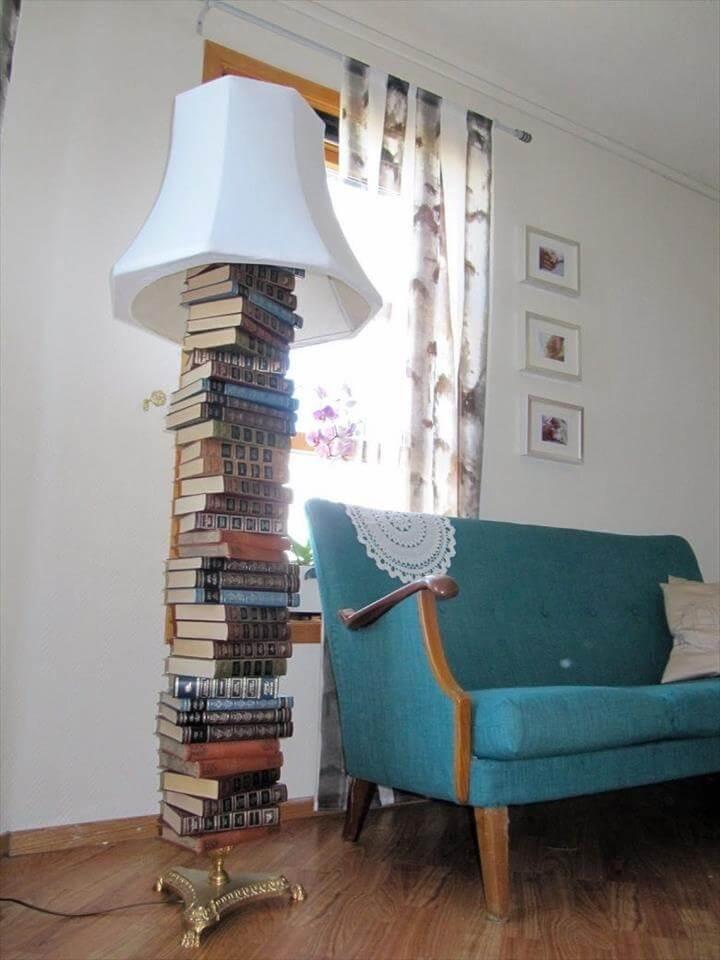 Bring the bookish vibes in your living room area with this gorgeous book made floor map. Yes, the post of the long-standing floor lamp has been constructed with a pile of books. You can use the books from your library that are old. Or you can buy a bunch of vintage books from a thrift store too. More details here!
Image: iamfishermansdaughter.blogspot
Sheet Music Feathers

: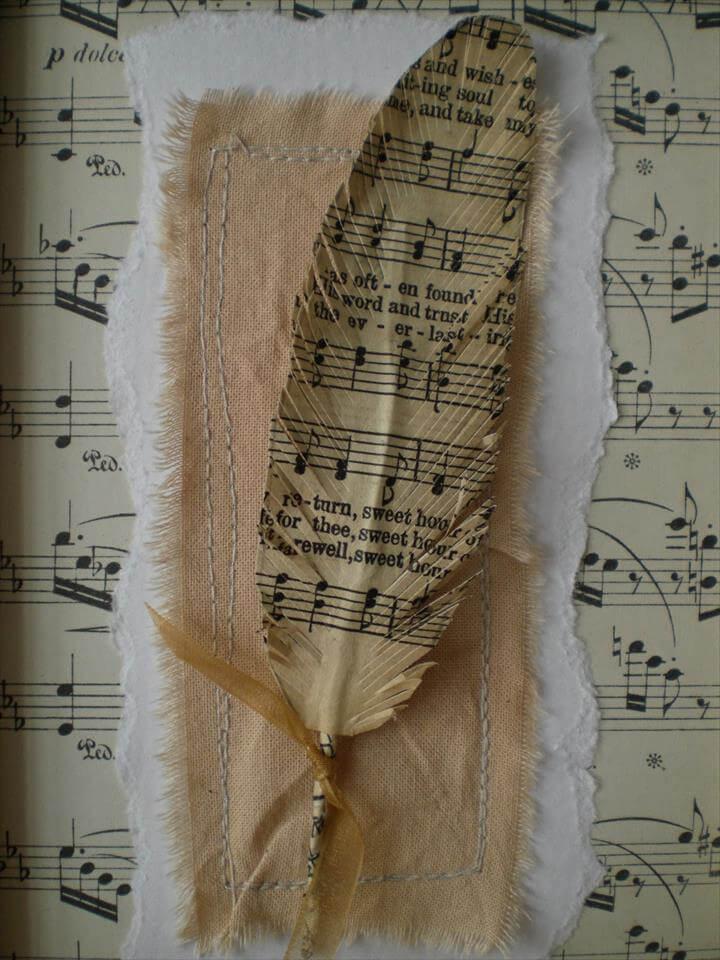 Remember the days when people use to write with the inked feathers? How about bringing back that tradition but with a décor twist. Yes, you can make this lovely sheet music feather with the pen to revive some classic era beauties. You need a paper from the music sheet, wire piece, some basic cutting tools, and a pen to do this project. Complete details here!
Image: todolwen
Book Clutch

:

Let us just confuse the people around with this lovely book clutch. People would take it as a book that you are holding but they would be amazed when you open it as a clutch with your essentials inside. The things that you would need to do this secret book clutch project are the basics like a book, pencil, glue, paint, ruler, and the stylus. Check out the details here!
Image: wordpress
Old Book Display

: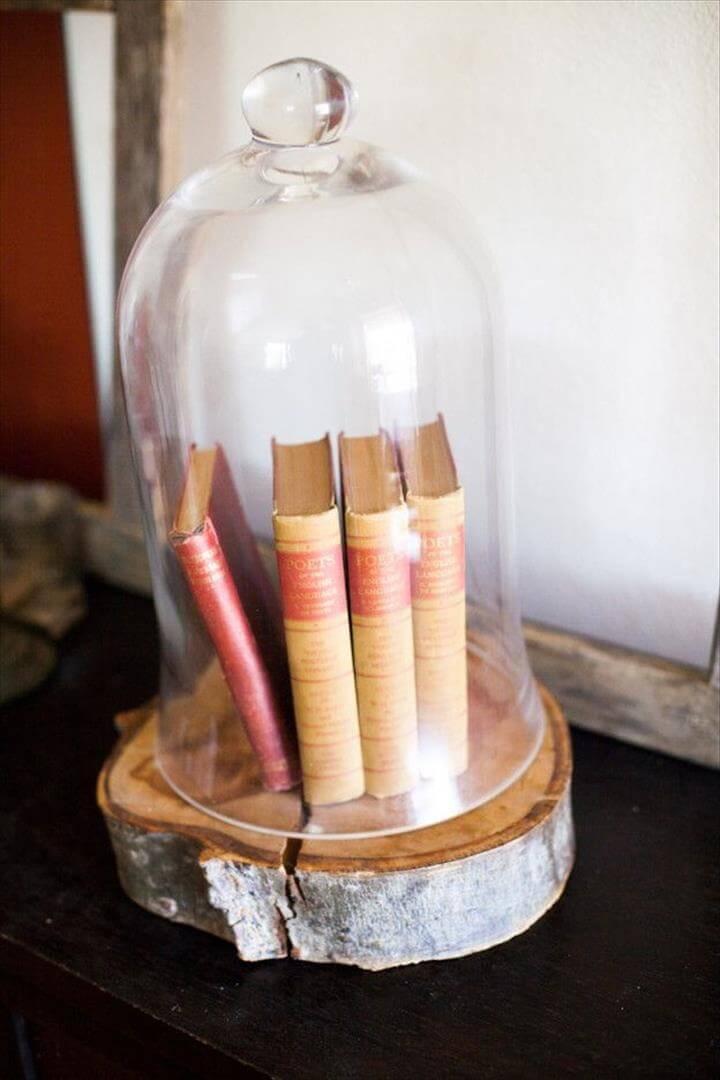 A bunch of the old books can really add up to your home décor and styling. Here is the idea of creating this stunning old book display on your own. You need only three things to make this old book display. So grab some vintage books, a recycled glass cover jar from the kitchen, and a round wooden log piece. Details here!
Image: youtube
Picture Frame Shelves

: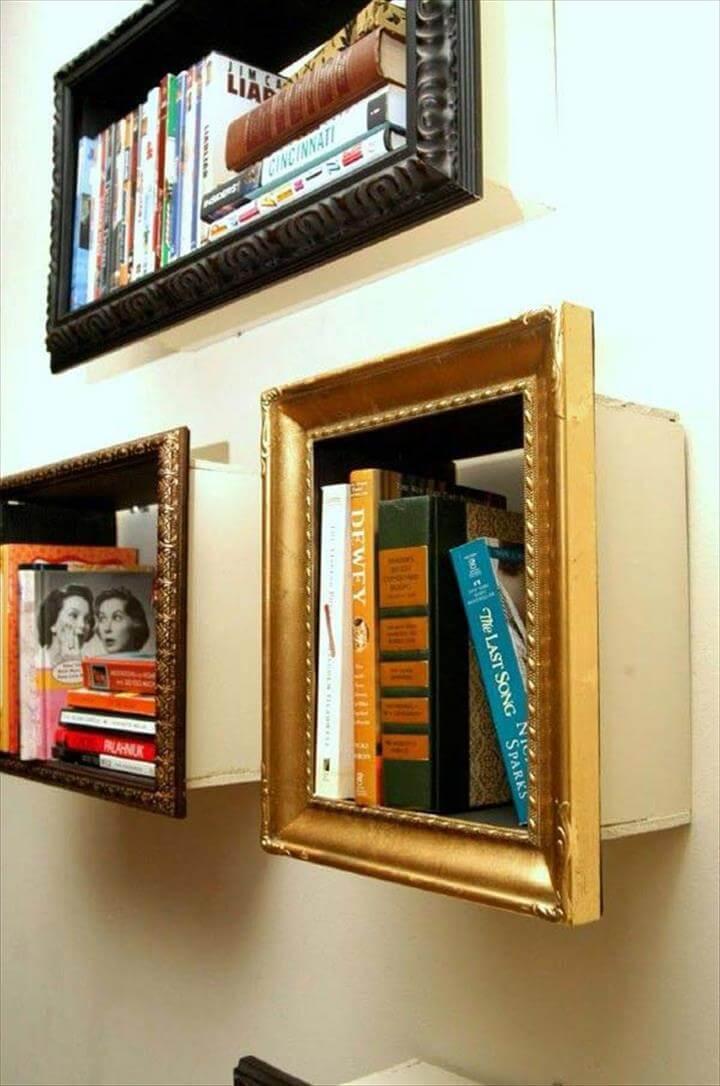 You would love this idea of the picture frame shelves to organize your books. The gorgeous shelves are super easy and fun to make with the wooden blocks and the framed edges. You can make two to three shelves in different geometrical shapes to organize your books with their genre. For more details check out the details here!
Image: changeofsceneries.blogspot
Old Book Tree: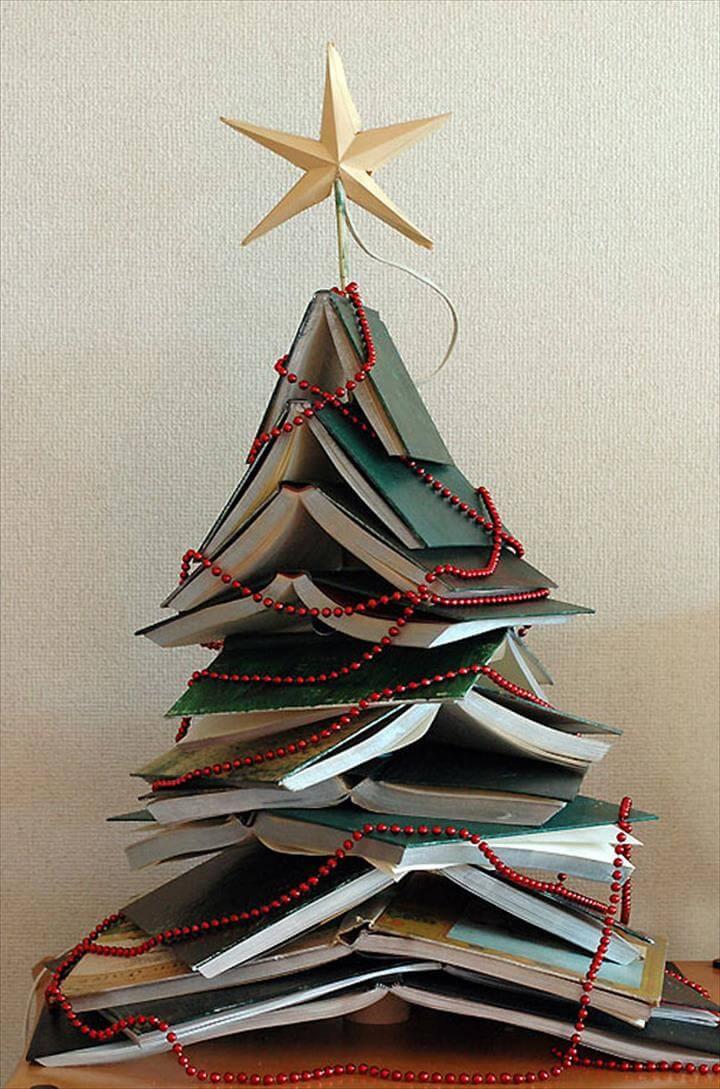 With your old books, you can make the most out of your books by making this old book tree. So grab the old books and then paint the books with green paint hues. Then pile up the books just like a tree and then add a red beaded string all over with a star bulb light on the top. Check out the details here!
Image: mediatinker
Secret Book Box: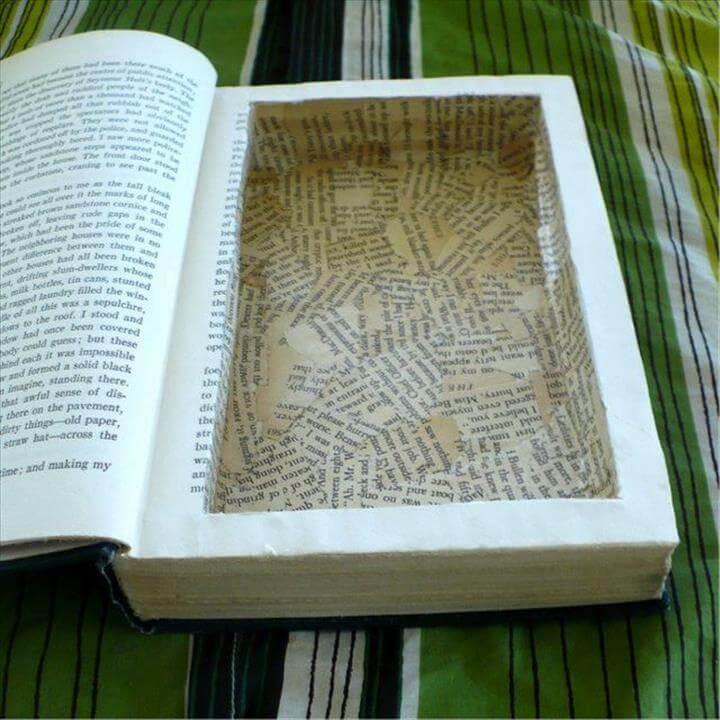 If you need a secret box to hide out some of your stuff then make this lovely secret book box. Just cut out more than half of the pages of the book but without edges and glue up the edges together. This would turn your books into a box to hide your stuff in and make everyone would only take it as the book.
Image: designsponge
New Sewing Box

: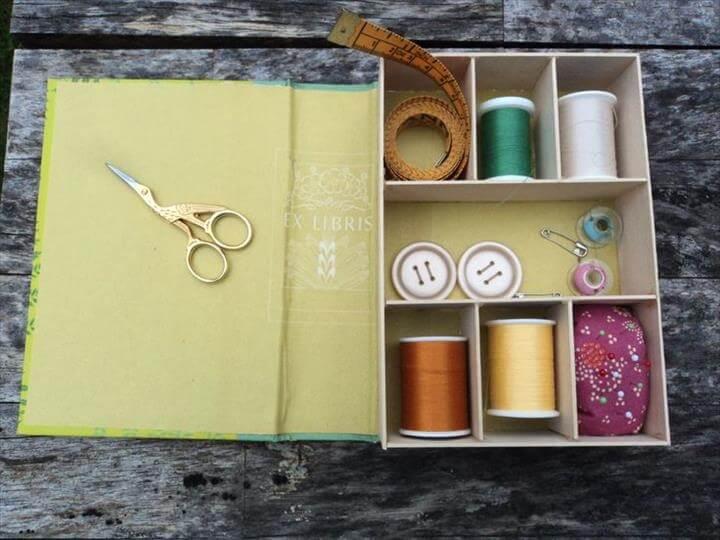 Now you can organize your sewing tools and supplies in an easy and fun way with this lovely handmade book sewing box. Make a box using cardboard with multiple sections and then cover it up with an old book hardcover to make the pretty sewing box. You can check out complete details here!
Image: abramscraft
Old Book Pretty Flowers: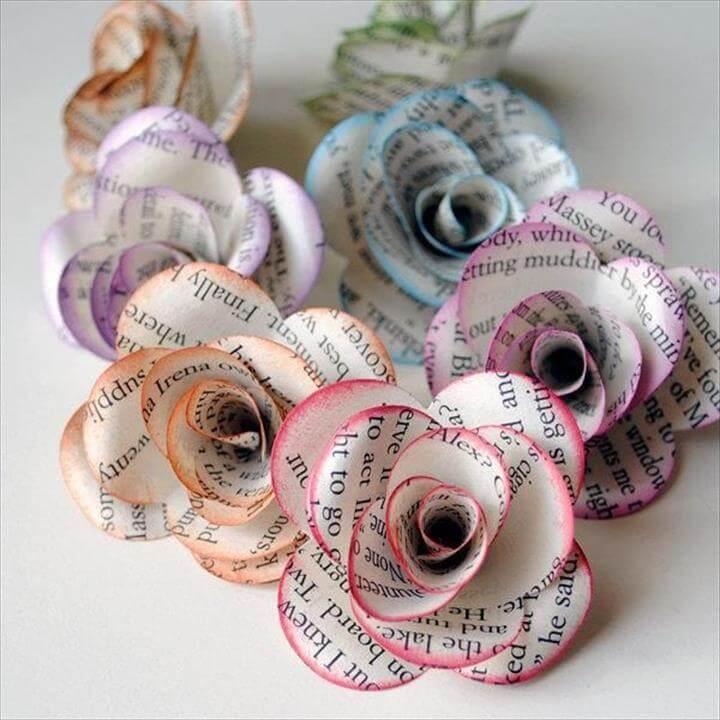 If you are sitting idle and want to do something then make these lovely colorful old book pretty flowers. The gorgeous rose flowers are made out of the old book covers. Once you are done making the pretty flowers you can outline them with the colorful markers to make them look the best. Follow the details here!
Image: instructables
Book Drawers

: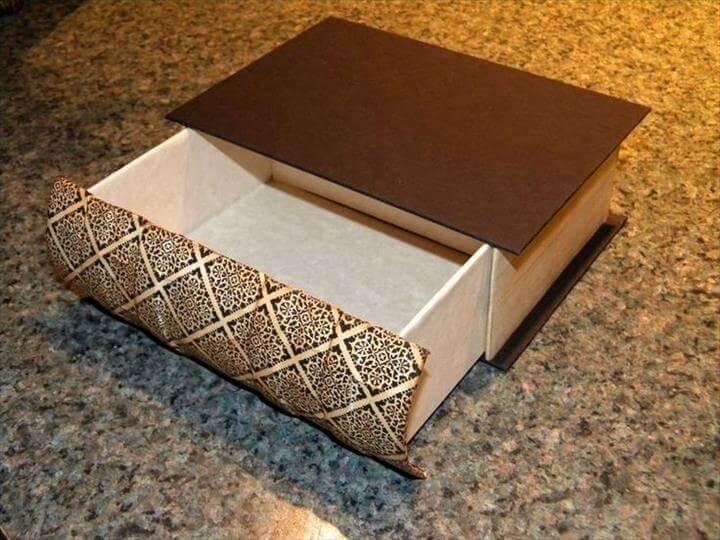 Be creative and genius to do projects like this book drawers. This one of the best things when you secretly want to hide something from the family. The things that you need to make these lovely book drawers are the chipped wood and the hard book covers along with some feasible tools and supplies. Details here!
Image: typepad
Paper Flower: DIY

Now you do not need to buy paper to make the pretty paper flowers as you can do it with your old books. Yes, just grab your old books and rip off their old page to use the scissors to make these beautiful lovely petal flowers. The lovely flowers are so easy and fun to make and perfect to make your kids learn the flower making craft.
Image: iloveitallwithmonikawright
Folded Paper Book Heart Art: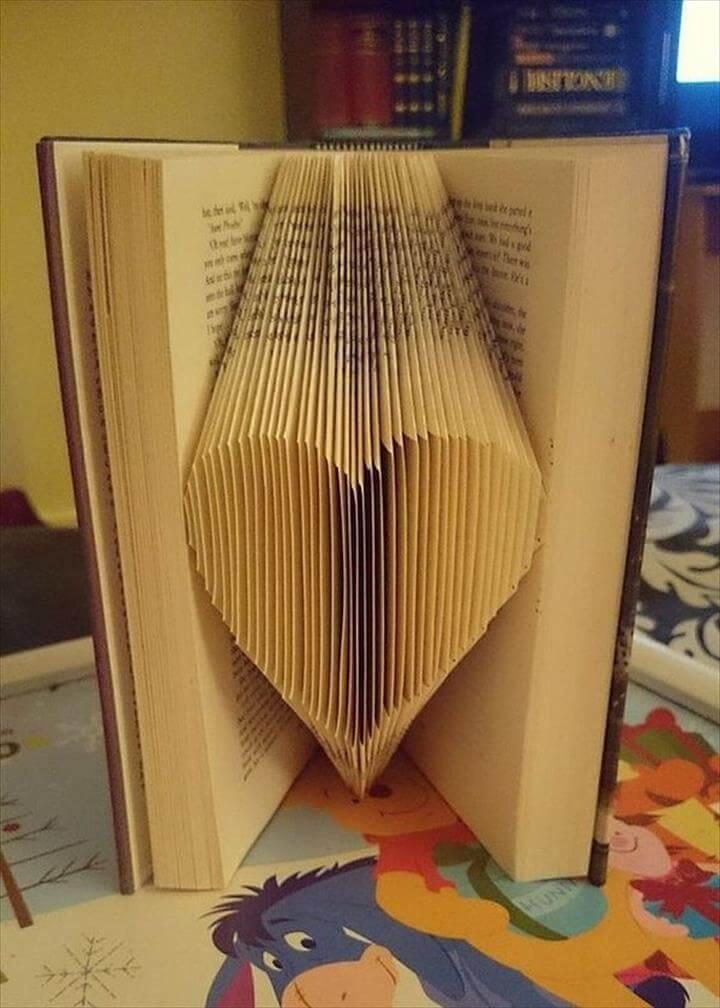 Here is a lovely idea of creating the heart art that takes the least of the time to be made. By just folding the middle pages of the books you can easily make this pretty book art. This would make a great display on your wooden shelves and the side tables too. Follow the link here to learn the art of folding and making this heart on your own.
Image: instructables
Picture Frames

: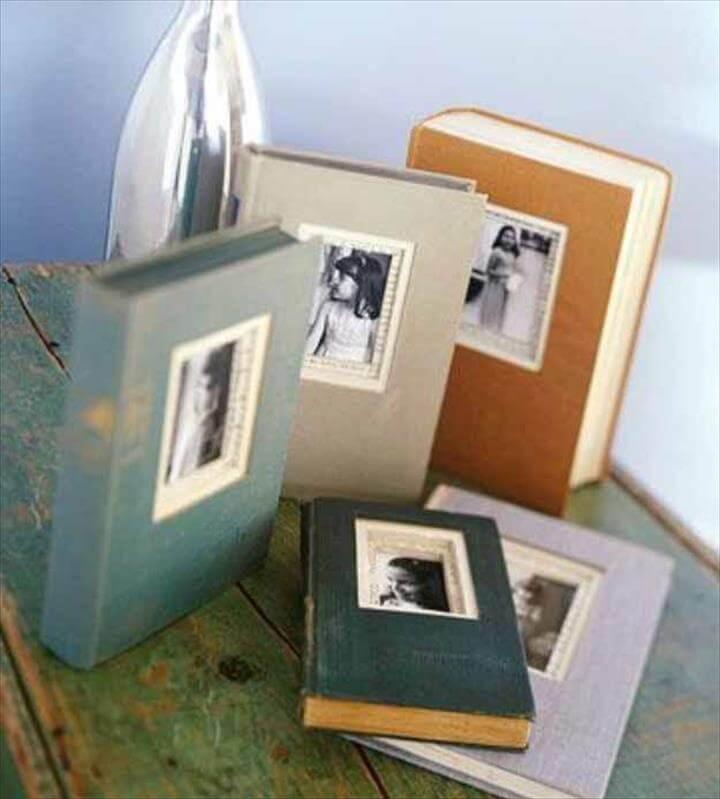 These old picture frames from the old books are the best things to make and put on the table display. Cut out a little square piece from the book front to paste your picture there. These picture frames are the best things to be a part of your display décor for any of the season. Check out the details here!
Image: bhg
Vintage Notebooks

: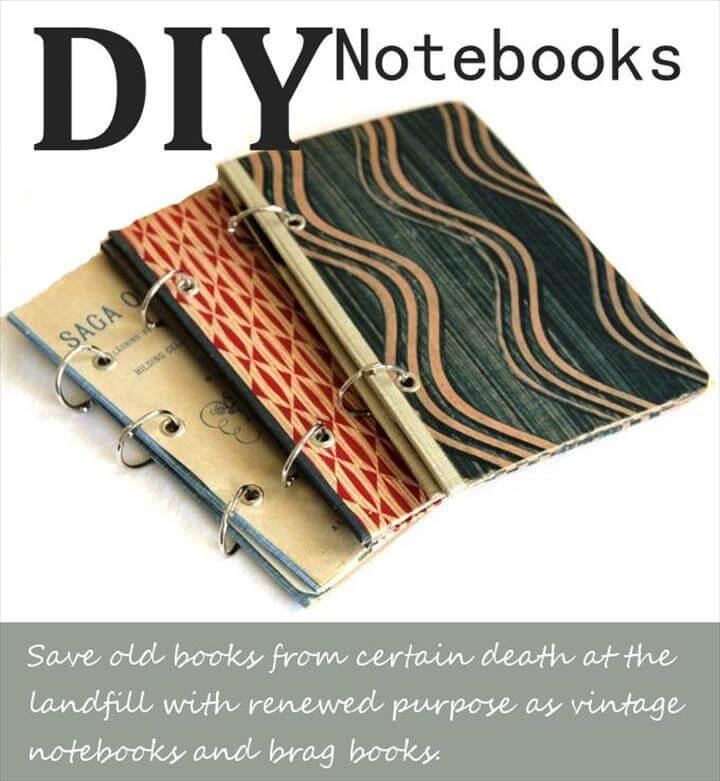 If you love making books at home then make this vintage notebook at home this time. They are gorgeous, attractive, and also gift-worthy. Just make the notebooks from the normal and casual method that you use. All you need to do is cover the notebooks with the vintage papers and that is it. Follow the details here!
Image: recreatedesigncompany
Stacked-Books Table Lamp

: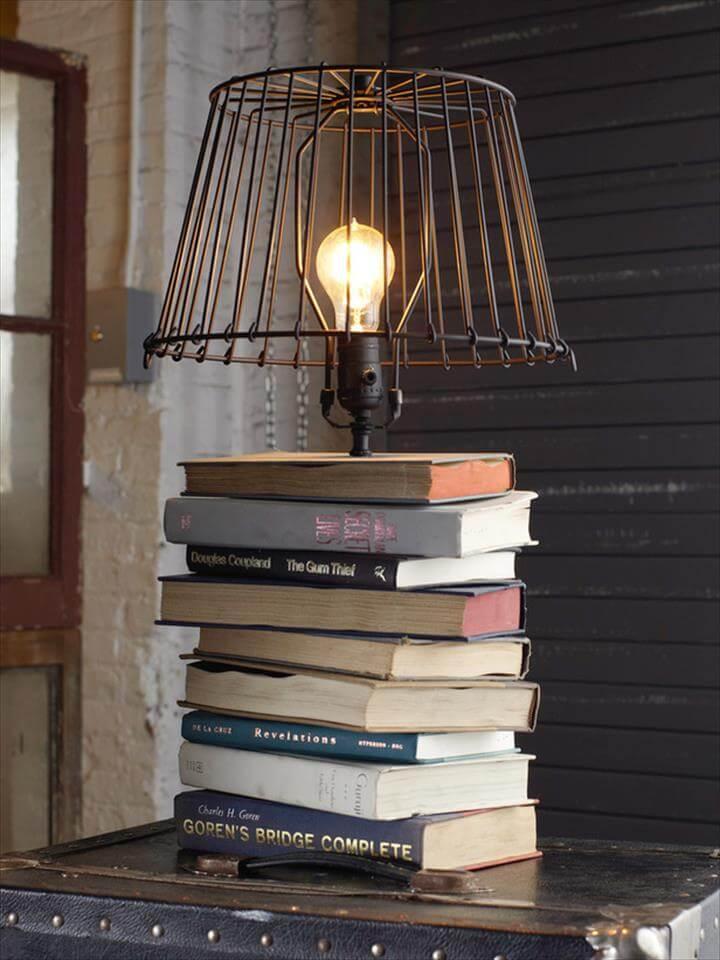 Make this lovely stacked book table lamp to bring the vintage beauty to your places. A pile of the books here has been turned into the book lamp post. You need to set up the wiring through this book made a post. The project is easy and fun to make if you and work with electric supplies and materials. Details here!
Image: hgtv