From your head to your toe, you are a walking talking style statement yourself! You are your own brand. And well, every girl wants to be the best version of herself. Even if you are a tiny bit creative and have a thing for fashion and would love to be trendy, we have got you some chic and cool nail design pictures! With these utmost 20 Cool Nail Designs Pictures – Fashion Trends, you can upgrade your style statement.
For your enchanting sense of fashion, these cool nail design pictures will work as a magical fuel. You are going to love these. Also, why have regular ordinary nail painted nails when you can be SO much more. With many of these ideas, scotch tape is going to be your bestie!
Hurry up, girls! Gather around your favorite nail paints and get ready to beat the trend. Oh, and you know the best part? There is no particular set of skills needed for these. All you need is a pair of beautiful hands! Beat that.
DIY Nail Art: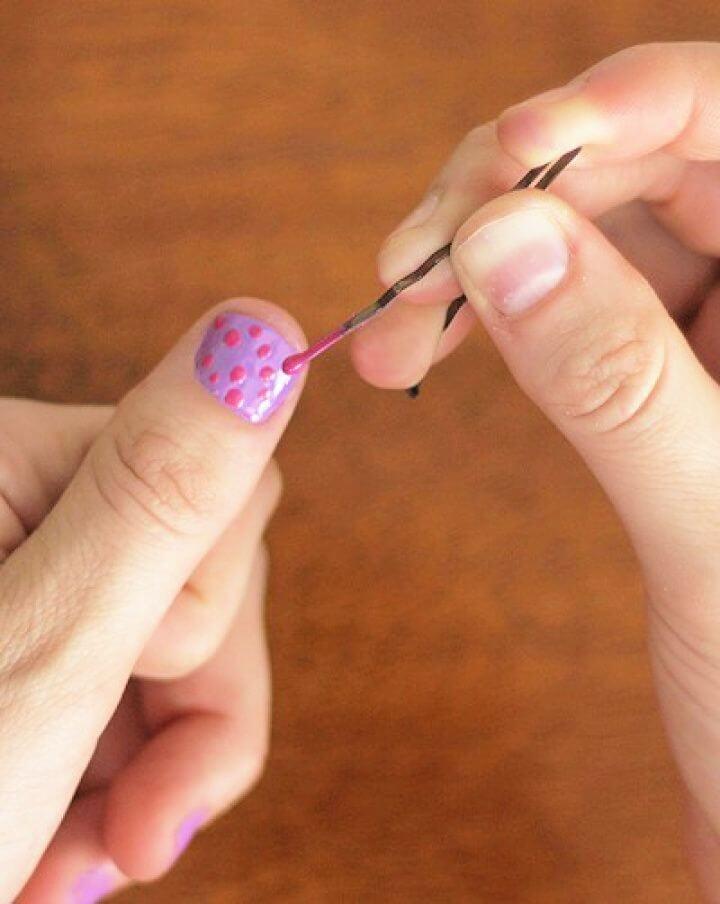 You can have this chic nail art design in about 10 minutes. Or 5 if you are a pro at nail paint. It is insanely easy to paint this. All you need is two colors of nail polishes and a bobby pin! Check out the steps involved in the tutorial.
Tutorial: onegoodthingbyjillee
Nail Art Silver Stripe:

Add these classy silver stripes to your nail paint. This could be an enchanting nail art option for a quiet dinner date! Get two nail paints, some metallic stripping paint, one electrician's tape and of course a topcoat. Get details in the tutorial.
Tutorial: ispydiy
Linear Nail Art DIY: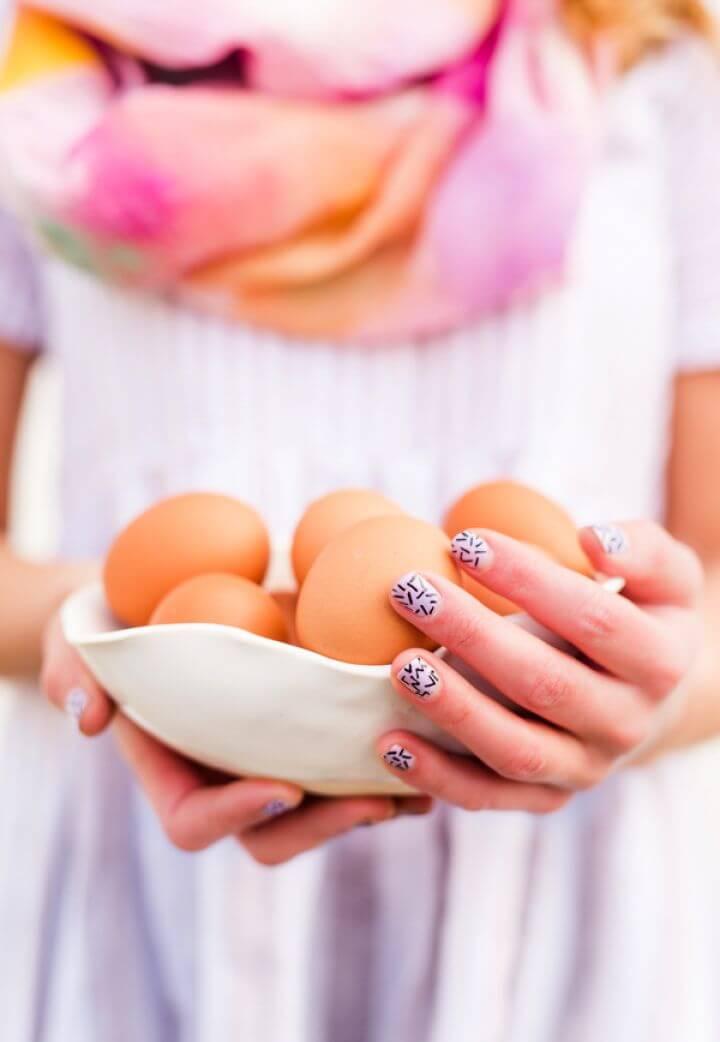 With any color base nail paint, create this ultimately trendy and stylish nail art design. All you are going to use for this is a clear base coat, nail color of your choice and a water-based paint pen. Pick that up in contrast. Get full details in the tutorial.
Tutorial: papernstitchblog
Cool Design On Nail Art: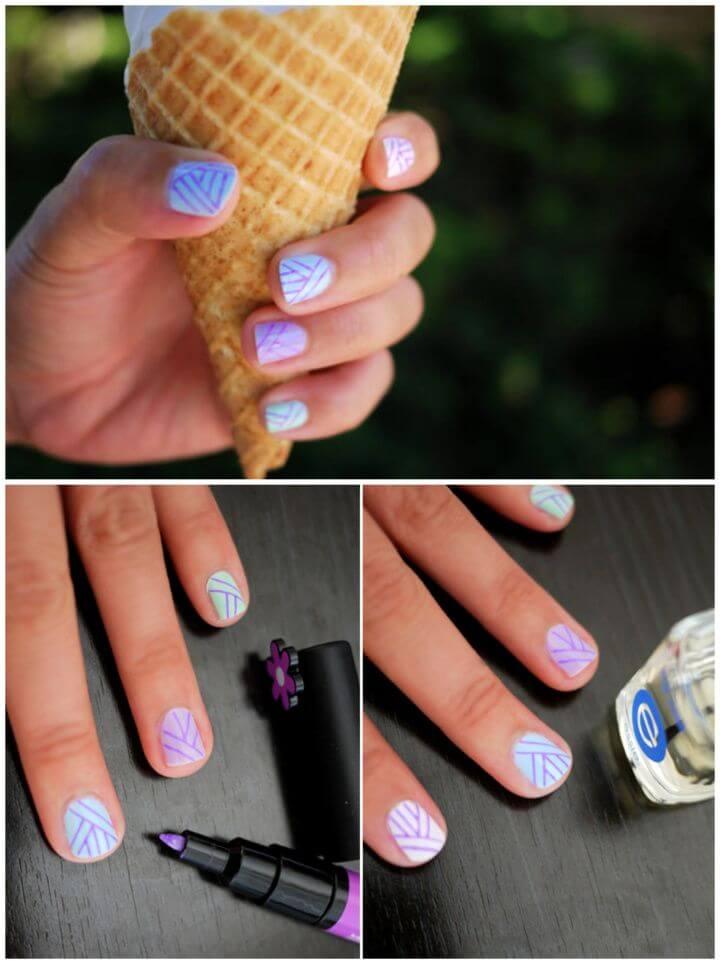 Diagonal and straight linear art never gets out of trend! Plus, it adds a minimalistic touché to the nail art theme. Get your hands on your favorite nail polish, topcoat, and a nail art pen! Head over to the tutorial for details.
Tutorial: honestlywtf
Painted Nails Messy French Tip Manicure: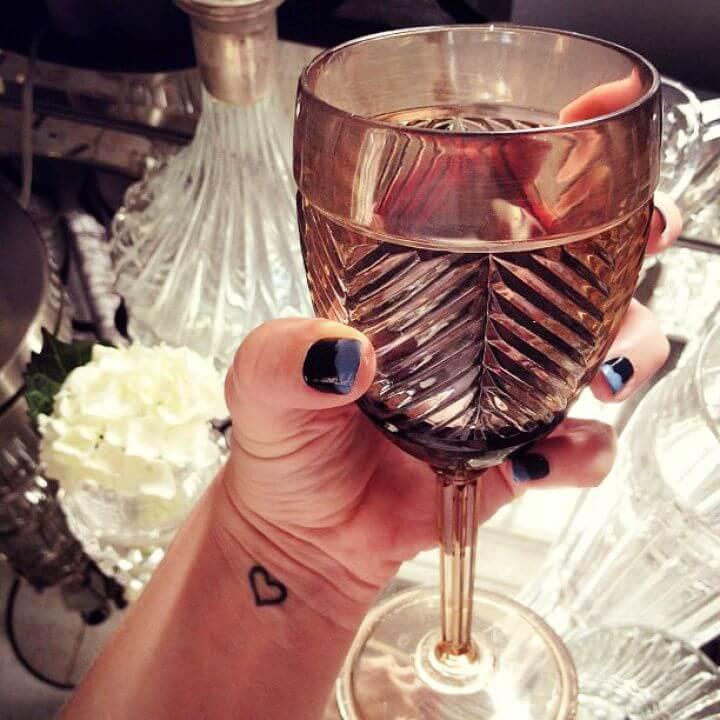 Who doesn't love a combination of two catchy nail colors! This tutorial is your part DIY day if you are not perfectly good with nail art. Here, we have a messy French tipped manicure nail art design. For full details, see the tutorial.
Tutorial: lovemaegan
Snow Leopard Nail Art: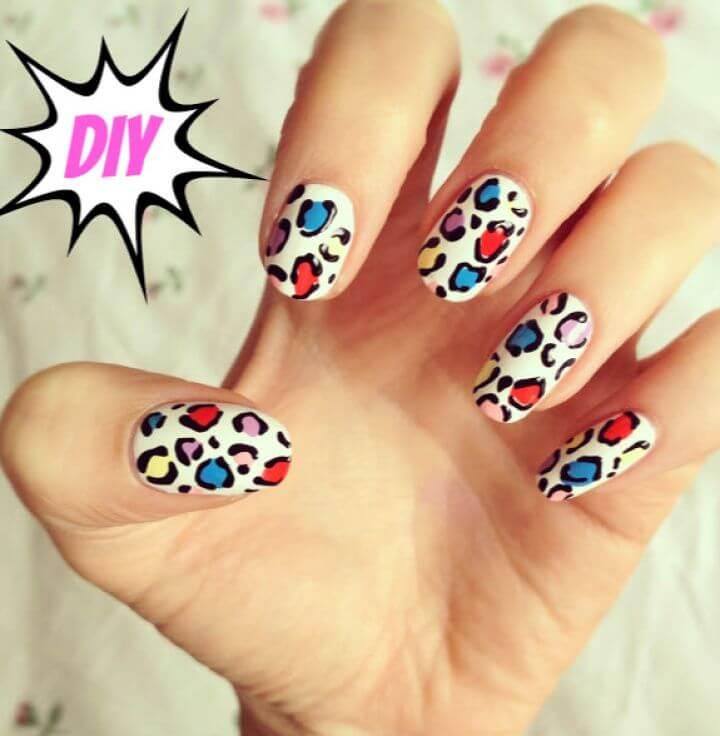 Look at this trendy, vibrant, and chic snow leopard nail art design! It will make your hands stand out like your own personal style statement. Ona white base you can do this magic which is literally insanely easy! For details, see the tutorial.
Tutorial: burkatron
Quick & Pretty Makeover For Chipped Nail Polish: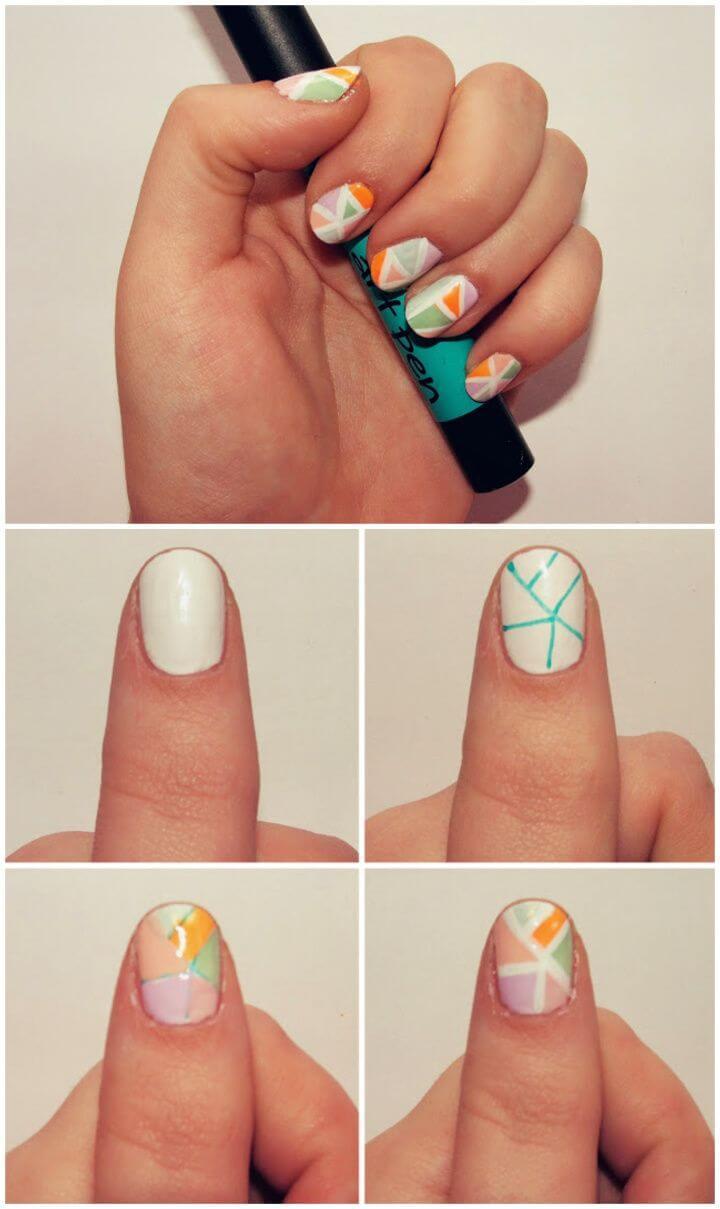 This looks like a work of art and total precision with handling many intricate details. But to let you in on a secret, it's NOT difficult at all. The tutorial will surprise you how you can make this pretty design with just using some colors of your choice.
Tutorial: coolsario.blogspot
Brushed Ombre Accent Nail Tutorial: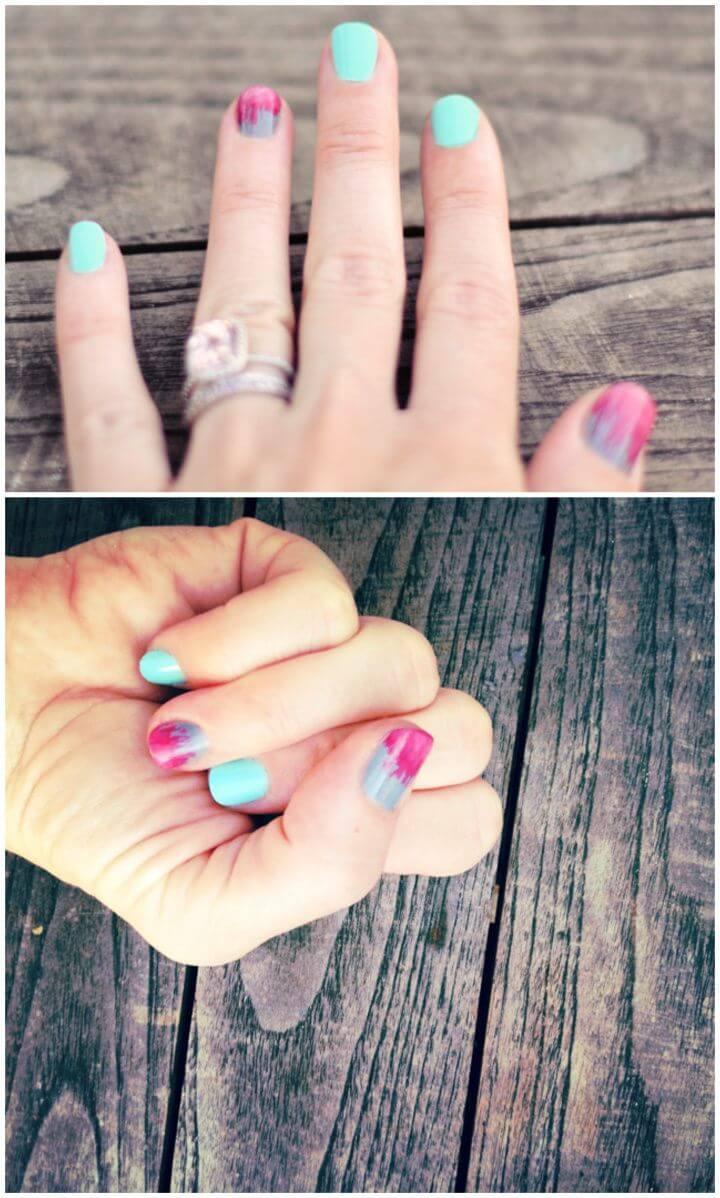 Beat the summer with this cool and trendy ombre accent nail art design! Add a nail art brush to your list for playing around with colors in this one! Head over to the tutorial now for step by step guide and details.
Tutorial: lovemaegan
How To Get Perfect Shapes On Your Nails: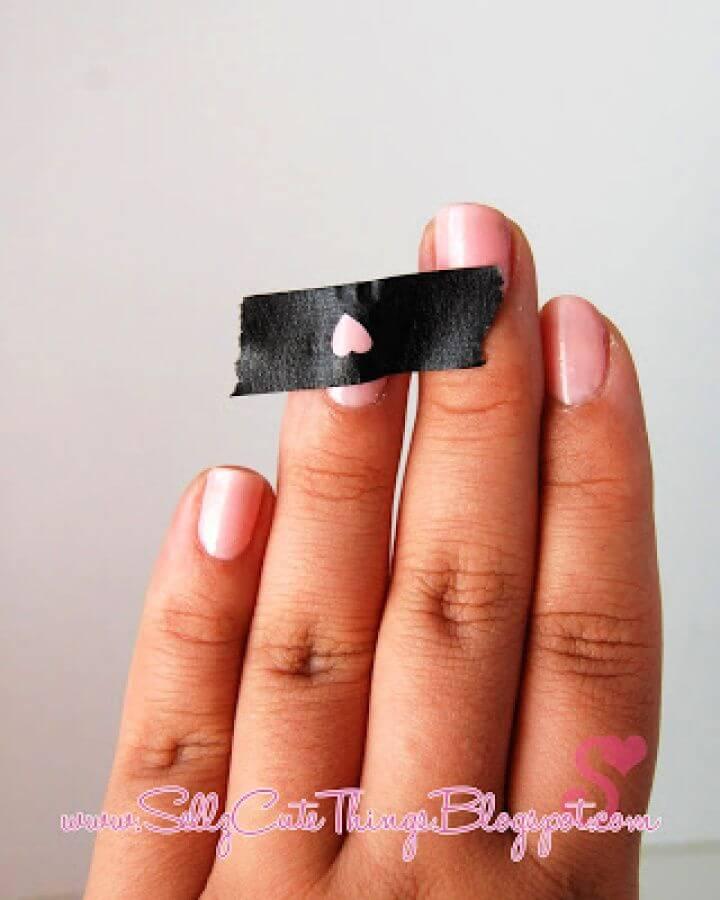 Funky and messy nail art is good and well, relatively easy too! What most people are craving to get is perfect shapes on nail paint. This tutorial is all laced with the tricks you do to get classic shapes on your nail art! Hit the tutorial now.
Tutorial: sellzcutethings
Cool Design On Konad Nail:
Look at this coolest nail design on Konad nails. You will be adding to your nail art collection by buying some Konad nail stamping polish, stamper and scraper and Konad image plate. Hit the tutorial now for details!
Tutorial: wrappedupinrainbows
White & Blue Manicure For The 4th Of July: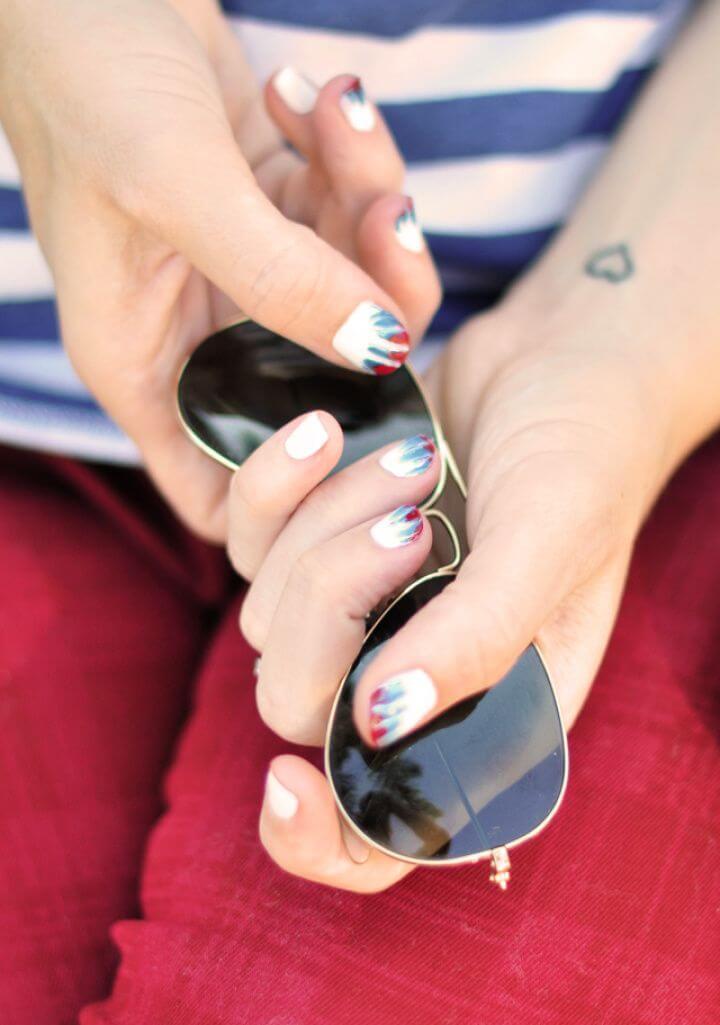 From hanging around flags and matching dress colors for the 4th of July theme. With this cool nail art design, you can theme your nail color with the patriotic aura around you! It's unbelievably easy to design this. See for yourself in the tutorial.
Tutorial: lovemaegan
Nail DIY – Striped Colours: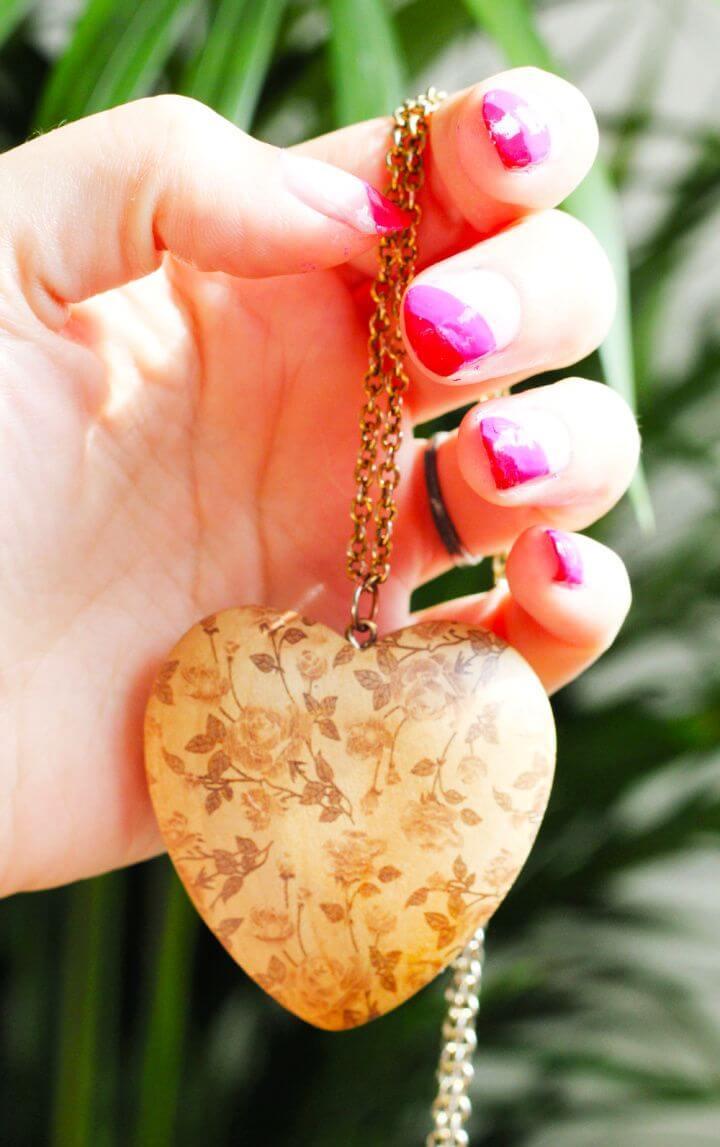 A series of stripped colors can brighten up your fashion statement. As the more the colors, the merrier the day! Get some big bowl, nail polishes, painters tape, and see the full magic ride to this nail art design in the tutorial.
Tutorial: lanaredstudio
Easter Party Nail Art: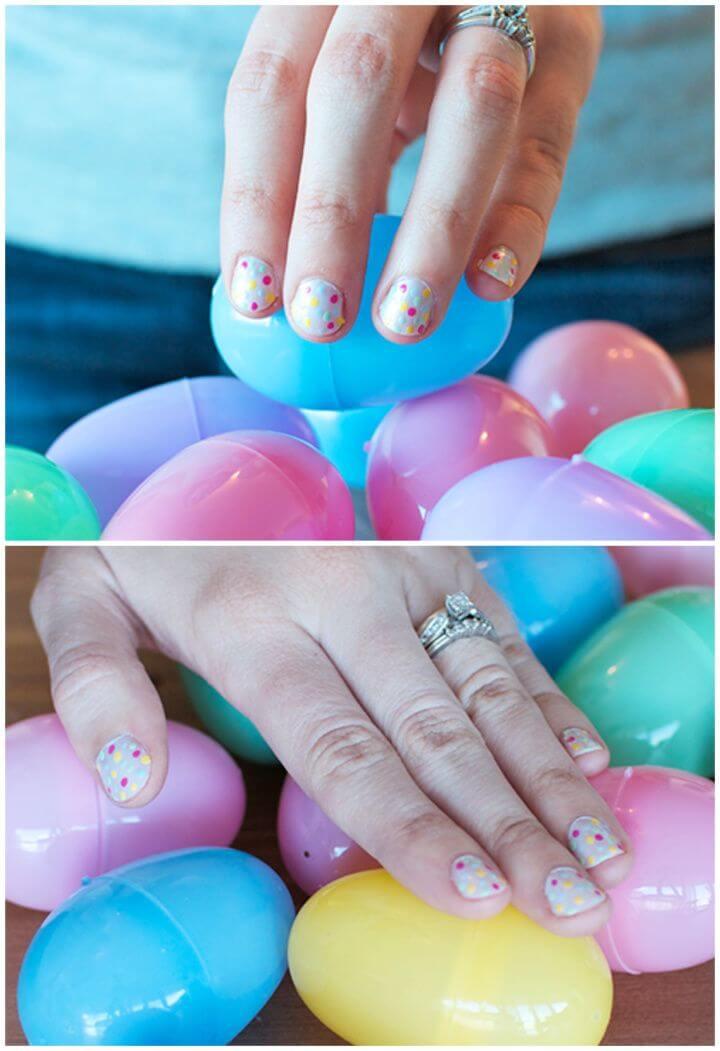 When Easter is around the corner, and you are all set with the Easter theme for your home. Why not take that to another level and theme your nail art this year too?! What an ideal synchronization. Full details are in the tutorial.
Tutorial: mrhandsomeface
Paint Your Nails With A Pastel Leopard Print: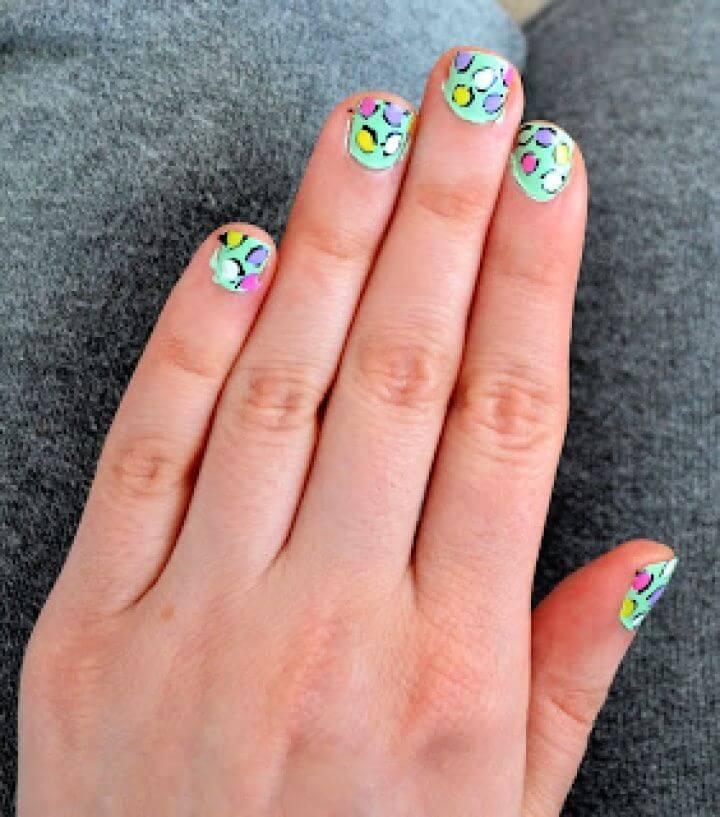 Well, well we all have seen the classic leopard print for over the years. From sofa covers, shirt prints, trousers and what not. Get this trendy leopard print nail art in under 10 minutes hardly! Get the tips to do it spotlessly in the tutorial.
Tutorial: akniegirl
Daisy Nail Art by Jessica Washick: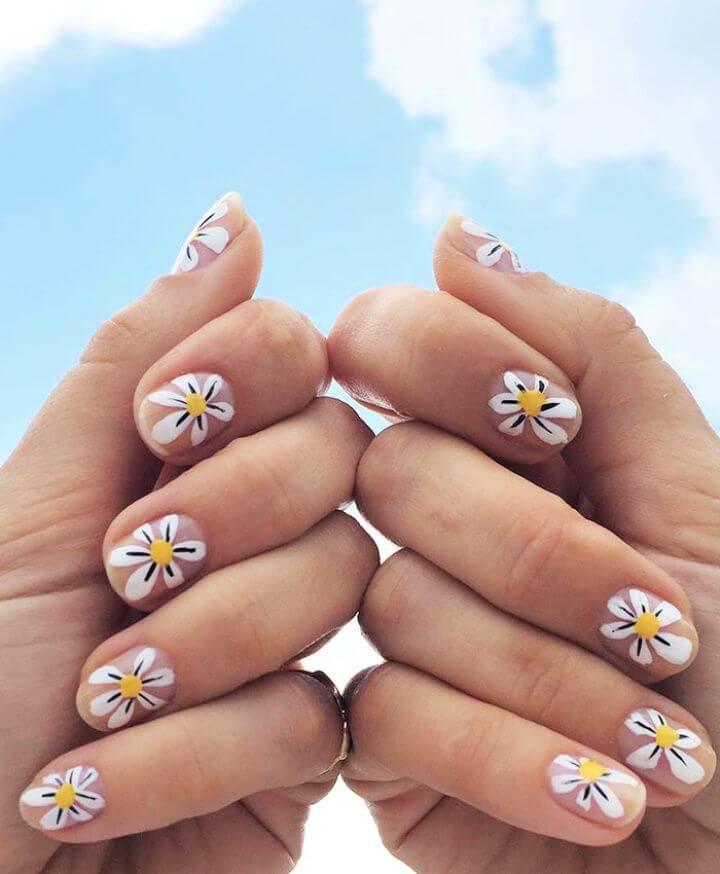 Daisies are everyone's favorite happy place! This stately and minimalistic daisy nail art can be your own personal style statement. Get full details with step by step guide in the tutorial. You will love it to brighten up your summer days.
Tutorial: designsponge
How To Do Marble Nails: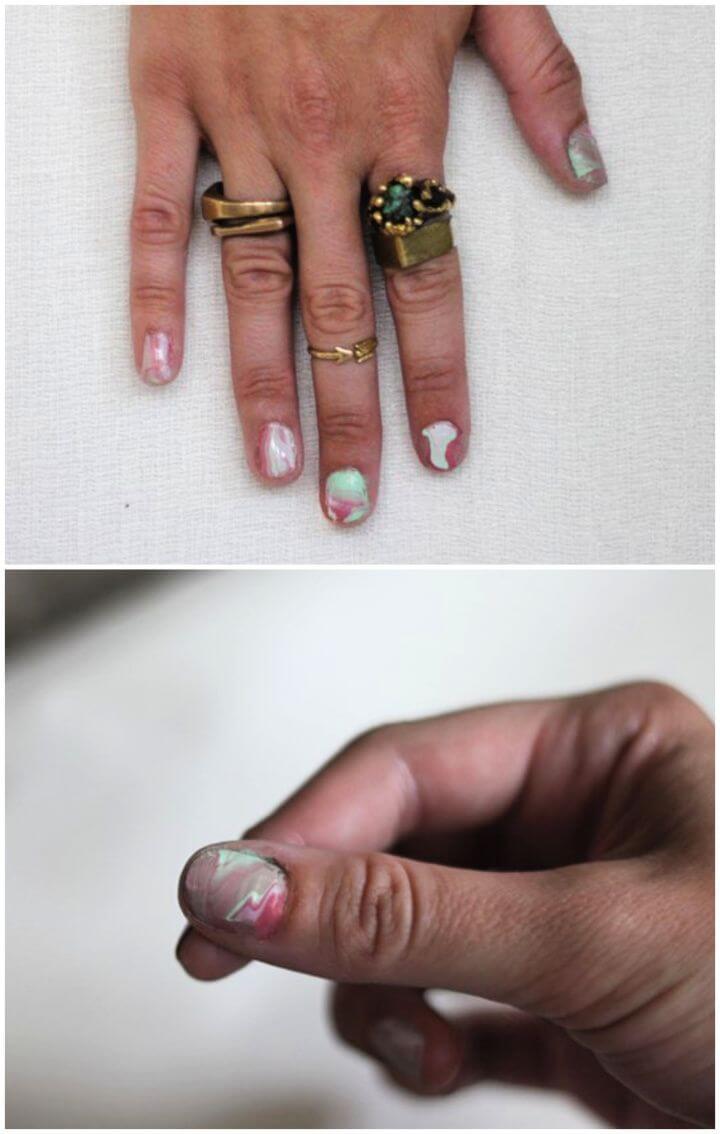 Mix up different nail colors in a glass of water. See the magical color realm you have just developed inside? Now, let's transfer them over to your nails. Dip your nails in the magical water then. For getting the finished look, head over to the tutorial.
Tutorial: freepeople
Washi Tape Nail Art: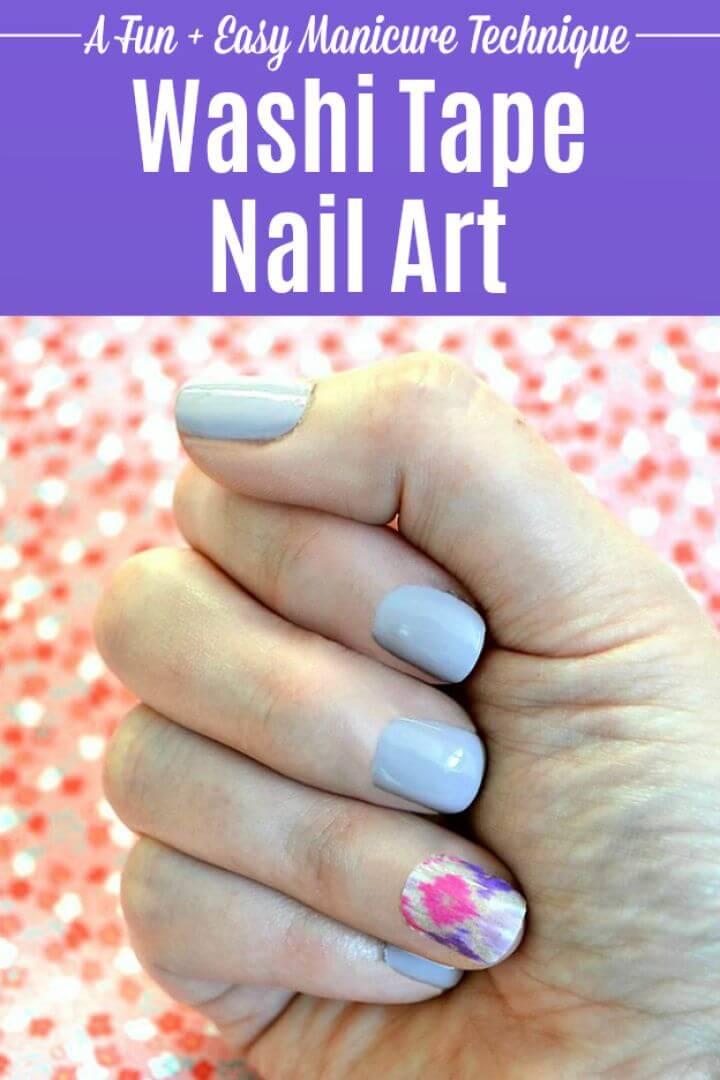 This tutorial elaborates on how you can have a perfect vibrant washi tape nail art design. Your supplies for this nail art would be washi tape, scissors, nail base paint, quick-dry coat, and nail paint. Head over to the tutorial for details.
Tutorial: hellolittlehome
Halloween Spider Web Nail Art: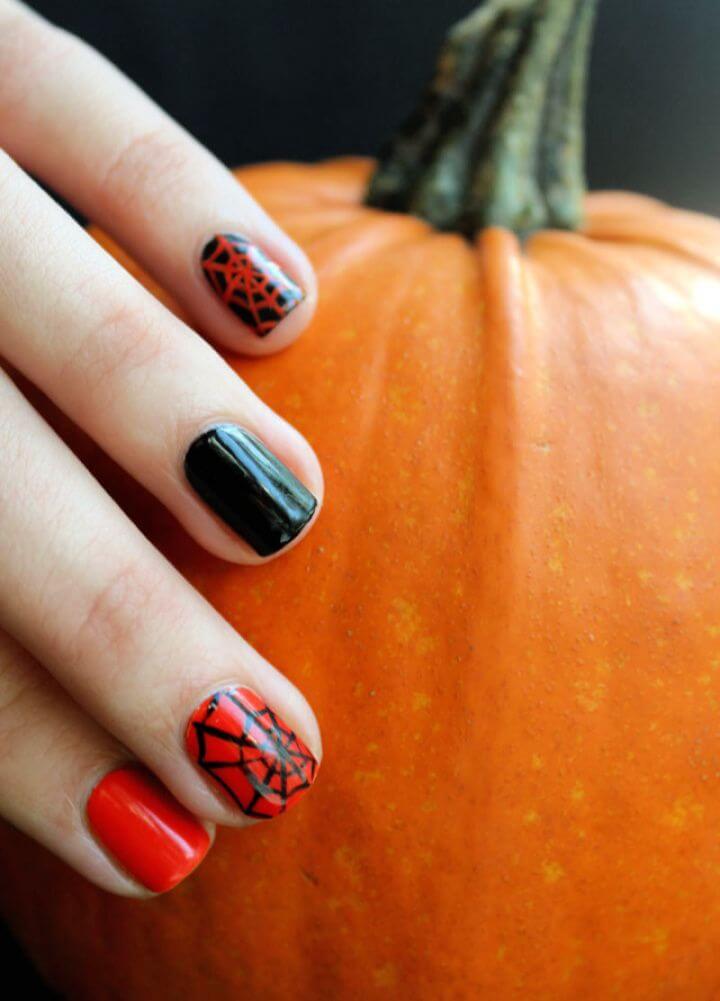 Halloween costumes are just not enough if your nail paint is not going with the theme! With this nail art tutorial, you can have an utterly scary and dark spider web nail art. The magic is done using a nail art brush. See the full details in the tutorial.
Tutorial: sonailicious
Sugared Stars & Stripes: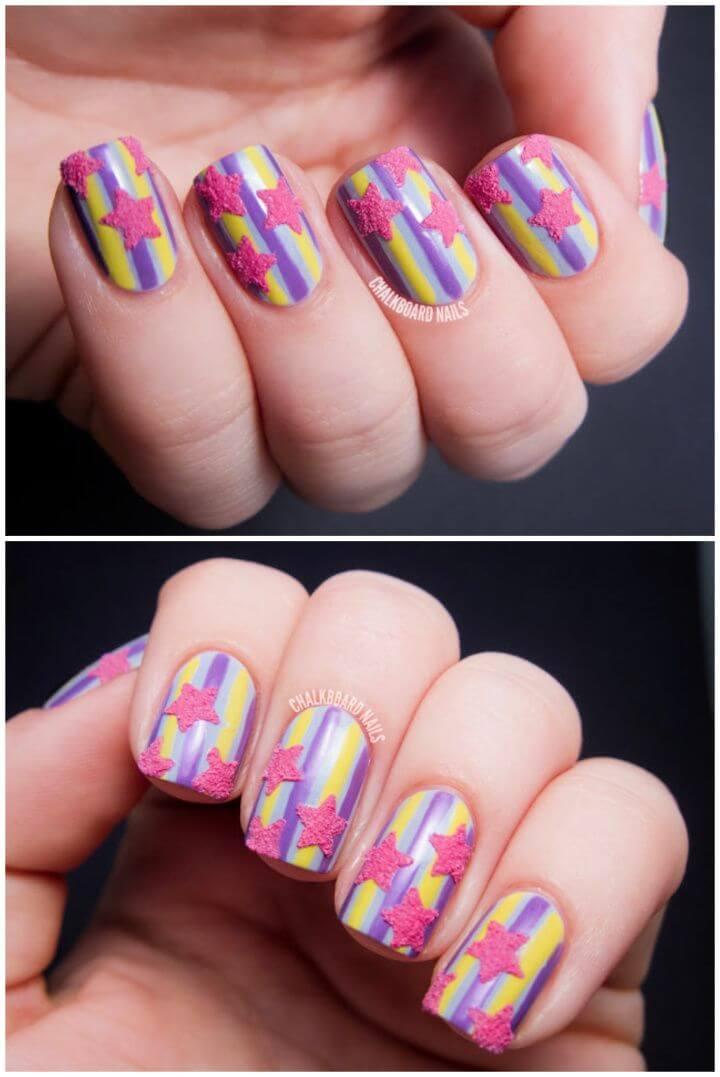 This adorable nail art design can make you the most popular and lively girl in your surroundings! Just by looking at it, it can brighten up the mood. It's fun and easy to make! Get the full details and step by step guide in the tutorial.
Tutorial: chalkboardnails
Easiest DIY Acrylic Nails: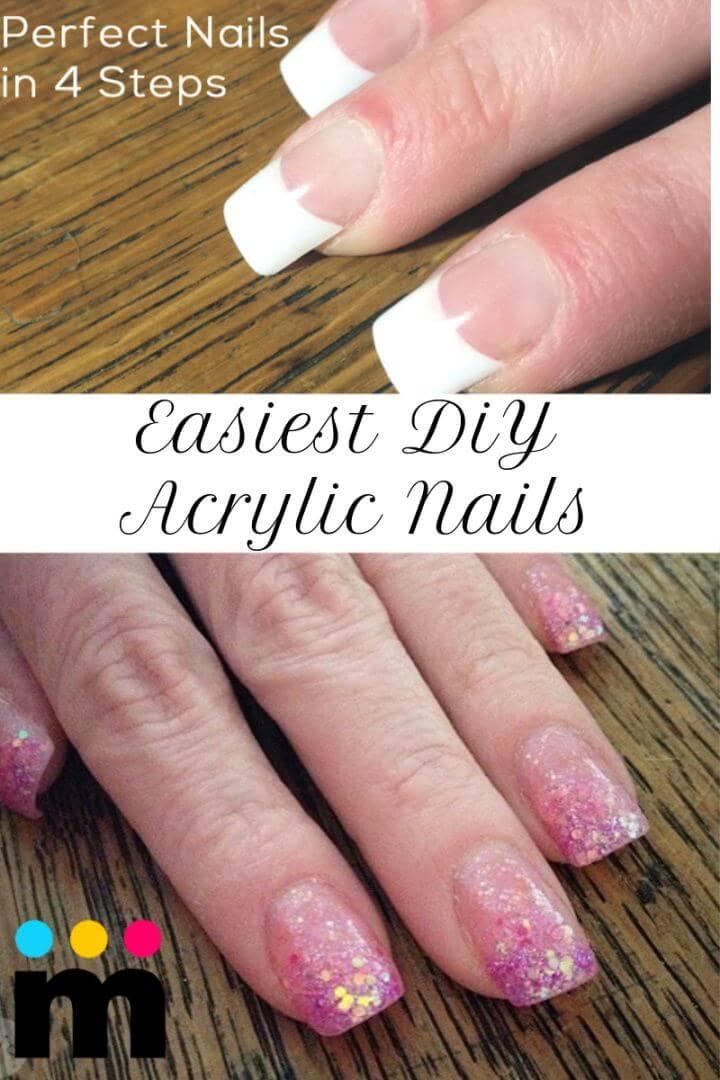 Why flash a lot of money on getting acrylic nails when you can have them done at home! Yes, that's right. This tutorial holds the magical tricks to have acrylic nails. For full details and step by step guide, see the tutorial.
Tutorial: momskoop
For best and cool nail art designs, creativity is your most exciting tool. Whether you want cool leopard print, striped nails, messy French manicure or marbled nails, you can find all the cool nail art designs here. All the designs stacked up here can go on any occasions, holidays and festivities. Also, with these cool and pleasant nail art designs, you can beat the summer heat too.
Fall in love with yourself and treat yourself with some minimalistic and stately nail art designs!