Hey Girls! let's talk about something that can decorate our beloved hair and that too made by us. So here is a collection of a few 20 DIY Gorgeous Hair Vintage Accessories Ideas that you can do this time. So do not worry about your hair anymore as you can now enjoy a creative ride towards beautifying your head in no time
The first idea that we share with you over here is a gold headband made with gold lace and a few colorful gems on it. Second is a knit hair bow pattern which is simple yet classy and is made very easily with just a single knitted bow that you can wear at any side of your head holding your hair a little? Next, are some creatively made hairpins that are simply gorgeous made easily with a little effort and a lot of love for creativity? A flower crown is something that is currently in fashion and is surely pretty and attractive so let's try some with white elegant lilies and a touch of green in it.
Next are some fabric flower pins which are fancy and old fashioned but as you know that old is gold so this will always look as pretty as before. Some more sparkling hair bows are on your way so watch this out. You can also make some crochet flowers and stick them n to hairpins to add some spice in them and to make them look even greater on your head. These Lego hair bows are surely unique but interesting to put on your little girl's head anytime soon. Next time when you are running out of time, do try this fabric woven bun which will be done in no time and looks trendy and classic. Also, you can turn your old t-shirts into no-sew turbans for your head.
This DIY beaded barrette s also one of its kind and is lovely. Let's prepare something for Halloween too so this is a bat headband for Halloween. Besides all these dramatically beautiful vintage hair accessories there are also some, bow clips, wedding hairpiece, hair flower brush, jeweled hair comb and much more save all of these ideas somewhere or write them down in order of your choices and try them soon as all of them are so amazing and trendy that you have to try and follow before the fashion changes.
Bejeweled Gold Headband: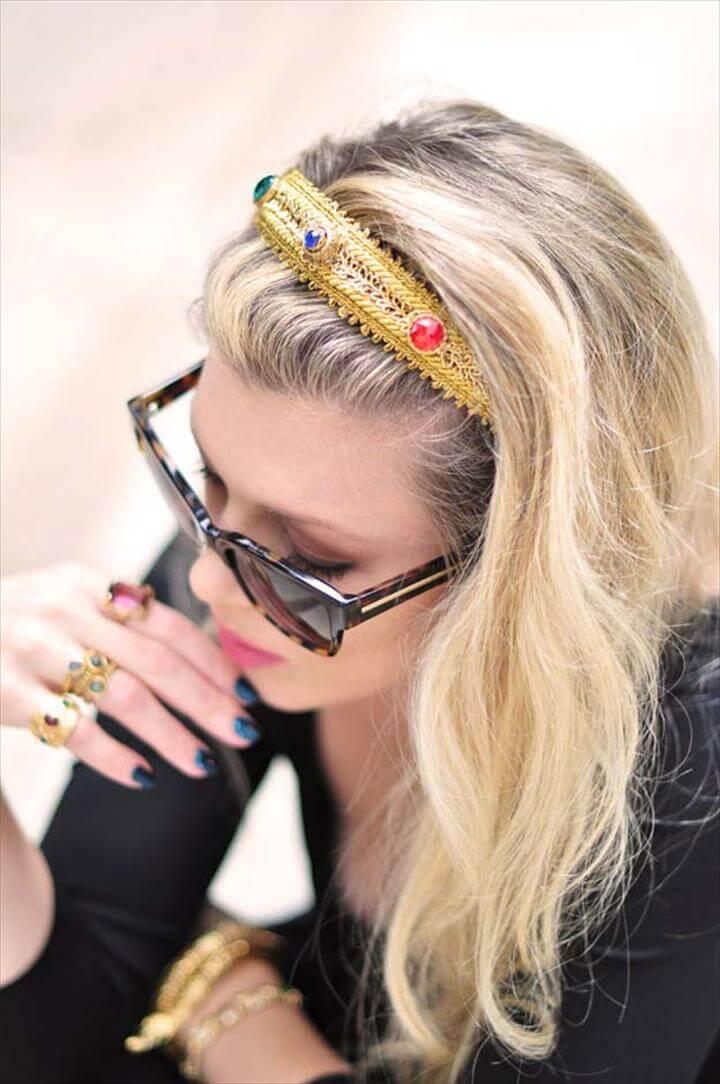 Look stylish with the vintage jewelry pieces with this gold headband that is easy enough to make at home. You need a simple headband, golden trim, and the colorful jewels to shape up this lovely DIY vintage hair headband. Make matching bracelets, rings, and the necklace to look just super stunning. Follow the easy tutorial here!
Image: lovemaegan
Knit Hair Bow Pattern

: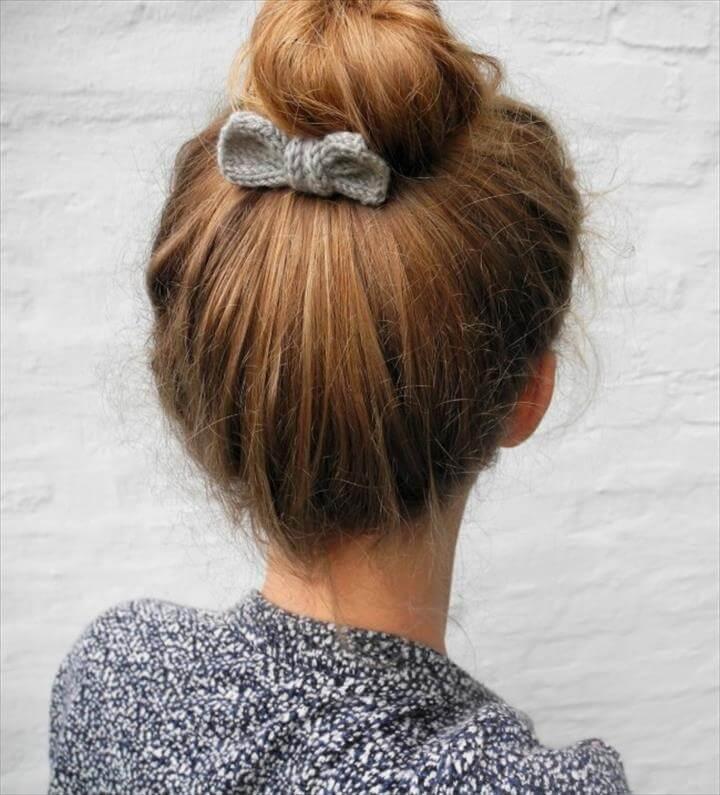 Girls are in love with the hair buns and now you can knit this lovely fabric hair bow to make your buns look super cute and beautiful. So grab some yarn and your knitting hooks to knit this lovely cute bow to make the pretty hair accessory out of. You can knit a bunch of these bows in multi colors to use as the pretty gifts around.
Image: melimelooo.blogspot.de
Hair Pins

: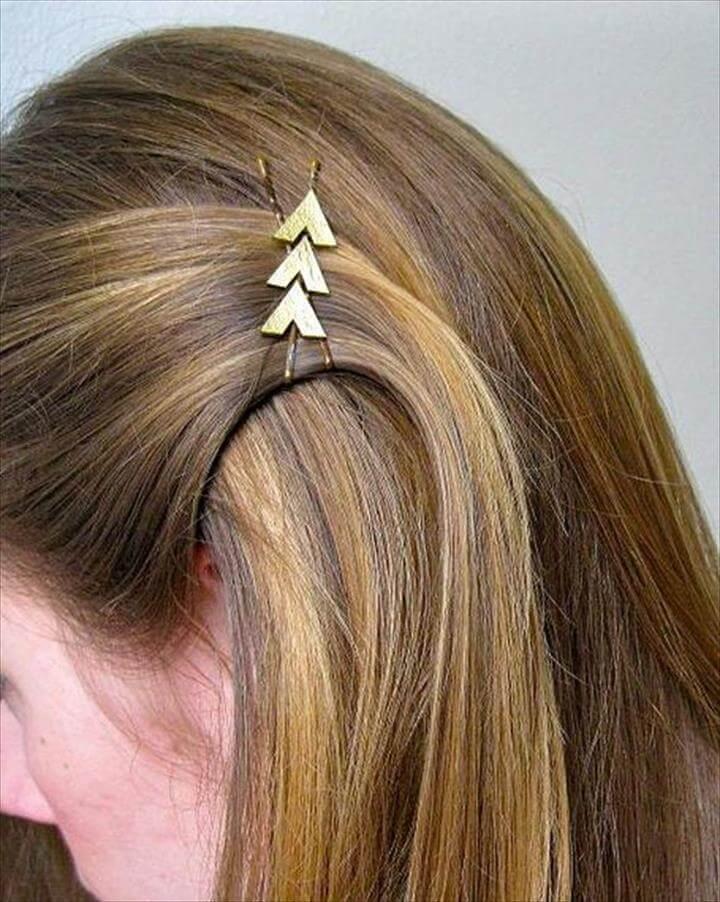 Make some super cute vintage-inspired hairpins with this katniss hairpins from the hunger games. You need shrinky dinks to cut a few arrowhead shapes out of it. Paint up these arrows with the gold spray paint and then glue them on a bobby pin. This is how easily you can get yourself a pretty set of pins.
Image: artisforall.blogspot
Flower Crown

: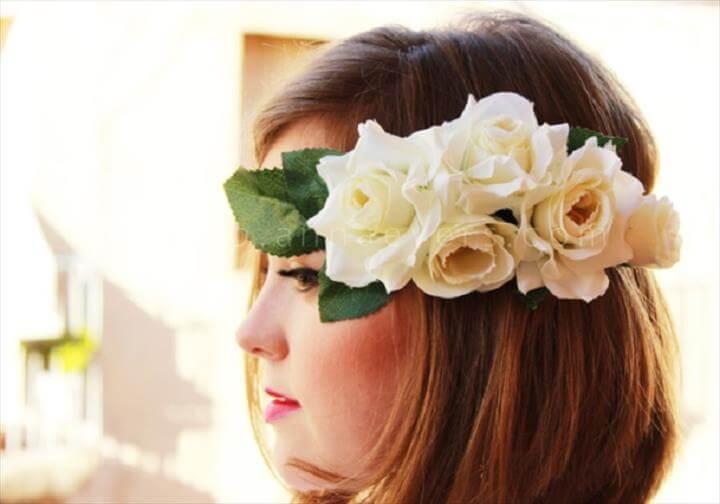 Floral crowns are back in fashion from the vintage era. So this summer you can make yourself these pretty flower crowns to add oodles of charm to the looks and personality of with a simple and elegant dress. You need a simple headband and some fake flowers to shape up this pretty flower crown. Details here!
Image: annaevers
Fabric Flower Pins: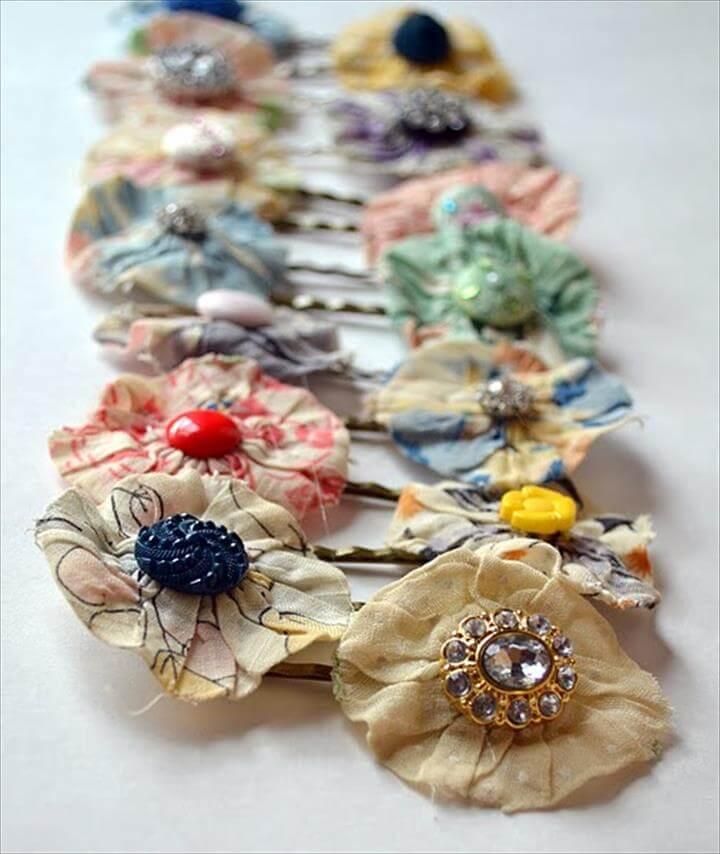 Now you can make these colorful fabric flower pins on your own and bring back the style and fashion of the vintage. So grab your fabric scarp and the jewels and buttons to shape up the flowers. Once the flowers are ready, you can glue them up on the bobby pins and your lovely vintage-inspired pins are ready.
Image: littlemissmomma
Star Embellished Bobby Pins: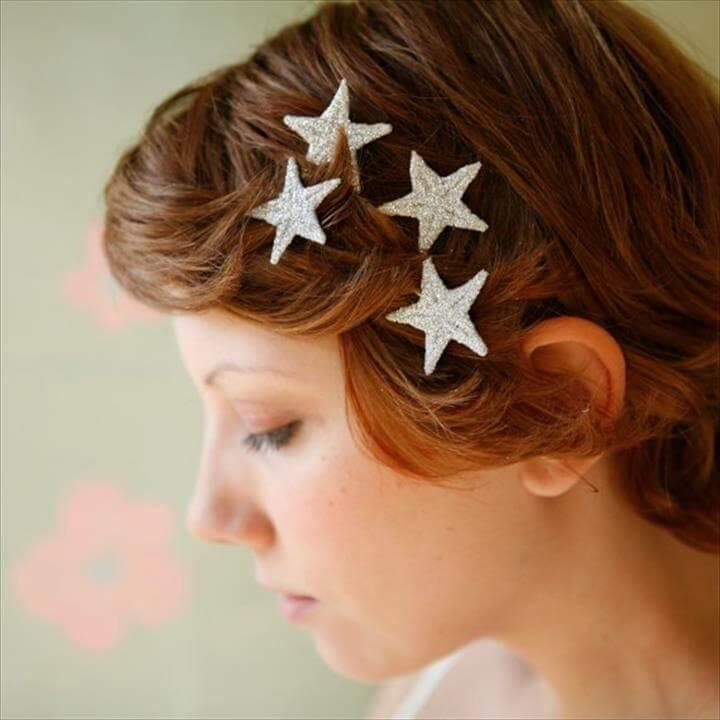 Hair accessories are a must part of your wardrobe if you love playing with hairdos. Here is this simple yet cutest embellished set of the bobby pins with stars. These pretty star bobby pins can instantly make your look pretty and stylish with your regular tees and tops. Just grab the faux stars and glue them to your bobby pins. Check out the details here!
Image: aelida
Sparkly Little Hair Bows

: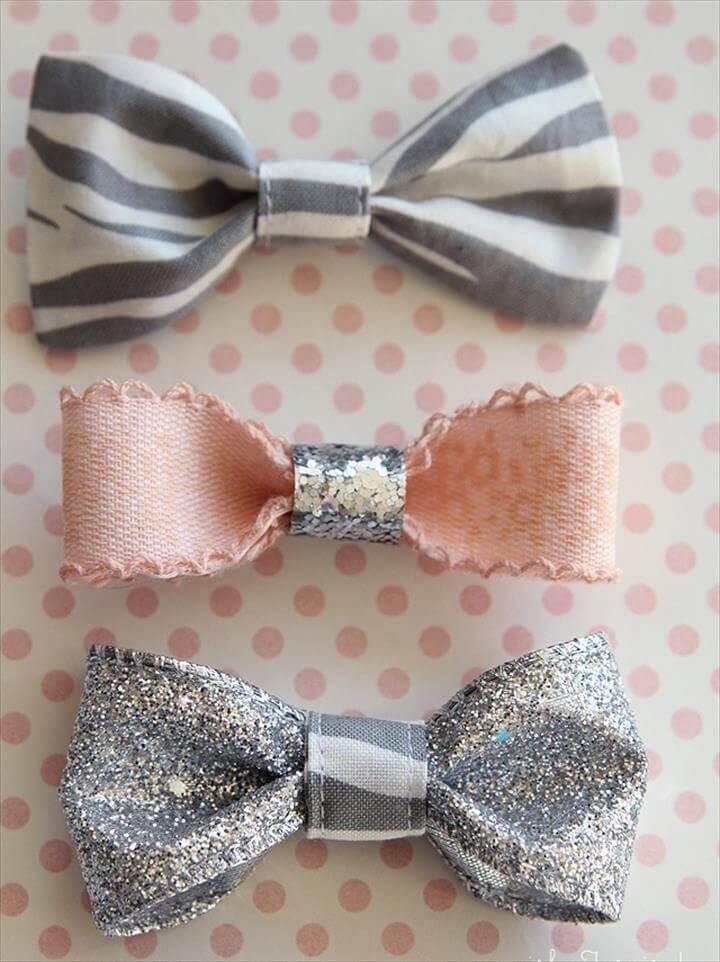 The vintage era is famous for heavy and gorgeous hair accessories. Now you can also make some cute and fun looking sparkly little hair bows to charm up your look. The pretty and colorful hair bows are easy to make with scraps of fabric, ribbon, and lace. You can use these bows over the pins, clips, or headbands. Details here!
Image: thegirlinspired
Crochet Ribbon Flower Hair Pins: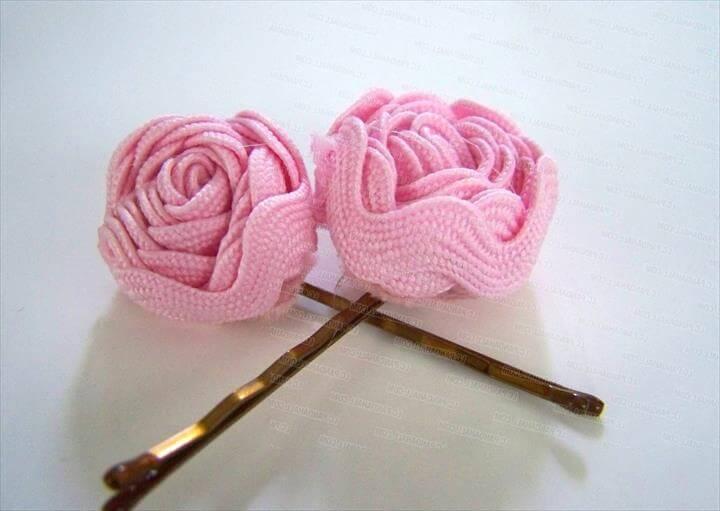 There are so many ways to make some pretty hair accessories for your little girls. Here are these lovely ribbon flower hairpins that you can easily make at home. Just grab the wavy ribbon in any of your favorite colors and roll it up with the glued intact until you get a nice flower shape. Lastly, add these ribbon flowers to the pins and style up your hair with.
Image: pandahall
Lego Hair Bows

: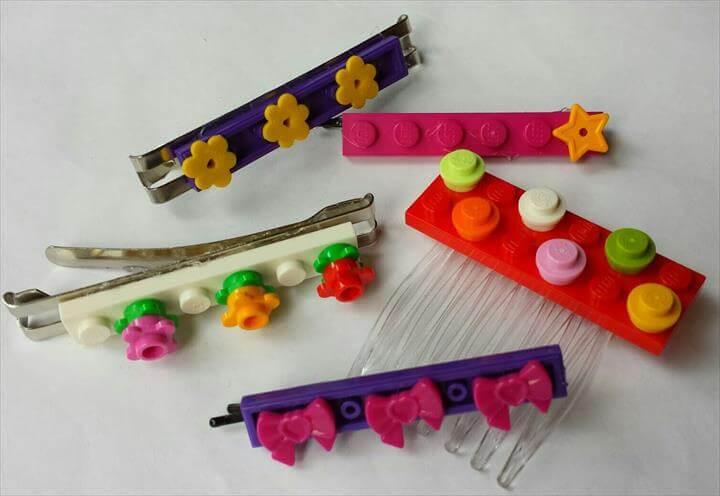 If your little girls are in love with the lego playing then they are surely going to love these lego hairpins. The lovely and cute lego hairpins are super easy to make with a few things in your hand. So grab bobby pins, colorful faux flowers, bows and gems along with colorful lego pieces to shape up these super fun hairpins.
Image: youtube
Flower Bobby Pins

: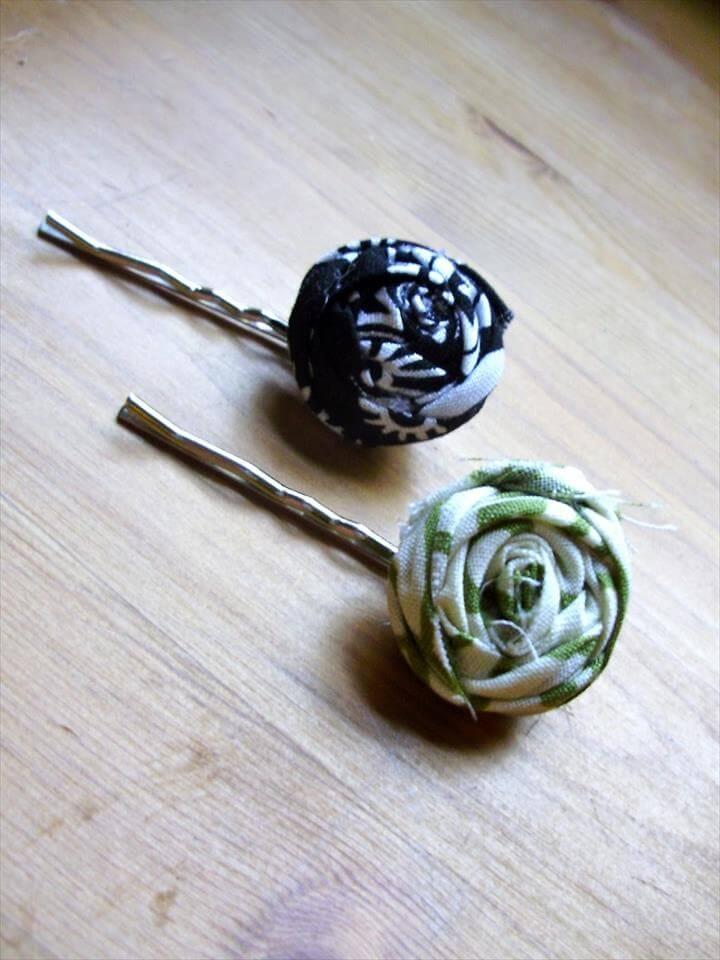 Now you can make the prettiest and simplest hairpins on your own and that too using the recycled items. So get your hands on the bobby pins, fabric scraps, and the glue to easily work up these pins. Make flowers from the fabric scrap pieces by just rolling the fabric strips and then add them to the pins.
Image: herestohandyandy.blogspot.mk
Fabric Woven Bun

: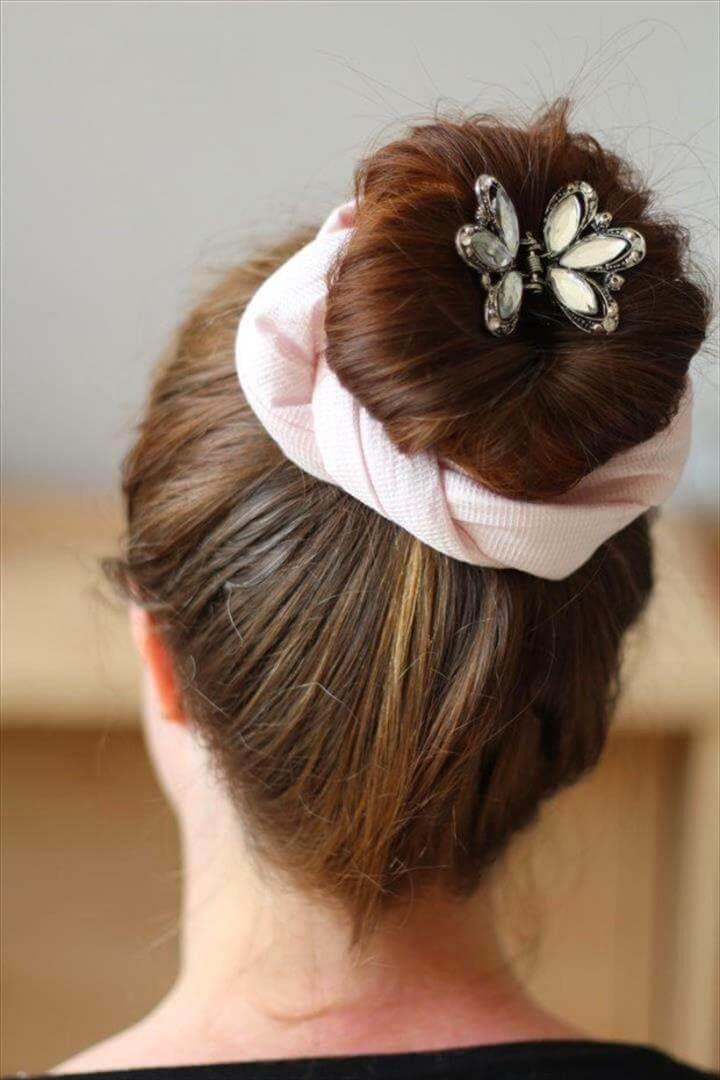 If you are a bun lover then make your buns look super exciting and fun with this fabric woven bun. You can take any of the fabric scrap lying in your stash and weave up this pretty and simple fabric woven bun. Check out the easy and fun details of this cost-free bun right here!
Image: youtube
Old T-shirt Into No-sew Turband: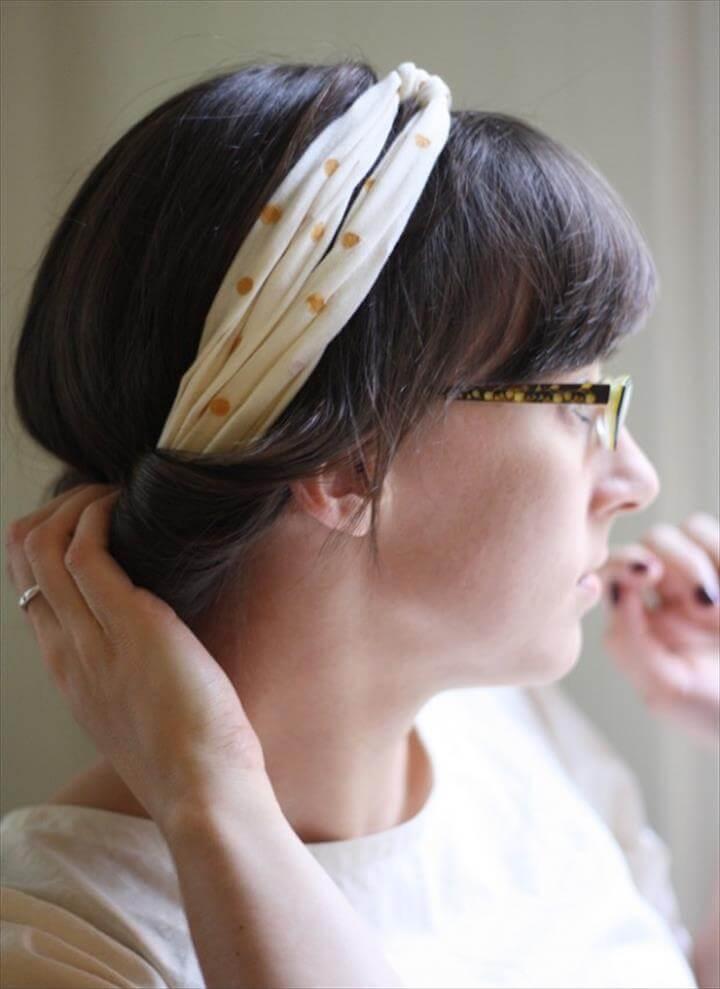 Nothing comes in the category of waste when you have a creative mind and crafty skills. So grab your shirt and cut strips out of it. Then take gold paint and create little polka dots on this cut-out t-shirt band using the back of the pencil. The no-sew turbans is ready to rock your hair fashion for the summer.
Image: seekatesew
DIY Beaded Barette: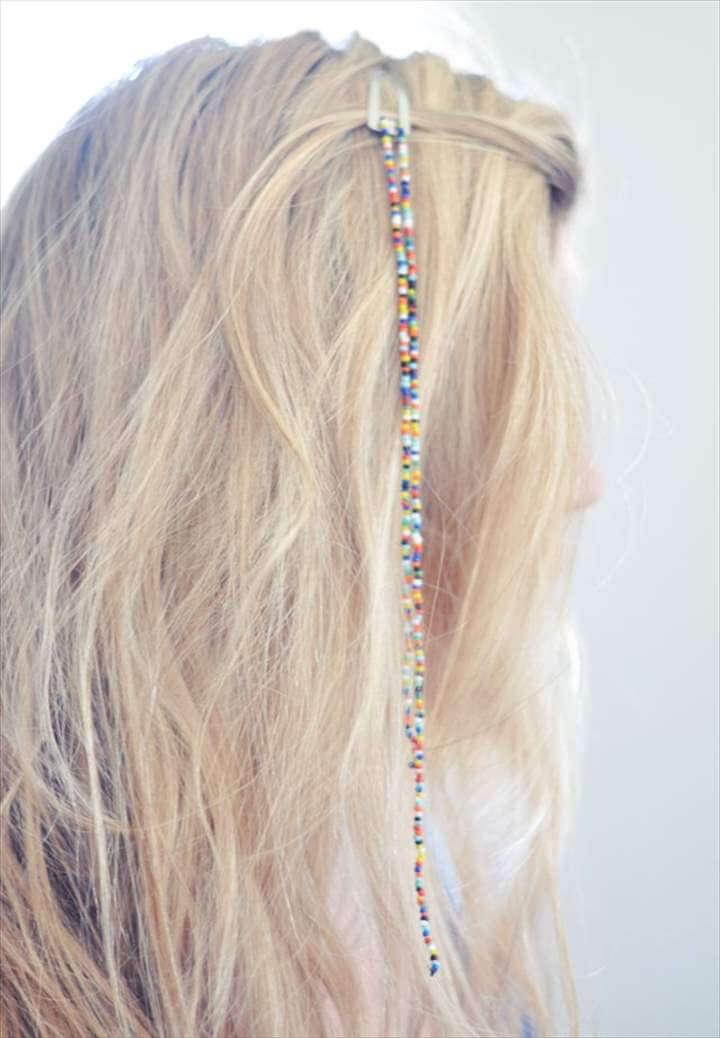 Look stylish, funky, and cute with this DIY beaded barette that is super easy to make on your own. You need a hair clip and the colorful seed beads to make this super cute barette for yourself, for your teen daughters and the friends too. These would make perfect summer gifts to style up hair for the outdoor fun.
Image: lovemaegan
Bat Headband For Halloween

: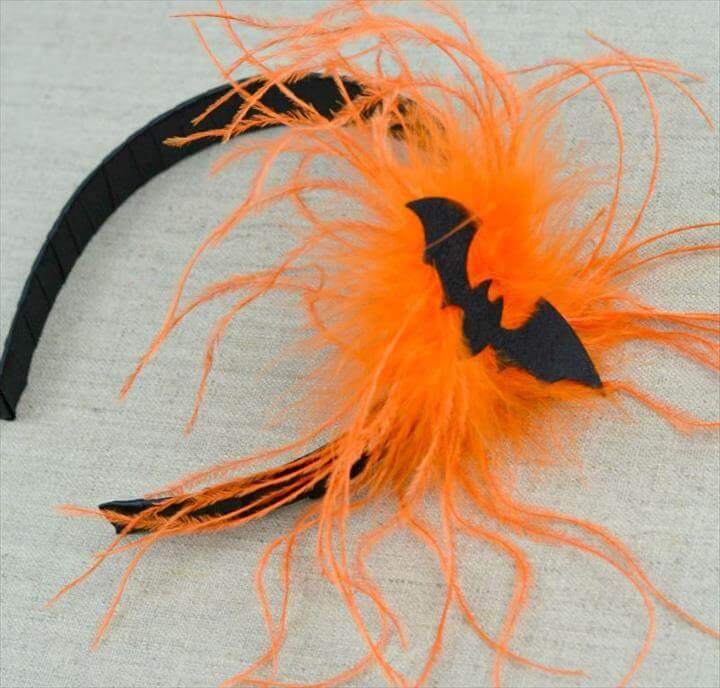 If you have a black dress for Halloween then make this pretty bat headband for Halloween to complete your dress in a super cute and elegant way. Not only for your own can self but you make these headbands for the girls around you too. You need a black felt sheet to cut out the bat and some colorful feathers to make this headband.
Image: consumercrafts
Bow Hair Clip

: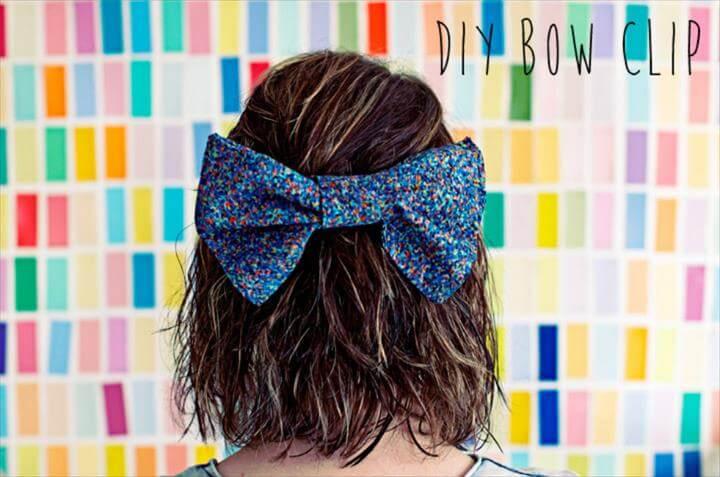 Give your flat and boring hair a lovely look with this pretty and easy to make bow hair clip. Just grab the fabric scarp lying around and make this bow hair flip. The big bow hair clip is sure to catch eyes for being so lovely in looks and dominant in size. Just sew up a bow out of fabric and then attach it over the clip.
Image: crafthubs
Beautiful Bridal Hairpiece

: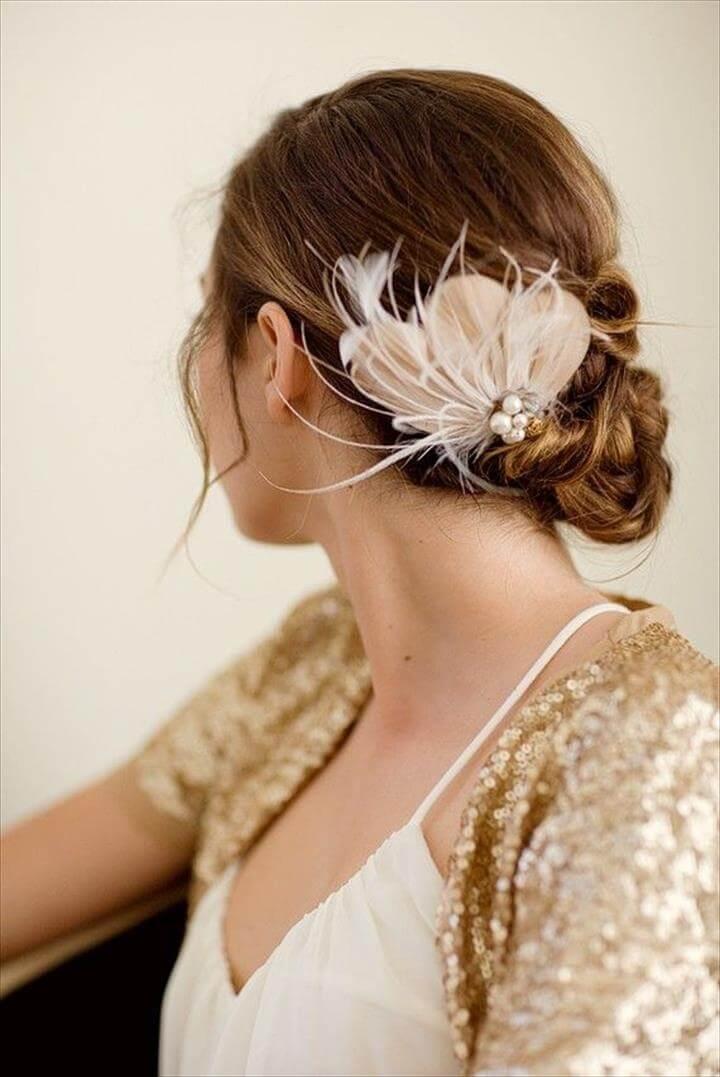 Even the gorgeous and elegant beautiful bridal hairpiece can be made at home and here is the inspiration. You need some pretty silky fabric in gold, feathers, and the beads to easily shape up this gorgeous and classy bridal hairpiece. You can make it a gift for the bride too. Details here!
Image: helloglow
Wedding Hair Flower Blush Pink Romantic

: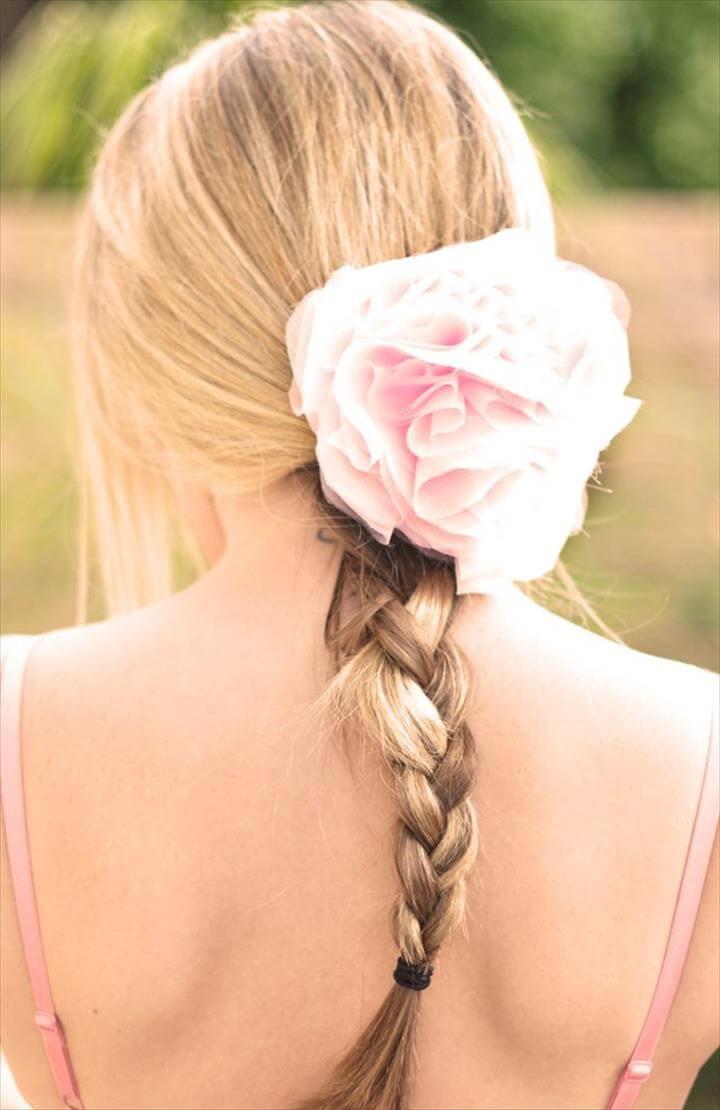 Going to attend a wedding this summer? Here are these wedding hair flowers blush pin romantic to make yourself look quite elegant and gorgeous. You can take the pretty pastel hues of the flowers to shape up the yummy wedding hair flower blush pink romantic headband. Follow the details of the project here!
Image: thenaturalweddingcompany
Jeweled H
air Comb

: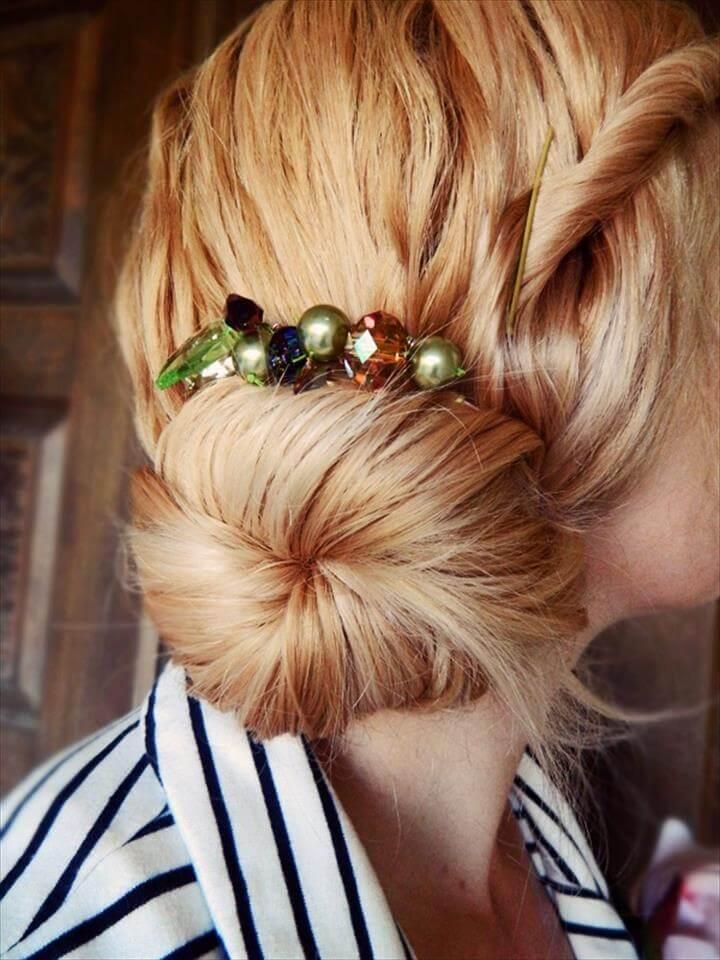 Bring some oodles of charm and beauty to your personality with this easy handmade jeweled hair comb on your own. Just grab your regular comb and add multi-colored and multi-shaped beads and stones to it using the thread and needle. The idea is super cool and fun to bring some style to the boring hair.
Image: homeheartcraft