Let's make some interesting crafts from drinking straws. You must be having a bunch of straws in your kitchen drawers which are not used daily, use this collection to make different DIY projects. You will find out here that these bulk of useless straws can do wonders for you.
Starting it with these mystic candles straws, they are easier to make than you thought, attach your cylindrical straw-like candles to your smoothies straws and these will surely shine on your party tables. This is a truly inspiring and funny woven heart made with the straws for decoration purposes. Also, these straws can be joined together so closely to make a perfect flower vase, for this purpose you can select colored straws. Open some of the colorful straws to make them flat and connect them to one and another to make an animal key chain as you can see over here. This overlapping technique of the straws can make many unbelievable and absurd DIY projects.
Besides these funny projects, why not try some sophisticated crafts out of straws like and you can stick these little masterpieces on the presents that you are about to give to someone you love. If you are planning some birthday props and items try these sprinkle packets made out of straws which are as unique as they seem to be but easy to make than most of the other party items. Look at these simple and adorable straw paper easels only by twisting your straws and following a simple technique.
One of all these amazing ideas that I personally liked the most is this super easy and unique straw frame. One of the common of the straws is with the mason jars that e all already know. Also try making some cute straw crafts for your kids like this crafted octopus, lightning box, straw neckpiece, straw garland, bracelet, straw flags, straw umbrellas, straw wreath, and much more. Starburst ornaments made out of a straw is something unusual and exciting for your toddlers.
Enjoy doing these 44 DIY Crafts Made From Drinking Straw this weekend and share the ideas with your friends. Plan a birthday party or a simple get along and do the project according to the theme.
Birthday Smoothies + Candle Straws: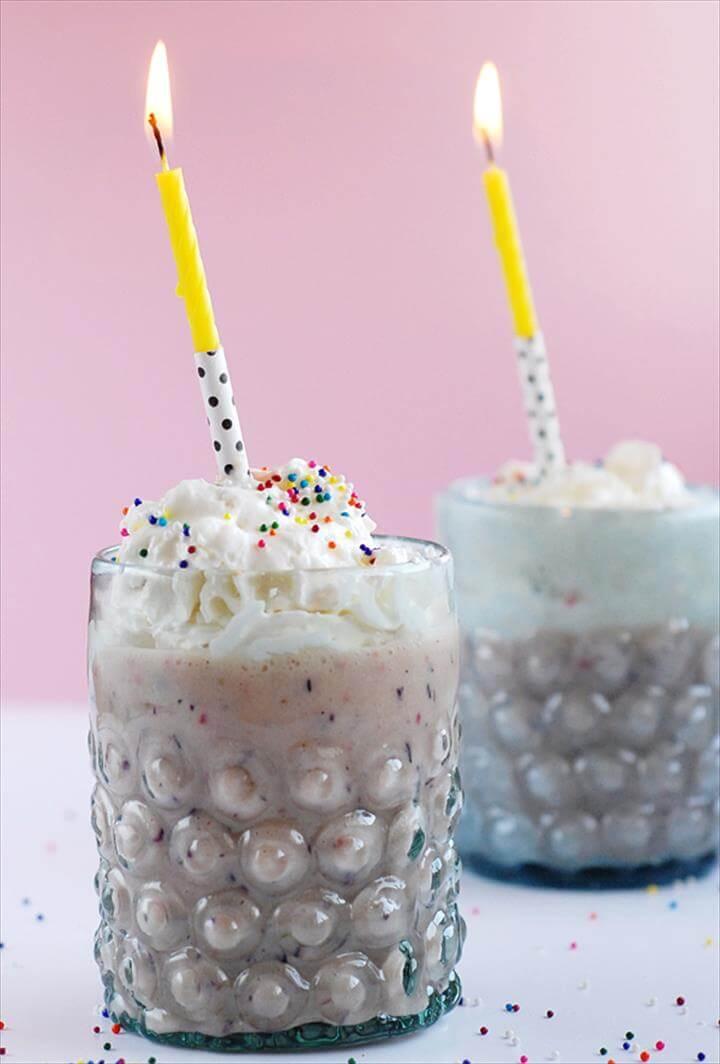 Make yourself feel the best on your birthday with this fun idea of the birthday smoothies with candle straws. The candles are stuck in the straws and once you have blown it you can drink your yummy smoothie through a straw. This birthday smoothie is going to be a great idea for everyone in the family too.
Image: asubtlerevelry
Woven Drinking Straw Heart

: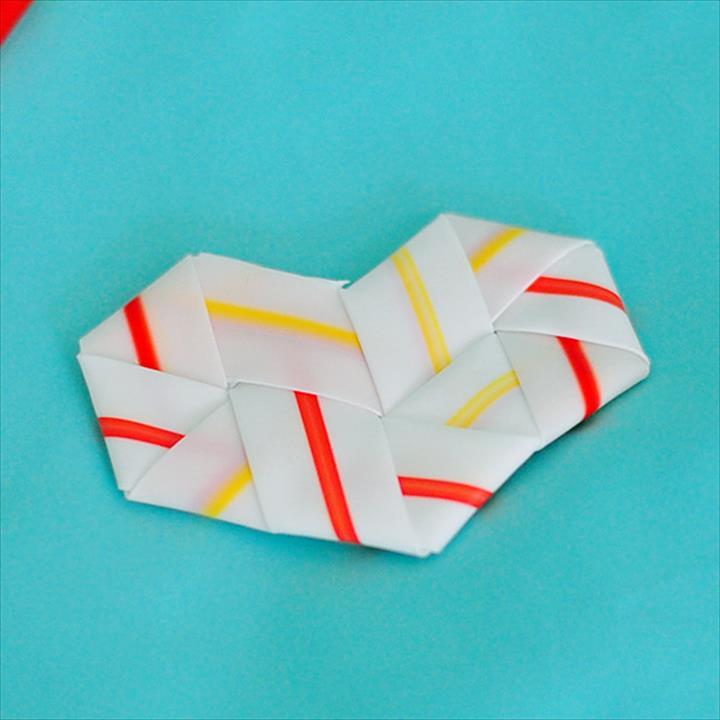 Straws can be so much fun for art and craft purposes too. Here is this lovely woven drinking straw heart to make and have some fun with the kids. Grab some cute and colorful straws and with a few folds and twists, you have a heart ready. This woven drinking straw heart is going to be a fun project for the family weekend.
Image: thecheesethief
Straw Flower Vases

: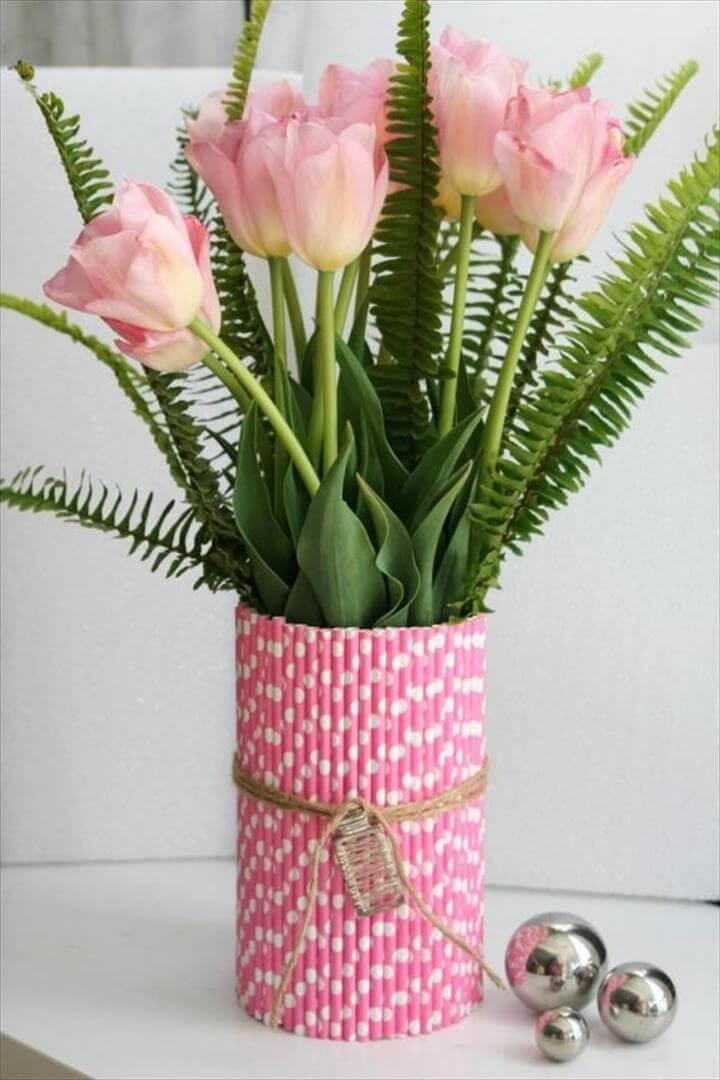 These days straws come in a variety of colors and patterns and thus you use them in your crafts too. Here is this lovely strawflower vase that you can easily make using an empty tin can, a pack of the colored and patterned straws, and the hot glue gun. The vase is going to look so pretty and fun on your tabletops.
Image: desireehartsock
Straw Animal Keychain: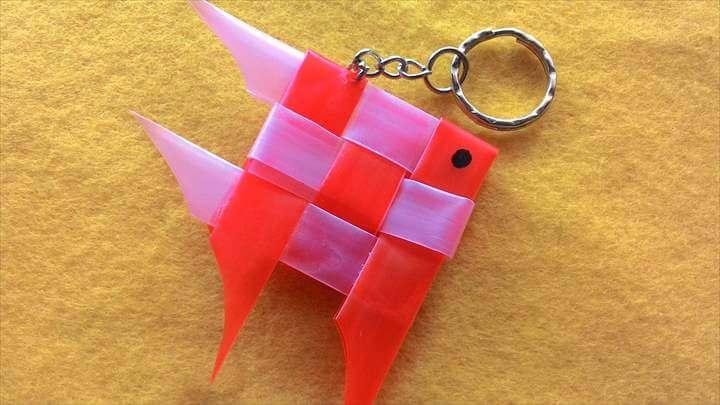 Get your hands on the colorful straws and flatten them. Then weave them together to shape up a lovely fish that you can further use as the keychain. So grab multiple colored straws and make a bunch of these cute fish keychains to use as the perfect gifts. You can make any other animal instead of the fish too. Details here!
Image: youtube
Sophisticated Crafts Using Drinking Straws

: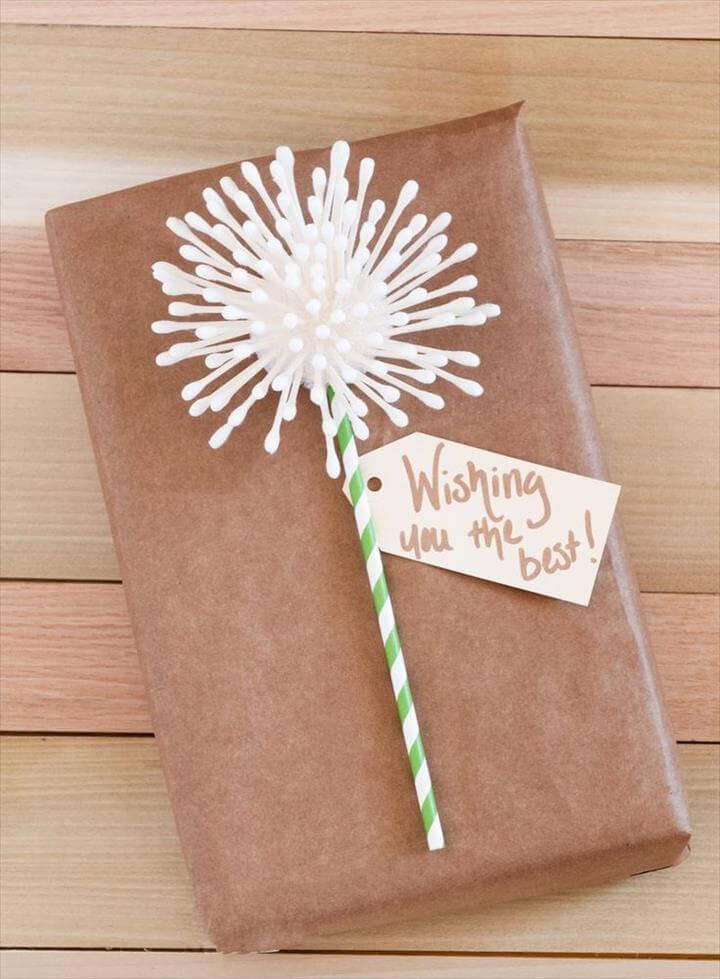 You can make a pretty gift embellishing piece using the straws and the cotton sticks. So get a Styrofoam ball and push in a bunch of the cotton sticks all over it. Then add a green striped straw at the bottom of the ball and you have your lovely dandelion ready. This would make a great gift décor along with a gift tag. Details here!
Image: thechicsite
Sprinkle Packet Cupcake Toppers

: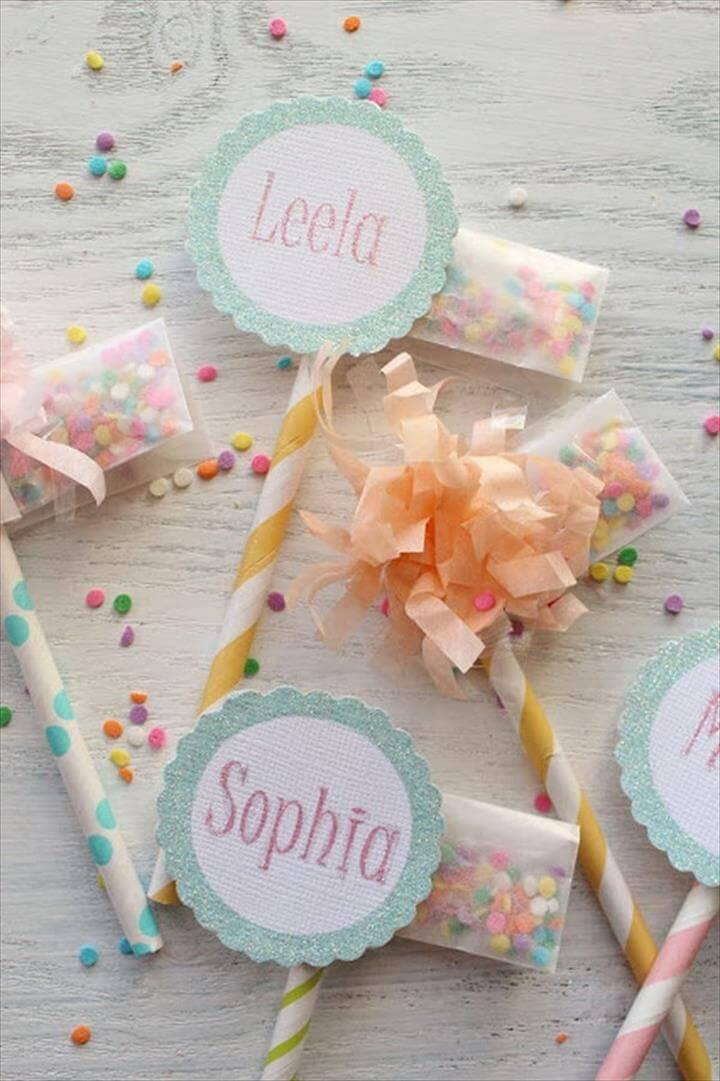 Now you can make the best cupcake toppers for the girls and they would love them. You need colorful straws, tissue paper, and then sprinkle to make these adorable cupcake toppers. The best thing about these handmade toppers is that they have a girl's name tag on them too. Learn to make these toppers right here!
Image: icingdesignsonline.blogspot.jp
Straw Paper Easels: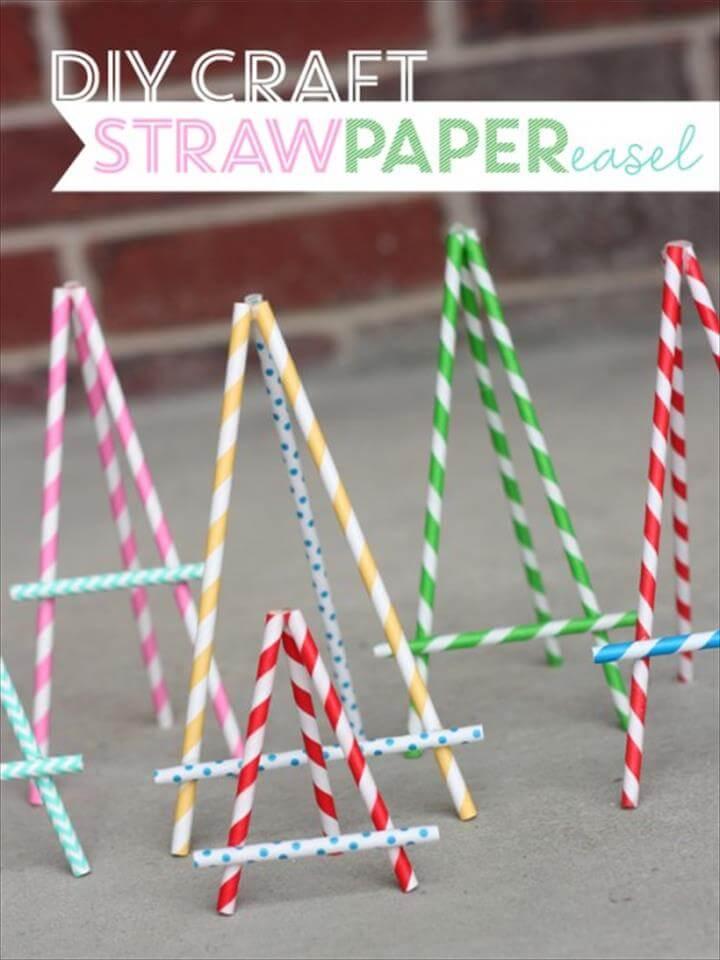 Easels are needed to display your fun party signs and cards on the table. So if you have somehow forgotten to buy the easels then it's better because you can make some at home on your own. Using colorful and striped paper straws you can make the pretty easels within 10 minutes. So grab the straws and some glue to work up this easy and fun project.
Image: wantsandwishesdesign
Straw Frame

: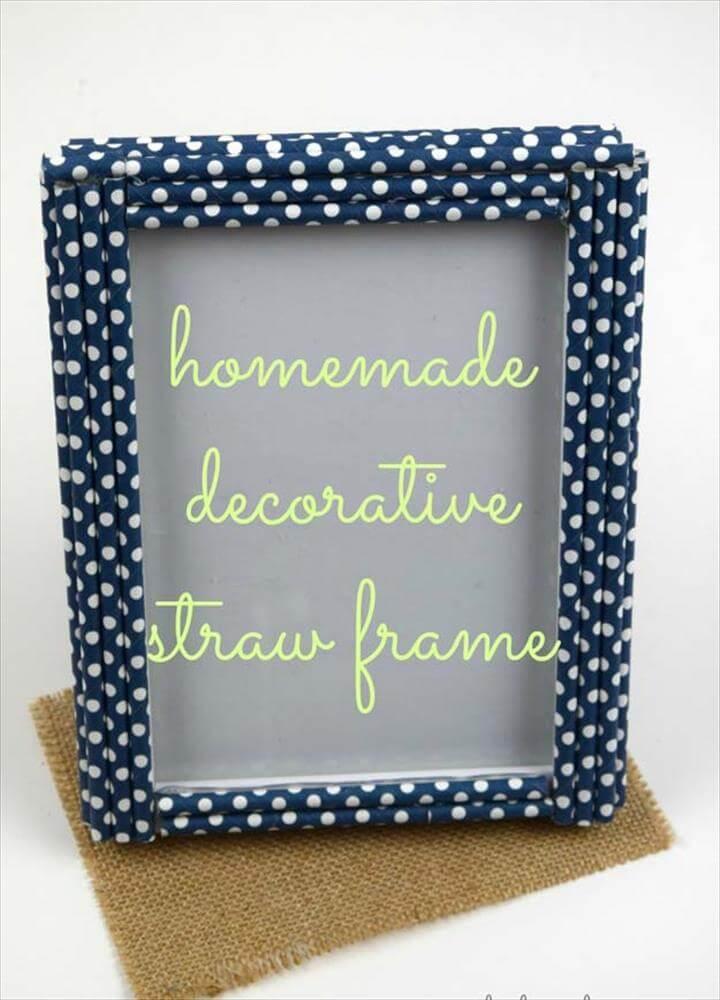 You can make the best picture frames at home and that too using the cheapest things lying around. So get your old frame or the new one that you have bought and get into your kitchen to get the colorful straws. Glue these straws over the boundary of the straw frame and make it look instantly eye-catching. Details here!
Image: theclassychapter
Mason Jar Travel Cups With Straw

: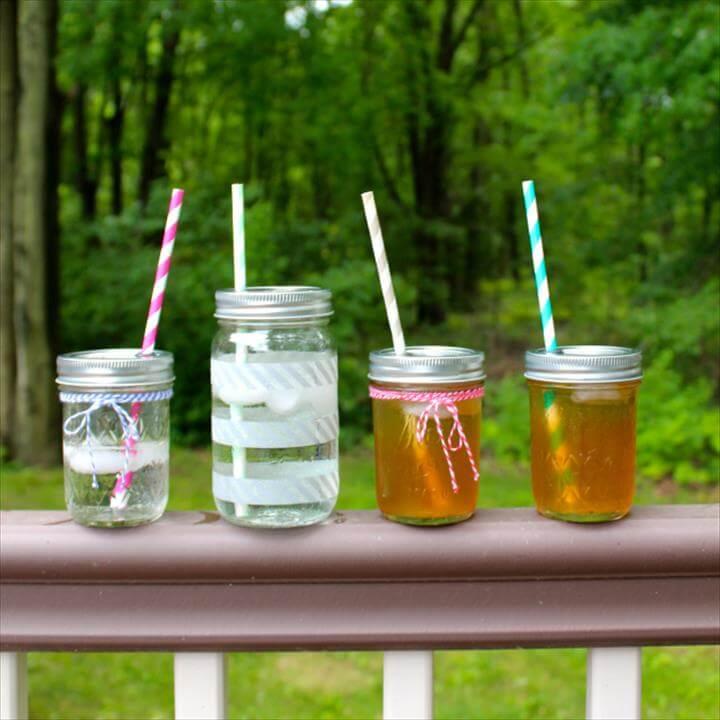 We need big glasses for the beverages and the drinks in the summers, especially for the parties. So turn the mason jars into some fun beverage jars for the summer parties with a little craftwork on them. Just get the jar lids and punch holes in them to insert some cute and colorful straws in them. Get easy details here!
Image: masonjarcraftsblog
Straws Drink Coasters

: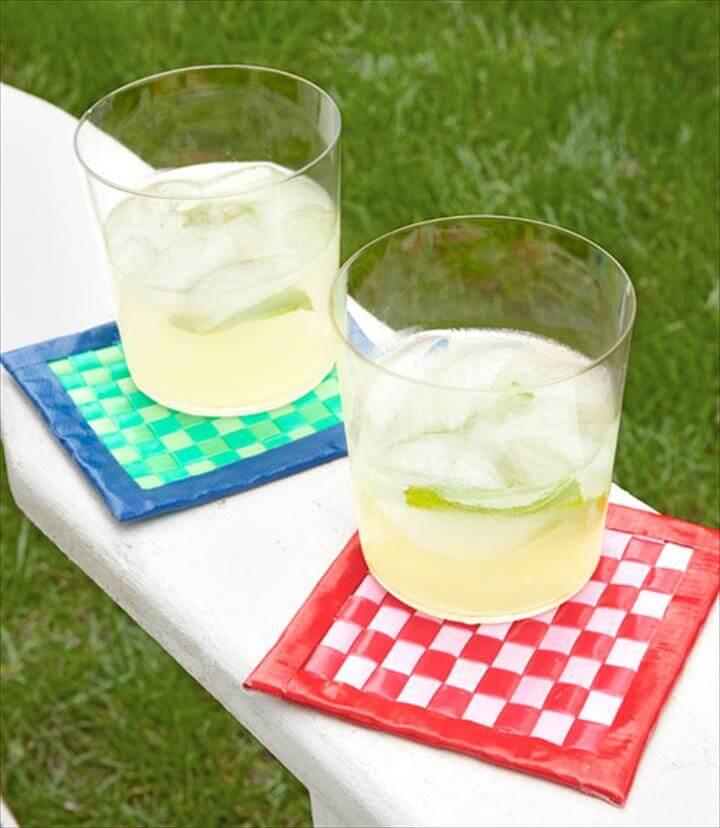 Summer celebrations are incomplete without the drinks and drinks call for the cute and colorful coasters. So this 4th of July you can make the flag-inspired coasters using the white, red and blue straws. Weaving skills are needed to make these pretty, cost-free, and perfect drink coasters. Check out the details here!
Image: typepad
Fine Motor Octopus Craft For Kids

: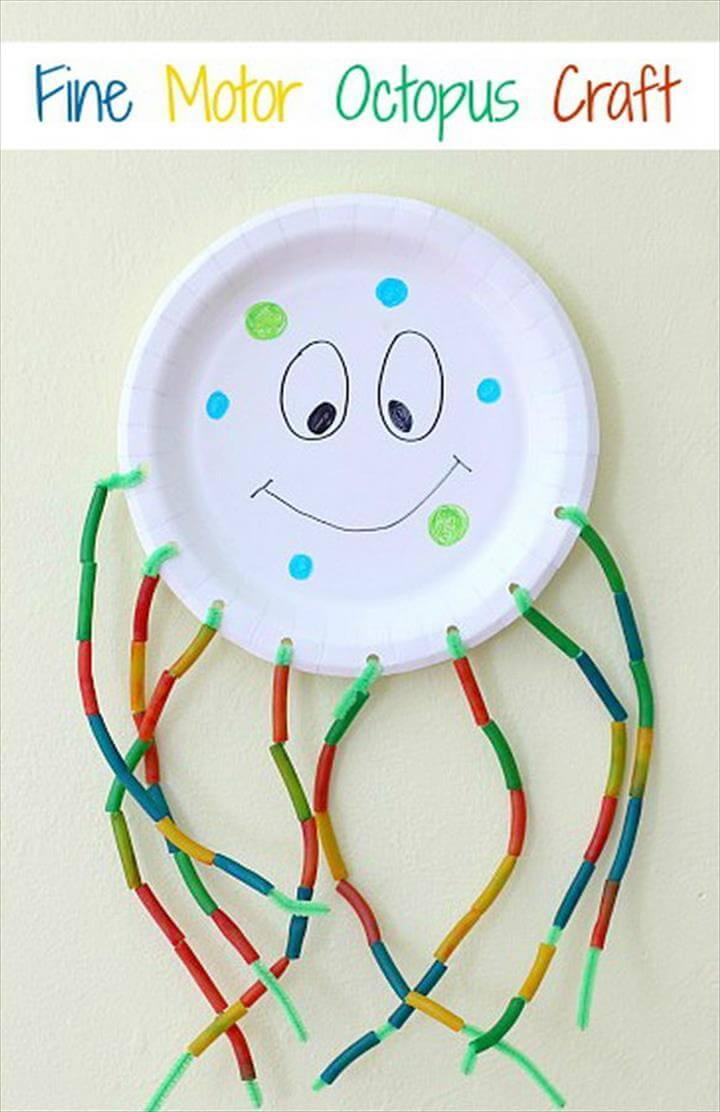 Now kids can make some fun summer sea creatures at home just like this fine motor octopus. The head of the octopus is made with a paper plate with a painted face. The multiple legs of the octopus are made with pipe cleaners and colorful rigatoni pasta. You can follow the easy details of the idea right here!
Image: buggyandbuddy
Simple Box – Lighting Box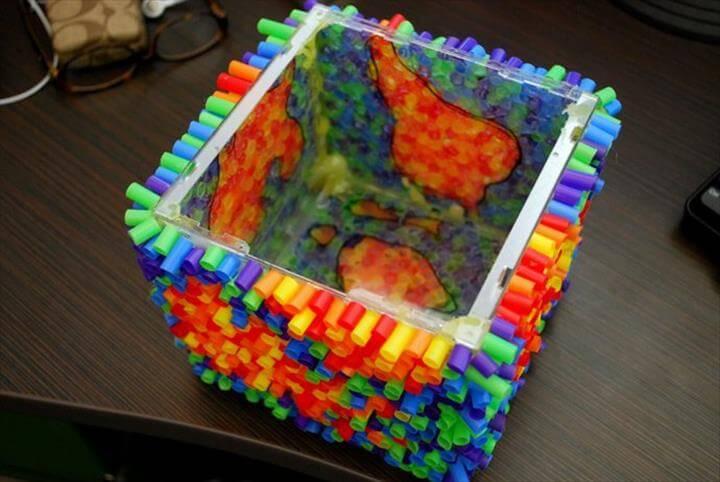 Here is another fun project to do with your kids for a fun summer day. They can have any near lying square-shaped box and then cover it with the colorful straw pieces. Cut the mini colorful pipe and cut them into small pieces and then glue them all over the box. They can use this box as a lovely keepsake for the pencils, colors and so much more.
Image: happythought
Paper Straw Frames

: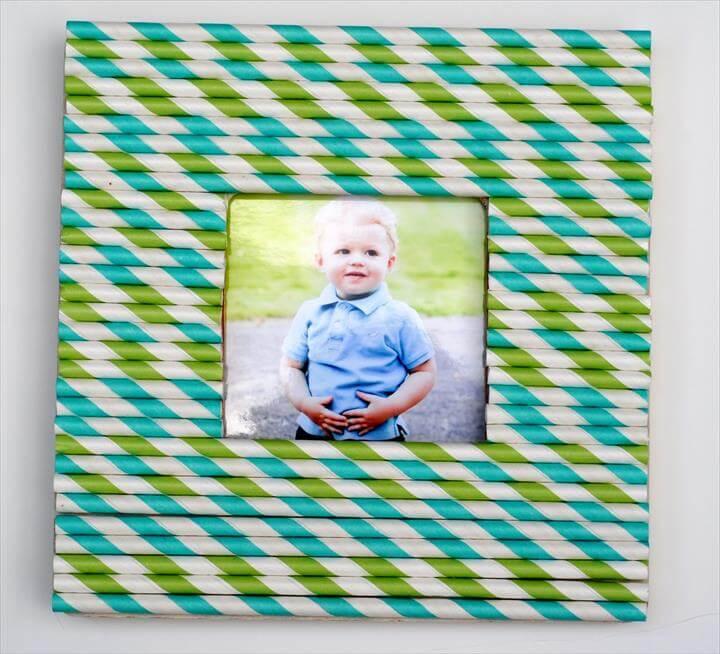 Give your old and boring frames a really cute and chic look with this paper straw frame. So get your hands on some colorful and patterned paper straws and glue them around the boundary of the frame. You can use the colors of your home décor while choosing the paper straws. Follow the easy details here!
Image: creativebag
Straw Toppers

: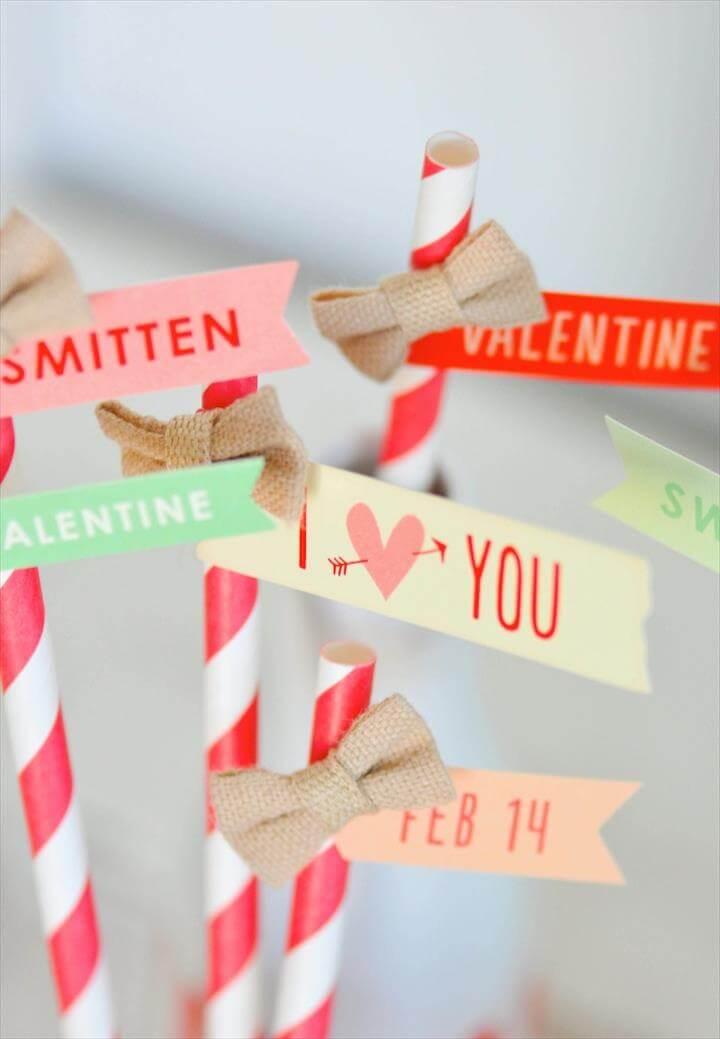 Here is how you can put some cute touch to your valentine's day décor with these adorable straw toppers. So grab some lovely valentine's day theme stickers and attach them to the colorful and striped straws and display them over your party table for a really cool and fun appeal. Details here!
Image: karaspartyideas
Wallet Geometric Drinking Straw Necklace

: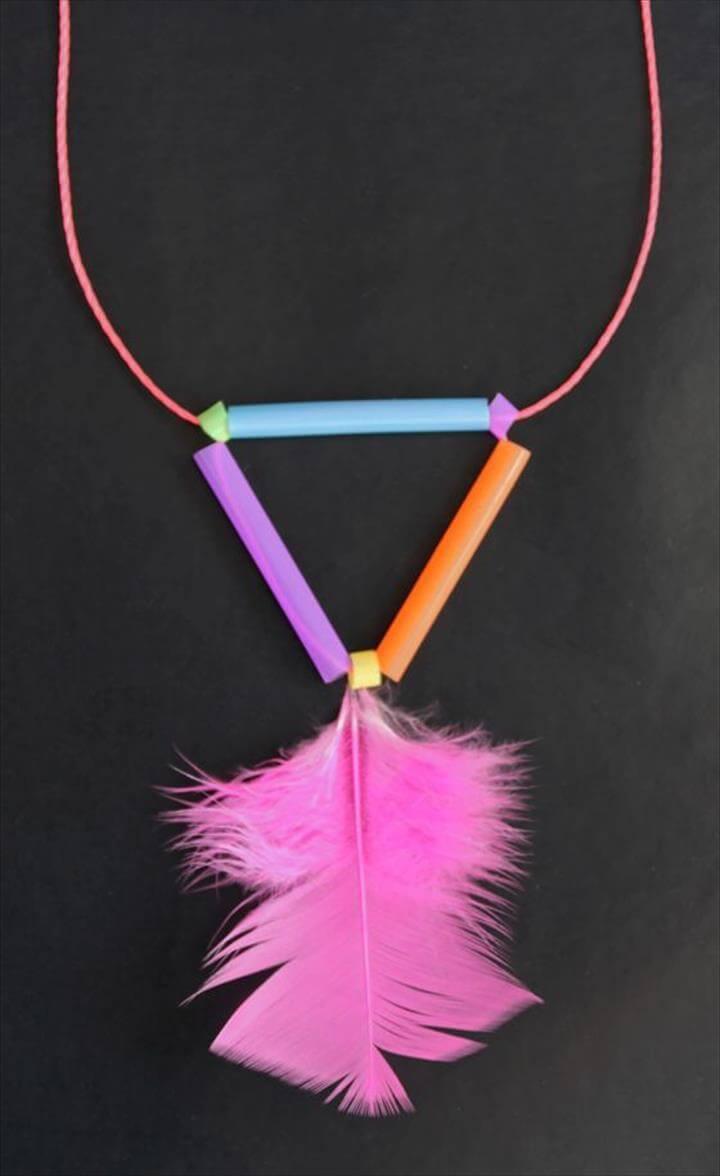 Here is this cute geometric drinking straw necklace that you can make for yourself, for the girls in the family, and for your pets too. They are super cute and fun to make out of the colorful cut out pieces of the straws, thread, and the feathers. You can choose any of your favorite geometric shapes like triangle, square, and more to make these pretty necklaces.
Image: happythought
Paper Straw Garland: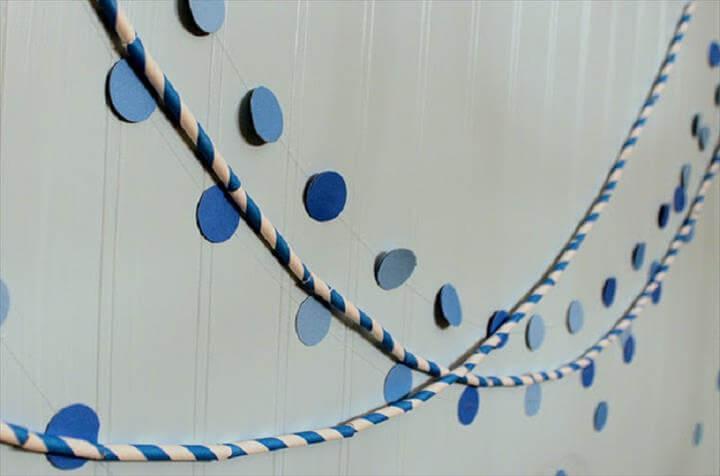 Garlands add a perfect party value to your walls décor for the party or any other celebration. If you are going low budget this time for your party then making this paper straw garland is the best thing to make.  A Polka-dotted wall has been adorned more with these matching paper straw garland strings which are easy to make with yarn and the pack of straws. Details here!
Image: bugger-dixonline.blogspot
Drinking Straw Bracelet: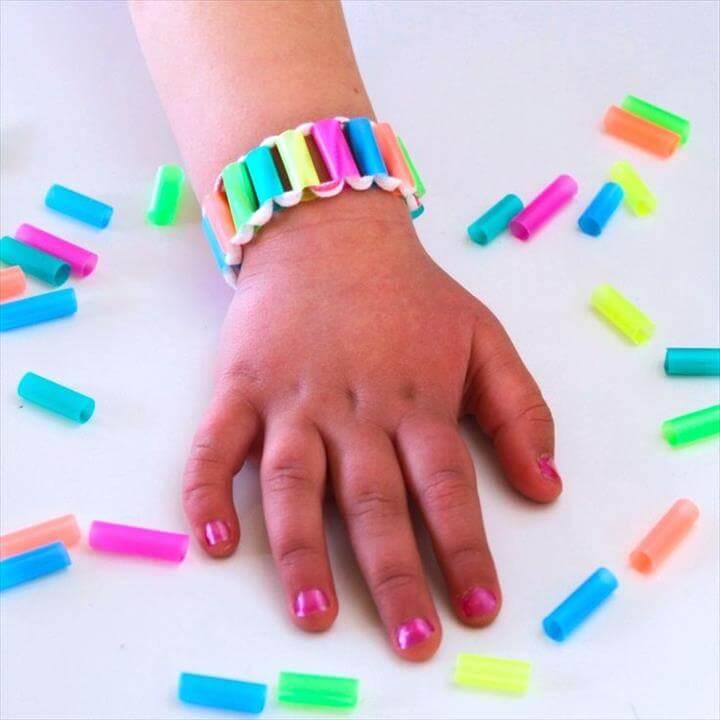 The little girls love to make pretty and colorful bracelets and this time you can make these drinking straw bracelets. So get your hands on some colorful straws and cut three to four pieces out of one straw then work up these straw pieces through the colorful thread with a wooden bead clasp and your bracelet is ready. Details here!
Image: manualidadesfaciles.es
DIY Crazy Straws: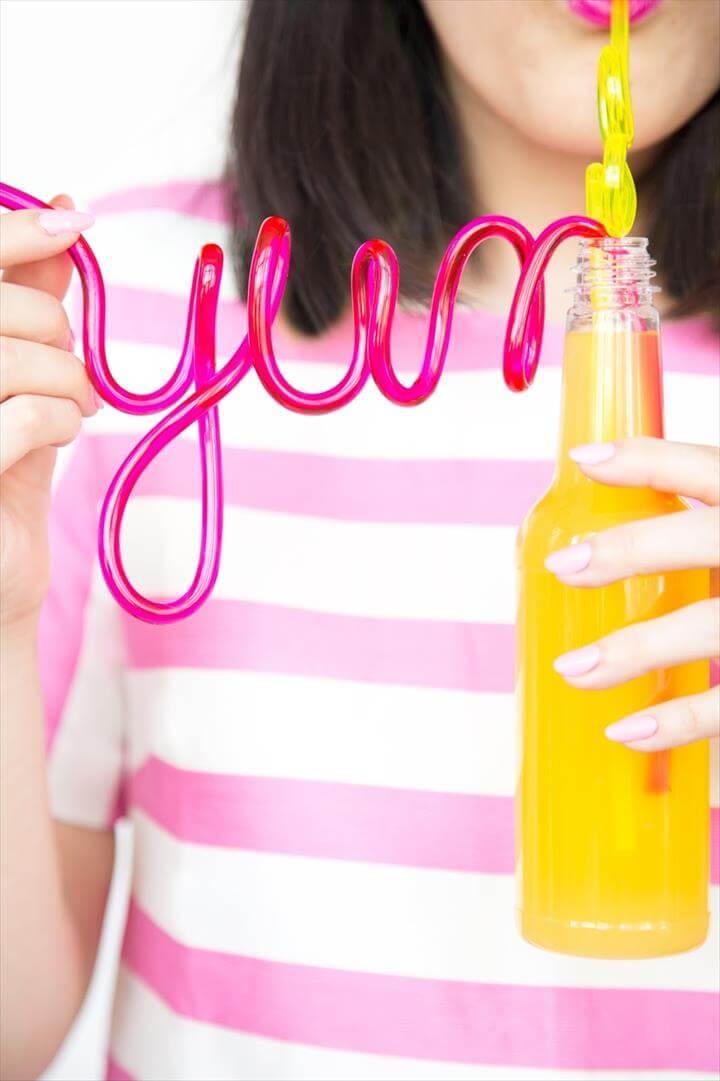 One of the best ways to enjoy y our summer drinks more is through these DIY crazy straws. They are super easy and cheap to make at home too. So get your hands on the colorful acrylic straws and heat them to shape them into some fun words like this one saying Yummy. This is also a cool idea to use these straws for your summer parties too.
Image: awwsam
Paper Straw & Cupcake Topper Embellishment

: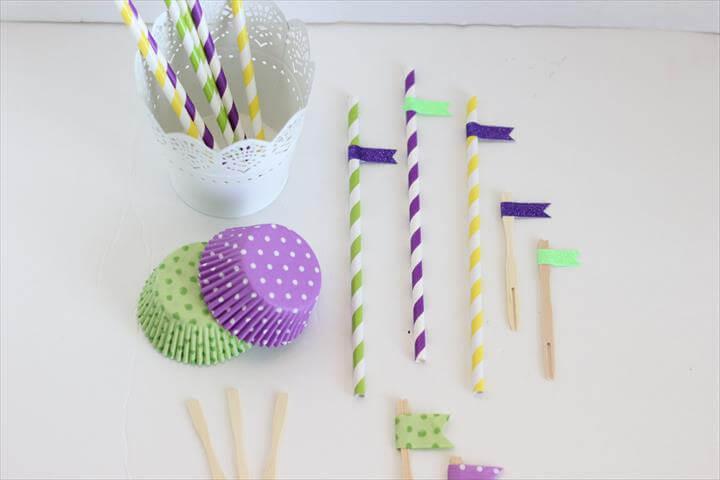 Now you can save yourself a few dollars over the purchase of cupcake toppers as you can easily make them at home. Using the colorful and stripy paper straws and the ribbons you can easily make these super cute and fun cupcake toppers. Learn the easy details of the idea right here!
Image: theflairexchange
Straw Flags: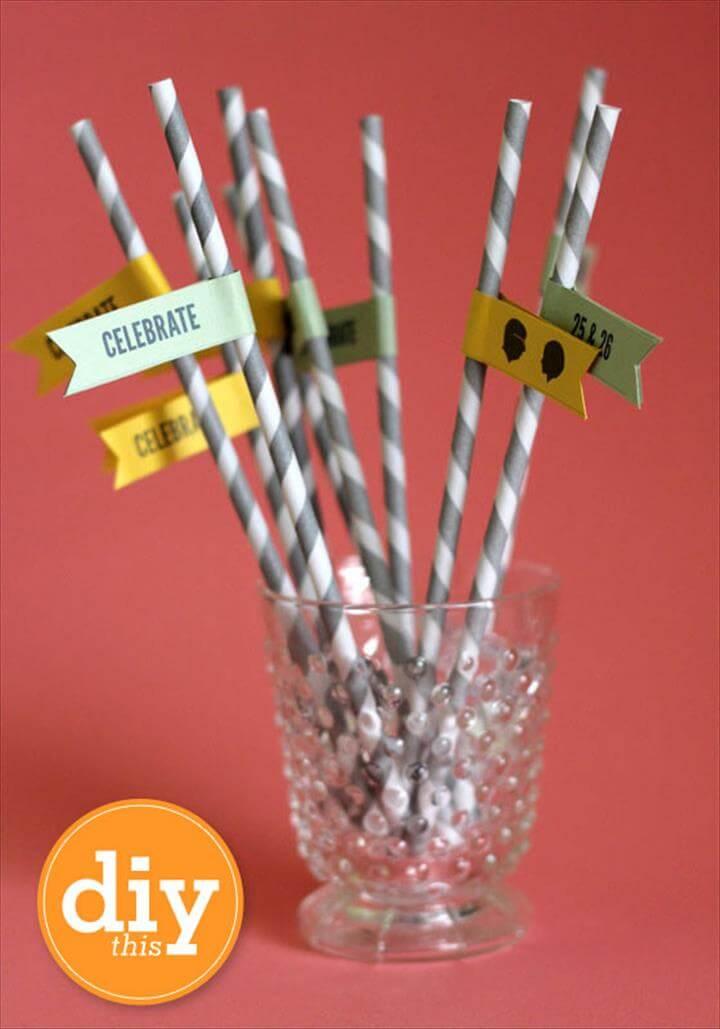 Make these cute and custom straw flags to use them in your party décor and add oodles of charm to the celebrations. You need some cute colorfully striped straws and the printed flags to attach on the straw tops and make the pretty embellishments and toppers for your parties. Follow the easy details here!
Image: sarahhearts
Straw Hearts: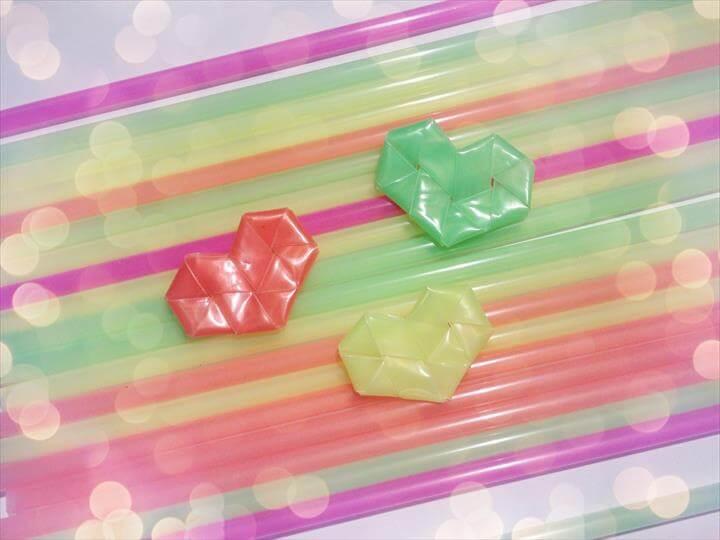 If you are free at home and need to indulge in some fun craft to pass your time then make these straw hearts.  All you need is some colorful straws from your kitchen. Flatten these hearts and weave them to make these lovely and cute hearts. Making these straw hearts is a great way to spend some quality time with your kids. Details here!
Image: youtube
Necklace Made With Straw: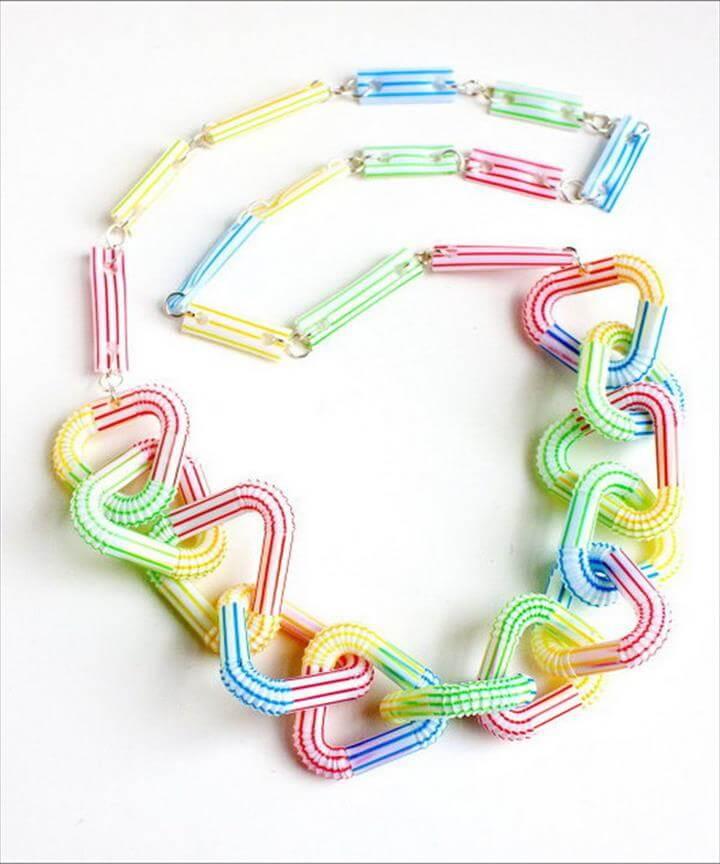 If your little girls are love jewelry then the project of the necklace straws is totally for them. They would love turning the colorful pieces of the straws into the pretty necklaces on their own or with your little help. The first one is made with the straw triangles and the other is made by joining the straw pieces with jump rings. Check out the details here!
Image: thecraftysisters
Donut Straw Umbrellas

: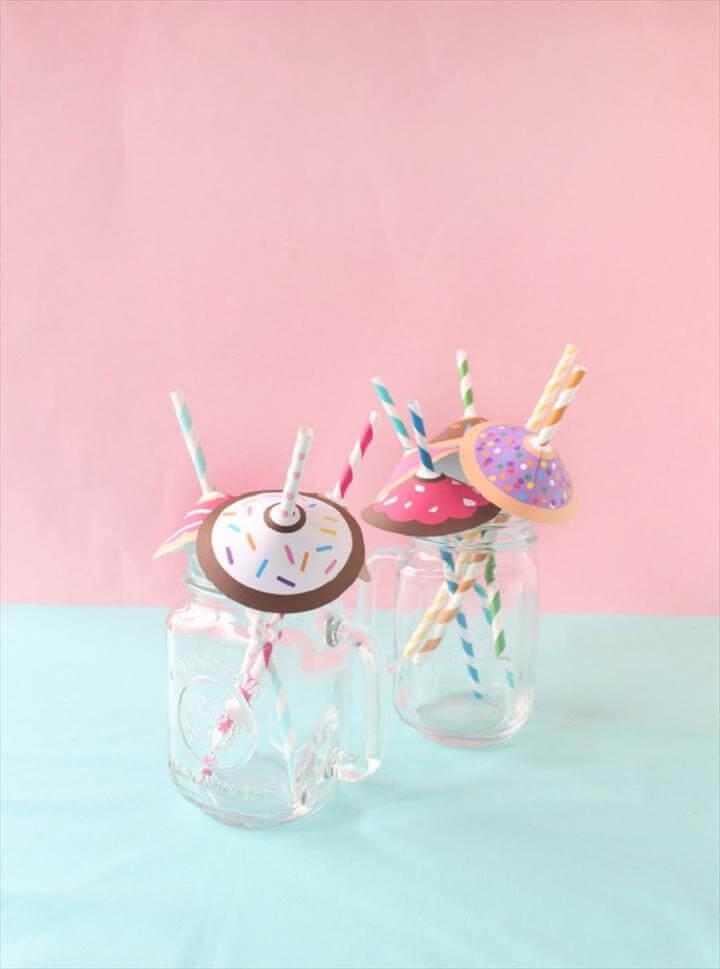 Summers bring yummy drinks and beverages to sip on. So decorating a drink glass or jar with the straw umbrella is a must. So here is this donut straw umbrella to make the funkiest and cool umbrellas for your straws and drink. Just print out the donuts on the cardstock and put them on your straws. Easy details here!
Image: ajoyfulriot
Straw Wreath: DIY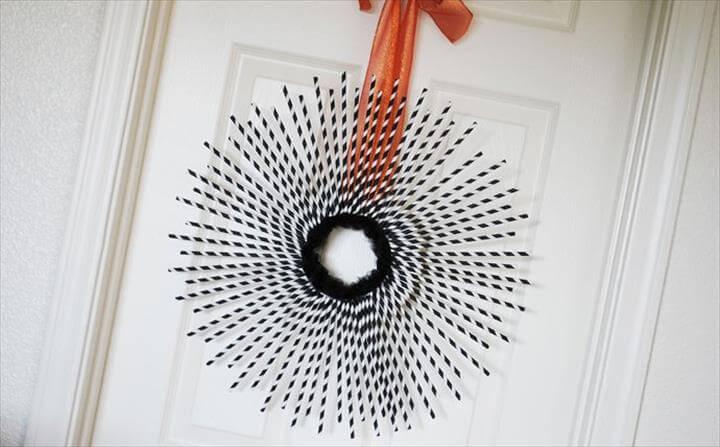 Welcome to the 4th of July to your spaces in a quite cool and fun way with this straw wreath DIY. So get some paper and cut out a template of the wreath. Then grab the straws in blue, white, and red to stick to this paper wreath template and hang it over your walls, window, and the door. Check out easy details here!
Image: jennyatdapperhouse
Plastic Straw & Yarn

Plant Hanging: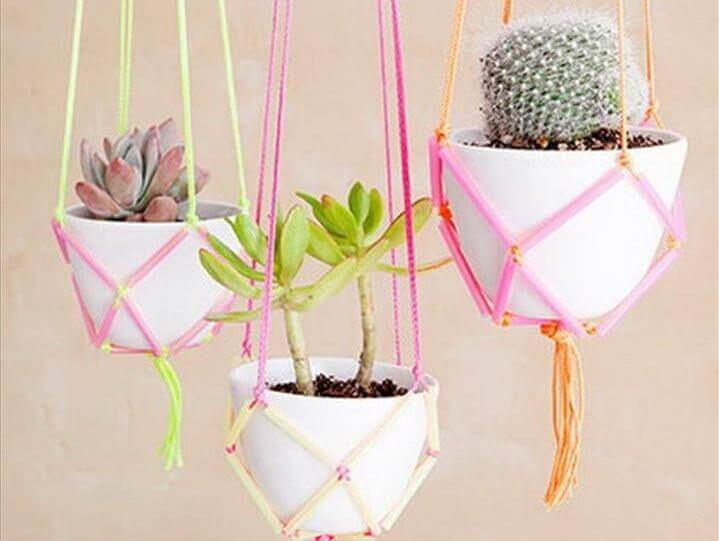 Make the prettiest summer decors for your home with these plastic straws and the yarn plant hanging. The yarn macramé is traditional to use for the plant hanging but you can add more pop up of the colors and cuteness to them using the colorful cut out pieces of the straws to them. Details here!
Image: brit.co
Colorful Straw Necklace: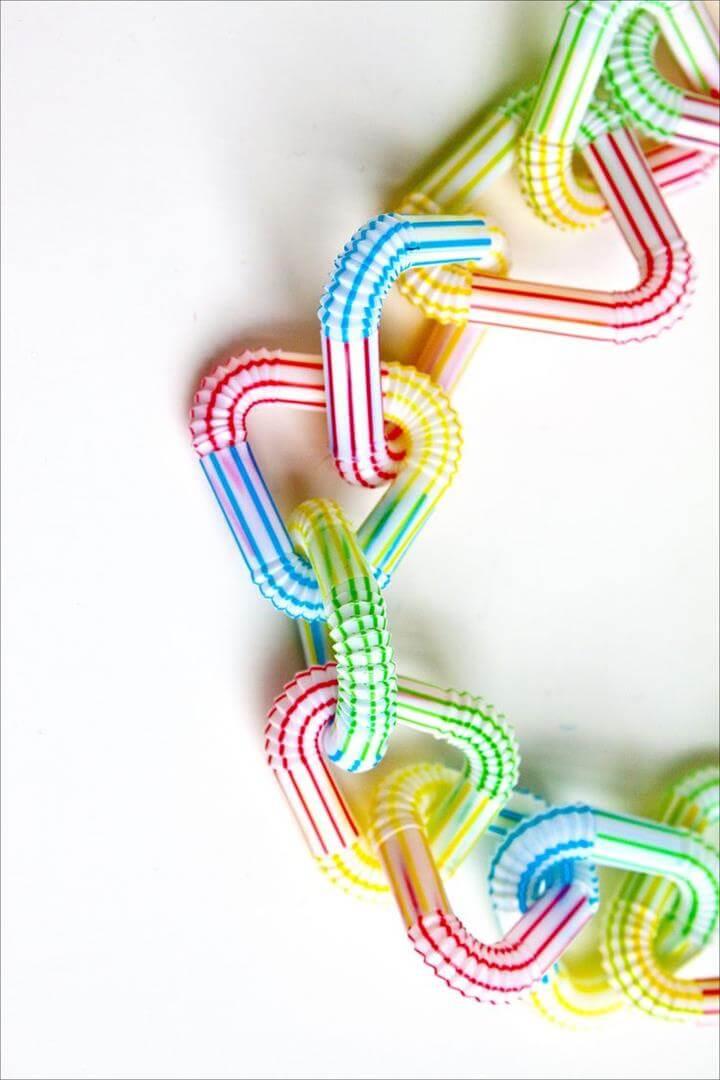 These are cute and colorful straw necklaces that you can easily make at home. So get your hands on the rainbow-colored straws and cut them into small pieces. Then take three pieces of the straws and put them together to form a triangle. Once a bunch of the triangles is made put them together in a chain pattern to shape up the necklace. Details here!
Image: thecraftysisters
Amazing Plastic Straw Necklace: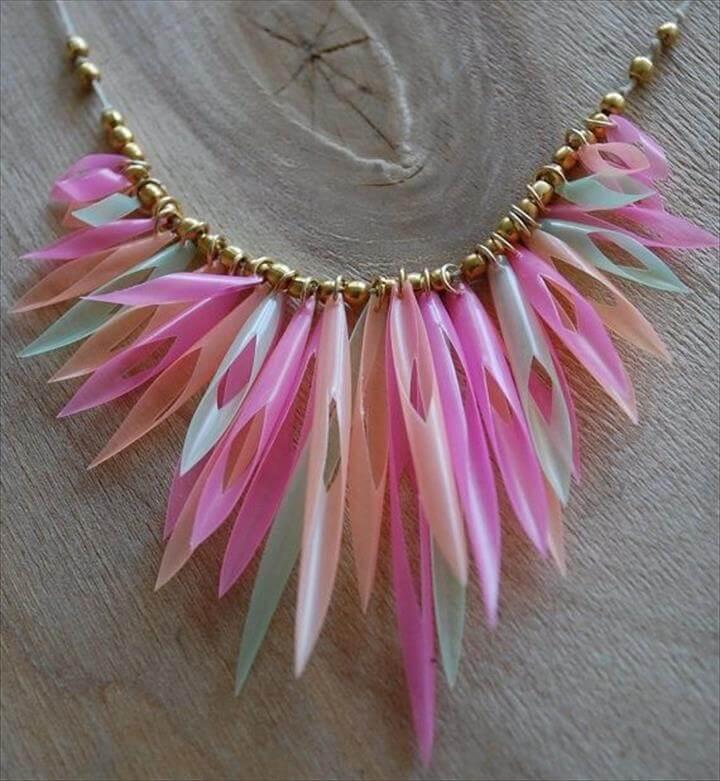 You can make the pretty jewelry items at home with your little girls to let them have some cute fun pieces to adorn around. Using some threads, cut out pieces of the colorful plastic straws you can easily make the plastic straw necklaces with your girls to wear with the cute summer dresses. Details here!
Image: happythought
Halloween Paper Straw Garland: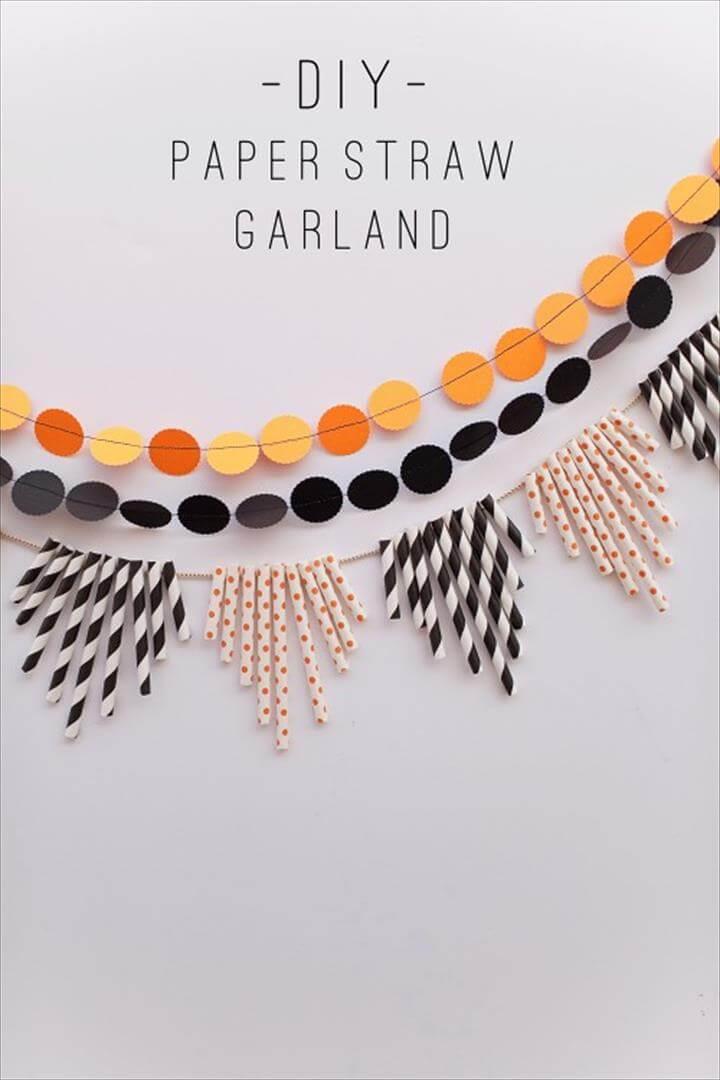 Bring some cuteness to your wall décor with this adorable Halloween paper straw garland. The garland is super easy to make with black striped and orange dotted straws. Just cut half of the straws in small size and a half in a bit bigger sizes. Then combine these small and big sized straws through a string or thread to form a super cute and funky garland. Details here!
Image: tellloveandparty
Duck Tape & Straw Picture Frame

: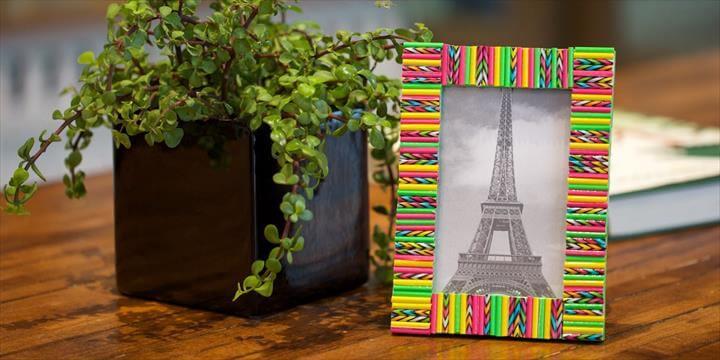 Make yourself a cute and colorful frame for your summer home décor display. Just take a plain picture frame and cover its boundary with colorful cut out pieces of the straws. For a more fun look cover some of the pieces with the duck tape and use these tape wrapped pieces on the frame amidst other straw pieces. Details here!
Image: youtube
Spring Flowers

: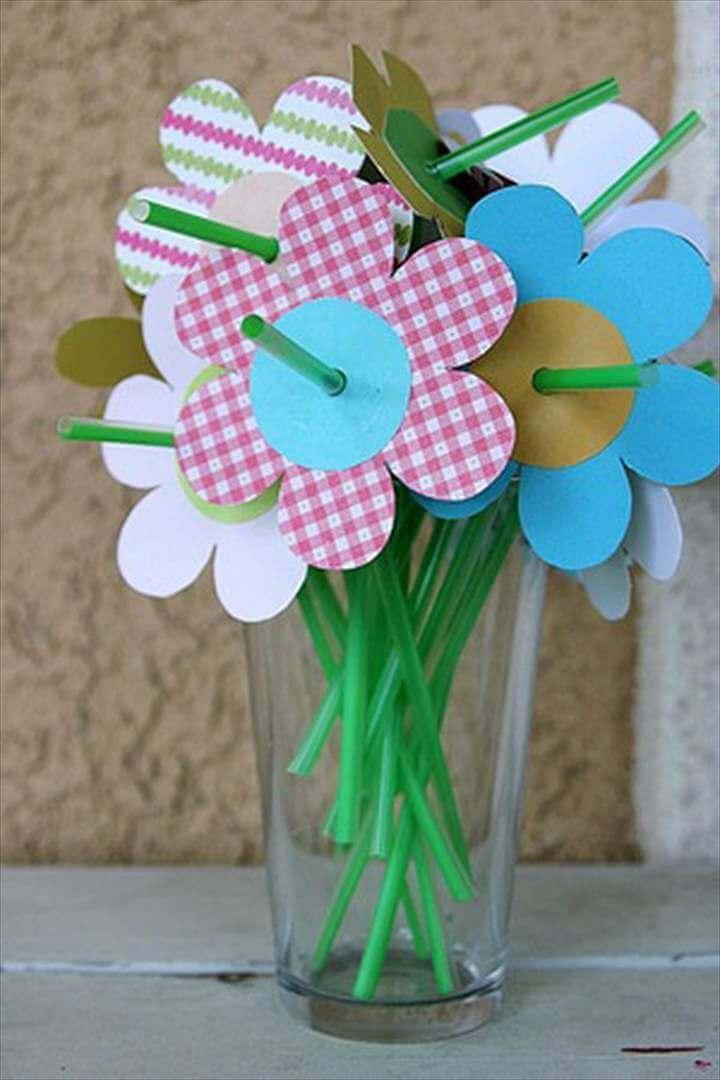 You can make the pretty flowers at home to bring some handmade beauty to the home décor or for a party table too. Here are these cute spring flowers that you can make with the scrapbook paper and green straws. The scrapbook paper is turned into flowers with the cookie-cutter shape with straw working as the stem of these flowers.
Image: multiplesandmore
Drinking Straw Necklace: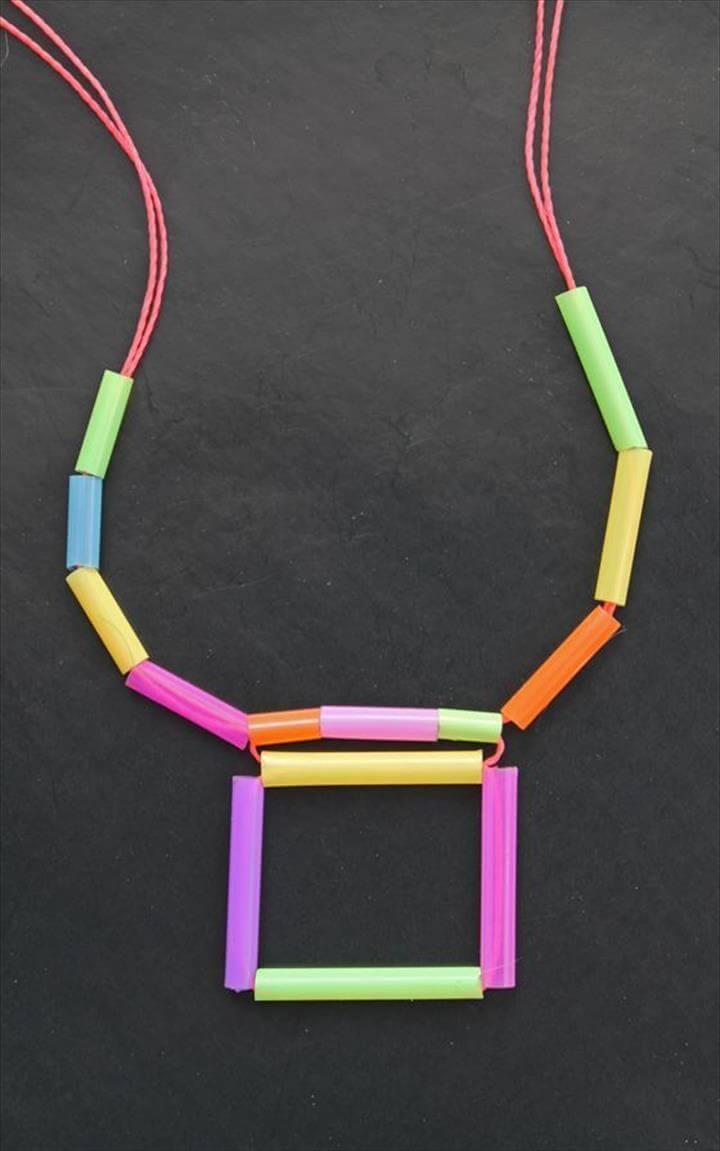 Get your little girls ready for a fun summer party with this drinking straw necklace idea. Yes, using the cutout piece of the colorful straws and the colorful thread you can easily make the pretty drinking straw necklaces. Shape up the necklaces in geometric shapes like a cute triangle or a square and the girls would love these. Details here!
Image: momfatale.gr
Monochromatic Name Frame

: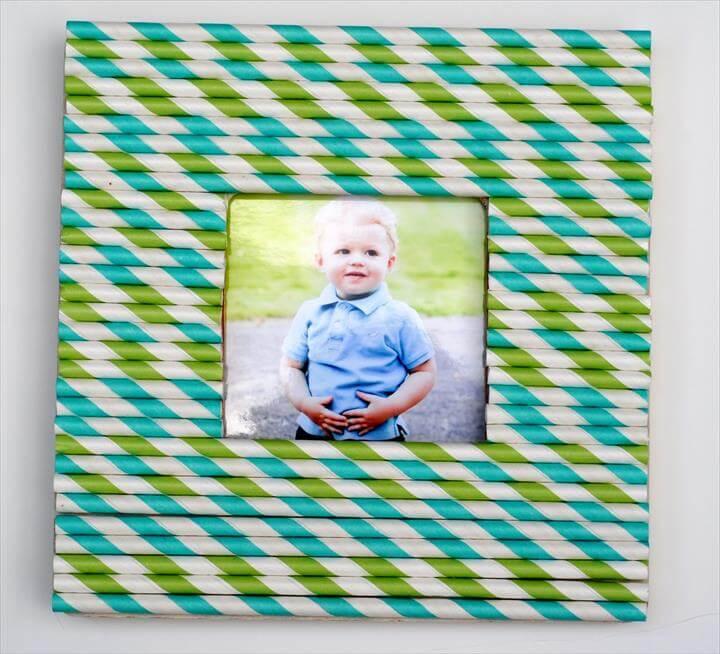 Give your frames a fun and cute look with your crafty skills. Here is this easy and thrifty picture frame to make at home and bring some chic vibes to the home décor. So grab some stripy and summer-friendly colorful straws to glue up on the boundary of the frames and give your picture display a totally fun and fantastic look. Details here!
Image: makinglemonadeblog
Simple Valentine's Day Straw Flags

: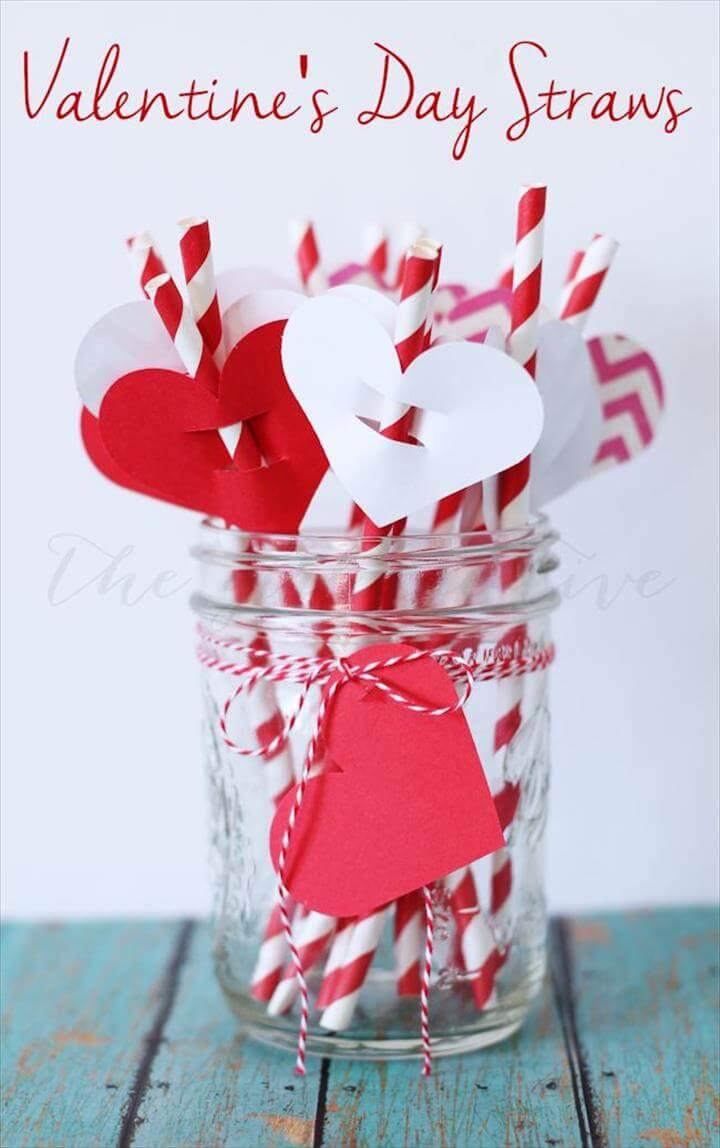 Make the perfect yet simple valentine's day straw flags too easily at home. First, get a pack of the red and white striped paper straws and then get the cardstock in the same colors. Create lovely hearts from the cardstock using a heart template with punched holes in the center. Pass your straws through these straws and have the prettiest and cutest flags ready for the décor.
Image: thegirlcreative
Starburst Ornament

: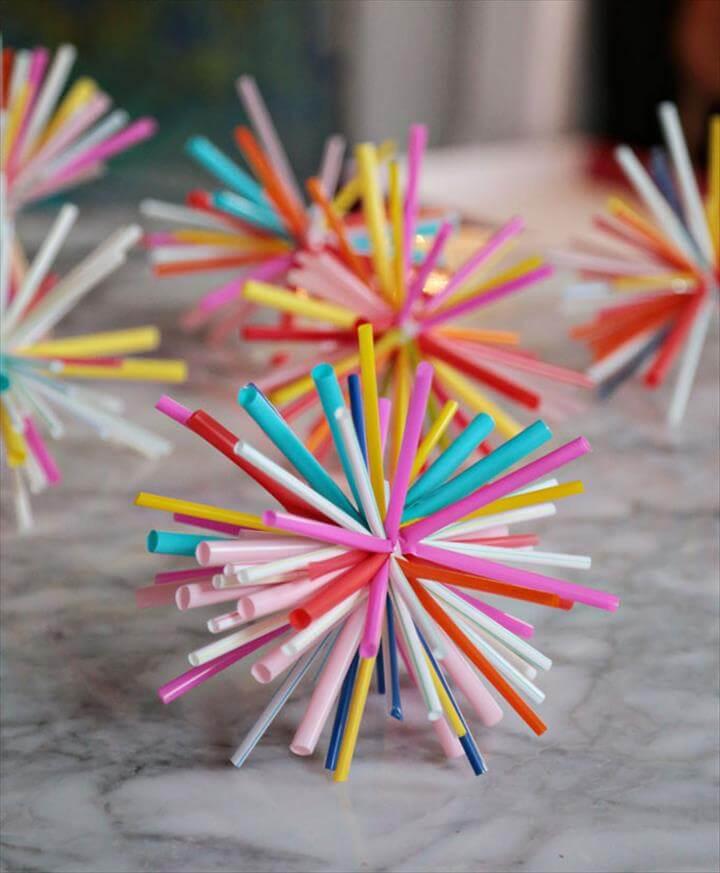 You can make your Christmas tree décor super funkier this time by adding something unique like these starburst ornaments. The starburst is simply too easy and fun to make and costing you nothing. So grab a bunch of colorful straws and tie them in the center tightly using zip ties. Check out the video and written details right here!
Image: auntpeaches
Straw Rockets

: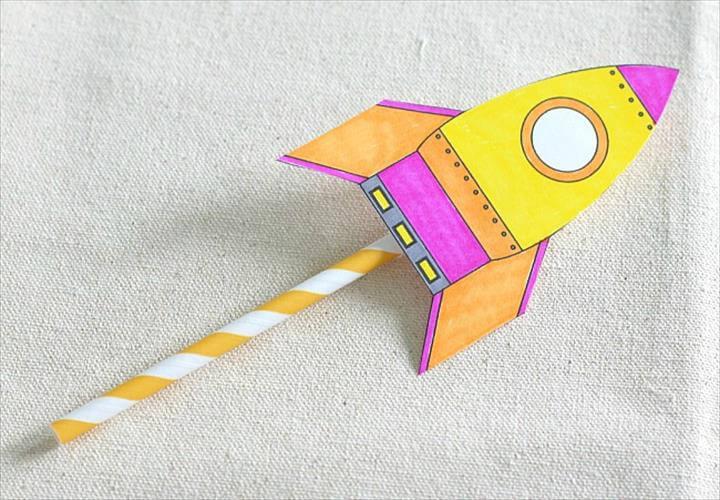 Boys love space crafts and rockets and now they can simply make one and fly it around to have so much fun playing with it. Just print out a cute little rocket on cardstock and add straws to them using plastic pipettes. Kids can blow through the straws to make these rockets fly high. Check out easy details here!
Image: buggyandbuddy
Papel Picado Party Straws

: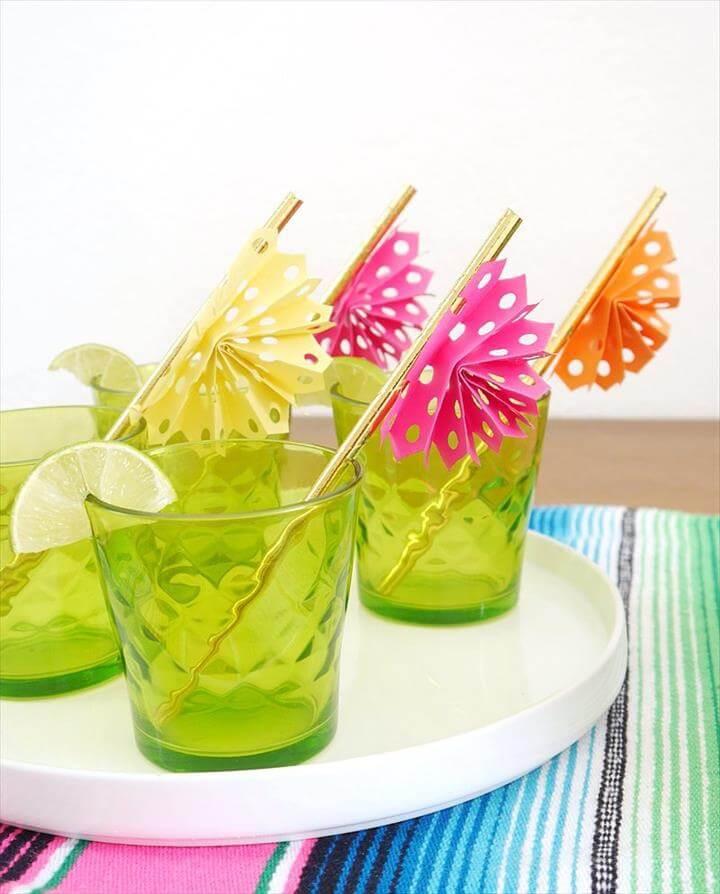 Make your party décor rock more with this paper Picado party straws which are super easy and fun to make at home. You need metallic straws and the colorful cardstock along with the hole puncher. Just make hand fan-like structures from the paper pieces and punch holes in them and lastly glue them on the straws.
Image: birdsparty
Paper Straw Witch Brooms

: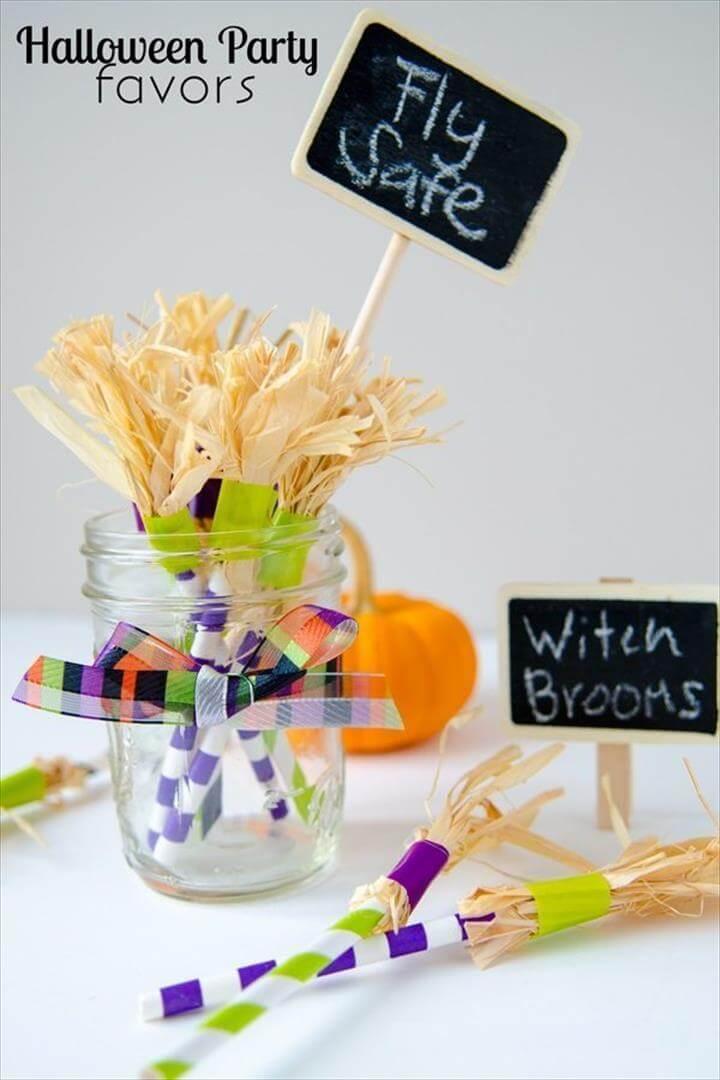 Make these super cute paper straw witch brooms for the fun Halloween décor. So the things that you need to make these lovely witch brooms are the colorful stripy paper straws, matching scotch tape, and the raffia. These would make pretty party flags in a jar. Not only Halloween these are also perfect to make for a witch theme party.
Image: diyreal
Paper Straws Mustache Lips Boy & Girls

: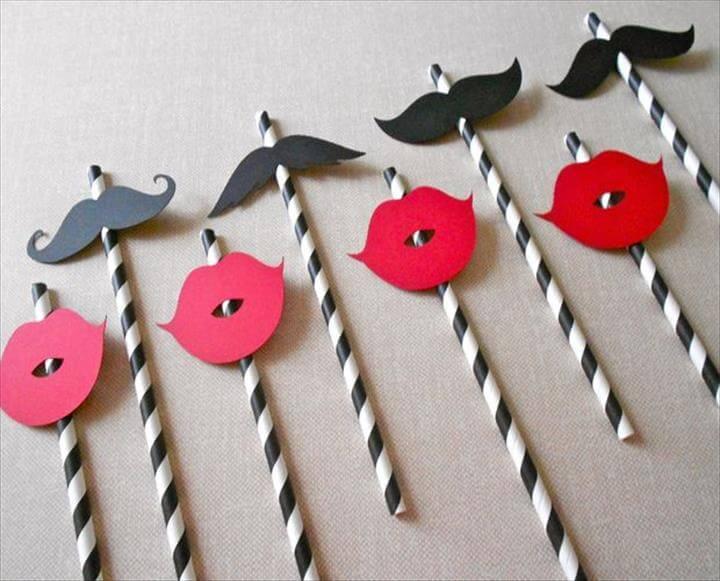 Here is how you can add more fun to your party photo session with these lovely paper straws mustache lips props. So cut out lip and mustache from the red and black cardstock respectively using the templates. When a bunch of the lips and mustaches are ready you can paste them on the paper straws to click fun photos with. Details here!
Image: youtube
Valentine's Day Straws – Straw Toppers

: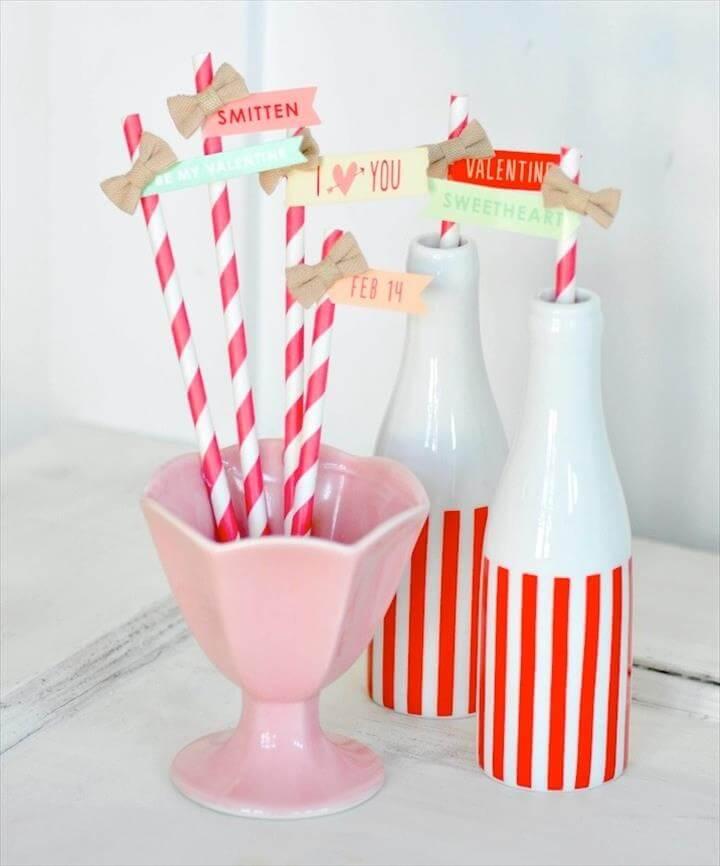 Give your valentine day décor a more fun and cute look with this pretty straw topper idea. The cute toppers or flags are so much fun to have in a jar and add so much to the décor and also click photos with. So grab some love theme papers tags and paste them on the straws and they are done. Details here!
Image: karaspartyideas
Straw Paper Flowers: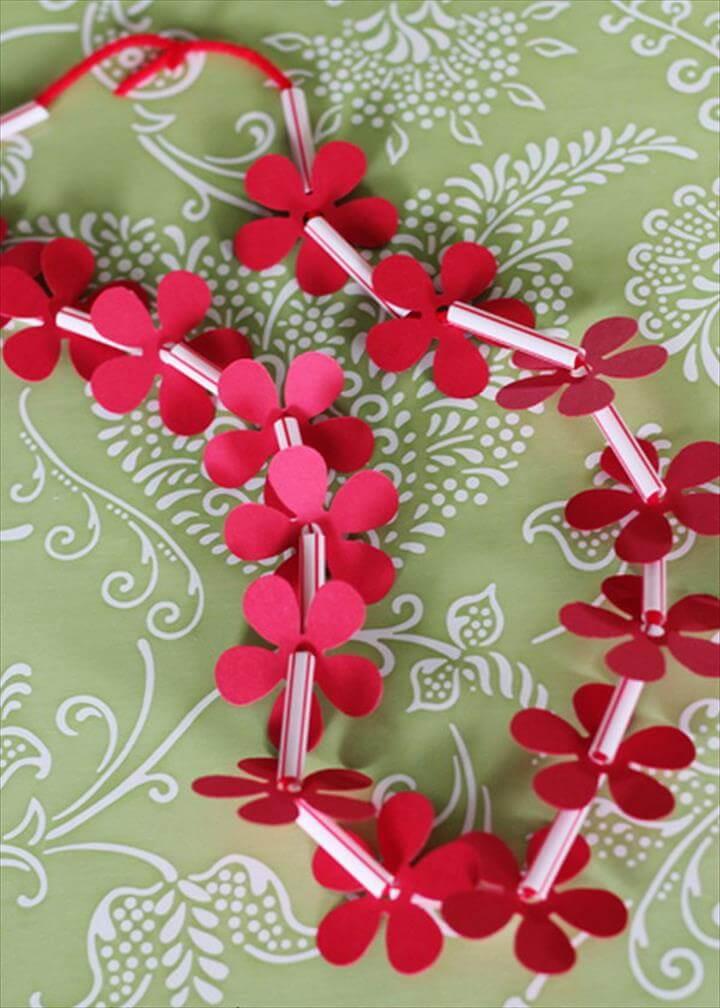 You can make the perfectly cute flowers and for some fun décor purposes. Get your hands on the paper straws and cut them into small pieces. Then grab a punch hole and create lovely flowers out of red cardstock. So get a string, paper flowers, and the straw pieces to make the perfect straw paper flowers on your own. Details here!
Image: thecraftingchicks
Colorful Drinking Straw Drum Shade

: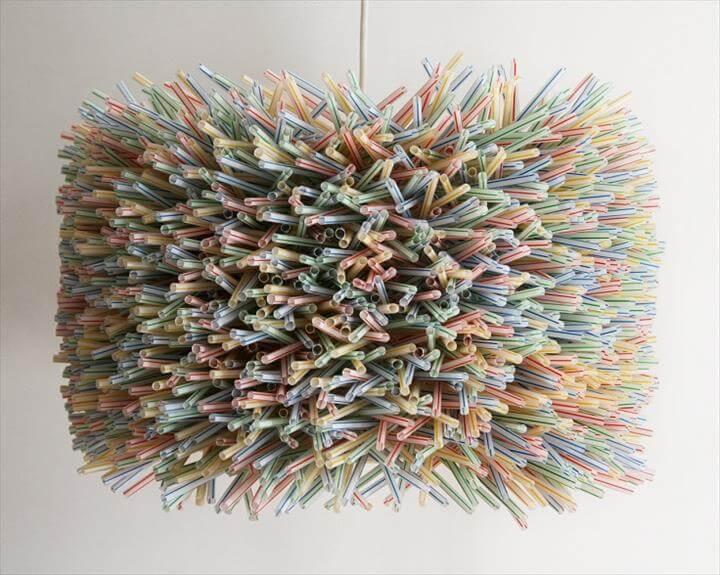 Bring some fun and chic vibes to your home décor with this colorful drinking straw drum shade. You need a huge pile of straws to make this super cute and modernly styled drum shade. You can install it in the living or the dining room and it is going to rock your spaces when lighted up. Details here!
Image: the3rsblog.wordpress
Straw Heart Hanging: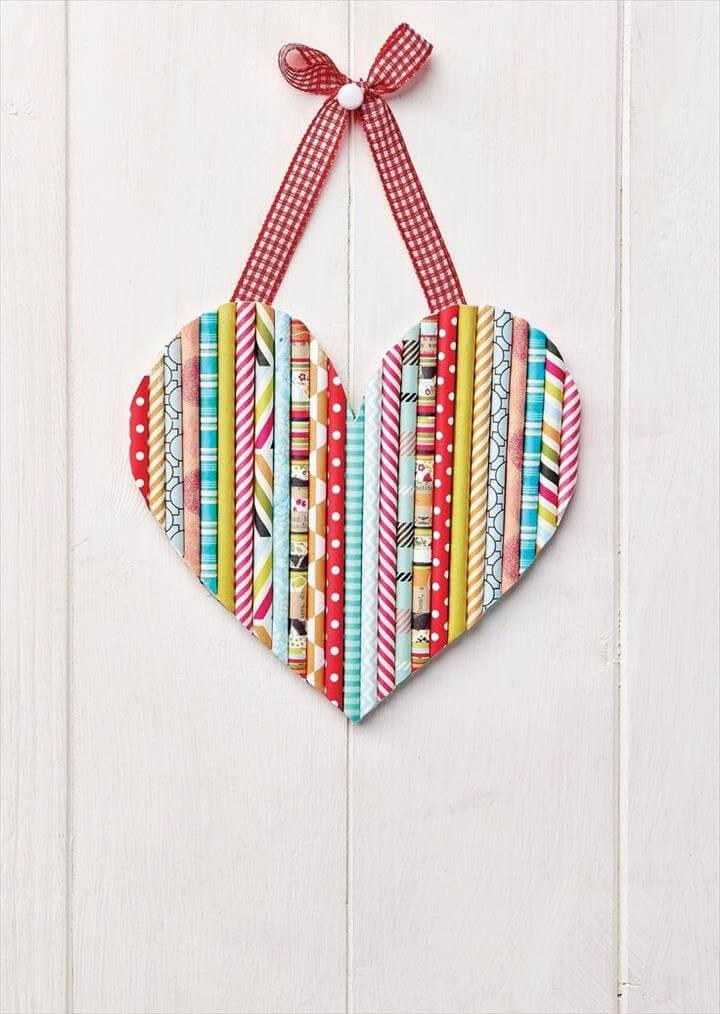 Make a pretty heart straw hanging for your walls to bring some fun and chic vibes to your home décor. So grab cardboard and cut a heart shape out of it. Then get some colorful paper straws and paste them over this heart and with the help of the ribbon you can hang it over the walls. Details here!
Image: engrave
Straw Earrings

: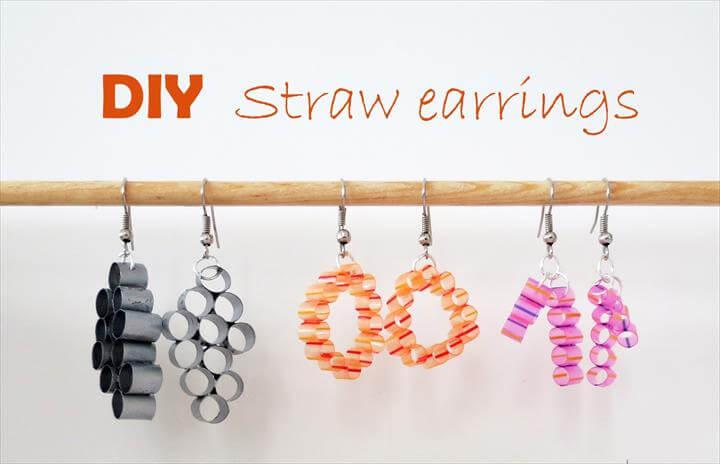 Bring some fun to your jewelry making with this lovely idea of the straw earrings. So get your hands on the straws and cut small round beads out of them. Then using the jump rings and the earring wires you can make the perfect straw earrings for yourself to wear with your funky and cute tops and tanks. Details here!
Image: ohohblog
Geometric Straw Mobile

: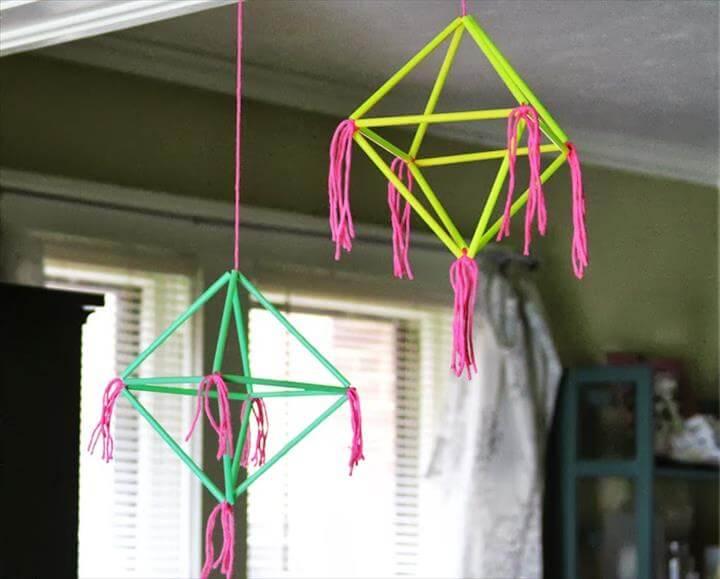 Give your kid's room a perfect mobile that you can easily make with your hands and using the easy things lying around. Using the straw and the colorful thread you can easily shape up this geometric mobile. Also, you can use the same pattern and design to make the perfect plant hangers. Details here!
Image: archive.org