Women love to hoard accessories especially the jewelry being the vitals of their dress-up hours. Earrings are the favorite jewelry pieces for every lady around the globe and there are like endless designs and styles of them confuse us enough. But all those fancy earrings cannot beat the beauty and appeal of the handmade earrings. So here are these 6 DIY Stunning Earrings Step by Step to make some of the best earrings designs surfacing on the internet. With a few things and easy details, you are sure to rock this round up of DIY earring ideas at home and feel proud of yourself for making some gorgeous earrings and styling yourself with.
There is a cute variety of earrings that you are going to love trying your hands on. Firstly you can try making the earnings with the yarn and the tassel earrings are the perfect sample for that. You can either make earrings with a single tassel or you can make earrings with three-tiered tassels with contrasting yarn hues. These tassel earrings are going to be a perfect gift for your mom and for your best friend as well. Then comes with the cute and chic kind of earrings to be made out of the beads, gems and the stones and look super stylish and boho with them. Lastly, you can combine both the yarn and the gems together to form the multimedia earrings and look just ethereal wearing them. Each link leads to the tutorial of these stunning earrings.
Seed Bead Earrings DIY: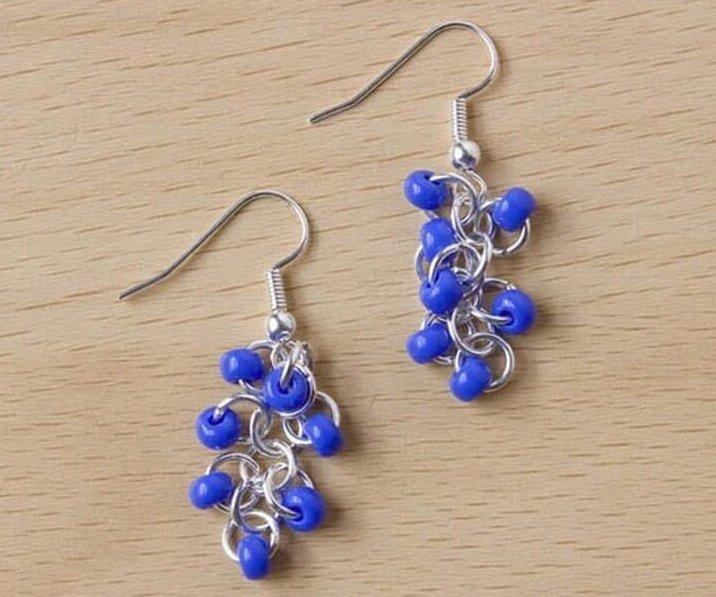 Now you can enjoy making your own jewelry items at home just like seed bead earrings. Using the blue seed beads, jump rings and the pliers you can easily install this cute pair of the earrings to pair up with your favorite dresses. Also, the earrings can be customized with any colored beads that you like. Details here!
Tutorial: makeandfable
Chain Earrings DIY Tutorial: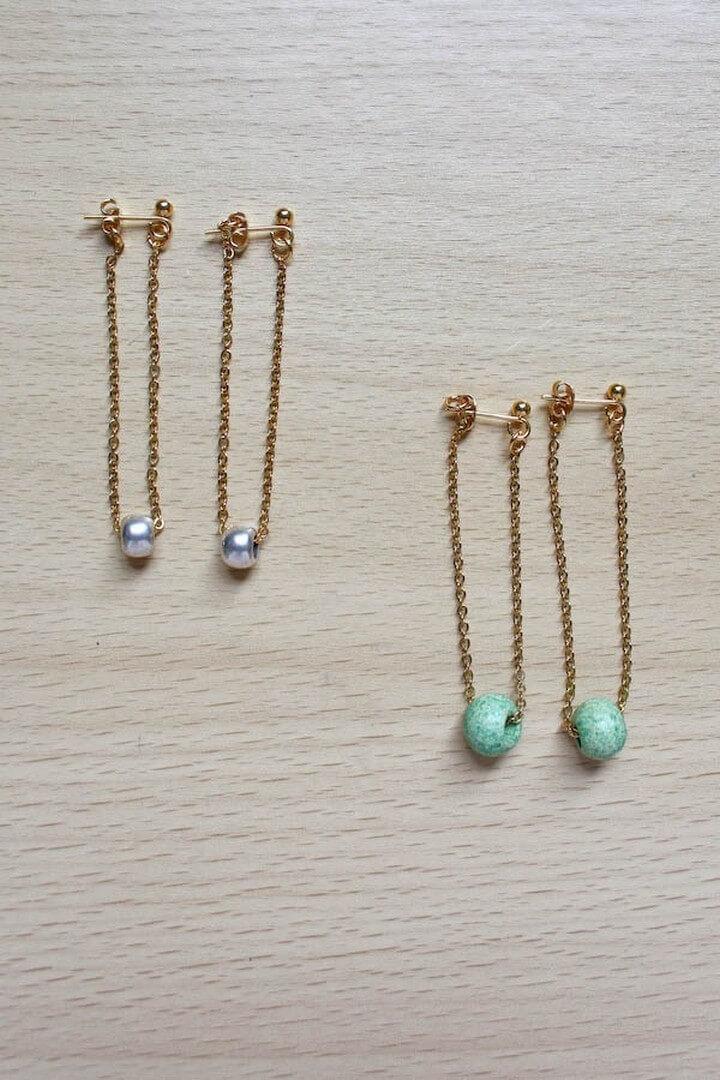 You can make these super elegant and gorgeous chain earrings on your own and wear them with your beautiful formal dresses. The design is quite minimalistic with a lovely gold chain and the white big hole beads. You can change the colors of the beads to match the earrings with your dress. Details here!
Tutorial: makeandfable
Tassel Earrings: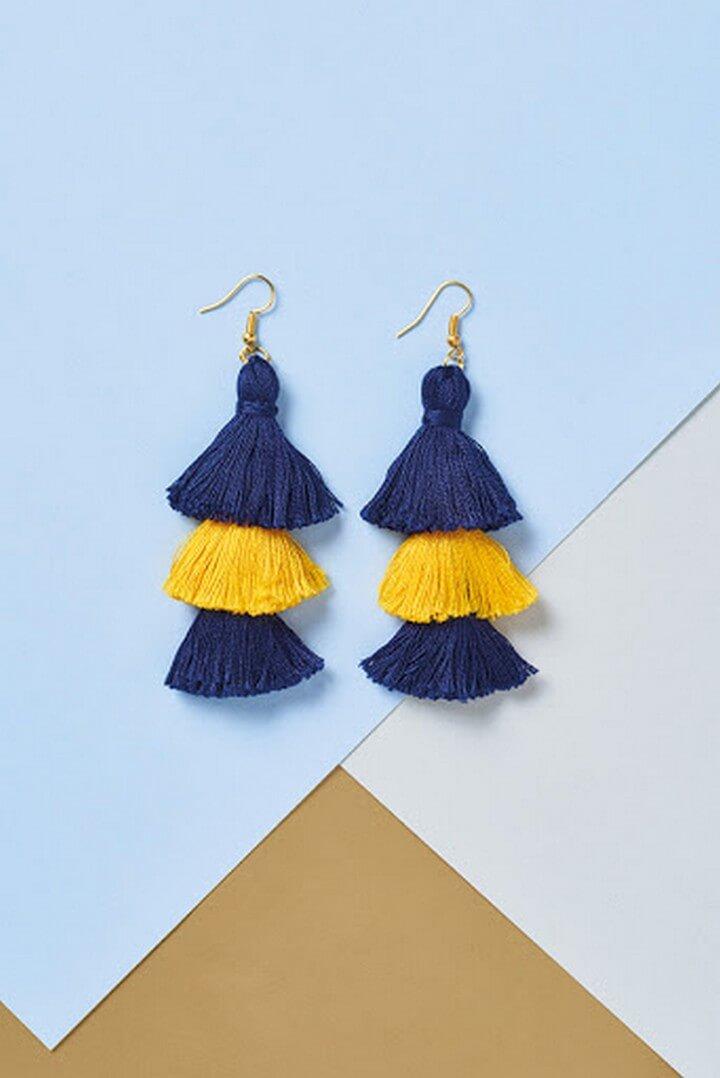 These tassel earrings are cute enough to steal your heart with their adorable beauty. The three tiers of the tassels in these earrings have come together so perfectly. The top and bottom tassels are of the same color blue and the middle one is the yellow one to blend well with the blue.  Details here!
Tutorial: molliemakes
Simple DIY Earring Tutorial: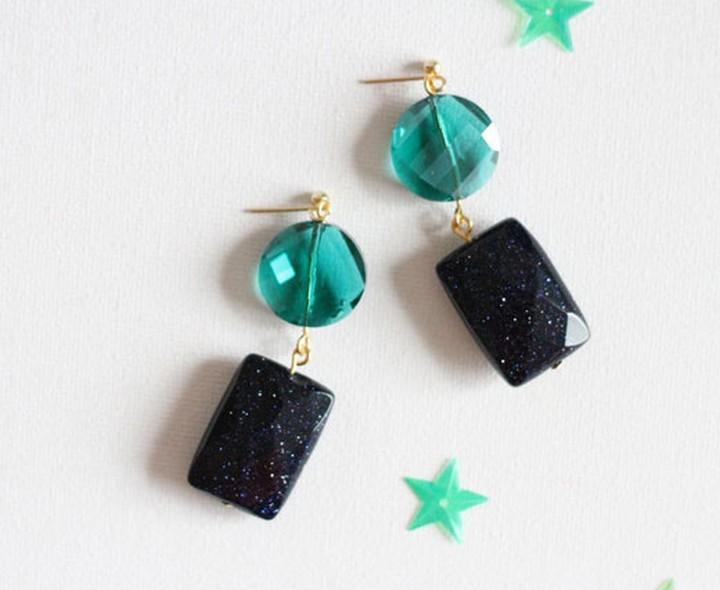 These simple DIY earrings are the cutest things to make and add in your earring collection. Using the gemstones in the round and rectangular shape and that too of contrasting hues you can easily work up these adorable earrings. These would make a great gift for the young girls around you. Details here!
Tutorial: nbeads
Mothers day DIY Tassel Earrings: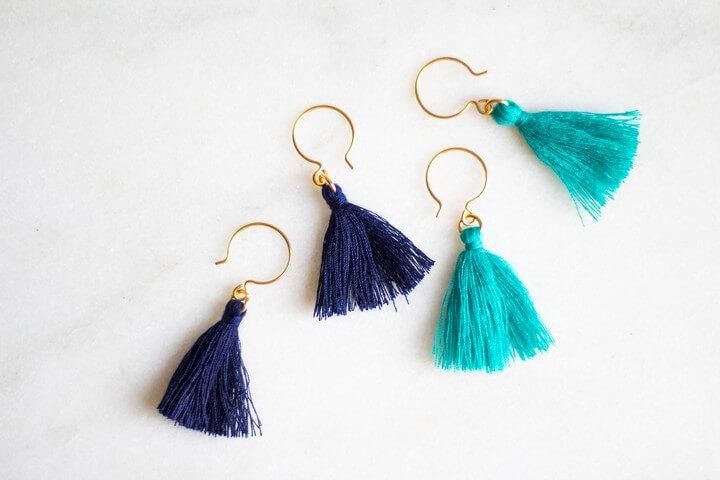 Make something on your own for your mother on this mother's day and these DIY tassel earrings are the best. Using the cute little yarn tassels of any color and some earring pliers you can instantly shape up these cute and pretty tassel earrings and that too in multiple hues. Grab the details here!
Tutorial: theboozybungalow
DIY Mixed Media Earrings: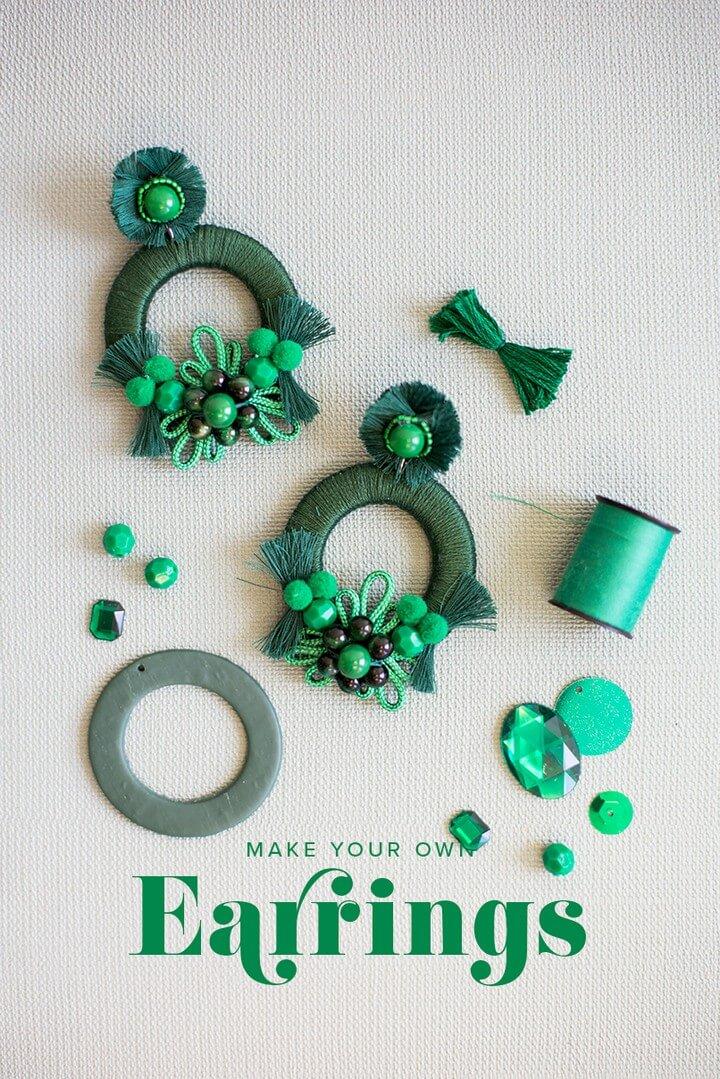 These mixed media earrings are something to steal your heart with their utter beauty and rich style appeal. The gorgeous loop earrings come with yarn wrap, tassels, and the stones and gems to look just eye-catching and beautiful. These earrings are going to look perfect for a dinner night and party. Details here!
Tutorial: thehousethatlarsbuilt