We love making gifts at home to not only pour our thoughts but our whole heart into it. Such handmade gifts are no doubt the best ones than those you buy from the gift shops. Now you can add more custom value to your gifts with these 20 DIY Gift Bag – Make Your Own Ideas. The value of a handmade gift would be surely doubled up with a handmade gift bag. And even if you have a market bought gift, a handmade gift is surely going to raise its worth for the person. So for the next time of gifting do try your hands on these super cute and fun DIY gift bag ideas.
There are three basic ways to make a lovely gift bag on your own. Firstly you can make gift bags out of the empty cardboard boxes and by wrapping them with some cool and colorful paper wraps. Secondly, you can take colorful crafty papers in multiple hues and patterns and make the perfect gift bags with fabric or ribbon straps. Last but not least you can lend a lovely makeover to your market bought gift bags using so many interesting and personalized ideas. The Mickey and Minnie mouse bags, Santa bags and the cute shirt and tie bags are the pretty gift bags are the perfect examples of the last method.
Gift Bag from Wrapping Paper: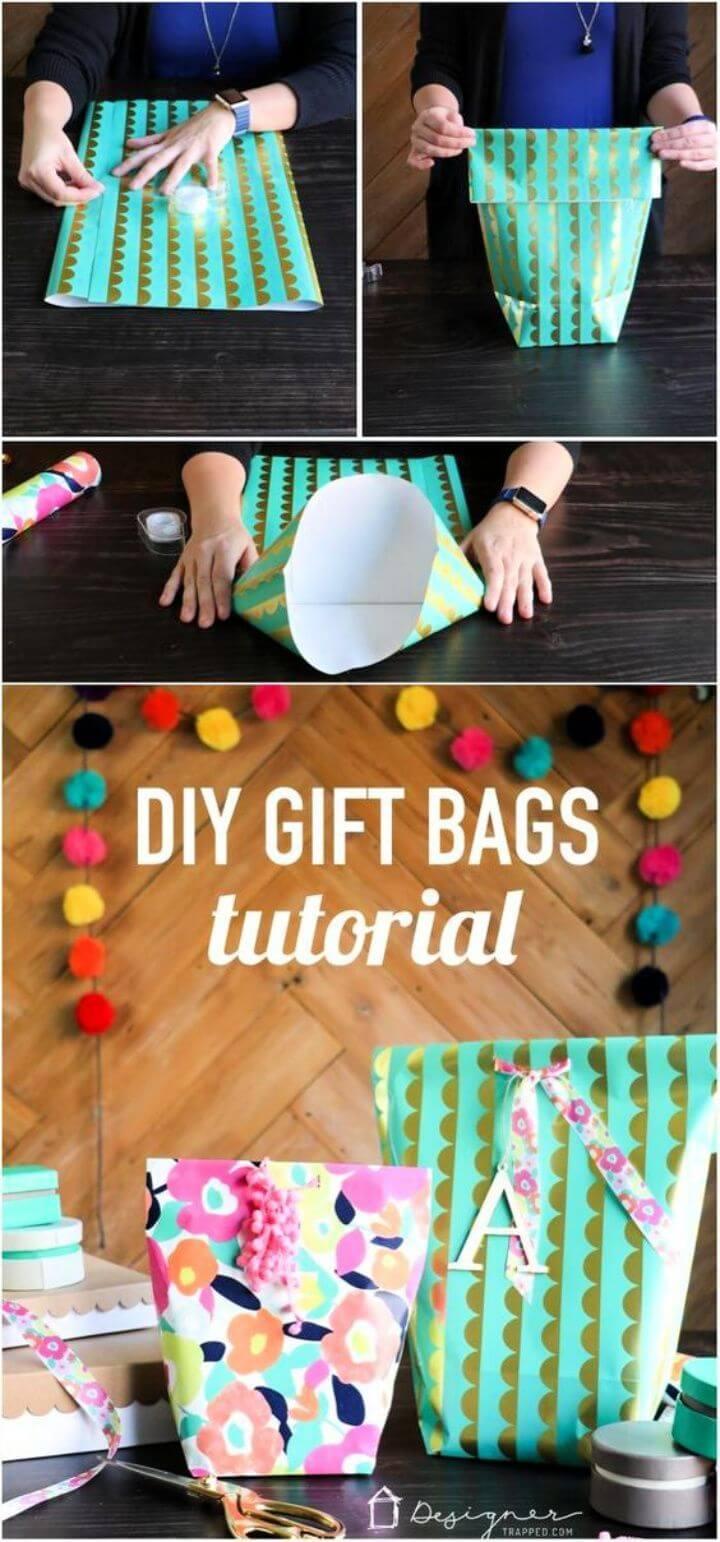 Double up the value of your gifts by making cool gift bags! Craft this wrapping paper bag at home will work great to hold bigger gifts! Gab a wrapping paper of choice, scotch tape, a rectangle hole punch and ribbon to make this gift bag! It will work up super quickly! Details here
Tutorial: designertrapped
DIY Ideas To Recycle Magazines For Home Décor: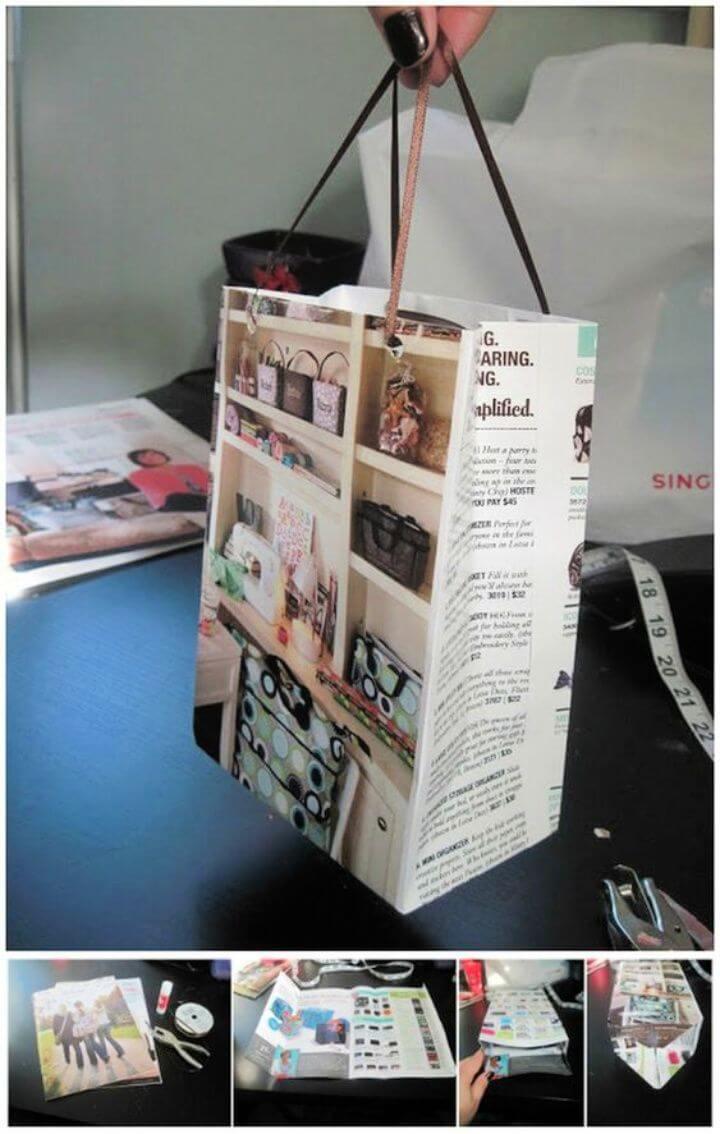 Having nothing to do with your old magazines? Then put them to fairly good uses by making cool home decors and gift bags! Remove the staples using a staple remover and put the magazine covers together making a bag! Glue the sides in place and punch out holes to add the string straps!
Tutorial: lifewithcrazyrachel
DIY Classic Fabric Gift Bag Free Sew Pattern & Tutorial: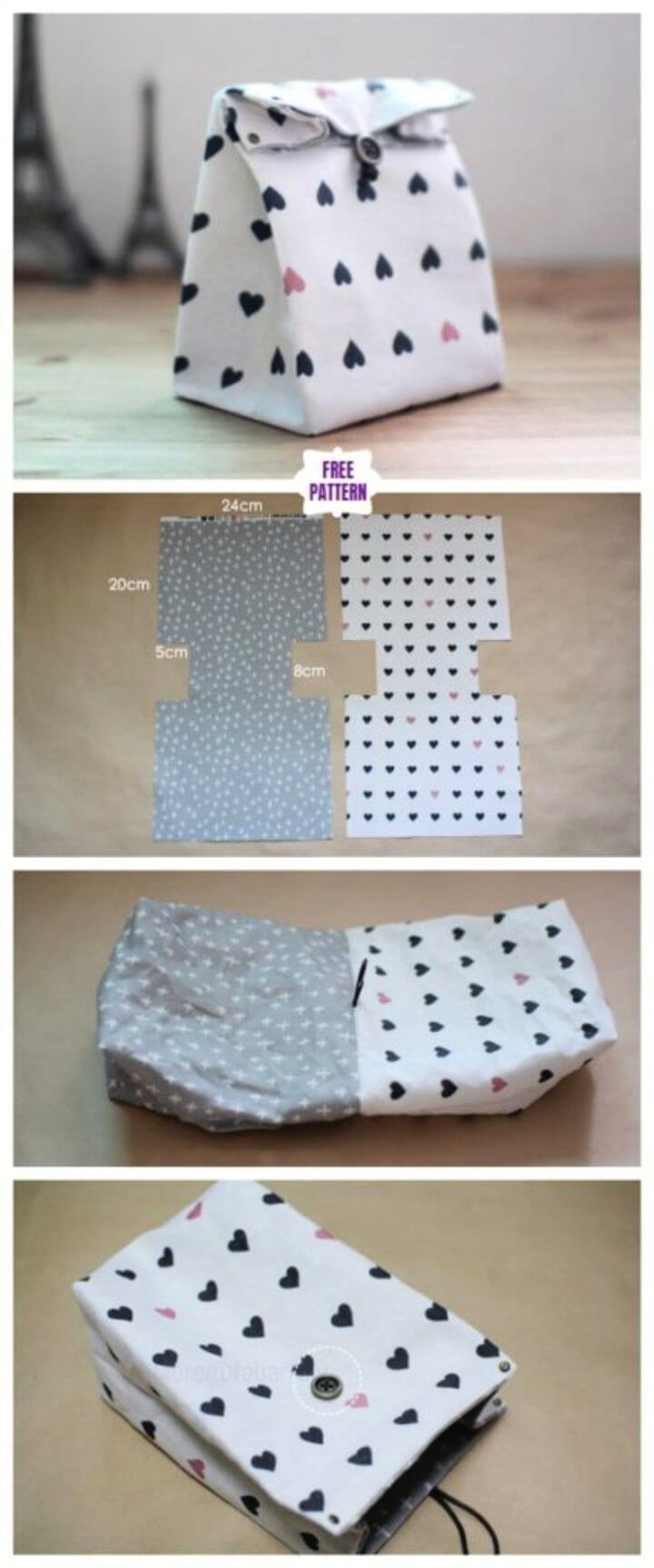 There are various materials out there to try out for making durable and stylish gift bags! Recycle your old fabric from home to make this classic fabric gift bag! This is here an easy sewing project that every beginner can do! Grab two different types of cotton, elastic, 4 holniten and a large button to make this bag!
Tutorial: handmadiya
DIY Easiest Fabric Gift Pouch Sew Pattern & Tutorial: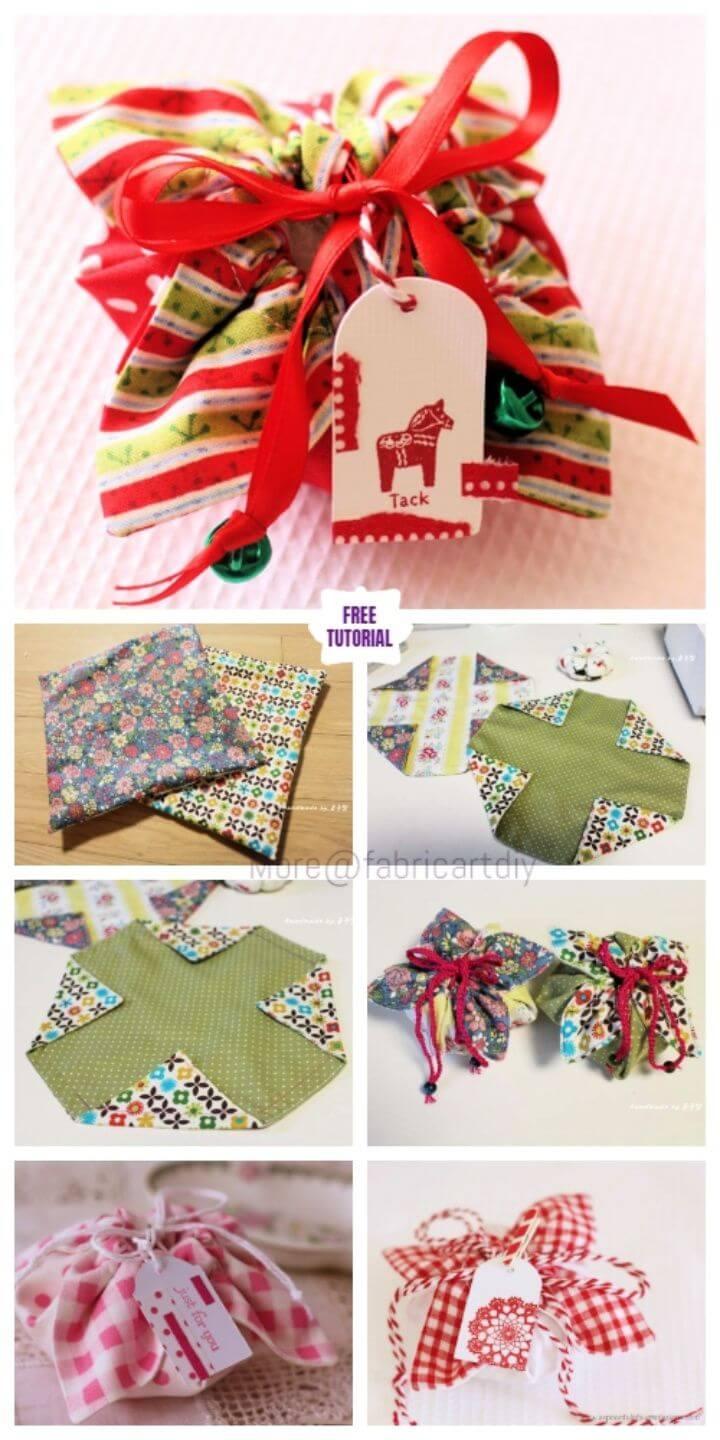 If you love doing a sewing projects that you must try out this one of the easiest ones! It involves sewing a quick fabric gift pouch and will make a nice wrapping for your gifts! It will itself make an adorable gift! Grab the fabric in squares, ribbon, and scissors and a sewing machine to do this project!
Tutorial: fabricartdiy
Sew an Easy Drawstring Gift Bag:


It is just amazing to sew a lovely gift bag as fabric-made gift bags are always durable! Moreover, they can be used again and again for other uses! Gab the 100% cotton yarn with a holiday print and sew this drawstring gift bag out of it! Grab the ¼″ satin or grosgrain ribbon to add the drawstring!
Tutorial: brownthumbmama
Reusable Fabric Gift Bag Tutorial: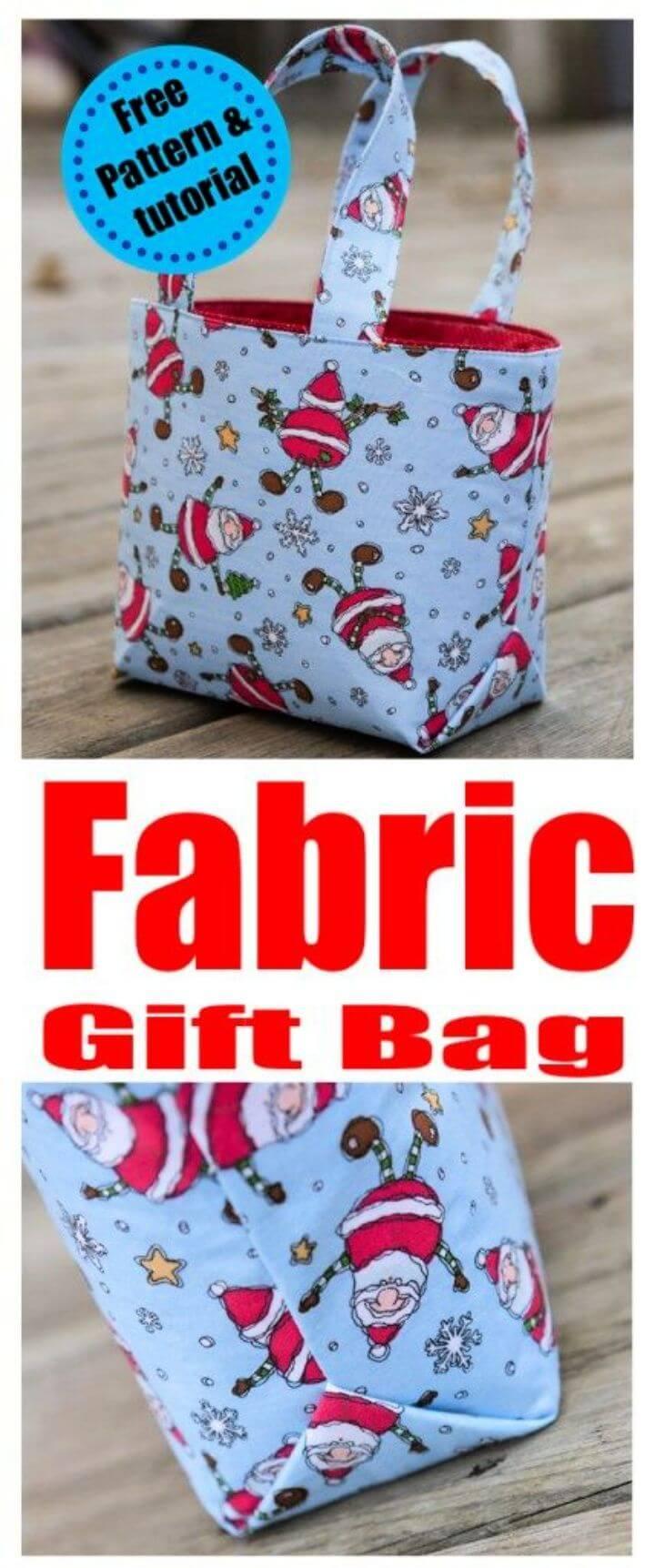 Again do an easy sewing project to whip up this reusable fabric gift bag, quite something easy to sew! Grab the fabric in contrasting colors, medium weight interfacing, iron, sewing machine, and other sewing supplies to sew this fabric gift bag! The finished size of this bag is 6″ x 6″ x 3″!
Tutorial: charmedbyashley
DIY Gift Bag From Scrapbook Paper: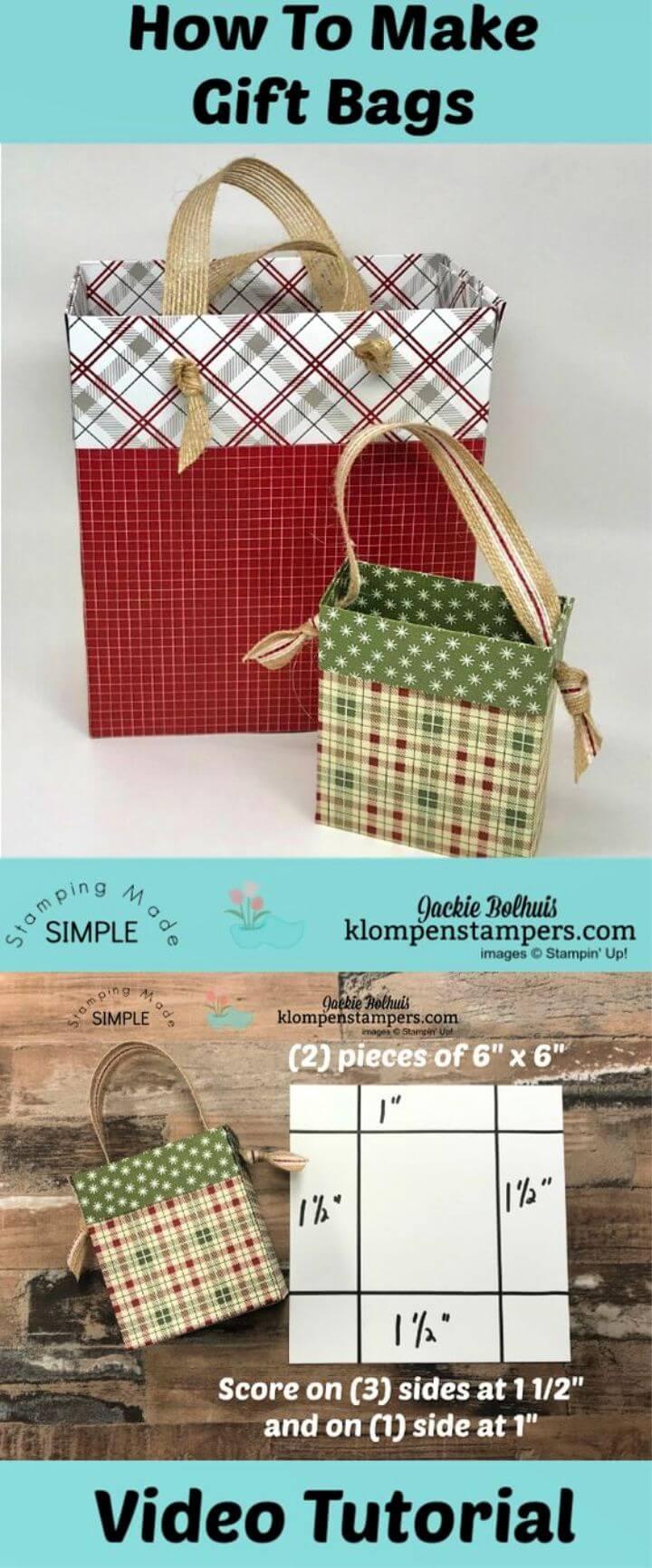 Making this gift bag is a high precision taking task especially when doing cutting and scoring! You only need the scrapbook paper, 2  pieces of 6″ x 6″ Designer Paper Series to make this gift bag, will surely hold your gifts nicely! Just give the cuts to paper, score the sides and start folding it into a box bag! Finish by adding custom handles or straps!
Tutorial: klompenstampers
Drawstring Gift Bag with Divider: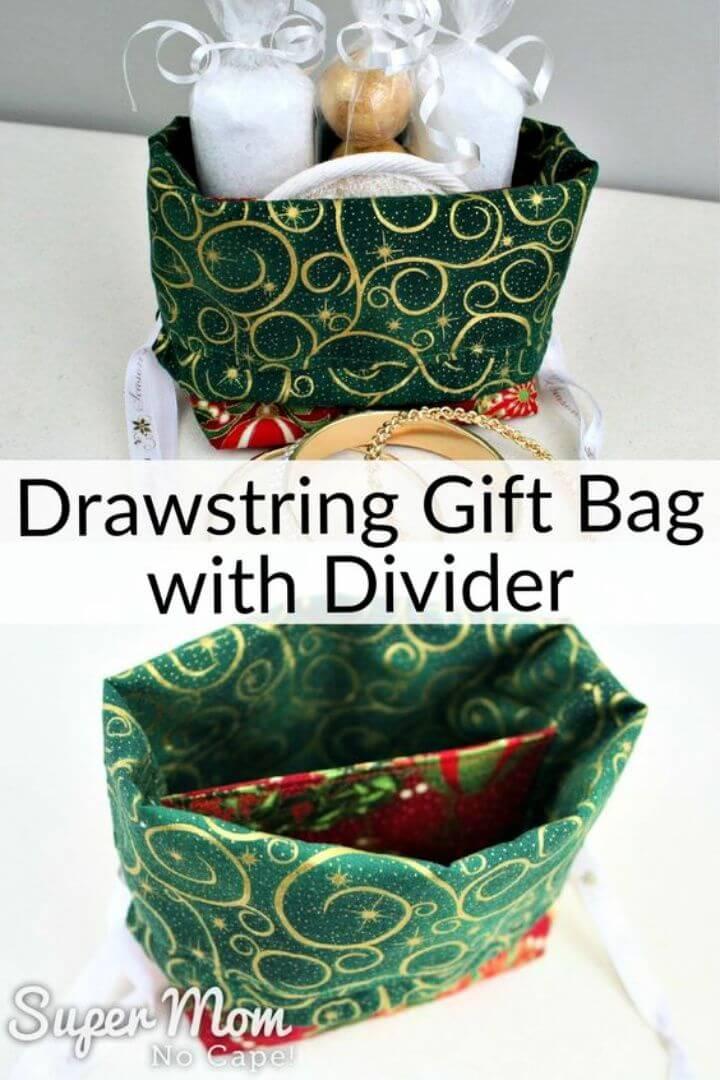 This gift bag is super unique and allows the user to store two different gifts separately at one time! Sew this bag with your favorite durable fabric, get its top a little cuffed and then add a central divider that should stay in place! An amazing gift bag hack!
Tutorial: supermomnocape
Curvy Fabric Gift Card Holder: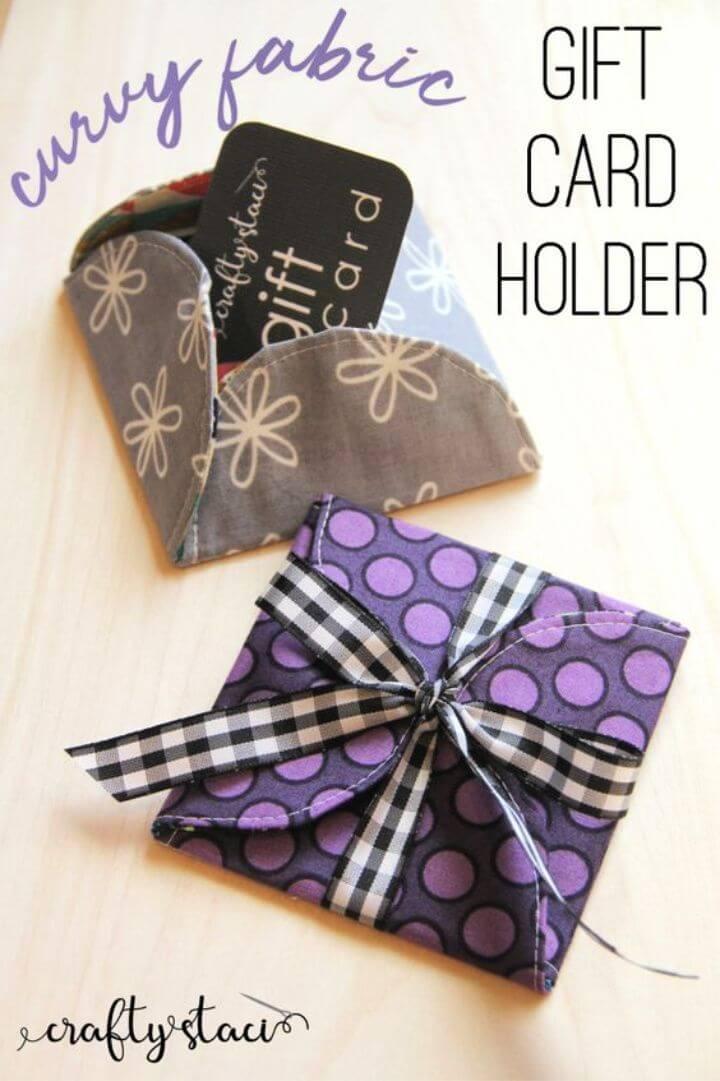 Grab a 7 ½″ square cotton fabric for outside and the same size of fabric contrasting color to make the inside of this curvy gift card holder! Finally, you also need a 7 ½″ square of heavy-duty interfacing to make this durable fabric gift card holder, can be used again!
Tutorial: craftystaci
Tutorial On A Gift Bag For Bottles:


If you are willing to gift some drink bottles then you will surely fall in love with these bottle gift bags! these bags will nicely fit around the 0.75 and 1 liter bottles! Grab the fabric of two types and a lining cloth to sew this handsome looking gift bag for bottles! Details here
Tutorial: .free-tutorial
DIY Fun And Easy Reindeer Gift Bags: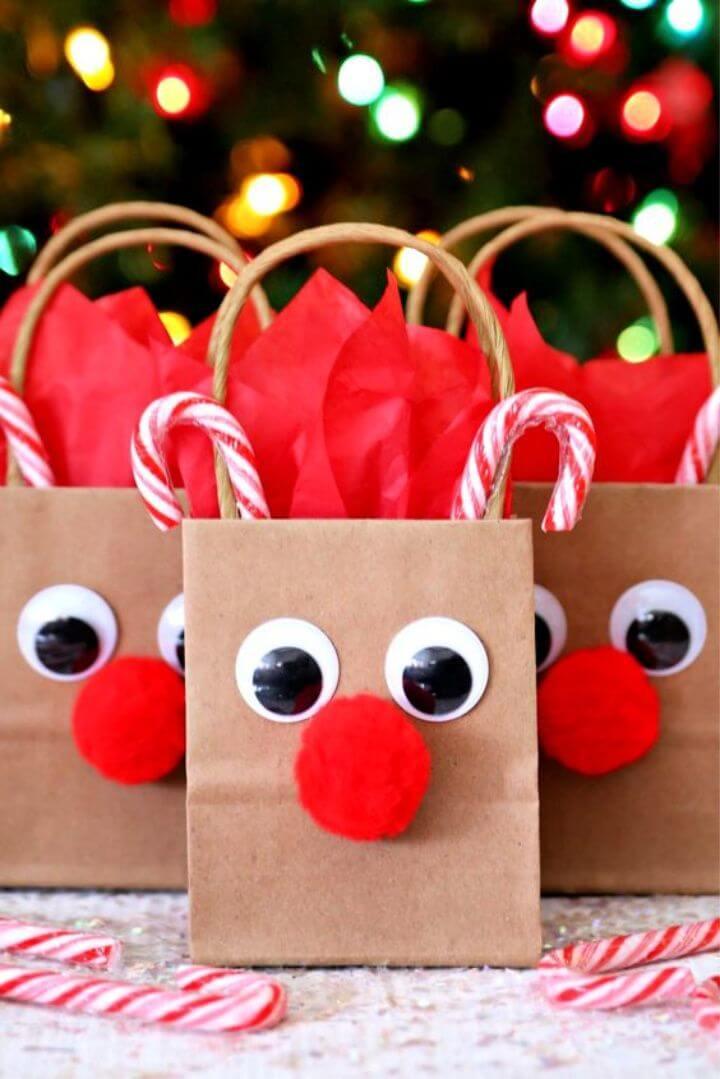 This project is all about to do a decorative makeover of the brown gift bags to get the very good looking reindeer gift bags! It is a fun easy project that involves nothing special but gluing! Finish the brown gift bags with red pom-pom nose, wiggly eyes and with candy cane horns! Details here
Tutorial: happygoluckyblog
Fabulous DIY Party Favors in Four Easy Steps:


One of the cutest gift bag ideas using recycled materials! Grab the empty toilet paper rolls, scrapbook paper, mod-podge matte, ribbon and paintbrush to make these party favors! Layer mod-podge on the cut-to-size toilet paper rolls and layer the scrapbook papers on them! Next, finish with a decorative ribbon!
Tutorial: modpodgerocksblog
Handmade Gift Bag Using Cardboard Box: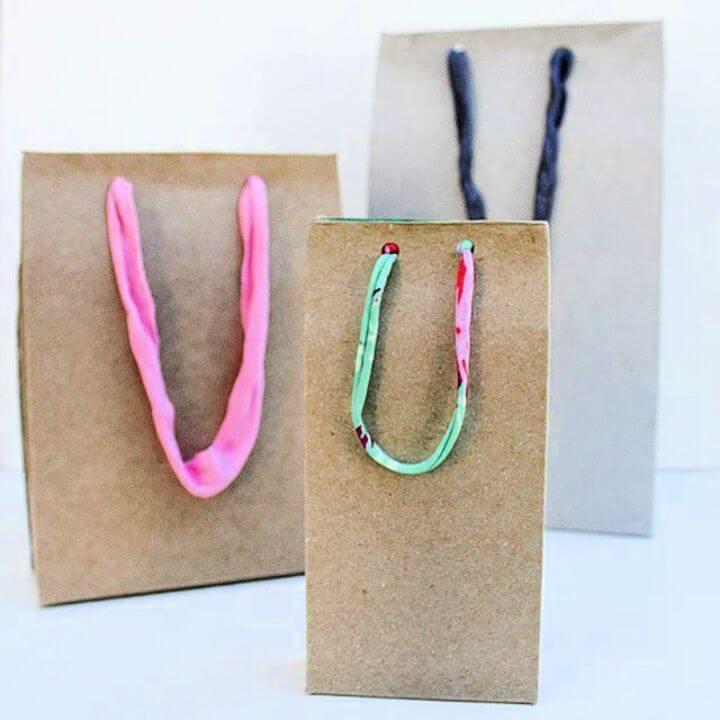 Making these adorable gift bags will just cost you nothing but a simple crafting work! Grab the cardboard boxes of choice like the cereal boxes! Cover them with decorative papers or just leave blank! Next, just punch out holes and finish with scrap fabric straps!
Tutorial: thecentsiblelife
DIY Christmas Gift Bags for Teacher: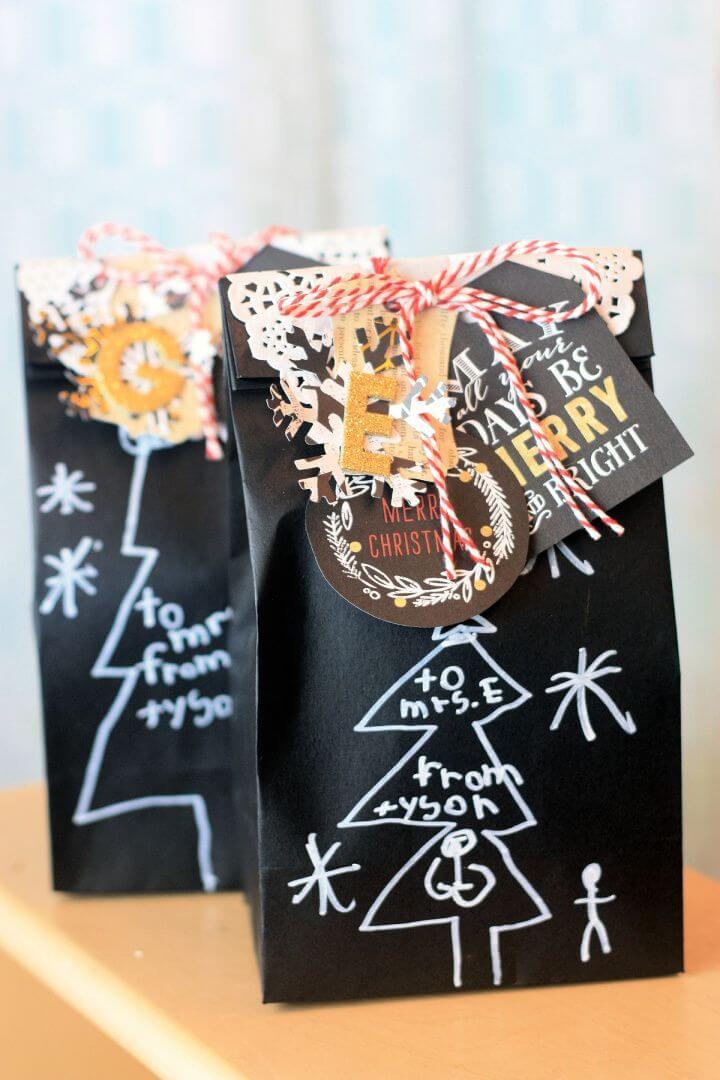 Grab the black paper with your favorite prints or the black fabric to make these gift bags. Decorate the bags with the white handcraft in your desired patterns. Lastly add gift tags and your lovely DIY Christmas gift bag is ready to be delivered to your teacher. Details here!
Tutorial: meandmybigideas
DIY Gift Bag Tutorial: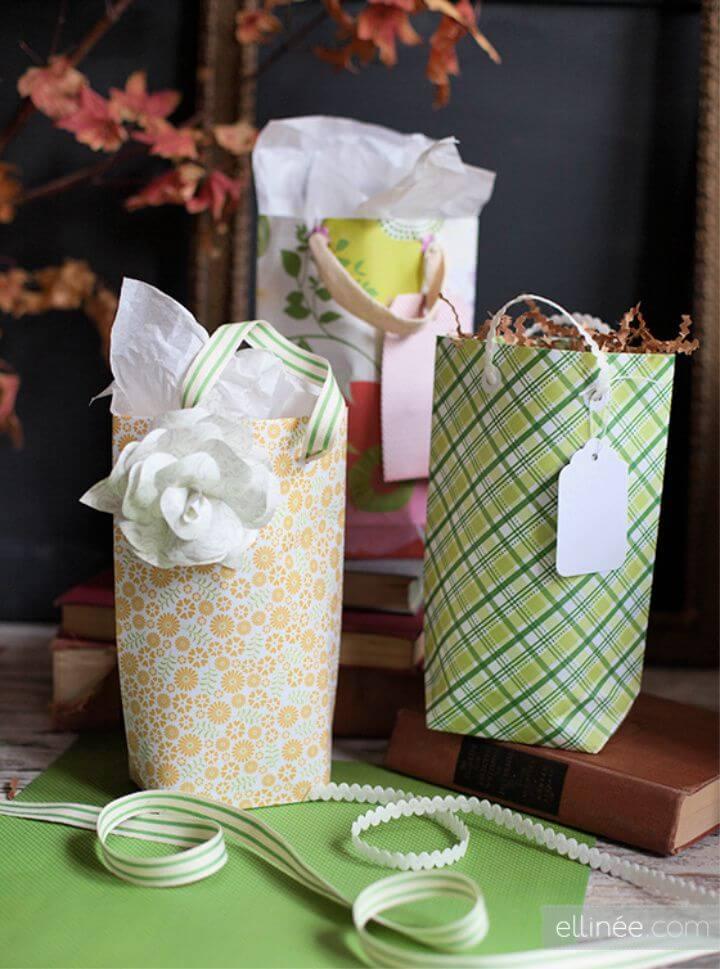 A handmade gift would be more fun and valuable when you make these pretty DIY gift bags to carry them. Using the colorful crafting paper you can easily shape up these adorable gift bags with the ribbon used as the pretty straps. Learn to make them here with the tutorial!
Tutorial: elli
Kids DIY Christmas Tree Gift Bag: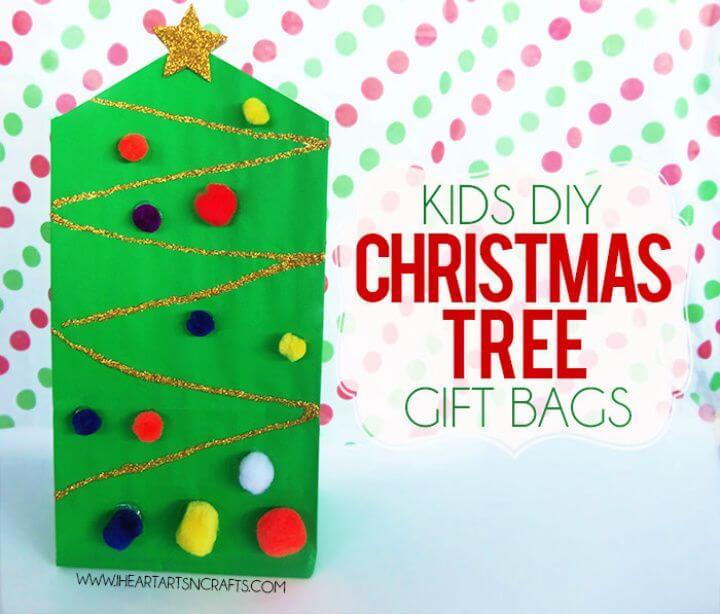 If you have a kind of gift that has a big box packaging then do turn it into this kid DIY Christmas tree gift bag. It would look so full of festive vibes and beauty and also a great delight for the kids to unwrap. So you need a green gift bag, pom pom balls and the glitter glue to work up this project.
Tutorial: iheartartsncrafts
DIY Mickey And Minnie Mouse Gift Bags: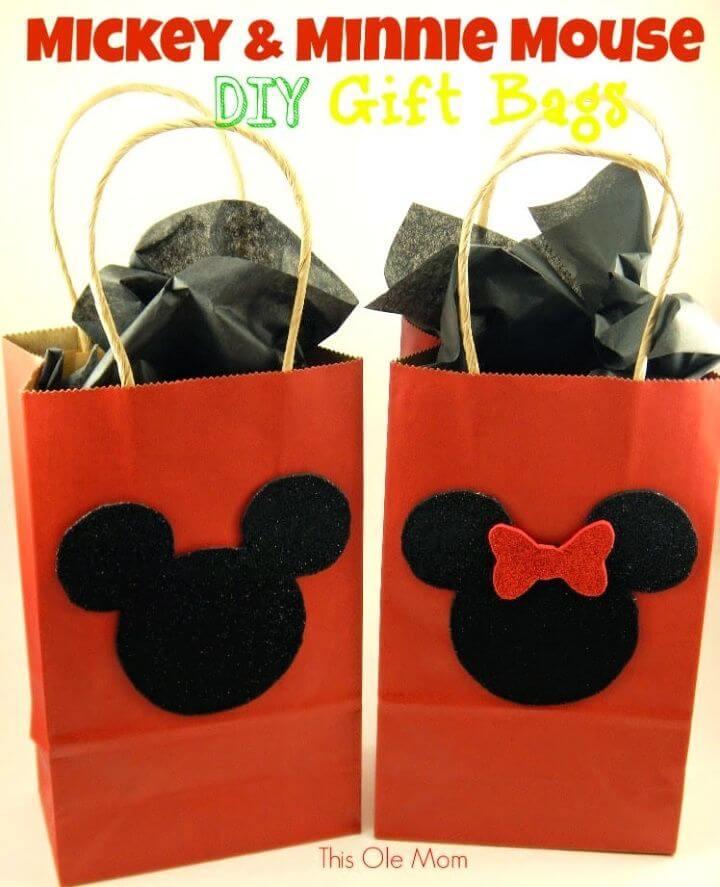 Also, the readymade gift bags from the market can be turned into some customized possessions too. Here are these DIY Mickey and Minnie mouse gift bags to carry the gifts for kids and that too in a cuter way. Just grab some black foam sheet and cut out Mickey and Minnie mouse faces to glue on the bags.
Tutorial: thisolemom
DIY Father's Day Gift Bag: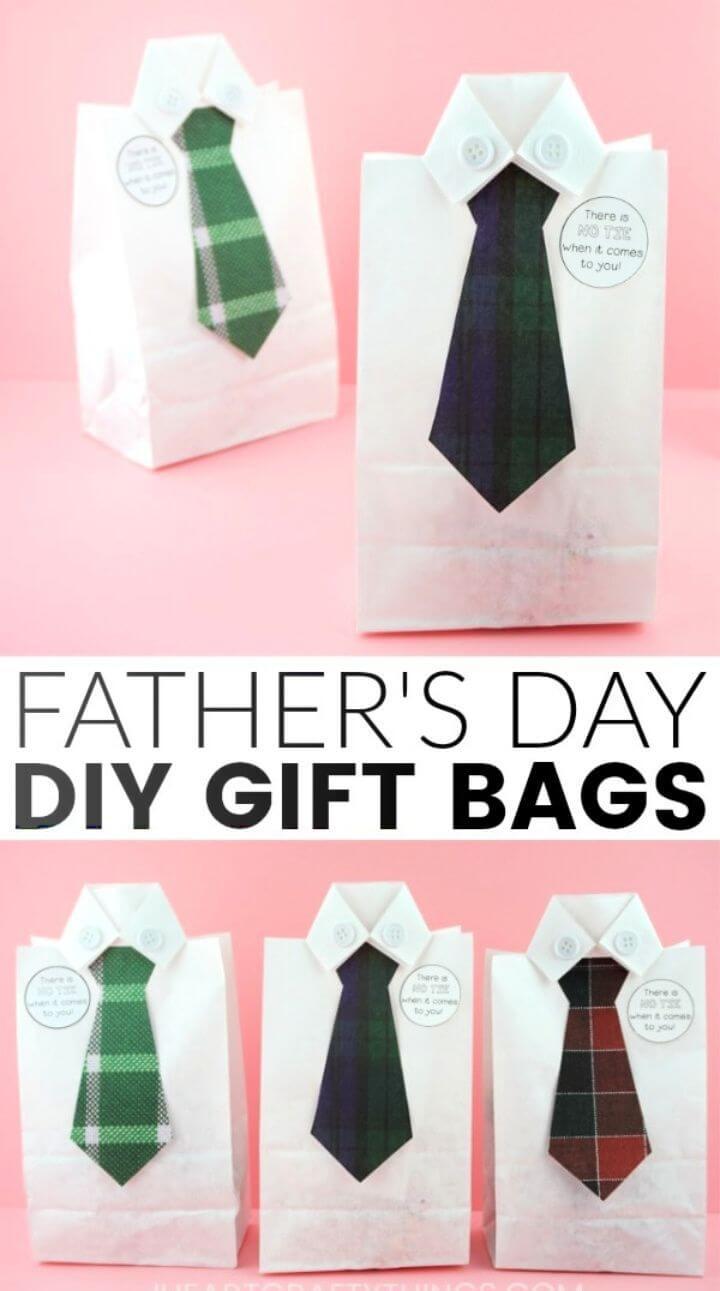 With a simple yet smart crafty approach, you can turn a simple gift into a pure delight just like this idea of DIY father's day gift bag. The Gift bag is made out of a simple white lunch bag with some fun crafted collar and tie to make it look like the father's shirt. DIY details here!
Tutorial: iheartcraftythings
Mother's Day Gift Wrap Idea: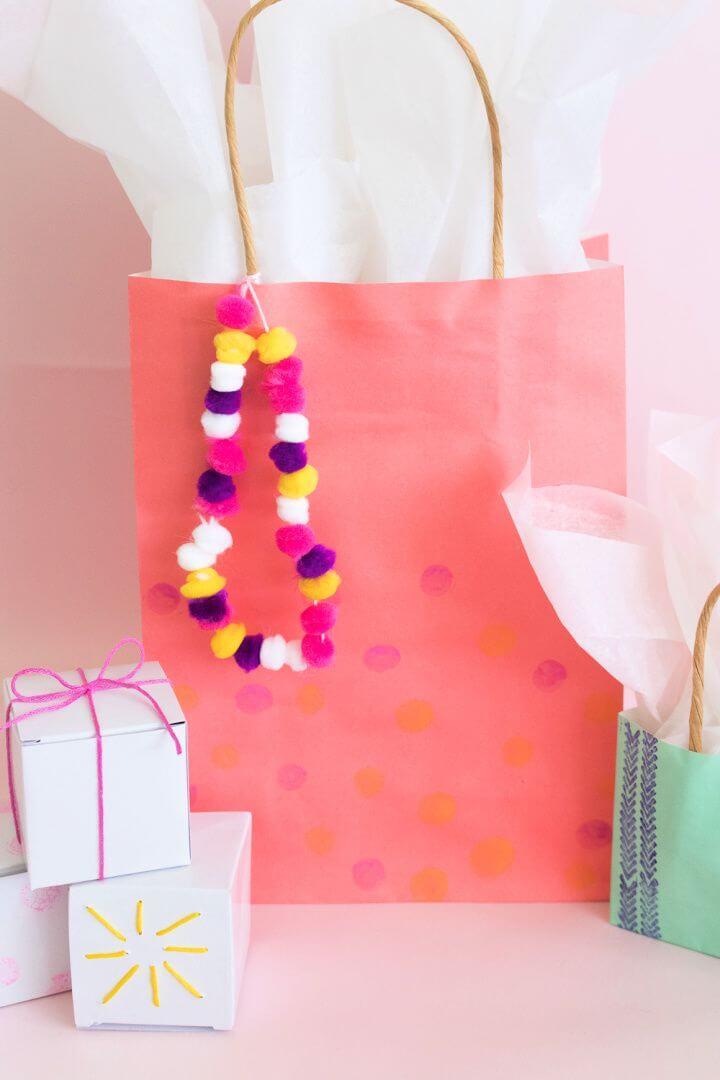 Make your gifts look the cutest for your mother with this lovely Mother's day gift wrap idea. A pink colored gift bag is beautified with the colorful polka dots and then adorned more with a pom pom made garland on one side. Your mom is surely going to pleasantly surprised by this lovely mother's day gift wrap.
Tutorial: clubcrafted
Christmas Gift Bags For Kids Make DIY Santa Bags: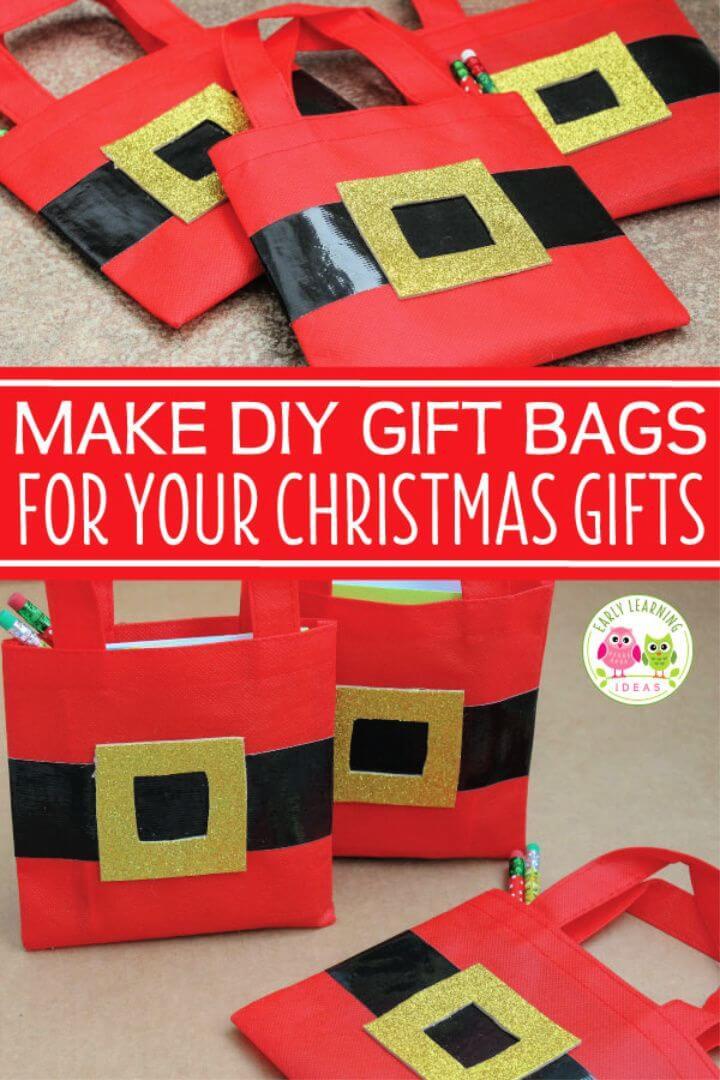 Kids are super excited for the kids on the precious Christmas and this lovely DIY Santa bag is going to add much more in their excitement and fun. The red gift bags are made to look like Santa with that custom black and gold belt details being added to it.  You would need black duct tape and gold foam sheets to make it.
Tutorial: earlylearningideas