There is a sense of richness and boldness with the color of gold. So you are undone with your home décor and style if there are not some golden accessories added to it. There are lots of ways to bring some charm of gold to your home décor and these 16 Unique & Easy DIY Gold Craft Ideas To Try are here to help. These amazing gold crafts are going to stir up your creative juices and make you wonder how gorgeously and variously you can add a touch of gold in your homey spaces. So you ought to check out these ideas and get some gold inspiration from.
The ideas suggest you bring the gold color to your crafts in two easy and fun ways. There are crafts to do with the gold foils by getting it onto the bowls, leaves, bottles and the pots. The metallic gold spray paint is easy to use on things like handmade orbs with skewers, rocks for table decor, hairpin legs or a marble table and so much more. This golden craft décor is fun to do all year long but it is going to suit your home style statement best during the fall and the Holiday season. Each décor idea has its details via tutorial links attached.
DIY Mid Century Wall Shelving Unit: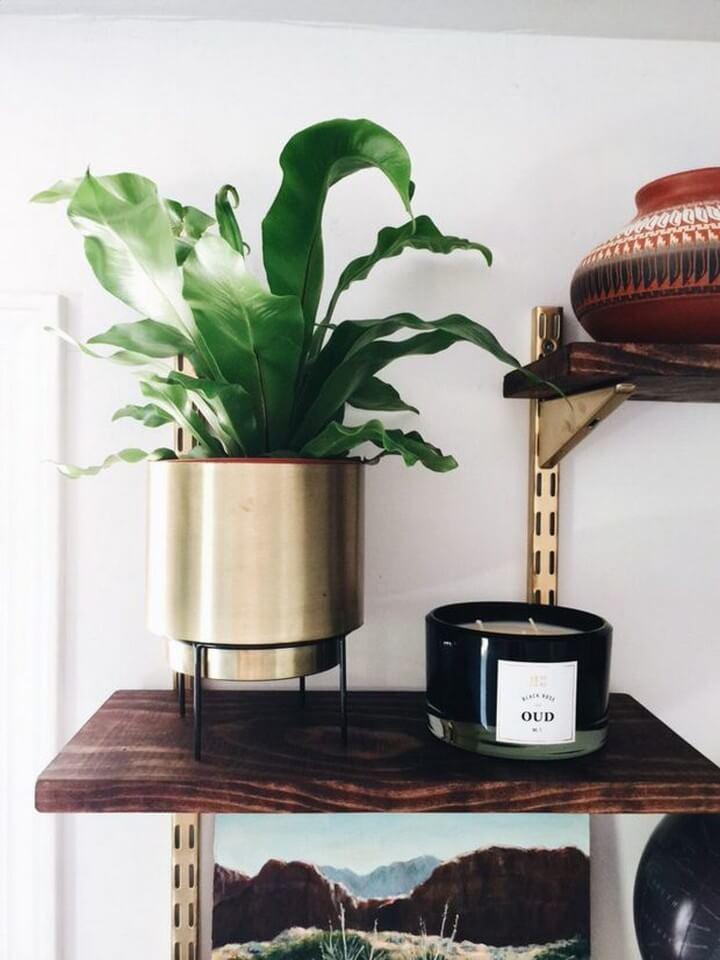 Resolve the space problem in your house with this gorgeous DIY mid century wall shelving unit to be a part of your spaces. This wall mounted wall shelving unit has been installed with rustic wooden shelves and the golden-hued hinges to support the shelves on. Also, there are gold-painted pot and the glob to add more in the goldy vibes.
Tutorial: headedsomewhere
DIY Gold Sea Urchin – Starburst Wall Decor Tutorial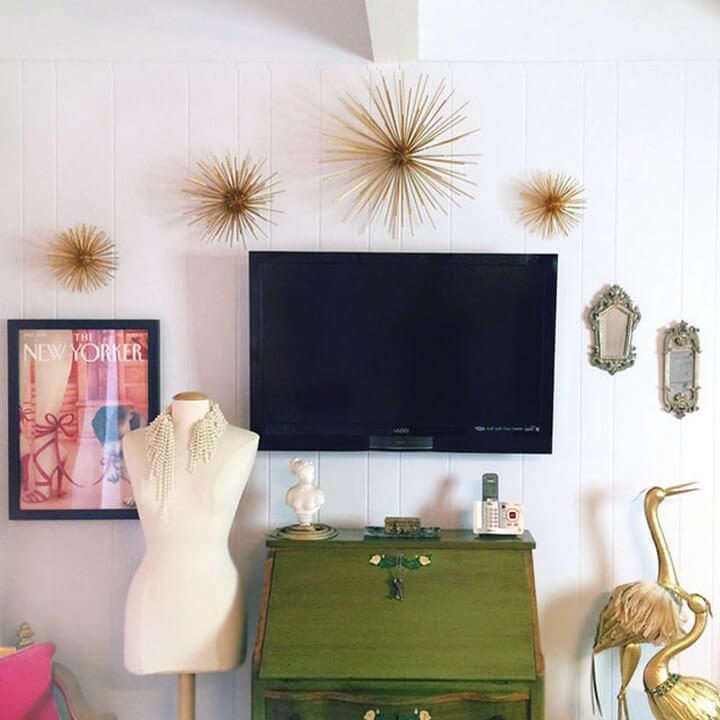 Bring some rich style statement to your spaces with this lovely DIY gold sea urchin or the starburst wall décor. These gorgeous and sparkly wall art pieces are made out of the gold spray-painted bamboo skewers and the foam balls to hold them all together. You can make a bunch of them and that too in various sizes.
Tutorial: lovemaegan
Gold Leaf Table Ornament: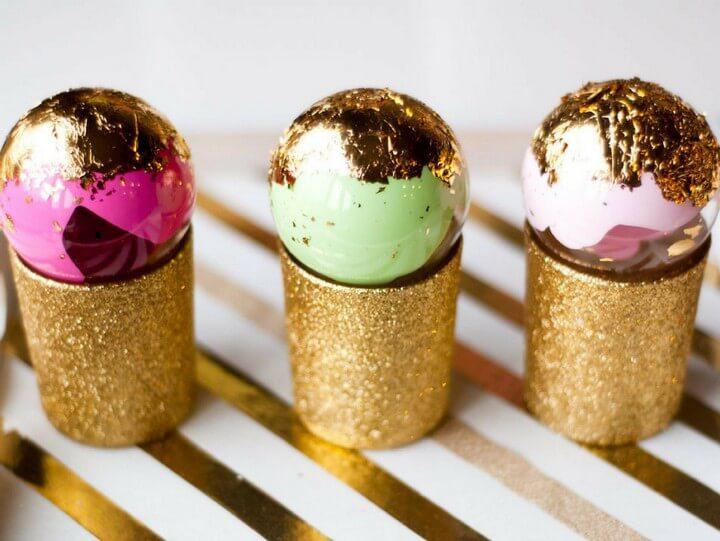 Here are these gorgeous gold leaf table ornament pieces to be a part of your home décor any time than just the holidays. Just grab the round ornament and then paint their bottoms in your desired paint hues Cover the top of these ornaments with the gold leaf and then put them over the gold glittered candle votives. Details here!
Tutorial: fun365
Thumbtack Votive Candles: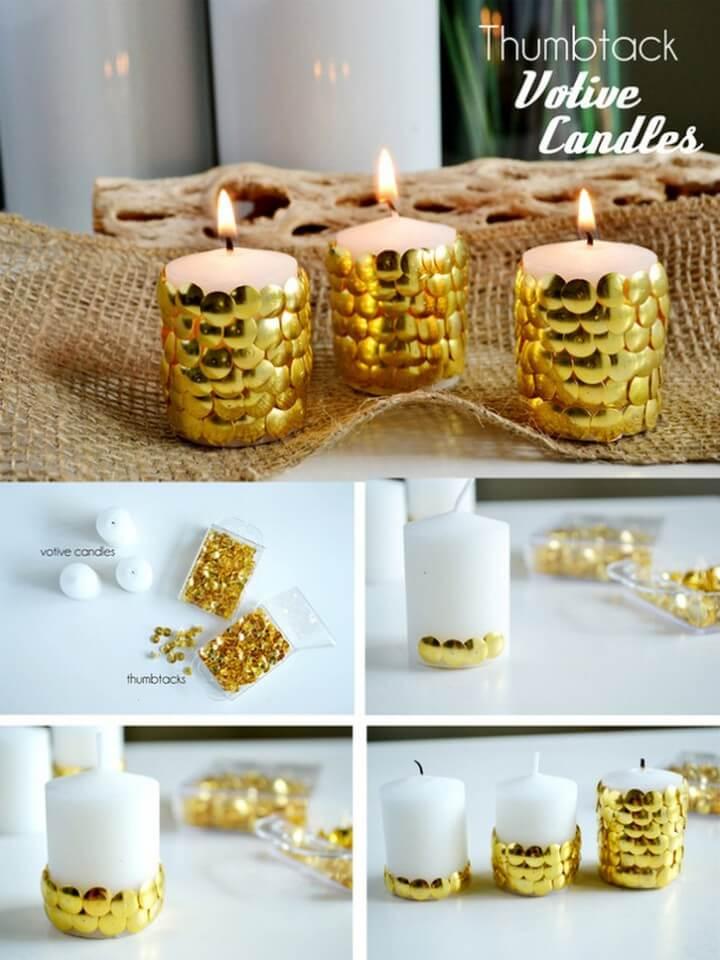 Make your simple candles look the most stunning and impressive with this idea of the thumbtack votive candles. You just need your simple white candles and the packs of the golden thumbtacks. Just push up these golden pins to the candles from the bottom and working it all way round to the top. Details here!
Tutorial: sparkandchemistry
Marble Table Top With Gold Accents: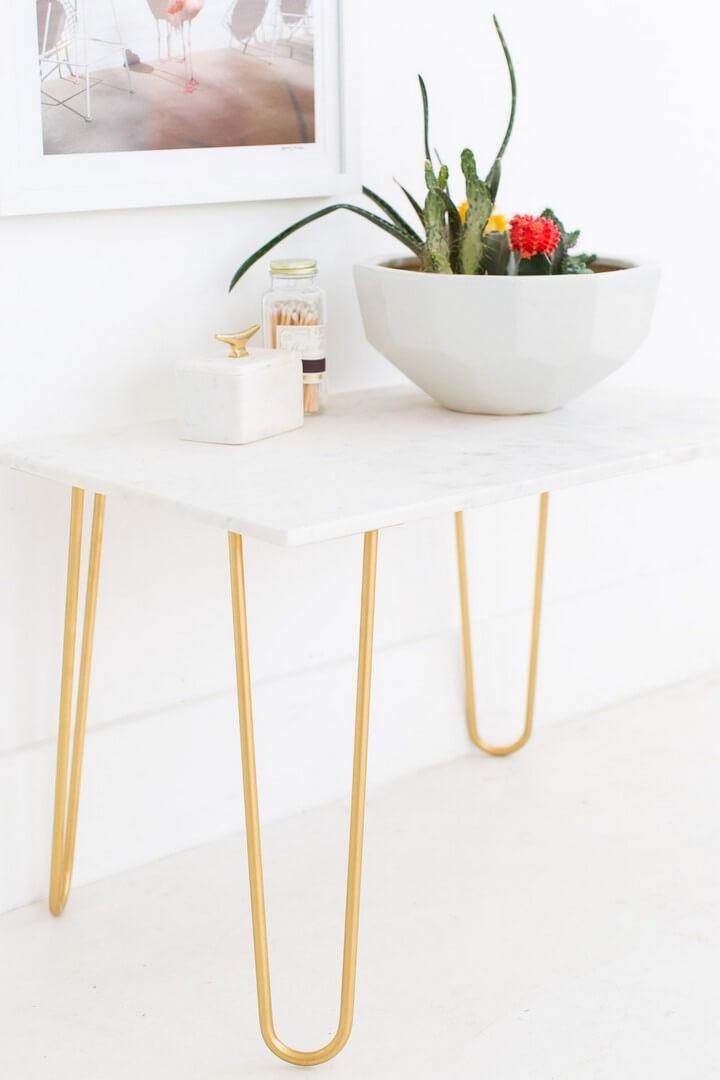 It's time to accentuate your spaces with this gorgeous idea of the marble tabletop with the golden hairpin legs. Yes, the pretty table has a rectangular-shaped marble top to stand over the gorgeous and shiny gold stained hair ping legs. This lovely table is sure to bring a rich style and beauty to your spaces.
Tutorial: sugarandcloth
Gold Leaf Bowls Tutorial: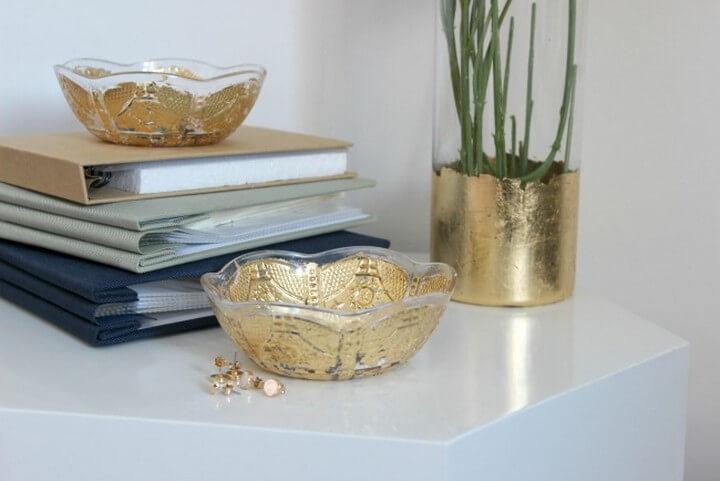 It's time to spice up your home décor and now you can do it with these lovely gold leaf bowls. Just add the gold leaves to the simple glass bowls and use them for the boost up of your décor in your bedroom or the living. Apart from being the decorative pieces, these gold leaf bowls are going to be the perfect jewelry organizers too.
Tutorial: cleanandscentsible
Gold Lead Bottles For Home Decor: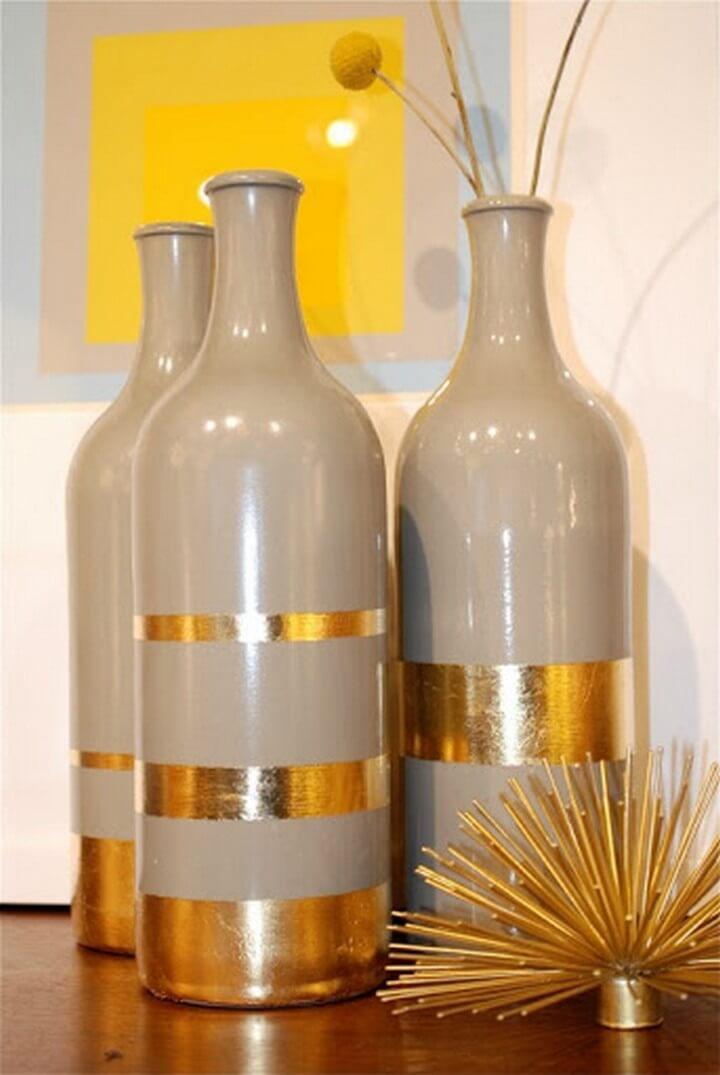 Bring the elegant and impressive style statement to your spaces with this gorgeous table décor idea of the gold leaf bottles. Just grab some painted wine bottles and add the gold leaf strips to them using the tape. Use these bottles on your foyer, hall or the living room tables with or without flowers in them.
Tutorial: blissfullydomestic
Gold Rock Painted In Glass – Patrick's Day Pot Of Gold Decoration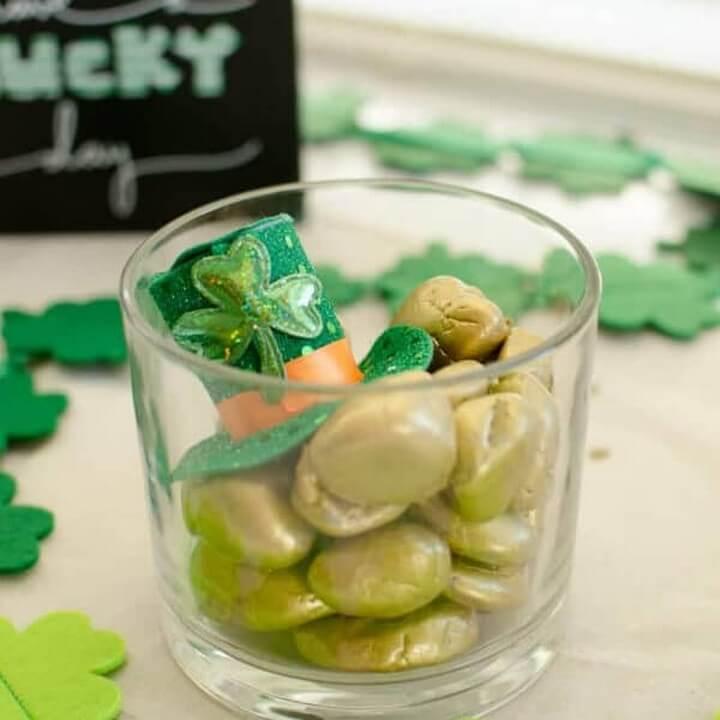 Celebrate St Patrick's Day with this lovely décor idea of the gold-painted rocks. Just grab some river rocks and then paint them with the metallic gold using a foam brush. Add these rocks to a clear glass jar and top it off with a cute and mini handmade green hat having a three-leaf clover on it. Details here!
Tutorial: 5minutesformom
How To Make Gold Orb: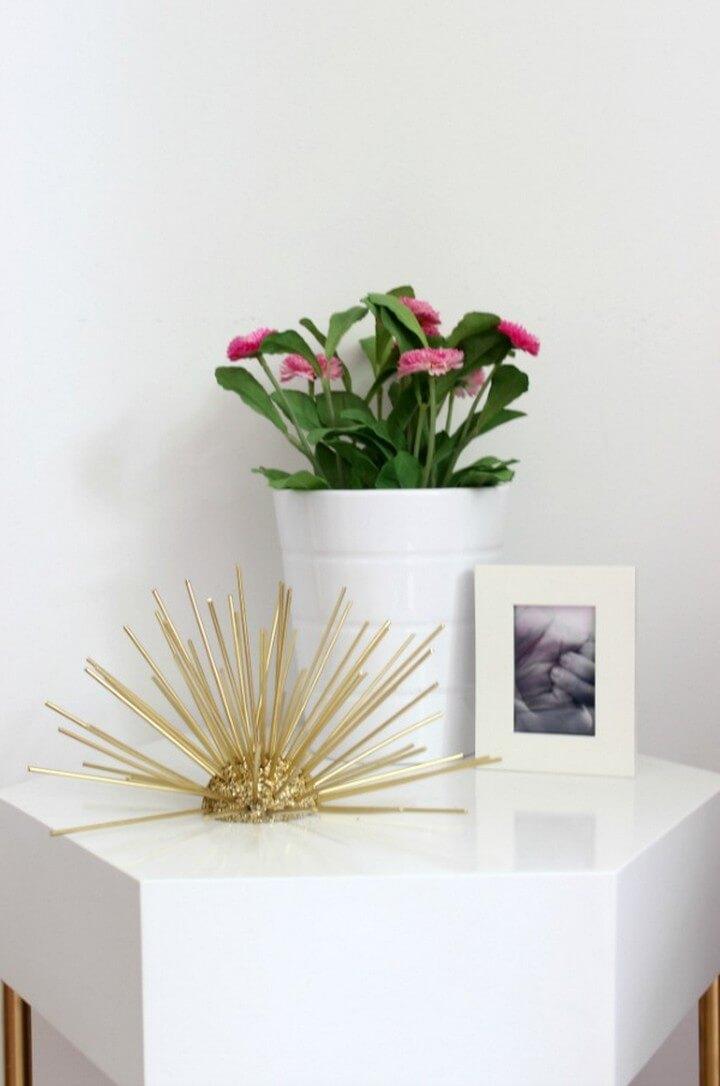 It's time to give your home some fresh décor look and this gorgeous gold orb is surely going to do that for you. Grab some wire hangers and cut equal length pieces out of them to be gold spray painted. Then fix these gold painted hanger pieces of a Styrofoam ball and your orb is ready to rock your décor.
Tutorial: cleanandscentsible
Gold & White Bowls: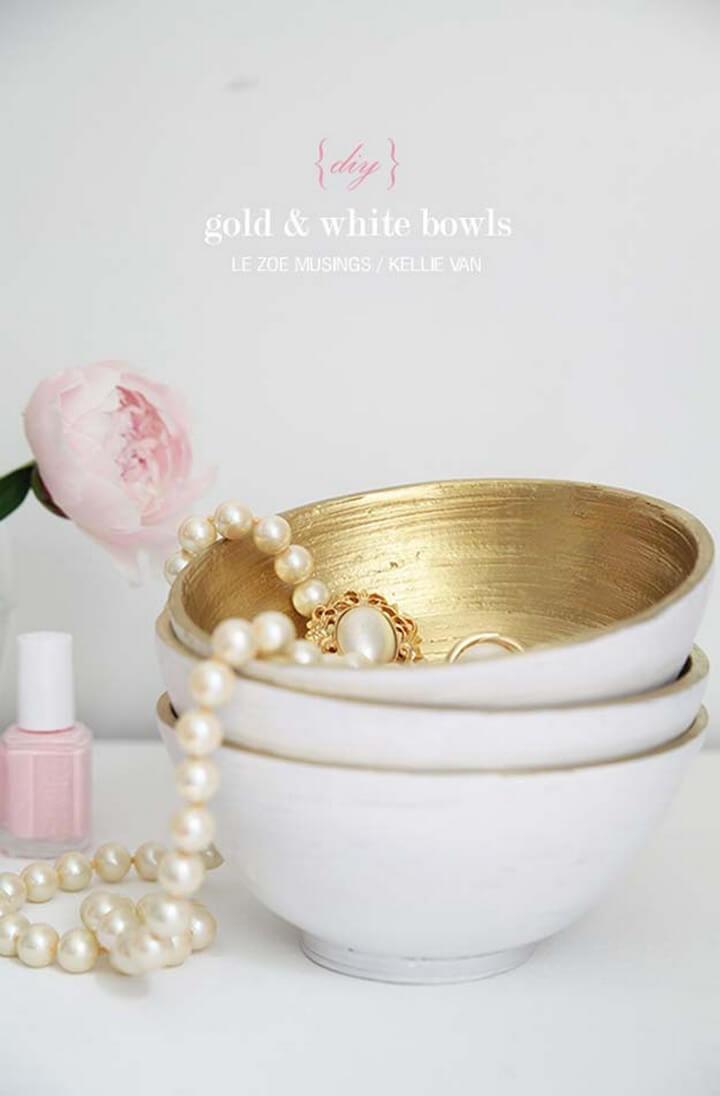 These gold and white bowls are really going to take your breath away with their utter charm and elegance. You can use them for a lot of décor purposes from the table display to the organizers for your jewelry. Just grab any bowls and paint their inners with the gold leaf and the outer with the white.
Tutorial: lezoemusings
Metallic Geometric Candle Holders: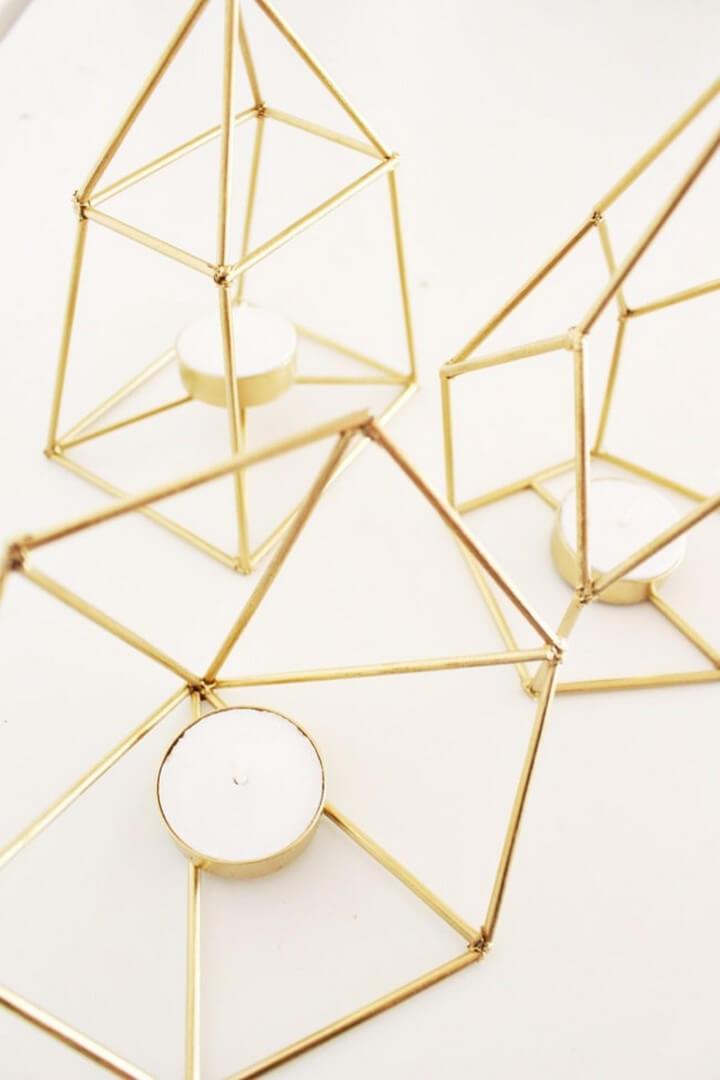 Make your modern home décor look more chic and fun with these metallic geometric candle holders. So grab a bag of the skewers and then build some interesting pyramid styled geometric shapes out of them to hold the tea lights in the center. Lastly, paint them in gold they are ready to rock your décor.
Tutorial: ajoyfulriot
Gold Orb Project: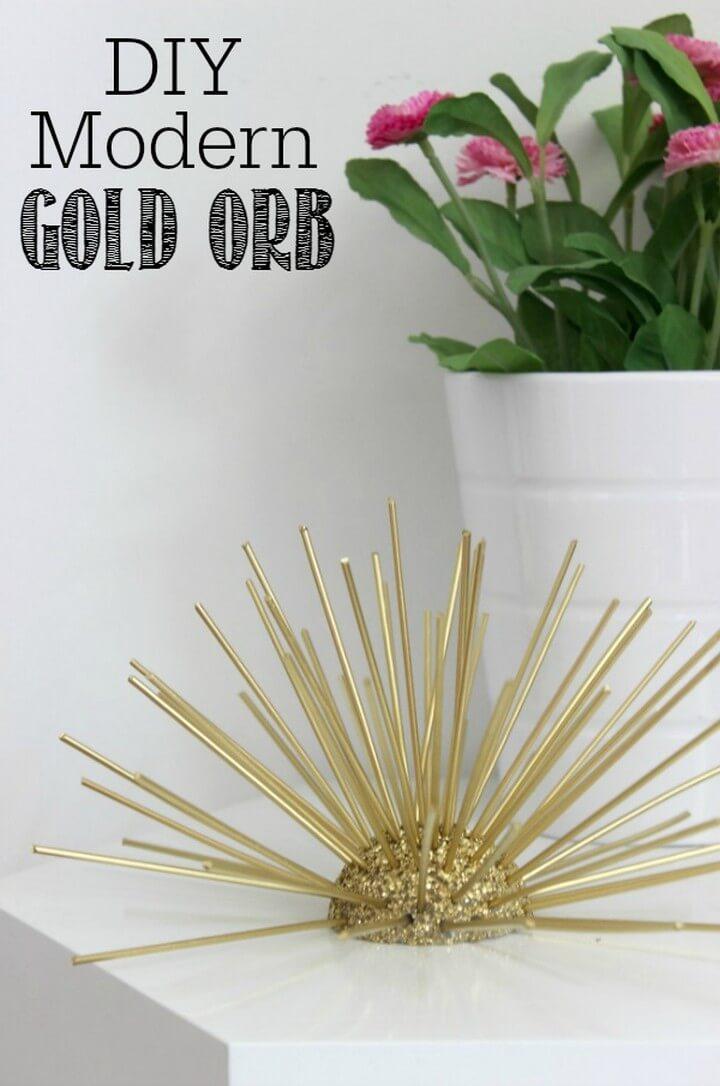 It's time to spice up your home décor from being boring to totally being chic and rocking. This gold orb project is the right thing to charm up your display spots with. Just paint some skewers and glitter up a foam ball. Then fix the skewers on the foam ball and your lovely gold orb is ready for a show.
Tutorial: cleanandscentsible
DIY Gold Leaf Bowls: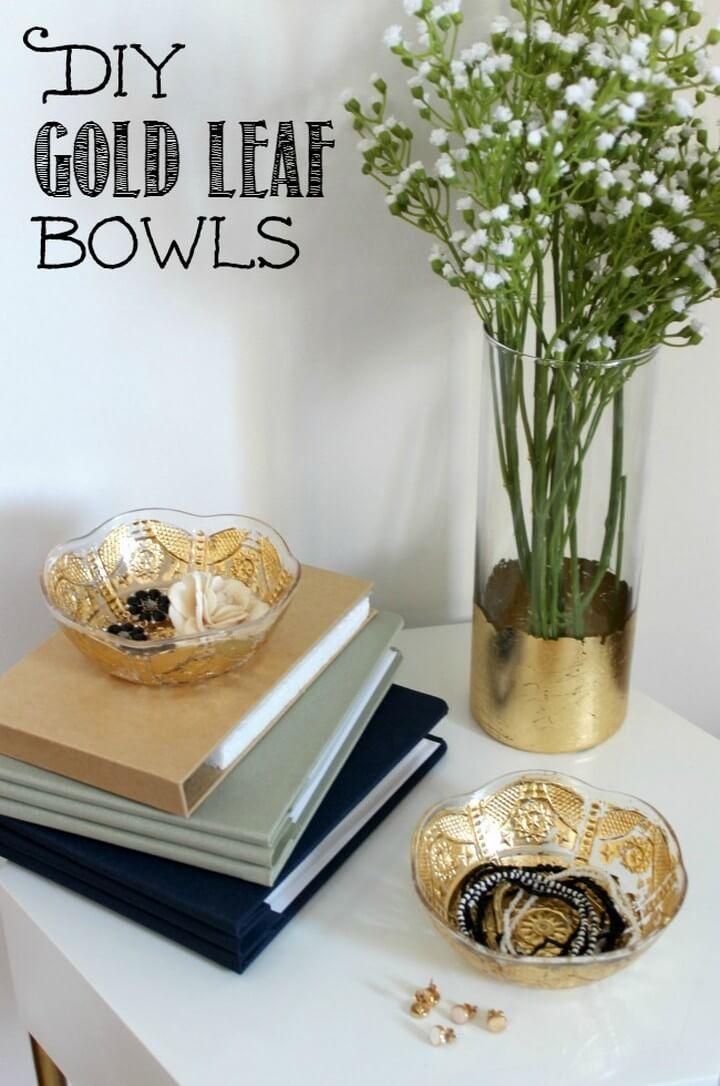 It's time to take out those old bowls from your kitchen give them a golden makeover. These adorable DIY gold leaf bowls are really going to add the chic décor value to your side tables. Just add some gold leaf inside them and they are ready to jazz up your spaces with their gold look. Details here!
Tutorial: cleanandscentsible
Gold Leafy Table Runner: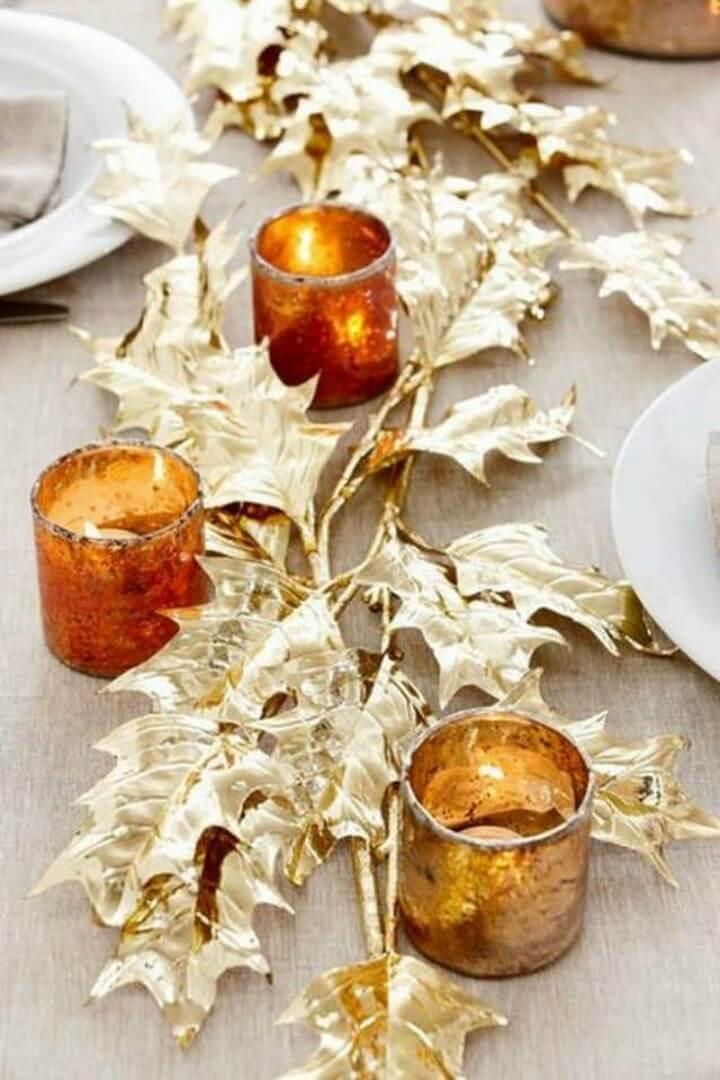 Here is the most gorgeous yet the easiest and the cheapest way to create an impressive table runner for your dinner tables. Just get the faux leaves in a bunch and then spray paint them in gold or glue them up with the gold leaf and once dry they are sure to charm up your table beauty with. Details here!
Tutorial: theseamanmom
Gold Leaf Art: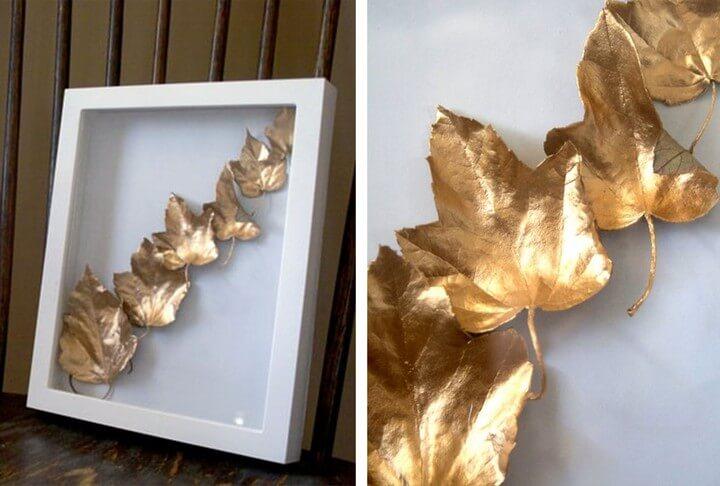 It's time to bring some accent to your spaces and this gold leaf art can totally do that for you. Just grab some faux fall leaves and cover them all over with the gold leaves. Then fix these gold leaves within a lovely white frame and once done you can display either on walls or the tables. Details here!
Tutorial: livelovediy
DIY White & Gold Candle Holders In Under An Hour: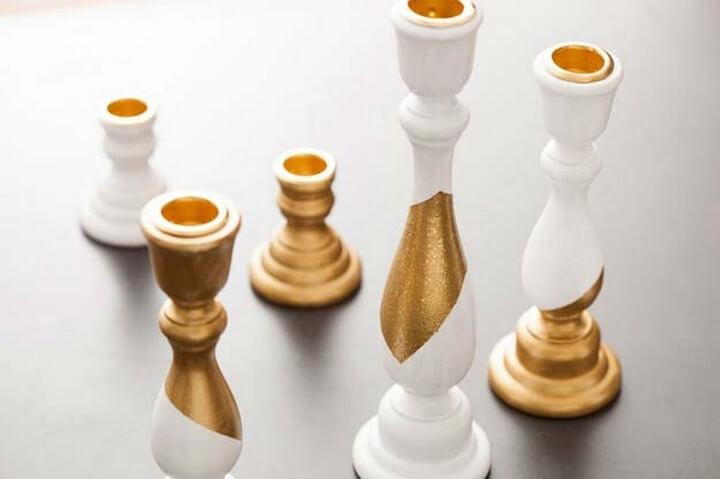 Your mantles are going to be the center of attraction this time of the fall with these DIY white and gold candle holders. The project is easy and quick to do within an hour only. The wooden candle holders are given a paint treatment with the white and gold and just done in that simple and cute way. Details here!
Tutorial: brit.co