Maybe you've been going back and forth in your mind about building your own shed, hiring someone to build it, or buying a pre-fabricated shed. What you may not realize is that DIY shed plans exist that can make building your shed yourself much easier than you probably think. But the question that's on your mind is probably this – is it worth your time to consider using a DIY shed plan to build your own shed?
The answer is yes, and there are several reasons why. Building a shed yourself doesn't have to take weeks or months at a time. It's also much more cost-effective than either of the other two options. As a bonus, when you build your own shed, you'll have one that's exactly what you want, and you can feel proud of that accomplishment. "DIY shed plans make it so simple that even someone who isn't good with carpentry or construction can build their own shed" quotes Dave Malcolm founder of Shedplans.org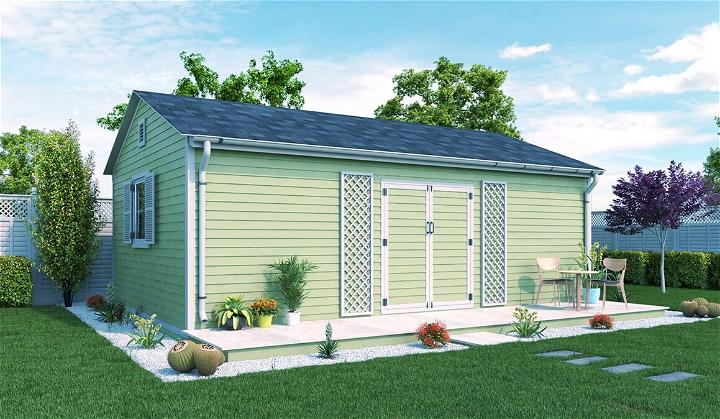 Build Your Own Shed – On Your Time
Once you've made the decision to get a shed for your back yard, it's probably not something you'll want to put off for too long. After all, the weather is nicer, there's work to be done in the yard and garden, and you need a place to store all of your tools and equipment.
When you rely on pre-fabricated sheds, you're at the mercy of their delivery services. Depending on where you're located, you might have to wait weeks for your shed to be delivered. That can be a real inconvenience, and it's one of the reasons people choose not to opt for pre-built sheds.
Of course, you can always hire a contractor to build a shed for you. This is what a lot of people do, but again, there are problems with this option as well. Contractors are typically quite busy, and they may not have as much time to devote to your project as you wished they did.
When you build your shed yourself, you can work on the project on your own schedule. You won't have to worry about scheduling deliveries or about contractors that don't show up for work. The best part of all? It might not take as long as you think; especially when you're working from a DIY shed plan.
Save Money With a DIY Shed Plan
Buying a pre-fabricated shed can be quite expensive, depending on what you need. A smaller shed may only cost a few hundred dollars, but you're likely to get what you paid for. It may be flimsy and not made of the best materials. If you're planning to use your shed to house your gardening supplies and equipment, purchasing a smaller, pre-built shed is probably not the best way to go.
But buying a larger pre-built shed isn't likely to be cost-effective either. A bigger shed – for example, 12'x24' – could cost thousands of dollars. That's a lot of money for something that you could build yourself for just a fraction of the cost.
You also won't save any money if you choose to hire a contractor to build it for you. You will need to cover the cost of the materials as well as the cost of the labor. Contractors make anywhere between $25 and $85 per hour, depending on where you are and their level of experience. That means that having a shed built for you could also cost you thousands.
If you choose to build your shed yourself using a DIY shed plan, you'll save a lot of money on the entire project. It's possible to find many shed plans for free online. The best ones include all of the following:
A complete list of the materials you'll need for the project.
A complete list of the tools you'll be needing to build your shed.
Building instructions that are clear and easy to understand.
Information about obtaining the proper building permits for your area.
Access to professionals in case you have questions.
You may even be able to access free instructions to help you install gutters, build windows, and more.
Find a Shed Plan That Meets Your Needs
If you're planning to purchase a pre-fabricated shed, you may find that you have difficulty finding one that meets your needs exactly. A lot of people who choose this route find out that instead of getting their hearts' desires, they're forced to settle for less.
The same thing can be said for those who choose to hire contractors to build sheds for them. Quite often, the finished product isn't exactly what they had in mind, but because they have a contract with a professional, there isn't much they can do about it.
There are a lot of DIY shed plans available online, and you'll find that sheds come in all shapes and sizes. You should have no problem finding one that meets your needs completely. You can even get the exact type of roof and porch that you envisioned for your shed.
You're Invited to Browse Our DIY Shed Plans
We'd like to take this opportunity to look through our DIY shed plans. We're confident that you will find one that meets your needs. We have all kinds of shed plans, including those intended for:
Building a lean-to
Building a bicycle shed
Building a garden shed
Building a garage shed
Building a standard storage shed
You'll find that our instructions are crystal clear. We list out everything for you, including the exact dimensions of the materials you'll need. You won't need any complicated tools to complete your shed, and the ones you will need you probably already have.
Our DIY shed plans have all been designed by professional contractors and carpenters, so you can be sure they're solid. You'll love the feeling you get when your shed is complete. It will bring you a great sense of pride, and you'll have saved money and time in the process.
Is it worth your time to build your own shed with a DIY shed plan? We think so! Contact us today to learn more.