Bracelets are the best things to start your venture with handmade jewelry and accessories at home. They are super easy to make and give you a variety of options to make so many fashionable bracelets to add more meaning and fun to your stylish personality. These 10 DIY Bracelets With Top Tutorials are going to be so much helpful for the handmade jewelry adventurers at home so even the beginners can try them out too. Making these bracelets is going to save you a lot of money as you can use them as fun gifts for family and friends.
There is a variety of the things that you can use to make your bracelets like the yarn, strings, leather, beads and the chains. So you are going to find a bracelet idea for each of these materials and make them easily at home. There are simple string bracelets, braided bracelets, bracelets with chains and beads and also the bracelets with the bandana the pendants. So no matter what kind of bracelet you want to make these tutorials are really going to help you out in your hunt for the favorite bracelet. Just click on the links attached under each bracelet to reach the details and instructions of the tutorial.
Braided Bracelets Tutorial: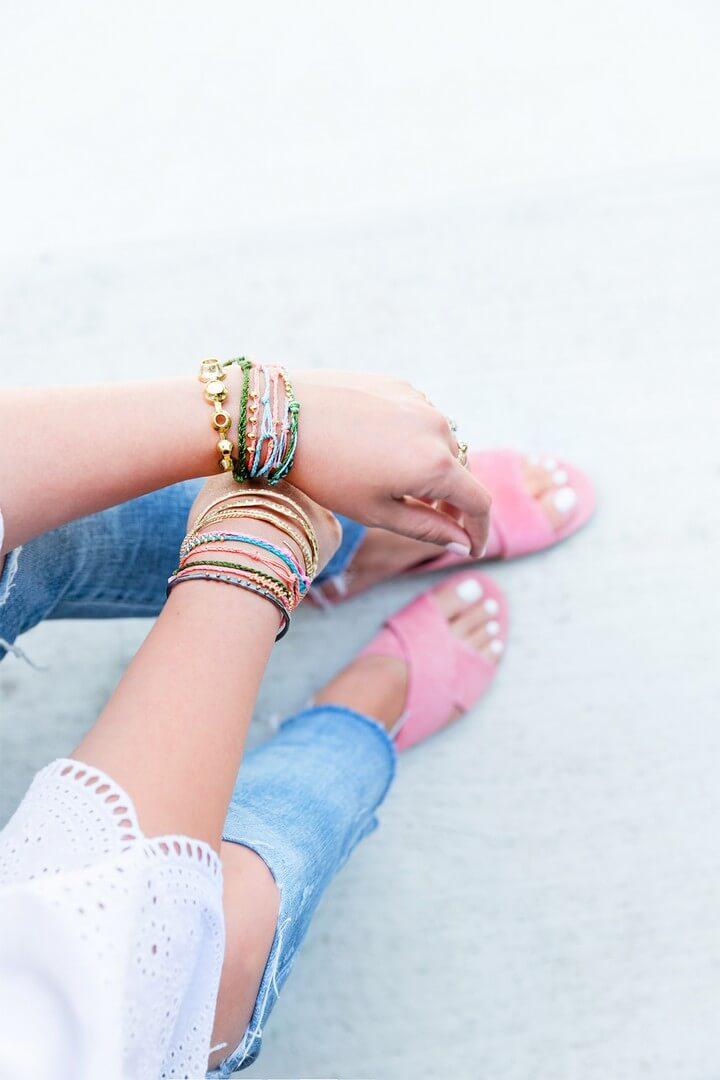 Make your summers more stylish and fun with these braided bracelets that you can make for yourself and for the beloved ladies around you too. So all you need to do is take some thin yarn strings in bright hues and braid up the bracelets with some gold beads to amp up the charm and beauty of these bracelets.
Tutorial: honestlywtf
Suede Woven Chain Bracelet DIY: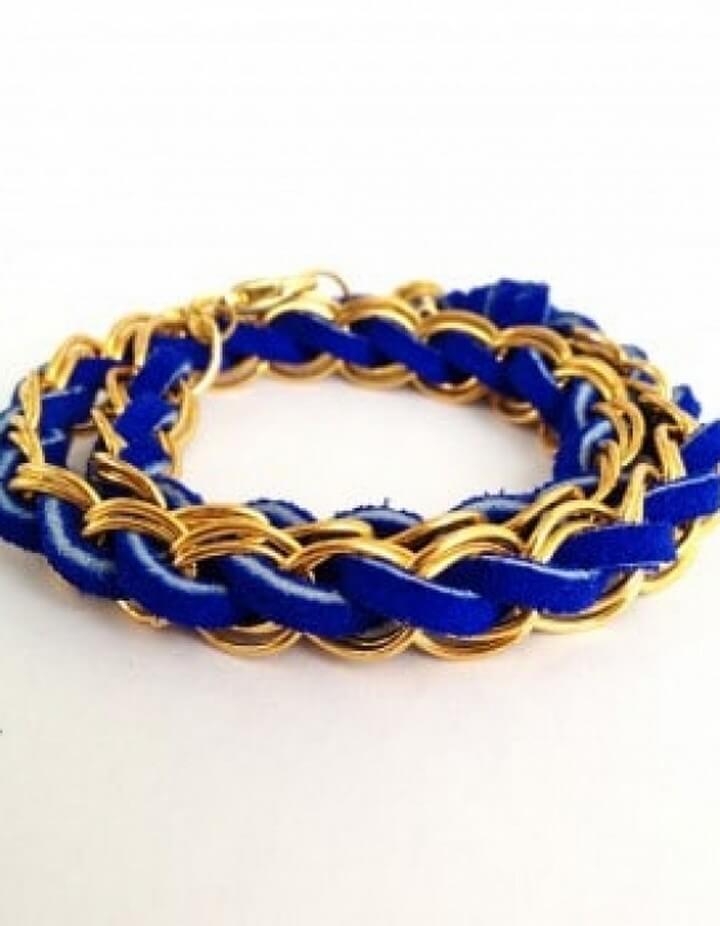 You can elevate the style and charm of a simple chain bracelet with this idea of the suede woven chain bracelet DIY. A blue leather cord has been passed through the chain holed from the start to end and given a clasp close up. You can funk up your chain bracelets with this lovely hack and with your favorite hues too.
Tutorial: yesmissy
Glammed Up Hex Nut Bracelet: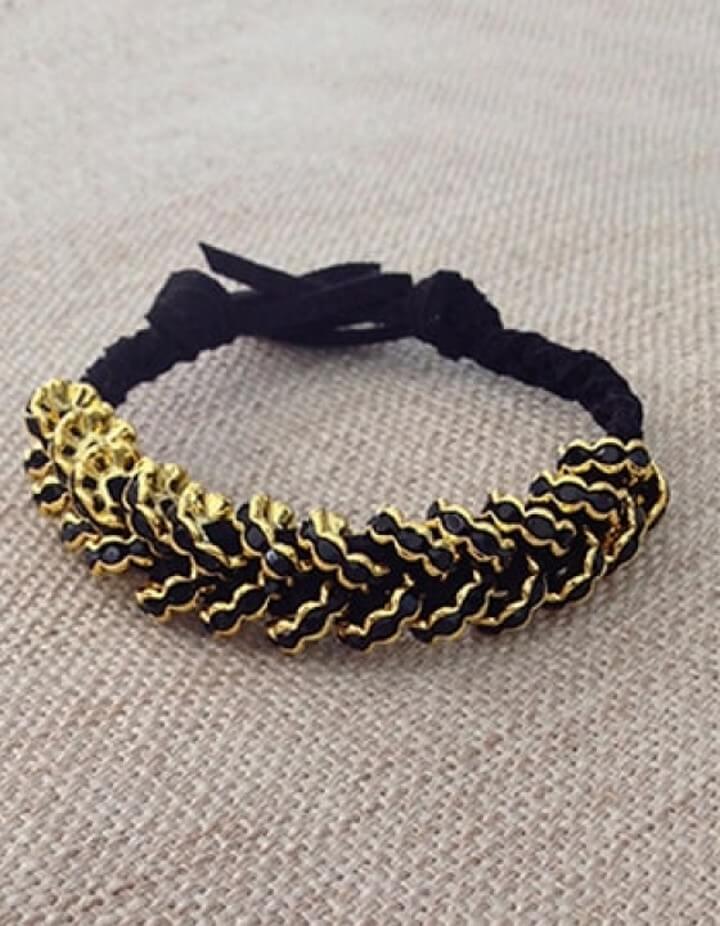 This glammed up hex nut bracelet is the best combination of style and elegance for you to work on. The pretty bracelet is easy to make with simple twisting and braiding techniques of the strings and yarn. The material used for this gorgeous bracelet is the suede lace. You can make one in any of your desired colors.
Tutorial: yesmissy
String Friendship Bracelets: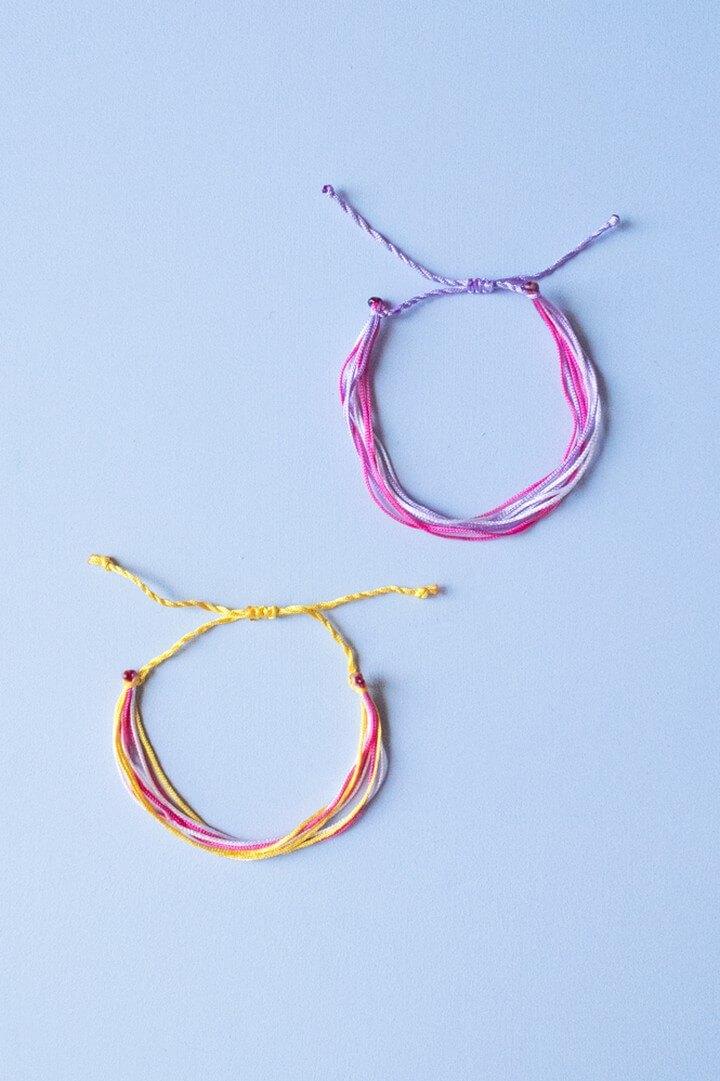 Celebrate your friendship with a handmade gift and nothing can beat these string friendship bracelets. The lovely and totally thing in size bracelet is going to look so elegant and cute on your wrists and that too with multiple hues. So grab your favorite string hues in a bunch and start making these lovely friendship bracelets.
Tutorial: curlymade
Beaded Coil Bracelets: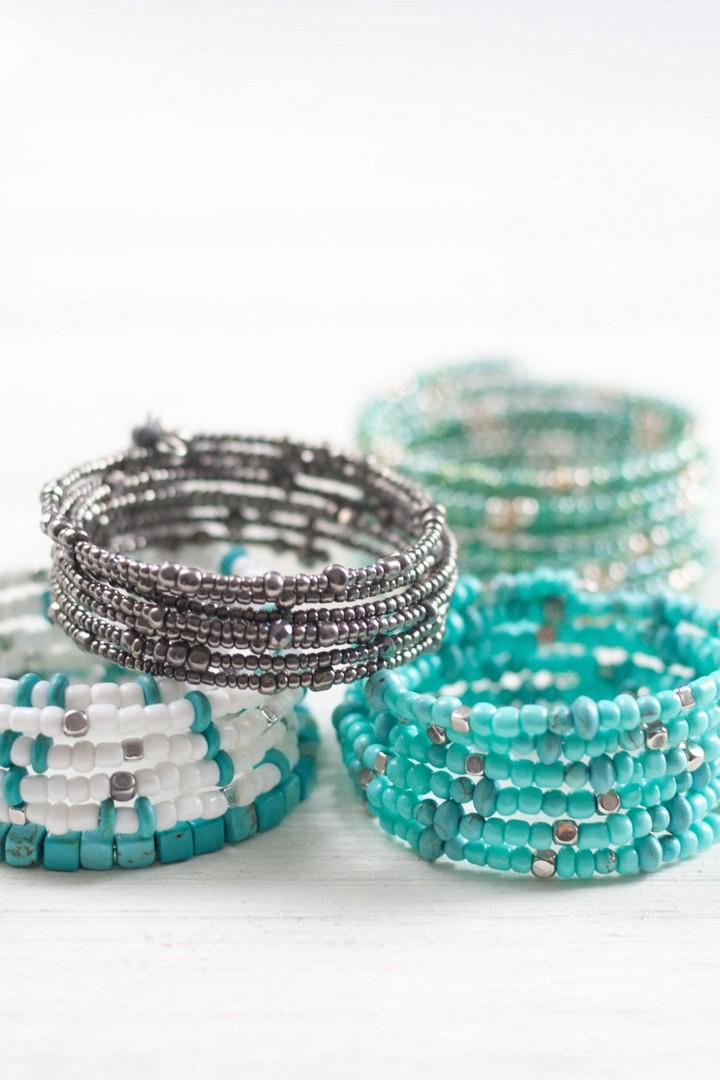 You can make the fancy and adorable beaded coil bracelets at home and save yourself a lot of time and money. These gorgeous beaded coil bracelets are super easy and fun to make at home using the jewelry wire to form the coil, colorful beads in your desired size, shape and colors. You can make as many as you want. Details here!
Tutorial: bitandbauble
Rainbow Summer Bracelets: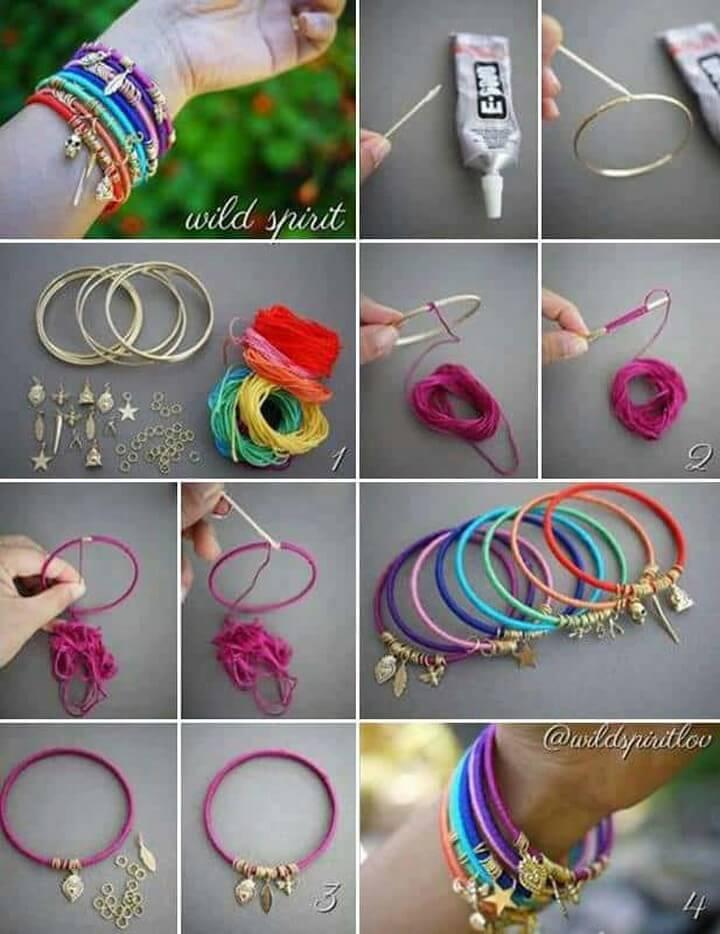 Enjoy your summer fashion in the spirit of the rainbow with these adorable rainbow summer bracelets. Yes, a collection of these rainbow-colored bracelets with a bunch of metal embellishing is really going to add oodles of charm to your summer fashion. These bracelets would rock your shirt and tank top look.
Tutorial: honestlywtf
Chain & Rope Bracelets: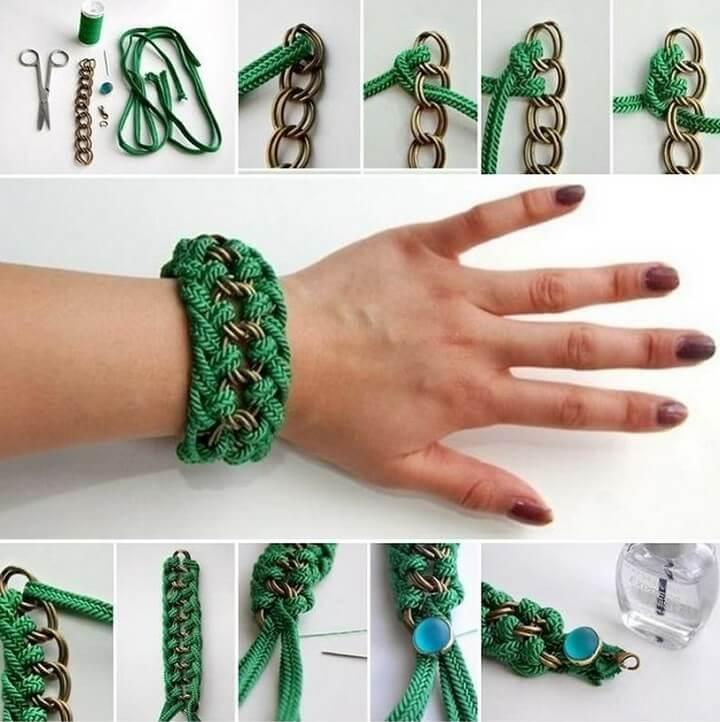 This chain and the rope bracelet is one of the best bracelet fashions that you are going to fall in love with. So you need a chain and a thick rope in your favorite color to make these stunning bracelets. You can charm up these bracelets more with some added stones and the pearls too. Details here!
Tutorial: icreativeideas
DIY Light-Up Cuff Bracelet: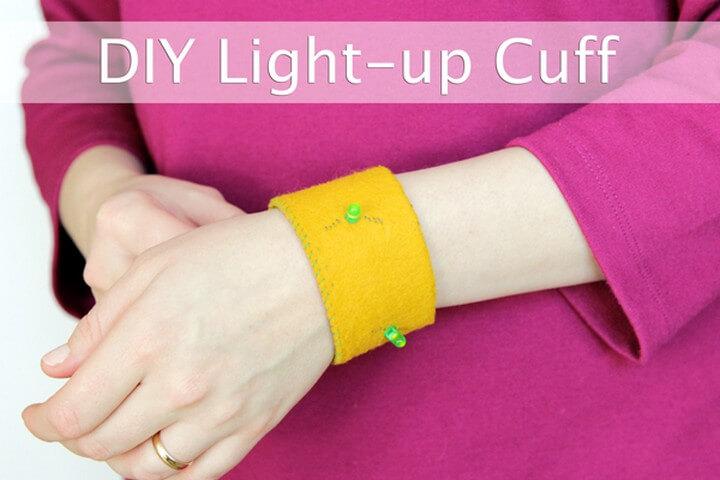 Want to look cool? If yes then make this lovely DIY light-up cuff bracelet. Not only you, but the kids are also going to fall in love with these super cute and the cool light-up cuff bracelets. The cuff is made from the felt and the lights added are LED with the watch style battery support. Complete tutorial here!
Tutorial: handsoccupied
Bandana DIY Anthro-Inspired Bracelet Tutorial: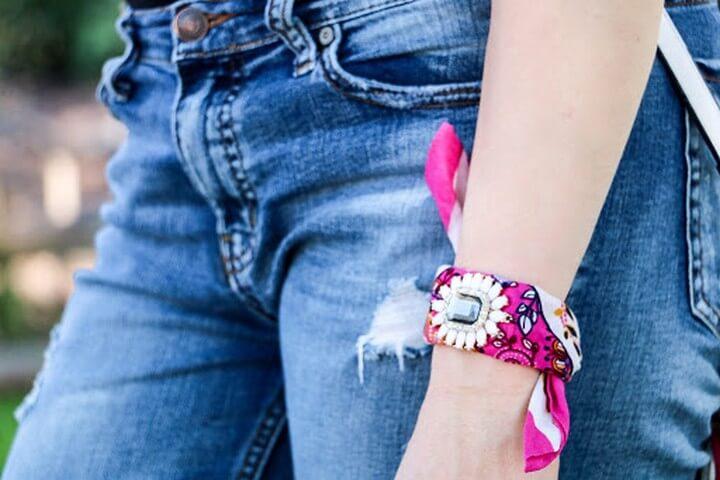 This lovely bandana DIY anthro-inspired bracelet is the total boho kind and your cool gang is surely going to fall in love with this. You get a bandana and roll it up like a bracelet band. Then add a pendant to its center-right from your jewelry box and you have your favorite bracelet ready to rock your fashion.
Tutorial: blog.darice
DIY Shoe Lace (Or Rope) Bangle Bracelet: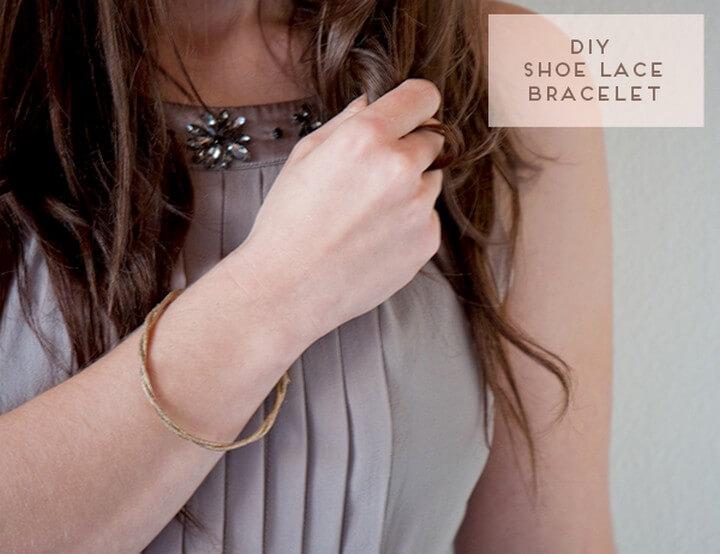 If you are in love with the minimalistic kind of jewelry and accessories then you are surely going to like this thin yarn or shoelace bangle bracelet. So you can use a thin shoelace or the rope piece to make this super easy and quick bangle bracelet. You can wear it single or make a bunch of them wear together as well.
Tutorial: skillshare