Theme decoration is quiet these days. If you also want to give a themed decorative look to your house, don't waste time as it is now a piece of cake for a common person. A floral theme would suit your contemporary-style home, making it more refined and sophisticated. Sunflower is the most beautiful flower to be picked up as a decor theme for your kitchen as it is the most integral part of the house. With these 20 DIY sunflower kitchen decor ideas, you can lend a refreshing look to your cooking area.
You can buy the crockery with sunflower prints like the tea set or dining set to eat in style. If you have some old wine glasses and plates, you can paint them yourself with sunflower colors. You can also choose dining table mats and clothes with sunflower design and pattern to make your mealtimes more charming. Curtains are another idea to follow the sunflower theme, as you can hang the curtains on the windows having embroidered or printed sunflowers on them. A row of vases on the dining table with original or artificial flowers would make a refreshing display making your kitchen area dazzling and understated.
1. Crochet Sunflower Pot Holder Pattern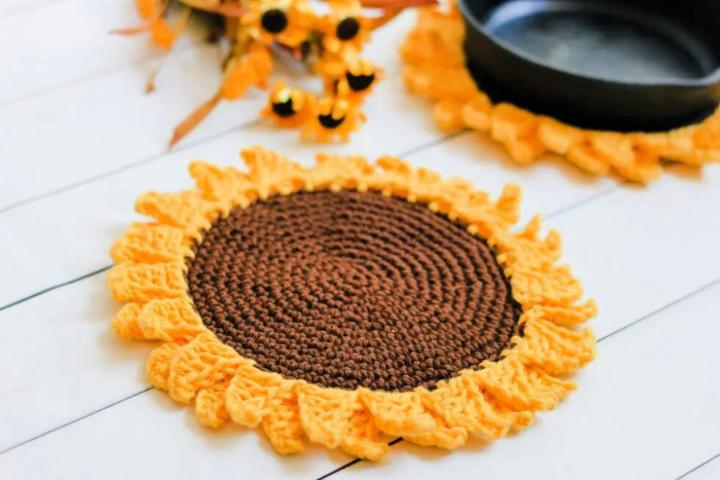 Create a Sunflower potholder yourself using a crochet pattern. Use cotton yarn to create this crochet pattern. If you are making this holder only for your kitchen pots, it's better to DIY with cotton because of the heat resistance. That's why acrylic crochet pattern is not suitable for kitchen potholders. So, choose the material wisely. nanascraftyhome
2. DIY Sunflower Kitchen Banner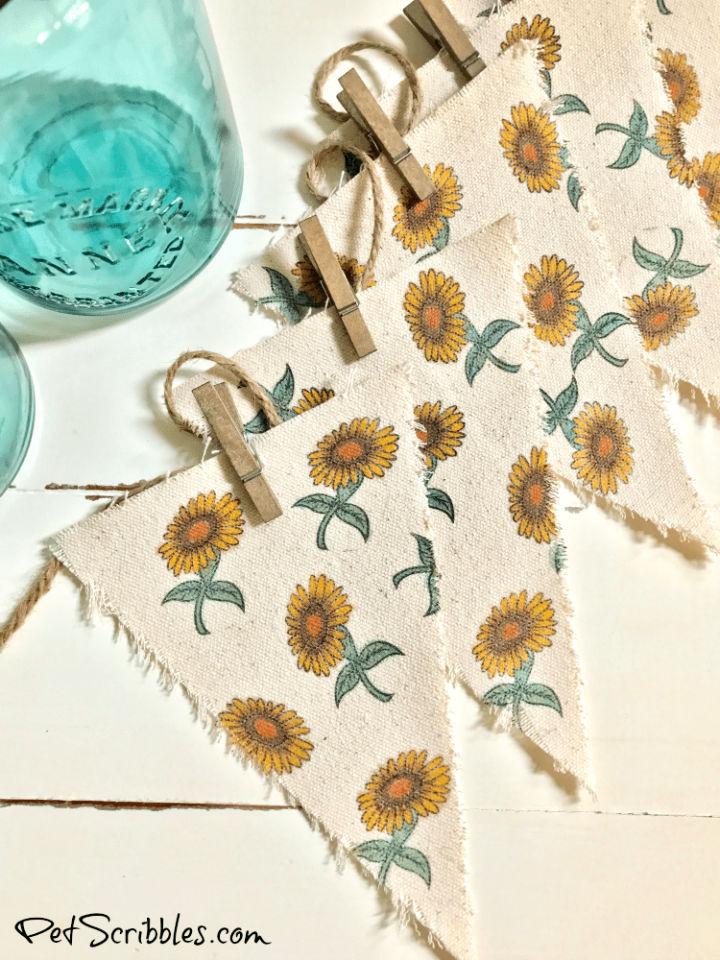 Add farmhouse-style décor to your kitchen with this sunflower kitchen banner. You can create this vintage and attractive look banner proficiently using Sunflower pattern stamps and markers on old canvas fabric. Not only in the kitchen, but you also hang this banner in your room or living area to redo the décor. petscribbles
3. Sunflower Window 9 Patch Crochet Blanket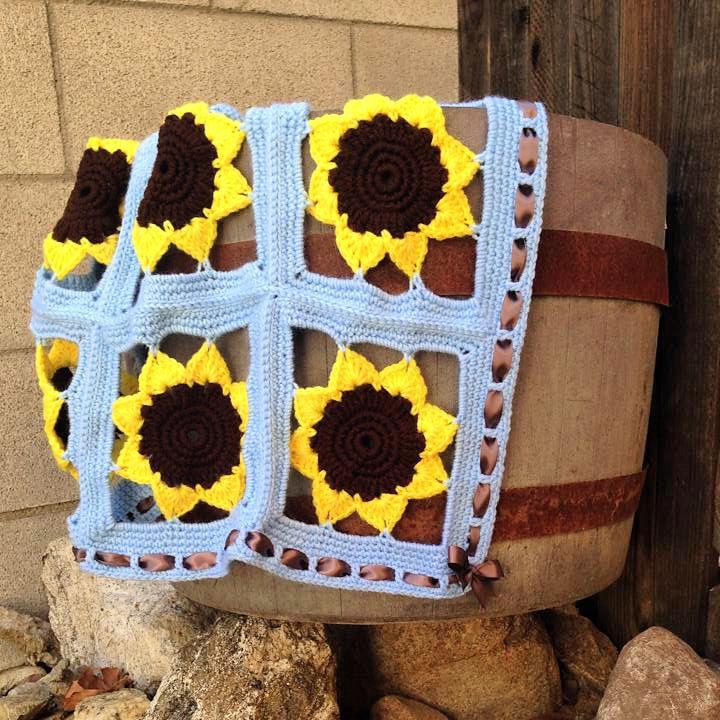 Upgrade or polish your crochet craft by creating this beautiful and aesthetic Sunflower window 9 patch crochet blanket. If you have been practicing crochet, this DIY Sunflower crochet blanket will create yourself much easier. To make this blanket more comfortable, you can work separately on each patch and then join them all together. This DIY patch blanket will be a perfect gift for a newborn baby. ravelry
4. Crochet Woodsy Sunflower Dishcloth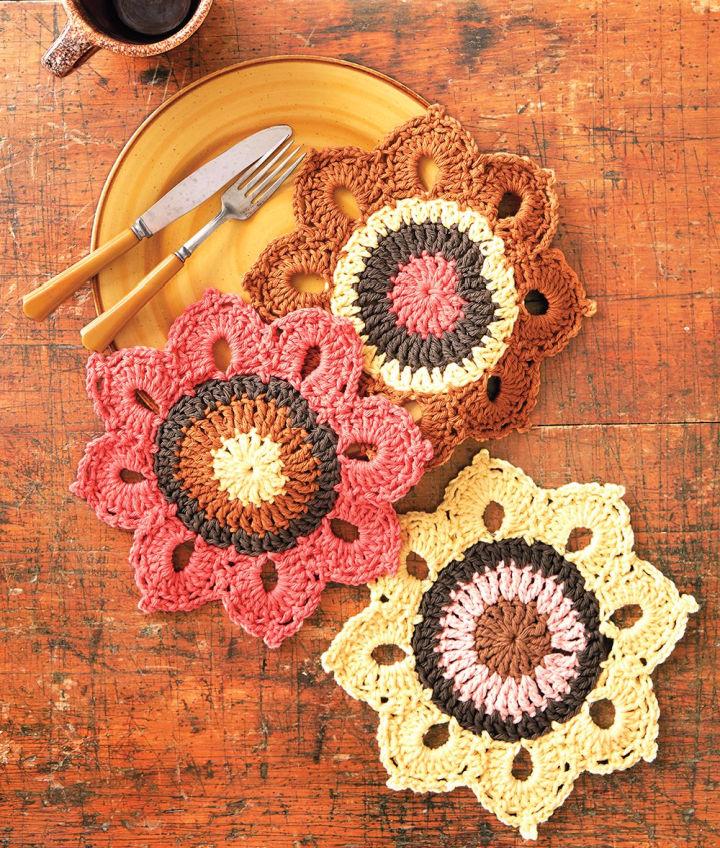 Use your crochet craft to create multi-purpose and good-looking accessories for your kitchen. These woodsy crochet dishcloths are the perfect gift for your friend-chef. Practice your stitching and crochet techniques to make these stunning and quickest DIY Sunflower decorations for the kitchen. So, it's time to combine your craft and DIY skills to create something brighter than little to delight up your kitchen embellishment. marymaxim
5. Sunflower Utensil Holder and Soap Dispenser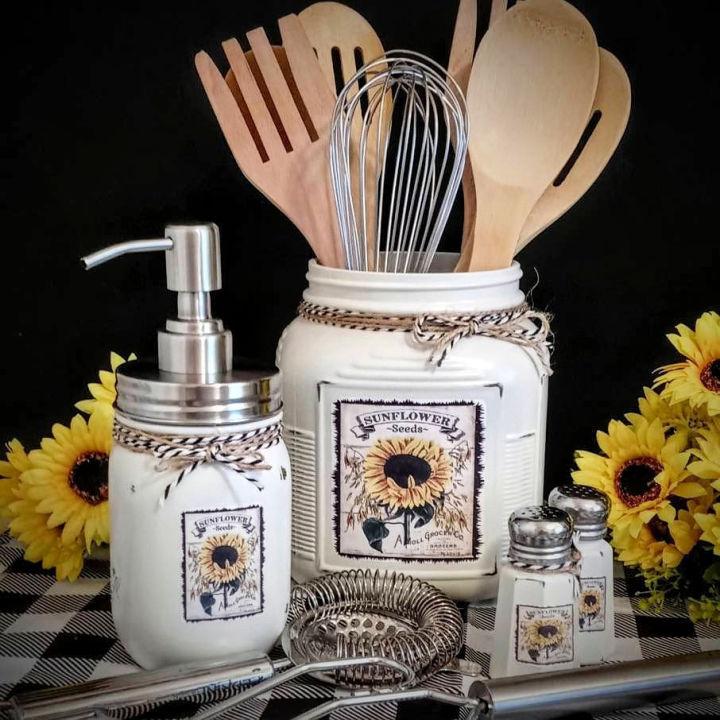 Get a new look for your kitchen by creating something different on your utensil holders and soap dispensers. You can get inspiration for your kitchen decoration from summer colors and patterns. Nothing would be better than using Sunflowers patterns and labels on utensils or soap dispensers to change the whole look of your kitchen's accessories.
Watch This Video: DIY Paper Sunflower Wreath – Sunflower Decorations For Kitchen (11 Mins 34 Secs)
6. DIY Reusable Paper Towel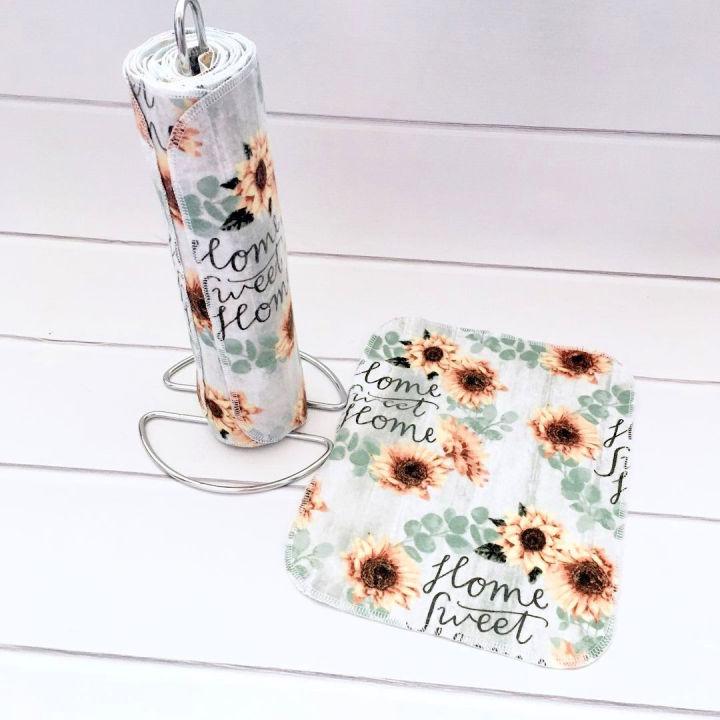 Use your creative skills to make a DIY reusable paper towel. If you are familiar with cloth painting or labeling, this DIY project will inspiration to makeover your kitchen. Make these reusable towels brighter and delightful using Sunflower patterns printing or painting on them. Not only for kitchen purposes, but you can also create these DIY patterns on other towels.
7. Sunflower Kitchen Accessories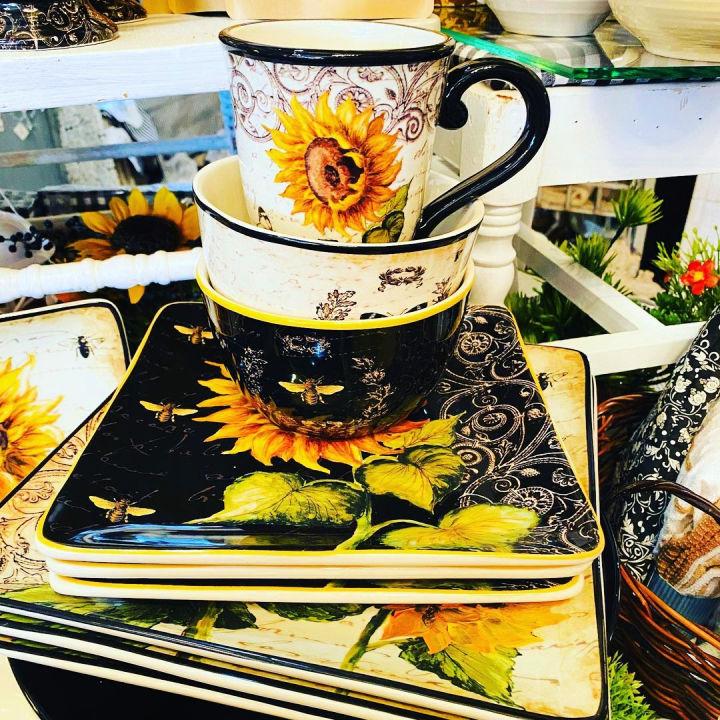 Mold your kitchen accessories, including dishes, cups, and teapots, using Sunflower patterns painting on them. You don't need to spend a higher budget to buy these accessories online. Redo or customize your old kitchen equipment with your painting and molding skills. You can customize the patterns and labels using any tool and then print them on accessories. Additionally, use acrylic colors to make these patterns.
8. Sunflower Drinking Glasses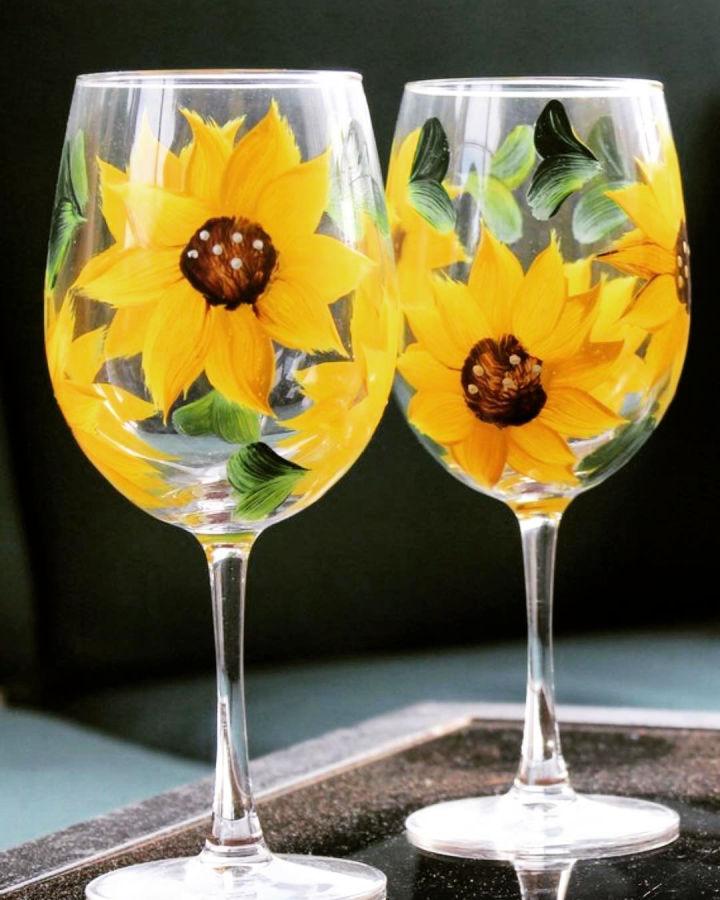 Give a hub touch or overlook to your glass using acrylic colors or paints. Create your customized and desired patterns, such as Sunflowers on the glass. This décor of glasses is the perfect DIY idea to uplift your next Dinner party. Your friends will surely love and praise your creativity. So, make your holidays more productive and come up with better kitchen decoration ideas.
9. Crochet Sunflower Towel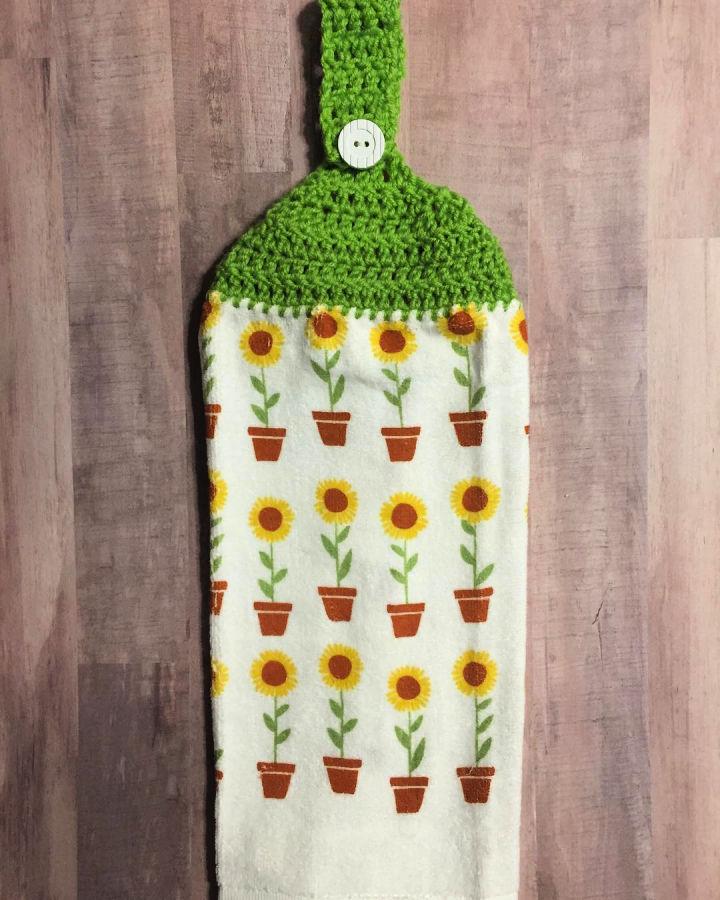 Crochet Sunflower towel is the perfect and fantastic DIY idea for the kitchen. You can make it easily using your crochet techniques and skills. It is not essential to redo towels in Sunflower patterns, but you can also choose your desired formats. However, this Sunflower crochet pattern towel is perfect dangling for your kitchen in Summer to get more vibrant vibes.
10. Sunflower Decoration For Kitchen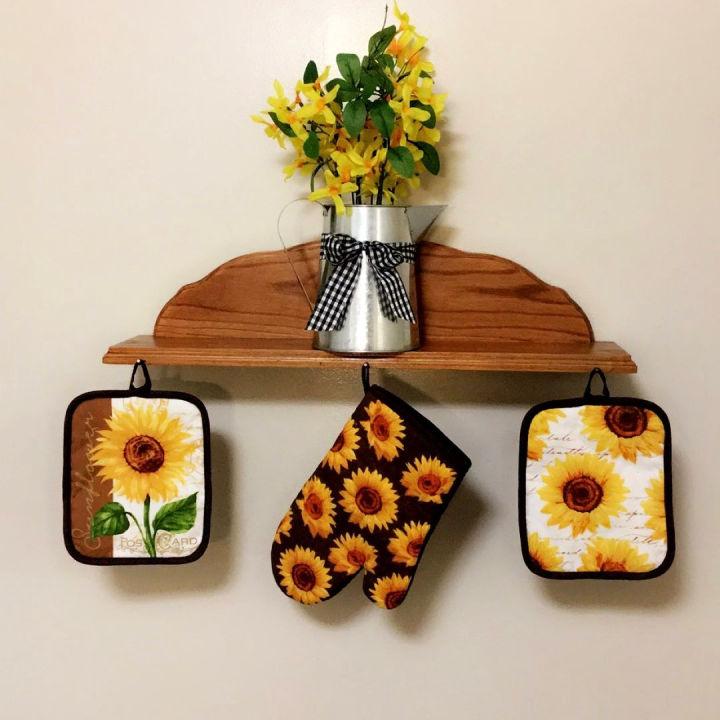 Light up your kitchen decoration using Sunflowers formats and themes for different items. This decoration idea will surely bring a smile to your face and uplift your mode within no time. So, what's better than introducing Sunflower décor ideas in your kitchen. You can do it with vinyl stickers on kitchen cabinets, paints on boards, and curtains decoration.
11. Sunflower Soap Dispenser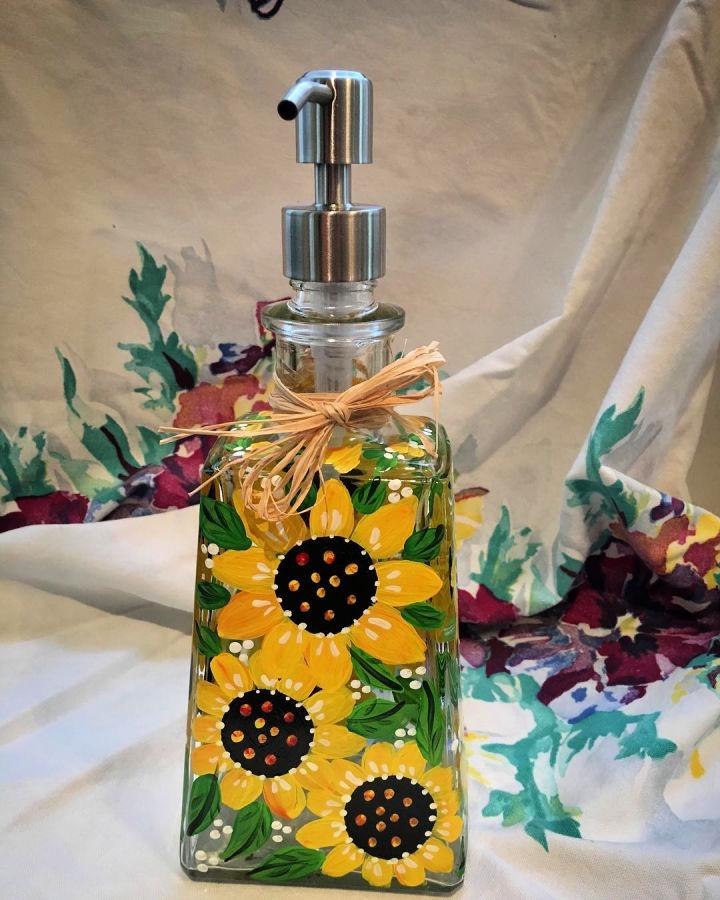 Give a new look to your old and dull-looking soap dispenser with the bright colors of Sunflowers. For this, label dispensers with vinyl Sunflower stickers. You can also make these patterns yourself for polishing your painting skills attractively and innovatively. You can also make these customized dispensers for gifting your friends, not only for placing in kitchens.
12. Sunflower Wooden Spoons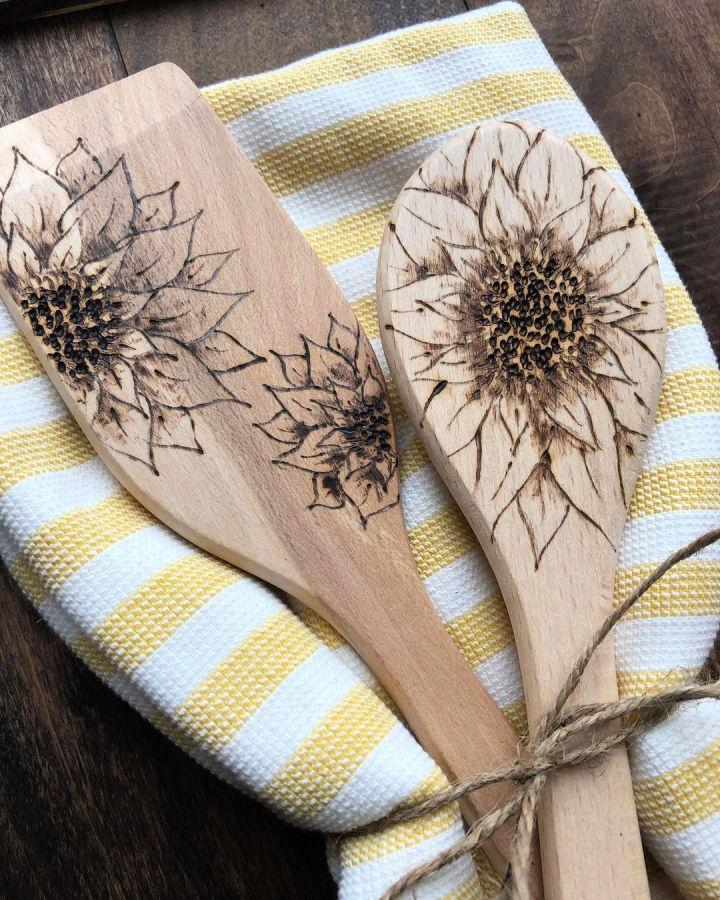 Craft your old and new wooden spoons with simple patterns and decoration ideas for gifting on Christmas. These handcrafted spoons with Sunflower patterns are perfect DIY ideas to spend your holidays without getting bored. One more thing, it's better to keep these patterns simple than painting with colors. Heat may ruin the colors or paint on these wooden spoons.
13. Sunflower Oil & Vinegar Dispenser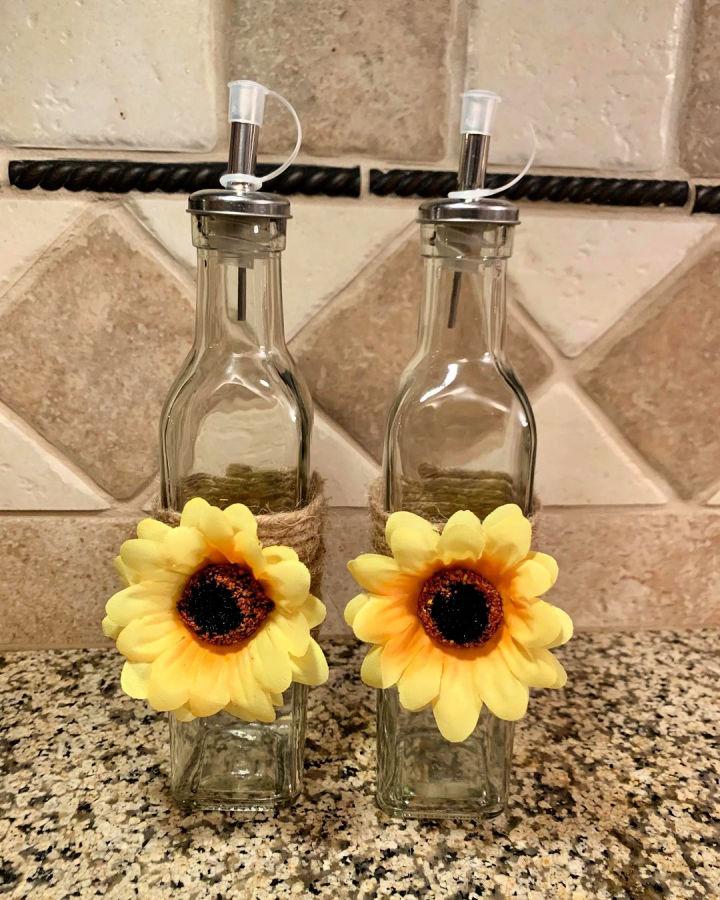 Decorate your Sunflower vinegar and oil dispenser to make them look more attractive and trendier to place on kitchen racks. For this, you can reuse old Sunflower from your vase with a simple cord. You are all set to rock and complete this DIY decoration in your kitchen within no time and tools. If you don't have fake Sunflower, you can make it efficiently using faux material.
14. Sunflowers Pot Holders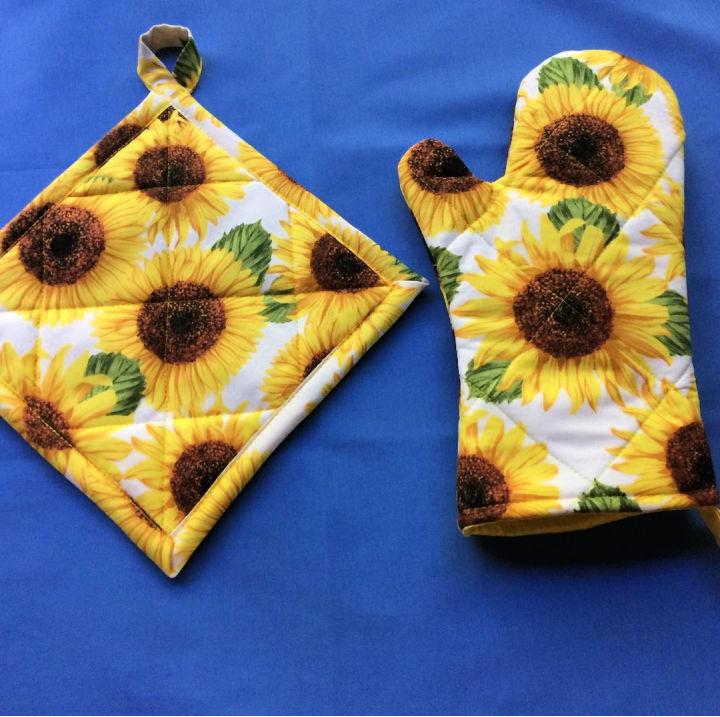 Cover pot holders with a fabric having Sunflower prints on it. All you need to do is stuffing holders in this patterned flower and stitch them with a sewing machine. While cooking in your kitchen, you would love and get motivated by these bright and shiny potholders. So, work on this Sunflower kitchen decoration idea to get some more delightful accessories.
15. Sunflower Kitchen Towel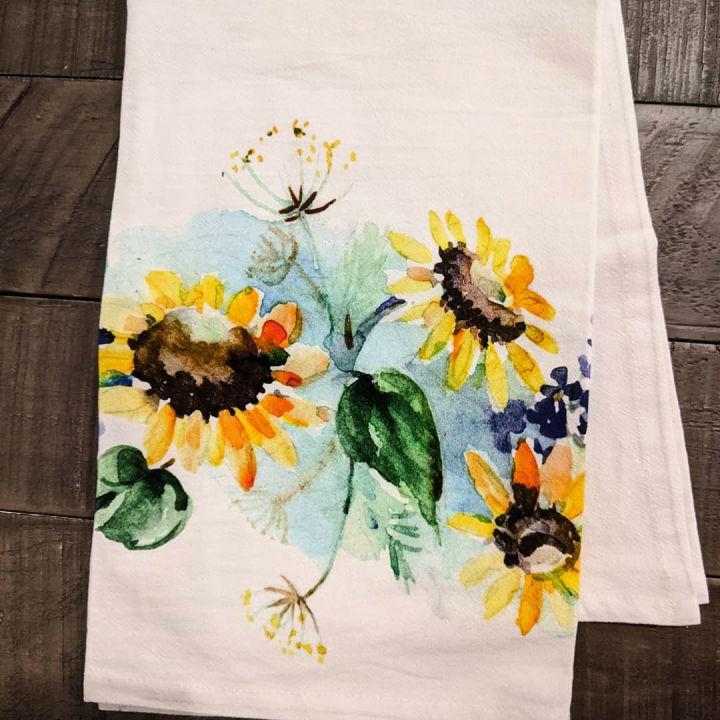 Are you familiar with digital printing on clothes and fabric? If yes, use these skills to create beautiful and brighter kitchen towels. You would love to work on this creative and stress-releasing activity. Within no time, you will have a completely new accessory for your kitchen.
16. Kitchen Sunflower Centerpiece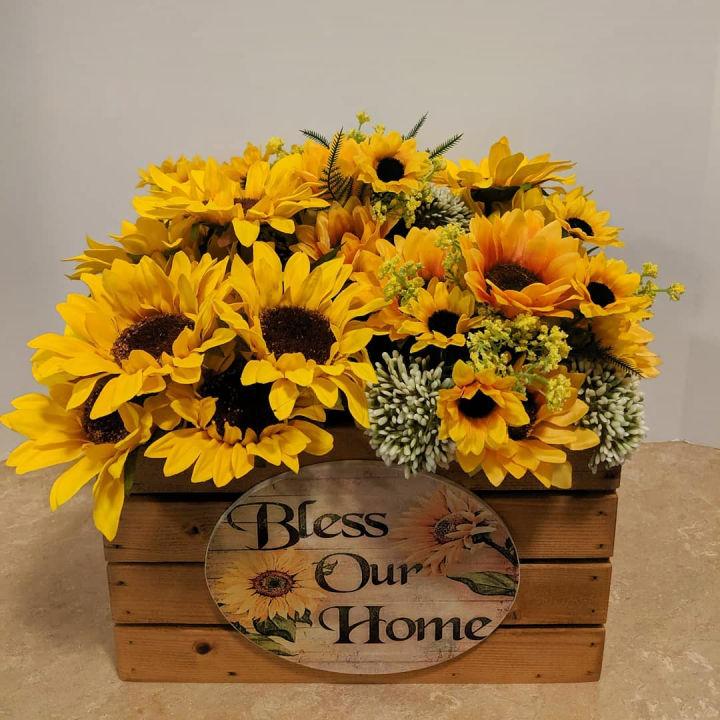 Centerpieces or decoration pieces play a vital part in the overall makeover of your home. However, it's doesn't mean to mess up your place with unnecessary and uncool centerpieces. You need to create and work on something more unique and elegant to enhance your décor. Inspired by Sunflower decoration and want to use it in your décor? Create a centerpiece as a vase for stuffing and placing fake Sunflowers in your kitchen.
17. Sunflower Vase for Kitchen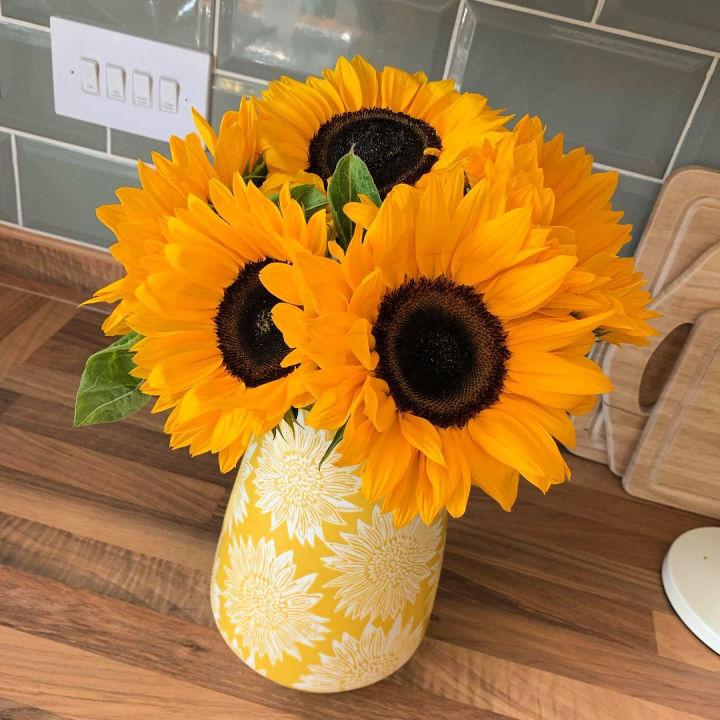 Redo your old vase beautifully with Sunflower patterns on it using acrylic paints. Place this vase on the dining table in your kitchen. It will change and enhance the overall look of your kitchen decoration. It's up to you to fill this vessel with Sunflowers or other flowers. Get a kitchen full of bloom with this stylish piece of art!
18. Sunflower Kitchen Wall Art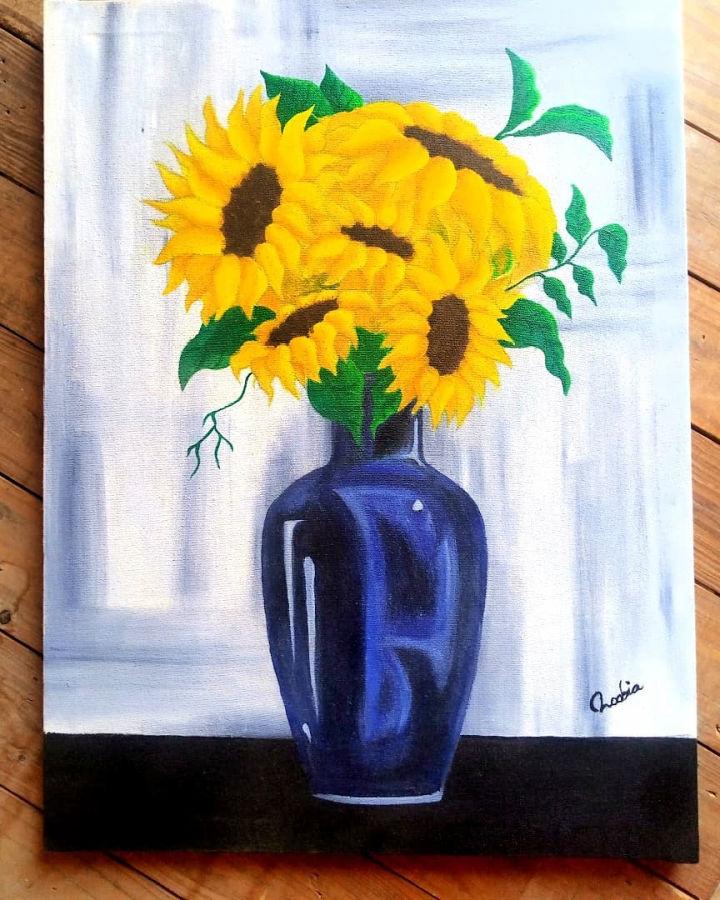 Want to change the overall look of your kitchen to get more brightness and charm? Start working or modifying your kitchen walls with Sunflower wall art. For this, you can use vinyl stickers directly on the walls. Additionally, create a Sunflower painting on canvas and hang it on your kitchen wall.
19. Wooden Kitchen Sunflower Decor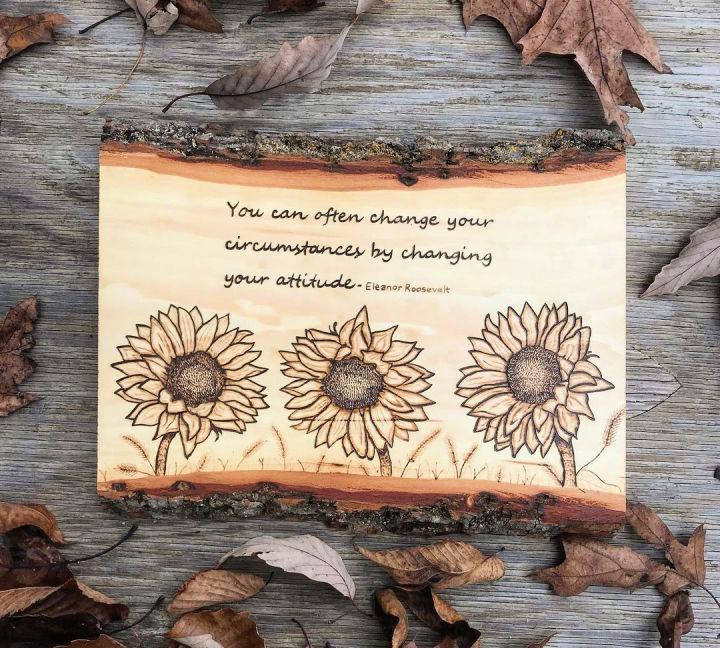 Repurpose or reuse an old woodblock to make a beautiful piece of art for your kitchen décor. To make this décor or Sunflower pattern on wood, you can use all craft supplies without investing anything to buy. It's up to you to fill this Sunflower pattern with colors or keep it simple. Make it more attractive by writing down your favorite quote on this wooden kitchen décor.
20. Sunflower Wall Hanging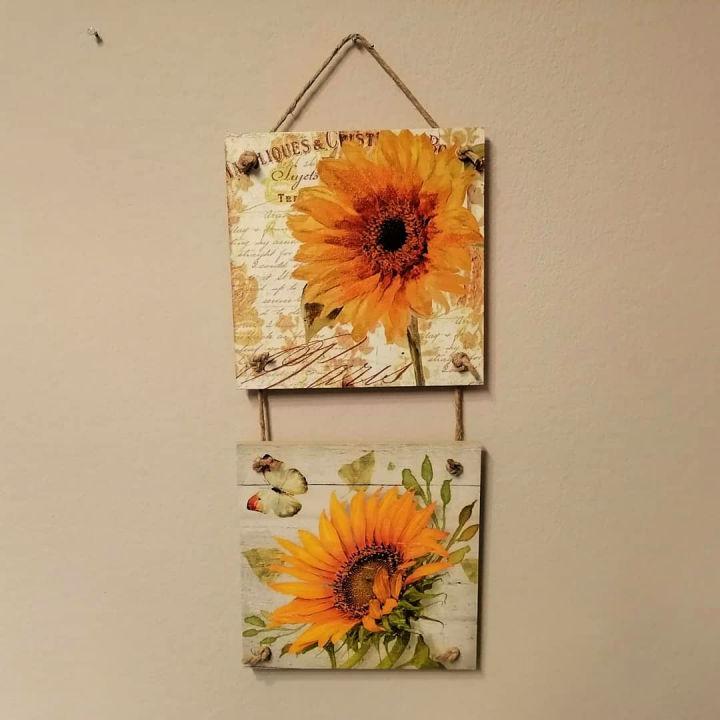 Use an old wooden frame as a canvas to make a beautiful Sunflower painting for your kitchen. Make this painting or decoration piece more attractive by combining multiple wooden frames as a single wall hanging art. A simple cord is all you need to dangle this customized painting on your wall using a hook.