Here you can learn 15 Exciting DIY Ideas For Doing Gold Projects. The first one is how you can transform your boring plain white mugs with a touch of gold by spraying them in a pattern of your own choice with a golden spray shown in the picture. You can either spray one only or you can make a set of mugs with exciting patterns.
One of the most popular and common creative hacks is spraying the wine bottles golden or any other color and then using them as a decorative item for your house. You can also put some natural or artificial plants in these bottles depending on your own choice. The next idea that we have is spraying the cement plant pots golden with golden spray in different patterns such as you can make parallel lines, triangle designs, and patterns on the pots and can place them in the gardens or inside if they are indoor plants. These pots look so amazing and unique as compared to usual plant pots.
You can also paint the sunburst mirror golden with golden spray. These mirrors look so amazing on walls. The next idea is to make a square frame out of lego pieces and paint them in gold color. We can also easily paint chevron vase in gold color for the purpose of DIY home decor. Not to forget we can also do wall art with our gold spray paint, we can also create patterns according to our choice but simple polka dots looks amazing and simple.
One of the golden DIY projects that many people have liked is that of the gold leaf rings for holding the table napkins as shown in the pictures. For this, you need o have gold leaf paper and you can simply cut it into irregular pieces and paste them gently onto the wooden rings and use them as napkin holders for your boring dining table to impress your guests with your unusual creativity.
You can also make use of gold foil in making different creative things such as we have shown in the picture, how you can do gold foil letterings on plain white plant pots, white utensils, etc. you will also like our idea of gold leaf pine cone garland. One of the amazing gold projects is doing golden spray on bowls and you can put your jewelry like rings which will look amazing and unique. You can also play with gold color on your canvas as shown in the picture. You can use gold and one solid color to create a masterpiece on canvas.
Spray Paint Coffee Mugs: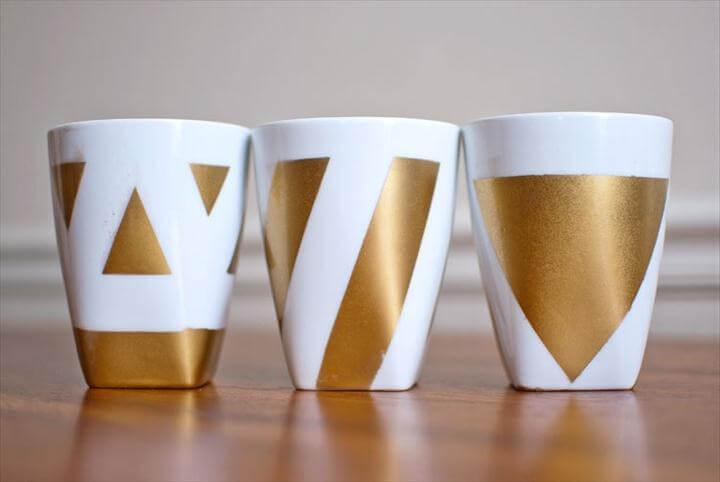 There is a kind of charm and beauty in the color gold and now you can spray it over your plain white mugs. Yes, it's time to give your mugs a makeover with the gold spray paint. Using the tapes you can create your desired pattern on the mug to be neatly spray painted. It can be either geometric shapes, stripes, or more. Details here!
Image: aboutstark
Spray Paint Wine Bottles: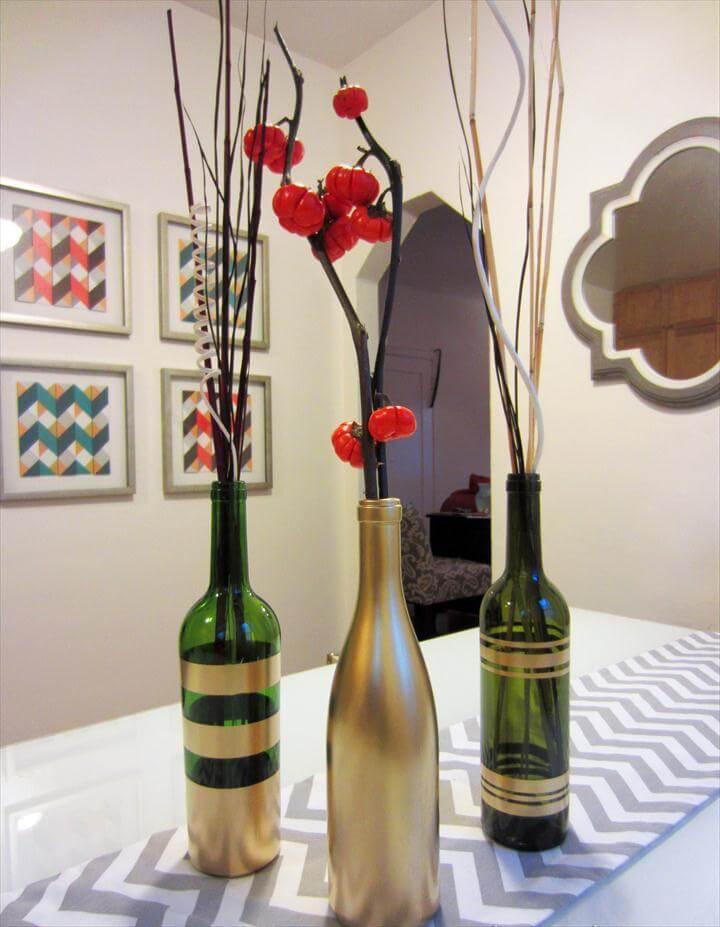 Now you can make the most accentuated centerpieces for your dinner tables with this idea of spray paint wine bottles. Just grab the green empty wine bottles and the golden paint to start the project. You can either completely cover the bottles with the gold paint or you can create the lovely stripy designs using the tape. Catch complete details here!
Image: homeyohmy
Gold Plant Pots

: DIY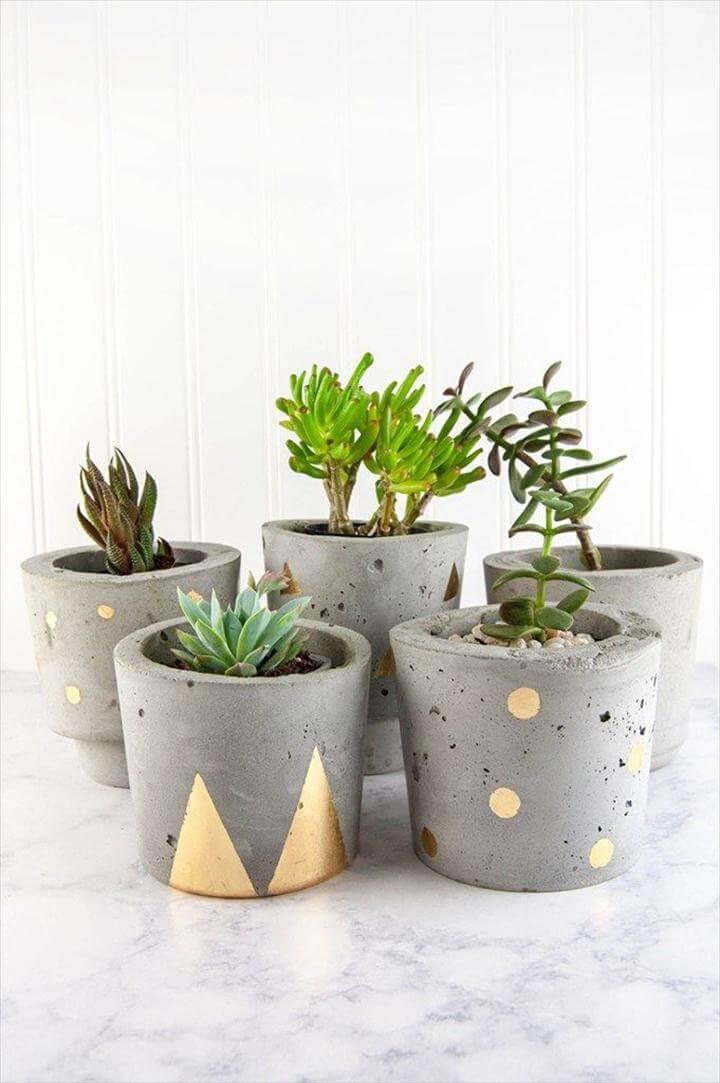 Making cemented pots is getting really trendy as it costs less and lets you create your desired shape and design of the pot. Now you can bring more charm and beauty to these handmade pots with some touch of gold paint. Just grab the gold paint and the brush and let your painter come out to create some amazing designs of the polka dots, geometric shapes, and more on them.
Image: diyinpdx
Gold Sunburst Mirror

: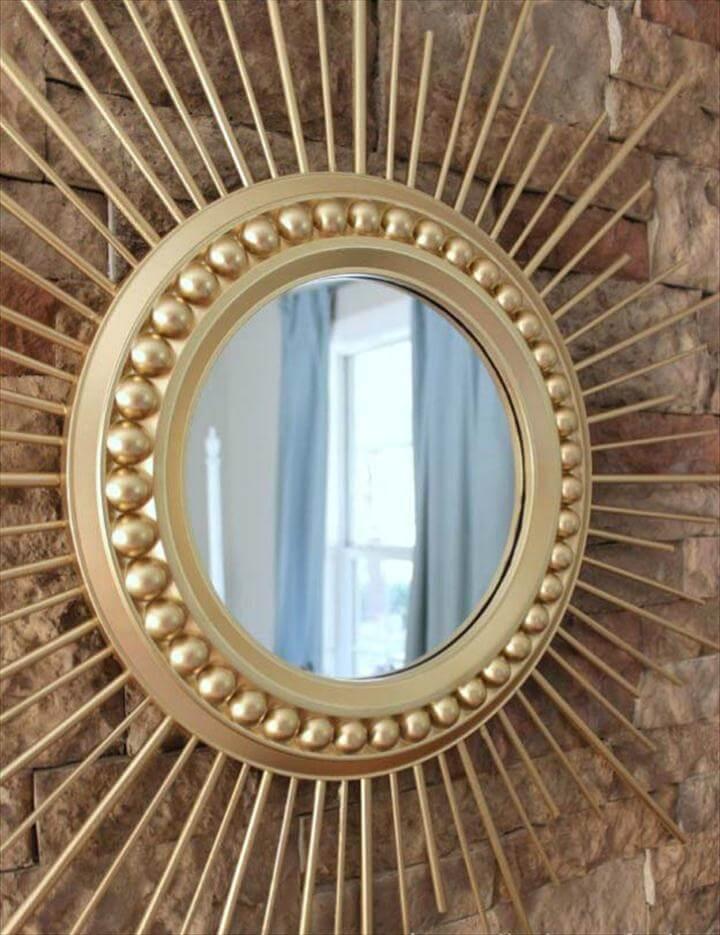 You can make this gold sunburst mirror at home and bring those lovely rich in style vibes to your spaces at the cheapest cost. The round mirror has been given a lovely sunburst appeal using the wooden dowels. The golden spray paint all over the mirror has really added oodles of charm and style to its beauty. Details here
Image: domesticimperfection
Gold LEGO Frame

: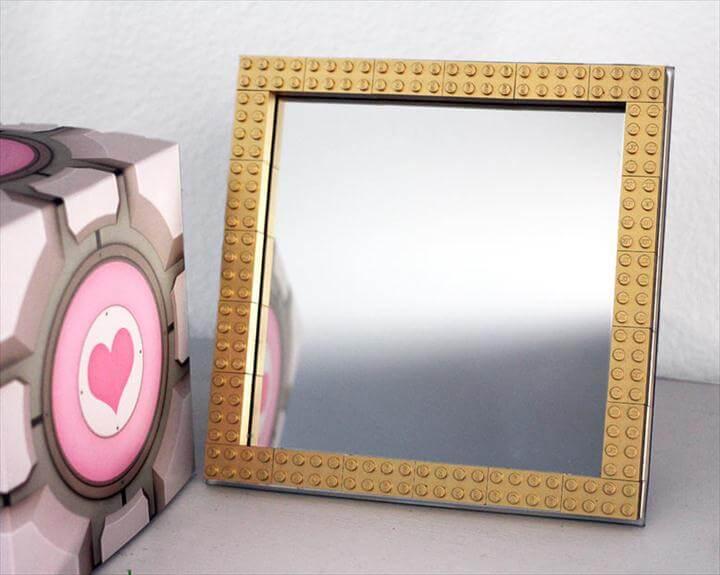 Create this gorgeous gold lego frame for your side tables and enhance their beauty and charm in style. Grab a bunch of the lego pieces and spray paint them in gold to create a lovely boundary around a rectangular mirror. This idea is super cheap and quick to make but assures to bring so much charm and richness to space.
Image: ournerdhome
Gold Chevron Vase: Home Decor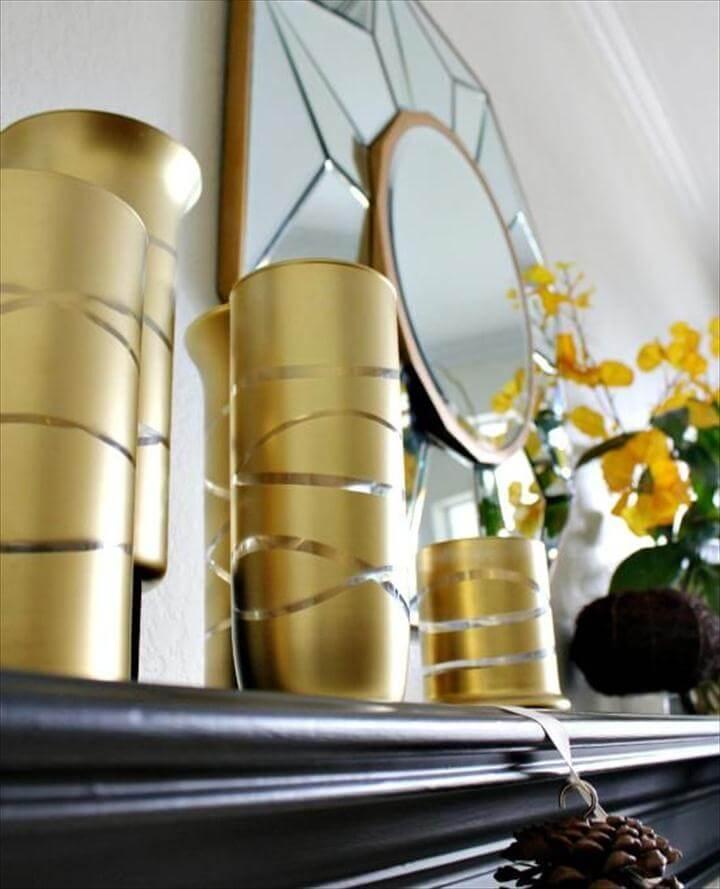 Make a bunch of these adorable gold chevron vases for the boost up of their home décor. You need a bunch of the glass vases in multiple sizes and then put them over some rubber bands at different positions. Then grab the gold spray paint and then paint the vases and remove the rubber bands. Check out the details here!
Image: hisugarplum
Gold Polka Dot Wall

: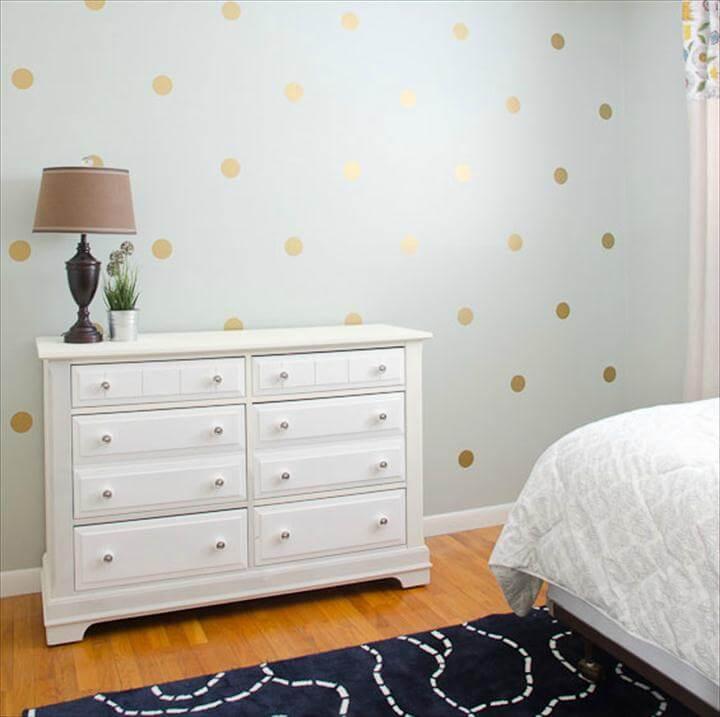 Make your simple walls look extraordinary with these lovely gold polka dot wall craft. You need to go to the craft store and get the gold dots in your desired size. Then take the measuring instrument and install these polka dots all over the walls with equal length and the height in between. Check out complete details here!
Image: thegoldensycamore
Gold Leaf Wooden Napkin Rings

: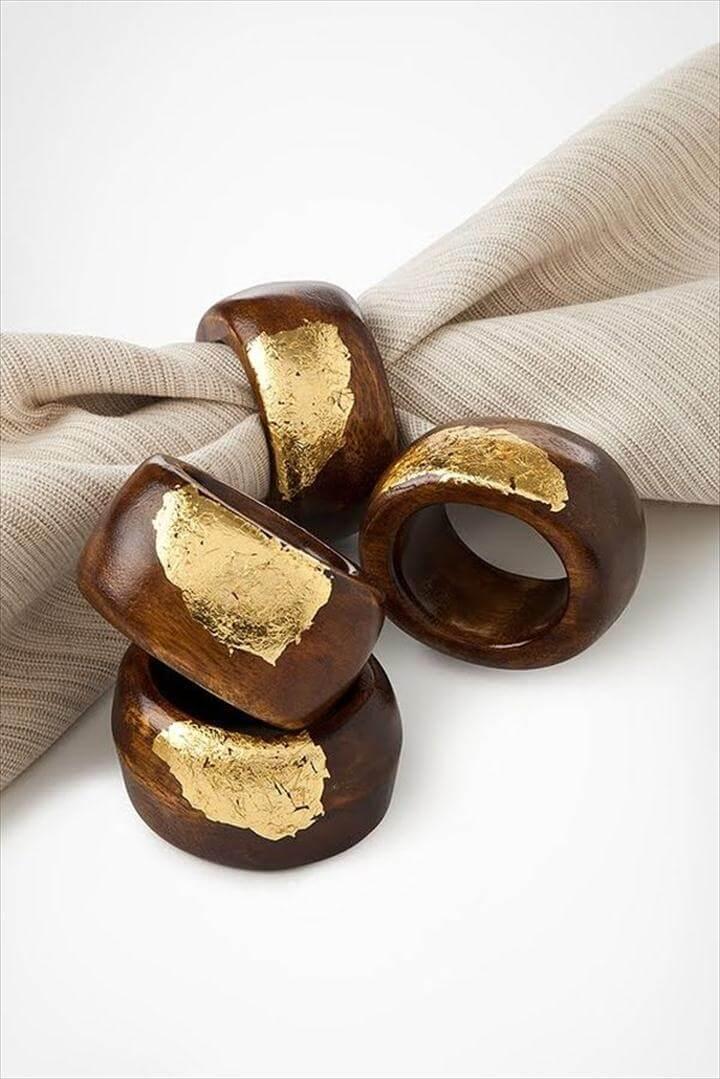 Bring some golden beauty and appeal to your dinner tables with this lovely gold leaf wooden napkin rings idea. The lovely wooden rings have been treated with the gold paint at a really small portion. These would bring instant beauty and charm to your dinner table setting and arrangement. Get to know more about the idea here!
Image: laurendyhome.blogspot.co.uk
Gold Foil Lettering

: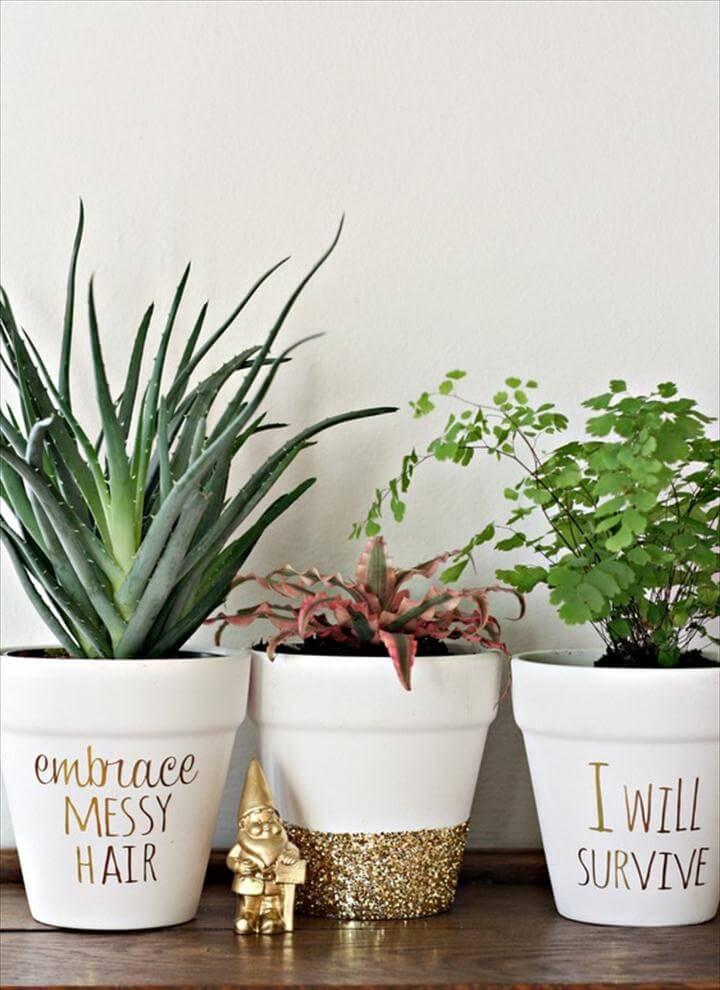 Here is how you can bring the fresh air of the beauty and décor to your indoors with this idea of the gold foil lettering over the planter pots. Yes, the simple terracotta pots have been white painted and then treated with golden glitter at the bottom and two of them have been written off with quotes using the thing gold foil.
Image: nestofposies-blog
Gold Leaf Pine Cone Garland: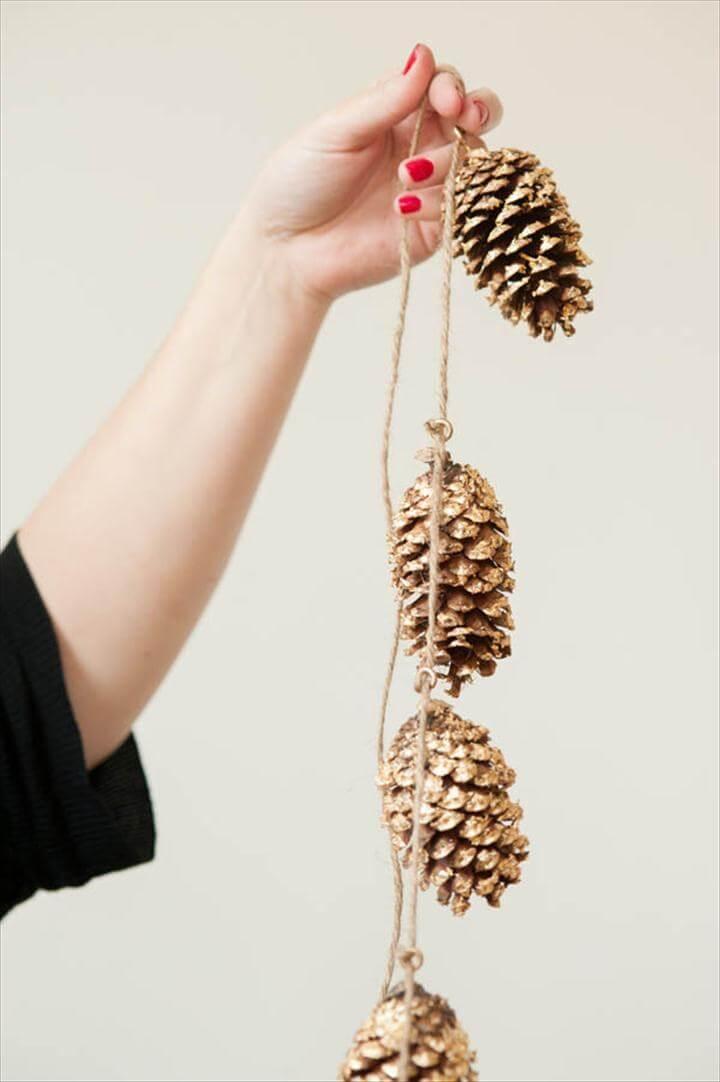 We love using pinecones in our home décor during the fall and the winter. So this time you can choose to work on this idea of gold leaf pine cone garland. The lovely garland is made out of the pine cones which are treated with the gold leaf and the gold spray. The idea is super easy and fun to work so do grab all its details here!
Image: thesweetestoccasion
Gold Leaf Ring Bowl: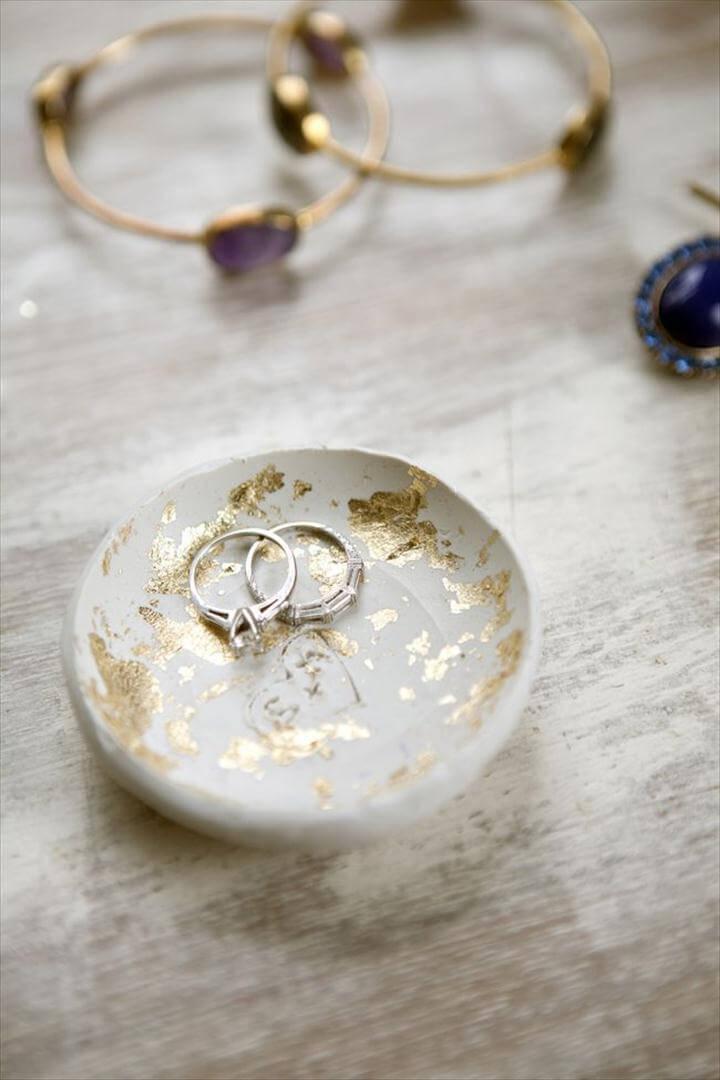 Now you can save your rings in the most amazing and fun way with this handmade gold leaf ring bowl. This one is easy to make out of the clay with a cute little bowl shape. You can create any design and add the crushed gold leaves to the bowl when it is wet. Let it dry and you have the prettiest dish to hold your rings in.
Image: helloglow.co
Gold Acorns

: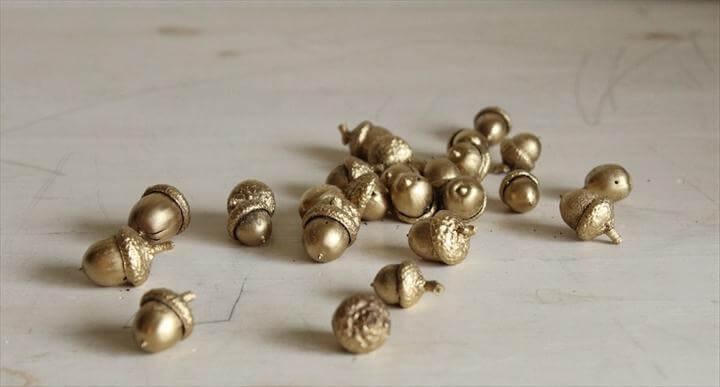 The fall décor is so undone without the embellishing items like these gold acorns and you would be twisting them up this time. Using the gold spray on your acorns you can make them look more shiny and gorgeous. Use them on wreaths, trees, or any other your fall decoration project with this fun golden layer on. Details here!
Image: myfairolinda
Textured Vase: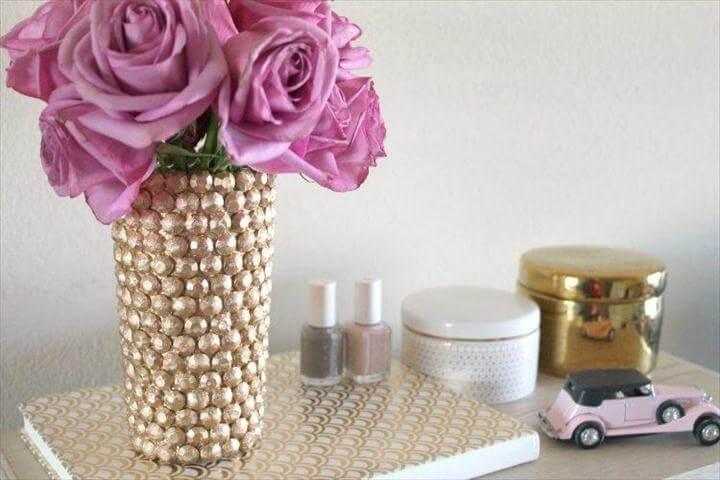 Bring an eye-catching piece of décor to your living room décor with this lovely and gold textured vase. To do this project you need a vase which already has bumps on it. Then get a bunch of the studs, stones, and gems to spray paint them with gold. This vase would turn out to be the most gorgeous and the most catchy one. Catch the complete details of the idea here!
Image: savvygirllife
Gold Geometric Lamp

: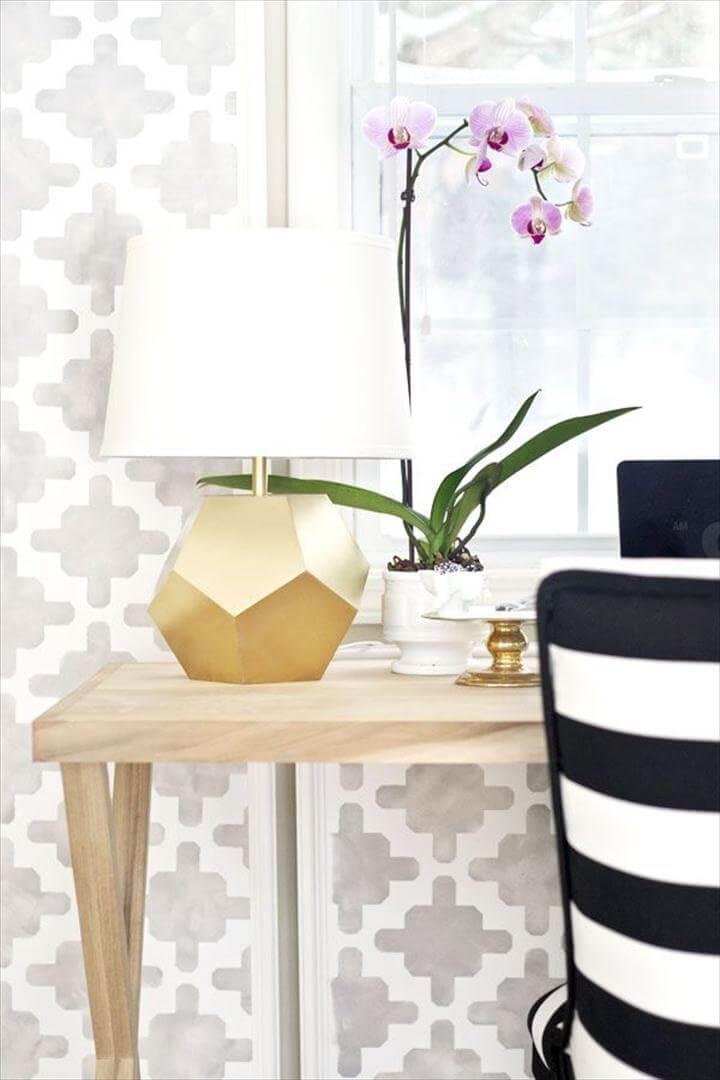 Give your lamp a revamp look with this gold geometric lamp. This geometrically shaped pot has been turned into the lamp post with but with the golden twist. You can either grab such a geometric shaped pot from the store or you can make one using the clay. Paint it with gold all over and it's ready to get installed. Check out the details here!
Image: houseofhawkes.net
Gold & Solid Colored Canvas

: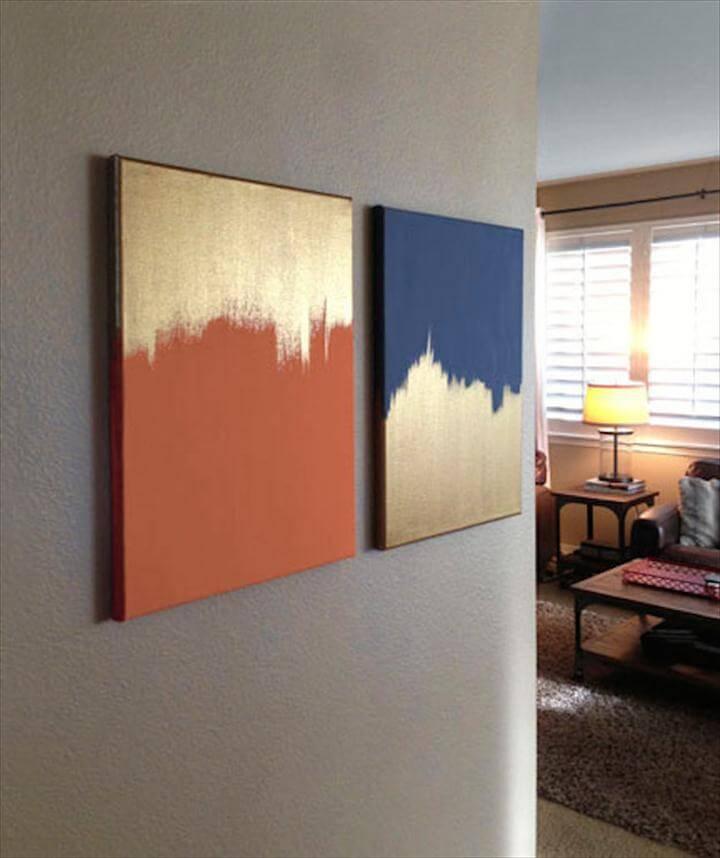 Bring chic wall décor to your places with this handmade rich in style gold and solid-colored canvass. They are super easy and fun to make if you are good at handling paint and the brushes. So grab white canvasses and the acrylic paint hues in blue, orange and the gold to create this masterpiece of the wall art. Check out the details here!
Image: shopcraftwarehouse.blogspot