Get ready to transform some of the plain walls at your home with these 10 DIY Wall Art Ideas For Home Decor that can entirely change the look of the house. The latest is not paying attention to only painting the walls but to focus on beautifying them with the DIY wall decor ideas.
The first idea here is for the polka dot lovers out there. Let's turn your wall into a DIY gold metallic dotted wall. The next one here is for the heart admirers and it's a DIY paint chip heart art decor. Canvas has always been an easy way out to decorate the walls so just paint the canvas according to your own desires and theme of the room and just hang them on any of the walls. Like you can see here, there is also a metallic gold art done on canvas which is equally attractive than any other abstract art. Then you can also decorate your kitchen walls with the food theme and create a new look altogether. This paper cut out wall art is something unique and unusual and is super creative for any of the walls of your house.
Similarly, you can also do a DIY paper scarp 3d wall art somewhere in the kid's room to amaze them. Next is an adorable DIY lip print wall art and is surely very romantic so try this out for your own bedroom this weekend. This is a hanging plate display and is quite common yet elegant. Last but not least are the flower wall art design and are absolutely refreshing and soothing.
Let's just start the next season with all your walls decorated according to a certain theme. Invite your friends and amaze them with your creative skills.
You May Also Like:
Gold Metallic Dot Walls: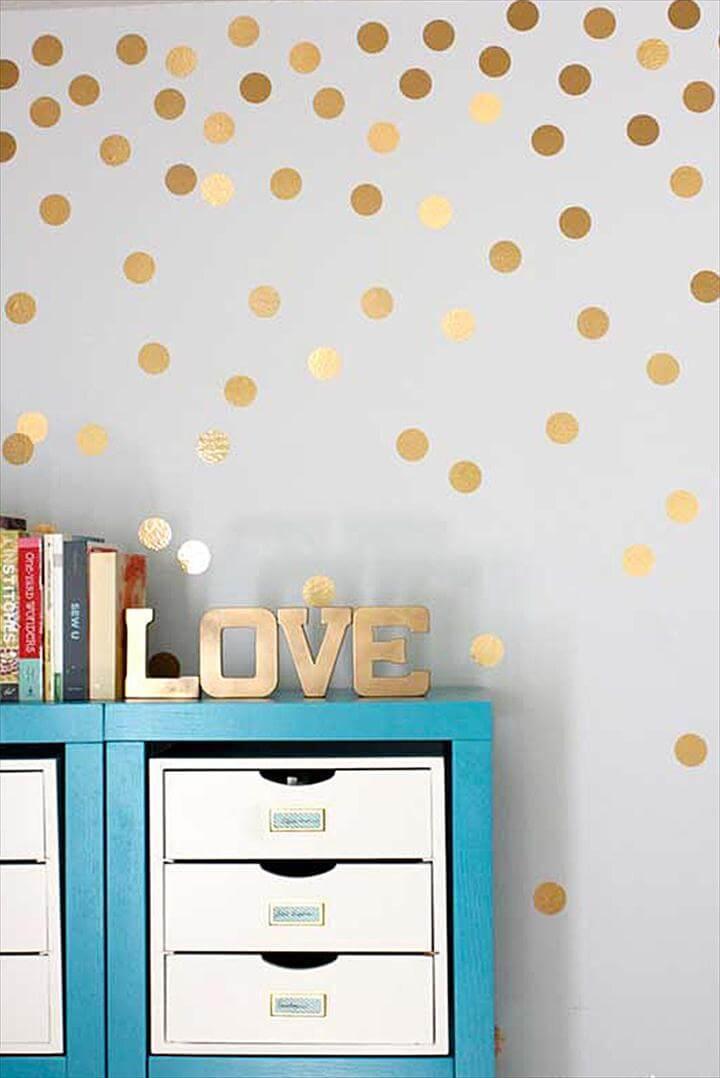 If you think your walls are too plain and boring being white all time then it's time to give them a makeover with these gold metallic dot walls. The gorgeous gold metallic dots are cut out of a contact paper sheet. So cut out a lot of them so that you can cover your entire wall with it. You can perform this wall art in your hall, living room, and the bedroom.
Image: thehomesihavemade
Paint Chip Heart Art: Heart Organizer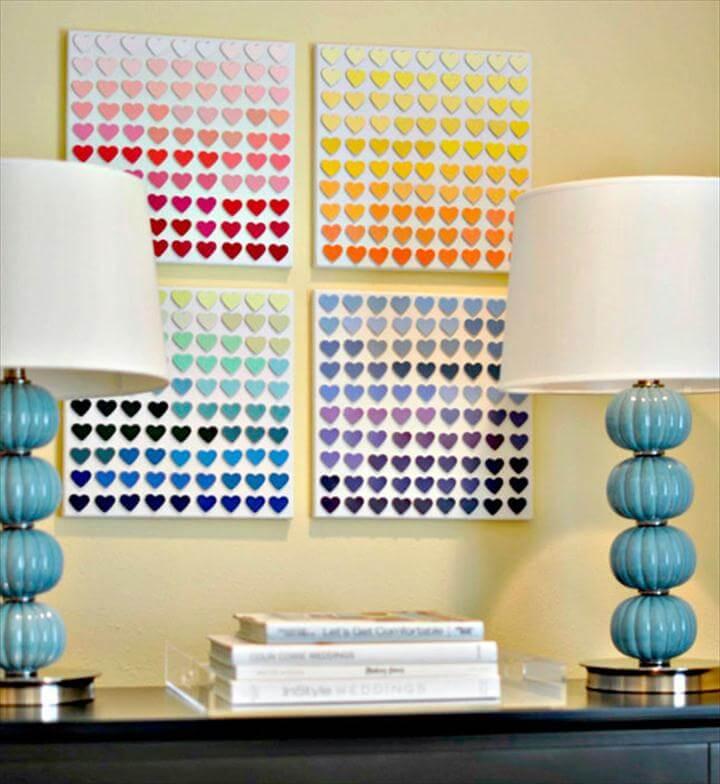 Summers means bringing colors to your home décor and wall arts are best for the purpose. Here is the idea of creating this paint chip heart art. Yes grab the paint chips in your desired hues and cut them into the shape of the hearts. Then arrange these hearts over the boards or frames and your wall arts are ready to rock the summer home décor. Learn more here!
Image: iheartorganizing
Canvas Wall Art

: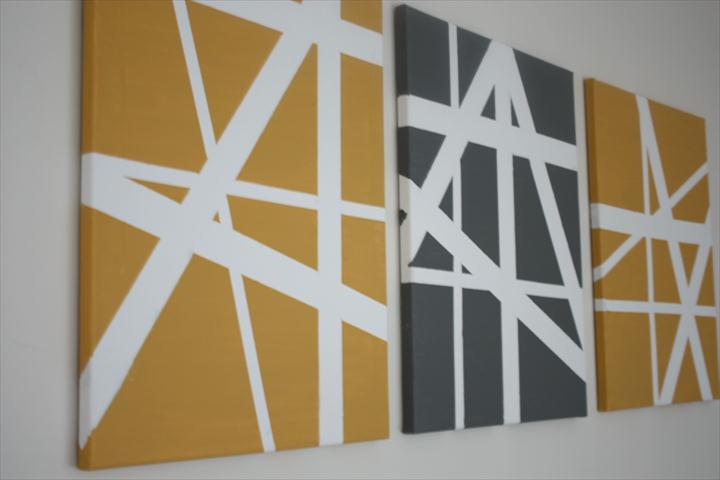 Now you can make your walls look rich in style with the easy and cheap handmade canvas wall art pieces. Just grab the simple canvasses and using the tape creates any pattern or design over them. Paint up the untapped parts and then tear off the tape and your wall arts are ready. You can customize these arts with your favorite patterns and colors. Details here!
Image: youtube
Metallic Gold Art On Canvas

: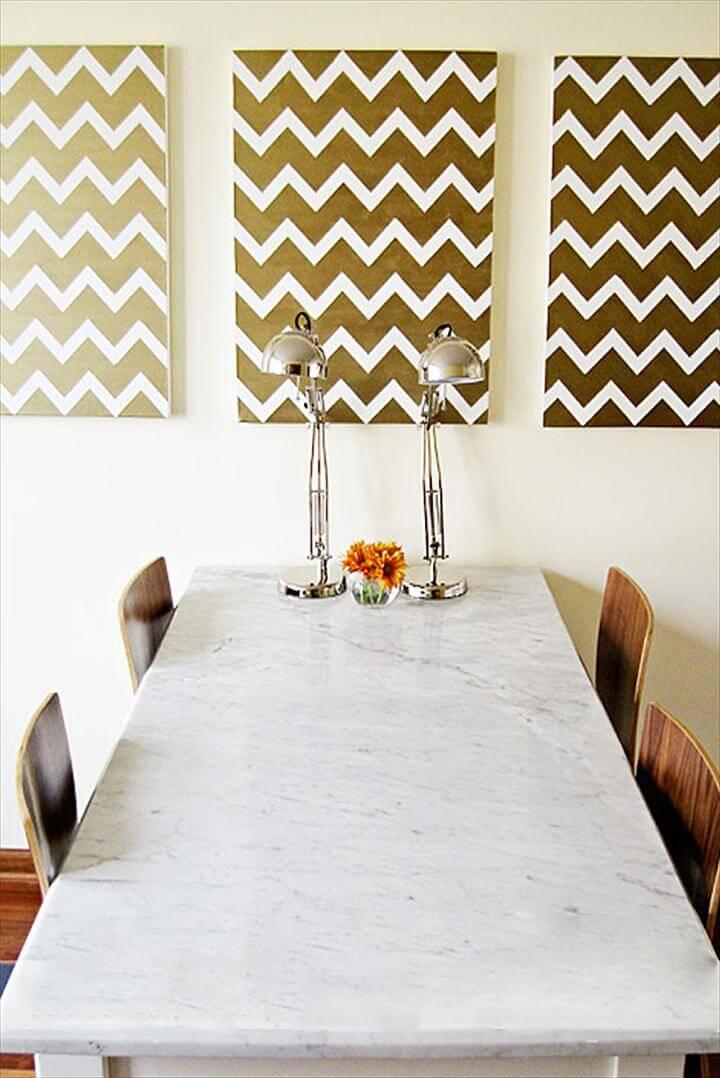 Now you can enjoy the rich in style art pieces for your home décor and that too by making on your own. They are super easy to make with blank canvases, acrylic metallic gold paint, and the painter's tape to create the chevron pattern. You can make one, or more than more art pieces according to the needs of your walls.
Image: jesslively
Cork Art: DIY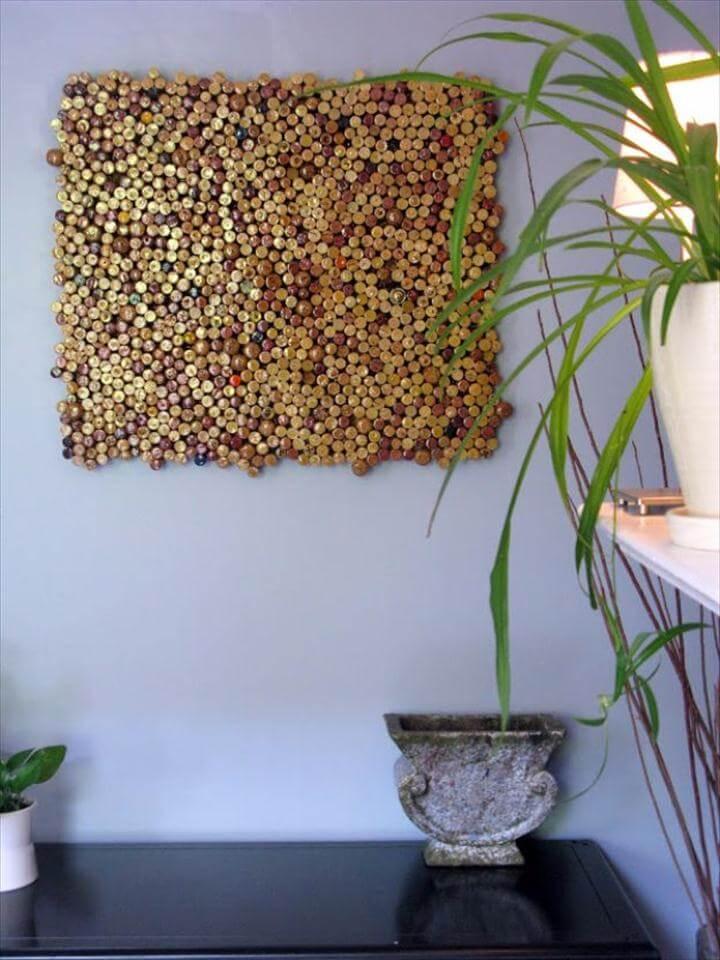 Corks are the waste of wine and now you can create this lovely wall art out of this wasted material. You need to put together a big pile of the corks forming a square kind of shape of mighty size. Along with this, you would need plywood, mastic, construction adhesive, and the polyurethane. This simple and easy cork art would look great hanging on your living room walls or in the hall too. More details here!
Image: projectrowhouse.blogspot
Paper Cut-Outs

– Wall Art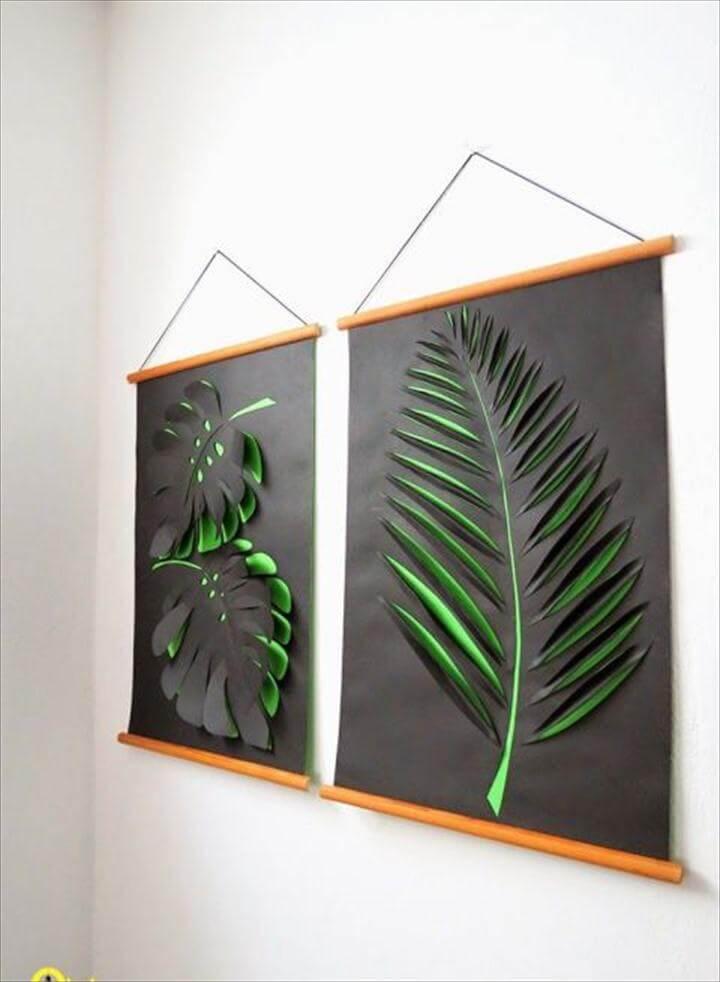 Give your walls a lovely and creative look with this paper cut-outs. Here are these adorable paper cut-outs with two colored papers forming lovely leaves to look so funky and cool over the wall. Making these paper cut-outs would be a great idea to spend your free time nicely with your kids. Check out details here!
Image: youtube
Paper Scrap 3D Wall Art

: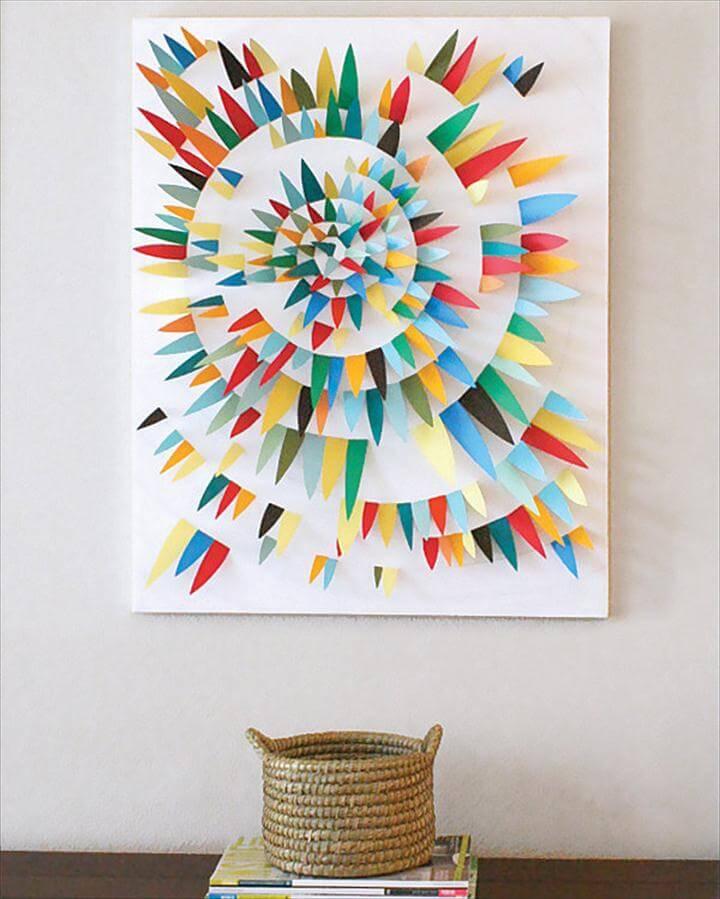 3D wall arts are the new love of the home decorators and they are super expensive too. So here is the cost-efficient paper scrap 3D wall art to work up on your own and bring some chic vibes to the home décor. The best thing is you can make this swirling patterned wall art using the colorful paper scrap of yours. Follow the tutorial here!
Image: alittlehut.blogspot
Lip Print Wall Art: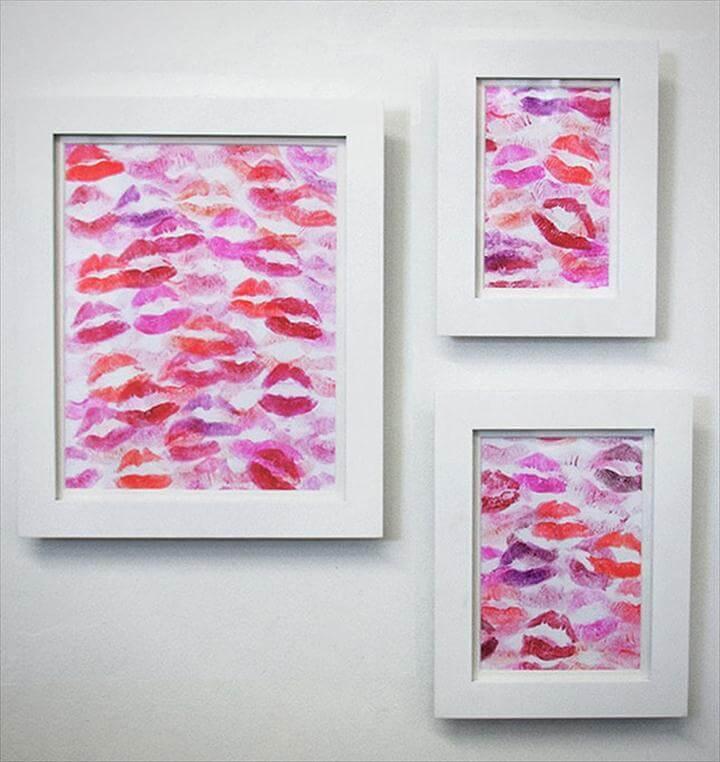 If you want your walls to create some sassy and cool look for the décor then making this lip print wall art is a great idea. The colorful lip prints are framed in different sizes to look so pretty and fun on the walls. These lip print wall art can be used all over the house it is going to suit best the girl rooms more. Details here!
Image: tumblr
Hanging Plates Display
: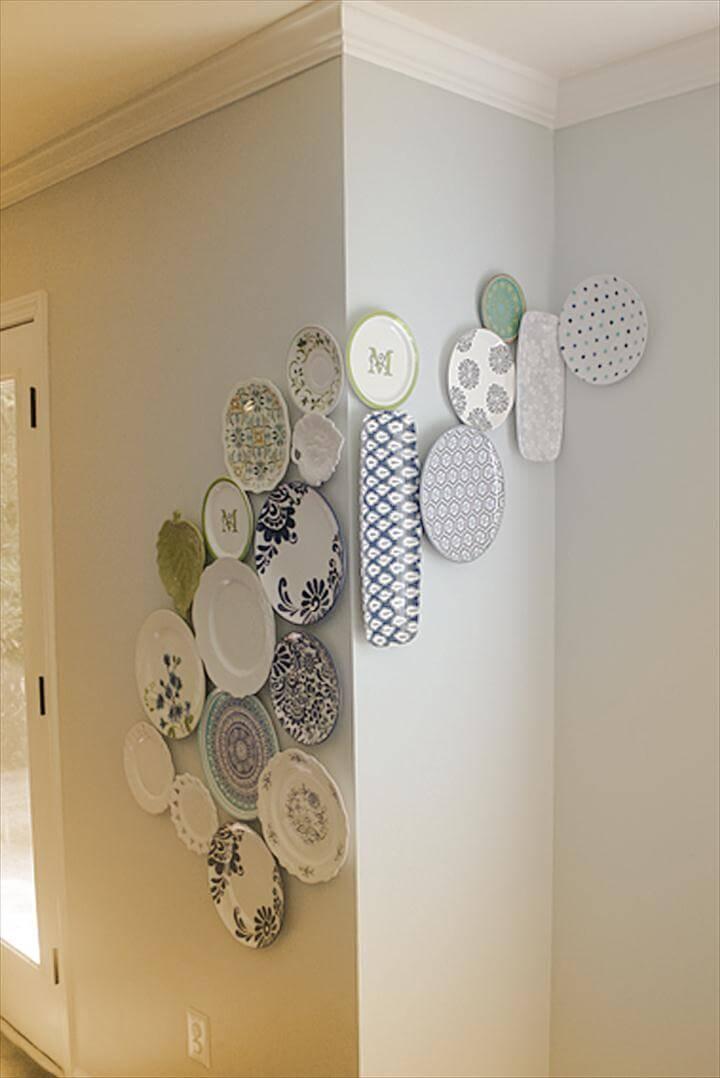 There are so many fun and cool ways to fill up your walls artistically and this hanging plates display is the quirky one. Using colorful trays and plates this gorgeous wall art display on the walls looks just so organic. You can increase or decrease the number of plates and also go custom with the design too. Know it more here!
Image: viewalongtheway
Flower Wall Art Design: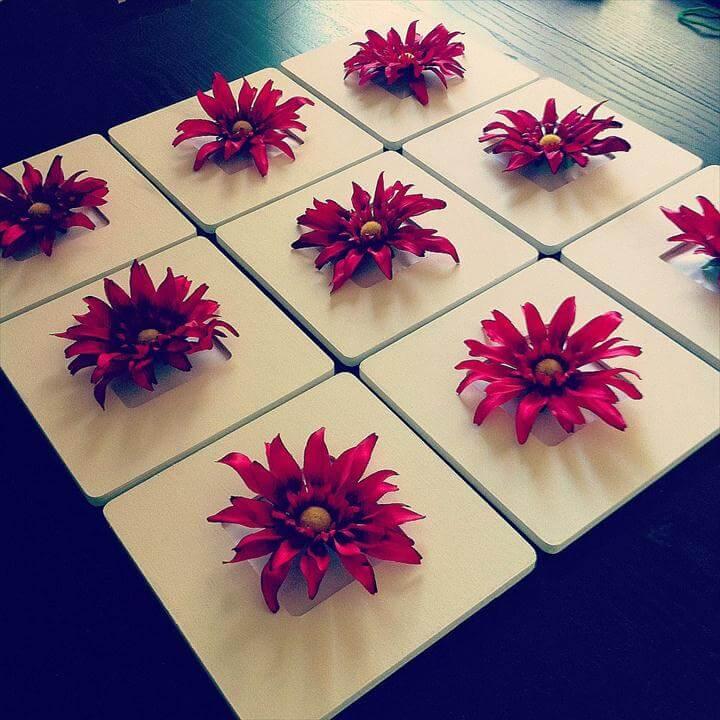 Here is how you can make a rich in style and totally professional looking wall art for your summer home and that too fewer than 20 dollars. You need nine small square-shaped frames, cute faux flowers, and some supplies to hang these frames over the wall. The lovely flowers within the frame are going to look so ethereal on your walls. Follow the project details here!
Image: wordpress
Like These Posts: