It is only the interior wall art and decors that show the unique taste of homeowners! There is the trend not to leave the wall empty; there should always be something on them from decorous to functional and from religious symbols to visual art pieces! If you are a fan of your own creative imaginations and are looking for DIY inspiration about interior wall art, then our showcased collection of these 40 DIY wall art ideas and wall decor for all living spaces is sure to make you a jaw drop with amazement! Turn old material into heartwarming wall art pieces and manage the home decors on a budget, along with a functional boost to your creativity! If you think out of the box, then intelligent and innovative ideas are sure to come to your mind!
Check out the lip wall art, red hot beauty for any wall for a distinct look; it has wholly been achieved by placing rustic pallet remains together! Paint the canvas or draw some art shapes on them, going with your own imagination and earn beautiful wall art frames and abstract art paintings out of them!
Go with stenciling to give some instant fab decorative prints to any blank wall area! Canvas frames would make a beautiful choice if you are looking for some leading wall art pieces; use simple paint, glitters, sequins, and also mind-blowing prints to turn the canvas frames into legendary wall art frames, take a roundup, and we are sure you will find yourself more creative at the end!
1. Minimalist Wall Art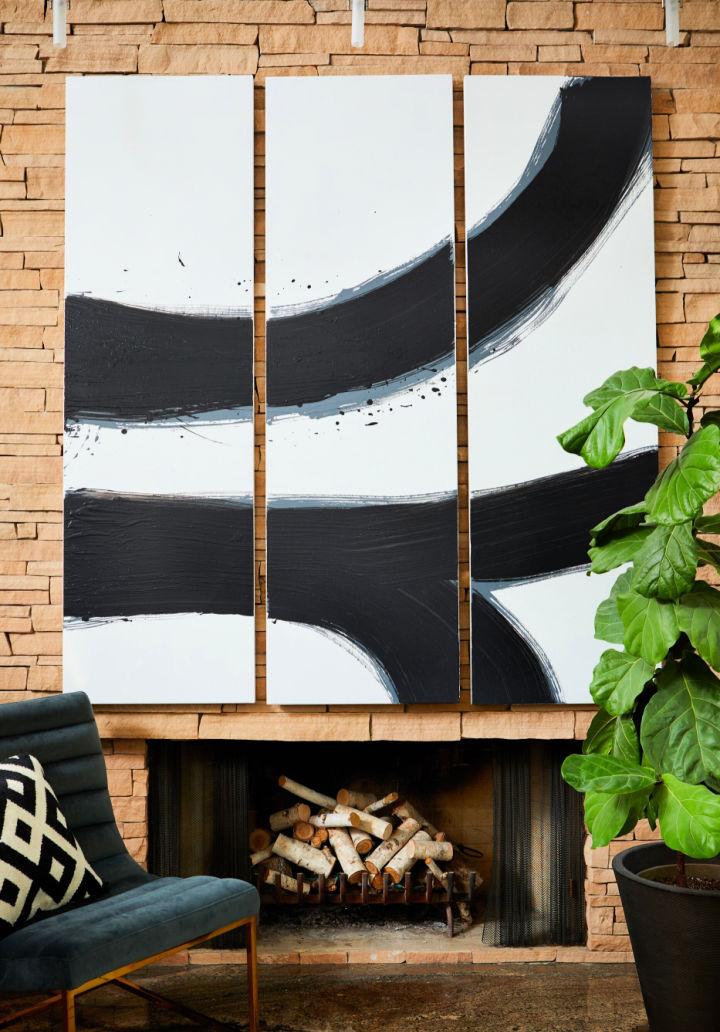 Dress up your room in a more traditional way with this minimalistic black and white wall art. No prior experience or skills required to make this easy DIY art. Everyone can make it without any difficulty using the art studio's leftover supplies and material. This minimal art gives a rich and artistic look to your room. Reuse old wood pallets or block to use as slabs for this wall art. bhg
2. DIY Geometric Wood Wall Art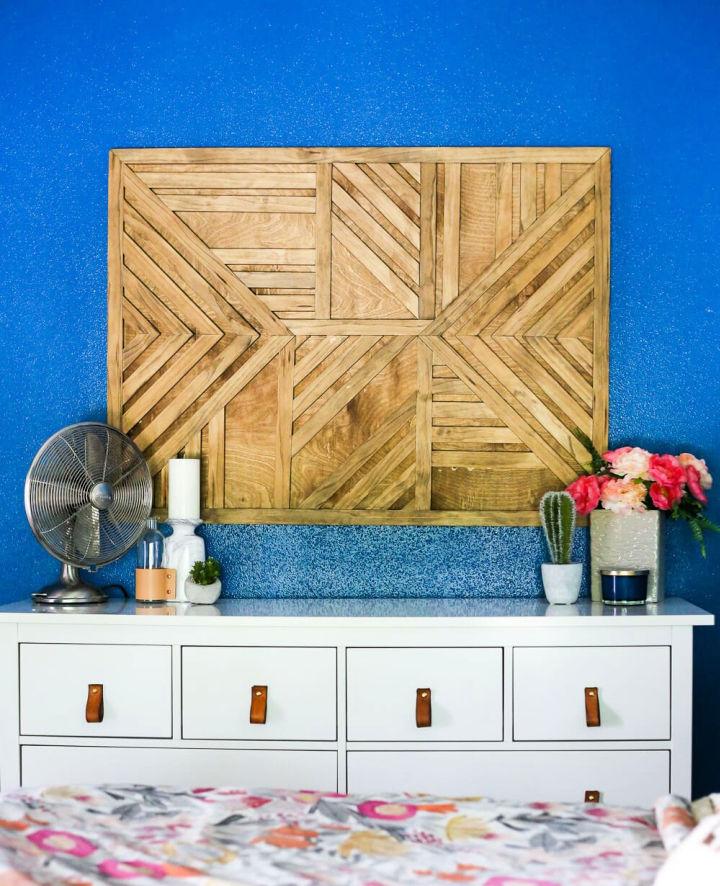 Create a rusty look of wood wall art to cover the space of your wall. This wood geometric pattern wall art offers endless possibilities. You can design or adjust the woodblocks to make a geometric pattern on the wood slab in multiple ways. Give this wall art a more elegant look with wood stain. However, you can also keep it in natural color or form. Fill your wall in the desired way with this perfect piece of wall art. loveandrenovations
3. How to Make an Outdoor Wall Art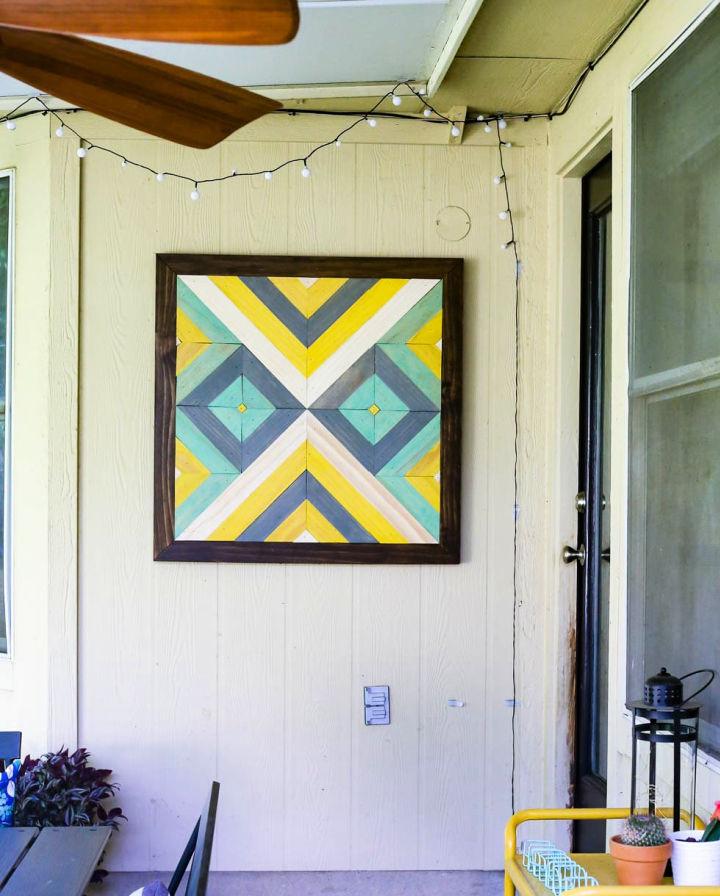 You will never go wrong with geometric patterns while creating wall art. Even for your patio, create a beautiful piece of art in geometric patterns. Make this art more attractive using different colors of strokes for the painting geometric patterns. Reuse an old wood slab or door to use as a canvas for wall art. Apart from reusing old wood scrap, you Can use plywood as a frame for this artistry. loveandrenovations
4. DIY Butterfly Wall Art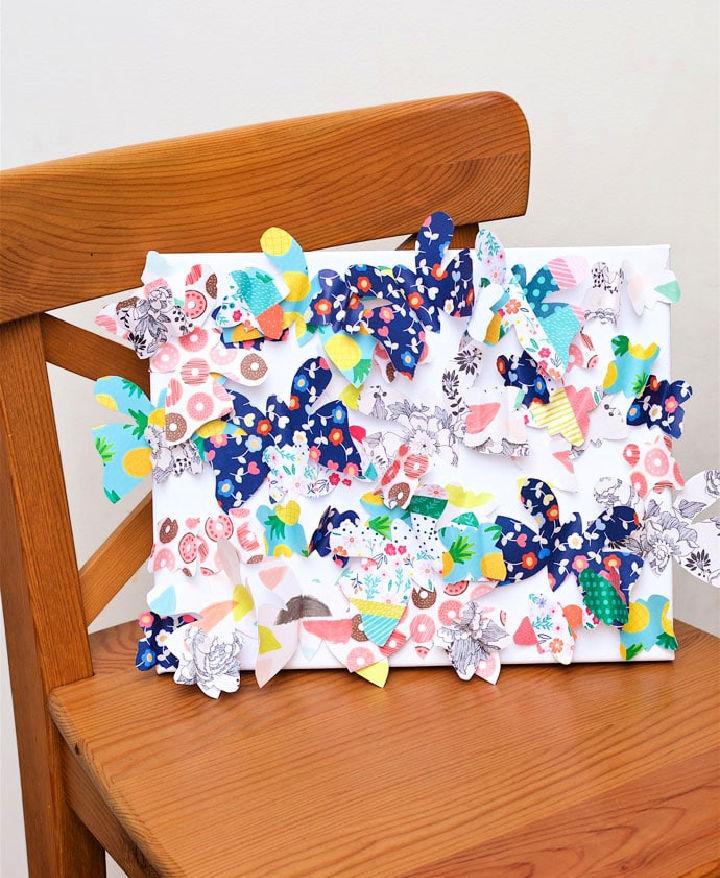 Kids love colorful and character-based art, even on the walls of their room. This Summer, make beautiful wall art for your kid's room makeover. Instead of creating a butterfly on this frame with paints, use colorful gift papers. Involve your children also to make these attractive paper or faux butterflies to fit on the artboard. Stick these butterflies on the painted frame and hang them on the wall. That's all. mypoppet
5. Letter Wall Art for Living Room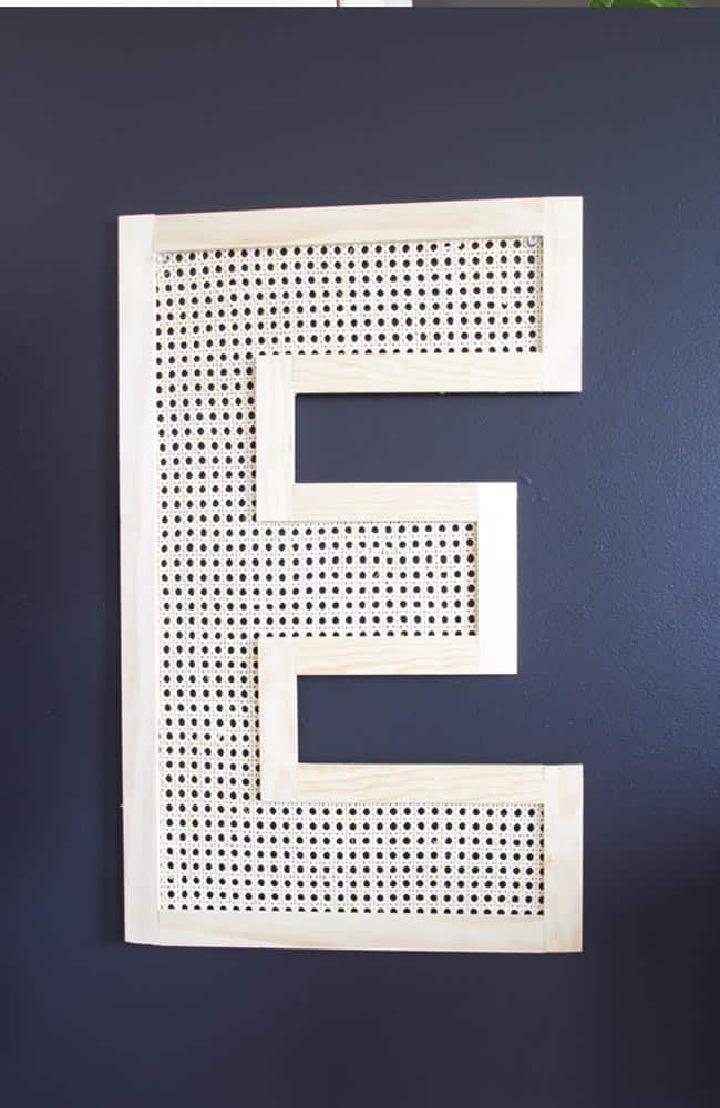 Letter wall art is the perfect idea for decorating kid's rooms or nurseries. This large letter monogram on the wall will give a statement look for the room's makeover. Make this letter wall art more attractive and interesting for kids with cane webbing. All you need to complete this DIY art is a piece of cane webbing. Make this art more accurately by sketching letters on the webbing before cutting. homemadeginger
Watch This Video: DIY Paper Flower Wall Hanging | Wall Decoration Ideas | How To Make Easy Paper Flower Wall Hanging – DIY Wall Art Ideas (06 Minutes 04 Seconds)
6. Modern Large Scale Wall Art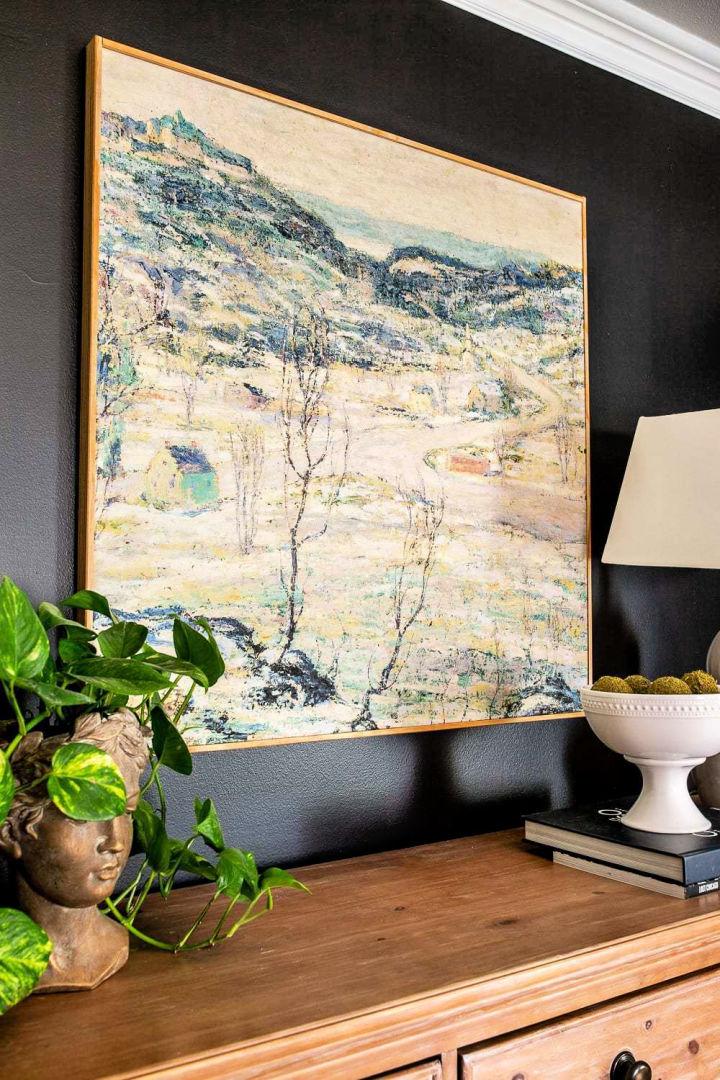 Create a high-end and large-scale wall art for your room using a simple plywood frame. Nothing would be better than embellishing your walls with landscape portraits and pictures to get an aesthetic and appealing look. You can make this portrait wall-art by yourself using free printables. Download your desired landscape portrait and print them. All you need to do is fitting this portrait printable in a frame to hang on the wall. blesserhouse
7. Hip Scrabble Letter Wall Art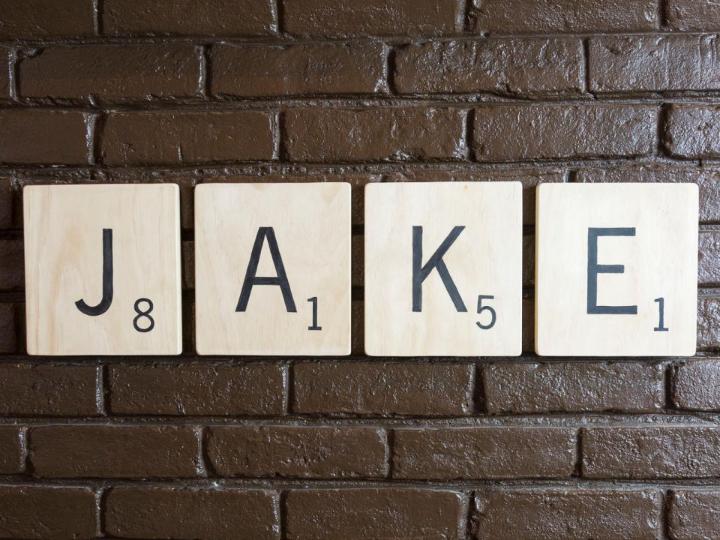 Decorate your home's wall with unique-style hip scrabbles letter wall art. You can make this art smoothly by utilizing the board pieces according to the number of letters. Cut the boards to make a frame for each letter in your desired size and pattern. Use a simple paintbrush to write or paint letters on these boards. Hang each frame on the desired space on your wall with nails. hgtv
8. Wooden Wall Art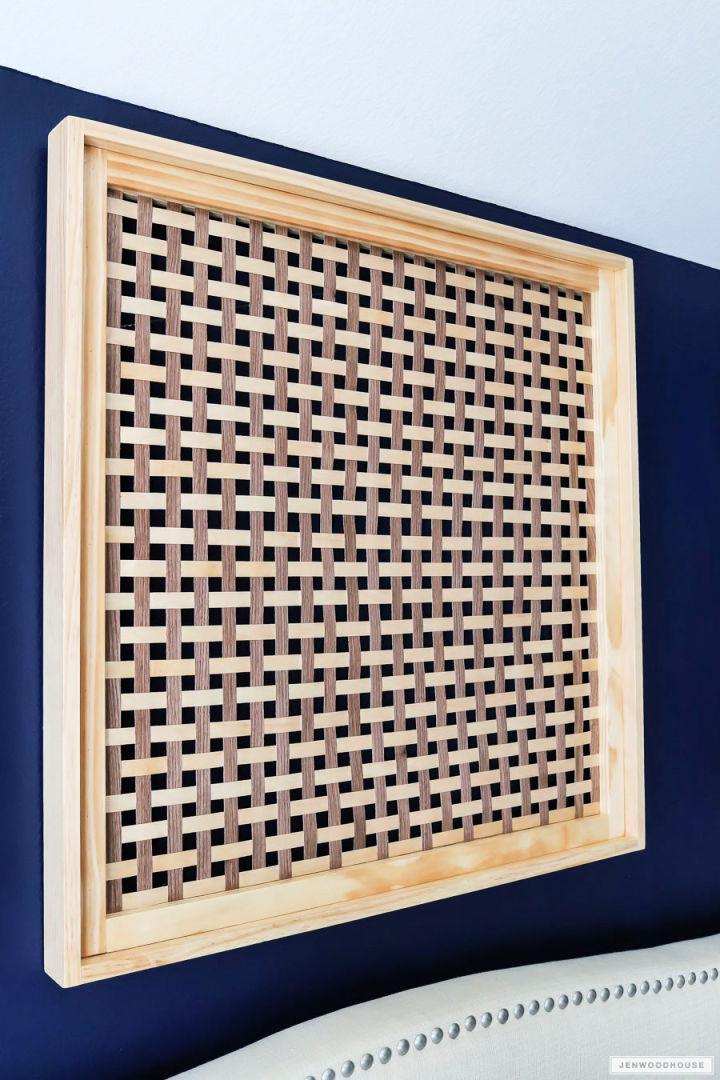 Wooden wall arts are perfect for farmhouse-style décor. Make this art dreamier with weaving patterns and methods. Use soft birchwood for creating weaving patterns on the wood frame. This statement piece of art is ideal and striking wall art for your bedroom. jenwoodhouse
9. How to Make a Moss Wall Art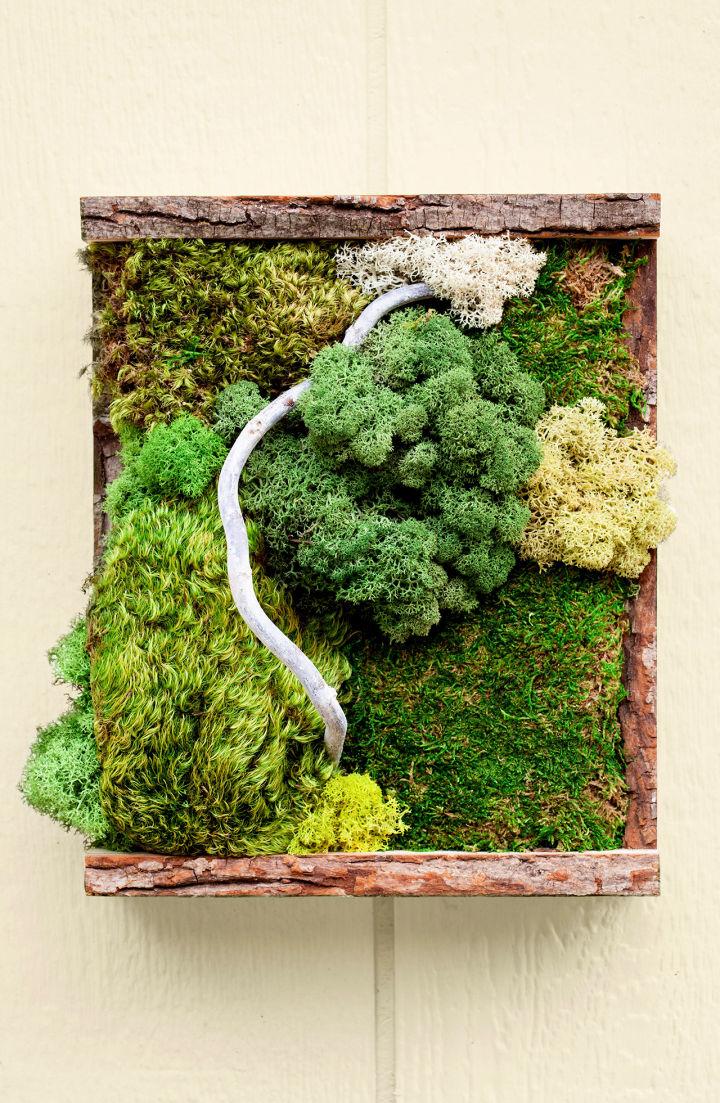 Get a higher exposure to nature even while sitting in your room with this moss DIY wall art. This moss wall art is an outstanding gift for all nature lovers. Instead of buying expensive moss arts from online stores and sites, create one by yourself. Excitingly! This wall art requires minimum maintenance. You can add textures and colors in this wall art according to the interior of your room. bhg
10. Farmhouse Style Bathroom Wall Art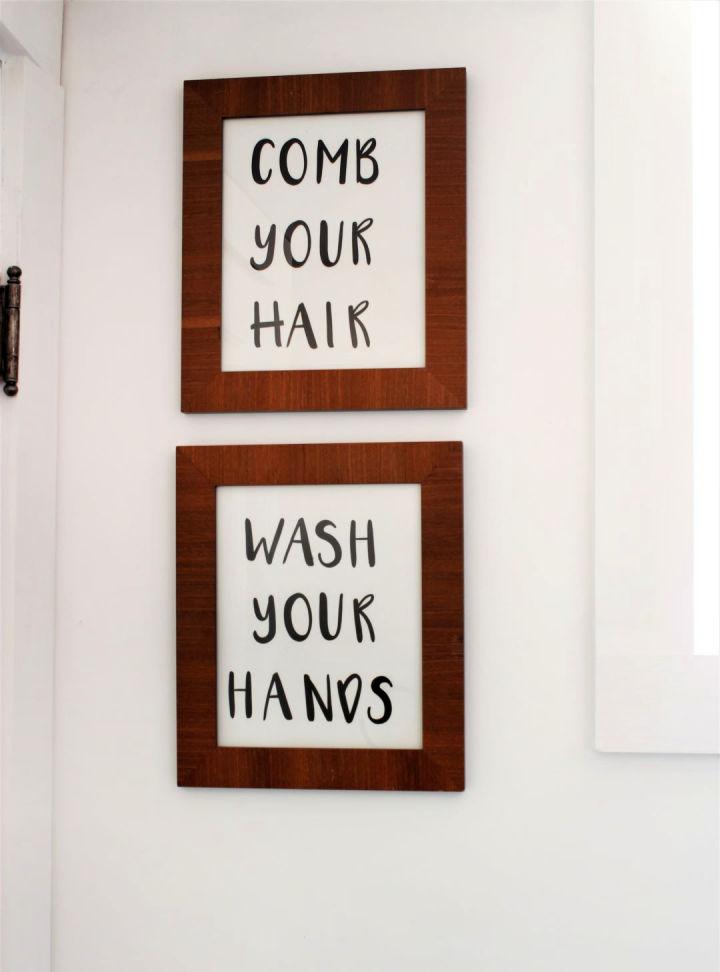 Add more glam and life to dull bathroom walls with farmhouse-style wall arts. Make it yourself using a simple plywood frame and fewer paint sprays. Add more creativity to this wall art by writing down a styling or beauty quote on this frame. You can use stencils or printables for lettering to create this art smoothly. palletandpantry
11. Wood and Mirror Geometric 3D Wall Art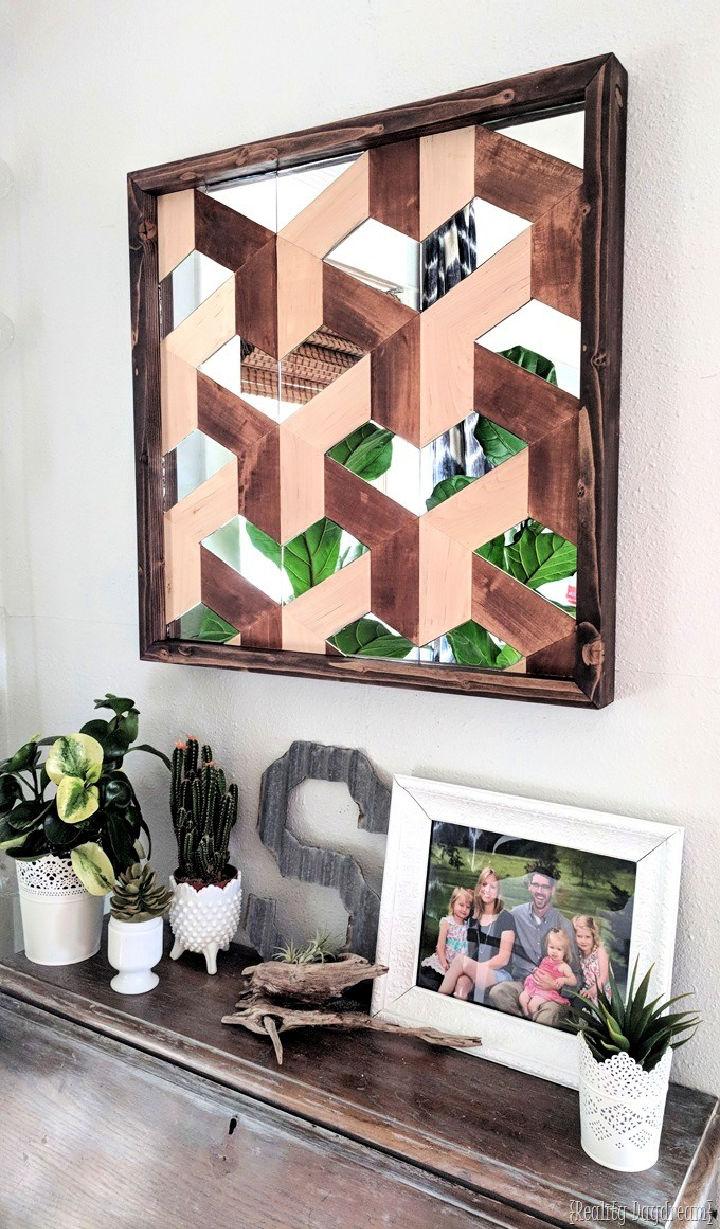 Create mesmerizing and versatile wall art for the living area using geometric patterns and 3D illusions. You can make the frame and geometric patterns of this wall art using birch wood and plywood. Give this art a more realistic and 3D look by fitting small pieces of mirrors in a format. You would love and have fun working on this patterned and 3D illusion wall art. realitydaydream
12. DIY Pallet Wall Art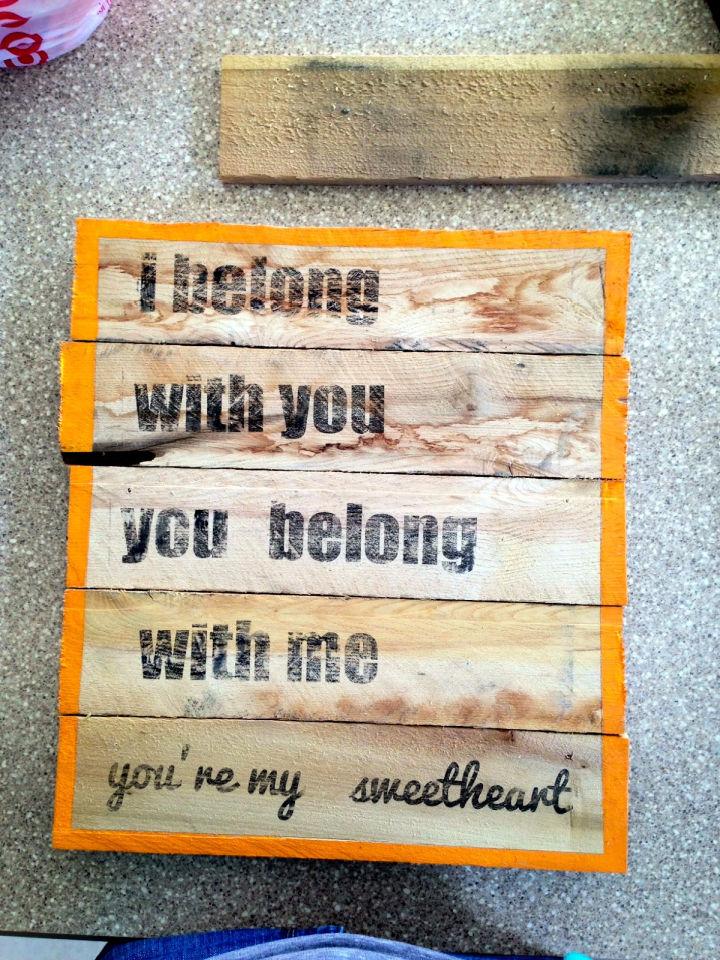 Reuse old wood pallets creatively and productively for the room's makeover. Instead of putting massive effort into creating a wood frame, combine wood blocks to make pallets. Let these pallets remain in the same rustic structure or paint them with a stain. Make this pallet wall art more attractive by writing down a quote or your favorite line using lettering stencils. littlebitfunky
13. Canvas Painting Wall Art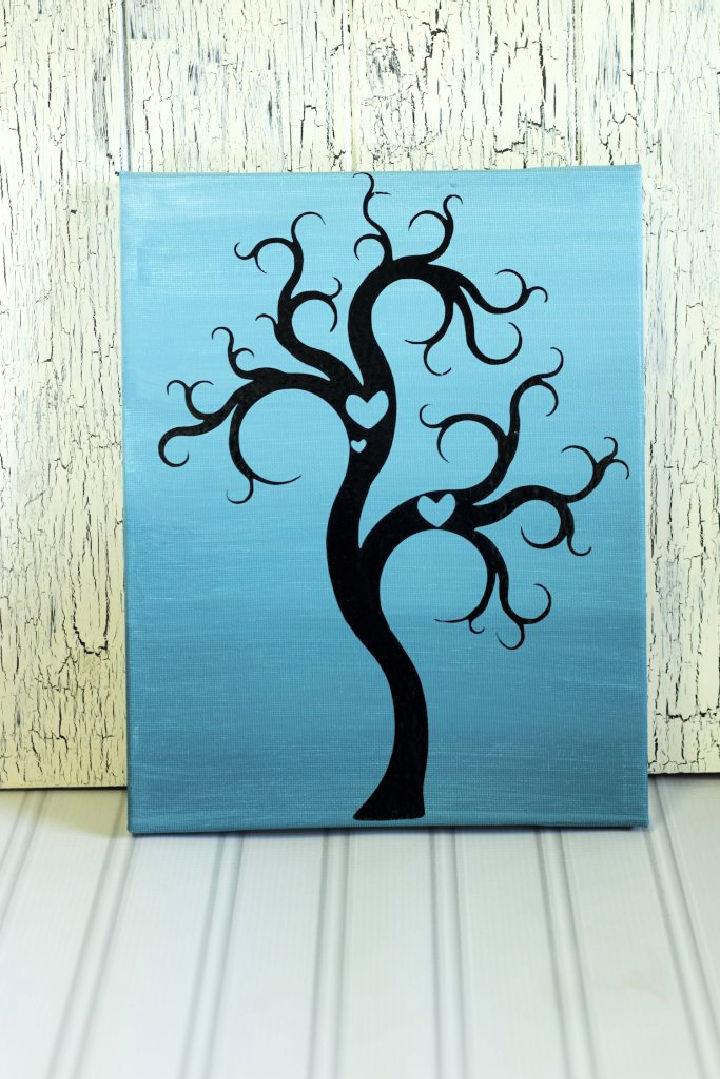 Canvas painting wall art is an easy-to-make and affordable option for all. You can polish your painting skills to make dreamy wall art for your room using a piece of old cotton fabric as a canvas. Make a plant painting on this fabric using paint sprays or brushes. Display this art in your room by hanging it on the wall or placing it on the corner table. lifefamilyjoy
14. Modern Woven Paper Wall Art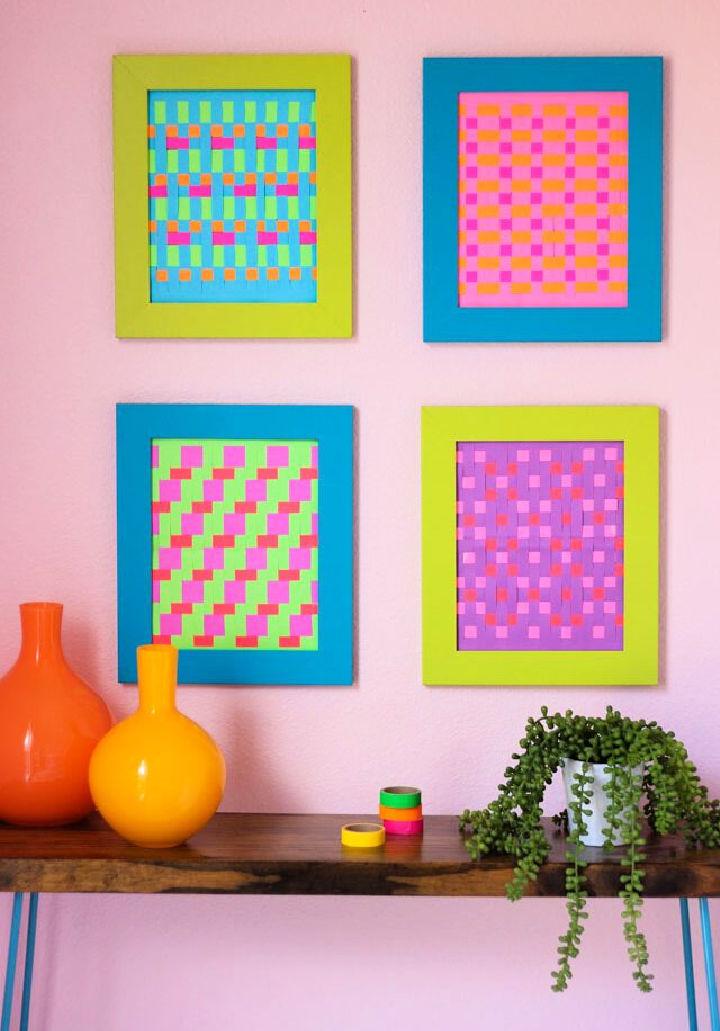 Get glam and Summer effects in your home with this colorful weaving wall art. For sure, you would love to work on these craft patterns if you are practicing weaving. Excitingly! You require minimal and easily available supplies to complete this DIY wall art. Instead of using birch wood, use colorful papers for getting weaving patterns on the frame. You can design this weaving wall art in endless ways and colors. designimprovised
15. Abstract Wooden Wall Art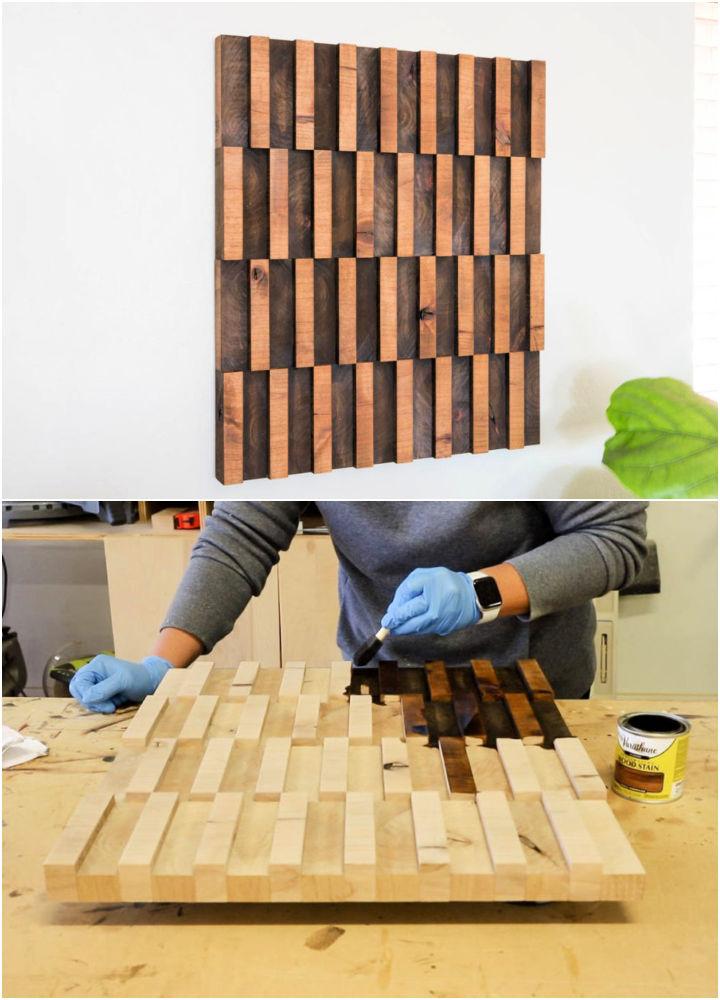 The abstract wooden wall art is an easy-to-make project for beginners. These wall arts look simple but give a classy look to the home's décor. You would love to add up this art on the walls to cover up a large space. Reuse the blocks of shipping wood pallets to make abstract patterns on the frame. Paint them with a stain or brown color. This wall art is a suitable and ideal décor for the Fall season. addicted2diy
16. Tassel Wall Hanging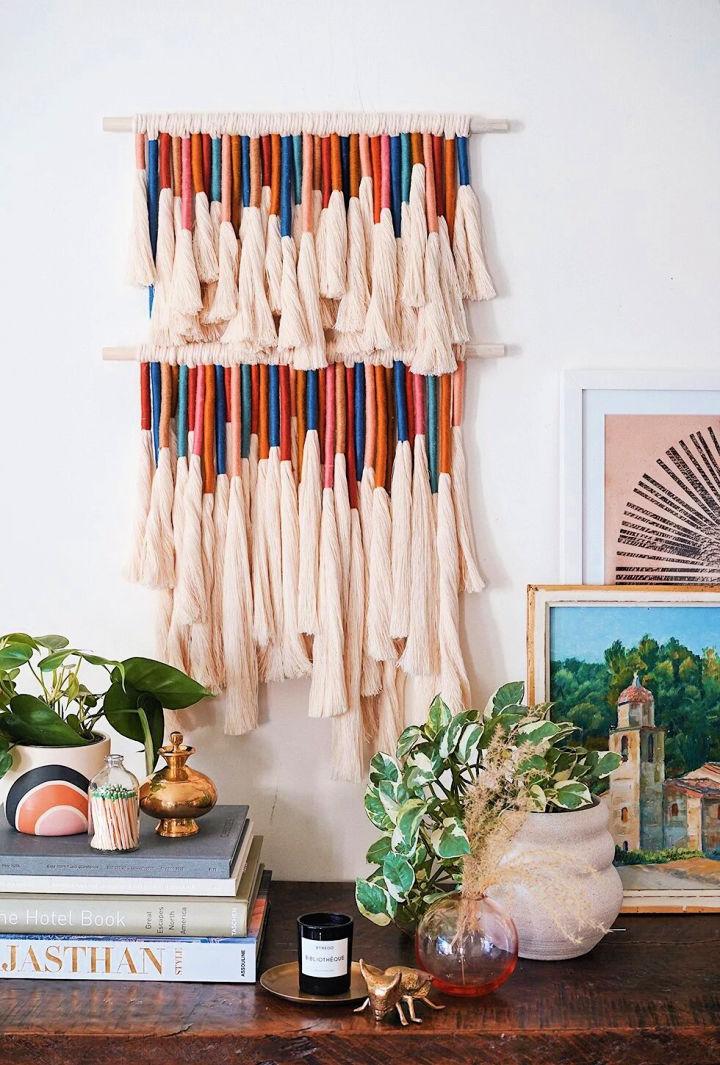 Tassel wall hanging is a macrame craft project. You can use different colors of cords and ropes for the creation of tassels using macrame art. Get a more attractive décor look by hanging this art on the wall in double or multiple layers. You would have fun while making these strands and dangling them for your room wall. honestlywtf
17. Large Photo Canvas Wall Art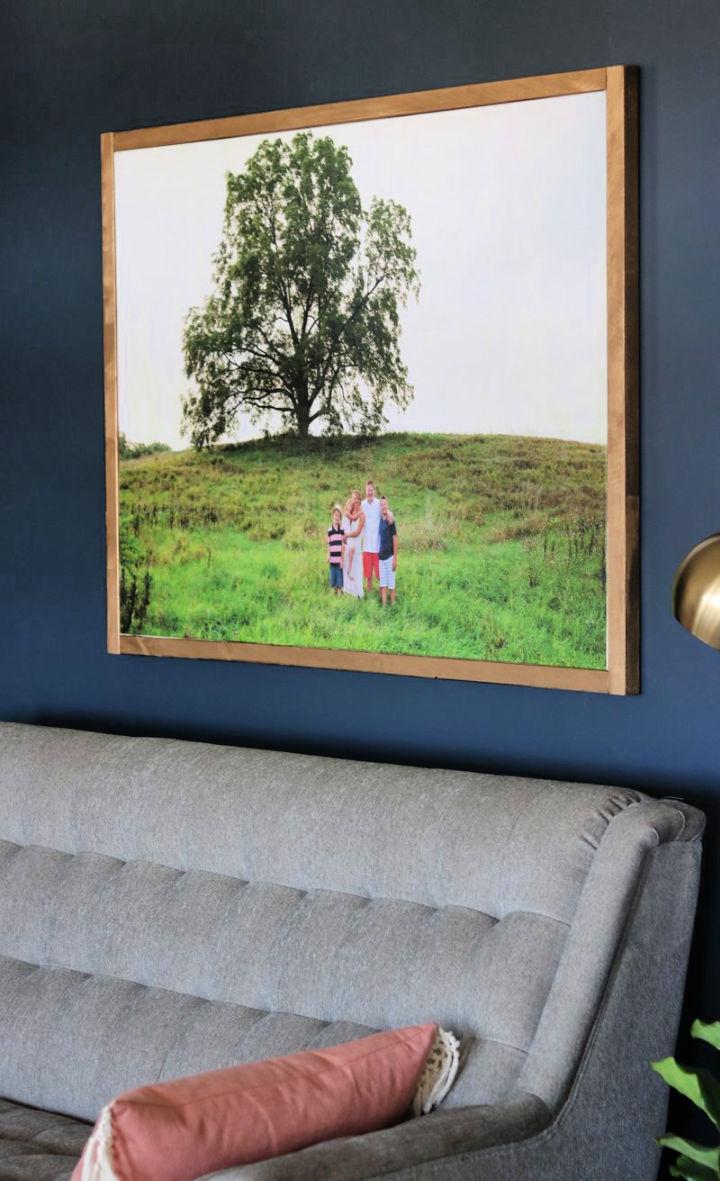 Reuse or repurpose an old photo frame in a large photo wall art. Get a printout of your desired family picture in frame-specified size. All you need to do is simply adjusting this photo on the canvas frame. To give the old frame a new canvas look, paint it with a white paint spray. Wrap the corners of the frame to get a finishing canvas look to this art. sincerelysarad
18. 5 Minute Monochromatic Wall Art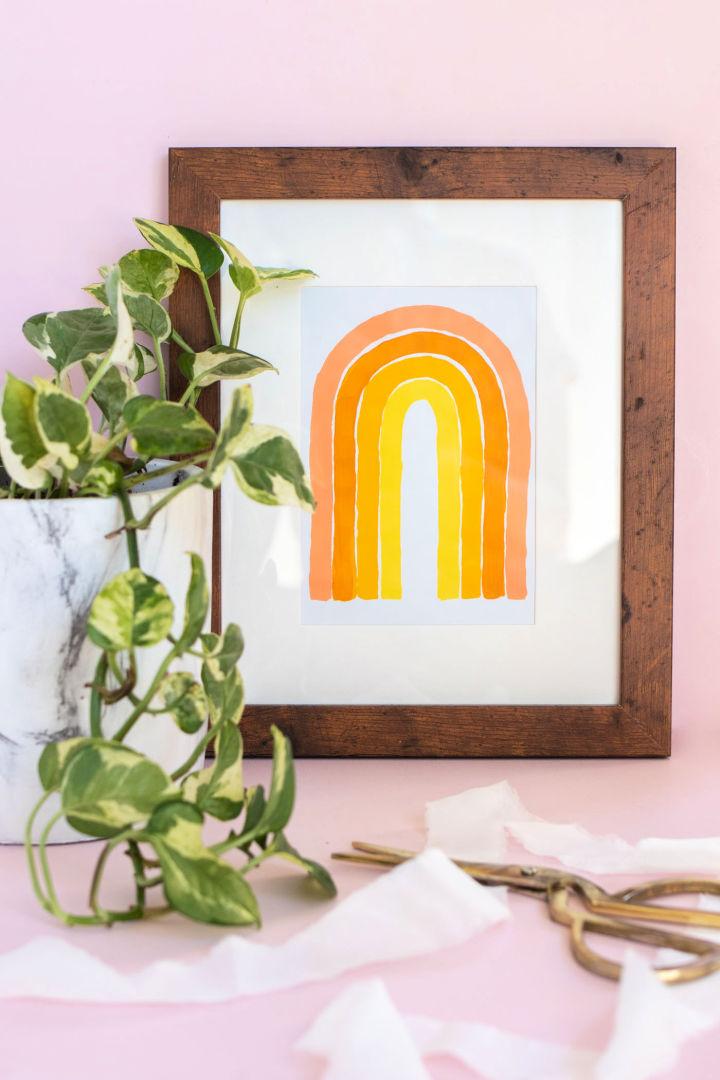 Looking for an easy and quick craft to décor your room on the last moments? Make a monochromatic rainbow wall art with colorful paints. Instead of painting on the canvas, make this rainbow pattern on paper. Reuse an old photo frame to display this monochromatic rainbow art on the wall. clubcrafted
19. Fabric Wall Art DIY

Create a colorful DIY wall art for Spring season celebrations. This craft is really easy to make. You don't need to paint or make anything on the canvas. All you need to do is covering an old canvas frame with a digital printed and full of colored fabric. That's it. Display this fabric art on the wall or table. You are all done by reusing an old frame or a piece of textile material. fourgenerationsone
20. Wall Art Using Inspirational Quotes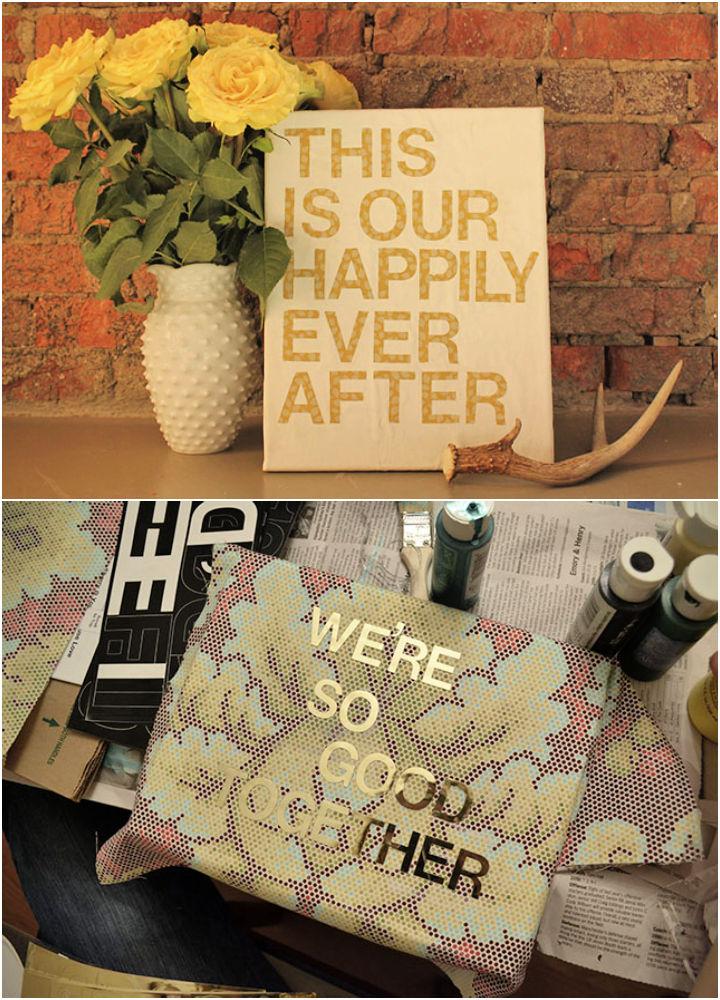 Create an inspirational wall art for your room or gifting your friend. You can make this art smoothly and effortlessly using canvas fabric. Use stencils for lettering quotes on these pieces of art. Paint these frames with your desired colors and patterns before lettering. makeanddocrew
21. DIY Wood and Wire Wall Art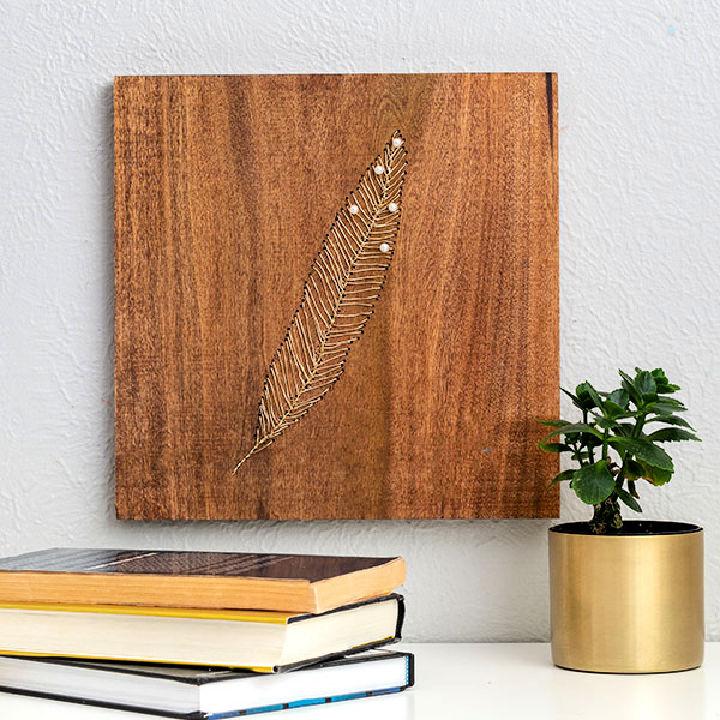 If you are a wood-crafter, you will surely have a lot of wood leftover in your store. Reuse this leftover creatively to make something unique for décor. Use a wood board of your choice to use as a frame for drilling and putting the wire into it. Additionally, you can also use pearls or beads for glamorous wire art. Before drilling on the board, sketch the wire art you want to make on it. So, you can get a clean and smooth finishing. anikasdiylife
22. Button Monogram Wall Art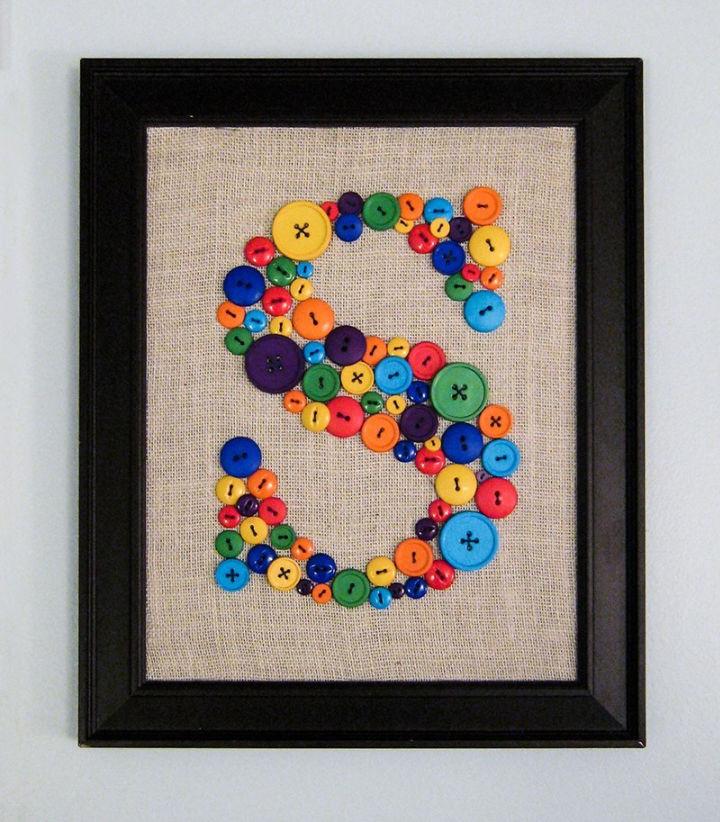 Are you looking for budget-friendly DIY wall art for a kid's room? If yes, this button monogram wall art is a décor treat for you. You can craft it efficiently using colorful buttons or beads from your sewing kit. Use a piece of burlap for creating this monogram DIY art. Print or sketch the letter you want on the burlap with a temporary marker. Now, use colorful thread for needling buttons on this sketched monogram. Luckily! It doesn't require craft expertise to make this wall art. emmersonand
23. Cheap and Easy DIY Wall Art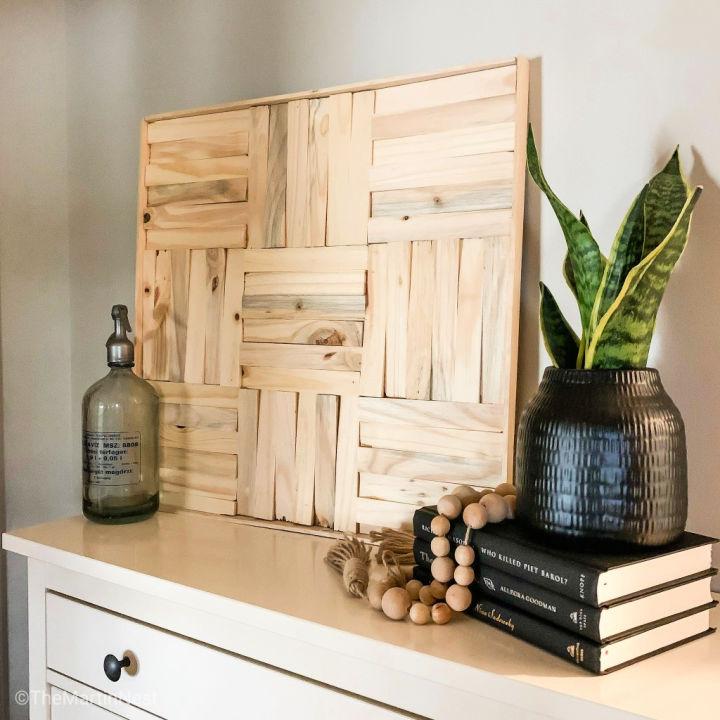 Transform old wood pallets or block to make creative and budget-friendly wall art. You can use the rays of these wood pallets even to make the frame of wall art. Assemble other blocks and pallets within this frame in a weaving pattern to get the attractive and rustic DIY wall art. You can assemble the blocks or wood rays in endless ways in the frame. themartinnest
24. DIY Wall Art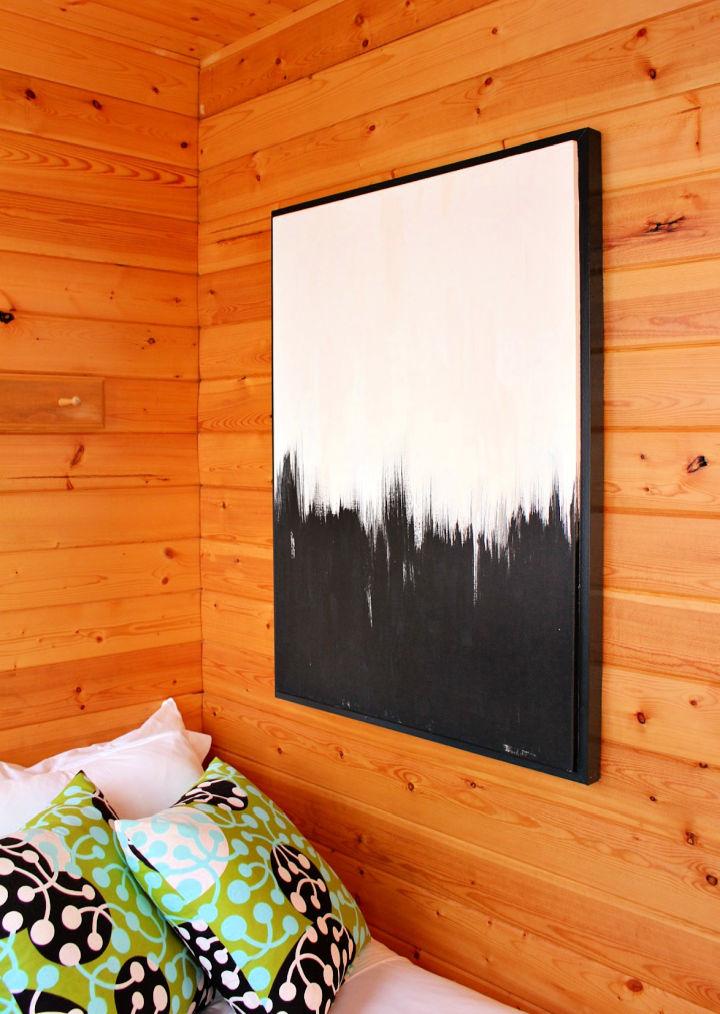 Reuse an old canvas frame to make minimalistic wall art for room décor. Keep this wall art minimal with white and black paint. All you need to do is painting the half portion of this frame with white and the second half portion with black color. You can also use chalky paints on this frame to use it as a storyboard. danslelakehouse
25. Modern Wall Art with Spray Paint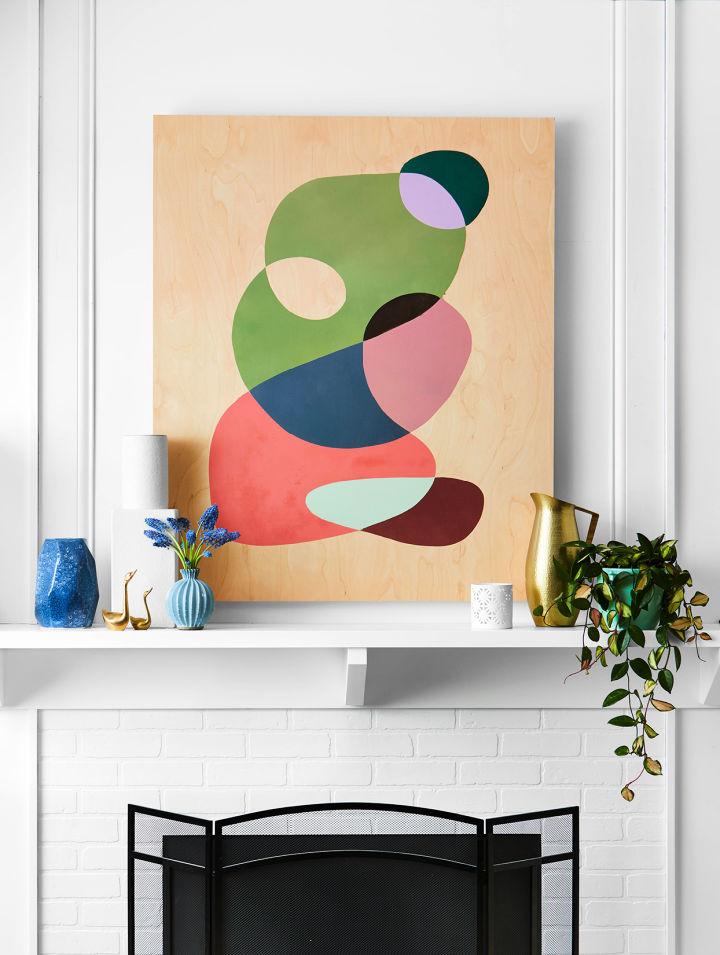 Polish your artistic skills and create a masterpiece for décor by yourself. Instead of spending a higher budget on dull and ready-made painting, create your desired wall art using your favorite colors and patterns. Make this modern DIY abstract wall art with downloaded patterns. Trace or paint downloaded patterns on the plywood frame to get a masterpiece. bhg
26. Wooden Mosaic Wall Art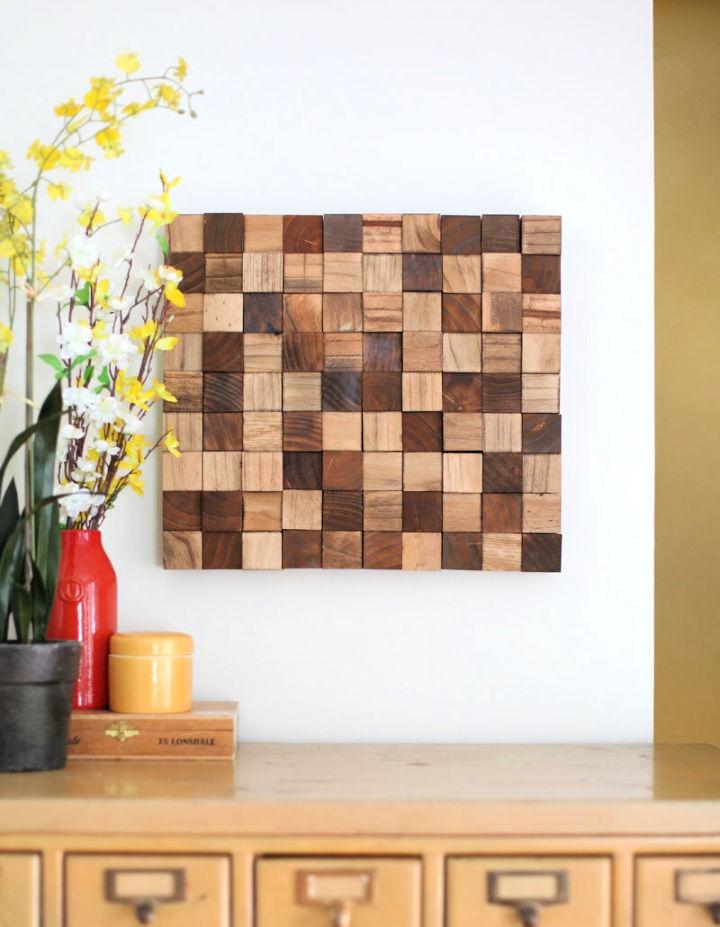 Not a big fan of tools and technical supplies? Make this tool-free yet creative mosaic wall art to showcase your crafting skills. Use wood scrap to cut down into several pieces. To make a frame for this wall art, use plywood board scrap from leftover supplies. You would have fun while assembling these multiple wood blocks on the board to create a mosaic piece of art. abeautifulmess
27. LED Backlit Wall Art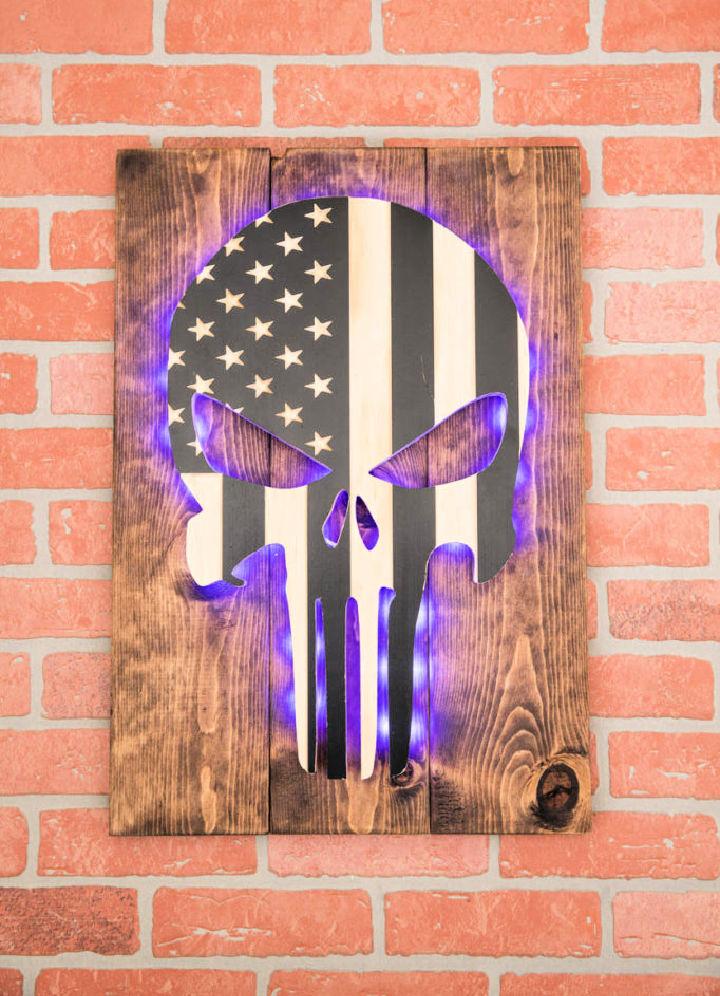 Create inexpensive DIY wall art using LED lights and your favorite sketch on the board. You can make a custom design for showcasing wall art. You can use a simple wood frame for displaying your customized designs and characters. Add lighter and shine in these wall arts using LED backlights. addicted2diy
28. Macrame Wall Art Tutorial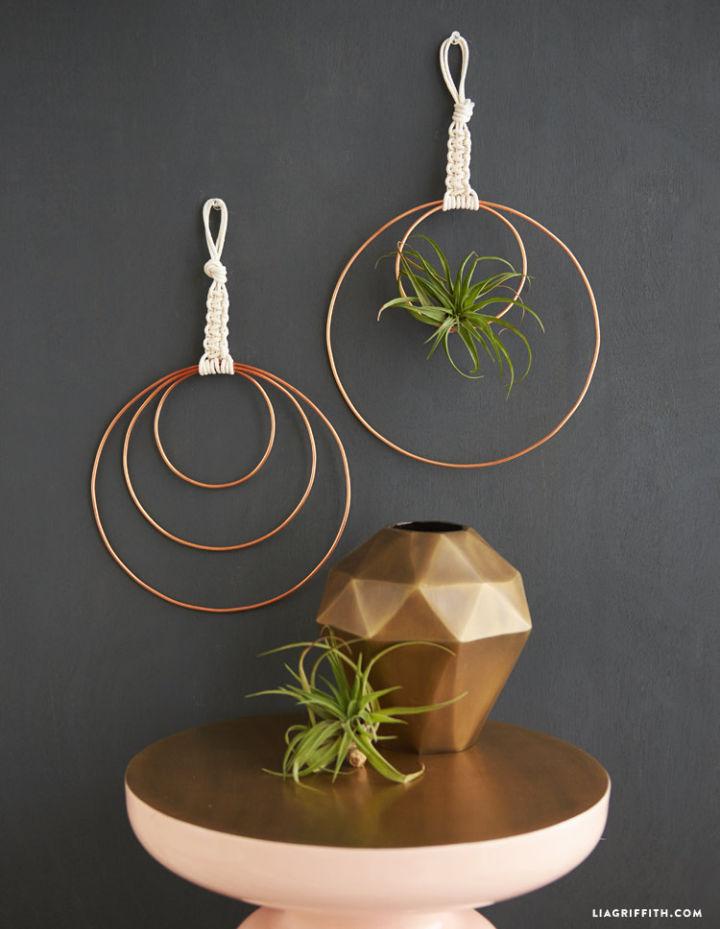 Get a bold and metallic gold décor look with macrame wall art. You can also use this macrame wall art as a plant hanger. Make this macrame craft using parachute cords. Use copper wire to create circles of different radius. Hang these macrame assembled circles on the wall or use them as plant hangers. liagriffith
29. Marbleized Paper Wall Art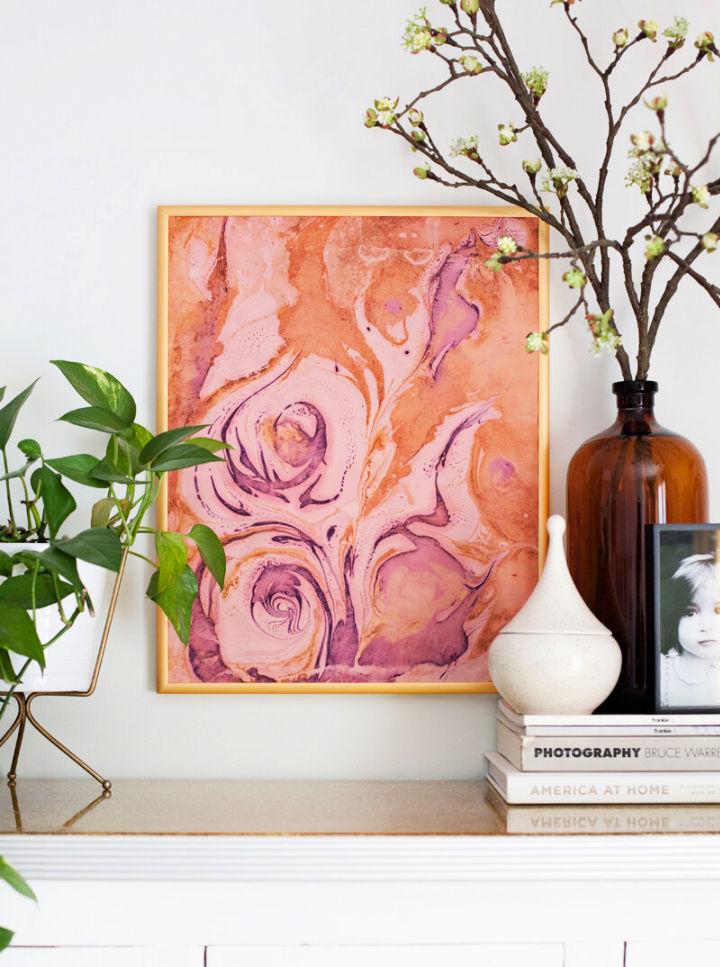 Marble is everyone's favorite material for styling kitchens, bathrooms, and living areas. The main reason for considering this material is attractive patterns. Now these days, crafters are using this material design for crafting different wall arts and miniatures. You can also create a marble design wall art but on paper. Excitingly! You can transform the floating marble pattern's pigmentation on paper from the water smoothly. abeautifulmess
30. Butterfly Mixed Media Art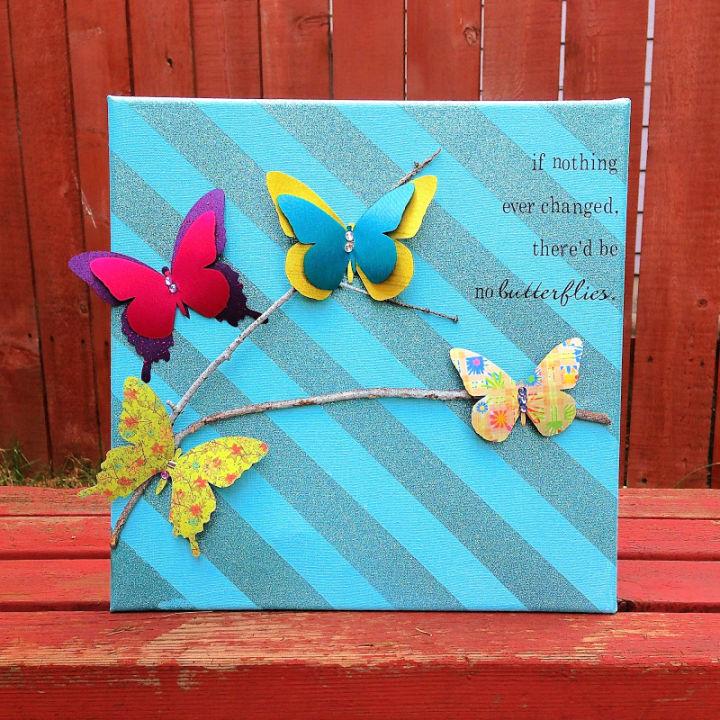 Get a glittery and sparkling wall art for décor with butterfly and mixed media art. Not only the butterflies, but you can also make this mixed media wall art using your desired characters. With practice and a little bit of effort, you can create attractive and enchanting mixed media wall art to get the spotlight. sowderingabout
31. Metal Hexagon Wall Art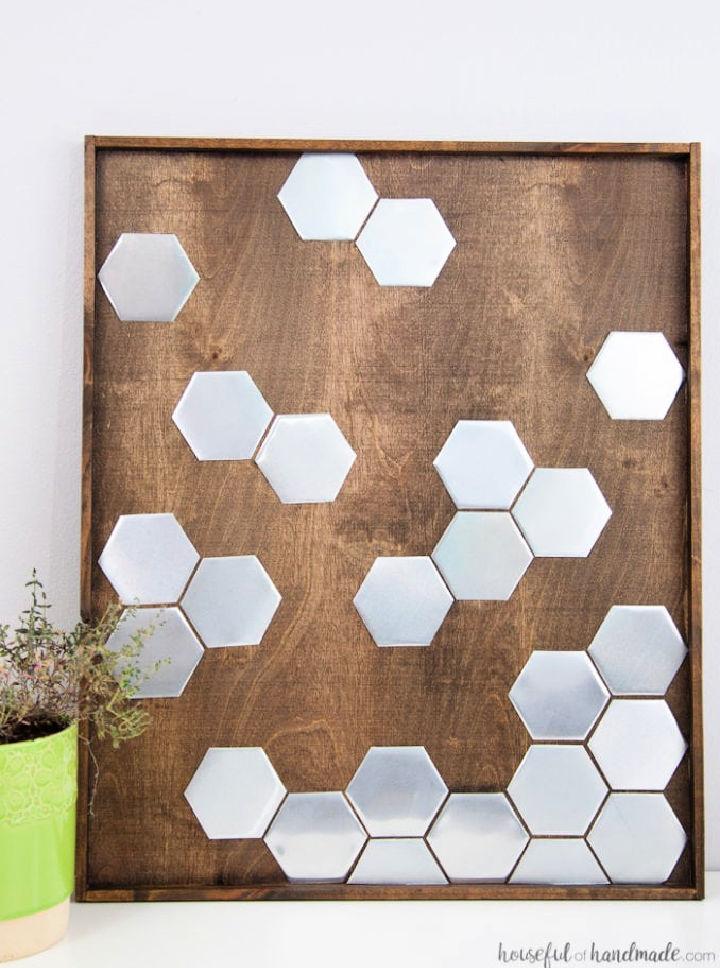 Make an illustrated and patterned wall art using old scrap and leftover supplies of your hardware workshop. While looking for new ideas and thoughts to décor your room, you will never go wrong with minimalistic patterns and graphics. Create a beautiful hexagon wall art using pieces of metal for hexagon cells. You can complete this DIY wall art project within a few hours. So, make it or display it on your wall. housefulofhandmade
32. Colorful Fruits Wall Art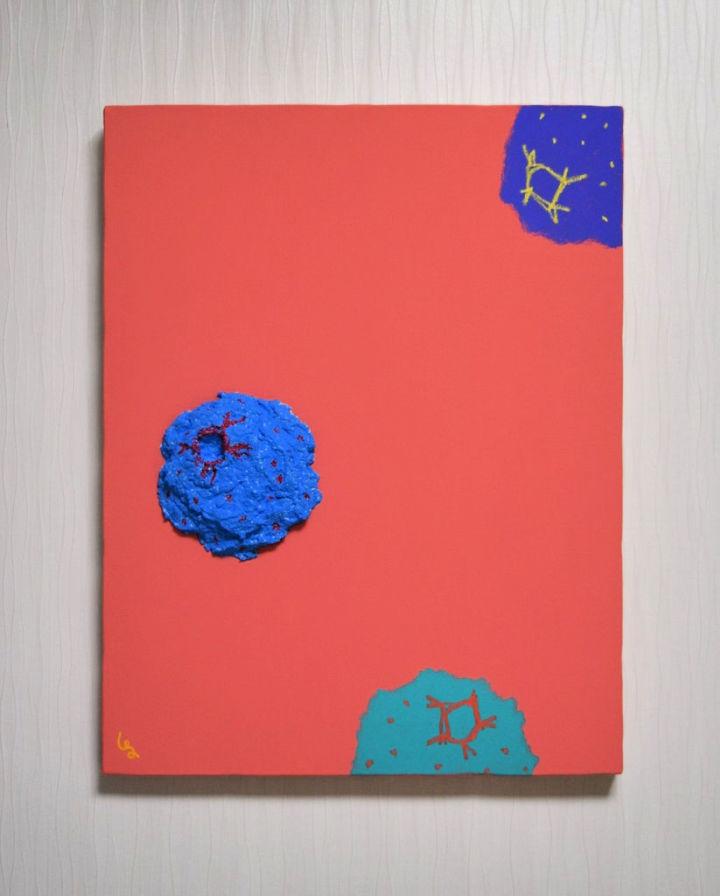 Get an imaginary and colorful wall art using simple craft supplies and your imaginations. Create a magical piece of art by making fruits on the frame and filling them with imaginary colors. Your kids would love to engage themselves in this activity with you. To work on this project efficiently, acrylic colors, clay, and canvas material are all supplies. Let yourself play with imaginary colors of fruits while working on this piece of wall art. instructables
33. Tropical Pineapple Wall Art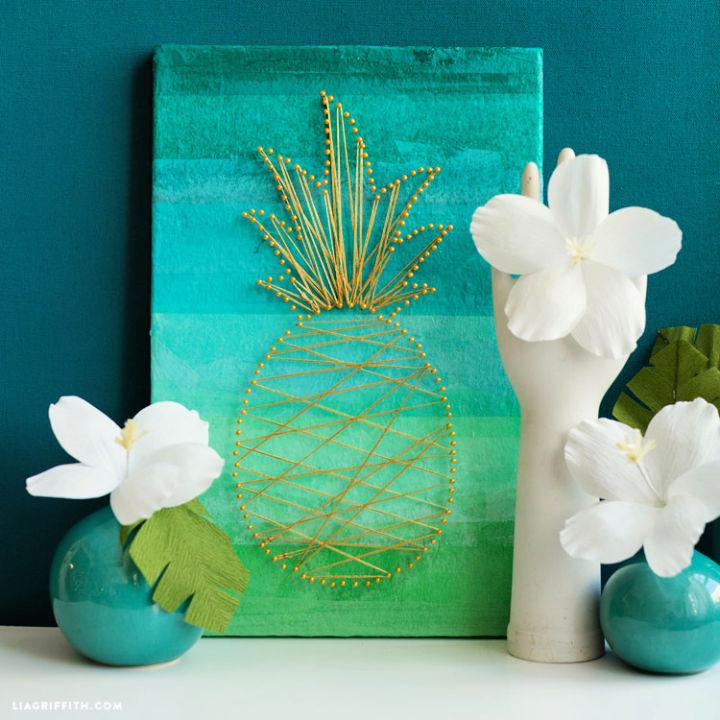 Use your crafting skills to make this prettiest and cutest tropical wall art. Use foam tissue instead of canvas fabric to make this art. You can make this art efficiently and having fun. Use sewing pins, thread, and colorful beads to make this tropical art. Instead of attaching the tissue foam with pins on the board, use a mod podge glue. Outline the tropical on the board before filling it with embroidery. liagriffith
34. DIY Wood Wall Art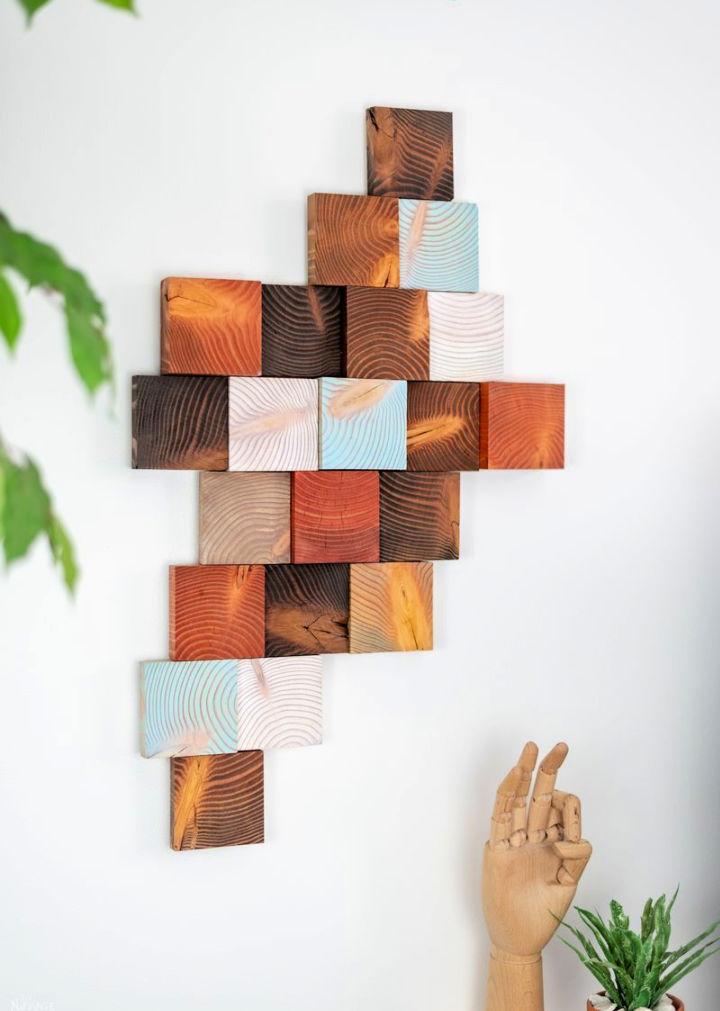 To make this trending and unique style of wall art, you don't need to bound your design in a frame. You can make it freely in whatever pattern you would like on the wall. Outline the strategy on the wall with a temporary marker. Attach the wood boxes of different colors and patterns to the outlined area. With no time and effort, you will have a great piece of art on your wall. thenavagepatch
35. Living Wall Art from Artificial Plants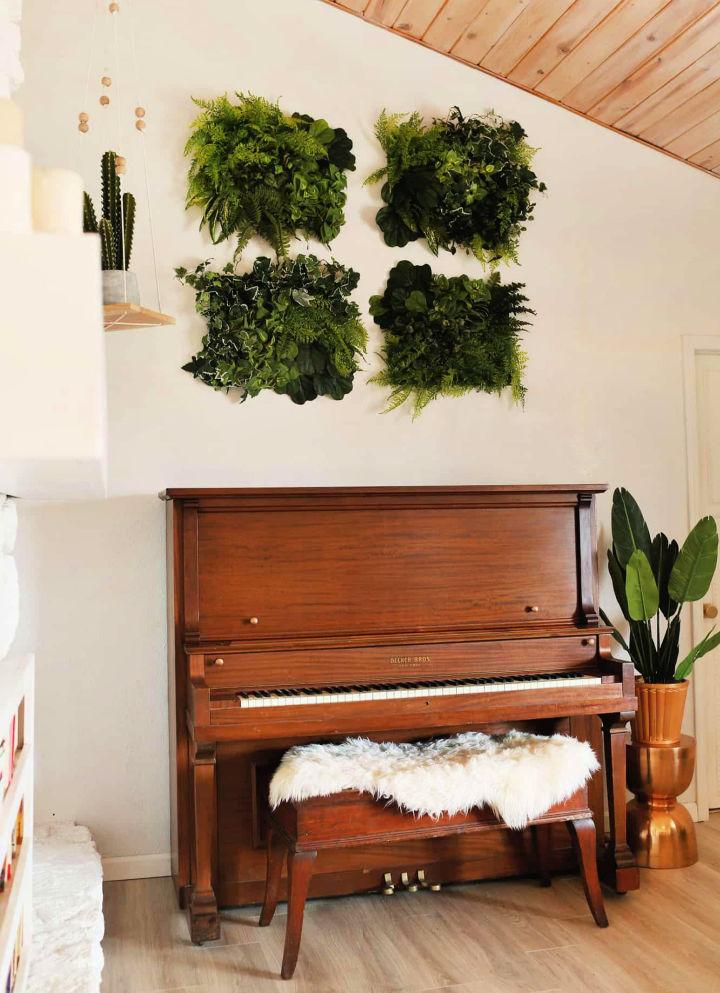 Attractively decorate your walls with plants and herbs by reusing your old frame as a stand. This wall art project will add more greenery to your indoor decor. You can make this art using fake herbs instead of real plants. In the case of bogus greenery, it wouldn't require higher maintenance. All you need to do is embellishing the old frames or canvas boards with herbs and plants. abeautifulmess
36. Arrow Wall Decor for Home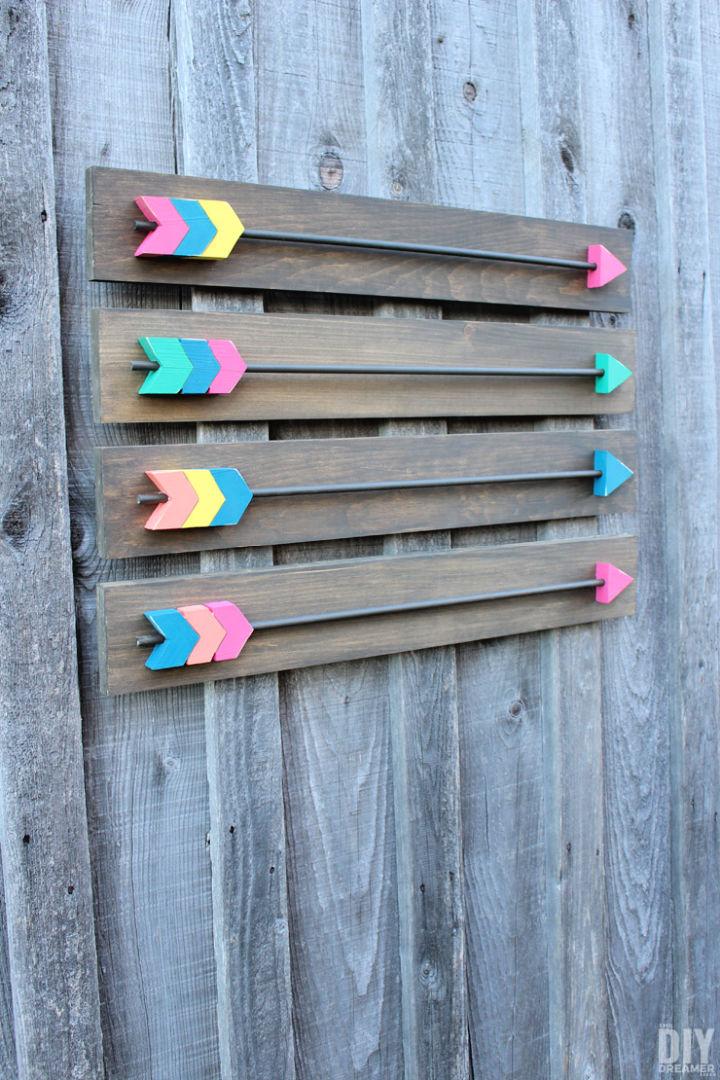 Decorate walls and room with bold and bright colors in combination to get a trendy look. This arrow wall décor with multiple colors is a perfect piece of art. You can make it yourself for your room with useless wood scrapes and dowels. For a smooth finishing, create an arrow template on the paper before putting dowels on the plaques. thediydreamer
37. Die Cut Wall Art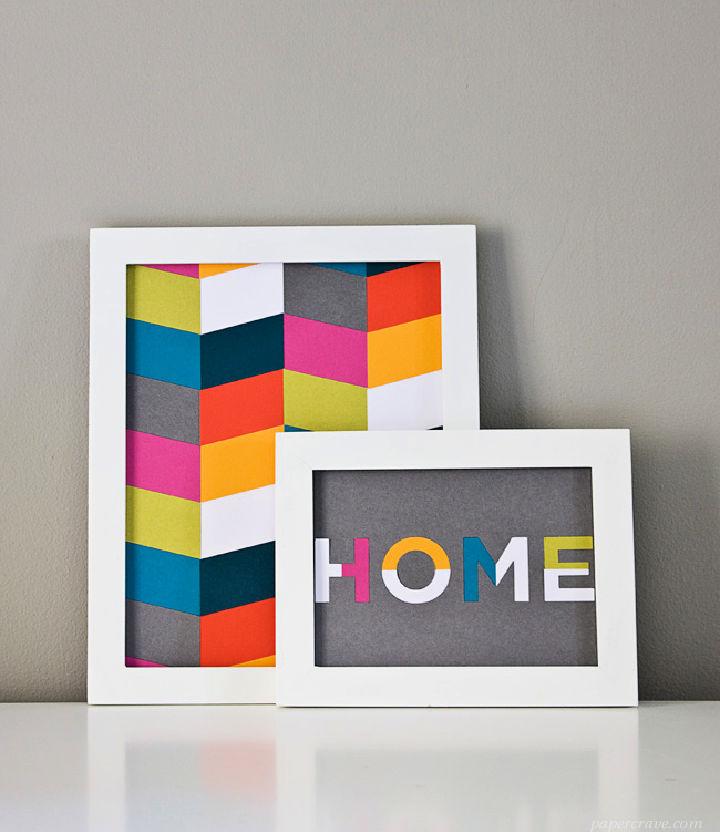 While learning paper crafting, practice your learned lesson to create a beautiful piece of die-cut wall art. It's easier and full of fun to work on this DIY project for the paper crafters. You can customize the color of this wall art with your favorite color's dye on the papers. These colorful patterns in a frame will give a versatile look to your room. Make this wall art more appropriate by downloading design templates before working on it. papercrave
38. Ombre Paper Chain Wall Art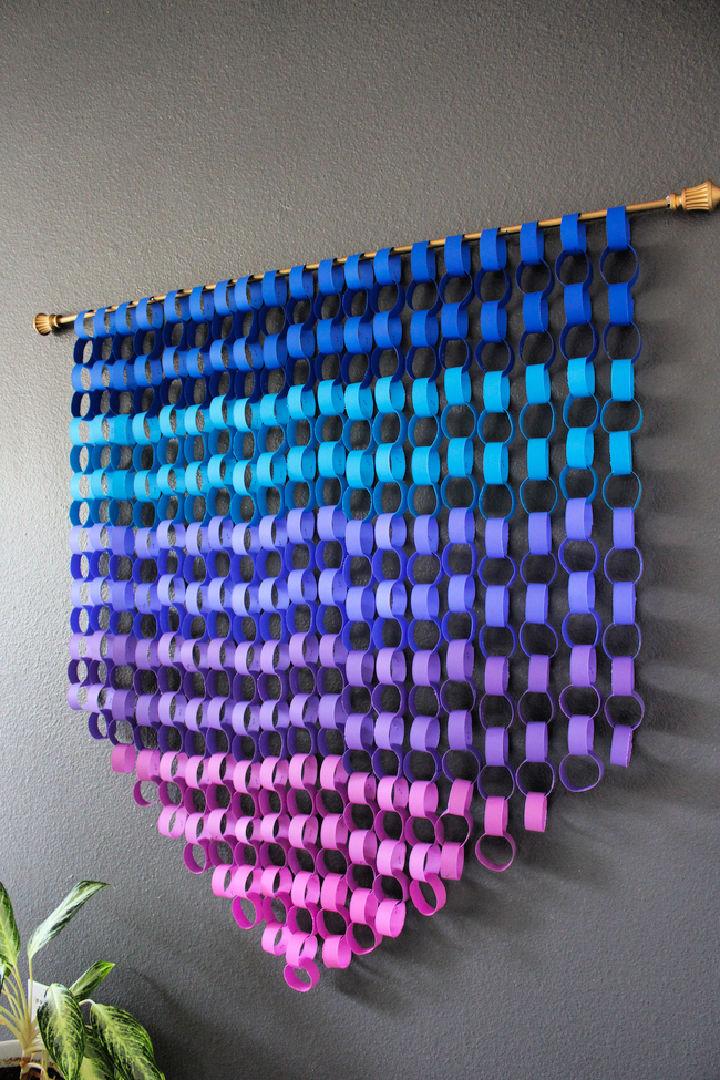 Ombre paper wall art is an inexpensive way to decorate your walls but with more style. This budget-friendly wall art will create an impact on the overall decoration of your room. Luckily! No excessive supplies and tools are required to complete this DIY wall art project. The colorful paper is the only supply for this craft. All you need to do is weaving the paper in chain format. Hang this beautiful and colorful art on the wall and to get a dramatic look. astrobrights
39. Gold Foiled Wall Art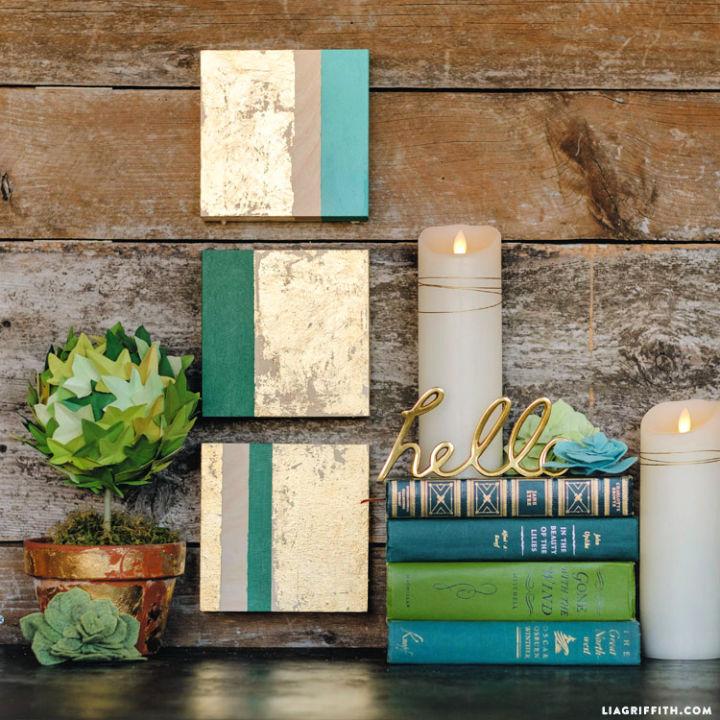 No professional crafting skills are required to complete this foiled gold wall art. The crafter of any level and age group can work on this project proficiently with minimum supplies. Moreover, this wall art offers endless opportunities for templating and designing. Use this blocked and golden foiled wall art to decorate your studios and rooms. liagriffith
40. DIY Scrap Wood Wall Art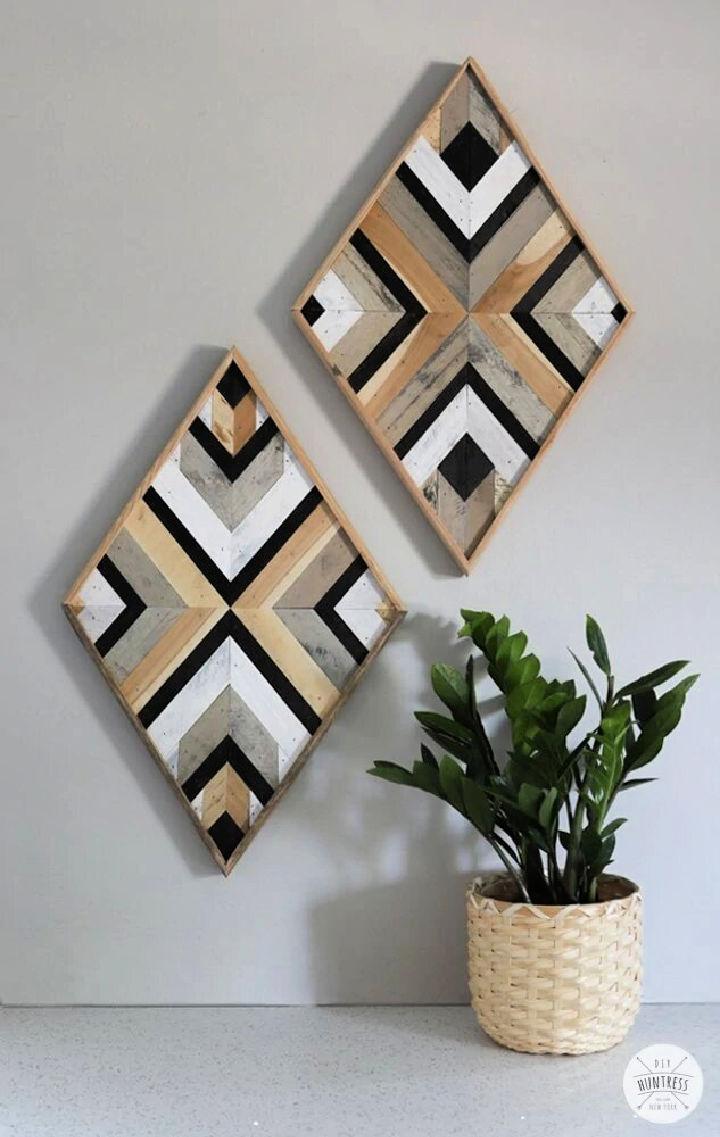 Use wood scrap and leftover creatively to get a beautiful piece of wall art. Repurpose old wood pallets to make a frame for this wooden wall art. All you need to do is cutting the woodblocks in the desired shape or pattern to make a geometric pattern piece of art. Once you have done cutting and assembling pallets in desired shapes, paint the end product with different colors. diyhuntress