Crochet is something that is astonishingly never out of fashion. Regardless of the time, things made of crochet with different patterns are multi-purpose and outstanding.
Here we would like to share with you some of the outstanding and exceptional use of crochet skills and these are the DIY crochet pillow ideas that will give your house a strangely beautiful and traditional look. We will suggest you play with different vibrant colors while doing this project as the latest home fashion is all about fancy colors. Moving further you will get crazy 20 Gorgeous Crochet Pillow Ideas done with crochet.
The first is the regular square pattern and motifs cushion cover for your living area. Next to this is the heart-shaped crochet cushions. If you are a heart shape fan you can also do one heart cushion where you can draw a heart and the base with two different colors as you can see in the picture. also, see this patchwork dog pillow and try impressing your friends with your outstanding crochet skills with these simple ideas. And look at this one of a kind Amsterdam pattern pillow so enjoy your Amsterdam trip through this exciting DIY creativity. Why not prepare some round-shaped crochet pillows for the front yard sofas.
This one is a star pattern crochet pillow which is perfect for the kid's room. This is a funny crochet owl pillow which is incredibly creative and colorful. These adorable cactus pattern pillows can surely melt your hearts at once. This is a chunky crochet pillow idea. If you concentrate a little bit on the pattern learning you can also make a panda pattern cushion and some other lovely animal theme cushions easily so let's put in some effort this vacations for spreading some creativity in the air.
One of our favorites is the crochet flower pillow which is so romantic and appealing that you will definitely want to keep this in your bedroom space.
Why not make many of these little cute monsters to keep in the lounge where everybody in the family can feel cozy and enjoy the comfort.
Sunshine Motif & Cushion: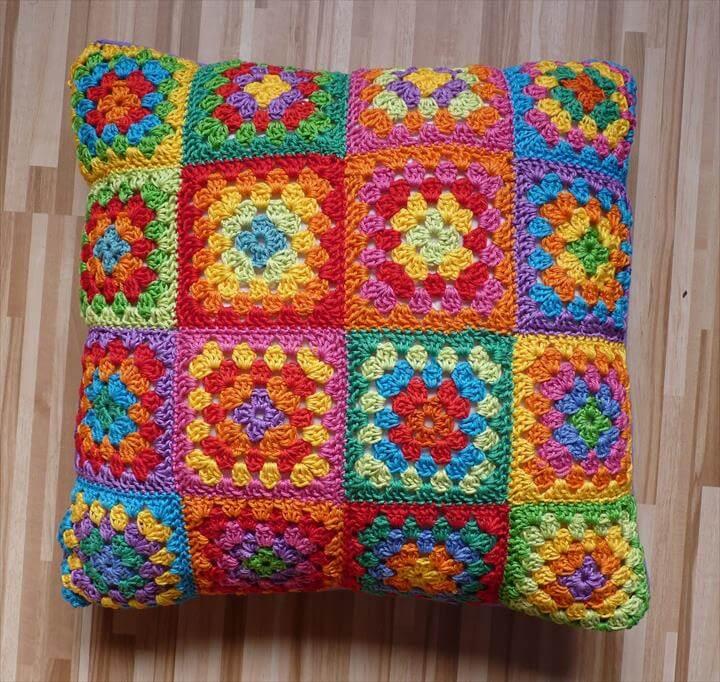 Here is this gorgeous sunshine motif cushion to be a part of your summer home décor. The gorgeous and colorful sunshine motif cushion is easy to make with the help of granny squares. So grab some bright and colorful summer yarn hues to make this perfectly beautiful cushion. You would need 50 granny squares to make this lovely sunshine motif and cushion.
Image: lavenderwildrose.blogspot
Heart-Shaped Hexagon Crochet Pillow: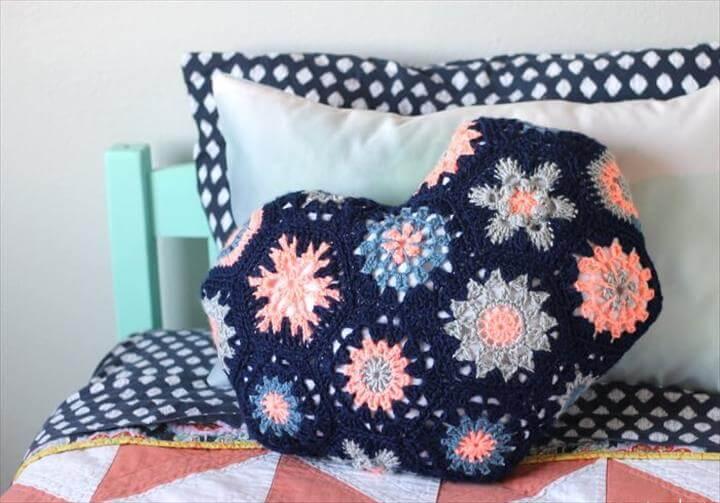 Here is this lovely crochet heart shaped hexagon pillow to be a part of your summer couch. This pretty and cute heart-shaped crochet pillow is the best thing to make using the crochet hexagons motif. You can use your favorite yarn hues to make this pretty crochet pillow. The blue and peach hues have really come out to be beautiful with this crochet pillow.
Image: persialou
One Heart Pillow: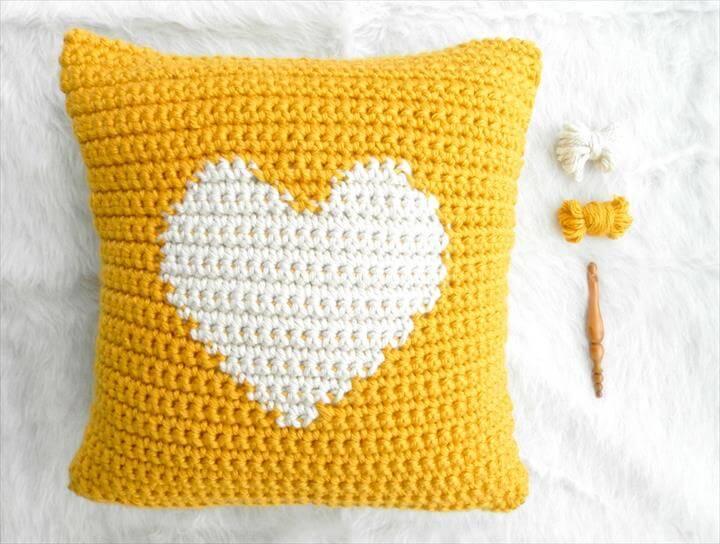 Here is this gorgeous crochet yellow pillow with a gorgeous white heart in the center to be the perfect catchy piece on your living sofa. So you need soft yarn in the yellow and the white shade to work up this pretty heart pillow using simple crochet knots and chains. You can use your favorite yarn hues to customize this pretty heart pillow.
Image: youtube
Patchwork Dog Pillow: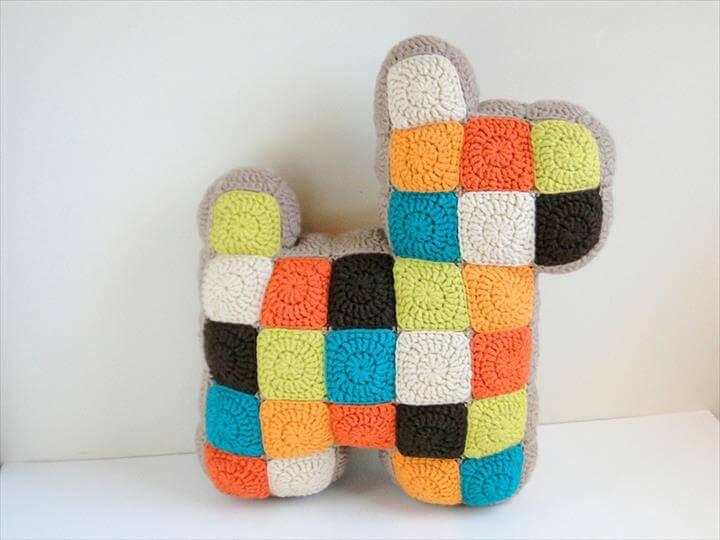 Give your kids a perfect summer toy with this pretty patchwork dog pillow. Using colorful crochet yarn you can make the pretty crochet squares around 30. Then stitch up these patchwork motifs to create the pretty dog shape. This is the best way to work up your crochet left out yarn too. Check out the details here!
Image: bloglovin
Crochet Pillow Pattern Amsterdam: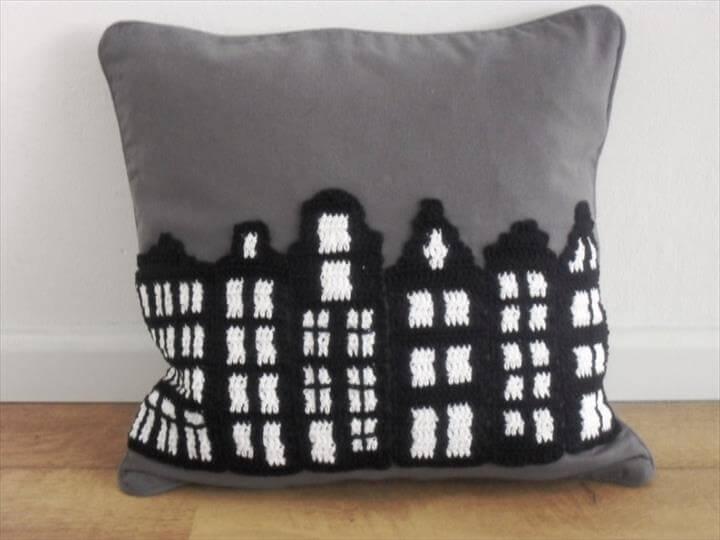 This is probably the most unique and the quirkiest pillow to make and adorn in your modern home décor. The white has a really chic appliqué and that is the Amsterdam city painting in black and white. You can easily crochet up the Amsterdam appliqué in black and white and then stitch it up on your white cushion.
Image: etsystudio
House Or Dorm-Warming Crochet Pillow: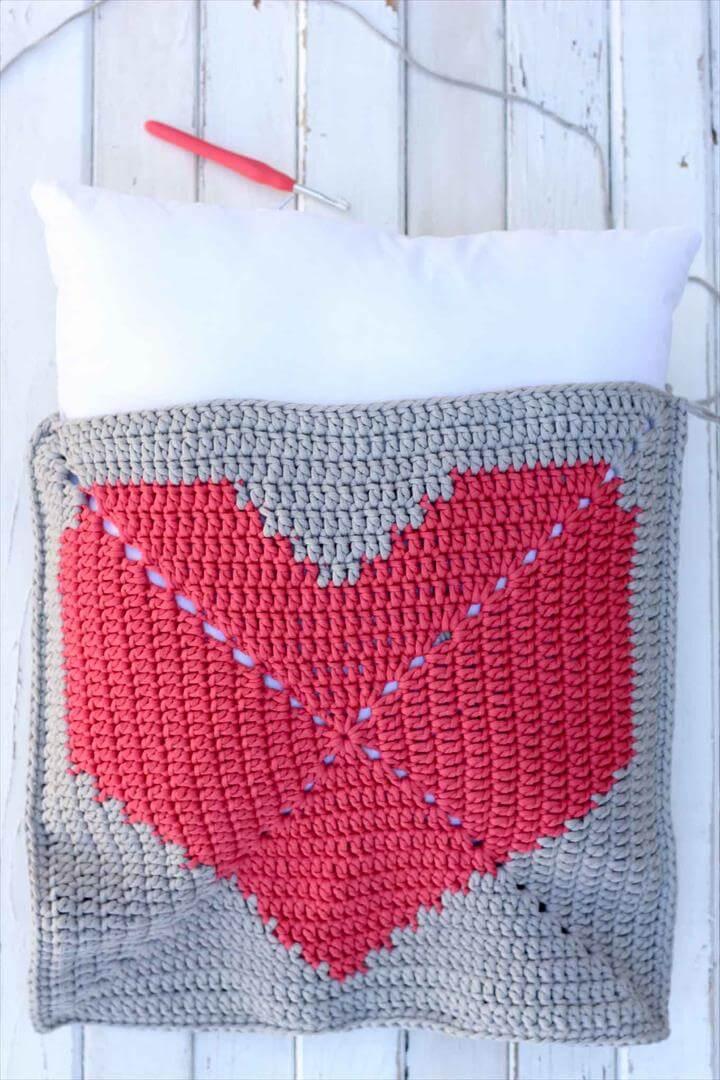 If you are looking for a gift idea for the college students of the family then this pretty house or dorm warming crochet heart pillow is the best thing. The gorgeous grey crochet pillow with a red heart in the center is the best way to send some love to the dear and near ones in the family and friends. Details are given here!
Image: makeanddocrew
Round Pillow Pattern: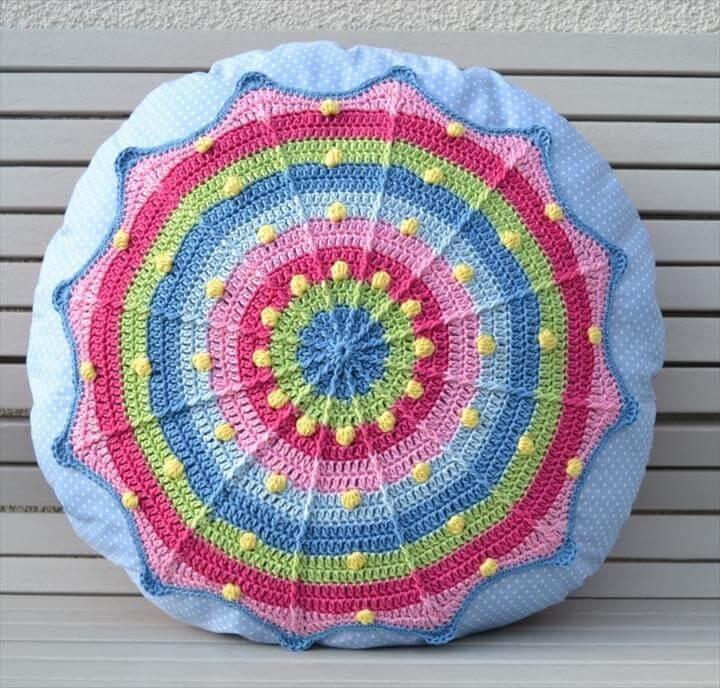 Here is this gorgeous crochet round pillow to be a part of your summer relaxing in the indoors and the outdoors. Just make that pretty and bold round-shaped crochet appliqué and stitch it up over your big round pillows for a fun and fantastic look. The appliqué has wavy edges, beautiful rainbow hues, and the pop up of the bobbles to look so catchy and cool.
Image: ravelry
Patchwork Crochet Star Pillow: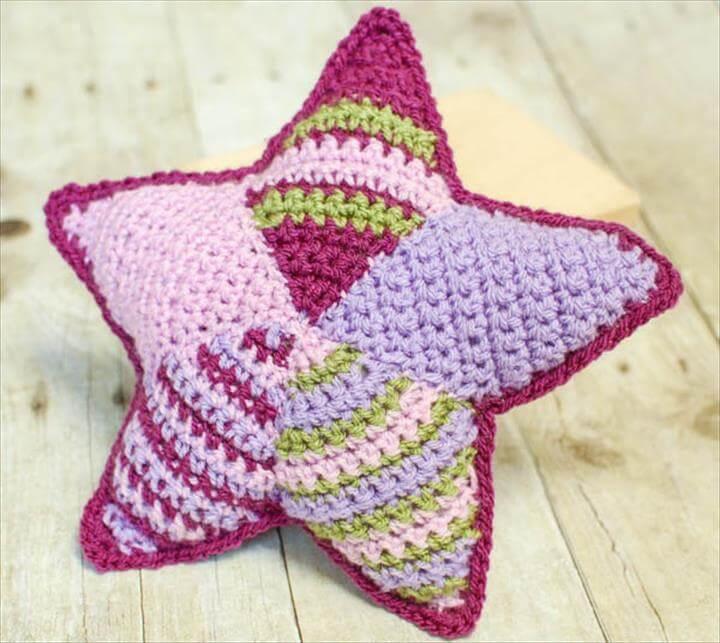 It's time to make something interesting for your kid's room and making this lovely patchwork crochet star pillow is the best thing. Grab the favorite yarn hues in contrasting or the matching hues to make this lovely pillow in patches. Also, the pillow has fabric filling which really makes it a kid's favorite. Follow the details here!
Image: petalstopicots
Funny Crochet Owl Pillow: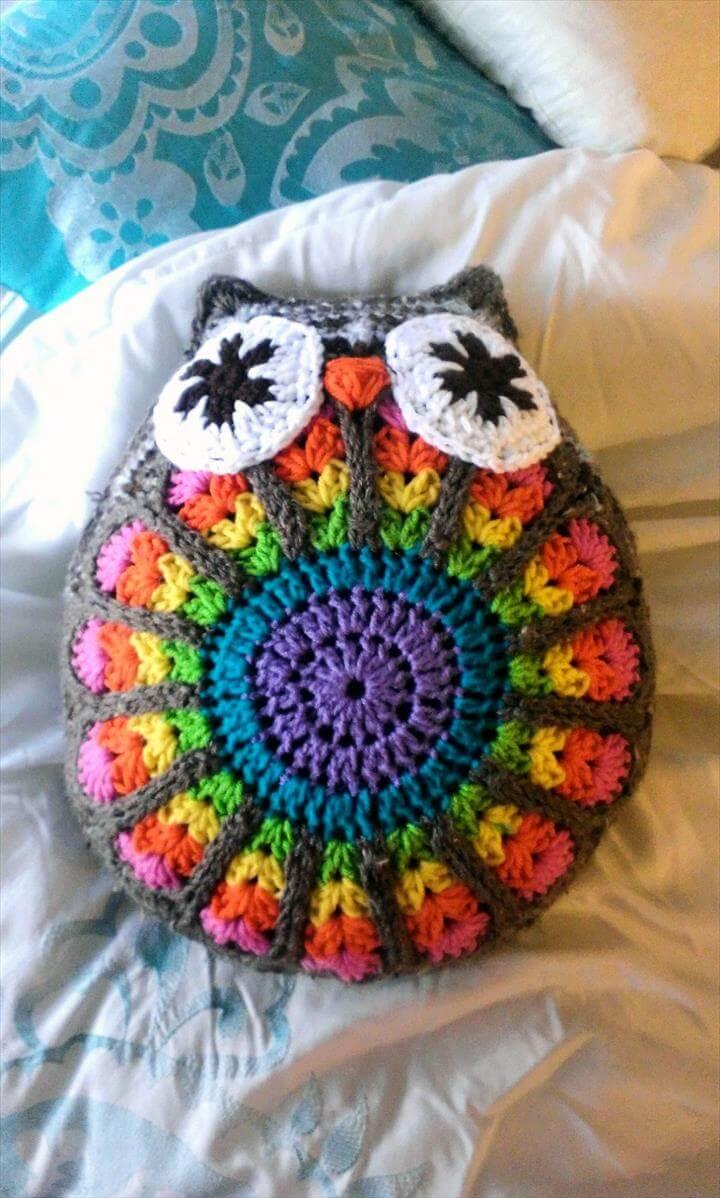 This funny crochet owl pillow is one of the best pillows for being so chic, cool, and colorful. So get your hands on the base yarn in chocolate brown and grab on some exciting summer yarn hues to shape up this lovely crochet pillow with patchwork eyes and the ears. The kids are going to fall in love with this adorable owl pillow for sure.
Image:repeatcrafterme, habitualhomebody
Crochet Cactus Pattern Pillow: Free Tutorial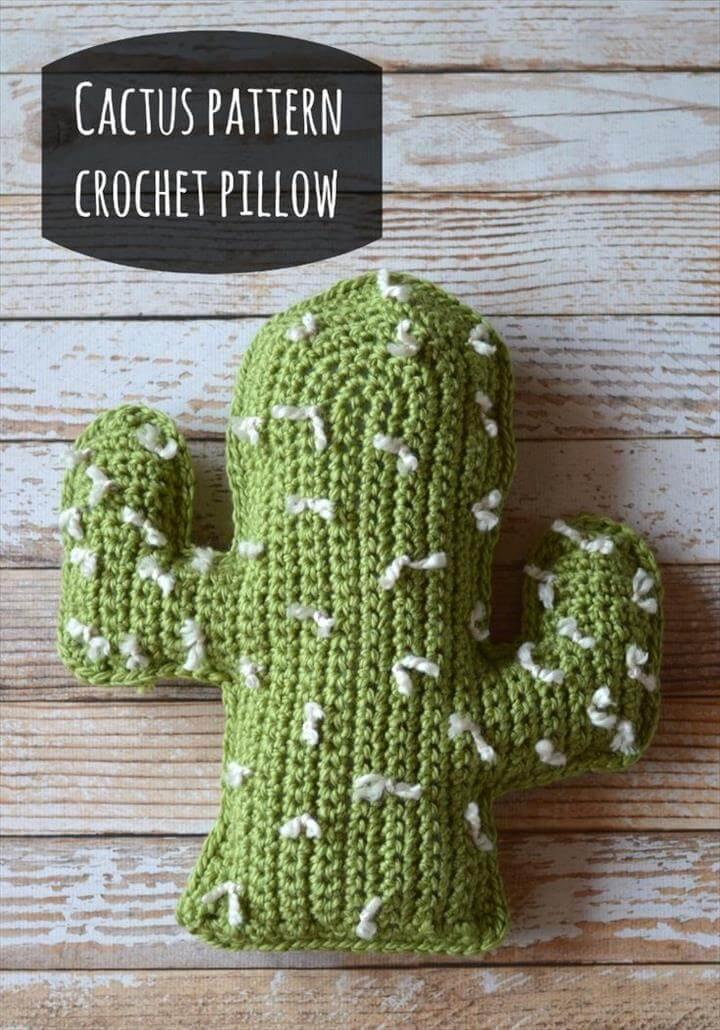 Bring a revolution to the crochet pillow world with some amazing and unique pillow ideas just like this crochet cactus pillow pattern. This gorgeous cactus green pillow is not going to give your head comfort but also going to look super interesting and cool while resting on your sofa or the bed. Kids are going to love this quirky cactus pillow.
Image: blog.darice
Easy Chunky Crochet Heart Pillow: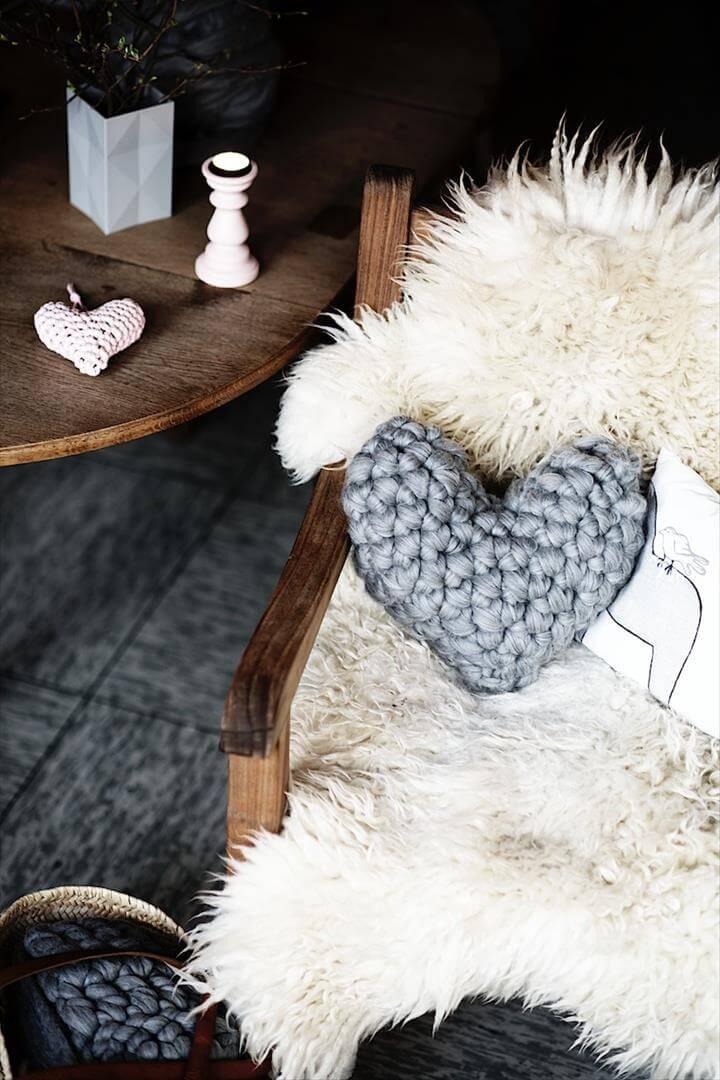 This gorgeous chunky crochet heart pillow is one of the prettiest things that you are going to lose your heart to. So get your hands on the thick and bulky yarn in grey and crochet up this absolutely stunning heart-shaped pillow for the patio lounger, porch chairs, and more. Also, this chunky crochet heart pillow makes a beautiful gift. Details of the pattern here!
Image: lebenslustiger
Chevron Crochet Cushion: Ripple Pattern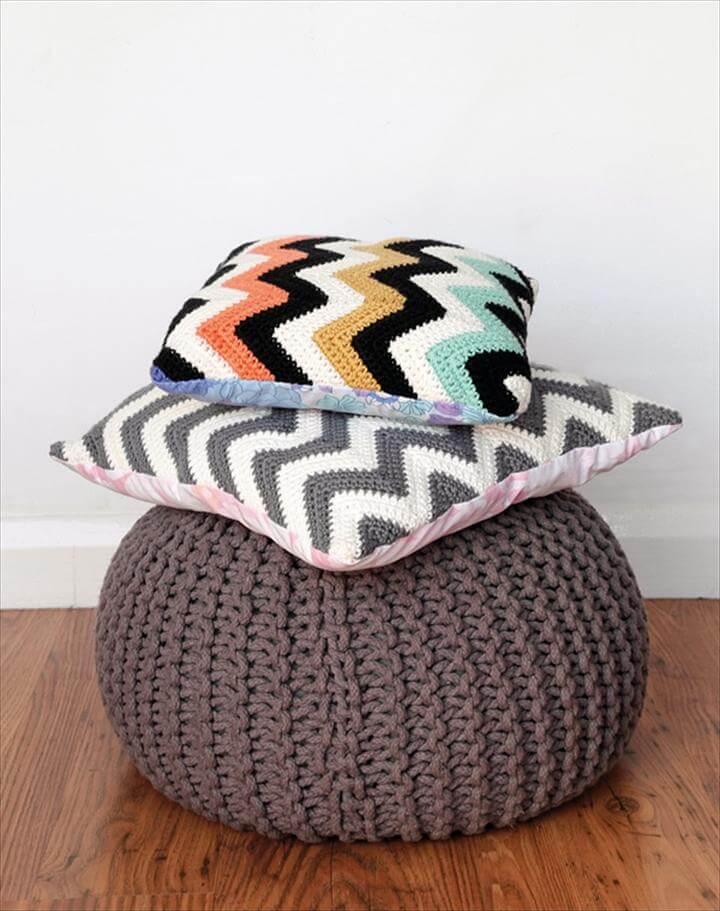 Summers offer you to work on the patterns like ripples and here is this gorgeous chevron crochet cushion. You can go funky to create the gorgeous pillow with colorful crochet yarn for each ripple in the chevron pattern. Or you can grab two elegant yarn hues like grey and white to let your pillow turn out to be a sophisticated one. Pattern details here!
Image: molliemakes
Crochet Panda Pillow: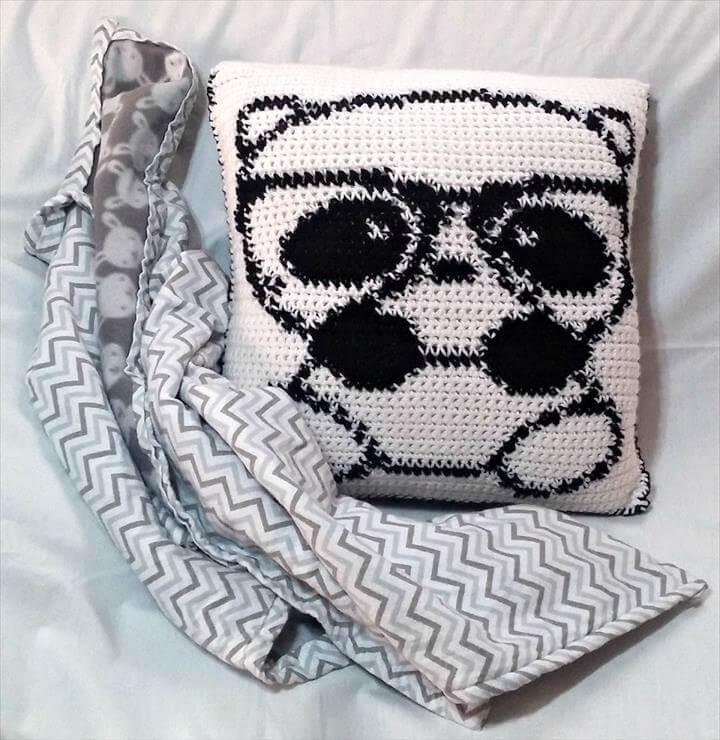 Animal theme crafts are best to work on when you have kids in the house or a kid in your heart. So if you are thinking to crochet a pillow then this crochet panda pillow is the cutest. You can either make a cute plushie panda pillow amigurumi as the cutest gift for the kids or you can work on a digital pattern to crochet up the panda within the pattern. Get both patterns here!
Image:spinayarncrochet, etsystudio
Crochet Cactus Tapestry Pillow Pattern: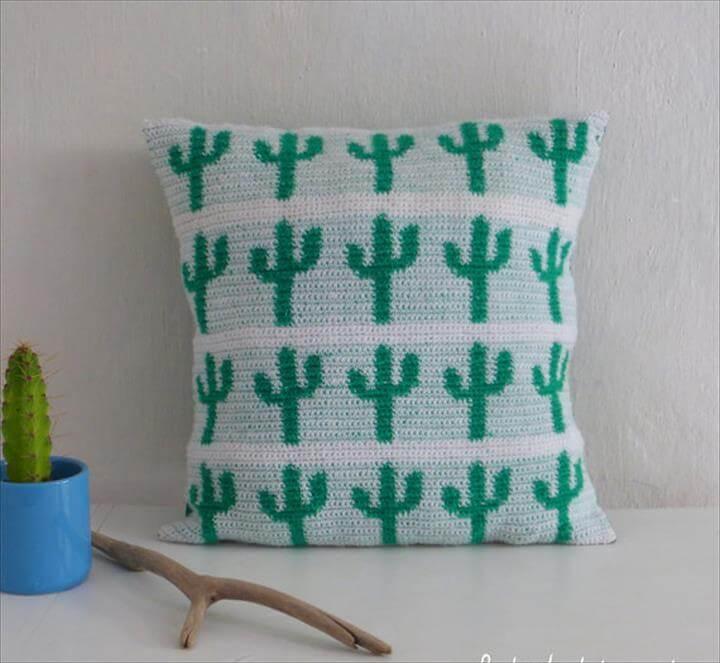 Another fun theme for the summer crafts is the cactus and here is this crochet cactus tapestry pillow to work on. Using the chain and the single crochet stitches you can easily work up this cactus pattern on a white pillow. The gorgeous green cactus is going to come out more stunning on a black base. Follow the pattern details here!
Image: ravelry
Crochet Flower Pillow: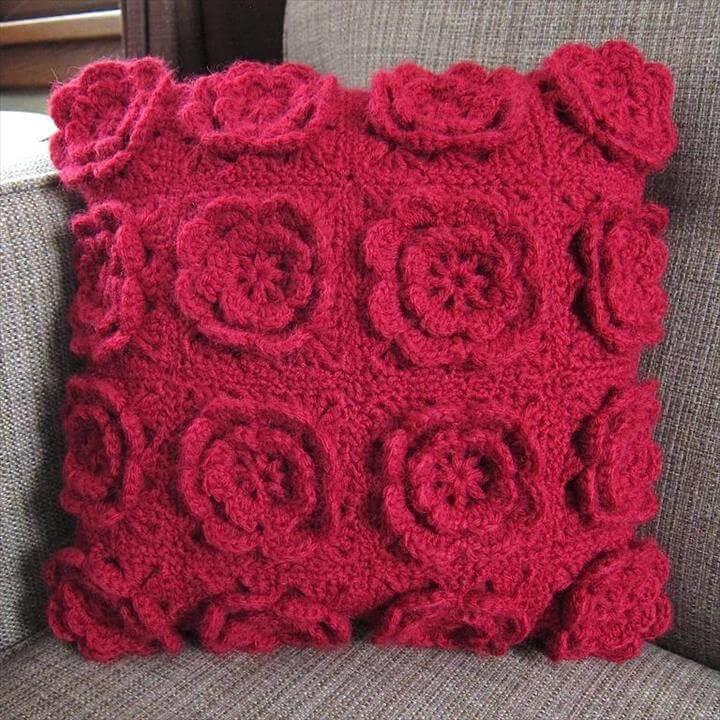 Here is another gorgeous crochet pillow to win you over with its utter beauty and charm. This crochet flower pillow has gorgeous rose flowers worked up via crochet granny squares. You need to make a bunch of these flower granny squares and then stitch them together to work up the pretty pillow. This flower pillow is going to look rich in style and beauty so grab the details here!
Image: craftsy
Fleece-backed Crochet Pillow: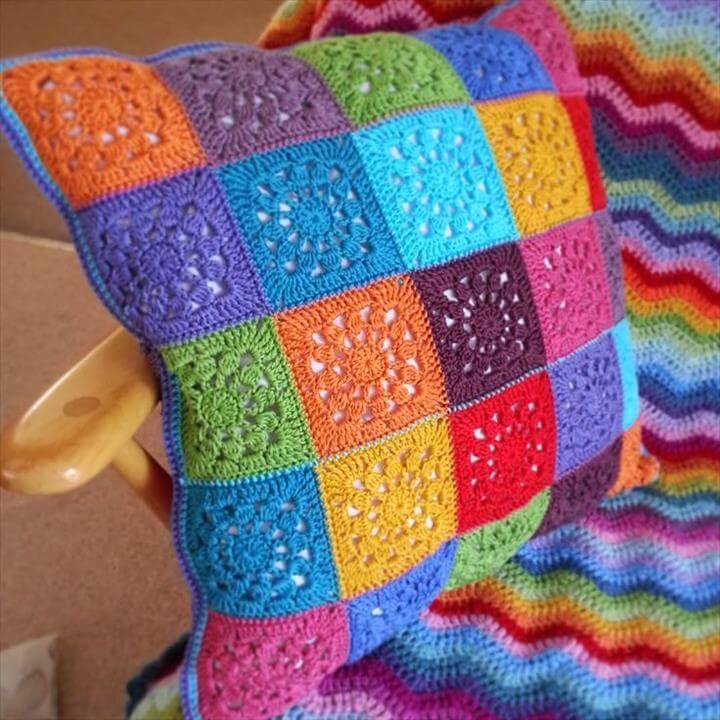 Granny squares are the easiest things to crochet up and now you can build this crochet pillow out of these granny squares. Here is this lovely crochet pillow having the back of the matching fleece and the front is worked up with a brightly colorful patchwork of the granny squares. Follow the details of the idea here!
Image: gingerschatz.blogspot
Mr & Mrs. Claus Crochet Pillow: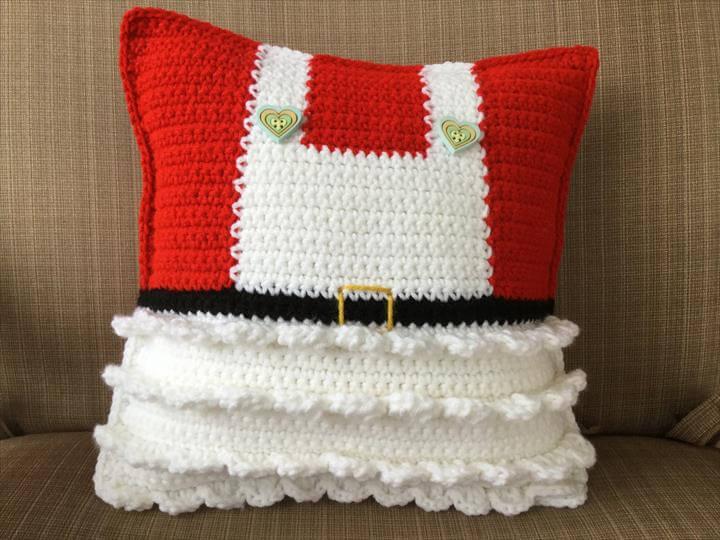 This Mr. and Mrs. Claus crochet pillow is the best thing to work around the Holidays. Using the red, white, and black yarn hues this pretty crochet pillow has been nicely yielded. The button heart eyes, belt brooch, and the cute ruffles really make this pillow a perfect heart winner. This would make a great gift idea too.
Image: ravelry
Colorful Crochet Owl Pillow: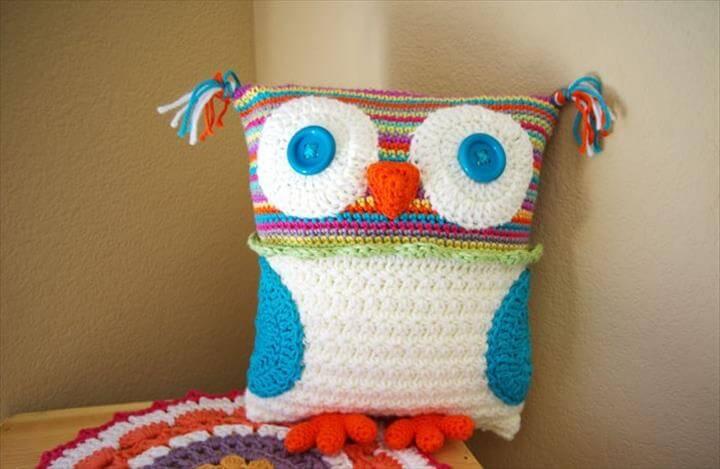 Need some cool gift ideas for the kids this summer? If you are a crochet person then you can crochet up this pretty colorful crochet owl pillow. The pretty owl pillow has rainbow-colored crochet head, blue wings, and orange feet to look just super bright and gorgeous. Kids would love to have this pretty hug buddy at night. Details here!
Image: ravelry
Ottoman Crochet Pillow: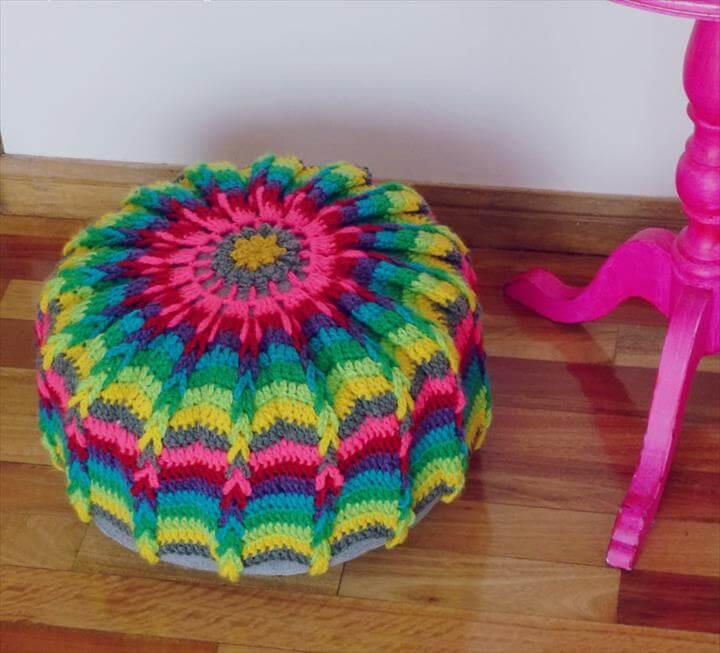 Give your ottomans a perfectly cool and summer-friendly avatar with this crochet ottoman pillow. So grab the rainbow-colored yarn and crochet up a lovely cover for your ottoman. You can make the lovely crochet ottoman for the living room to bring super chic and cute vibes. Check out the details right here!
Image: chromalab.blogspot
Retro Style Crochet Pillow: Round Pillow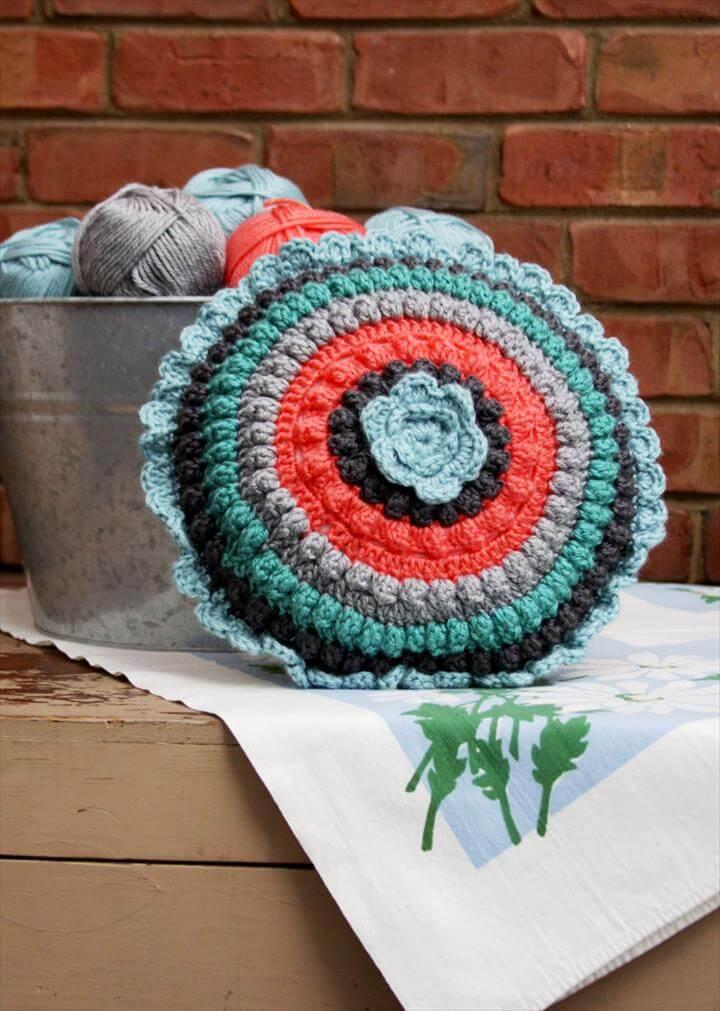 Here is this gorgeous retro style crochet round pillow to bust your yarn stash in the most beautiful way. The gorgeous round floral pattern of the crochet pillow is made out of an amazing color combination of the gray, orange, sea green, coral, and orange. This pillow is going to be bringing super fresh vibes in your home décor. Details here!
Image: flamingotoes