Here you will find 22 Gorgeous Crochet Pillow & Pouf along with the tutorials that will surely help you out in many ways. You can easily follow these instructions given here and can make cushions and pillows for your couches, and floors. There is a variety of materials you can use for making pillows and cushions.
The first one here is a puff stitch round pillows made with crochet and they are amazing. Next, is a crochet popcorn floor pillow made with crochet and colors relating to the popcorn? Make these in huge sizes so that you can put them on the floors. Next is also a puff seat cushion and it's done with some beautiful colors and also has a crochet heart pattern on it. So try to learn some basic skills of crochet and you can make it easier. Have a look at this adorable fox crochet pillow, it is done with some expert crochet stitches but they are way too easy to learn. Similarly, you can also make other animal crochet pillows too following more or less similar techniques.
Next is some crocheted floor which is made with a lot of cotton inside so that they are in the shape of a seat and not just a flat cushion. This is a knitted cactus puff which is also a seat and not a flat cushion and is cactus inspired. Next are some crochet pillow tutorials, African flower pillows which are all colorful and fancy for your plain color couches. Also, watch for this ice cream crochet pillow as it's too cool for the kid's room this winter.
This is also a crochet pillow but it's actually a basket weave design and it looks absolutely stunning and polite. It is time for some chunky knitted pillows for the informal lounge. Then see this crochet hexagon flower pillow which is unique and comfortable at the same time. This ripple pattern is new and trendy so try it out soon. Some small round knitted pillow is waiting for your attention too. Then you can see a knit textured pattern pillow. This crochet cover cushion is different from the rest of these as the inner cover of this cushion is plain and only the top cover is made with crochet and it looks artistic, isn't it? Next is a diagonal pillow crochet pattern.
By following these tutorials you can not only make cushions and pillows but also ottomans which are now again in fashion. So let's just try all these out and make some exciting changes to your house this winter.
Puff Stitch Round Pillows: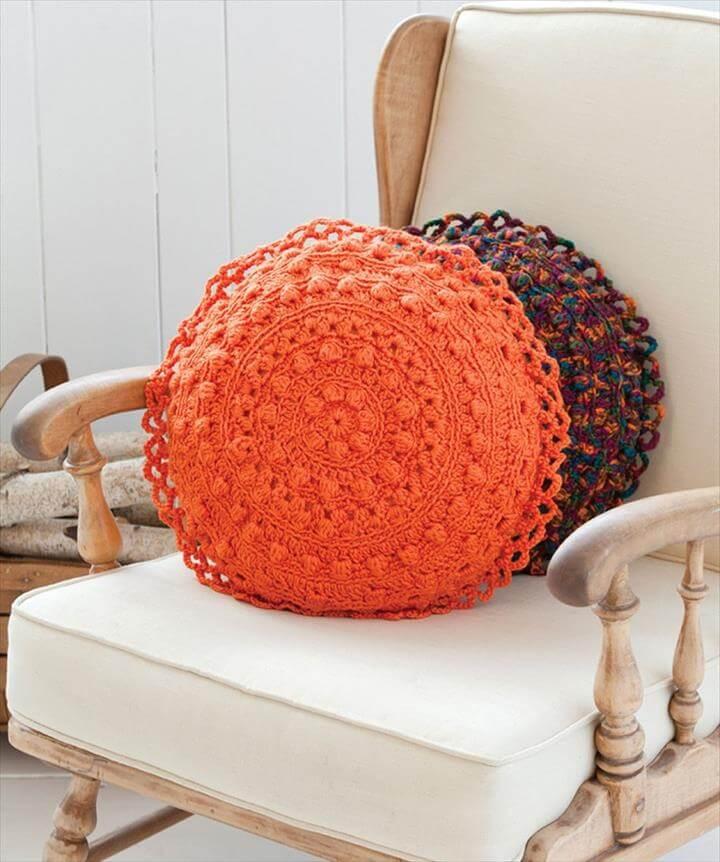 If you have recently got your hands on the pouf stitch then get your hands on this puff stitch round pillows. The colorful and cute puff stitch round pillows are the best things to make and bring oodles of charm and beauty to your summer home. Check out the easy and fun details of the idea here!
Image: redheart.co.uk
Crochet Popcorn Food Floor Pillow

: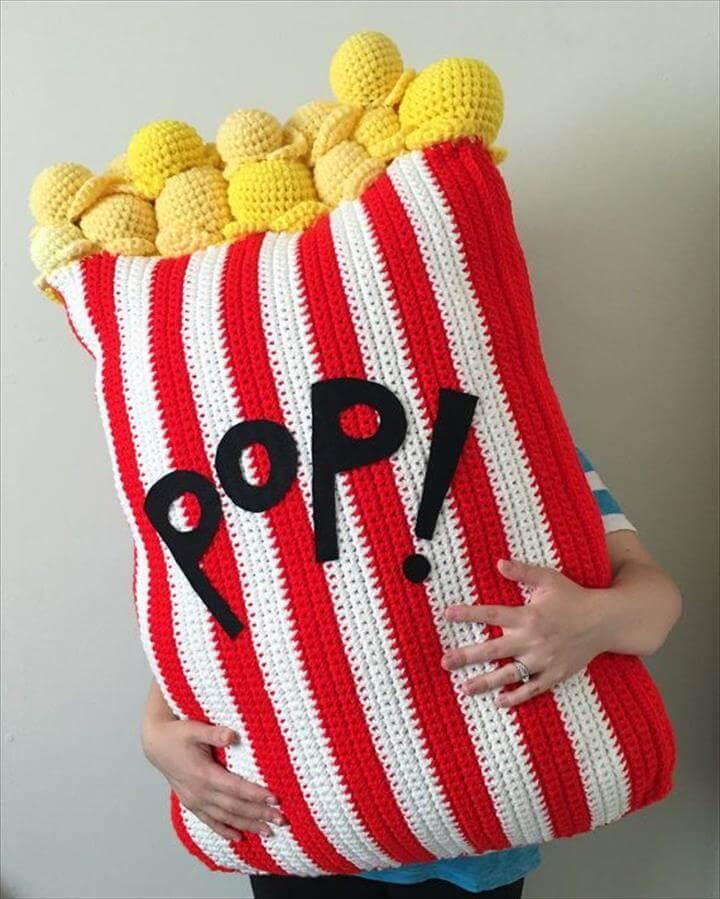 If you have a movie and popcorn lover in the house then making this pretty crochet popcorn food floor pillow is the best for them. The pretty and giant size popcorn pillow would be great to watch your favorite movies with. You need white and red yarn to shape up the popcorn basket and the yellow yarn to create the popcorn.
Image: etsy
Hexie Puff Seat Cushion – Ombre Heart Stitch Pillow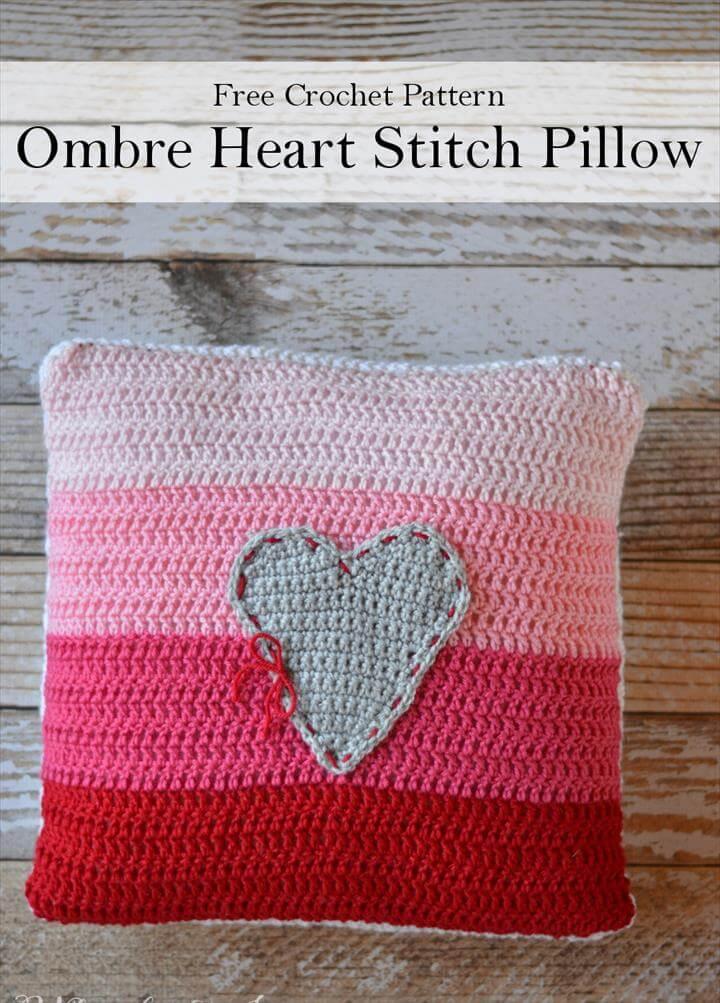 Here is this pretty hexie puff seat cushion with ombre heart stitch to be the best addition in your home around the valentine. The ombre effect of the yarn hues with red and pink has really turned out great and yarn used here is brava. The eye-catching thing in this cushion is the outer stitched heart appliqué. Details here!
Image: whistleandivy
Crochet Fox Pillow

–

Crochet Animal Pillow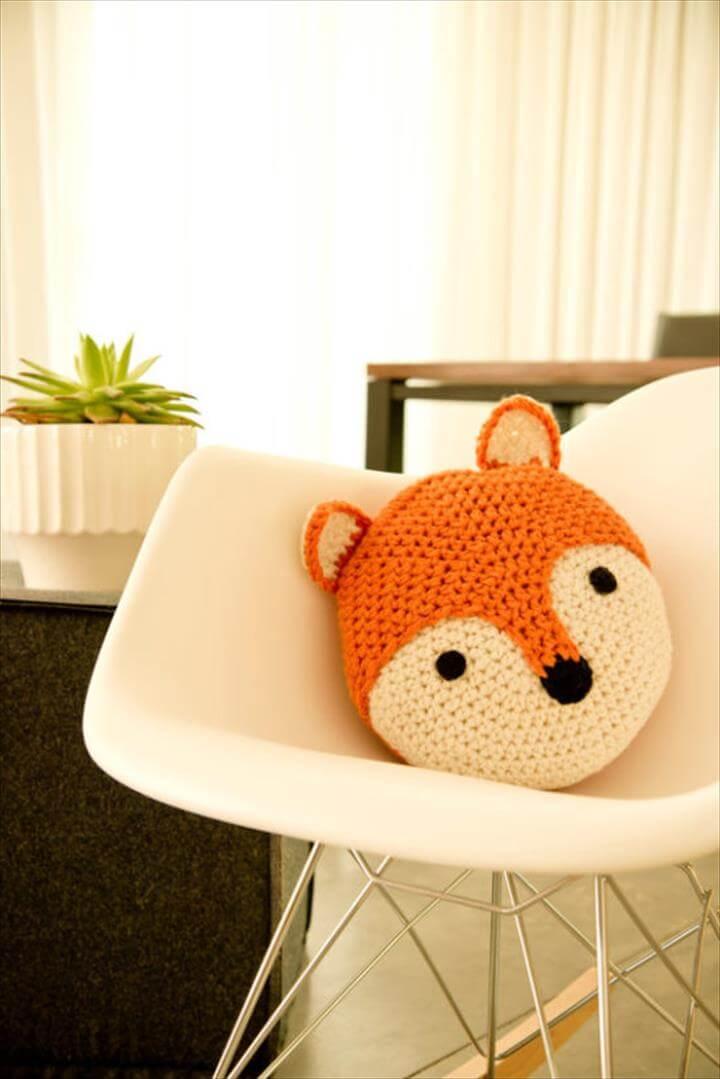 Looking for a fun fall crochet project? If yes then getting your hands on this crochet fox pillow is the best thing to get your hands on. Using the white, orange, and black yarn you can easily work up this fox pillow using hooks of sizes 4, 4.5, and 5 mm. This fox pillow is going to bring so much fun and excitement to your spaces for sure. Details here!
Image: ravelry
Crocheted Floor Cushions

: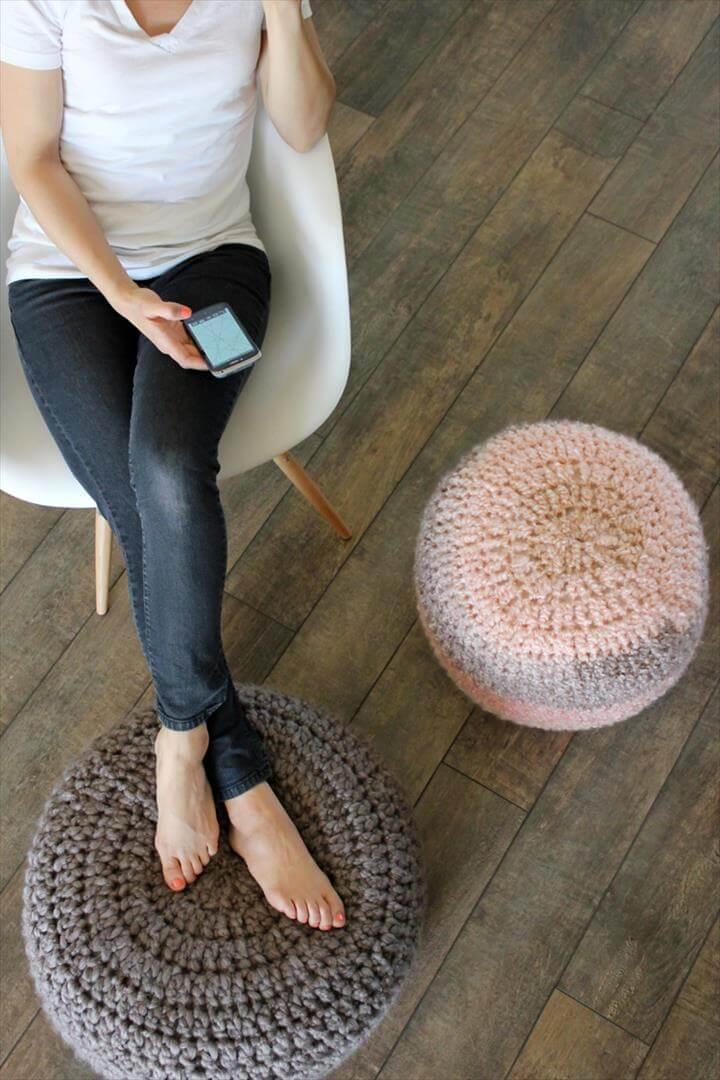 You can make the most out of crocheting skills by working up this pretty crocheted floor cushion. Your feet are going to feel the royal resting on this pretty and elegant looking crocheted floor cushion. So all you need is create a crochet wrap for the cushion made ottoman and that too using the 11mm hooks. Details here!
Image: deliacreates
Knitted Cactus Puff: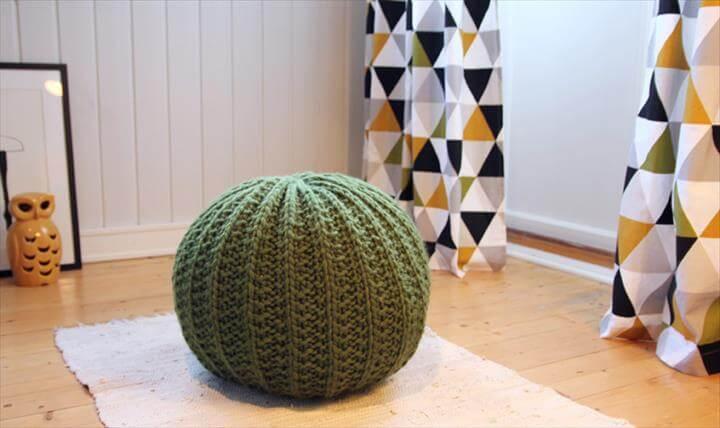 Bring some cactus fun to your summer home with this pretty knitted cactus puff. The round shape of the pretty ottoman and the gorgeous ribbed lines really make this knitted cactus puff an utter décor delight. So if you want to brighten up your summer living room décor then get your hands on the easy details here!
Image: pillarboxblue
Puff Stitch Pillow

Tutorial: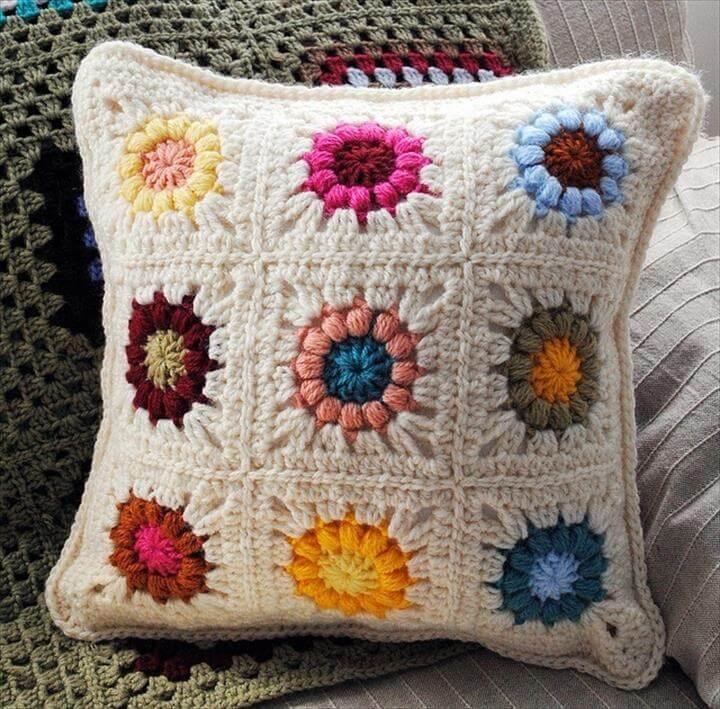 Now you can make this gorgeous crochet pillow to bring some colors and sunshine beauty in the homey spaces. The pretty pillow is made out of the granny squares which are easy enough to be built by the beginners too. The granny squares have a white base with colorful centers to turn out super exotic and fun. Details here!
Image: crochetnmore
Crochet African Flower Pillow

: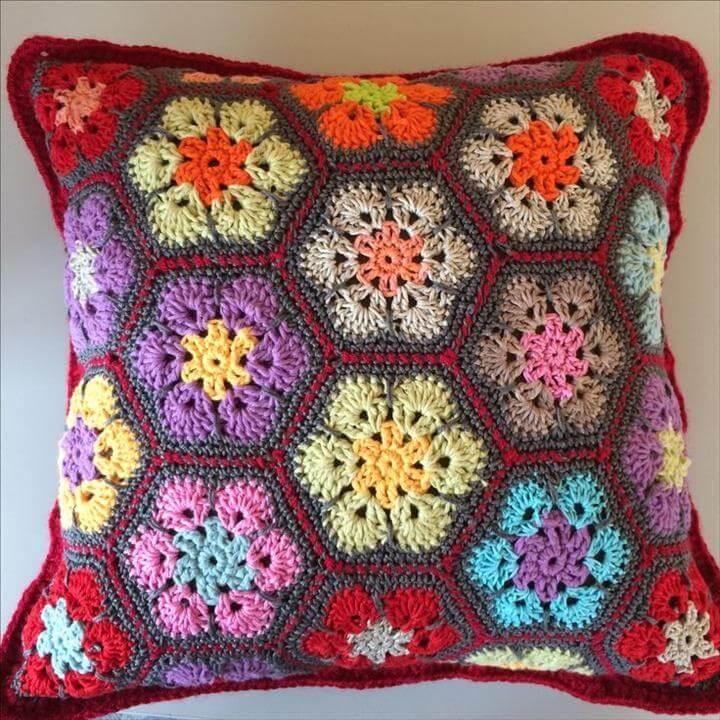 Here is this gorgeous and colorful crochet African flower pillow that you can make and charm up your summer homes with. Using the gorgeously bright crochet yarn hues and the hexagon square pattern you can easily crochet up this pretty flower pillow. The flower pillow is the perfect inspiration for the spring and summer décor. You can grab the pattern details here!
Image: artesanatoluguimaraes.blogspot
Ice-Cream Pillow: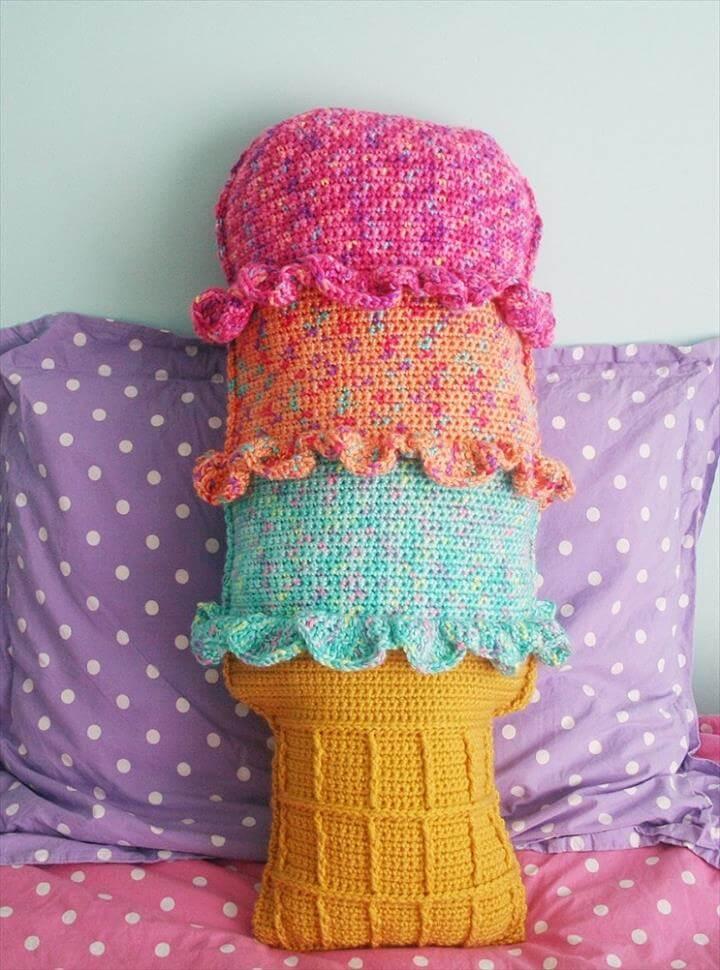 Here is another exciting project for the summer to make your kids super happy and excited. Kids love ice cream and that is why they would love this giant and colorful ice cream pillow. You need light blue, pink and the orange yarn to shape up the ice cream scoops and the yellow to crochet up the cone. Details here!
Image: twinkiechan
Basketweave Crochet Throw Pillow

: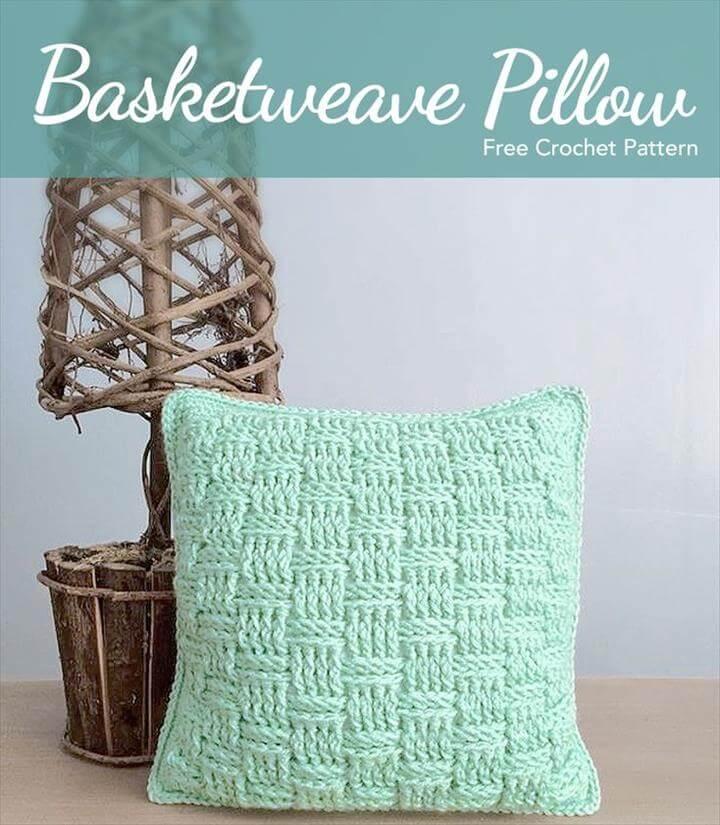 Here is this gorgeous green basketweave crochet throw pillow to be a part of your living room décor and bring the fresh vibes there. The name of the crochet throw pillow is basketweave that means you need to work up this pillow just you weave a basket. This would be a pretty and fun way to crochet a new and quirky pillow on your own.
Image: littlemonkeyscrochet
Chunky Knitted Round Pillow: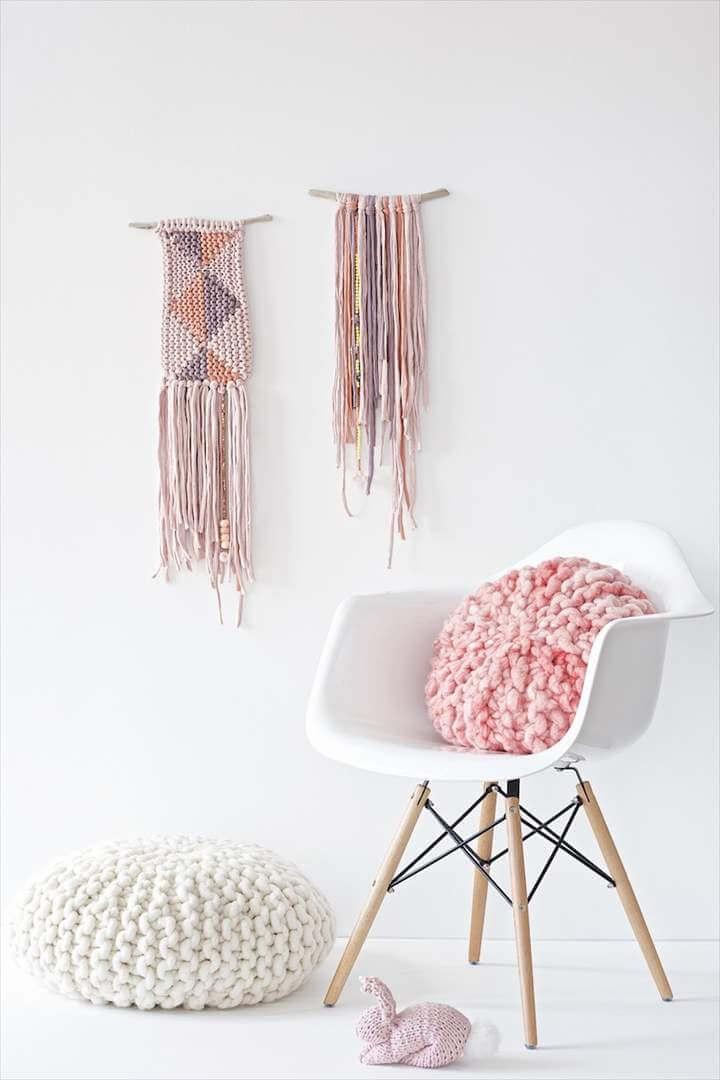 If you are looking for something modernly styled in the work of crocheting patterns then making this chunky knitted round pillow is the best thing. Using the thick and bulky yarn in any of your favorite colors you can easily crochet up a chair pillow or the ottoman to relax in the most amazing way. Follow the details here!
Image: lebenslustiger
Granny Square Pillow

– Retro Style Pillow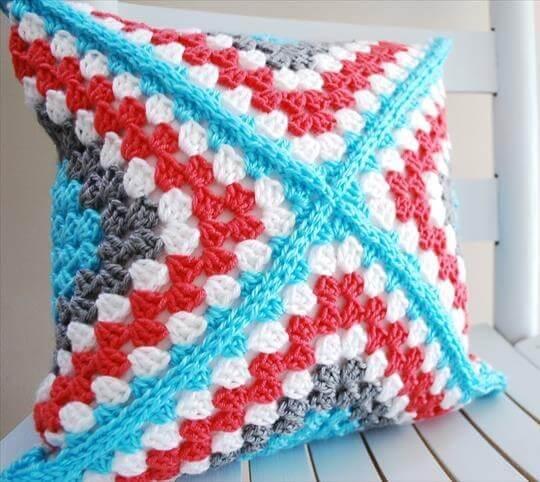 Bring the retro vibes to the living room décor with this granny square pillow having a cool retro feel. Using the white, black, red, and blue yarn hues you can easily work up this granny square pillow just like a big granny square. You can easily work up this pretty pillow under an hour and give the refreshing vibes to the spaces. Check out the details here!
Image: youtube
Crocheted Floor Cushions – Free Pattern & Tutorial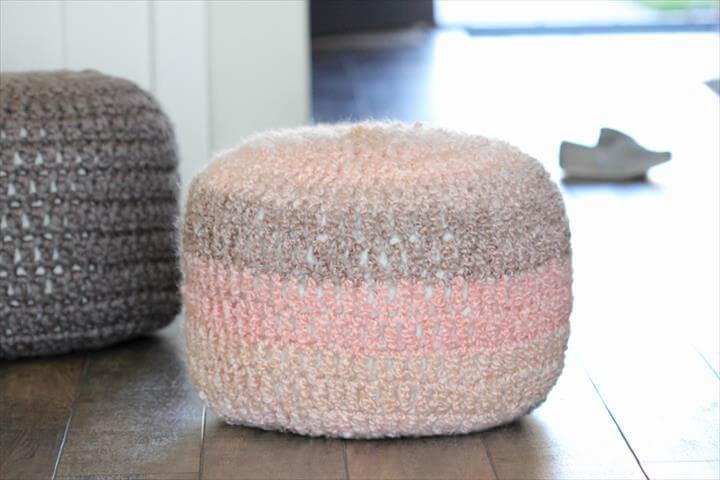 Give your ottoman cushions the perfect crochet beauty with this crocheted floor cushion. Instead of the fabric covers, these crochet ottoman cushions have the best texture, feel, and beauty. You can choose one color yarn to make the cushion or you can fuse two to get the more refreshing beauty. Details of the pattern right here!
Image: deliacreates
Hexagon Flower Pillow

: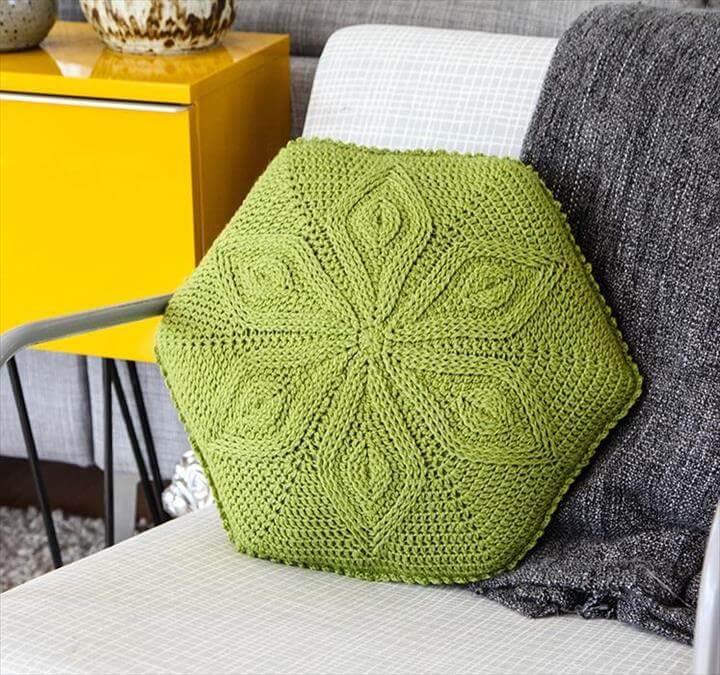 This super gorgeous and retro-inspired hexagon flower pillow is going to steal your heart with its floral texture and detailed beauty. The hexagon shape makes the pillow modern and the floral design adds the cool antique vibes. The hook used is 3.5 mm and the yarn is sport weight yarn in gorgeous green. Grab the pattern details here!
Image: ravelry
Ripple Pattern Crochet Pillow Cover

: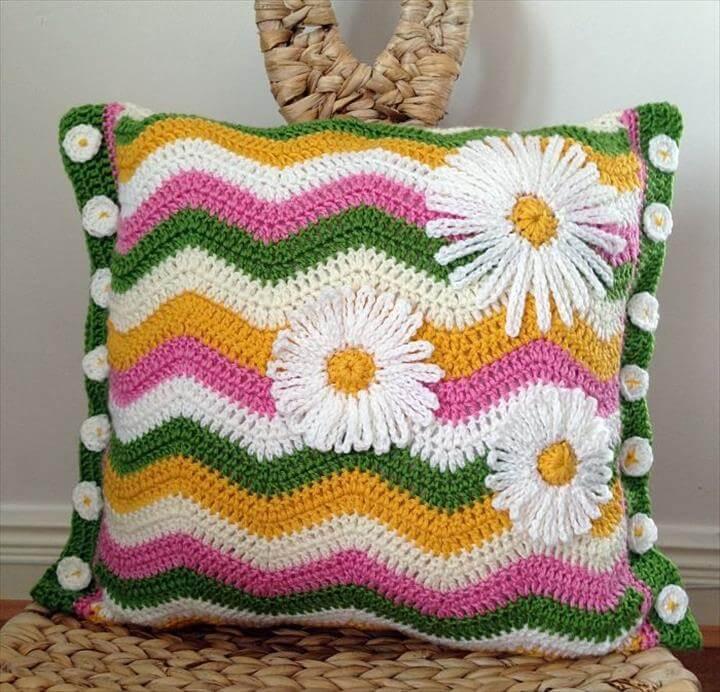 Summers remind us of the ripples of the sea and the gorgeously colorful flowers that it brings us. So is this perfect ripple pattern crochet pillow cover to be the best and apt project for your living room or bedroom. The colorful ripple pattern and the gorgeous flower appliqués really makes the crochet pillow summer desirable.
Image: crafternoontreats
Small Round Knitted Pillow Free Pattern

: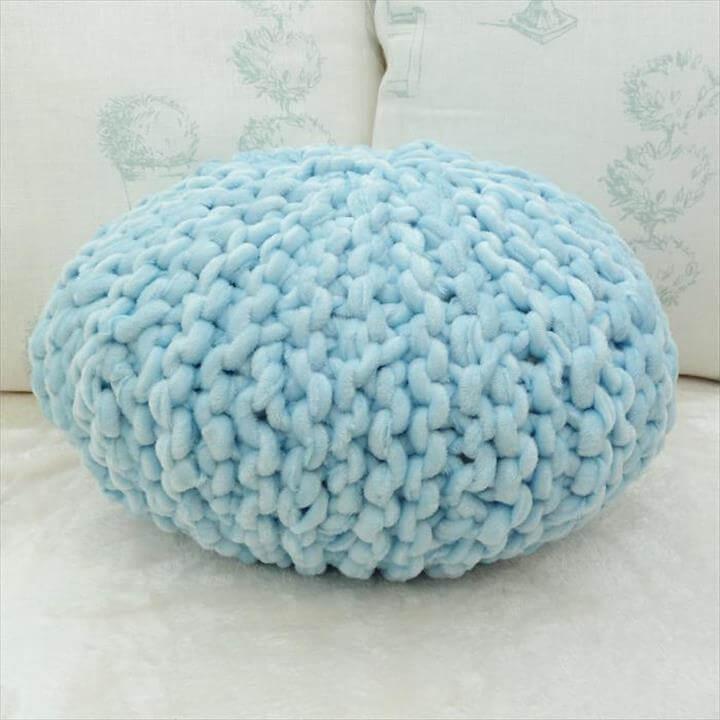 Your modern living is so undone with the décor if you do not have this gorgeous small round knitted pillow there to rest your feet on. Using the jersey fabric or the t-shirt yarn which is bulky and thick to shape up this chic and cool knitted pillow. You can choose the color of the yarn that suits your home décor the most. Details here!
Image: ravelry
Knit Textured Pattern Pillow

: Button Pillow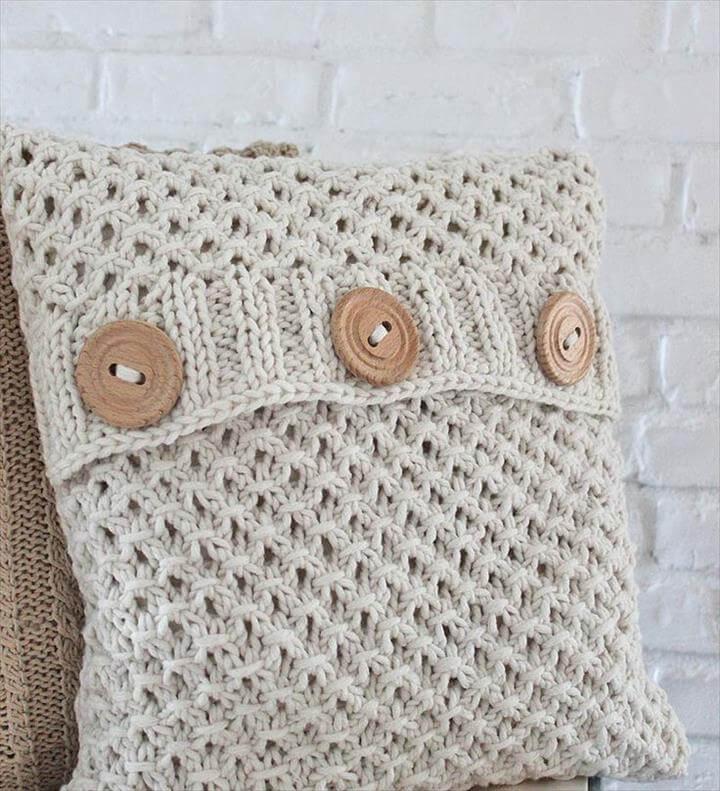 If you are the lover to elegant and chic décor vibes then making this knit textured pillow is the thing to bring in your living, lounge, or bedroom. You need worsted weight yarn, 4.5 mm hooks, and the wooden buttons to work up this absolutely gorgeous and decent looking textured pattern pillow. Catch the details of the idea here!
Image: crochetdreamz
Lilac Pouf Foot Stool Knitting Pattern

: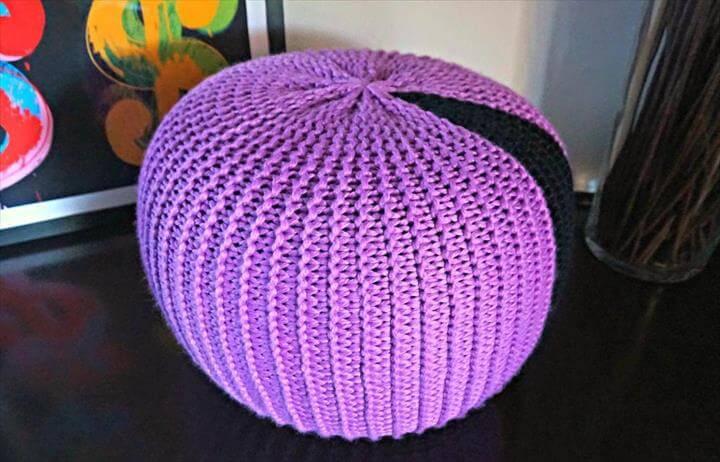 Here is something that you can make for your teenager's room and they would love it. The gorgeous lilac pouf footstool is pretty chic and cool with the purple and black yarn hues. The pretty gorgeous and big purple pouf has a slice of black yarn to look so pretty and fun. Check out the easy details of the idea here!
Image: youtube
Raspberry Pink Crochet Covered Cushion

: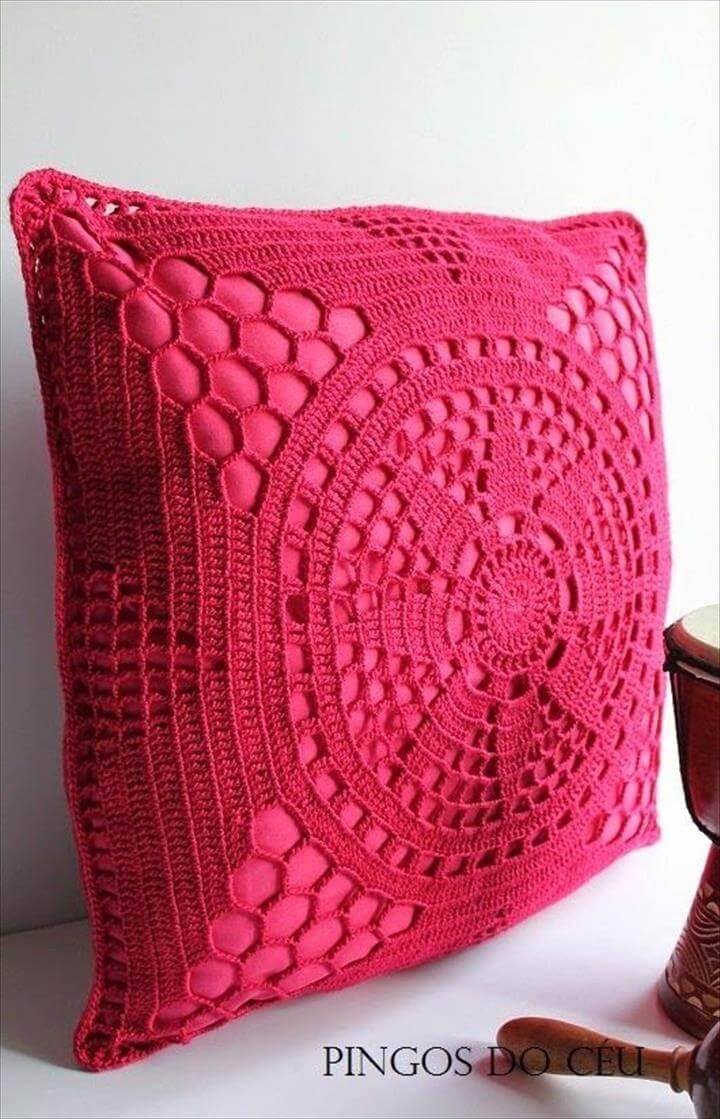 If you have the pretty fabric pillow cover which looks boring and dull then you need to spice up its look with this raspberry pink crochet covered cushion. So get the matching yarn hues and crochet up this pretty lacey patterned cushion with so many intricate details in the pattern. You can use any of your favorite yarn hues for this pattern. Details of the idea here!
Image: youtube
Daisy Ripple Crochet Pillow Cover

: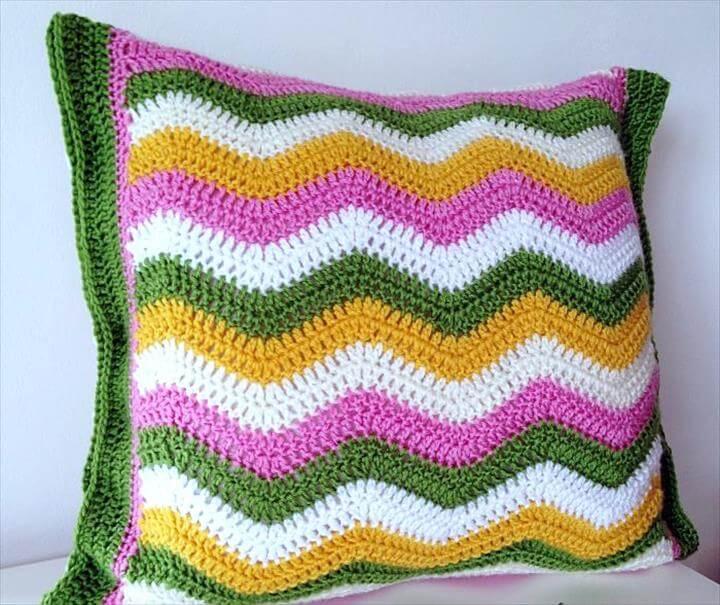 Summers bring us the gorgeous sea with its ripples and waves and the pretty blooms. This beautiful daisy ripple crochet pillow cover is the best summer project for you. The crochet pillow has a lovely colorful bunch of flowers and the chevron styled ripples. So grab the easy pattern here to bring the perfect summer vibes in your spaces.
Image: thecrochetspace
Diagonal Pillow Crochet Pattern: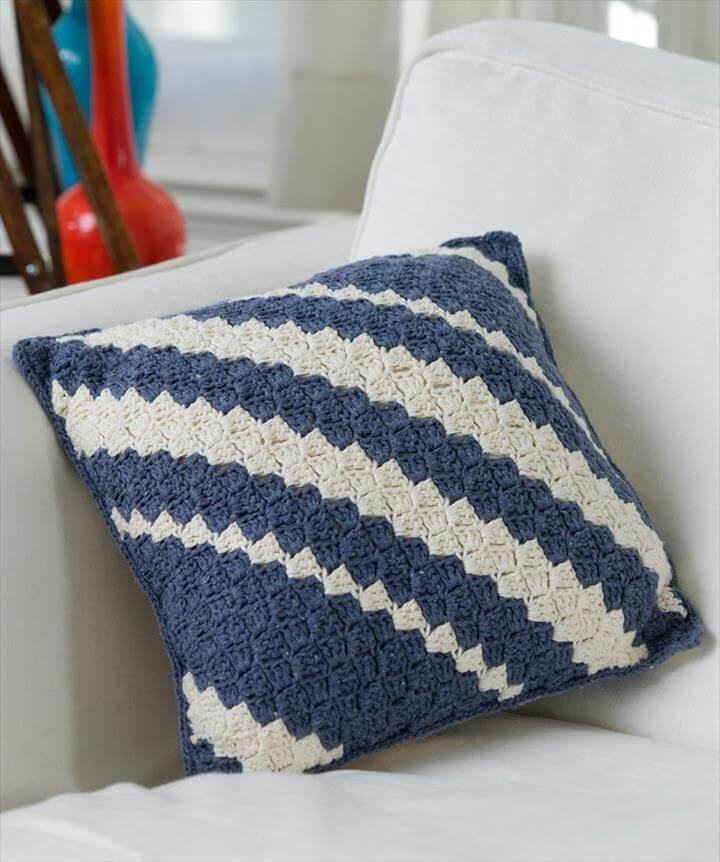 Here is this gorgeous diagonal pillow that you can crochet up this week and bring so crochet up this summer. The alternative diagonal strips of gold and blue really add to the beauty and charm of this quirky and cute pillow. You can choose your favorite yarn hues to bring the perfect combination of colors in your spaces. Details here!
Image: winniecreativecorner
Floor Pillow Pouf Ottoman

: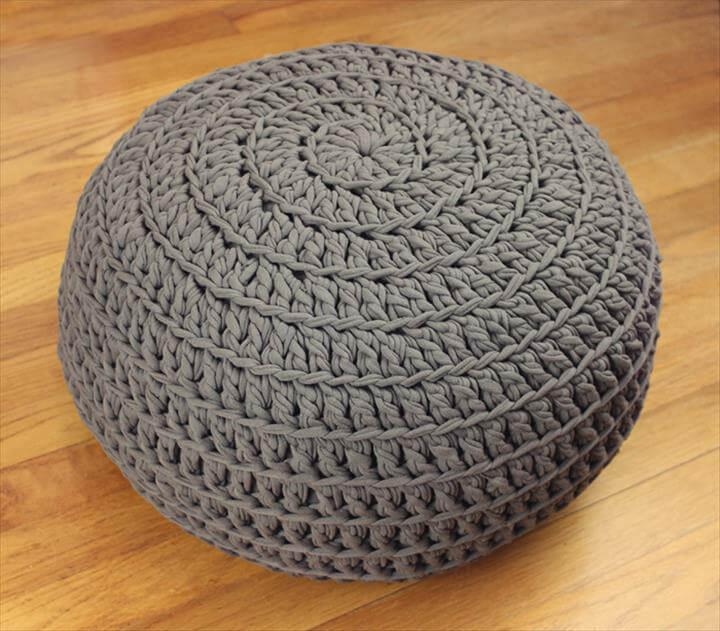 Here is this gorgeous floor pillow pouf ottoman to be a part of your living room relaxing. The pouffy ottoman has a gorgeous crochet pattern with elegant details and texture. The ottoman is made with t-shirt yarn and the hooks of the size p 11.5. You can check out the easy and fun details of the idea here!
Image: bloglovin