Basic crochet skills are my favorite skills that anyone can have, especially girls, because they can help us make many different things just by simple creative ideas and innovation.
Why not make some Crochet Scrunchie Patterns out of crochet so that you don't have to rush to the market to grab different hair ties. Look at the first project that we have here for you, which is basically a heart-shaped red-colored crochet hair tie that is super cute and romantic.
Next, we have a floral ponytail that amuses the little girls way too much. All these projects have free patterns and tutorials with them in the links given below the projects. We have hair scrunches for you made from crochet which is also super cute and adorable, especially for the little girls.
All these 15 free crochet scrunchie patterns to tie your hair properly will definitely make your hair look more beautiful and stylish as they are all according to the latest fashion trends. Also, you can make easy and quick crochet flowers and turn them into a simple hair tie.
Next, we have crochet hair spirals for your hair that will definitely amazing, especially for the long air of your little girls, so try them out as you have been provided with free patterns of these projects. Besides this, you can also create crochet bows for your amazing hair to make them look more amazing and attractive because, for girls, a hairdo is much more important than anything else. Try using the double crochet pattern as well to create some wonderful and incredible ponytails and hair bands.
Share these fabulous ideas with your friends to also add some spark to their hair tie collection. Also, find the step-by-step instructions in the links given below the projects because these crochet hair ties are worth trying and sharing.
1. 4th of July Crochet Hair Scrunchie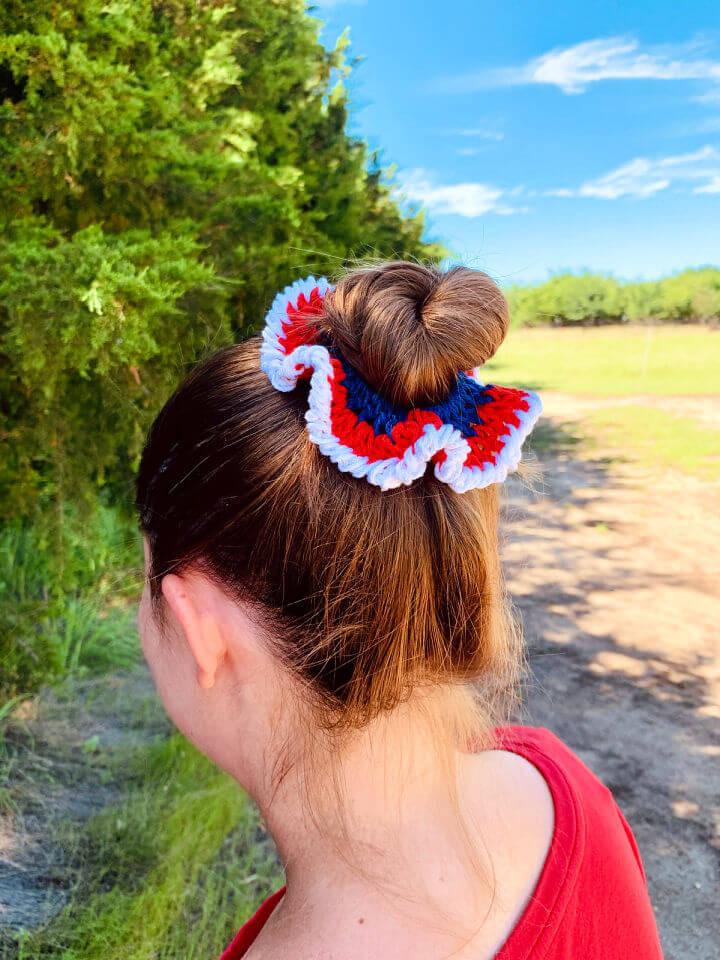 Happy Memorial Day! It's time to celebrate this holiday in a new style. Create these super adorable and love-seeing scrunchies using the white, red, and blue yarn. You can make this little piece of crochet super easily with a free pattern. Moreover, use Lion Brand cotton yarn with an elastic band to craft this hairband. Additionally, you need to work on the chain, skip, double crochet, half double crochet and slip stitches with a 5.5mm crochet hook to get your hands on this themed scrunchie! okiegirlblingnthings
2. How to Crochet Scrunchies Free Pattern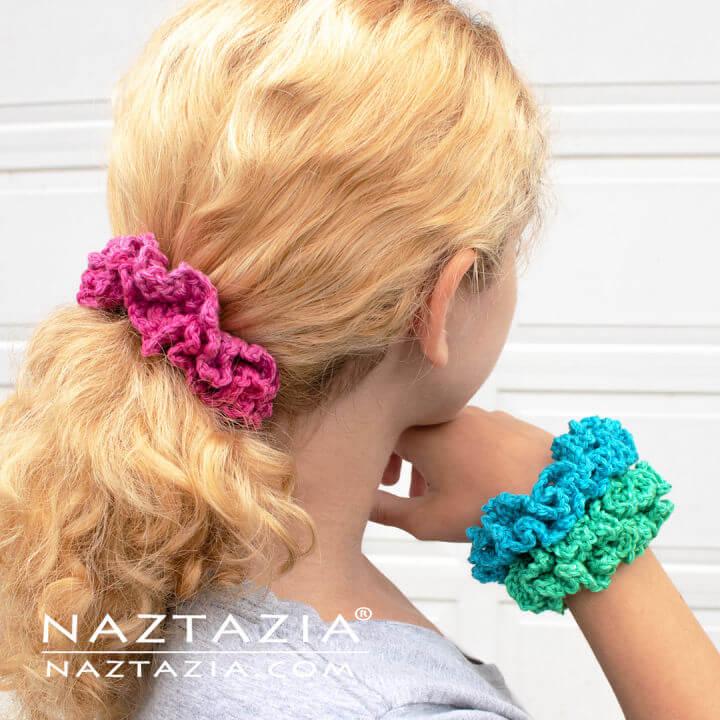 Unbelievably! Scrunchies are back in trend, and girls are gushing over them. Instead of buying the traditional designs of scrunchies from the store, create them in your own way with your crochet skills. Even, you don't have crochet experience, you can make them effortlessly with a free pattern. It's pretty easier to create the scrunchies with crochet yarn in your favorite color, a headband, and a suitable crochet hook! naztazia
3. Red Heart Bow-Inspired Crochet Scrunchie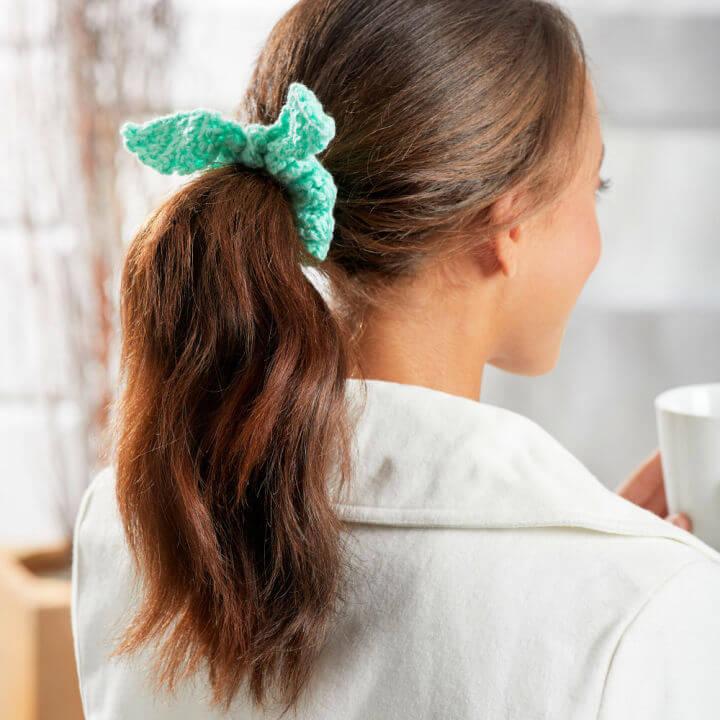 Crochet these bow-inspired and impressive scrunchies with Red Heart yarn in white and mist blue colors. Use a 5mm crochet hook with a free pattern to make these adorable scrunchies for regular wear. You would love to organize and style your hair with these handmade and trendy pieces of crochet art. Not only for you but these will also the perfect gift for your friend. Enjoy wearing and twining together! yarnspirations
4. Crochet Yarn Scrunchie Pattern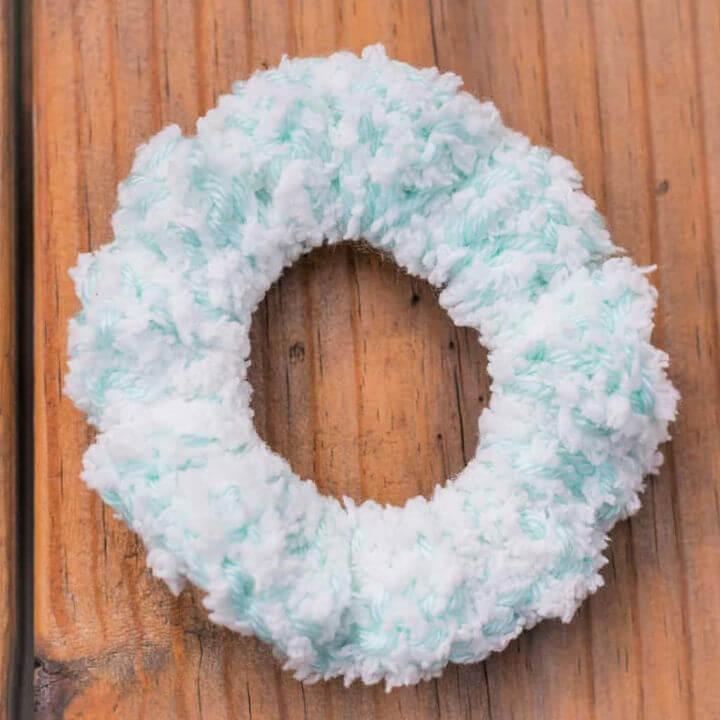 If you are looking for attractive and super easy crochet projects, work on this yarn scrunchy with a free pattern. Use Lion Brand yarn in Ice and Basic stitch anti-pilling in frost color to make this scrunchy. Excitingly! These scrunchies involve only single crochet stitches. So, an initial crafter can also work on them without any difficulty. easy crochet
5. Free Crochet Scrunchie Pattern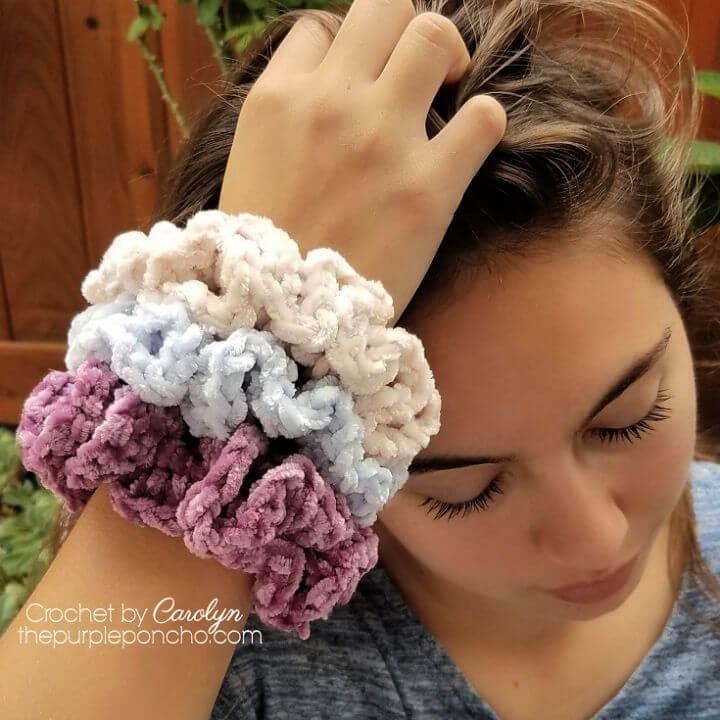 No wonder it's fun to crochet and wear scrunchies with a summer wardrobe. Not only for summer, but you can make these scrunchies for every season with elegance.  It would be much easier for you to create these tiny crochet crafts with a free pattern. Moreover, use Bernat baby velvet yarn in the desired color and combination to make this scrunchy. Furthermore, use a 6.00mm crochet hook with a new or reusable hair elastic to crochet this scrunchy. thepurpleponcho
Watch This Video: How To Crochet Scrunchies – Inspired By Vsco Girl Trend Hair Scrunchie – Crochet Scrunchie Pattern (05 Minutes 04 Seconds)
6. Lacey Crochet Scrunchie Pattern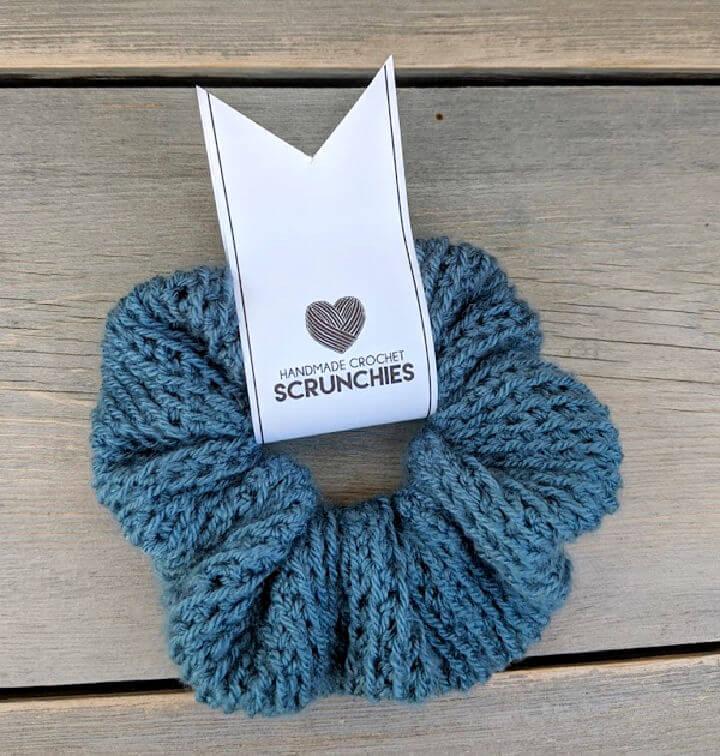 Create this lacey pattern scrunchy with your favorite color Loops and Thread Woollike yarn. Moreover, get help from a free pattern with all stitch details to easily make this super stylish lacey scrunchy. Give these scrunchies a more embellishing look with yarn wrap at the end. You can crochet them for yourself, as well as showcasing and selling to others. savlabot
7. Ruffle Crochet Scrunchie Pattern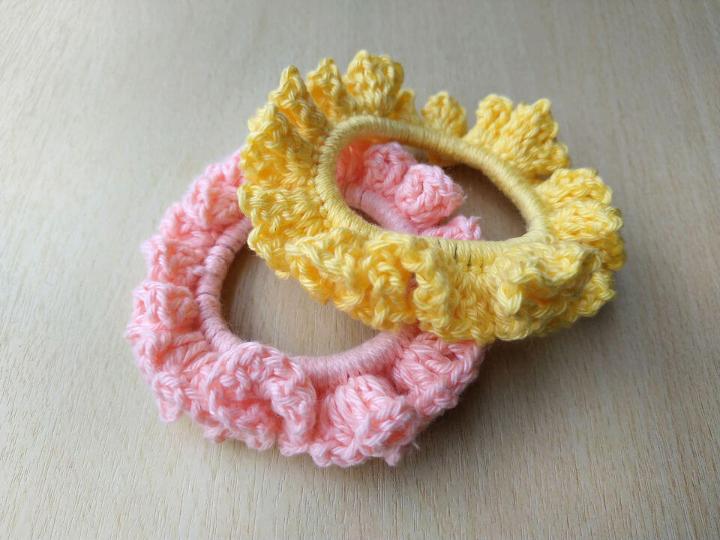 Ruffle scrunchies are the most adorable and stylish to crochet for teenage girls. You can make them yourself for your little sister and daughter efficiently with a free pattern. If you are a beginner-level crochet crafter, this project would be an ideal consideration for you. It would be much easier for the little girls to tie up their hairs tightly with these scrunchies. To make this ruffle scrunchy, use cotton yarn and a 2.5mm crochet hook. ravelry
8. Crochet Scrunchies Pattern for Beginners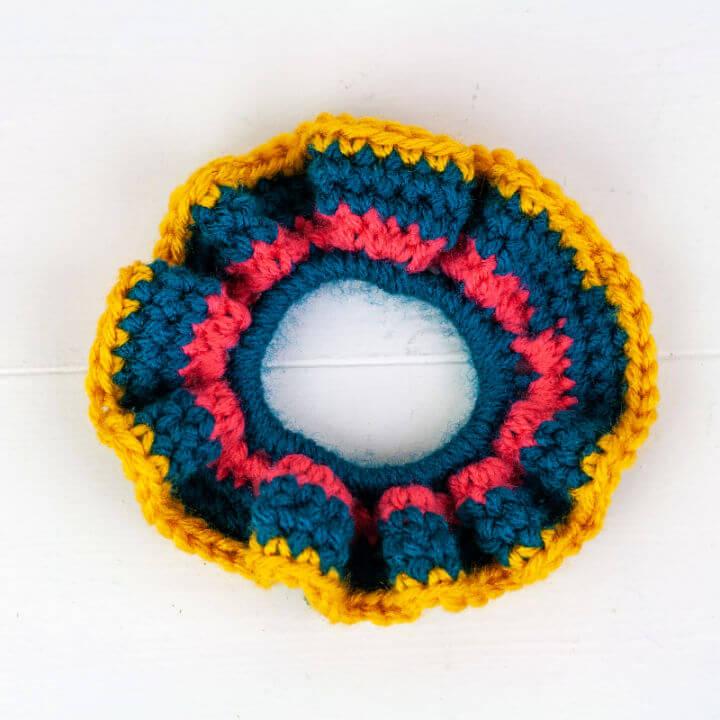 If you love ponytails and bun hairstyles, these scrunchies are for you. Use worsted weight yarn with a 6.5mm crochet hook to make this new style scrunchy. This patterned scrunchy will be the best option to crochet for beginners with free pattern and stitch instructions. Embellish this versatile and good-looking scrunchy with beads and pearls if you desired. windingroadcrochet
9. Double Blooms Crochet Scrunchie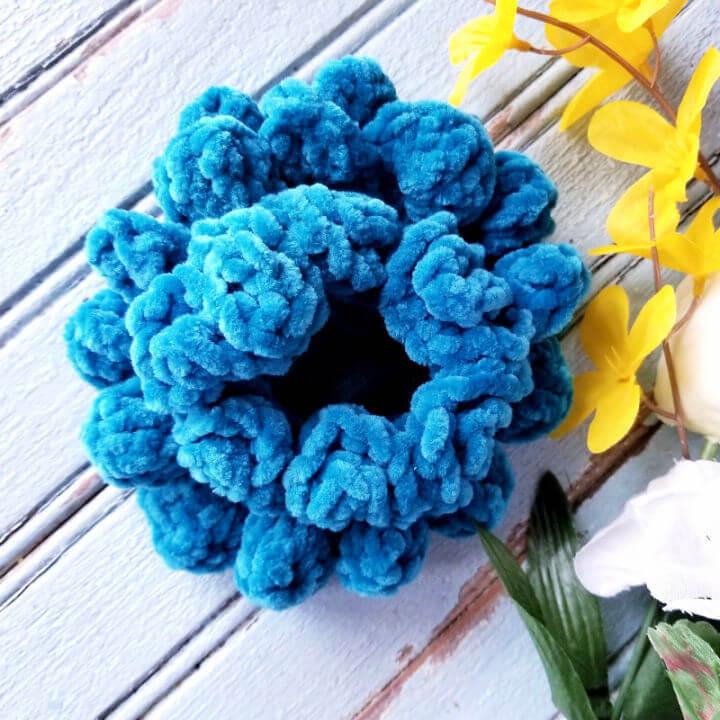 Crochet this summer style and chunky scrunchy with light blue velvet yarn. You can make it in endless ways and designs according to your expertise. Moreover, use an 8.5mm crochet hook with a suitable tapestry needle to create this scrunchy. Excitingly! You have to work in back and front loops only to crochet this super striking scrunchy. rebekahhaas
10. Crochet Squishy Scrunchie Pattern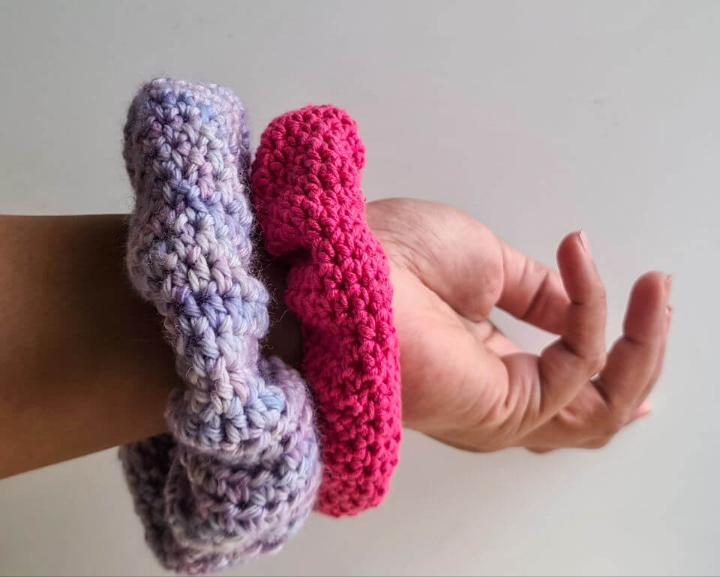 No doubt, girls love styling their hair and having a colorful collection of scrunchies. But you can make them yourself, instead of buying at higher rates. For this, get help from a free crochet scrunchy pattern with all related details and guidelines. To crochet these attractive and enchanting scrunchies, use DK weight yarn in different colors and combinations. Additionally, use a 3.5mm crochet hook with a specified yarn needle to work on this patterned scrunchy. Give this item a smooth finishing by weaving at the end. maryrenji
11. Peasy Scrunchies Crochet Pattern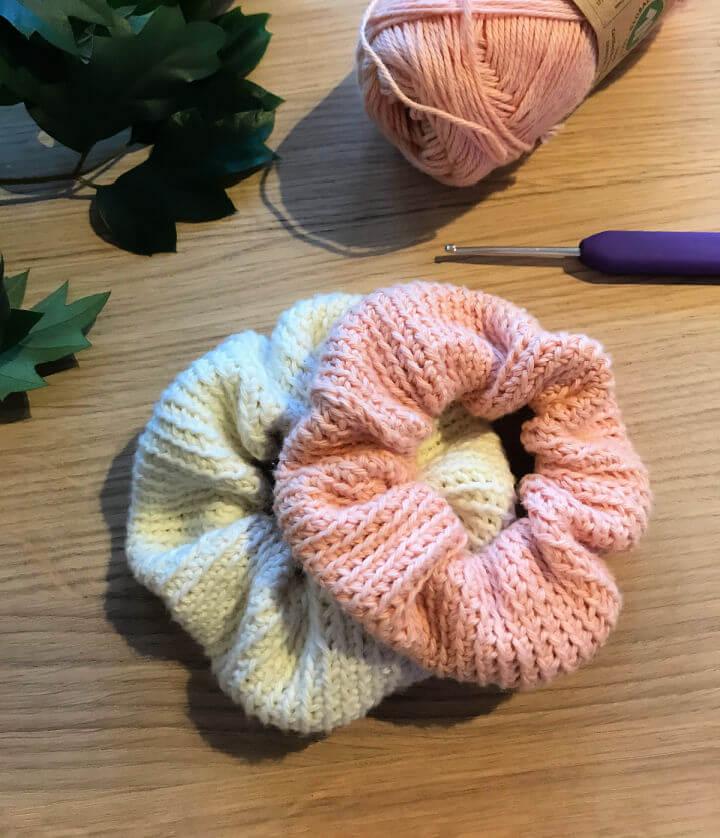 If you are in love with scrunchies and want to crochet them by yourself, do it with the help of a free pattern and guidelines. Create this super easy peasy scrunchy using a 3mm crochet hook with Anna and Clara cotton yarn. If you are an initial level crafter, it is effortless for you to crochet with cotton yarn. Moreover, practice your single crochet, chain, slip stitches, and single crochet in back loop skills while working on this handmade cotton yarn scrunchy. peasy scrunchies
12. Scrunchie Crochet Pattern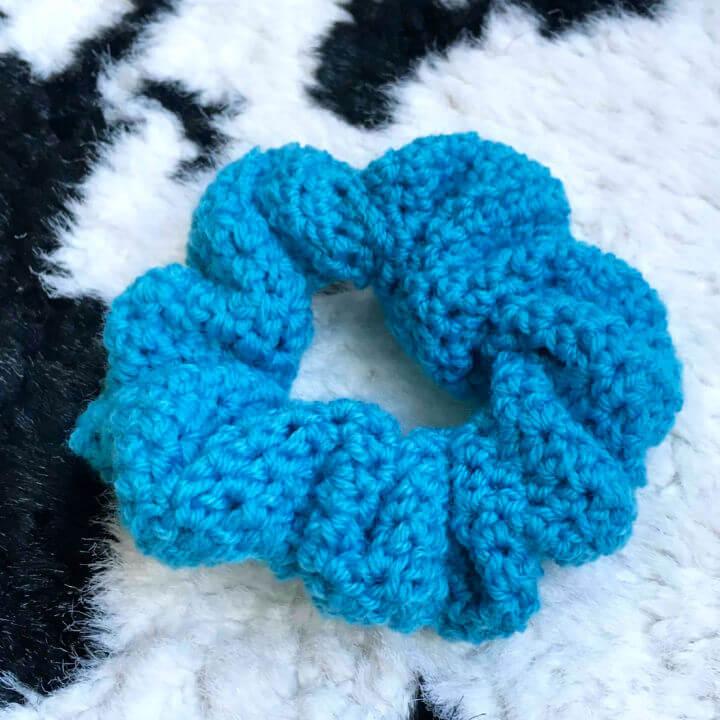 Another Friday is here! Spend it while creating something unique and different for your hair styling. Create these super adorable and affordable scrunchies this Friday with appropriate yarn. Additionally, you require a 3mm crochet hook with chain, slip stitch, single crochet foundation, and half double crochet stitches. Once you have got your hands on one scrunchy, you would love to create another for your friend as well. doradoes
13. Crochet Sophie Scrunchie Free Pattern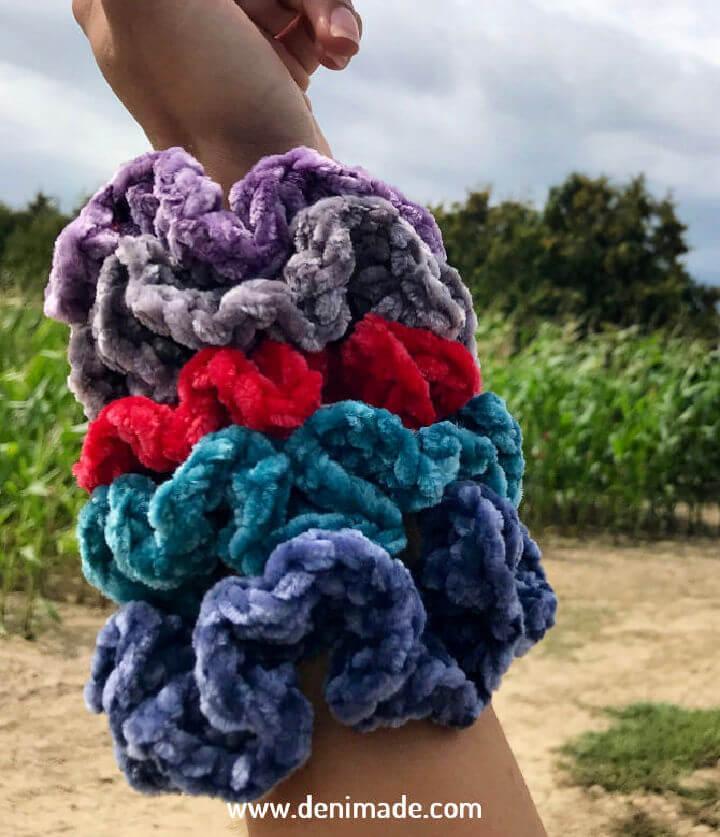 Create these colorful and attractive Sophie scrunchies with a free pattern and tutorial details. Use super chunky velvet yarn to make these super easy scrunchies. Nothing would be better and more fun-loving than creating these striking scrunchies. Furthermore, use a 5.5mm crochet hook with an appropriate yarn. However, Bernat velvet yarn is the most suitable option for crochet these scrunchies. denimade
14. Crochet Team Spirit Scrunchie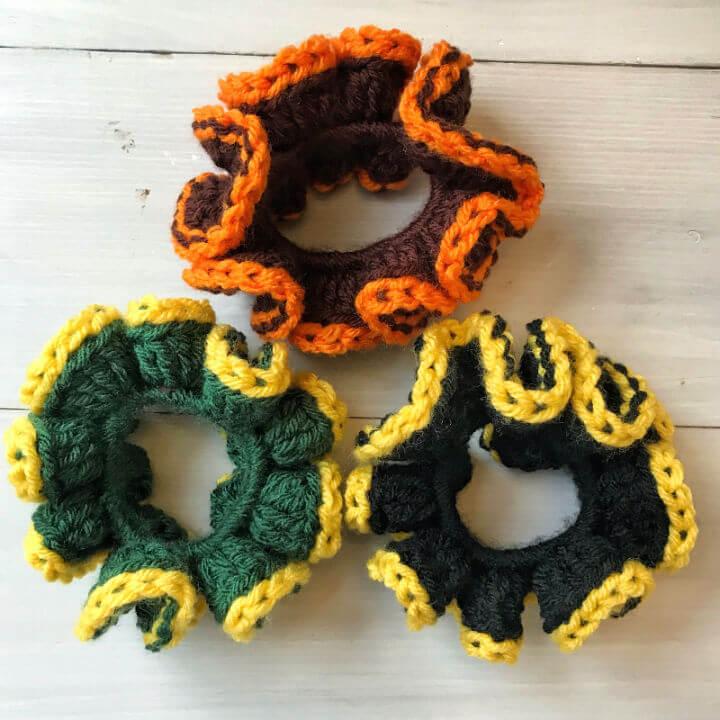 Are you looking for an exciting crochet project to showcase your skills? If yes, create these scrunchies with worsted weight yarn in desired colors. You require a 5.5mm crochet hook with a yarn needle and an elastic hair tie. If you are familiar with US crochet terminology, it's really easy for you to work on these patterned scrunchies. simplyhooked
15. Lattice Hair Tie Crochet Pattern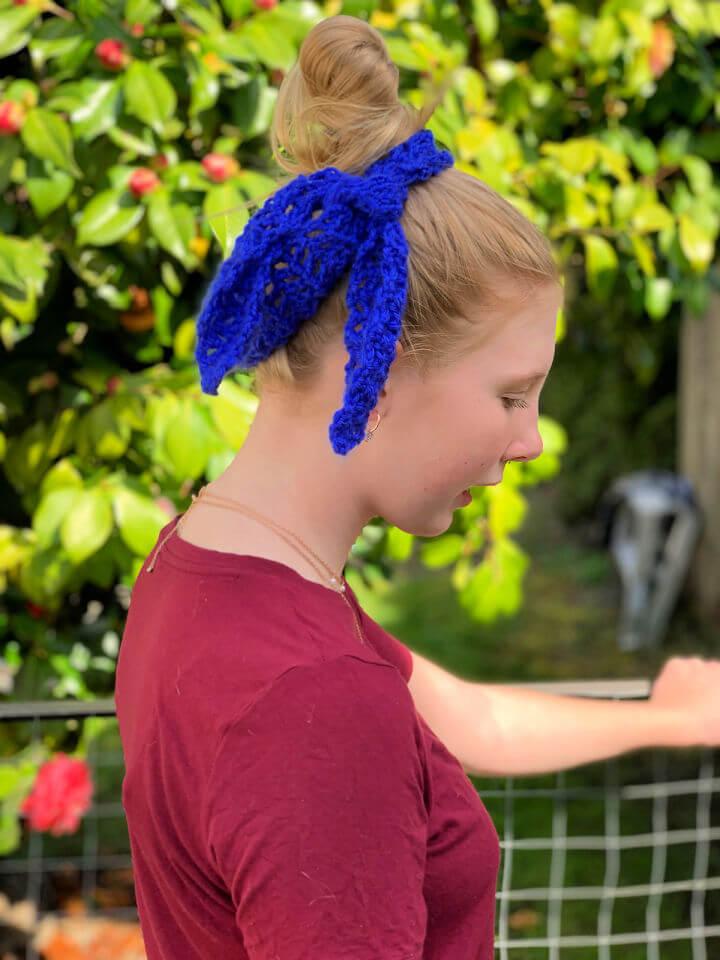 Spring is almost there! It's the perfect time of the year to work on crochet items and patterns. Add something cuter and more stylish to your wardrobe with yarn leftover from your craft store. Use a 6.00mm crochet hook with a yarn needle to make these spring festive scrunchies. Additionally, work with US crochet technology, including chain, double crochet, slip stitches, skip stitches, and chain space, to make these Lattice hair tie scrunchy with a personalized design. anothermumfights