Make your home look more groomed and well maintained and that too with some easy DIY hacks. Using these 10 DIY Home Decor Projects Step by Step details you can easily bring some cool and catchy décor vibes to your spaces. The best thing about the DIY ideas is that they cost you quite less and bring so much fun to your home time as well. So now you can make the most out of your free time by working on these 10 DIY home décor projects and make your spaces look more gorgeous and stunning and that too at the cost of just a few pennies.
The ideas are so versatile to try your hands on and also they target different homey areas so you are surely going to enjoy them all. Why not start charming up your kid's room and for that you can try your hands on the princess canopy and yarn wall banner with teepee ideas. Next, you are going to find some ideas for the living room up-gradation with projects like a fabric wall art, a gorgeous dream catcher with seashells and feathers, chalk paint vases, geometric pendant lights and more. Each of the projects has their details attached so do check them out.
Easy DIY Princess Canopy: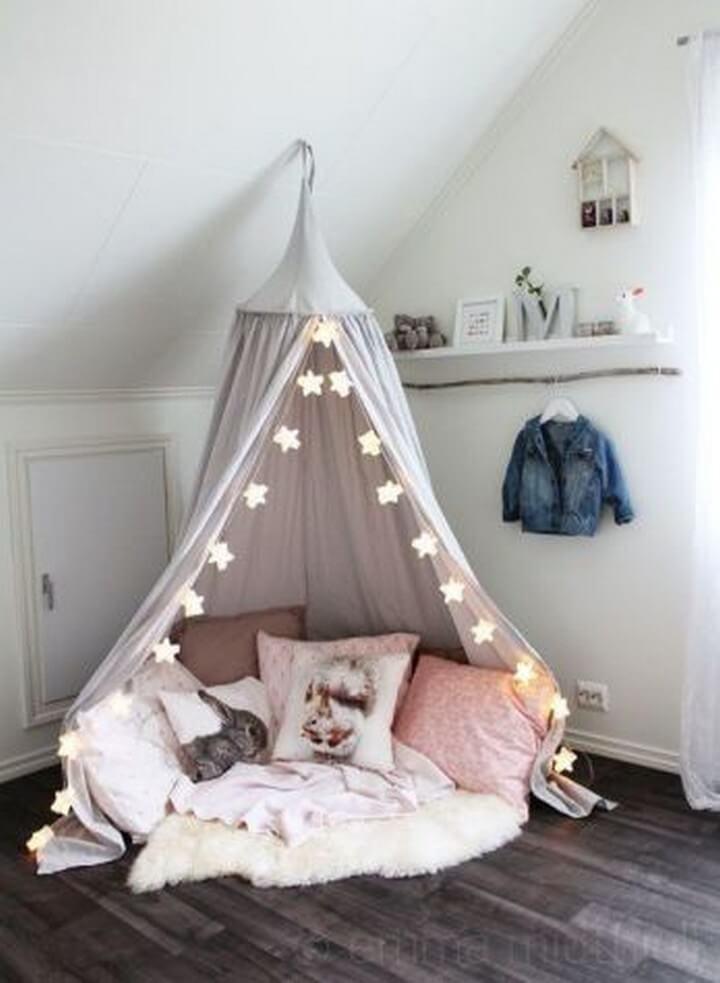 It's time to bring some change in your home décor and you can do it with this easy DIY princess canopy project. Your little girl is really going to like this her princess canopy to be her special corner in the house. She can relax and read in this canopy so do make her this.  Step by step details here!
Tutorial: youtube
Pom Pom Garland Wall Hanging: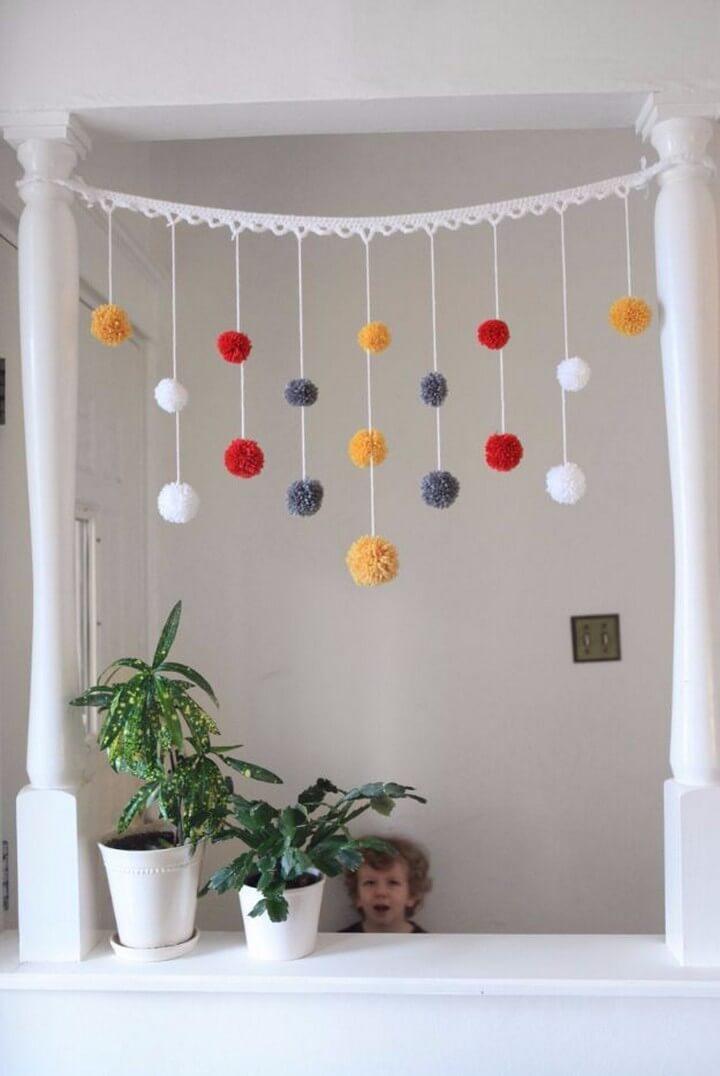 Bring some cue and colorful vibes to your home décor and make it feel lively again. With this lovely pom pom garland wall hanging you can make this pretty wall hanging with the yarn threads and the colorful pom poms. It would suit any wall of the house especially in the rooms of your kids. Details here!
Tutorial: uppercasemagazine
Dream Catcher Wall Hanging: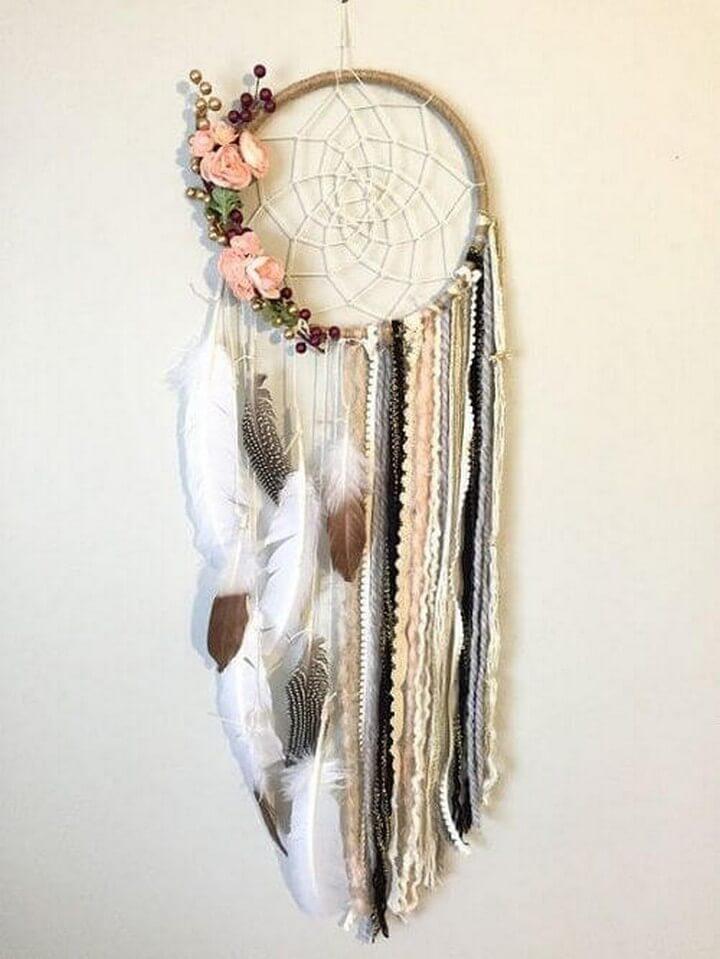 Dream catchers are one of the famous things to use for the wall décor and now you can make this gorgeous one and use it as the wall hanging. Also, you need easy supplies to make this like an embroidery hook, a  lot of feathers and ribbons. You can also add some seas shells for a more mused look. Check out the details here!
Tutorial: youtube
Colorful DIY Fabric Wall Hanging: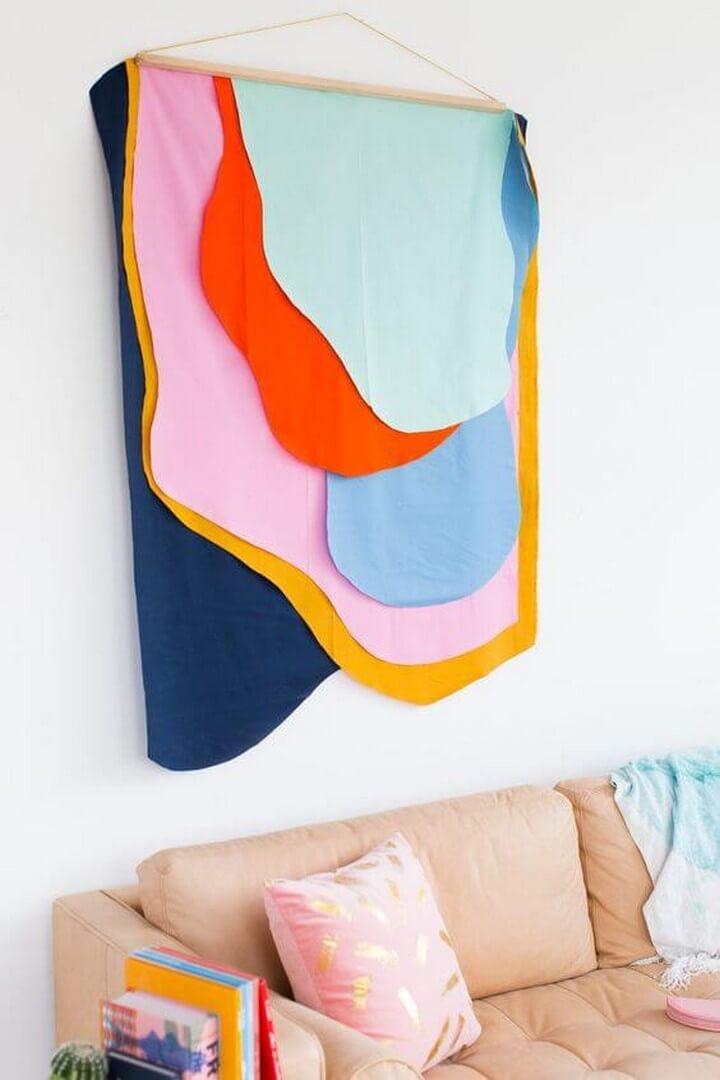 DO not let your living room wall feel all empty and boring. Make this colorful DIY fabric wall hanging and bring all the fun décor vibes back to your place. A bunch of colorful fabrics and have been cut out in multiple designs and then put together with an overlapping arrangement over a hanger. Details here!
Tutorial: sugarandcloth
Dropzone Organization: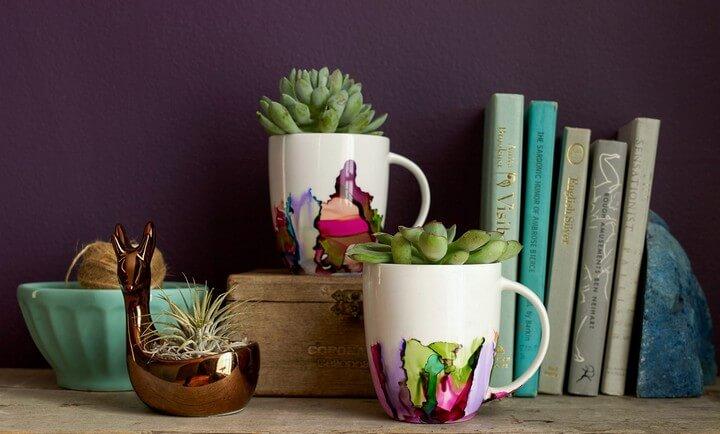 Bring some cute touches and appeals to your bookshelves with this dropzone organization idea. You can arrange your books and adorn the shelf with some cute succulents and that too in a pair of hand-painted cups. You can use the idea of dip nail polish to do your mugs with some lovely colors. Details here
Tutorial: bhg
Geometric Pendant Light: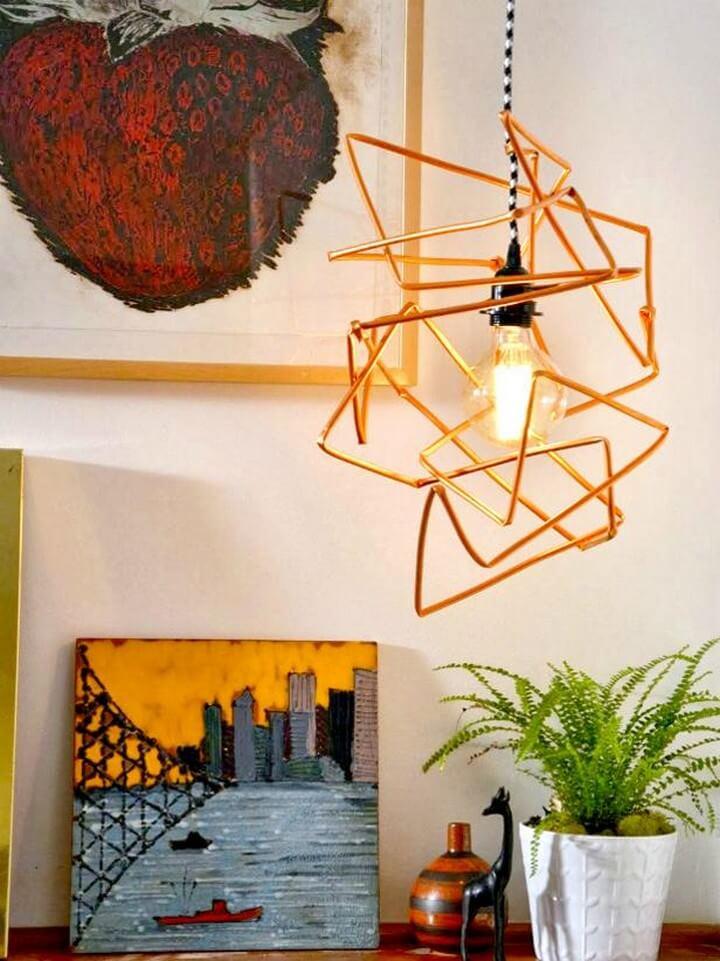 This super stylish geometric pendant light is really going to bring the boho and chic vibes in your home décor. Using the copper pipes you can mold them in multiple geometric shapes and use the mold as lovely pendant light for your living, kitchen and even the guest rooms. Check out the details here
Tutorial: hgtv
Cotton Yarn Banner & Teepee: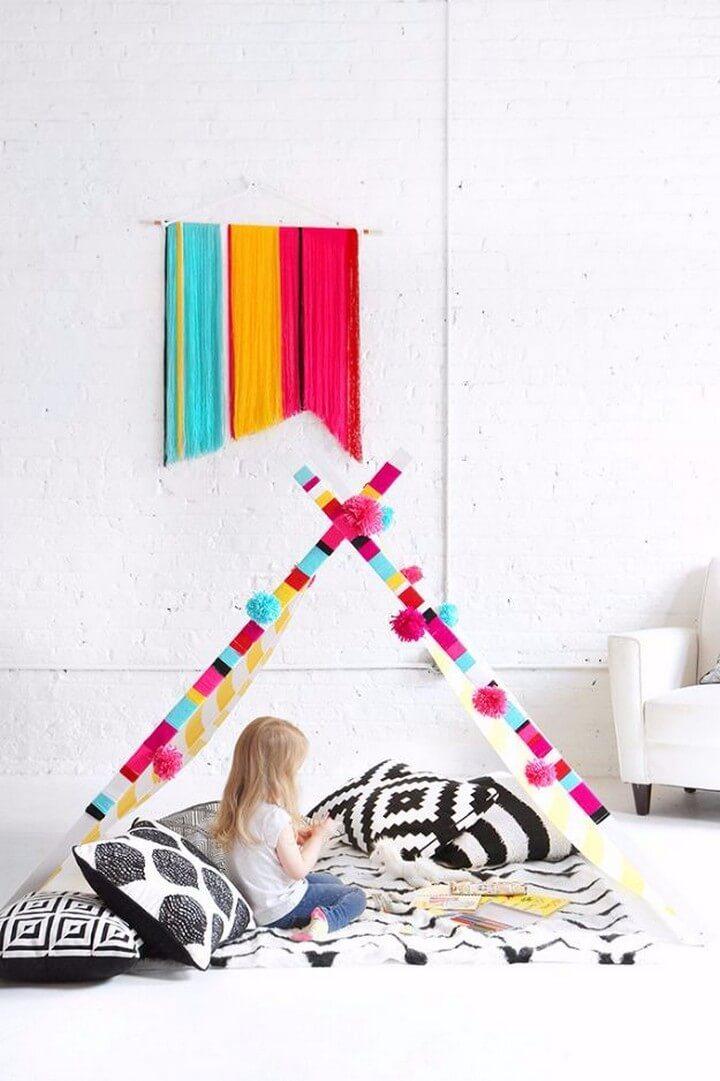 Bring the colors of the summers to your girl's room with this lovely cotton yarn banner and the teepee. The poles of the teepee and the walls of the room have been adorned with the gorgeous and bright yarn to look just super cool and eye-catching. Check out the details here!
Tutorial: ispydiy
Mason Jars Candle Holders: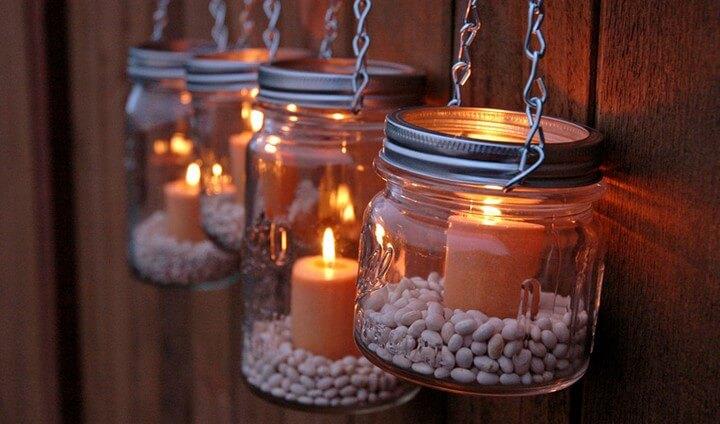 Make your summer afternoons much more fun and romantic with these Mason jar candle holders.  Grab mason jars of various sizes and fill them with the concrete and the candles and hang on your outdoor walls with the help of chains. You can check out the details right here!
Tutorial: jennifersmentionables
Chalk Paint Vase: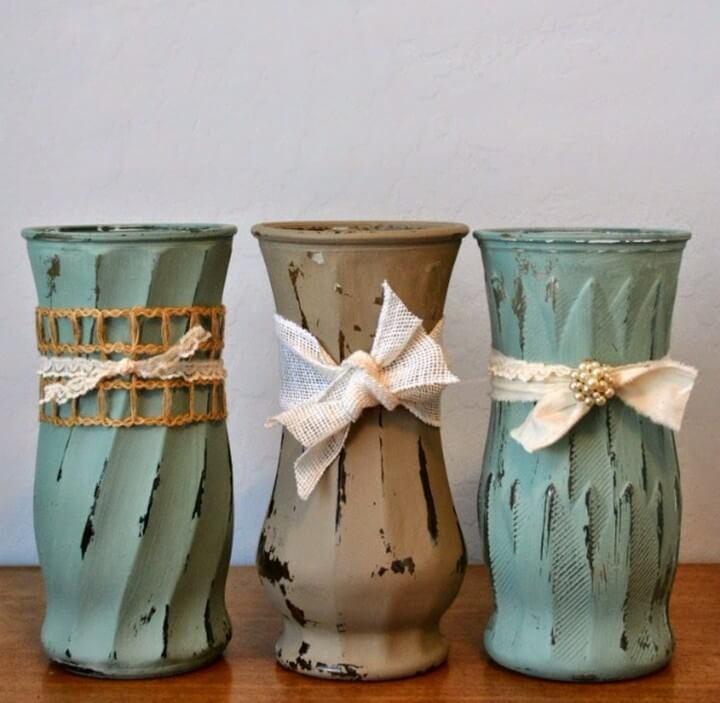 Bring the old vintage vibes to your home décor with these adorable chalk paint vases being the part of your table and the mantle décor. The colors used here are the white and the aqua blue to fit in your summer homes with some cute ribbon bow ties. Follow the details here!
Tutorial: greentablemercantile