Home decoration is the favorite task of the homey ladies and only one thing is the reluctance in their way to make their home stylish heaven and that is the costliness. Yes, the high prices of the home décor items are just way out of the reach of budget survivors and moderate earners. But not to worry at all as we have brought to you these 45 DIY affordable ideas for decorating your home and make it your dreamy space. These décor ideas are rich in style but cheap in cost and thus making it so much fun to style your spaces by staying in your budget limits.
The best thing about these home décor ideas is their variety as they cover each area and space of the house so that you do not miss out on anything. There are pretty wall art ideas for the walls, cute handmade vases for the tables, nightstands for the bedroom, dining table centerpieces, outdoor planters, pretty pillows and so much more. Also, the ideas have been collected to keep up with the whole year styling so you have summer and spring décor projects along with the winter and fall décor ideas. Just go through this giant collection of the ideas to find out which of these would suit and fit in your spaces perfectly. Happy home decorating to you!
Adding Color And Pattern With A Simple DIY: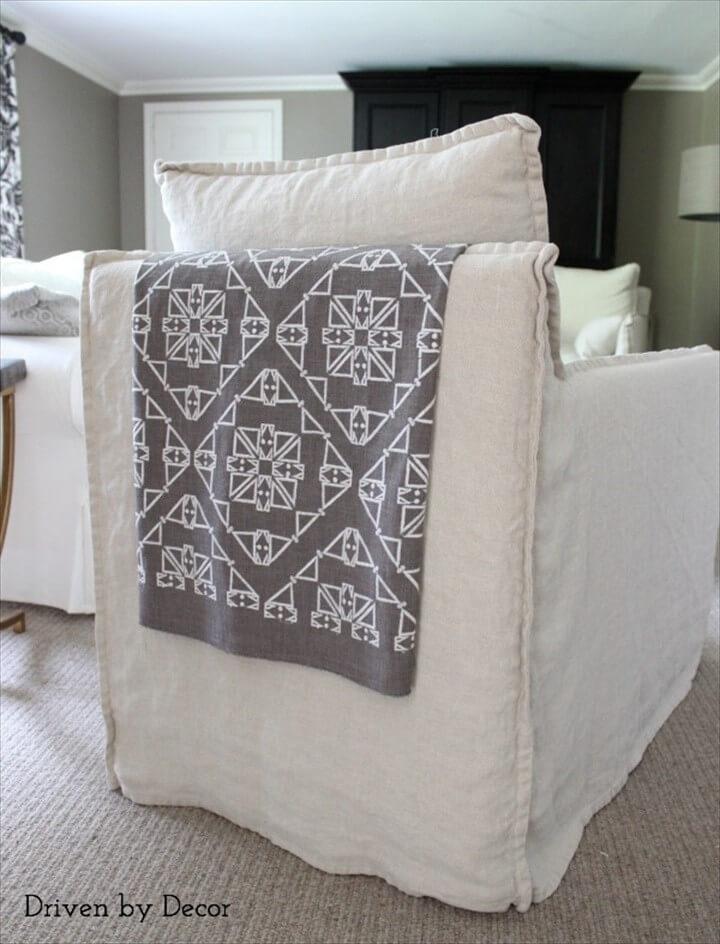 You can add a perfect new look to your home décor especially to the living room with this DIY. The grey fabric has a lovely white pattern and the white yarn knotted tassels to be at the back of your chairs. This gorgeous back of the chairs would really add to the beauty of your spaces with fresh vibes. Check out the idea here!
Tutorial: drivenbydecor
An Easy Tip To Turn Thrift Finds Into Chic Wall Art: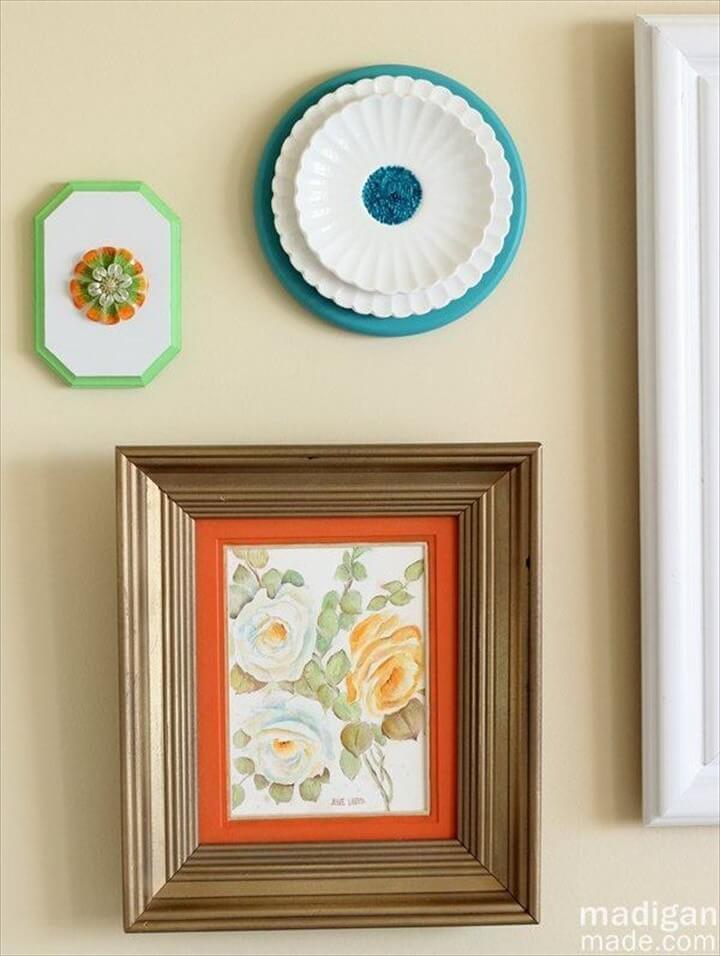 You can enjoy the season of a flower blossoming in the chicest way with this idea of thrift into chic wall art. There are flower brooch, floral painting, and the flower-shaped plates having been turned into gorgeous wall art and that too at the cost of few pennies. So spring up your home with these floral beauties and charm up your décor.
Tutorial: rosyscription
An Illuminated Cabin Resort Sign For A Fall Mantel: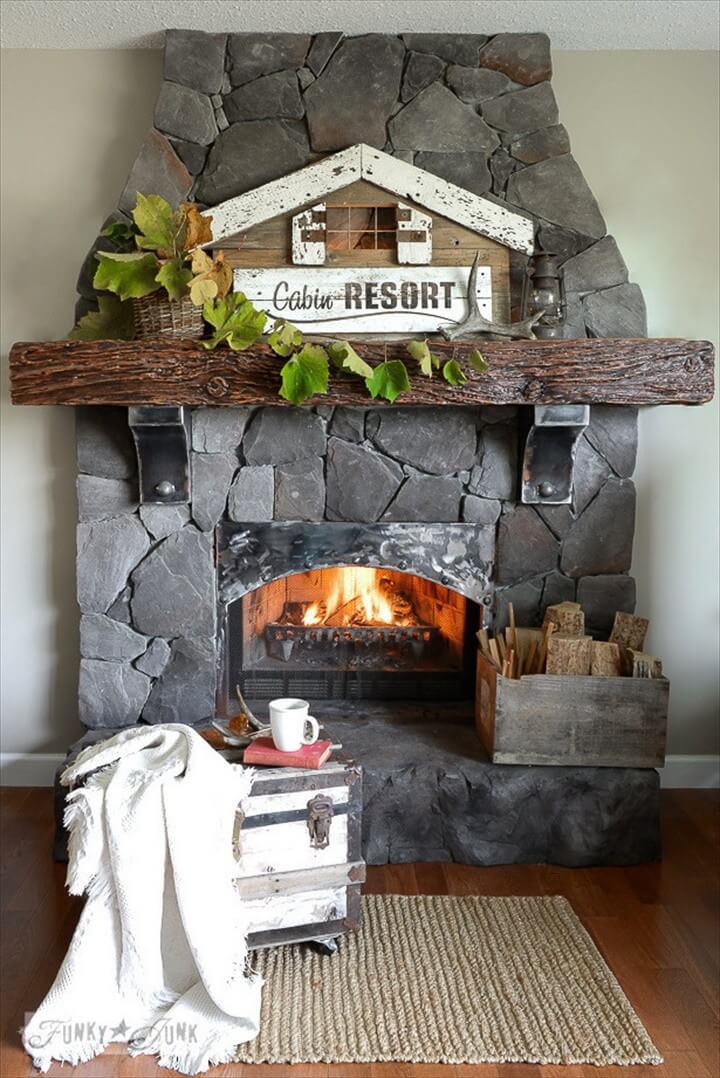 Give your fall mantle this cabin resort makeover with this handmade illuminated cabin resort sign. You would need rustic wooden pieces, white paint, and your crafting tools to work up this fall mantel. Shape up your wooden slats like a cabin and add Cabin Resort stencils with white paint and your perfect mantle décor is ready. Details here!
Tutorial: funkyjunkinteriors
Autumn Leaf Stenciled Table Runner: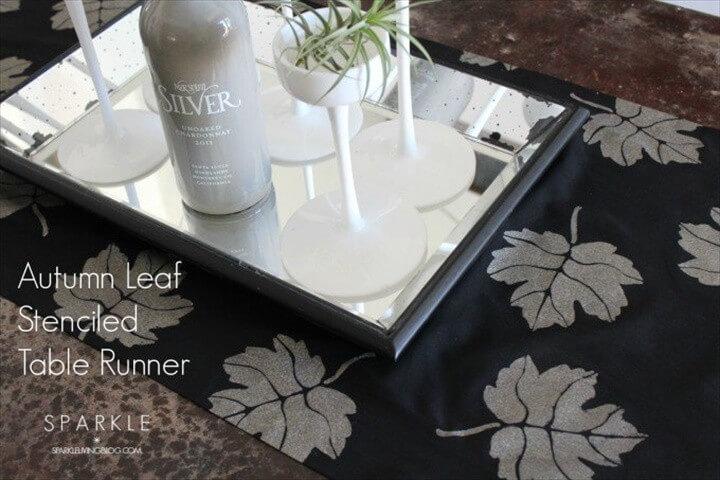 Make your dinner tables ready for the fall with this autumn leaf stenciled table runner. The black cotton fabric has been stenciled pounced with fall leaf using the metallic paint and the paint medium, and fabric tac to make this pretty fall-inspired table runner. Step by step details here!
Tutorial: sparklelivingblog
Candy Cane Mason Jar Luminary: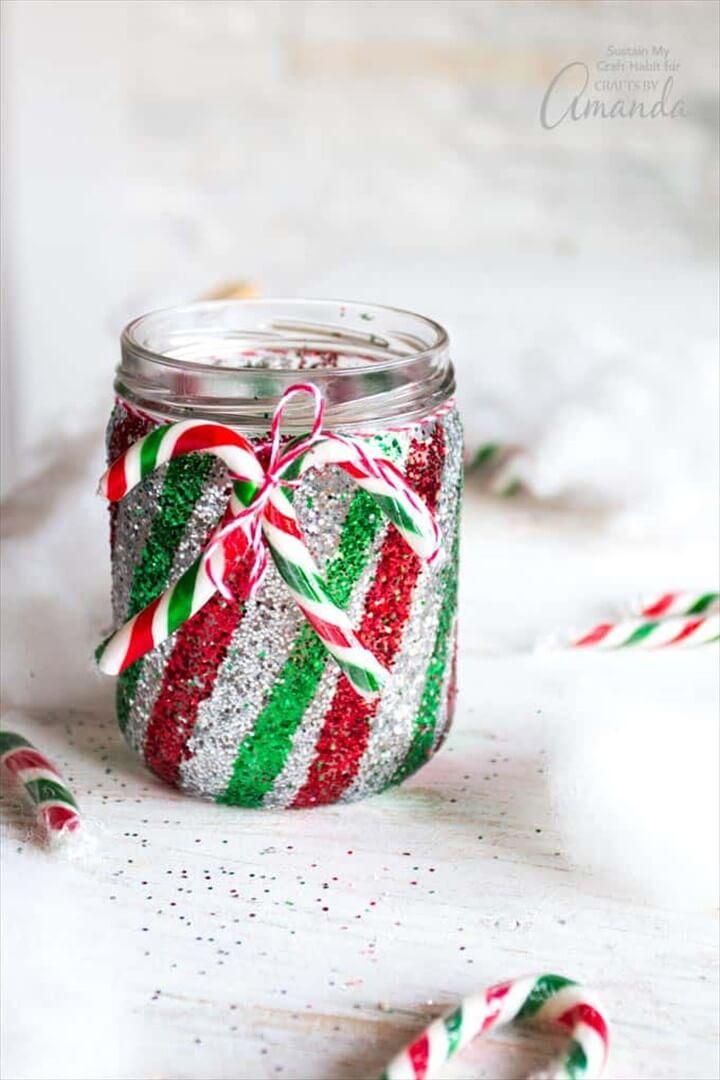 Decorating mason jars for the festive décor is like customary. So this time you can use this idea of candy cane Mason jar luminary to add cuteness and charm to the Christmas décor. So get some mode podge and glitter in the white, green, and red hues to decorate the jar in a stripy pattern. This glittered candy can Mason jar luminary would make a great gift idea too.
Tutorial: craftsbyamanda
Chalk Paint – Move Over Annie Sloan: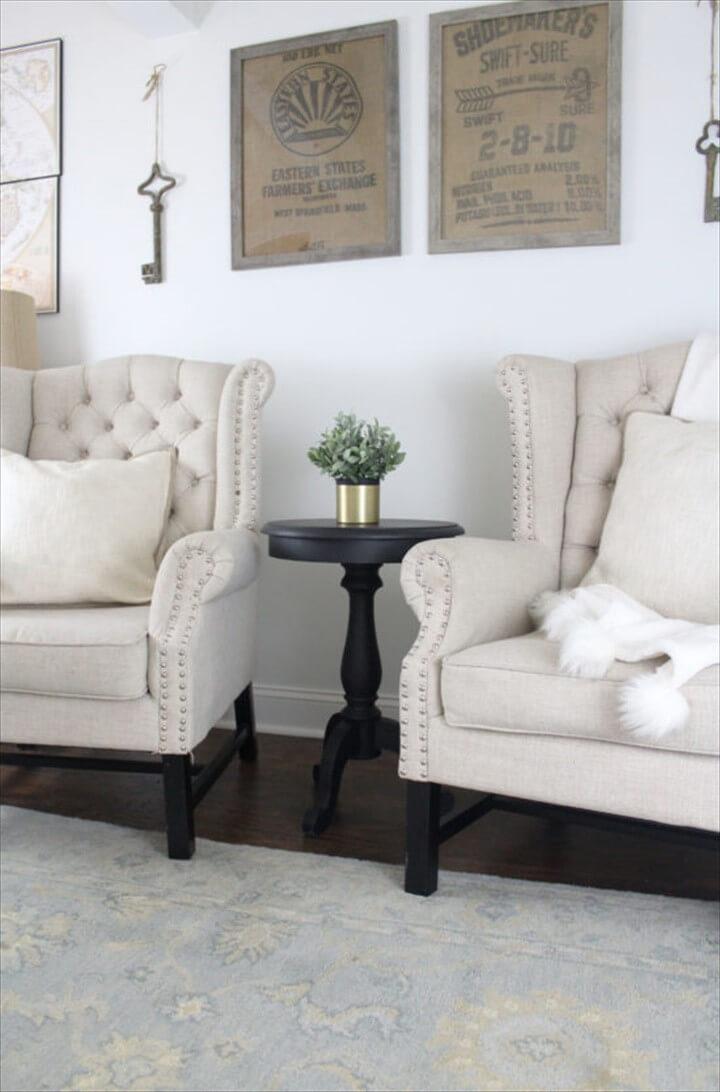 There are so many small details that you can bring in your home décor for a fascinated appeal. This idea is about giving your side table a makeover and that too with the chalk paint. The chalk paint used here has been chosen from the DecoArt paint and the shade is carbon. The sleek and refined finish of this paint is just super tempting. Details here!
Tutorial: thehoneycombhome
Coastal Fall Decor: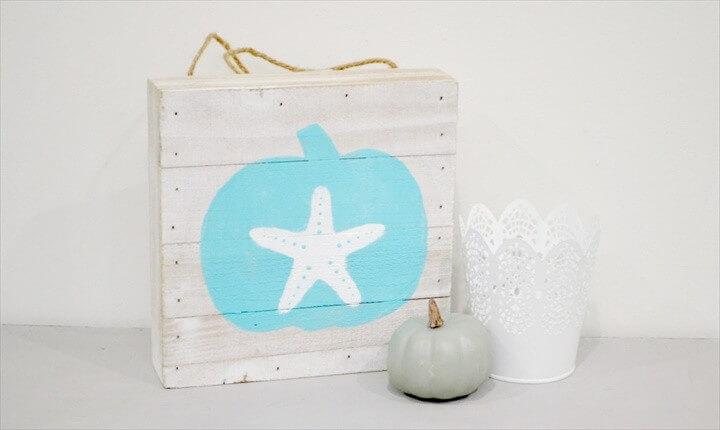 If your home décor is based on the coastal theme then this coastal fall décor piece is perfect for the fall season. This is a cute and chic décor table piece with a blue pumpkin and white starfish. The pumpkin makes it perfect for the fall and the blue and white color with the starfish helps it stay in contact with your coastal décor theme. Details of this quirky décor idea here!
Tutorial: amylattacreations
Creative and Chic DIY Nightstands: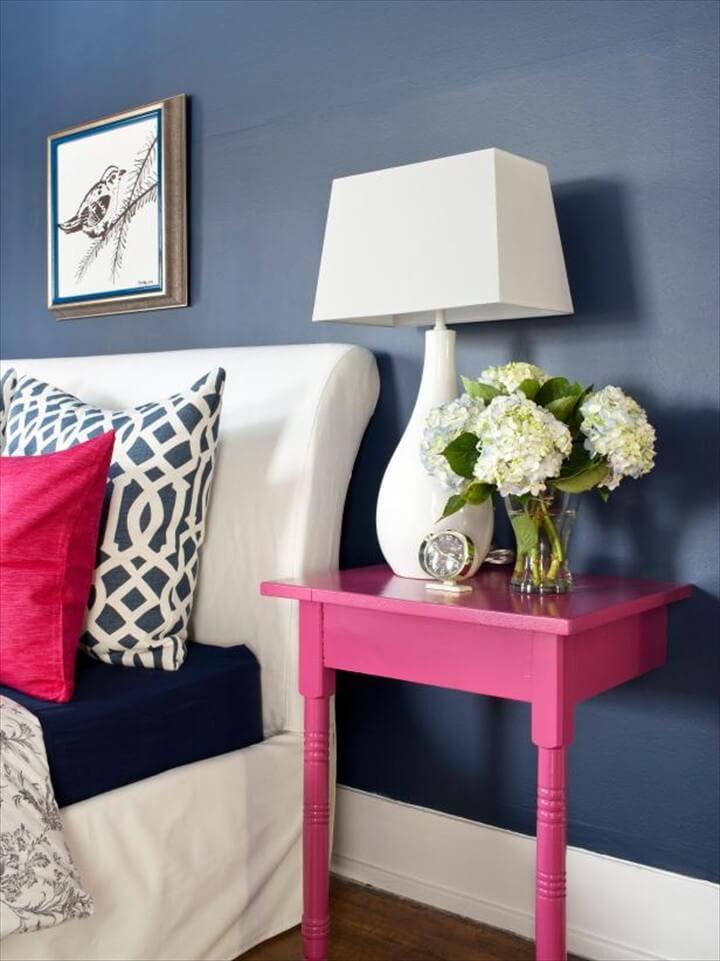 Need a nightstand? If yes then get your hands on this creative and chic DIY nightstand project. An unused old table here has been cut into halves and then painted with lavish pink spray paint. As the table has two legs so you have to install a cleat on the wall to make this nightstand stand steady and stable beside your bed. Follow the details here!
Tutorial: hgtv
Decorate Old Vases: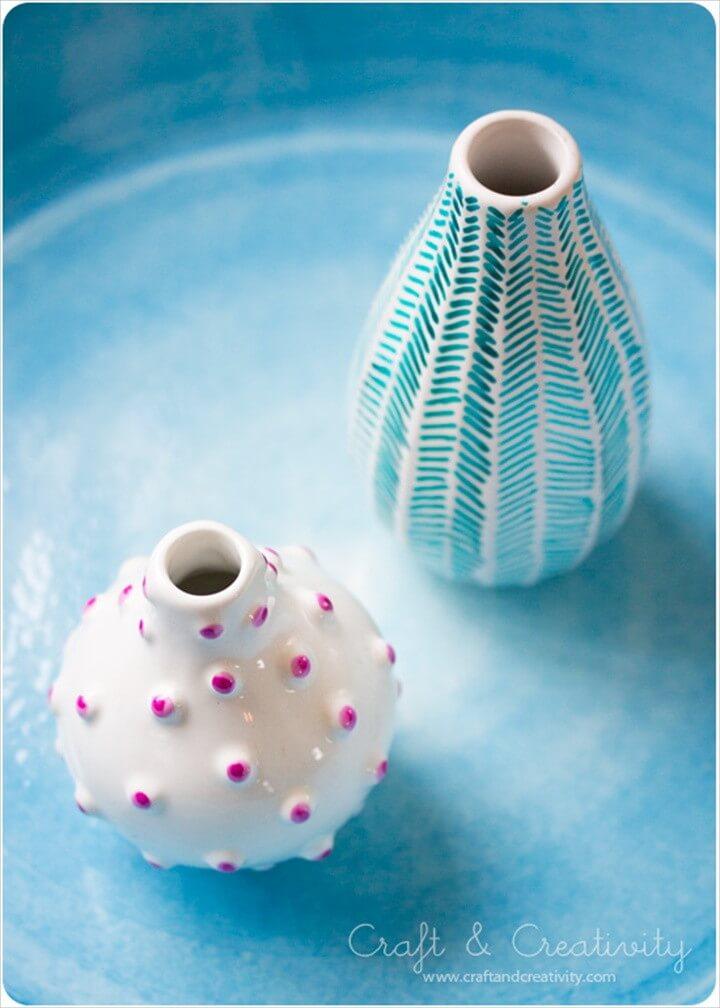 Bring some fresh décor vibes to your home décor by restyling your old vases. So get your hands on some brightly colorful porcelain pens to create some cute and custom designs and patterns on your vases and make them look super chic. The vase makeover idea is perfect for the summers so get the details of the idea here!
Tutorial: craftandcreativity
DIY Butterfly Chair Makeover: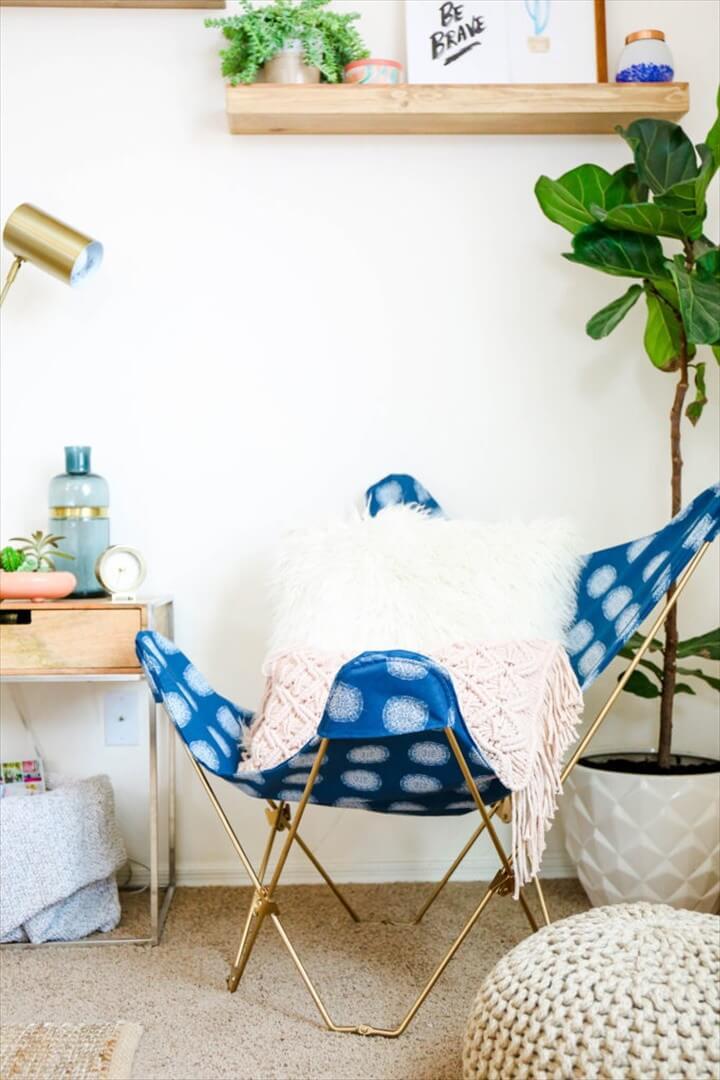 You do not need to buy new things to style up your spaces as you can do it with the makeover of your old items. So get fun and cute fabric to sew up the pretty cover for your chair and make it look just so adorable and cute. Here the fabric used is blue with white polka dots to look perfect for a summer sea theme home. Follow the makeover details here!
Tutorial: theproperblog
DIY Candle Decoration: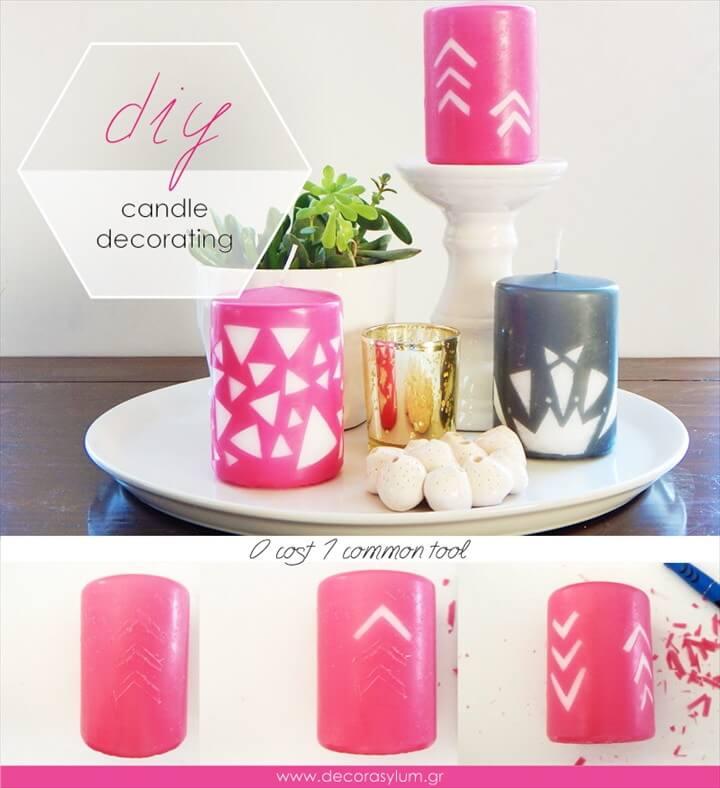 If you do not have fancy candles then it's ok as you can make the simple and plain candles look super chic with just a knife. So get a sharp knife and your colorful candles to carve out some pretty designs and geometric shapes on your candles. This is a fun last-minute project to spice up your décor at no cost at all. Details here!
Tutorial: decorasylum
DIY Coffee Table: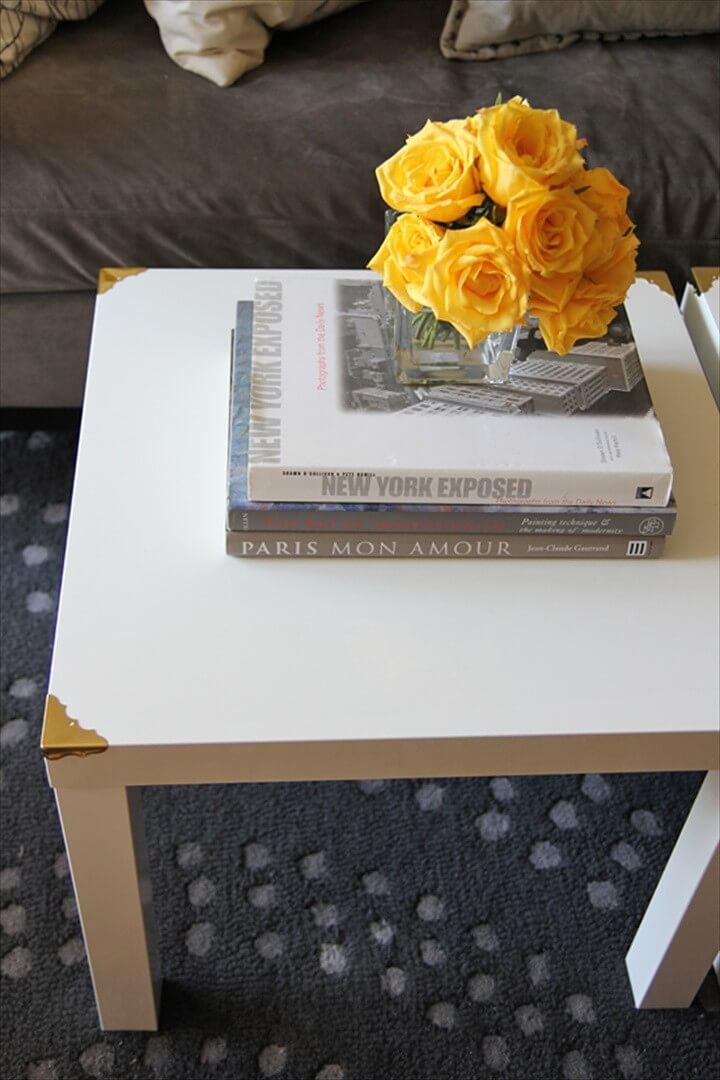 This simple and chic DIY coffee table is from IKEA with a little DIY touch to look super classy and cute in your home décor. The chic white coffee table is super easy to put together and while doing this just add brass corners to make it look jazzed up. Yes, the perfect white coffee table with brass corners turns out to be really appealing. Details here!
Tutorial: ourchocolateshavings
DIY Copper Pipe Candelabra: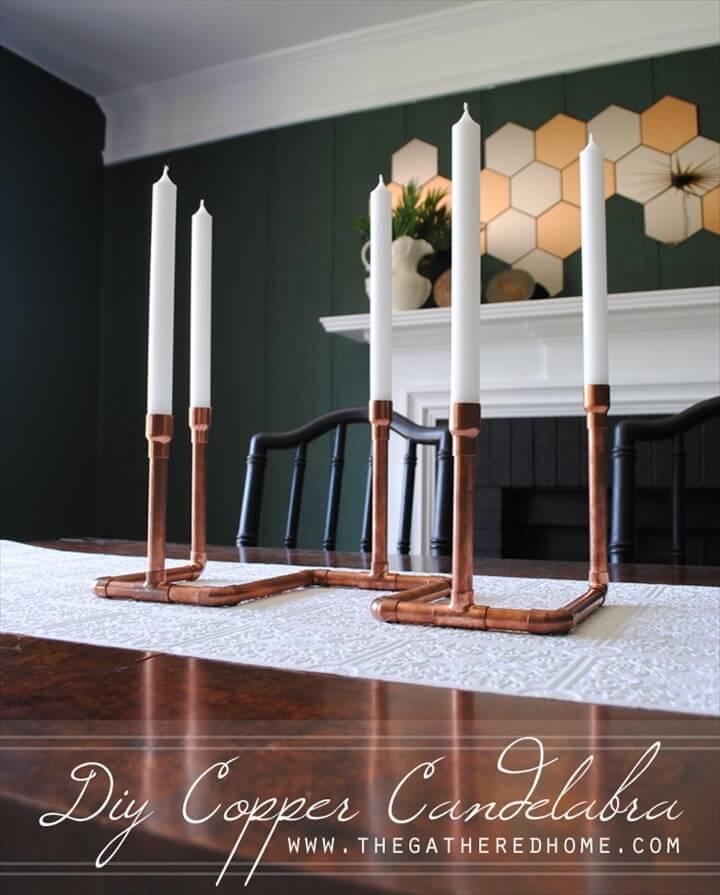 This DIY copper pipe candelabra is going to be a gorgeous centerpiece for your dinner tables for the special occasion. So get your hands on the copper pipes, copper elbows, tees, and couplings to shape up this gorgeous candelabra. Though it's handmade yet people might take it as a fancy piece bought from the store for being so chic and elegant. Details here!
Tutorial: thegatheredhome
DIY Fall Centerpiece: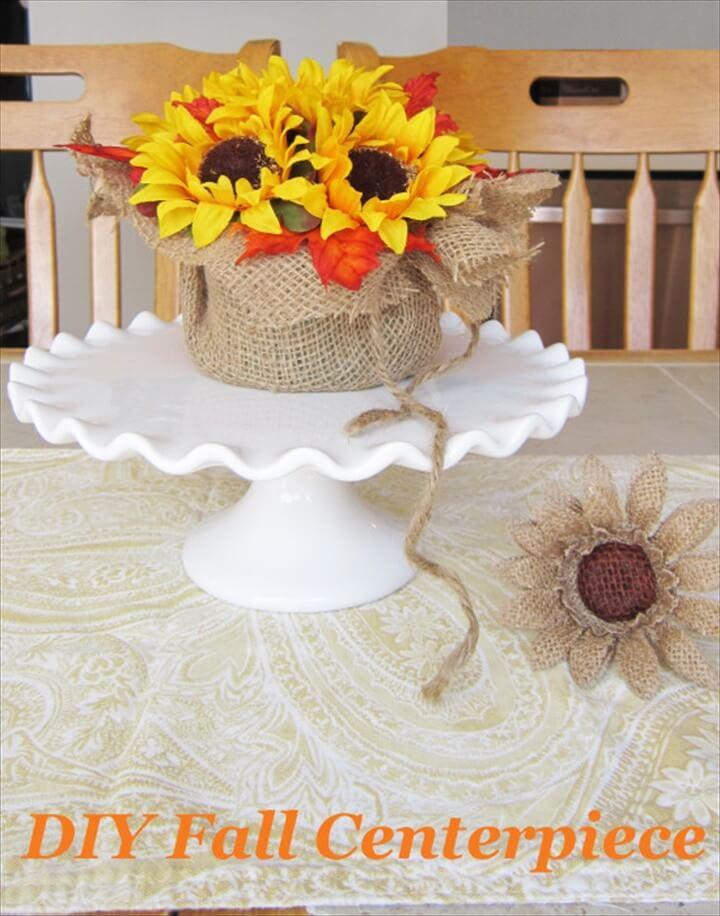 One of the cutest ways to bring the fall vibes in your spaces would be by making this gorgeous and chic DIY fall centerpieces. So get a foam ball and add faux sunflower and the fall leaves to it. Then grab the burlap and cover the foam section with the burlap and your cute fall centerpiece is ready. From your coffee table to side tables and dining tables this can charm up any of them.
Tutorial: thehoneycombhome
DIY Faux Concrete Table Centerpiece for Fall: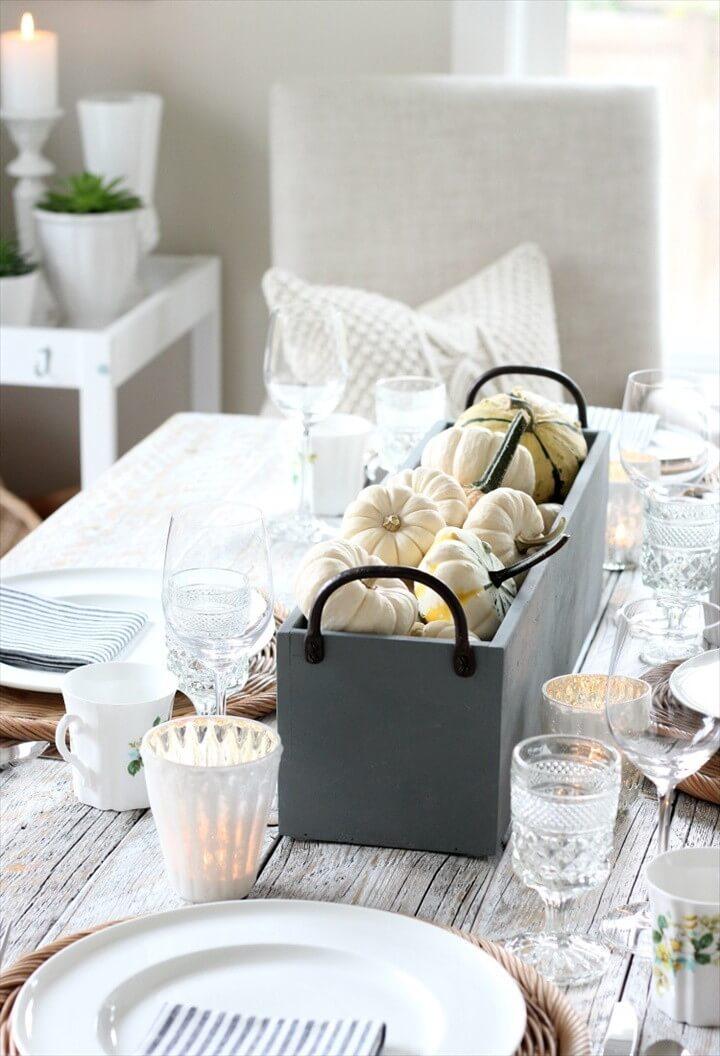 Here is how you can make a perfect fall table centerpiece with this easy and fun idea. A wooden box has been purchased and painted in grey chalk paint to look just like a concrete box. Load this pretty box with faux white pumpkins and you have your pretty and fall-themed centerpiece ready for the dinner tables. Complete details here!
Tutorial: satoridesignforliving
DIY Frame Shelves: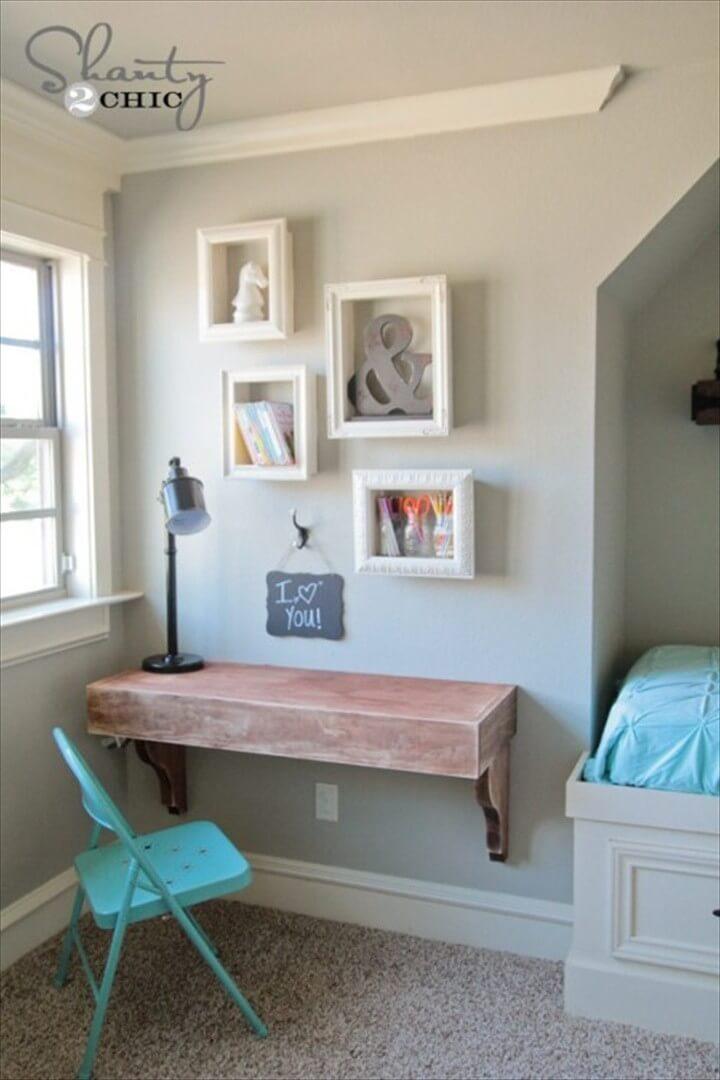 It's time to lift up the look of your desk corner and these DIY frame shelves are perfect for this plan. You need to make square boxes first using the wooden slat pieces and then top them off with thrifty frames. Once your box-shaped shelves are ready to paint them in white for a perfectly immaculate finish. You can hold your books, décor objects, and artifacts in them. Details here!
Tutorial: shanty-2-chic.
DIY Geometric Glass Terrarium with Faux Plants: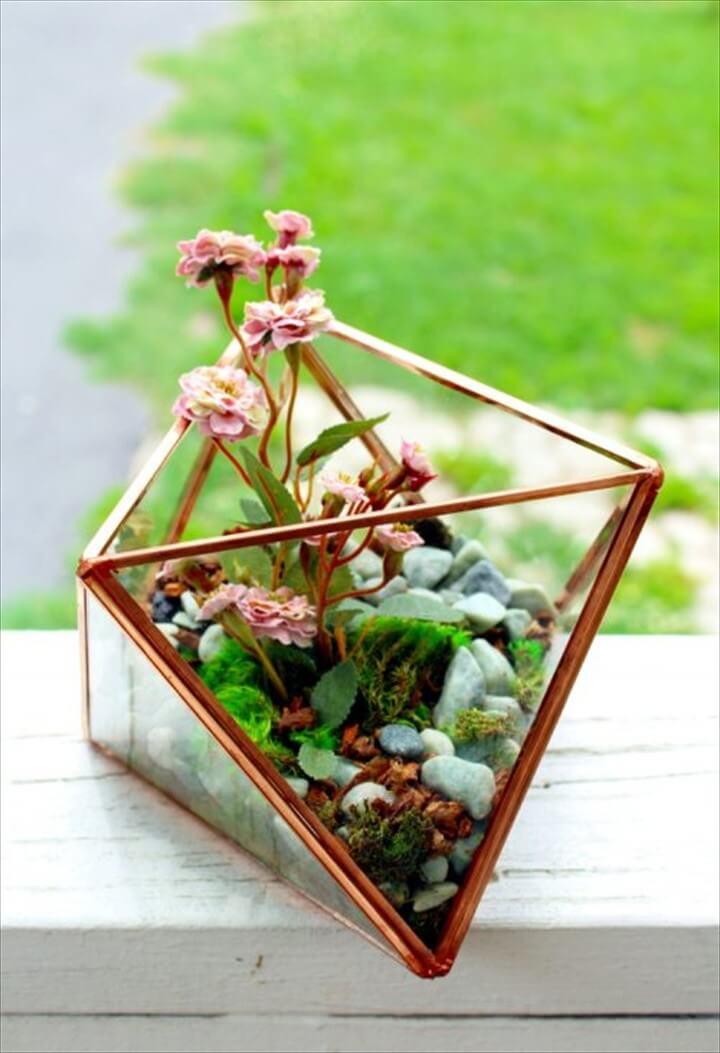 Most of the summer-themed décor ideas revolve around the plants so do make this pretty terrarium with faux plants. So get a geometrically shaped glass terrarium and fill it with the faux moss, foam, orchid bark, pebbles, and the rocks to be a perfect addition to the summer tables. Check out the details here!
Tutorial: soapdelinews
DIY Honeycomb Shelves: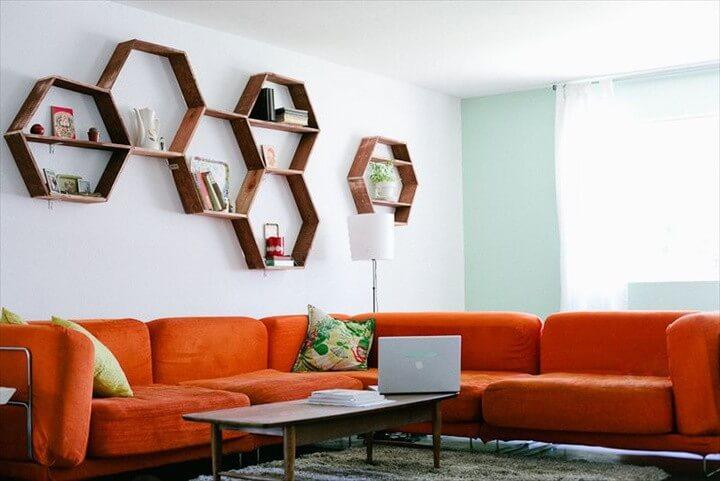 With these DIY honeycomb shelves, you can fill up your living room walls both artistically and functionally. Using the pieces of rustic wooden slats you can easily shape up a bunch of the honeycomb shelves and mount them over walls in a chained pattern. Books, pots, planters, artifacts and so many other knick-knack stuff are going to hold a nice space on these honeycomb shelves. Follow the details here!
Tutorial: abeautifulmess.typepad
DIY Ladder Plant Stand: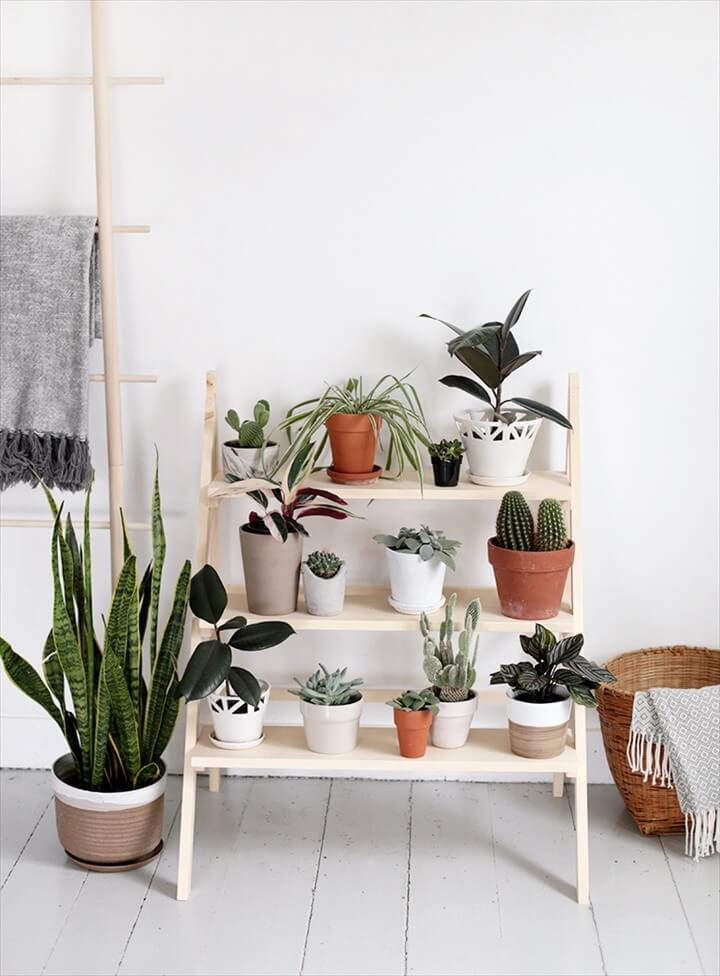 If you are a diehard plant lover and want them inside your home in a large number then do it decoratively. This DIY ladder plant stand is a great idea to add a bunch of your planter pots in a beautiful and apple pie order in your homey spaces. From your foyer to your hall this gorgeous ladder plant stand is going to bring natural pretty vibes to your spaces. Details here!
Tutorial: themerrythought
DIY Lavender Wreath Tutorial: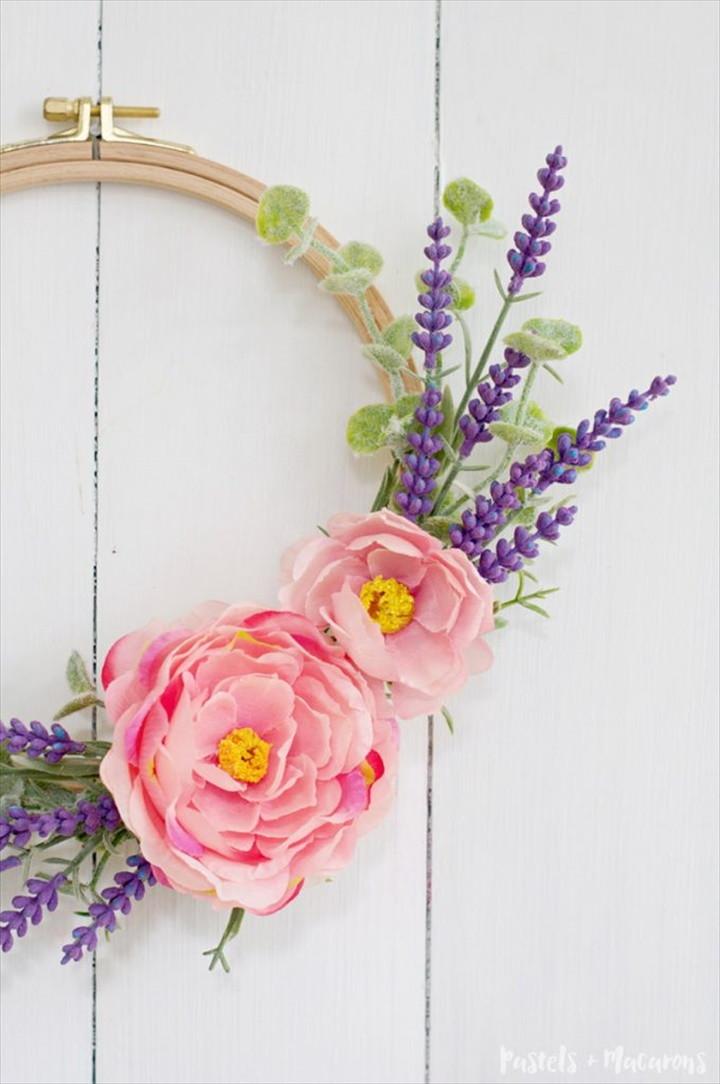 Get your home summer or spring-ready with this pretty and simple DIY lavender wreath tutorial. The pretty wreath is easy to make with embroidery hoops, faux lavender, and the peonies and be a pretty addition to your doors. Also, you can use this cute lavender wreath as a pretty wall art project too. Follow the details here!
Tutorial: pastelsandmacarons
DIY Nightstand: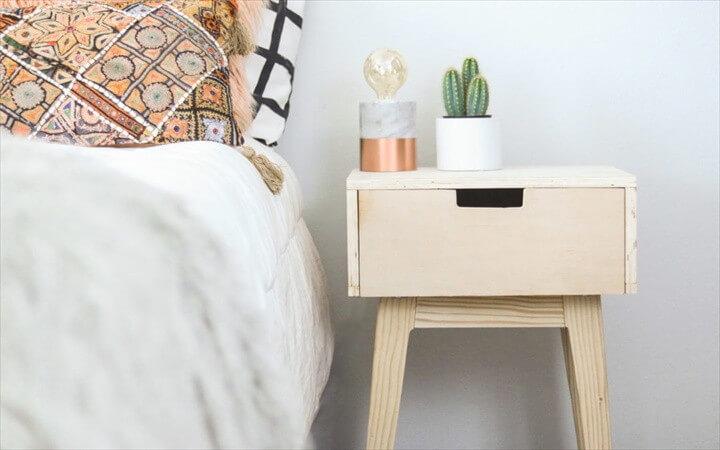 If your bedroom needs some style changes then add this DIY nightstand to your bedroom and make it look updated. The cute and mini Scandinavian styled nightstand is really going to freshen up your bedroom décor. It got a small caddy style structure on the top and cute tiny legs at the base. You just need wooden sheets and the crafty tools to work up this mini yet stylish and cute nightstand.
Tutorial: lilyardor
DIY Painted Pillows: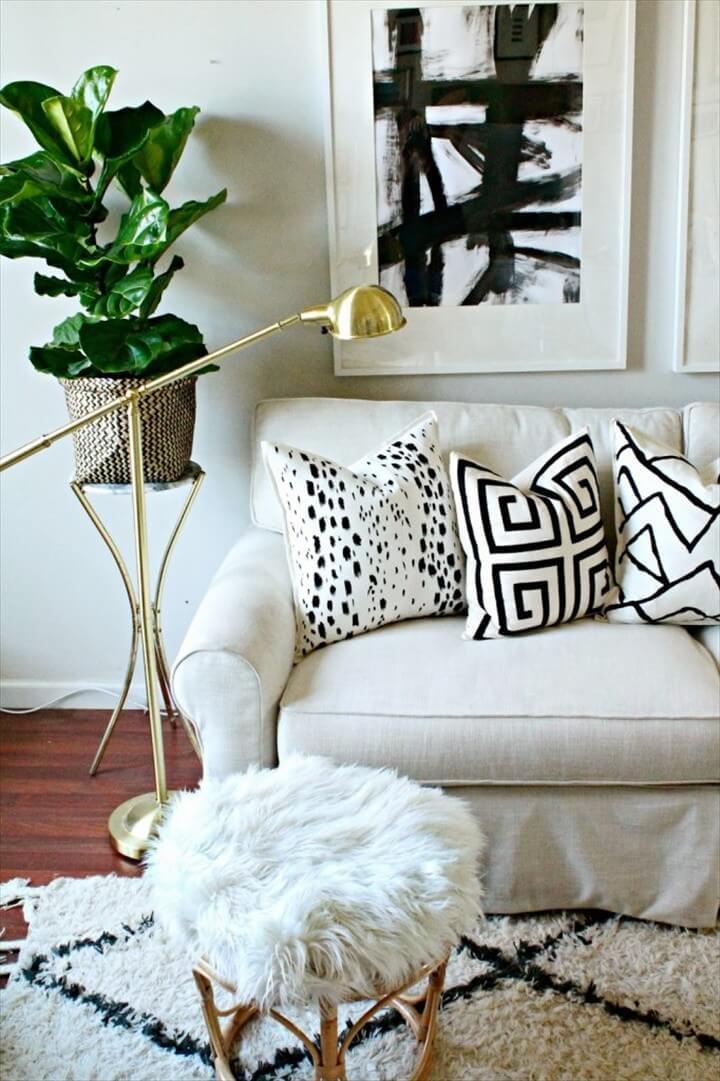 Drooling over those designer pillows that you saw online? You can make the same pillows with much cheaper rates using the easy crafty things and supplies. So get your hands on the paint, paint medium, paintbrushes, and the tape to make these funky and cool pillows. You can create any design and pattern just like the Zimba geometric has been done here!
Tutorial: shannonclaireinteriors
DIY Peeps Pillow: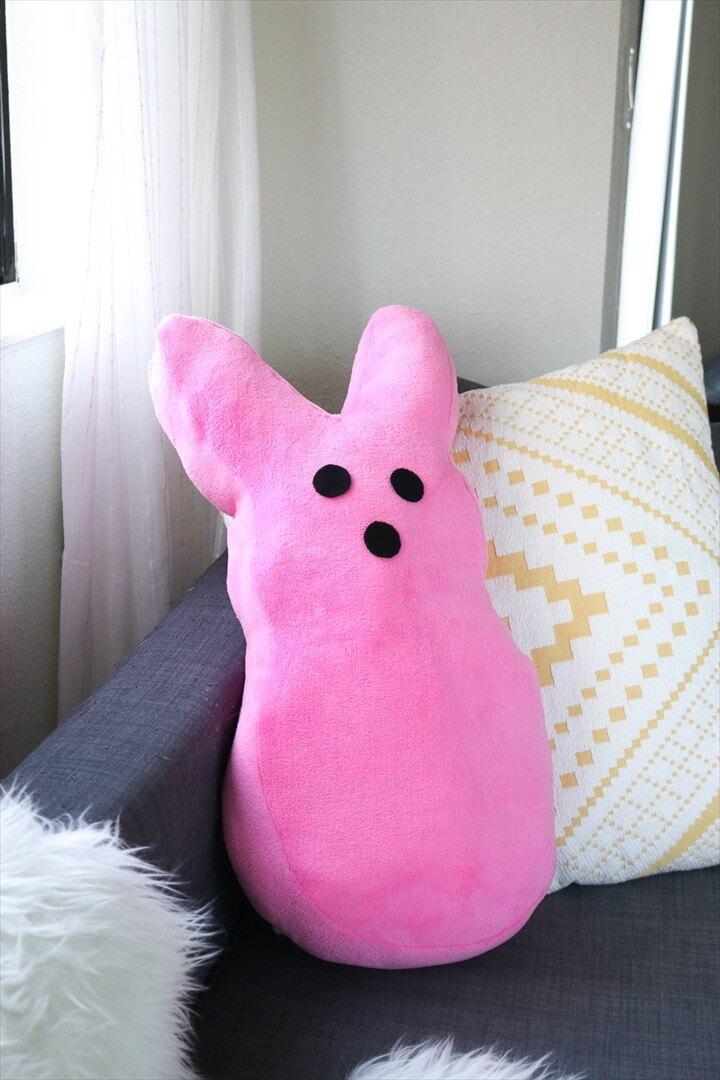 Get your home Easter ready with this gorgeous and fun DIY peeps pillow project. You need a peeps paper template to cut out this shape from pink felt. Then stuff this peeps pillow and the face features using the felt like nose and eyes. This pillow is hand-stitched so you do not need to be a sewing expert to do this project. Kids would love these pretty pillows.
Tutorial: clubcrafted
DIY Pumpkin Market Fall Decor: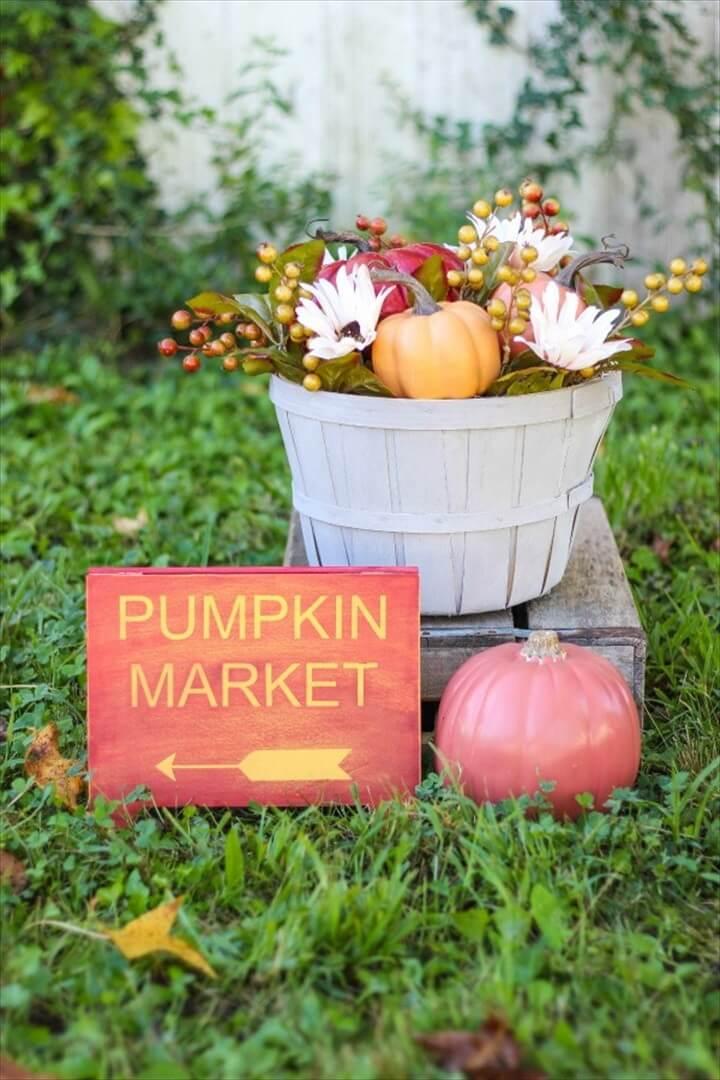 Give your home a perfect fall centerpiece with this DIY pumpkin market fall décor piece. The bushel baskets have been painted in the grey color and then loaded with faux pumpkins, vines, and the leaves. The pumpkins have been painted in the hues of fall leaves to look just perfect for the theme. You can grab the complete details of the idea right here!
Tutorial: purelykatie
DIY Snowy Pine Cone Garland: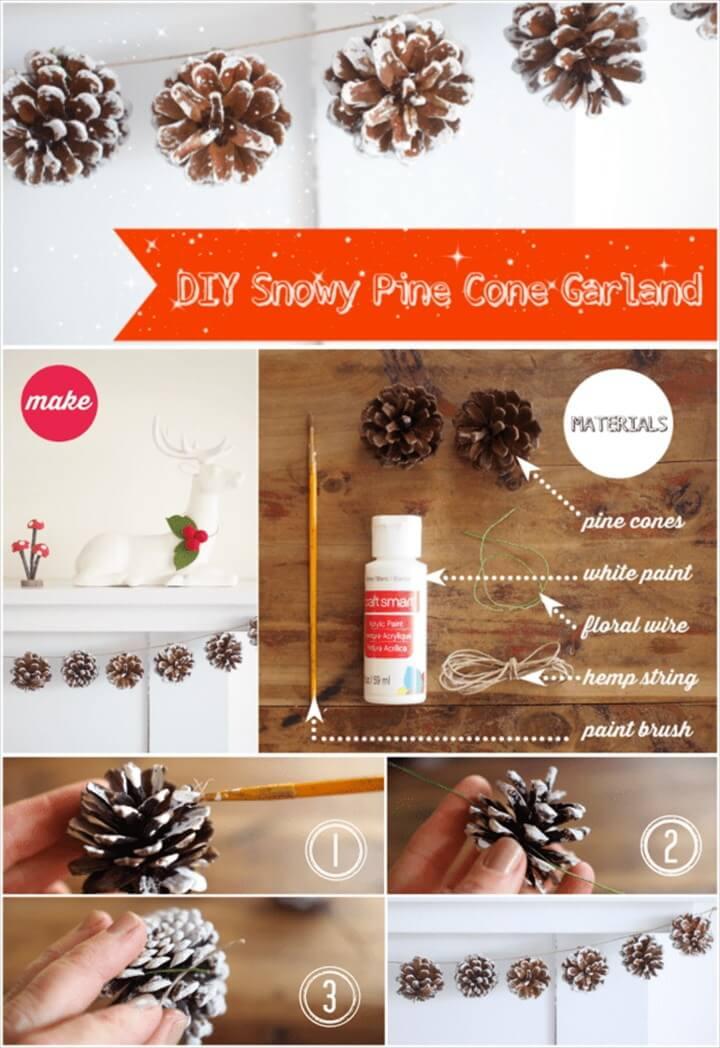 Make your mantel places this DIY snowy pine cone garland and get your homes winters ready with a cute touch of décor. So grab a bunch of the pine cones and paint them rough in white and then using a hemp string create a lovely garland. This is the cheapest yet the prettiest way of getting your home ready for the snowy season and festive. Details here!
Tutorial: themagiconions
DIY Tassel Tea Towel: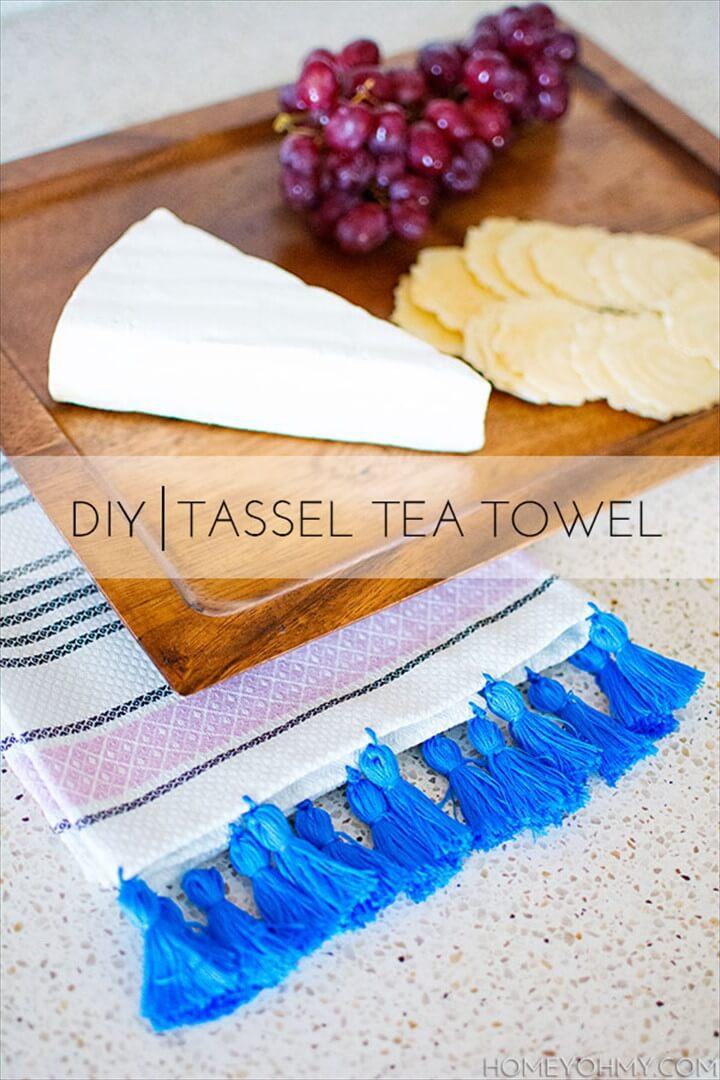 A crafty touch can make anything simple and boring to look just so gorgeous and fun. Here is the idea of this DIY tassel tea towel. Yes, the pretty printed tea towel has been made to look super cute and fun by adding blue knotted tassels at the edges. Tea towels make pretty gifts and the towels with the tassels would become more valuable. Follow the details here!
Tutorial: homeyohmy
DIY Terrarium Mobile: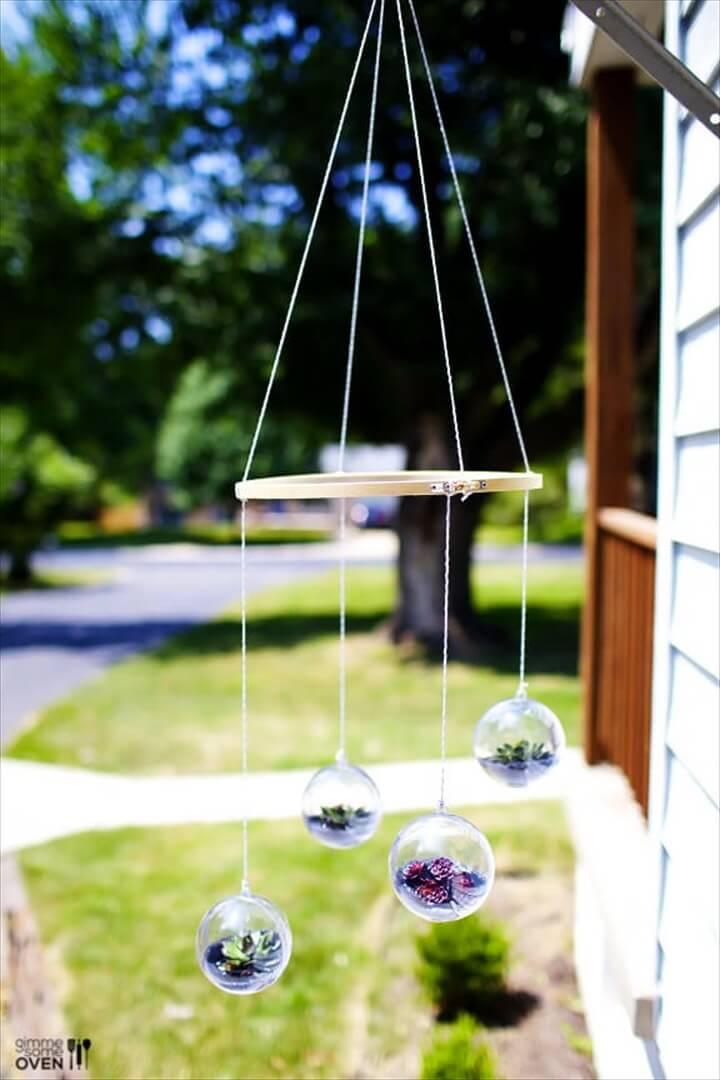 Here is a super cute and fun way to add the succulents in your indoors. Get your hands on the idea of this DIY terrarium mobile to make the pretty plant statements in your home spaces. Just grab cute round plastic ornaments and fill them with black wax crystals and the tiny cute faux succulents. Hang these ornaments on an embroidery hoop and your terrarium mobile is ready. Details here!
Tutorial: gimmesomeoven
DIY Tiny Terrazzo Pumpkins: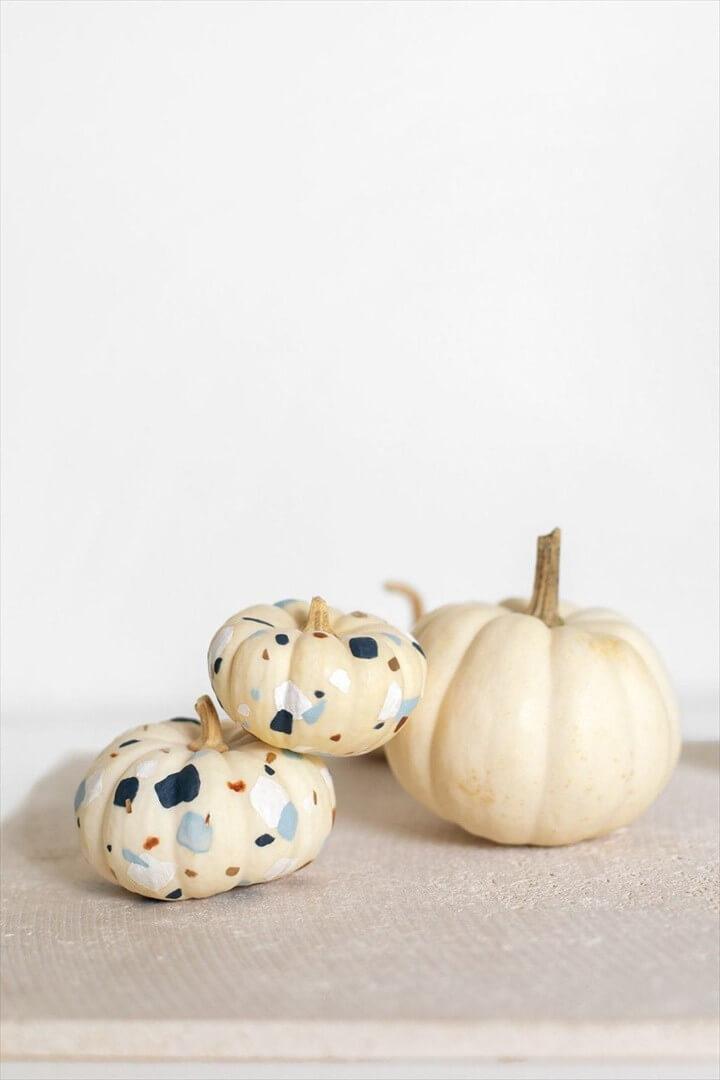 Here is the idea of making these cutest DIY tiny terrazzo pumpkins and make your tables ready for the fall. So grab faux white painted pumpkins and charm them up with some funky paint strokes in blue, gold, and white. These pretty pumpkins are going to look just so catchy and cool on your tabletops. Follow the details here!
Tutorial: ctrlcurate
Easy Fringe Napkins for Your Holiday Table: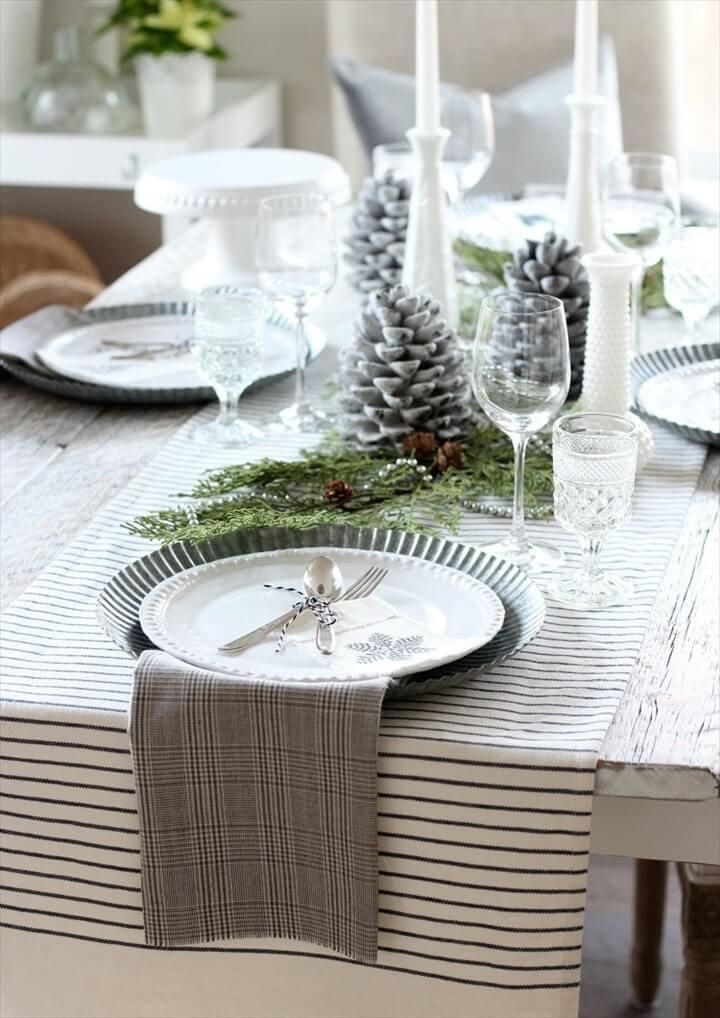 Holiday table setting is one of the most stressed projects for the ladies as there is a lot to do and everything should be perfect. So now you can get the pretty and fun napkins with the fringes on the edges to look just so cute and fun. Using your linen fabric for the napkins and the scissors you can easily work up this pretty set of napkins. Details here!
Tutorial: satoridesignforliving
GEO Stamped Napkins and Envelopes: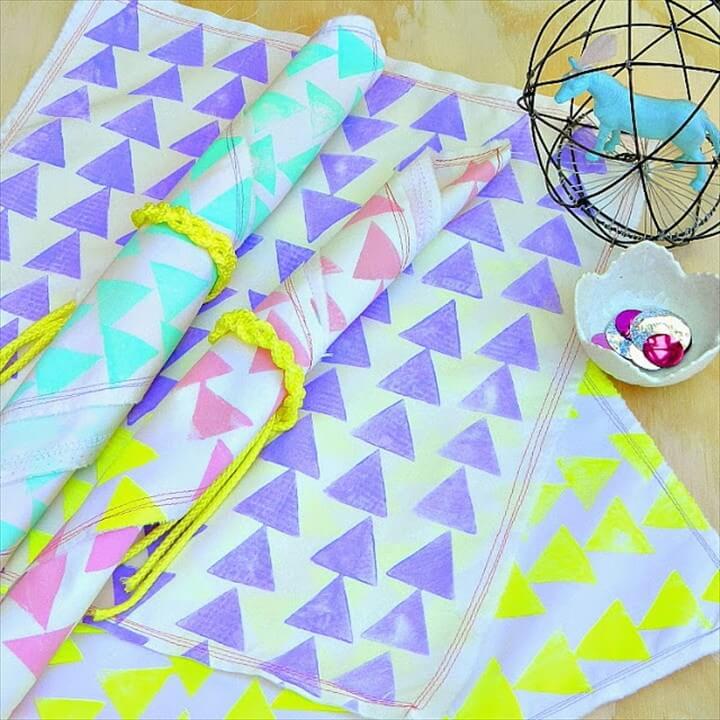 Now you can make your own fun napkins and envelops with this idea of geo stamping. So get some white cotton fabric and get it stamped with the brightly colorful geometric-shaped stamps. For this purpose, you need to make stamps using a wooden piece and the foam sheet and some sating paints. Follow the details here!
Tutorial: markmontano
Homemade Sugar Cubes: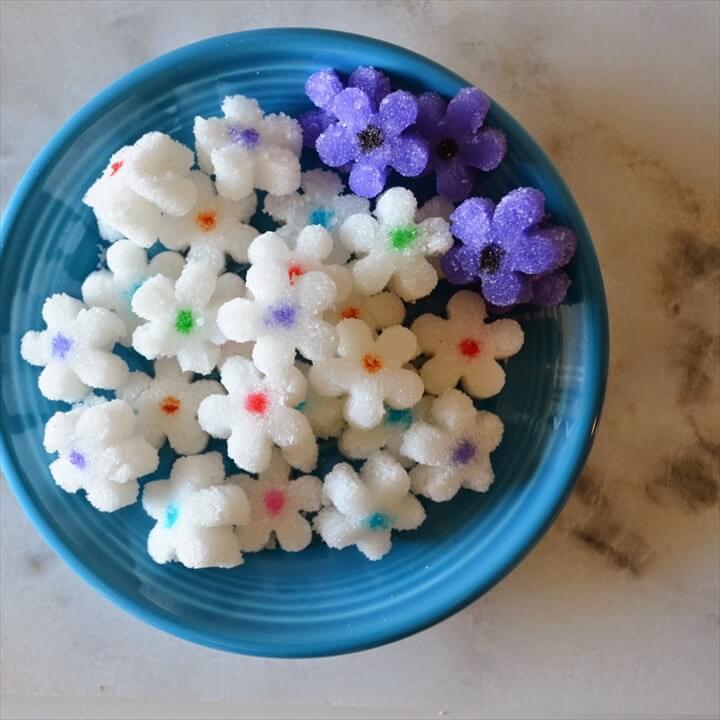 Give your tea time and a fun twist with this homemade sugar cube project. The pretty flower-shaped sugar cubes with a colorful dotted center are just too cute and fun to use with your tea. They are perfect to impress the guests over tea. You can easily make them on your own with the detailed recipe given right on the link here!
Tutorial: snugglebuguniversity
How To Cover Lampshades With Fabric: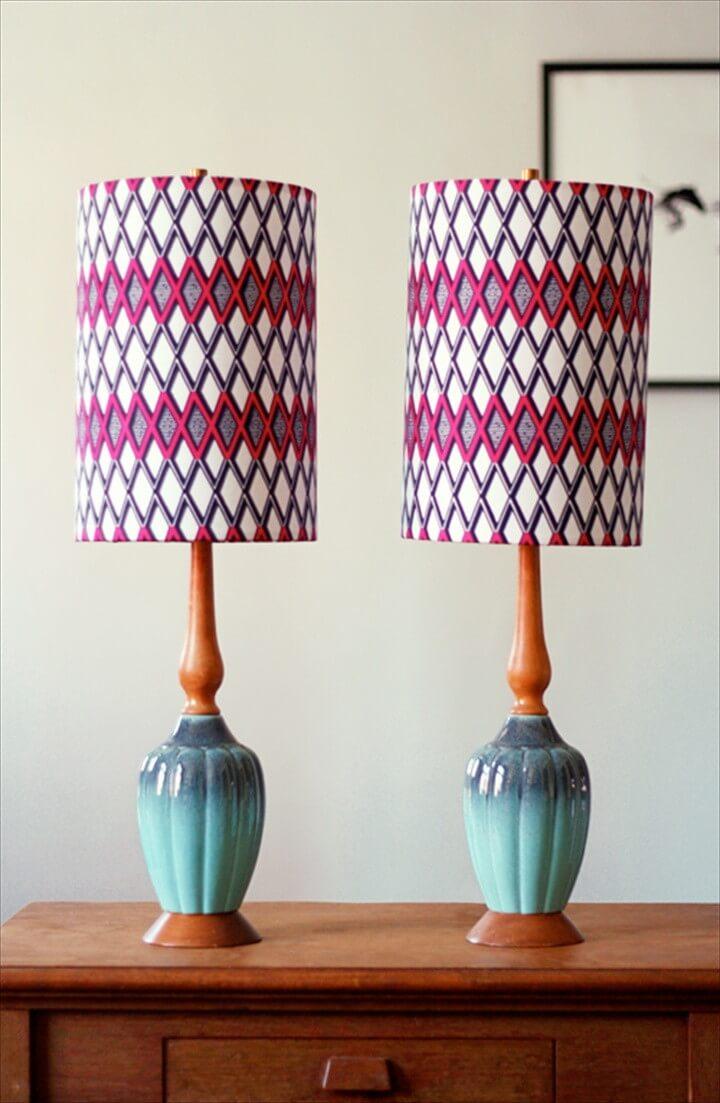 Lamps add a perfect appeal and beauty to our spaces and now you can restyle a lampshade with the fabric. So get some pretty printed and designed fabric and cover your lampshade with it. In this way, you can easily and cheaply pump up the style and décor of your spaces. You can follow the details of this idea right here!
Tutorial: howaboutorange
How To Make A Lamp From A Bottle: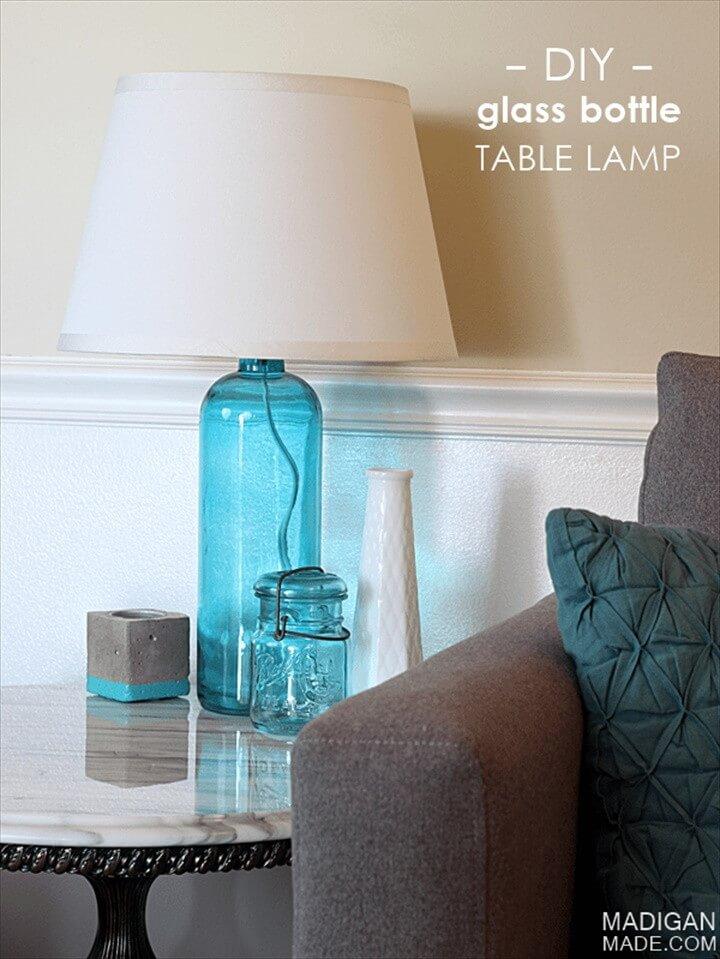 This blue-tinted lampstand with a white lampshade makes a perfect summer theme lamp for your bedroom. Surprisingly the lamp is made out of the bottle and turns out to be super cute and fun as a lamp. To get the bottle, lampshade and the basic bulb, wire, and other electronic supplies to work up this project on your own. Details here!
Tutorial: rosyscription
How To Make A Lunch Sign On An Old Window: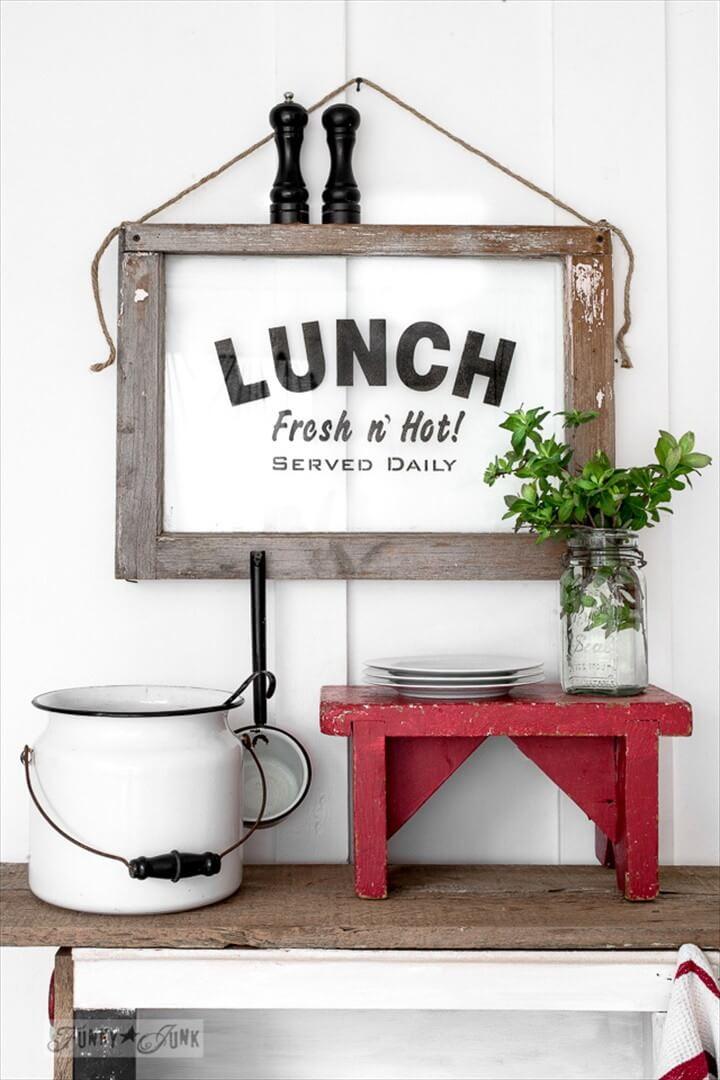 Lunchtimes are great to spend with the family and now you can make this old window lunch sign to add in your décor. So get and old window and add to it a LUNCH stencil using the black acrylic paint. Hang this pretty and rustic sign on your porch or patio and update your décor. You can follow the details of the idea here!
Tutorial: funkyjunkinteriors
Illumination Challenge: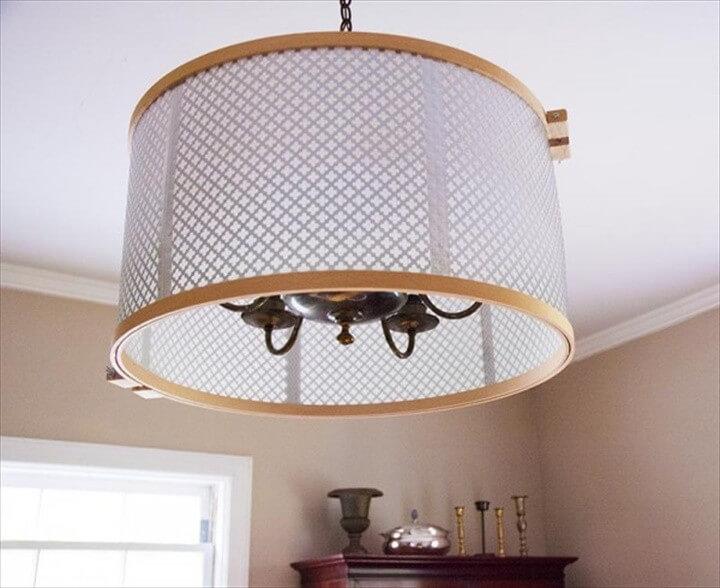 Chandeliers are the dream of every homey lady and now you can a cheaper one at home. Here is this pretty illumination challenge chandelier that is easy to make with the least of the cost. Using the quilting hoops and three decorative metal screens you can create a fancy and chic cover your thrift bought brass chandelier and make it look so nice. Follow the details here!
Tutorial: knucklesalad
Joanna Gaines Inspired DIY Dutch Tulip Crate: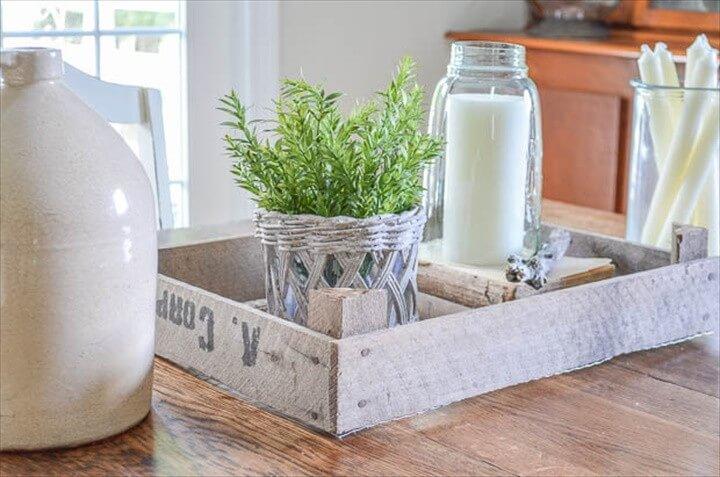 Here are the quirkiest and the coolest Joanna Gaines inspired DIY Dutch tulip crate. The rusticity lovers would love to make this pretty tulip crate. You need four wooden slat pieces to make the crate box. Then add the hardware cloth at the bottom and your Dutch tulip crate is ready to serve multi-purposes around. Follow the complete tutorial right here!
Tutorial: andersonandgrant
Make Sequin Candle Holders For Your Festive Table: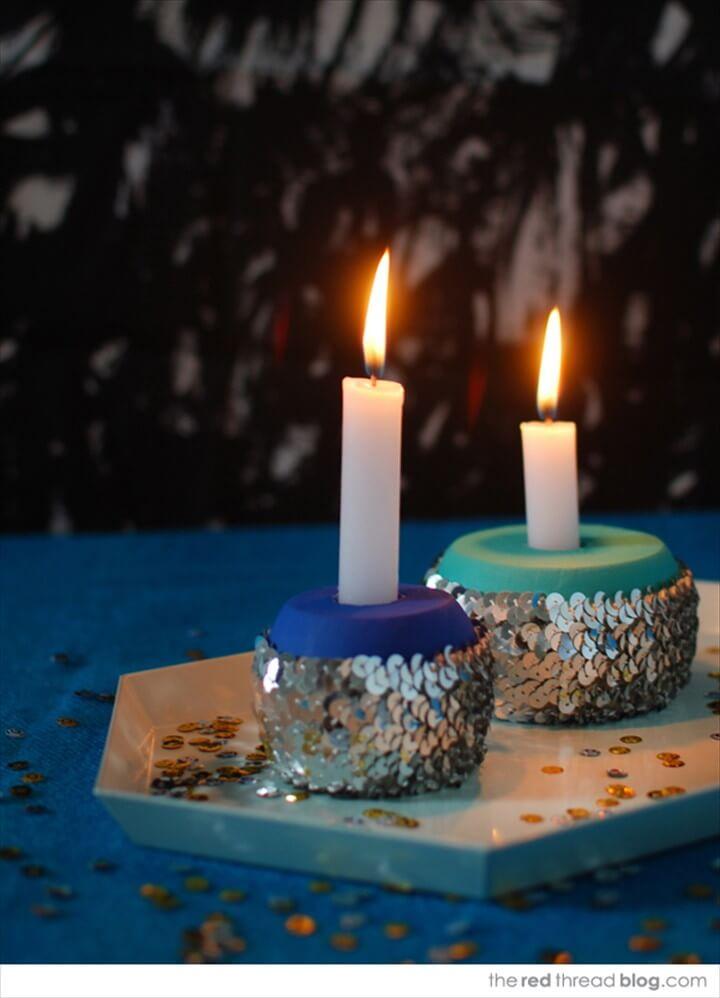 Bring some spark to your festive table with this gorgeous sequin candle holders which are super easy to make. So grab some wooden candle holders and paint them in some bold paint hues. Then grab the silver sequin trim and glue wrap it around these candle holders and they are ready to rest in the tray. Follow the details here!
Tutorial: we-are-scout
Making The House A Home: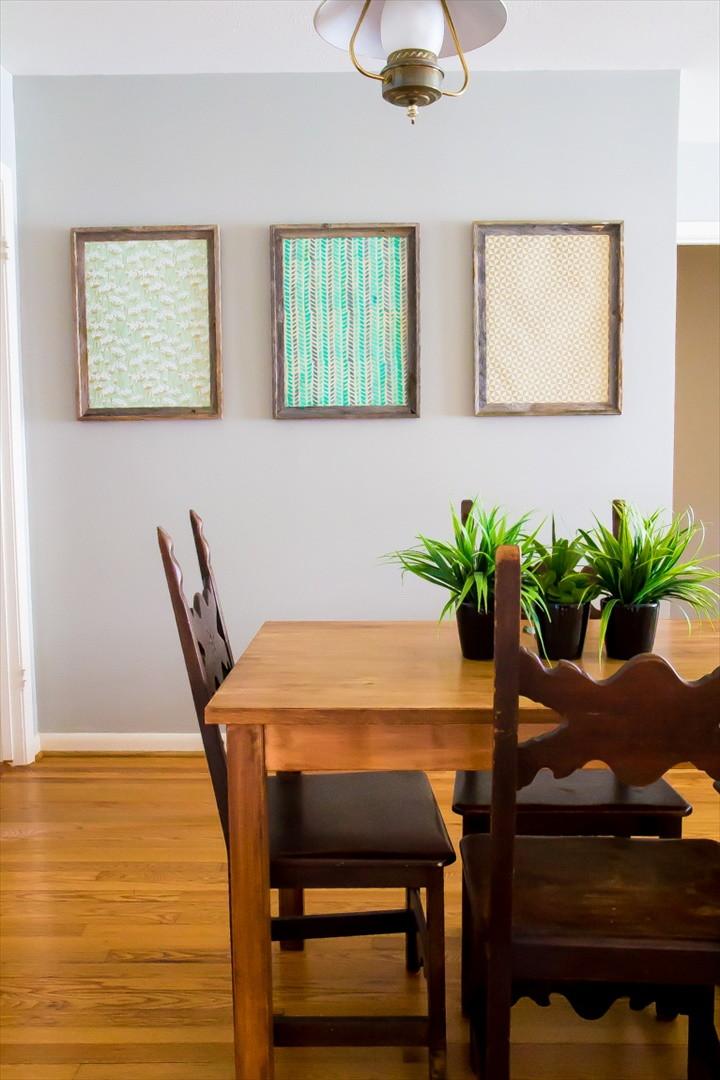 If there is a wall empty in your house and you want to fill it beautifully then make these pretty frames for the purpose. Grab foam board and cut it into the custom size and then glue some pretty patterned wrapping paper on it. Then grab the wooden frame boundary to complete your wall art and mount it over the walls. You can make more than one frame using different patterned wallpapers. Details here!
Tutorial: immaeatthat
One-Of-A-KInd Throw Pillows: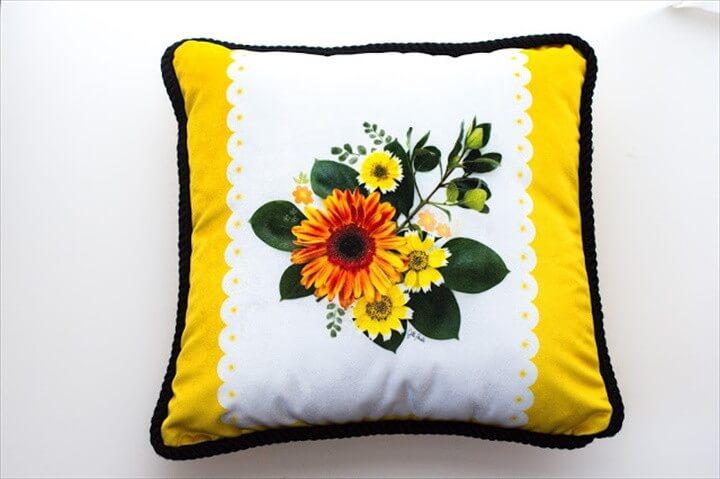 Now you can make one of a kind throw pillows and add a cute personalized touch in your home décor. The brightly colorful and floral patterned fabric for the pillow comes from contrado. You can send them your design and pattern to print them on the fabric and get the desired pillow made. This white and yellow fabric with a cute floral pattern in the center and black hemming turns out to be so pretty. Details here!
Tutorial: snugglebuguniversity
Simple Fall Pinecone Bowl Decor: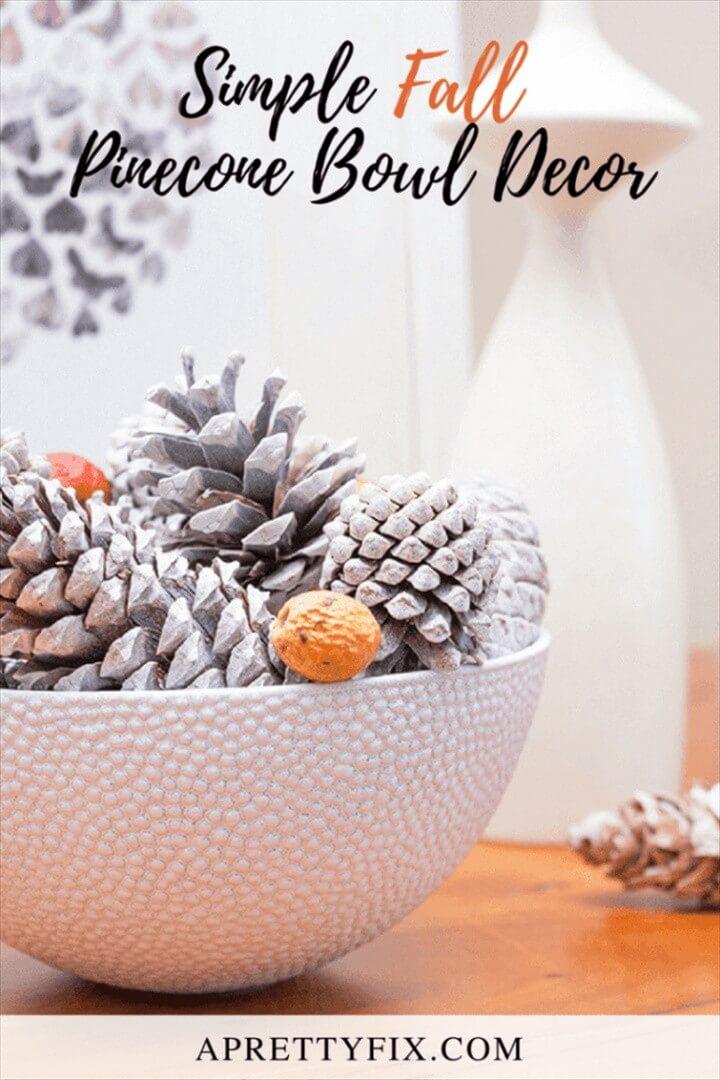 This simple fall pinecone bowl décor is going to be a perfect addition to fall tables and look just so tempting. So grab a plastic bowl, a bunch of the pinecones and the nuts or dried berries. Next, grab the spray paint in glossy white and paint all of these supplies. Put your pines and nuts in the spray-coated bowl and leave it on your table. Follow the details here!
Tutorial: aprettyfix
Simple Pumpkin Coasters To Sew: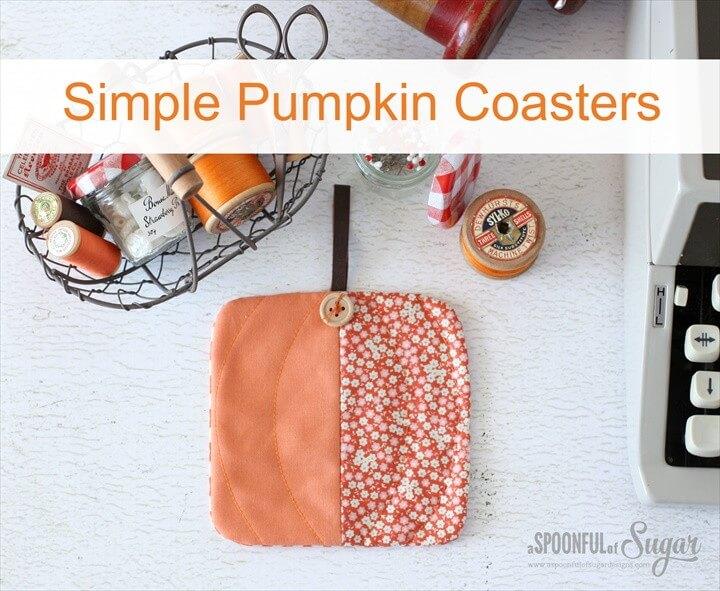 If you need a coaster for your desk and it is the season of fall then make this simple pumpkin set of coasters that are easy to sew and look so cute. Using the quilting cotton in the pumpkin hues you can easily sew up this square-shaped pumpkin coaster. Also, there is a brown leather strip added to the coaster to create the pumpkin stem. Follow the step by step details here!
Tutorial: aspoonfulofsugardesigns
Spray Paint A Briar Rug: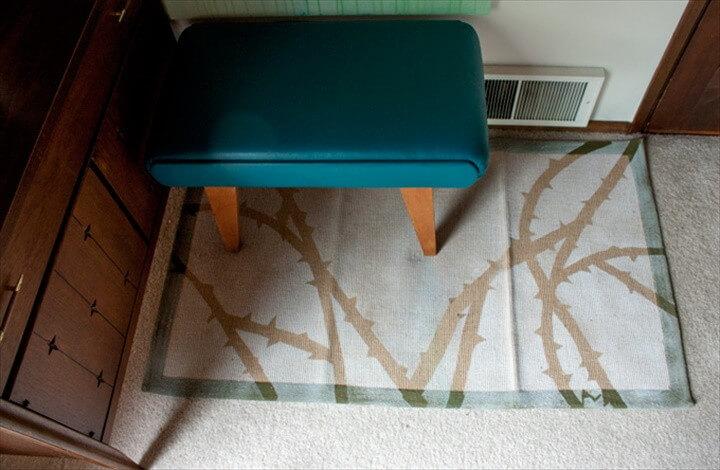 So if you happen to buy a plain and bland rug then do not worry as you can make it look stylish and fun with your creative approach. Here is this spray-painted Briar Rose inspired rug to make and bring a perfect dramatic appeal to your spaces. The rug has been drawn with wooden stem pattern all over using the contact paper trims and the white spray paint. Details here!
Tutorial: adventures-in-making
Summer Decorated Foyer Ideas: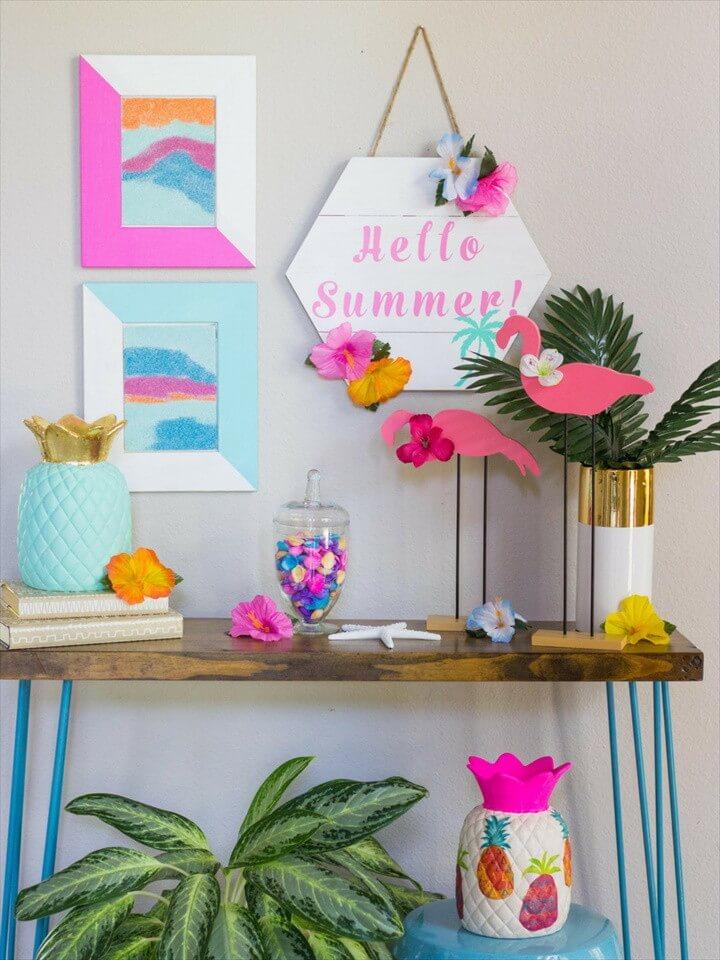 Here is a bunch of the gorgeous summer foyer ideas which are going to win your hearts. There are pretty sand art frames with colored sand and painted frame boundaries. Then there is a pretty wooden white and blue Hello Summer hexagon summer sign, a glass jar filled with colorful seashells and ceramic pineapples with the pretty painted makeover. The use of summery hues in white, blue, and pink really makes each of these ideas eye-popping.
Tutorial: fun365.orientaltrading
Tiny Peruvian Pots: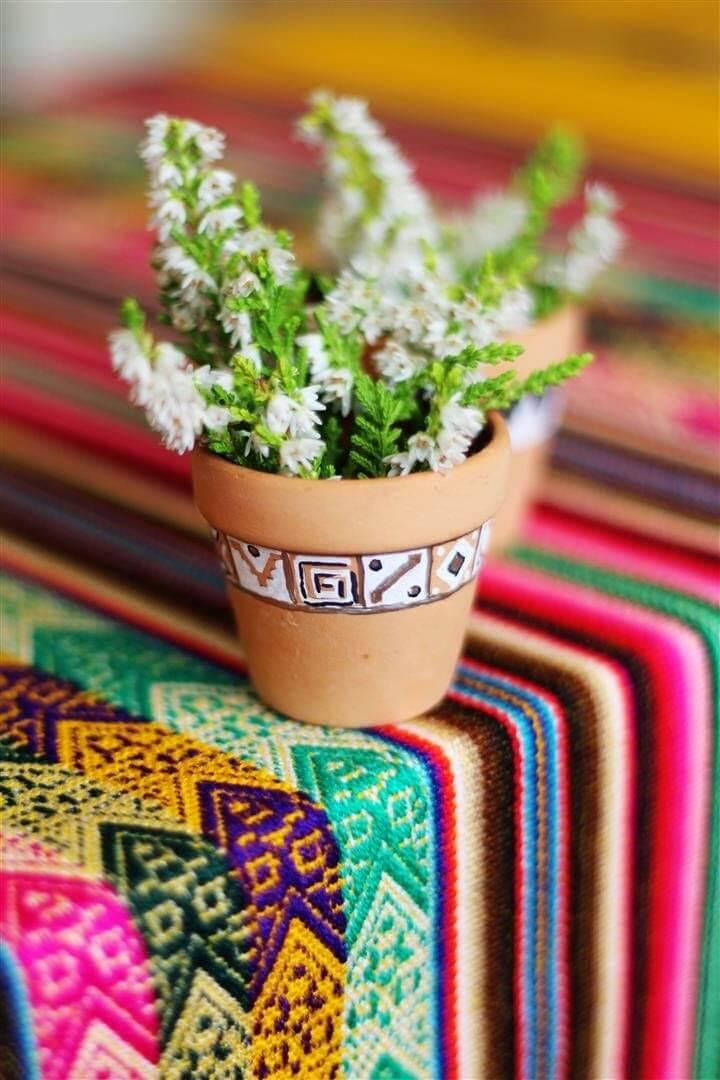 There is a certain charm about the tiny items and so is the case with these tiny Peruvian pots. So grab these adorable little pots and create the gorgeous Peruvian design at the pots using the black, white and golden sharpie markers. Then pour some cute little faux flowers to the pots and some pretty décor items for your coffee tables and shelves are ready. Details here!
Tutorial: emusing-emma.blogspot
Winter Floral Arrangement Basket: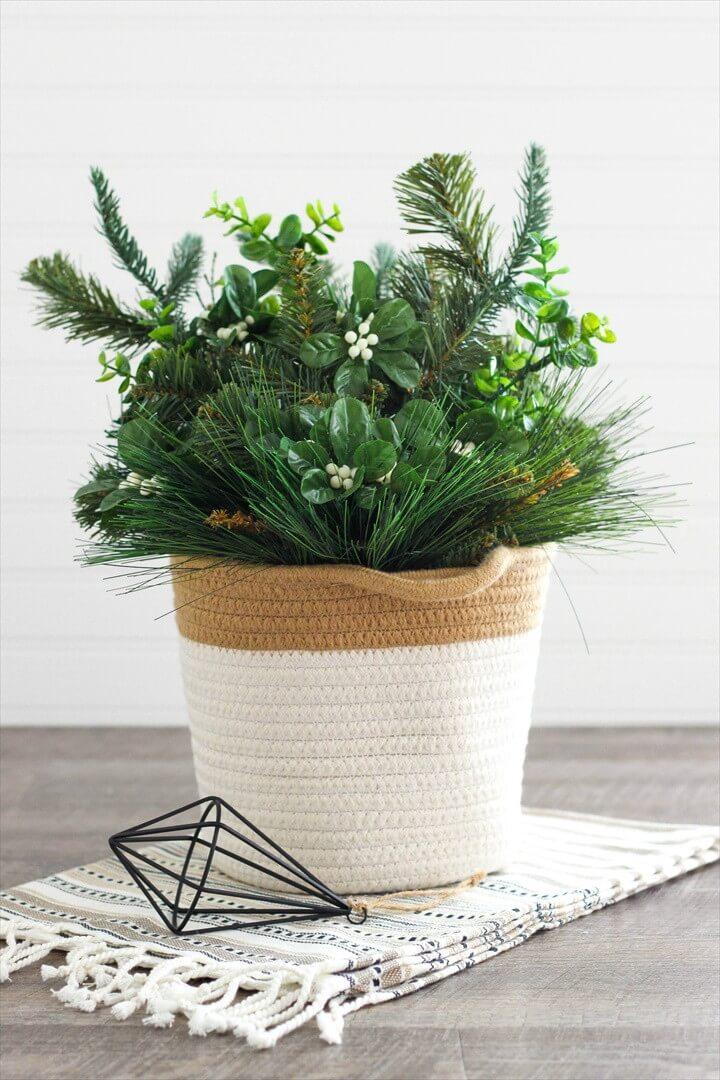 This winter floral arrangement basket is an all-season favorite for the décor of your spaces. So grab a white rope basket with handles and get a bunch of the faux flowers, vines, and leaves to adjust them in the basket. This pretty basket with the floral arrangement is going to add oodles of charm and freshness to your home décor any time of the year. Follow the details here!
Tutorial: purelykatie