Walls play important roles to create the desired style statement of your lovely home. People love to decorate their walls with the classy art pieces which can cost an arm and leg. Not everyone can afford these expensive wall art pieces so here is the bunch of these 16 cheap and unique DIY wall décor ideas. These wall décor ideas are rich in style but totally low in cost so you can easily charm up your walls with and that too in your desired way. Also, these handmade wall décor ideas are going to be quirky and unique as you can pour in your creativity and skills for the sake of customization.
Wooden wall arts are the favorite of every décor lover so you are going to find some really brilliant wall décor ideas with wood here. There is a wood slice wall art, chevron wooden wall, and a giant wooden wall clock. Those who love to add catchy and cool vibes in their homes would love projects like yarn tassels and fringed yarn mirror. The paint lovers have a lot of fun options to paint your own canvases and make some personalized pieces for your wall beauty. The planter lovers are going to find a lot of fun planter projects to grace up their walls made up of wood, placemats, and more. Check out the details here!
How To Make Wood Slice Art: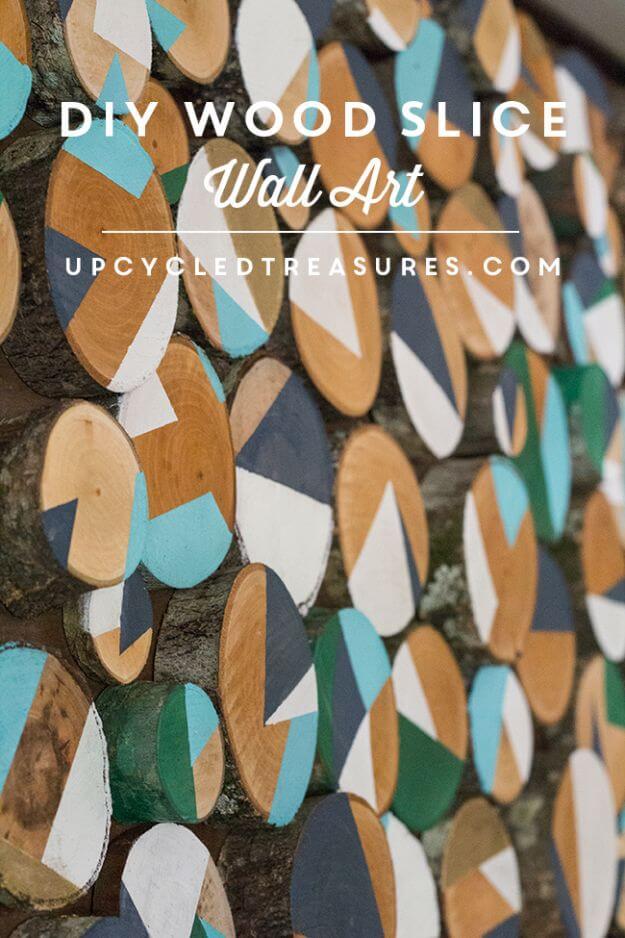 You are going to fall in love with this wood slice art for being so chic and modern yet sustaining its wooden charm and rusticity. So grab a big bunch of the wood slices and paint them in blue and white hues with geometric shapes and designs. One dry, frame up these wooden slices and your lovely wall art is ready. Complete details here!
Tutorial: mountainmodernlife
Wood Chevron Wall Art: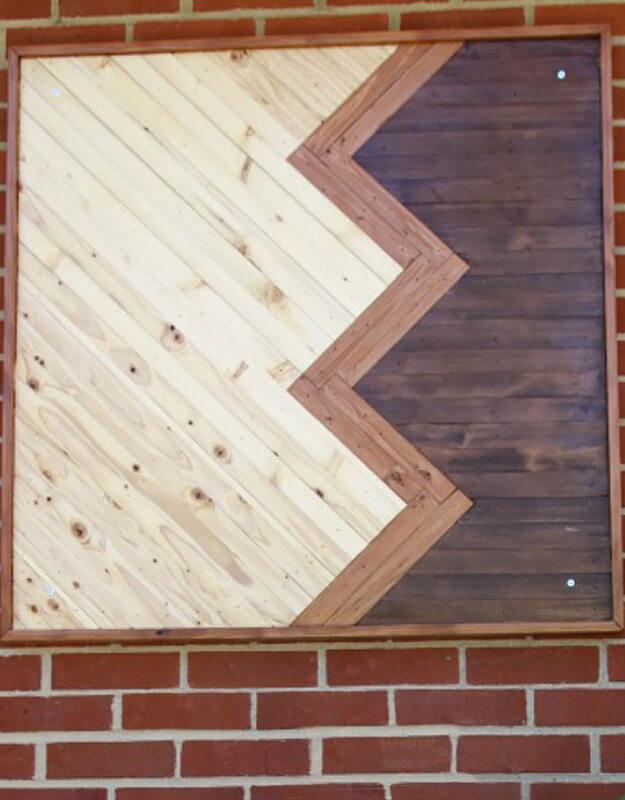 Convert a part of your wall into gorgeous wall art and that too in chevron style. Using wooden planks from lighter to darker texture and shade this gorgeous and giant wood chevron wall art is easy and fun to create. Make it a part of your outdoor porch or patio walls and bring style to your spaces with a touch rustic appeal. Follow the tutorial here!
Tutorial: homedepot
Dumpster Texture Art: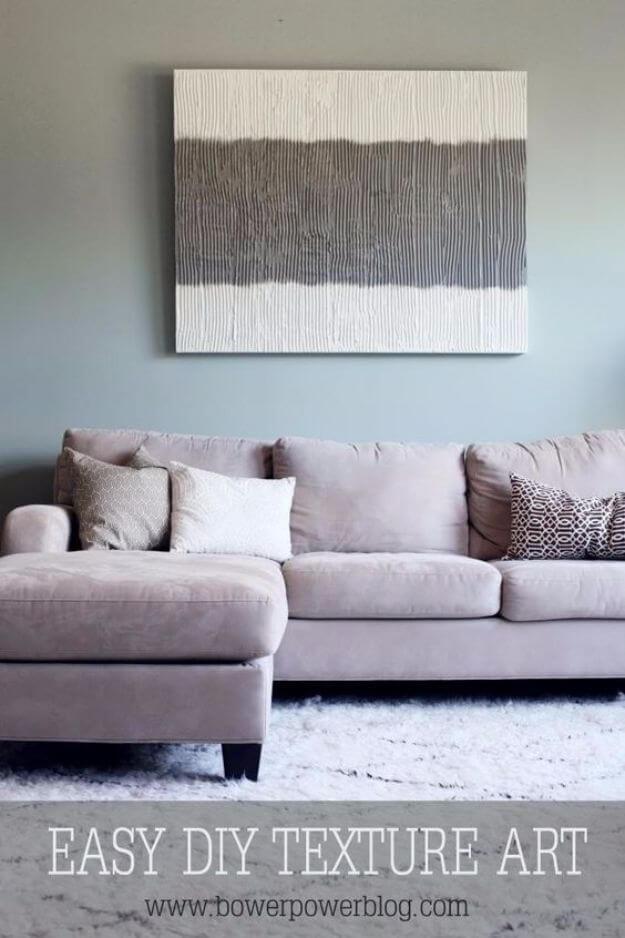 Bring some textured beauty to your space with the idea of this dumpster texture wall art. This gorgeous and chic wall art is made out of an old wall painting. The paint hues used to create this dumpster texture art are white and grey and it has turned out to be so cool and awesome for your living room walls. Follow the details here!
Tutorial: bowerpowerblog
Gold Wall Art: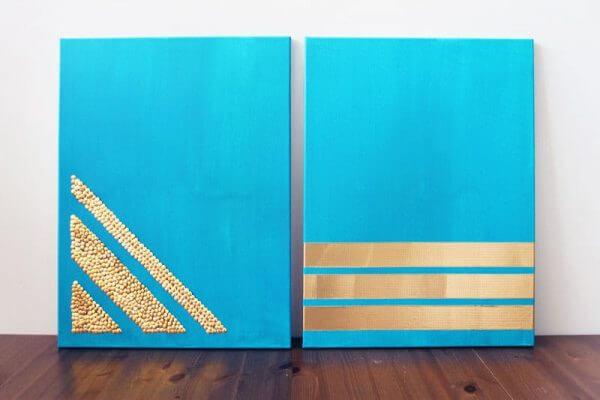 Need to boost up your wall art? If yes then here is the idea of creating these so vibrant and sparkling wall art beauties. The blue painted wall canvasses have been decorated with golden thumbtacks and the golden strips using the teal paint. These wall arts are perfect for the white painted walls and for the summers too. Check out the details here!
Tutorial: brit.co
Large Rustic Clock: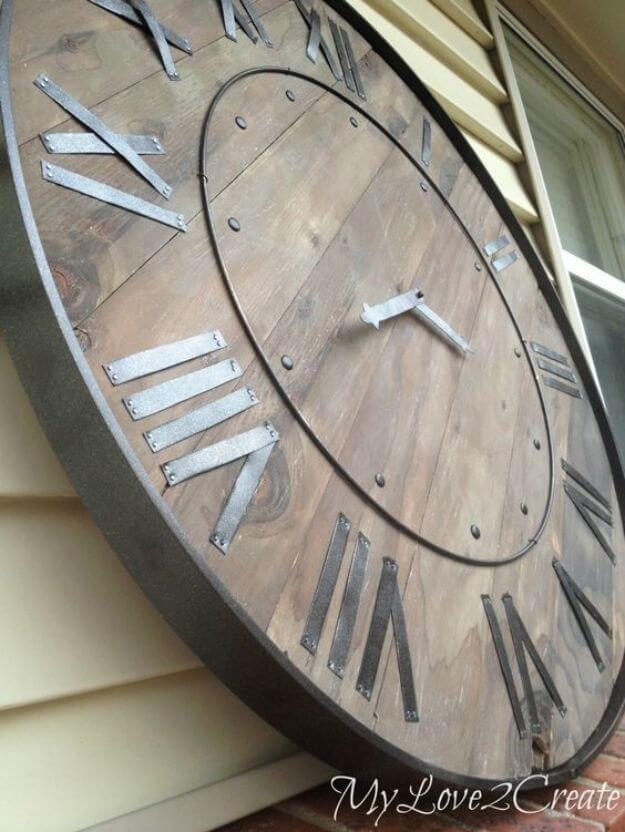 Bring this rustic charm to your home and that too in a huge quantity with this large rustic clock. Take some wooden planks and put them together and cut a wooden round circle out of it. Then grab a steel sheet and cut out roman numbers to put on the clock with black hands in the center. Check out the details here!
Tutorial: myrepurposedlife
How To Turn Placemats into Hanging Planters: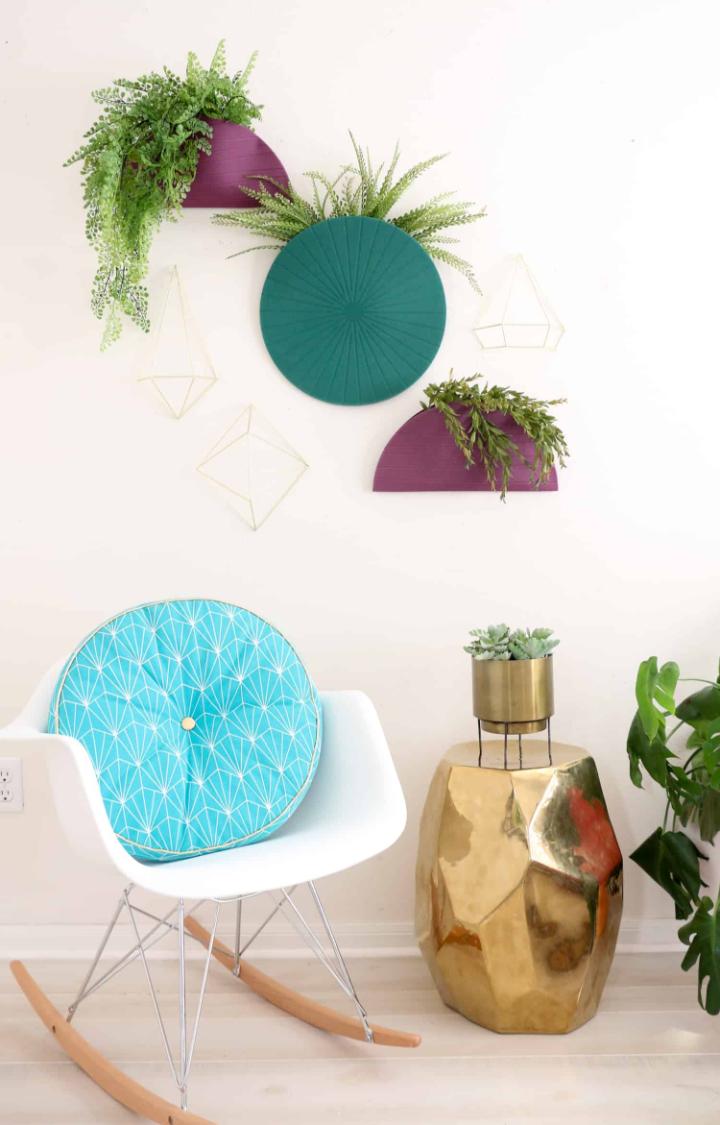 Make these gorgeous and colorful hanging placemats planters and bring beauty and charm to your summer home. Either you can fold the placemats to form a pocket or just put together two placemats to one form one pocket structure. Then hang these planters on walls with your favorite pretty blooms in them. Check out the details of this lovely idea here!
Tutorial: abeautifulmess
DIY Hanging Half Frame: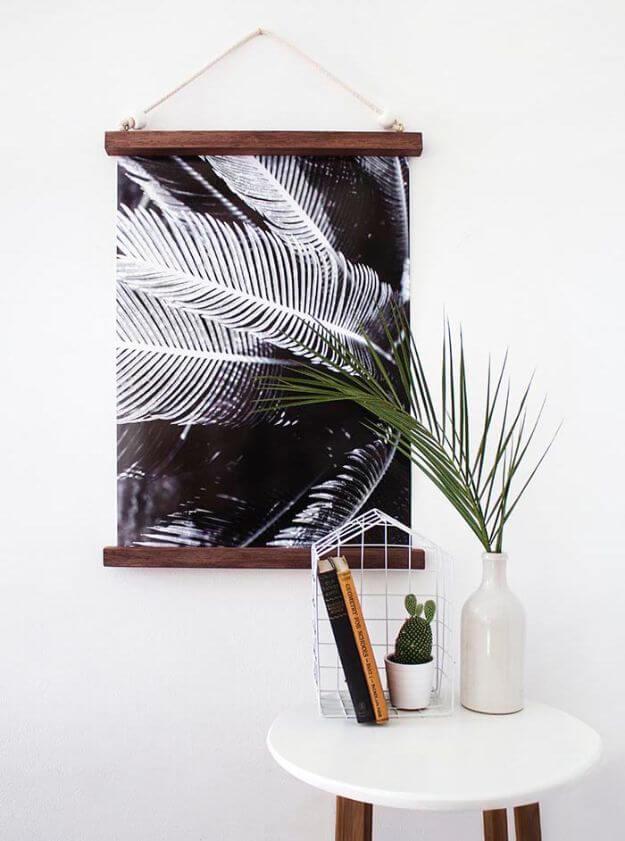 You can make these pretty DIY hanging half-frames to bring some chic décor to your spaces. So take a photograph that you want on your walls and that too with the size of your choice. The photograph here is with black base and white feathers and it has been framed with balsa wooden strips. A rope has been used to hang this frame over the walls. Complete details here!
Tutorial: designsponge
Giant Tassel Wall Hanging: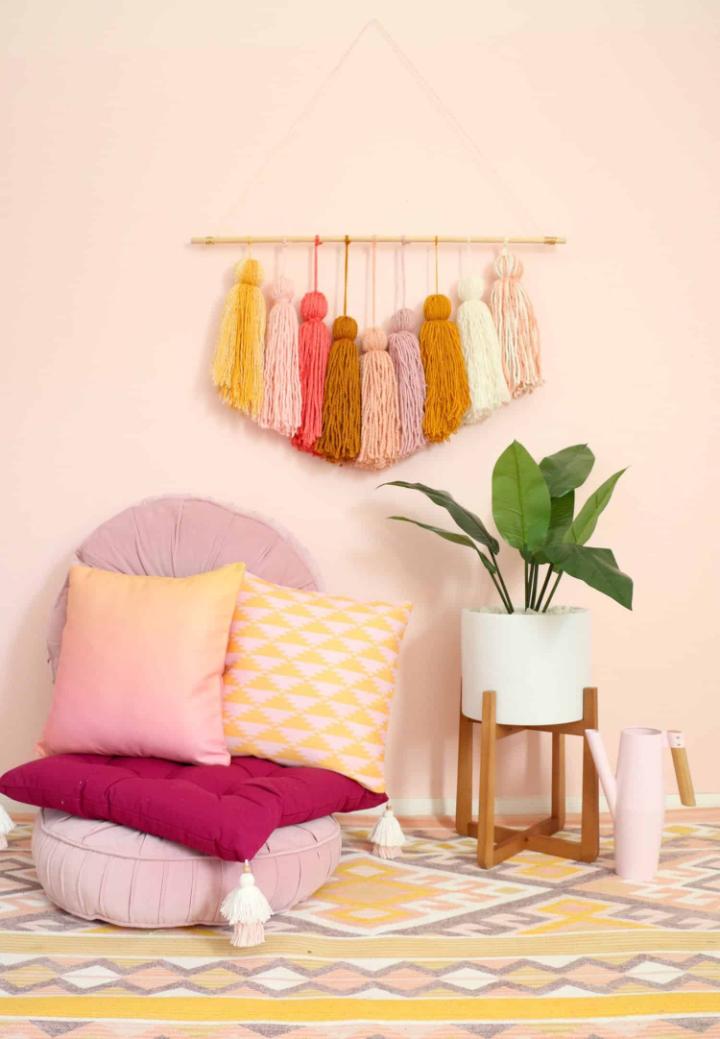 Need wall art to make your walls look decorative and fun? Here is the idea of making this giant tassel wall hanging to bring cute and funky style statement to your spaces. So grab the yarn skeins in your favorite colors and make these giant tassels. The tassels are hung up on the walls with the help of the rope and the wooden dowel. Follow the details here!
Tutorial: abeautifulmess
Coloured Card Wall Art for Blank Wall: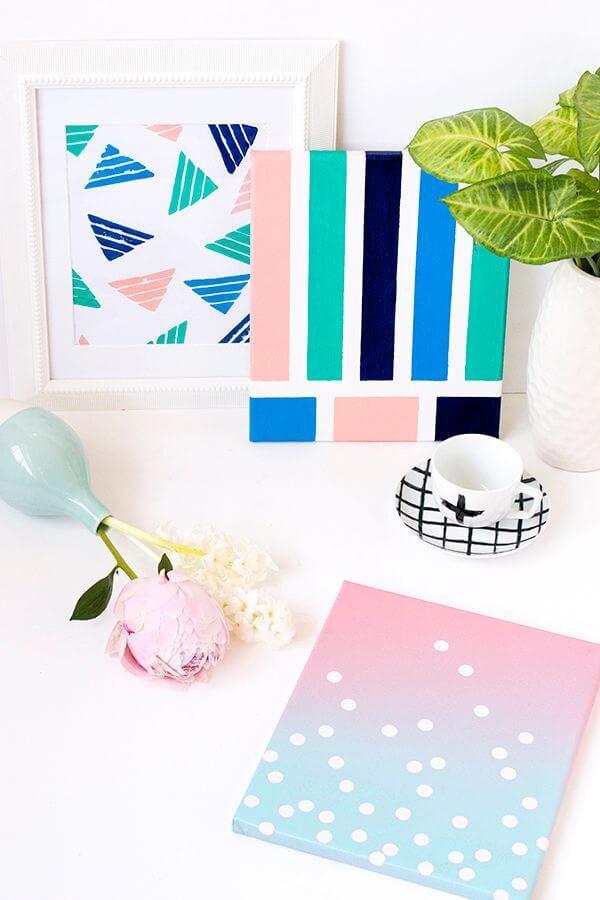 Fill your walls beautiful with these adorable and colored card wall art for the blank wall. Using the white canvasses and the colorful paint hues you can paint up your canvasses in multiple designs and patterns. It could be stripes, geometric shapes, dots and so much more on the canvasses and then on walls. Follow the details of the idea here!
Tutorial: curbly
Vintage Wall Art Made Easy – DIY Mixed Media Canvas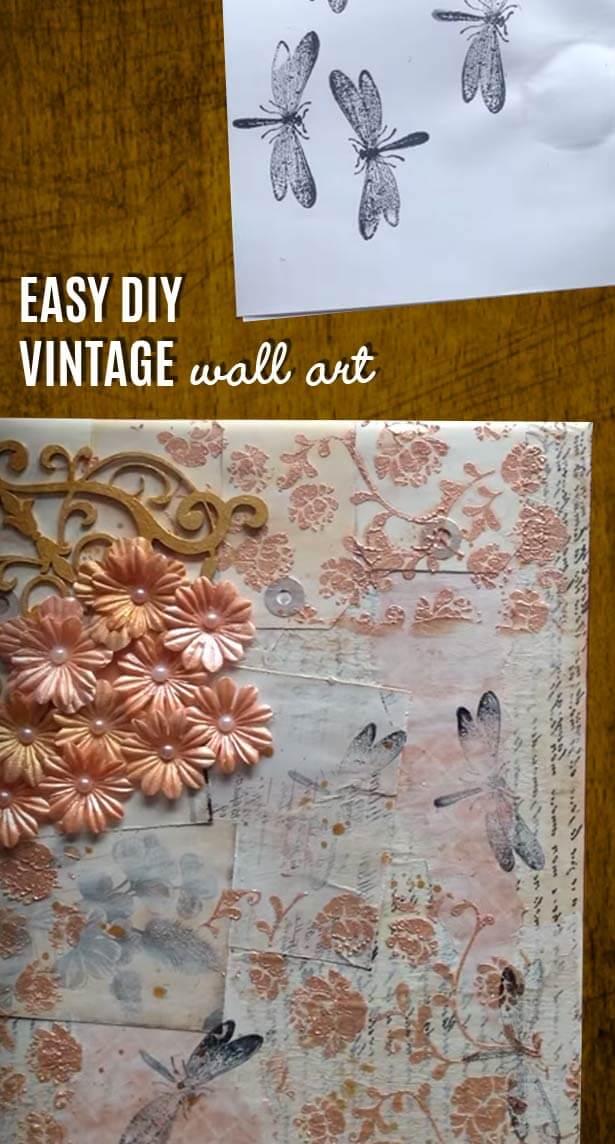 Vintage wall arts are the best options when you want to fill up your walls with something gorgeous and fashionable. The things you need to make these vintage wall arts are the tissue papers, beads, buttons, and flowers. Also grab some old doilies, gift tags, stamps, and inks, and the rest of the details are given here!
Tutorial: diyjoy
Backlit Canvas Art: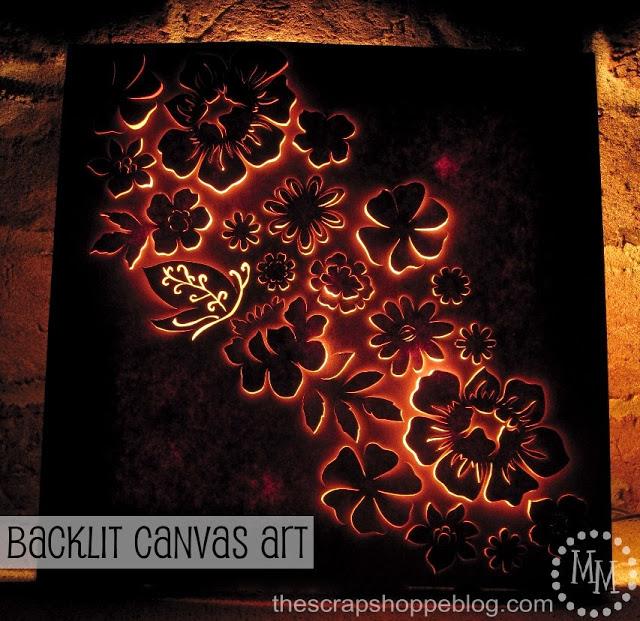 Need something awesome and stunning for your Christmas or the holiday décor? Here is the idea of this backlit canvas art that would make your walls look super stunning. The flowers have been carved out on the metal and backed up with lights to look just so mesmerizing and beautiful. Check out the details of the idea here!
Tutorial: thescrapshoppeblog
DIY Bentwood Bud Vase: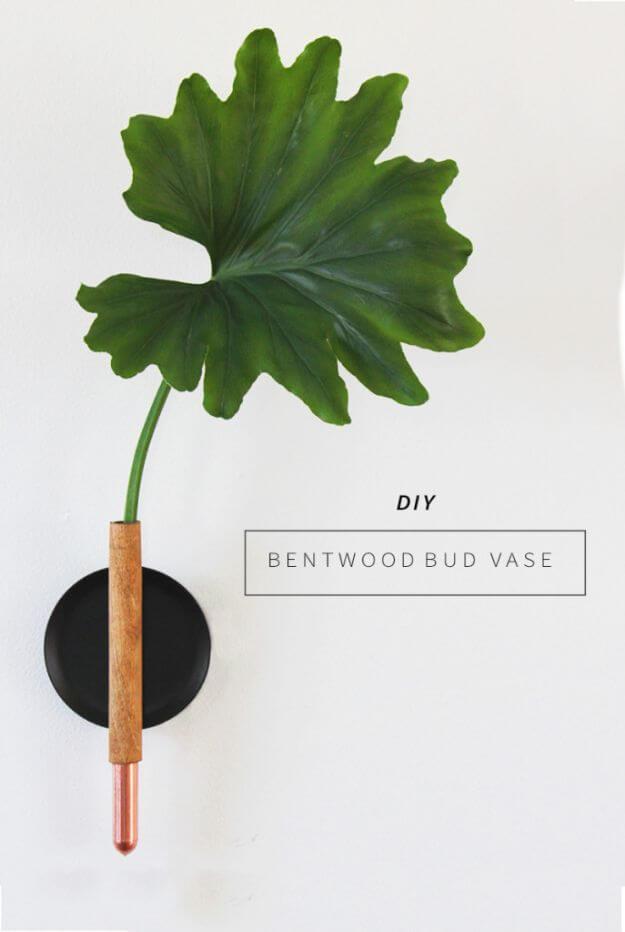 Are you a fan of the minimalistic designs and décor? If yes then here is this absolute darling looking DIY bentwood bud vase to be a part of your wall art beauty. The main things that have been used to make these DIY bentwood bud vases are the candle plate and the copper air chamber. Learn the complete making details here!
Tutorial: annabode
Plant Holder Wall Hanging: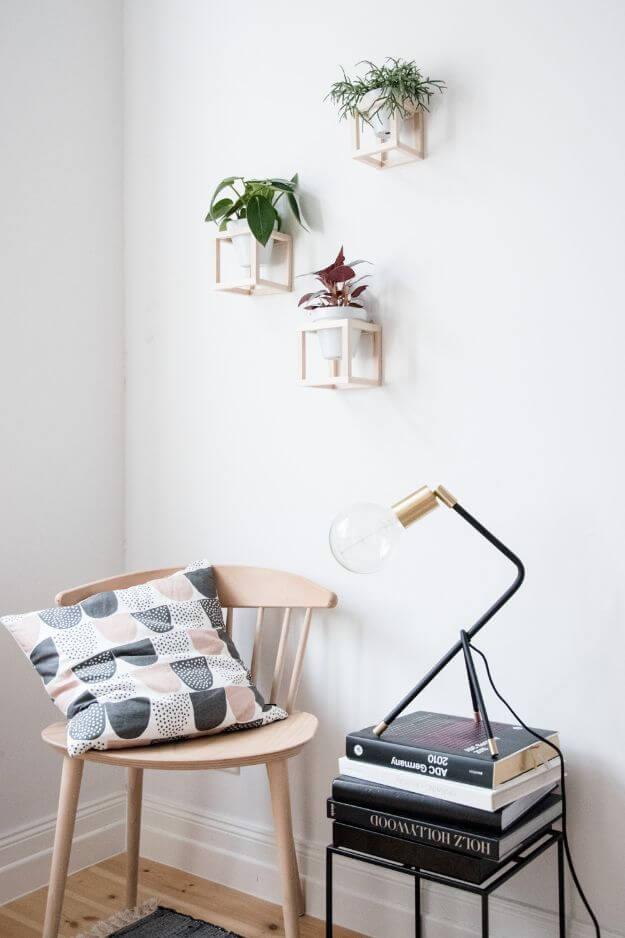 These gorgeous square wooden plant holders make the best wall hanging for your immaculate walls. Grab the thin wooden slat pieces to shape up the little cute square planters. Hang these plant holders over your walls and let your terracotta pots rest in them. These planter holders are surely going to freshen up your home décor in an aesthetic way. Details here!
Tutorial: craftifair
DIY Fringed Mirror: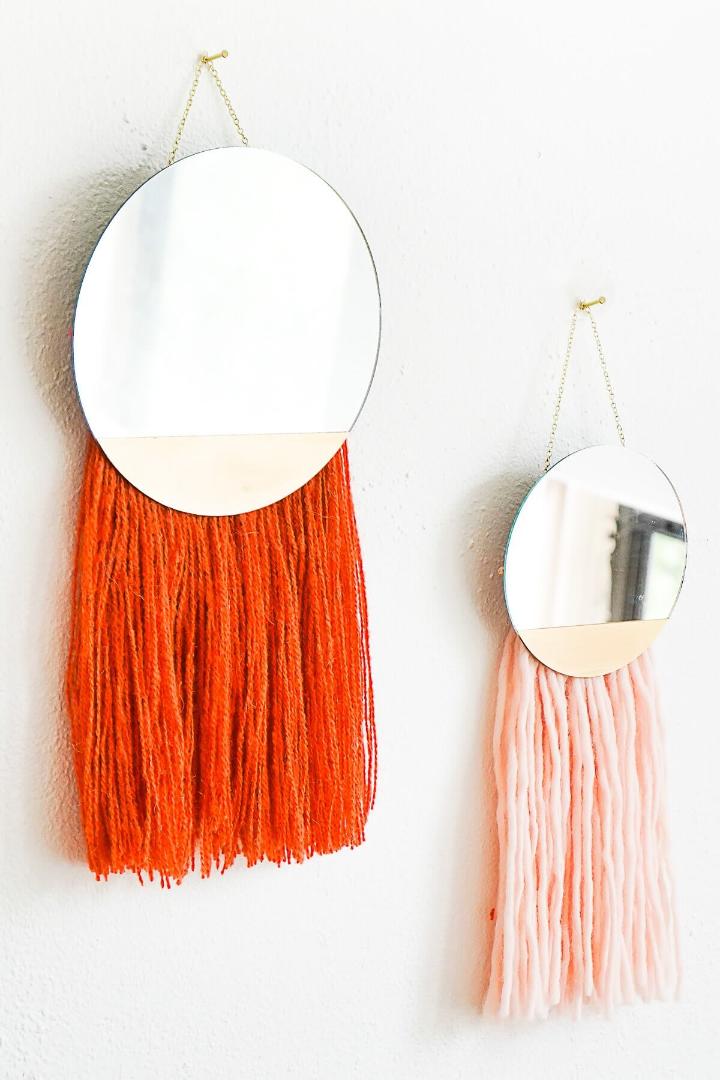 Here is the idea of this DIY fringed mirror which shows how you can bring functionality and beauty to your spaces. The simple and plain round mirror has brightly colored yarn fringes attached at the bottom. The mirror has been hung up on the wall using a rope. The Pretty and adorable fringed mirror idea is easy and simple to work on. Details here!
Tutorial: sugarandcloth
Giant Wall Art: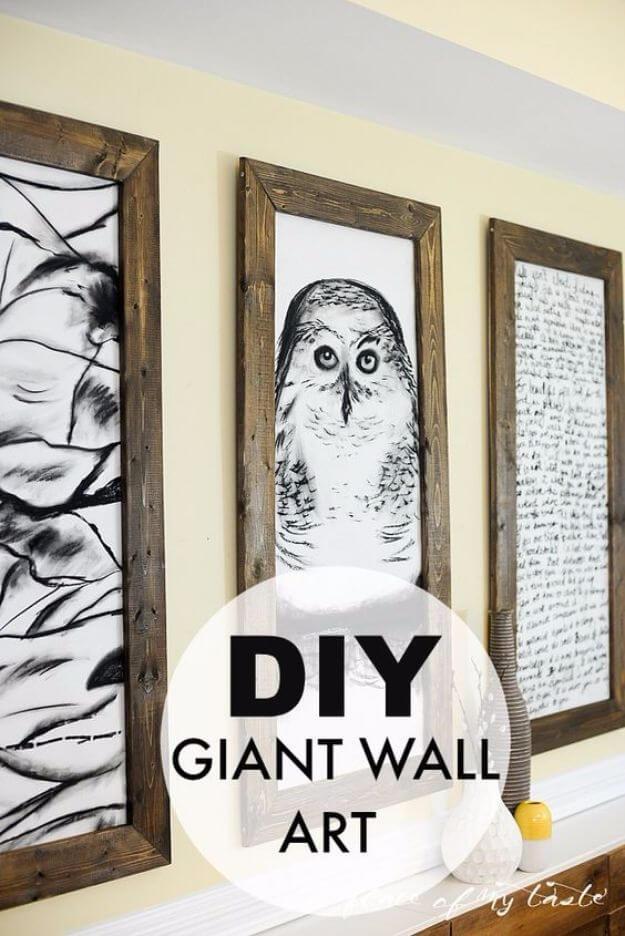 It's time to let your artistic skills come out and make these giant size wall arts for your spaces. You need to make two things for these giant wall art pieces. The first thing is the wooden frame and the second is the art pieces to be fitted inside these wooden frames. So grab some wood strips and panels on one side and canvases with black and white paint and brushes on the other to work up this gorgeous project.
Tutorial: placeofmytaste