Summer is on its way to add some cute and trendy outfits to your wardrobe. The first idea is the lace cut out which looks amazingly pretty and cool. It's a jersey t-shirt cut out in any shape and replaced with a lace cut piece there.
These southwestern-style shorts is as amazing as it sounds. We bet you will enjoy wearing this cool outfit in the coming summers. These are different from regular shorts. Drying clothes is an old hack but people have added many new ideas to the dying method to give different looks. Play with different colors and dye your old boring t-shirts and tank tops and be ready to impress your friends. This dying method involves bleach and is unique in many ways.
These DIY doily denim shorts need a little effort but are less expensive than if you but these from the stores. Add on them some old fashioned lace to give an urban contemporary look to it. You can also make DIY doily t-shirts like this. If you are planning to go to a beach with friends and family and you are confused about what you can wear? Try this crazy DIY beach wrap and you are all set to go to the beach this Sunday. These are cool heart shorts, try them out.
This one is a heart cut out tank top which is super cool and stylish for an evening with friends. Go try and wear these 20 DIY Summer Clothing For Teens outfits and the world is yours as all of these are show-stopper outfits. Maybe you did not realize but these were all your old clothes transformed into something trendy and latest.
Lace Cut Out – Lace Insert Tee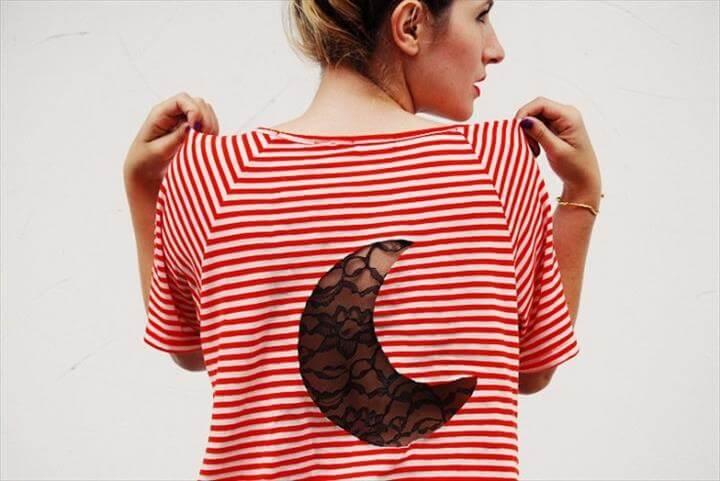 You can make your old t-shirt look all boho and chic and with a simple DIY crafty project. Here is this lace cut out lace insert tee idea to get your hands on. So grab your shirt, some black lace, and the moon template to create it at the back of the shirt and look just so cool and fun. Details here!
Image: mrkate
Southwestern Style Shorts

: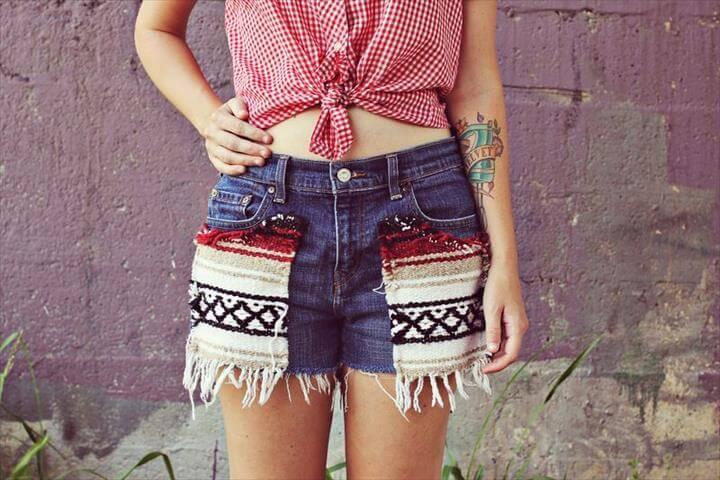 If you are also a person who wants to stand out with her style statement then this southwestern style shorts are for you. It's a fun way to boost up the charm and fun of your old denim shorts. All you need to do is add crocheted appliqués to both sides of the shorts. You can create any pattern that you like. Details here!
Image: abeautifulmess
Dye T-shirts With Bleach: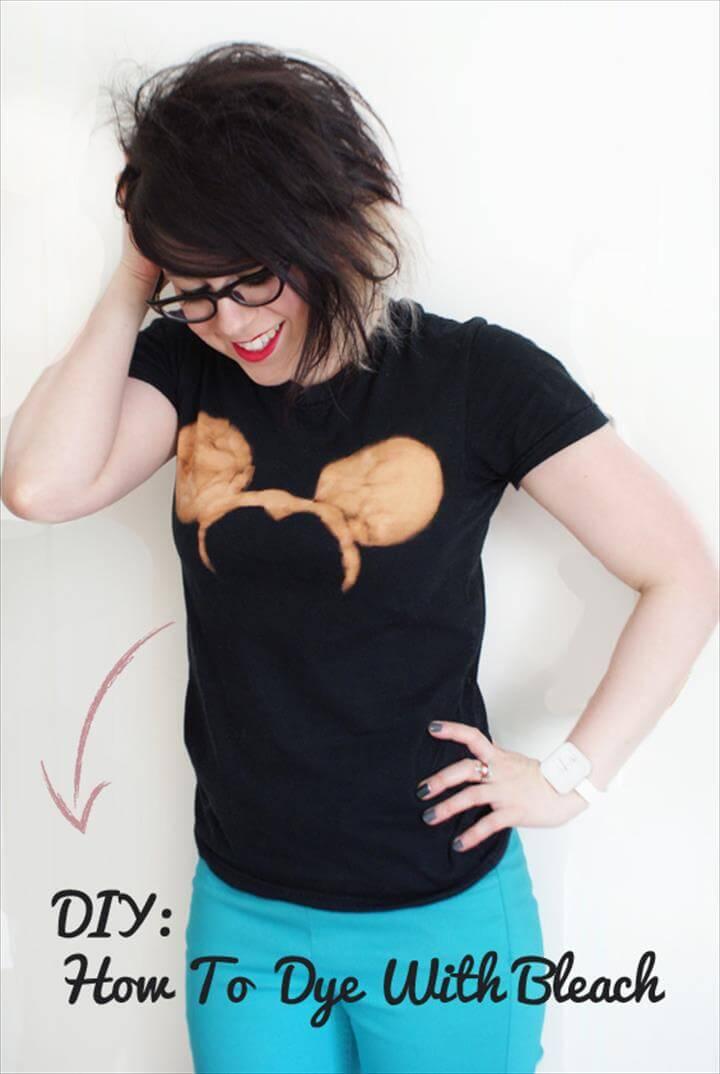 You can make your own perfect t-shirt for Halloween with the bleaching effect. Using a cardboard cut bat template and the bleach you can easily dye the bat at the back of your shirt. This would be cool yet the simple way to get yourself ready for the holidays. You can dye more t-shirts with bleach for the other family members too.
Image: screen-rant-vividplease.blogspot
Doily Denim Shorts: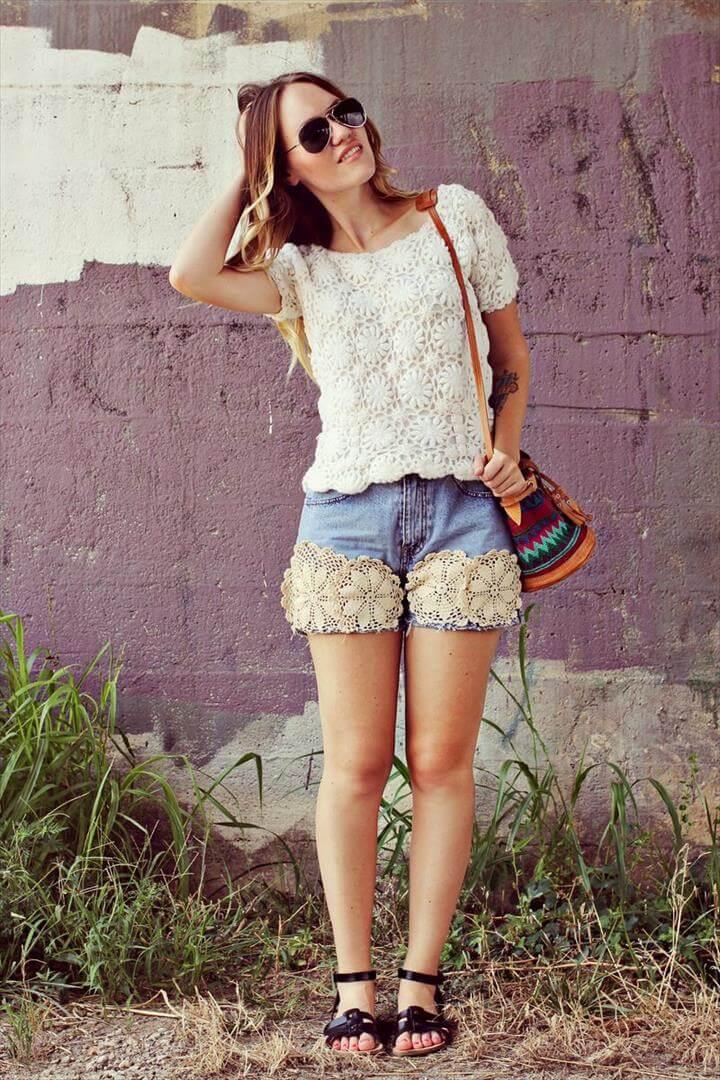 If you have crochet top for summer fashion than you must have these pretty denim shorts to pair up the top with. So get some doilies in white and sew them on the bottom edges of your shorts on both sides. This way your shorts are going to look super funky and cool. The girls are going to fall in love with these doily shorts.
Image: abeautifulmess
Doily Tshirt: DIY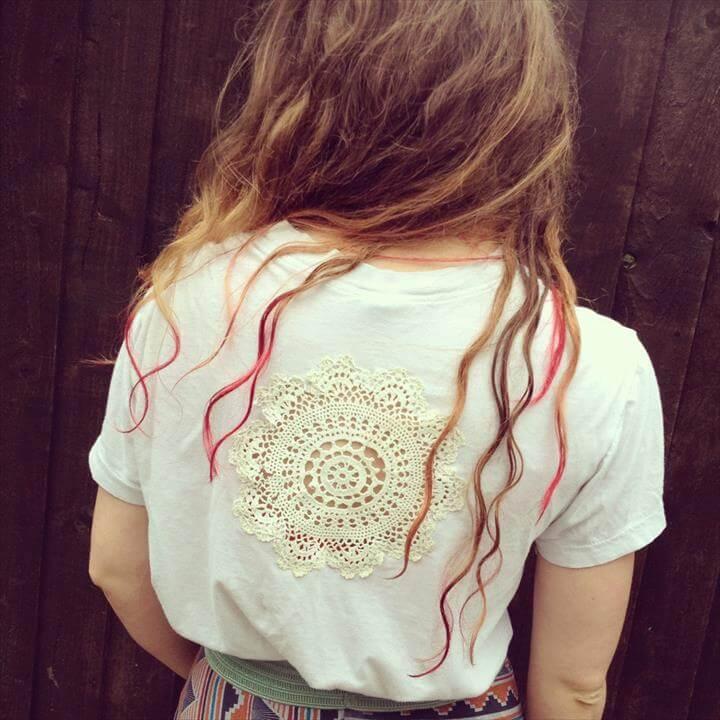 If you have some cute vintage doilies lying around then we have this perfect doily T-shirt idea for you to work on. Yes, add the doily at the back of the t-shirt with a cut-out method. This way you can easily transform your old and boring t-shirts into a pretty and stylish summer top. Details and instructions here!
Image: byhandlondon
No-Sew Beach Wrap

: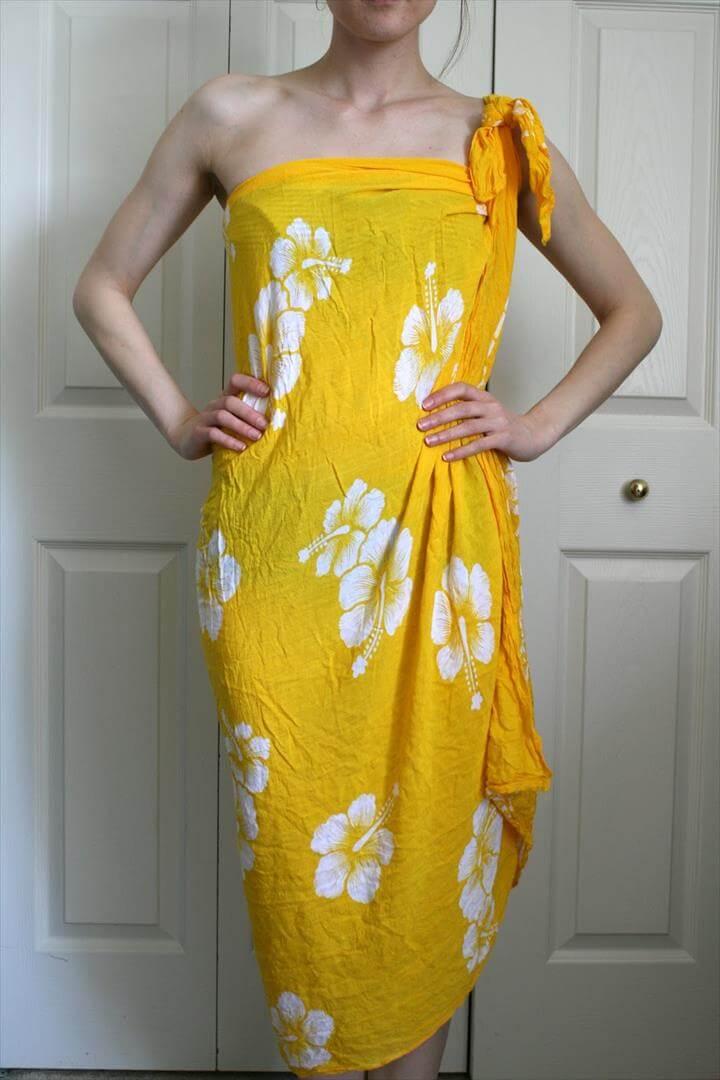 You can make the perfect beach cover or wrap and that too without and sewing involved. Even the beginners can make this no-sew beach wrap super easily. This tutorial just an easy fun way showing you to use a sarong as the stylish and sexy beach wrap. Learn the tips and tricks right on the link here!
Image: laviediy.blogspot
Heart Shorts

: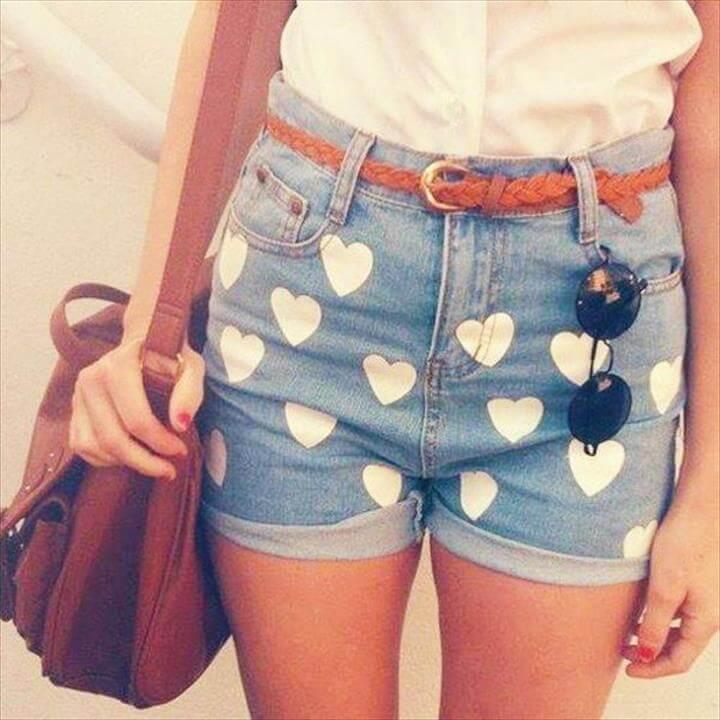 There are so many ways to look different and stylish from others and if you are crafty then you can easily do it. So grab some white paint and the heart stamp to create the lovely hearts all over the shorts. You can use any fabric paint color but white looks super chic and fashionable. Follow the easy details of her!
Image: unghii
Printed Shirt DIY: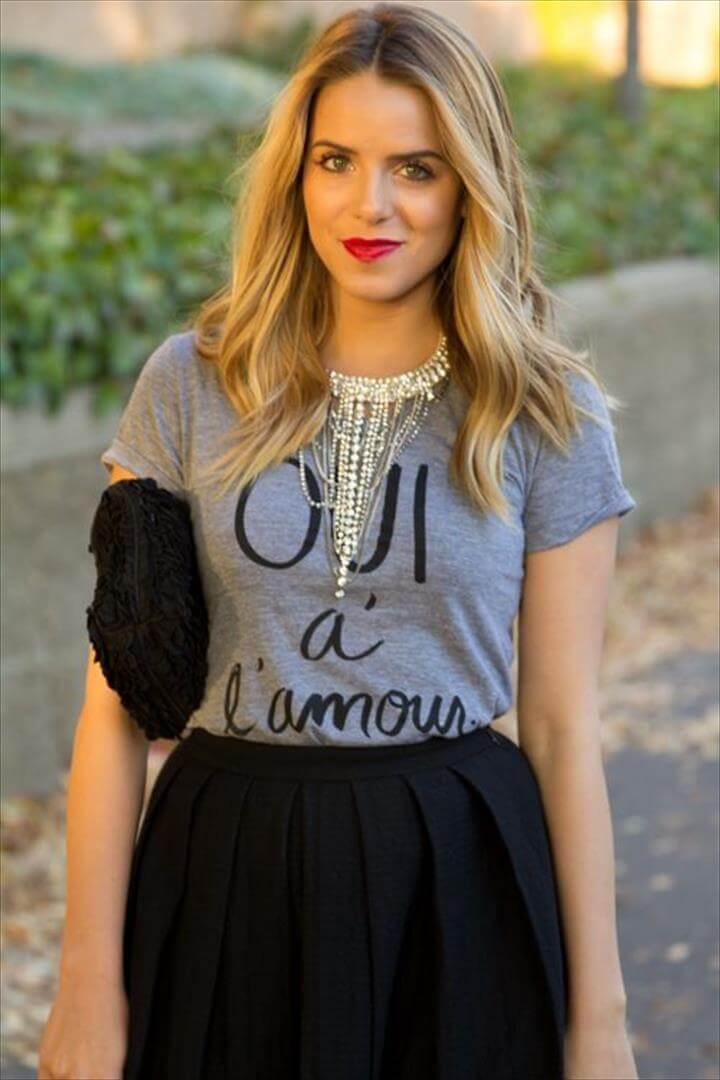 The stylish and boho quoted shirts are the new trend these days and now you can easily make them at home. Making these lovely quote printed shirts gives you a chance to make the most custom and boho shirts. So get black shirts, 3d fabric paint, and the iron-on letters to make the perfect personalized shirts. These would make pretty gifts too.
Image: youtube
Romantic Lace T-Shirt

: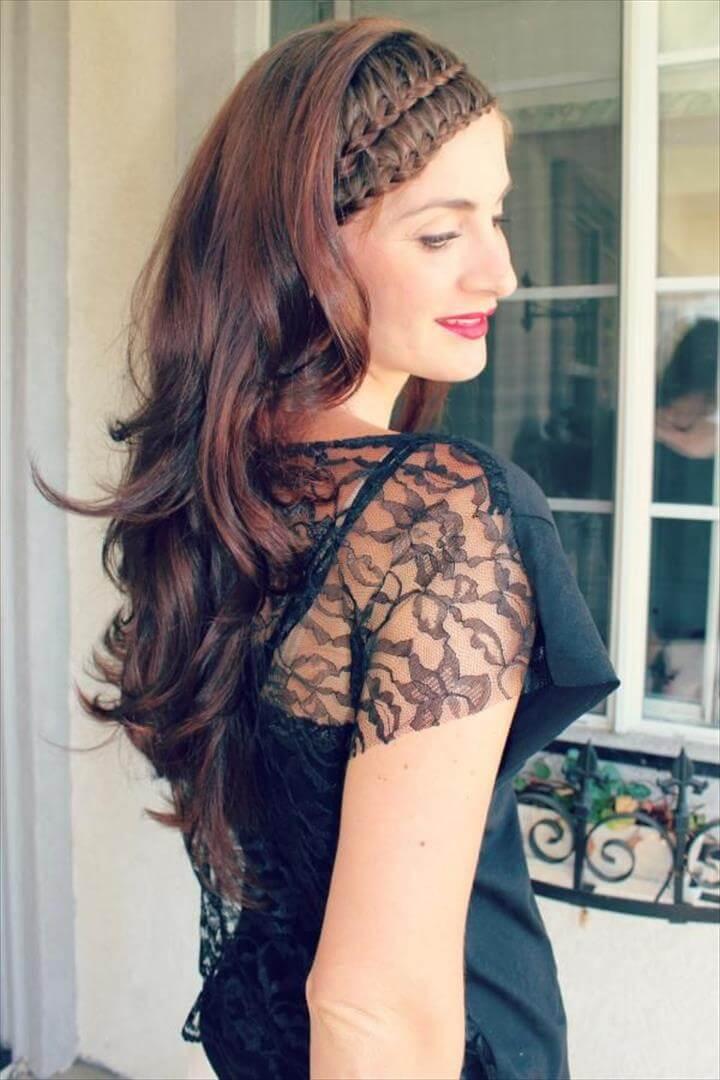 Need a perfect dress for the date night? You do not need to rush to a brand store for that as the thrift stores can do that for you. Yes, find a black long-skirted dress with lacey top to get it restyled at home and turn into a romantic and sexy date night outfit. By just shortening the length of the skirt and removing lining from the lace top you have this super gorgeous dress.
Image: apairandasparediy
T-shirt Refashion Idea: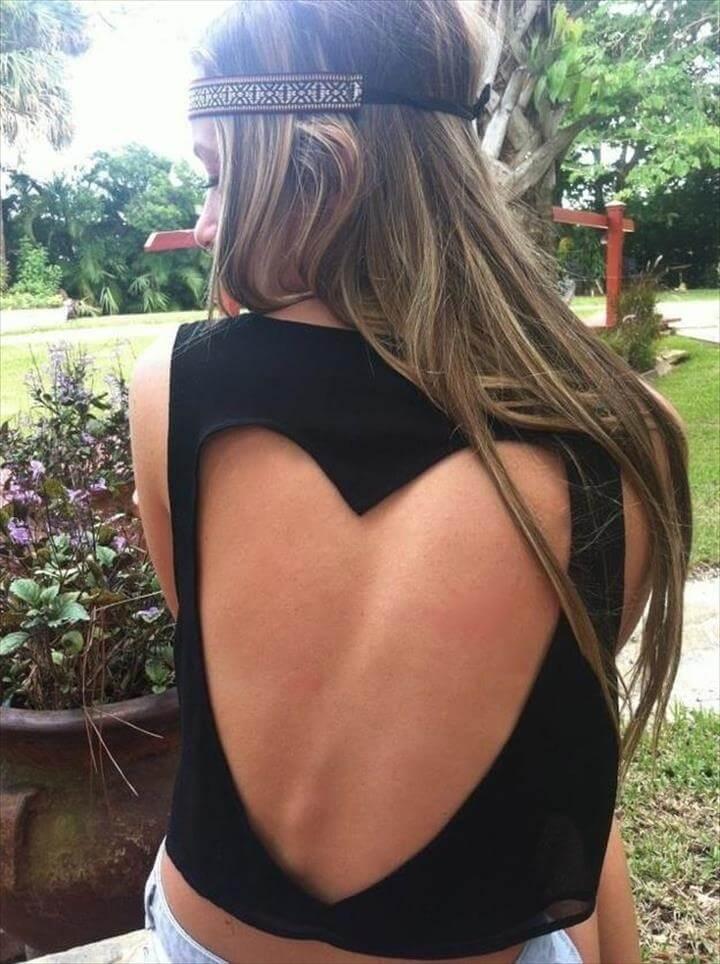 Give your favorite t-shirts a pretty and fun transformation for the summers. So all you need is a big heart template so that you can cut out this heart at the back of your shirt and look just super sexy and fun. You can use this t-shirt refashion idea on any of your shirts and even tops and tanks too. Details of the idea here!
Image: prettyprudent
Horse Print Summer Dress Design: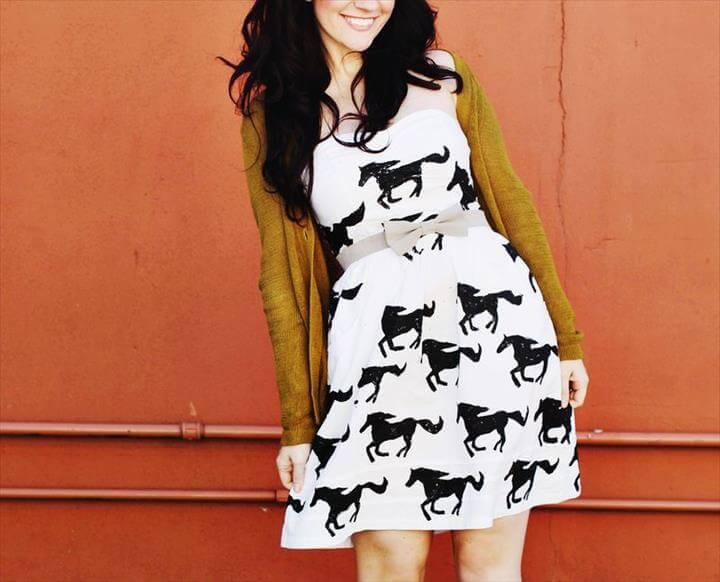 If you have some white fabric lying around then you can make a pretty horse printed summer dress out of it. So get cardboard and draw a horse to cut it out and use it as the stamp. Grab the black fabric paint and stamp up this horse on all over the dress to later sew up a lovely off-shoulder dress out of it. Details here!
Image: abeautifulmess
Jean Jacket Outfit

: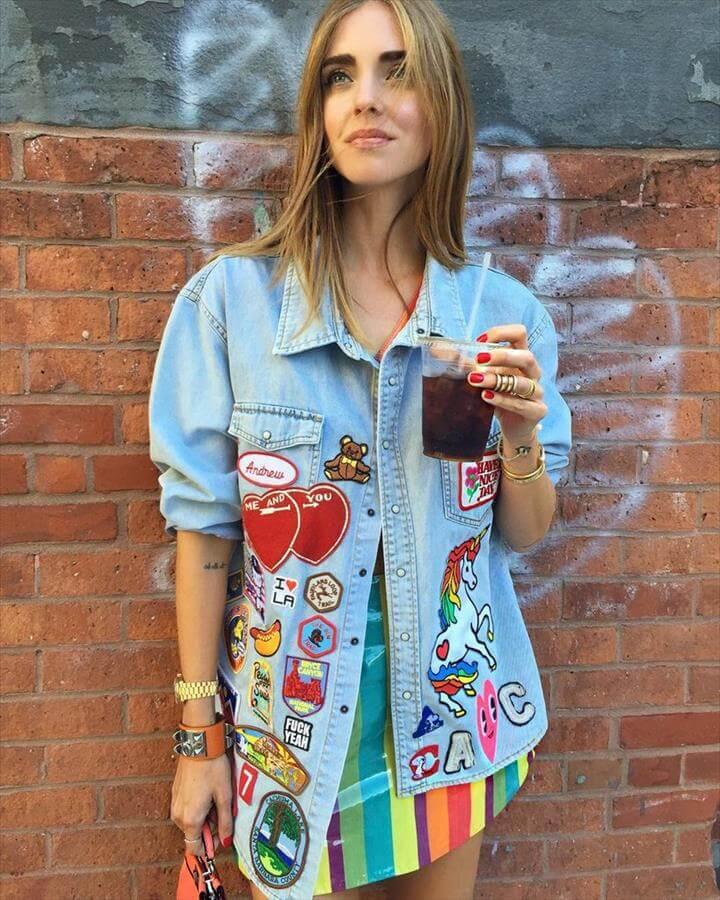 It's time to give your jean jacket a completely crazy fashion look with the perfectly cool and boho idea here! So grab some super cute and fun patches and transfer them on both sides of the jean jacket and the patches can be anything. Also, you can create some embroidered patches, letters and appliqués to look just so bomb.
Image: popsugar
Easy Caftan Dress

: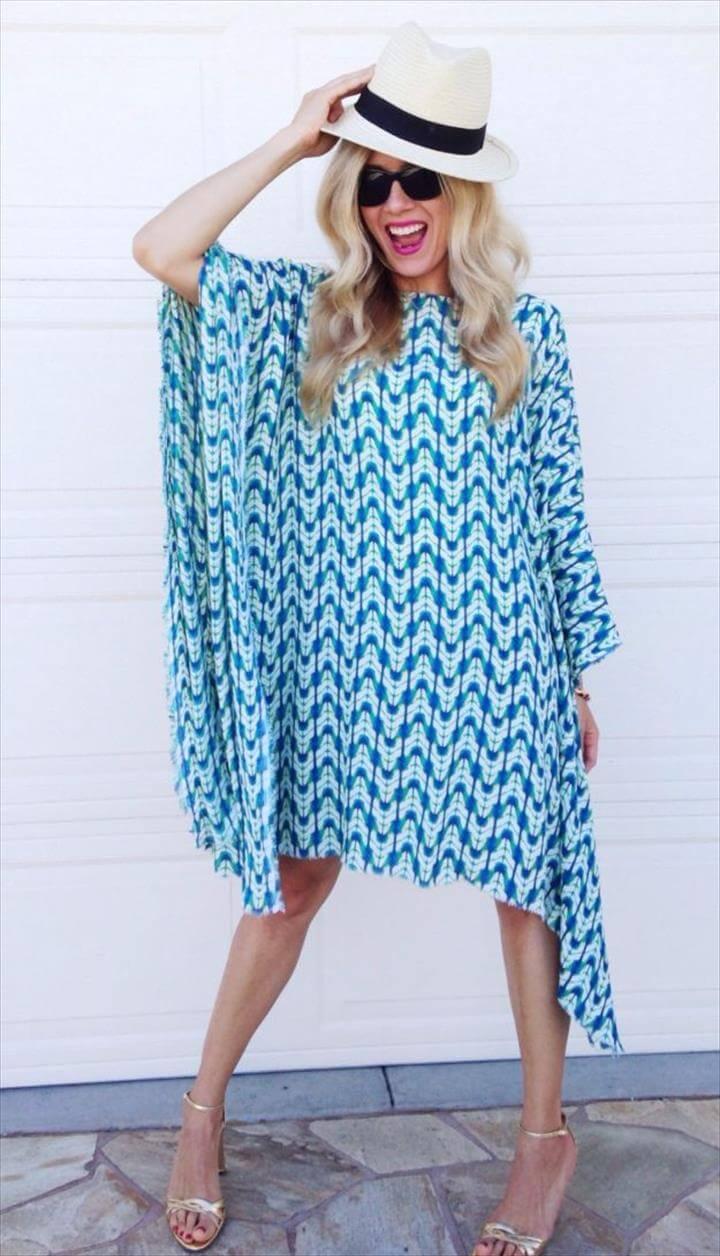 Simple and breezy dresses are summer-friendly and you must have some in your wardrobe. So, here is this easy caftan dress to easily make and get easy breezy for your summer day outs. Pair up this lovely caftan with a cute Panama hat and you are ready to rock a fun summer dress which is highly stylish too. Details here!
Image: rivaladiva
Lipstick Kisses Printed Shirt – Casual Outfit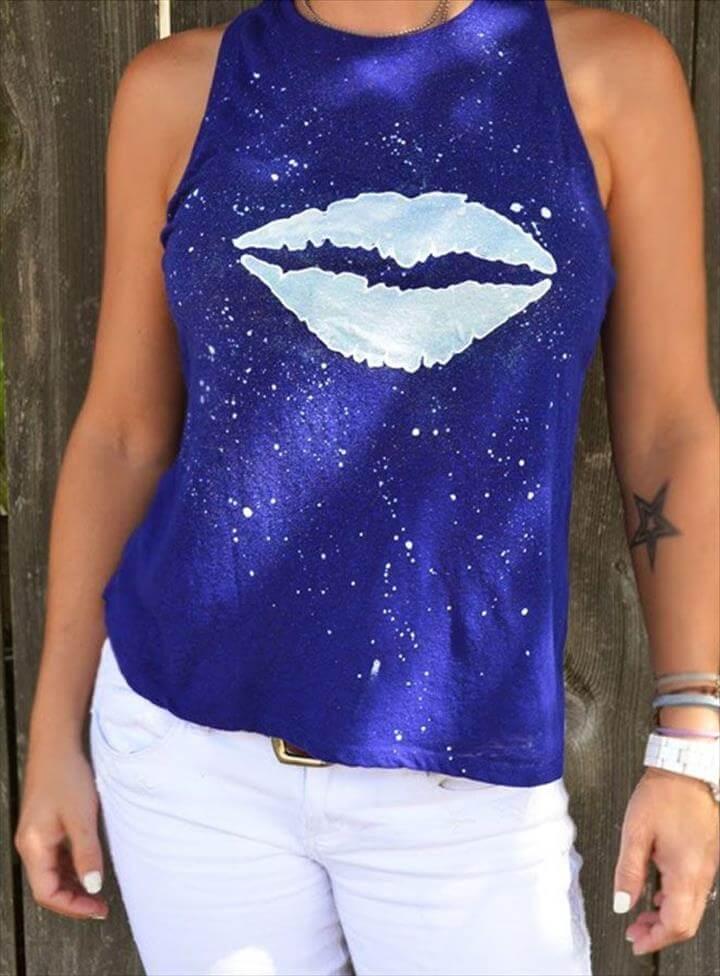 Make your simple t-shirts look the cutest and funkiest with this lipstick kisses printed shirt. Just grab the shirt that you want to restyle and draw big lips on them. Then grab some fabric paint of your favorite color and fill it inside the lips just like a lipstick. Let the paint try and you are ready to adorn such a pretty self-printed shirt.
Image: weheartit
Crop Top Design & Pattern: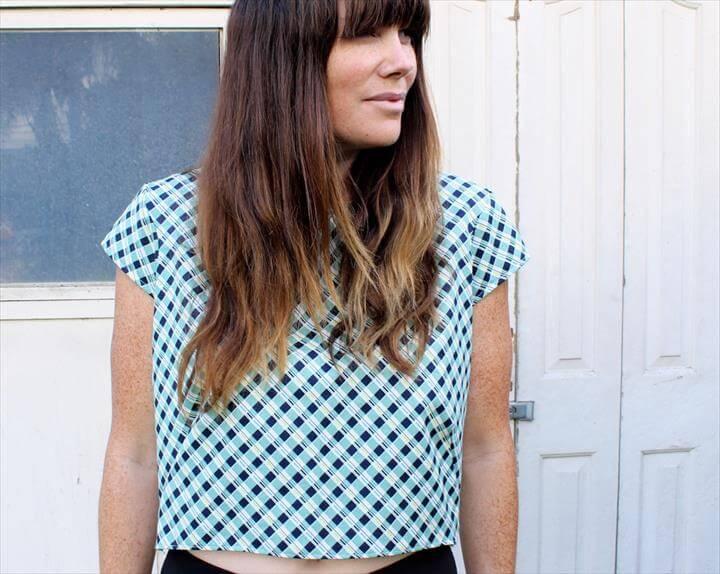 Make your summer wardrobe fuller and stylish with some handmade designs just like this simple and cute crop top. When you go to the fabric market this time, grab some fabric having a pretty texture and pattern on it. Sew up a lovely crop top out of this fabric and pair it up with your jeans, shorts and even skirts. Follow the details here!
Image: fiskars
Watermelon Print T-shirt:
Ombre T-shirt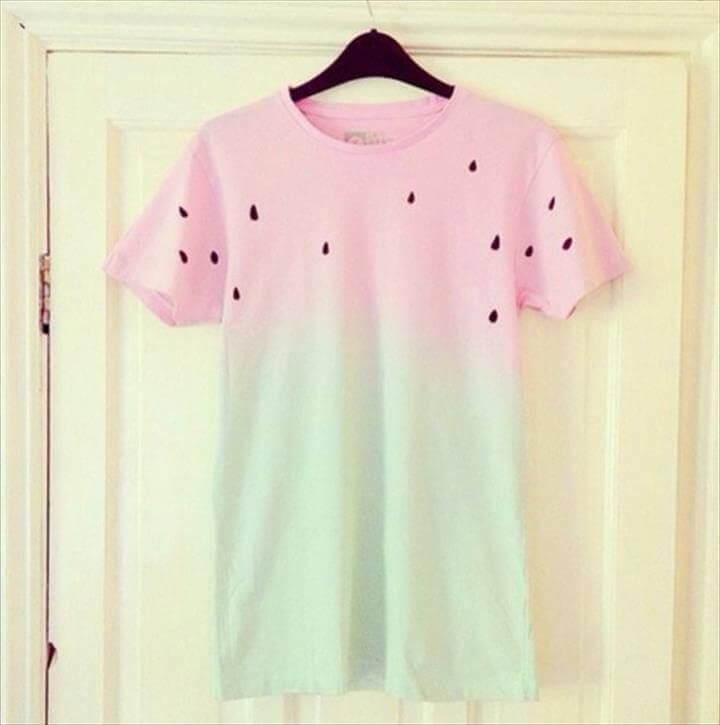 Dip dye is another favorite art to make some funky prints colors of your old clothes. Here is this watermelon print T-shirt in ombre appeal to look so perfect for the fun summer days. You need red and green color to dip dye the shirt and create black seeds on the top for a realistic watermelon look. Details here!
Image: todaysparent, wheretoget.it
T-Shirt Shoulder Cutout: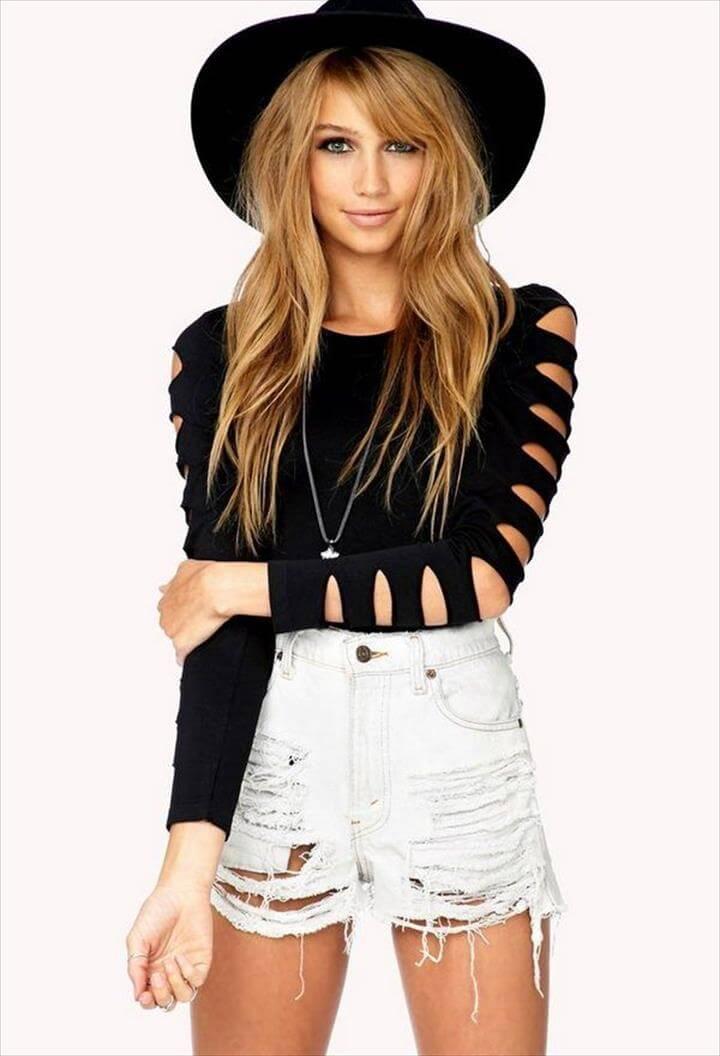 Give your t-shirts a totally stylish and sexy look and that too with the now sew projects. Here are shown some pretty fun four ways to make your simple and plain shirts look just highly fashionable. You can create cut out on shoulders, a v cut on the front, a big deep cut at the back, and a tie knot shirt. Grab all these ideas with the tutorial right here!
Image: youtube
Summer Swing Dress

: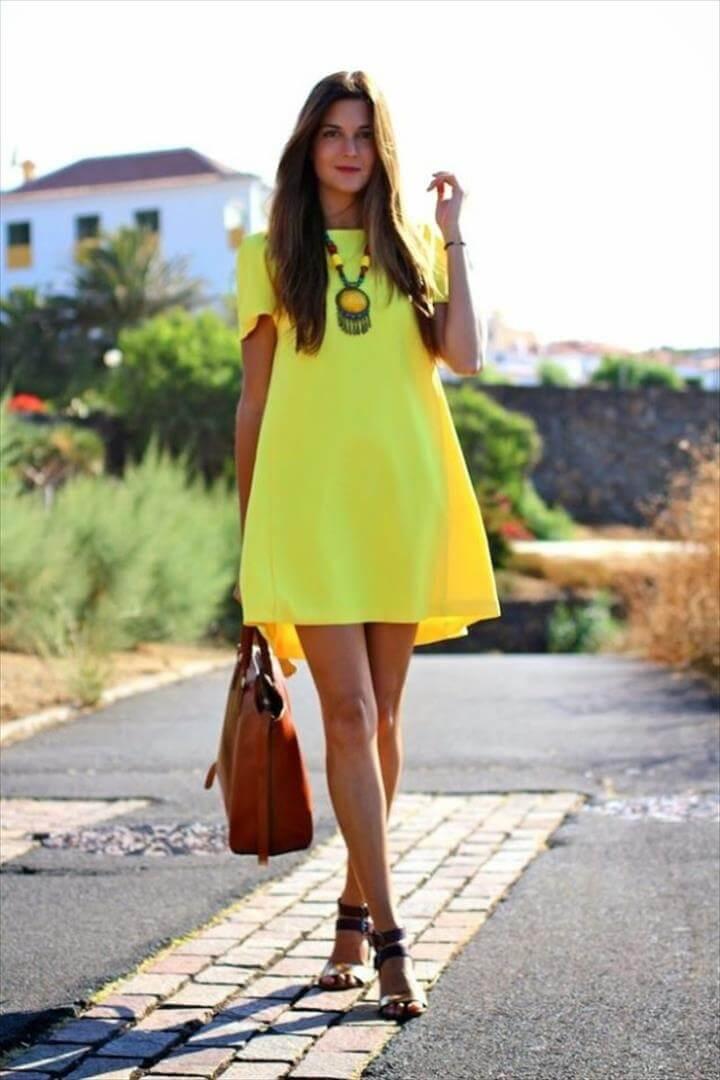 Make your summers comfy and stylish with this pretty summer swing dress. The gorgeous neon bright color of the dress and the lovely open flair really makes this pretty dress a desirable piece for the summer wardrobe. The fabric used here is the cotton stretch knit fabric so get it and come along the tutorial here to work up this summer swing dress.
Image: styleoholic
Swimsuit Cover-up

: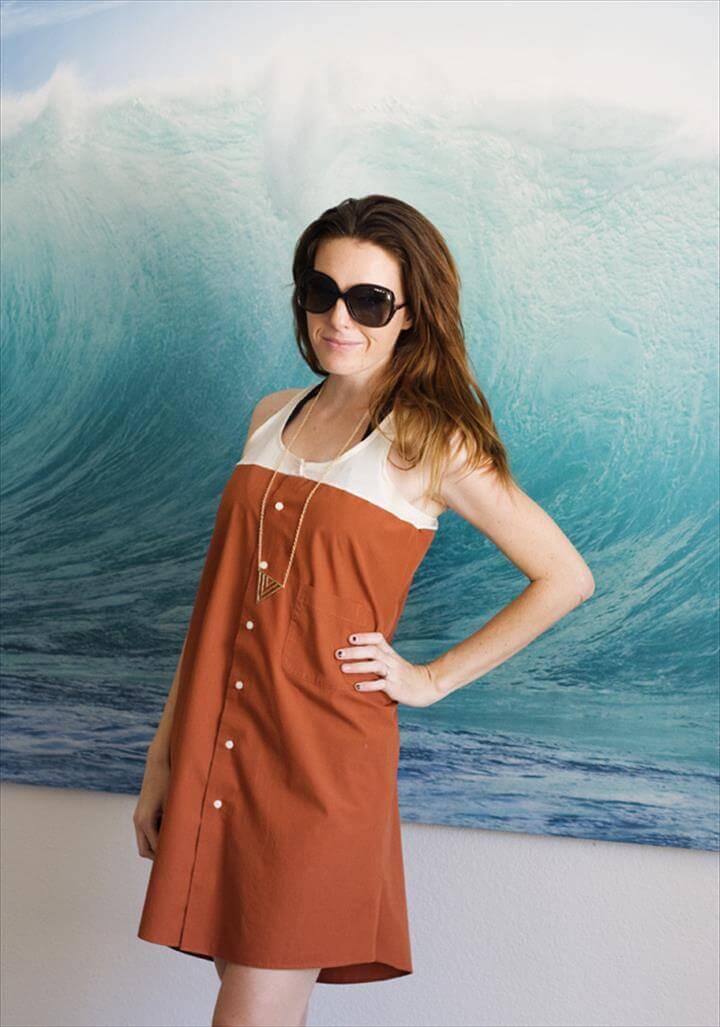 Make yourself the cutest and the girlish swimsuit cover-up for the summer. This adorable swimsuit cover-up is made out of a chest fitted tank top and a buttoned-up shirt. You can make it in less than an hour and it is going to cost you less than 6 dollars. Catch more details of the idea here!
Image: frecklesinapril
Neon Yellow
Dress: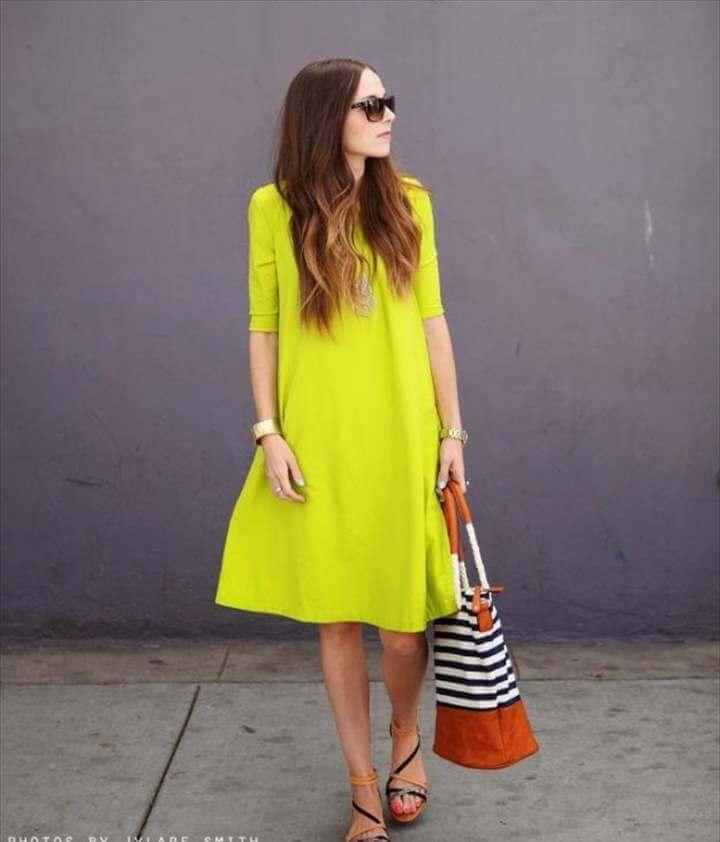 Summer is the season to wear bright and bold dresses and here is this lovely neon yellow dress to easily make at home. The dress is super cute and stylish and ultra-comfy for the hot summer. So grab some cotton stretchy knit fabric in the neon color and get this lovely neon yellow dress sewed. Tutorial here!
Image: modern-healthy-life