Many people love Macramé art as you can use it very creatively for many purposes such as DIY home decor, personal items etc.
Here we will discuss 30 free macrame patterns with printables to make useful tutorials in the links below each project. It is sometimes cool to go a little backward and follow some of the old fashion trends for house decoration, such as this macramé lantern, which is suitable for your front yard ceiling. Secondly, we have a friendship bracelet watch that also is a cool project and will take no such time as it seems that it would take, so grab some supplies; color depends on your own choice and makes a masterpiece out of it with the help of this tutorial.
If you are a plant lover and looking for a new home for your plant, you are on the right platform as here in this project. You can learn how to make a macramé planter by following the same steps as you did for the lantern, and it is a perfect piece for your garden or anywhere inside the house if you want to put an indoor plant into it. Make some macramé key chains for yourself and also as gifts for your friends.
Look at this beautiful hanging chair which is so relaxing, especially for the summers, and all you need to have is the skills to make it; for this, you need; four wooden rods, thick rope and a little twist and turn! And there you go with your new and trendy Hammock chair!
Are you tired of your boring walls? If yes, then no need to worry; you need two or more plastic rings, each of different sizes and a bright-colored rope. By making different patterns of macramé, you can now decorate your walls with this new and funky look.
Plants aren't boring, but how they are kept might be a little uninteresting. Whether hanging your plants or putting your plant pots onto them, you can easily make different macramé patterns using ropes of different thicknesses and various beads. Each pattern with a new color and style will make your every project look more interesting than the previous one! Also, you can add some spark to your jewelry collection by making something interesting such as a macramé necklace with a stone wrapped under it. Share these free macramé patterns with your friends as these all are worth trying and sharing.
Macramé has been amazingly useful when it comes to simple and pretty decorations. Here we will amaze you with some of the most exciting and amazing macramé ideas that you can easily make yourself, and you are all set for your next house warming party and other get-togethers this season.
The first project that we have here is an outdoor lantern made with the macramé theme, and it will enhance the beauty of your front yard. Next, we have an exciting and colorful friendship bracelet watch that you can see over here in vibrant colors; you can learn the procedure from the detailed written description and the tutorials attached with every project. Besides this, we also have ideas for plant lovers to make cute plant hangers that you can make and give your plants a whole new and exciting home.
Once you have learned to work with macramé, you can also make small and simple beautiful macramé key chains and several others. We also have some great ideas for your jewelry collection; our next DIY macramé wrapped stone necklace. Also, you can decorate your walls with the macramé ideas as you can see over here in the next projects so that your walls will never go unnoticed. Besides necklace, you can also make bracelets out of the same idea and somewhat the same procedures you have done in the necklace project. You can also make some stunning handmade macramé chandeliers by putting in a little extra effort, and you will end up making this extraordinary masterpiece.
Share these 30 free macrame patterns with printables with your friends also so that they can also make some amazing handmade creations. Follow the instructions step by step so that you will not miss the minor details of the project.
1. DIY Macrame Bucket Bag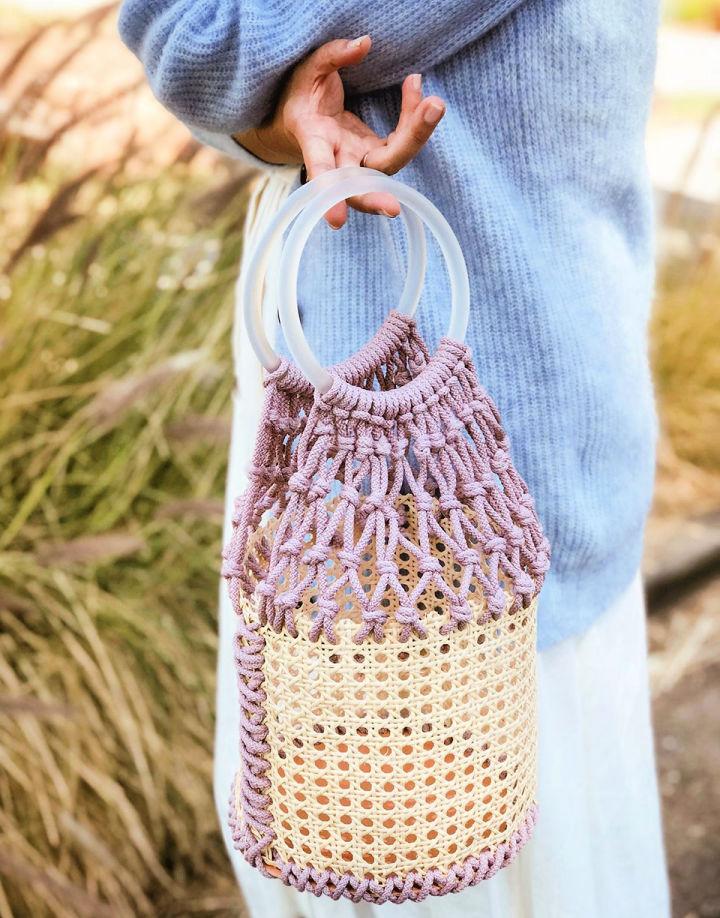 Create an easy-to-carry and convenient DIY macrame bag using macrame and cane. This DIY bag is the perfect craft for those who are practicing knotting skills. You can make this bag while living within your budget with polyester cord and cane webbing. Apart from this, a leather piece is all you need to make the bottom of this bag. honestlywtf
2. Macrame Inspired Clay Pot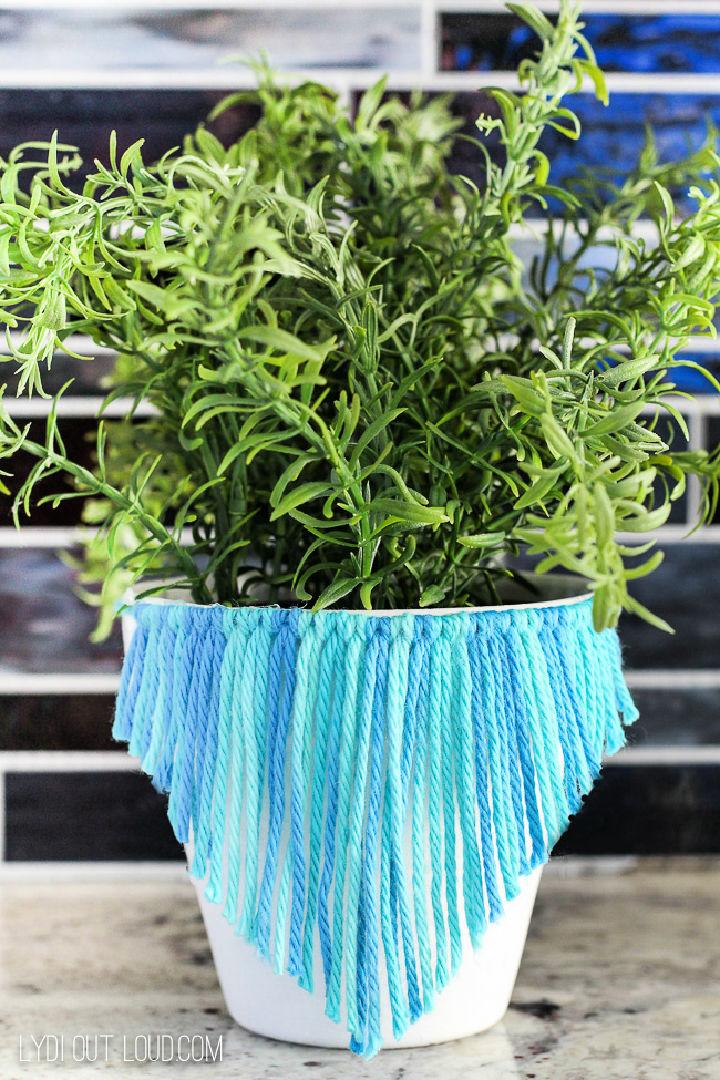 Decorate your clay pots and vase with a leftover macrame. Make this macrame décor for your indoor plants and pots to give them a classy and ethnic look. Additionally, you would love knotting macrame for your vases while practicing your craft skills. Make pots more tempting and vibrant using different colors of cords for macrame. lydioutloud
3. DIY Macrame Hammock Chair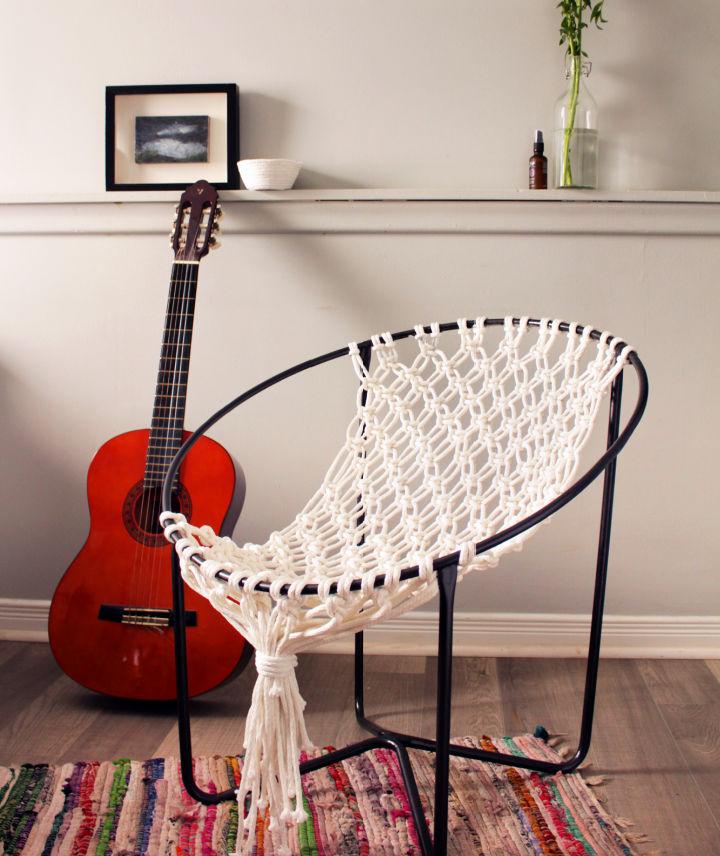 Recycle an old chair frame or structure to make an attractive and farmhouse-style hammock chair. Kill your boredom on the weekend by involving yourself in a creative activity or DIY. To DIY a hammock chair, you need to use a stronger cord for macrame and knotting. Make this elegant piece of furniture with simple knotting and cord webbing techniques. You have a new seating place for your room! fishandbull
4. DIY Macrame Earrings
Customize an ethnic piece of jewelry by yourself using your macrame and DIY skills. Make a beautiful set of earrings to dress up with any Summer wardrobe. You don't need to put extra effort into making these earrings. Reuse your old hoops to transform into trendy macrame earrings. Use your favorite color of cord to make this DIY jewelry. cuckoo4design
5. Simple Macrame Camera Strap Pattern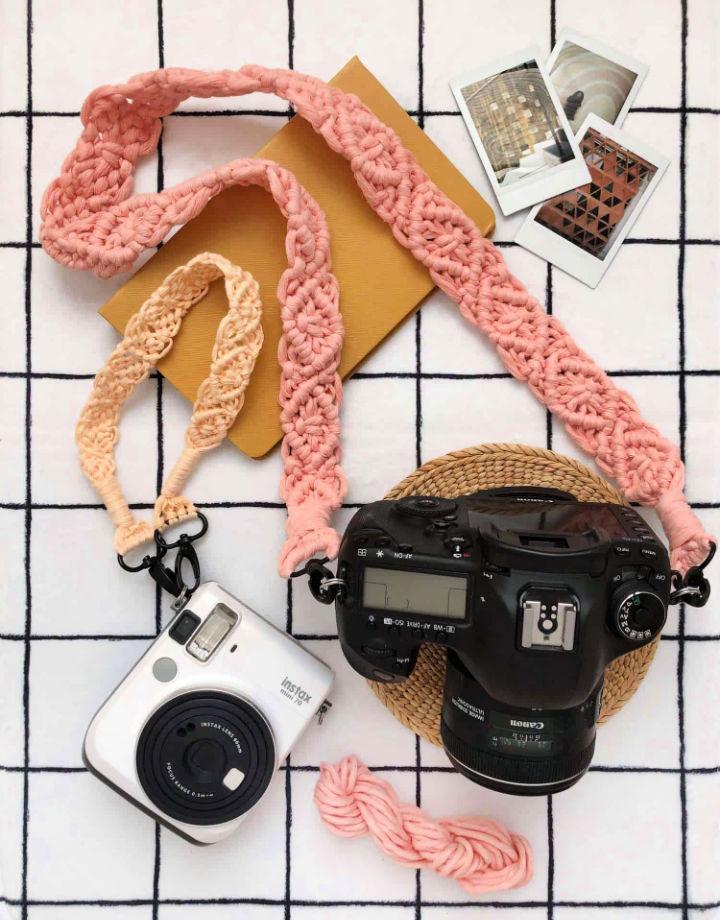 Make your Instax instant cameras a little more attractive and trendier with handmade macrame straps. It will be more convenient for you to carry your camera using this strap. You can use a different color of cord to make this strap cool and fashionable. So, make it, attach it with your camera and wear it with style! abeautifulmess
Watch This Video: 3 Macrame Patterns For Plant Hangers – DIY Boho Home Decor – Macrame Patterns (17 Minutes 27 Seconds)
6. How to Make A Macrame Plant Hanger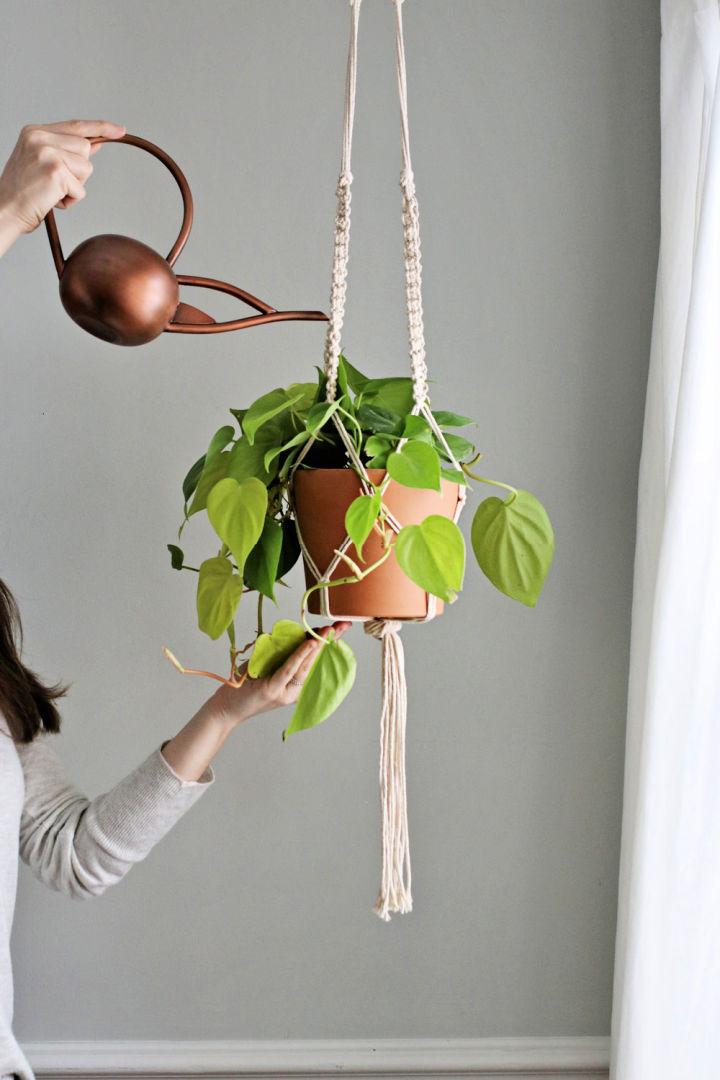 Decorate and makeover your room with some macrame art. Make a macrame pattern hanger for indoor plants and herbs. Now, you can dangle plants with style and comfort in your rooms and garden. The best thing about macrame DIY is that it is not expensive, even if you buy new supplies. hellonest
7. Easy Macrame Table Runner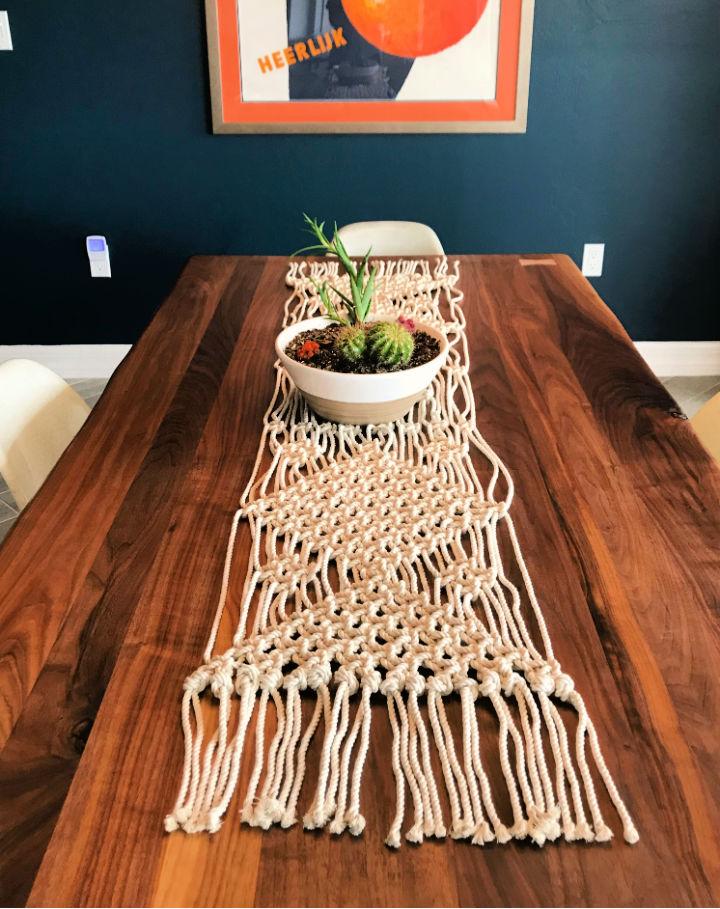 Instead of covering your side and corner tables with boring covers, make a good-looking macrame runner for them. These runners will give farmhouse style and an ethnic look to your room décor. Luckily! You can make these macrame runners with the simple braided technique using the desired cotton rope. myfrenchtwist
8. Macrame Boho Chandelier With Fairy Lights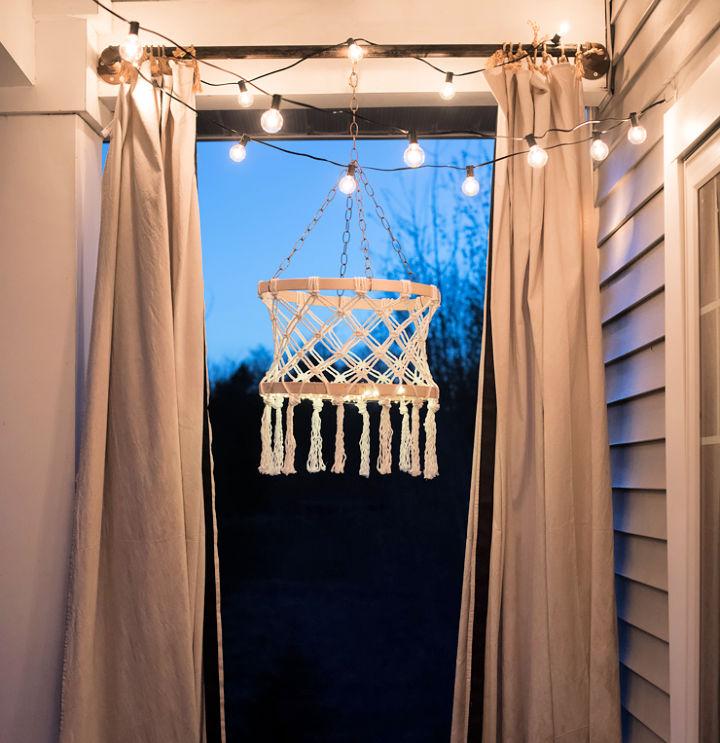 Make your room's window fancier and dreamier with a macrame boho chandelier. Use fairly lights around this customized boho chandelier to get more relaxing and pleasing vibes in your room. This boho would be a perfect DIY and craft idea for your Summer holidays. Make it or hang it in your room! thediymommy
9. Handmade Rainbow Macramé Earrings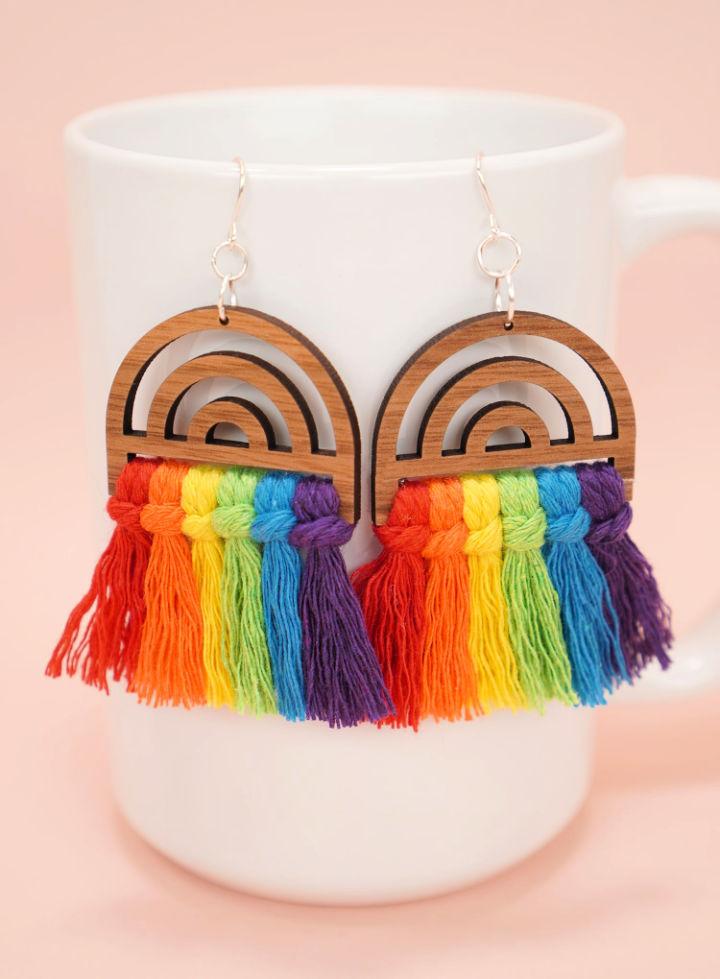 DIY rainbow earrings with macrame craft for a girly girl to gift on her birthday. You can make these earrings also for yourself. These earrings are perfect to wear at Summer and beach parties. Make them using rainbow colors cords, earring wires, jump rings, and findings. If you have already worked on a DIY jewelry project, you can also efficiently work on this craft project. happinessishome
10. Triangle Macrame Wall Hanging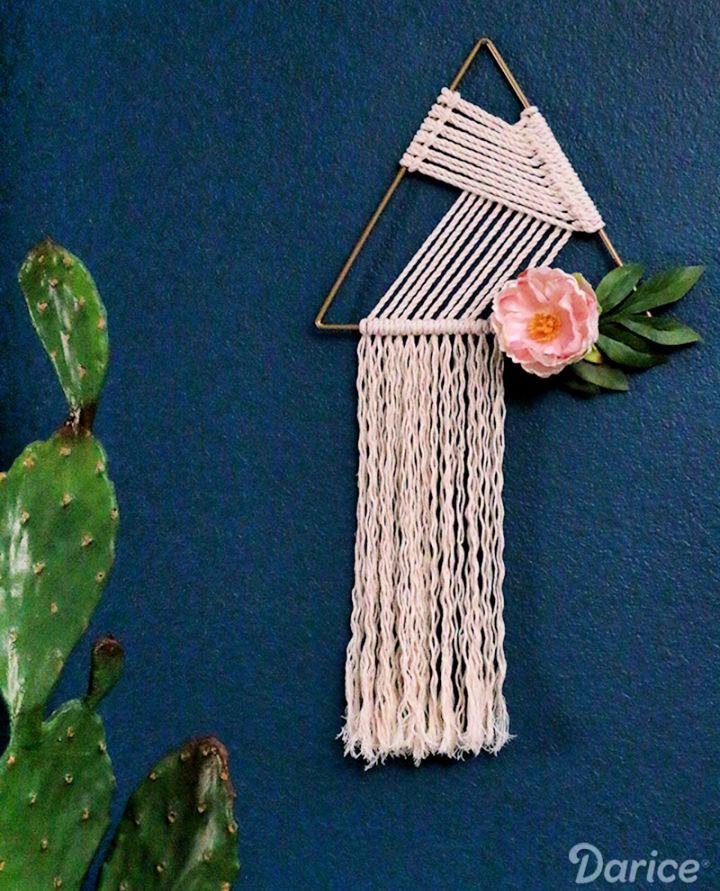 Make a beautiful and easy-to-make wall hanging for your room décor with a macrame and a triangle frame. Use your favorite color of parachute cord to make this beautiful piece of wall art. Even if you are on the beginner level of macrame craft, you can work on this craft project without difficulty. darice
11. Macrame Jar Candle Holder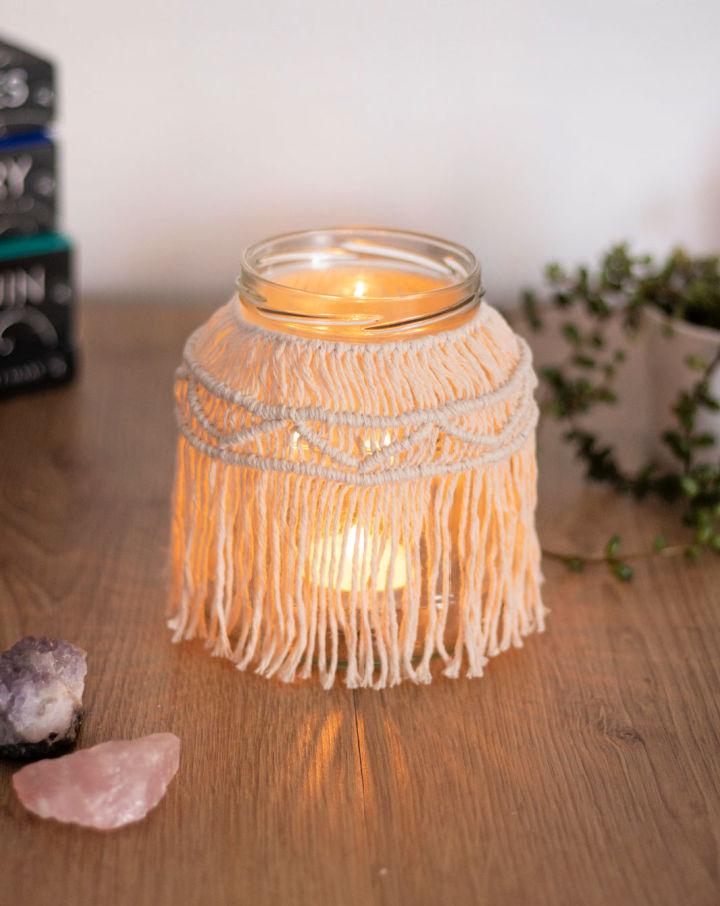 Use an easy knotting technique to make a trendy and stylish macrame candle holder. Place these super cool and lovely candle décors on your dinner table or in the room to get dreamy vibes. You can use a simple cotton cord to make these holders. curlymade
12. Macrame Wine Bottle Hanger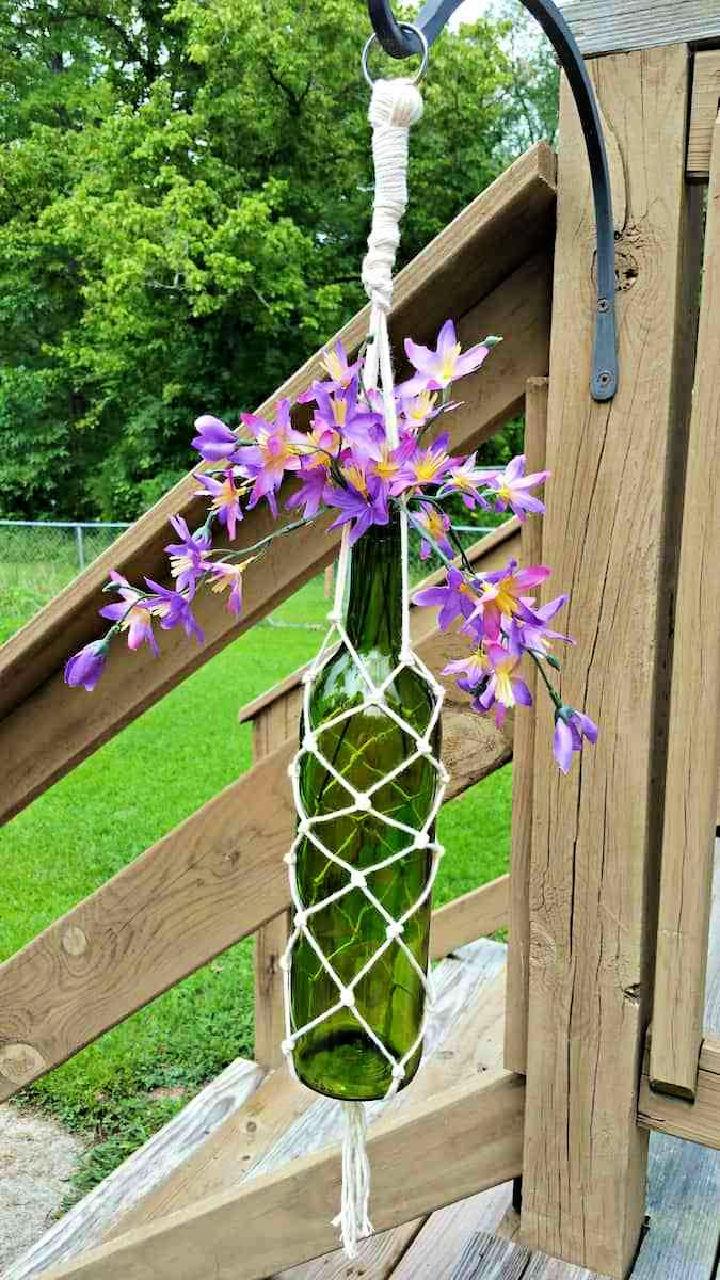 Instead of recycling empty wine bottles, use them to decorate your home and rooms creatively. These empty bottles would turn into a beautiful piece of art to inspire your home look. Utilize your macrame or knotting skills to make a durable and enchanting wine bottle hanger for the entrance door. Not only for entrance, but you can also use this macrame hanger to dangle decorated wine bottles indoors. singlegirlsdiy
13. Macrame Pendant Necklace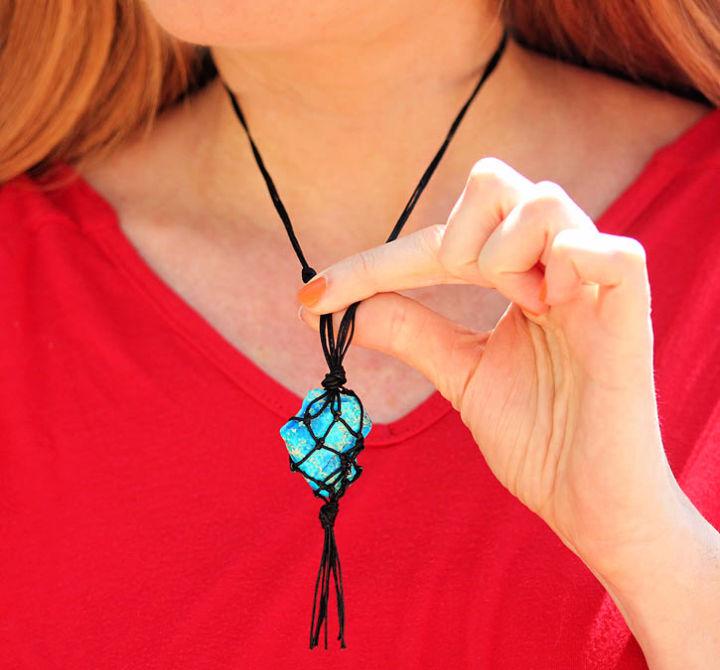 Embellish your favorite pearl or gem beautifully in a necklace using macrame art. Instead of buying an expensive chain to reinforce your stone, use a simple cord to make a macrame necklace. This lightweight and trendy necklace will give you a good overlook. You can work on this macrame necklace to polish your DIY skills on a small scale. gina michele
14. DIY Dyed Macrame Backdrop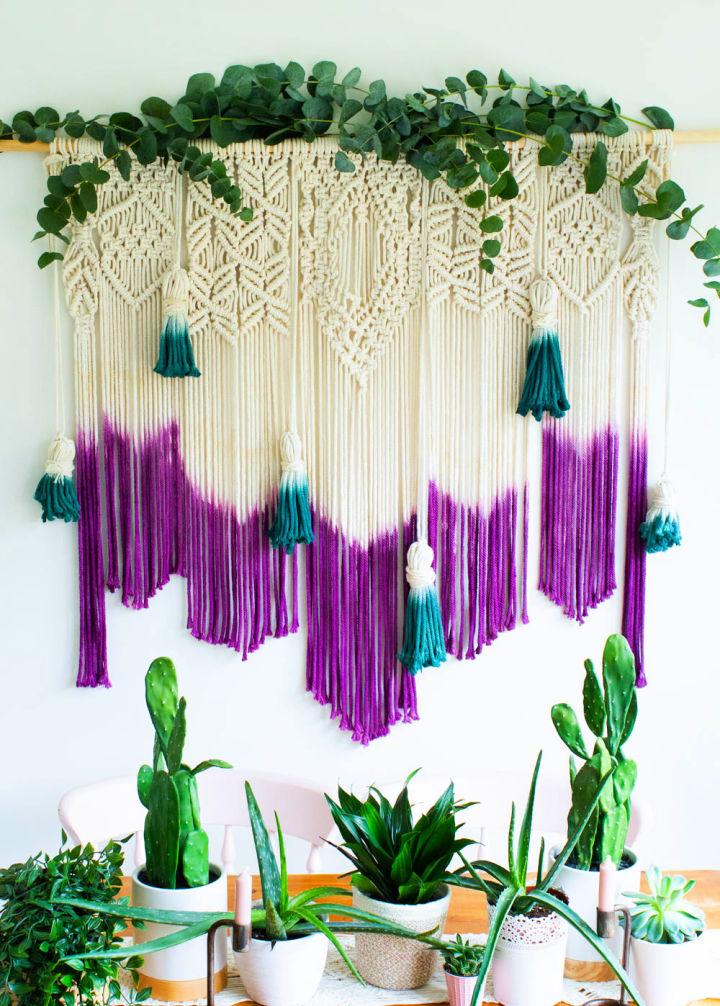 Make a dyed macrame backdrop for your indoor plant's corner. Not only for indoor garden areas, but this backdrop is an ideal décor for wedding parties and bridal showers. You can dye cotton rope in whatever color you would like to make this macrame backdrop in the combination of your interior. This dyed backdrop would give a bohemian effect to your home and weddings. You would surely enjoy adding this piece of decor to your home's makeover. bespoke bride
15. Tassel and Macramé Keychains – Free Instructions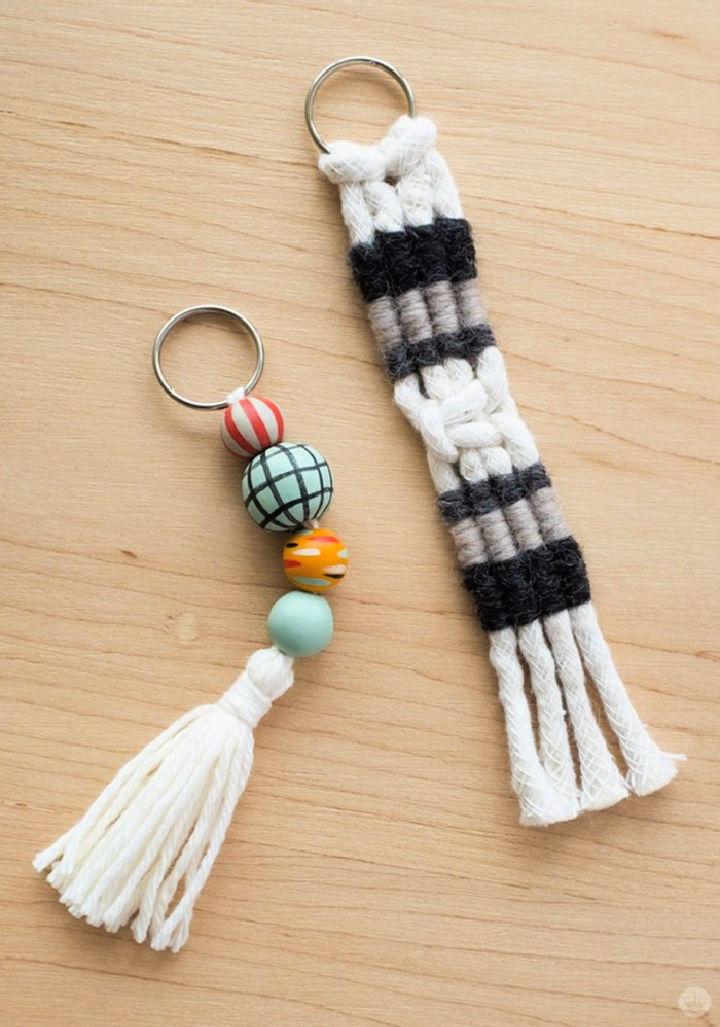 Practice your macrame skills on the mini and small-scale project instead of larger, especially on the beginner stage of learning. Create mesmerizing macrame and tassel key chains to include in your survival kits. To make a tassel keychain, use different shapes and sizes of beads to make the end product more realistic and trendier. Similarly, you can use the cord of your choices to make macrame keychains. thinkmakeshare
16. Macramé Boho Pillow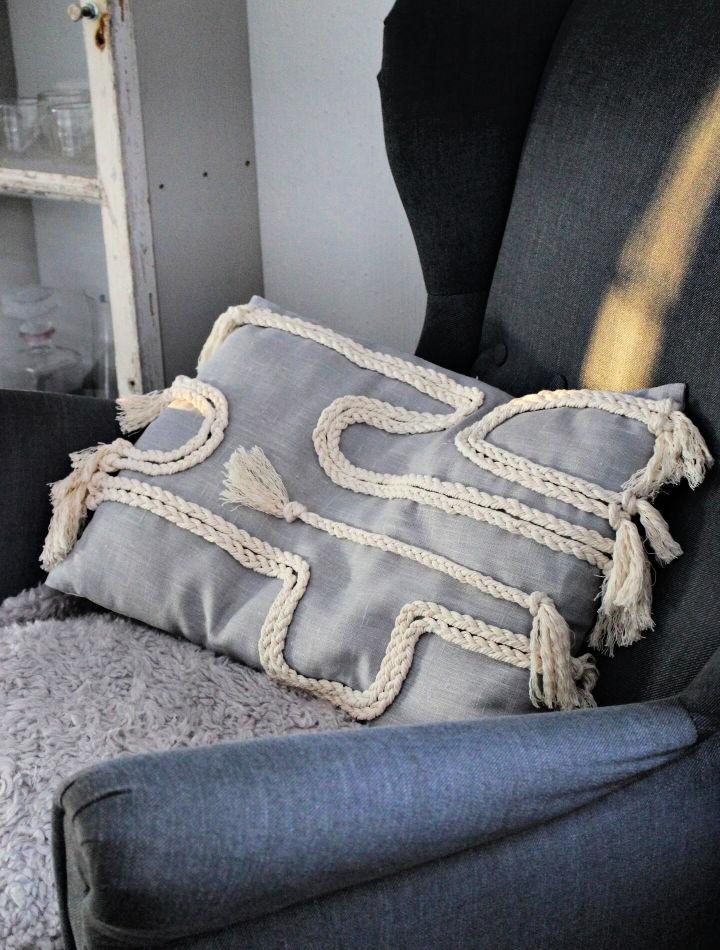 Create a boho-style look of your room using macrame patterns for different things such as pillows. Use a simple cotton cord to make this elegant and classy macrame pillow. You can make it effortlessly as it includes only simple knotting. Sew or attach the macrame cord on the cushion in different patterns and angles to get a versatile look. wonderwood
17. Minimal DIY Fibre Wall Art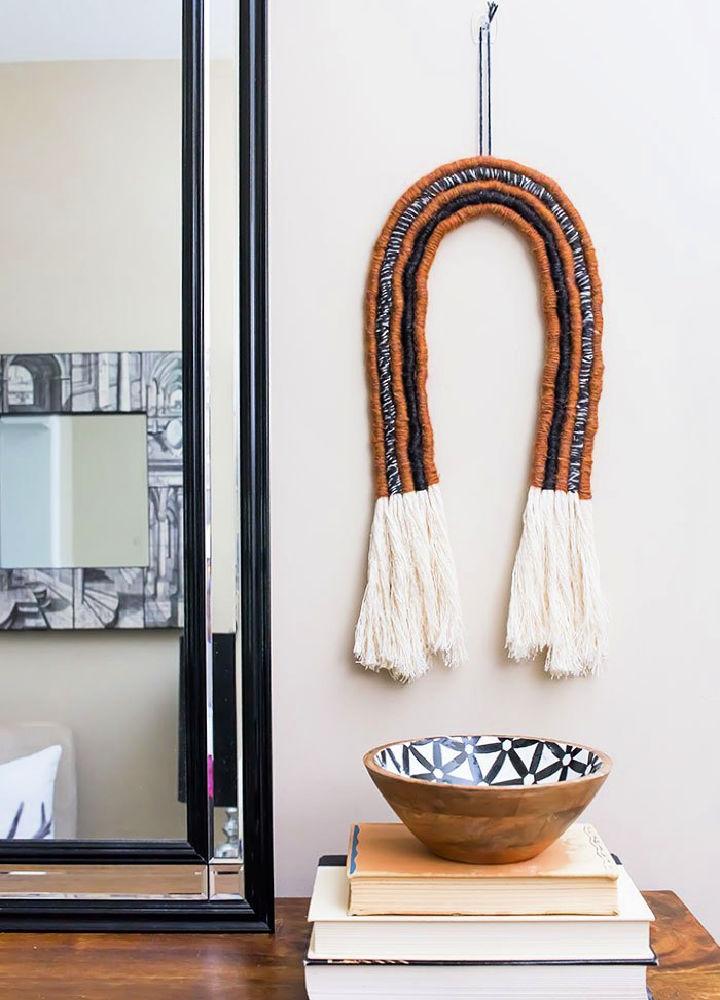 Instead of investing a large part of your décor budget on wall paintings and canvases, make a minimal DIY fiber wall-art. Shape or form this fiber wall-art in whatever way you want to hang. You can make this art proficiently using macrame leftovers. Make this macrame art with a simple twisting pattern or joining two or more cord layers. Dangle it on the wall with a nail. aprettyfix
18. How To Make A Macrame Owl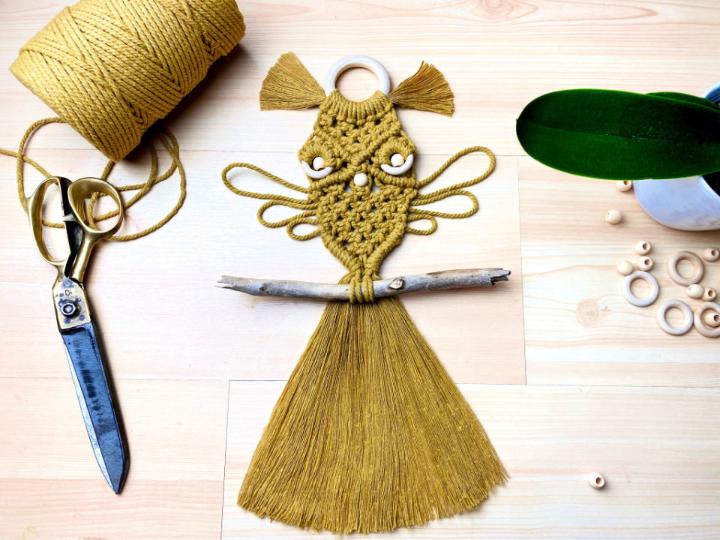 Craft a gift for your kids and add it to your room décor with macrame DIY skills. Make a beautiful macrame owl using an owl-color cord and two small canes as owl-eyes. To make this owl macrame, you may require advanced level knotting or macrame know-how. Well, this project is suitable for you if you are well-known in the macrame craft field. craftedbyceri
19. Macrame Tote Bag Using Jute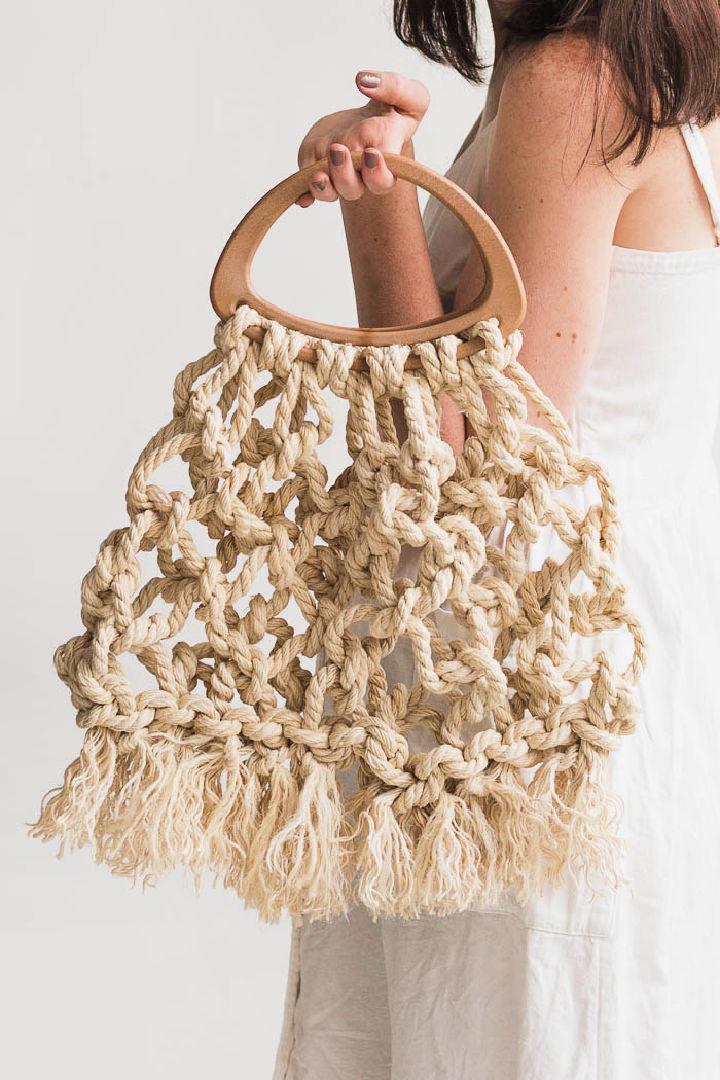 Let the whole world see your fruits and vegetables in the tote shopping bag. Make this beautiful and versatile handbag by yourself using jute. Inspire others with your Summer season shopping by displaying a view of all juices and veggies in this handbag. Two wood handles and jute rope are the whole things you need to make this macrame-style tote bag. Make it or carry it with style! fallfordiy
20. Easy DIY Macrame Star – Free Pattern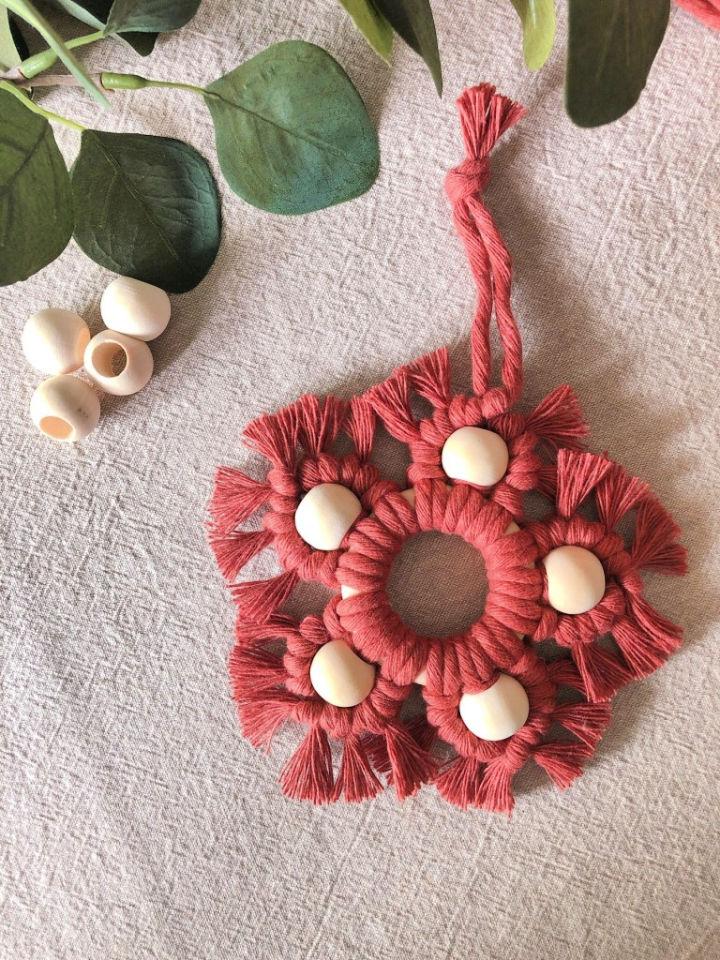 Start polishing your macrame skills by creating productive items on a smaller scale. Macrame star-free pattern is a great DIY idea to showcase your craft. Make these patterns using your desired color of cord and beads. Hang this pattern on your wall as ethnic wall art or in your garden. This macrame star would be an ideal ornament for Christmas and St. Patrick's Day decors. locations
21. Round Macramé Boho Costers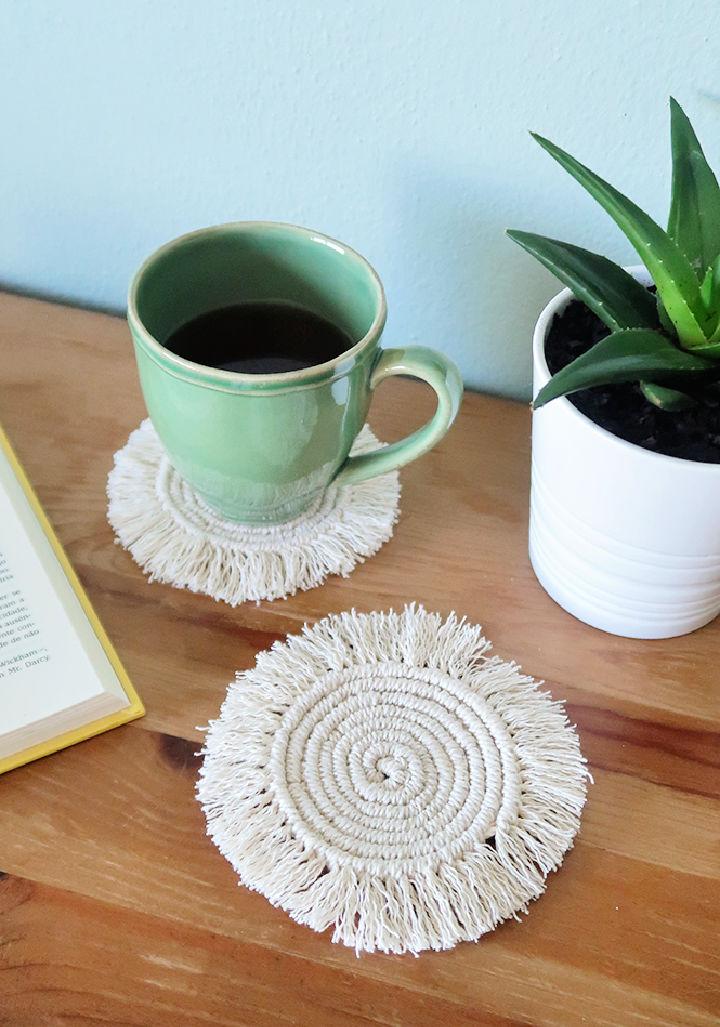 Coasters play an important role in increasing the appearance and overall décor look of your coffee table. Apart from décor, coasters offer support for mugs and keep the table free from coffee stains. Instead of buying a dull plastic coaster for your table, create a macrame-style beermat using a parachute cord. Create these mats in whatever shape or size you would like. curlymade
22. Micro Macrame Bracelet Pattern With Rings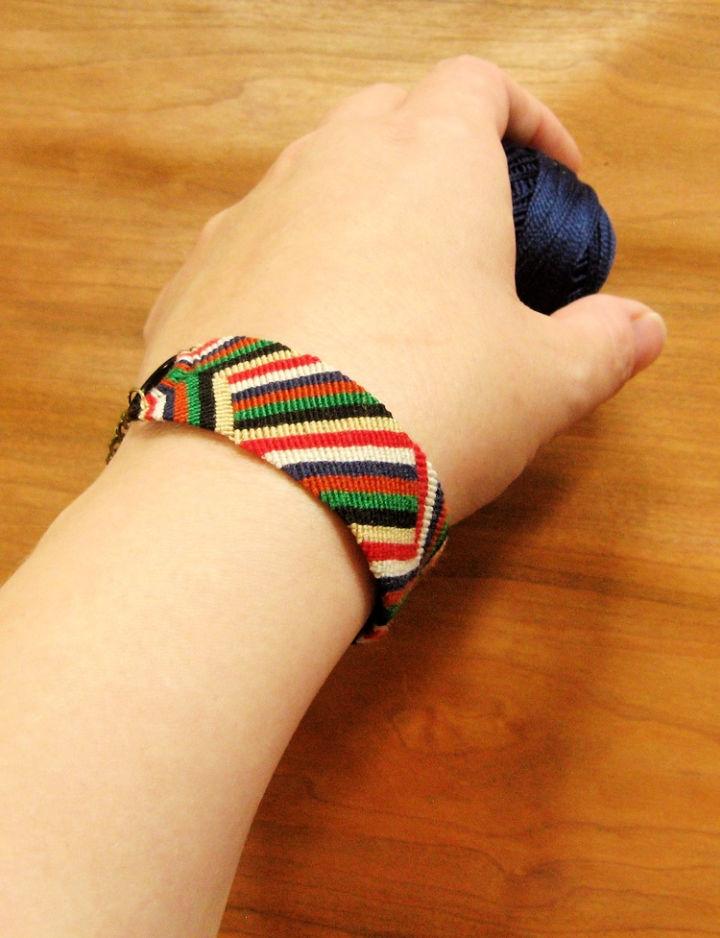 Handmade and folk color bracelets are still in trend. Girls like to dress up these armlets almost with each type of wardrobe. These bracelets give a bold statement. Create a beautiful piece of jewelry using colorful cords and rings to adjust or combine a macrame pattern in bracelet form. You can knot this bracelet in whatever way you want to alter the look of different bracelets. howdidyoumake
23. Boho Macrame Belt Pattern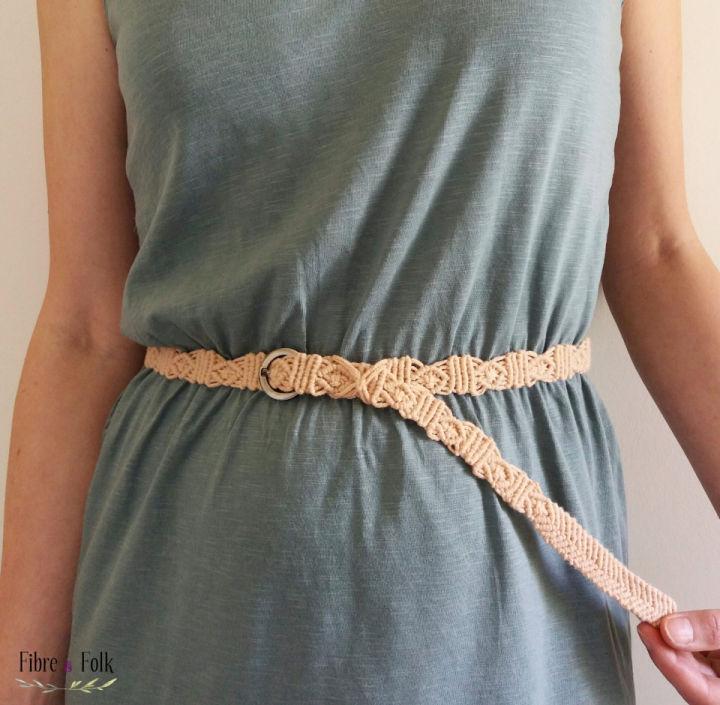 Get an elegant look at your dress with this boho-style macrame belt. Use it to adjust your waist according to the top's requirements. This belt will enhance the girly look. Make it with knotting in different styles to experience your macrame craft skills innovatively. You can use a simple buckle to assemble this macrame pattern as a belt for your Summer top. fibreandfolk
24. Make Your Own Structured Macrame Hanging Basket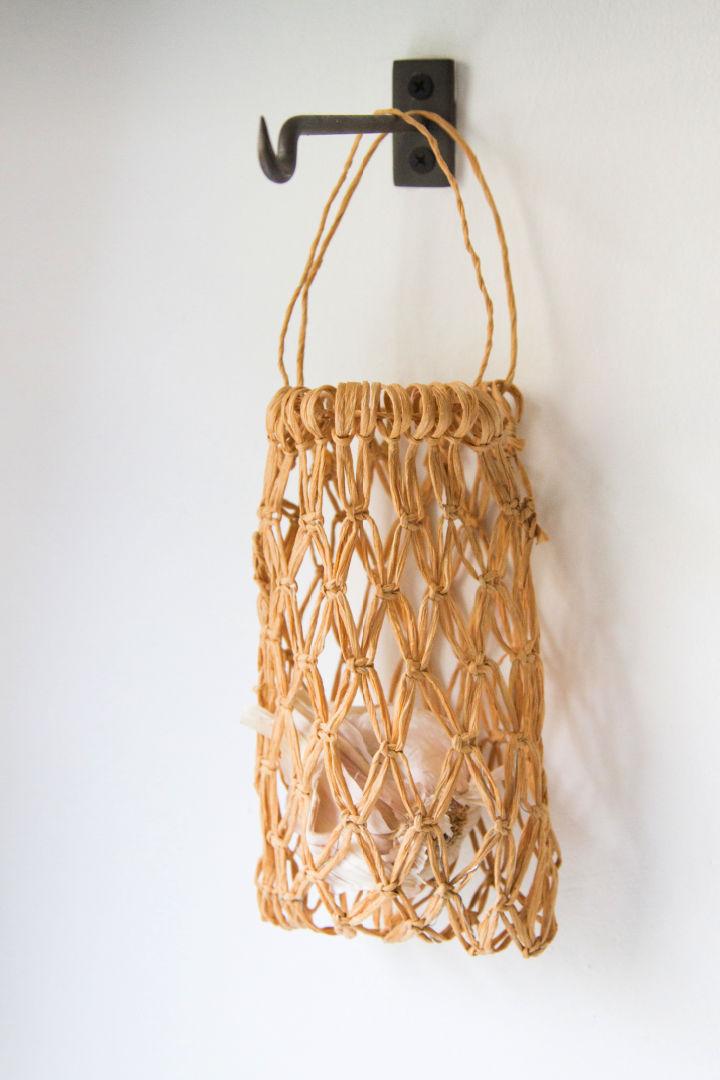 Create a beautiful and structured basket for your room to get rid of the mess. This basket will help to organize small items and goods in your room. You can make it using a wooden dowel and floral wire. Use your desired methods, such as knitting or braiding, to create this macrame pattern basket. It would be a great addition to your farmhouse-style room décor. Hang it on the wall using a nail. readingmytealeaves
25. Macrame Plant Hanger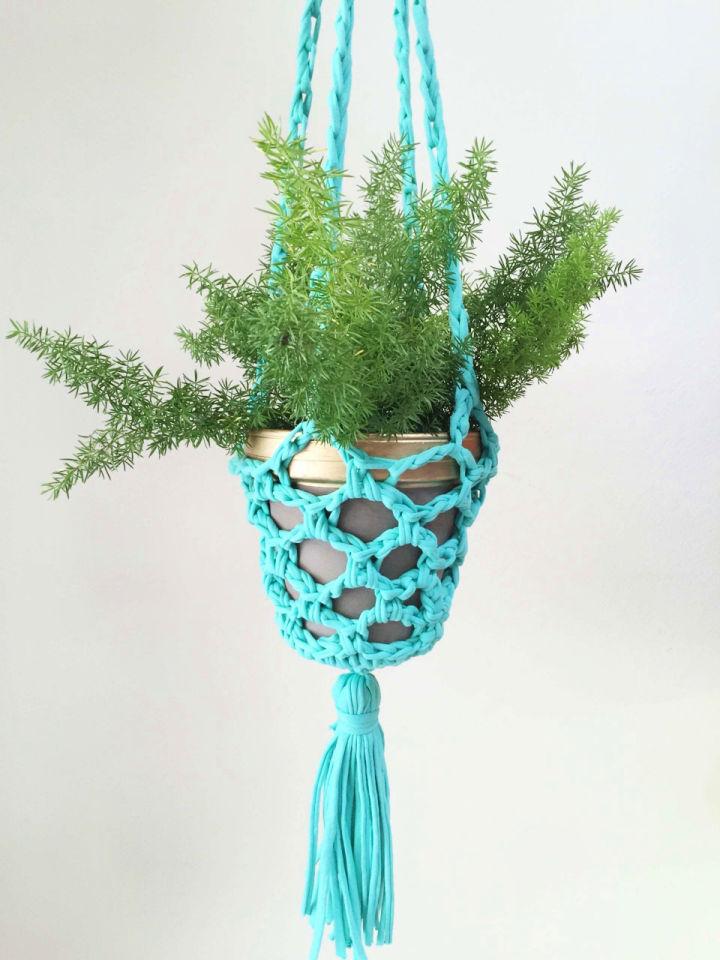 Plant hangers are a must-have for indoor gardens and plants. Make a durable and long-lasting macrame hanger for plants and herbs using your macrame craft. If you have already worked on a crochet craft, you can work on this DIY project efficiently. To make the crochet or macrame pattern plant hanger, reuse an old wool jersey cord. This hanger is a perfect fit for your patio. Use it to hang your plants and herbs on bars or sealing. cloverusa
26. Macrame Wall Hanging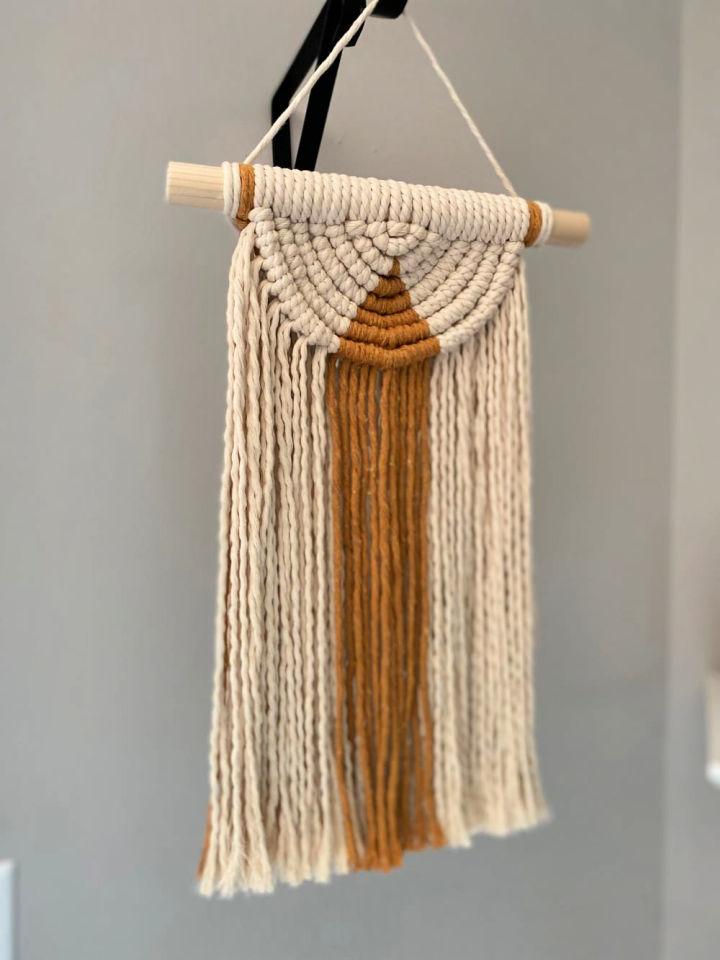 This rustic and skin color macrame wall hanging would give a natural farmhouse-style look to your room. You can make it with the simple knotting or twisting method of the cord. Use a woodblock to withstand or complete this art smoothly. Hang this macrame pattern wall hanging using the same color of rope and nail. marchingnorth
27. Free Macrame Necklaces Pattern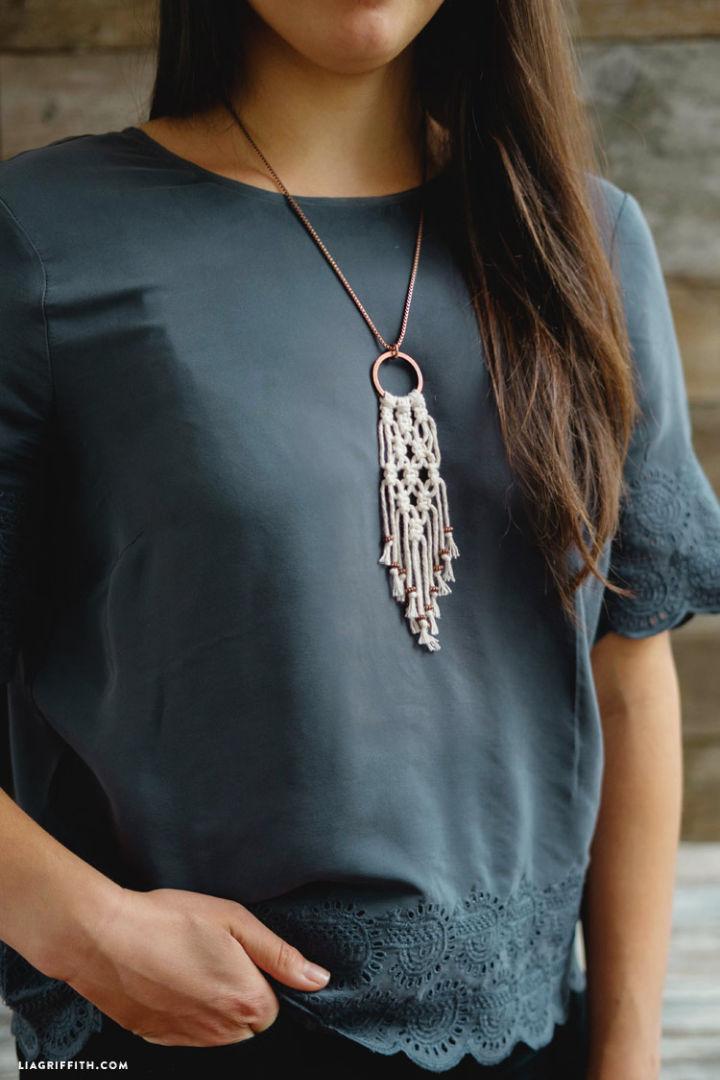 Make a beautiful pendant or necklace to wear for your Summer party. Even if you are on the beginner level of macrame art, you can make this necklace with simple square knots. Give this pendant a classy look using an off-white hem cord. Use copper keyrings or jump rings according to your pendant style. Make this necklace more attractive and antique-style with small copper beads while weaving. liagriffith
28. DIY Macrame Bouquet Wrap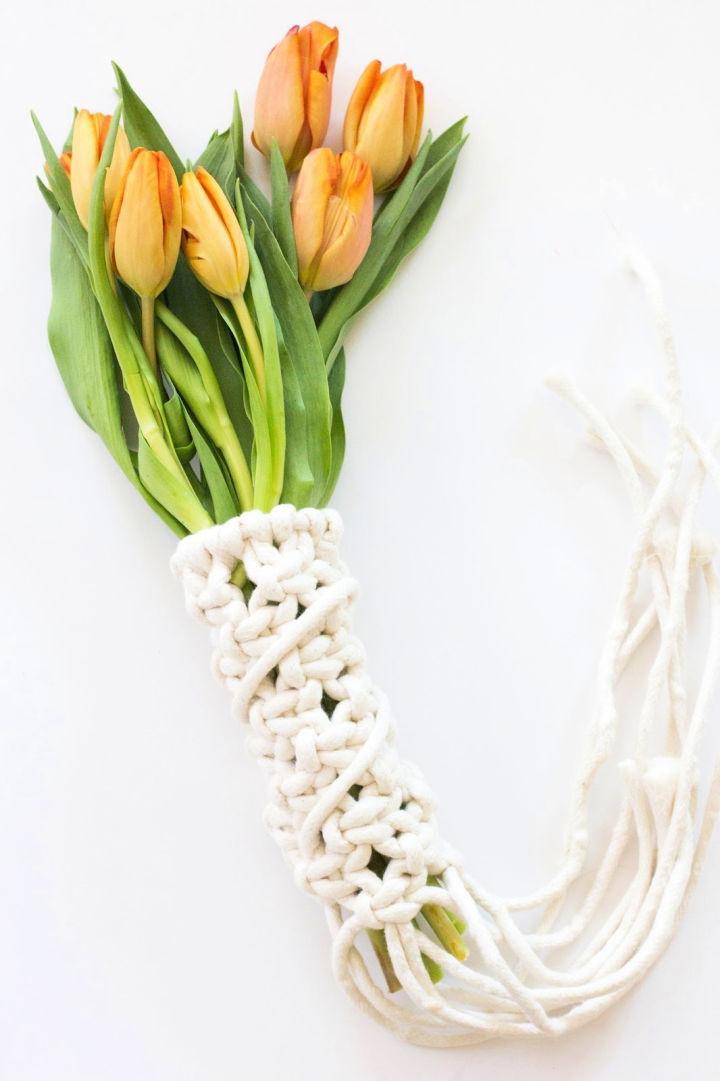 Create a customize bouquet wrap with macrame craft for your wedding or bridal shower bouquet. This wrap is a perfect addition to customize a bunch of flowers. It would be easier and elegant to assemble Lillie's and roses with this adjustable bouquet wrap. This cotton cord bouquet wrap is also an ideal solution to gift flowers on Valentine's Day. alwaysrooney
29. DIY Macrame Feathers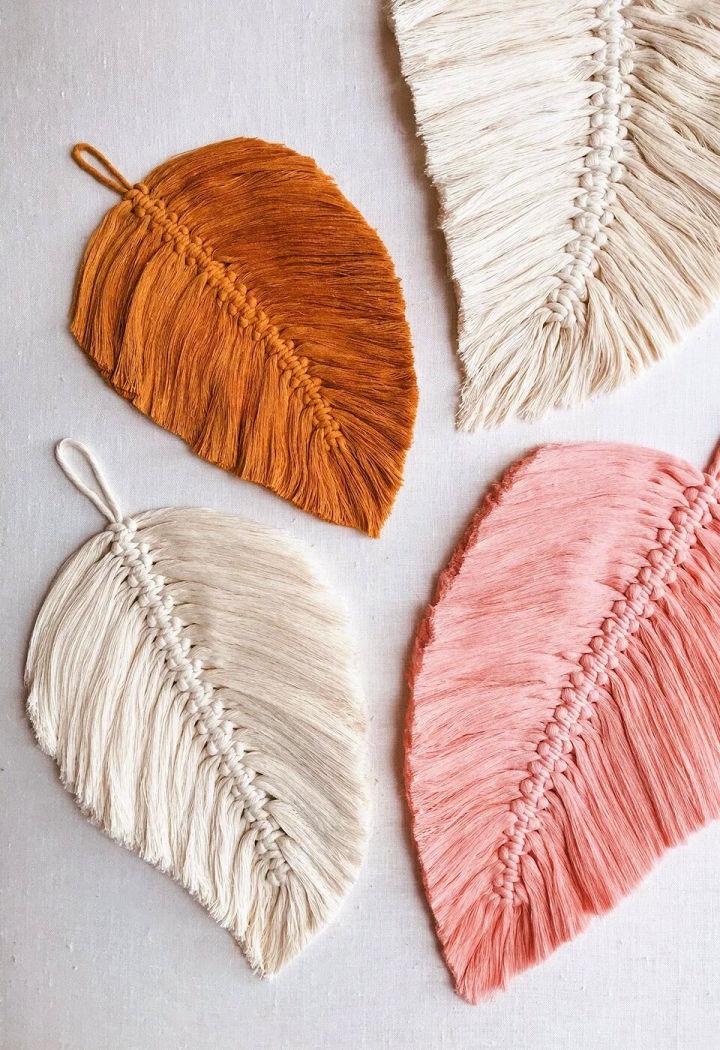 Customize dreamy and good-looking macrame feathers for hanging in the kid's room. There are endless possibilities to work on these feather macrame patterns for styling your home. Inspire your room décor with these beautiful and attractive masterpieces with cotton cords. honestlywtf
30. Free DIY Macrame Rainbow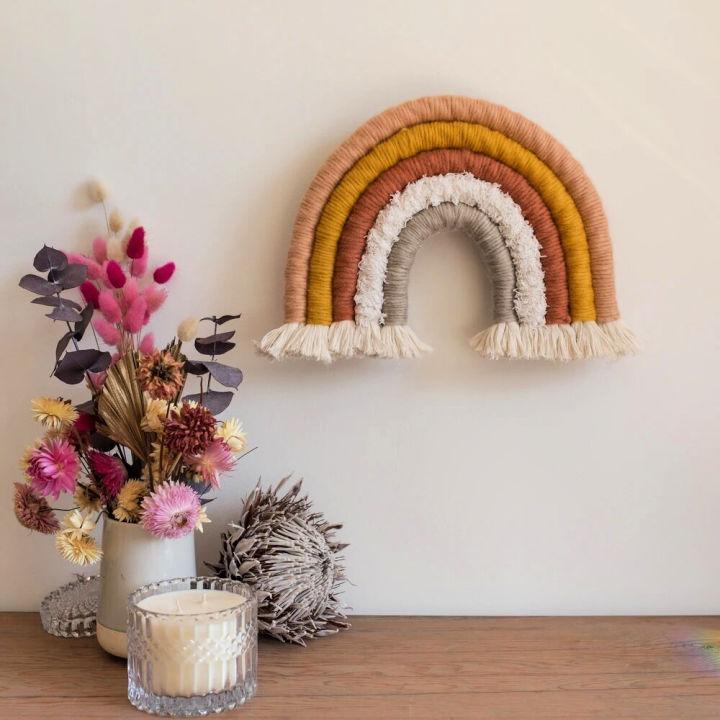 Add more fun effect to your Summer décor and home's makeover with a free macrame rainbow. Make this rainbow more attractive using vibrant and tempting colors of cords. You can make this rainbow macrame in different patterns and styles. Enjoy making a rainbow for decor! marymakerstudio