The keys are an integral part of our lives, making our homes and belongings safe and thus performing the major functional roles with their tiny size. Home keys, car and bike keys, drawer keys, etc., we have them all, and sometimes the keys get lost by an individual and found by the other, and till that time, we have got a new one. Losing the locks or getting the locks out of order, we are left with the useless keys to be rest in the drawers. So we decided to bring some craft hack and ideas to you, leading you to reuse these old keys so that you can make the most of these tiny openers.
These 20 DIY Projects Made With Old Keys would work as the uncloaking key of your mind to open the treasure of your creative ideas for DIY crafts. Getting them a little tweak upside the keys would serve as the sturdy hooks for your coat racks and key organizers. Sticking them together with glue can then be molded into some antique home crafts like bowls, bottles, glass, and the awesome round sculptures for display. Key wreath, bottle opener, and chandlers are the more fun projects with the old brass keys and given right below to let you have a gaze at them.
1. Picture Frame Out of Recycled Keys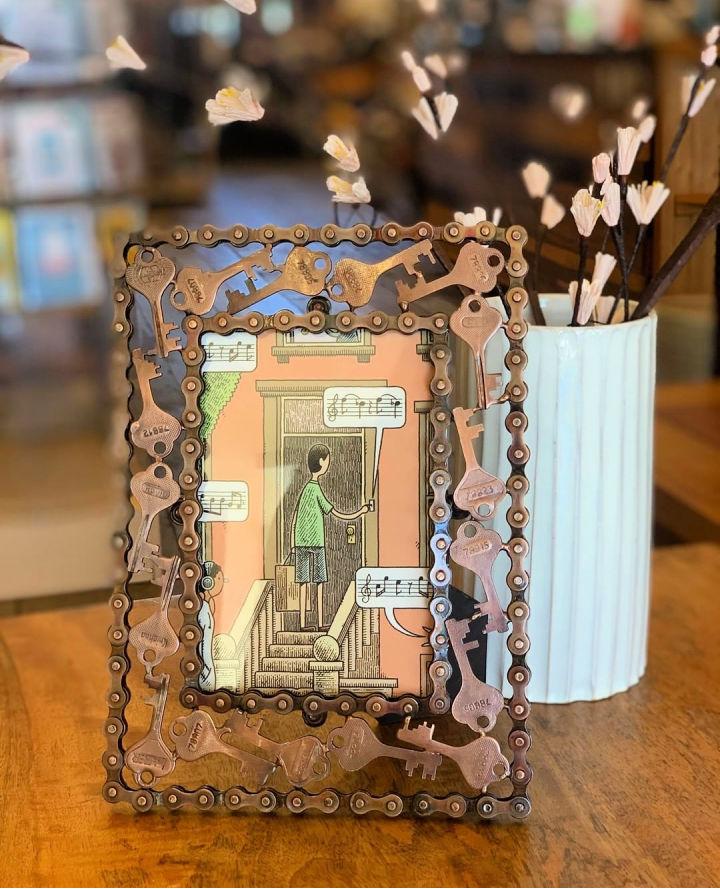 If you have some old keys lying around, then here is the idea of creating this lovely picture frame out of them. Yes, a plain and transparent picture frame has been adorned with the old keys and the cycle chain and turns out to be so cool and quirky. To collect the keys and perform this super fun DIY recycled key art with.
2. Old Keys Sculpture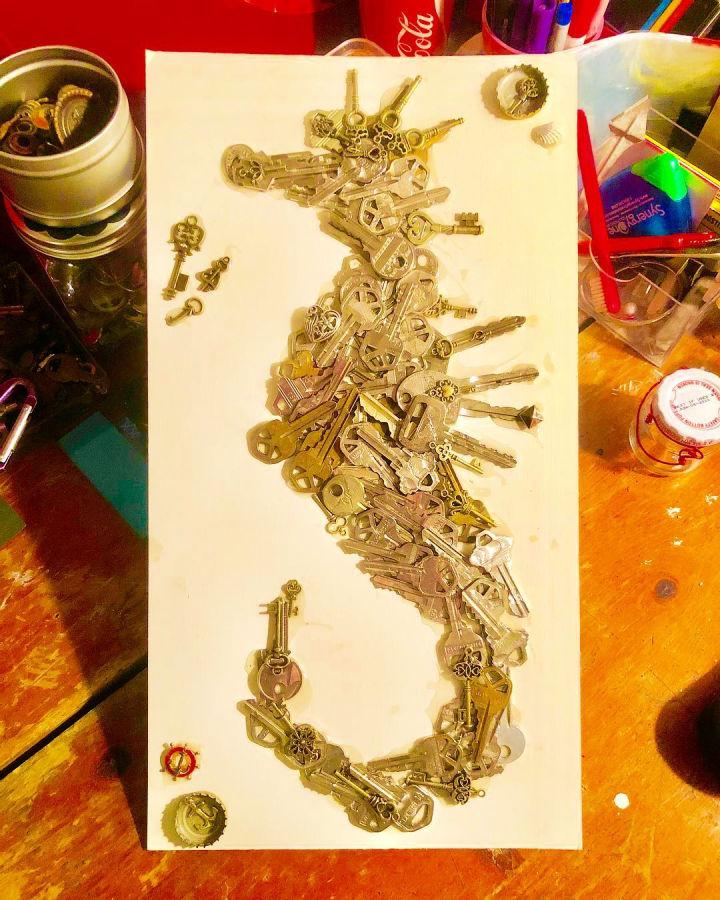 Bring some fun to your wall art with this old keys sculpture which is easy and fun to make. The pretty sculpture has been made on a canvass using the old keys and creating a pretty sea horse out of them. Just go to a thrift store and catch many of the old vintage keys to work up this project..
3. DIY Bowl From Old Keys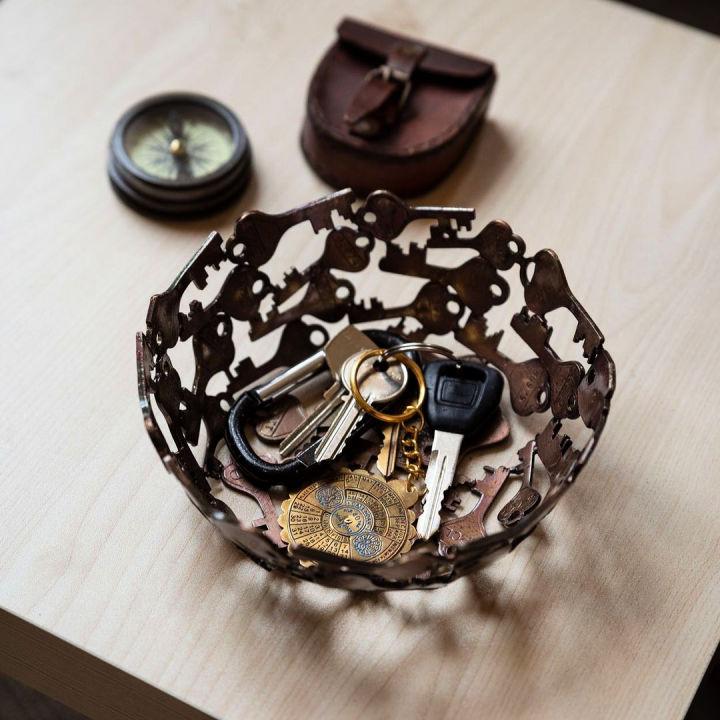 Now you would never lose a key when you have this pretty DIY bowl from old keys. Using the old copper keys and the glue and a bowl, you can easily shape up this pretty and fun bowl to hold your day-to-day keepsakes in it. Also, this is going to look so fun and decorative resting on your tabletops and mantle spaces.
4. Vintage Key Earrings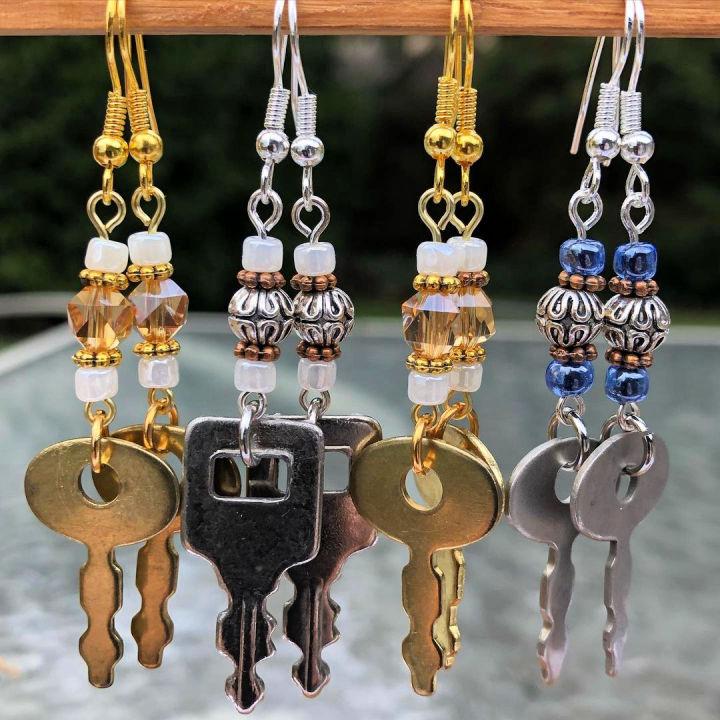 It's time to funk up your jewelry with some handmade possessions, and making these vintage key earrings is the best idea. Using the old silver and gold painted keys, the pretty and quirky earrings are made along with various beads for the perfect jewelry appeal. Details of the easy and quick idea are given here!
5. Make Bracelet from Keys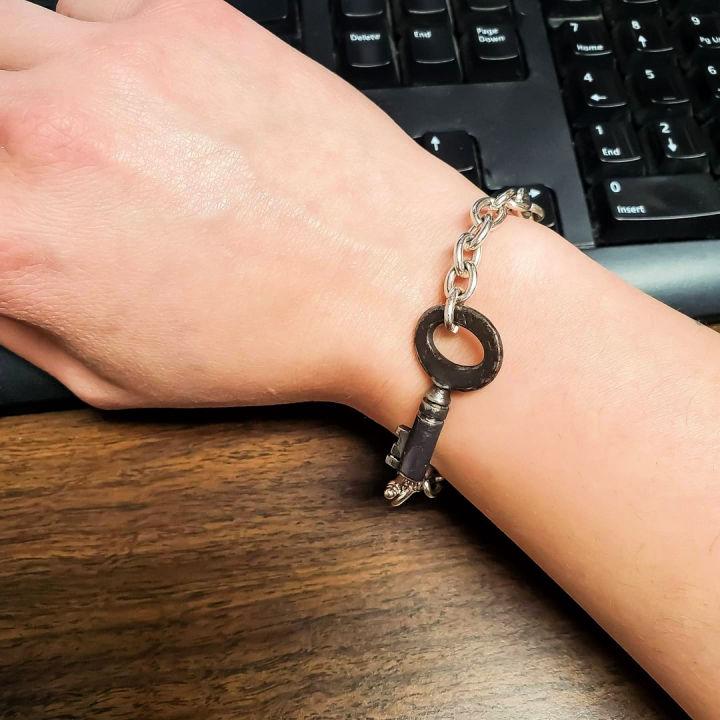 Do you love making bracelets? If yes, then here is the coolest idea to get yourself an unusual bracelet and that too from the old keys? Using the bracelet chain, an old vintage key, and the bracelet clasps, you can make this perfect bracelet for a quirky fashion statement. Also, it would make a great gift idea for your friends too.
Watch This Video: Key Holder Using Old Keys – DIY Old Keys Craft Ideas (00 Minutes 44 Seconds)
6. Vintage Key Necklace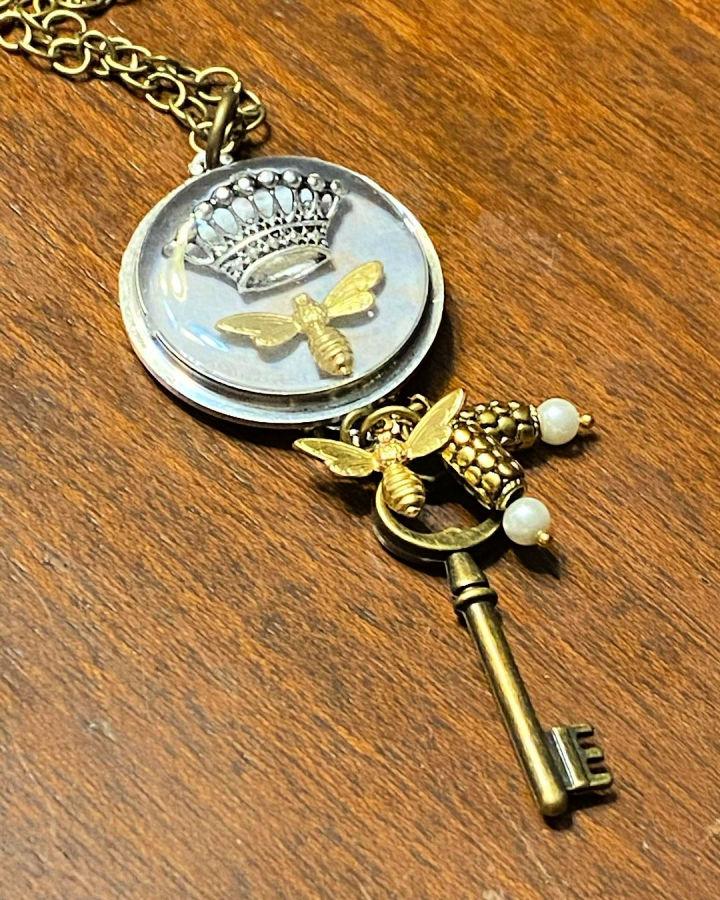 If you are a boho fashion lover, make this vintage key necklace to enhance your boho style statement. So get your hands on the vintage keys, some metal bees, metal beads, and the chains to make this lovely vintage key necklace. Wear it over your funky tops and tanks, and look just cool and chic.
7. Decorative Old Keys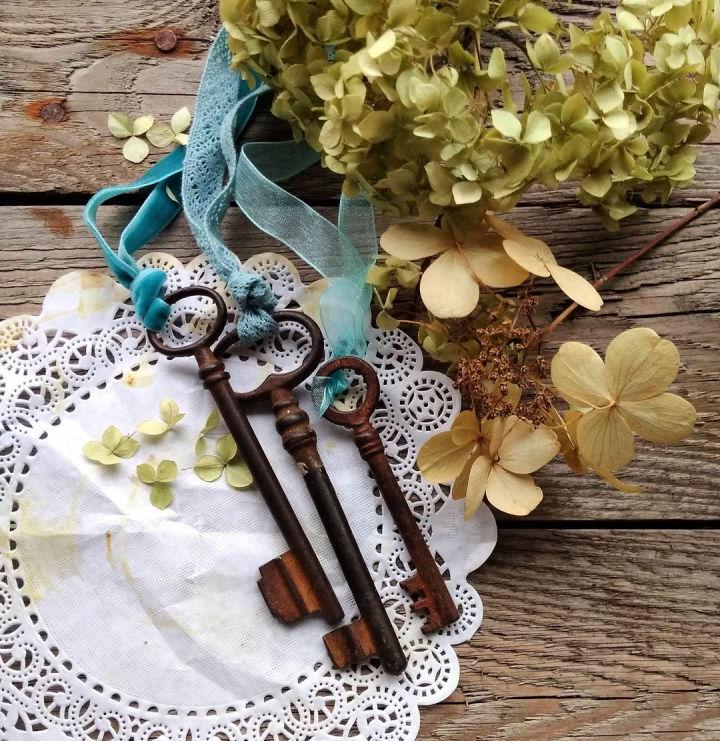 If you are looking for some enchanting small details to add to your dinner table décor, here is a perfect idea. Yes, grab the old keys and bright colored ribbons to the key end to make them a perfect part of your dinner table décor. Check out the detailed plan of this lovely and cheap decoration idea here!
8. Wind Chimes With Old Keys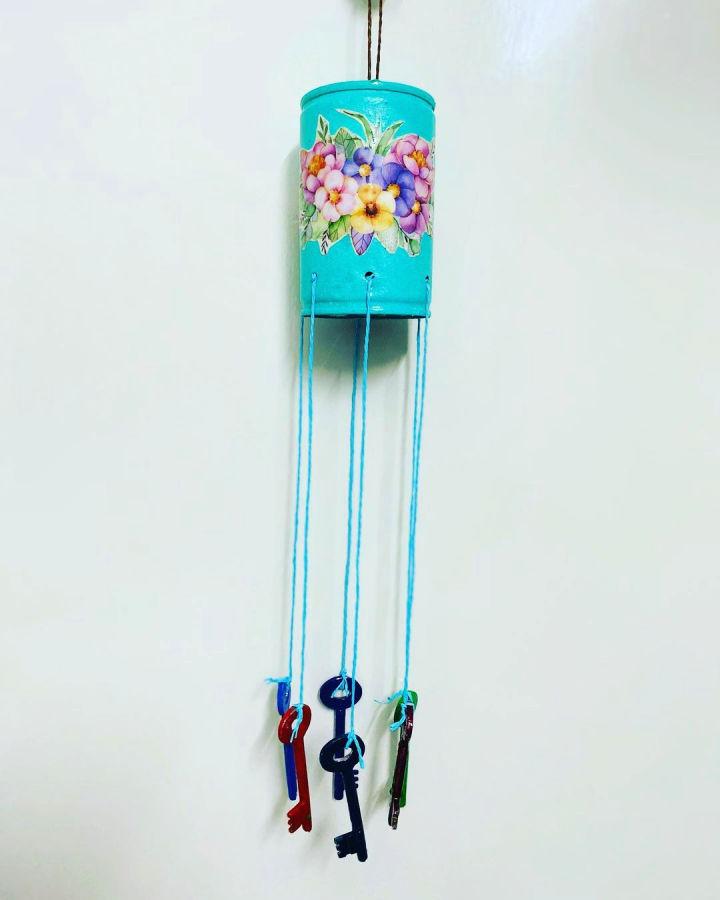 Make your windows or the garden spaces ready for the spring and summer with the addition of these wind chimes with old keys. You need an old plastic container of any type, thread, and the old keys to work up this cute and simple wind chime. So enjoy some beautiful noise around with this handmade wind chime with old keys.
9. Monogram Jewelry With Old Keys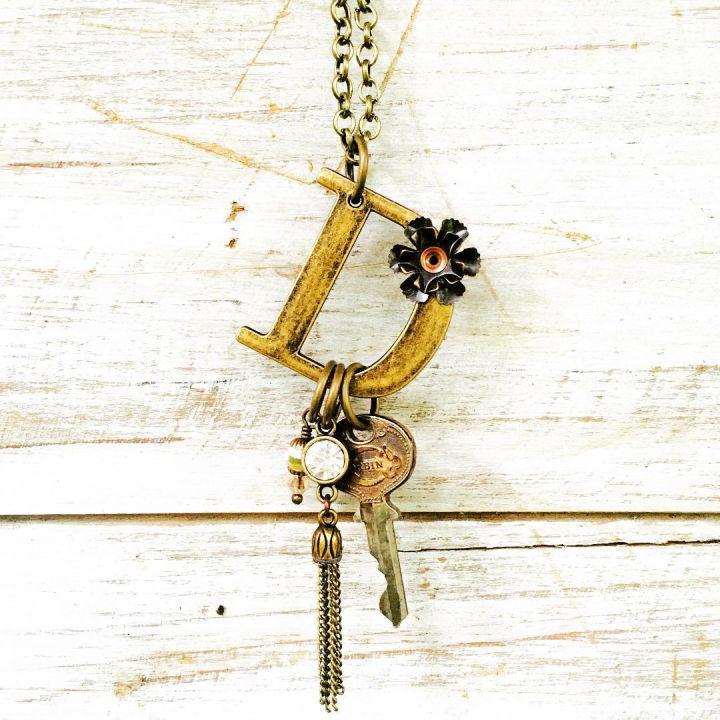 Personalize your summer fashion with this idea of monogram jewelry with the old keys. The perfect monogram jewelry is made with the old keys and the metal monogram as the main items and turns out to be totally custom. Look boho wearing this lovely monogram jewelry over your tops and tanks.
10. DIY Old Keys Bookmarks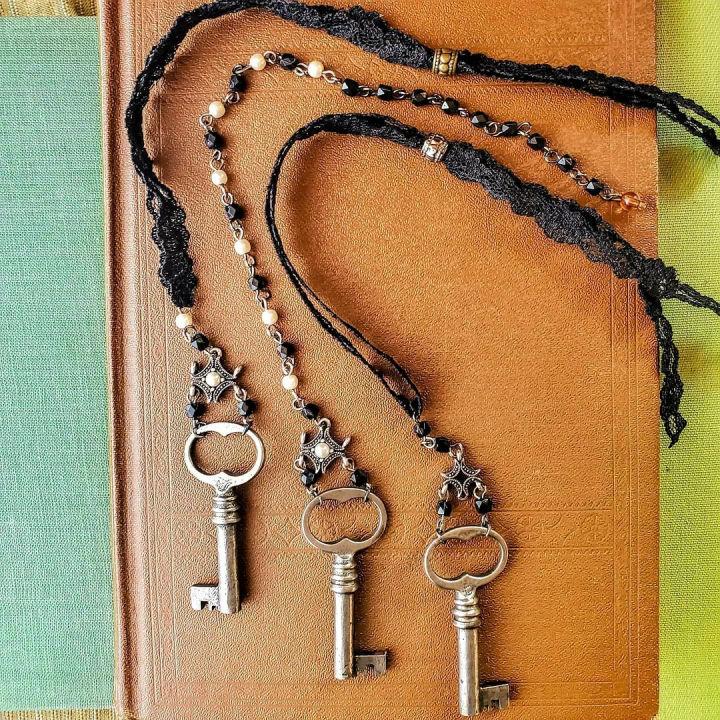 Please make the most quirky and cool bookmarks with these old keys and use them as the perfect gifts for book lovers. The gorgeous and embellished old key bookmarks look beautiful with the seed beads, ribbons, and old keys. You can make as many as the number of keys you have.
11. Framed Keys Wall Art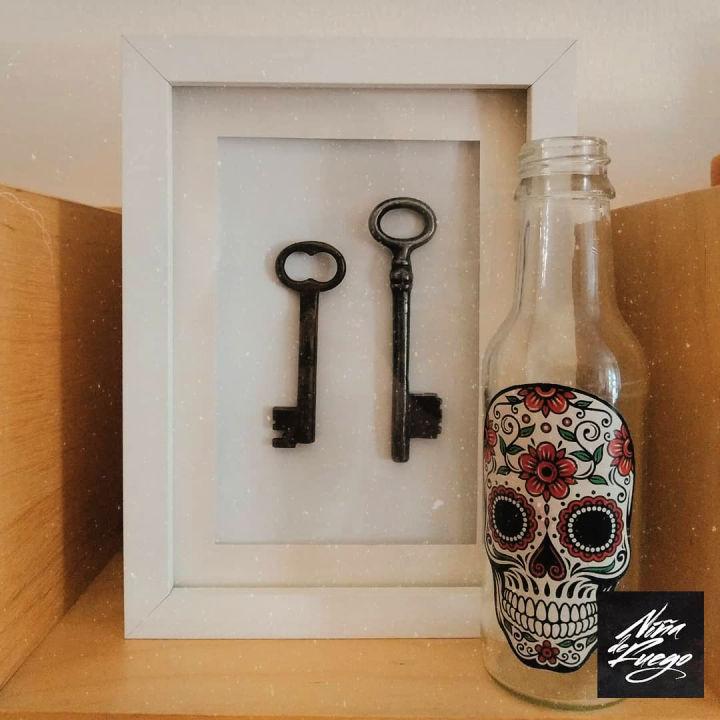 Here are the most fun and cool idea to make the most out of the old keys, making these framed keys wall art. So take a simple white frame and two big old wooden keys to make this lovely wall art in just minutes and at the cost of few pennies.
12. Decor Piece With Vintage Keys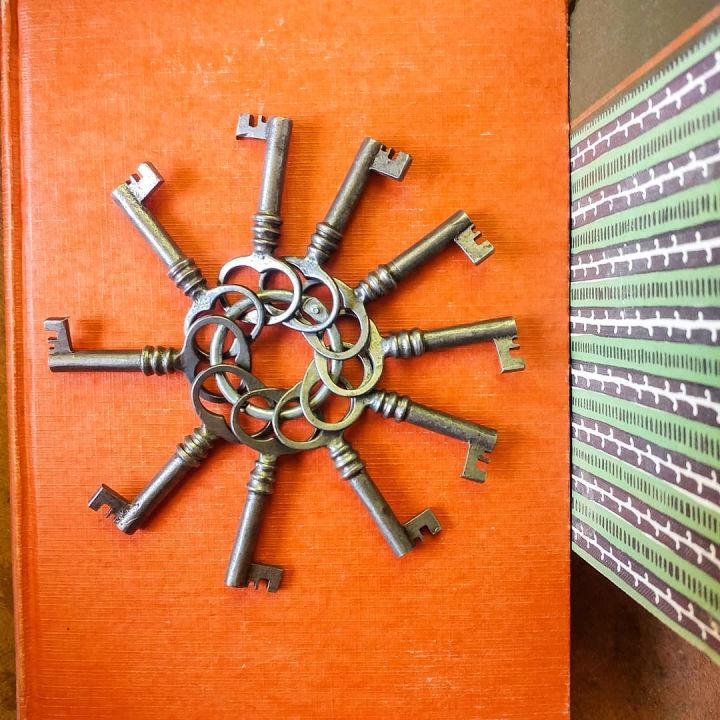 Here is the perfect idea to bring some vintage decorative vibes to your places. Here is this perfect décor piece to make with the vintage keys you can use to adorn your tables, walls, and frames. Just take a ring and many the keys to work up this super easy and simple vintage key chain project.
13. DIY Painted Keys On Board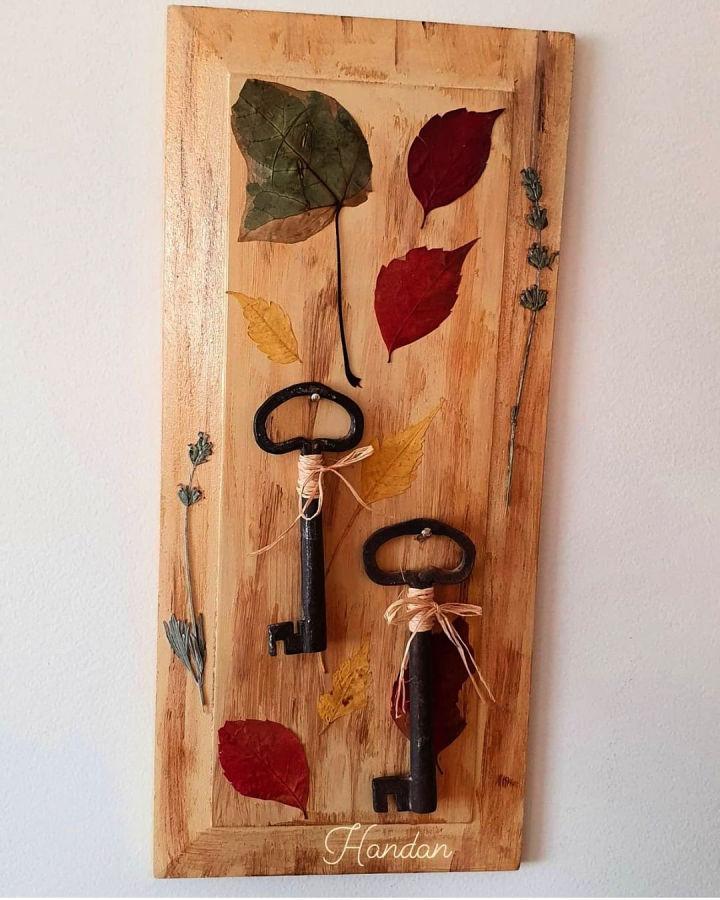 Let your places catch the perfect vintage and fall vibes with these painted keys on the board project. Using the leaves in red, yellow, and green shade and some painted keys on the wooden board, you can create these lovely painted keys.
14. Repurposed Keys Craft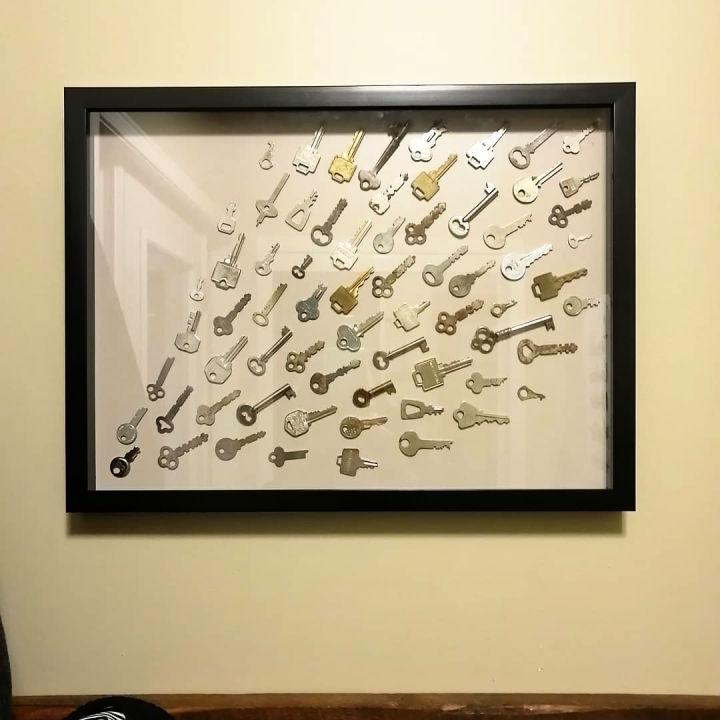 Here is the idea of this repurposed key craft to bring catchy and cool vibes to the wall art places. Get your hands on the wooden frame of big size and decorate it with the keys all over. The keys can be of the same design or vary in their structure or design. Also, you can paint the keys for a more personalized look.
15. Proper Antique For Home Decor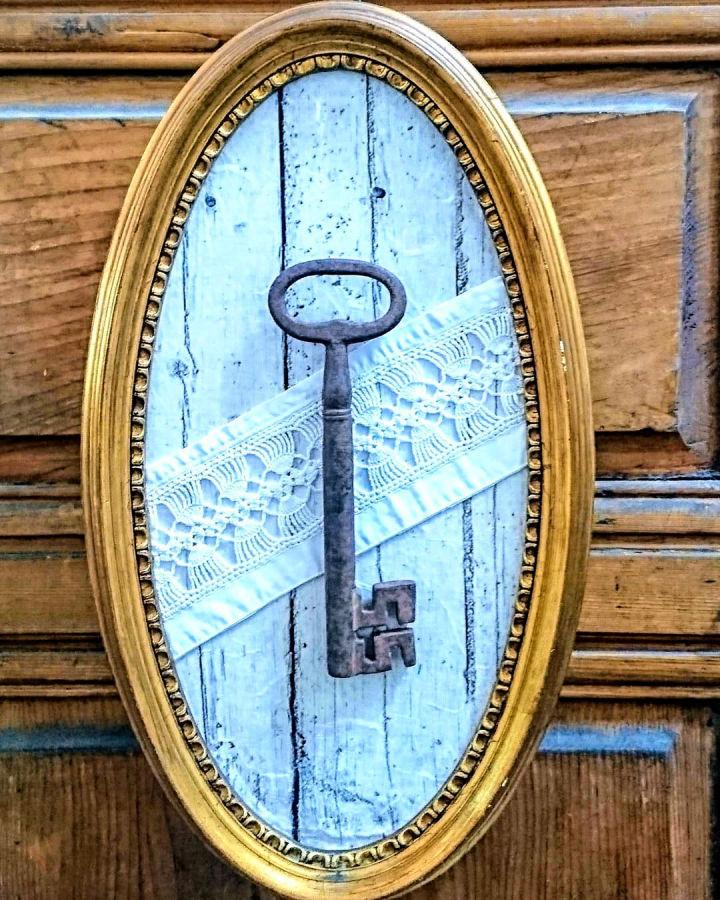 Bring value and life to your with this rustic wooden proper antique for home décor. Using the rustic wooden pieces, you can make this wooden oval shape frame and adorn it with the keys. You can flaunt it over the walls and your living room for a completely catchy and fun look.
16. Framed Skeleton Keys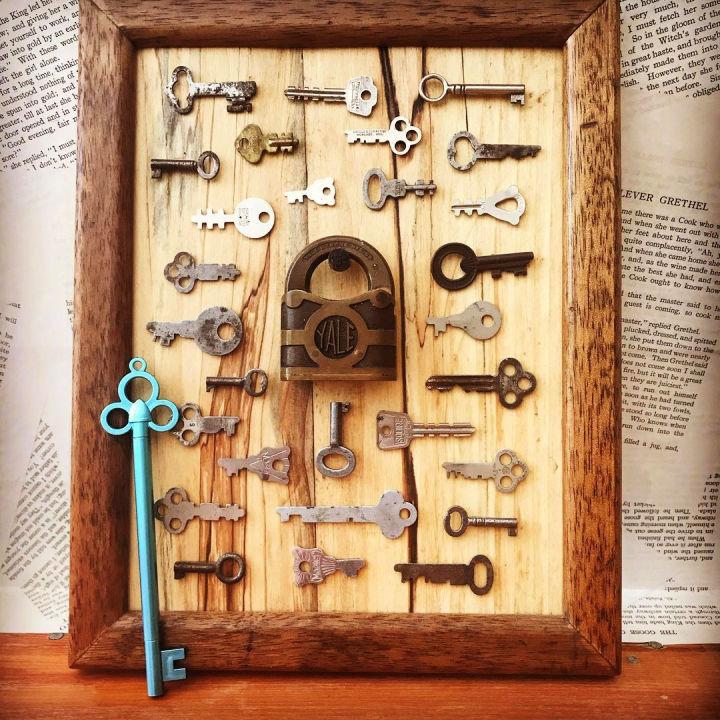 If you love vintage beauty and rustic vibes, you will fall in love with these pretty framed skeleton keys art pieces. Just take some wood and create this lovely frame out of it. Then take a variety of the keys and glue them up over this wooden frame, and you have your perfect wall art piece ready.
17. Old Key Earrings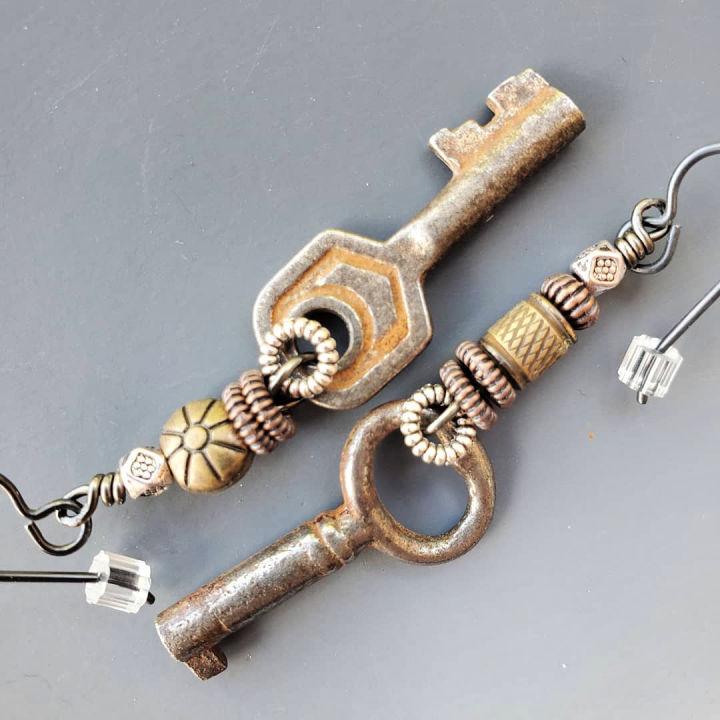 Here is the idea of making the coolest and the funkiest old key earrings for you. With the old keys and the metal beads, you can easily make these lovely old key earrings. They are going to quirk up your whole mood and the look within minutes. Check out the detailed tutorial of these earrings making here!
18. DIY Key Wind Chime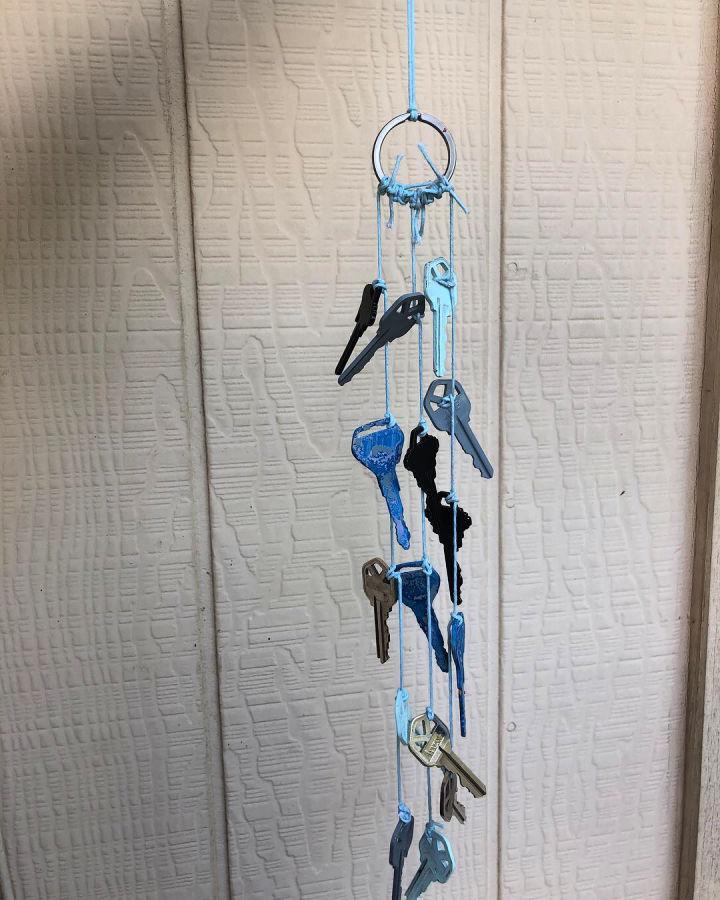 Enjoy the summer or spring wind more with this DIY key wind chime project. Using the yarn thread pieces and the keys, you can easily work up this lovely chime. The keys have been painted before, making them hang with the yarn, making the chime look more beautiful.
19. Glass Beads and Keys Necklace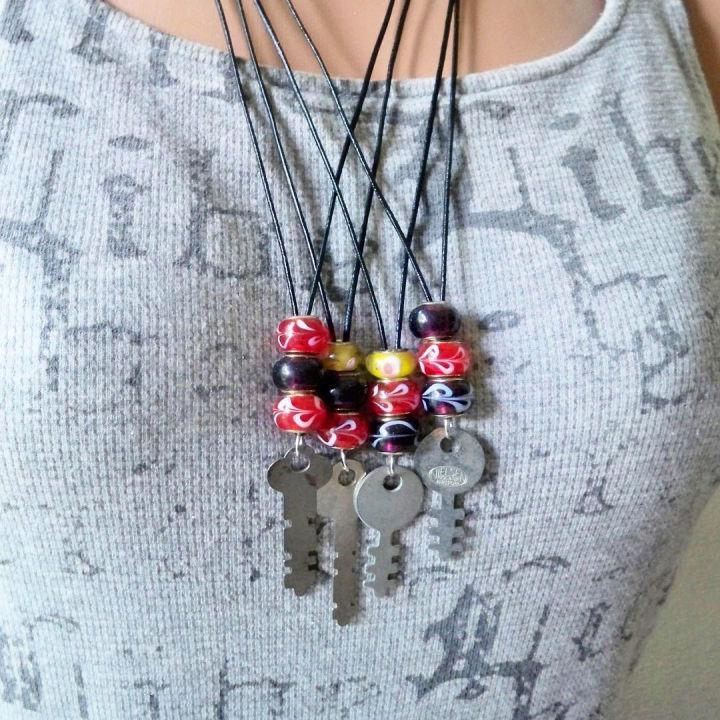 Make the most out of your old possession just like your collected beads and the keys with this easy-to-make handmade necklace. This DIY necklace will come out as the most gorgeous and funky jewelry piece and superbly personalized. Check out the details of the necklace right on the link here!
20. Button and Keys Necklace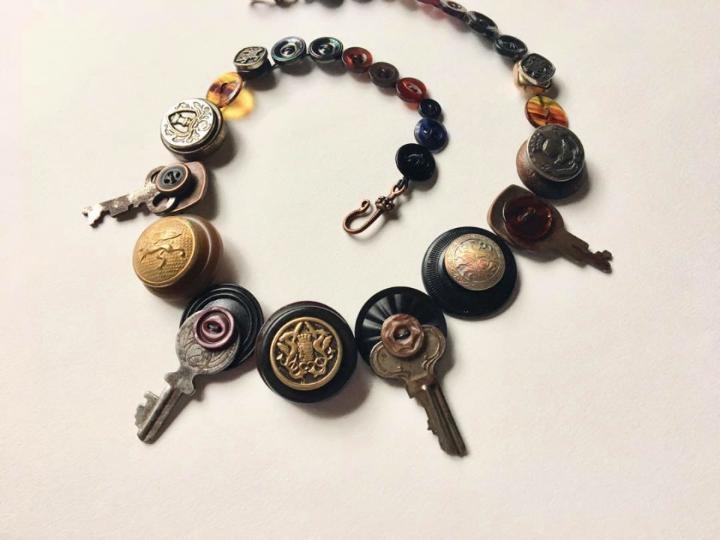 Using the vintage old keys and the buttons, you can make something really cool and fun, just like this button and keys necklace. Go to any thrift store, collect the old keys and buttons, and make this perfect necklace to give yourself a complete boho and stand-out look.