We do get up in the morning by brushing our teeth, followed by a bath to get ourselves fresh and ready for the challenging routine ahead. And all of us are really in a great hurry at that hour as someone is getting late from school and others from the office. The situation worsens as not all toothbrushes are electric and come with their own toothbrush holder like the Philips Sonicare diamond clean. Due to the lack of proper storage arrangements in the bathroom spaces, it's the right time to cope with the situation.
Here we have brought some entertaining and interesting ideas showing how you can make some cool yet functional toothbrush holders for your bathroom spaces and that too using home lying stuff and saving your efforts and money. So have a look at these 25 DIY toothbrush holder ideas, having been collected all over the web so that you get the best ones to get inspiration from. Things like empty mason jars, cups, mugs, faux toys, frogs, DIY clothe pins, PVC pipe, etc., have been used to turn them into utter practical toothbrush holders so that you enjoy a fully organized bathroom area.
A bathroom is a place where small organizational improvements can profoundly impact style, and here we will focus on this list, particularly toothbrush storage. If you clean your brushes in only one drawer, you will miss an easy opportunity to upgrade your space style! Whether your aesthetics, be they simple, eclectic, elegant, or messy, we've brought together the top 24 DIY toothbrush holders to fit every style. Click on any of the images below for a closer look.
1. DIY Toothbrush Holder Under $10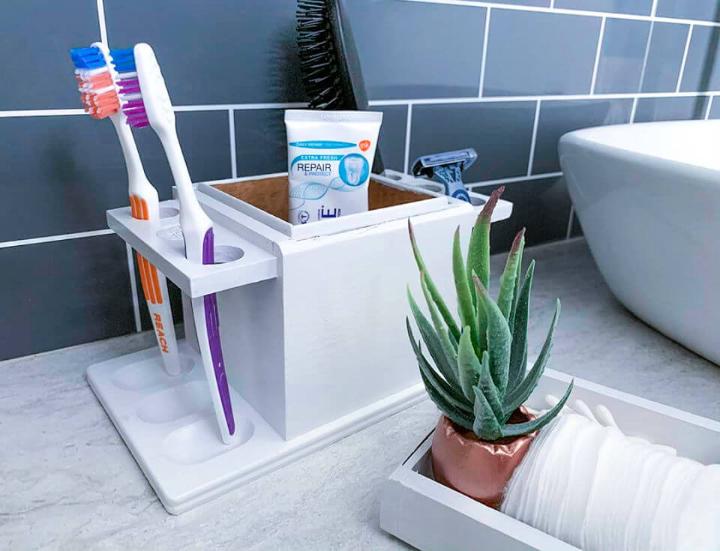 Save your money over your bathroom organization by making this DIY toothbrush holder under 10 dollars. An old cigar box here is recycled and turned into this pretty and functional toothbrush holder. Just clean it and paint up the toothbrush holder in white, and it's ready to hold your toothbrushes and toothpaste. Check out more details right here! hungarican
2. Toothbrush Holder DIY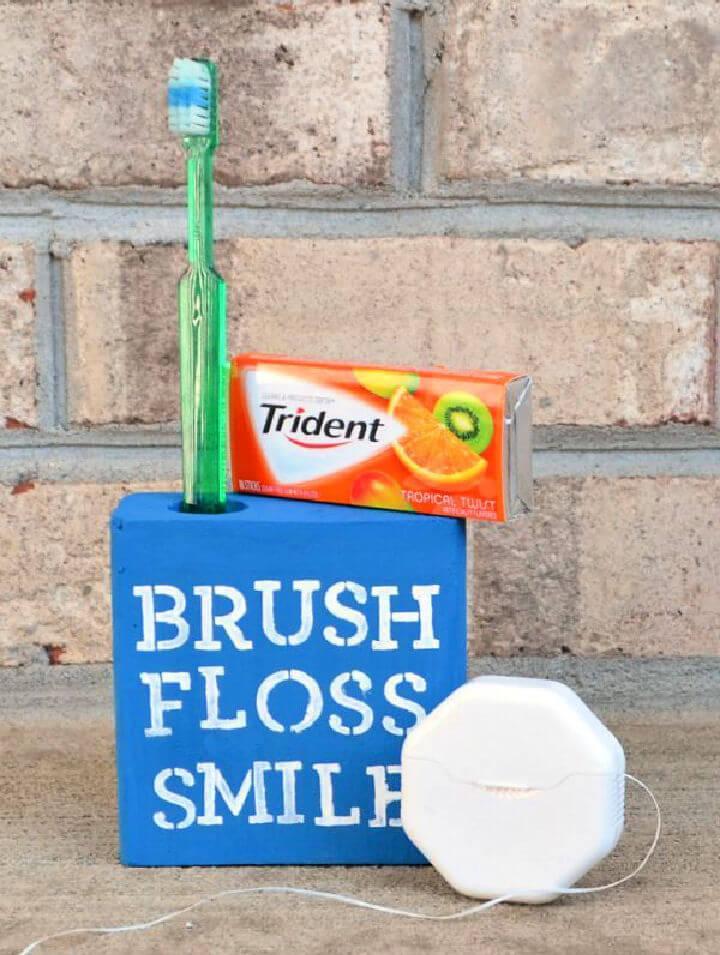 This cute little toothbrush holder is a fun DIY to do this weekend. The toothbrush holder is made out of a wooden board of good thickness. Drill a hole on the top to hold the toothbrush and paint it blue for boys and pink. Also, write the dental care regime on it: Brush, Floss, and Smile, and it's perfectly done. Details here! amylattacreations
3. Wooden Silhouette Toothbrush Holder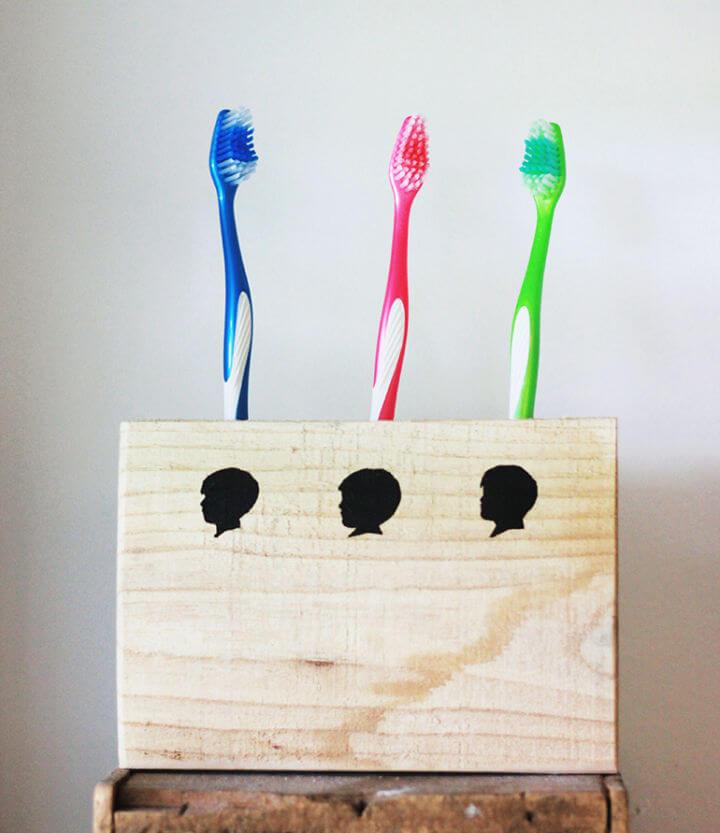 Add some rustic vibes to your bathroom décor with this wooden silhouette toothbrush holder. Just take a thick wooden piece and drill three holes on the top of it to hold your brushes inside. Each hole has a boy's head silhouette under it, making it more personalized for the boy's washroom. Follow more details here! themerrythought
4. DIY Children's Toothbrush Holders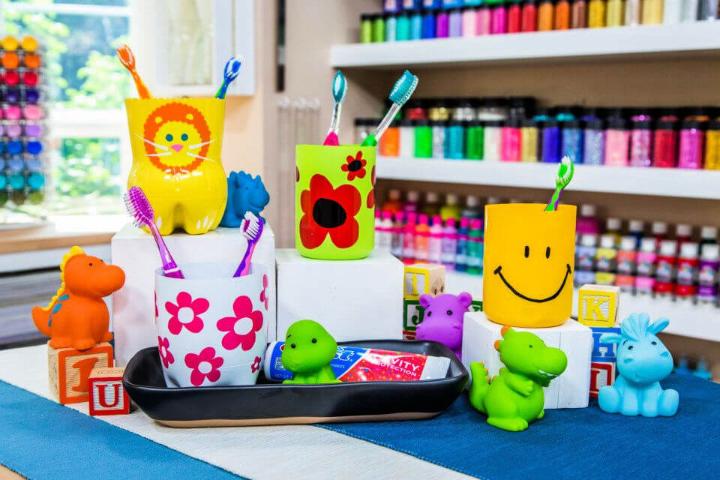 Make your kids learn the art of recycling in a fun way with these DIY children's toothbrush holders. The toothbrush holders are made out of plastic bottles, and some more items can be used, like empty tin cans or toilet rolls. The toothbrush holders are decorated with spray paint and vinyl contact paper. Check out the details here! hallmarkchannel
5. PVC Pipe Toothbrush Holders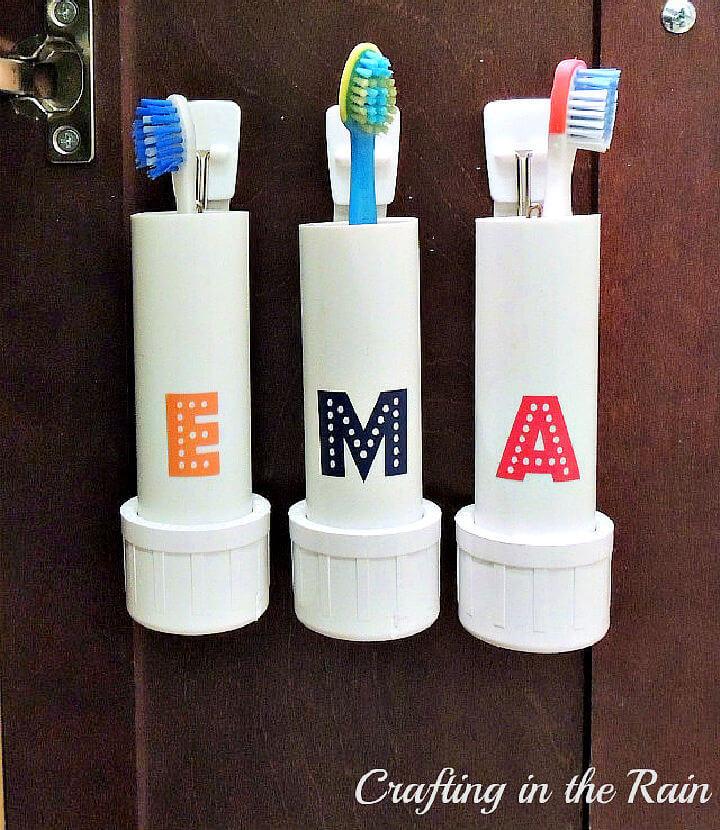 If some PVC pipes are resting in your storeroom, then it's time to take them out. Here are these pretty PVC pipe toothbrush holders for your kid's bathroom. Add the vinyl monograms of your kid's names to each pipe so that they can have their own toothbrush holder. Catch the details of the idea right here! craftingintherain
Watch This Video: How to Make Toothbrush Holder from Plastic Bottle | DIY Toothbrush Holder (05 Mins 44 Secs)
6. DIY Concrete Toothbrush Holder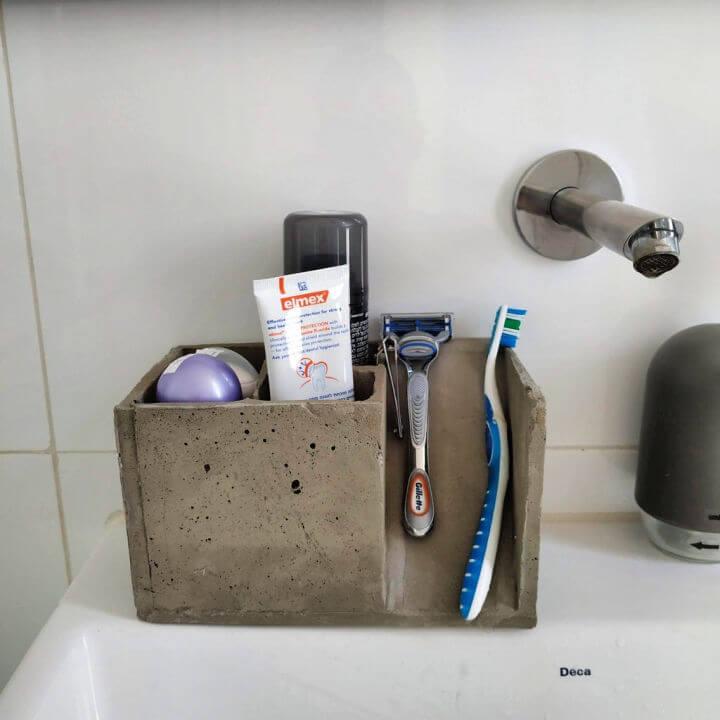 Here is the most robust and sturdy DIY concrete toothbrush holder that you can easily make independently. This concrete toothbrush has multiple sections to hold not only toothbrushes but also some other toilet necessities too. Check out the list of the supplies and the complete process right here! You can customize the design per your needs too. instructables
7. Wooden Toothbrush Holder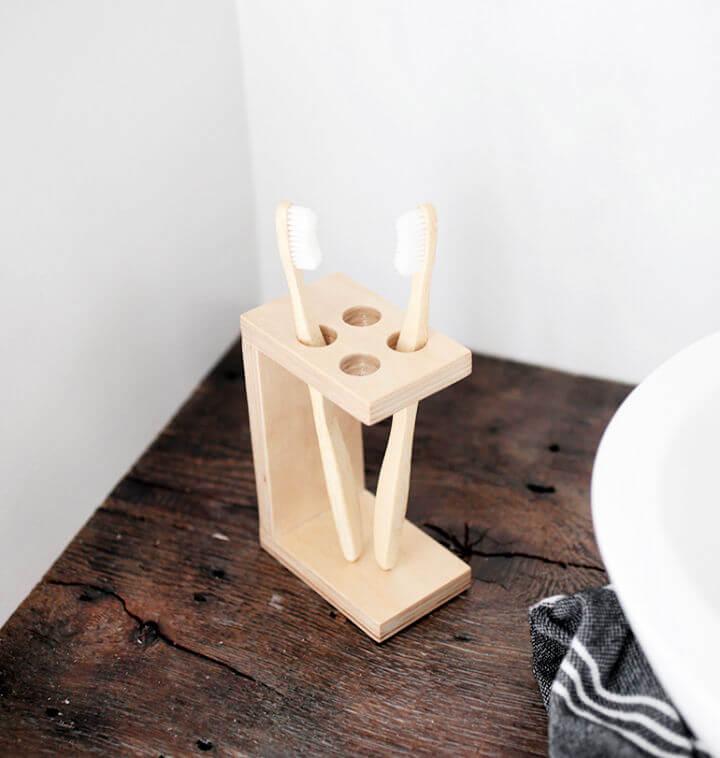 Here is the simplest yet most elegant and minimalist design wooden toothbrush holder that you can make in minutes. You need three pieces of plywood and yoke them together in the shape of E. The top piece has four holes to hold the brushes in them. The wooden appeal of the toothbrush holder adds pretty vibes to the bathroom décor. themerrythought
8. DIY Electric Toothbrush Holder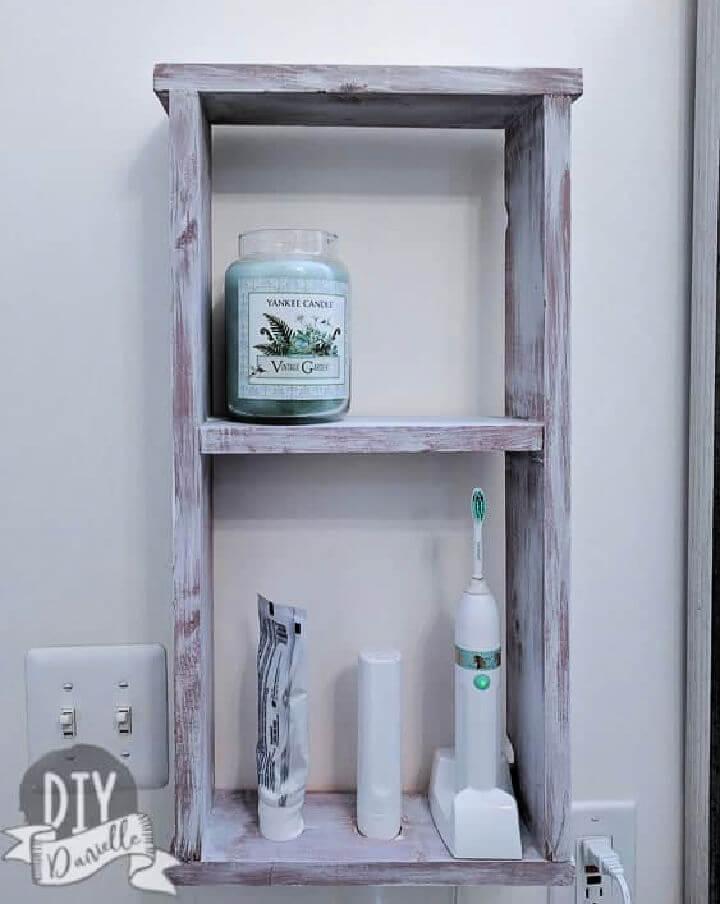 If you love working with wood and crafty tools, then add this DIY electric toothbrush holder to your next to-do list. It is not only a toothbrush holder but a complete rack to hold more of your toilet utilities on it. It would be best if you had wood, your tools, and the stain hues of your choice to make it adaptive for your bathroom décor. diydanielle
9. Travel Toothbrush Holder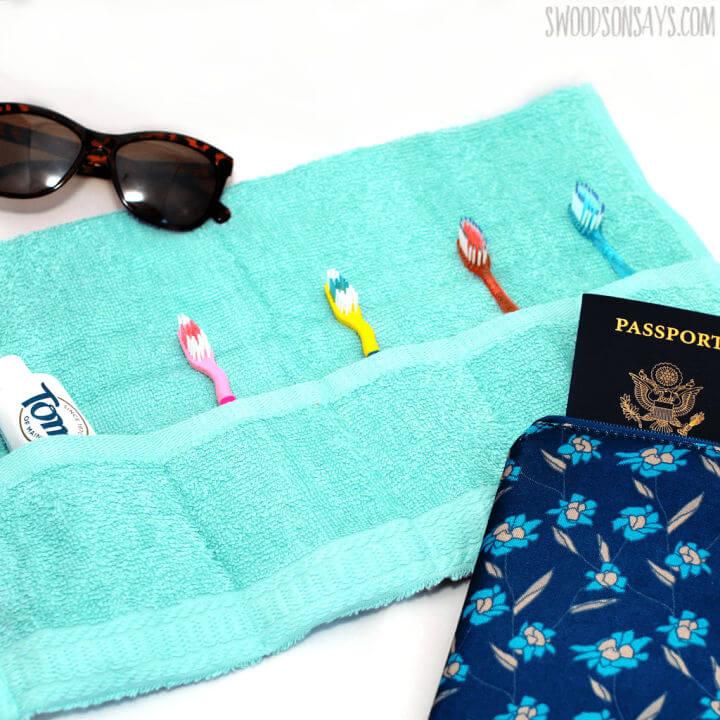 Make your travel packing easy with this smart idea of the travel toothbrush holder. Yes, the toothbrush holder is made out of the towel with a simple sewing session, which results in a few pockets. Hold your and your family member's brushes in these pockets, and thus you do not need a separate toothbrush holder. Check out the details here! swoodsonsays
10. DIY Mason Jar Toothbrush Holder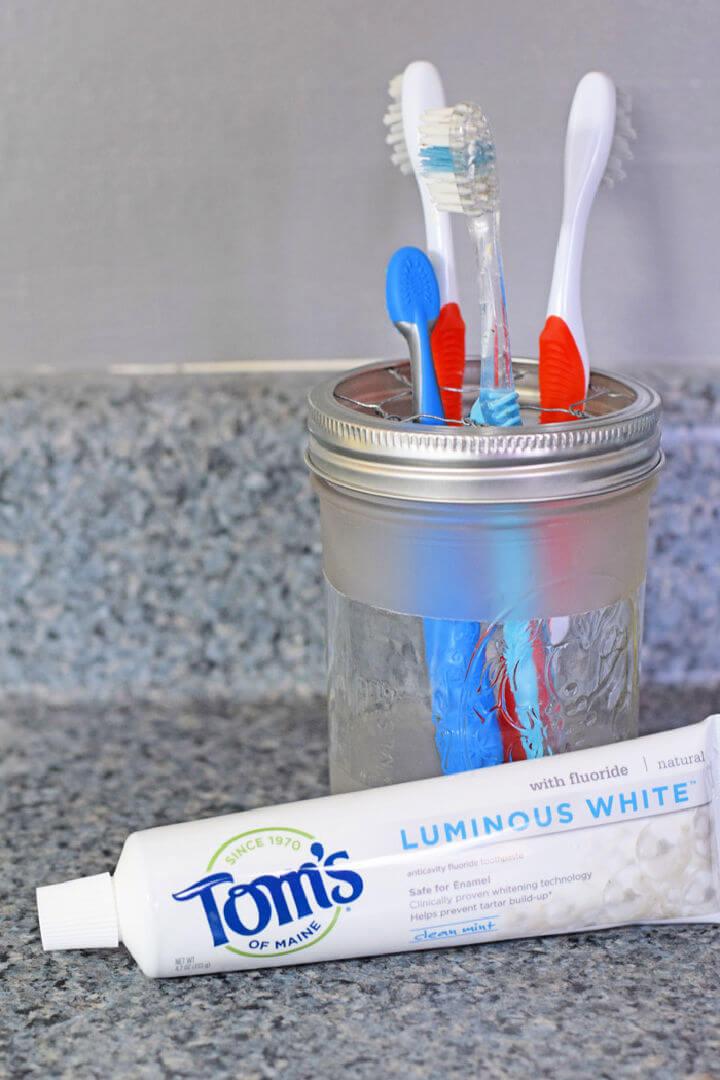 Mason jars can make this pretty DIY toothbrush holder for you and let you save some money. Just take a mason jar with a ring and spray paint with the frost. Then adjust a piece of the chicken wire to the Mason jar ring so that you can hold your brushes in them. Follow the details of the idea right on the link here! ithappensinablink
11. Toothbrush Holder with Fabric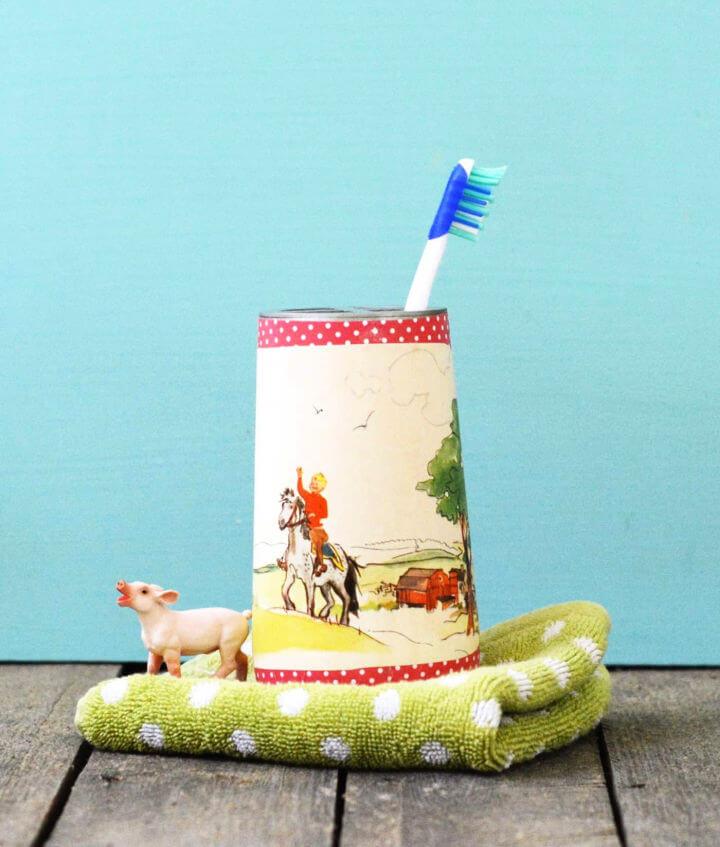 Make your old toothbrush holder look beautifully customized with this lovely DIY project. The metal toothbrush holder is decorated with some fabric and the vintage scrapbook illustrations of your choice. This is a cute little craft to customize your toothbrush and have some fun with your kids. Follow the details right here! modpodgerocks
12. Natural Birch Toothbrush Holder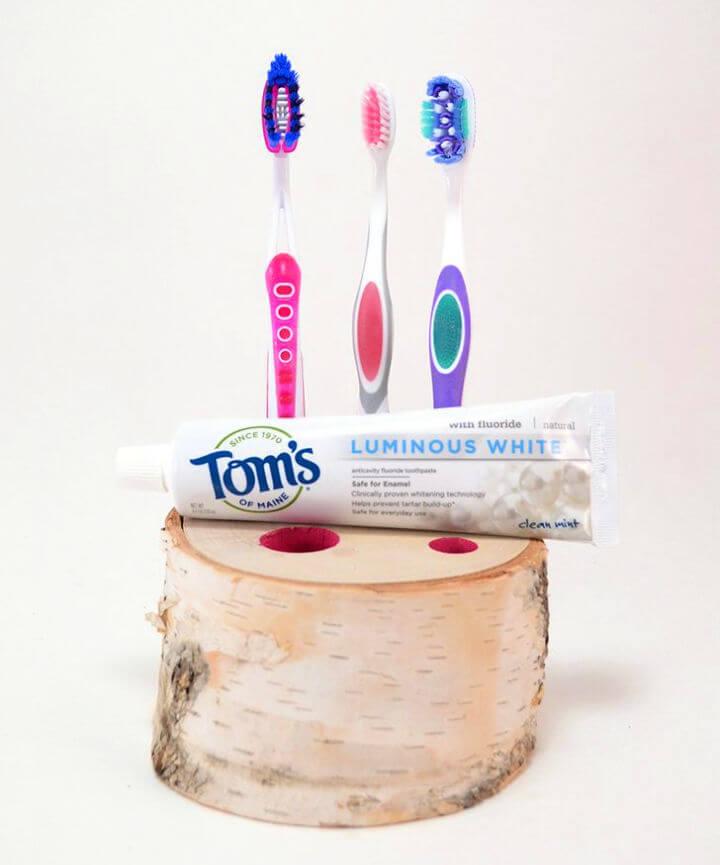 Quirk up your bathroom décor with this natural birch toothbrush holder. Just take a thick wooden birchwood piece and drill some holes on the top. Take some colorful paint and brush them inside the holes for a cool and chic look. Increase or decrease the number of holes according to the number of toothbrushes you have. Grab the details here! dreamalittle
13. Toothbrush and Toothpaste Holder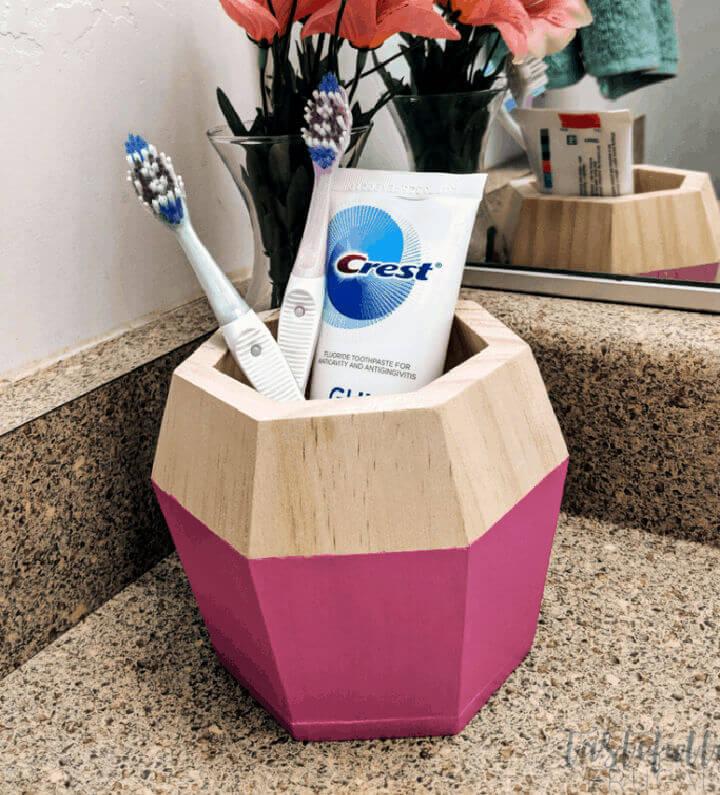 Here are the most interesting and good-looking toothbrush and toothpaste holders that you would ever see. This hexagon-shaped wooden holder has been painted half at the bottom in pink to turn into a lovely toothbrush and toothpaste holder. The project is quite simple and cheap to do on your own, and here are the details. tastefullyfrugal
14. Chic Toothbrush Holder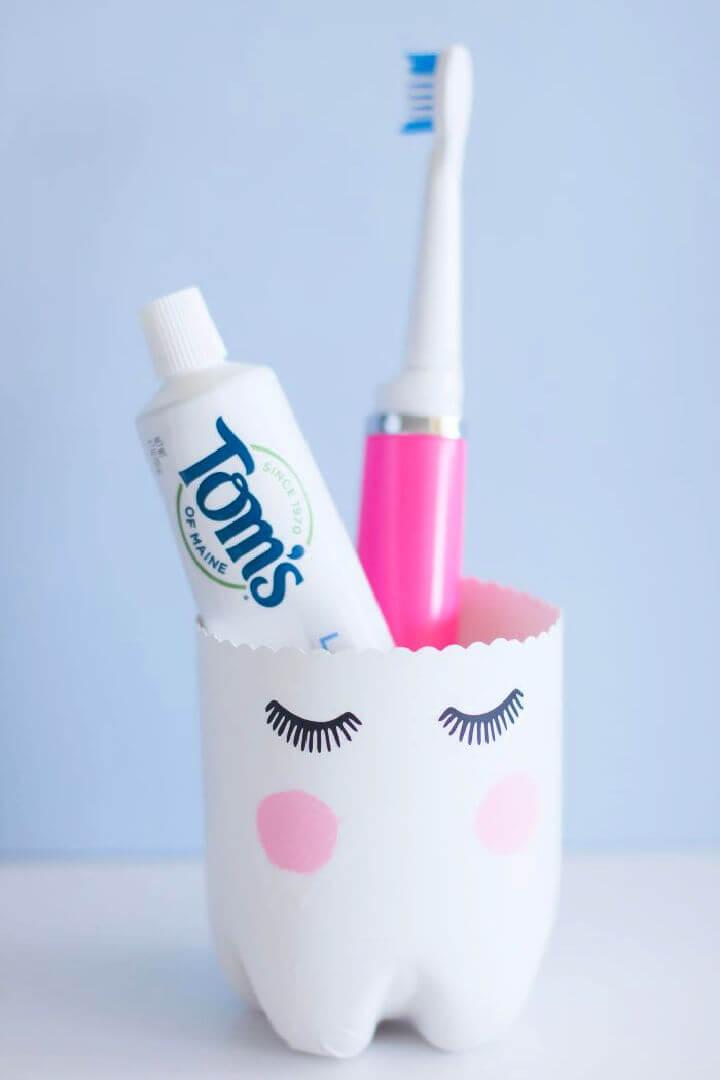 Here is this chic toothbrush holder that you can make in just no time and with no money. Just take an empty soda bottle and cut half take its bottom. Take white paint and brush it up all over the bottle bottom. Then take pink paint to create the blush of the kitty and black for the eyelashes. Check out the details here! bestfriends
15. Cement Toothbrush Holder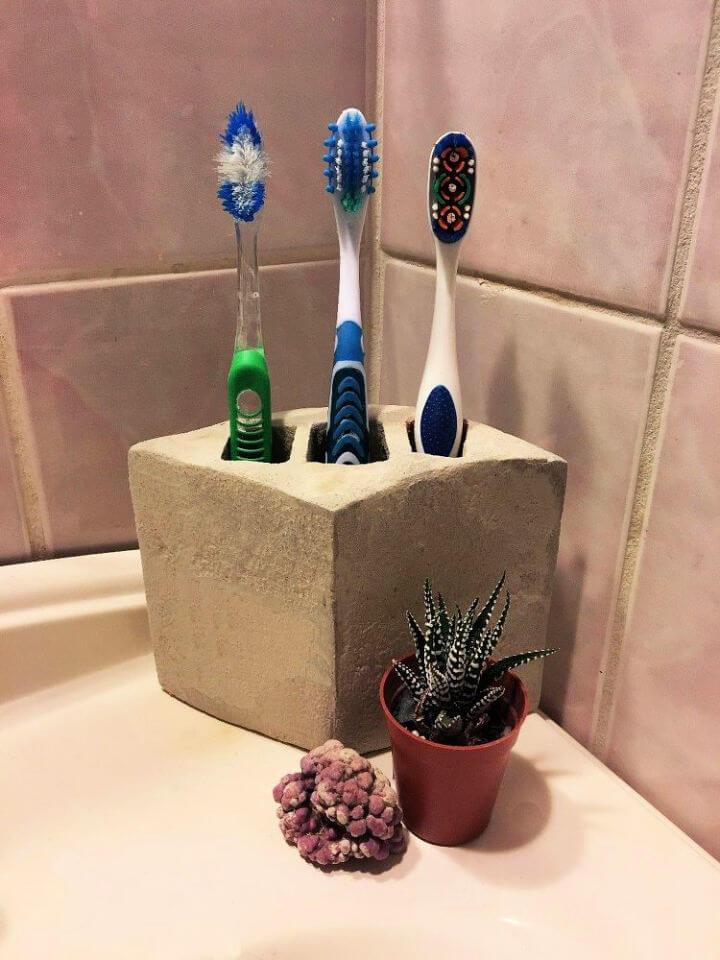 No matter how many times now your toothbrush holder falls, it is not going to break. Yes, make this cement toothbrush holder using the common things lying around. The toothbrush holder is made out of cardboard pieces and the cement mixture. Learn the complete process of this cement toothbrush right here! hometalk
16. Washable Travel Electric Toothbrush Holder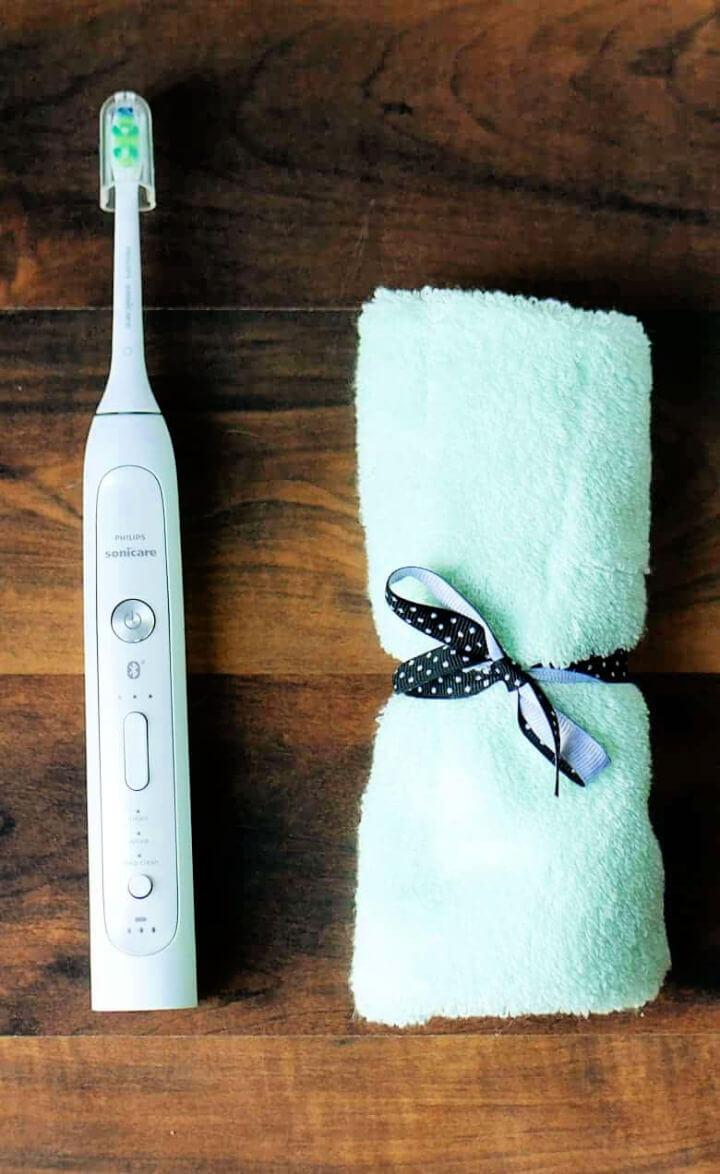 Make your traveling easy with this washable travel electric toothbrush holder. Not only is it easy to make, but also you can use it after many washes because it is made out of a washcloth. You need just a needle and thread to create a toothbrush holder pocket inside the towel and hold your toothbrush in it. Check out the details here! brepea
17. Mason Jar Toothbrush and Toothpaste Holders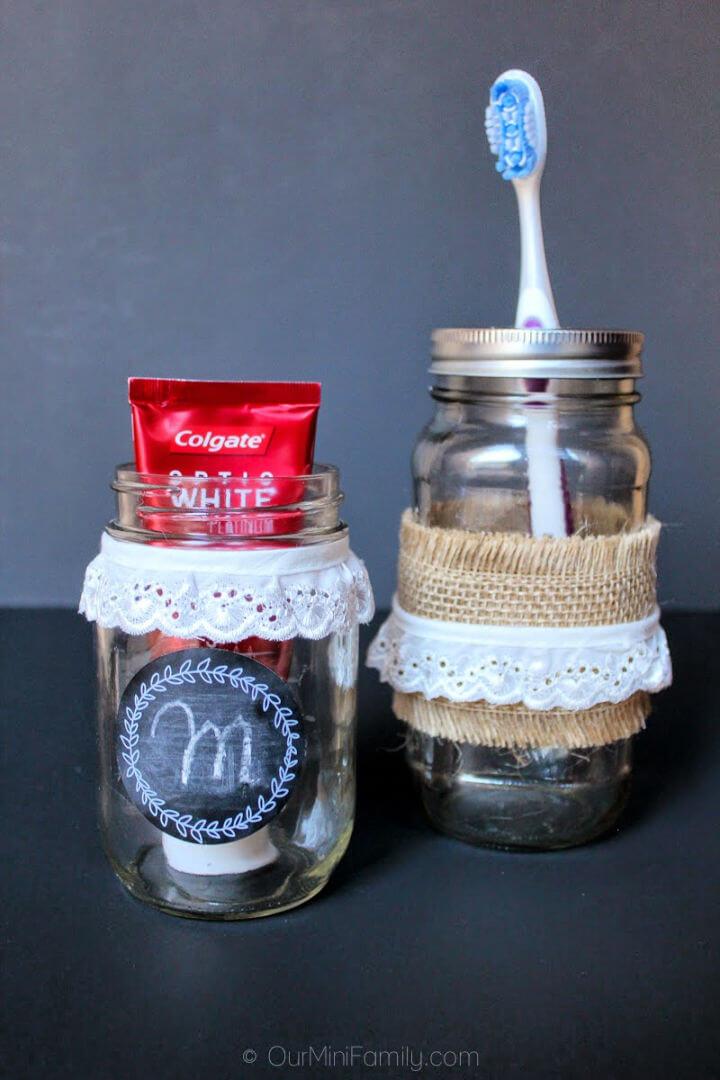 Here is another amazing Mason jar craft to bring some cute storage value to your washrooms. The mason jars are decorated with burlap pieces and the lace to look super pretty and rustic. One of the mason jars has chalk paint in the center where you can write the dental care regime, create any dental signs, or even write your monograms. Details here! ourminifamily
18. Wall Mounted Toothbrush Holder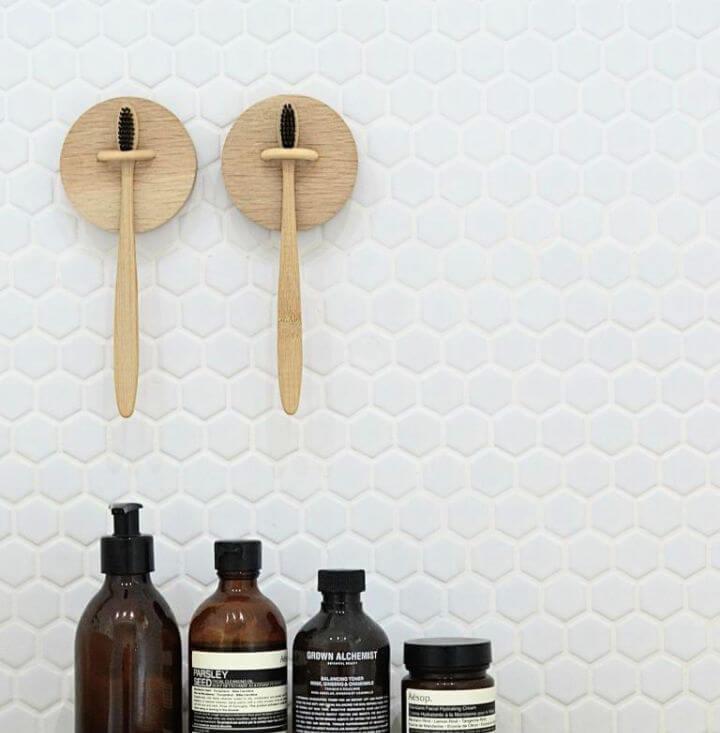 These gorgeous walls mounted toothbrush holders are the prettiest wall hangings for your washroom décor. This pretty wall-mounted toothbrush holder needs an oak disc and small wooden rings to get done. Wooden toothbrushes are going to look so cool and fit in this toothbrush holder. Check out the details of the idea here! yourdiyfamily
19. Mason Jar Toothbrush Holder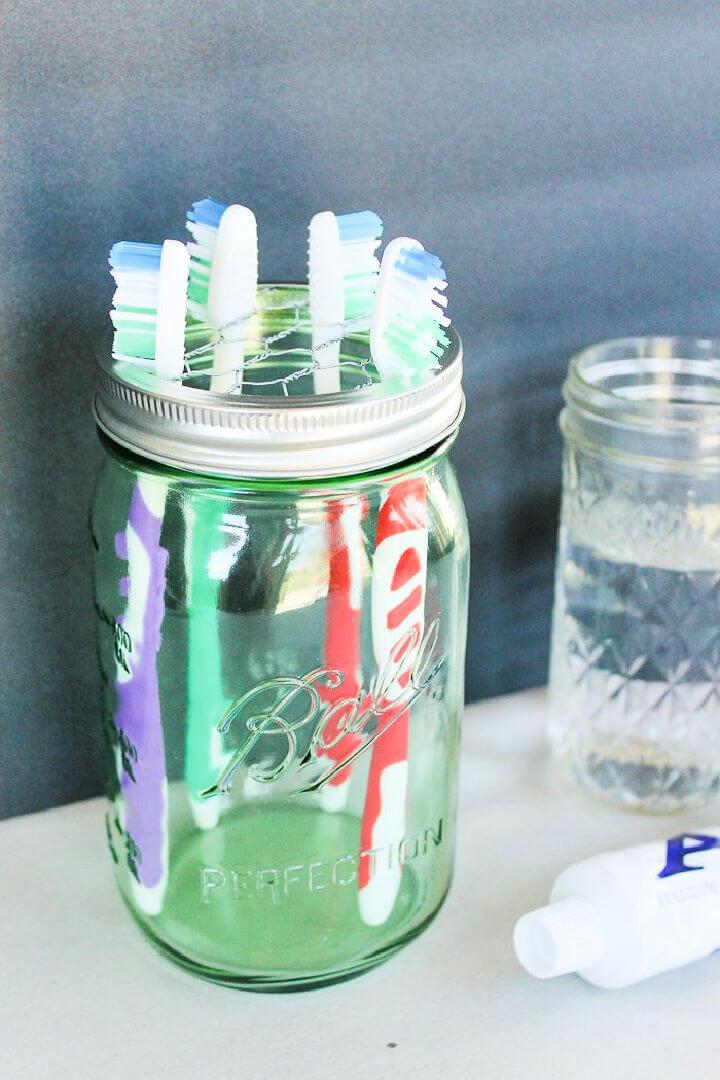 Your bathroom is going to look more organized with this quick-to-make Mason jar toothbrush holder. Take a mason jar with a ring and add a piece of chicken wire to this ring. This chicken wire would give you holes to hold your toothbrushes separately in one place. The green Mason jar makes this toothbrush holder look quite cute. Details here! thecountrychic
20. Rope Wrapped Toothbrush Holder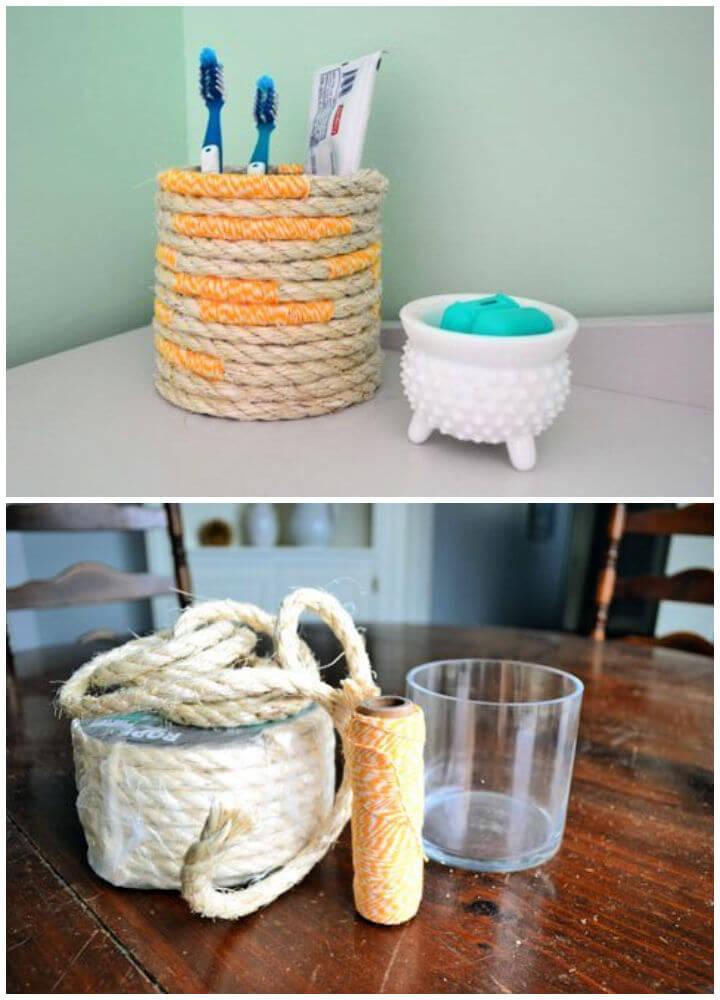 This rope-wrapped toothbrush holder is not only functional but also a beautiful artistic creation. A plain round glass jar is covered with the rope and the twine to turn out so simply chic and gorgeous. Just imagine one resting on the side of your bathroom sink, bringing some cute vibes in your spaces.  Catch the instructions here! angiesroost
21. Personalized Toothbrush Holder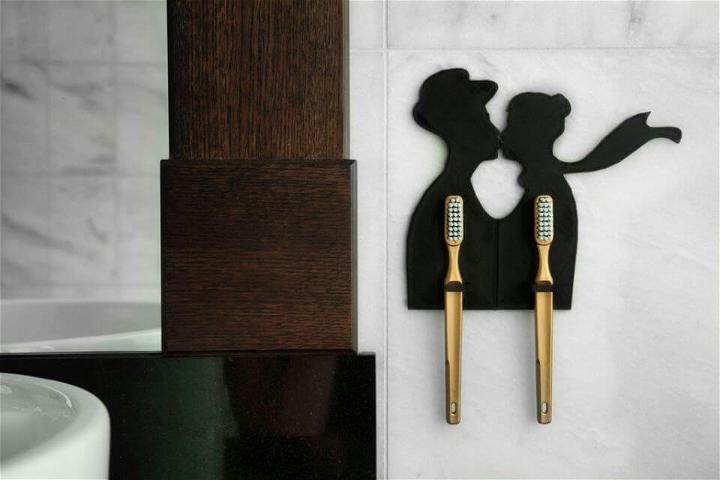 Here is a gorgeous personalized toothbrush holder, perfect for a couple who love to share their morning routines. The toothbrush holder has a kissing couple contours as the backdrop and turns out just simply cute and romantic. Learn to draw and print out this 3D toothbrush design on your own right here. instructables
22. Shabby Chic Toothbrush and Towel Holder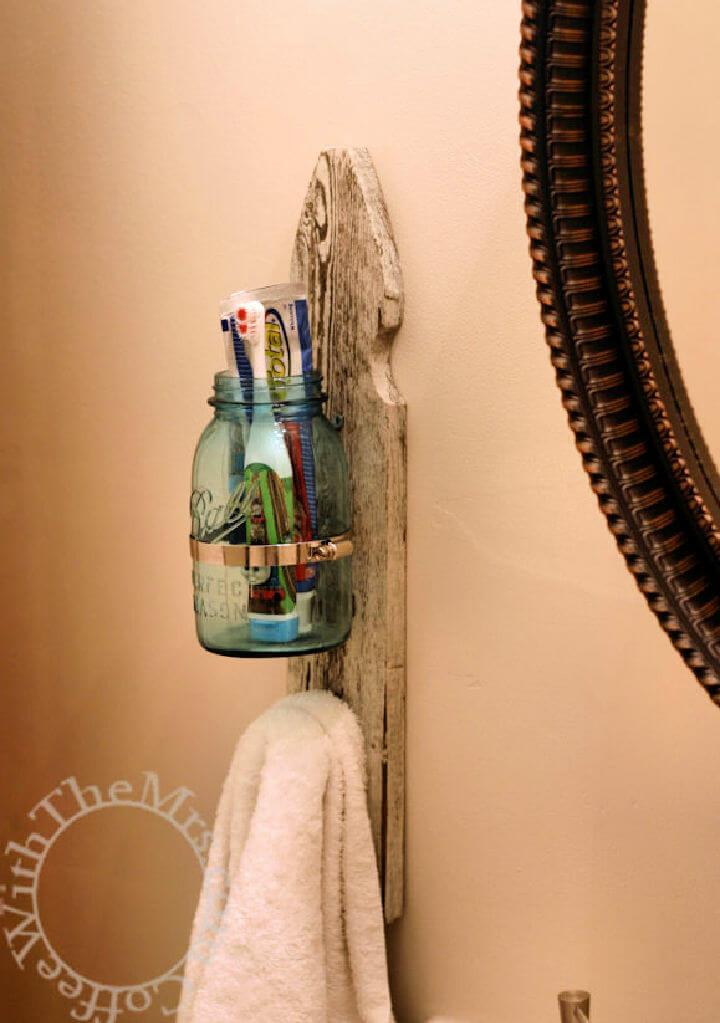 Let your necessities bring some charm to your spaces, just like this shabby chic toothbrush and towel holder. The Mason jar toothbrush holder is mounting over a gorgeously rustic wooden board to hang on the walls. Also, this wooden board has an extra hook to hold your towel too. Follow the detailed idea right here! amy clary
23. DIY Elephant Toothbrush Holder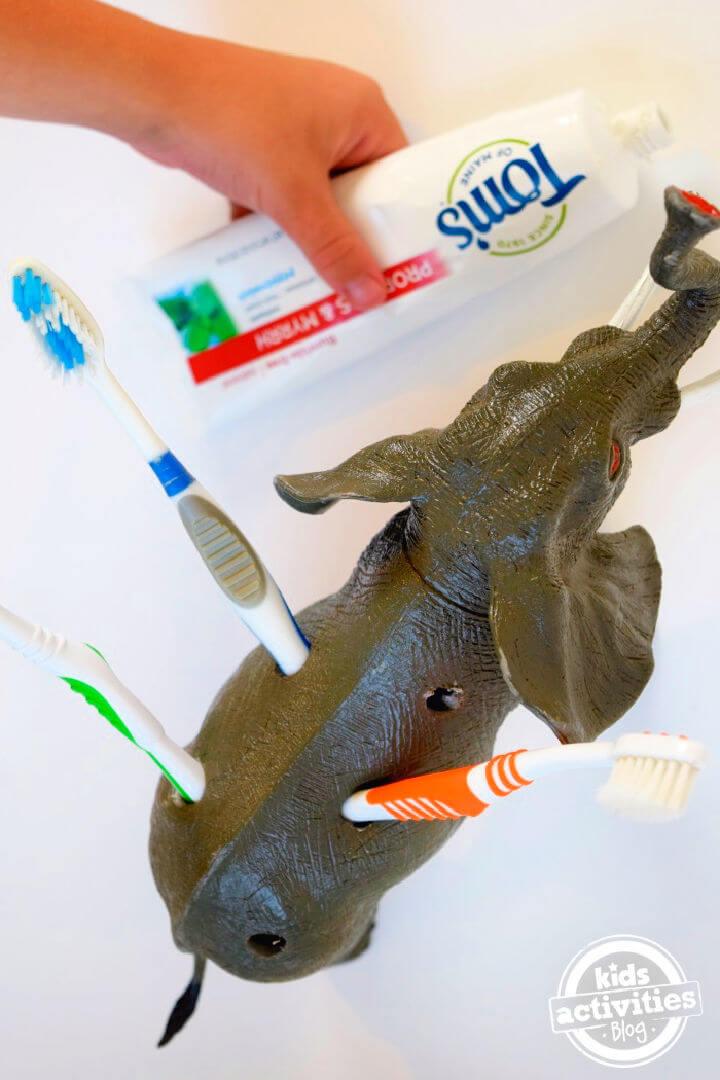 When you visit the dollar store this time, do bring plastic animal toys. Here is the idea of this DIY elephant toothbrush holder to add a cute charm to the décor and beauty of your monotonous bathroom décor. Just drill some holes on the top of your toy elephant or the other animal to hold the toothbrushes in. Details here! kidsactivities
24. How to Make a Toothbrush Holder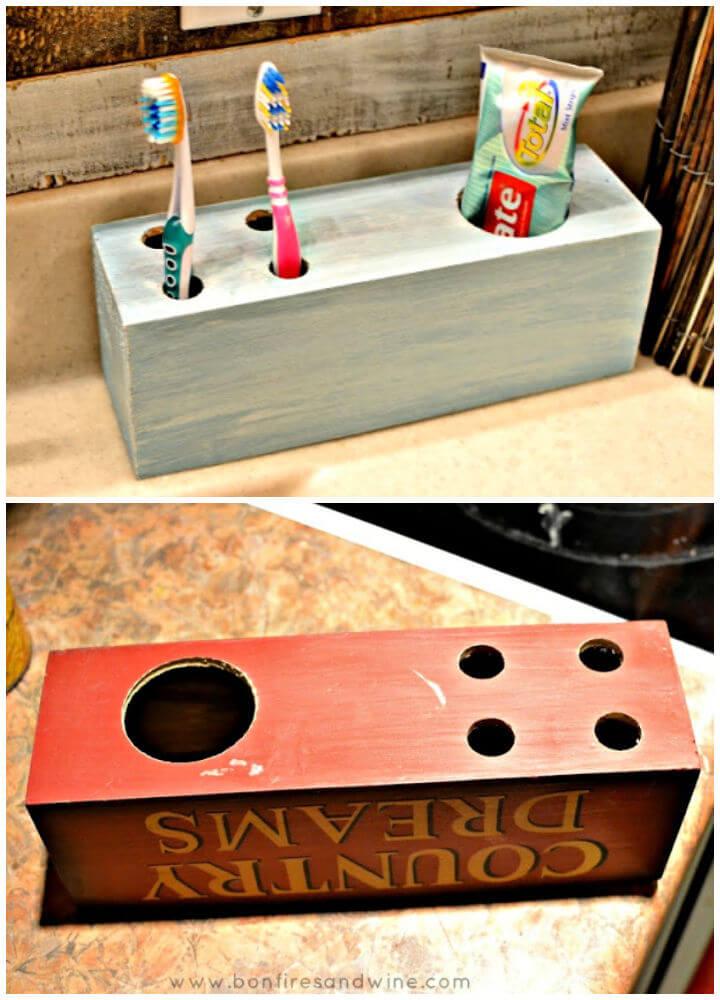 Do you have a country dream box lying uselessly around you? If yes, then make a toothbrush holder out of it, and that too with the least effort and money. Just drill dour small holes on the left to hold the toothbrushes and the big hole on the toothpaste's right. Paint it up for a new and fresh look per your desire. Check out the details here! bonfiresandwine
25. Toothbrush Holder Using Mason Jar

Here is another amazing work that you can assign to the mason jars. Yes, here is this lovely and totally simple mason jar toothbrush holder that you can easily make on your own. You need a 3D design insert to the mason jar ring to hold the toothbrush and the toothpaste through it. Follow the step-by-step details right here! instructables