With the arrival of every new and updated item in technology, we rush after them and leave the old ones behind, and so is the case with the keyboards. There is no offense in buying the newer and more efficient keyboard pieces unless you know what to do with the old one instead of throwing it out of the house. If you don't use it with a second purpose, you are just at the right place as we can show you some incredible ways to recycled or upcycled the keyboard keys that form the major part of the keyboards.
There is a huge variety of fun and functional things you can achieve from these tiny yet practical keyboard keys. And to show you some examples, we have these 15 Upcycled keyboard key ideas for you to have an in-depth look at. Taking out the keys and gluing them to some homey objects, you can get to whole new and creative avatars like the mirrors, holders, storage boxes, key chains, and the amazing, among all, the bench seat. Women can craft jewelry pieces for stand-out possessions like DIY earrings, brackets, and necklaces using as many keys as they like. Wall decor can amuse with the keys by creating a heart shape wall art piece and the clock. So there is a lot of possibilities for keyboard key crafting. Just decide which things from the below collection you want to try hands-on.
1. How to Make Key-Man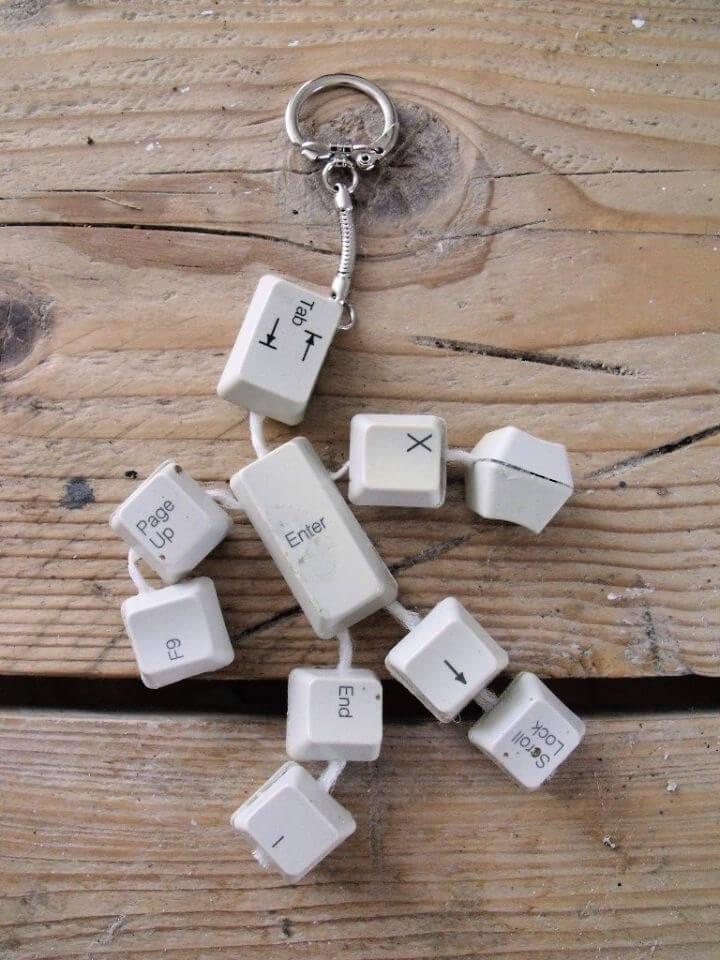 If your keyboard has gone out of order, make this pretty and fun key man out of your kids' keys. Using the small and big keys, you can make this perfect key man with some string and glue. Once created, this key man can be a perfect toy for your kids, or you can add a key ring to it for a perfectly functional item. Details here! instructables
2. DIY "Keys To My Heart"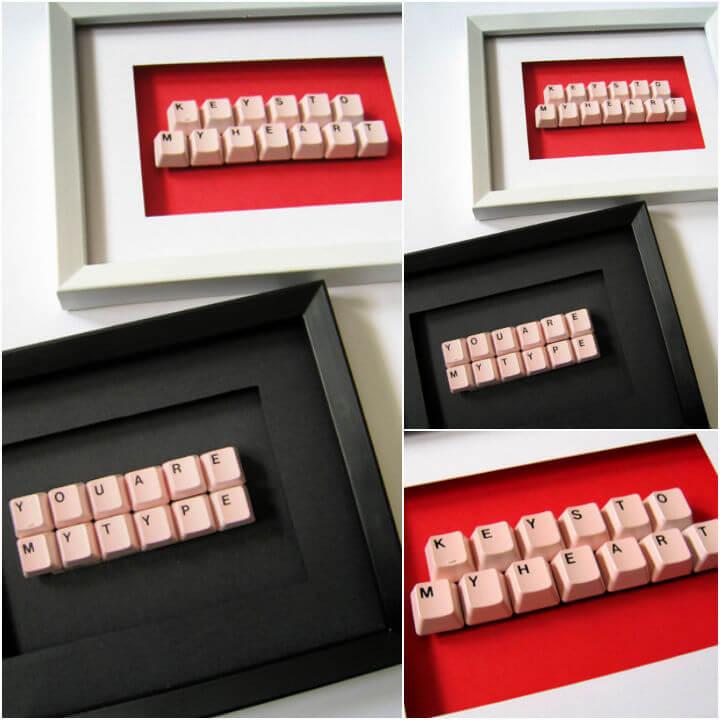 Nothing is a waste as craft lovers can turn anything into an amazing art and craft. Here are these DIY keys to my heart craft to make out of the keyboard keys. You need keys, spray paint, letter transfer, and frames to make some fun quotes out of these keys. Check out the details of these "key to my heart" and 'You are my type' art here! paperplateplane
3. Upcycled Keyboard Keys Bracelet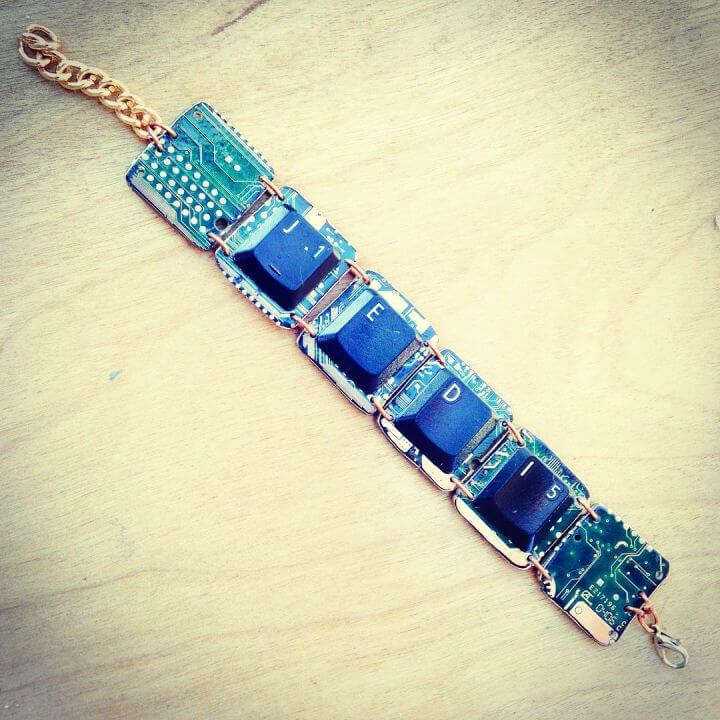 Your teens are going to love this upcycled keyboard keys bracelet. The keys have been painted and paired with some leather pieces to make this perfect bracelet. Other things you need are jewelry wire, jewelry tools, and bracelet clasps.
4. Tampa Art Using Keyboard Keys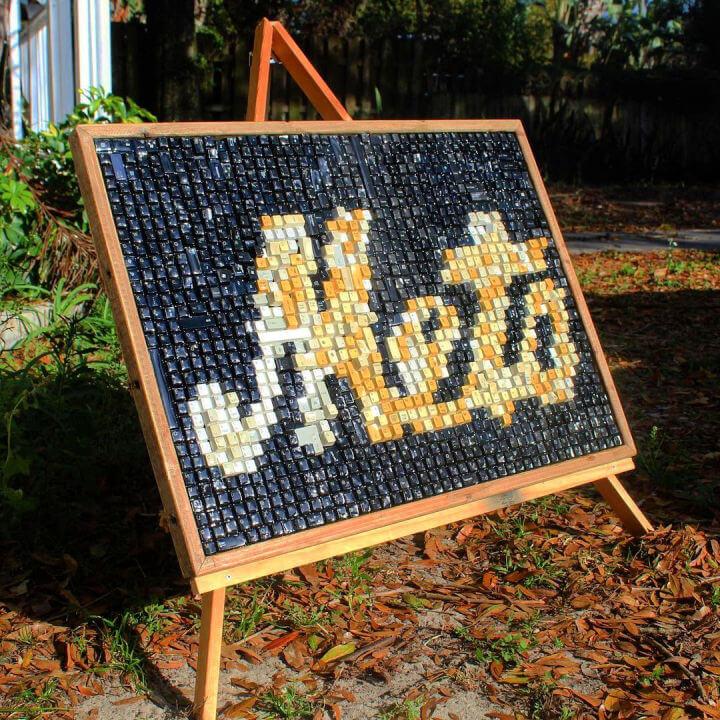 This Tampa art is the perfect thing to make out of your keyboard keys. Using many keyboard keys and the frame, you can make this perfect Tampa art. You can make the frame say any of the words of quotes in the center with the painted keys and the black keys on the sides.
5. Computer Keys Art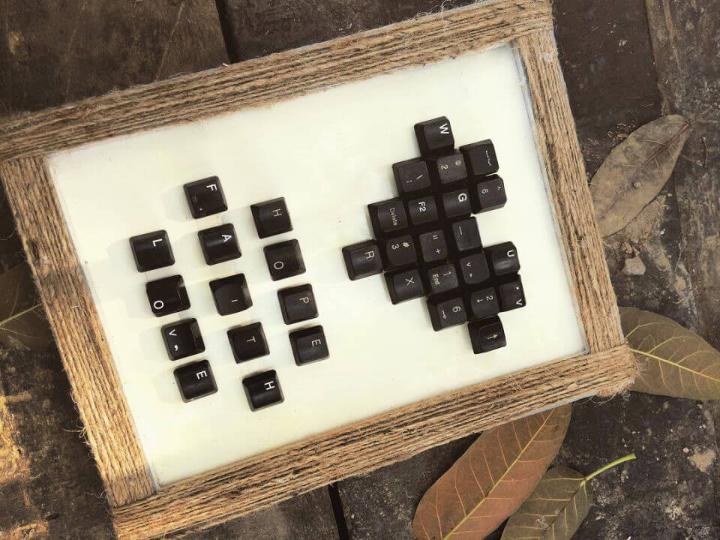 Your keyboard has gone wasted? If yes, instead of throwing it off, collect its keys and make this pretty computer an art out of it. Just take a frame and add computer keys to it in the heart's shape on the top and some fun quoted words at the bottom. You can customize the art with your choice of words.
Watch This Video: DIY Keyboard Craft: Pencil Cup – Upcycled Keyboard Keys Ideas (03 Minutes 56 Seconds)
6. Picture Frame from Keyboard Keys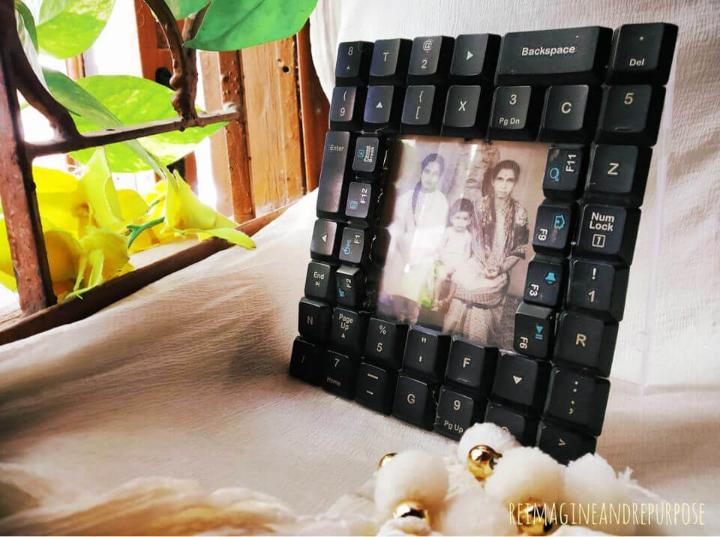 Here is an interesting way to make your picture frame look fun and unique for your table display. So grab a picture frame with your favorite picture frame inside it. Then take the keyboard keys and decorate the picture frame's sides with them using glue, and it's done.
7. DIY Mickey Mouse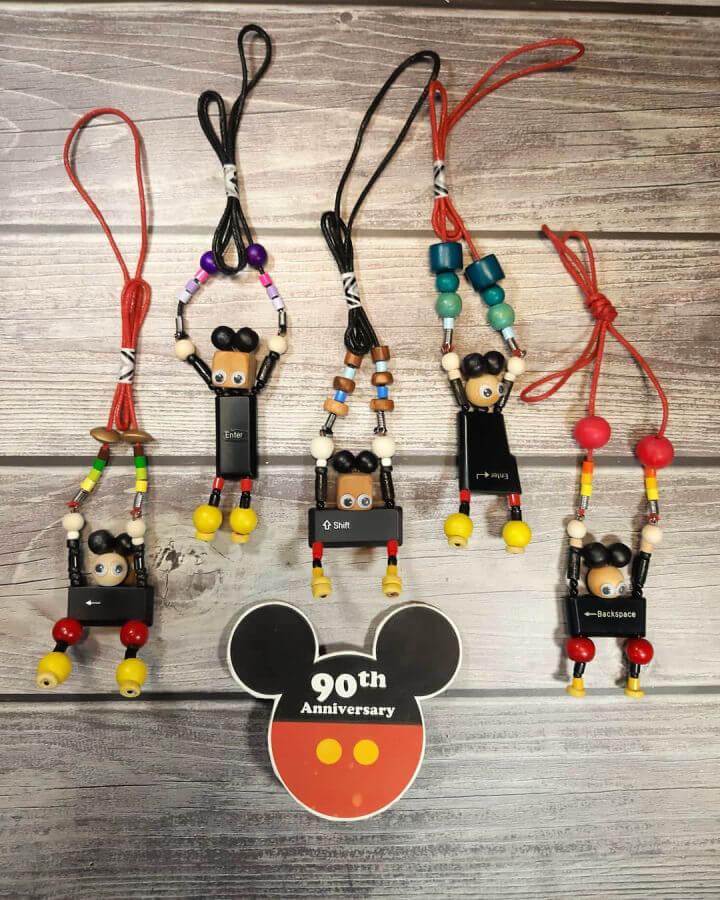 Celebrate the Mickey Mouse anniversary with your kids with this DIY Mickey Mouse project. These super cute and fun-looking Mickey mousses are made of keyboard keys, dices, and colorful beads. You can make a lot of them, and the kids can use them to play with. Also, they make cute keyrings too.
8. Keyboard Keys Heart Frame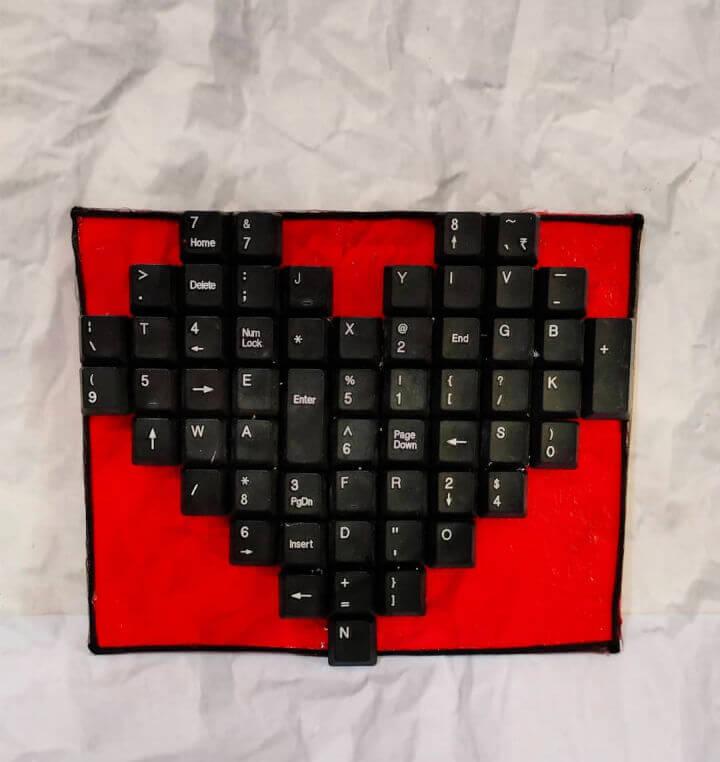 Make the most out of your keyboard, which is not working with this pretty and fun keyboard keys heart frame project. Just take and frame and then trace a heart shape to fill it with the keyboard keys. Place this keyboard key heart frame on your tables or mantle places, and you have a pretty décor ready.
9. Keyboard Keys Pacman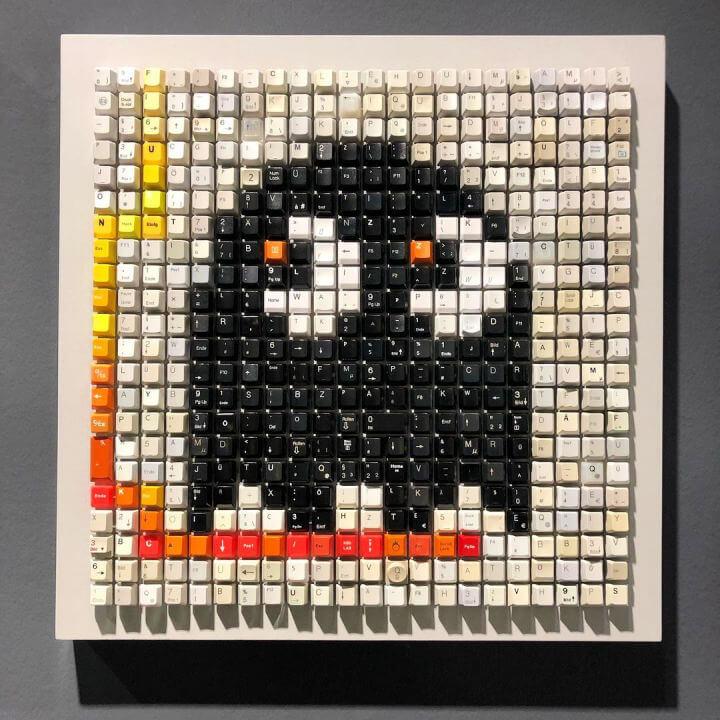 If you have white and black colored keyboards at your place but are not working anymore, then make this keyboard key packman out of it. You need a frame base, glue, white keys, black keys, and some of them in red, yellow, and orange for a spice up of colors and cuteness.
10. Colorful Dog Picture Frame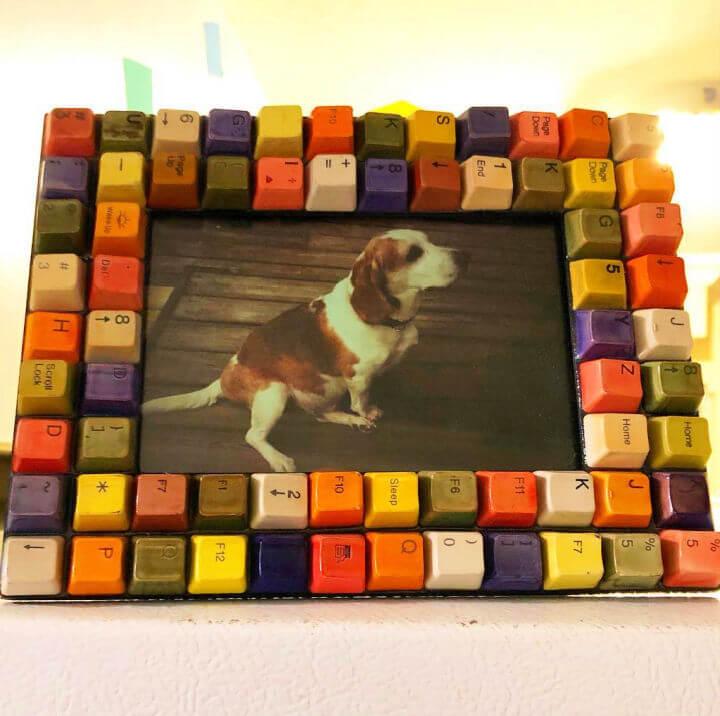 Pay a decorative tribute to your kids with this colorful dog picture frame that you can easily make yourself. Take a wooden frame and attach your dog's favorite photo to it. Then grab keyboard keys and spray paint them in multiple bold hues. Lastly, glue up these keys on the frame sides using glue, and it's done.
11. Mixed Media Art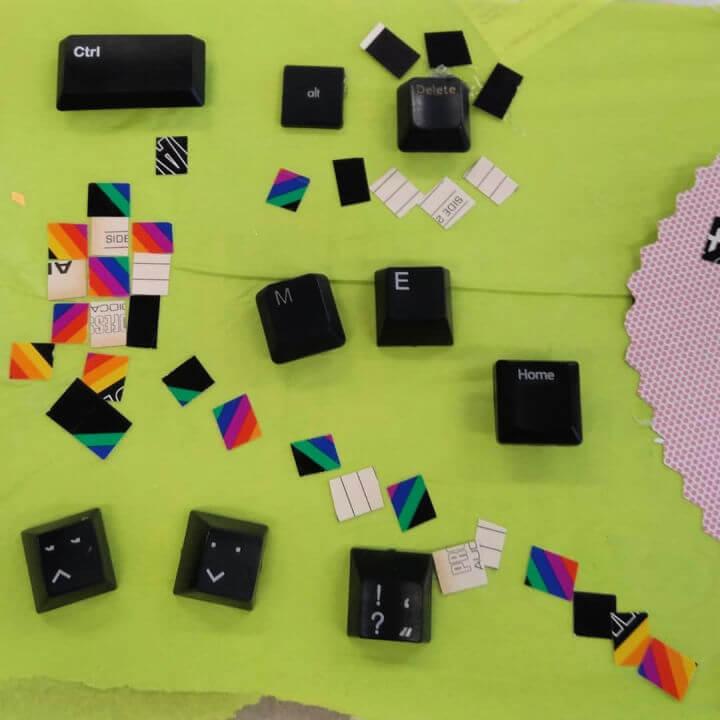 Mixed media art is the new trend for artists, and now you can participate in this. Here is the idea of making this fun and cute mixed media art with the keyboard keys and some colorful cardstock. You can use this pretty handmade mixed media art on your walls for a fun and cool display.
12. Galaxy Using 55 Keyboards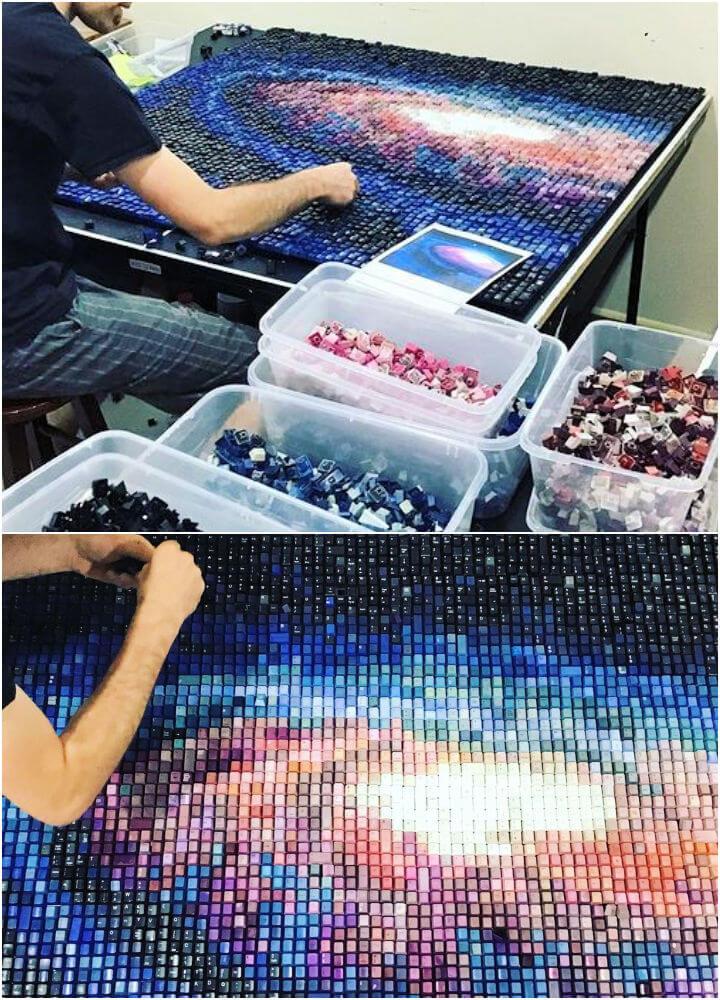 Satisfy your galaxy art craving with the keyboard keys with the help of this galaxy using 55 keyboards. You need an oversized square frame to create your galaxy on. Take keyboard keys, paint a few of them an ombre of pink, a few in blue, and some in violet, and then create this lovely galaxy.
13. Cool Gamer Chair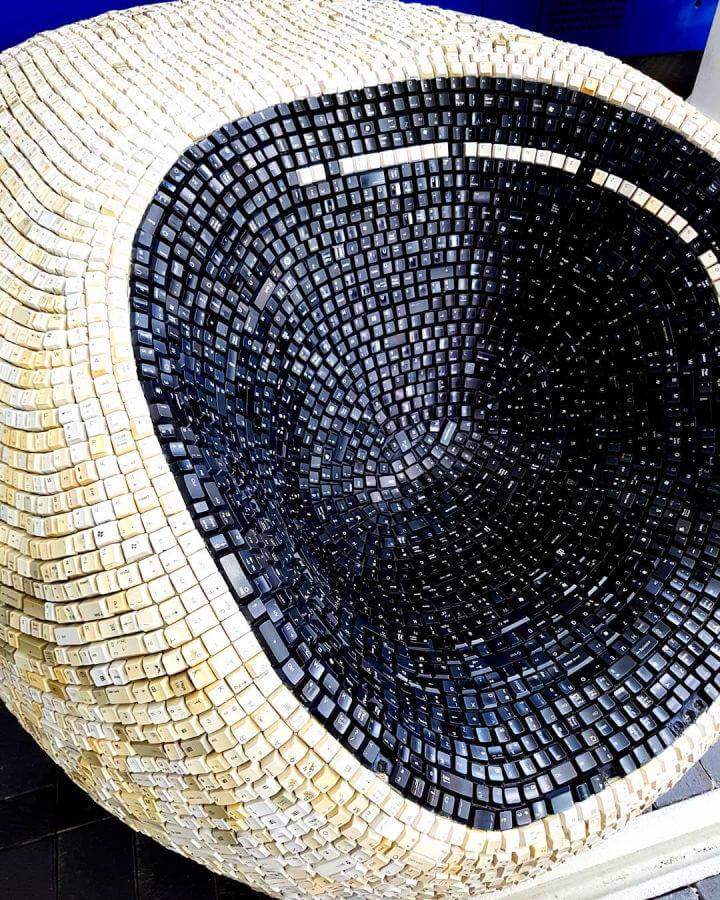 Gamers spend most of their time sitting on the computer, and they really put many keyboards out of order. So here is the idea of making this cool gamer chair out of the keyboard keys and surprise the house's gamers. This cool game chair is made out of white and black keyboard keys.
14. Abraham Lincoln Made From Keyboard Keys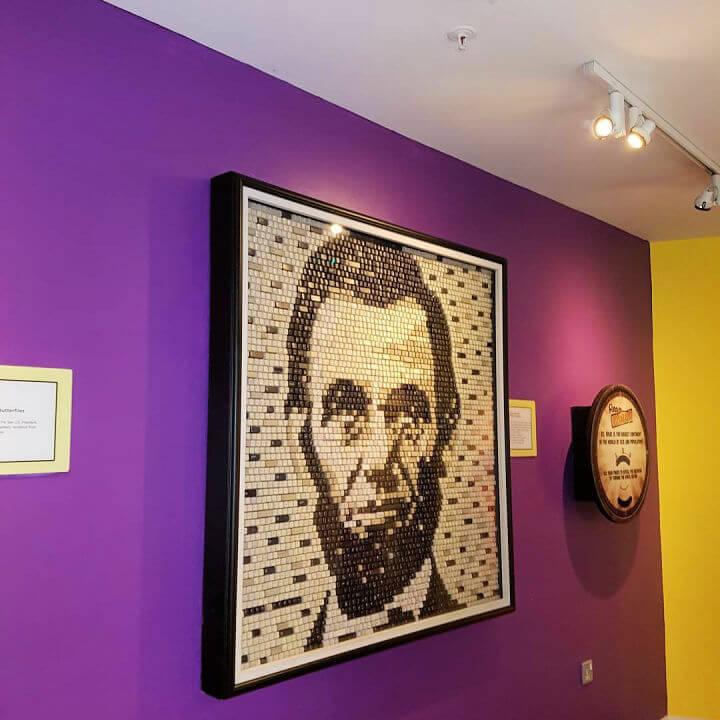 Bring some fun and beauty to your wall art beauty with this Abraham Lincoln made from keyboard keys. Using the white and black keyboard keys in a big number, you can make this pretty Abraham Lincoln portrait and make it a fun part of your home décor. You can check out the details here for your spiced-up wall art.
15. Art Cars With Keyboard Keys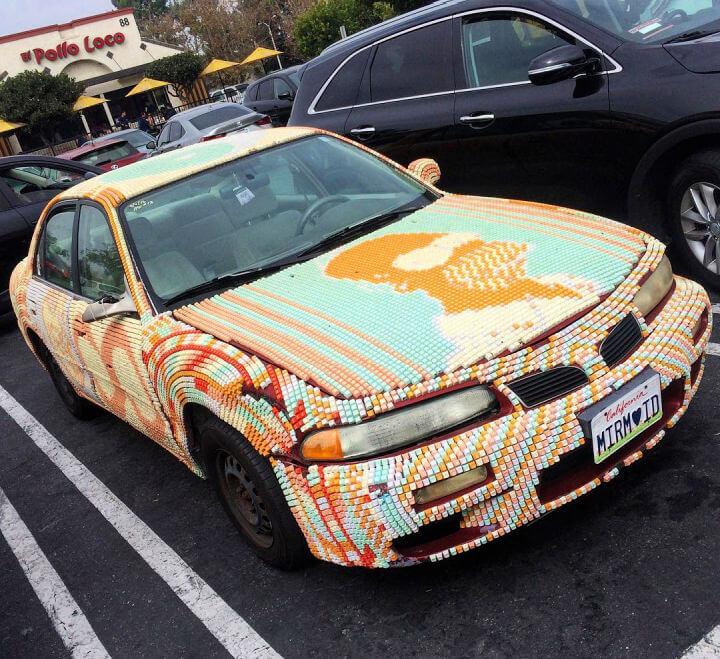 If you go to a thrift store, you can find many not working keyboards to get their keys and make this pretty cart art out of them. So get the keyboard keys out and paint them in your desired hues. Then add these colored keys all over your car, and you are done with a gorgeous and totally funky project.