Crochet has been a skill that has been the most beneficial and important for creating something different and exciting. You can create a lovely 20 Free Crochet Pillow Patterns (Updated 2022) with free patterns available here for the upcoming winters. Just improve your crochet skills a little more, and start making your own customized crochet pillows and cushions.
Make a whole lot of crochet cushions and pillows so that you can make your comfy sofas even more comfy and attractive. Here we have many ideas for making such pillows, such as daisy ripple design, plain knitted designs, and much more. These beautiful free crochet pillows and cushion patterns are available with tutorials and detailed descriptions of the projects' links. Also, you can make some animal patterns on crocheted pillows. These crochet pillows will definitely compliment your sofa throws. Buying the readymade crochet pillows from the market will definitely cost you a lot of bucks but make these by yourself in the design of your own choice.
Learn the different crochet patterns and make some amazing masterpieces with crochet for your house this season. All of these cushions and pillows are so cozy that they can make your leisure time much better than ever before. All of these are perfect for your informal lounge and living rooms. Choose the colors according to the theme of your living room and bedrooms.
Whenever we listen to the words cushions and pillows, we tend to feel relaxed and comfortable, but what about creating some of the cushion and pillow covers by you and feel even better about it.
These Beautiful & Free Crochet Pillow Patterns will definitely add more warmth to your sofas and beds. The first idea here is a peacock pattern for your pillows, and it's absolutely stunning as some of the most beautiful colors are used over here in this project. Also, you can create a beautiful crochet pillow cover that has a four-sided opening and has beautiful colors in it. When it's officially a festive season coming up, you must grab some crochet yarn and start adding some color and comfort to your home.
You may use jumbo yarn for these projects as it is very inn these days, and you can also use simple regular yarn here. Besides this, we also have a daisy ripple crochet pattern for your comfy cushions to make them even more comfy and perfect for a cuddle. Use the colors of your choice in these projects so that you feel good every time you see them on your couch. You can also knit plain cushion covers, as you can see in this project.
Suppose you have some extraordinary crochet skills. You can also make some pictures, such as this deer crochet pillow which is a beautiful combination of two colors. You can learn the pattern and step-by-step procedure in the tutorials attached to the links given below the projects. You can arrange these cushions and pillows along with your throws on the sofa and couch.
It is suggested to make a collection of such wonderful and colorful crochet pillows and cushions for you to look at something that's appealing after a tiring and hectic day. So cheers and has fun doing these projects.
Share these ideas with your friends also so that they can also make some beautiful cushions and pillows.
1. Free Crochet Heart Pillows Pattern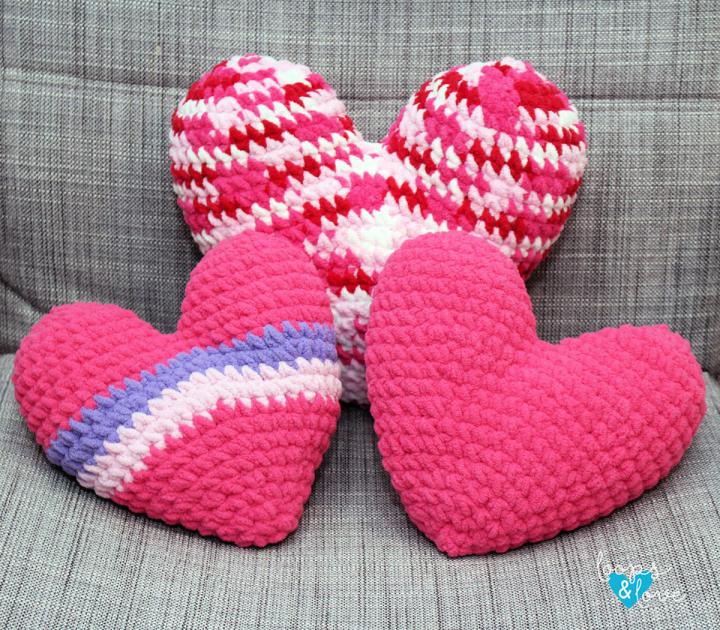 Create these super soft and squishy crochet heart pillows with free patterns. These pillows are fun to place on a chair and the living area's sofa. You can make these pillows in various sizes and shapes according to the specifications of your living area. Give these pillows a fascinating look by creating them in multiple sizes. Enjoying putting your head on these heart pillows and use them as décor pieces in your room. Create these pillows with chains, double stitches, and decrease crochet patterns. loopsandlovecrochet
2. Charismatic Pillow Crochet Pattern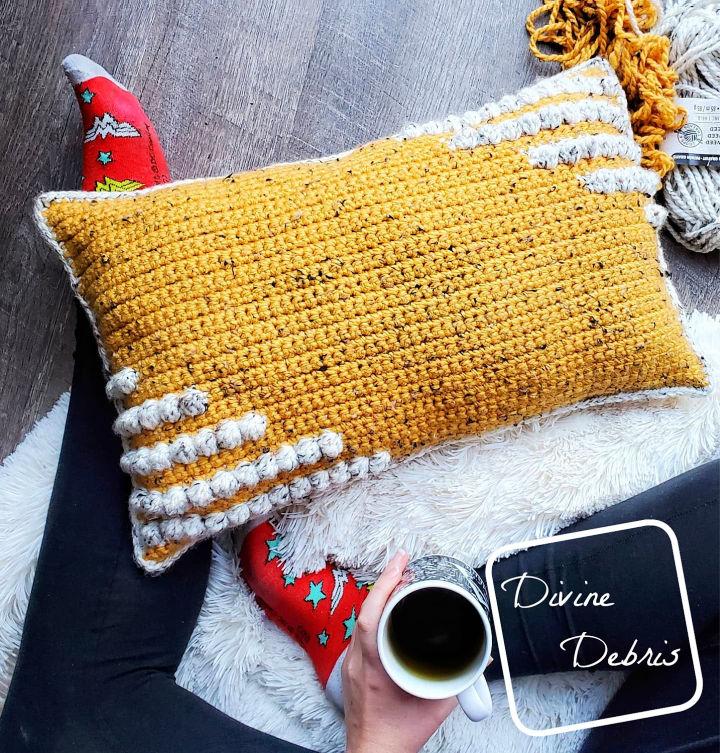 This geometric-patterned charismatic pillow is a combination of bulky and lightweight yarn. Make this pillow by yourself to enjoy your holidays creatively. To make this geometric pattern pillow, get the pattern free from the internet. Write down all the stitches details or guidelines on a page before start working on this crochet pillow. Choose the yarn cord or strands in combination colors to personalize this pillow in your own way.. divinedebris
3. Crochet Boho Pillow Pattern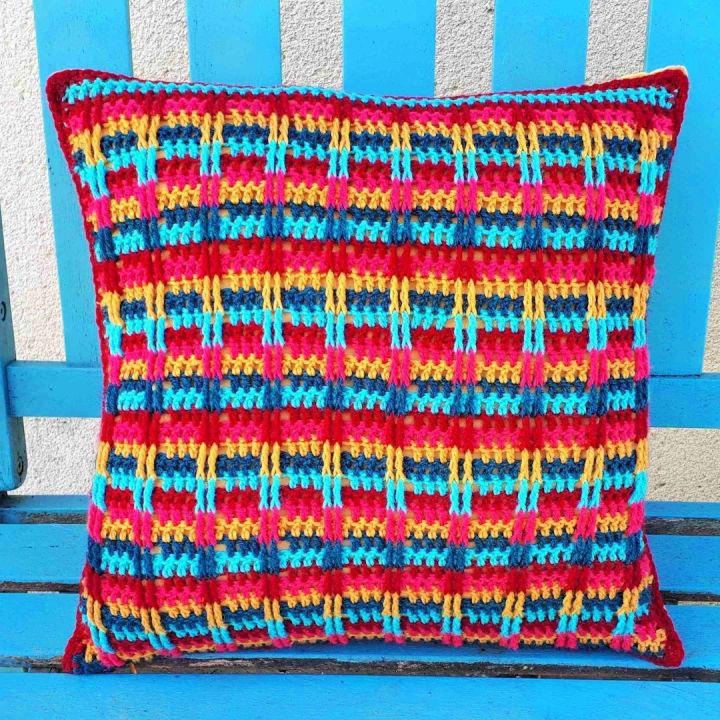 Boho design crochet pillow is a perfect addition to your spring décor. Make this vibrant color pillow by yourself using DK yarn and a 4.00mm crochet hook. This boho pattern pillow consists of yarn over, chain, single, and double crochet stitches. Stitch this pillow with a strong cotton thread for whipping around after completion. You can recreate your old pillow also using this boho crochet pattern. anniedesigncrochet
4. Bernat Kiss Kiss Velvet Crochet Pillow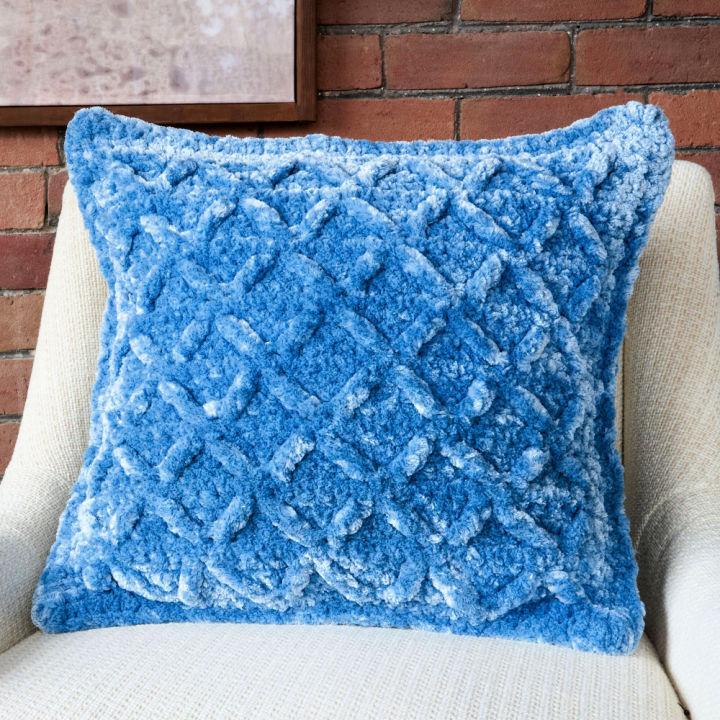 This super soft and velvety pillow is an ideal option to décor your sitting chair and cuddling. The shiny blue color of this Bernat kiss velvet crochet pillow a dreamier look. Polish your crochet skills and work on this pillow for you and gift your friend. Get the bulky look in this velvet pillow using a 9.00mm crochet hook. yarnspirations
5. Crochet Cozy Cabin Pillow Pattern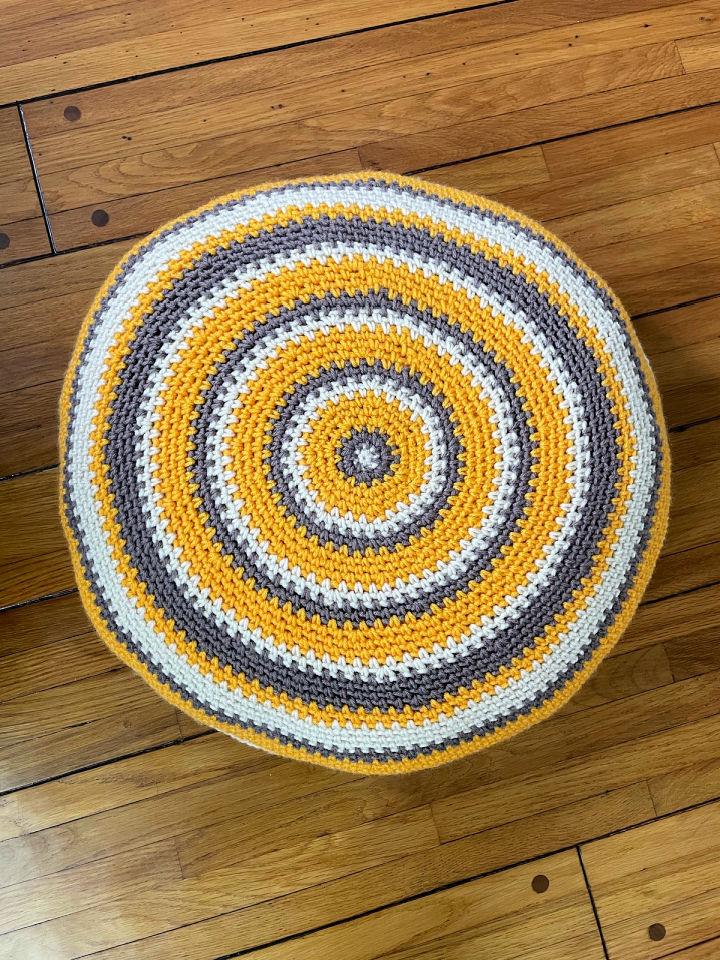 To create this crochet cozy pattern pillow, you can download the free pattern from the website. If you have already worked on moss stitches, it will be easier for you to work on this patterned pillow. This moss stitch consists of chain, single and double crochet stitches. So, an intermediate crochet crafter can also work on this craft project. Excitingly! This project could be a great exercise for polishing the craft skills of a beginner crafter. ravelry
Watch This Video: Crochet Pillow Cover with Sunburst Granny Squares – Crochet Pillow (10 Minutes 10 Seconds)
6. Halloween Striped Crochet Pillow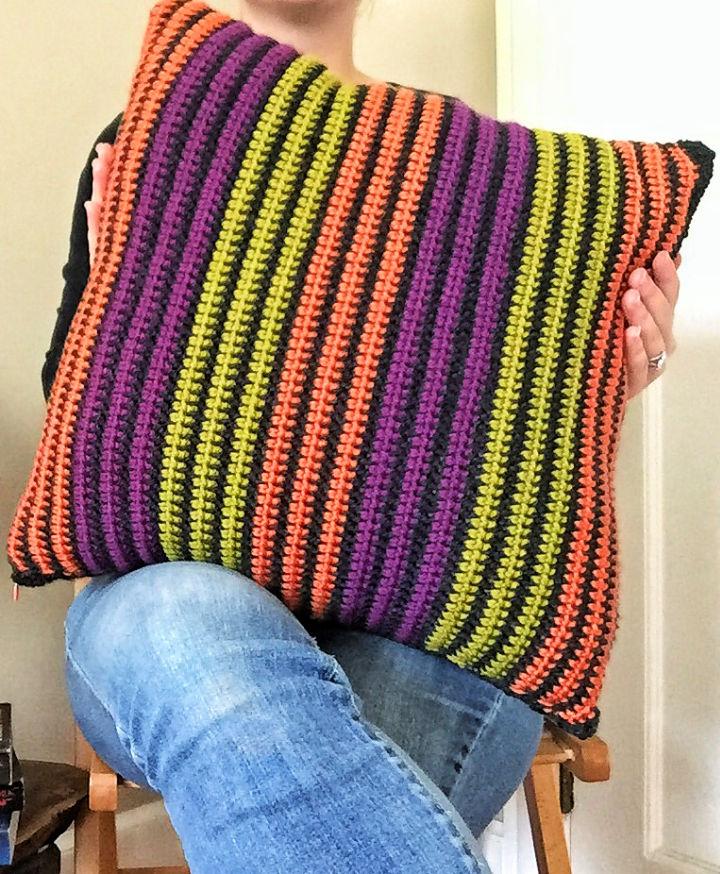 Halloween is almost here! Everyone is busy décor his home for the celebrations. Add up more spice to your Halloween décor and celebration with this striped crochet pillow. Instead of using a single color, you can make the strips with different colors using single, double, and half double crochet stitches. You can also choose the colors of yarn according to the Halloween theme décor. Additionally, you can create the stripes in vertical and horizontal patterns for your ease. thispixiecreates
7. Crochet XOXO Valentine's Day Throw Pillow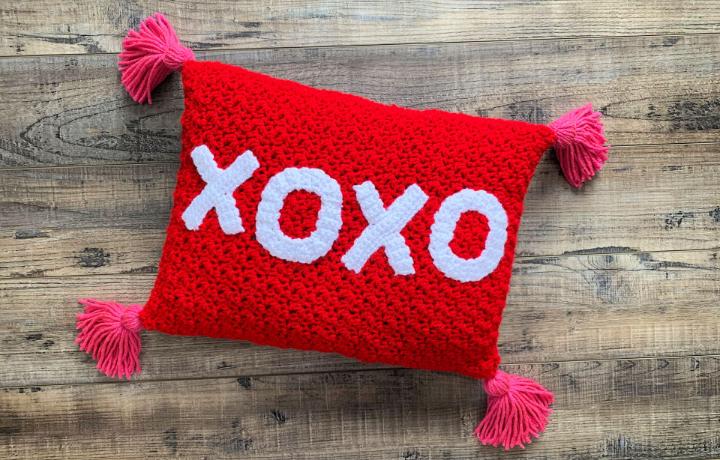 Make your Valentine's Day more incredible for you and your special one by creating this throw pillow. This xoxo crochet pillow is an ideal project to finish on your weekend. This mini pillow is a combination of two fabrics sewn together. The xoxo pillow has crochet with double and single crochet stitches for adding texture. Yarn the letters on this pillow with white color to make them more prominent. clicketysticks
8. Crochet Pompom Sunshine Pillow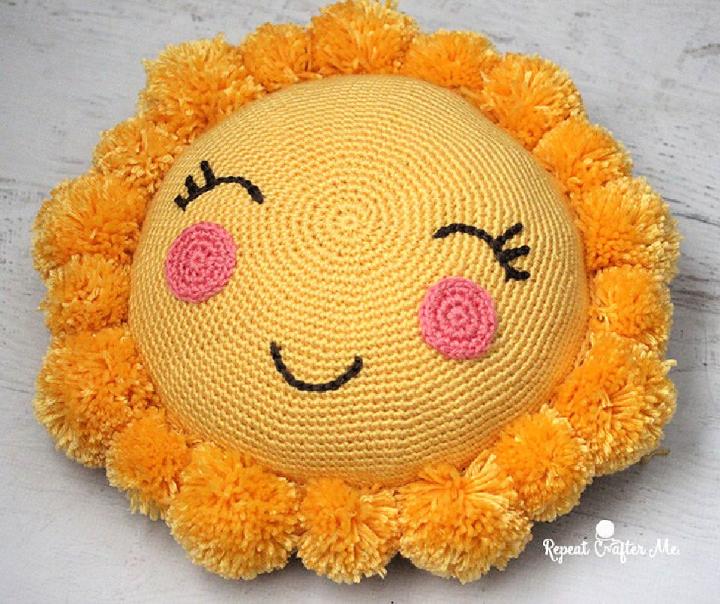 Add more sunshine to your room and party with this cutest and shiny pom-poms crochet pillow. Craft this pillow yourself. You will love and have more shine while making it. Create the pom poms separately using the pom maker thread. Yarn the yellow pillow with double, single, and double half crochet stitches. Give this pillow a magical look with rosy pink cheeks. Once you have done creating both sides of the cover, sew them together or stuff them with cotton. repeatcrafterme
9. Crochet C2C Pillow Case Free Pattern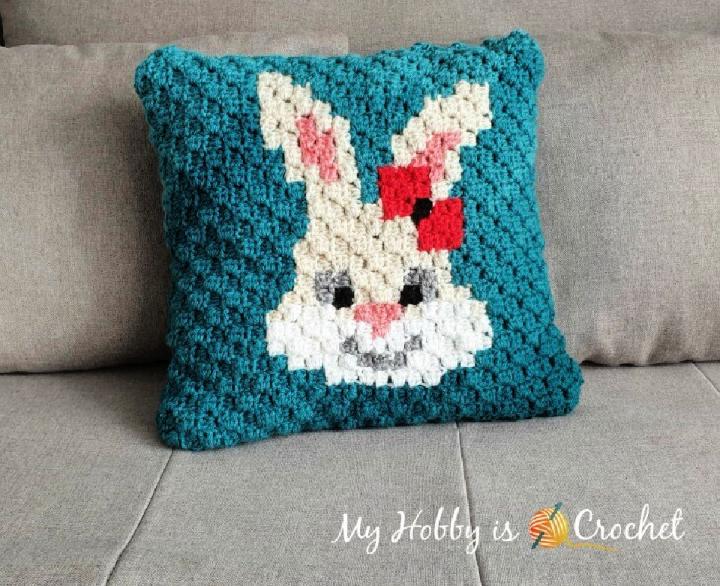 Make an envelope-style C2C bunny crochet pillowcase using your crochet craft and knitting skills. You can remove and wash this cover easily whenever you would like to. Yarn the bunny on this pillow with a c2c square pattern. This bunny pillowcase would be a perfect option to décor your chairs and sofas for Easter celebrations. myhobbyiscrochet
10. Crochet Santa Pillow Sham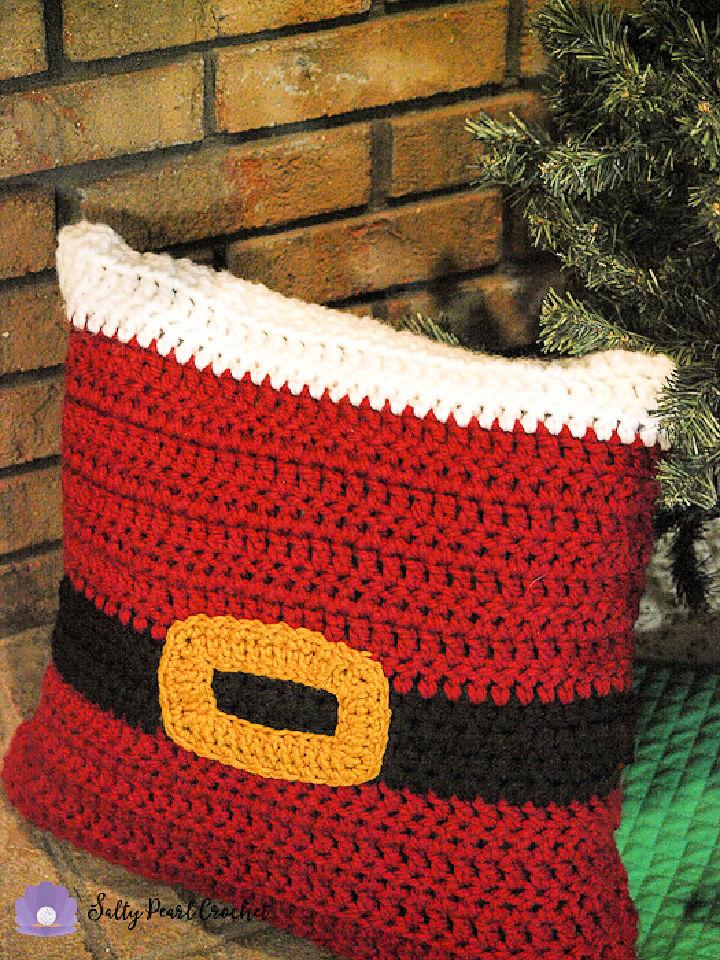 Add magic to your Christmas décor with this Santa crochet pillow sham. It would be a great crafting project to lighten up your home for a holiday celebration. Use soft and chunky yarn to make this vibrant and artistic pillow sham. You can make this Santa pillowcase in every size to fit on the couches and pillows. This Santa pillow sham comprehends double, single, and double half crochet stitches. saltypearlcrochet
11. Crochet Coffee Break Pillow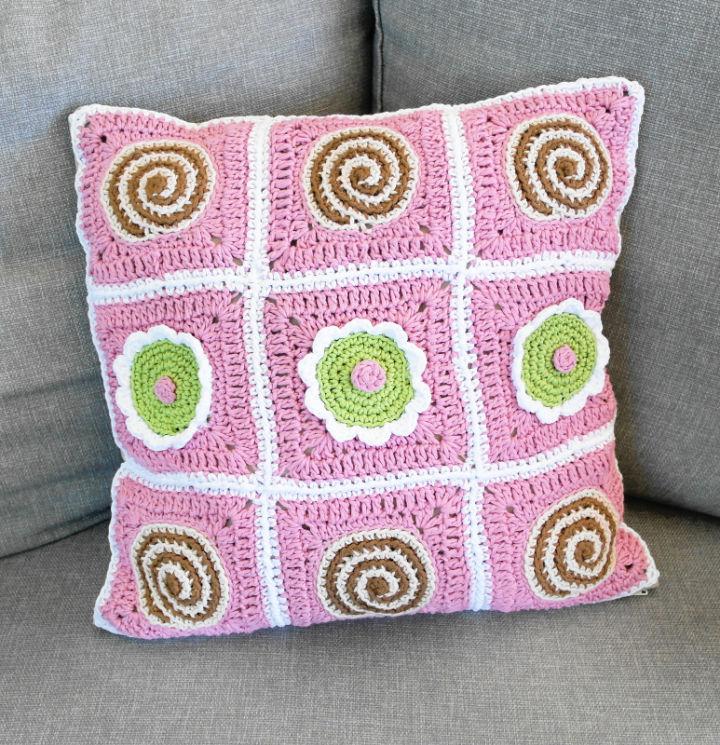 Make this solid and vibrant crochet coffee break pillow with granny squares proficiently. You can crochet the squares separately and later adjust them on a yarn throw pillow. Apart from placing it in a yarn pillow, you can stitch the coffee break squares on the pillow with a thread. Create the spiral buns proficiently using back loops. This pillow would be an ideal gift for your chef friend. crochetfromaland
12. How to Crochet Star Pillow Free Pattern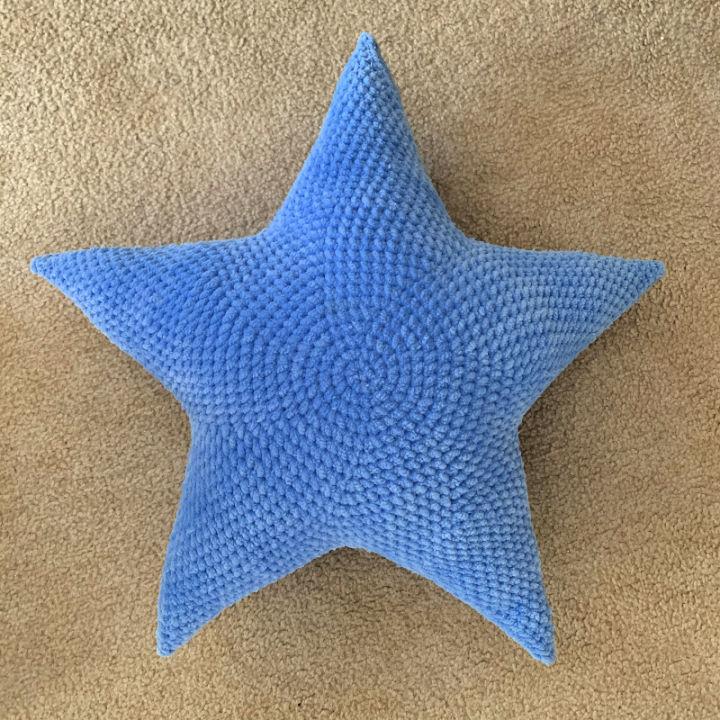 These star pillows would become your kid's favorite. Add these little star pillows in your kid's room to cherish their mood. Use micro-polyester yarn in different colors to make these star pillows. However, it would be difficult to maintain the quality and fix the issues with polyester yarn. Therefore, if you are buying these pillows or making them yourself, you cannot reclaim them. neridacraft
13. Embrace Autumn Crochet Pillow Cover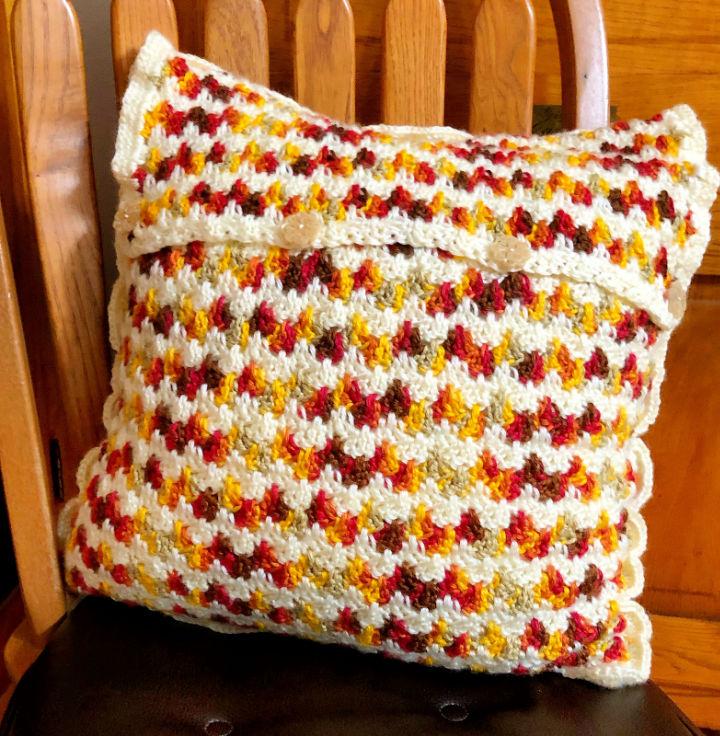 Add more style and flair to your place with these embrace autumn crochet pillows. These pillows are the ideal craft for autumn season decoration. Get inspiration from autumn colors and patterns to make this pillow by yourself. Use autumn color yarn with granny spikes to crochet this pillow. Get the warm vibes and feeling by placing this pillow in any corner of your room. Add a flap and button on the top of this pillowcase to remove it when you like to. patternprincess
14. Rainbow Cushion Crochet Pattern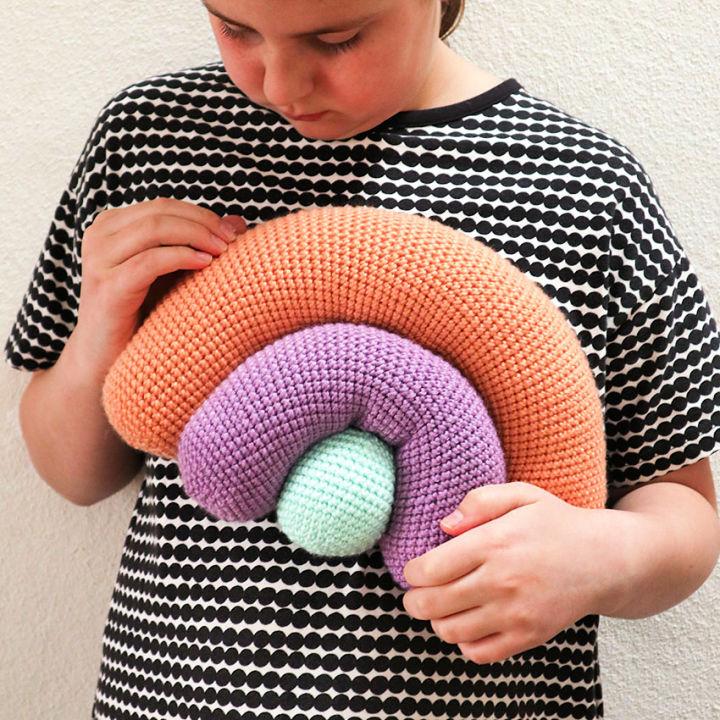 Cheer up your kids by adding this rainbow-layered pillow to their room. Your kids would love to put this pillow under their heads while reading or watching TV. Excitingly! You can complete this crochet project with a few yarns. If you are new to crochet craft, you can effortlessly work on this wonderful and easy rainbow pillow. Stuff this yarned pillow determinedly to get more support. mypoppet
15. Red Heart Crochet Puff Stitch Round Pillows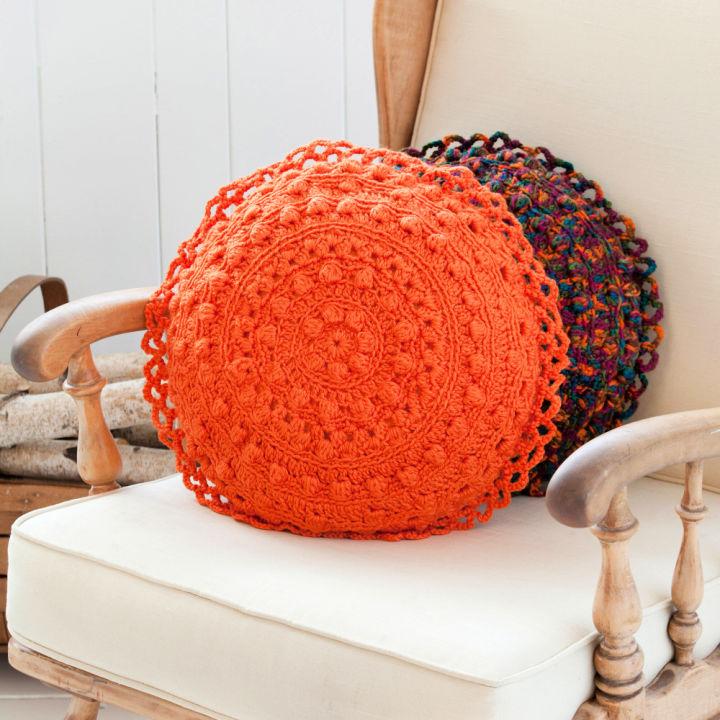 Add more comfort and warmth to your room with these read heart puff stitch round crochet pillows. These puffy crochet pillows can create and craft in minimum time and effort. So, you don't need to spend the whole month making these pillows. You can add the shades and color tones in these hearts' red heart pillow according to the interior tone and texture. Get relaxed support with these pillows while reading a book or watching TV. yarnspirations
16. Pillow Unicorn Crochet Pattern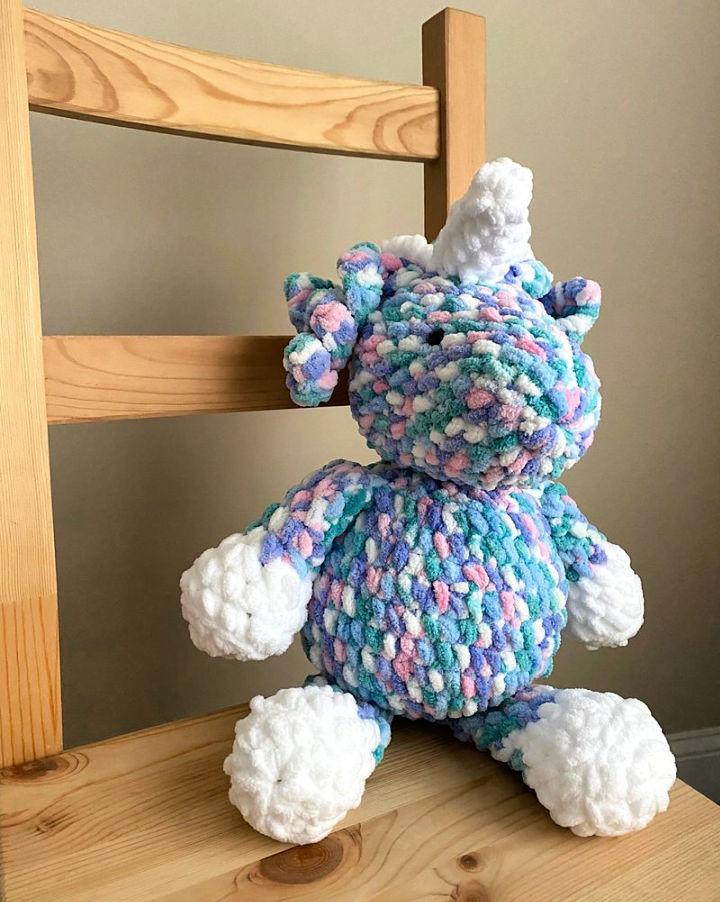 This unicorn crochet pillow would be a valuable gift for your little angel on his birthday. Create this mesmerizing and beautiful crochet pillow by yourself. Use light blue, pink, pale purple, and white yarns to make this unicorn pillow more striking. Apart from using it as a pillow, your kids would love playing with this crochet unicorn as a toy. So, you can say this unicorn craft a two in one project. lionbrand
17. Crochet C2C David Bowie Pillow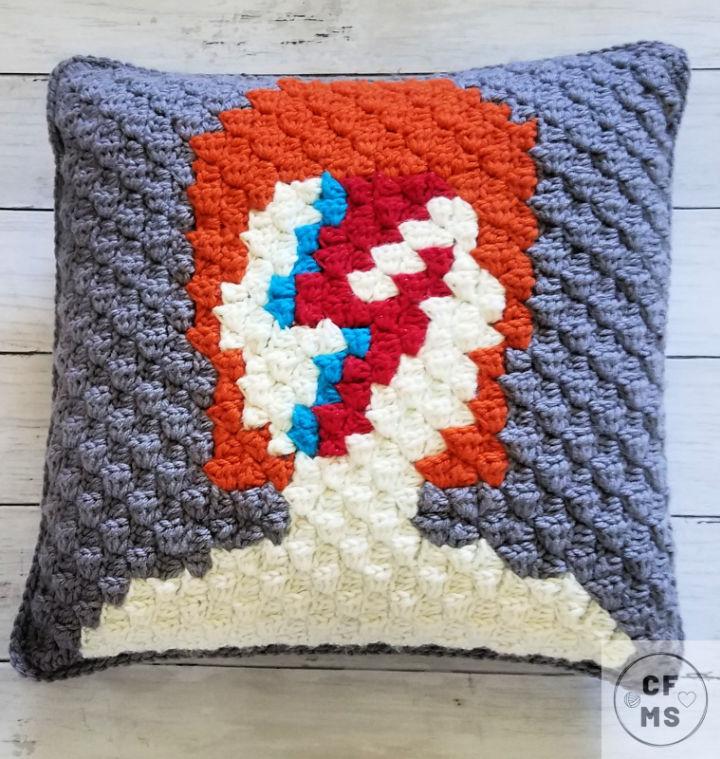 Get inspiration from 80's computer games and turns your imagination into reality by crochet this C2C David Bowie pillow. Give this pillow a classy look using vintage colors of yarn for making this pillow. You can make this David Bowie pillow for your friend who is also a fan of this character. Make this crochet pillow easily by creating it in different panels. Create the panels after determining the specifications of yarn and crochet hook size. So, you can get the desired shape or crochet pattern. craftingformysanity
18. Crochet Balloons Pillow Pattern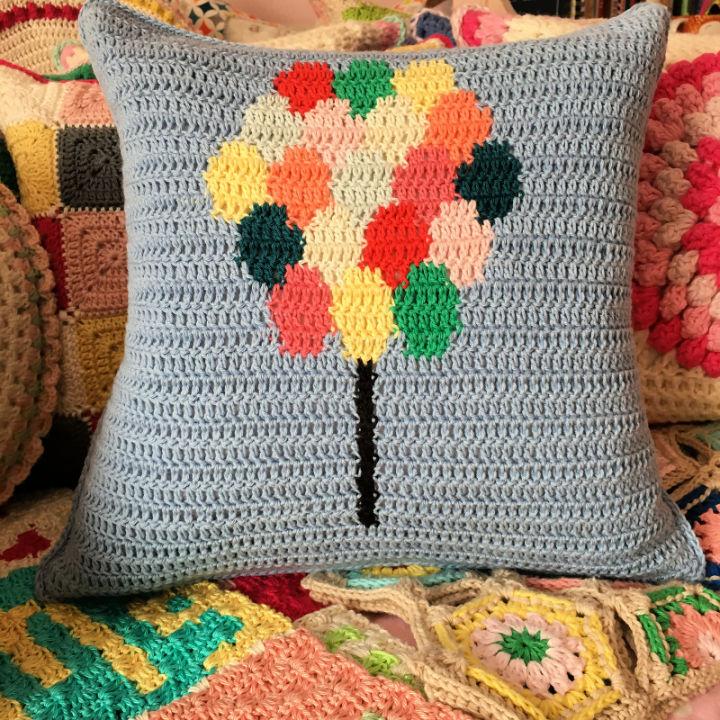 Create books or themes-inspired pillows for your room décor. Make this beautiful and good-looking balloon crochet pillow using US crochet terminology and a 3.00 mm crochet hook. Both the front and back layers of this pillow are crochet with double stitches. You can make the balloons on this yarn pillow with colors of your choice. However, it might be tricky for a beginner to work with multiple yarns in a single frame. But practice makes a man perfect! ravelry
19. Crochet Cactus Pillow Pattern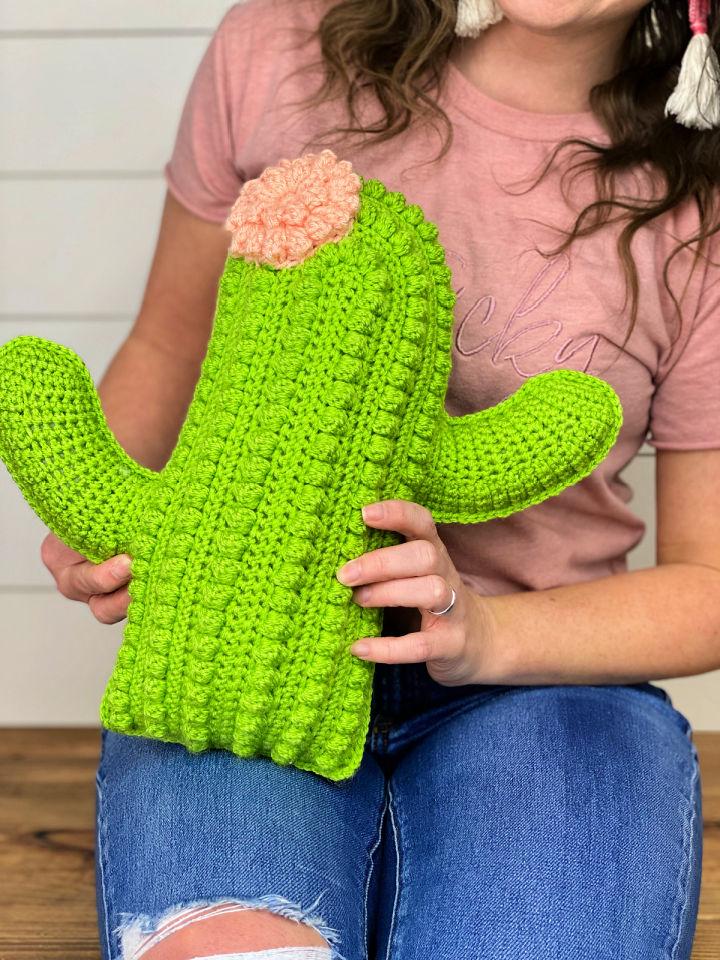 Decorate your home with these cactus crochet pillows. Create these cactus pillows in multiple sizes and color combinations. This cactus crochet pillow involves double, single, decrease, chain, and increase crochet stitches. Try to keep the basic or foreground color of this pillow green. However, you can yarn the flower on the top of this cactus pillow with your desired color yarn. acraftyconcept
20. Crochet the Burst of Sunshine Pillow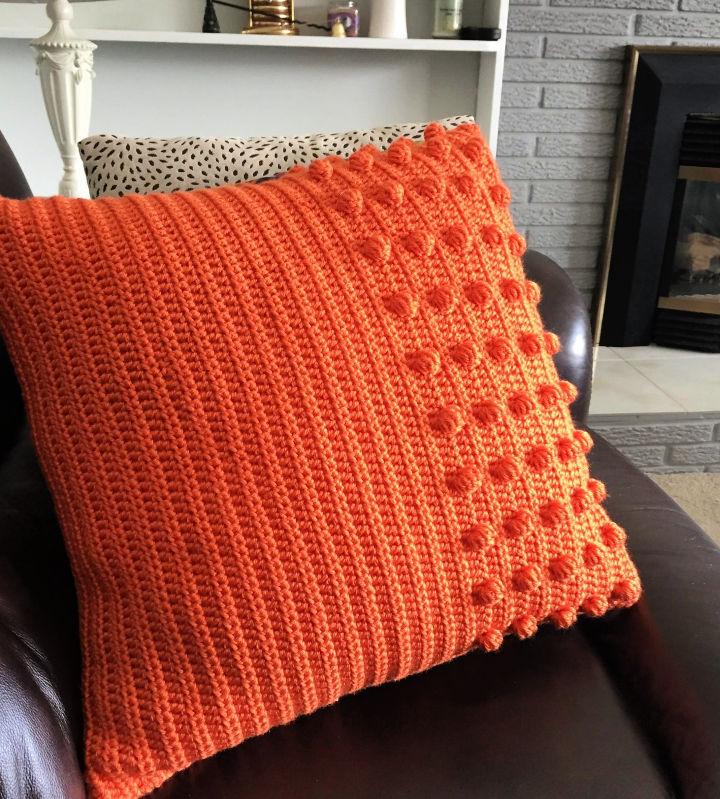 Brighten up your home and room décor with this burst orange crochet pillow. It's easy to create this crochet pillow. Additionally, you can remove, clean, and maintain this pillowcase efficiently. The yarn bubbles on this orange pillow make it comfier and more stylish. Use a 5.00 mm crochet hook to yarn this pillow. Make this burst orange pillow in two panels and join them together with sewing. thispixiecreates