Lightweight, airy, and immensely gorgeous the crochet skirts are just loved for summer fashion. You would look super classy and elegant while wearing a crochet skirt in your favorite pattern and flaunting it around. So the summers are here and if you still have not tried crocheting a few lovely crochet skirts for you, then gear up as it's the right time for it. We have collected these 20 free crochet skirt patterns (all sizes)for you to try your favorite one among them all and say Hi to the summer fashion so elegant and nice.
The lovely mummies, girls, and little ones all can look graceful and stylish this summer wearing these amazing crochet skirts around their waists. For a family dinner gathering, a fun party with friends, and a visit to the beach, no matter the occasion and time, these crochet skirts are just a perfect pick from the wardrobe for each of them. So take your crochet needles and your favorite yarn colors to crochet yourself the prettiest skirt ever. Mini, short, long, and medium, all skirt sizes are given below attractive patterns to make the best selection according to your demand.
Each skirt idea in the small round of the following has the source links to connect you to the tutorials and pictorial guides. You would get the instructions and directions and the free patterns of your favorite crochet skirt from those links. All you need to do is click on the bolds and enjoy all the details about the crochet skirt you liked and adored the most there. So with these crochet skirt patterns, we are providing you the golden chance to bring out the style dive of yours this summer and dress up so fashionably.
1. Red Heart Caribbean Crochet Skirt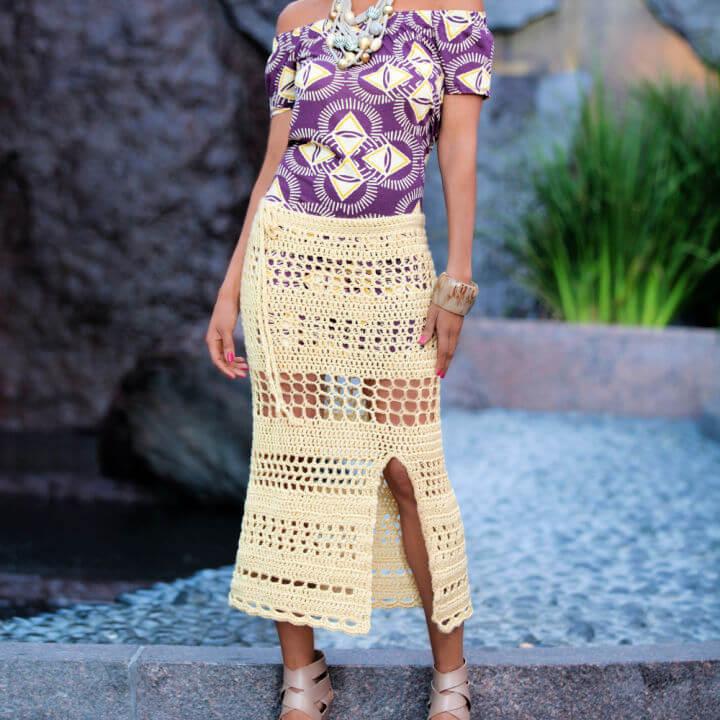 Looking for an outstanding and attractive crochet skirt to wear for your next event? If yes, you would love to work on this free crochet skirt pattern. To make this versatile skirt, use Red Heart soft yarn and a 6mm crochet hook. Moreover, you can make this skirt in different lengths and waist sizes according to your needs. Not only for you, but you can also make this precious piece of crochet art for your friend to surprise her on her birthday! yarnspirations
2. Crochet Modern Melissa Skirt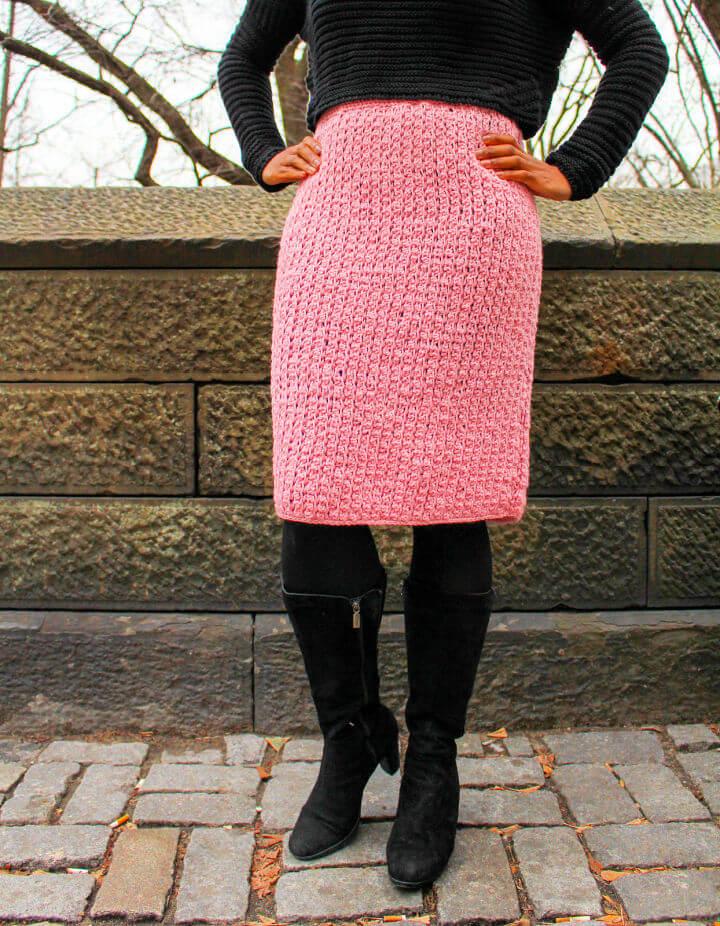 Do you also love wearing and having a vintage color in your winter wardrobe? For sure, yes. Create this modern style and vintage color skirt to wear on your next festive party. If you are new to crochet art, get help from a free pattern with all stitch details. Moreover, use Rowan pure! undergroundcraft
3. Boho Flouncy Skirt Crochet Pattern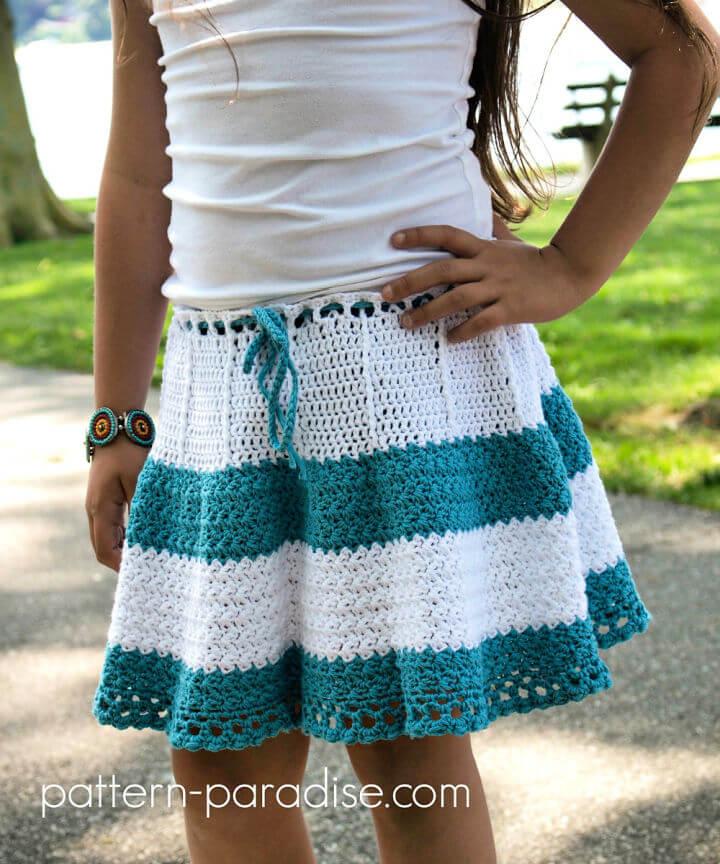 Not only for the Fall season, but you can also crochet the skirts for the summer season with leftover yarn in your craft store. Crochet this boho-style skirt with a free pattern and sport-weight yarn. You can create this skirt in any size and length according to your measurements. However, it is more suitable for teenagers. They would love wearing them over leggings. pattern paradise
4. Crochet Doll Pleated Skirt Pattern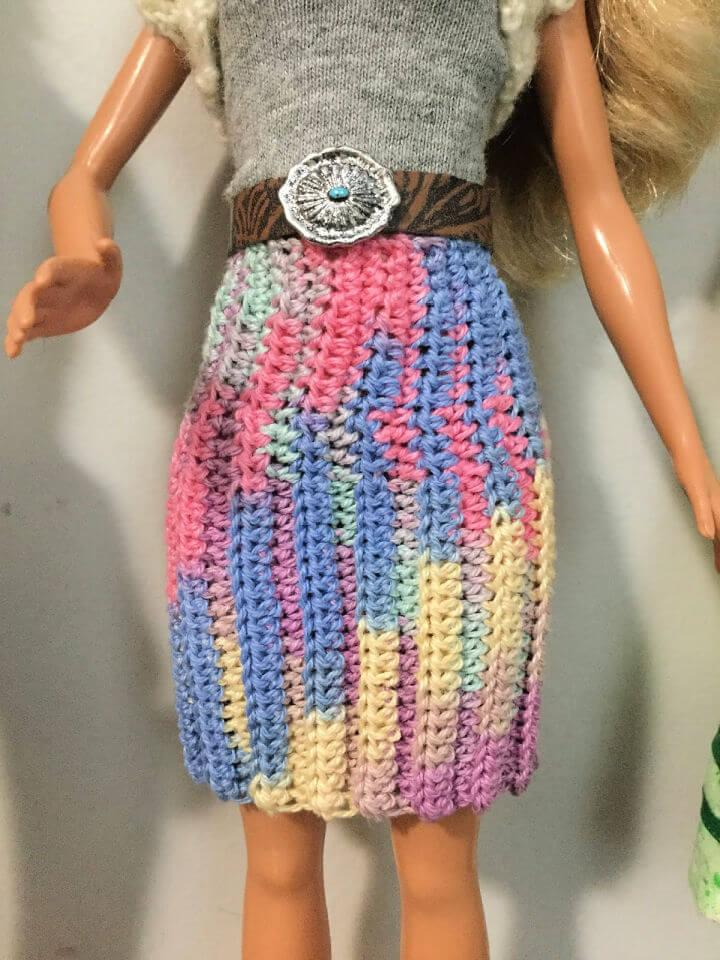 Complete your little daughter's doll outfit with this super adorable and doll-style skirt. Crochet it with the help of a free pattern and all stitch details. It's unnecessary to make it for a girl because you can also crochet this pleated skirt for the doll. The main reason for considering this project is practicing your crochet skills. You require thicker yarn in different colors with a 1.8mm crochet hook to work on this project. thelifeofacountry
5. How to Crochet a Lace Skirt Free Pattern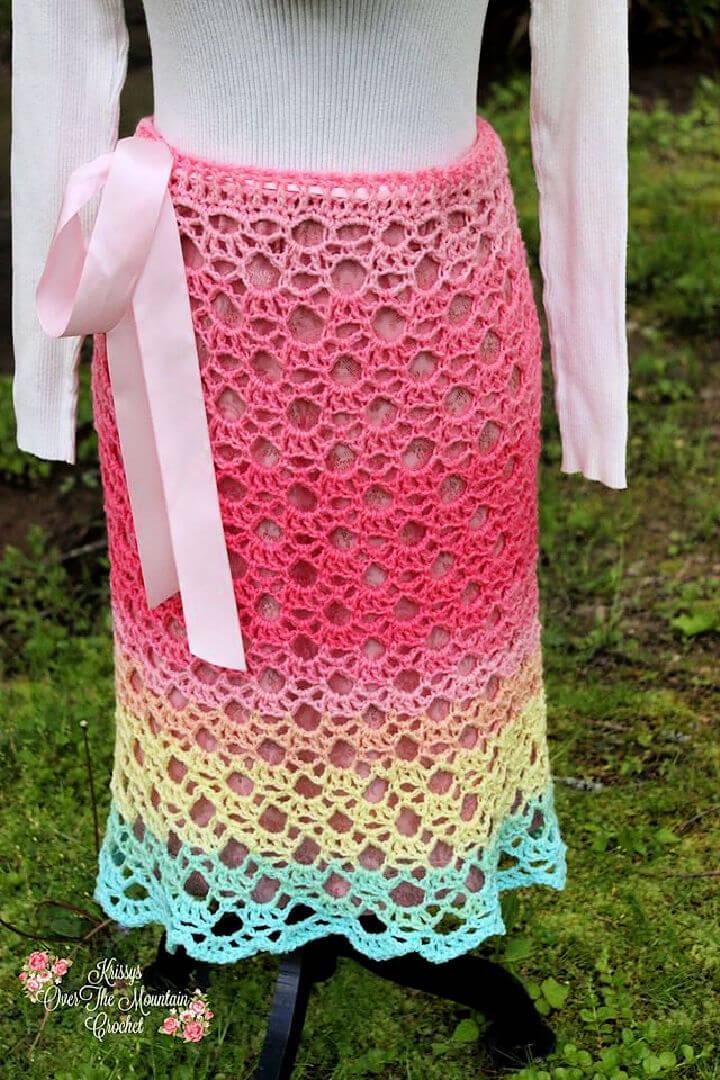 If you also love wearing skirts, you would love to create them yourself. It would be full of fun to crochet this blue and red color skirt with a free pattern. For sure, these patterned skirts are the ideal options for the summer and spring seasons. The best thing about this pattern is that you can make it in each size proficiently. So, enjoy customizing it for you, your loved ones, and your friends. krissysoverthe
Watch This Video: 3D Flower Skirt Crochet Pattern Free – How To Crochet 3D Flower Skirt – Crochet Skirt Pattern (45 Minutes 57 Seconds)
6. Free Crochet Skirt Pattern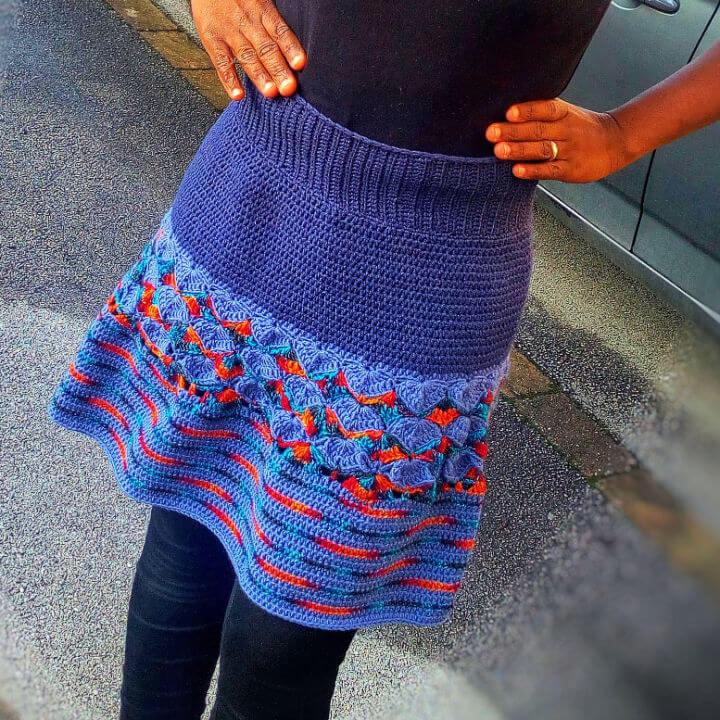 If you love crocheting and wearing skirts, you can create them with free pattern and tutorial guidelines. Crochet this new style lacey skirt with Mandala yarn in Narnia color. Moreover, use a J size 5.5mm crochet hook for this project. Excitingly! It's unnecessary to have the gauge to make this skirt. So, you crochet it without a measure. fosbasdesigns
7. Jean Skirt Crochet Pattern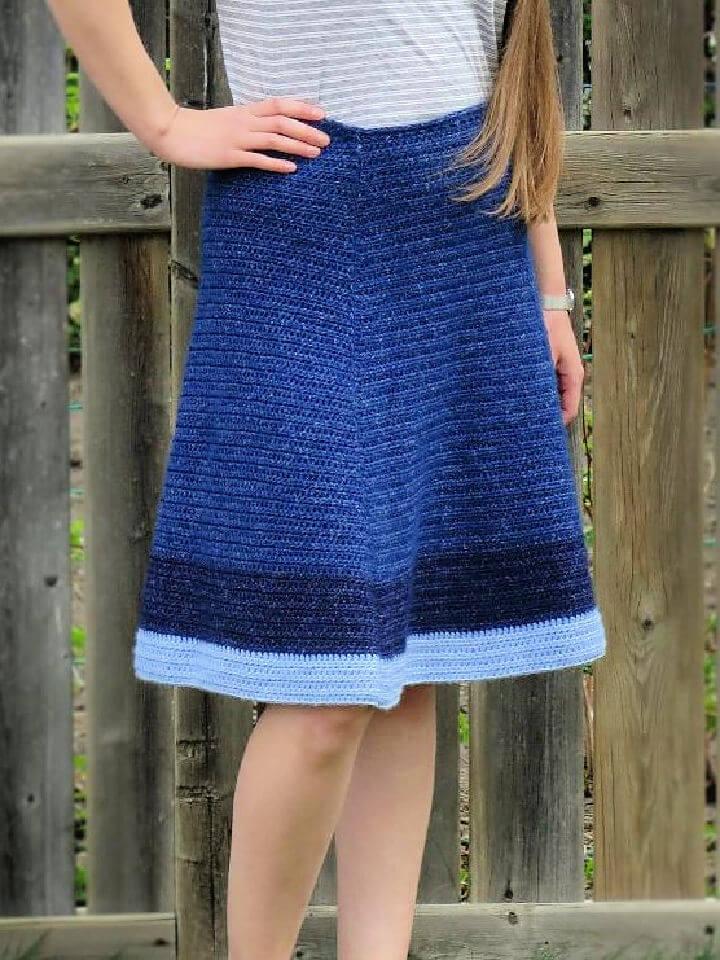 Design this stylish and trendy jean skirt with Lion Brand's jean yarn. You would love crocheting and having this fascinating jean skirt in your wardrobe. Start working on this skirt with the help of a free pattern and all stitch details. Moreover, give this skirt a dreamier look using the jean yarn in dark and light blue combination colors. Use a 4.00mm crochet hook with a required size gauge to work on this attractive jean skirt. shabbysheepappar
8. Crochet Kenzie Skirt Pattern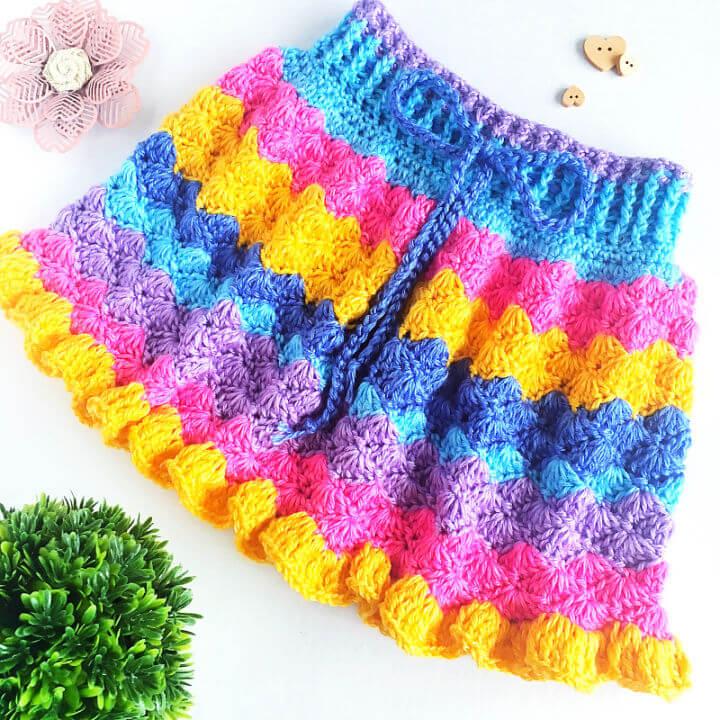 Looking for an ideal skirt pattern for little girls? If yes, this one is for you. Crochet a versatile and beautiful skirt for your little daughter with this free pattern and 1-skein of Lion Brand Mandala. You can make this skirt effortlessly for the 5-7yrs old girl. Nothing would be perfect than this heavy front side skirt to add to your princesses Fall wardrobe. Luckily! You can adjust the pattern easily according to the required measurements. ravelry
9. Girl's Ruffled Crochet Skirt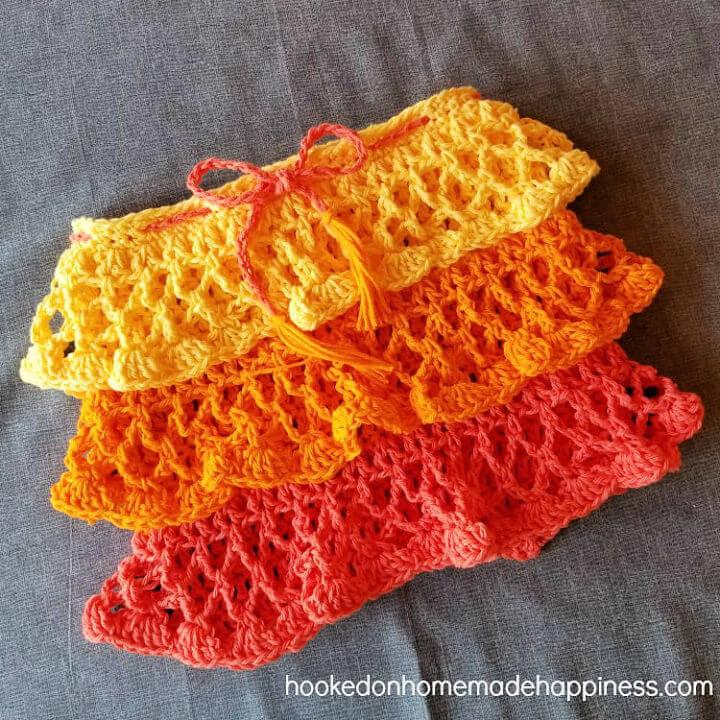 Who doesn't love wearing and having fashionable clothes for their Summer wardrobe? Use your crochet skills and create something different to add to your wardrobe. Crochet this ruffled skirt for you and your little girl using 1-skein of Lily Sugar N Cream yarn in light yellow and orange colors. Moreover, you require a 5.00mm crochet hook with an intermediate level of crochet skills to work on this ruffled skirt project. hookedonhome
10. Crochet Lacy Long Skirt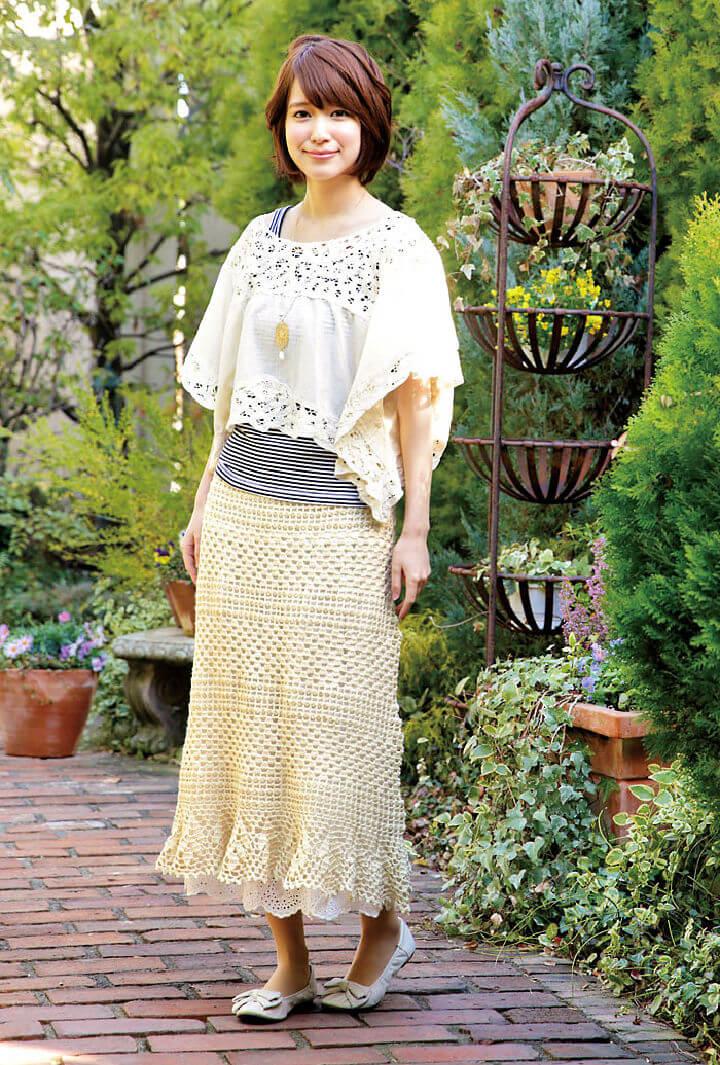 Make this long lacy skirt with Pierrot yarn Miley in milky white color. Moreover, you require a 2.3mm crochet hook with 3 buttons and an elastic waistband to work on this crochet skirt. You would love to create this Japanese pattern skirt with a free format. Furthermore, you can vary the size of the gauge according to choose style and skirt's length. gosyo
11. Emilia Skirt Crochet Pattern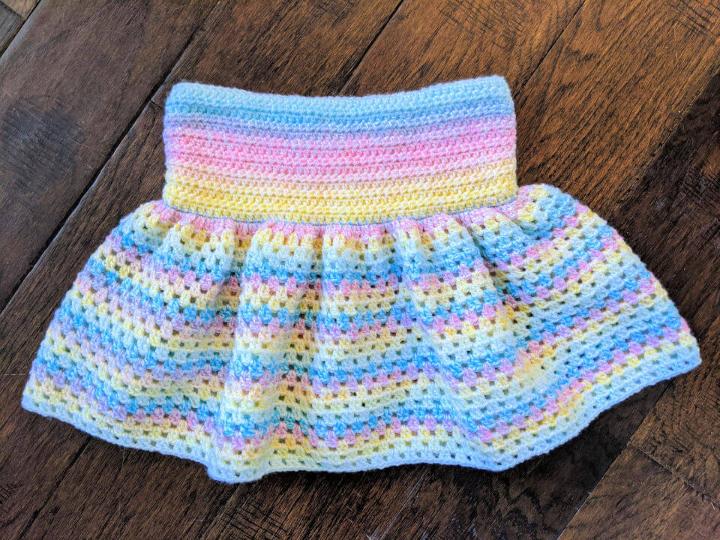 Crocheting this skirt is an ideal option to dress up your little girl for the Easter party. Unfortunately! You have to purchase the pattern to work on this crochet skirt because it's not available freely. Once you have decided to buy and creating this skirt, use 2-skeins of Loops and Threads Kai yarn in the Birthday cake. Additionally, use an H size 5.00mm crochet hook for this tiny skirt. yawnsandyarn
12. Red Heart Striped Mini Crochet Skirt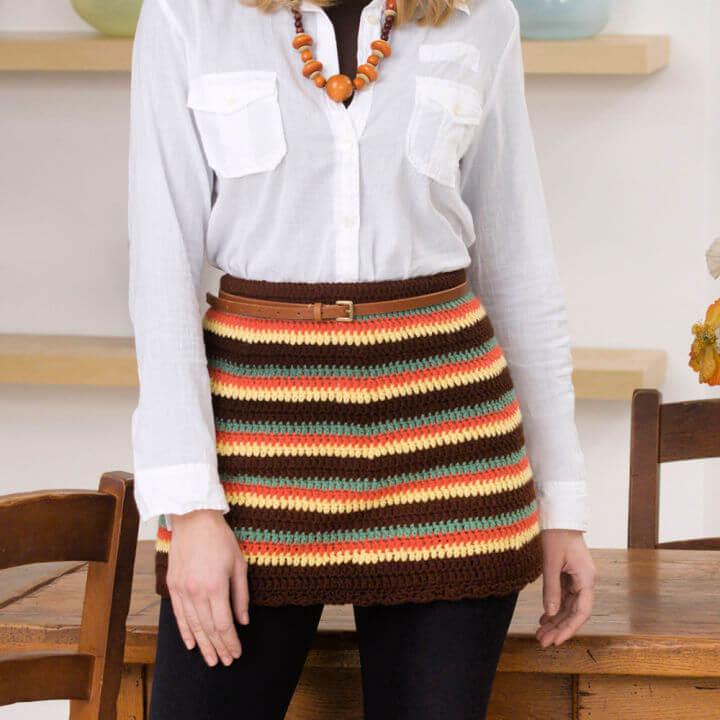 To crochet this versatile and Fall color skirt, you require an intermediate level of crocheting skills. Moreover, if you are new to this field, go for a free pattern. Create this skirt in the desired size using Red Heart super saver yarn in Coffee and lemon colors. Work on this crochet skirt and showcase your skills to your friends. yarnspirations
13. Flirty Marvel Crochet Skirt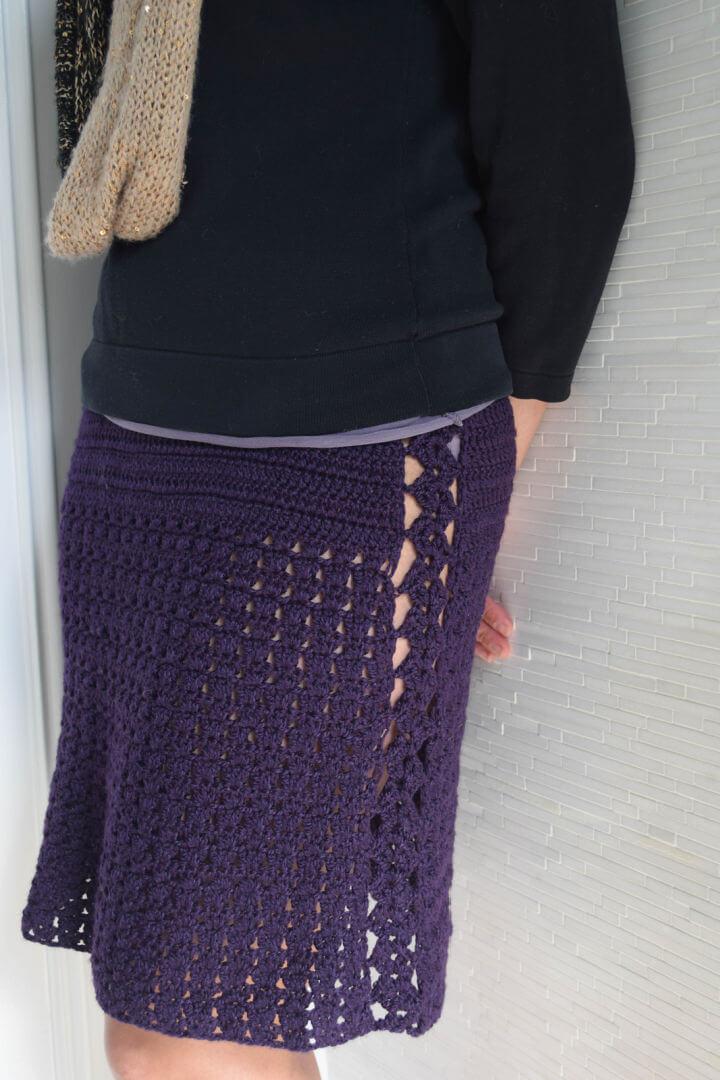 Crochet this Flirty Marvel skirt in 4 different sizes according to your measurements and needs. Get help from a free pattern for this crochet skirt project. Moreover, use We Crochet Galileo yarn in Nebula color. Use a stitch marker and a 4.75mm crochet hook for this super stylish crochet skirt. One more thing, crochet the waist panel from hem to downside for ease of work. undergroundcraft
14. Solveig Skirt Crochet Pattern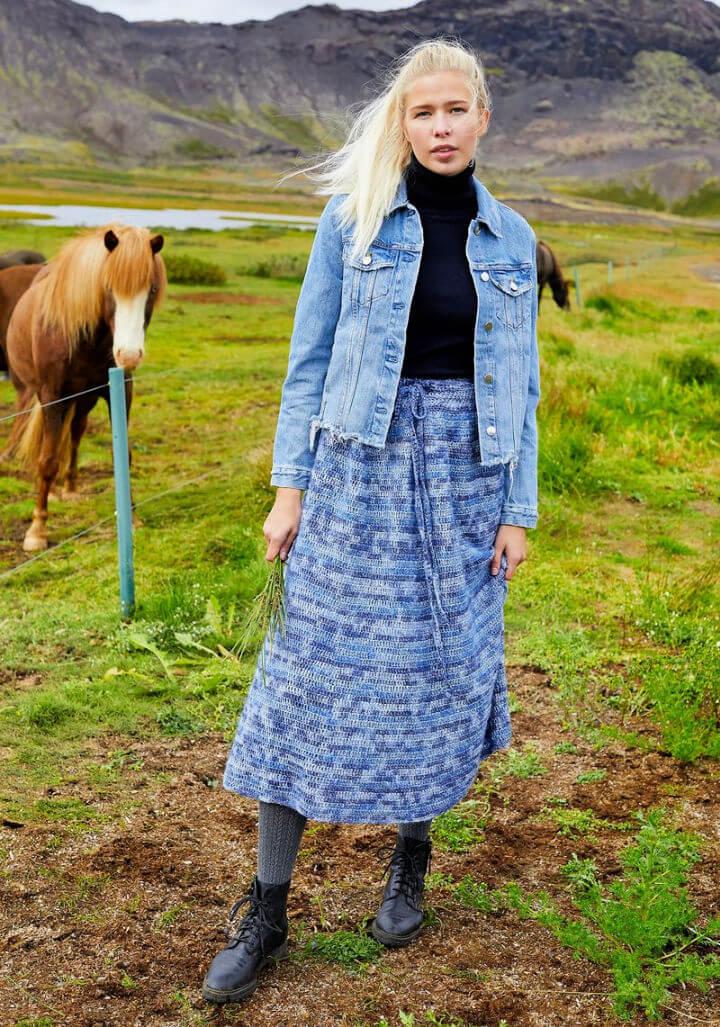 Create this new style and super trendy skirt with Lion Brand yarn in light blue color. The best thing about this skirt is that you can wear it comfortably, even in the cold season. The length of this skirt is enough to cover your legs appropriately. For making this skirt by yourself, download a free pattern and use a 3.5mm crochet hook. Additionally, you require a blunt needle for this project to complete smoothly. lionbrand
15. Little Textures Crochet Baby Skirt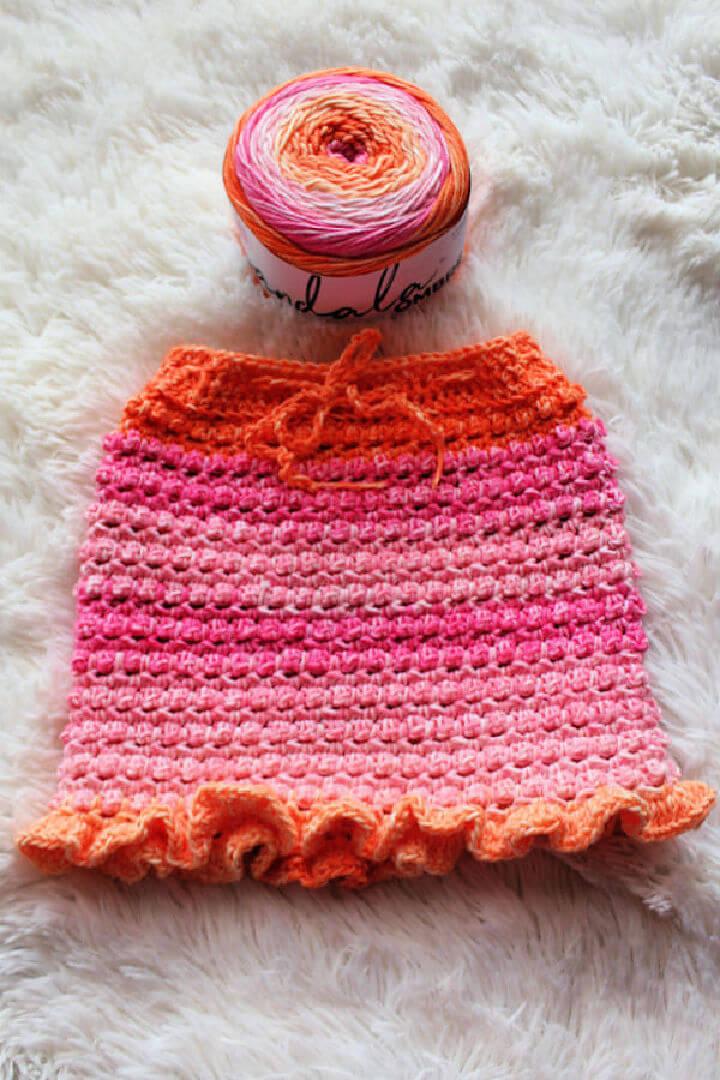 Crochet this little textured baby skirt with a free pattern and Lion Brand yarn Mandala. You would love creating and adding this super adorable skirt to your kid's wardrobe. Nothing would be dreamier than this textured and super soft baby skirt in light pink and light orange color. Moreover, you can also go for a paid PDF printable to work on this little texture crochet skirt. twobrothersblank
16. Crochet Maxi Skirt Free Pattern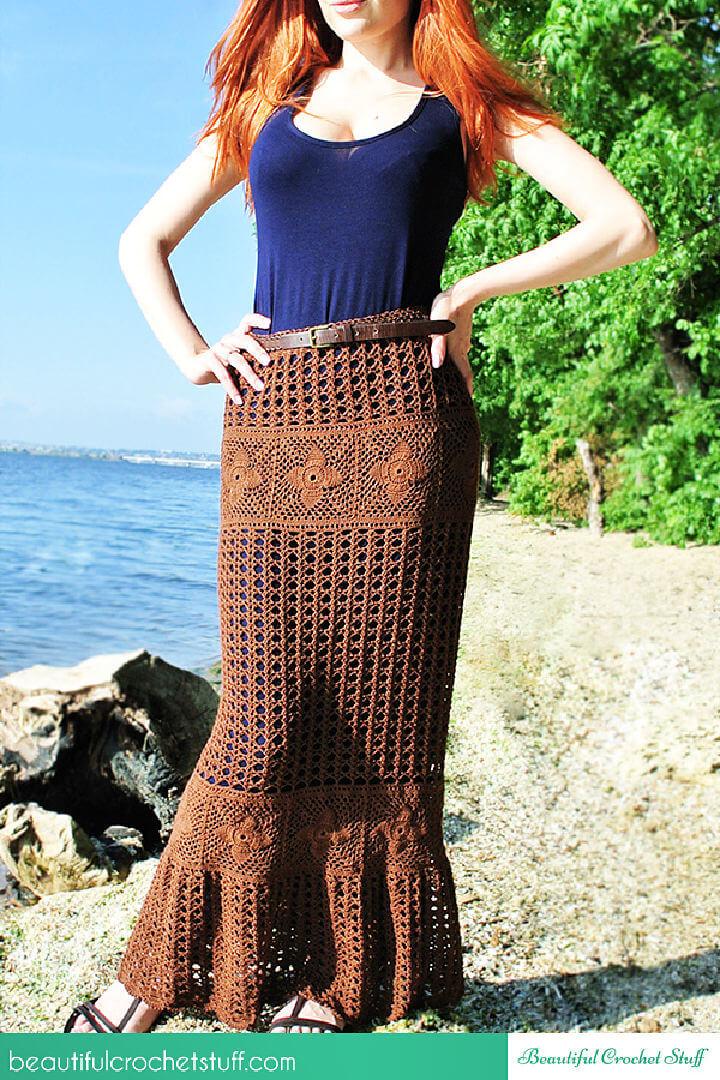 Looking for a stylish and new style of the maxi skirt? If yes, nothing would better than crocheting this long brown maxi skirt for you. Crochet this skirt proficiently with the help of a free pattern with all stitch details. For this project, use Alize forever lace yarn in dark brown color. Furthermore, use a 2.00mm crochet hook with a macrame flower motif to make this skirt effortless. You can also crochet the flower motif instead of using a macrame. beautifulcrochet
17. Crochet Velvet Skirt Pattern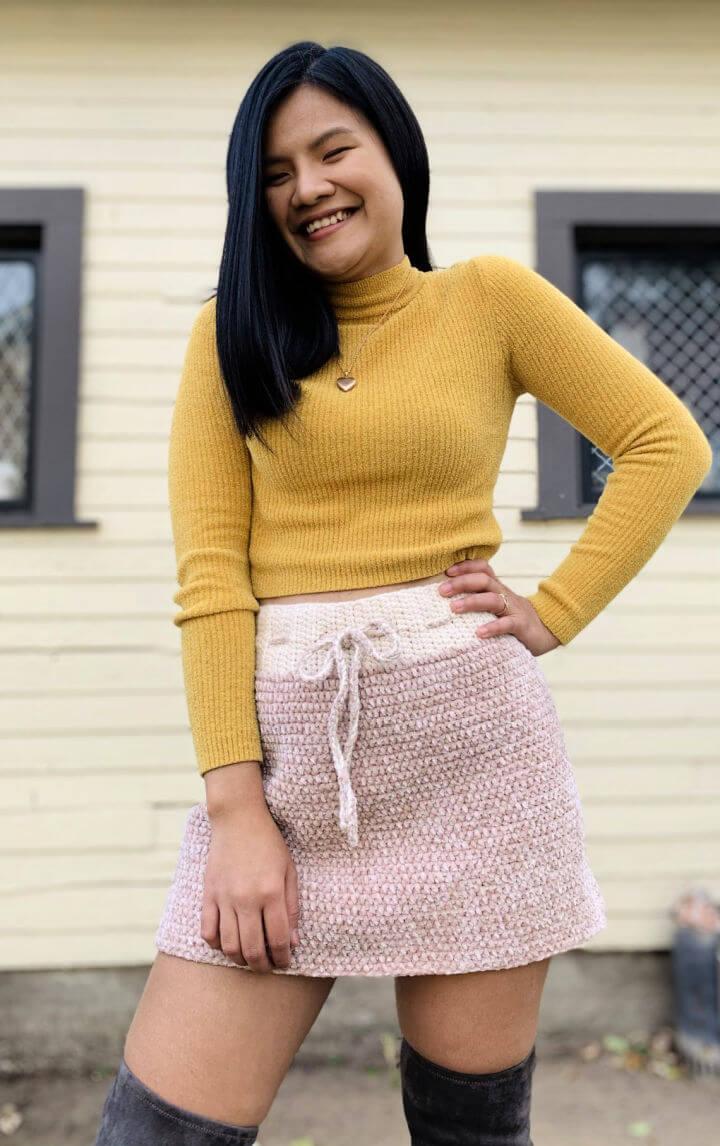 Velvet skirts are still in trend! If you are looking for a budget-friendly crochet project, you can work on this velvet skirt. Make this skirt with ease and efficiency with a free PDF pattern. Moreover, use medium-weight yarn in a soft pink color. You can also use this yarn for the skirt waistband. To crochet the yarn, use a 4.00mm crochet hook and stitch markers. Excitingly! You can make this velvet skirt in larger width and length, as well. knitcroaddict
18. Crochet Graphic Blooms Convertible Skirt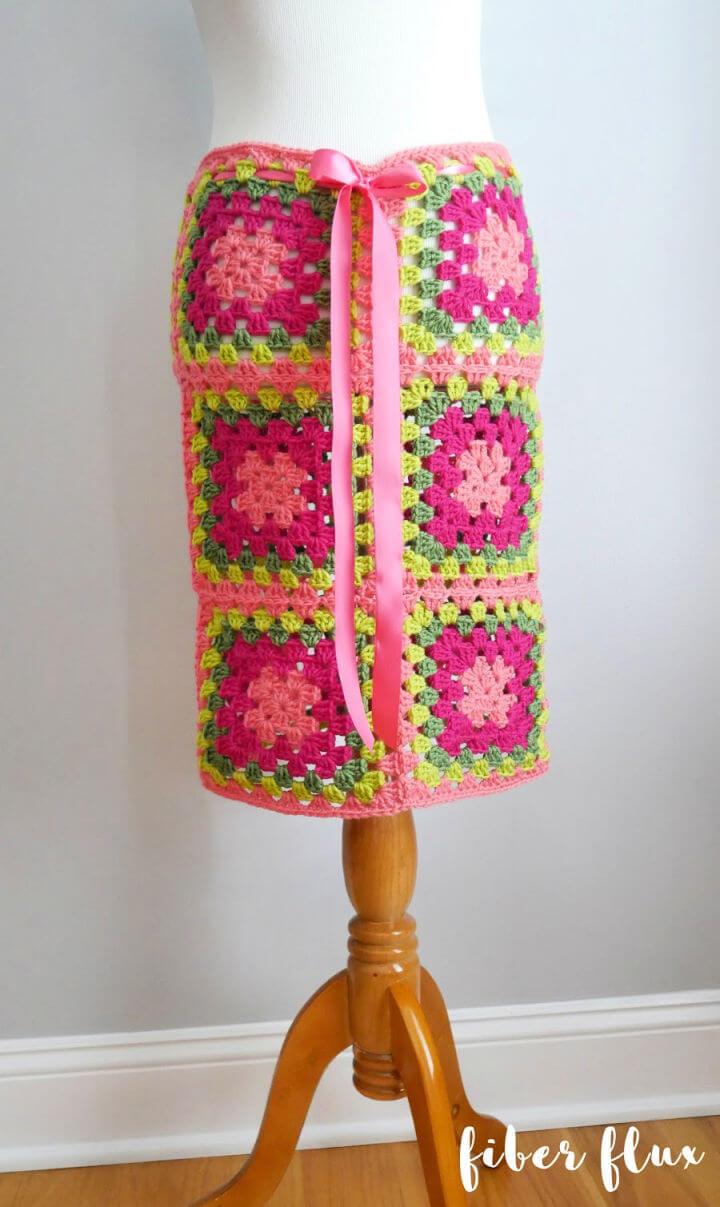 This graphic bloom convertible skirt is a super adorable piece of crochet art. You can use it as a skirt, as well as a cowl. If you are familiar with granny square stitches, it's much easier to work on this graphic skirt. Customize your skirt in whatever you want to make it and wear it. For this crochet project, use chic sheep yarn in bright colors and combinations. Moreover, use a 5.00mm crochet hook to create this graphic convertible skirt. fiberflux
19. Mini Kids Summer Skirt Crochet Pattern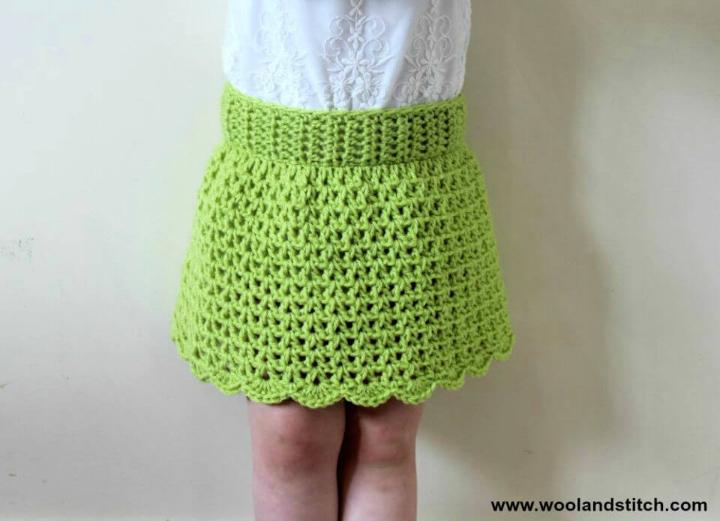 Enjoy your summer holidays and craft something unique for your kid's wardrobe. Create this new style and super chunky skirts for your little girls this summer season with a Lion Brand Vanna's Choice yarn in the desired color. Moreover, it's much easier for beginner crochet crafters to work on this project with a free pattern. You require a 6.5mm crochet hook and a darning needle to customize these baby summer skirts. woolandstitch
20. Crochet Frances Skirt for Sale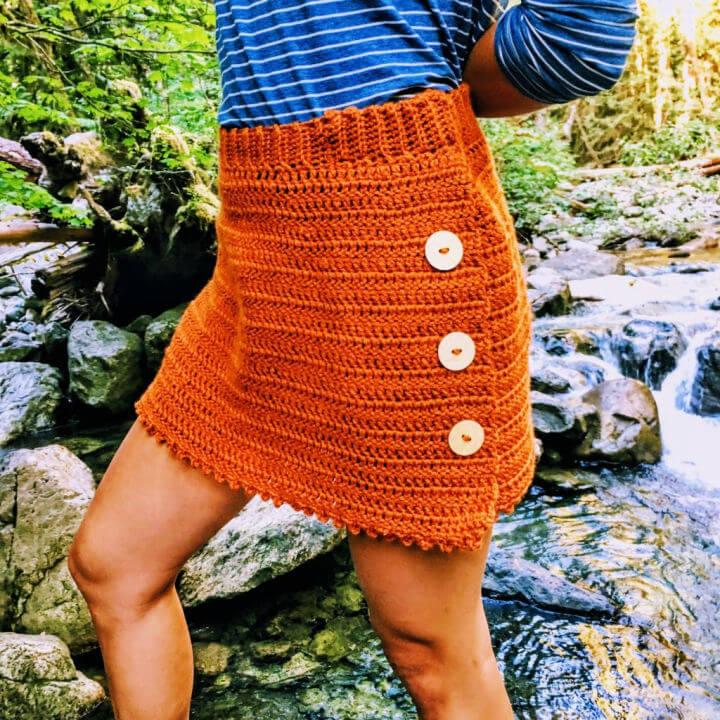 This high-waisted skirt is the ideal option to avail and wear in the Fall season. All you need to do is crocheting it. You are all set to enjoy a versatile look for your next Fall party. Use a free pattern with a Vanna's Choice Lion Brand yarn in light brown color to get your hands on this super adorable and soft skirt. Moreover, utilize an H size 5.5mm crochet hook to crochet this fall skirt. Embellish this high-waisted skirt with wooden buttons. hookyarncarabin