Are you not bored with the boring flip flops that you have to use for daily wear? Grab your crafting box or a few crafting materials in order to make them look amazing and cool. The article and the pictures attached to give you plenty of ideas about transforming your old plain flip flops into exciting and trendy ones. These 15 Easy DIY Stylish Flip Flop Ideas are so creative and lovely to try that you cannot wait a day more for these creative hacks to start.
The ribbon flip flops are as easy to make as their name indicates. You can simply make a bow out of your bling ribbons to turn them into beautiful stylish footwear that you can also wear in evening walks and a girl night out with your casual outfits. Another idea that you can do with your flip flops is the beaded flip flop idea. You can stick multi-colored beads to your flip flops to make them look gorgeous with your jeans and tank tops. They look equally cute on a picnic and with your skirts as well.
Similarly, you can also make single-colored flip flops by simply putting one color beads through the straps of your flip flops to make them look fabulous with casual outfits. You can also make summer beaded flip flops by sticking tiny beads onto the flip flops and not adding too much fancy stuff to them. One of the most popular flip flop transformations is the lace-up sandal type flip flops which you can see in the picture. For this, you only need to wrap the ribbon to the straps of flip flops and leave a long ribbon for the purpose of tying them up like sandals.
The DIY stylish flip flop ideas are so cool to try alone, you will have to have the company of your friends to do this as part of your weekend activities.
Girl Spa Party Favors Pearl Flip Flops: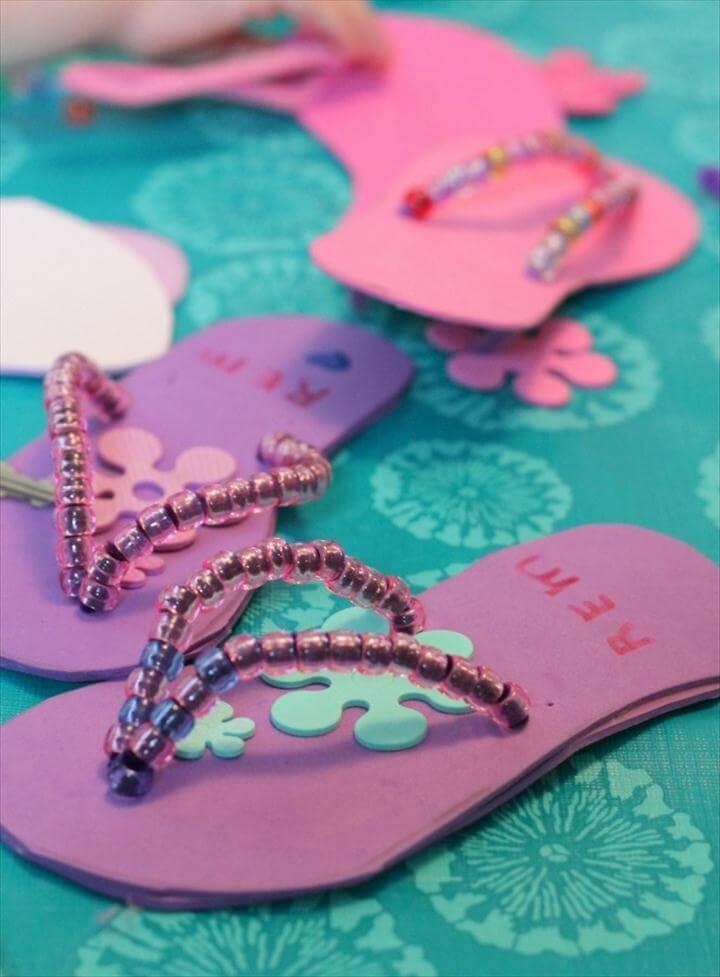 Flip flops are the best things to make our feet feel free and comfortable. Here is the idea of making your comfy slippers look beautiful and stylish. Using the matching beads on the flip flop strings you can instantly glam up their look. This makeover of your flip flops is best for the summers.
Image: youtube
Beaded Flip Flops: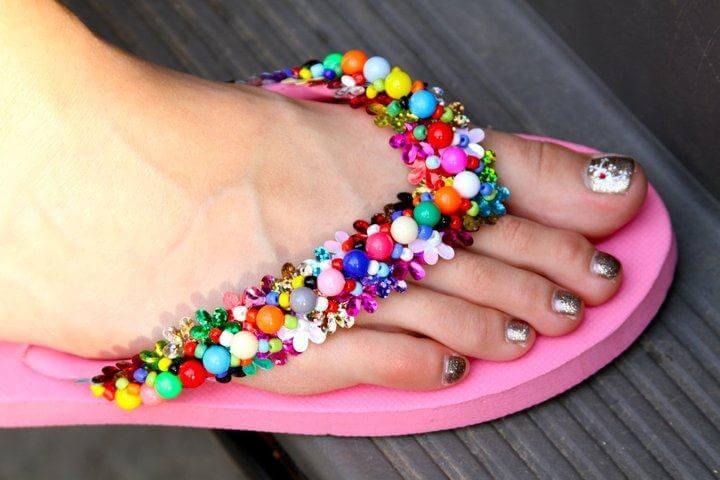 Flip flops are the part and parcel of our daily routine so make them look glamorous summer stylish on your own. Here are these adorable and colorful beaded flip flops to easily make at home. You need glue and colorful beads in round and floral shapes to do this flip flop restyling. Check out details here!
Image: dramaqueenseams
Bling Ribbon Flip Flops

: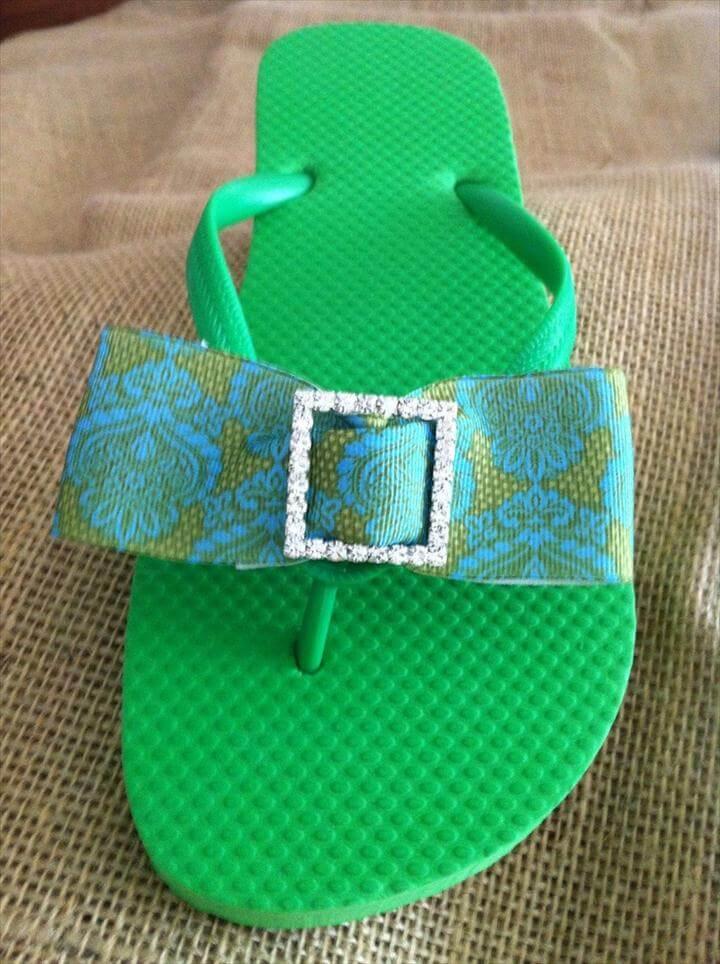 You can instantly make your simple and boring looking flip flops look super chic and stylish with easy things lying around. So get your hands on the matching ribbon and a brooch to create a bling ribbon bow like design over your flip flops. Check out easy details of the idea here!
Image: youtube
Bridal Flip Flops – Rhinestone Bling Flip Flops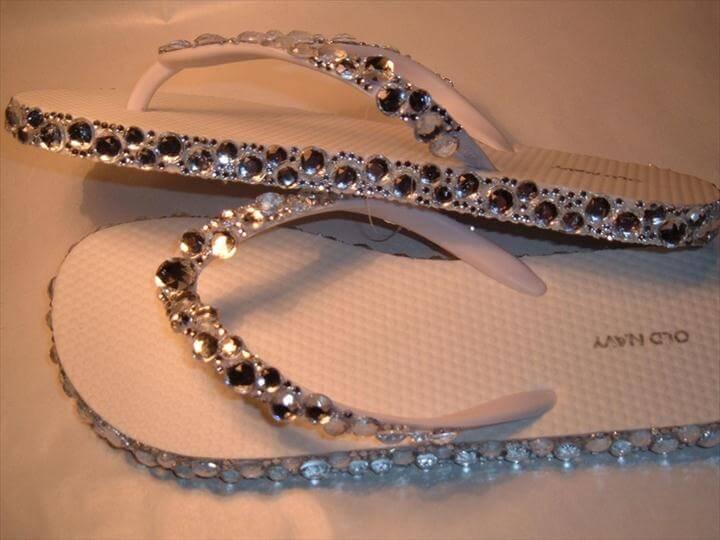 The bride can feel super comfy and at home and also with the protocol of the bride with this lovely bridal flip flops. Yes, the simple and plain flip flops have been styled up for a bride using the glue and the white stones over the strings and the side edges. You can grab the easy details of the idea here!
Image: youtube
Crystal Tip Wedding Flip Flops

: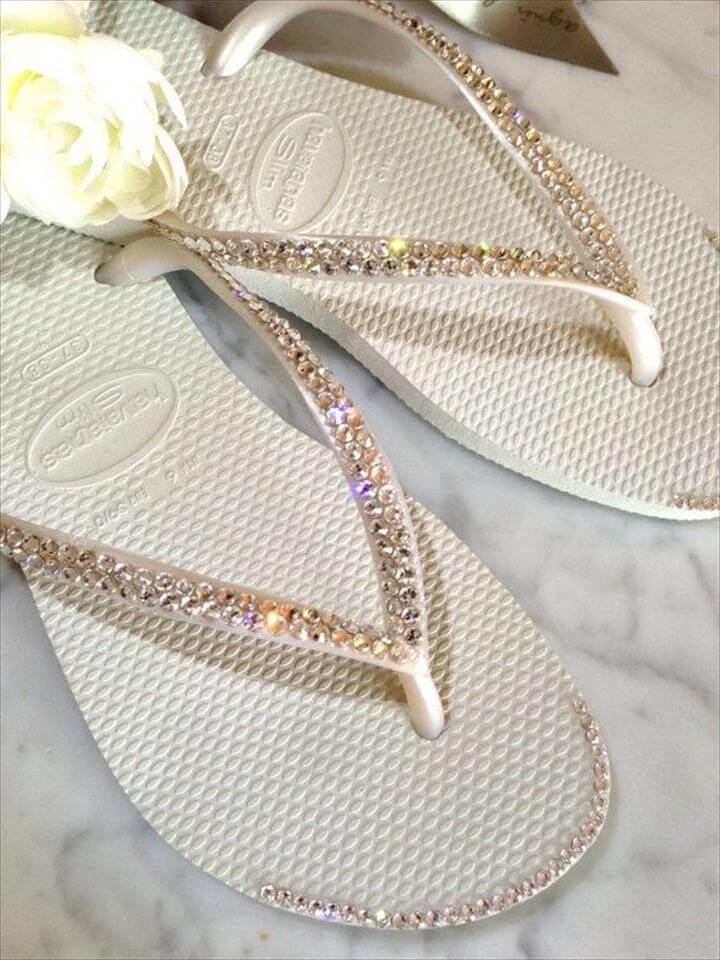 When the bride is tired of the heels wearing all day she can let her feet relax with these crystal top wedding flip flops. The white pair of the simple flip flops have been made to look super lavish with the help of mini-sized rhinestones. These stones need to be glued on the strings and the rip of the flip flops.
Image: crystalandglassbeads
Tied Ribbon Tutu Flip Flops Tutorial: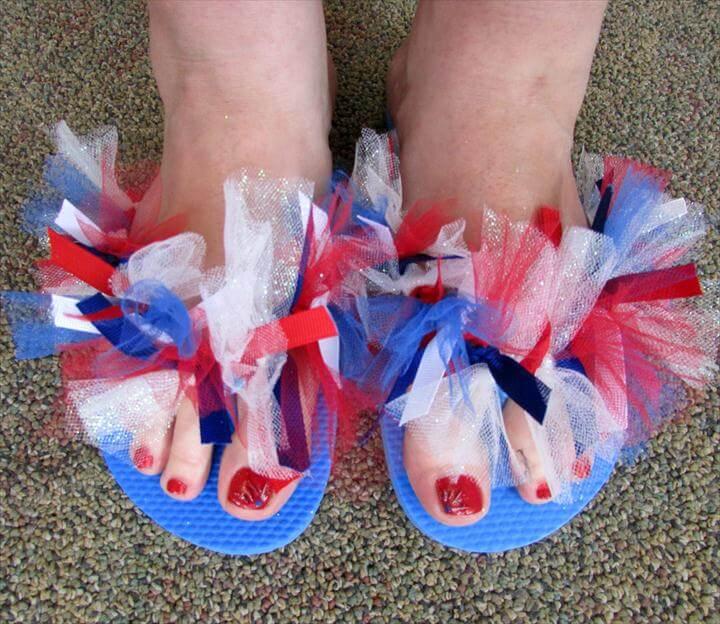 You can look all ready for the Independence Day and that too with sheer comfort with these ribbon tutu flip flops. Yes, the flip flops have been made to look super cute and cool for the 4th of July with the flag colored tulle and thee ribbons being tied to the strings. Get to know the details of the idea here!
Image: alwaysunderpay
Ivory Bridal Flip Flops: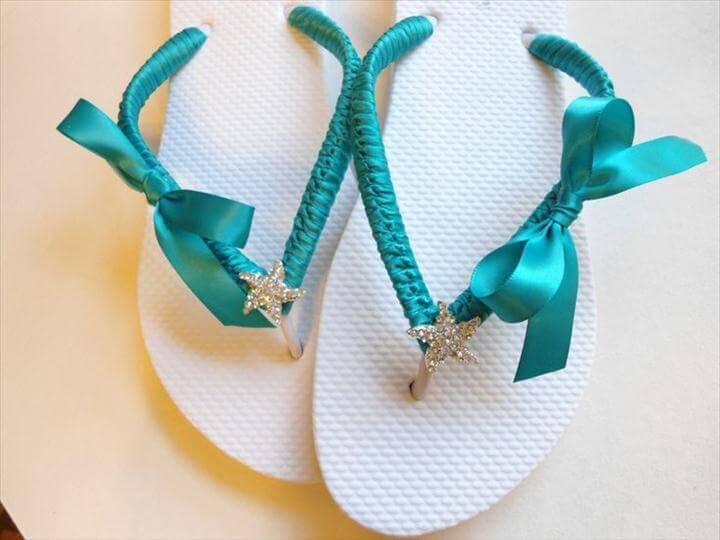 If you are looking for a gift idea for the bride which is cheap too then get your hands on these ivory bridal flip flops. The simple white flip flops have been made to look so royal for a bride with the help of green ribbon wrapping, bow tie, and the crystal stars in the center of the flip flop strings. More details here!
Image: livingchiconthecheap
Nice Wedding Flip Flops – Button Flip Flop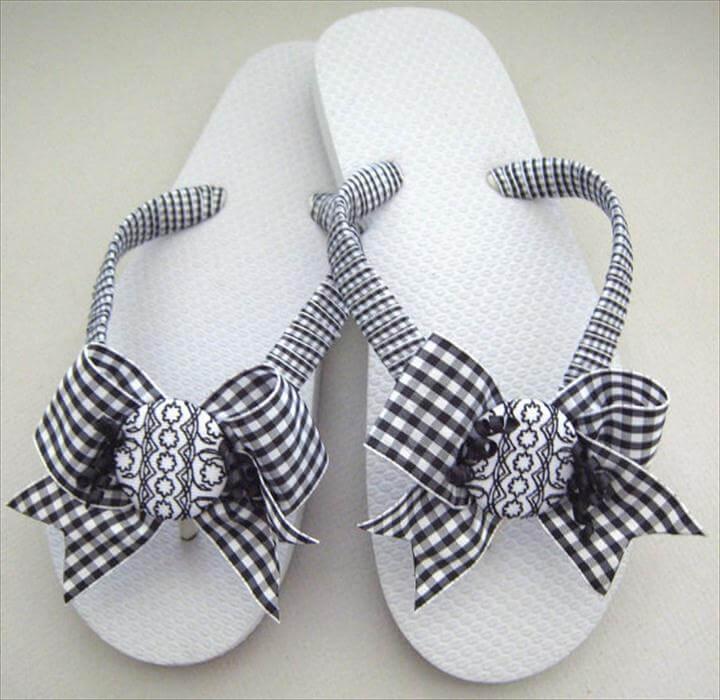 There are brides who cannot wear heels for long on their wedding so make theme these nice and easy wedding flip flops. They can rest their feet in these cute and bridal looking wedding flip flops once the wedding formalities are done. You need some rich patterned fabric and the matching button to work up these flip flops at home.
Image: annmariejohn
Ruffle Flip-Flops

: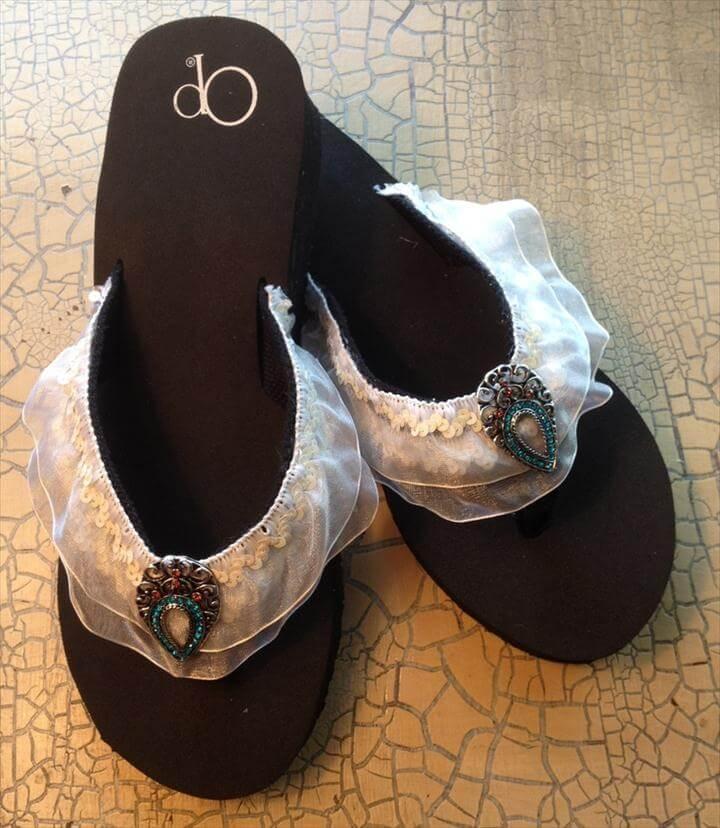 Give your old flip flops a whole new and exciting look with this idea of ruffle flip flops. So grab a pair of flip flops and add a fabric ruffle to the straps. Grab some metal embellishing to put at the center of the straps and your lovely and restyled flip flops are ready to rock your summer look with. Details here!
Image: trinkies
Small Bow Flip Flops: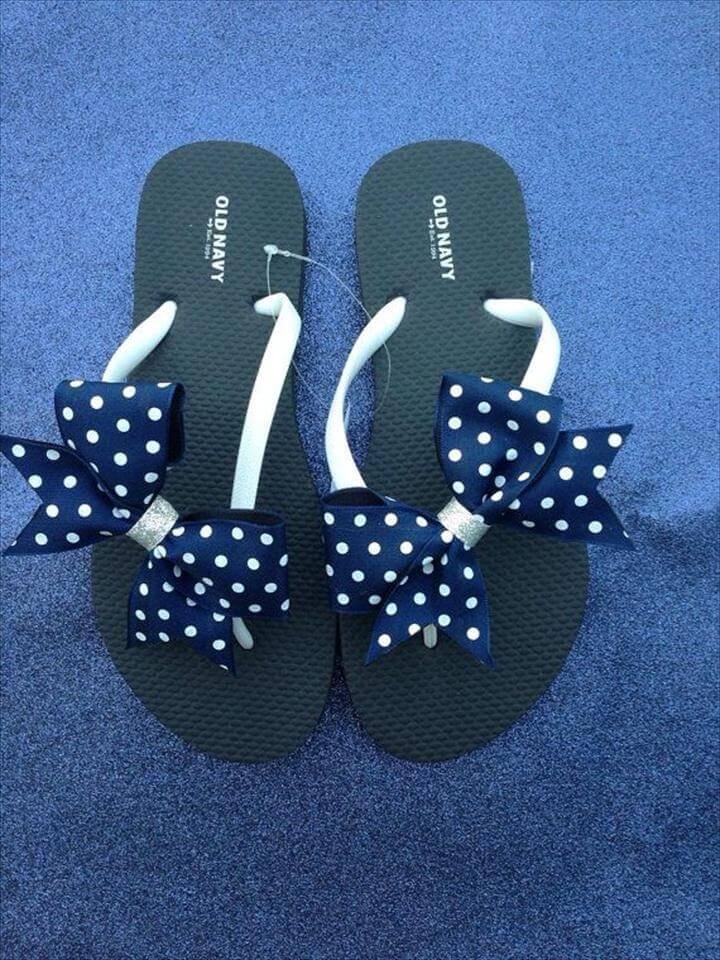 Make your flip flops look cuter with some fun DIY makeover with a small bow addition. Just take the matching ribbon for flip flops and then create a bow out of it. Attach this to the center of the straps with a button on the top and your flip flops are ready. Check out the details here!
Image: andersruff
Braided Ribbon Flip Flops Tutorial

: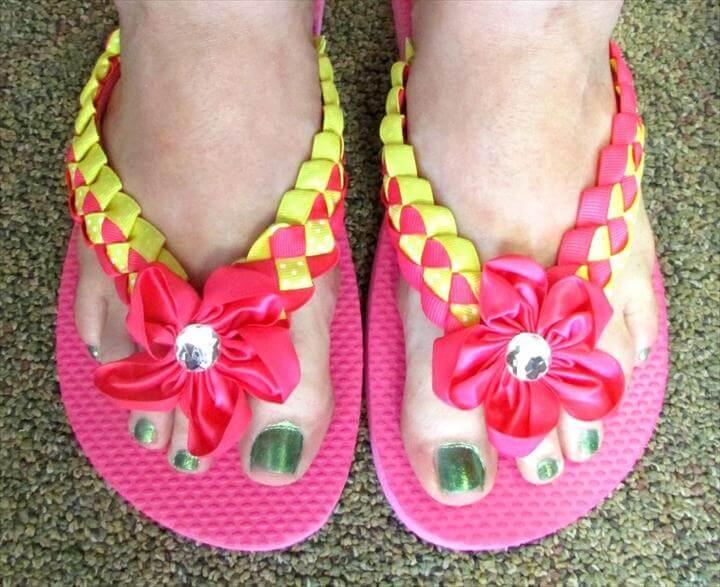 Here is another amazing idea of styling up your simple flip flops. Using the grosgrain ribbons you need braid up the flip flop straps and then add the sating flowers to the center of it. You have got this lovely flip flops tutorial attached to learn it step by step.
Image: alwaysunderpay
Nice Decorated Flip Flops: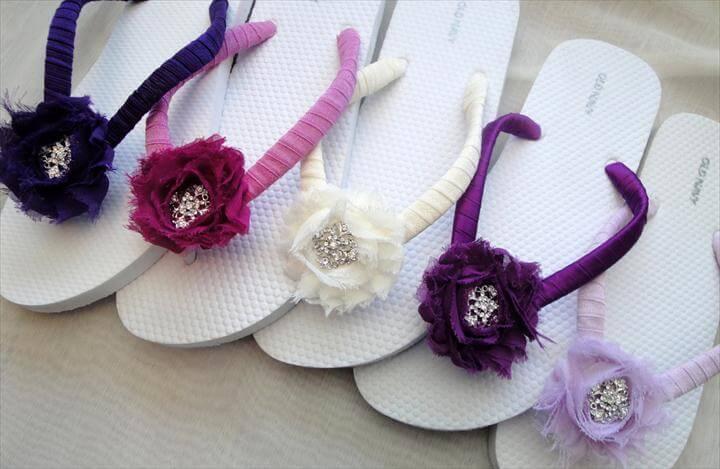 Get your crafty side on with this idea of nice decorated flip flops. First of all, you need some cutely colorful ribbon to wrap on the straps of the flip flops. Then grab some matching fabric and create a flower out of it with an embellishing jewel in the center. Thus so nice and easily you can get your flip flops decorated on your own.
Image: fabdiy
Summer Beaded Flip Flops: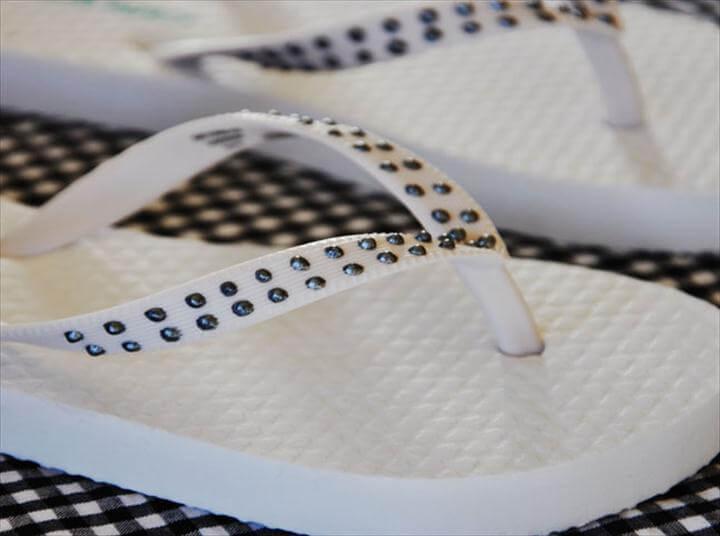 Get your flip flops and beads to it so that your flip flops look gorgeous and stylish and not simple and plain. Get any beads you like and a bottle of the glue to get your flip flops done. You can do this restyling of your flip flops for all the family members and even friends too. Get easy details here!
Image: momtastic
Gladiator Wrap

Flip Flops: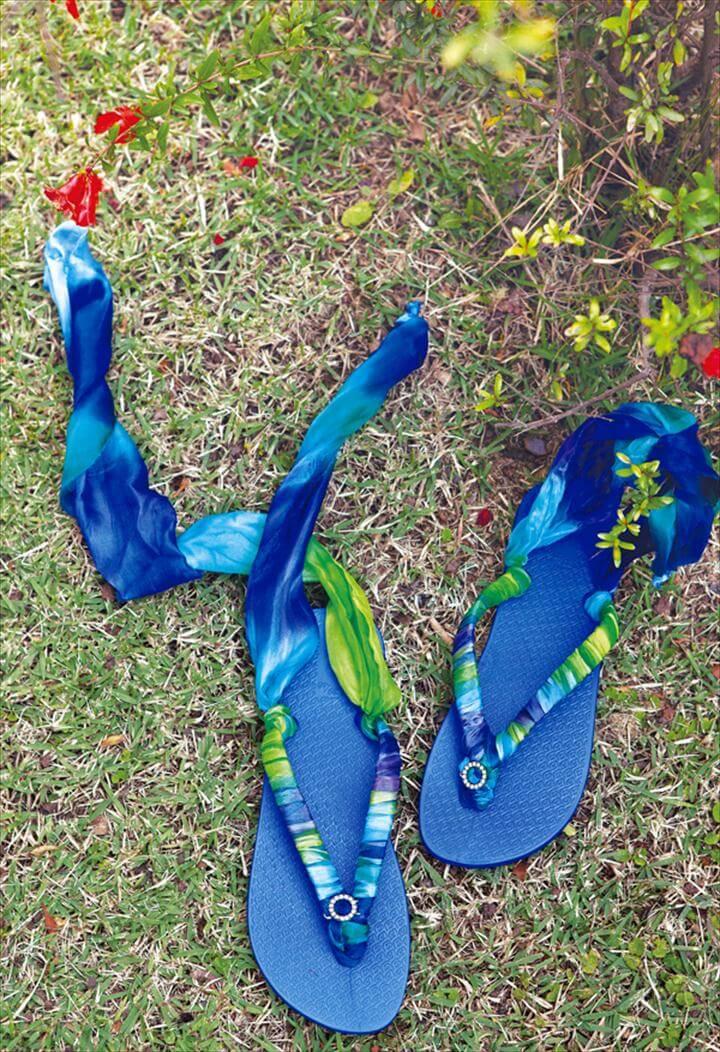 Make yourself this pretty gladiator wrap flip flops and look so pretty and fun for the summers. You need any of your soft fabric scarf in lovely colors or a long piece of fabric for this project. Wrap the first half of the scarf to the straps and other to be wrapped on the legs like a gladiator. Check out the details right here!
Image: glitternglued
Lace-up Sandals Type Flip Flops: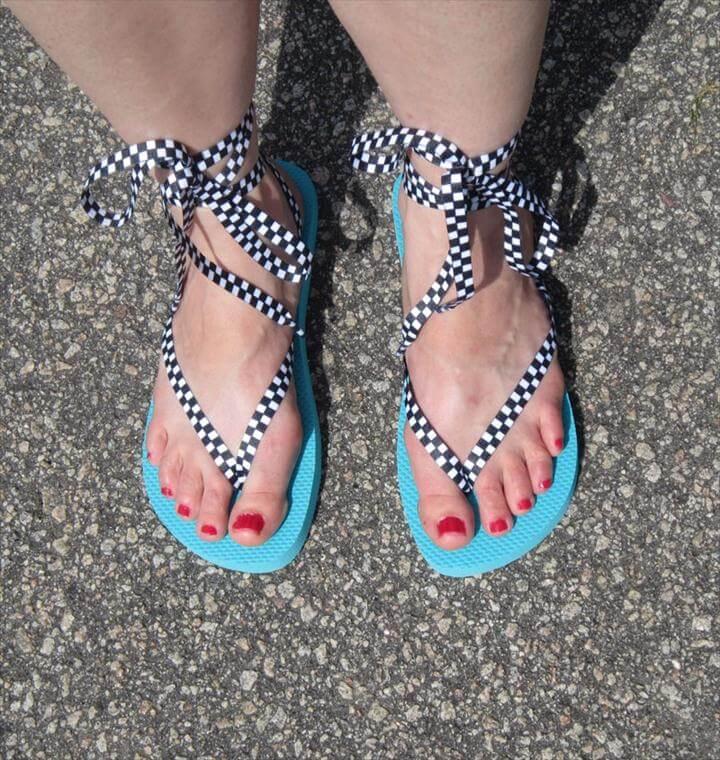 You can make this gorgeous pair of lace-up sandals to look stylish and fun for the summers. The gorgeous black and white thin width lace are used as the straps of the flip flops. You can wear the long straps like the gladiator style. These flip flops are best to wear with your shorts and skirts. Details here!
Image: youtube