Any cool preparations for the winter? Try these top crochet glove ideas for the upcoming winter. These 15 Top Crochet Gloves Ideas are so cool that you cannot resist trying. Go grab some colorful yarns and start applying your crochet skills to them. It's definitely time for playing with some yarn and make impressive items out of them. How does it look holding a coffee mug wearing your soft and lovely knitted or crochet gloves?
The puff stitch fingerless gloves seem to be something more attractive than the usual gloves. Try them yourself, if you don't trust. They help you type your text messages easily and holding an object, unlike the full hand gloves. It depends on your choice whether you want to make the short gloves or extend their length to make some delicate hand warmers. if you concentrate a little bit on increasing your expertise in doing crochet, you can easily make different designs and textures to make them look more amazing and cool. Also, you can make knitted mittens that have no spaces for the fingers. They look adorable for winter.
If you want to give a touch of any cartoon character such as hello kitty, simply by putting black buttons and making ears with yarn of any other color. You can also make a zig-zag pattern by learning the pattern through a simple tutorial. You can find these tutorials on the internet easily on different websites. Wrist warmers are also a new trend these days. Choose your own favorite exciting colors this winter to enjoy some fancy patterns on your gorgeous hands.
Don't waste your money this winter on expensive fancy gloves. Make your own customized ones at less expense. The top crochet glove ideas are so cool and amazing to try alone, enjoy doing them with your friends this weekend.
Puff Stitch Fingerless Gloves: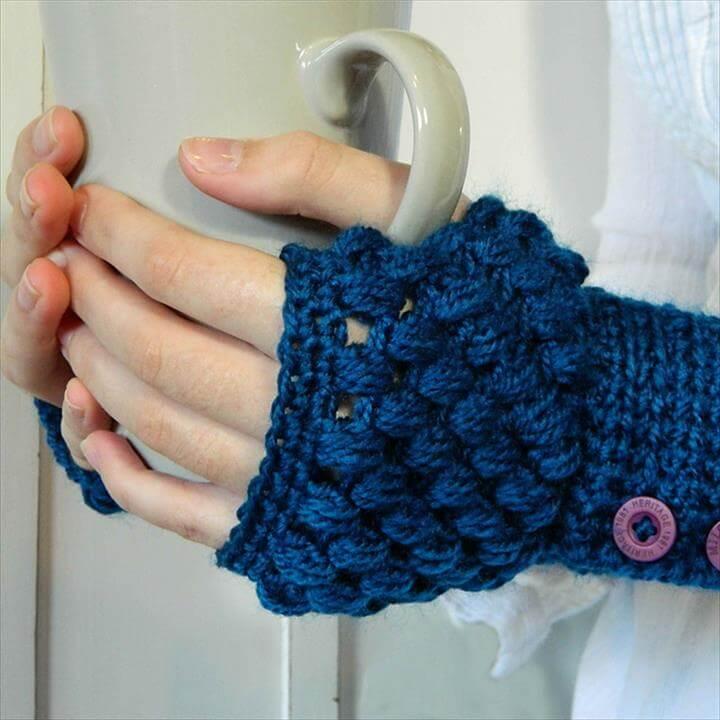 Makes your winters more fashionable and fun with this puff stitch fingerless glove craft. The pretty blue pair of the gloves are easy to crochet up with DK yarn in blue and the tapestry needle. You can work up this pretty pair within an hour. The gloves have some wrist cuff section with buttons to look more chic and cool.
Image: hopefulhoney
Delicate Crochet Hand Warmers: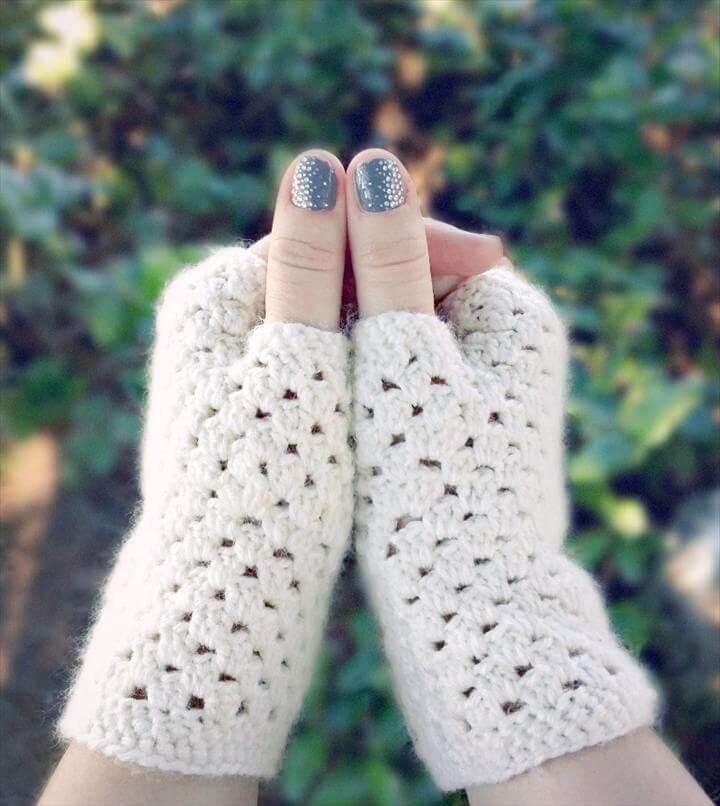 Here is this elegant and super pretty pair of the delicate crochet hand warmers for the colder winter mornings. So get your hands on white sport weight yarn, G 4mm hooks, and the yarn needle to work up these simply beautiful hand warmers. The gloves are fingerless so you can perform your tasks easily while wearing it. Details of the idea here!
Image: domesticbliss2
Textured Fingerless Mitts Or Gloves: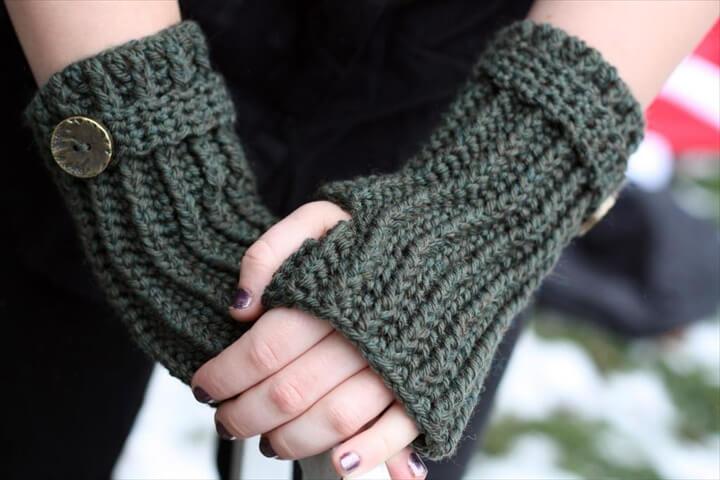 The pretty winter look is so incomplete without a gorgeous and fashionable pair of gloves or the mitts. So here we have brought to you these textured fingerless mitts or gloves to create at home using the cable stitch pattern. The vintage metal buttons on the gloves really make them look so gorgeous enchanting and cool. Details here!
Image: makemydaycreative, pinimg
Fall/Winter Crochet

Gloves: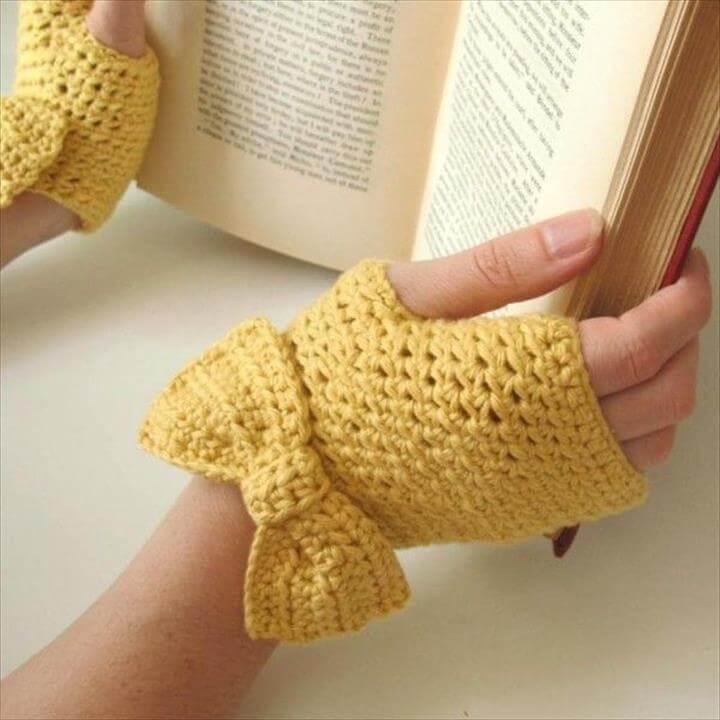 Make your homey time at home more comfortable by crocheting up yourself a gorgeous pair of crochet gloves. Here are these pretty yellow crochet gloves with bows to look so girly and cute. You can make them in any of your favorite yarn and wear them while watching tv or reading a book. Details of the idea here!
Image: ravelry
Knitted Gloves Without Finger

s: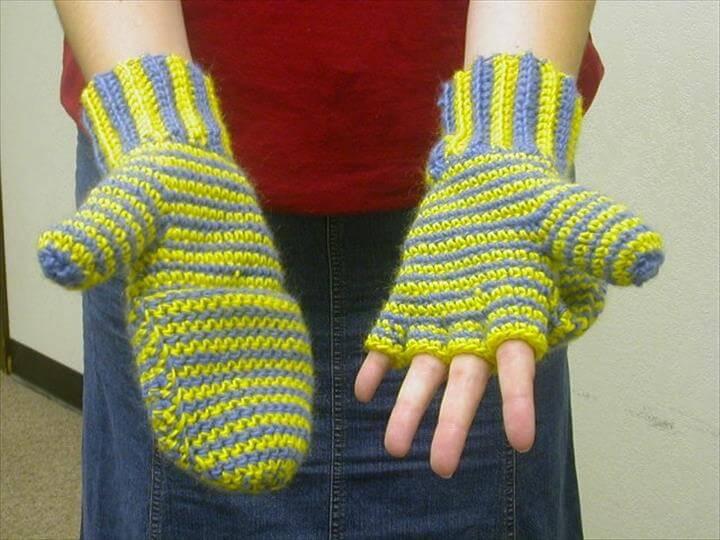 Here is a pattern for the knitted gloves that you can make both for the mitts and for the fingerless gloves. Using the vibrant yarn hues in yellow and blue the pretty hand warms have turned out so cool and chic. You can grab the pattern to make the perfect gloves for the family and keep their hands cozy and warm all day long.
Image: crochetandknitting
Hello Kitty Crochet Gloves

: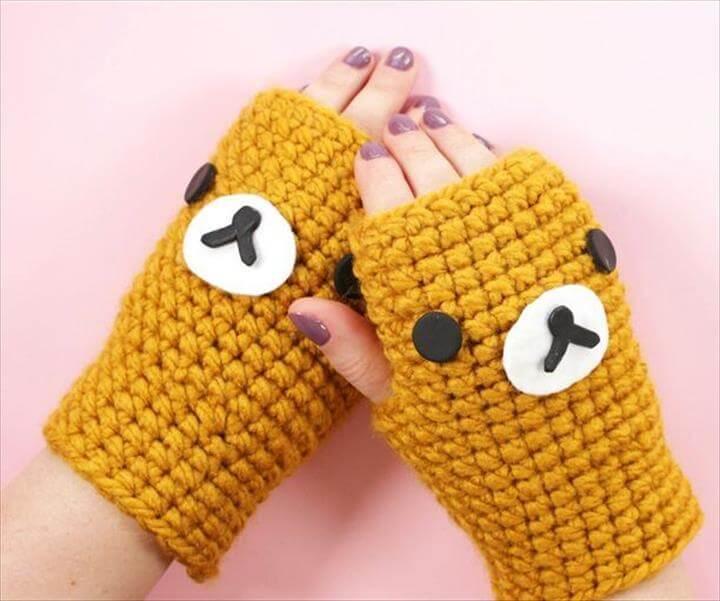 If you are looking for a nice gift idea for the girls around then making this hello kitty crochet gloves is the best thing to get your hands on. The pretty gloves are neatly and tightly crocheted with simple chain stitches. The kitty factor has been added to the gloves by using the buttons for the eyes and nose. Follow the details here!
Image: aminoapps
Knit Fingerless Gloves

: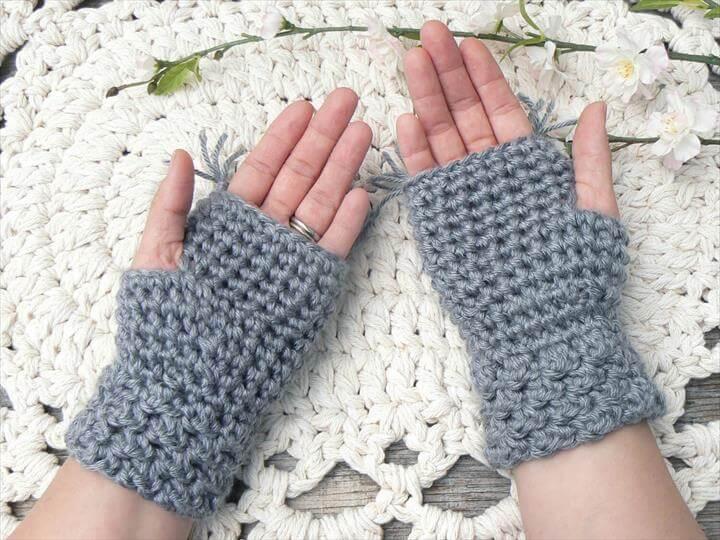 Now you can crochet up these pretty knit fingerless gloves so that you can make your hands feel and also perform your tasks easily. They are best to wear either at home or even at the office so you can work quite comfortably in both spots. The easy and fun pattern of these gloves has been giver right here!
Image: domesticbliss2
Zig Zag Puff Stitch Finger-less Gloves: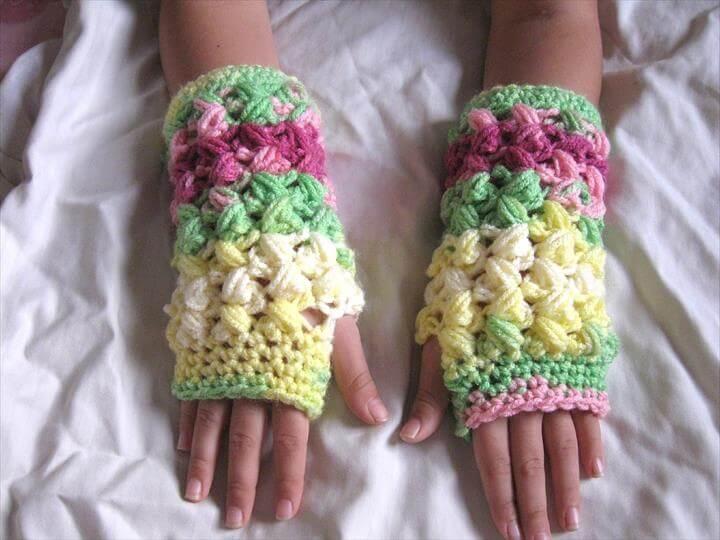 Here are these zig zag puff stitch fingerless gloves to be the pretty possessions for the colder days. Not only the puff stitch gives these gloves a stunning and unique look but also so much texture and charm. The bright and colorful combination of the yarn hues adds more to the beauty of these gloves. Details here!
Image: youtube
Yellow Crochet Gloves

With Butterfly: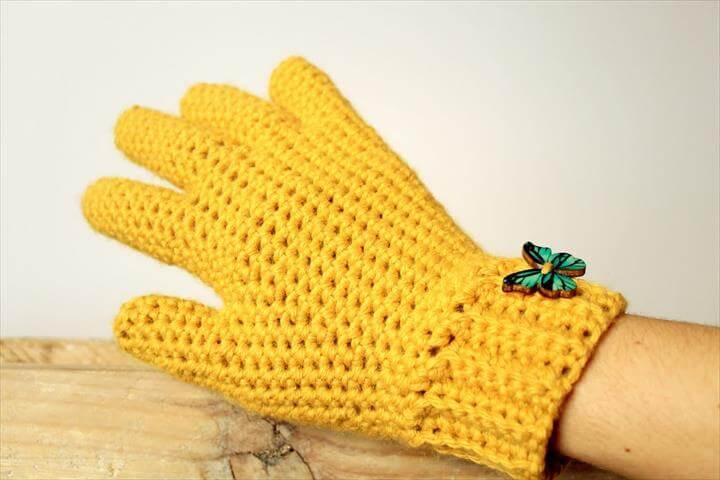 Bring some charm to your getup for the colder days with this pretty pair of the yellow crochet gloves having lovely butterflies at the cuffs. Using the simple chain stitch and single stitch pattern you can easily work up the crochet gloves pair and adding the green faux butterfly would add oodles of charm to the gloves. Follow the details here!
Image: youtube
Twist Fingerless Glove Pattern: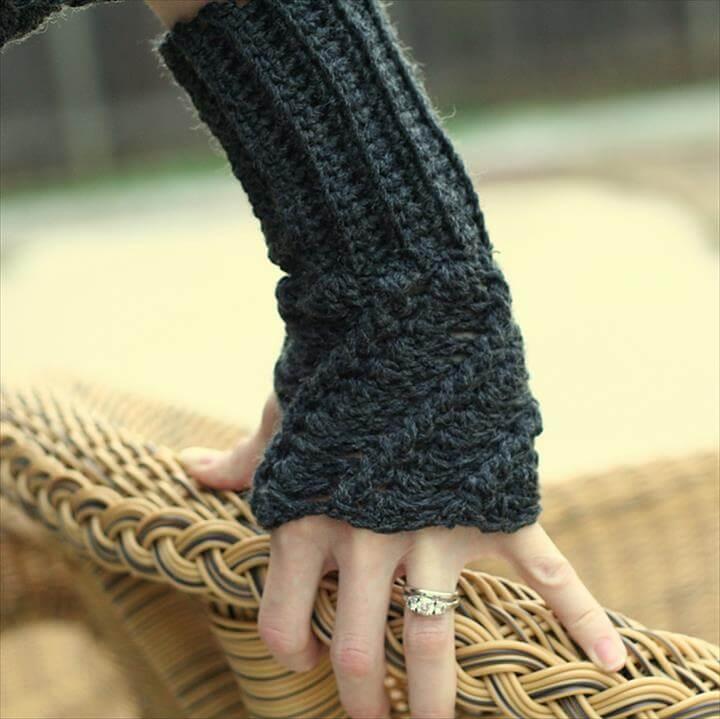 Here is this gorgeous twist fingerless glove pattern to get your hands on. The pretty gloves look and simple and are quite easy to make on a fun winter afternoon. The design is fingerless and comes with cuffs to keep your hands extra warm and cozy. This pretty twist fingerless glove pattern would make a great gift idea too. Details here!
Image: bethsco
Crochet Wrist Warmer Tutorial

: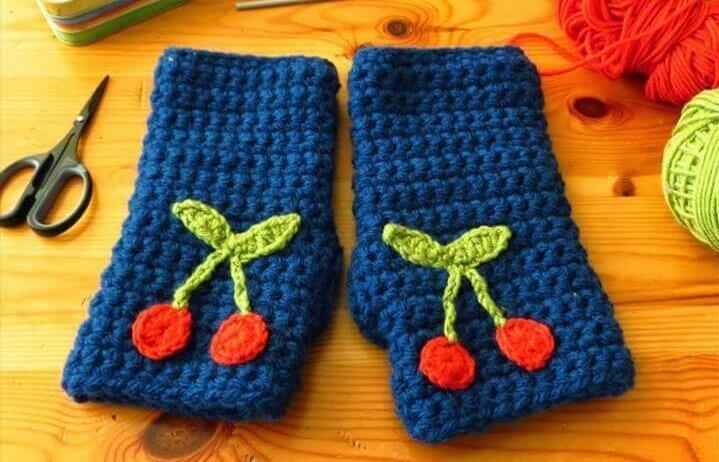 Keep your wrists completely warm and cozy and that too in cute style with this pretty crochet wrist warmer tutorial. The gorgeous and chunky blue pair of the wrist warmers have pretty embellishing of the cute embellishing granny flowers. It looks like two cherries with a green branch on the wrist warmers. Follow the cute and pretty pattern details here!
Image: bunnymummy-jacquie.blogspot
Sand Light Gloves: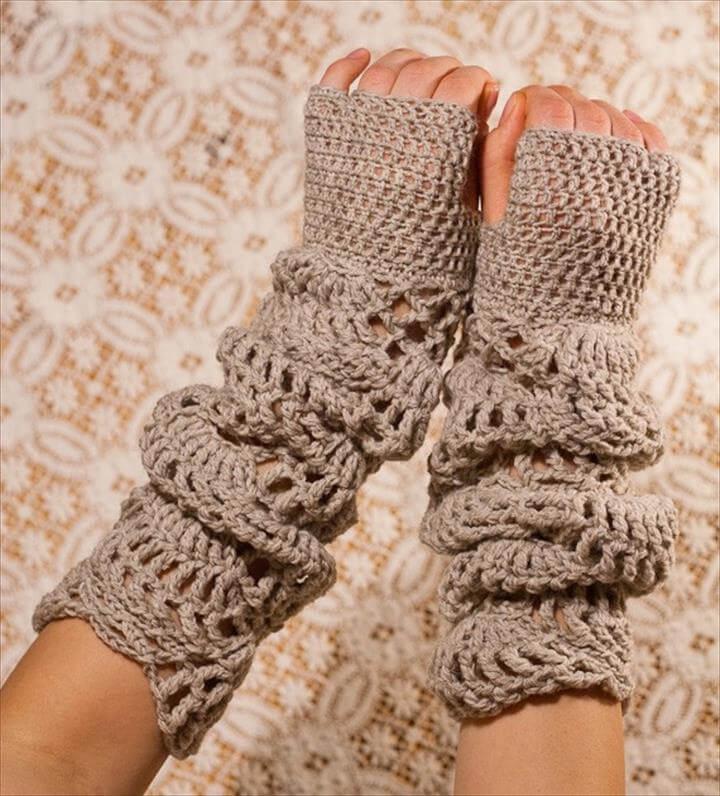 Here are these gorgeous sand light gloves looking so elegant and rich in style. They seem to come from the wardrobe of a celebrity for being so delicate in their lacey pattern and the fingerless design. Also, the gorgeous sand light color really adds to the elegance and charm of these gloves. You can grab the pattern right here!
Image: etsy
Owl Gloves Pattern

: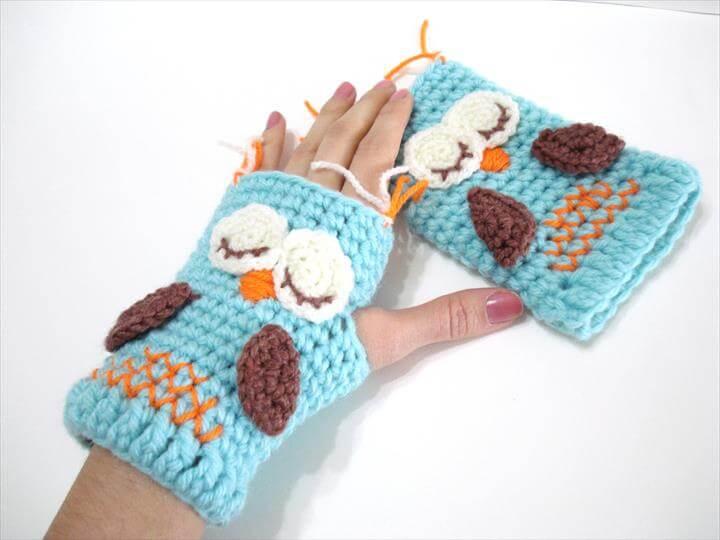 Here are the simply cute owl gloves patterns to get your hands on and make the prettiest gifts for the kids. The cute blue gloves are adorned with white owl eyes, orange beak, and brown feathers. You can first stitch up the gloves and then separately make the owl features and stitch them to the gloves. Check out the easy and fun details here!
Image: etsy
Shell Stitch Fingerless Gloves: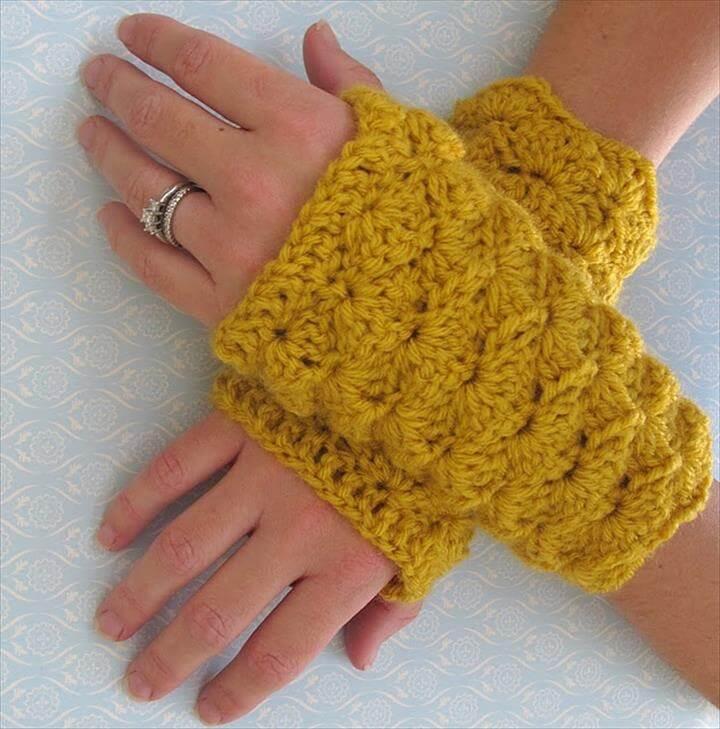 You can add oodles of charm to any of your winter dress up with this gorgeous shell stitch fingerless gloves. The gorgeous mustard-colored yarn here has been used to make the pretty shell stitch fingerless gloves. You can even adorn these fingerless gloves with any of your favorite dress during summer and look extraordinary. Details here!
Image: ravelry, lovecityblog
Crocheted Fingerless Gloves With Button

: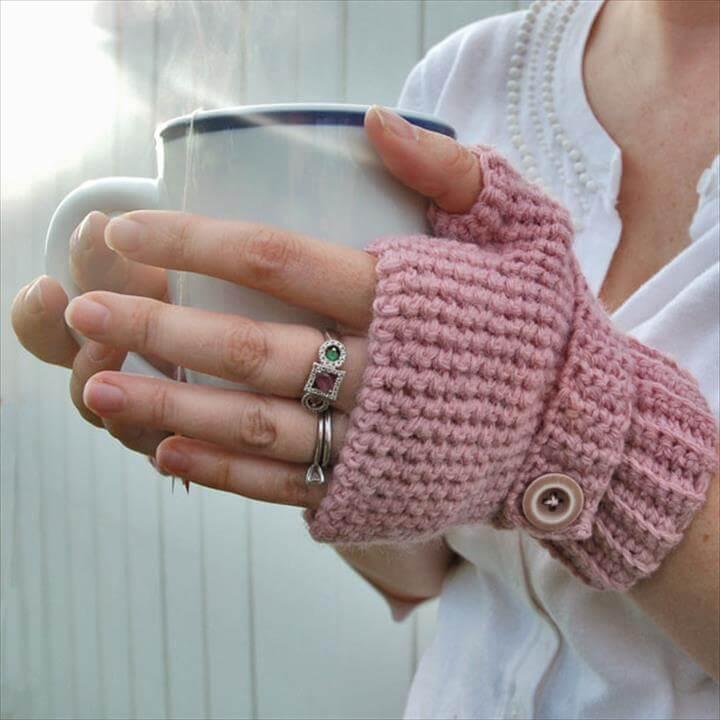 Here is the easy and fun crocheted pair of fingerless gloves with buttons to look so cute and fun for your winters. The cute pink crochet gloves are the prettiest things to have in your winter outdoors. The buttons really make the gloves look so cute, fun, and modern. You can get the perfect pattern right on the link here!
Image: compulsivecraftiness