Everyone faces financial challenges in this era where prices of everything are touching the sky. But necessity is the mother of invention and people have found out solutions to these problems too. Many ladies have started lending a helping hand to their partners by making and selling things at home. So make the most out of your skills and start earning some extra cash to ease out your hand at the budget. For example, if you are good at sewing then make these 25 sewing crafts to sell with free patterns and add some extra dollars to your monthly home income.
All the items included in these 25 sewing craft patterns belong to the day to day life so they are surely going to attract a lot of people and add in your selling. There are super cute and functional things like fabric earbud pouch, makeup pouch, tote bags, tote bags, pot holders, and tea bags. Also, there is plenty of crafts related to storage and organization of the multiple homey items like drawstring bags for toys, fabric baskets, storage bags, and more. Another good thing about these sewing crafts is that they cost quite less to be made at home and thus giving you a big profit margin. You can find the free patterns for these selling sewing crafts right below.
Circle Zip Earbud Pouch Tutorial: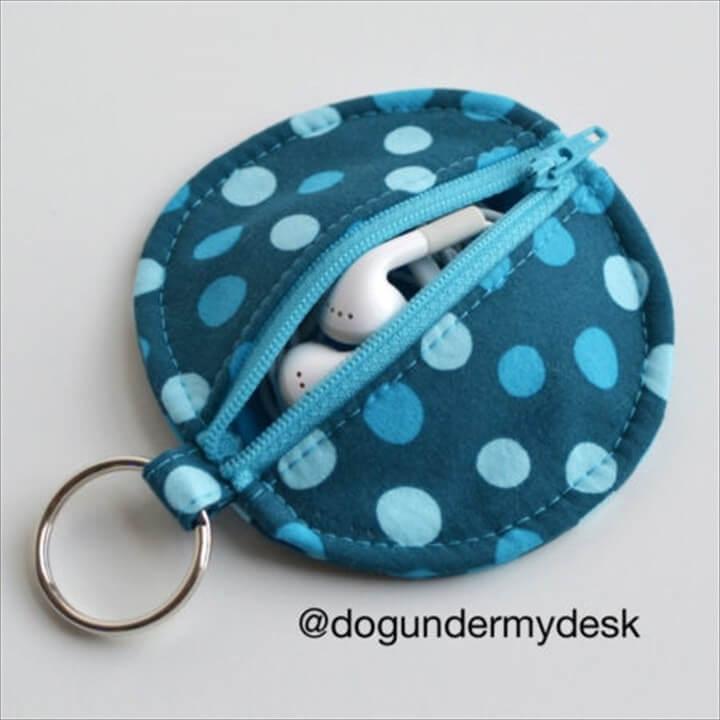 Here is how you can make the best gifts for lovely people around without costing much. These super cute and small circle zip earbuds pouch is the best thing to make for everyone around. The earbuds are safe and tangle-free in this circle zip earbud pouch. You need some fabric, lining, and the batting to work up this cute mini pouch.
Tutorial: erinerickson
DIY Zipper Pouches: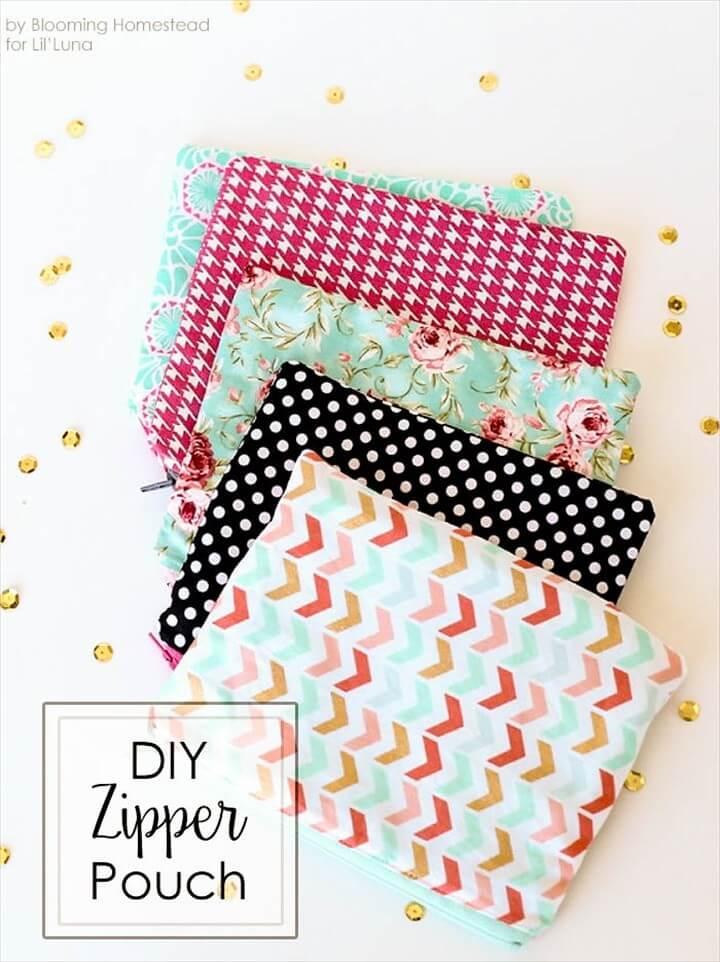 If you have some fabric pieces lying around then make these super cute and adorable DIY zipper pouches out of them. These zipper pouches are perfect to carry your makeup, your cash, and coins, and also the kids can use them to hold their stationery possessions. You can make them sell as they are the everyday need of everyone around.
Tutorial: lilluna
How To Sew A Simple Oversized Sleep Mask: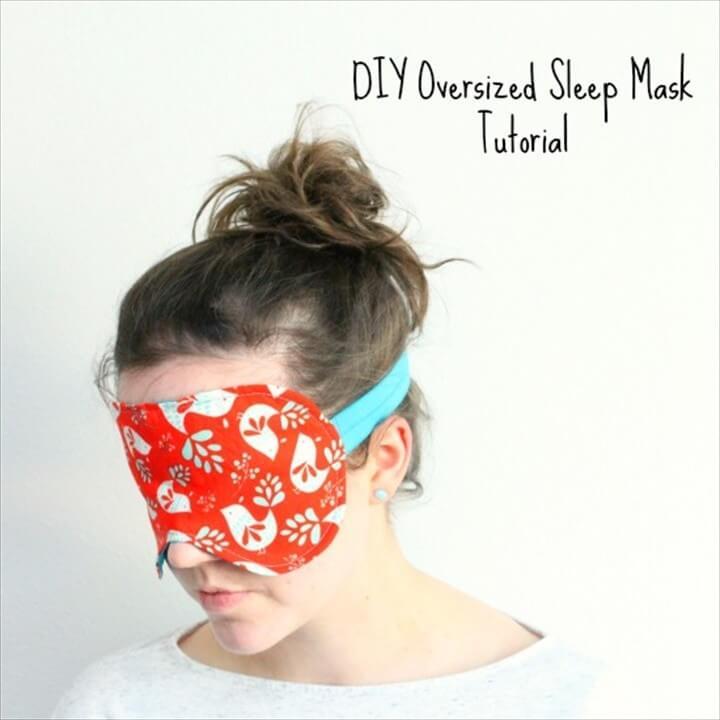 Make your naps much comfier with these handmade oversized sleep masks. The oversize of this sleep mask is going to give you complete coverage around the nose and the edges of the eyes. You need some cutely printed and comfy fabric with matching lining and some band to make this pretty mask. You can make a lot of these masks and sell them too.
Tutorial: so-sew-easy
Twenty Minute Tote Bag: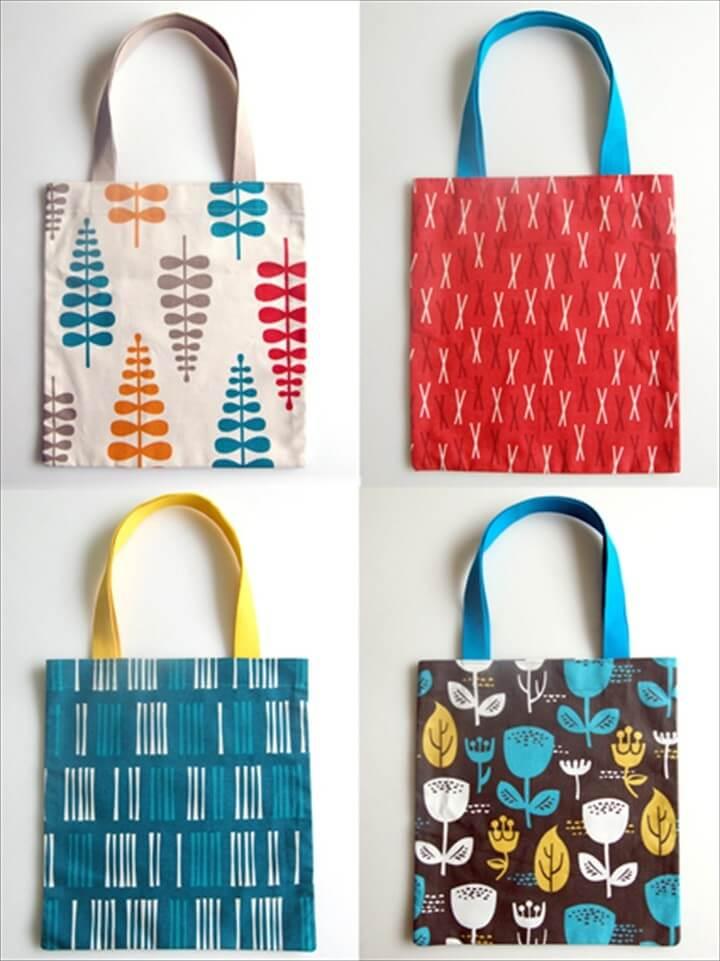 Here is a pattern of the tote bag that is simple and easy enough to sew up in just twenty minutes. Using the gorgeously printed and colorful fabric along with the cotton webbing you can easily make these pretty tote bags. These lovely tote bags are going to make a really hot sale so if you want to earn some extra cash, make these bags.
Tutorial: purlsoho
Easy Drawstring Bag Tutorial: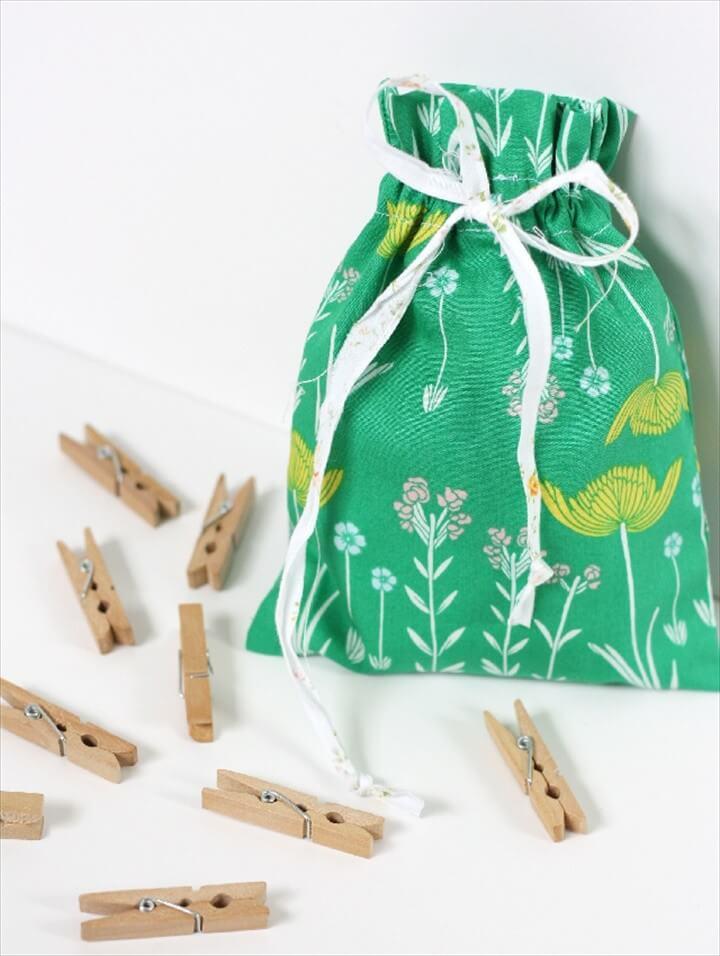 If you have some fabric lying around then make the most of it by making this pretty and easy drawstring bag. You just need a nicely printed fabric and the ribbon to make this pretty drawstring bag. From cute little toys, hair clips, and the fabric pieces you can use these drawstring bags to store everything. People around would love to buy these pretty drawstring bags from you to make loads of them.
Tutorial: seekatesew
How To Sew A Tote Bag: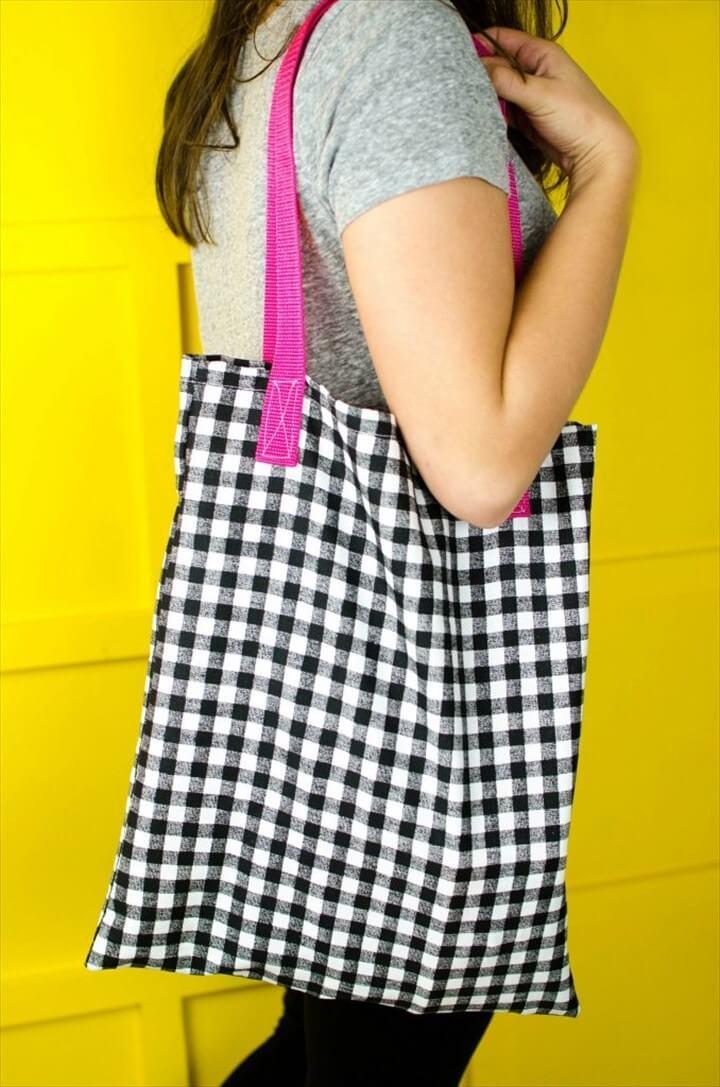 Tote bags are the need of every home and thus you can sew up a lot of bags and start selling them to earn some money. Here is the simplest and cheapest way to sewing a lovely tote bag with just fabric, and the straps can be made out of nylon webbing and leather. Learn the complete sewing details here!
Tutorial: alittlecraftinyourday
Quick & Easy Pot Holder Tutorial: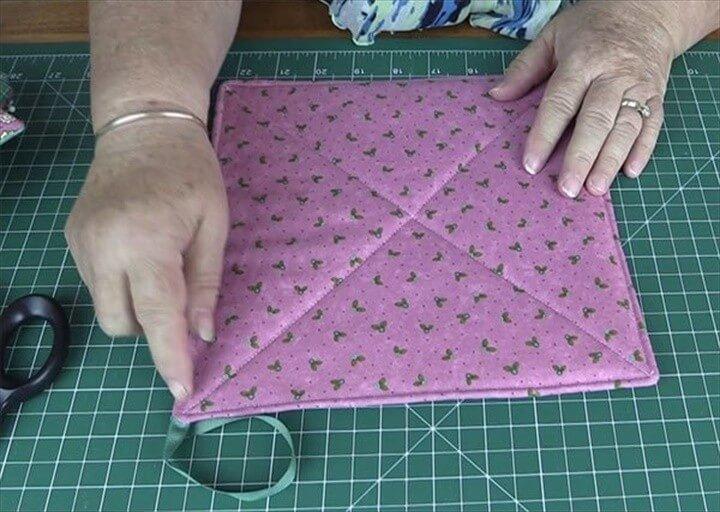 Potholders are the need of every home and now you can make the perfectly store-bought like potholders at home. You need some nicely printed fabric, batting, insul bright, and the ribbon to sew up these easy and cute looking potholders. These handmade potholders are the fun things to make and sell to earn some few dollars.
Tutorial: alandacraft
DIY Ipad Case: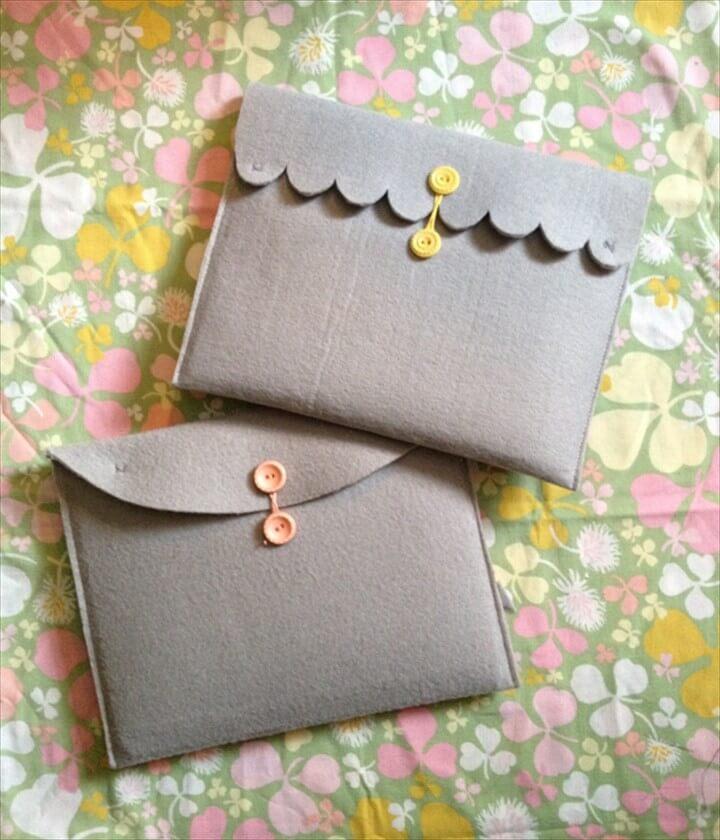 People love to buy handmade items and so create these pretty DIY Ipad cases to earn some money out of your crafting skills. The gorgeous and totally cute Ipad cases are made out of the felt with cute contrasting buttons. You can use a variety of color combinations to sew up these pretty Ipad cases to create a big sale. Learn the details here!
Tutorial: ohsolovelyvintage
How To Sew Cute Makeup Bags: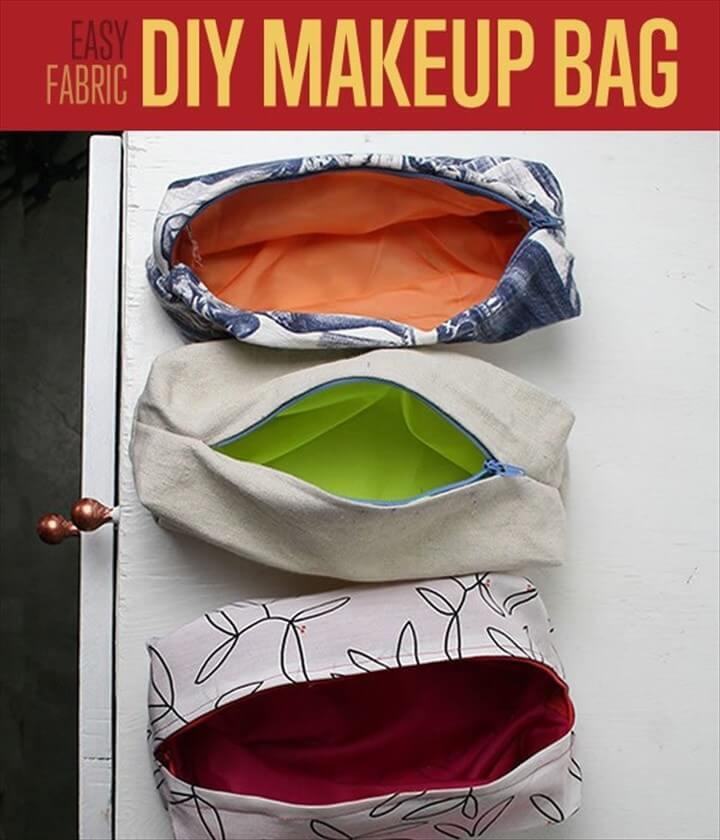 Now you do not need to mess up your make up with other things in your bag. Here is the idea of sewing up this cute makeup bag to hold your make up separately and safely in the bags. Using some fabric pieces from your fabric stash and the zipper you can instantly sew up a bunch of these makeup bags on your own. Details here!
Tutorial: diyprojects
Jar Opener Easy Sewing Project: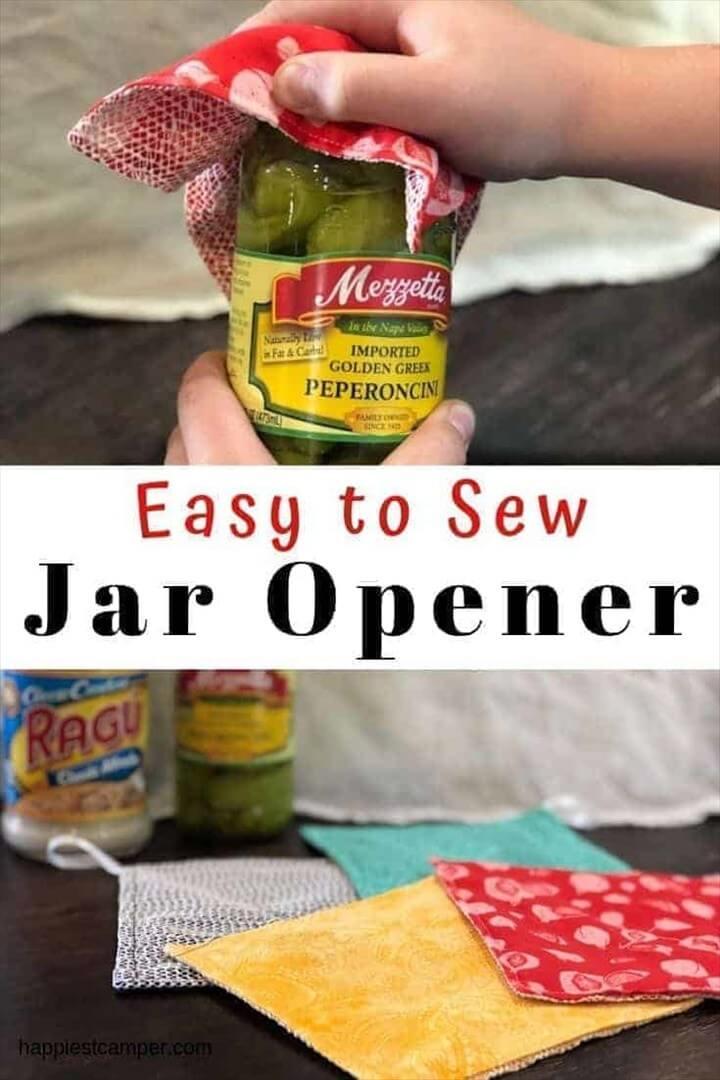 Always make those things which are need of every home around when you are up to a sale to make some money. Here is the idea of creating this jar opener easy sewing project that you can make from the colorful fabric pieces in just a few minutes. They would help opening oily jars without making your hands messy. Details here!
Tutorial: happiestcamper
Make A Dog Collar: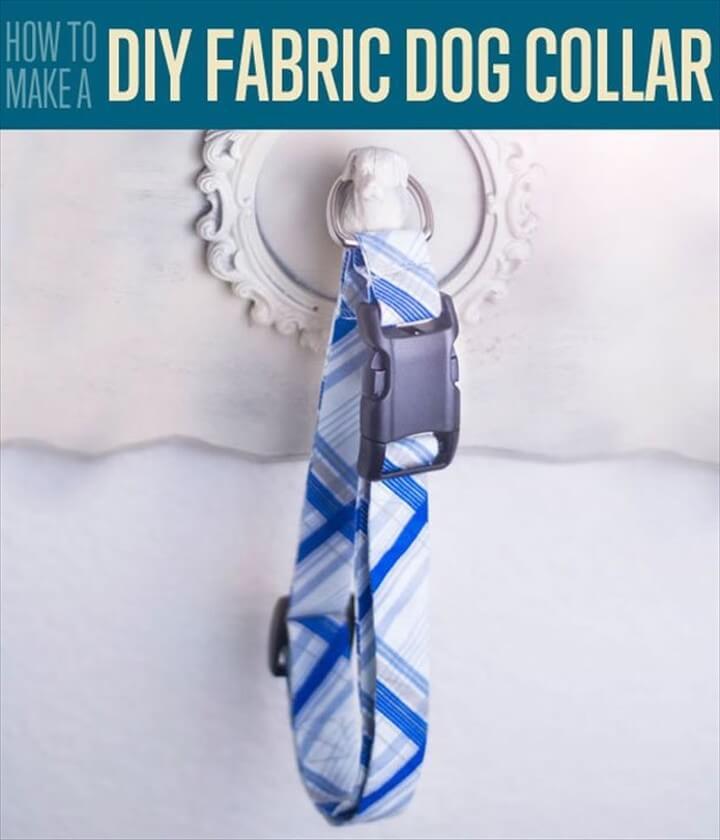 What can be better a gift than a handmade dog collar for your lovely pets? Here is the idea of sewing up a lovely dog collar using some soft cotton fabric and the buckle. People would love to buy these handmade fabric dog collars and thus you can make some cash from your sewing skills. Follow the details here!
Tutorial: diyprojects
DIY Cable Cosy:
One of the things which create a big mess in the house is the cables. So here is the idea of creating this DIY cable cozy that you can easily sew up at home using some fabric and the elastic. You can hang it anywhere in the house and make it easy for everyone to find their charging and data cables. Make and sell these cable cozies and these would make a hot sale for sure.
Tutorial: liveitloveitmakeit
DIY Cloth Napkins: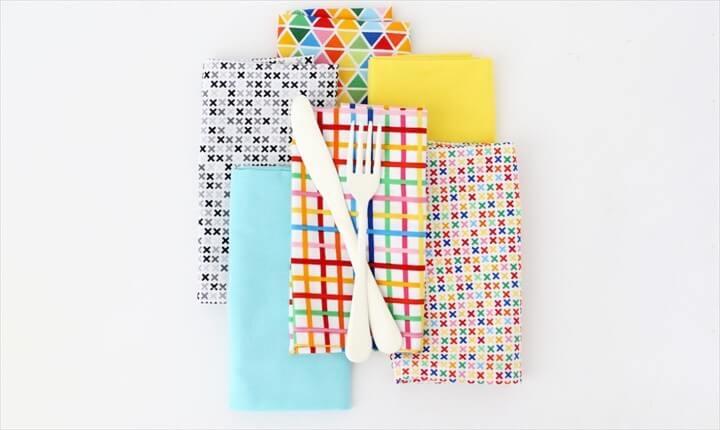 Bring some fun to your dinner tables with this DIY cloth napkins project. Using the colorfully and cutely printed fat quarters you can easily sew up these pretty napkins in just minutes. Also, you can add these napkins to the list of the things that you can make and sell to earn some extra dollars. Follow the details here!
Tutorial: mybluprint
DIY Fabric Storage Bags: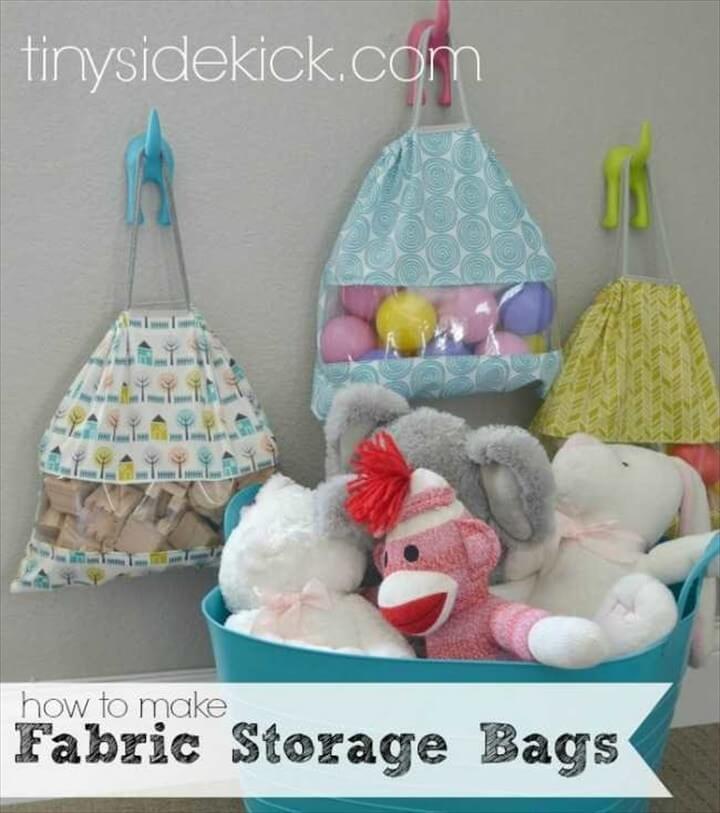 If you need toy storage in your kid's room then make these DIY fabric storage bags. They are super easy, cheap, and fun to sew at home. Using some fabric, vinyl sheet, string, and the basic sewing tools you can easily work up these gorgeous DIY fabric storage bags. They are so good and functional that people would love to buy it from you too.
Tutorial: heytherehome
DIY Notebook Tea Cloths: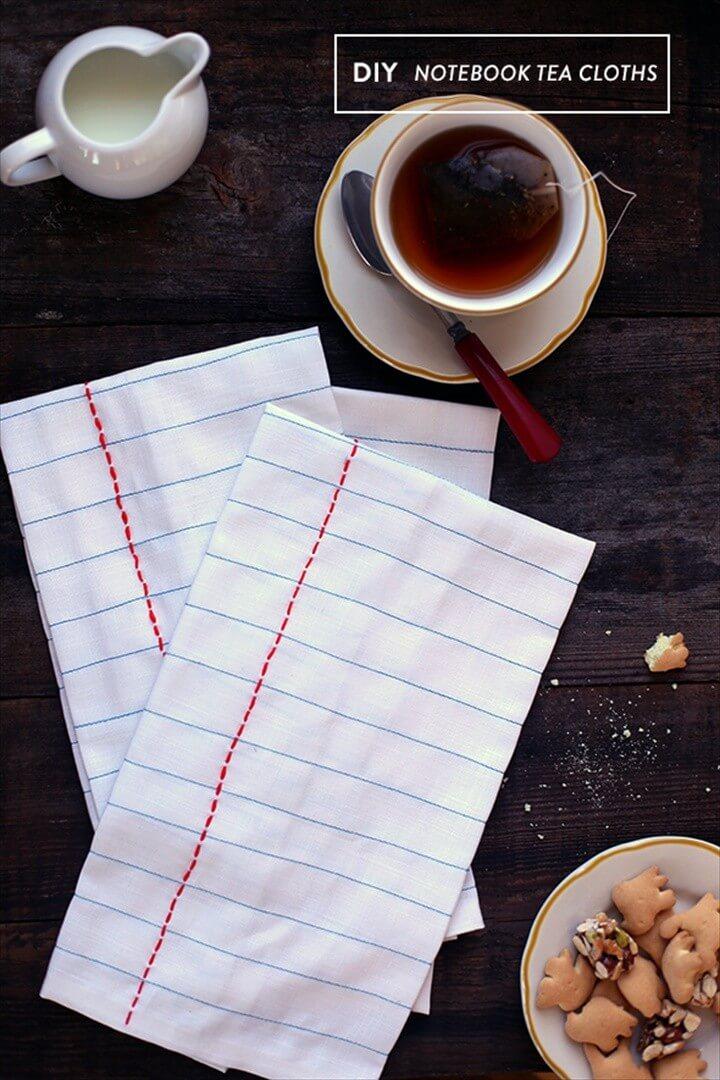 Tea clothes are one of the most bought and loved kitchen items by the homey ladies. So now you can easily sew up the pretty and fun looking notebook tea cloths at home and also put them on sale. The notebook is made out of the white linen fabric and using red embroidery floss a dashed line has been created on the left. Learn the complete details of the idea here!
Tutorial: sayyes
Make Your Guy A Credit Card Wallet: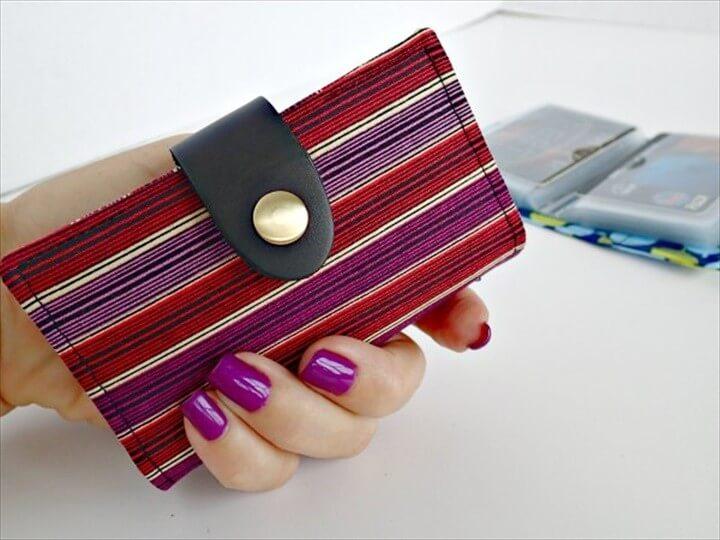 Here is something for the men that you can easily make and add in your list of the selling items. The gorgeous credit card wallet is perfect for the guys. You need manly printed fabric, plastic credit card insert holders, leather strap, and the sewing tools to make this pretty and cute wallet. This would make a great gift idea for the men in the house.
Tutorial: so-sew-easy
Pretty Floral Divided Tote: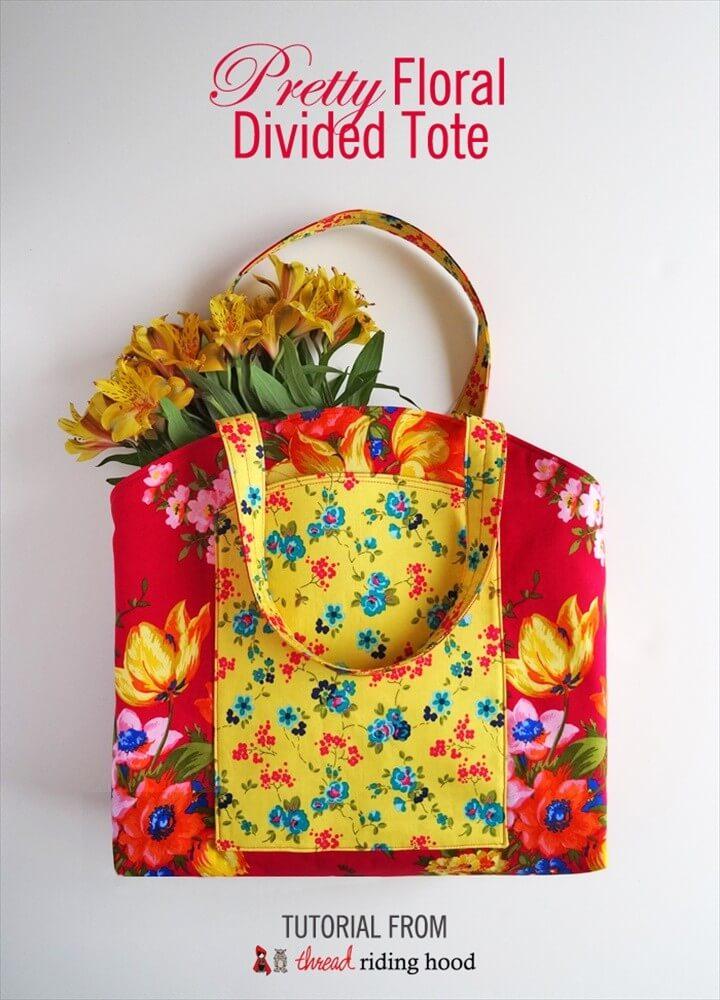 This enchanting floral divided tote bag is the best thing to make and sell for being so gorgeous and lovely. Not only gorgeous this pretty floral tote has divided sections to hold multiple things at a time. People would love to buy this super cute and quirky bag that you can make out of Olivia's pink and yellow floral fabric. Complete details here!
Tutorial: threadridinghood
The Sleepover Pillowcase Tutorial: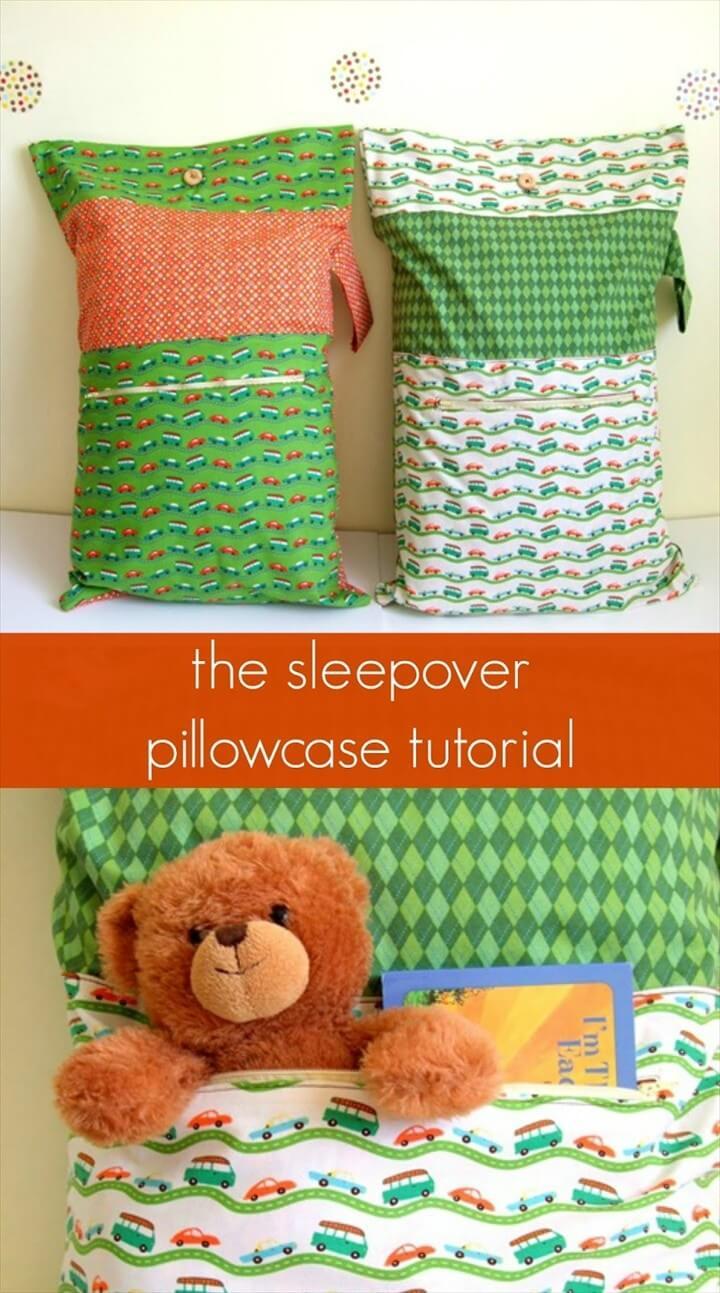 If you want to sew up something for your kids then making these cute and funky sleepover pillowcases is the best project to work on. This lovely pair of the pillowcase has been sewed up using a card printed fabric with an extra pocket to hold kid's soft toys and the books. Mommies would love to buy these pillowcases from you for being so cute and fun. Details here!
Tutorial: lemonsqueezyhome
Water Resistant Phone Pouch: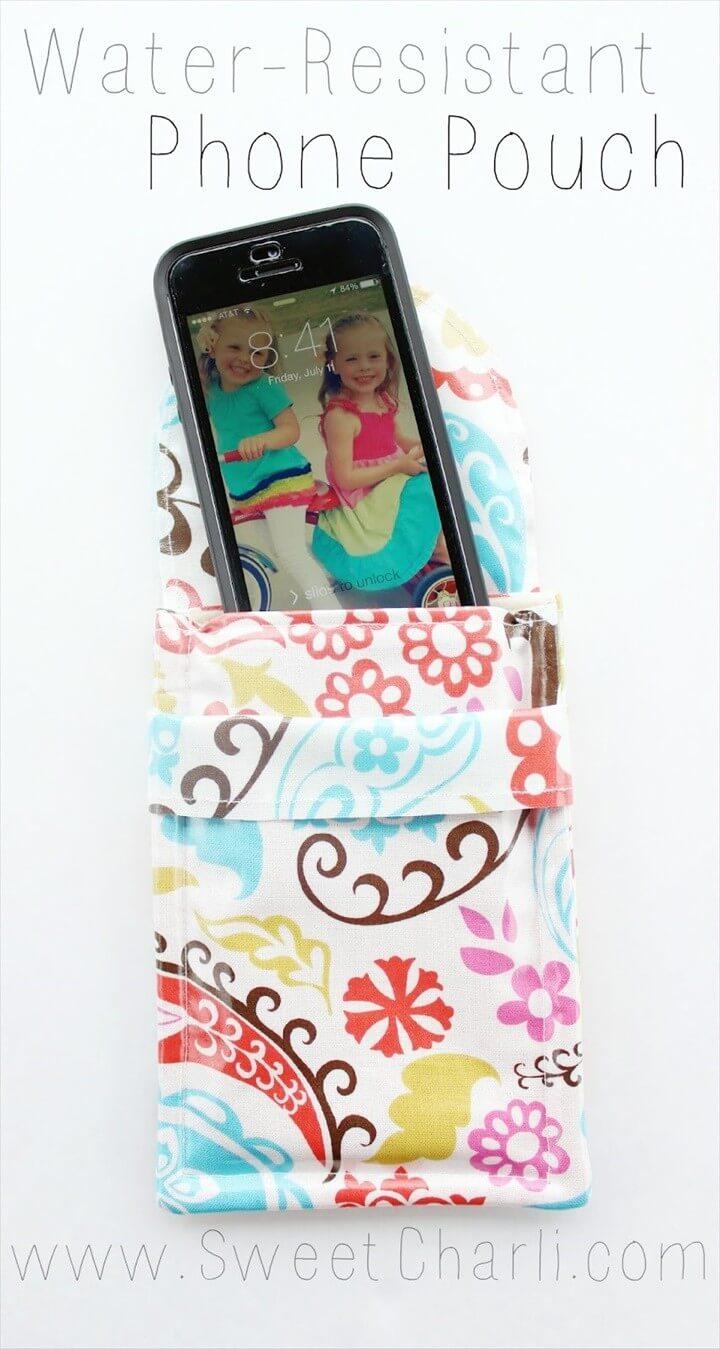 Everyone has phones and thus everyone needs phone pouches. So you can make and sell these pretty and cute water-resistant phone pouches. The pouches are made out of the oilcloth and the felt to be super cute, fun, and highly functional even in the water. These water-resistant phone pouches would make great gifts too. Details here!
Tutorial: brassyapple
Ipad Stand Tutorial: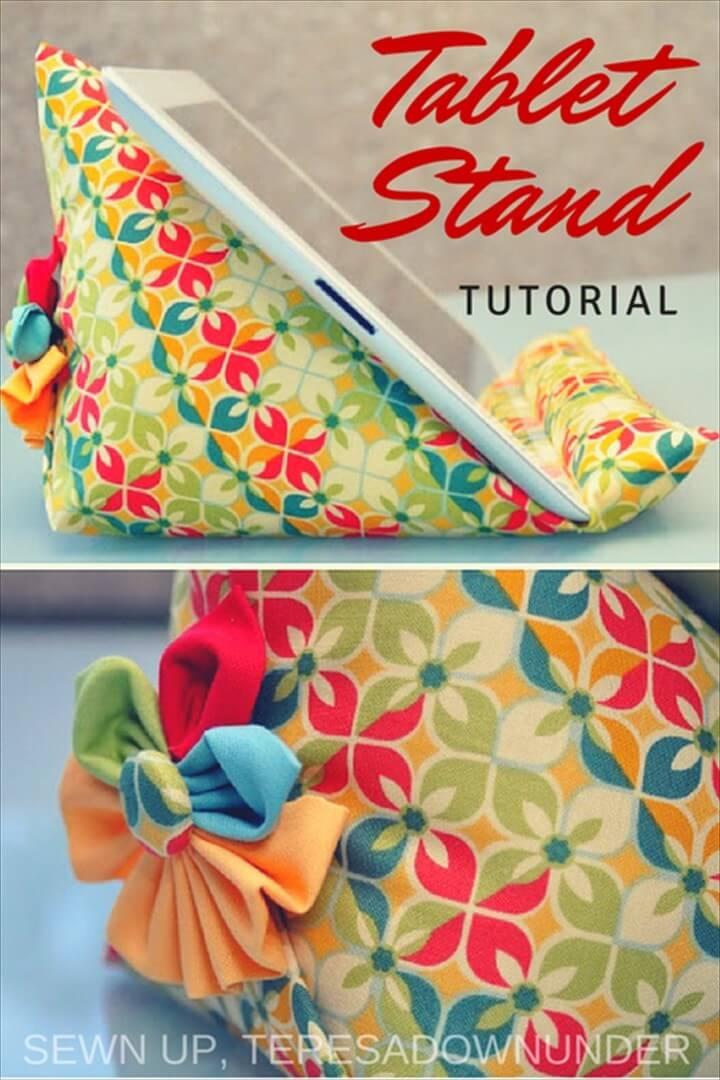 There are so many fun and functional things that you can make out of the fabric and this Ipad stand is one of them. The Ipad stand is made out of the cute and colorful fabric with flower embellishing to make it look super decorative. You need some fabric, cardboard, polyfill, weight, and the buttons to make this pretty Ipad stand. Follow the tutorial of the project here!
Tutorial: mypatchwork
Drawstring Travel Bag With Free Design Template: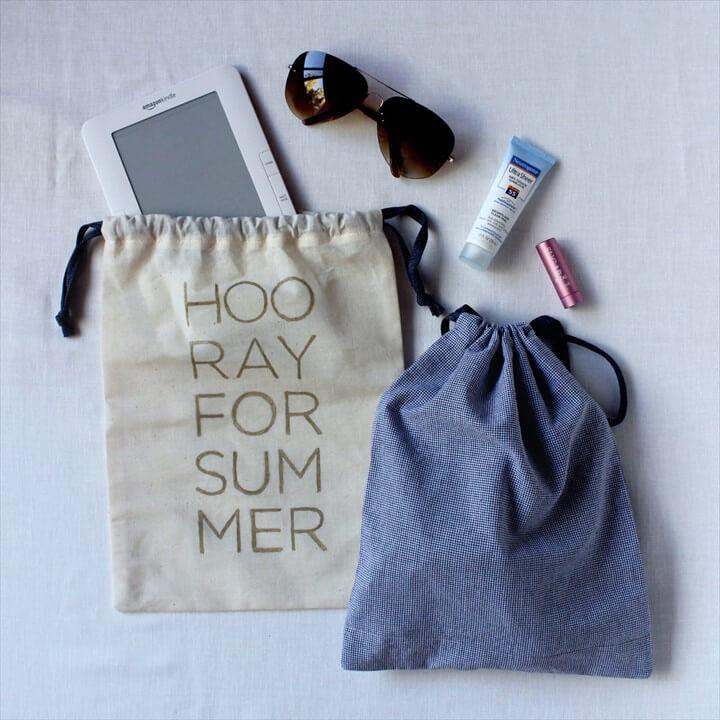 Drawstring bags make our routines so much easy by carrying so many utilities in style. Now you can sew up a drawstring travel bag on your own and that too with a lovely quoted design. Here is the simple yet stylish pair of the drawstring bag saying HOORAY SUMMER. You need fabric, ribbon, invisible ink pen, permanent gold pen, and the template design. Details here!
Tutorial: sewdiy
Intel Tablet Case: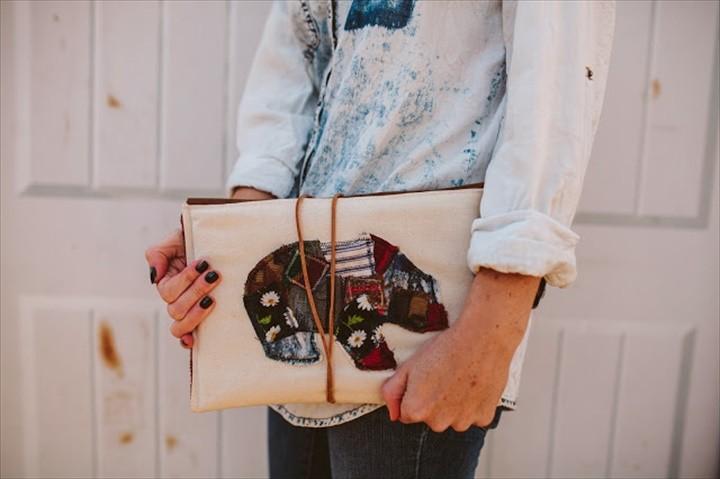 This intel tablet case is the best thing that you can see on the internet today for being so quirky and cute. Using the canvas fabric, leather, and the leather and the leather cord you can easily make this gorgeous intel tablet case. It has a gorgeous fabric patch bear at the front which is the heart and soul of this beautiful table case. People would love to buy it so make and sell this pretty intel tablet case.
Tutorial: sincerelykinsey
Long Pom Pom Cowl: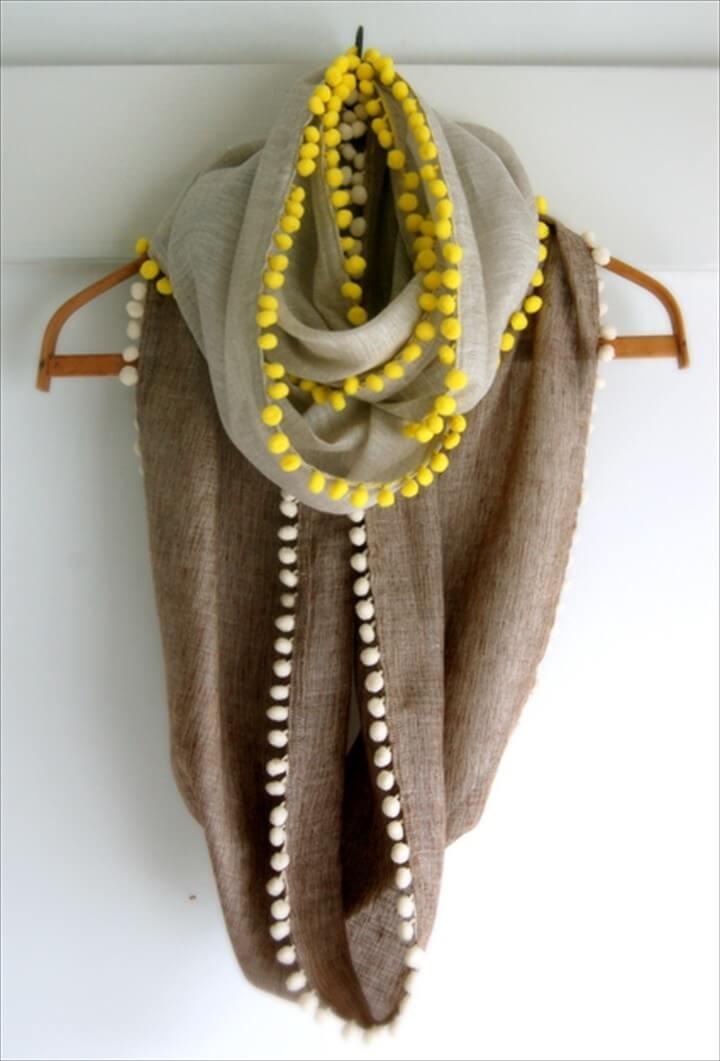 Want to earn some extra dollars? If yes then make things at home and sell them and adding this long pom pom cowl to your sale is a great idea. The gorgeous cowl is made out of the global weave linen and the colorful pom pom lace trim at the edges. They are super easy and quick to make and put on sale and is a hot favorite.
Tutorial: purlsoho
Reversible Fabric Storage Bin: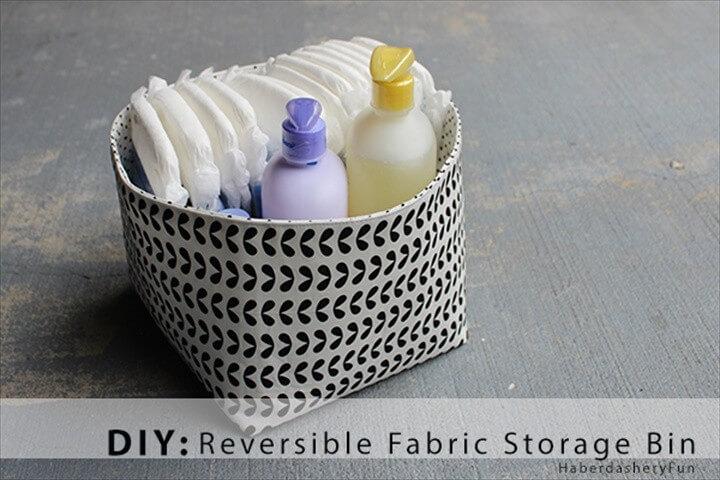 Why splurge money on the market bought bins when you can make the simplest storage bins at home using the fabric. These reversible fabric storage bins are the cutest and make the perfect gift basket with some loaded goodies inside. So you need two kinds of printed cotton or linen fabric, Pellon décor bond, and the basic sewing items to make these reversible fabric storage bins. Details here!
Tutorial: haberdasheryfun
Pineapple Drawstring Backpack: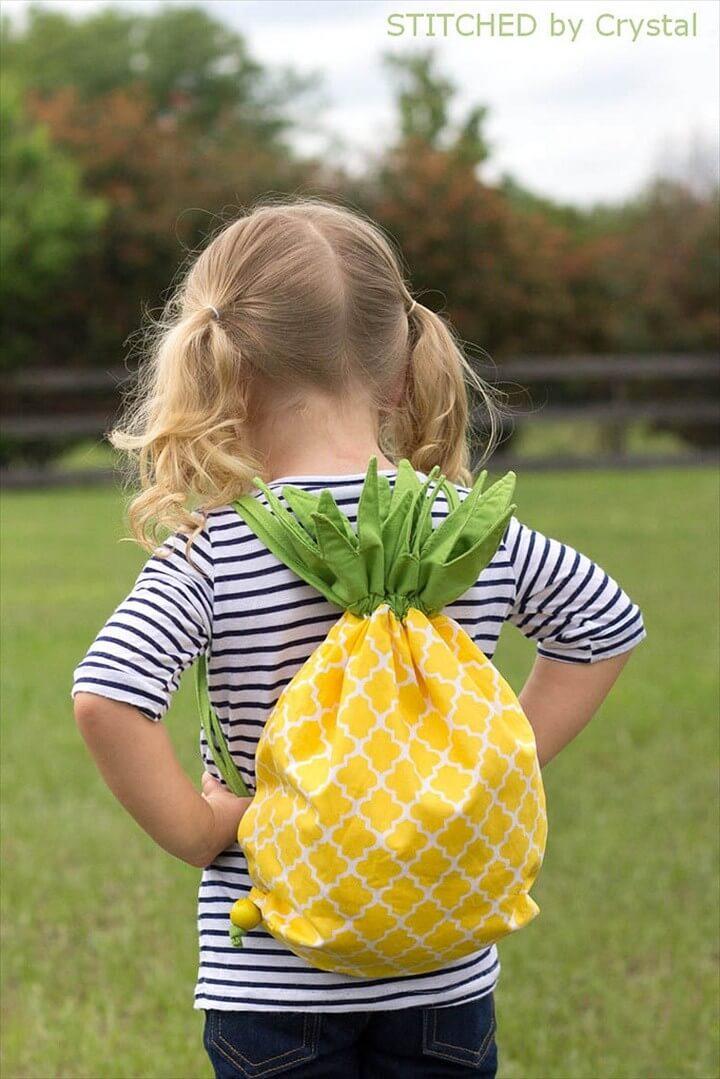 Your kids are going to jump out of joy when you gift them with this pineapple drawstring backpack. The gorgeous pineapple drawstring backpack is made out of yellow fabric with a honeycomb pattern and the green fabric to form the upper fruity part and the straps. You can add these cutest drawstring backpacks to your selling item's list too. Details here!
Tutorial: makeit-loveit