Don't waste this summer vacations and allow yourself to do some crazy experiences doing some unusual projects. This will not only keep you busy but also it will be giving you some creative end results in the form of some of the masterpieces made by you.
These 30 Best DIY Macrame Project & Ideas are easy to make and fun. These macramé friendship bracelets. They are so easy to make and fun wearing. A macramé flower bouquet is something unique and interesting and if you think a little deep its really cheap as compared to a ready-made flower bouquet that you buy from a flower shop. So let's save some money this time and be a little creative. Look at these adorable macrame lighter cases. These macramé braided slippers are no less than any of the designer slippers that we buy.
If you are looking for some macramé decoration, here is a DIY macramé yarn garland done with some colorful yarn. Similarly, you can also try some macramé wall hangings if you like your walls to be well decorated. These are DIY macramé stone necklaces, a completely new trend in terms of jewelry. This knotted headband is something that you will definitely want to try soon as it's so cool and pretty. It's a macramé wall art with strings that is super creative and simple. Here is a tutorial for you from which you can learn how to make a woven macramé chair by yourself and use it beside your phone desk or anywhere in your informal living lounge. Her it is a macramé pillow idea which gives a sense of a fairy tale I guess.
Do not forget to try this awesome macramé owl in your lifetime, you will definitely going to love it. Look at these cutest things in the world and these are small macramé plant holders that are as amazing as any other plant holders but much different than them due to macramé touch. Also, you can put some pumpkins in these holders instead of plants sometimes.
After watching and reading all this you can realize how macramé is useful for you in many ways. So enjoy your macramé crafting.
Macrame Friendship Bracelets: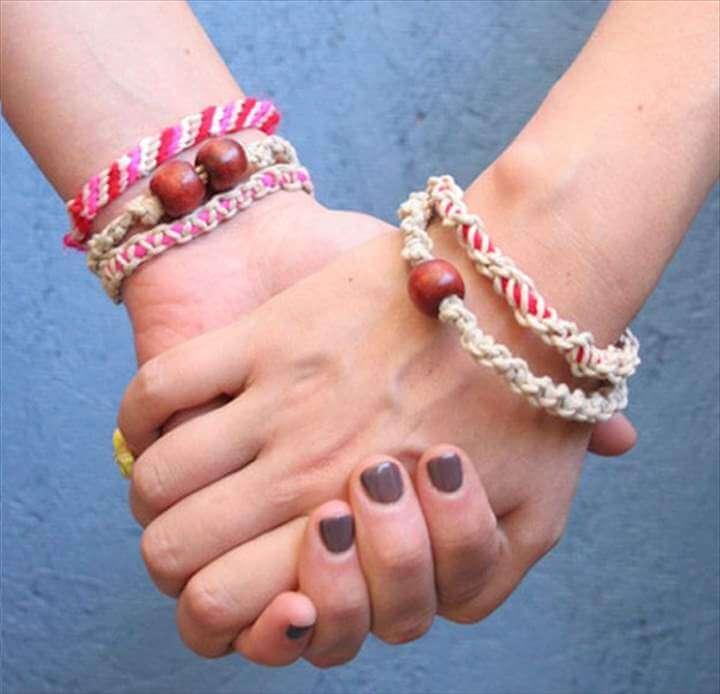 Here are these super cute and super easy to make macramé friendship bracelets with your kids. These would make cute and adorable handmade gifts for the lovely people around. You can easily make with some simple knotting and tying methods that to using your favorite yarn hues. Kids would love doing these bracelets with you.  Tutorial here!
Image: diyprojects
Macrame Buchet Flowers

: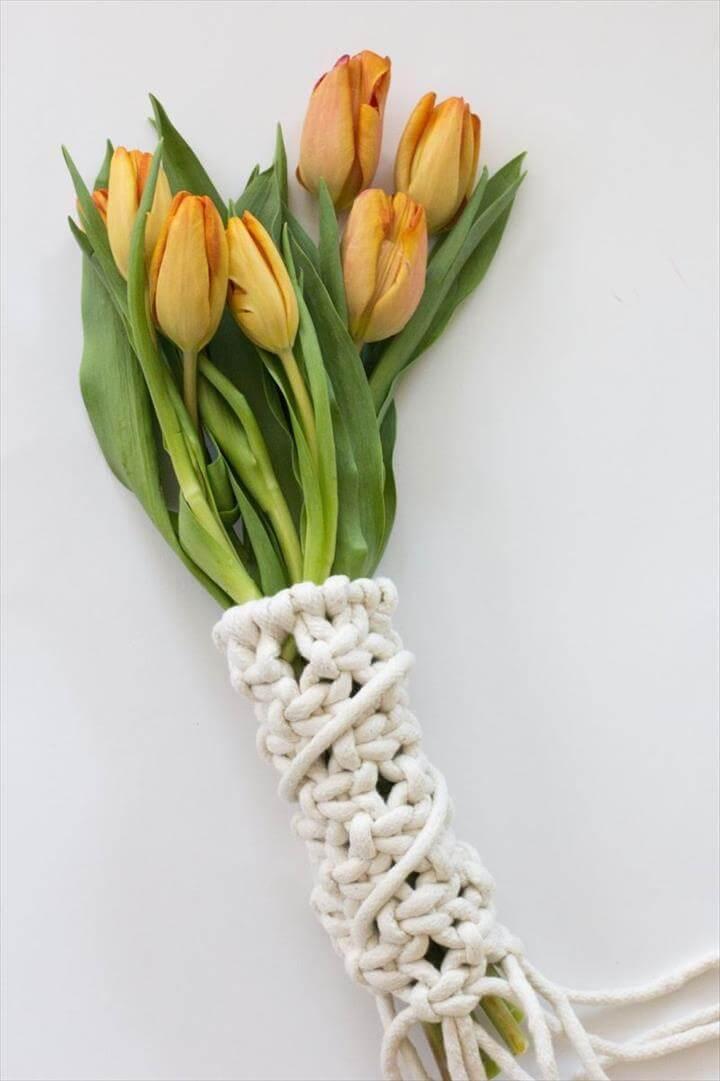 Macrame is an easy and fun art of knotting the string yarns and creating some lovely patterns. Now you can make these lovely macrame bouquet flowers and make your gift look interesting and unique. To make this lovely flower macrame wrap you need cotton pipe yarn in 6 strands of the 36 inches. Learn the easy knotting method here!
Image: alwaysrooney
Macrame Lighter Case

: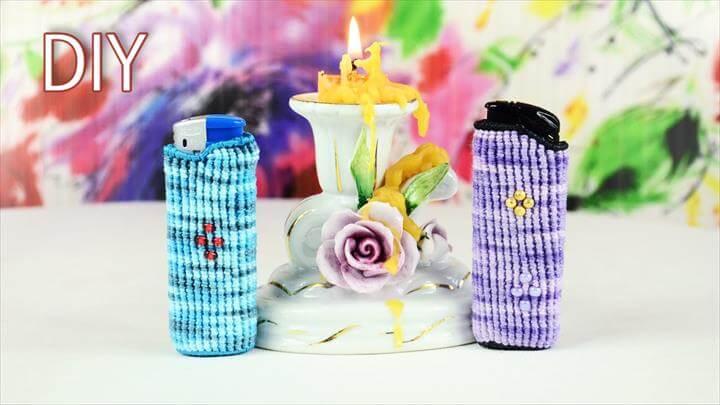 If there are males in the house or family who use lighters then you can make these cute macramé lighter cases for them. Using the embroidery floss in your desired hues you can easily knot up this cute and thick knotted macramé lighter case. No sewing no hooks it is just your hands that can make these cute macramé lighter cases.
Image: jewelry-crafts, youtube
Macrame-Braided Slippers: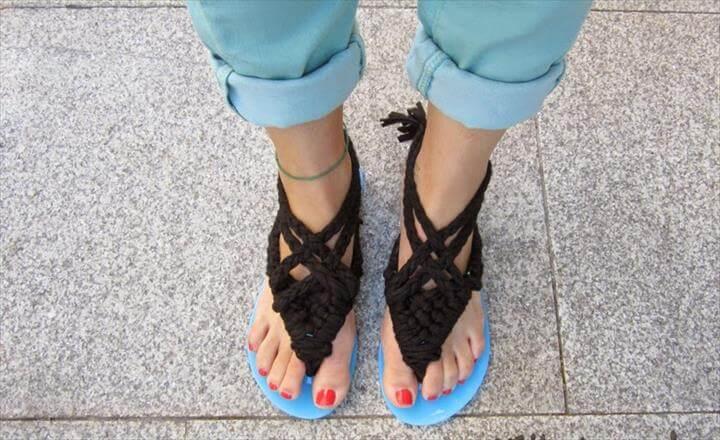 We all have a simple pair of flip flops that can be turned into a fun stylish pair of sandals with the macramé braids. So get your hands on the flip flops and the fabric yarn in your favorite color to work up the slippers with macramé knotting technique. This may look complicated but doing this macramé braid slipper project is super easy.
Image: mywhiteideadiy.com.es
Colorful Macrame Yarn Garland: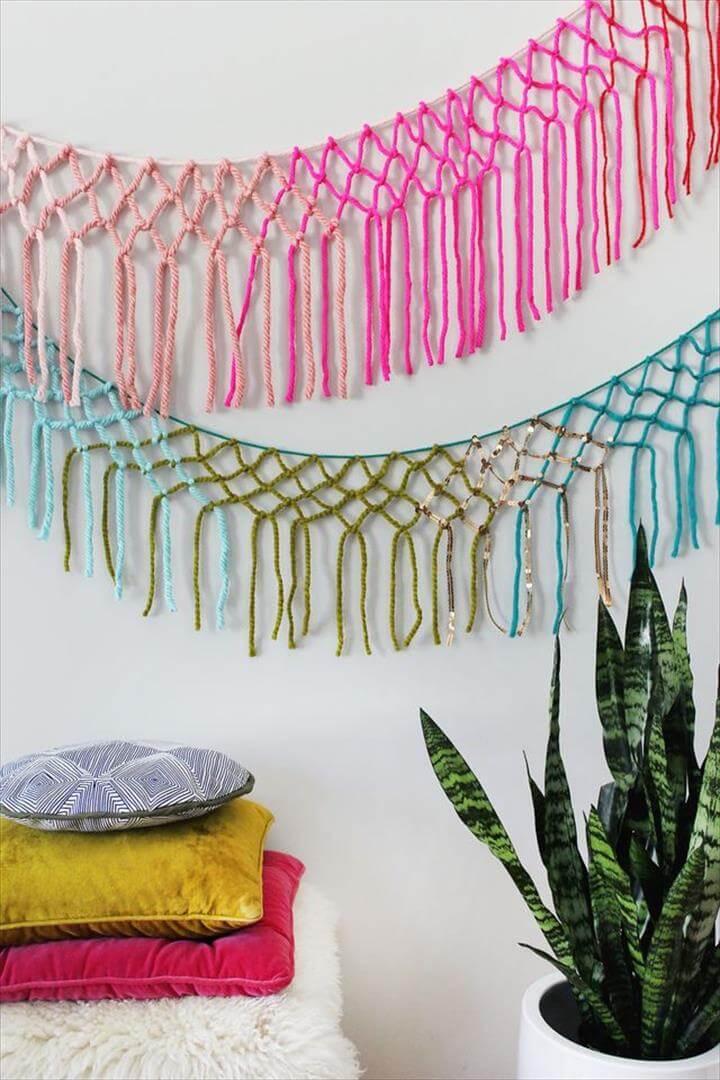 You can now go cheap with your party décor by making this colorful macramé yarn garland. If the party is in the summers you can make a rainbow-colored macramé yarn with simple and fun macramé yarn knotting technique. The garland is going to look so exquisite over your walls for the party time. You can change the colors per your party theme.
Image: shelterness
Macrame Wall Hanging

: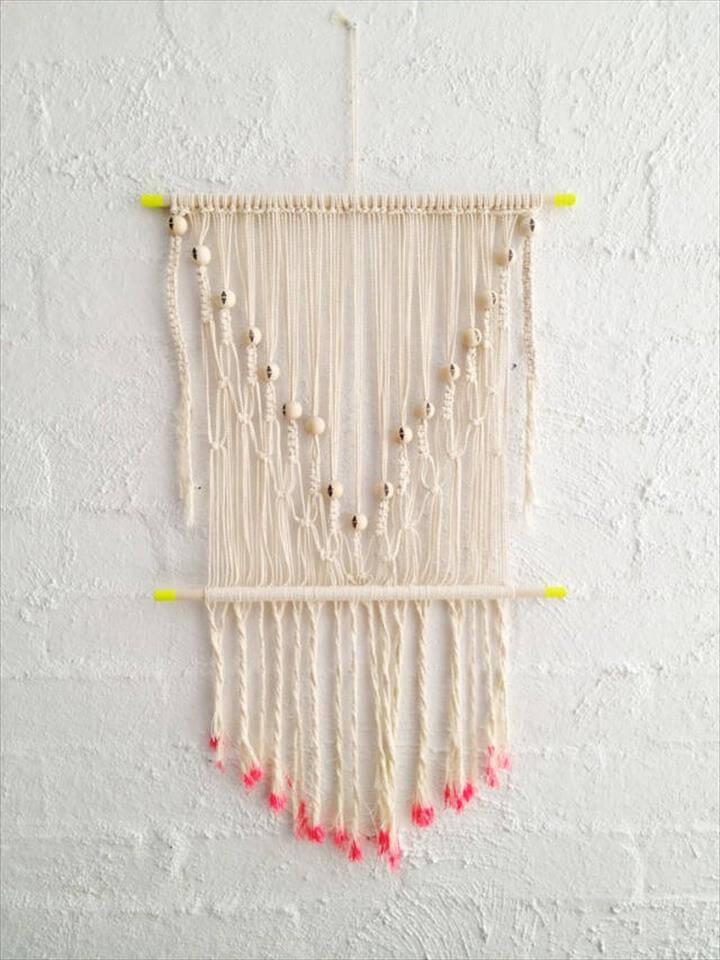 Bring back the old memories to your home décor with this gorgeous macramé wall hanging. This gorgeous and elegant white macramé wall hanging has the modern appeal in the form of neon paint added at the top wooden dowel and the ends of the macramé wall hanging. So grab yarn, neon paint, wooden dowels, beads, and the paint brushed to work up this art.
Image: apairandasparediy
Stone Necklace Tutorial: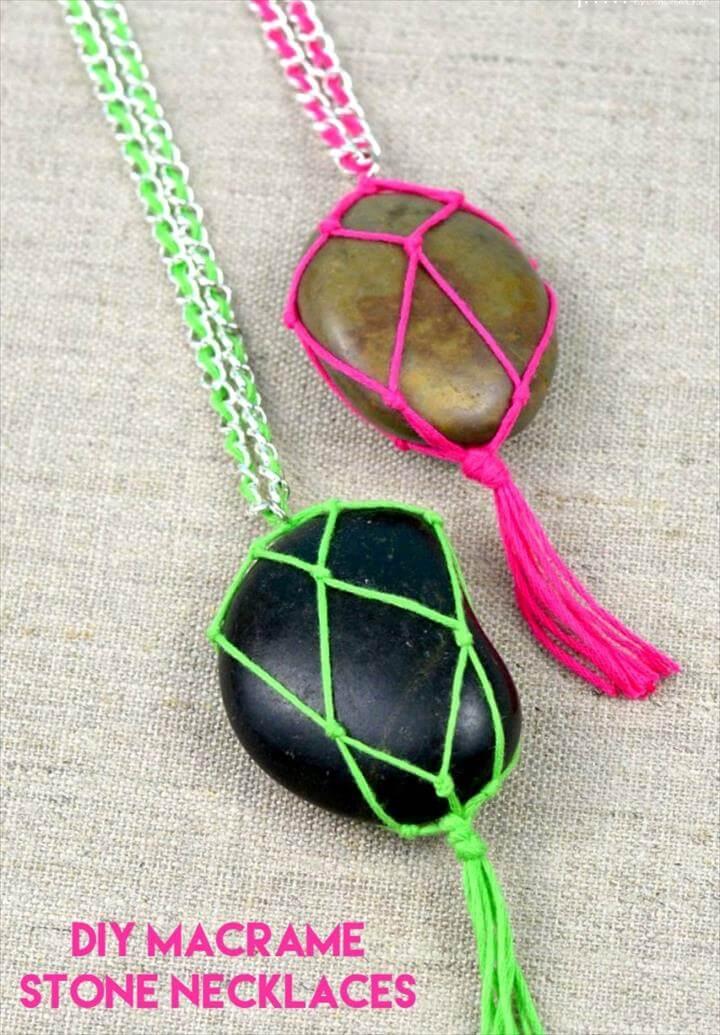 If you have some lovely stones stored from your nature trip then make this lovely stone necklace out of it.  Just grab brightly colored embroidery floss, two necklace chains, and some basic jewelry tools and supplies. Using macramé knotting you need to cover the stone and create a lovely necklace. The necklace thread is covered with chains to look more stylish and pro.
Image: consumercrafts
Knotted Chevron Headband: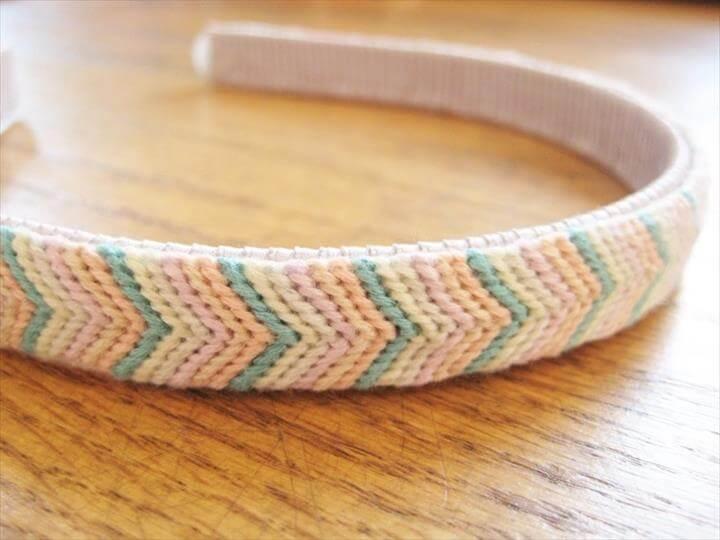 Make yourself look the cutest with this knotted chevron headband for the summer fashion. The gorgeous pastel hues of the embroidery floss have created a lovely layer for the ribbon wrapped headband. This knotted chevron headband making is a fun thing to pass your time with. Also, it is going to make a great gift idea for the girls.
Image: howdidyoumakethis
Wall Art With String

: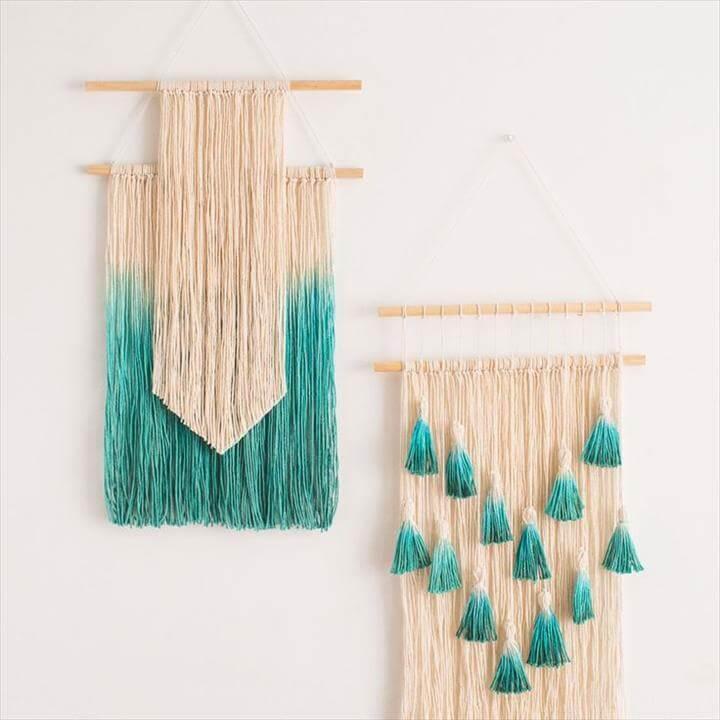 Yarn arts are getting really famous these days and here is this lovely wall art with a string that is chic and modern too. The white yarn has been dyed in blue and two kinds of wall arts are created. One is with simple long fringes on the wooden dowels and the other has gorgeous tassels. Both string arts are easy to make and look pretty on the summer homey walls. Details here!
Image: brit.co
Woven Macramé Chair Tutorial

: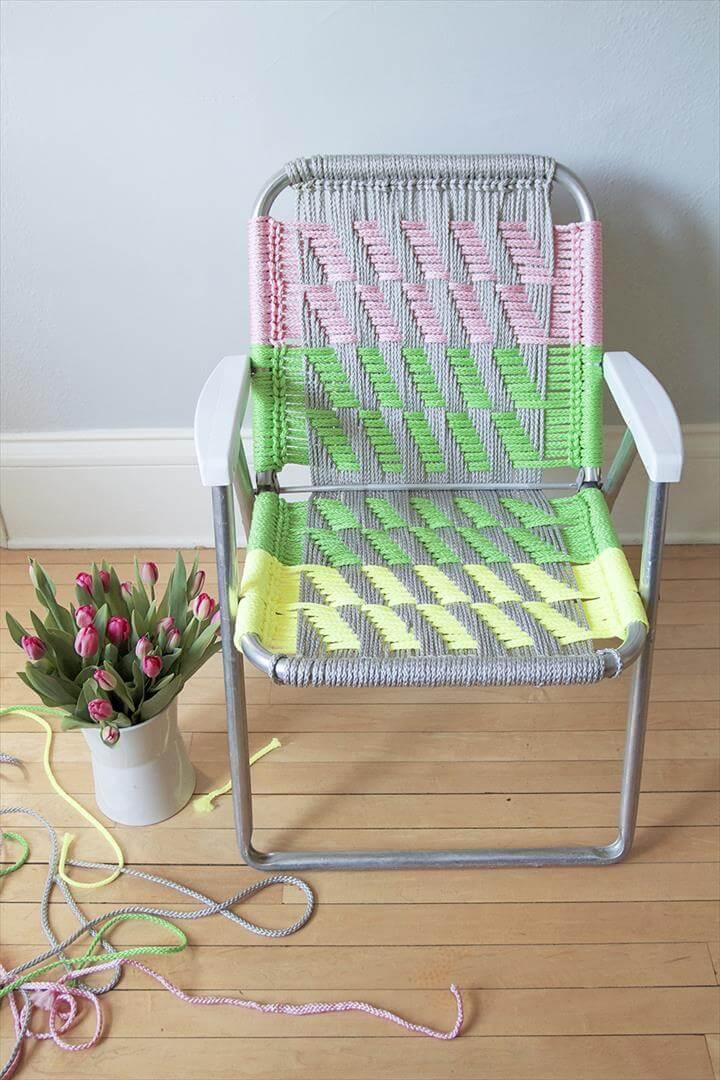 Summers mean outdoor fun with family and friends. So make this super cute and colorful woven macramé chair tutorial. You need an aluminum chair frame, 6MM macramé yarn in the hues of grey, green, pink, yellow, and 2 crochet hooks of size Q. This might look difficult but if you have worked up a macramé project you can easily do this one too.
Image: deucecitieshenhouse
Bohemian Macrame Throw Pillow: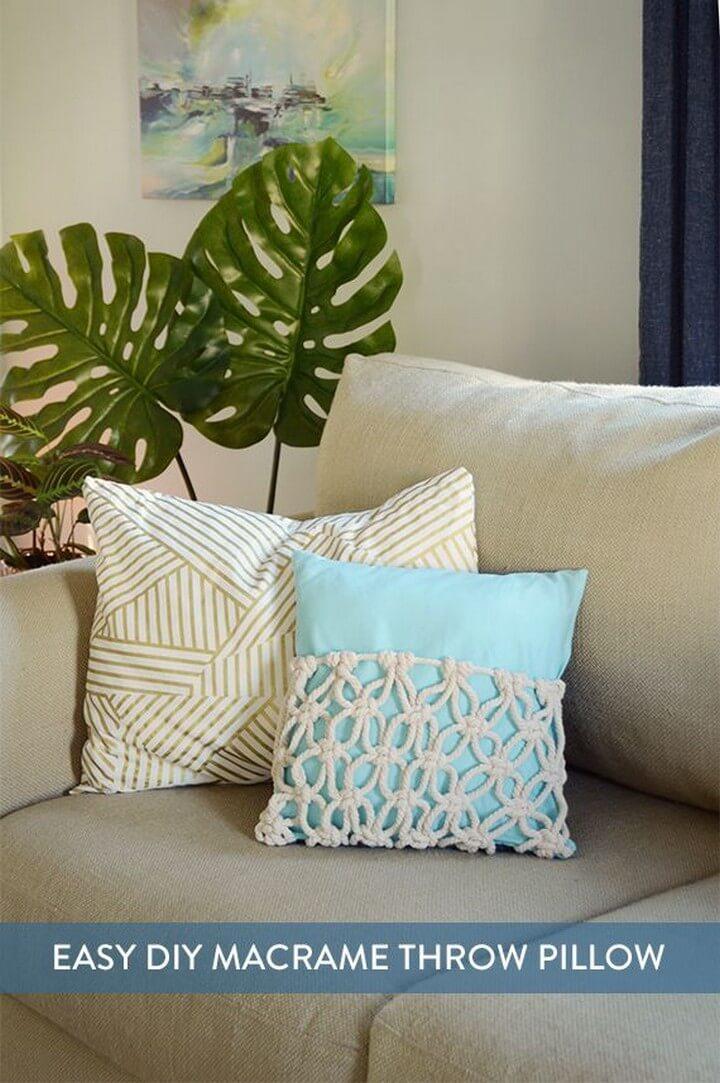 The gorgeous pillow has a blue fabric case and the white macramé rope worked upon it. This combination of the white rope and the blue fabric hints at the boho nautical summer vibes for the home décor. So grab some fabric, cotton rope, pillow inserting, and your basic sewing tools to work up this project. Details here!
Image: curbly
DIY Macrame Rainbow Owl: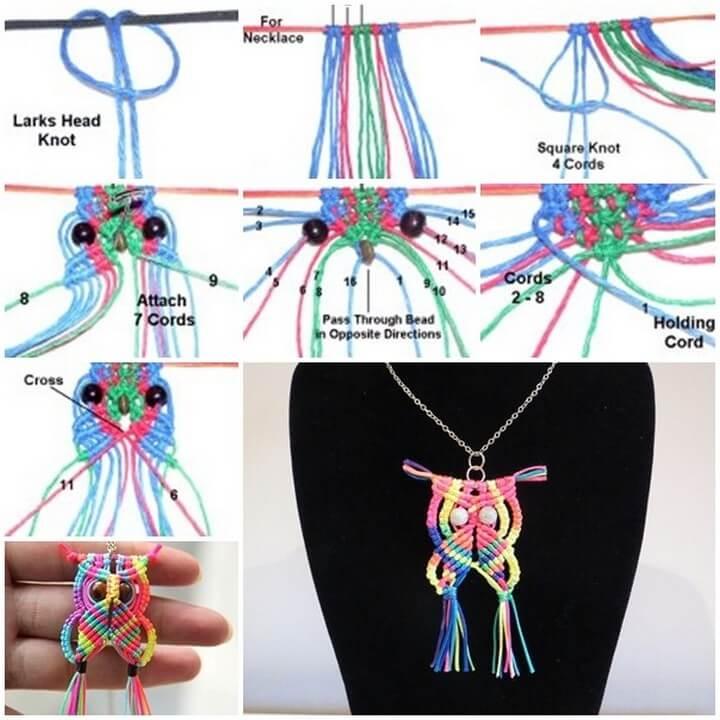 Macrame is a fun art to do with your hands with much easiness and satisfaction. Here is this lovely DIY macramé rainbow owl that you can use as the necklace, as the charm for your car, keyring or so many more things. So grab the rainbow-colored and work up this owl using the head knot and the square knots. Details here
Image: skillofking
Macrame Plant Hangers

: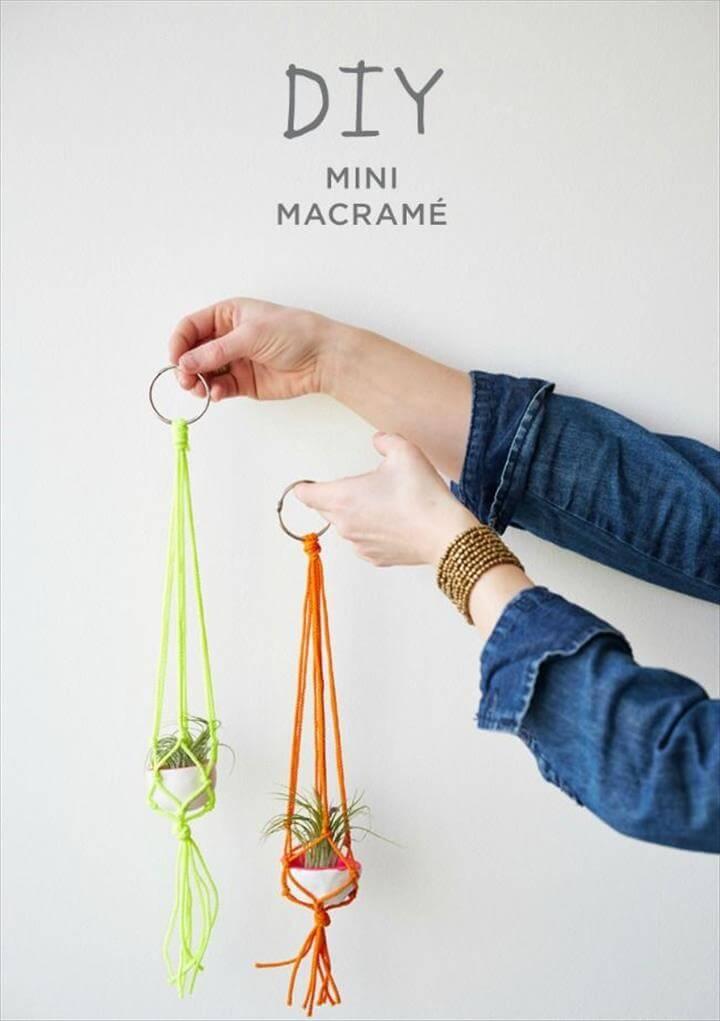 These mini macramé plant hangers are going to win your hearts for being so cute and adorable. Using the bright and bold yarn hues and few knots you can easily work up these lovely macramé hangers for your mini white planter pots. Hang them in the living room corners, around the window, or on the porch for a really charming look.
Image: thinkmakeshareblog
DIY Macrame Wall Hanging For Beginners:

Bring this utter white DIY macramé wall hanging to your walls and make them look chic in an old style. Using white cotton clothesline rolls, wooden dowels, two drawer knobs, and masker's painter tape. The macramé wall hanging is started with Lark's head knot, then with square knots and further taken ahead with double square knots. Details here!
Image: myfrenchtwist
Macrame Hanging: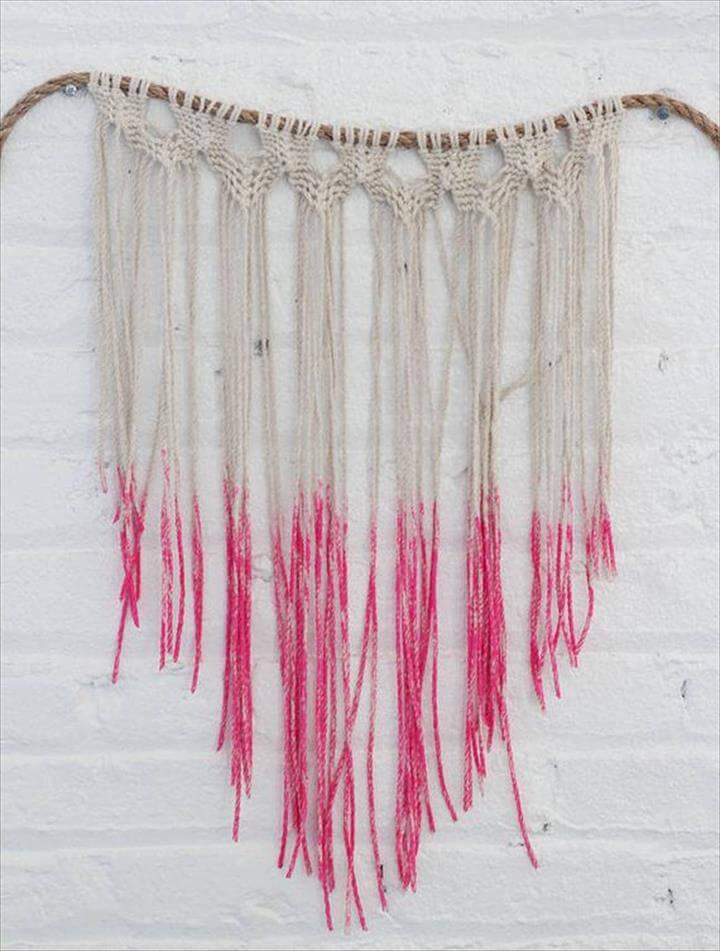 Give your walls and enchantingly cute look with this macramé wall hanging. The gorgeous macramé hanging is made out of the white twine and instead of a dowel, the macramé has used a jute rope piece. The lovely macramé hanging is made with a fringe design with a gorgeous pop up of the pink color at the bottom.
Image: greenweddingshoes
Mini Pumpkin Macrame Hanger: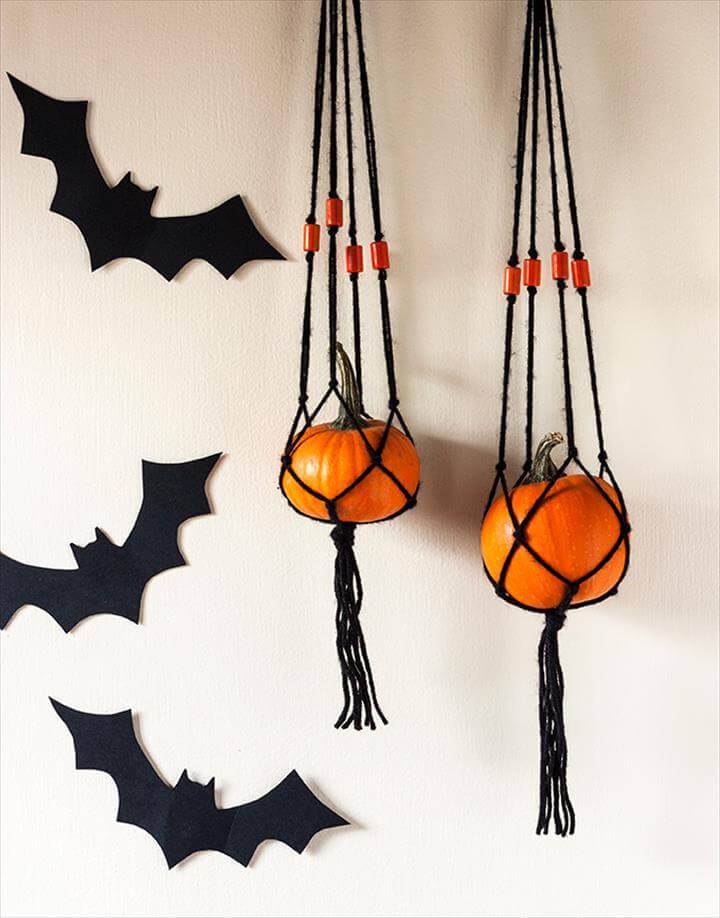 Bring some touch of cuteness to your Halloween décor with this lovely mini pumpkin macramé hanger. Pumpkins are the integral parts of the Halloween décor so along with the paper bats on the walls you can use these handmade macramé hangers to hold the pumpkins. They are super easy and quick to make with black fabric cord, metal ring and some orange painted wooden beads.
Image: adventures-in-making
How To Make A Lovely DIY Macrame Hammock:

Summer relaxing is so undone without lying down in the hammock and reading your favorite book. So here is this lovely DIY macramé hammock that you can make on your own at home and save a lot of money. You need wooden dowels, white rope, blue macramé cord, and the simple square knotting technique. This hammock is going to look so fun in your patio.
Image: goodshomedesign
Gorgeous Macrame Wall Hanging: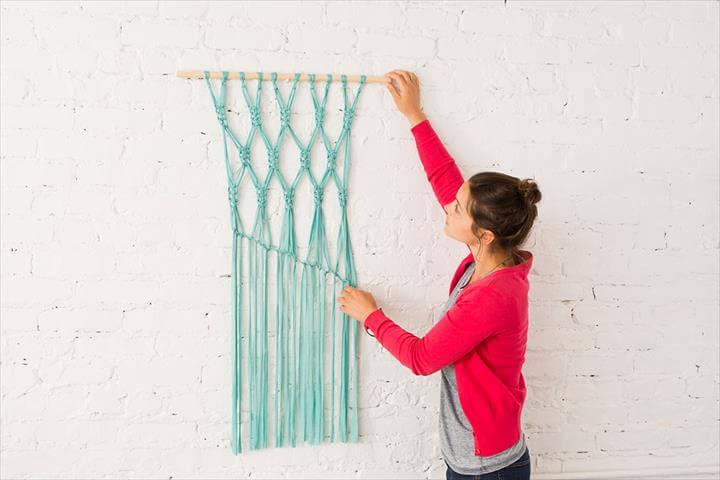 This gorgeous macramé wall hanging needs the least of the supplies to be made easily at home. Just get some jersey fabric and cut it into the thin strips which look just super fun and also quite easy to work with. So grab the fabric, a wooden dowel and with some easy knot tying you can work up this lovely macramé wall hanging.
Image: brit.co
Macramé Plant Hangers

: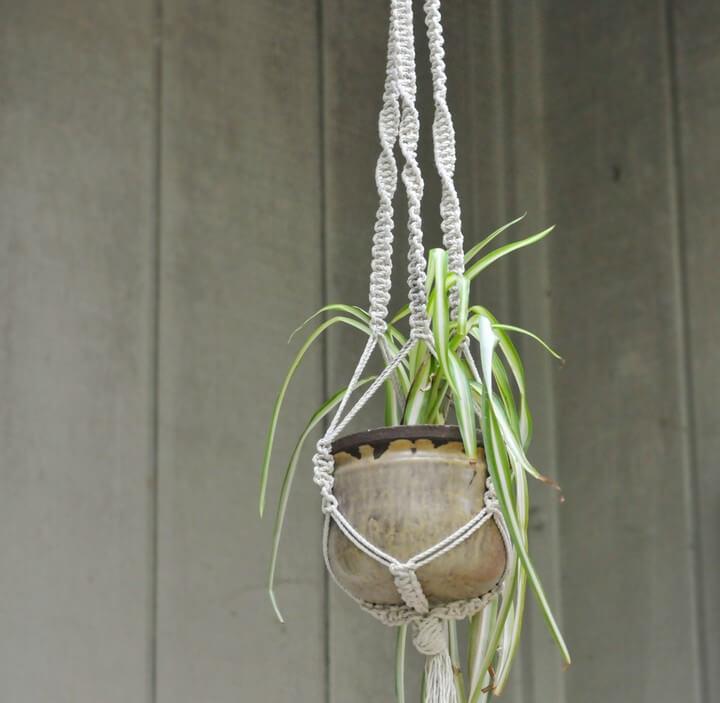 There is more charm in the planters hanging around than just resting on the tabletops or floor. So to hang your lovely summer plants inside your home you can make a lovely macramé hanging. Just grab some white rope and work up with lark's head knot and the double knots. Check out the details here!
Image: liveseasoned
Small Macrame Wall Hanging DIY Tutorial: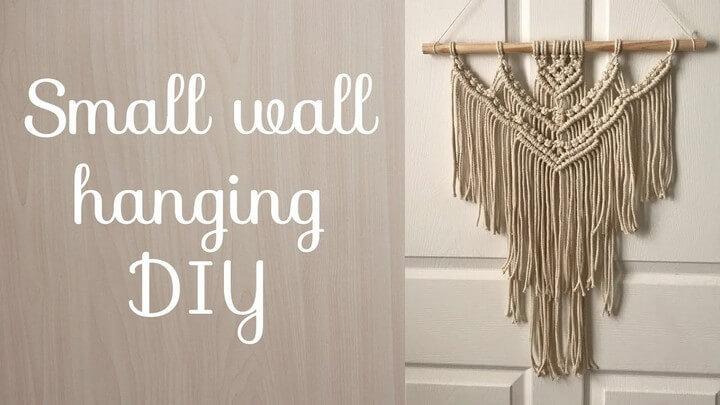 Give your homey walls a perfect glam look for the party that would be a perfect backdrop for your party pictures. The gorgeous small tiered macramé wall hangings look so professional and rich. This macramé needs just some free time to be made with quite a simple knotting technique. Also, you can use it as a gift for a wedding so that they can use it as the backdrop there.
Image: youtube
Summer Macrame Bracelets: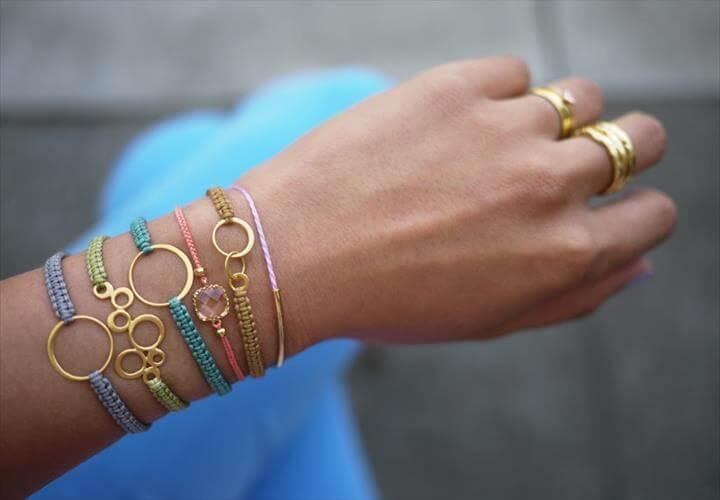 If you are skilled at the macramé knotting then you would love making these summer macramé bracelets. Using the colorful Chinese cords, metal ring, and the knot tying skill you can easily work up these lovely summer macramé bracelets to jazz up your summer fashion and styling. These would make great gifts for your family and friends.
Image: honestlywtf
Macrame Butterfly

: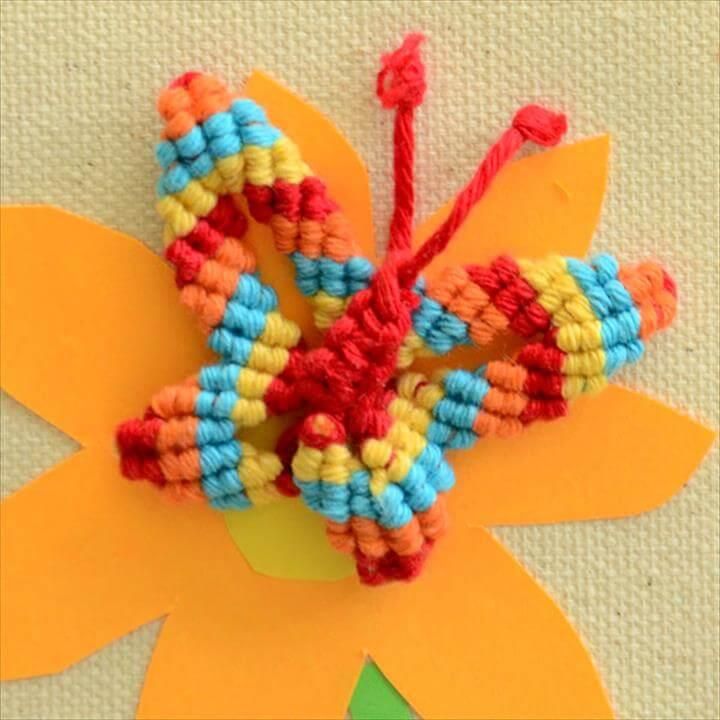 With summer comes the lovely and colorful flowers and with flowers come the butterflies. Using the colorful embroidery floss you can easily create this butterfly with no hooks but with your hands by tying some simple and easy knots. You can use these butterflies as the neckline, keychain, bracelets for kids, or the home décor projects. Details here!
Image: macrameschool
Super Easy DIY Macrame Plant Hanger

: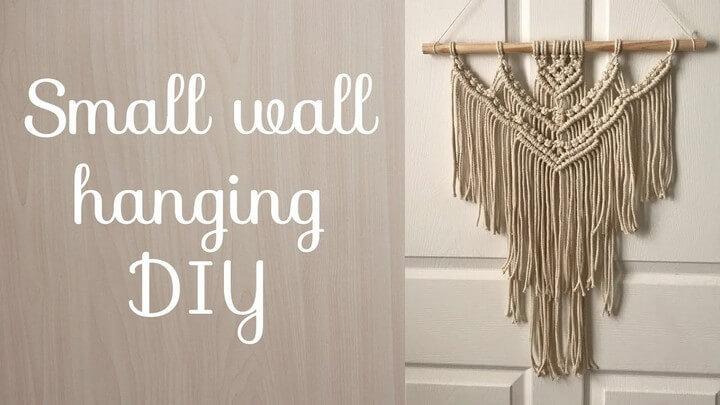 Bring some elegance and beauty to your modern home but in the old macramé style. Yes, this lovely planter hanger is the best thing to make this summer and flaunt your favorite planters in an adorable way. Using the thick rope in white and getting away with the knot tying you can easily work up this simple and cute plant hanger.
Image: forrent
DIY Macrame Wall Hanging Tutorial: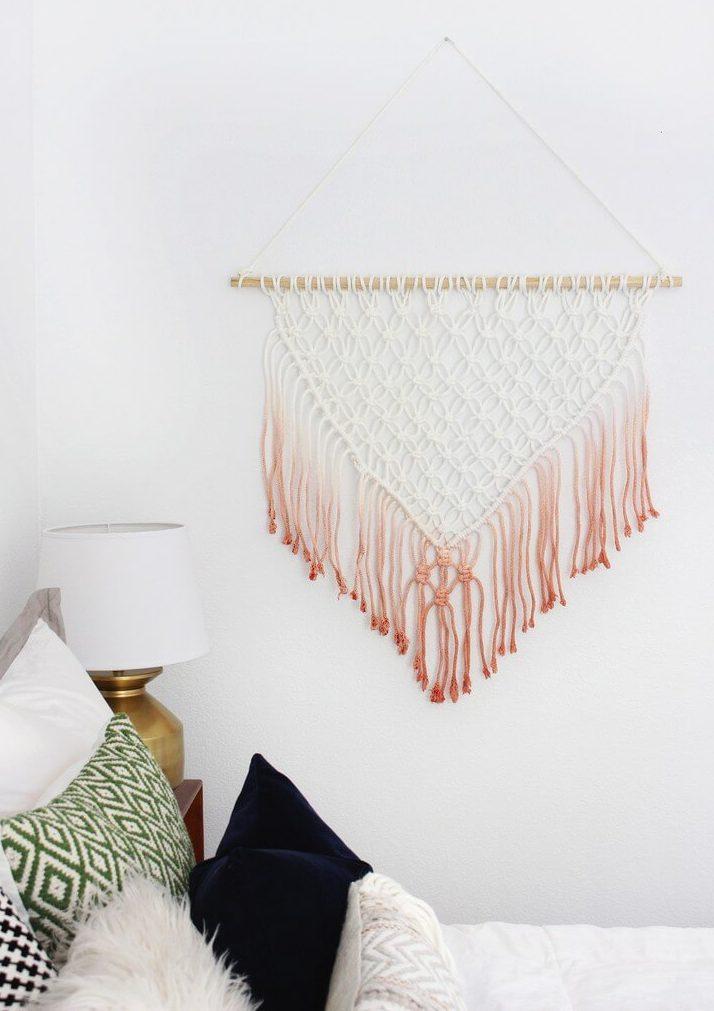 If your home is chic white in décor then you need to add some color and texture to your spaces and this macramé wall hanging is perfect. The best thing about this simply knotted macramé wall hanging is that the bottom fringes of it have been dyed in ombre peach to look just so heartwarming. Details here!
Image: classyclutter
Macrame Owls Pattern & Tutorials

: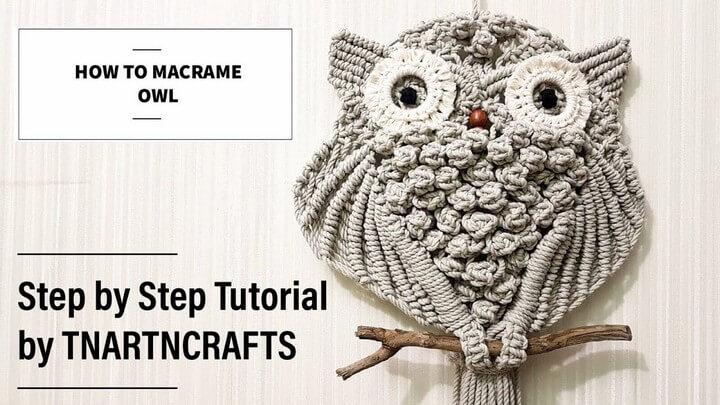 Owls are a must part of our home décor around the Halloween and Holidays. So this time you can be more artistic with your owl making using this pretty macramé owl to hang over your walls and give everyone a big jaw drop. The owl has much detailing of the macramé work and you can learn it all here!
Image: youtube
DIY Macrame Bucket Bag: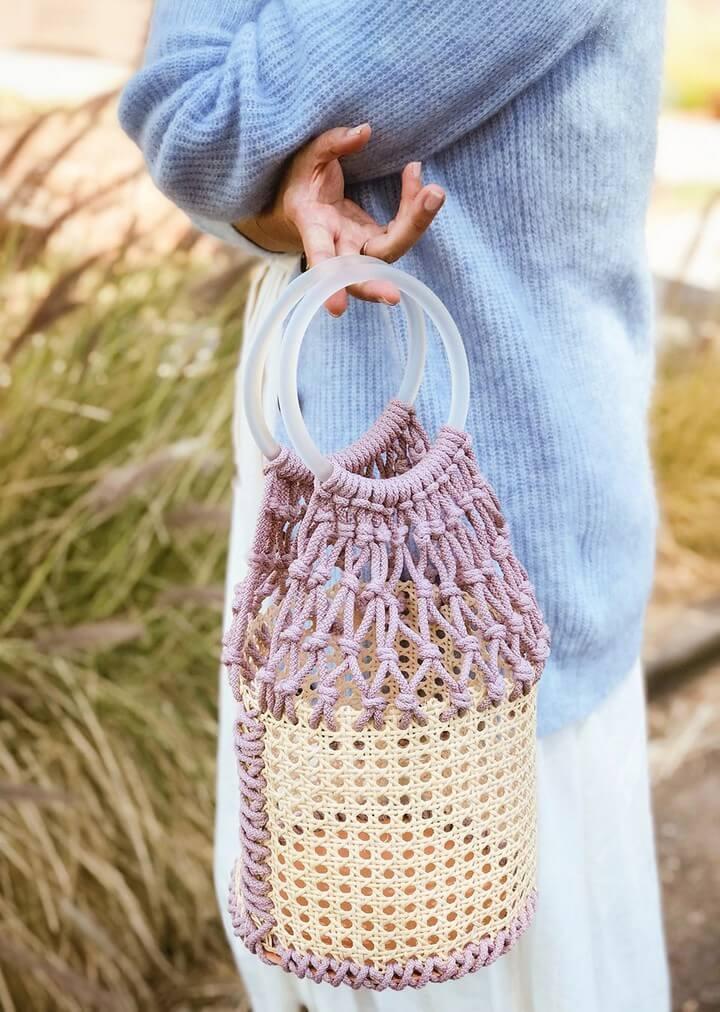 Instead of using the plastic bag and increasing the environmental pollution, you can switch to the environmentally friendly macramé bucket bag. This lovely macramé bag is super cute, sturdy, and long-lasting. You can make a lot of them use as gifts around and motivate people to give up on plastic bags. Check out the making of this bucket bag here!
Image: honestlywtf
Macrame Plant Hangers

: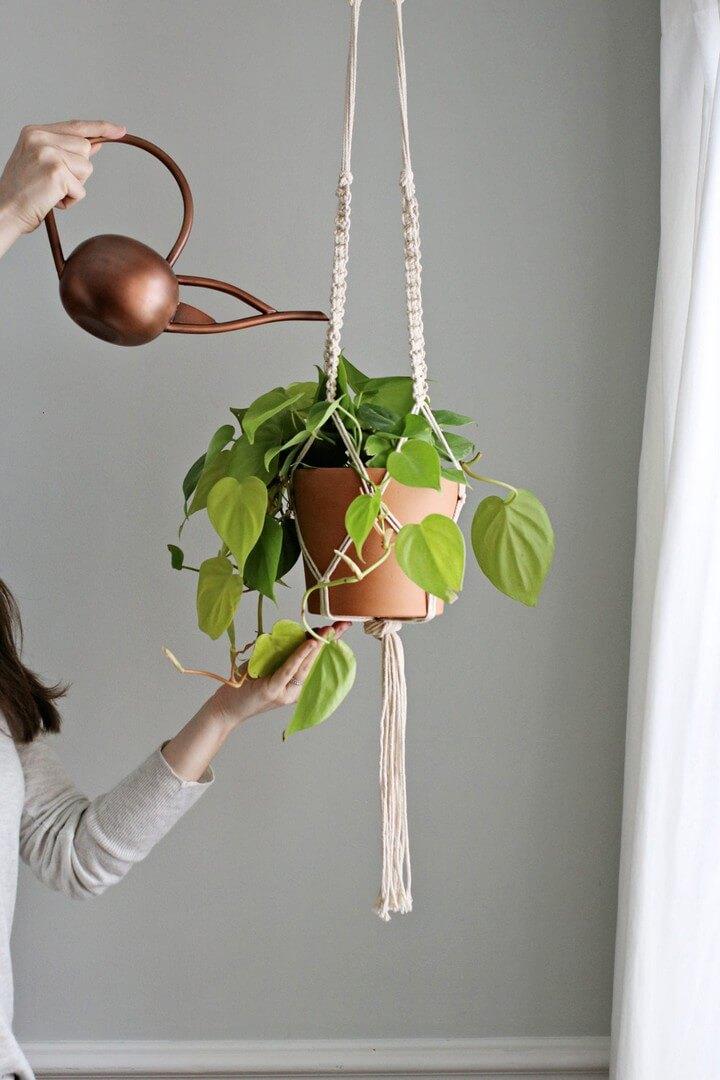 Show your love for the green thumb with this adorable macramé plant hanger. So give your planter pots a new spot to be a part of your lovely home décor by hanging them in your corners, porch, and windows. Using the 3mm plant white cord you can easily make this lovely and simple plant hanger. Get the details of the idea here!
Image: hellonest
How To Macrame A Mini Garland: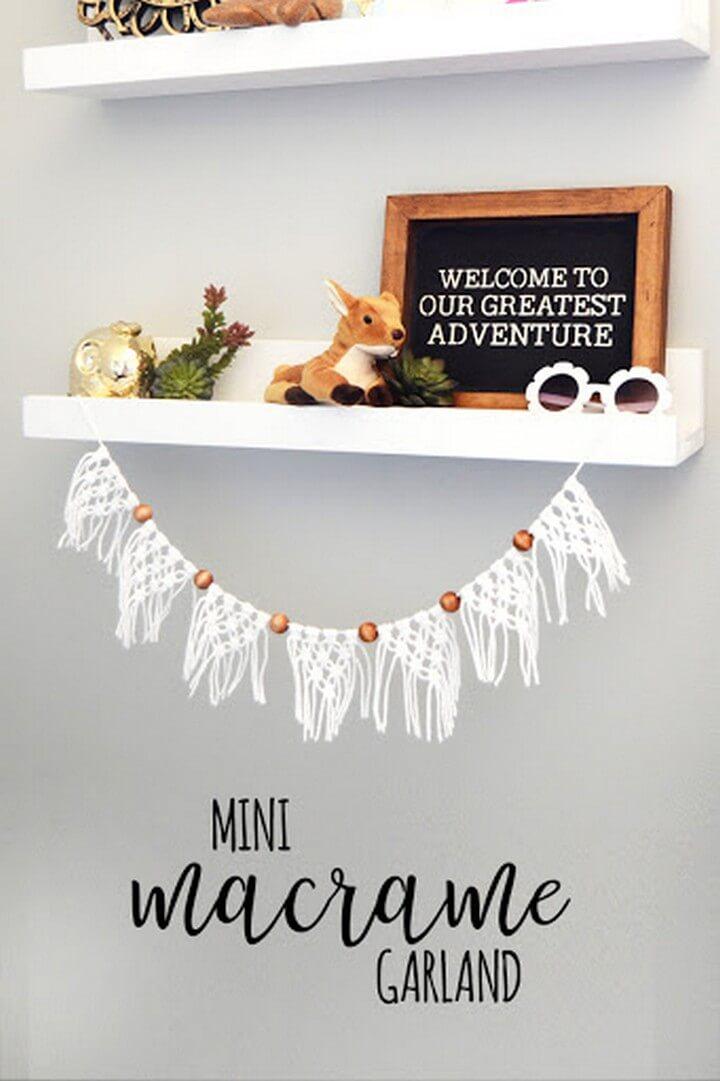 Give your mantles or shelves a more warming look with this pretty and cutest looking macramé mini garland. You need some soft white yarn and the wooden beads to make this garland easily on your own. Using simple knot-tying even the beginners can work up this garland quite easily. It can be used for regular home décor or for a celebration or party too.
Image: consumercrafts
Macrame Plant Hanger

: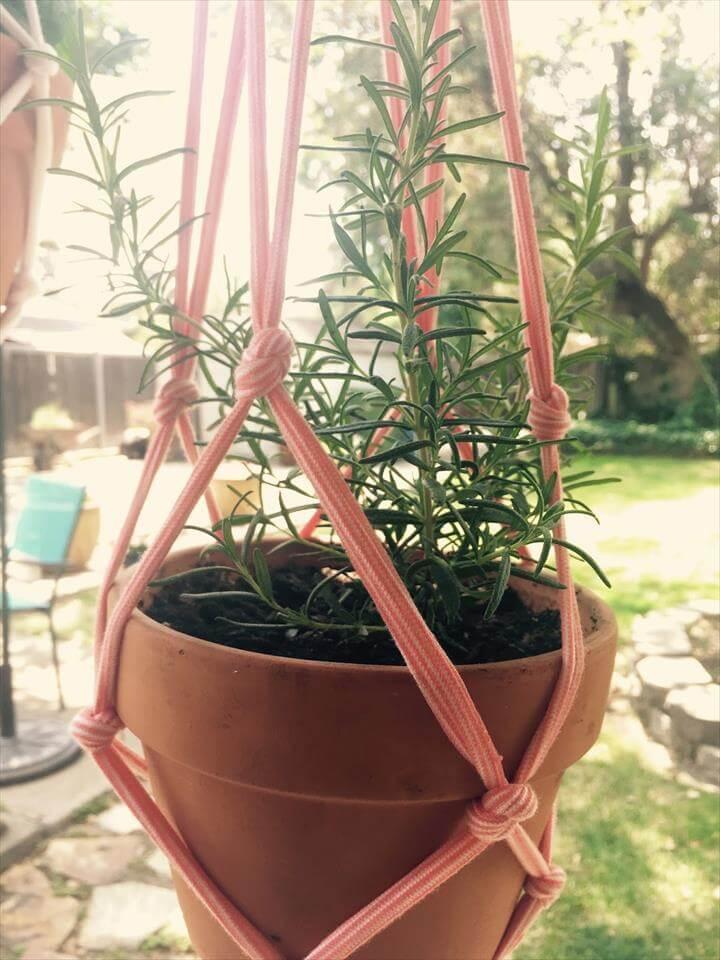 Give your garden décor a fun and exquisite look with this macramé plant hanger. So grab some colorful yarn and make these pretty macramé plant hangers to proudly flaunt your pretty plants in the garden. Your garden is going to live with this easy macramé plant hanger décor idea. Learn to make the macramé plant hangers with easy to tie up knots here!
Image: sunkissedbotanics.blogspot