Here are some useful tutorials of how you can easily make beautiful jewelry pieces out of seashells. These 10 DIY Awesome Seashell Jewelry Tutorials are unique and different from other jewelry pieces that we usually buy from jewelry stores.
For this purpose, you can select seashells of your own choice and attach then to simple colorful chains or beads to turn them into gorgeous necklaces. We can also use jute along with these shells to create hand bands or bracelets. We can also customize these jewelry pieces by coloring them in order for them to match with the dress we are wearing.
For making these bracelets we just need bead strings or jute strings and stick the shells onto them with the hot glue gun and simply tie a knot after wearing or we can also attach hooks. The hooks are optional and can give your piece a more finished look as compared to being without hooks.
Making headbands is also a very easy crafting hack to do with the seashells or snail seashells. For this, we just need a simple headband and we need to stick shells on the band with the help of hot glue gun and allow it to dry if you want you can also polish or color the shells to give them a neat and enhanced look. For the polishing purpose, you can use the shiny colorless nail color and simply paint the shells with it and let it dry.
We can also make earrings with small DIY sea shells .for this we just need long metal hooks or a wire gauze and attach a ring at the end of these wires or hooks and to these rings, you will have to attach your beautiful tiny shells.
We can also stick the DIY seashells jewelry on our simple and boring bobby pins to turn them into interesting beach shells hairpins.
Seashell Necklace: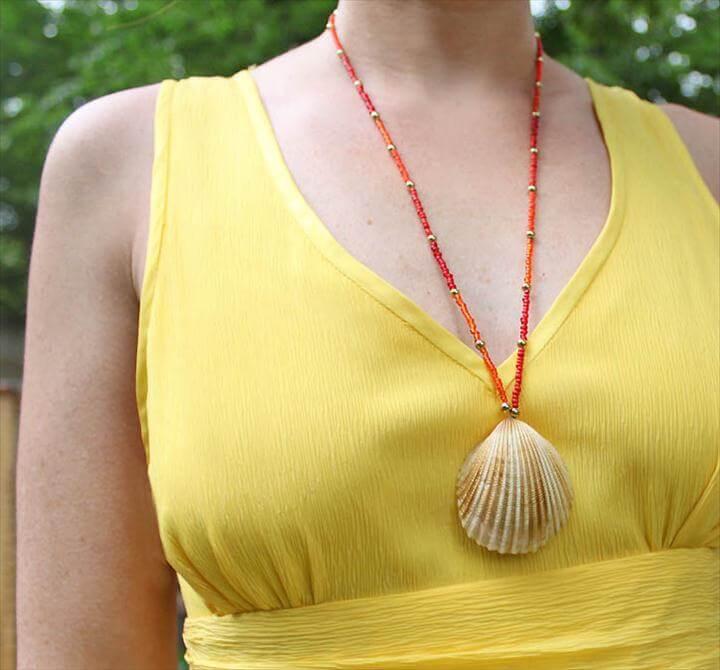 Keep your beach memories near to your hear with this seashell necklace. First, you need to drill a hole on an edge of the shell using a drilling machine. Then take some jewelry wire and bead it through to make a chain. Lastly, combine make the chain meet the seashell through the hole and your necklace is complete.
Image: youtube
Seashell
Pink Tassel Bracelet

: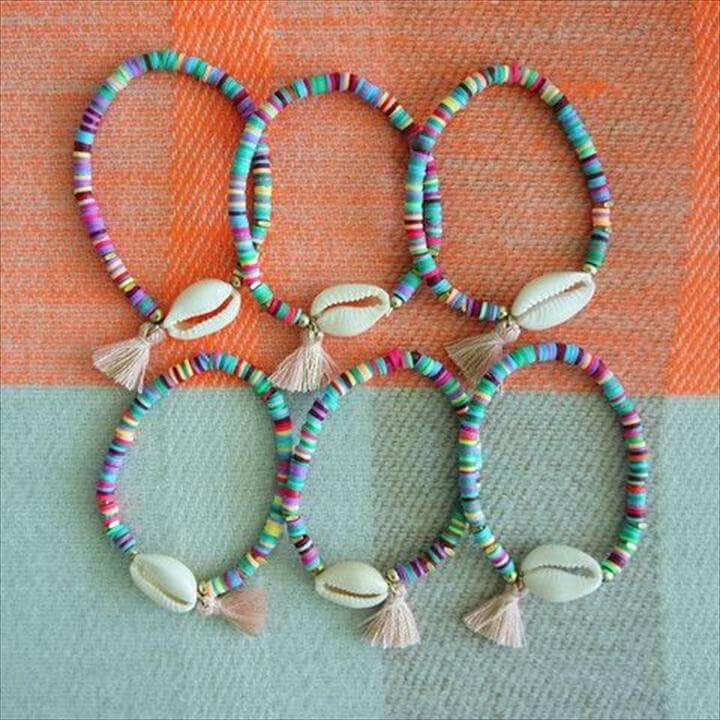 Here is how you can make these super cool and catchy seashell pink tassel bracelets to glam up your summer fashion. You would need jewelry wire to make the bracelet base and a bunch of colorful yarn to wrap around it. The addition of the seashell and the tassel makes these bracelets more pretty and girlish.
Image: pinterest
Beach
Shell Hair Pins

: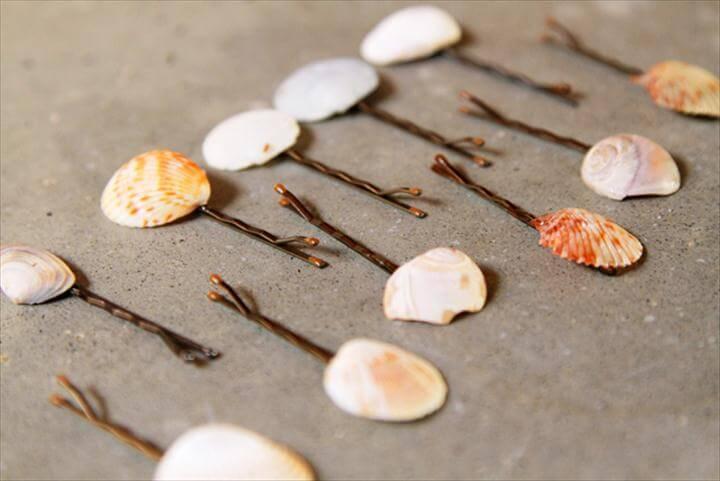 This coolest and simplest beach shell hairpins project is going to make your little girls so happy. All you need to do is just take a bunch of the bobby pins and then add seashells to their ends using the glue. You can make a bunch of them so that your little girls can use them as gifts for their girlfriends too. Paint the shells for a more catchy look.
Image: polkadotchair, pinterest
Netted Stone Macrame Friendship Bracelet

: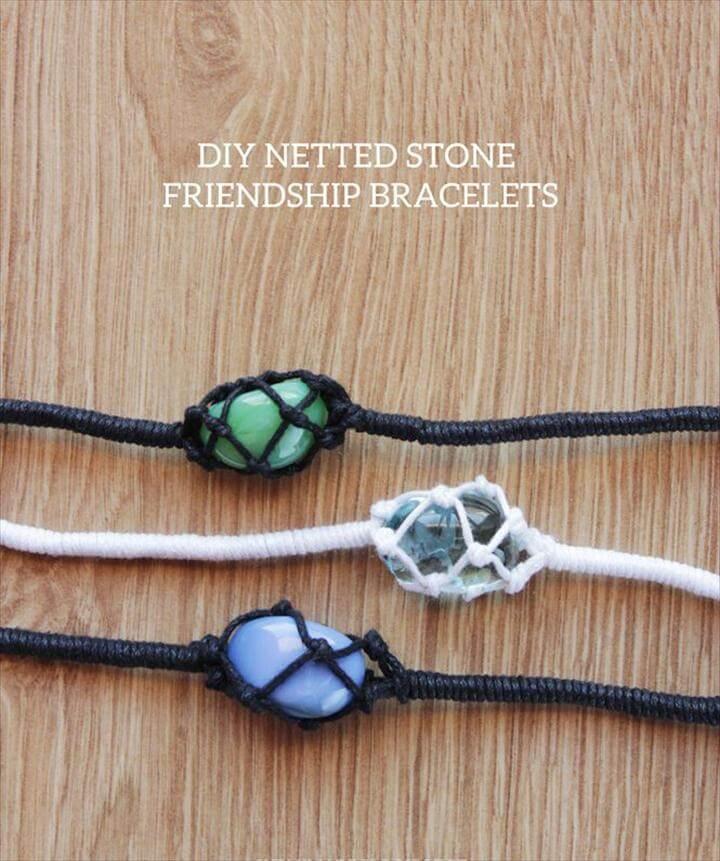 Handmade bracelets are always the cutest and now you can make this lovely netted stone friendship bracelet as they are so gorgeous and cute. You need a wax macramé cotton cord and the colorful fish stones. The stones are packed in a net-like pattern of the cord that you can learn from the tutorial link.
Image: cutoutandkeep
Shell Bracelets: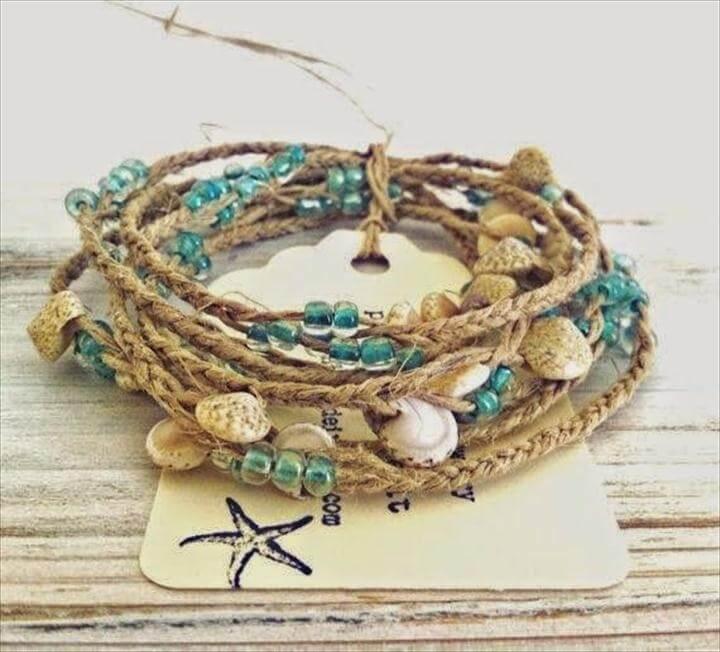 Make your own shell bracelets to add in your summer fashion. Here is the idea of this lovely shell bracelet having rich tropical appeal with the jute twine, seashells, and the beads. Not only bracelet but you can make the necklace of the same type too. The complete shell bracelet tutorial has been shared here!
Image: saturatelife
Seashell Beaded Headband

: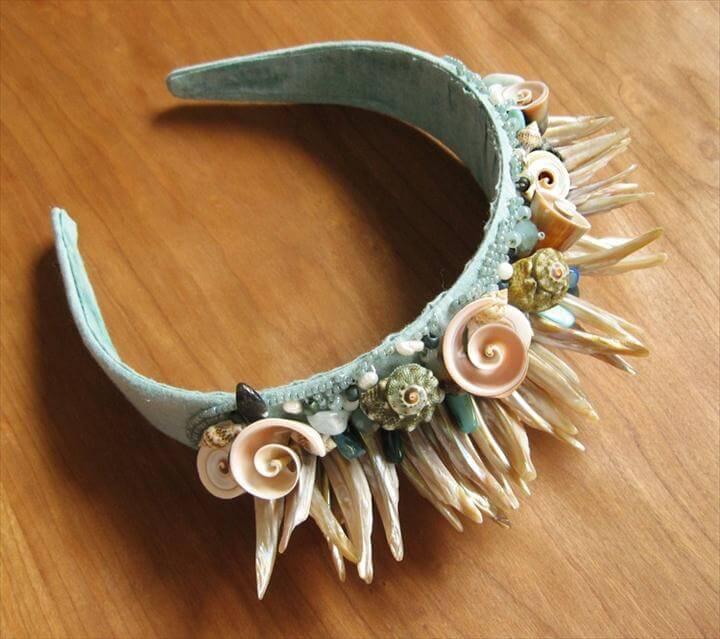 Make yourself this seashell beaded headband and look like a beach princess. The headband is perfect for the adult and the little girls. You need a plain headband and then grace it up with the seashells, corals, beads, and pearls. This headband would go perfect to a dress for a sea or beach theme party.
Image: howdidyoumakethis
Shell Necklace: DIY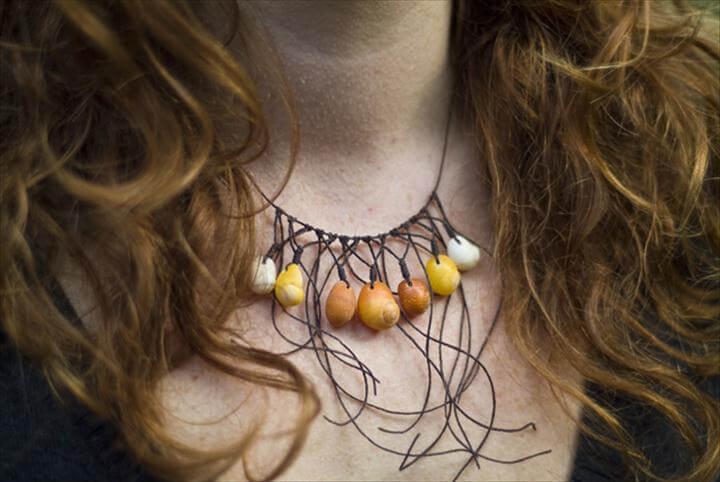 This is the cutest and the most elegant shell necklace that you can easily DIY at home. The pretty shell necklace is made out of the thin cord and the cutely colorful small snail shells. You can easily knit up this pretty necklace by painting your snail shells in gorgeous summer hues. Check out the details right here!
Image: beadinggem, beadinggem
Sea Shell Earrings

: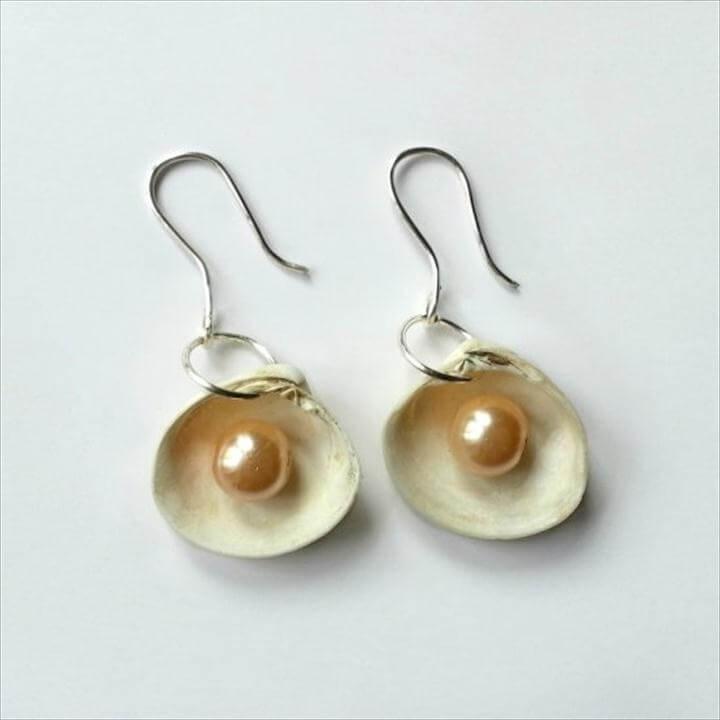 These gorgeous seashell earrings are the prettiest things that you can make this summer. They are elegant, cute and so quirky at the same time. You need jewelry wire, drilling machine, seashells, and the pearls to make these absolutely stunning seashell earrings. They would look great with your plain maxis and simple tops.
Image: instructables
Seashell Flower Necklace: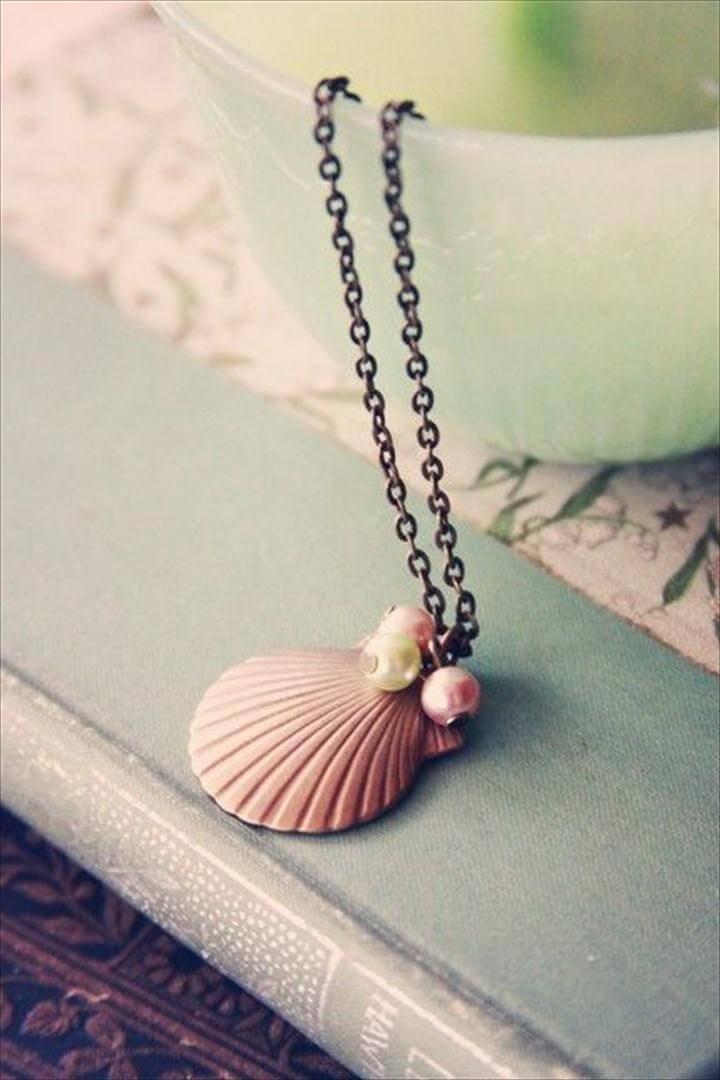 This seashell flower necklace is the most ethereal and the enchanting one to be in your jewelry box. The seashell has been painted pink and then adorned with some pearls to get chained and be a lovely statement piece around your neck. Your little girls are really going to love and adore these seashell flower necklaces.
Image: momsandcrafters, etsy
Shell Crown Tutorial: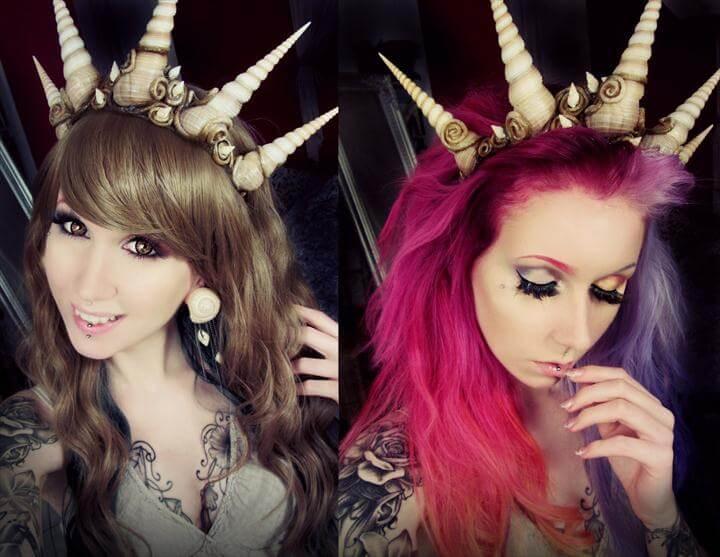 This Halloween you can be a mermaid and to your compliment your gorgeous and shimmery mermaid dress we have this absolutely fanciful shell crown. The pretty crown needs a basic plain headband and the options for the embellishments are endless like unicorn horns, shells, pearls, beads, and more.
Image: youtube